If you're looking for the scoop on Pepsi watches, you're in the right place. This article has everything you need to know.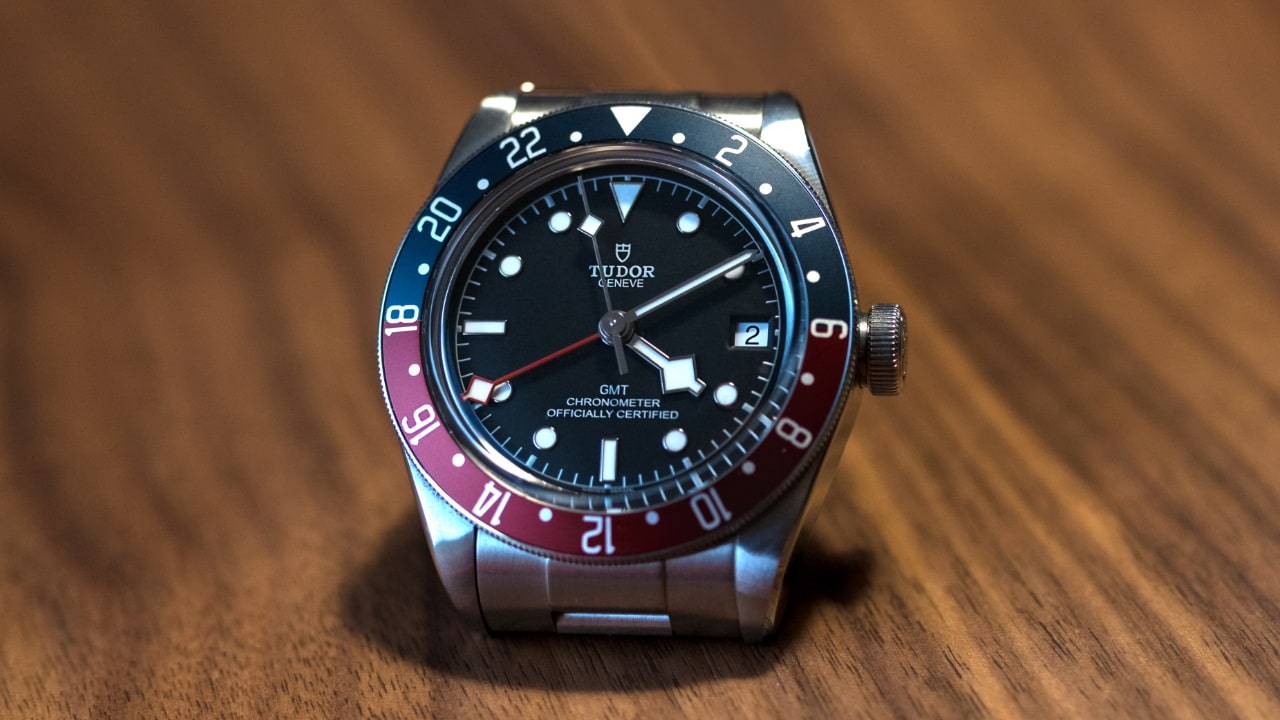 It's no exaggeration to say that the Pepsi bezel is one of the most iconic watch styles in history. With its bold two-tone design, it's immediately recognizable no matter the exact shades of blue and red used.
While the look was originally tied to Rolex, the design has since become so widespread that it's hard to find a watch company without a Pepsi bezel in its lineup.
But that kind of popularity can make things a little confusing. Is there such a thing as a "real" or "original" Pepsi bezel? Are these watches actually made by Pepsi? What are the best Pepsi bezel watches you can buy today?
I'll be answering all of those questions and more in this article, so if you're intrigued by this charming watch and want to learn more, then stick around.
What Is a Pepsi Bezel Watch?
A Pepsi bezel watch is a watch characterized by a half-blue, half-red bezel.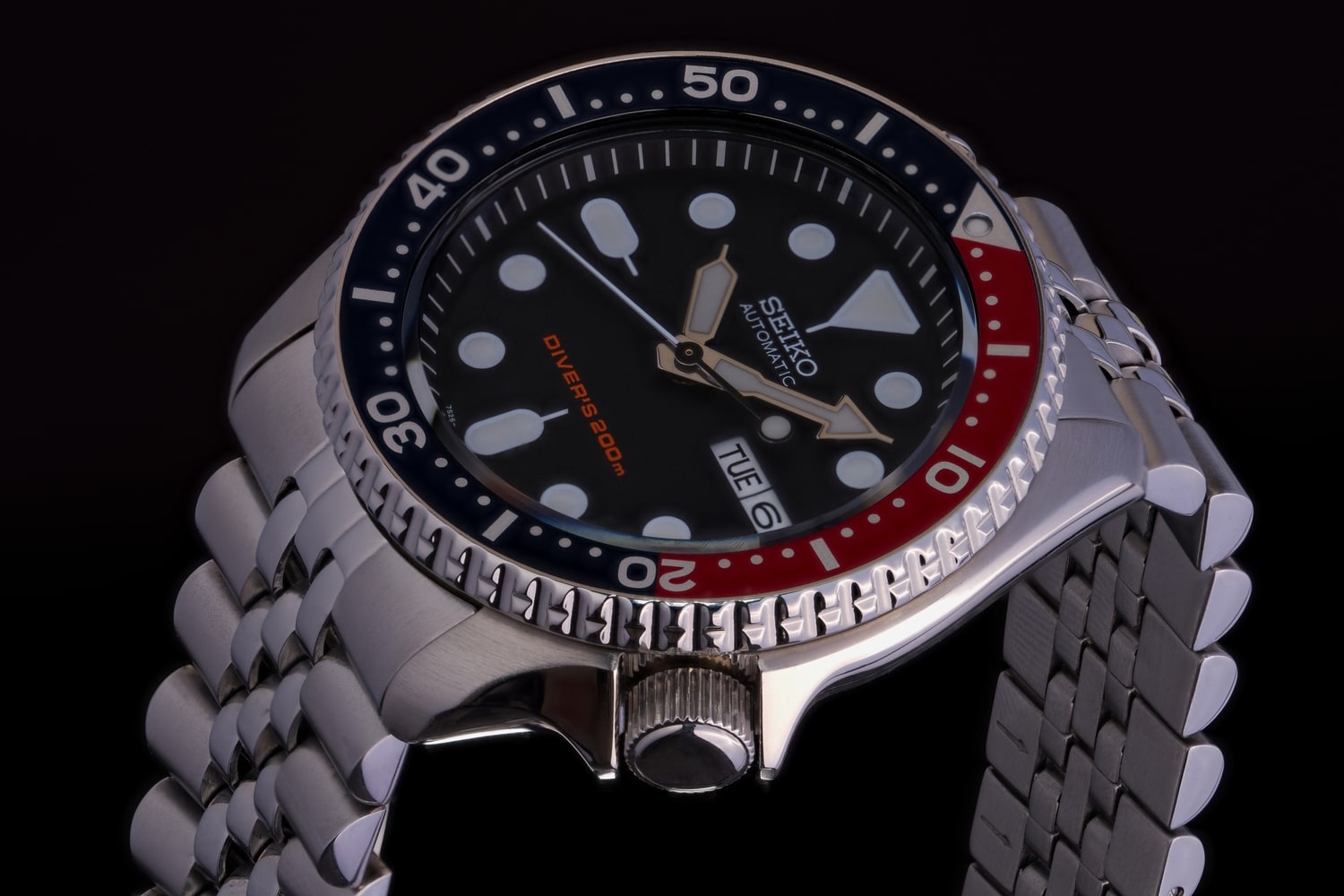 While there are all sorts of Pepsi bezel watches, most of them are aviation watches or dive watches. That's because they have that thick rotating bezel that's a must for the Pepsi look.
While the Pepsi bezel is two-toned, the dial on a Pepsi watch is almost always a solid color. In other words, you won't find many (if any) Pepsi watches that also have a two-toned dial.
The History of the Pepsi Bezel Watch
In 1955, Rolex released the GMT-Master. This innovative watch was designed for Pan Am pilots who needed to track two time zones simultaneously.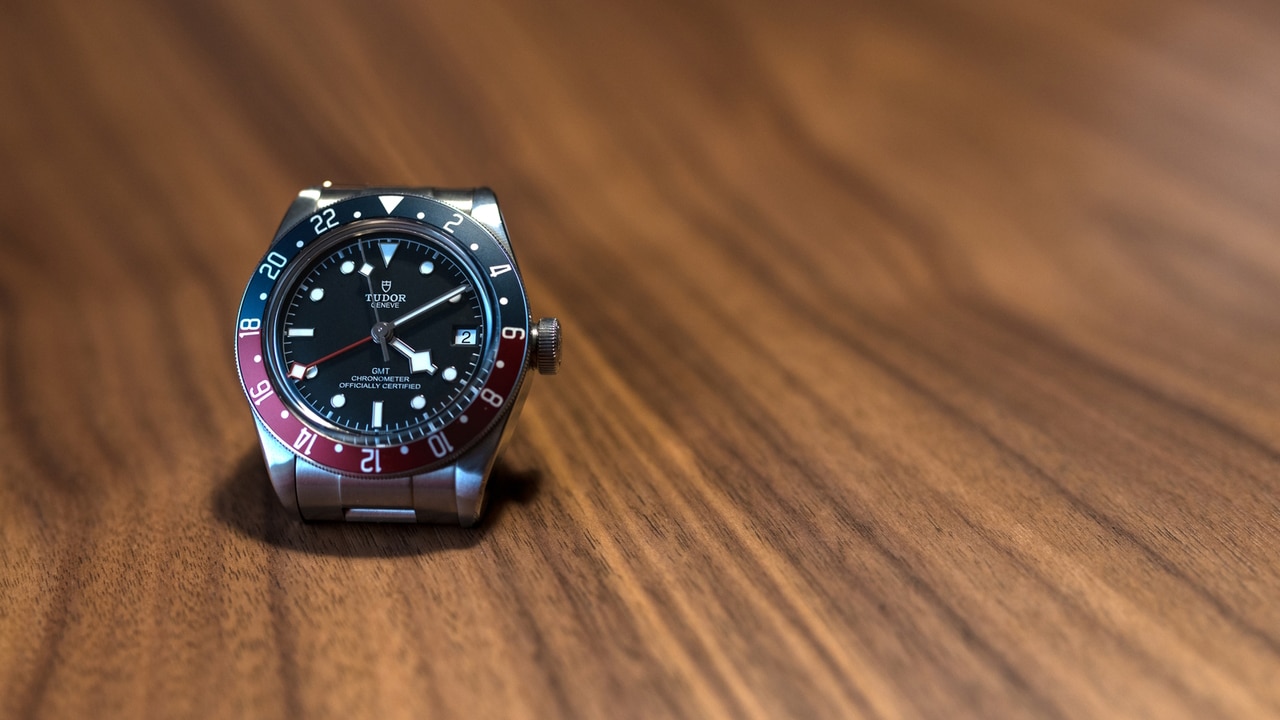 The base watch design was revolutionary. The main watch dial displays the time in one time zone, and the bidirectional bezel displays the time in a second time zone.
There are standard hour, minute, and second hands for the main time zone, and a triangle-tipped 24-hour hand is used for the alternative time zone.
To make it even easier to read, Rolex designed the two-toned bezel that displays daytime hours in red and nighttime hours in blue.
But even though the Pepsi bezel was designed for practicality, its unmistakable aesthetic took the horology world by storm. It didn't take long for other watch companies to put out their own versions.
Because the Pepsi bezel is mostly about the design, many Pepsi watches made today lack the dual time zone feature of the GMT-Master. However, you can still find plenty of dual time zone watches (known simply as GMT watches) with Pepsi bezels.
While there are many Pepsi watches that stay pretty true to the original Rolex design, there are others that take a different approach.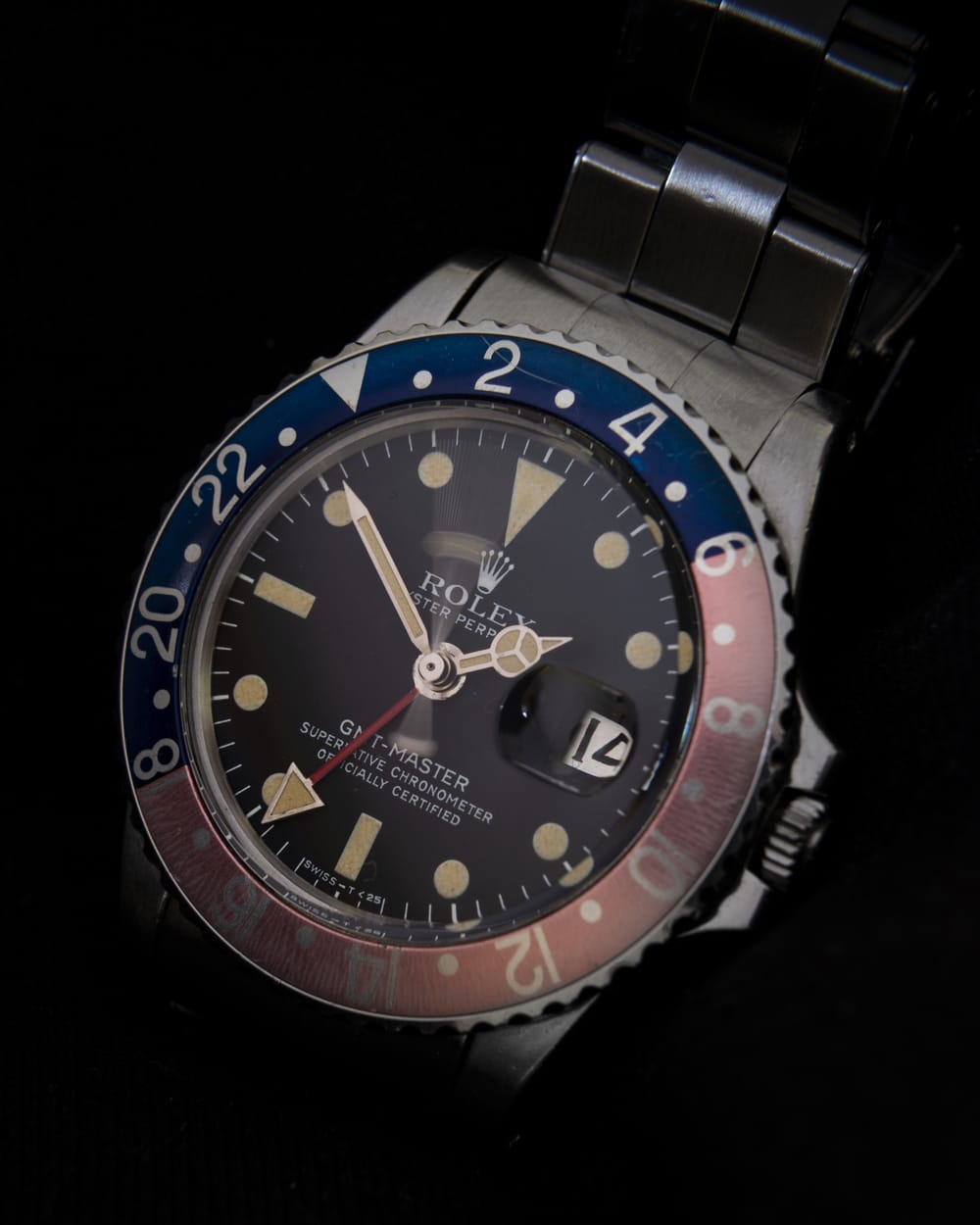 One of the most popular variations is the off-balance Pepsi bezel, which is typically either 3/4 blue and 1/4 red or 2/3 blue and 1/3 red. You can see this on watches like the Seiko SKX009 and the Orient Mako II.
Other types of two-toned bezels exist, but these generally aren't referred to as Pepsi watches. For example, there's the "Batman" version of the GMT-Master II, which swaps out the red for black. However, since the bezel doesn't have that legendary color scheme, it doesn't get classified as a Pepsi watch.
Why Is the Pepsi Watch So Popular?
The Pepsi bezel watch isn't the most complicated or fancy watch out there, but that hasn't stopped it from developing a huge following of people who absolutely love it.
Many of these devoted fans adore the Pepsi bezel because they just think it looks cool. The vibrant colors mesh well with the stainless steel body, making for a watch that's expressive without being too loud.
Because blue and red are triadic colors, they stand out from each other, so you notice both of them right away. It's a combination that's eye-catching but not overpowering, a balance that can be hard to strike.
The watch's resemblance to the Pepsi logo is also a big factor. While the bezel doesn't look exactly like the Pepsi logo used today, it does evoke the Pepsi logos used from 1950 to 2008.
If you grew up anywhere in that time period, then you're likely to instantly recognize the similarity.
Other Pepsi watch diehards appreciate the legacy of the original Rolex GMT-Master and the innovation that the design reflects. (Naturally, people in this camp are more likely to purchase GMT Pepsi watches),
However, one of the biggest reasons for the Pepsi watch's popularity is its pedigree.
Rolex is one of the most important and influential watchmakers, so each of its designs is bound to be loved and imitated. If a smaller watch company had released the Pepsi watch, it may not be as popular as it is today.
The Best Pepsi Bezel Watches
Interested in picking up a Pepsi bezel watch for yourself? Here are 8 of my favorite Pepsi watches on the market:
Rolex GMT-Master II
Obviously, I have to kick off this list with the quintessential Pepsi watch. The GMT-Master II was released in 1982 as the successor to the original GMT-Master and comes with all the features you'd expect a Rolex to have.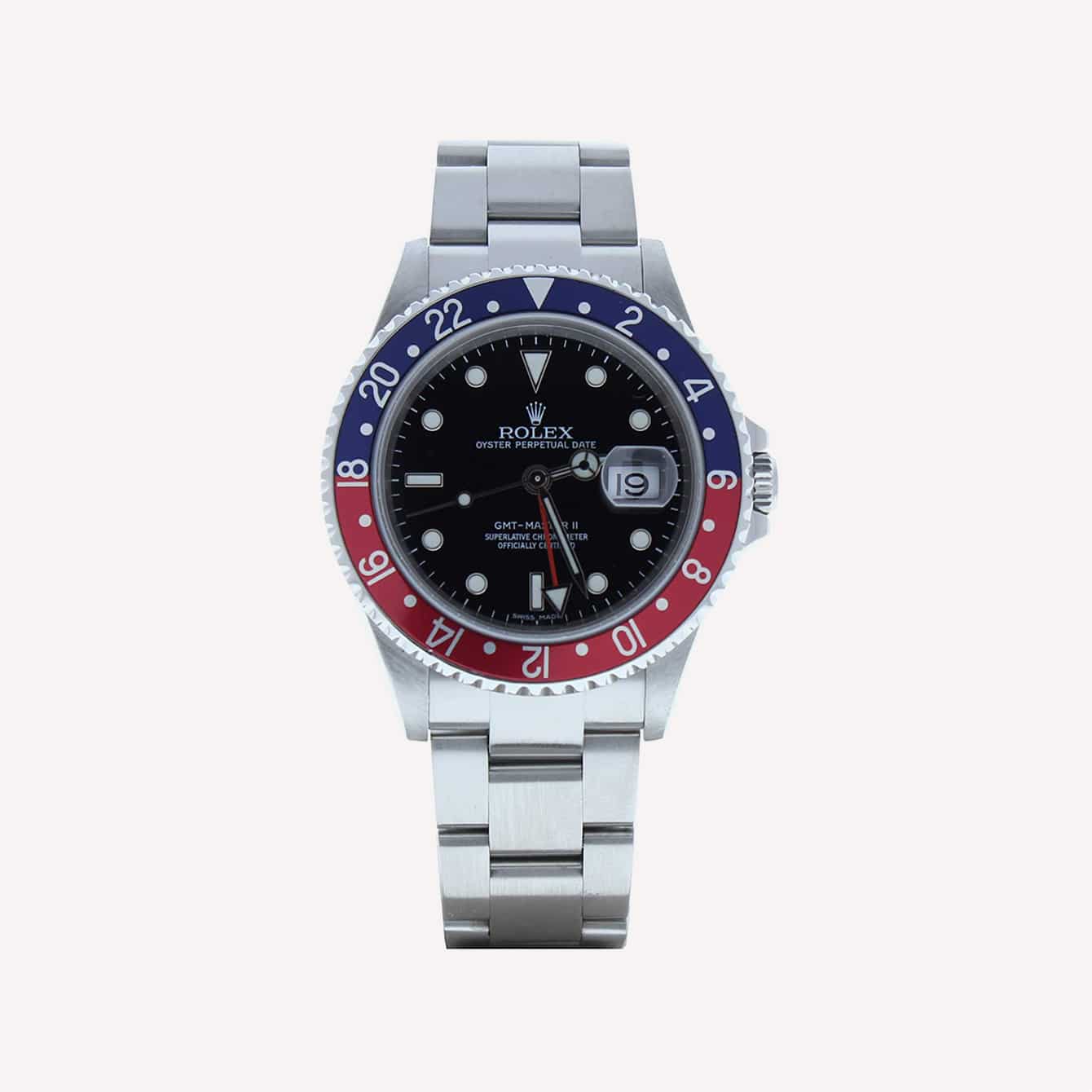 The latest version comes with Rolex's self-winding caliber 3285 movement that has a power reserve of approximately 70 hours. Even though it's fairly hard to find these days, the GMT-Master II is still the Pepsi bezel watch to beat all others.
Tudor Black Bay GMT
It probably comes as no surprise that Tudor (which is a subsidiary brand of Rolex) has its own Pepsi bezel watch.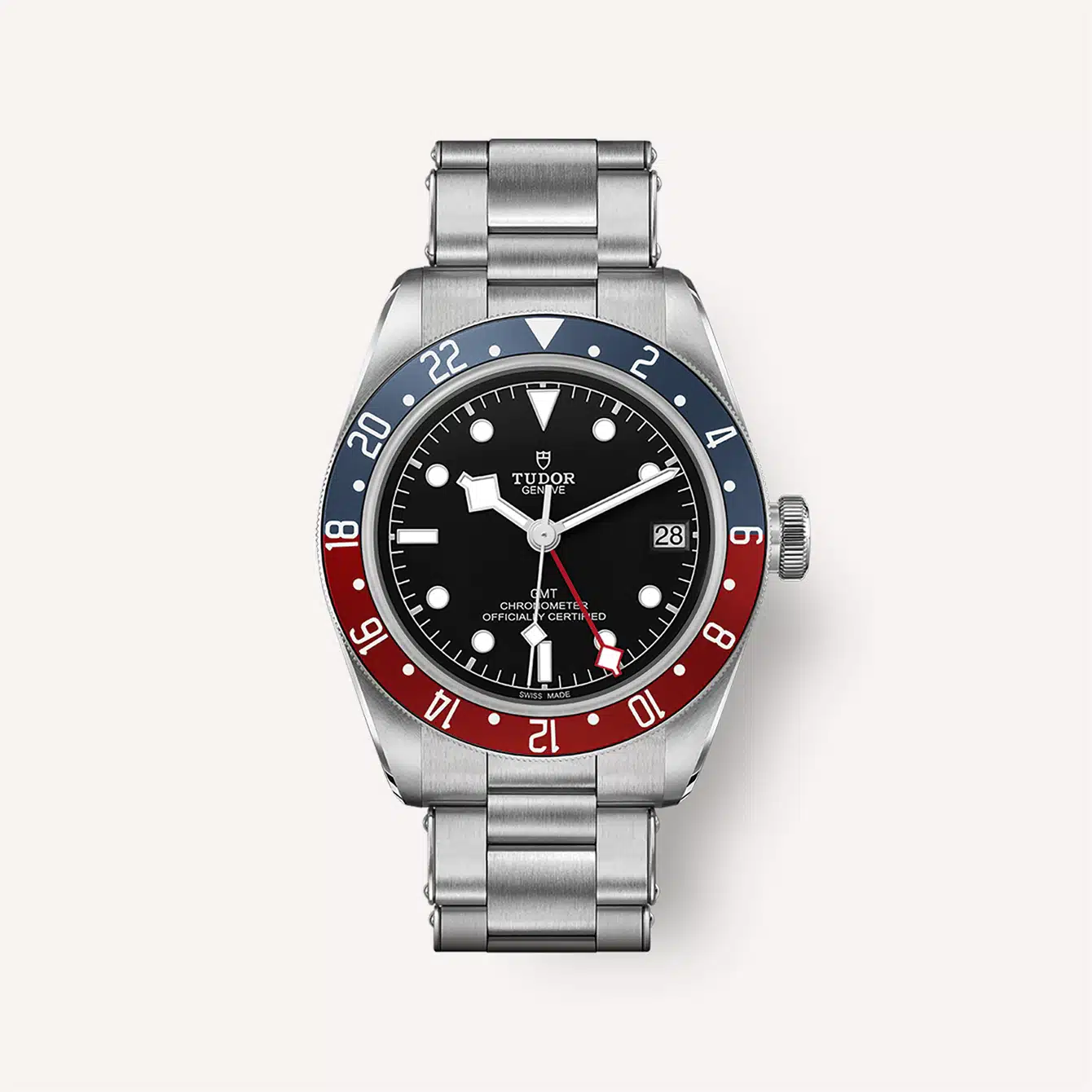 This GMT is a part of Tudor's Black Bay line and unsurprisingly retains many of the same design elements. It's closer to the style of the original GMT-Master than the GMT-Master II, giving it a more retro feel.
The Tudor is also significantly cheaper and easier to find, which means you can avoid absurdly long waitlists and wild goose chases. That said, if you prefer the look of the GMT-Master II over the original, then the Black Bay might not do it for you.
TAG Heuer Aquaracer
TAG Heuer is one of the more affordable luxury watch brands, so if you want that Swiss touch at a more digestible price point, then the brand's Aquaracer may be worth a look.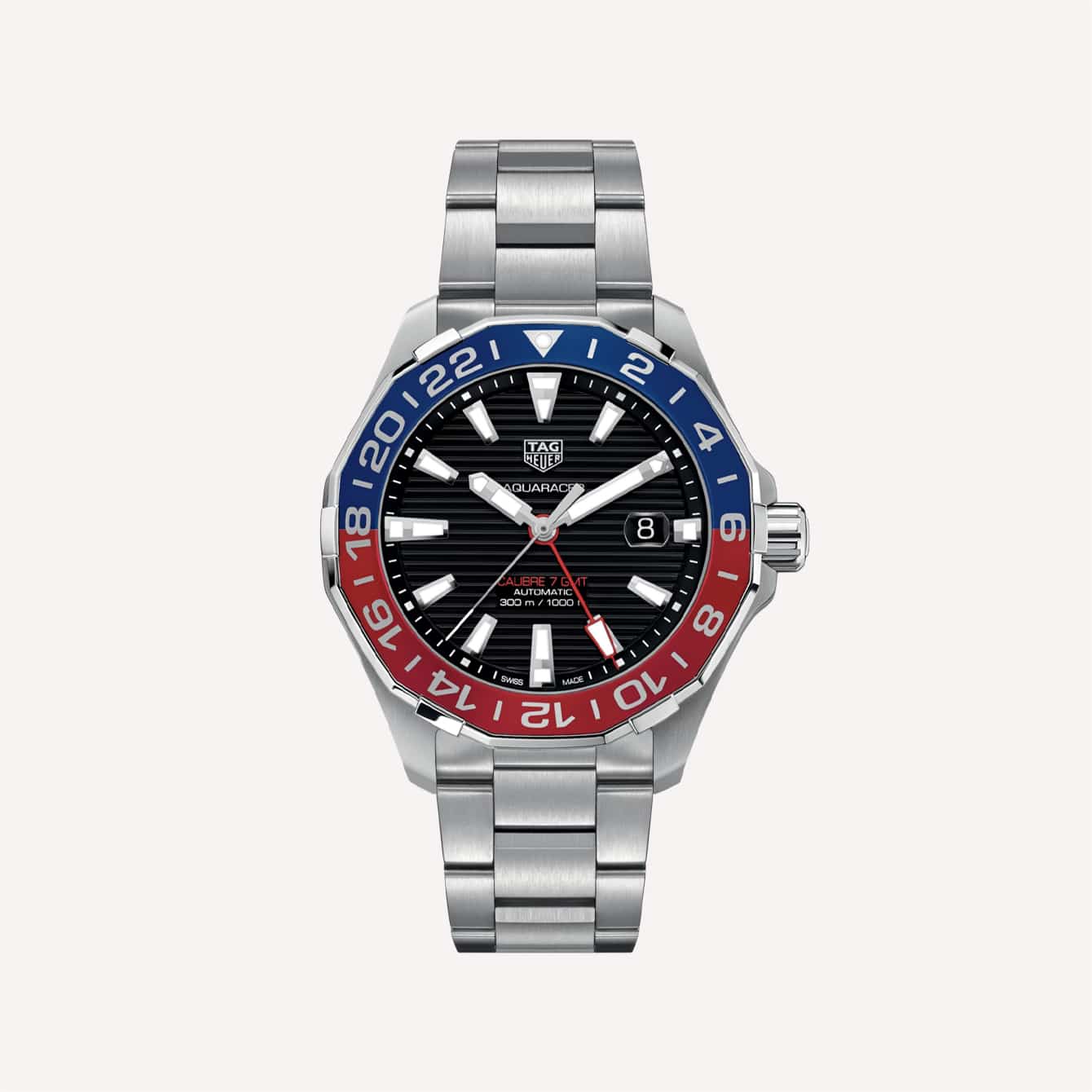 This GMT watch is a confident, angular take on the Pepsi style. Its dodecagonal (that's twelve sides!) bezel, striped dial, and large crown help it to stand out from all the other Pepsi watches out there.
And with 300m of water resistance and a hardy steel case, it's also a proper dive watch. (Well, at least in theory.) With an MSRP of $3,550, the Aquaracer is much more attainable than the Rolex and still considerably cheaper than the Tudor.
Timex Q GMT
In 1979 — 24 years after the debut of the OG GMT-Master and two years before the release of the GMT-Master II — Timex surprised the watch community by announcing a quartz Pepsi watch.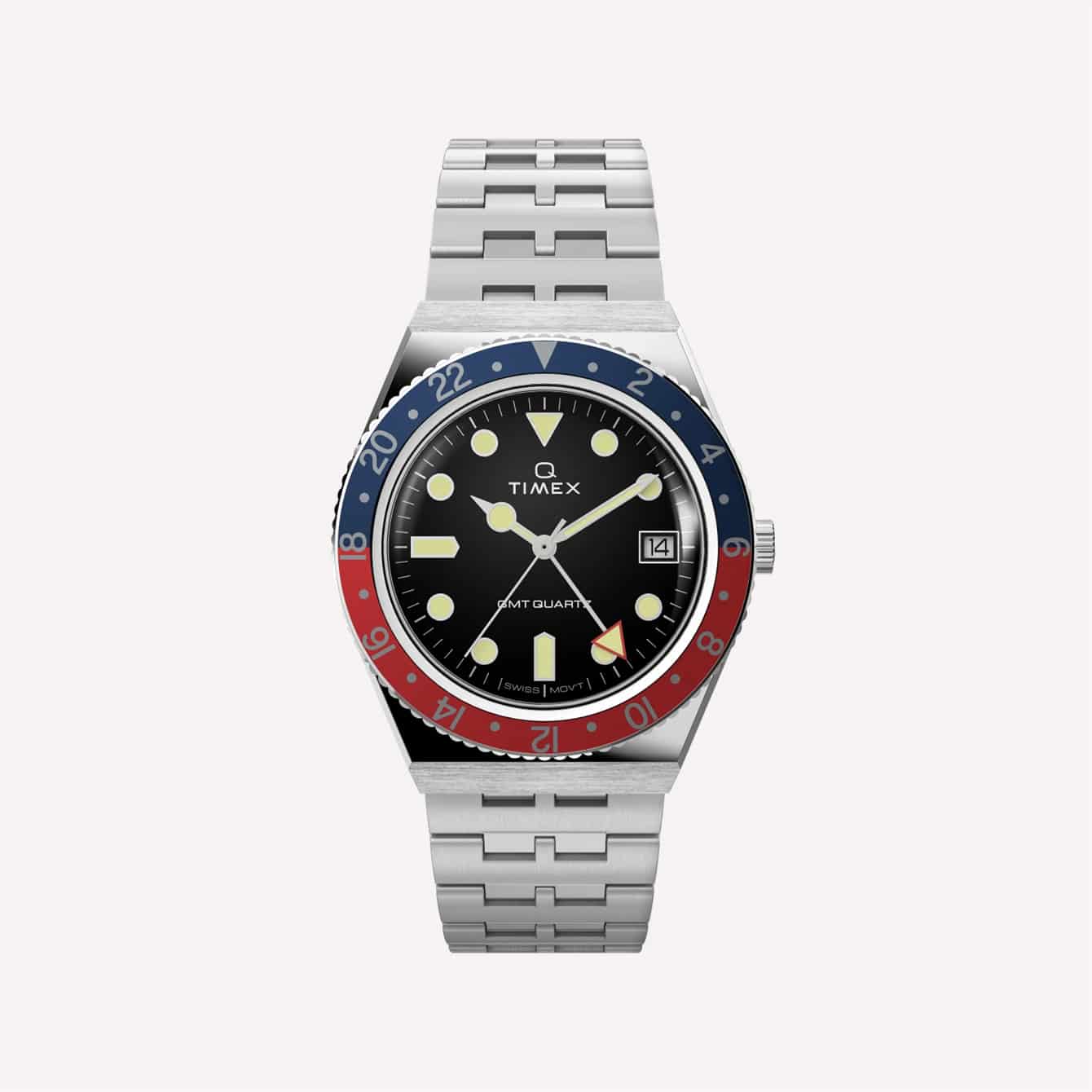 Today, there are a few reissue variants of the original Q Timex. The Q Timex GMT is perhaps the most faithful recreation. With a Swiss-made GMT movement and classic dual-colored bezel, the Q Timex GMT has all the essential ingredients of a Pepsi watch.
It's also shockingly affordable, retailing for just $229. And sure, it's a quartz watch and it's not made by a famous Swiss brand, but if you can look past those potential compromises, you'll find a thoroughly appealing Pepsi watch.
Timex Q Reissue
If the Q Timex GMT looks great to you but you have no need for the actual GMT function, then the Q Timex Reissue might be just right for you.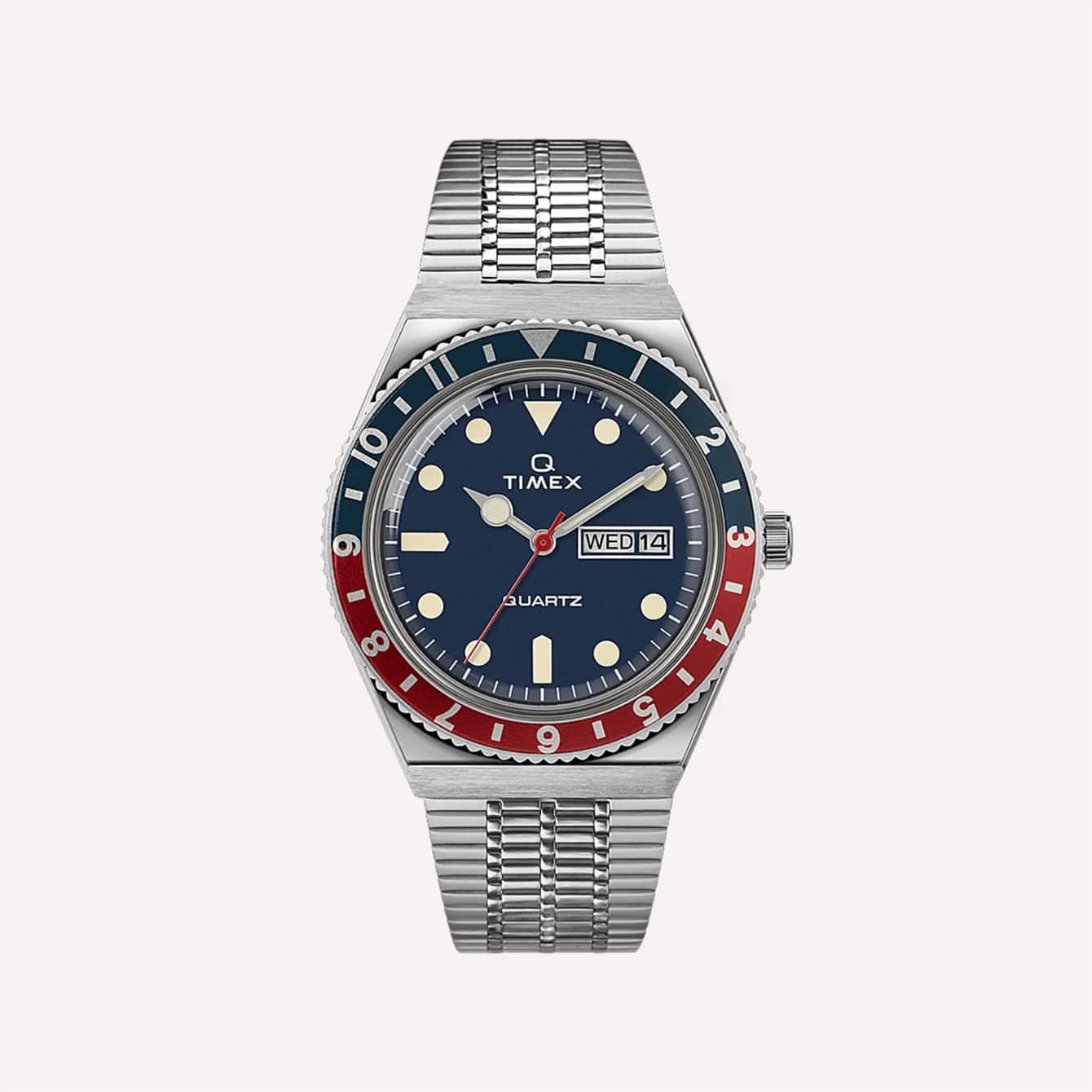 This reissue looks slightly different from the GMT version, but it still has the classic Pepsi vibe. Spec-wise, the only big difference between these two Timex watches is the presence of a GMT movement.
It's a steal at just $179, and if you really want to get a deal, you can get one used for even less.
Orient Mako II
Orient has become widely known as one of the best budget watch brands, and out of its expansive lineup, the Mako II diver remains one of its best sellers.
The Pepsi variant of the Mako II features a 3/4 bezel design set against a matching blue dial with enlarged numerals at the 6, 9, and 12 o'clock positions. It's a style that evokes the GMT-Master without trying to copy it exactly.
Like the Timex reissues, the Mako II is extremely affordable, retailing for about $150 new.
Seiko Prospex SRP779K1
Seiko has made many Pepsi watches over the years, with the most famous being the now-discontinued SKX009. If you want a Seiko Pepsi watch today, your best bet is probably the Prospex SRP779K1.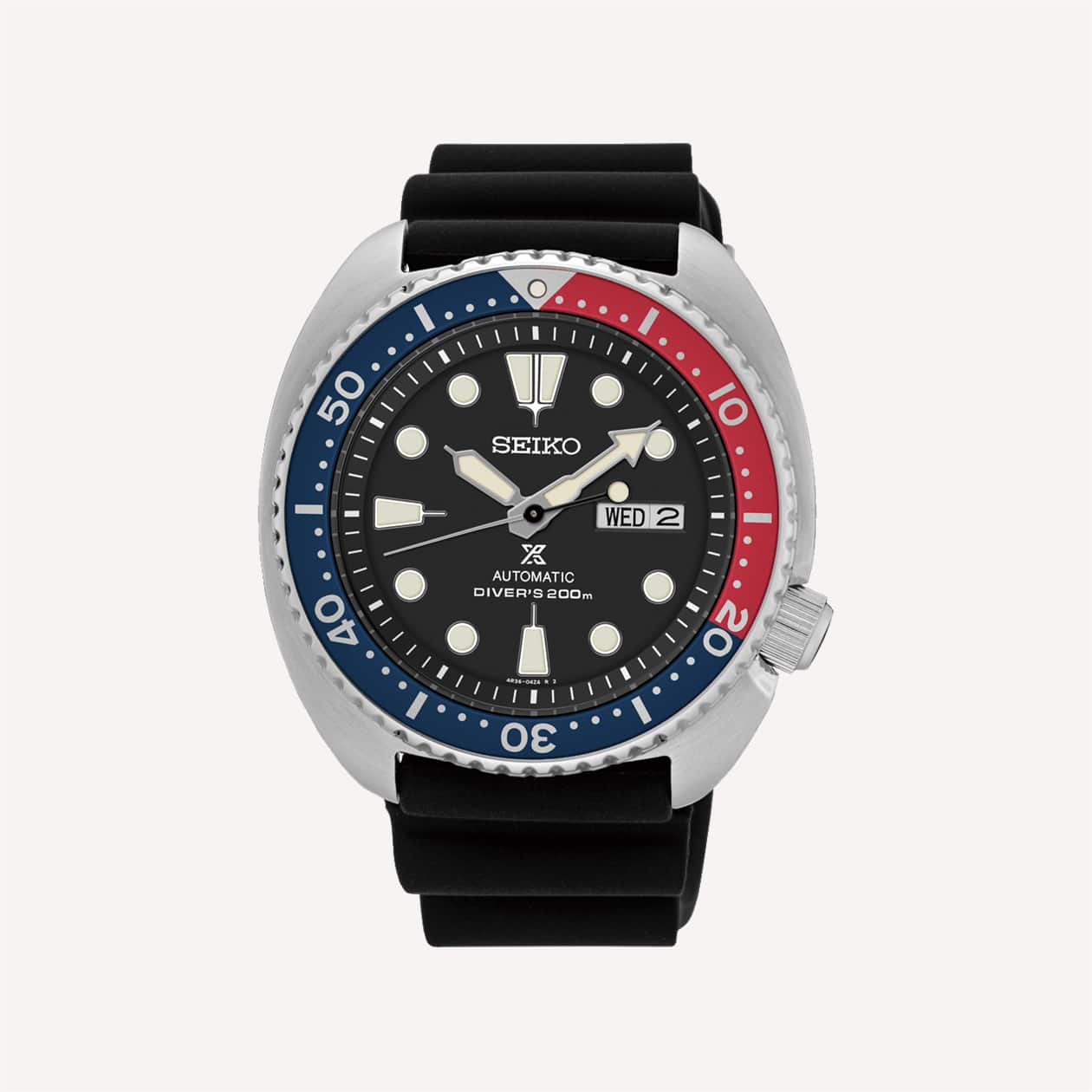 It's got a 2/3 style bezel, a turtle-style case, and an offset crown at the 4 o'clock position. Although not a GMT watch, the Prospex has plenty of nice specs, including an automatic Japanese movement and a power reserve of approximately 41 hours.
Lorier Hyperion
NYC-based Lorier is one of the many microbrands proving that a watch company doesn't need to have a decades-long history to make great timepieces.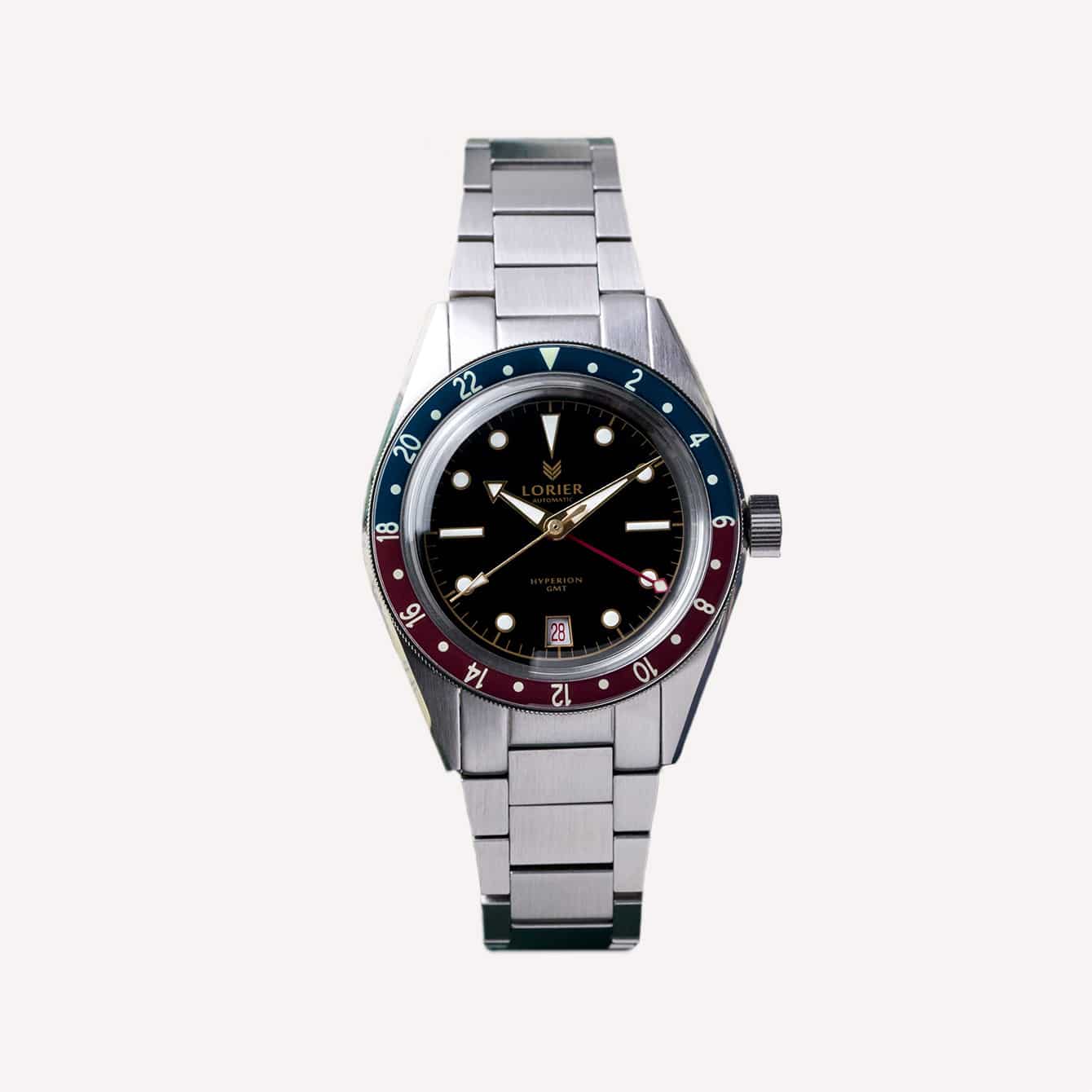 The brand's Hyperion is an elegant homage to the GMT-Master that features a Soprod C125 automatic movement with an independent GMT hand.
The Pepsi bezel has a deeper, richer color scheme than many other Pepsi watches — Lorier calls the colors Air Force blue and burgundy. Add in the gold dial details, and you get an exceptionally handsome watch.
Pepsi Bezel Watch FAQs
Here are a few quick answers to some common questions about Pepsi watches.
Why Is It Called a Pepsi Bezel Watch?
Despite its name, the Pepsi watch has nothing to do with the soft drink company. The name "Pepsi bezel watch" is simply an affectionate nickname that was given because of the blue-and-red bezel's resemblance to the old Pepsi logos.
What Is the Purpose of a Pepsi Bezel?
The Pepsi bezel allows the wearer to tell the time in two different time zones simultaneously.
Who Made the First Pepsi Bezel?
The 1955 Rolex GMT-Master was the first Pepsi watch.
Is the Rolex Pepsi Rare?
Like many Rolex watches, the updated GMT-Master II is fairly hard to find. If you're after one, expect to wait for a while, since the watch seems to perpetually be in short supply.
Wrapping Up: Which Pepsi Bezel Watch Is Right for You?
The Pepsi bezel watch has been turning heads since 1955, and it's still as iconic as ever. Even though it's a polarizing design, the Pepsi bezel has certainly cemented its place in the horology hall of fame.
What's so fascinating about the Pepsi watch is that it's not just an aesthetic. The Pepsi bezel represents groundbreaking technology that changed the way watchmakers did their job.
Today, there are all kinds of Pepsi watches available, and it's easier than ever to get one no matter your budget. If you're already a fan of dive watches and don't yet have a Pepsi dial in your collection, then you owe it to yourself to consider picking one up.
Questions? Comments? Leave them below!