Pocket watches are classic and practical. Here are fifteen of them that we recommend checking out!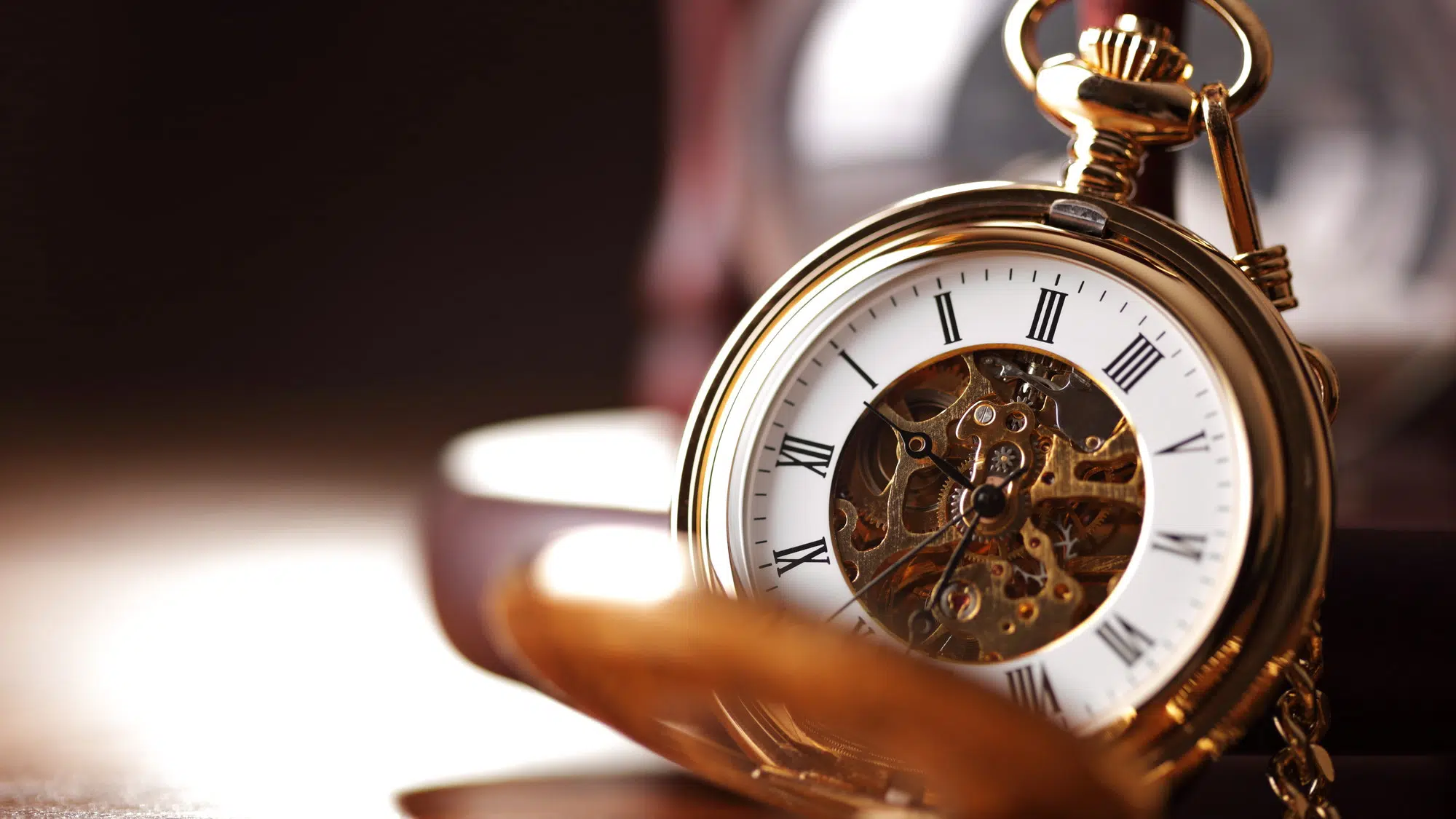 Some might argue that pulling a pocket watch from your trousers or jacket is more sophisticated than checking the time on your wrist.
One thing is for sure: a pocket watch is more of a statement piece. Since adding effortless style to doing everyday things is one of life's delights, you might want to give pocketwatches a chance.
Besides, everything in fashion is cyclical, so I wouldn't be surprised if pocket watches were back in vogue in the future.
In 2014, Sotheby's sold a Patek pocket watch for $24 million, making a bull market out of vintage watches. More importantly, it brought attention to a still-thriving culture around vintage timepieces for watch-lovers of all ages.
15 of the Best Pocket Watches
We've rounded up 15 pocket watches for your consideration. While some are expectedly classic, others are pretty bold and even modern. Even today, you'd be surprised at the wide range of styles of pocket watches available.
Gotham Gunmetal Railroad Pocket Watch
This Gotham timepiece puts a playful spin on the classic railroad pocket watch, but the simple case and gunmetal construction keep it from looking costume.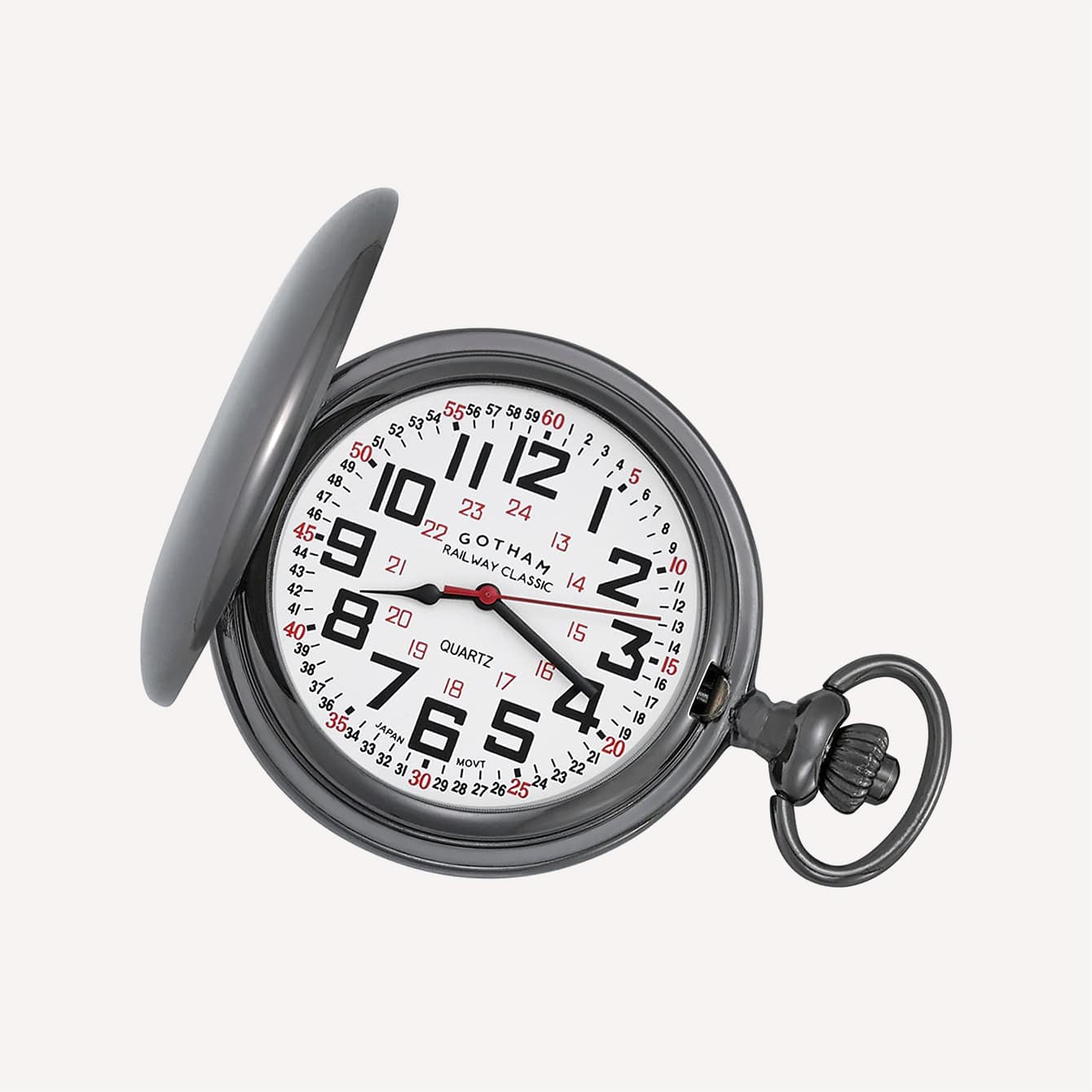 The free-floating Arabic seconds feature pops of bigger red numbers for every increment of five. This contributes to the zig-zaggy aesthetic, which is also seen in the Gotham Railway Classic appellate.
The spade hour hand and standard crown-and-bow are traditional pocket watch design features that contrast with the overall style, giving the piece an almost Wonderland-like irreverence.
Ultimately, this is a fun-looking watch, so modern it even runs on a quartz movement.
Rapport PW94
From the London-based masters of luxury watch winders comes the classic PW94 pocket watch. It's an open-faced timepiece with a gold case, complemented by regal blue hands — a time-honored combination.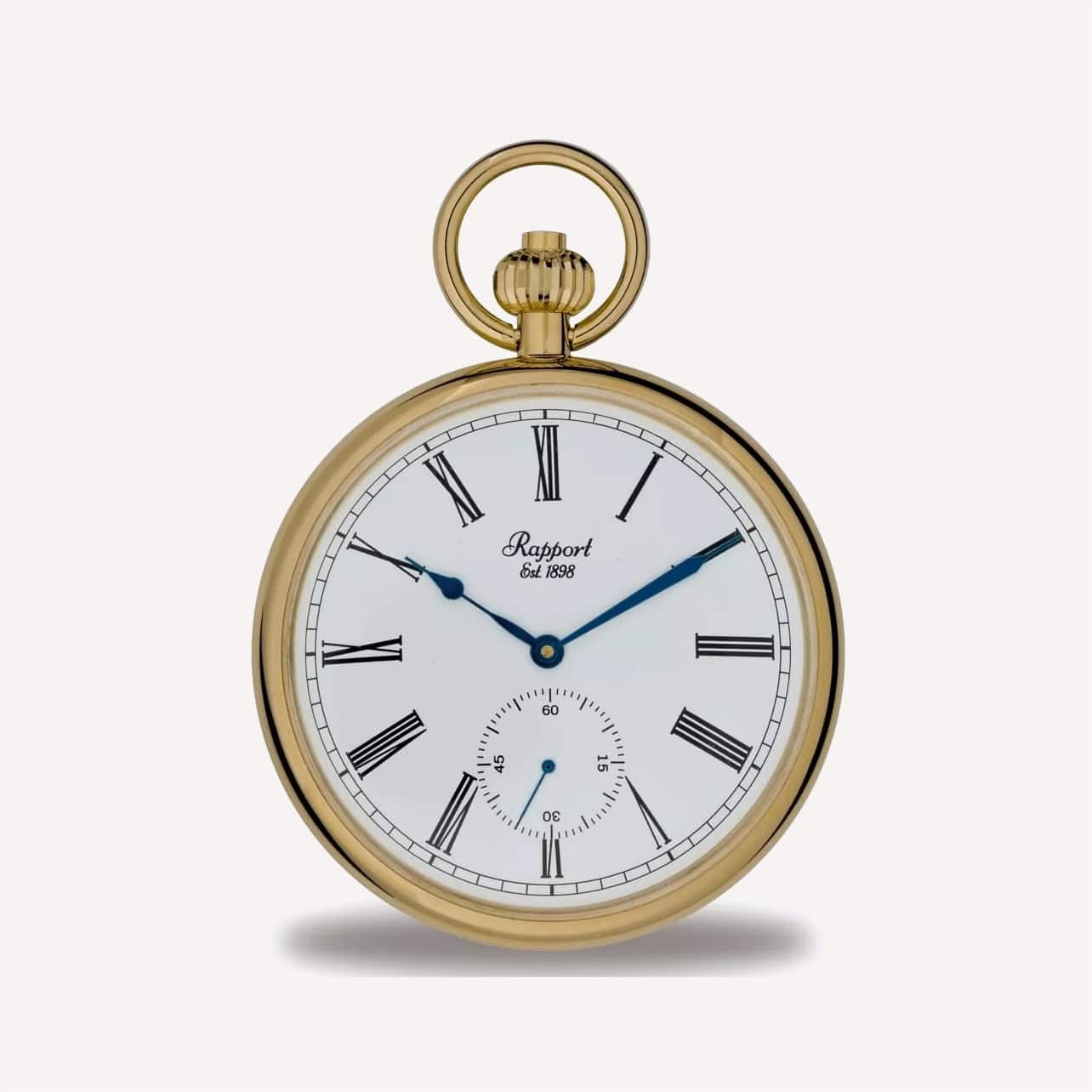 The thin Roman numerals and unlined small seconds subdial offer a lot of negative space, giving the dial an understated look.
It runs on a 17-jewel hand-winding mechanical, which cinches the traditional approach. Plus, the only thing chicer than pulling out a pocket watch to tell time is operating its movement.
Longines Heritage L7.039.4.21.2
Yes, Longines makes pocket watches that are equally as classy as their wristwatches.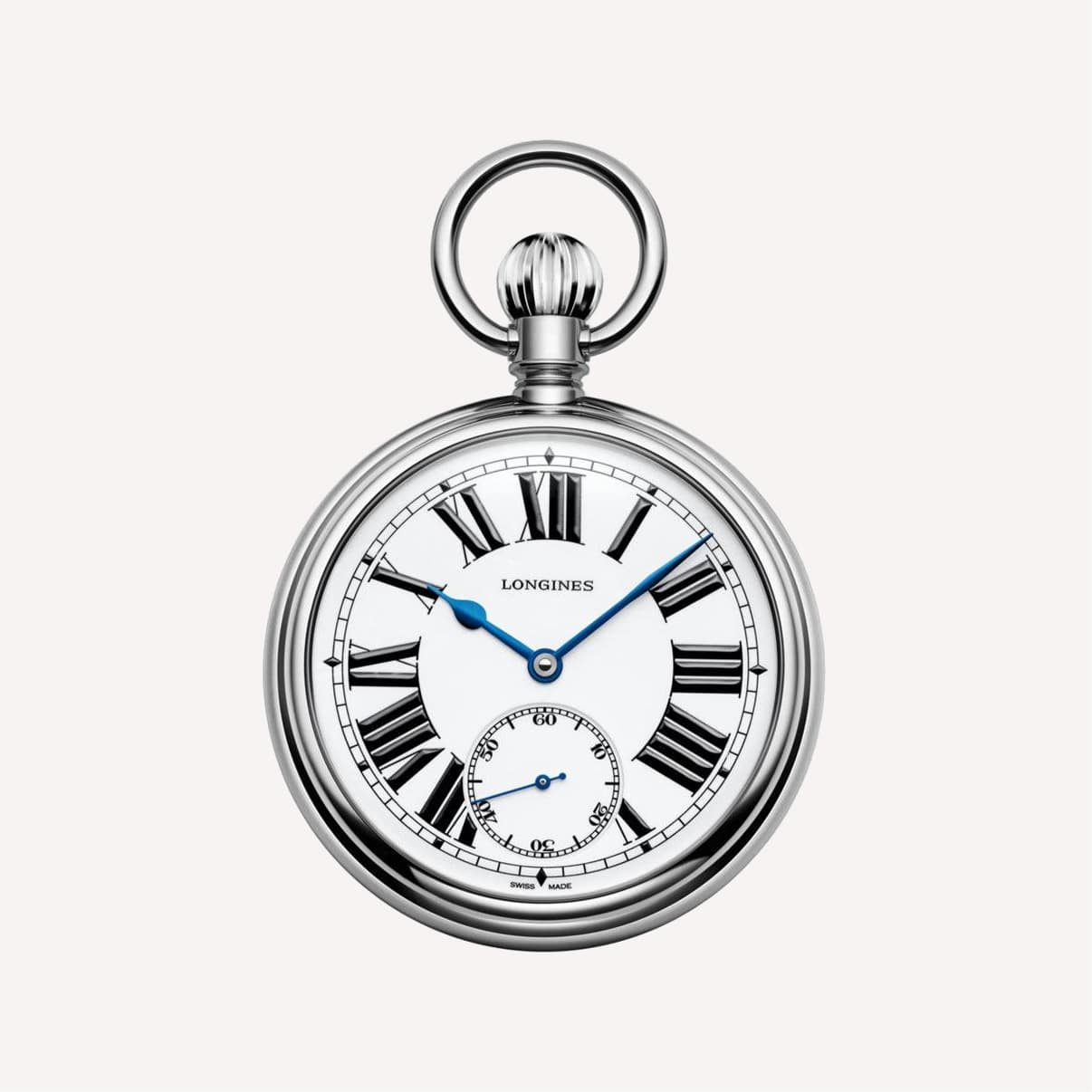 This Heritage watch's polished and lacquered white dial is adorned with wide Roman numerals so close together that it gives the watch a bold look while also making it extra legible. The fully-outlined small seconds subdial helps with this too.
This timepiece is powered by the Swiss-made Caliber L513, which at 21,600 vph, is a fine balance of durability and accuracy.
Bulova B2662
Bulova is known to pull from their archives, so it makes sense that they offer some excellent pocket watches. The B2662 is a dressy timepiece at first glance, but it actually features some utilitarian qualities.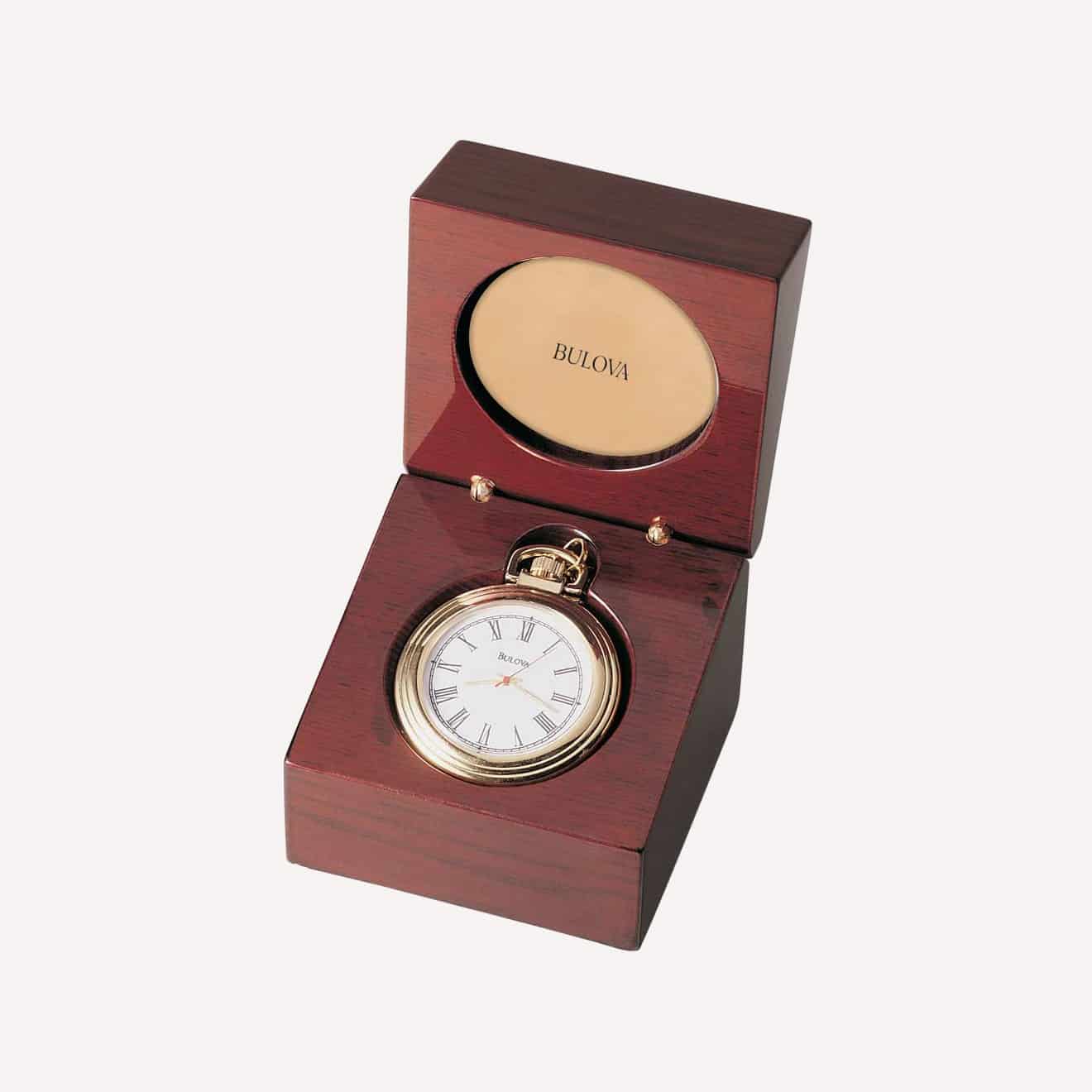 The three-stepped bezel adds a subtle touch of complexity and extra surfaces for more shine. Meanwhile, the short bow and crown are comfortably unobtrusive and dial down the opulence of the watch.
If you're looking for a pocket watch that visually sits somewhere between decorative and pragmatic, the B2662 is the perfect balance.
Speidel Satin Pocket Watch
Another modern quartz timepiece, the Speidel Satin Pocket Watch's slick and classy look comes from its clean lines and faint use of texture and light.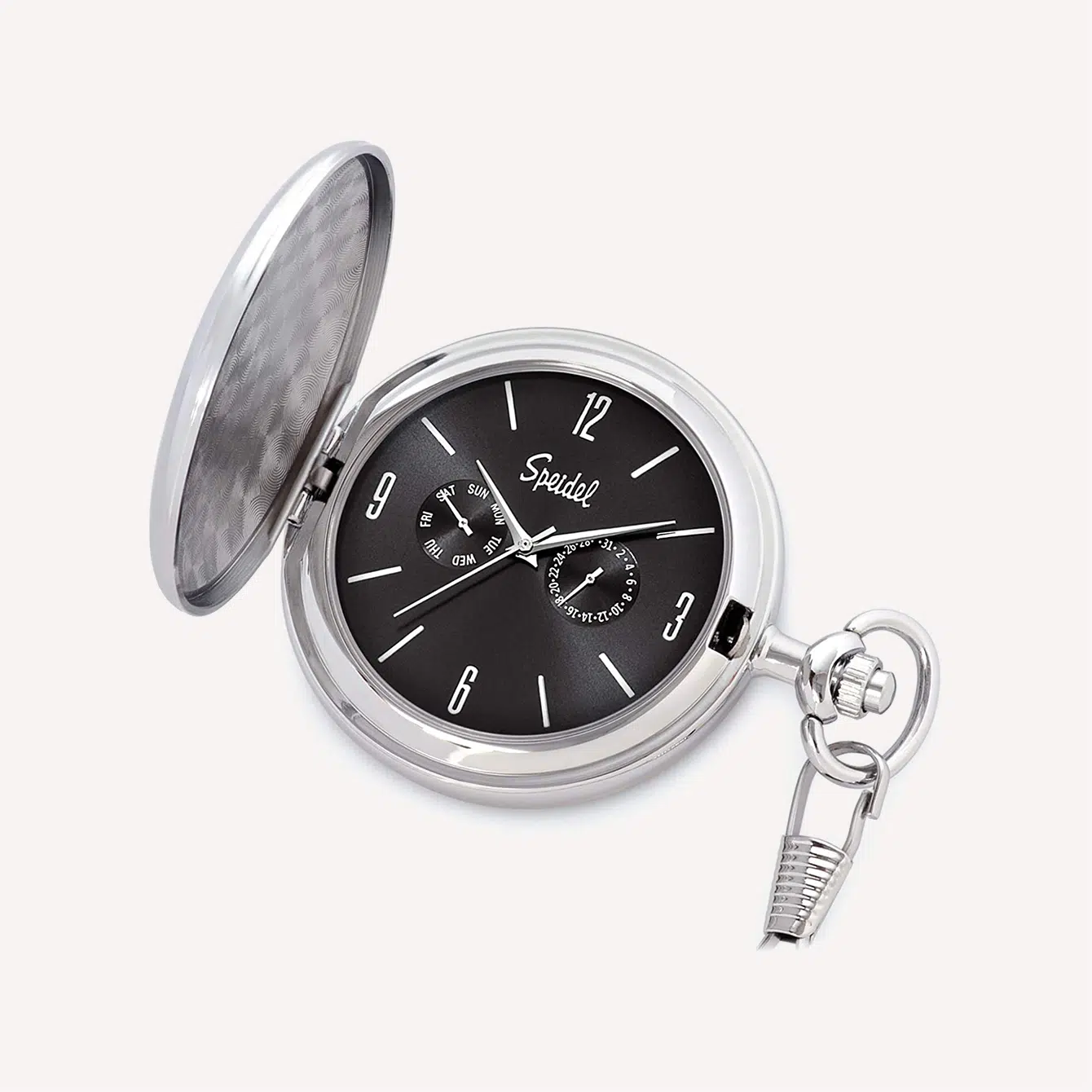 The silky main dial is slightly less shiny than the two subdials, while the sword hands and stick indices are stylishly sterile. Even the Arabic three, six, nine, and twelve are long and thin.
The brushed satin case is engravable, equipped with a fun push-button crown, and is attached to a timelessly cool diamond-cut curb chain (it's also removable for those of you who aren't into curb chains).
Fort Tempus Concealed Pocket Watch
Fort Tempus on Trendhim makes many pocket watches worth looking into, but this concealed pocket watch is a real showstopper.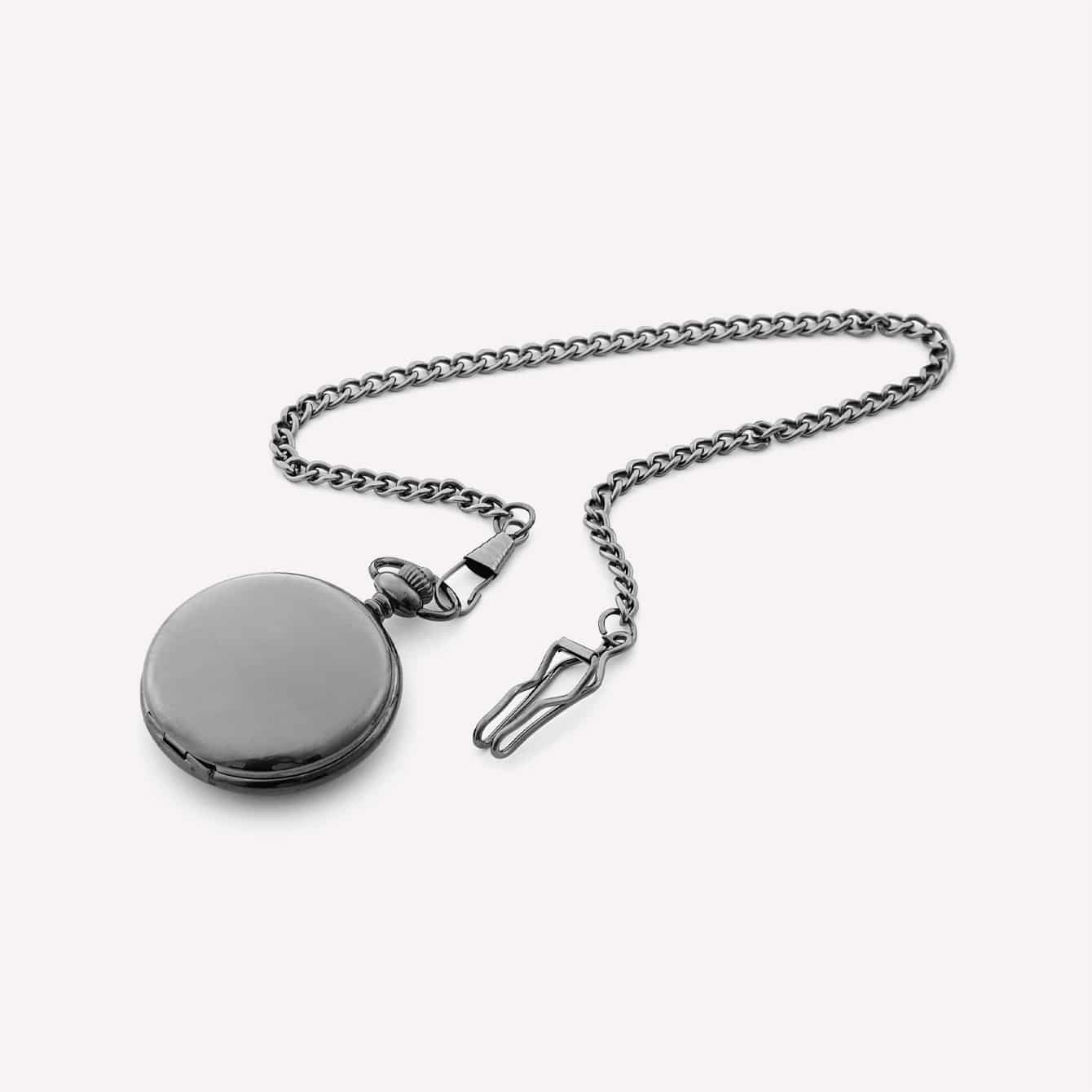 It's actually only "concealed" until you pop the cover open to reveal a completely bare-all dial design. The center dial showcases the beautiful gold-tone movement, framed by embossed Roman numerals. Even the dial hands are sufficiently Baroque.
Notably, the crown and bow are on a two-step podium giving it an elongated scepter-like look. It sort of serves as a hint of what lies behind the unassuming dial cover.
CakCity Digital Pocket Watch
This CakCity Pocket Watch is so modern, it has a digital face and basically all of the essential functions of a G-Shock.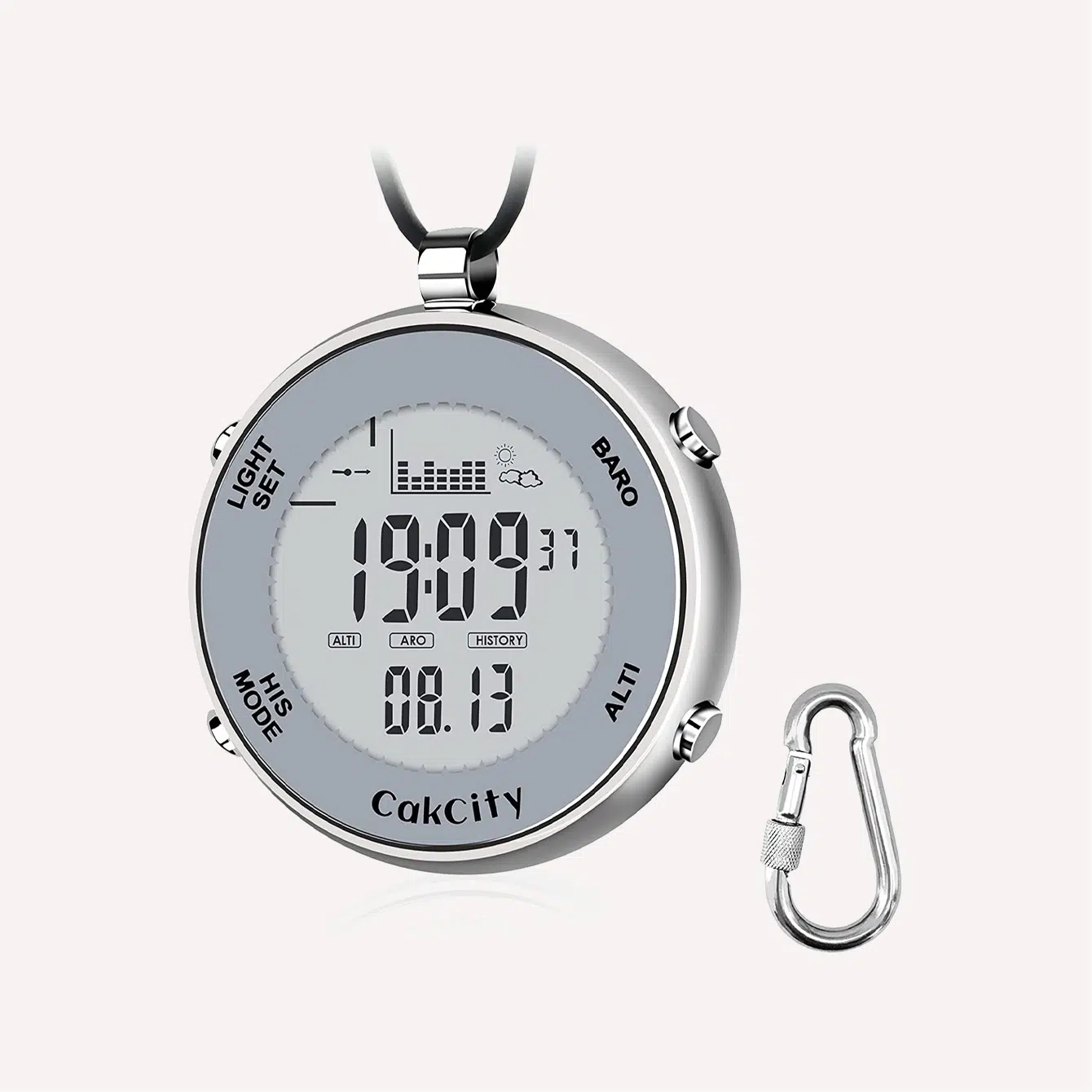 It's designed for fishing, so it comes with a barometer, altimeter, and weather forecast components like a storm warning feature. It has both a non-bright lume for dim conditions and an EL backlight for total darkness.
It doesn't have the classic charm of a traditional timepiece, but it's tactical, useful, and still just as fun to take out of your pocket when checking the time.
Daniel Steiger American Luxury Hunter Watch
There's absolutely nothing simple about this gilded, highly-adorned pocket watch. If you're looking for a major look-at-me device, the Daniel Steiger Hunter Watch, with its 18-karat gold-plated styling, is for you.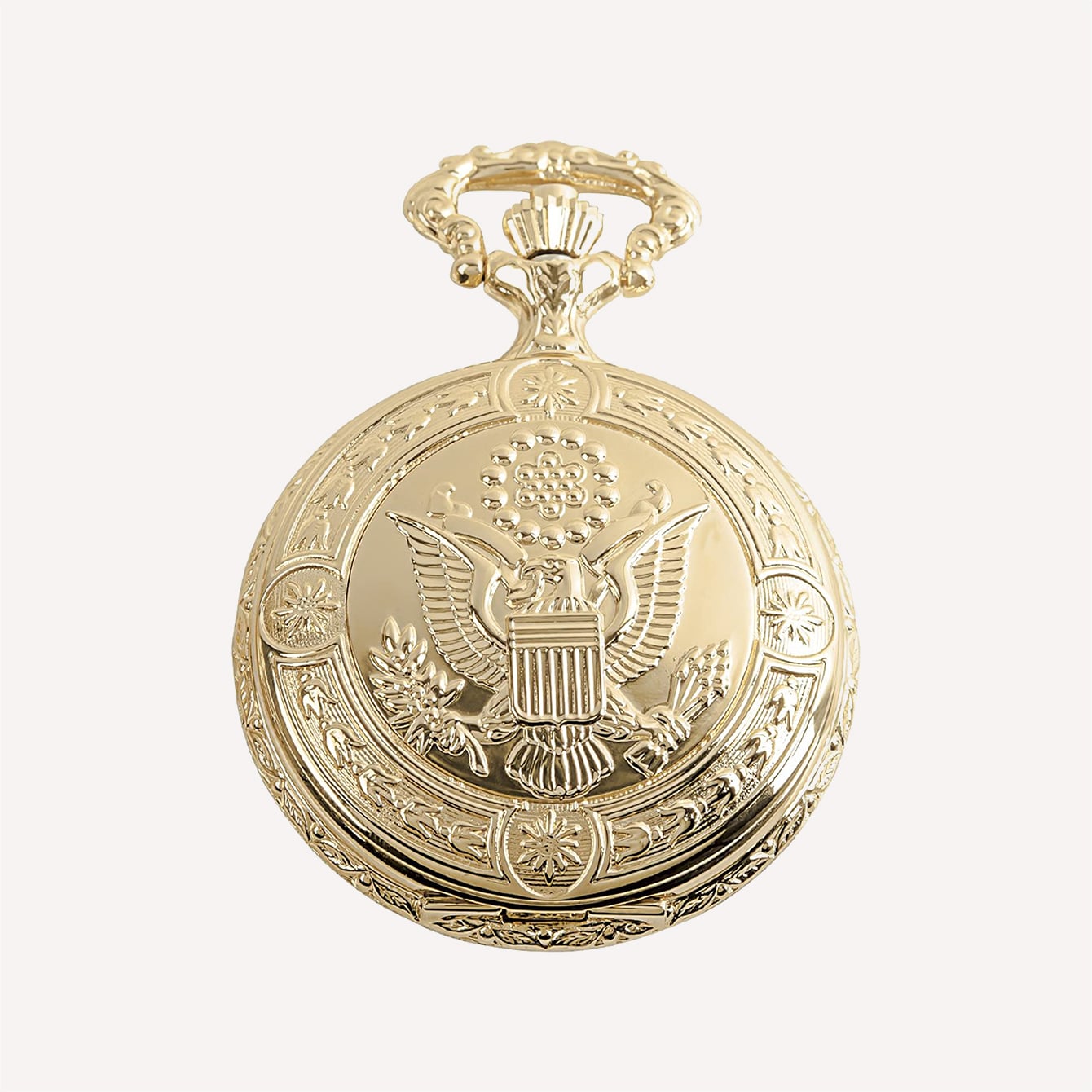 It's embossed throughout its entire body, including on the bow and crown, with a Federalist-style American eagle on the front.
It runs on a precise quartz movement and features a crisp white dial with Roman numeral markers for every hour and a day-date window at the three position.
Tissot Savonnette
The Tissot Savonnette is a sophisticated mix of stately old-world features and clean, modern ones. For example, the simple bezel, stick hands, and matte white dial look sharp and uncluttered.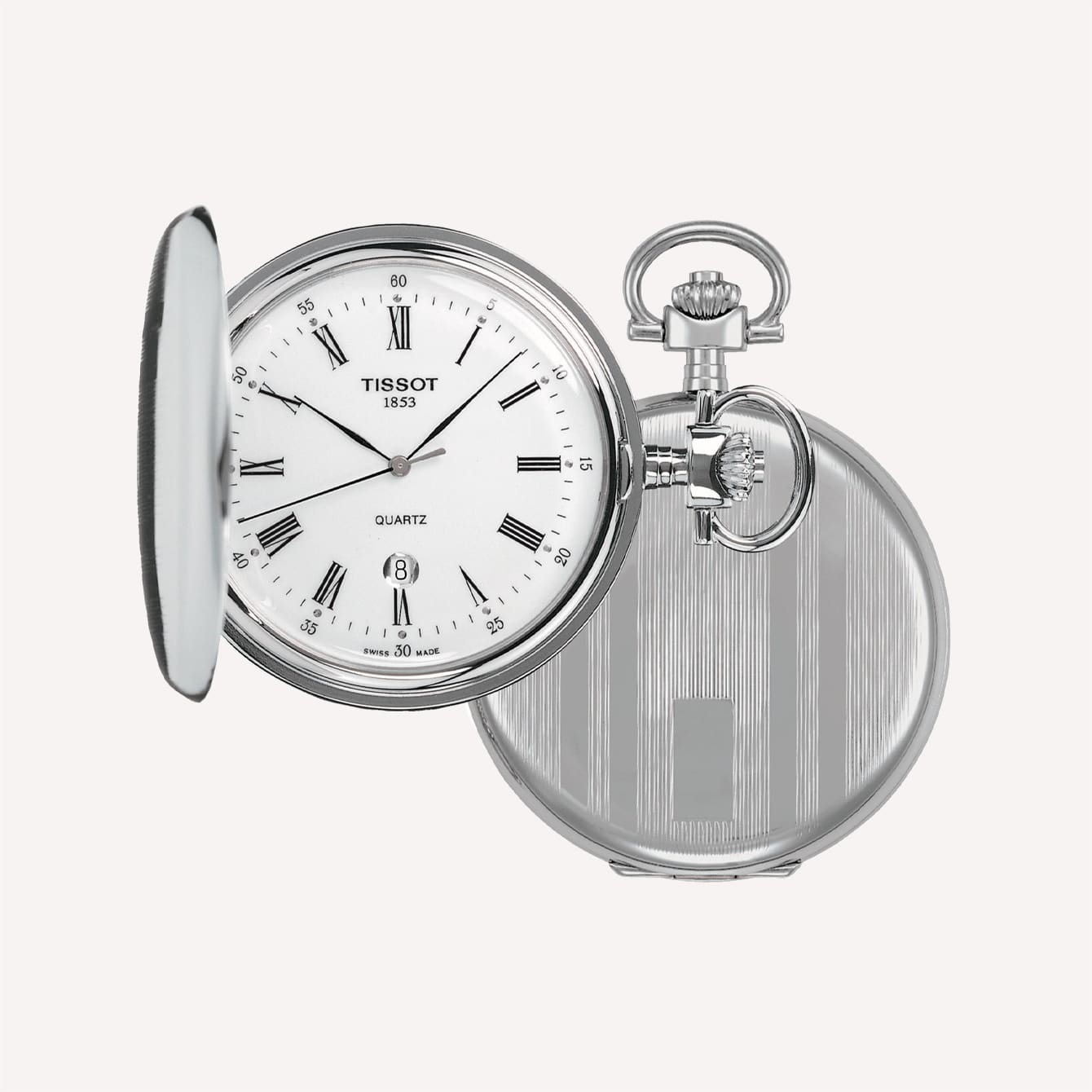 However, there's ornateness to the Roman numerals and decorative bow and crown. Even the dial cover features tidy vertical texturing, balanced with smooth surface accents.
Tissot makes this watch in stainless steel or brass and with a quartz or mechanical movement.
Frederique Constant Manufacture
A true gentleman's timepiece, the Frederique Constant Manufacture's delicate details come together in a non-flashy way. It's downright aristocratic.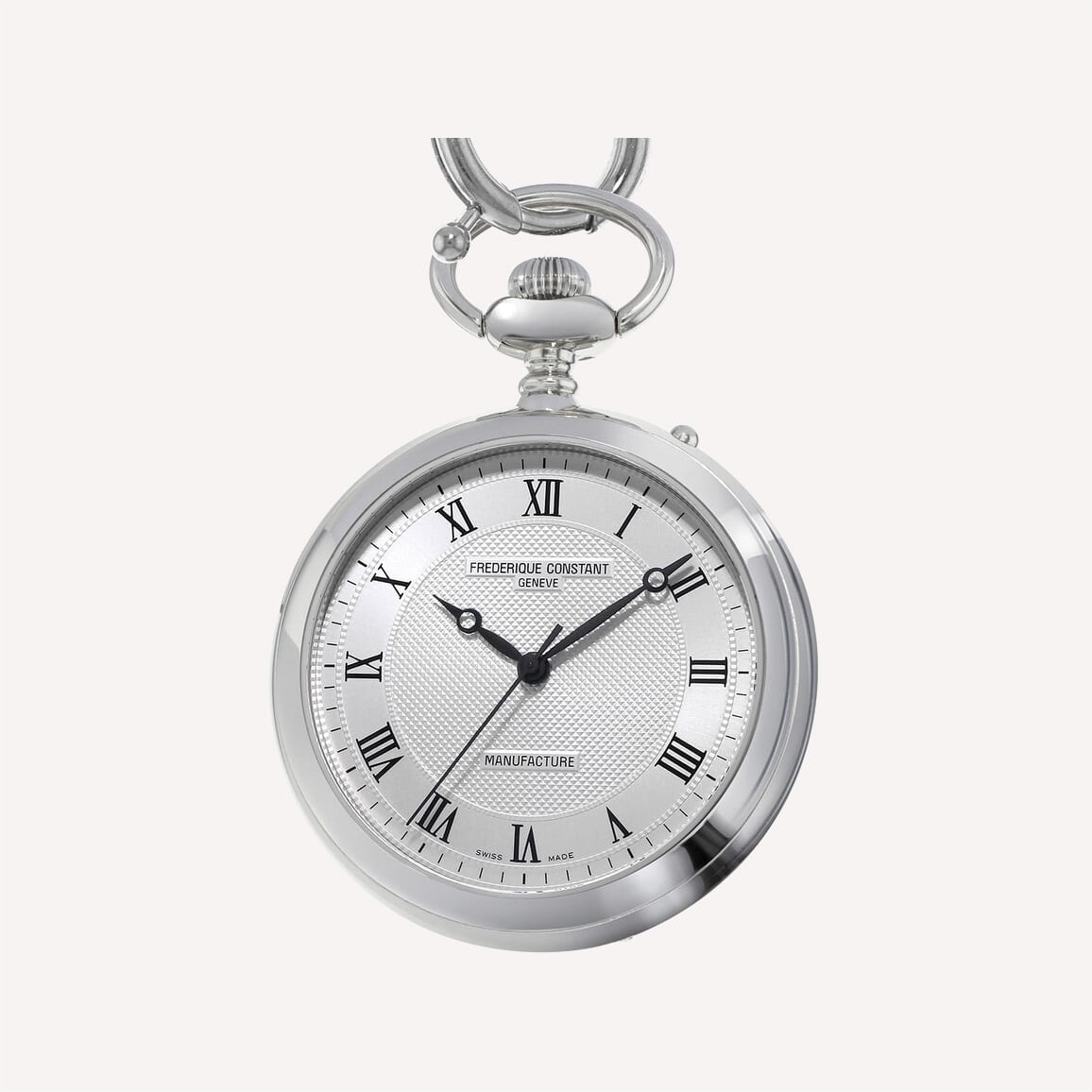 Specifics like the tie-around style of the bow, the Breguet-esque hands, and the micro-diamond textured dial add distinction without taking away from the classy look of the watch.
It runs on a hand-winding caliber, has a scratch-resistant sapphire crystal, and comes in rose gold or silver-toned colorways.
Jean Pierre of Switzerland Full Hunter
The Full Hunter from Jean Piere of Switzerland looks similar to the Tissot Savonnette.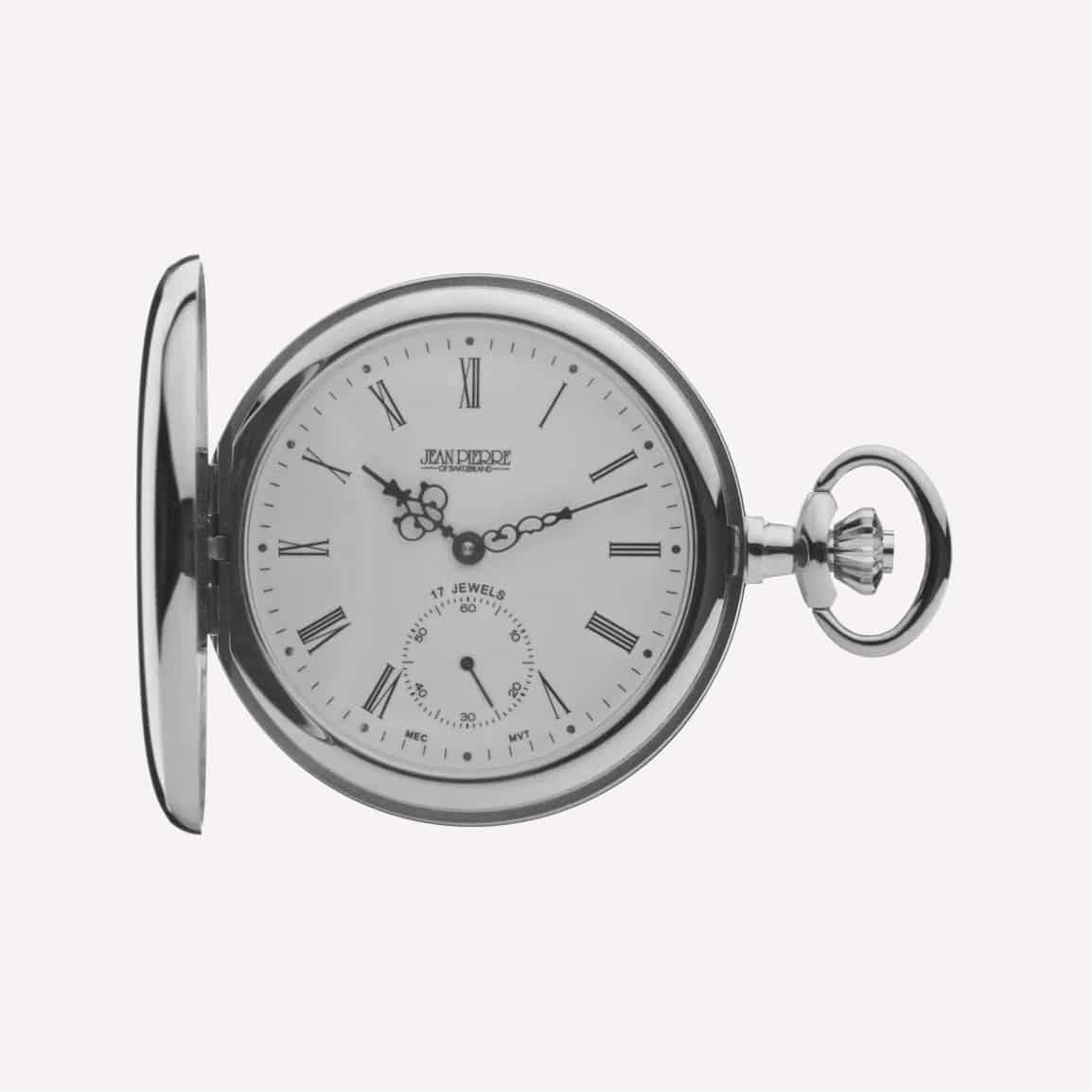 It uses ornate features but uses them sparingly for an evenness of traditional and modern qualities. However, the small seconds subdial gives it a more practical, railroad-like aesthetic.
On top of that, the body of this pocket watch is chrome-plated. It's harder, more durable, more corrosion-resistant, and even easier to clean, compared to non-treated metal. It's also noticeably shinier for an almost dark platinum look.
Tissot Bridgeport
A visual and functional complexity, the Tissot Bridgeport is a double-sided fully see-through pocket watch. And, it's a true gift to the horologically curious.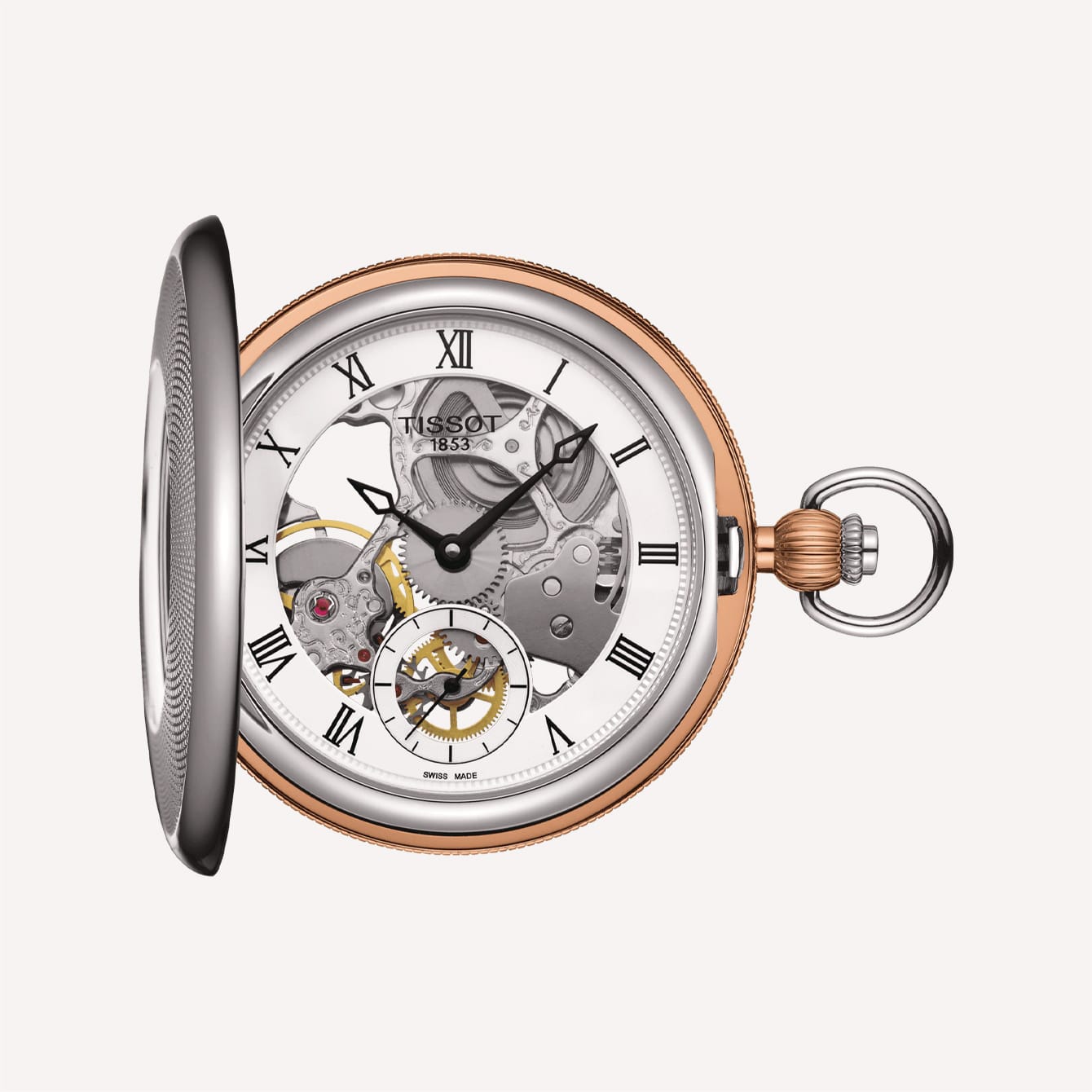 The back cover and front cover can butterfly open, revealing the dial face and the front of the movement on one side, and the 100% exposed back side.
You can see everything, from the rotor, to the beautiful gold and silver mechanisms, and to the glistening jewels. The use of gold accents throughout the body ensures that the decorativeness isn't just limited to when the dial covers are open.
Stuhrling Original Skeleton Watch
Stuhrling's Original Skeleton is the standard-bearer when it comes to see-through watches.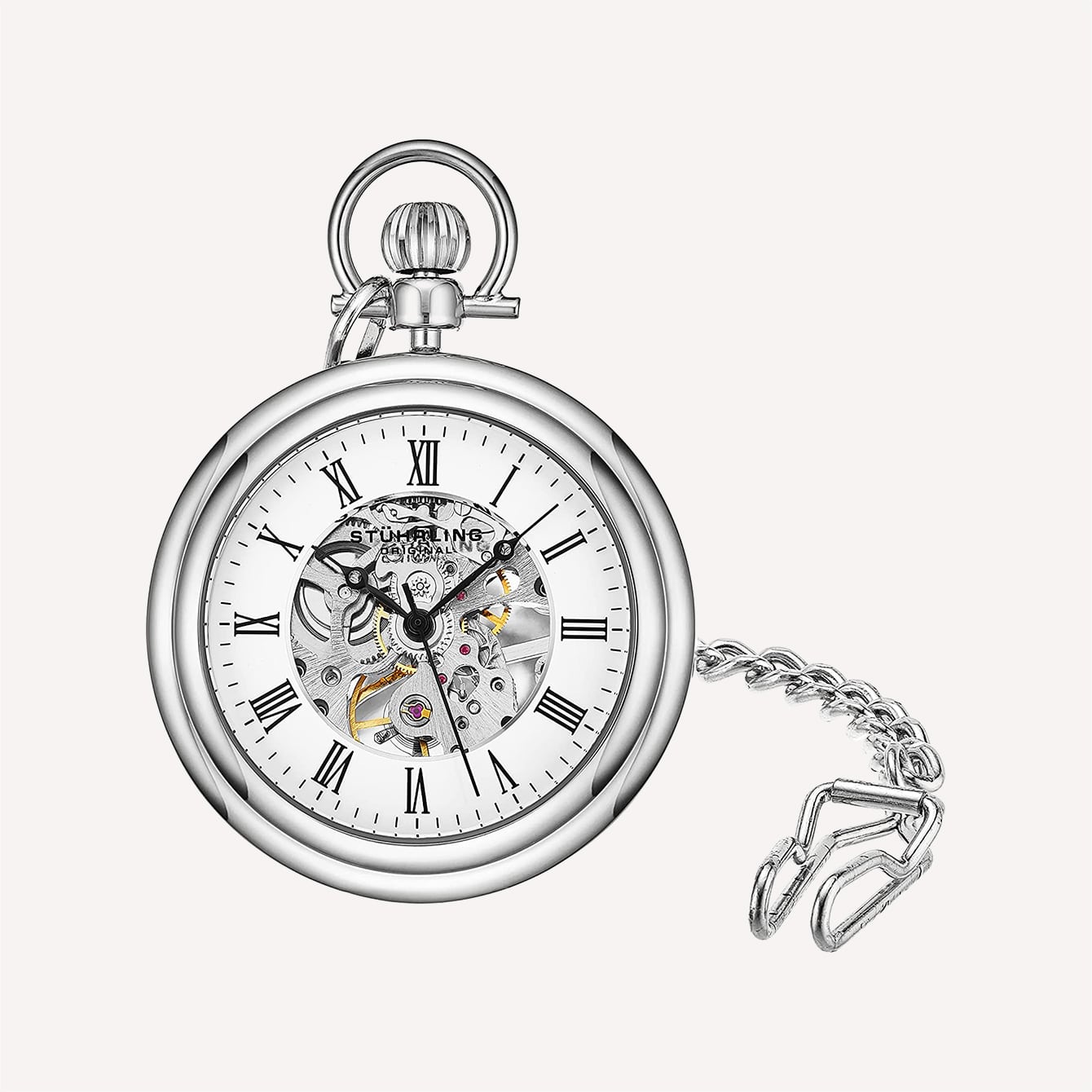 Striking an effective balance between the concealed Fort Tempus and the high-energy Tissot Bridgeport, the exposed front and back of the OS come with thicker frames, giving you a peek at the movement from both sides.
It's certainly a generous peek (this isn't an understated watch, by any means). But for a full skeleton timepiece, few watch models are as equally whimsical as they are classy.
Audemars Piguet Classique
A genuine piece of handcrafted art, the 637-component Piguet Classique will set you back about as much as the median price per square foot of a Manhattan home.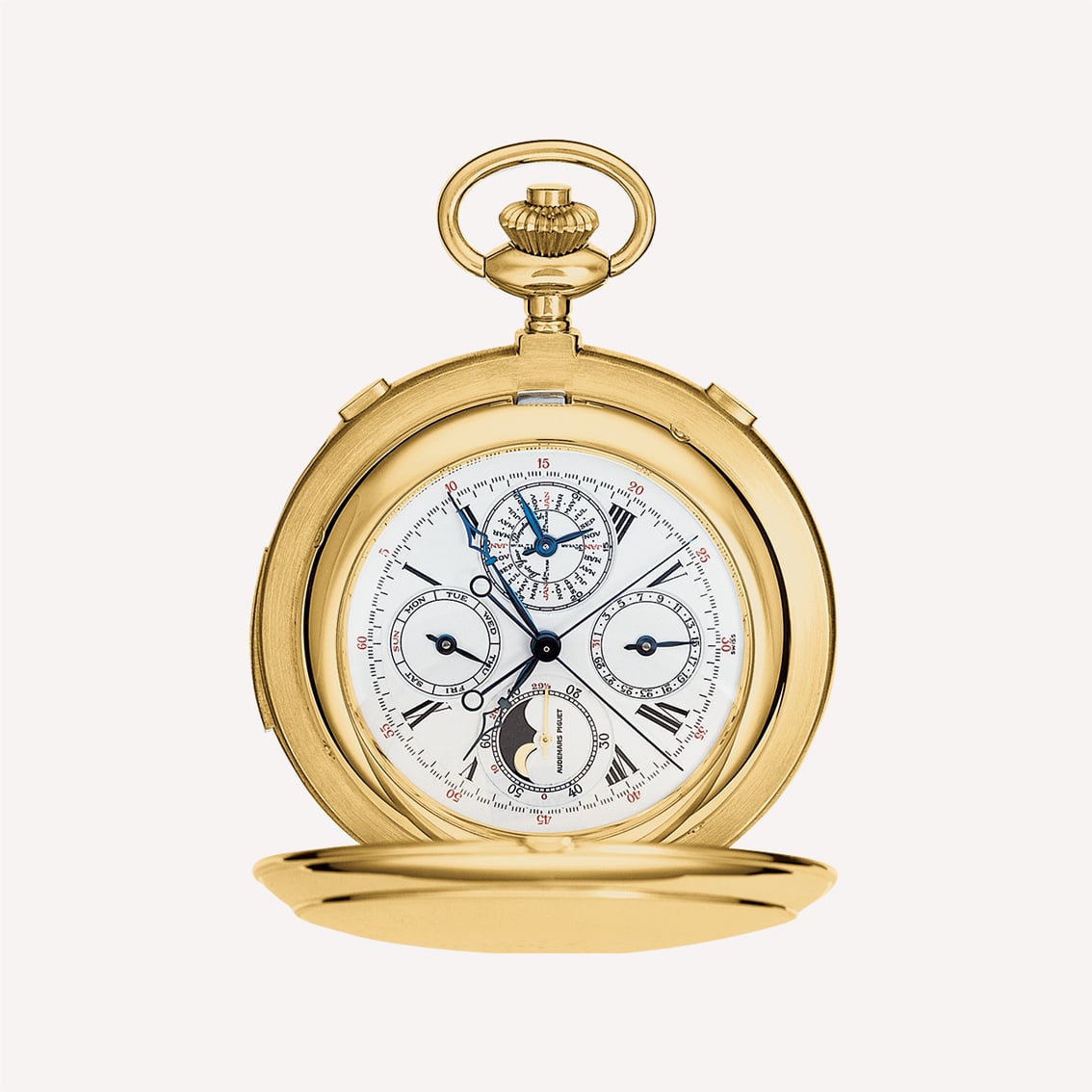 Similarly, there are often wait-lists and elusiveness on the secondary market.
Still, with its reliable and unkillable hand-winding movement, exquisite yellow gold case, and labored-over dial details, it's one of the market's most notable and go-to grail pocket watches.
Patek Philippe Pocket Watch
The brand that launched the still thriving vintage scene, Patek Philippe's standard modern pocket watch, is simple but timeless and, importantly, versatile.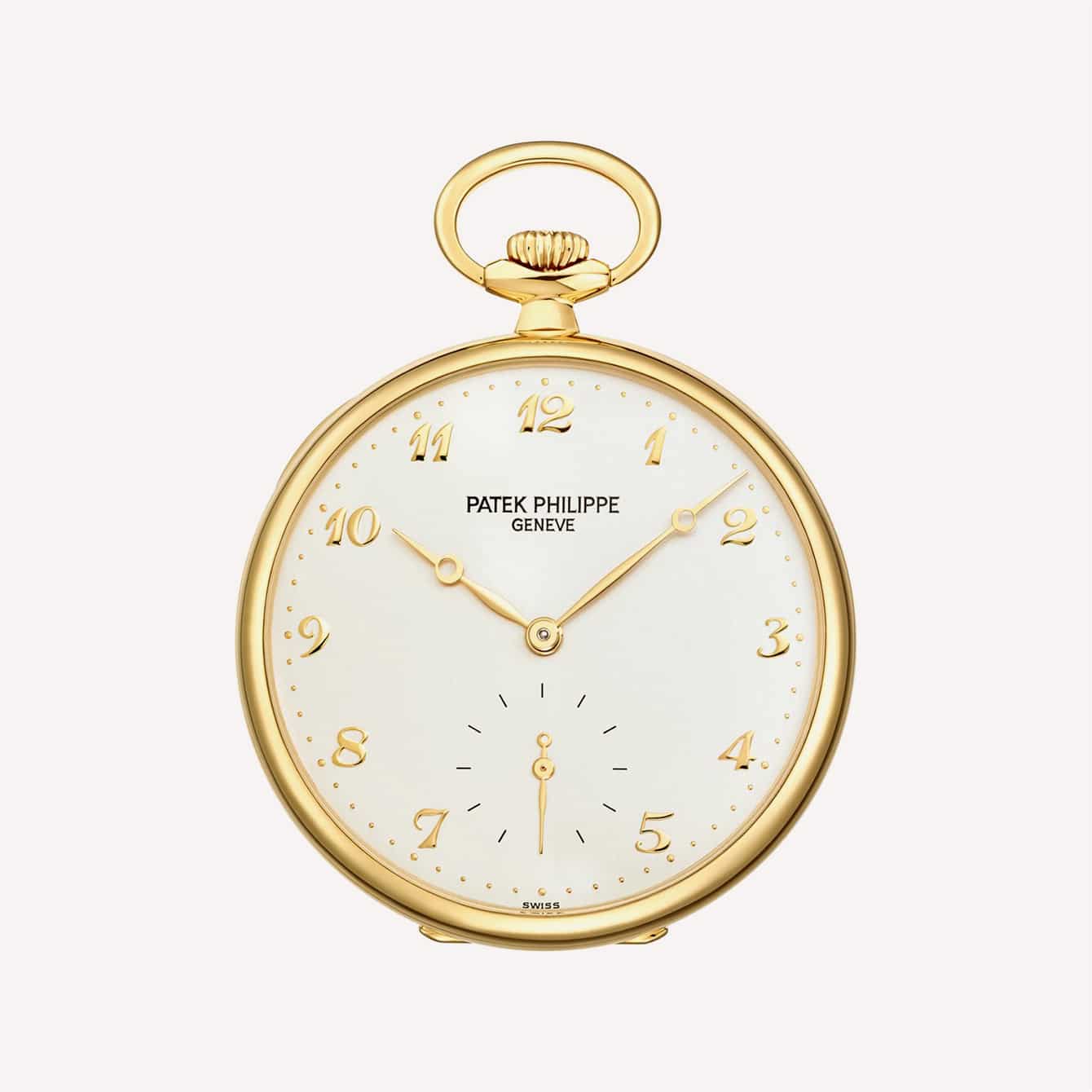 As far as pocket watches go, they don't scream for attention. The most basic version features a dotted seconds track, flawlessly applied Arabic numerals, and a minimal subdial.
With its precious metal construction, immaculate finishing, and superior movement, though, Patek pocket watches are akin to functional high jewelry—and are an excellent investment piece.
FAQs About Pocket Watches
Still have questions? These answers might help:
Who Makes the Best Pocket Watch?
It depends on what you're looking for. Bulova, Stuhrling, and Tissot make several heritage designs, many of which fall in sub-$100 price points. Patek Phillippe and Audemars Piguet are known for luxury pocket watches, equal in caliber to their wristwatches.
What Are the Best Antique Pocket Watches To Collect?
All of the heritage watch brands built pocket watches at some point in history. The secondary market offers beautiful revivable pieces from Omega, Rolex, Piguet, Blancpain, and Patek.
Going further back, the now-defunct Elgin was the largest-producing American watch company, so it isn't too difficult to find their pocket watches floating around as well.
What Is the Most Valuable Pocket Watch?
In 2014, Sotheby's sold the Henry Graves Supercomplication pocket watch by Patek Philippe for $24 million.
Are Pocket Watches Worth It?
Yes, they're arguably just as stylish and functional as wristwatches and come in all price points. If you're interested in adding a pocket watch to your collection, you'll likely find one that falls within your personal style and budget.
Classic and Practical
Ultimately, pocket watches and wrist watches are the same: they both tell time, and they're both unnecessary in a time of ubiquitous cell phone use.
So it's really just a matter of wearing (or carrying) what makes you happy.
After all, it takes just as much effort to pull your phone out of your pocket to check the time as it does a pocket watch.
Unlike phones, though, pocket watches are stylish and have the potential to become an instant family heirloom.
Questions? Comments? Leave them below!