In this post, we'll provide an overview of Longines watches, and share our top picks for their best watches you can buy.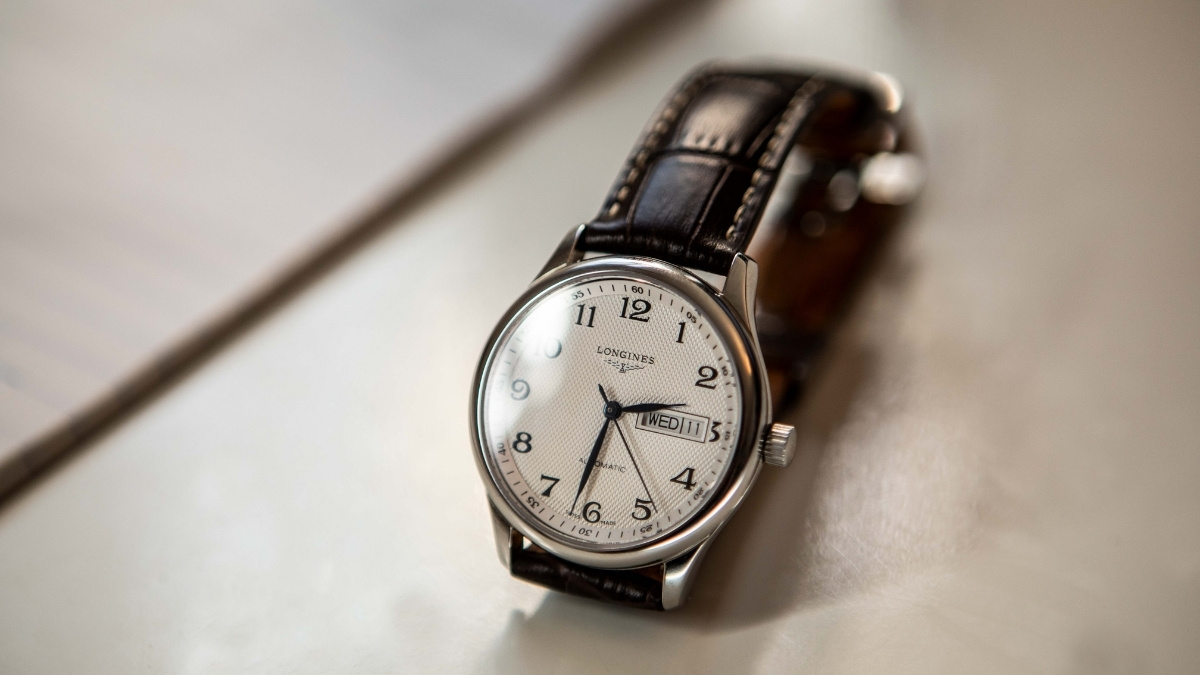 When you're spending a large amount of money on an item as small as a wristwatch, it makes sense to question if you're choosing wisely.
Certain luxury brands with large price tags have an accepted, implied valued. But, watches that fall into the entry-level luxury category are often met with a bit of skepticism.
Longines is one of those brands, and the company's "affordable luxury" pricepoint has many new collectors wondering, "Are Longines Watches Good?"
Affordable luxury might seem like a bit of an oxymoron. But the truth is that as far as luxury-level watches go, Longines is one of the most approachable.
But, is there any value? How good are Longines watches? How good is a Longines movement? Let's find out.
Longines History
Longines is one of the oldest watchmakers in the world, so the company's history is long and grand. The company began in 1832, founded by Swiss watchmaker Auguste Agassiz and his two lawyer partners, Henri Raiguel and Florian Morel.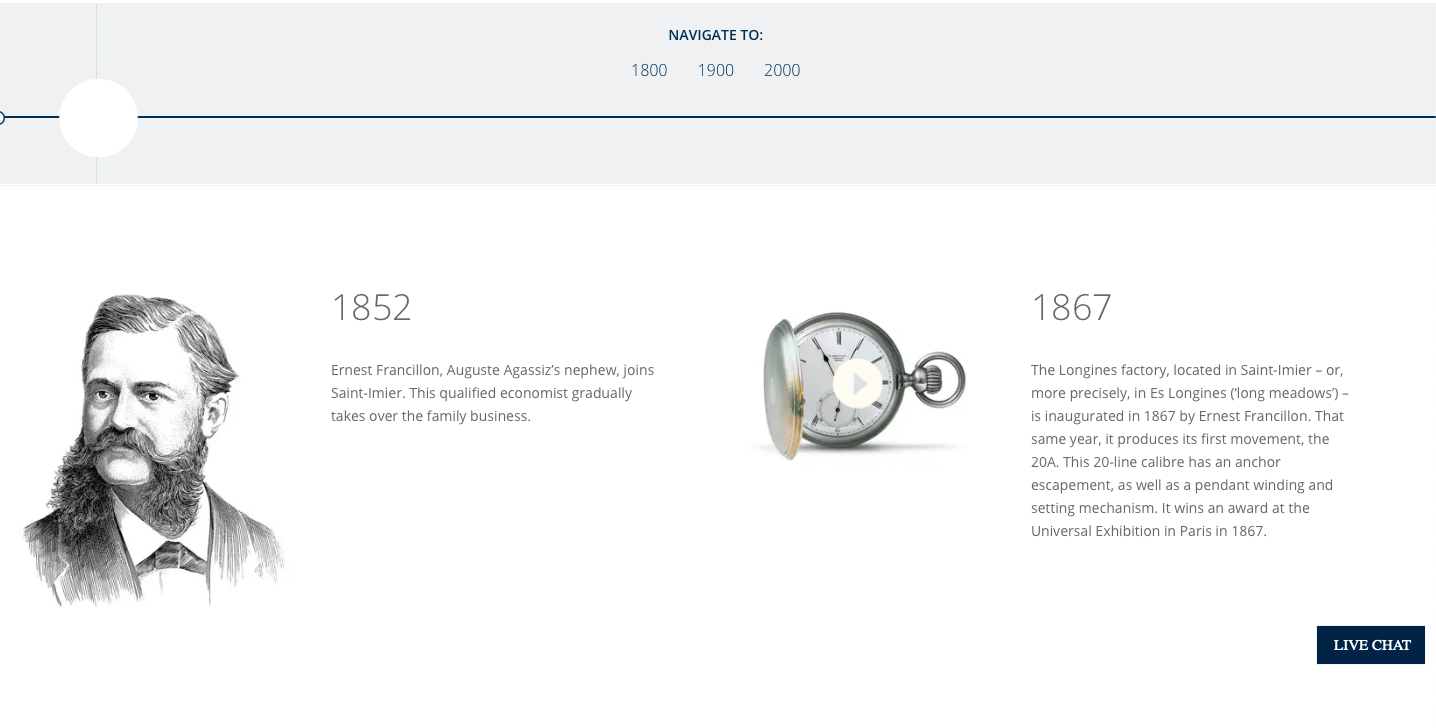 By 1846, Raiguel and Morel retired, which left Agassiz to steer the ship on his own. Agassiz would eventually hand the company down to his nephew, Ernest Francillon, who was actually responsible for putting Longines on the map.
Francillon saw the value in modern production techniques, and by 1867, Longines had its first factory. That factory was in the south St. Imier region Les Longines, which is French for "Long Meadows," giving the company its new name.
The year 1867 also marked the year Longines created its first in-house movement. The movement, known as the 20A, used an innovative design that won an award at the Universal Exhibition in Paris that same year.
By the late 1800s, Longines began producing monopusher chronographs. These timing devices became synonymous with timekeeping at horse racing and jumping events — a tradition that lives to this day.
It was also during this time period that Longines trademarked the name and the famous winged logo in an effort to thwart counterfeiters' efforts.
By the 1920s, Longines was establishing itself in the aviation watch market. It partnered with P.V.H. Weems, a USN Officer and expert navigator, to create a 47-millimeter pilot's watch.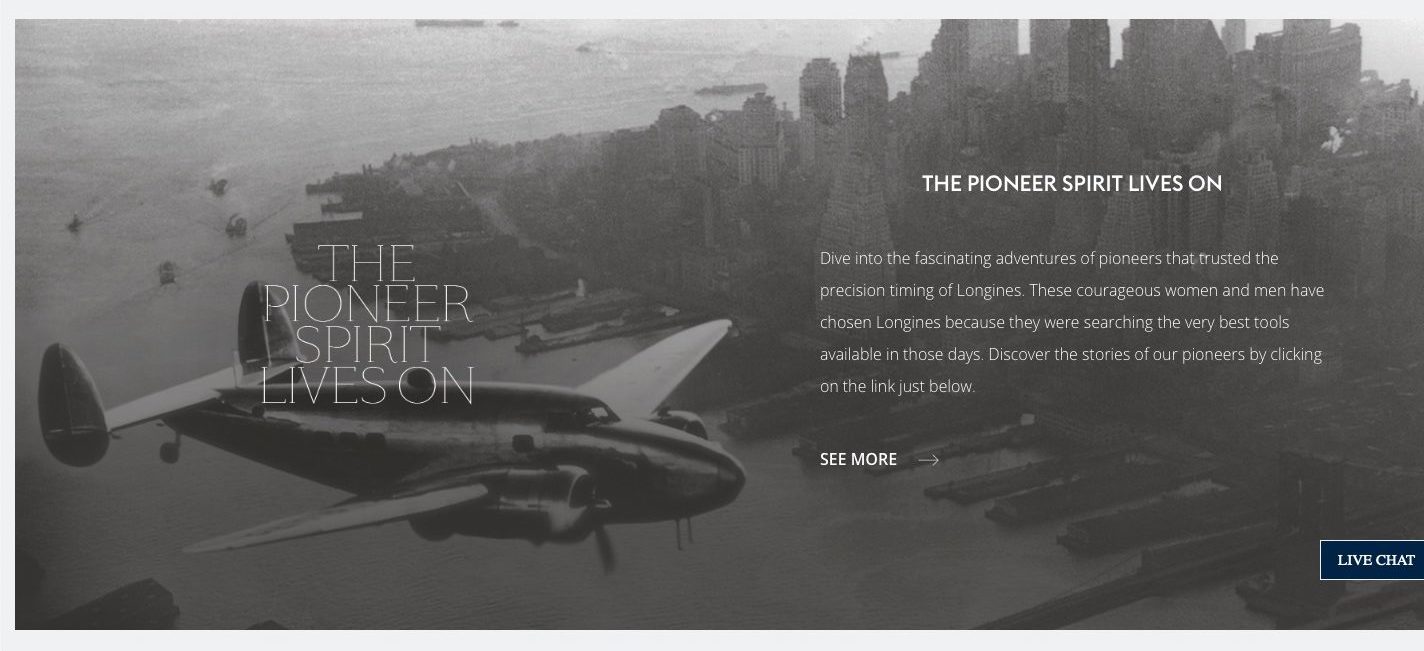 In 1931, Longines partnered with Charles Lindbergh to create the Hour Angle aviation watch. There were several variations of these watches, including other military-inspired timepieces in the years that followed.
By jumping forward to the 1970s and 1980s, we'll get a little more clarity on the company's present-day status.
In 1971, ASUAG purchased Longines, and then in 1983, merged with SSIH to form the Société Suisse de Microélectronique et d'Horlogerie (or SMH). In 1988, SMH became the Swatch Group, which still owns Longines today.
Longines is still involved in timing sports events. The company sponsors events in horse riding, archery, tennis, skiing, and more.
Also, a fun fact: The Longines logo is the oldest register logo still in use in its original form today — another fact to support the company's long and storied history.
Longines Watches: Pros and Cons
With a history that spans almost 200 years, it's pretty easy to assume Longines is known for a thing or two. This list of pros and cons will help shed some light on the question, "Are Longines watches good?"
Pro: Value and Pricepoint
You can't truly discuss what makes Longines a good watch company without mentioning the value. For a luxury brand, the company's price to value ratio is ideal.
Are they the best watches? No. But they're priced to sell alongside watches of much lower quality.
You could make an argument that their quartz watches are overpriced. But Longines does an excellent job of ensuring its quartz watches are incredibly accurate, and they do use high-end materials.
One other thing to remember: ETA is a Swatch Group subsidiary, so Longines has access to ETA movements. While it often puts its own twist on these movements and renames them, they're always top-quality.
Con: Shaky recent history
While the Swatch Group is an excellent conglomerate, the Longines name saw some struggles while under the umbrella. Also, the quartz crisis really hurt the brand.
Though it survived, the quality and craftsmanship suffered. Changing 150-year-old gears to produce quartz movements came with a steep learning curve.
Pro: Variety
One of the best things about Longines as a brand is its huge catalog. Some luxury brands only offer a few watches, but Longines offers a ton.
The Heritage line alone has 26 different styles or color variations to choose from. There are other lines, such as Classic, Watchmaking Tradition, and Sport, that each offer several watches, so the options are nearly limitless.
Con: Poor brand recognition
Although Longines holds one of the oldest patents in the world, it doesn't have the brand or status recognition of Rolex or Omega.
Unless someone is a tennis or horse racing enthusiast, there's even a chance they may have never heard of the brand. Shocking, I know.
To put it short, you have as much of a chance of someone saying "Hey, nice Fossil," as you do of someone recognizing your Longines. That's not to say the two are comparable in quality or design, but that Fossil is far better known in today's watch world.
Pro: Making a comeback
Longines' marketing plan in recent years would suggest it's no longer interested in competing with brands likes Rolex, Omega, or Patek.
Instead, it's settled nicely into the affordable luxury market and staged a comeback. The Heritage line has a lot to do with that.
The Heritage collection is the watch enthusiast's line from Longines, as the designs hearken back to watches from the 1920s, 1930s, and 1940s.
Those watches are the ones the brand is most appreciated for, so it only makes sense that modern reissues would bring the brand back into the spotlight.
The Best Longines Watches
For watch enthusiasts, the three most popular lines are the Heritage, Sport, and Watchmaking Tradition. Let's take a look at a few pieces from those lines so you can form your own opinion on the question, "Are Longines watches good?"
The Longines Heritage Classic
The Longines Heritage Classic is aptly named, as it's an example of the brand's best days. With its art deco styling and modern-modest case size, it's a fun piece that's sure to get some attention whenever you wear it.
The Heritage Classic's design and dimensions make it a great choice for most wrist sizes and styles. The stainless steel case measures 38.5 millimeters wide, which is modest by today's standards.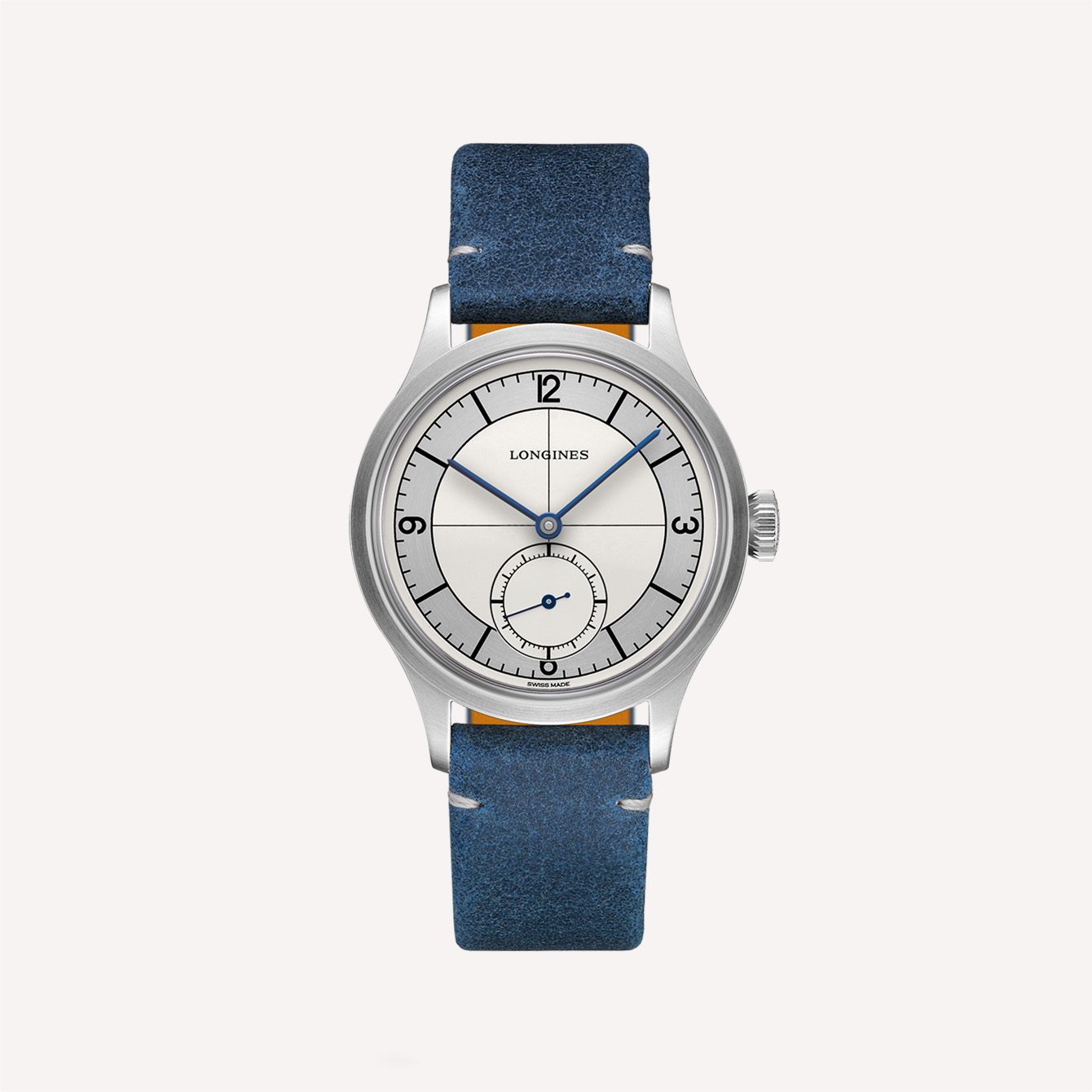 The case, case back, and crystal add up to an 11-millimeter measurement, and the lug width is 19 millimeters, making this proportionally modern watch with an old-school flair.
It features a two-tone silver dial with blued hands, as well as a small seconds hand at 6 o'clock. Powering the Heritage Classic is an L893 (a Longines modified ETA A31.501) automatic movement that provides up to 64 hours of power reserve.
It also has a domed sapphire crystal with several layers of anti-reflective coating, and it offers a 30-meter water resistance.
This Classic comes on a blue leather strap, though there is another version with the same dial configuration on a black leather strap, should that be your preference.
The Flagship Heritage
You can't discuss a watchmaker's lineup without mentioning its flagship product, and in this case, it's the Heritage. The Heritage falls somewhere between a dress watch and a casual wear, allowing it to pull off either occasion.
The Flagship features many of the same design cues as Longines' other watches, such as modern dimensions and materials.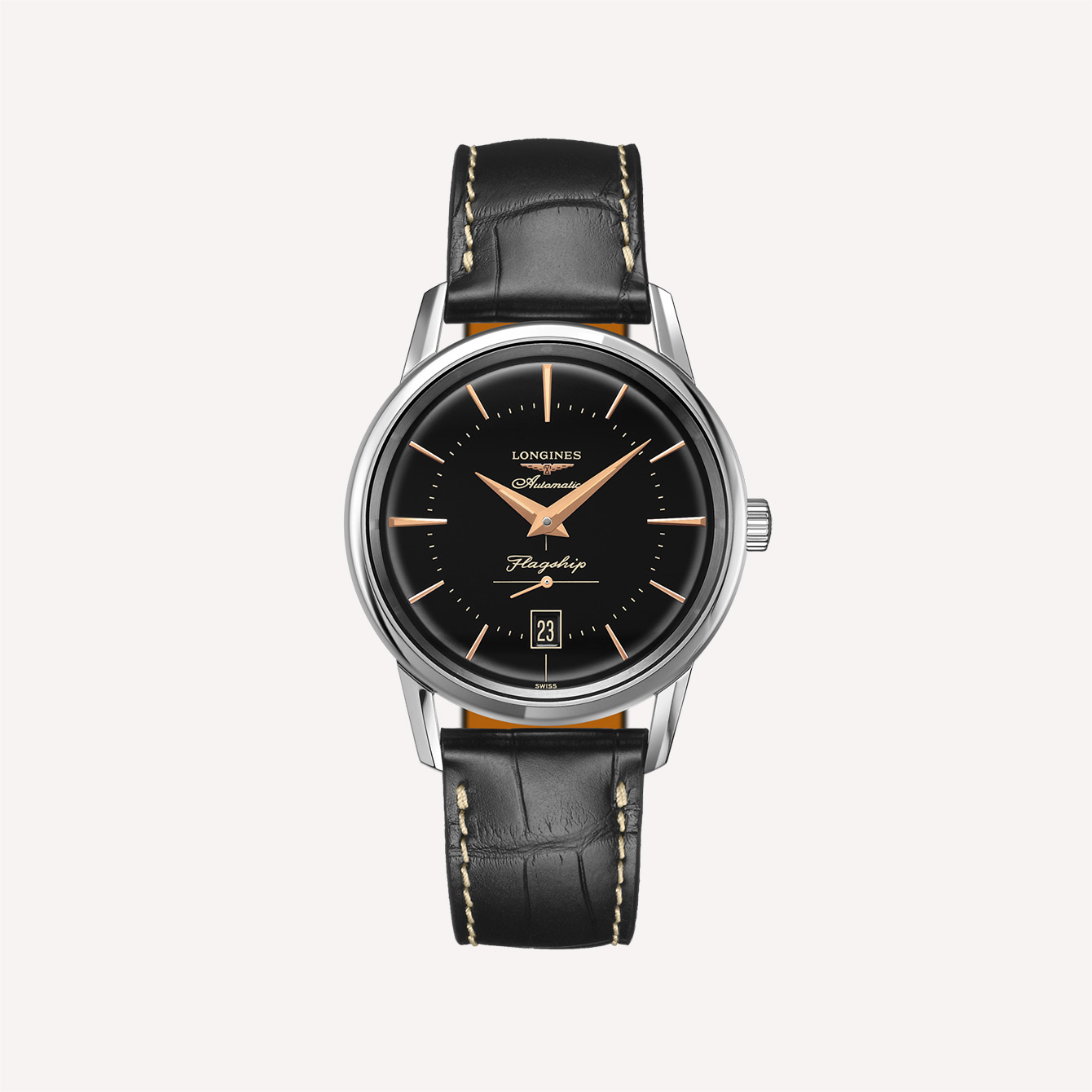 The stainless steel case measures 38.5 millimeters across as well as 10.3 millimeters thick. The lug width is 19 millimeters — again, taking a more modern approach to the Heritage design.
The black dial features a rose goldish set of applied indices, logo, and minute markers.
While the large sword-style hour and minute hands might make quite an impression, the minimalist small seconds function doesn't have markers or even an actual subdial, leaning toward a cleaner, simple design.
There is also a date window at six o'clock, thanks to the Flagship's L615 (a modified ETA2895-2) automatic movement with 42 hours of power reserve.
The Flagship features a piece of domed sapphire crystal with several layers of anti-reflective coating, as well as a screw-down case back. The two pair up to offer 30 meters of water resistance.
This particular model comes on a black alligator leather strap with white stitching, but there is another version to choose from: A cream dial on brown leather.
The Longines Heritage Miltary Marine Nationale
For a truly throwback-inspired design, check out the Longines Heritage Marine Nationale. This watch has military provenance in spades.
It's a reimagined version of the watch supplied to the French Navy during World War 2 (though the modern version is a bit larger).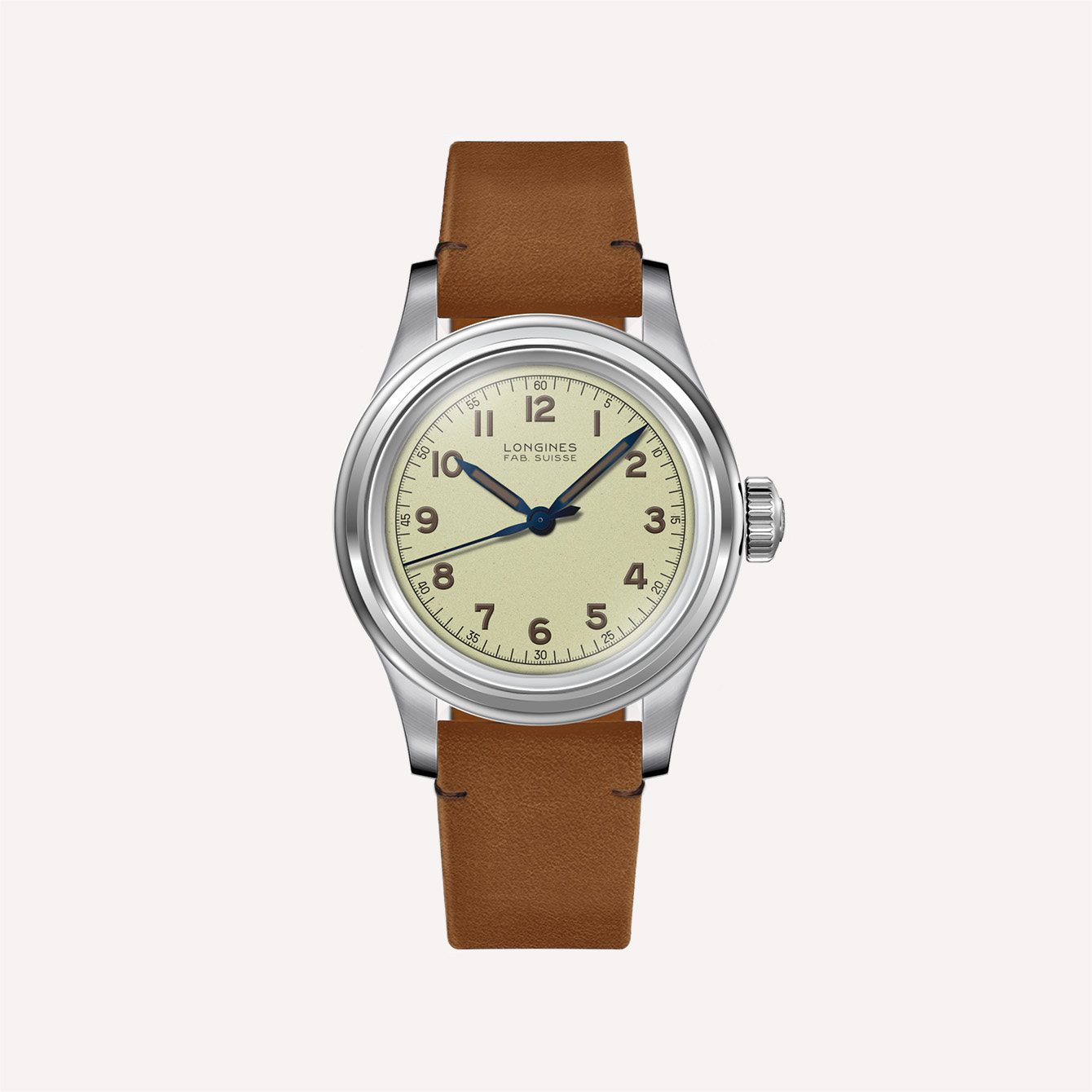 The Marine Nationale features a case width of 38.5 millimeters, as well as a thickness of 12.5 millimeters, which does help it stand out a bit on the wrist. Like most other Longines 38.5-millimeter cases, the Marine Nationale features a 19-millimeter strap.
The Marine Nationale keeps very true to the original military heritage, with its cognac leather strap and beige dial. This watch also has blued hands, though they do have a bit of a faux patina.
It's also worth noting that the numerals are painted on the dial — a nice touch for a watch at this price point.
Powering the Marine Nationale is an L888 (a Longines-modified ETA A31.L02) automatic movement that offers up to 64 hours of power reserve.
Keeping it safe is a domed sapphire crystal and a screw-down case back, though this watch only has a 30-meter water resistance rating.
As the goal was to stay as close to the original watch as possible, this version is the only one available for the Marine Nationale.
The HydroConquest
For a bulkier, traditional-style dive watch from an entry-level luxury brand, the HydroConquest is worth a look. This timeless design diver is an excellent choice for anyone struggling to cough up the cash for a Submariner.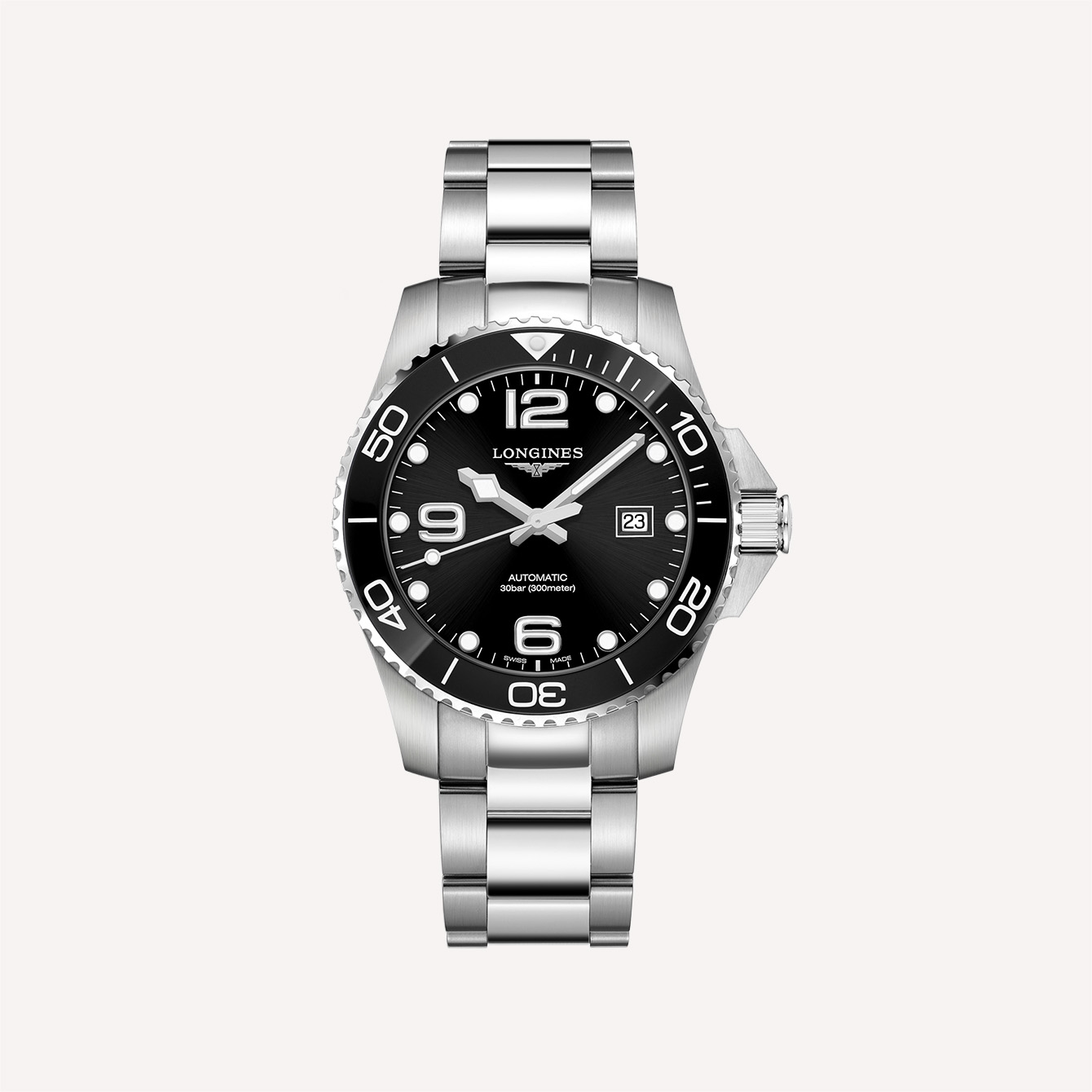 Unlike the other watches, the HydroConquest is entirely modern. It has a larger, 43-millimeter case width, though it's only just under 12 millimeters thick. It also has a 21-millimeter strap width. Keep in mind that there are versions with 41-millimeter cases.
The HydroConquest's case has a screw-in crown, a unidirectional bezel (with a ceramic bezel insert), a chunk of scratch-resistant sapphire crystal, making this a legitimate diver (thanks to its 300-meter water resistance rating).
The dial on this watch is a sunburst black that looks great and plays with the light in the room. There are also applied numerals (3, 6, and 9) and indices on the dial.
Topped off with the silver hands and the Swiss Super-LumiNova lume, it's ready for some time in the water (up to 300 meters of it).
The AquaConquest uses an L888 (a Longines-modified ETA A31.L02) movement to power this watch for up to 64 hours. Also, that L888 runs the date window at 3 o'clock.
The black dial and stainless steel strap are the most common pairing you'll find, but there are several other versions. There are green dials and bezels, as well as blue, black, and silver. Also, many models come on a rubber strap.
The Longines Master Collection
If you're looking for an automatic Swiss-made moon phase watch that you won't have to remortgage your house to own, look no further: The Longines Master Collection can deliver.
This interesting mix between dress and sport makes this watch very flexible and incredibly intriguing.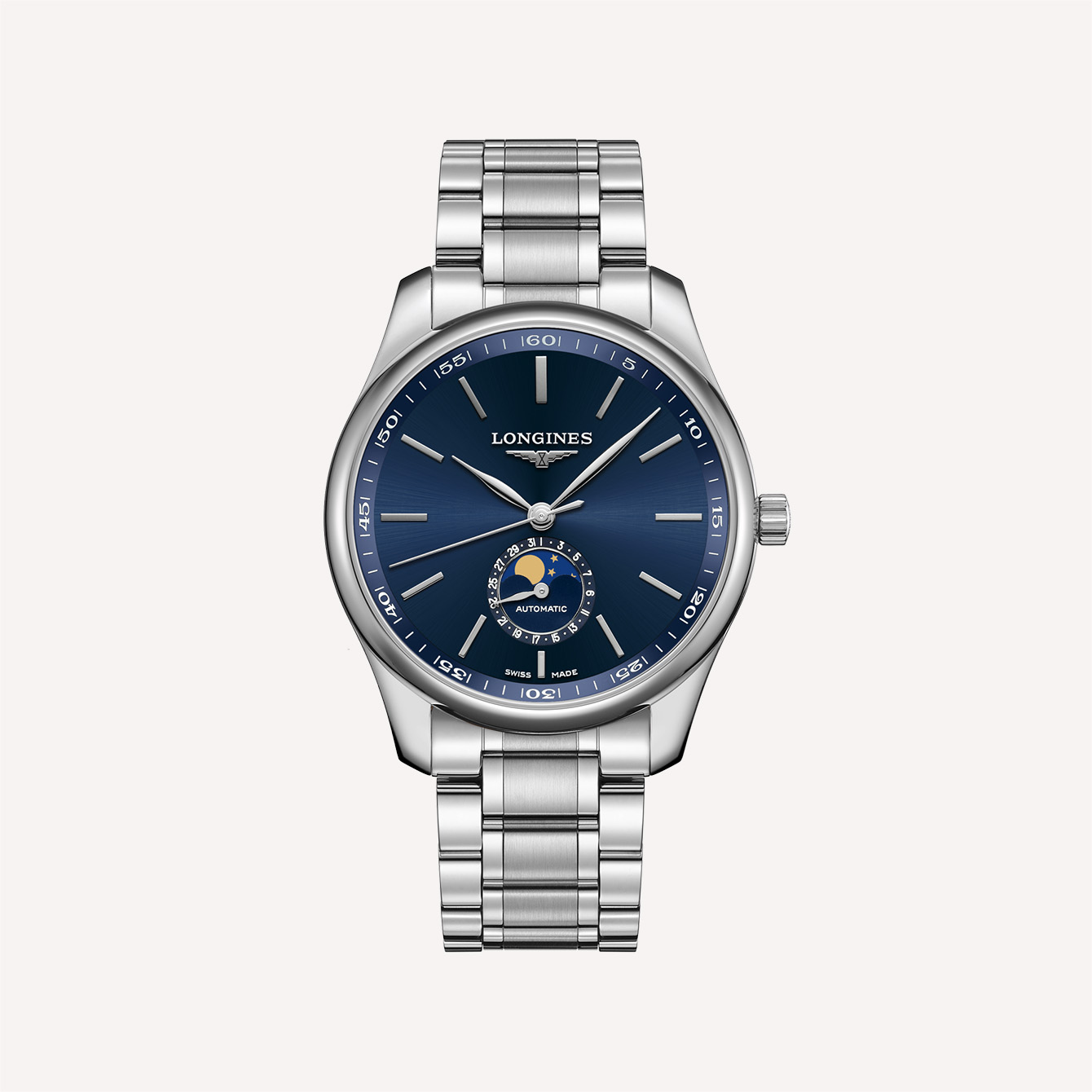 The Master Collection measures 42 millimeters across the stainless steel case, as well as 11.2 millimeters thick, though it might wear a bit larger with its slim bezel and large dial.
The Master Collection also features a scratch-resistant sapphire crystal, as well as a transparent display case back, but it only offers 30 meters of water resistance.
The dial of this particular Master Collection has a blue sunburst dial with silver hands and applied markers. There is a small seconds subdial at 6 o'clock, as well as a moon phase function, thanks to the ETA-modified L889 movement.
This particular watch has a blue dial and comes on a blue alligator strap. But are many more options, such as cream or salmon dials with painted numerals.
Final Thoughts
When we circle back to the main point of this article, we need to ask ourselves, "Are Longines watches good?" The answer is yes. These watches use high-end materials and have quite a bit of attention paid to their details.
Also, the massive product line makes it easy for anyone to find a piece to work for their style — not something all watchmakers can say.
Whether you prefer an old school Marine Nationale for adding to your collection or simply want a HydroConquest to fit in with the other Swiss divers, there's an option from Longines for you.