Getting your watch modded is fun and pretty straightforward! Here's my experience with having my Seiko SKX013 modded.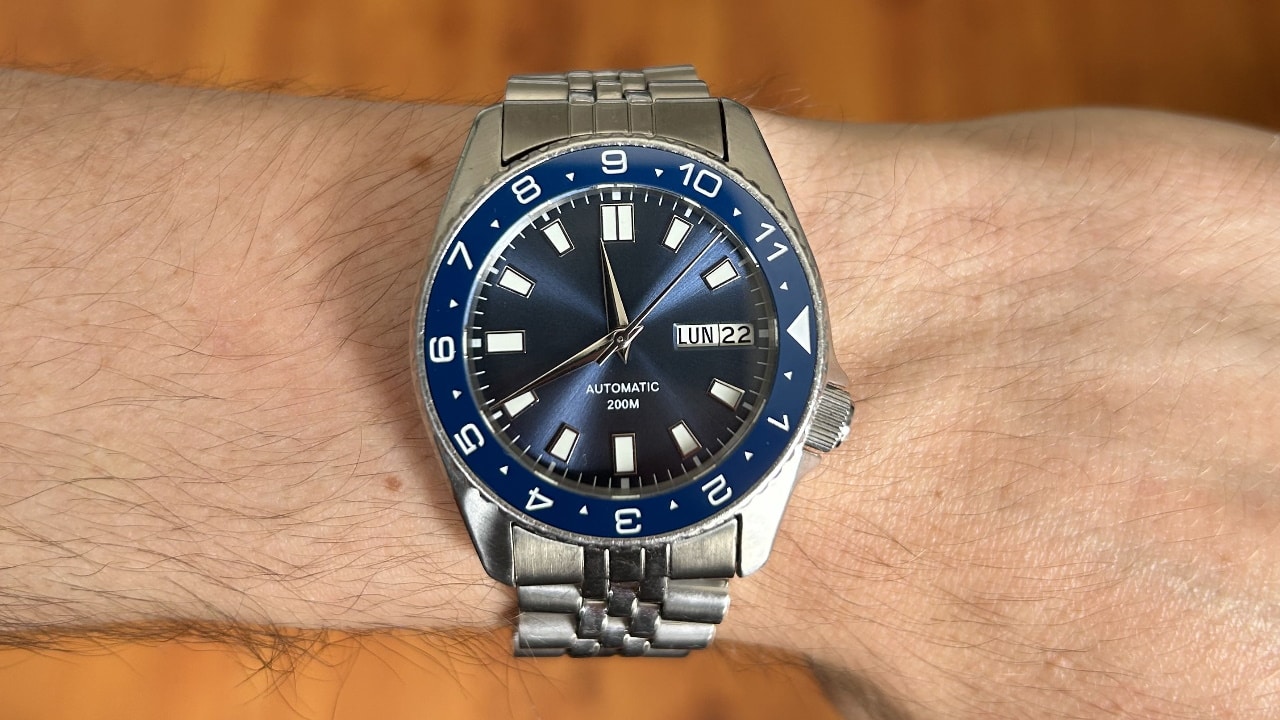 Watches are fascinating, and watch modding is a world of its own. Modding is unique, interesting, and a bit daunting.
I recently had my Seiko SKX013 modded with several new parts, and I want to share my experience with anyone that's thinking about getting their watch modded.
Why Get Your Watch Modded?
People get their watches modded for several reasons. First of all, it looks cool. Imagine having a watch that's completely one of a kind and designed just for you. Modding makes that a reality!
Another major reason why people get their watches modded is to make their watch look like a different watch.
For example, if you want an Omega Seamaster but can't afford to spend thousands of dollars on one, you can buy an inexpensive, yet high-quality watch like one of Seiko's SKX models and have it modded with parts that resemble a Seamaster.
By the way, the Seiko SKXs are so commonly modded that we made an article about modding them: 6 Easy Seiko SKX Mods for Beginners.
Modding Your Own Watch
There are many people that mod their own watches. In fact, even changing your watch's strap is considered a mod.
I've done some simple mods to my Seiko SKX013 like changing the bracelet and the bezel insert.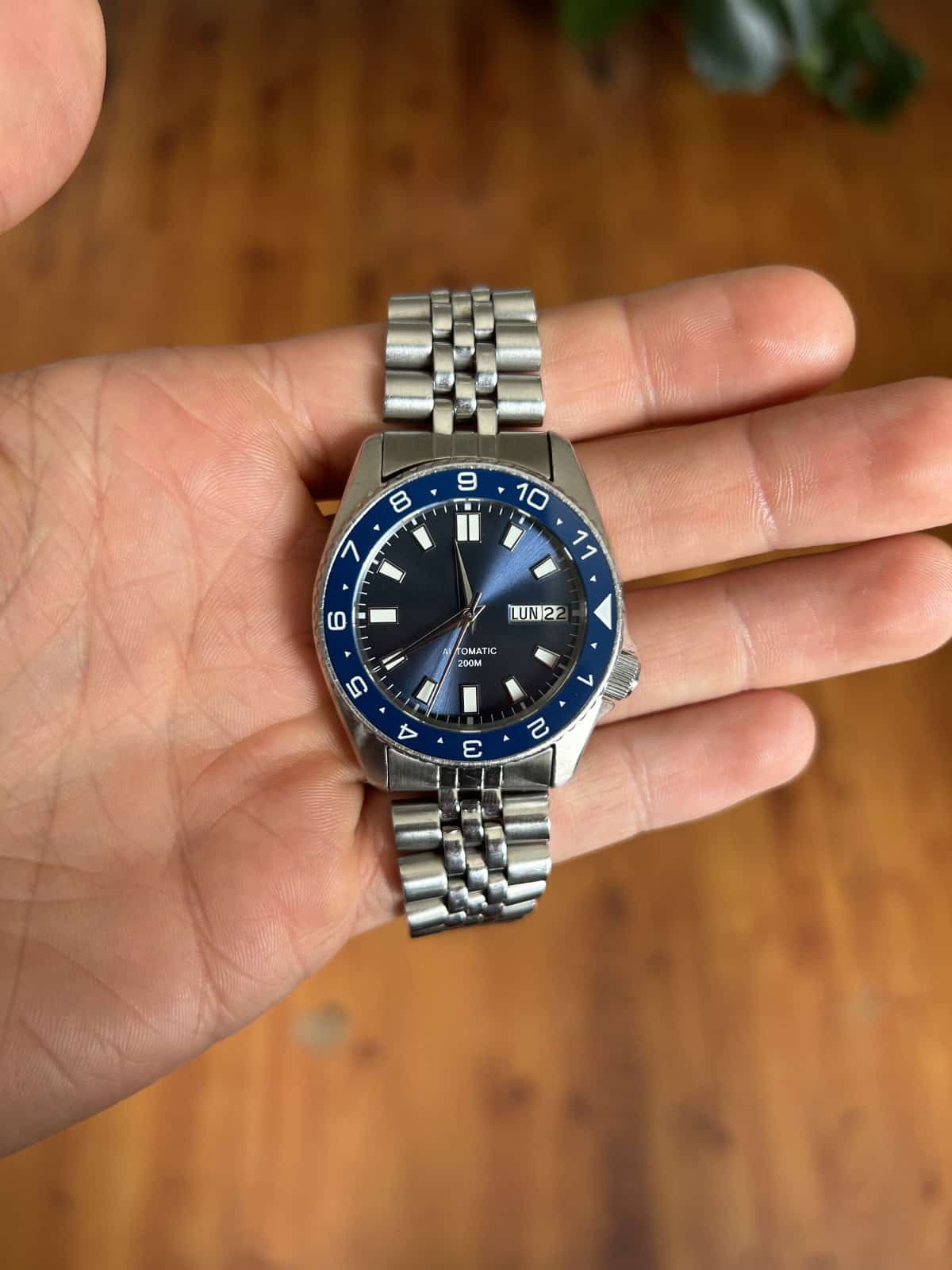 When I wanted to do more serious mods that would require disassembling the case and changing the dial, hands, and crystal, I found a professional watchmaker.
I could have done the mods myself, but I didn't want to take any chances on messing anything up.
To put it simply, if you're not feeling confident about doing a mod yourself, find a professional.
How to Find a Watch Modder
If you need to find a watch modder, there's a great and easy-to-use Professional Modders page on the Crystal Times website.
I was delighted to see multiple modders in close proximity to my home state. I ended up reaching out to a few different modders, but I proceeded with Ryan Bond from Right On Time Watches.
How To Get Watch Modding Parts
There are a handful of great sites to buy watch modding parts from. The aforementioned Crystal Times is held in high regard in the watch modding community.
I got my parts from Watch and Style, apart from a chapter ring that Ryan from Right On Time ordered on my behalf.
If you're looking for a list of places to buy watch parts, see our Watch Modding 101 article.
A Rundown of My Modded Seiko SKX013
Most of the mods done to my SKX013 are aesthetic, but one of them is very practical.
Dial
I got the D0886 62mas Style Dial which is an homage (though not a replica) of the dial on the Seiko 62MAS which was the first Japanese dive watch.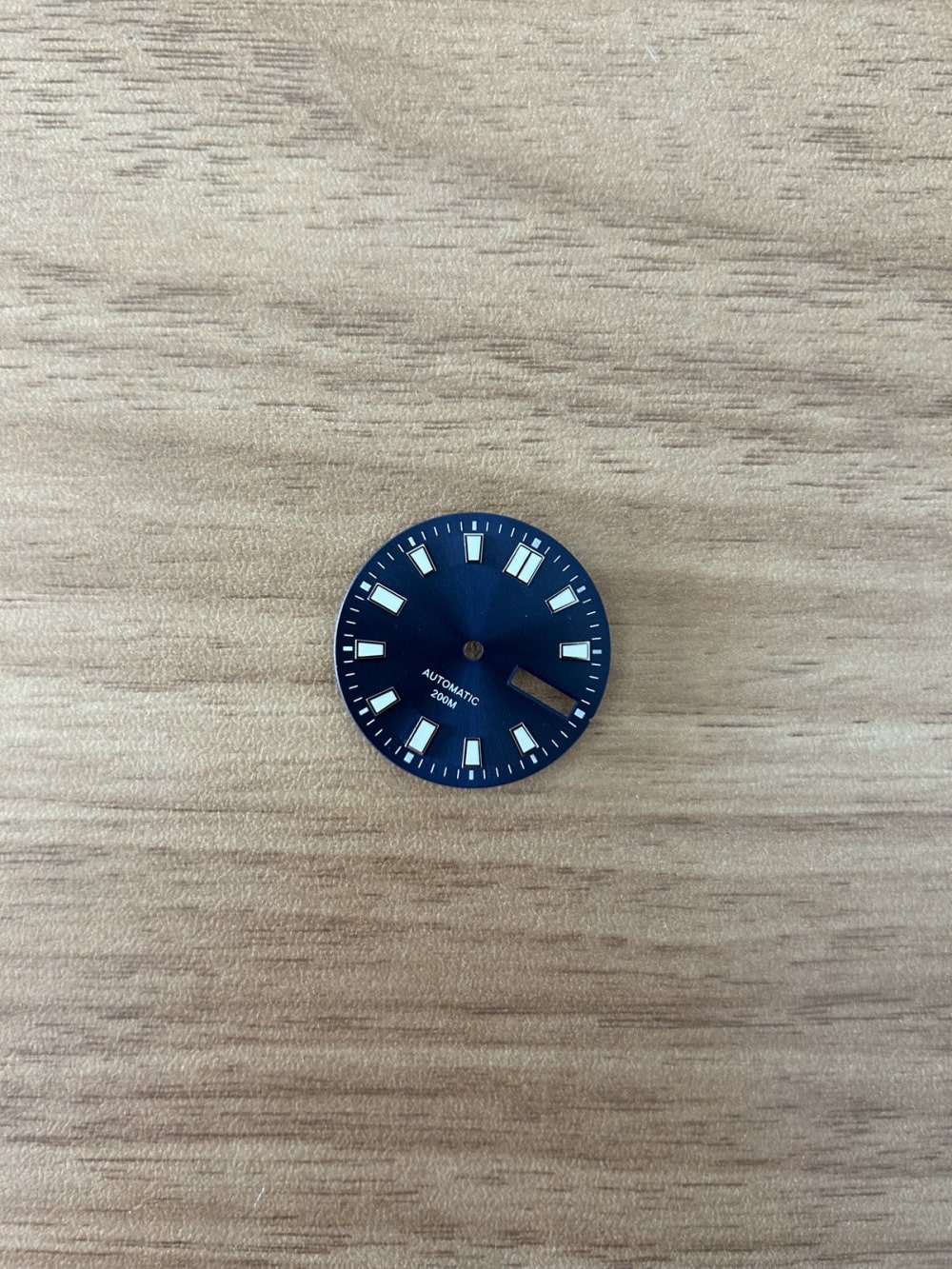 I love blue watches, and the dark blue sunburst color of this dial is beautiful and intriguing.
Hands
There are tons of different styles of watch hands to choose from, but I went with the H0757 GS Dauphine Hands. Dauphine hands are elegant, sleek, and cool.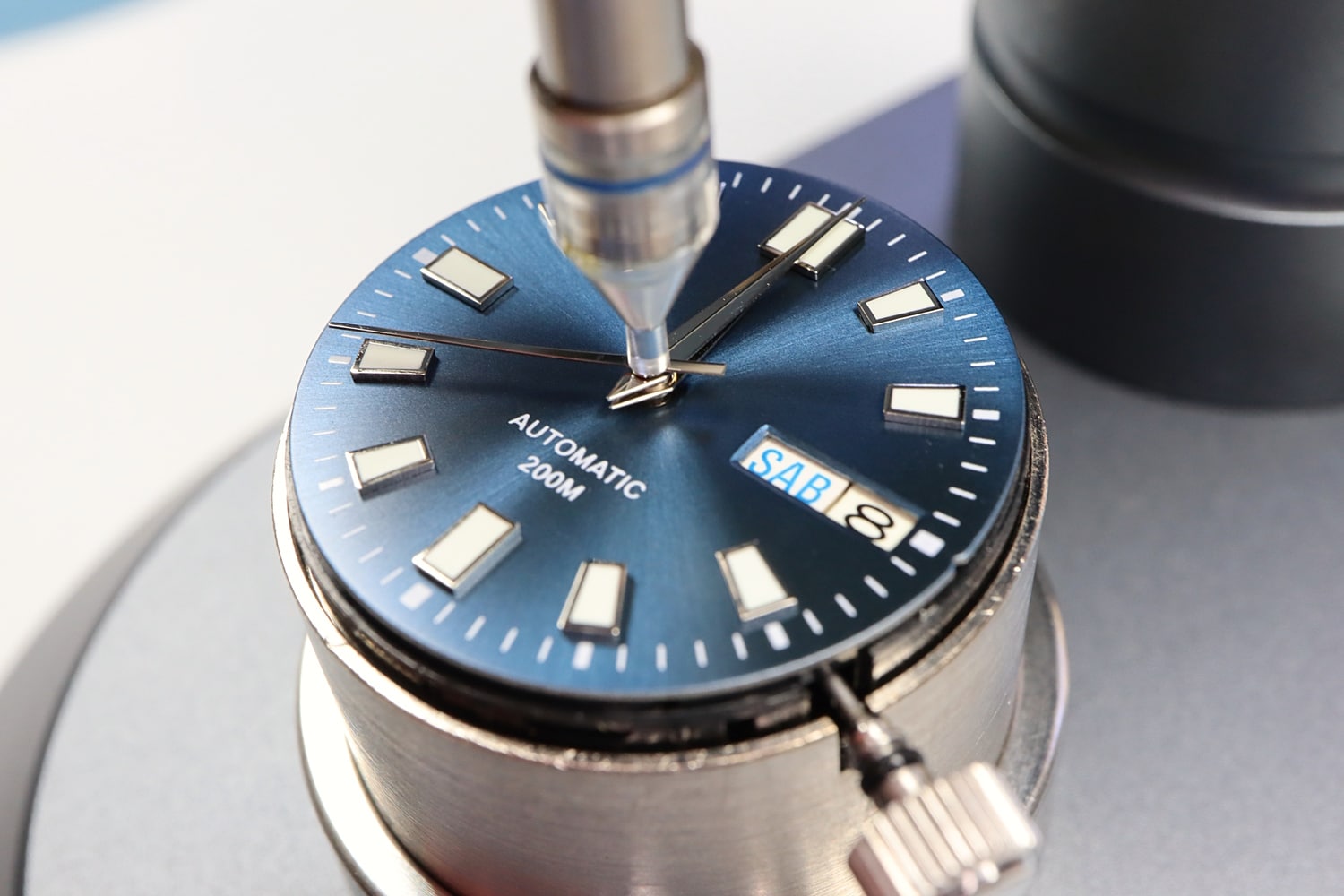 The polished silver really complements the other colors on my SKX.
Crystal
I had the crystal upgraded to the G1162 SKX013 Flat Sapphire Crystal. Domed crystals are also an option, but I didn't want to add any additional bulk to the SKX so I chose a flat one.
I'm kind of torn between sapphire and mineral glass, but I'm confident with my choice of sapphire.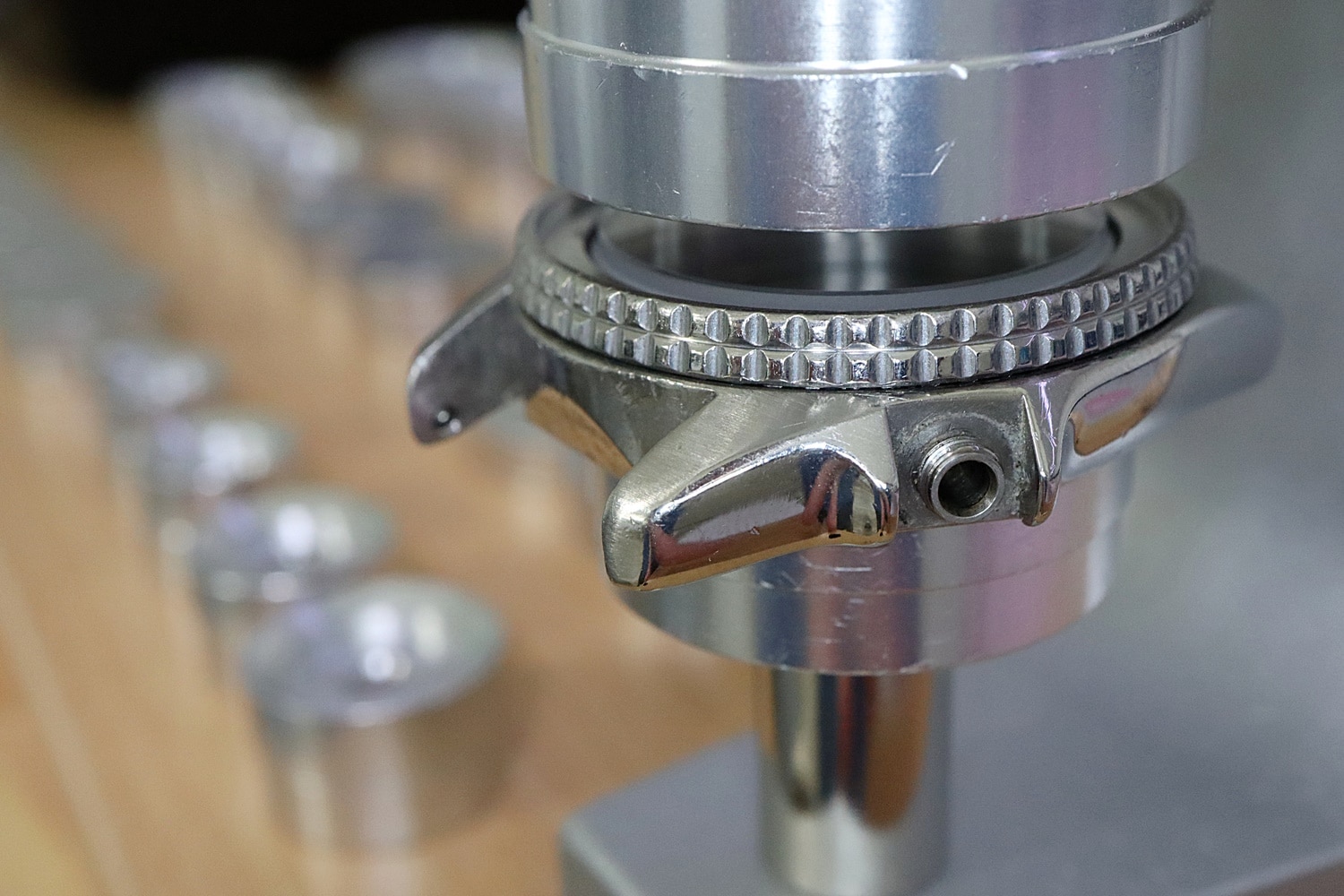 Mineral glass is actually more shatterproof than sapphire, yet it also chips and scratches more easily. The crystal I had before getting it modded had a chip in it.
I didn't mind the chip very much because it was only an aesthetic imperfection, but it is really nice having a smooth, chip-free crystal.
Realistically, I think sapphire is a better option for most people because it's very strong and it's less likely to chip or scratch than mineral crystal.
Also, it's unlikely that the common man would be putting his watch under enough duress to shatter the sapphire crystal.
As you can see, watch glass is a fascinating subject of it's own. To learn more, check out our article Watch Glass Explained: Sapphire vs Mineral vs Plastic.
Bezel Insert
This CI0633 SKX013 Dual Time bezel insert is a practical feature that I absolutely love! After reading about the Rolex Explorer II, I was fascinated by the idea of having a mechanical watch that can display two different time zones simultaneously.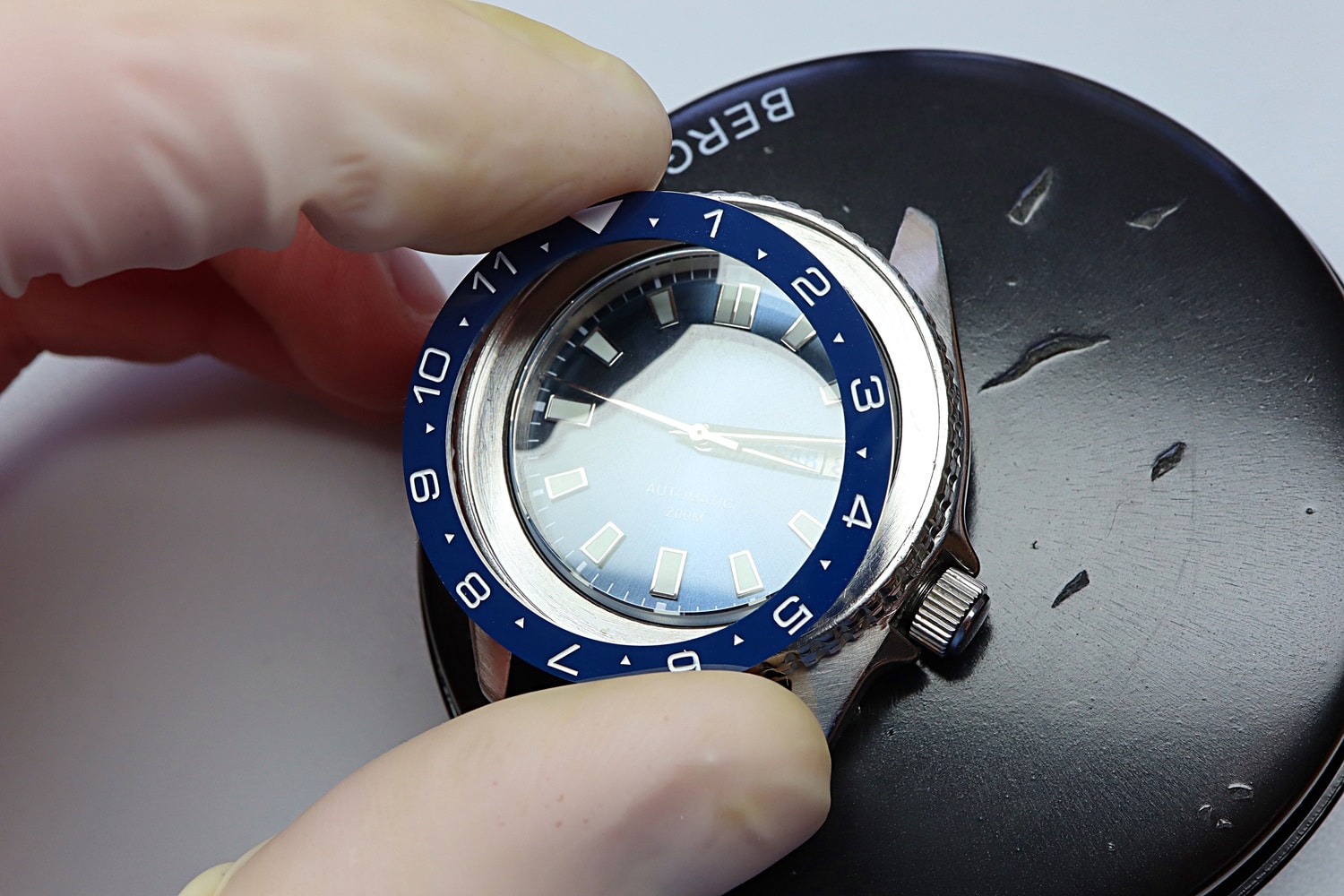 The Explorer II (when used for displaying a dual time zone and not for indicating AM and PM) and GMT watches in general have an additional hand that works as an hour hand for a different timezone.
I went with a simpler approach by making use of the rotating bezel. While the dial is displaying my current time zone, I can rotate the bezel so the hour hand is pointing to a different time zone indicator.
For example, if it's 9:00 in my current time zone of EST, the hour hand will be pointing to 9 on the dial. At the same time, the hour hand will be pointing to 6 on the bezel insert. Thus my watch is displaying EST on the dial and PST on the bezel simultaneously.
Chapter Ring
One additional part that I got is a brushed stainless steel chapter ring. This was provided by Right On Time. I believe the exact product is this SKX013 Brushed Silver Chapter Ring from Lucius Atelier.
It's a subtle part that could easily go unnoticed, but it definitely adds a nuanced sleekness to the inside of the watch.
Should You Get Your Watch Modded?
Overall, getting my watch modded was a really fun and creative process. I started by thinking of what kind of look and features I wanted my trusty SKX013 to have.
Then I bought some parts from Watch and Style and did some research on how to mod watches (there are tons of great YouTube videos on the topic).
After realizing that it would be a pretty huge endeavor to do the mods I wanted, I looked for a professional.
After some emailing with Ryan from Right On Time, I boxed up my watch and mailed it to him.
A couple of weeks later, I had my newly modded watch in all of it's glory! I don't regret having it modded at all. It's still the same reliable timepiece that I love, but it's sporting a new, unique look and has the extremely practical addition of the dual timezone.
I highly recommend getting your watch modded, and while you can probably find a modder pretty close to where you live, I recommend using Right On Time.
I had such an easy and frictionless experience with Ryan that it's hard to imagine using a different modder.
Do you have a modded watch? Are you considering getting yours modded? Leave a comment below!