In this post, we'll share our thoughts on the Vostok Amphibia 710486. Read on for the full review.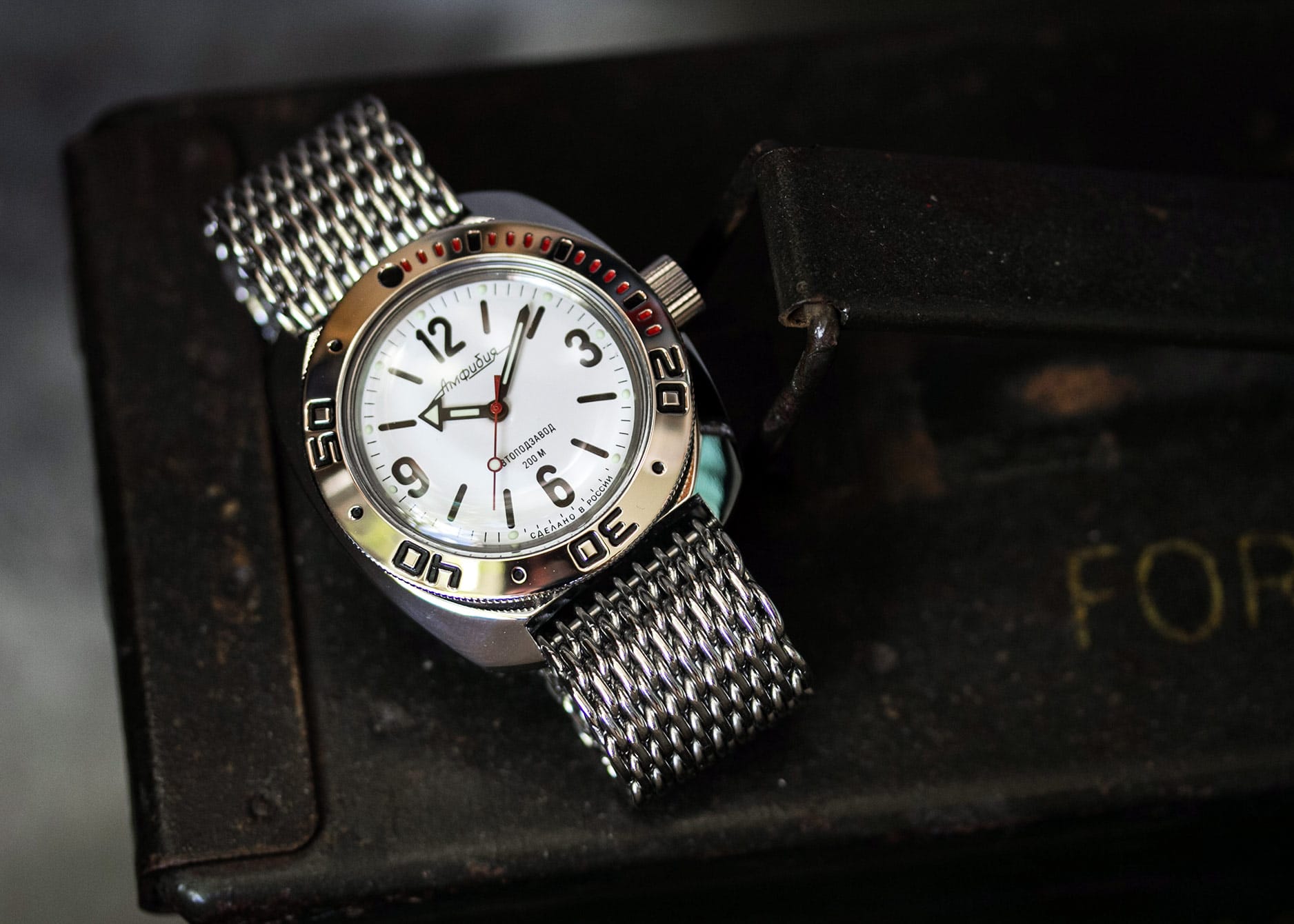 Some dismiss Vostok watches as cheap toys that aren't worth taking seriously. Others claim a true watch enthusiast's collection isn't complete without at least one Vostok.
However you feel, one thing is clear: this Russian brand has earned itself a dedicated cult following. Today, we'll be looking at one of their flagship Amphibia watches, a unique dive watch with an equally cool backstory.
History of Vostok
A Vostok review wouldn't be complete without a peek into the company's history. The company was founded in 1942 as a makeshift factory in Chistopol to support the war effort. Post WWII, production was shifted to focus on watches.
The name "Vostok," which translates to "East," was later adopted to honor the achievement of cosmonaut and national hero Yuri Gagarin. In 1961, Gagarin became the first man to orbit the Earth in a spacecraft of the same name.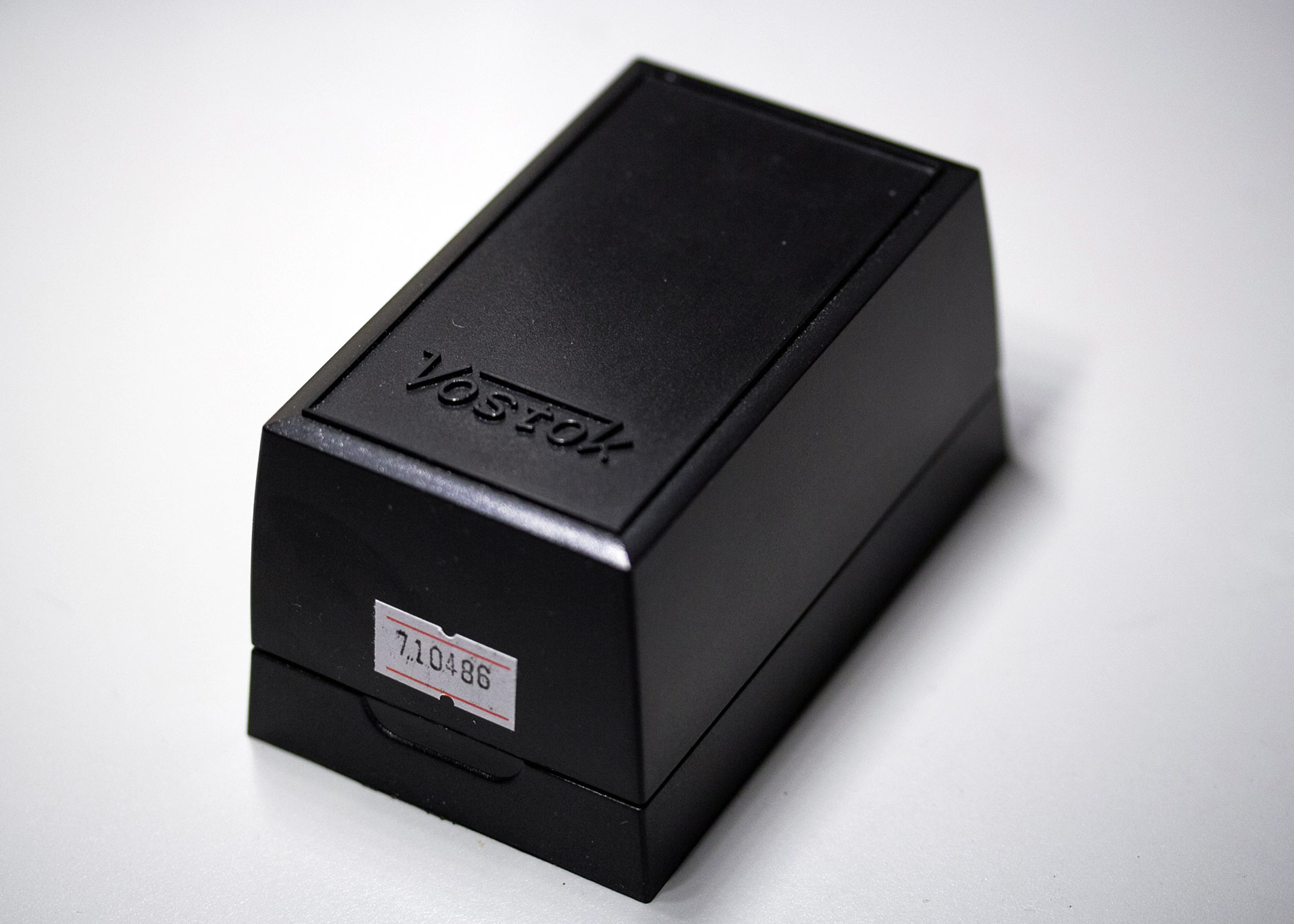 The high standards of the Vostok factory caught the attention of the Ministry of Defense, and soon it became the official supplier to the military. The Komandirskie was created in 1965 as the standard issue soldier's watch.
In 1967, Mikhail Novikov and Vera Belova, chief designers at the Chistopol factory, were tasked with developing the first dive watch for the Soviet military.
It had to operate reliably at 200 meters. While Swiss watchmakers had already achieved this, their designs were protected by patents, and Russian machinery of the era was incapable of replicating them.
Consequently, Novikov and Belova had to develop their own waterproofing system from scratch. Thus, the Amphibia was born.
Vostok Amphibia 710486 Overview
Here are all of the details you need to know about the Amphibia 710486…
Packaging
I thought I'd give the packaging a quick mention as I found the presentation a novel part of the experience with this watch.
The watch comes packaged in a monolithic black plastic box, which hinges open to reveal the watch protected by a single sheet of bubble wrap. By no means luxurious, it has its own charm. Also tucked in is the instruction pamphlets, one in Russian and one in English.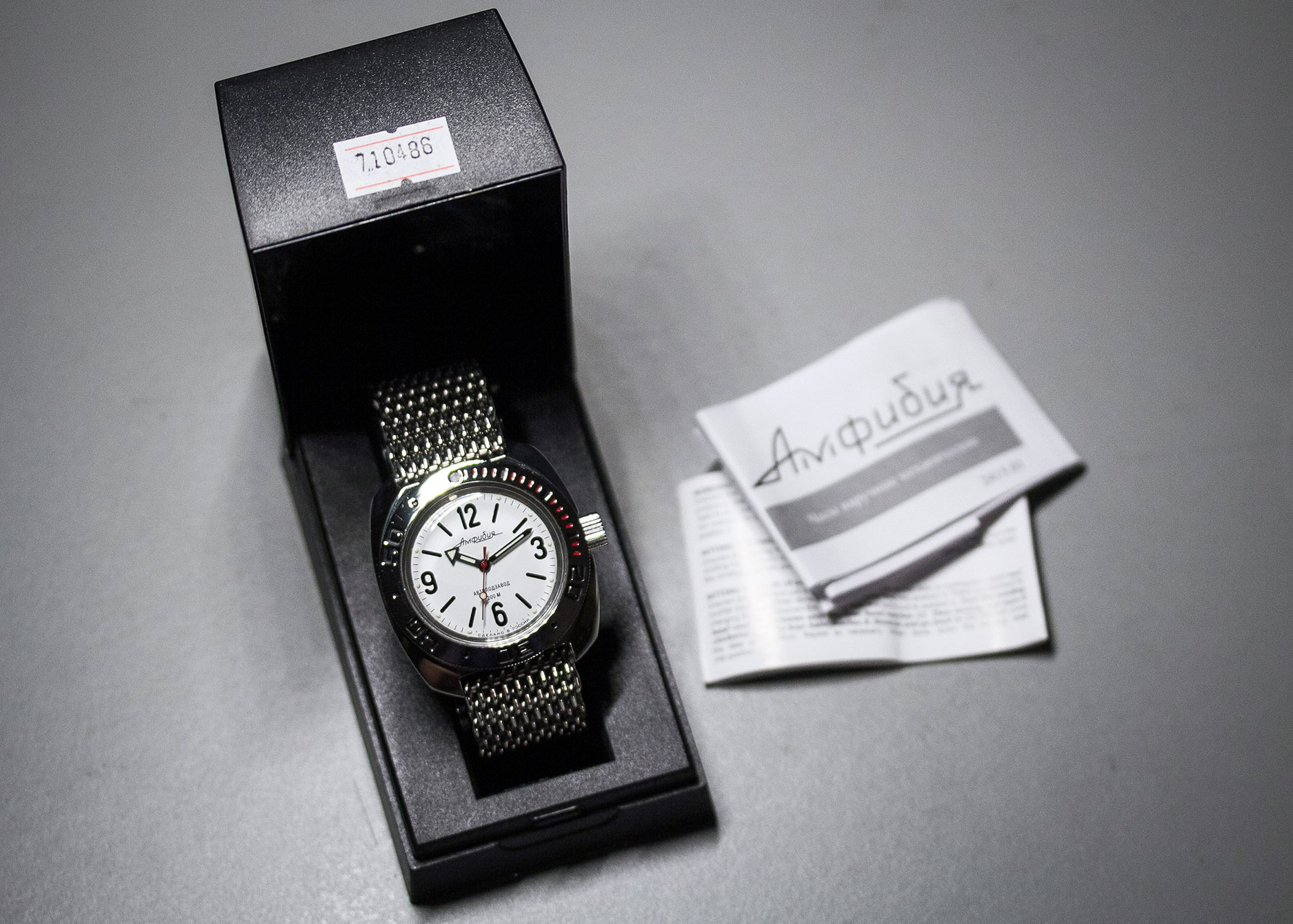 I ordered mine from Soviet.Market and it took just over three weeks to arrive from Moscow. As the sticker on the box suggests, this reference is dubbed the 710486. 710 refers to the case, and 486 likely indicates the dial design and color.
Case
There are several Vostok case types, each given their own three digit designation. While they differ aesthetically, in terms of finishing and functionality, they're all about the same.
The 710 here is a 70s style cushion case made up of broad chamfered edges. The right side of the case is recessed slightly to protect the crown. Vostok does use stainless steel for the Amphibia line, but it's not clear what grade.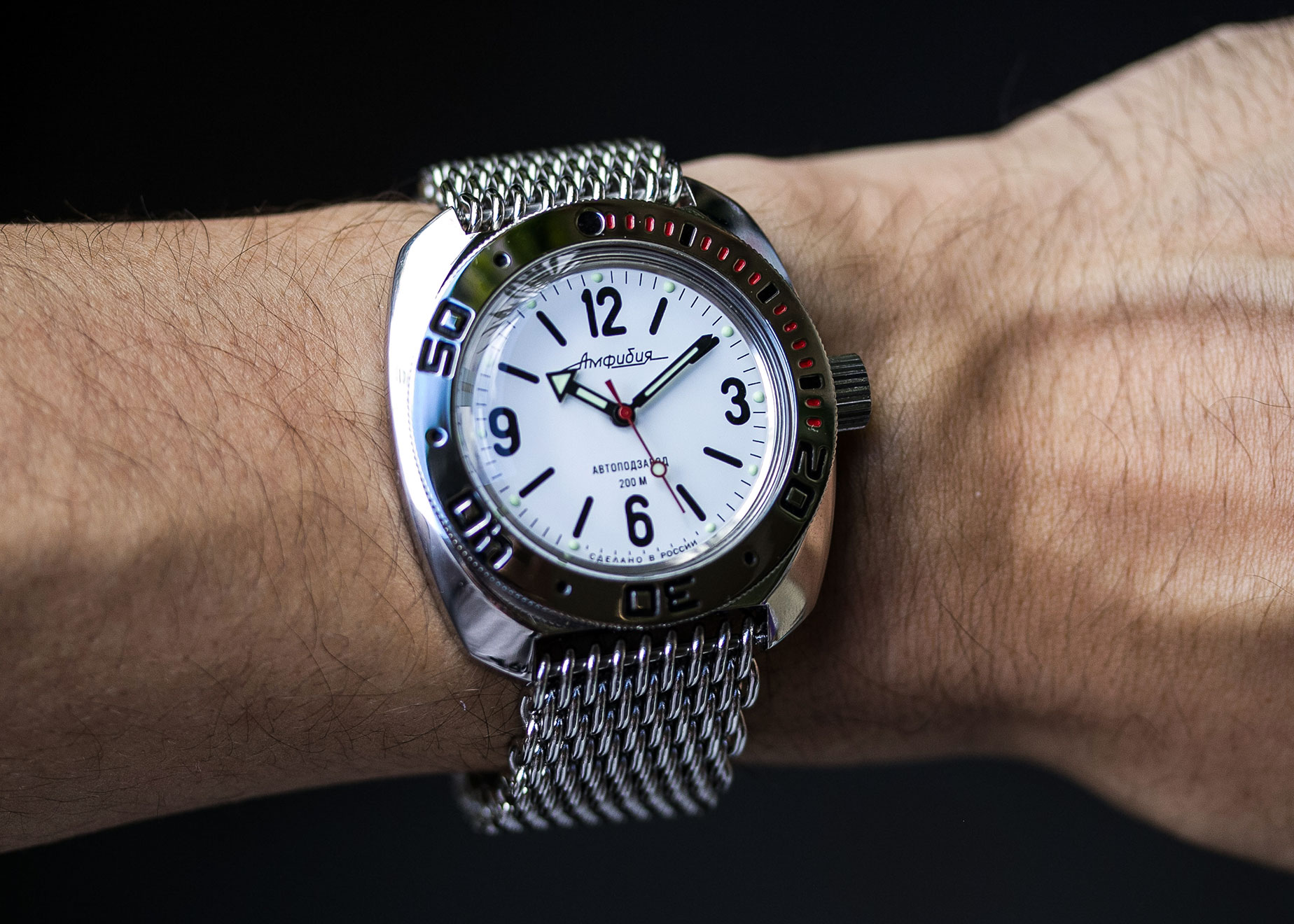 The finish is completely polished, save for some vertical brushing along the inner edges between the lugs (a spot you'll never see) and the caseback, which is radially brushed.
Case Dimensions:
While the case measures at 42mm, it tends to wear smaller due to the short lugs. For reference, my wrist is 6.5".
42 mm wide
44.6 mm (including crown)
45.4 mm lug tip to lug tip
22 mm lug width
15.2 mm thick (including crystal)
Weight: 65g/2.3oz (watch case) – 125g/4.4oz on bracelet.
I find the size and feel of the watch quite similar to the Seiko SKX007 (or the Seiko 5 SRPD line). And speaking of Seiko, the lug holes are wide enough to fit Seiko "fat boy" springbars, if you happen to have any.
They won't fit through the shark mesh bracelet, however. Bummer. I recommend replacing the stock springbars on the watch, as they're a bit thin and flimsy.
Crystal
While scratch-resistant sapphire glass has become the standard for modern dive watches, the Amphibia uses plexiglass specifically for its physical characteristics.
The crystal is 3 mm thick and carefully machined to expand when diving. As external pressure bears down on the convex dome, it flattens out, creating a tighter seal with the case. In theory, the deeper you dive, the more waterproof the watch becomes.
This idea is shared by the Super Compressor style watches of the 60s. By comparison, sapphire or mineral glass cannot flex and will shatter under enough pressure.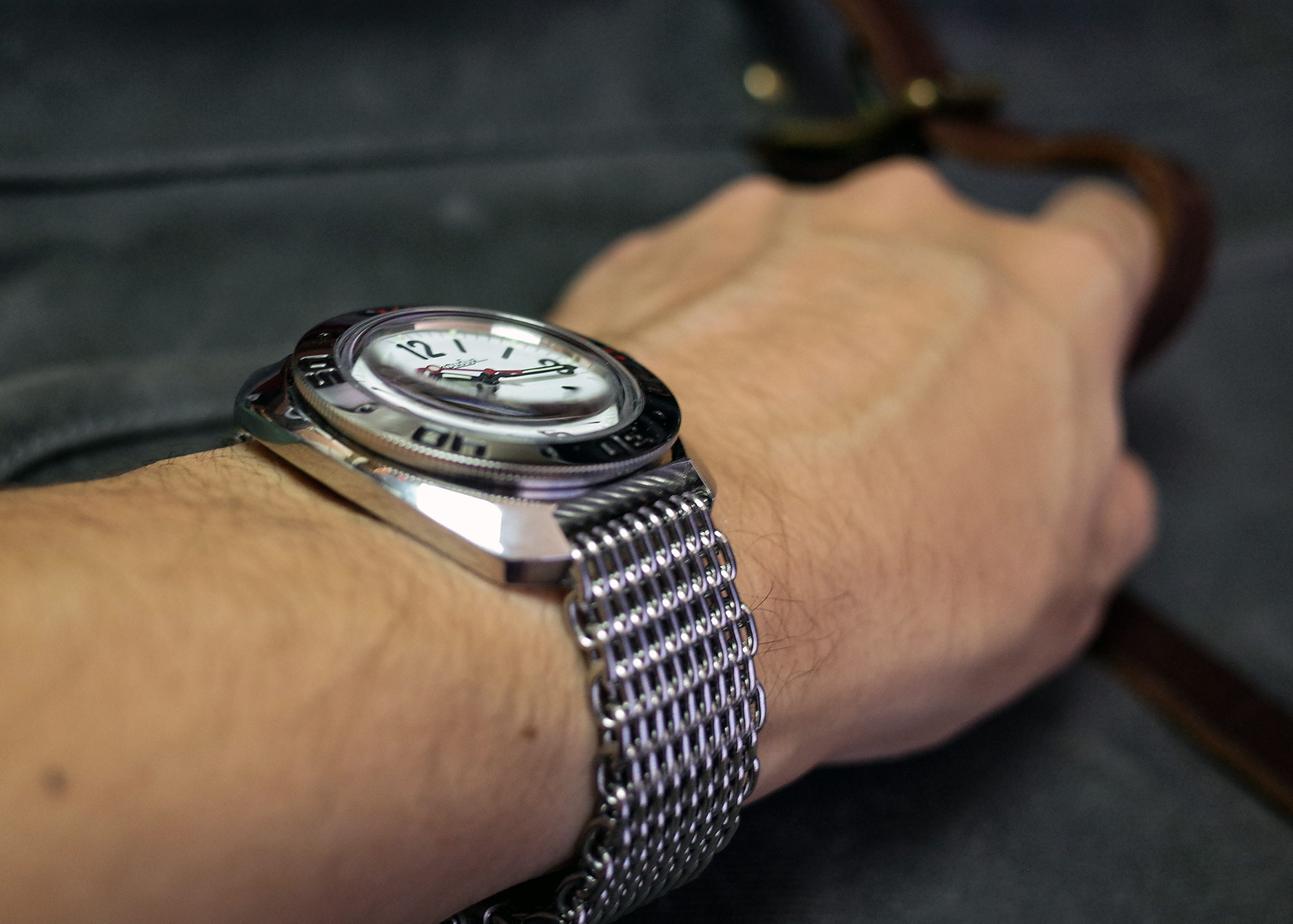 Aesthetically, it adds warmth to the dial, giving it a milky white appearance. The domed shape naturally distorts the edges of the dial when viewing it at low angles and reflects light along its edges like a bubble.
Some may be hesitant to buy a watch with a plastic crystal, as it's infamous for catching scratches. Clocking in two weeks on the wrist, I've earned a couple dings along the edge of mine. But fear not, scratches can be buffed out just as easily as they're made with a tube of Polywatch.
Caseback
The caseback is another unconventional approach to watch design. Novikov and Belova determined that the caseback seals of their Swiss competitors could be improved upon.
The rubber O-ring essential for waterproofing is put under much stress when a watch's caseback is screwed down. In short, it bears two forces: compression load from being squeezed and shear distortion caused by friction with the caseback.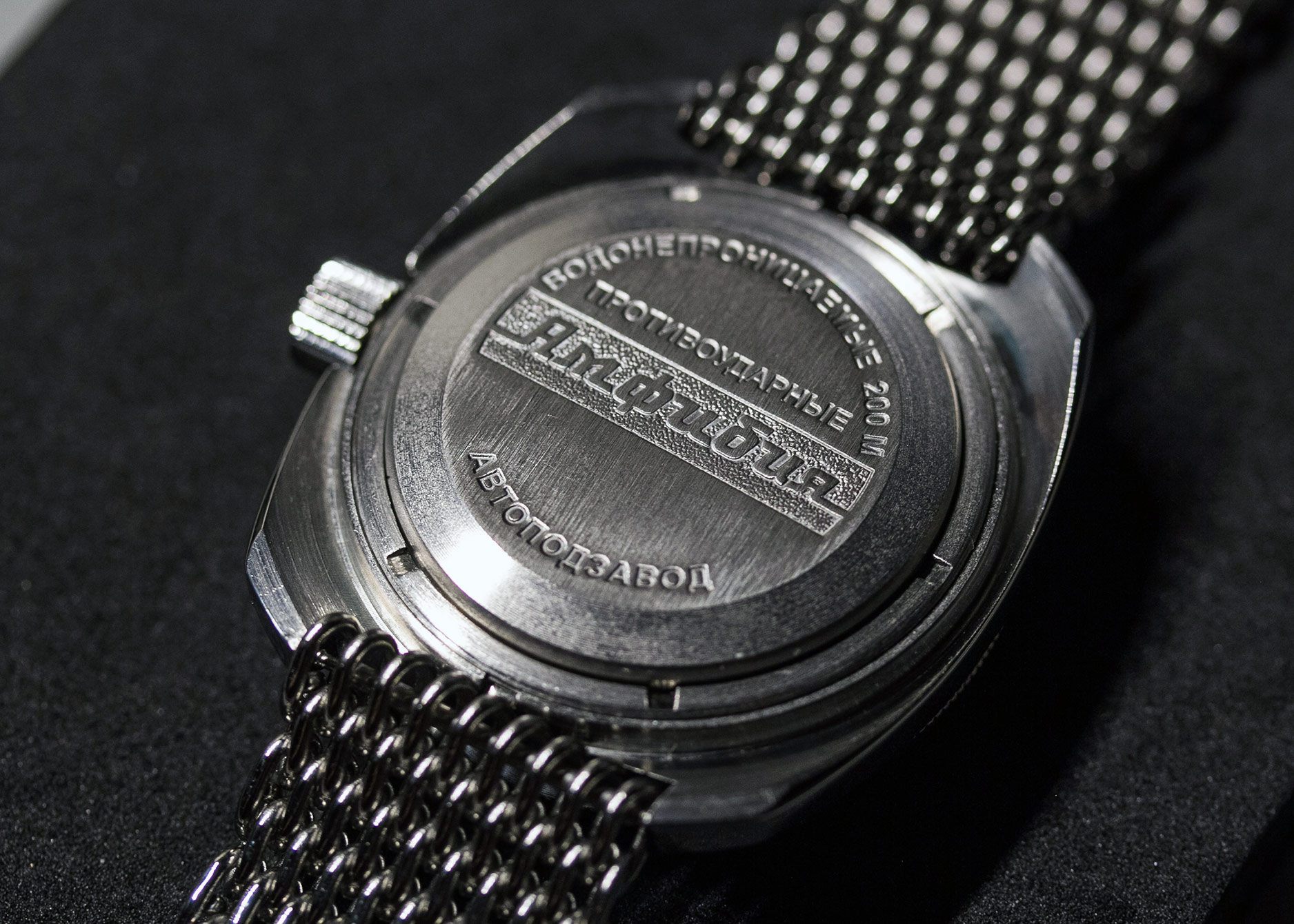 Because of this, a watch must be pressure tested each time the caseback is opened or the O-ring must be replaced entirely. The solution to this issue was to eliminate the shear force which would eventually degrade the rubber gasket.
The system consists of three pieces: the caseback, a threaded ring, and a large flat rubber gasket. The caseback seats with two notches on the watchback which prevent it from rotating.
The threaded ring is then tightened, compressing the caseback and gasket without friction, not unlike the lid of a mason jar. Because the gasket is also wider, it allows for a much stronger seal.
Dial
This dial and handset are common on many Vostok watches. The handset is a black arrow and pencil plus a red lollipop seconds for a pop of color.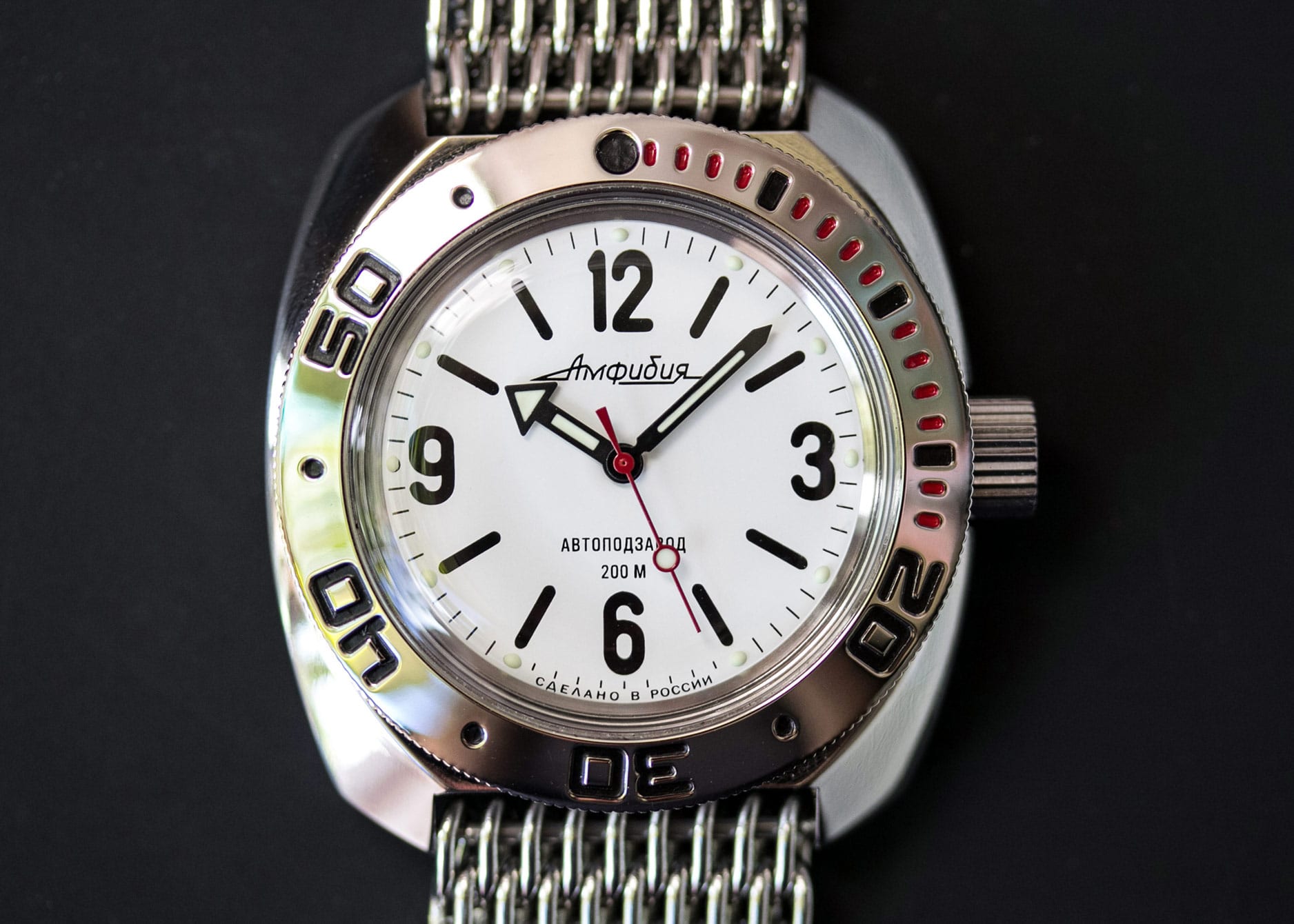 Highly legible and straightforward, the dial consists of Arabic numerals at the 12, 3, 6, and 9 in a rounded, vintage-style font. Hash marks denote the adjacent hours, and a minute track borders the dial.
There are eleven lume pips applied at each hour of the minute track except the 6 o'clock position where room was left for "Made in Russia" in Cyrillic script.
The coolest aspect of the dial is probably the stylized "Amphibia" logo and accompanying Russian text. Above the 6 is the depth rating and "Autowinding" in Russian.
Lume
I was pleasantly surprised to see the lume, applied to all three hands and the dial, glowing brightly when charged.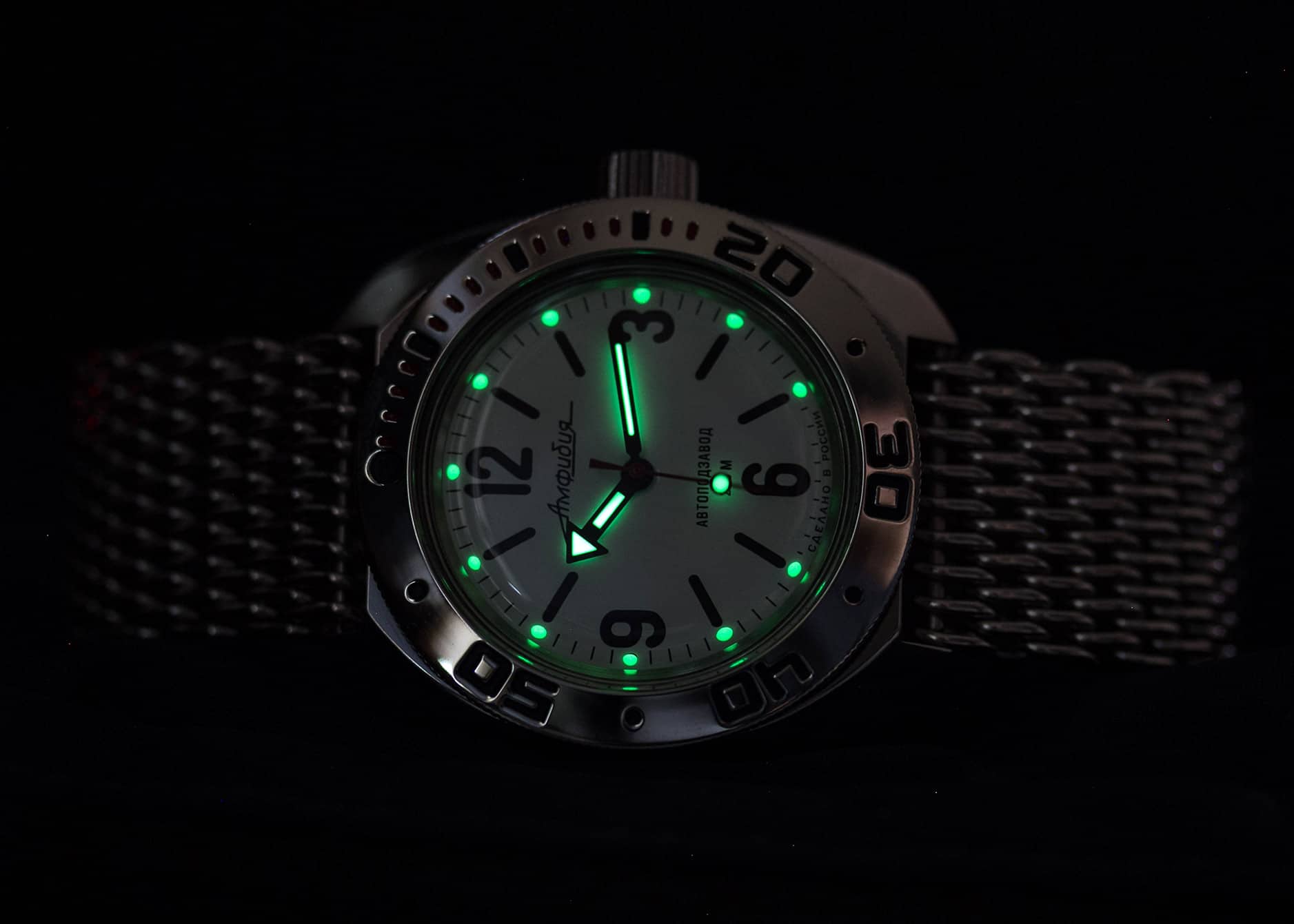 While it doesn't last particularly long, it's enough to make out the time in late hours of the night, which is fine for my needs.
Crown
The machining of the crown is about as simple as you can get. It's big with deep grooves, and it cuts off abruptly to a flat edge. However, things get interesting when you unscrew the crown: it's wobbly.
Don't worry, it's not broken. This is another unconventional design choice.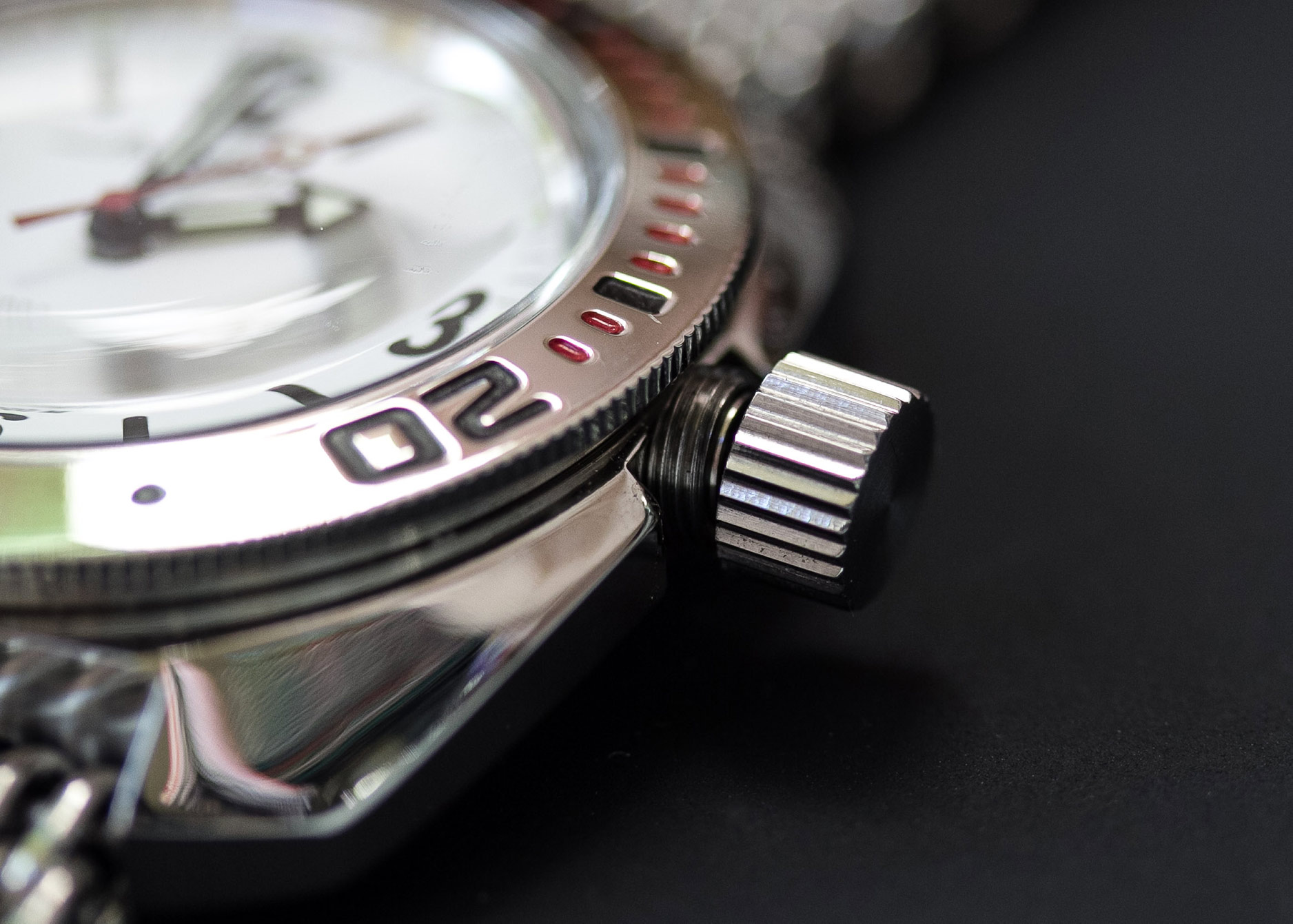 When you unscrew the crown, the crown stem disengages from the movement to prevent damage from accidental bumps. This, however, makes using the crown movement a bit clumsy.
It's easy to catch the threading unintentionally and screw the crown back in. The instructions even warn about this. To avoid that, it's best to pull lightly on the crown when winding or setting the time.
Movement
Vostok 2415
31 jewels
19,800 VPH
Handwinding, non-hackable
Power Reserve: 31 hours
The movement is Vostok's own in-house caliber. This is a true workhorse, and it's the most prevalent Vostok movement, along with its date counterpart, the 2416B. It's been in production since the 70s and it's given an impressive service interval of 10 years.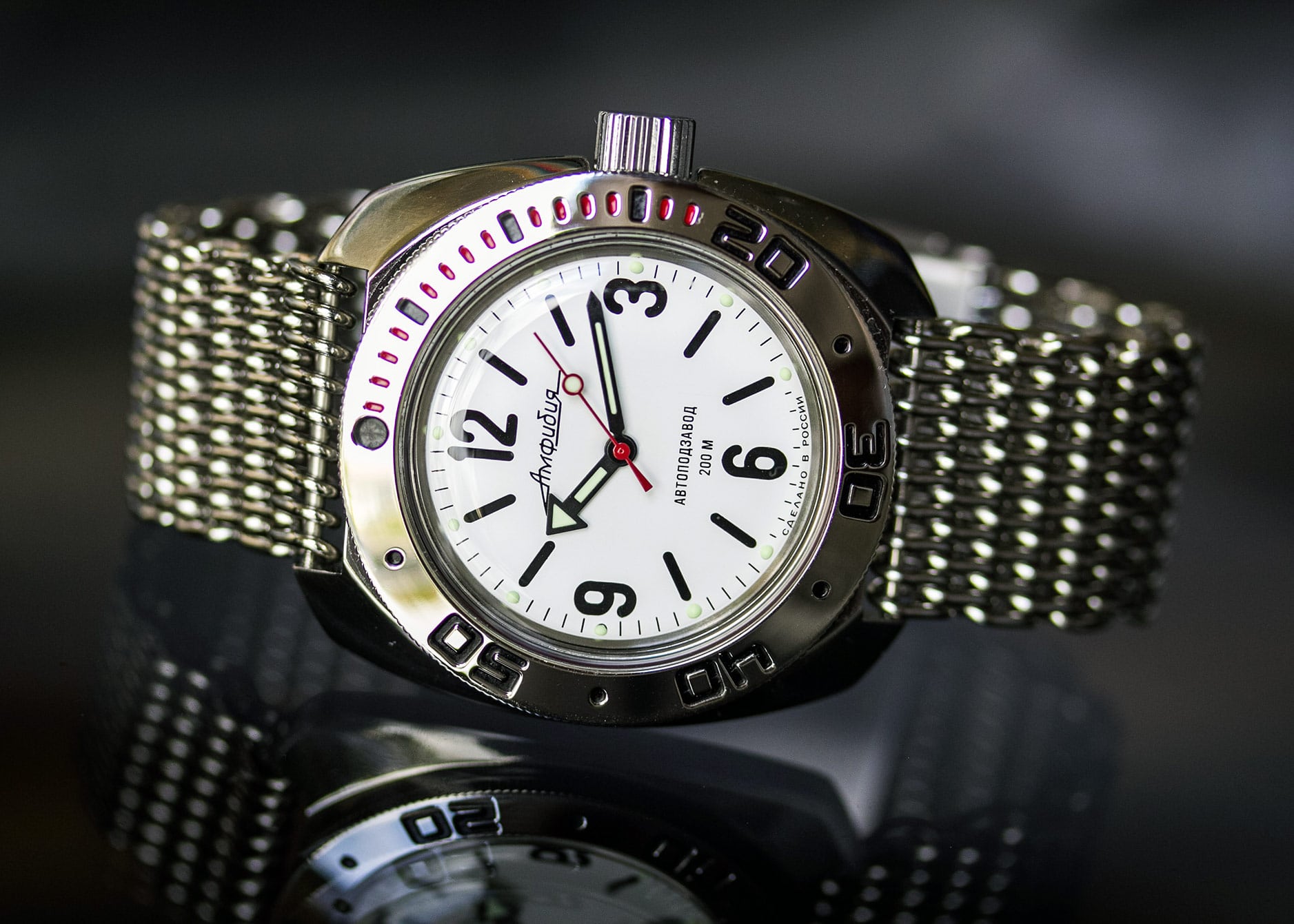 The tradeoff? It's not very accurate. Rated at -20 to +60 seconds a day, you might be re-setting this one often. You can take it to a watchmaker to have it regulated, or you can attempt to do so yourself if you're the crafty type. Since it's such a rugged affordable watch, many go this route.
Funnily enough, my movement performed remarkably well out of the box. Over the span of 7 days, it lost 8.7 seconds, losing 1.3 seconds per day on average. I can't expect it to perform consistently over time, and your mileage may vary.
Bezel
No clicking on this one, Vostok bezels are friction fitted and bidirectional. "Coin edge" describes this one quite literally. The bezel is about as thin as a US dime, and the edge machining is also comparable. Hence, it's not very grippy, and it digs into the fingers as you turn it.
There's a fair bit of resistance when turning it and grittiness in some spots. In this case, tightness isn't necessarily a bad thing. It'll keep the bezel from accidentally rotating if you bump the watch.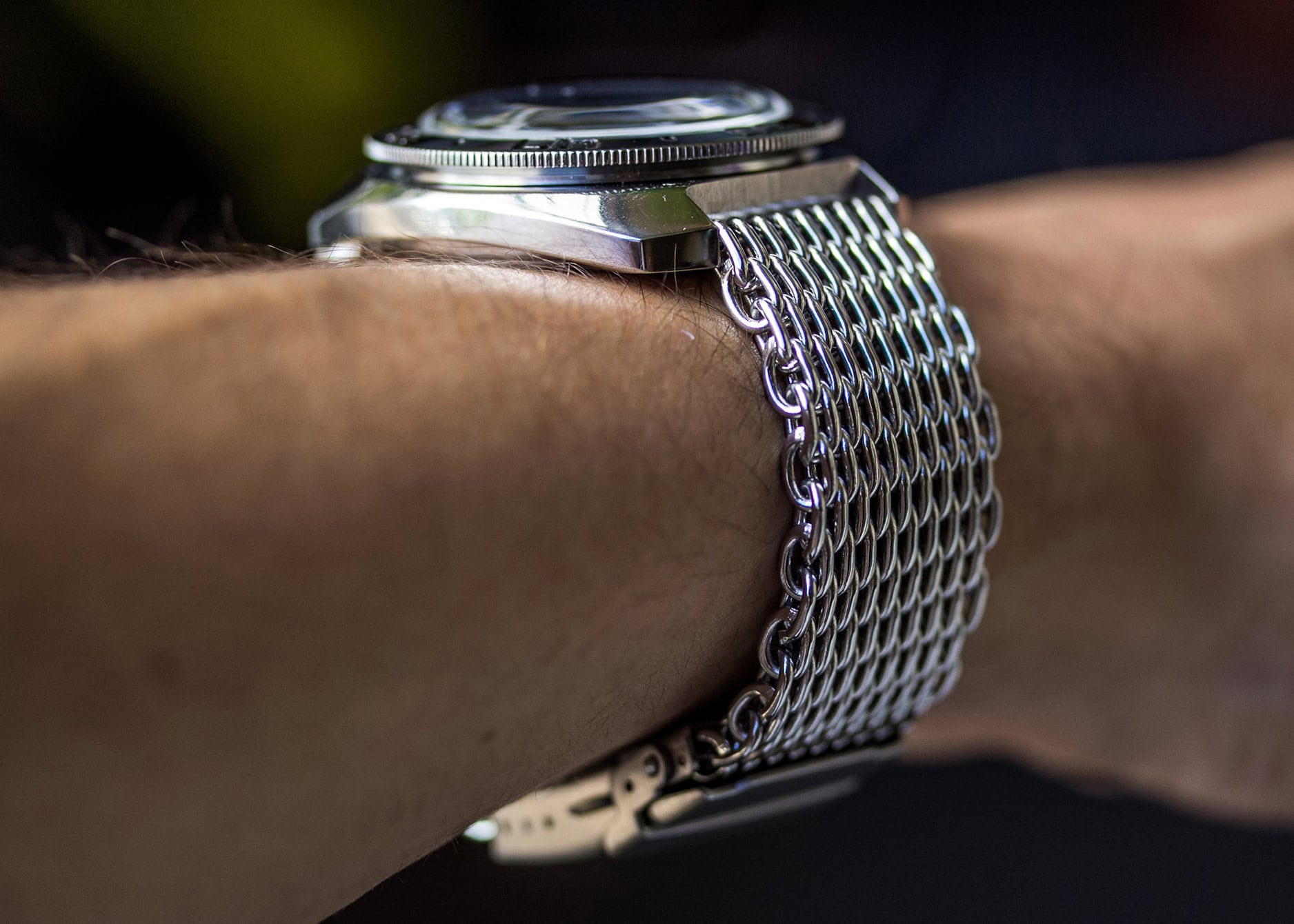 The bezel is chrome plated brass, and as you'd expect, the shiny finish is a smudge magnet. You'll often be wiping fingerprints off. I also find myself compulsively fidgeting with the bezel, making sure it's perfectly aligned at 12.
The paint application in the recessed numerals is spotty in a few areas but not terrible. But since the bezel lacks any lume, it's rendered useless in the dark. With all the thoughtful engineering that went into the watch, the bezel unfortunately seems like an afterthought.
Luckily, there's a plethora of aftermarket bezels and inserts on the market you can pick up to mod your watch.
The Bracelet
The consensus around Vostok bracelets is grim. Most of them are a rattly hair-pulling nightmare, and it's recommended you toss and replace them immediately.
The Exception: Vostok's mesh bracelets. The shark mesh bracelet is quite nice in hand. It's smooth and free of any sharp edges. Aesthetically, the shiny woven links of the bracelet compliment the polished case and steel bezel.
One thing to note: In traditional shark mesh fashion, the only way to size the bracelet down is to permanently cut links off. It's not difficult to do if you have the right tools available, but it's a tedious process. I had to remove about four rows in total, cutting each link individually.
The clasp is a double push button deployant with a flip-lock. This type of clasp is common on microbrand watches and aftermarket bracelets, at varying levels of quality.
Some are milled, but this one uses folded steel for the hinge. While it does feel a little cheap, I can't argue with the functionality. It does its job just fine and it's nice and low profile.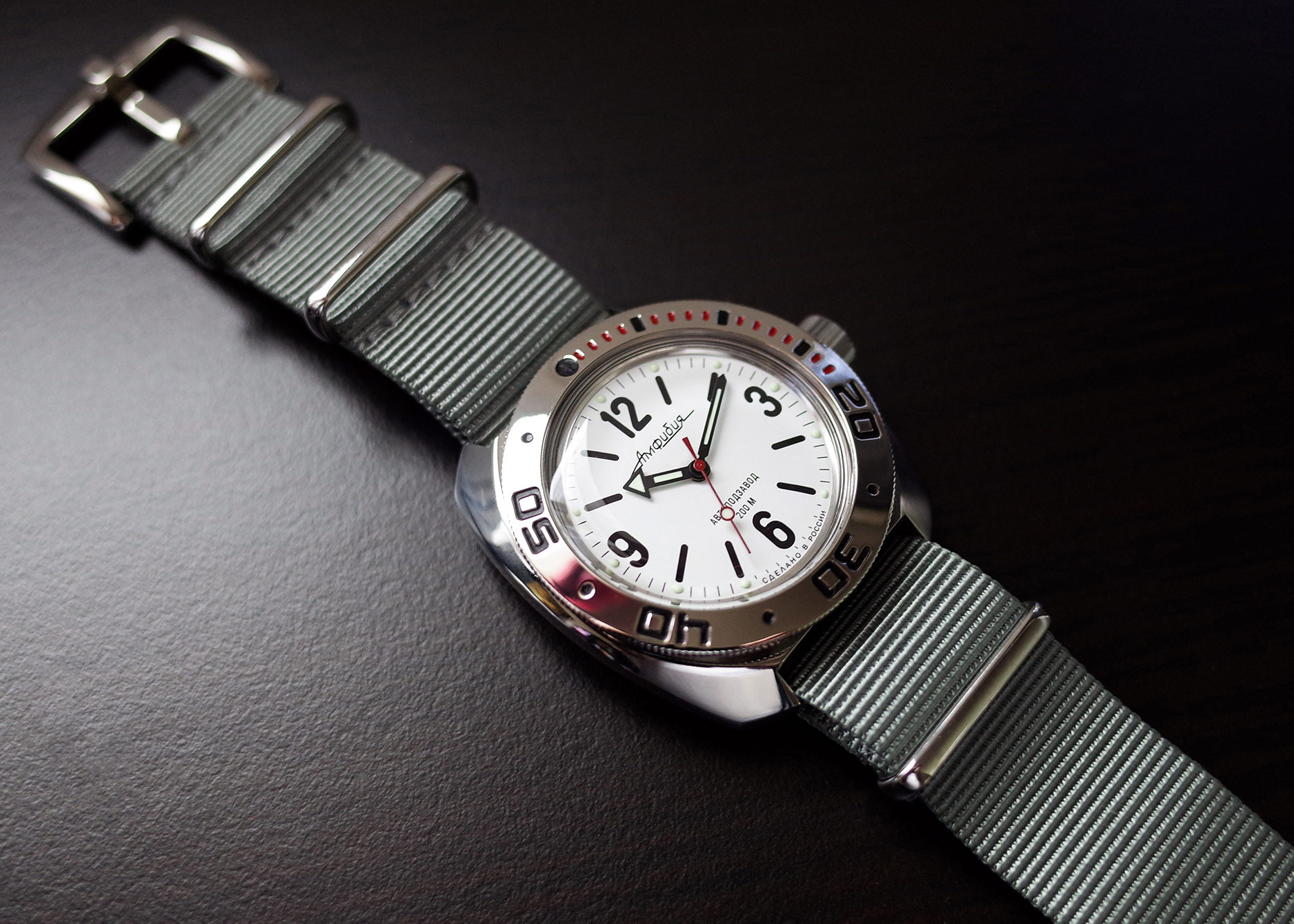 There's also a lauded milanese mesh available for around $15, but it doesn't come pre-packaged with any watches and must be purchased separately. If mesh isn't your thing, there's a rubber strap and a ton of NATO/Zulu strap options.
Conclusion
Initially, I wasn't quite sure how I'd gel with this watch. After a few days of wearing it though, I ended up liking it a lot. It's a fun, quirky watch. It has a very retro charm to it, like something straight out of the space age would. On top of that, it's very affordable.
You'd be hard pressed to find another automatic watch for less than $100, not to mention a 200m diver.
At this price range, you don't have to worry about versatility. You can buy one with a wacky colorful dial without the hefty price tag of a luxury watch. There are literally dozens of case, dial, and handset combinations to choose from.
The site I ordered my watch from, Soviet.Market, features a "Configurator" page where you can choose individual parts to build your own custom Vostok watch. There's also a ton of resources online if you're interested in modding.
Modstok.com is a great place to start. It includes a list of retailers in different countries for both watches and aftermarket parts.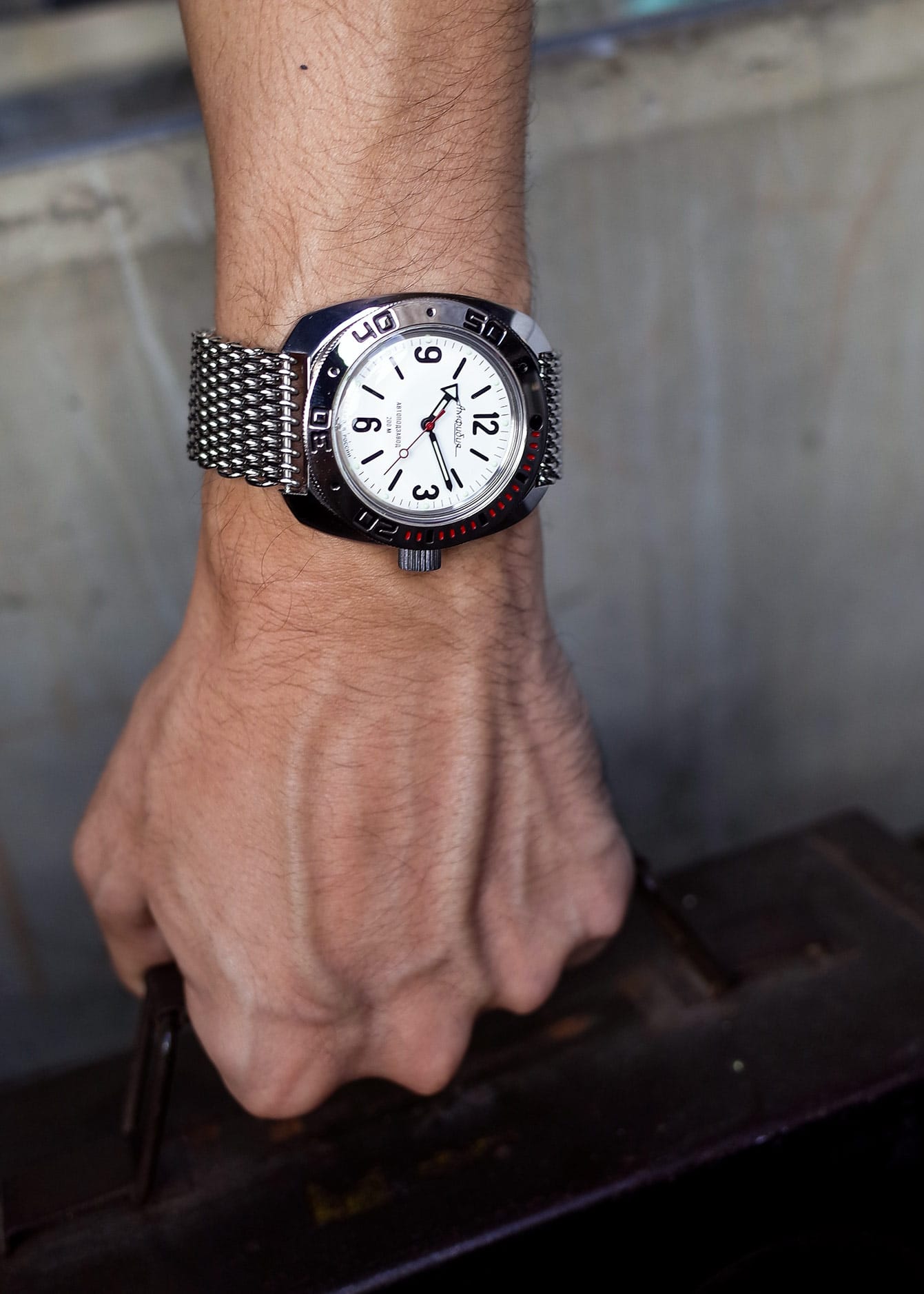 Keeping in mind the era they were designed, I believe these watches are a feat of engineering and design worthy of respect. The caseback and gasket system is super cool and I'm surprised more watchmakers haven't adopted it.
Yes, the finishing of the watch is somewhat rudimentary, but it highlights the stoic principles behind Russian design philosophy: robust, utilitarian, and economical.
If you're interested in trying an automatic watch for the first time, this is a great starting point. And say you end up developing a taste for automatic watches because of it? Quality, in terms of materials, finishing, and accuracy only goes up from here.
Or maybe you'll go a different route and become a budding Vostok collector. They say it's hard to stop at one Vostok, and I'm starting to get what they mean.