In this hands-on review, we'll share our thoughts on the stunning Baltic Aquascaphe Bronze.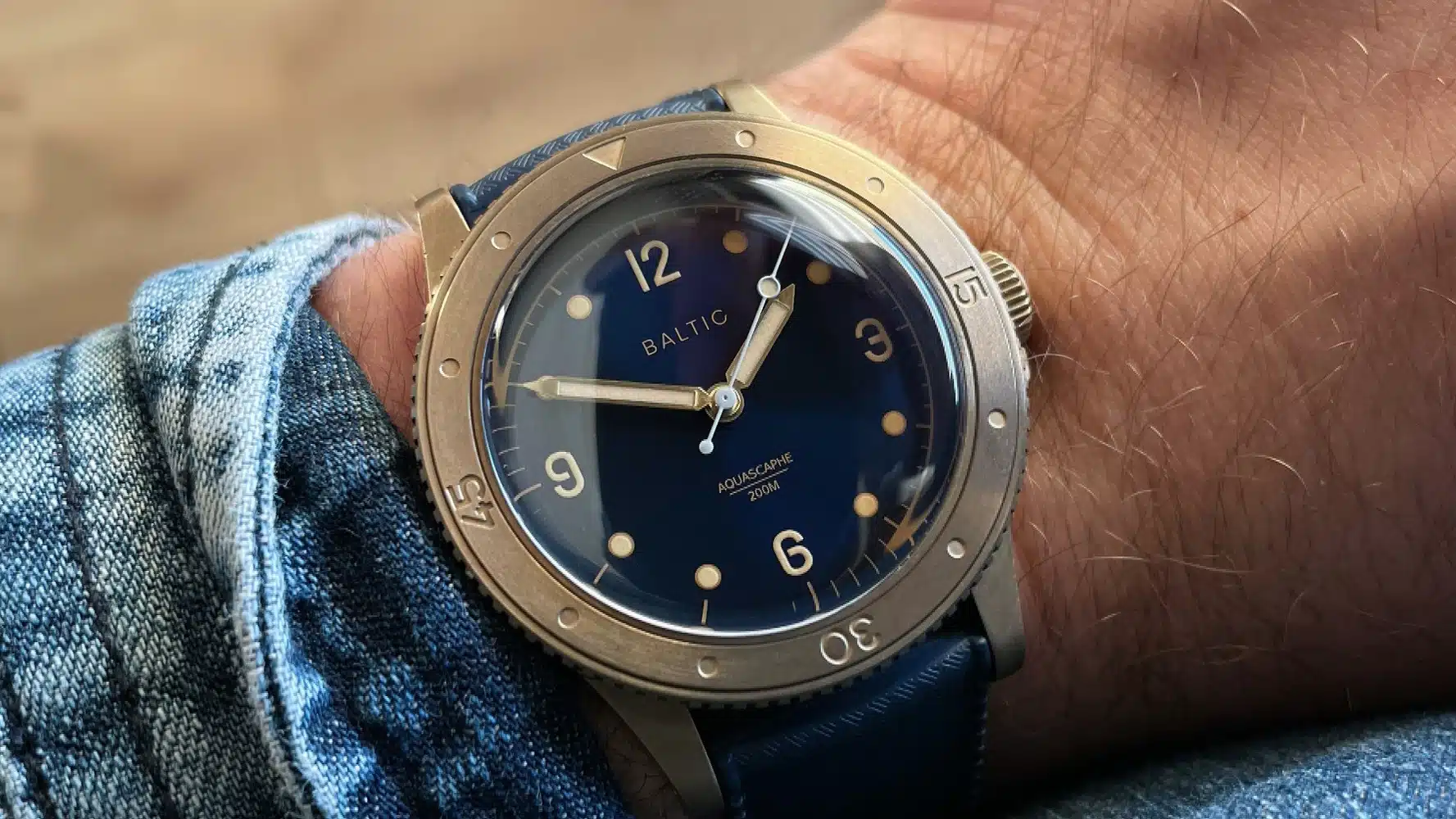 Are you a fan of the patina on watches but unimpressed by typical marketing tactics? Look no further, as I present to you an exceptional timepiece that breaks the mold.
The Baltic Aquascaphe Bronze Blue Gilt is a bold watch. You're unlikely to see anything like it on the street. The Aquascaphe, made by Baltic, has an exciting design that deserves, indeed demands, a second look.
About Baltic
Baltic was founded in 2016 by Etienne Malec. It pays tribute to his father's legacy, who was a watch collector and photographer, with the aim of creating timeless watches at fair prices.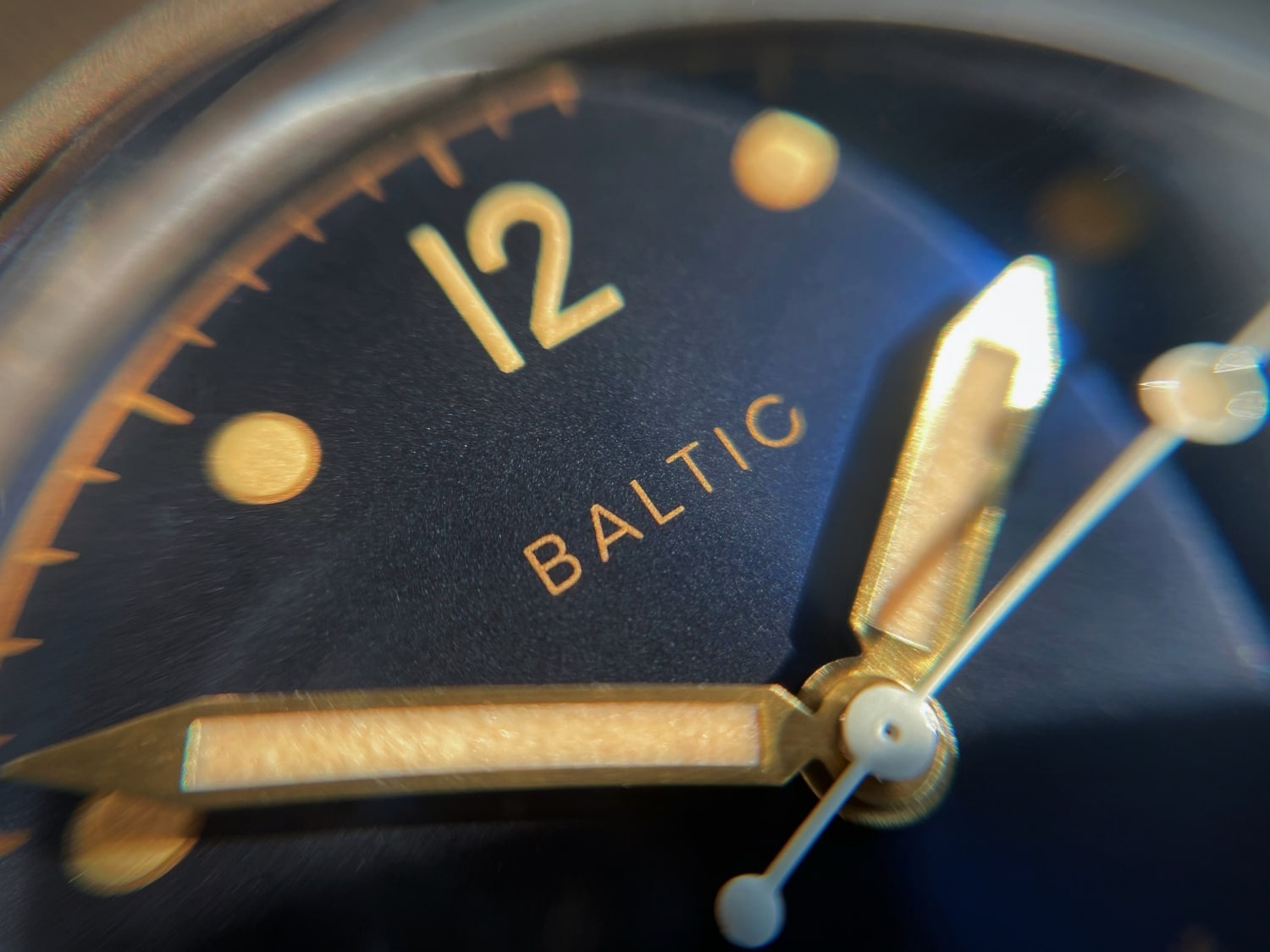 Malec's ancestors are from the northern coast of Poland, near the Baltic Sea and this is where the name Baltic comes from.
Most of the components Baltic uses are sourced from Hong Kong, while the assembly takes place in France. The accessories, such as the straps, are made in Italy.
Baltic offers various lines in its online catalog, including divers, chronographs, and the classic MR01 watches.
The Aquascaphe Line
The Aquascaphe line features divers and is divided into several subgroups, including those with GMT complications or supercompressor lookalike watches with dual-crown setups.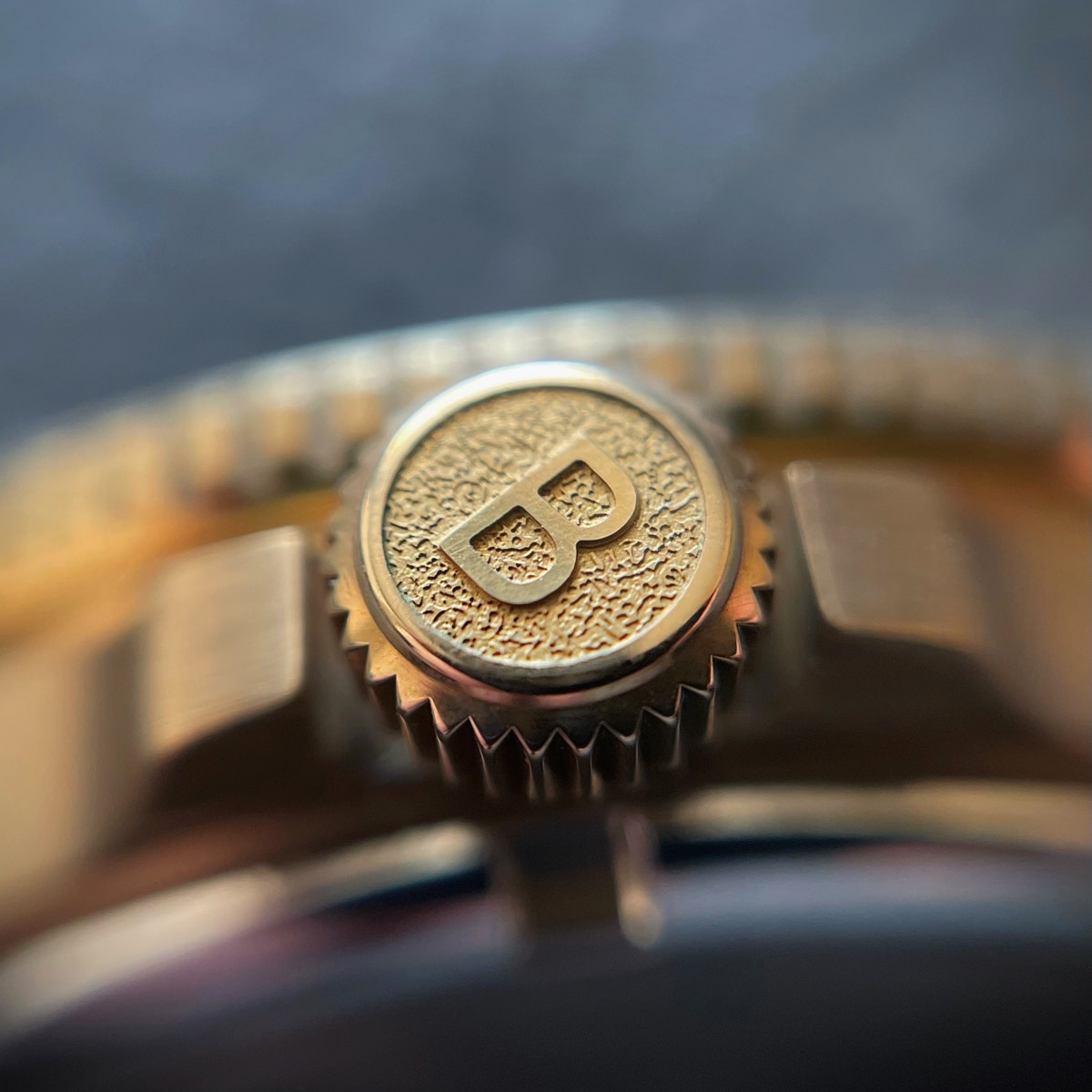 There are also typical three-hand divers with different case materials such as the well-known 316L stainless steel, titanium, and more unusually, bronze.
The Aquascaphe Bronze Blue Gilt is certainly an eye-catching choice. With its stunning bronze casing, blue dial, and blue rubber strap, this watch is a true statement piece that is sure to turn heads.
However, a few of its unique features go far beyond its striking appearance, which is why I chose it for this review.
Why Bronze?
Bronze is a copper-based alloy, most commonly paired with tin and zinc to achieve different properties. The use of bronze as a case material is an excellent choice as it offers great resistance to corrosion, making it ideal for a variety of situations.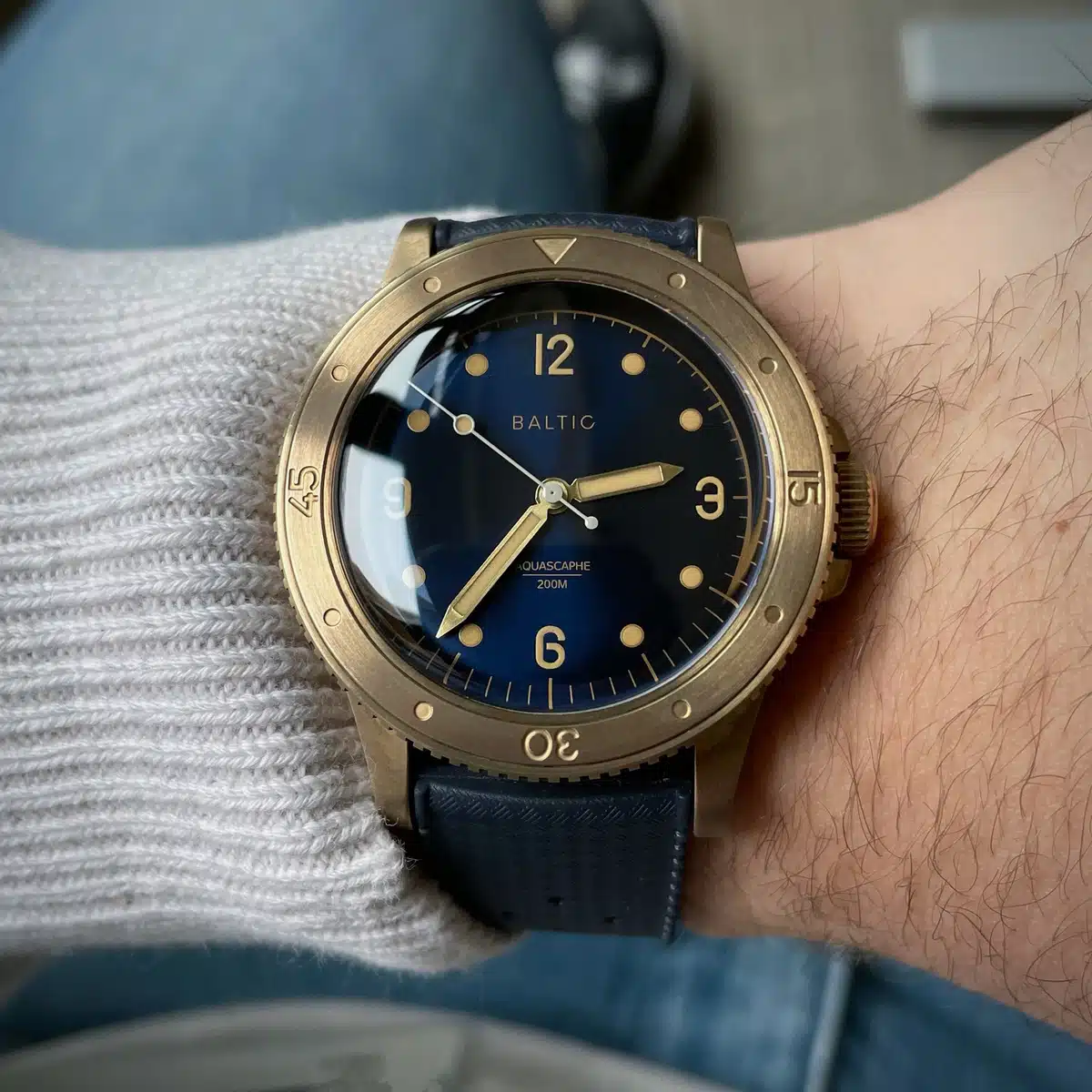 Baltic uses a CuAl8 alloy that combines copper and aluminum, which is commonly used in the automotive industry for arc welding.
The watch's appearance changes over time, developing a brownish patina that forms a barrier between the case and its surroundings, giving the watch a distinctive and unique appearance. It's like wearing a piece of history on your wrist, and it's your history.
Packaging
The watch arrived in a high-quality, leather-like blue box covered by a hard paper box with a marbled pattern.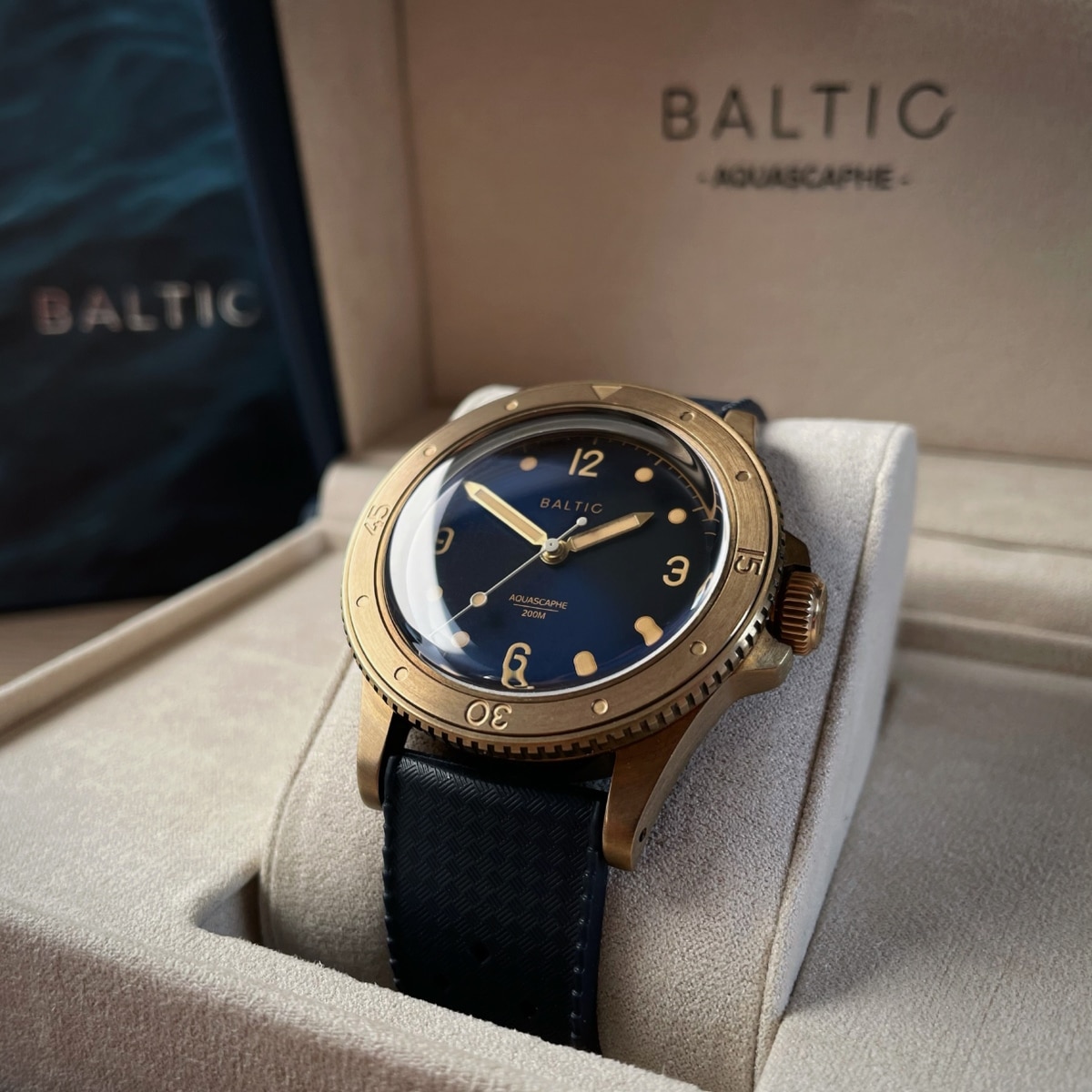 The inside is lined with soft, plush material to protect the watch from scratches, and the package includes a metal guarantee card and a user manual with the same design, providing a cohesive and elegant presentation.
Dimensions
With a case diameter of 39 mm, lug-to-lug distance of 47 mm, and a height of only 12 mm, the watch's dimensions are similar to those of vintage divers, making it properly sized for most wrists.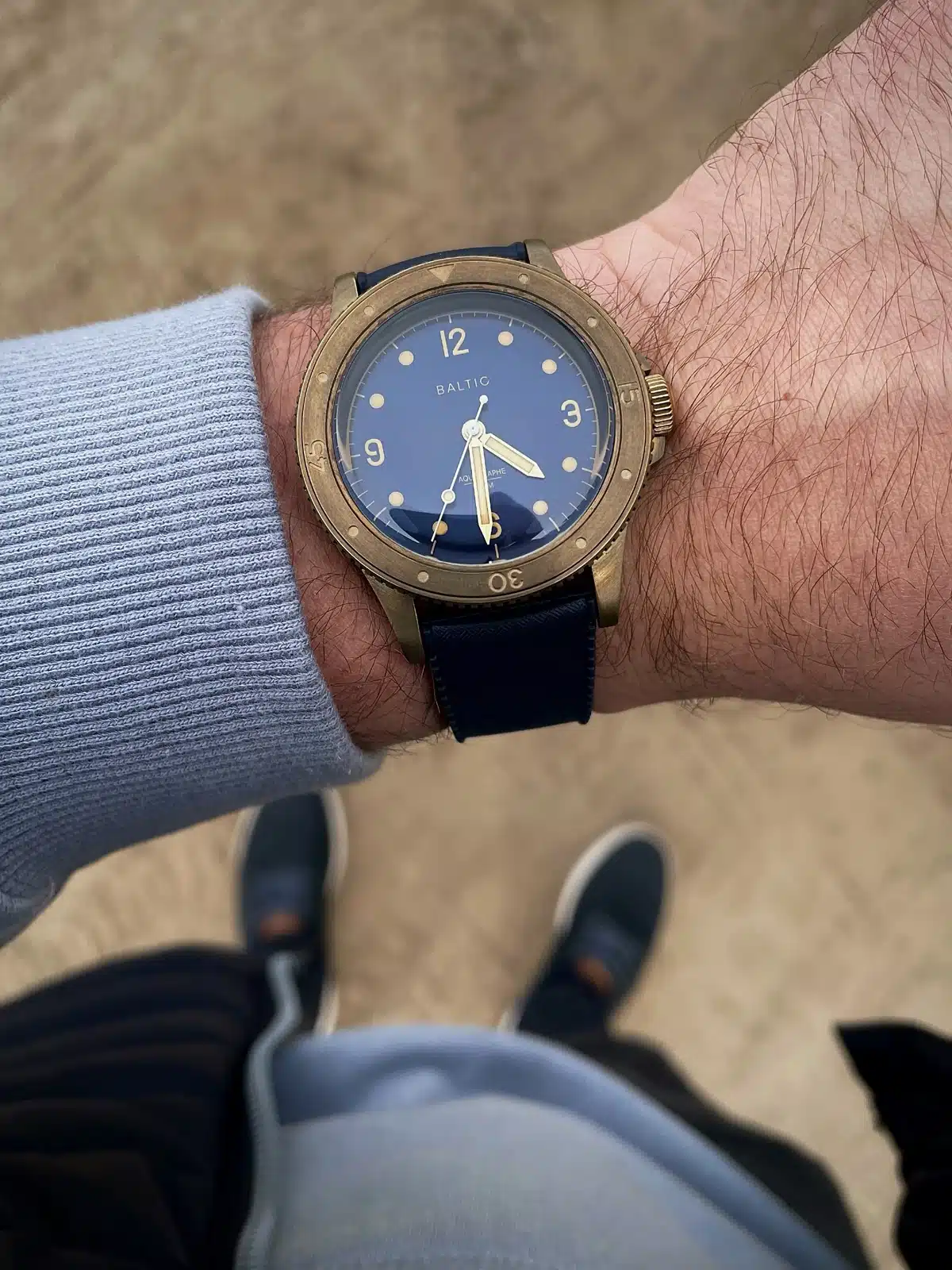 It strikes a good balance between being big enough to make a statement while also being small enough to not feel overwhelming or bulky on the wrist.
Case and Crystal
The case and the unidirectional 120-click bezel are made of a bronze-aluminum alloy paired with a stainless steel caseback, making it durable and skin-friendly.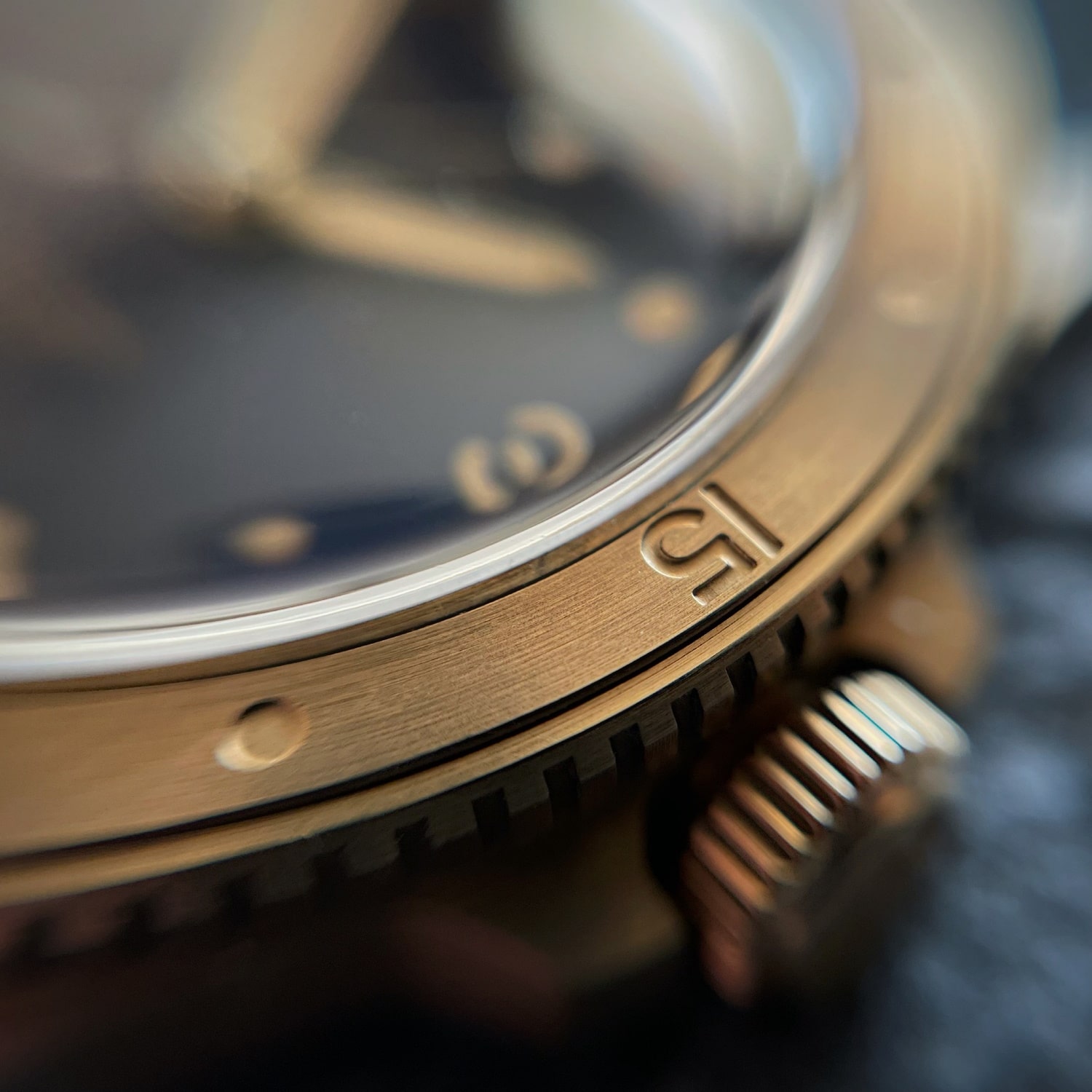 The double-domed sapphire crystal is also tough, and the watch has water resistance of 200 meters, making it an ideal choice for diving and water activities.
Dial and Hands
The dial is called "Sunday Blue" and offers a variety of colors, including navy blue, Prussian blue, and Pacific blue in the sunlight, providing variegation that further strengthens the watch's appeal.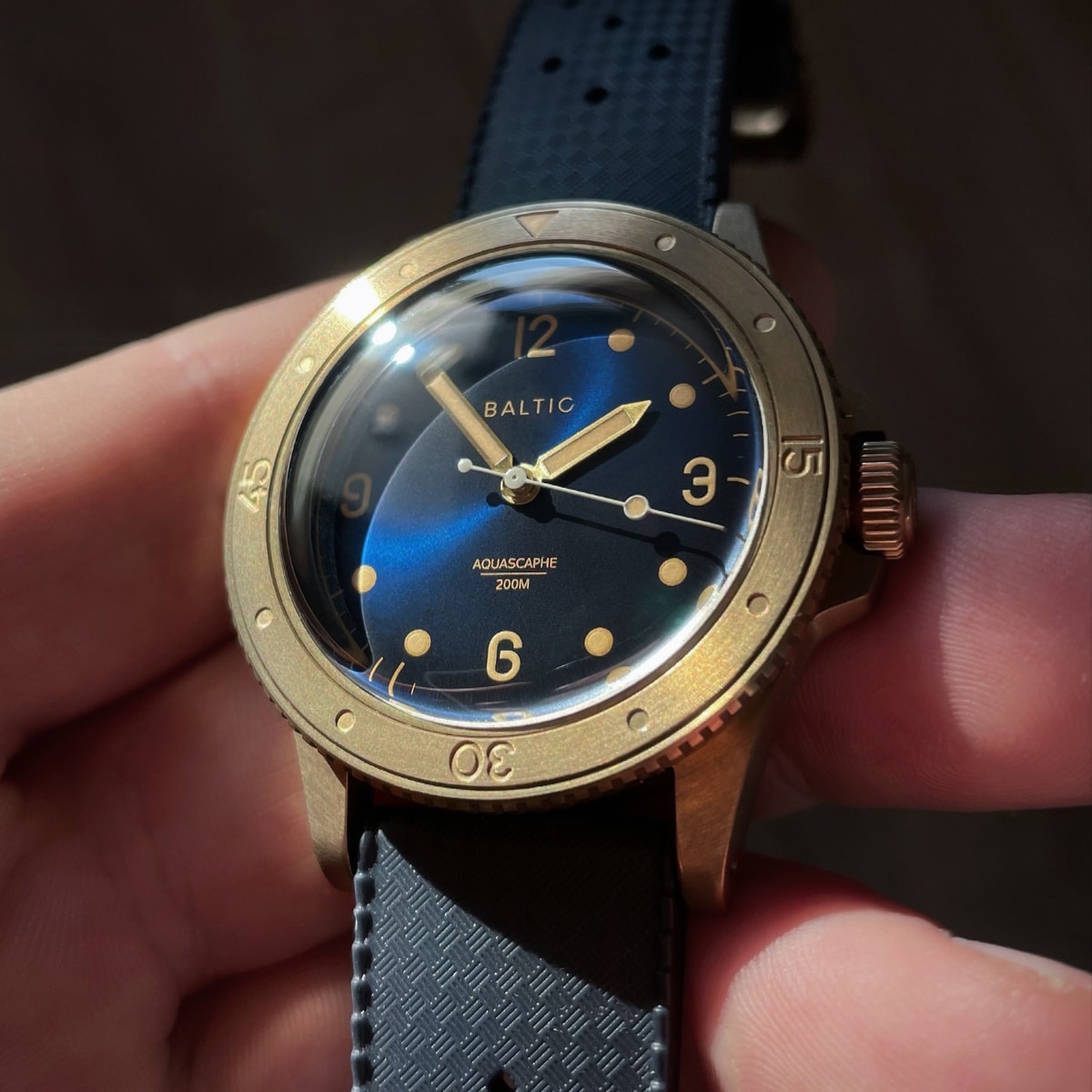 It also features luminescent markers and hands with Swiss Super-LumiNova luminous pigments, making it easy to read in low-light conditions.
Movement
The heart of the watch is the reliable Miyota 9039 automatic movement, which has a power reserve of up to 42 hours.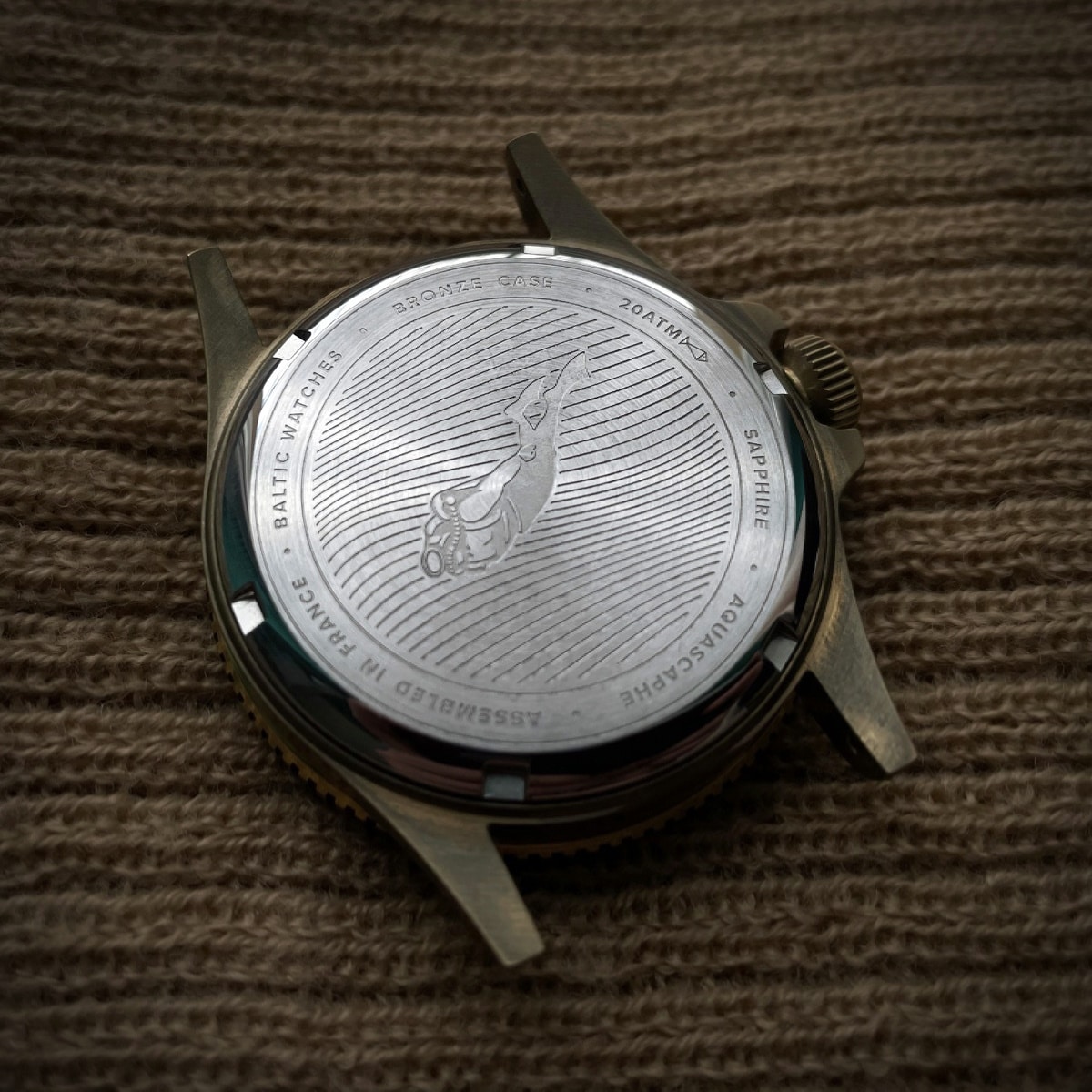 It's a thinner version of the Miyota 9015 due to the lack of a date complication and lower hand stack. As a premium automatic movement, it offers accurate and precise timekeeping capabilities.
Strap
The strap is made of high-quality rubber and is 20 mm wide. This width is a great choice for this watch as it complements the vintage-inspired design of the timepiece.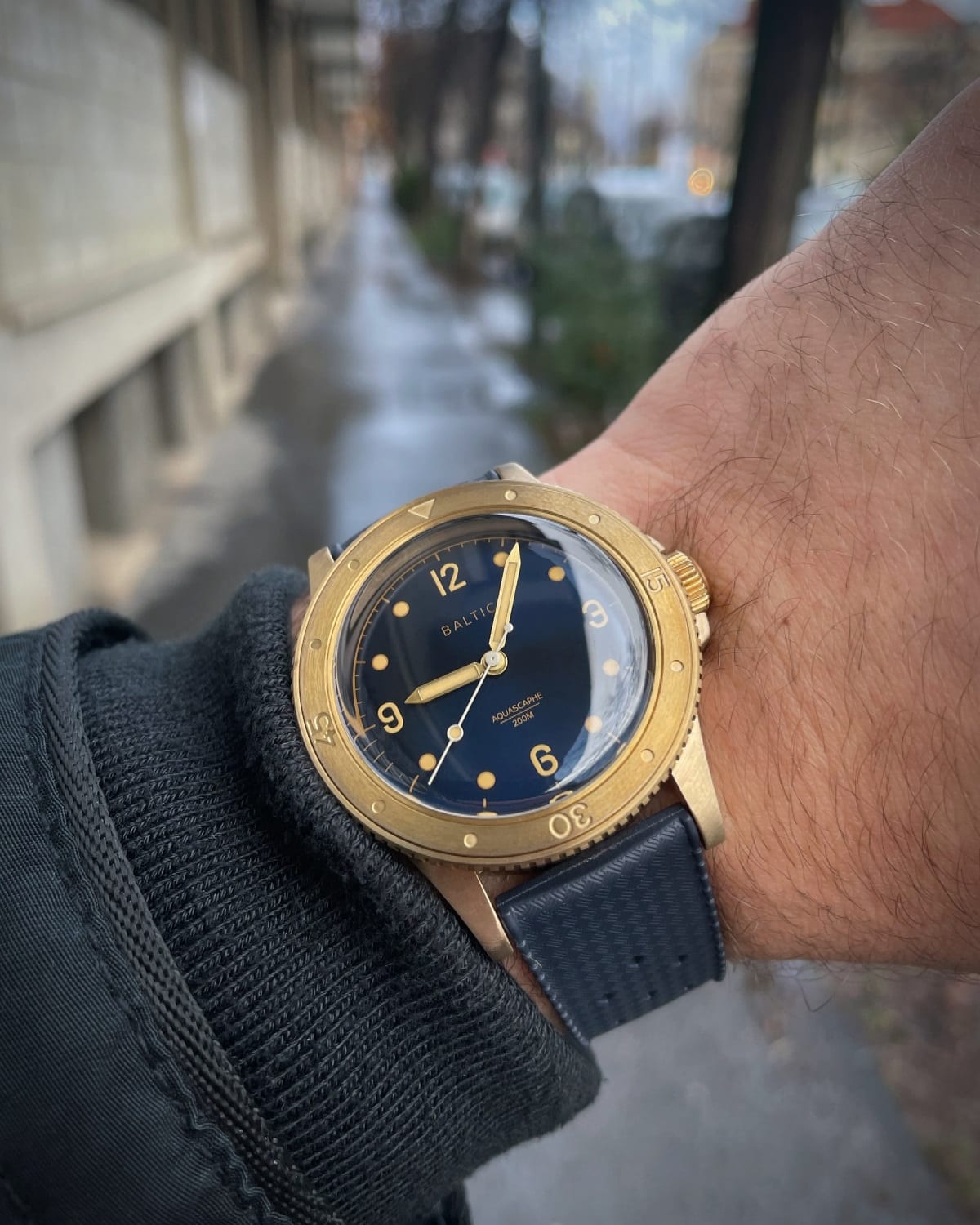 The buckle is signed with the name Baltic and made of bronze, matching the material of the case perfectly.
The Verdict
Overall, the Baltic Aquascaphe Bronze Blue Gilt is a stunning timepiece that offers a unique combination of vintage aesthetics and modern functionality.
It's a reliable and accurate watch suitable for daily wear and water activities, making it an excellent option for those looking for a well-designed and expertly crafted watch that stands out.
Questions? Comments? Leave them below!