I've searched far and wide to bring you this definitive guide on the differences between NATO and Zulu straps.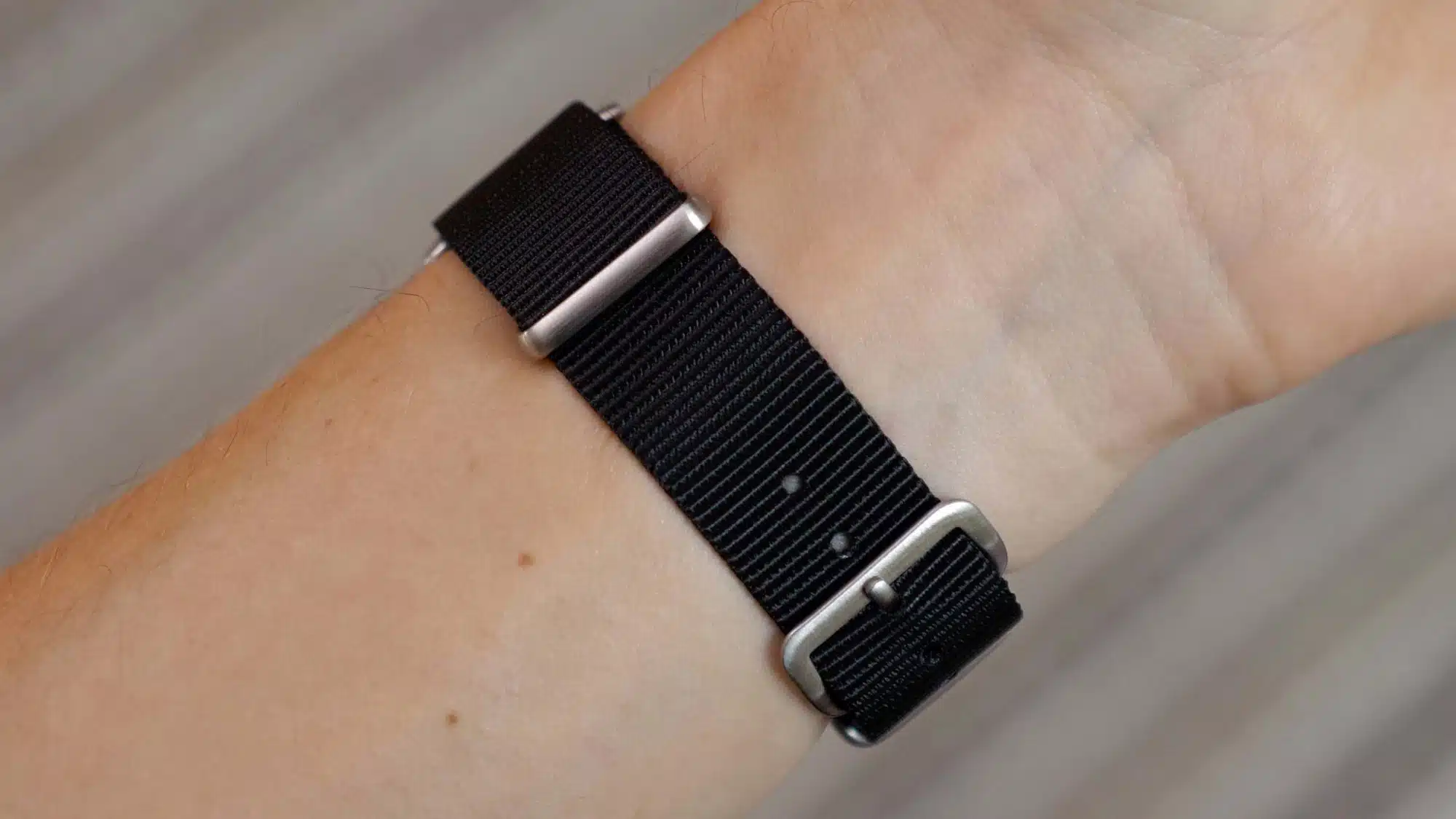 If you've ever shopped for cloth watch straps, then you've probably come across both NATO and Zulu straps.
They're by far the two most popular cloth strap styles, and at first glance, there seems to be almost no difference between them.
This has led watch enthusiasts (and even retailers) to use the two terms interchangeably.
However, a NATO strap is not exactly the same as a Zulu, and this mixup has created a lot of confusion.
For example, there are companies like Nato Strap Co. and ZULUDIVER that confusingly sell both strap styles despite having one specific type literally in their brand name.
Then there are retailers who sell one strap type and call it the other. This is often the case with the famous "007" strap featured in the film Goldfinger. While strap makers advertise these as NATOs, the original strap worn by Sean Connery was actually a Zulu.
So what are the differences between NATO and Zulu straps? And why does that even matter? Let's take a closer look.
Zulu vs. NATO Straps: Quick Overview
In reality, deciding if a strap is a Zulu or NATO stems from the fact that they are pretty similar. (By the way, wouldn't "Zulu vs. NATO" — be a great band name)?
Both NATO and Zulu straps are pass-through straps, meaning the straps pass between the watch case and spring bars instead of sliding directly onto them.
Both NATO and Zulu straps are typically made from nylon and can have similar-looking hardware, but that's where the major similarities end.
The biggest difference is that NATO straps feature a second layer of fabric and are generally thinner than Zulus.
However, that's not the whole story. Here's a deep dive into the specific differences between NATO and Zulu straps.
What Is a NATO Strap?
The name "NATO strap" is a bit of a misnomer — it's not as directly tied to the North Atlantic Treaty Organization.
What we do know is that the NATO strap was originally introduced by the British Ministry of Defence in 1973. It was designed to be a more durable alternative to leather straps and to hold up in the rigors of military service.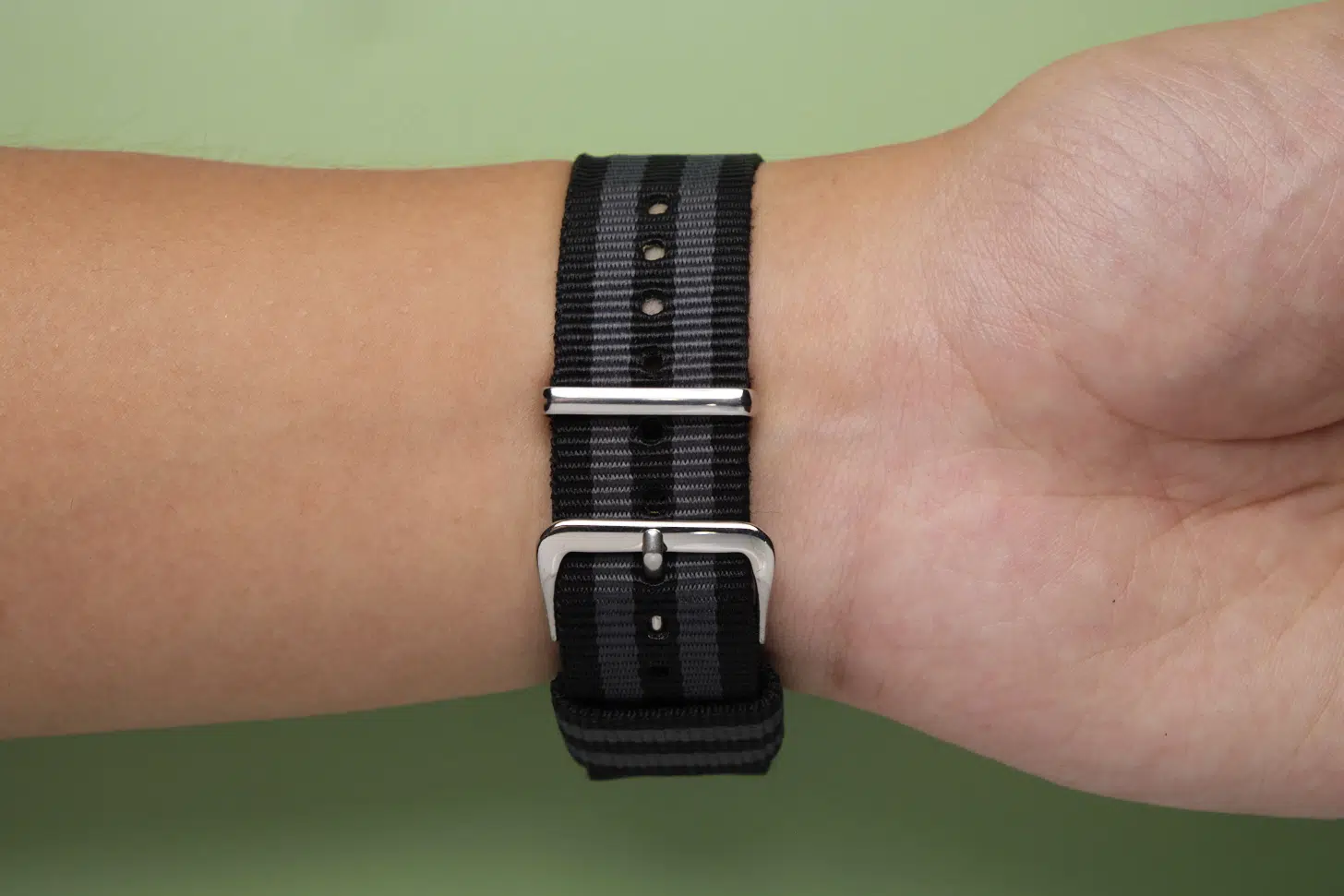 For soldiers to get the newly issued strap, they had to fill out a form called the G1098, which was NATO's stocking number for the item.
Consequently, these straps were usually referred to as either "G10 straps" or "NATO straps." For one reason or another, the name "NATO strap" stuck.
Since they were designed for the military, NATO straps were all about functionality, which informed both the material and construction.
By most accounts, the original G10 straps were made of nylon, though there are some mentions of other materials being used early on. Either way, nylon quickly became the norm for NATO straps since it was hard-wearing yet flexible.
It was also important to have thinner pieces of nylon since two layers of fabric passed under the case. This lighter fabric, along with the slim keepers, also kept the watch as lightweight as possible.
To ensure that soldiers' watches wouldn't fall off their wrists, the NATO strap was designed to have an extra section of nylon that functioned as a safety net. This shorter second piece of nylon passed under the case and was secured to the main piece with a keeper.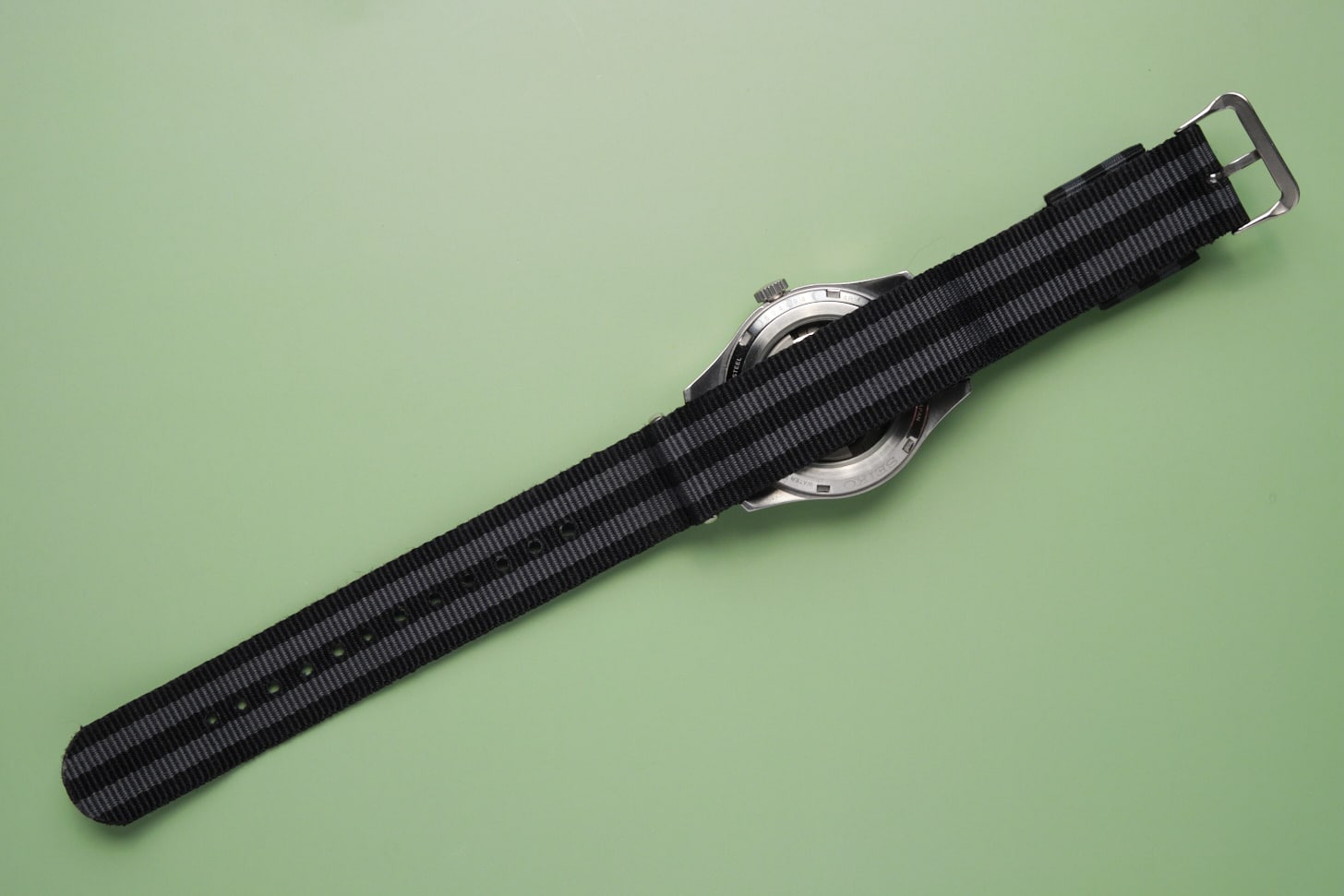 On one level, this construction kept the case from shifting around undesirably. But it also meant that if one of the spring bars broke or popped out, the case would still be held in place by both the remaining bar and the strap itself.
Over the years, the NATO strap formula has remained largely unchanged: thin nylon, slim keepers, and the classic two-piece design.
The only element that's significantly different today is the color. G10 straps originally only came in "Admiralty Grey," but today's NATO straps can be found in just about any color.
Here's the NATO strap at a glance:
Originally made for British soldiers
Two layers of fabric
Thinner nylon and hardware
Tang buckle and slimmer keepers
Now, onto Zulu straps.
What Is a Zulu Strap?
While the history of the so-called NATO strap is fairly well-documented, there's surprisingly little information about the origins of the Zulu strap.
Though its look and design are both similar to the NATO strap, the Zulu strap doesn't seem to be connected to the military in any official capacity. It's also unclear whether the Zulu preceded the NATO.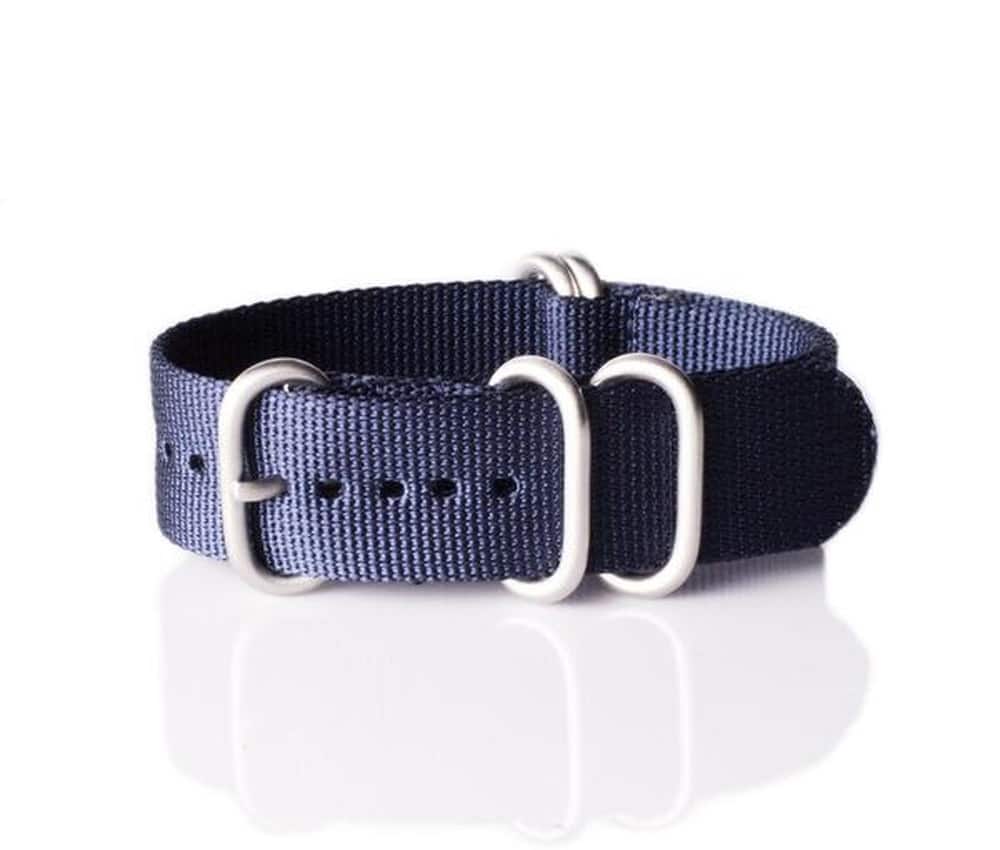 Even the name, which probably refers to the Zulu people of southern Africa, doesn't seem to have much to do with the strap itself.
Since there's no recorded history of how the Zulu strap came about, all we know for sure is how the straps are typically made.
Most "true" Zulu straps are made from a single piece of fabric, which means they don't have the NATO's failsafe layer. The fabric of a Zulu is also usually thicker than the nylon of a NATO.
Zulu straps also often have rounded buckles and keepers, contrasting with the tang buckle and rectangular keepers of a NATO.
That said, some Zulus do come with hardware that's more reminiscent of a NATO, with the only difference being the strap construction (one layer vs. two).
Here's a quick summary of Zulu straps:
No direct military history, origins unclear
One layer of fabric
Thicker nylon and hardware
Rounded buckle and larger keepers
Now we'll get into which one you should choose.
NATO vs. Zulu: Why Does It Matter?
It might seem like the differences between NATO and Zulu straps are so inconsequential that they don't really matter.
However, there are a couple of reasons why these small differences are actually important.
First, be being able to tell NATO and Zulu straps apart you can prevent ordering a Zulu when you actually wanted a NATO or vice versa.
This is especially important because there's so much confusion in the marketplace.
Second, the actual construction makes a big difference. While both are pass-through straps, the NATO's extra layer of nylon changes a lot. For one, it raises the watch off your wrist, giving it a more prominent presence.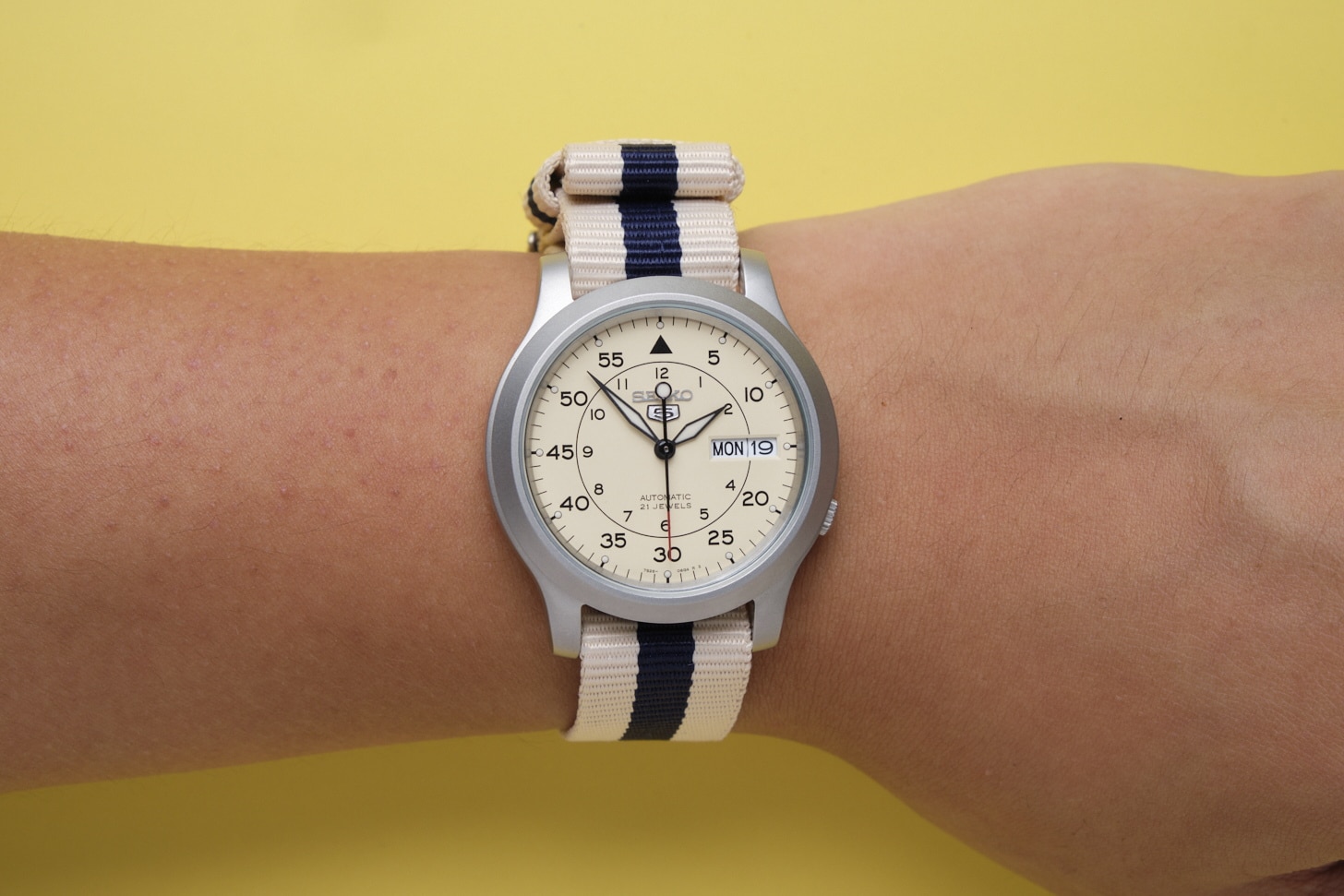 Also, if you use the single-loop method of wearing a NATO, then you probably don't need the second layer. At that point, you're probably better off just going with a single-layer Zulu.
Furthermore, some watches look best on the more noticeable NATO strap while others work better with the slimmer profile of a Zulu.
In short, by understanding the key differences between NATO and Zulu straps, you can ensure that you choose the best strap for your needs.
Zulu vs. NATO FAQs
In the hopes of clearing things up even further, here are a few common questions about Zulu vs. NATO straps:
What Is the Advantage of a NATO Watch Strap?
The NATO strap's extra loop of nylon keeps the watch from moving or falling off.
Who Invented Zulu Straps?
No one really knows! The history of the Zulu strap is shrouded in mystery.
How Do You Fit a NATO or Zulu Strap?
Most NATO and Zulu straps are made with longer pieces of nylon, which means that one size will fit most.
Conclusion
While it can be confusing to try and distinguish NATO straps and Zulu straps, the information in this guide is what we know for sure.
From now on, you'll be able to tell NATO straps apart from Zulus, which should make your strap-shopping experience a whole lot easier.
Questions? Comments? Leave them below!