This article shares some crucial details on the history of dive watches. Read on to learn about these fascinating timepieces.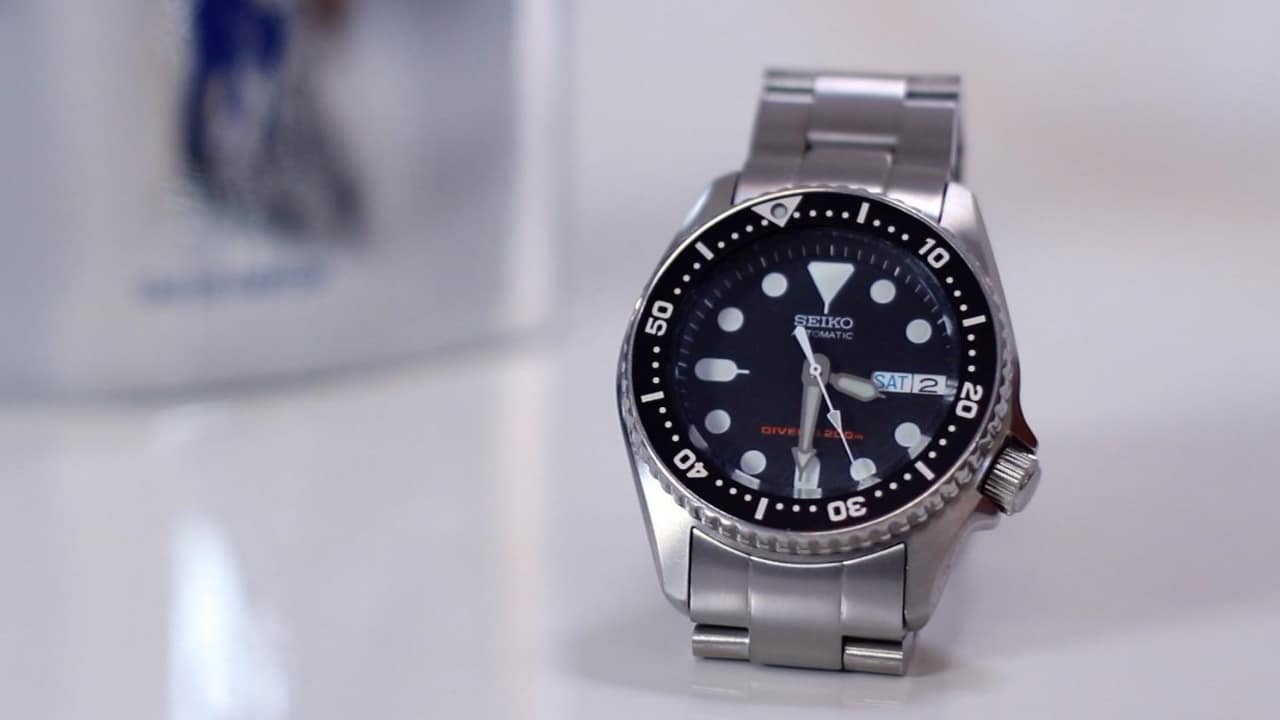 Whether you pay a couple of hundred dollars for a dive watch or a few thousand for one, every watch wearer expects a level of reliability and accuracy when investing in a luxury dive watch.
What we often take for granted, however, is just how much watches have transitioned from the fragile dress type that became synonymous with style-conscious women to the robust and hardy workhorses we wear daily today.
Dive watches have become one of the most popular styles of sports watches and not for the reasons you may first expect.
A dive watch, of course, can be used by professional and amateur divers alike and is built for withstanding some of the harshest and most extreme of conditions experienced under great depths of water, but people also love the dive watch look.
Their distinct styling and guaranteed hardiness make them great additions to any varied collection and a go-to option for plenty of outdoorsy pursuits, as well as for wearing while exercising, during sport, and recreational activities too.
If you're new to the dive watch stratosphere, you may be interested in learning how this genre of watch came to be and the brands that have played key roles throughout its history.
Here's a look at the legendary dive watch tool and the respective wristwatches that have played an integral part in its success.
Dive Watch Origins
Before the First World War, watches were rarely worn by men due to their fragility and their lack of reliability.
When wristwatches began to take shape, lugs were soldered on to give military personnel a chance to wear a hands-free watch that could be accessed quickly and easily.
Some of the problems associated with earlier wristwatches were dust, humidity, and water.
Overcoming some of these challenges was one of the world's leading and most recognized luxury watch names in the industry, Rolex, who realized the potential of Perregaux's and Perret's patent for a screw-down crown design.
Early Rolex Dive Watches
Combining this theory with an earlier threaded case design, Rolex developed an innovative hermetically sealed case after purchasing the Swiss rights to these patents and combining it with the brand's own improved crown design, releasing the Rolex Oyster case in 1926.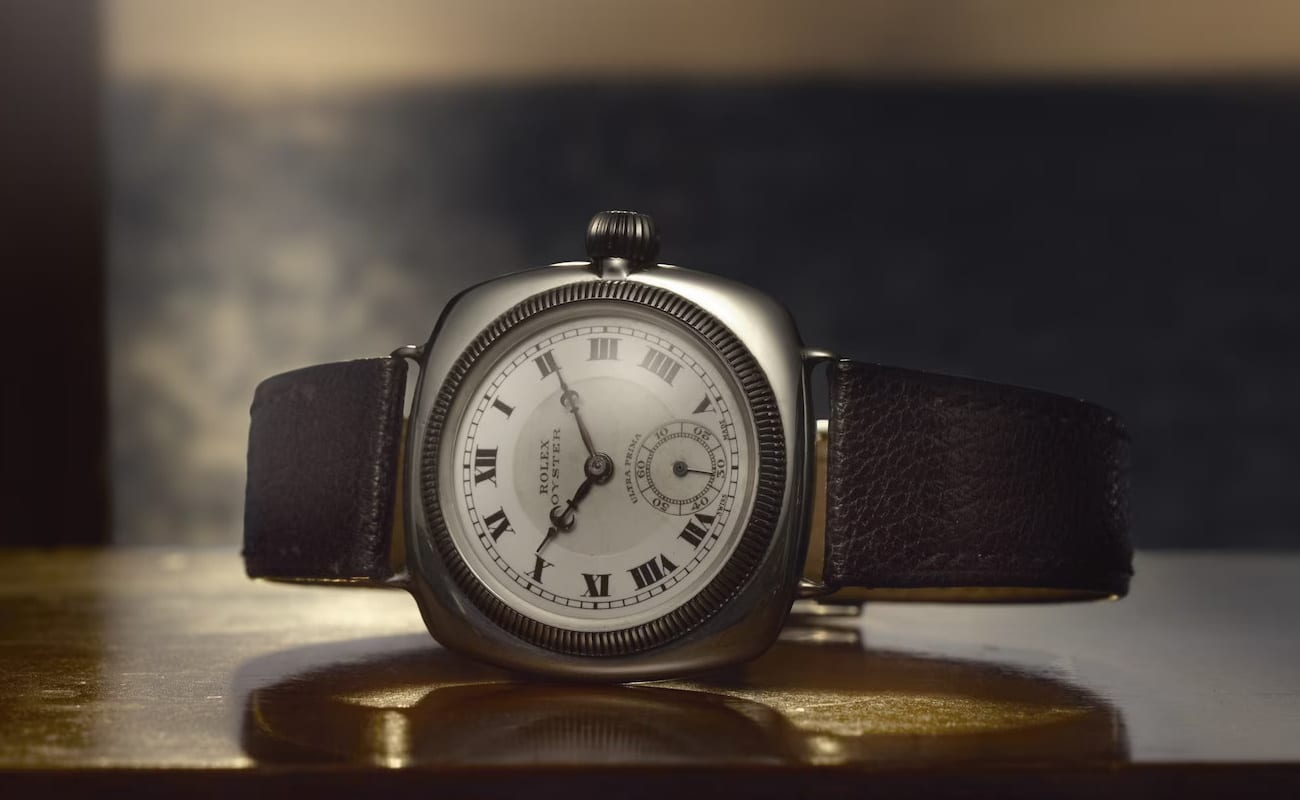 The patented case received plenty of media attention having been worn around the neck of British secretary and long-distance swimmer, Mercedes Gleitze whilst she attempted to swim the English channel in 1927.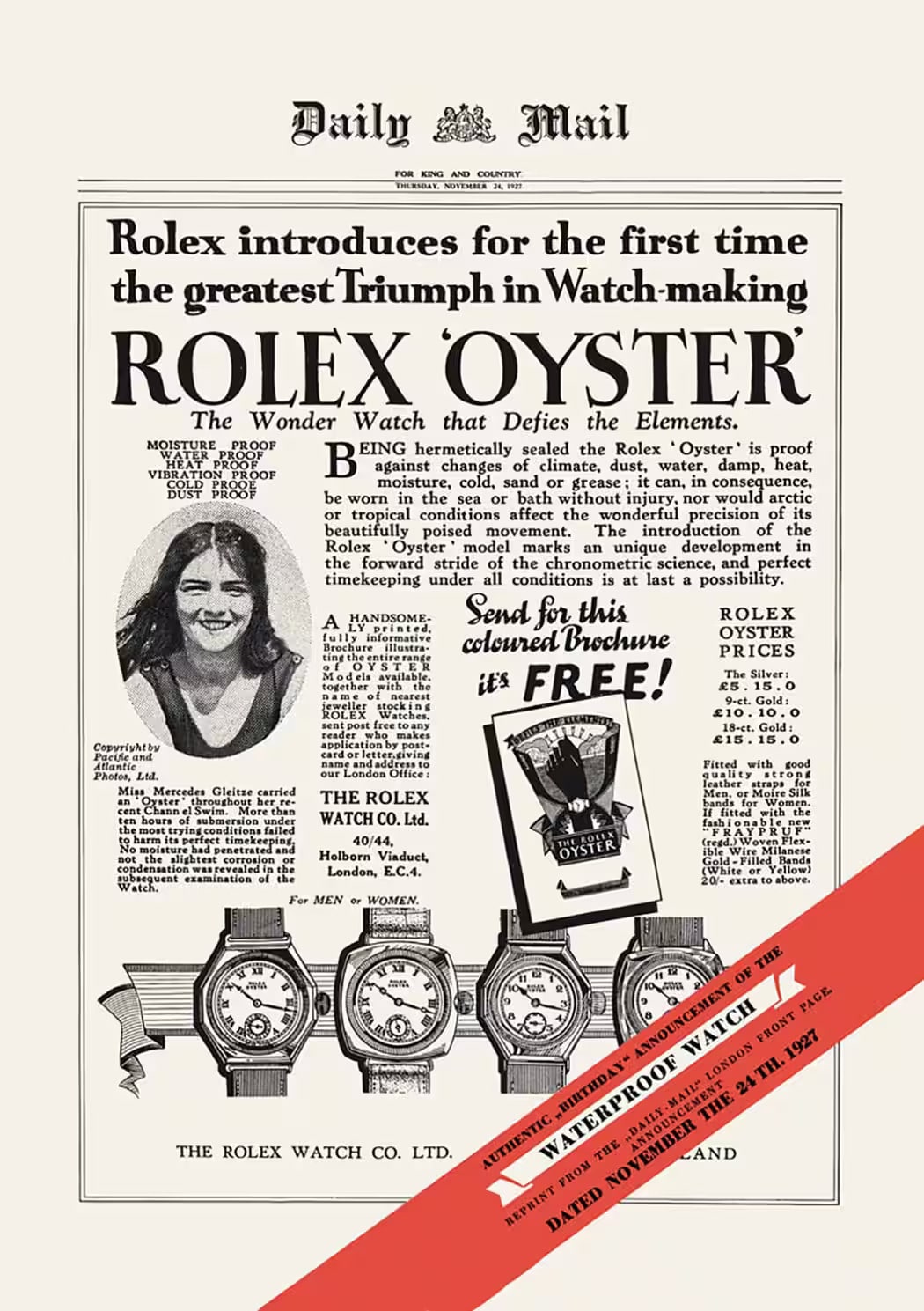 The watch was also showcased in a large fish tank of water to prove its durability.
Cartier and Omega Dive Watches
Soon after this, it became clear that other leading luxury watch brands wanted to prove their capability in manufacturing watches for diving. Cartier and Omega both released their versions of a dive watch.
The former was a watch developed in 1932 by Cartier for the Pasha of Marrakech and subsequently took the name of the Pasha de Cartier watch when it was reissued in 1985.
Up until then, these watches were capable of keeping out small amounts of water, dust, and sand from the case. They weren't suitable for deeper dives, which is where Omega comes into the picture.
The Omega Marine was released in 1932 bringing a hermetically sealed case to the forefront of the design as well as a legible dial.
It became the first watch to feature a strong sapphire glass front and a two-part case construction comprising a top and bottom connected to the strap, securely locked into place by a clasp.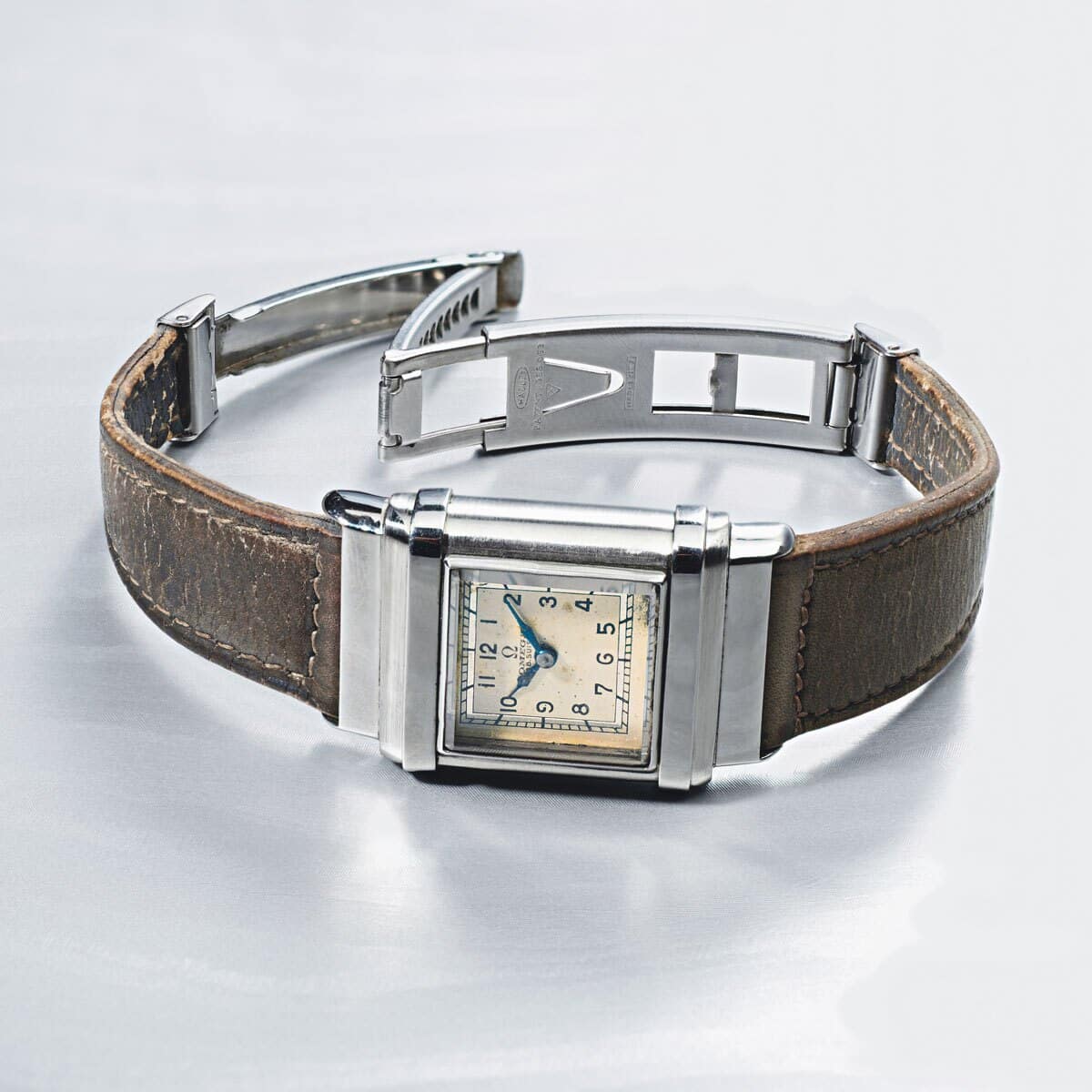 Omega's Marine watch was subject to heat and water depth tests, proving its capability as a dive watch for daring underwater adventures.
Following this was the Omega Marine Standard watch, built slightly differently with the sapphire glass positioned under the bezel. This subsequently reduced the water-resistant capabilities of the watch.
Omega remedied this pretty quickly by securing the glass above the bezel — a process that proved tricky at the time, despite this being common practice in dive watches today.
Although the Rolex Oyster was the first properly waterproof watch, the Omega Marine brought to the table the first steps to improved durability in a dive watch.
Panerai, Blancpain, and Other Manufacturers
One of the most famous dive watches of all was made in only a few hundred numbers by Panerai, an Italian naval instrument manufacturer.
The Radiomir began production in 1938 and was named after the luminous material used on the surface of its dial. It featured oversized Arabic numerals at 12, 3, 6, and 9 o'clock and the Radiomir Panerai lettering in large font at 12 o'clock.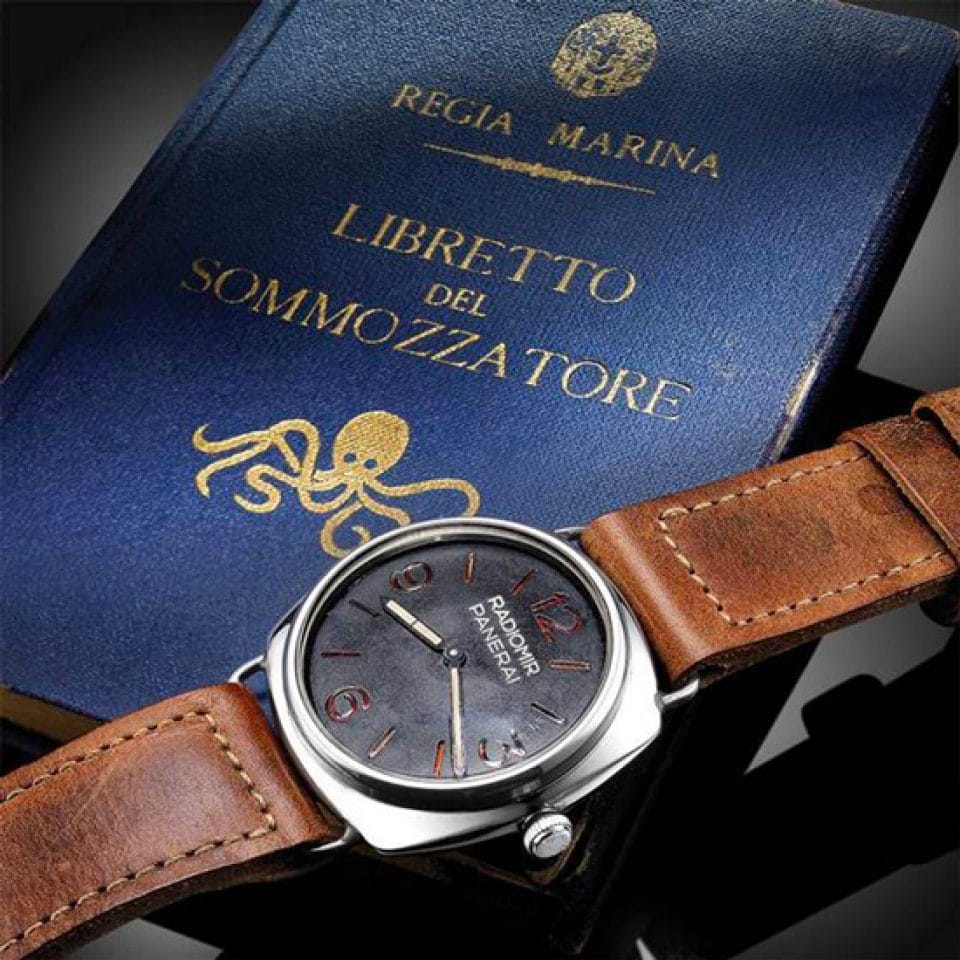 As diving became more of an explored concept, large diving vessels that carried diving crew were developed, namely the Bathyscaphe Trieste.
It took humans down to unchartered depths, including some of the deepest spots in the ocean like the Challenger Deep, measuring depths of 10,000 meters. To accompany the Trieste on this voyage, it was accompanied by a specially designed Rolex "Deep Sea" watch.
It first dove down to depths of 3,150 meters in 1953 and again in 1960 when it reached 10,916 meters when it accompanied the "Deep boat."
Within a year, Rolex had released the iconic Submariner with a flip-lock bracelet and extension mechanism, not to mention its legible dial and unidirectional bezel.
Around this same time, Commander Robert Maloubier was appointed the job of designing a dive watch with a water resistance of 50 fathoms for the French Special Forces Combat Swimmers unit.
This task led to discussions with Blancpain and the creation of a watch that finally went on sale in 1954. The Blancpain Fifty Fathoms watch was considered the first modern dive watch to feature a dive scale upon a unidirectional rotating bezel.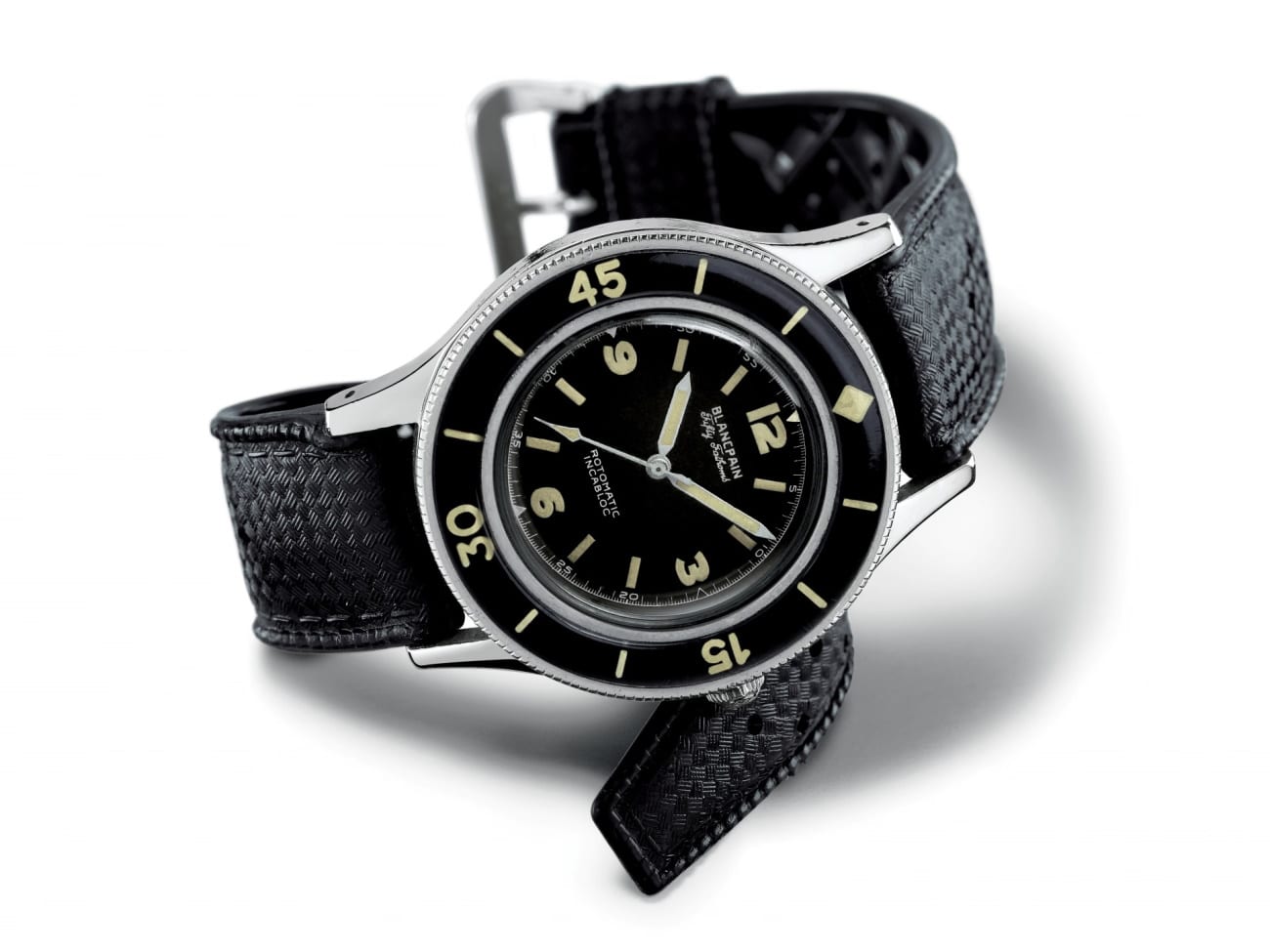 It featured a double-sealed crown so that when the crown was pulled out it would remain watertight, whilst the unidirectional rotating bezel eradicated the risk of accidentally extending dive time while underwater.
To unlock the bezel and rotate it, the wearer had to push on the bezel with three fingers. The back of the case was also special since it featured a gasket within a channel that would not misalign once the case was closed in production.
The Blancpain Fifty Fathoms watch was also worn by Jacques Cousteau in the 1956 film, The Silent World and was adopted by military units like the Navy's SEAL team.
Meanwhile, Panerai was evolving its dive watch and produced an extension to this innovative dive watch concept with the release of an aluminum watch.
It took a name derived from the luminescent material once again used on the dial of the watch.
It featured a prominent crown guard as well as a small second sub-dial at 9 o'clock.
Omega brought out the Seamaster 1000 watch, which was strapped to a manipulator arm on the Beaver Mark IV deep-sea submersible and survived a total depth of 1000 meters.
Alongside this release, other manufacturers in the industry were all trying to compete for the same success, each one striving to release a dive watch with something unique to the next.
IWC released the Aquatimer watch, whilst Jaeger-LeCoultre developed a professional line of underwater alarm watches.
Doxa Dive Watches
More affordable dive watches were also available. Doxa set up a dive watch project that led to the release of the Sub, having gathered a team of professional divers and experienced watchmakers together to create an affordable model for professional and amateur divers.
Its solid steel tonneau-shaped case featured a protected crown. The Doxa Sub also boasted a brightly colored orange dial with large luminous hour markers and hands.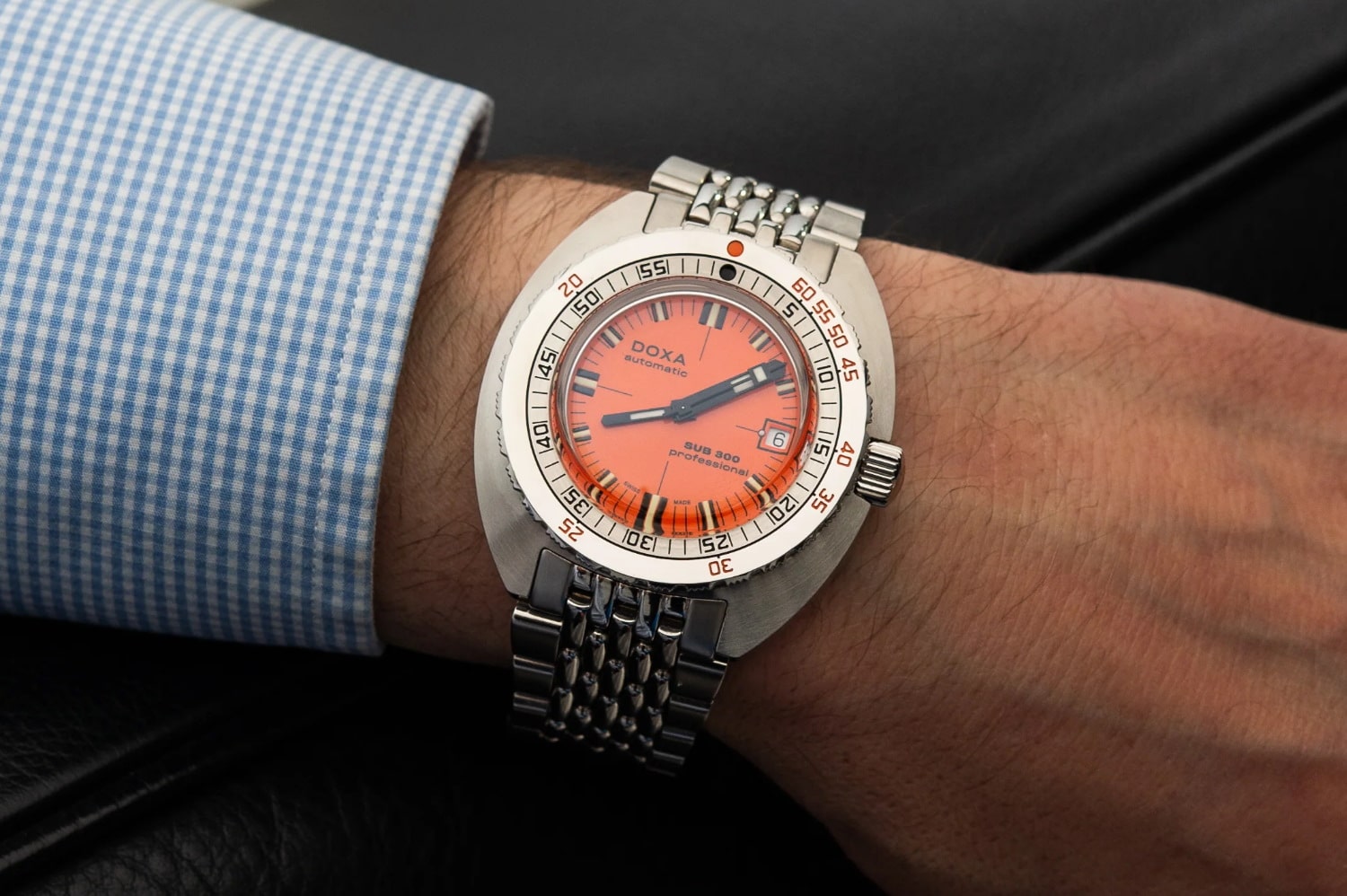 To enlarge the minute hands Doxa chose a dwarf hour hand. Cousteau and his team used Doxa watches for years for their courageous underwater adventures.
The initial Sub 300 watch released officially in the first batch of models in 1966 formed the foundations for all Doxa watches to follow, enabling the brand to build on these features and add to its base design to create advanced dive watches for saturation diving and more.
FAQs
Still wondering about dive watches? Here are answers to some commonly-asked questions:
Who made the first dive watch?
The Rolex Oyster is considered the first dive watch to be manufactured for exploring depths down to 100 meters underwater and was released in 1926. Its special patented case known as the Oyster case is still used today.
When were diving watches invented?
Dive watches were invented during the later 1920s and early 1930s and continued to evolve from there onwards with the likes of the Omega Marine and Blancpain Fifty Fathoms watch.
What is the most iconic dive watch?
The Rolex Submariner is considered one of the most iconic dive watches to ever have been created. To this day, many avid luxury watch enthusiasts long to own an original Rolex Submariner watch.
Conclusion
During those decades considered integral to the making of the dive watch we have now come to know and love today, the desire to dive became more and more paramount.
Diving went from a sport undertaken by very few to one that millions of people around the world enjoy.
As technology continues to improve, these watches have became cheaper.
However, while watches for diving became easier to make once the initial components and technologies were better understood, dive watches, mainly those that became key tools during the time, have remained highly valuable.
Dive watches today promise values of reliability and accuracy on a level we once thought was impossible.
Although many dive watches aren't used for the sole purpose of diving, they continue to adorn the wrists of luxury watch enthusiasts due to their unique style and their bold eye-catching designs.
The Blancpain Fifty Fathoms watch and the Rolex Submariner are still current wristwatches that are produced in large numbers each year, while Omega has continued to extend its offering in the dive world with an impressive Seamaster collection that is home to models with staggering water-resistant capabilities.
One thing is for certain is that the history of the dive watch will remain fascinating to anyone who takes an interest in the classic style of this underwater tool.
Its instantly recognizable design and its key features have changed very little since some of the earliest models, gaining the dive watch an almost cult-like status in all four corners of the globe.
Questions? Comments? Leave them below!