In this hands-on review, I will take a look at a unique timepiece where timekeeping becomes a canvas for artistic expression. Read on for more info on the Projects Watches Grand Tour Shiitake!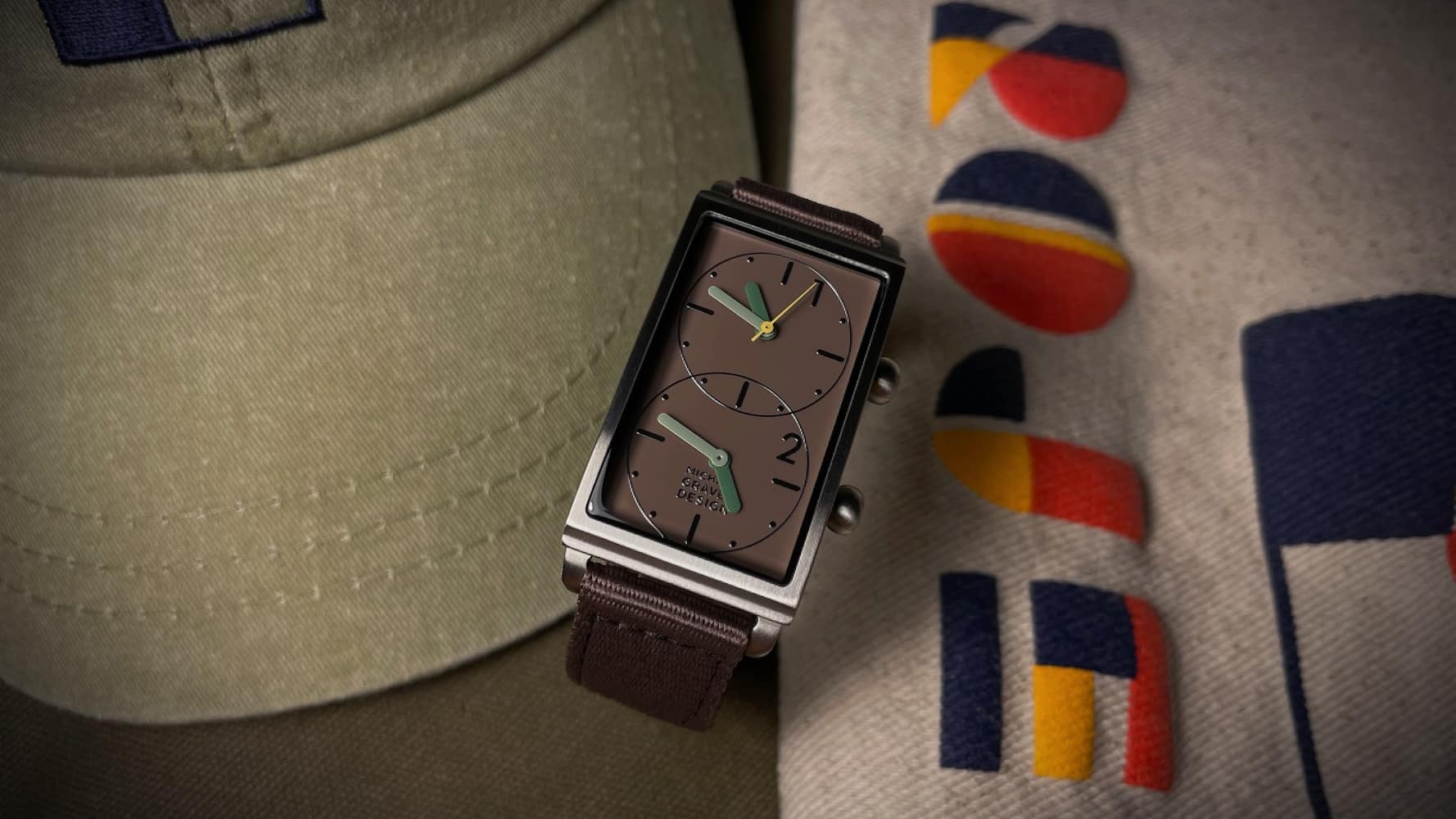 Art should not be limited to museums or relegated to Instagram feeds; it should seamlessly integrate into our daily lives. This belief led to the establishment of Projects Watches 30 years ago, crafting wearable art by "creators for creators".
It's not like any watch brand; they collaborate with multiple craftsmen, like artists, architects, and designers, to create exquisite timepieces that go beyond the conventional to inspire customers through the amalgamation of art and time.
At Projects Watches, the emphasis is on the artistry rather than the timekeeping. Every timepiece represents a distinct work of craftsmanship that conveys narratives, stirs sentiments, and questions the ordinary notion of a timekeeping device.
They make their watches accessible to a wider audience by offering them both online and in shops and museums, like the MoMA (Museum of Modern Art) design store or the Newark Museum of Art webshop.
Michael Graves
The creator of the Grand Tour series was Michael Graves (1934–2015), an influential American architect and designer.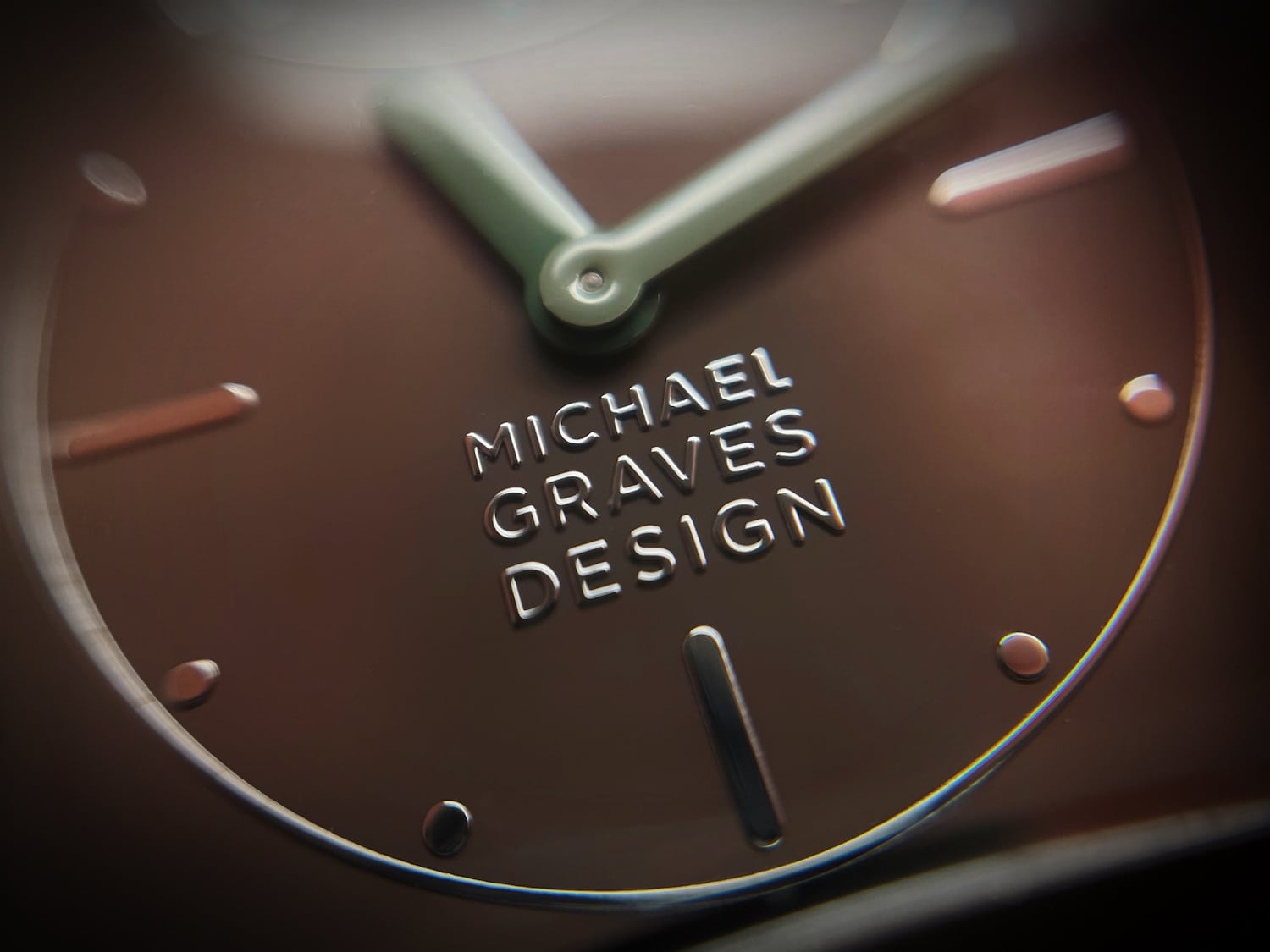 Graves was known for his postmodern architectural style, which often incorporated classical elements and bright colors. Some of his notable works include the Portland Building in Oregon and the Humana Tower in Kentucky.
In addition to his architectural achievements, Michael Graves was a prolific designer of consumer products and household items.
He collaborated with companies like Alessi and Target to create a wide range of products, including kitchenware and home accessories. His designs are characterized by their whimsical and playful approach to architecture, everyday objects, and watches.
Graves lent his creative genius to Projects Watches, giving birth to exquisite timepieces like the Witherspoon, the Mado, and the Grand Tour, each a testament to his remarkable craftsmanship.
Packaging
The watch arrived in a cardboard box featuring a perforation, allowing me to inspect its contents without opening it.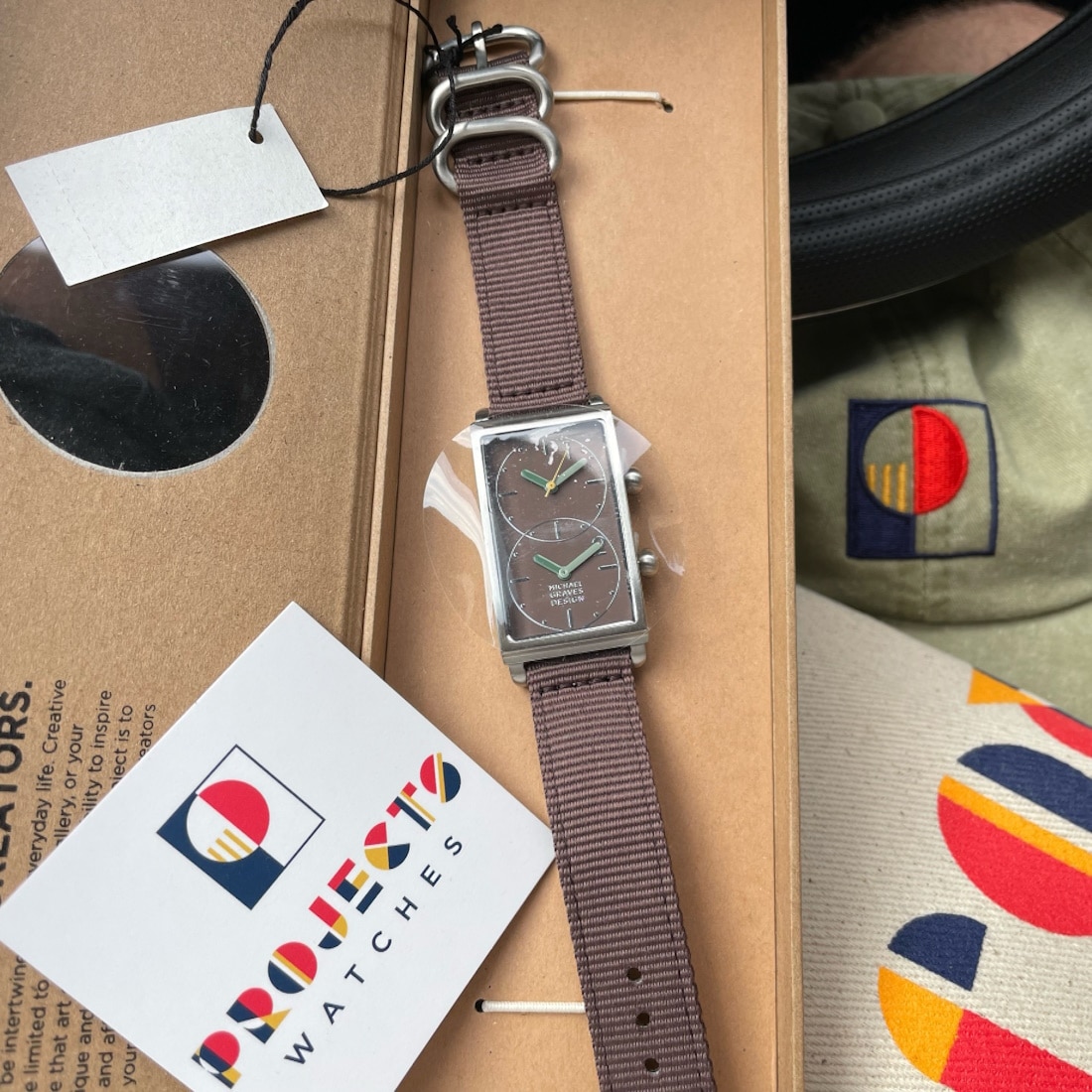 Inside the box the watch was securely held in place by rubber bands. Small plastic crown stoppers were included to maintain the battery's freshness during shipping.
As an added bonus, I found two branded items, a baseball cap, and a textile bag that were thoughtfully included as part of the package.
Dimensions
The first striking aspect of the Grand Tour Shiitake (PJT-7611B) is its exquisite design. Its proportions give it the appearance of a bracelet rather than a traditional timepiece, with a subtle nod to the classic Jaeger-LeCoultre Reverso in its design.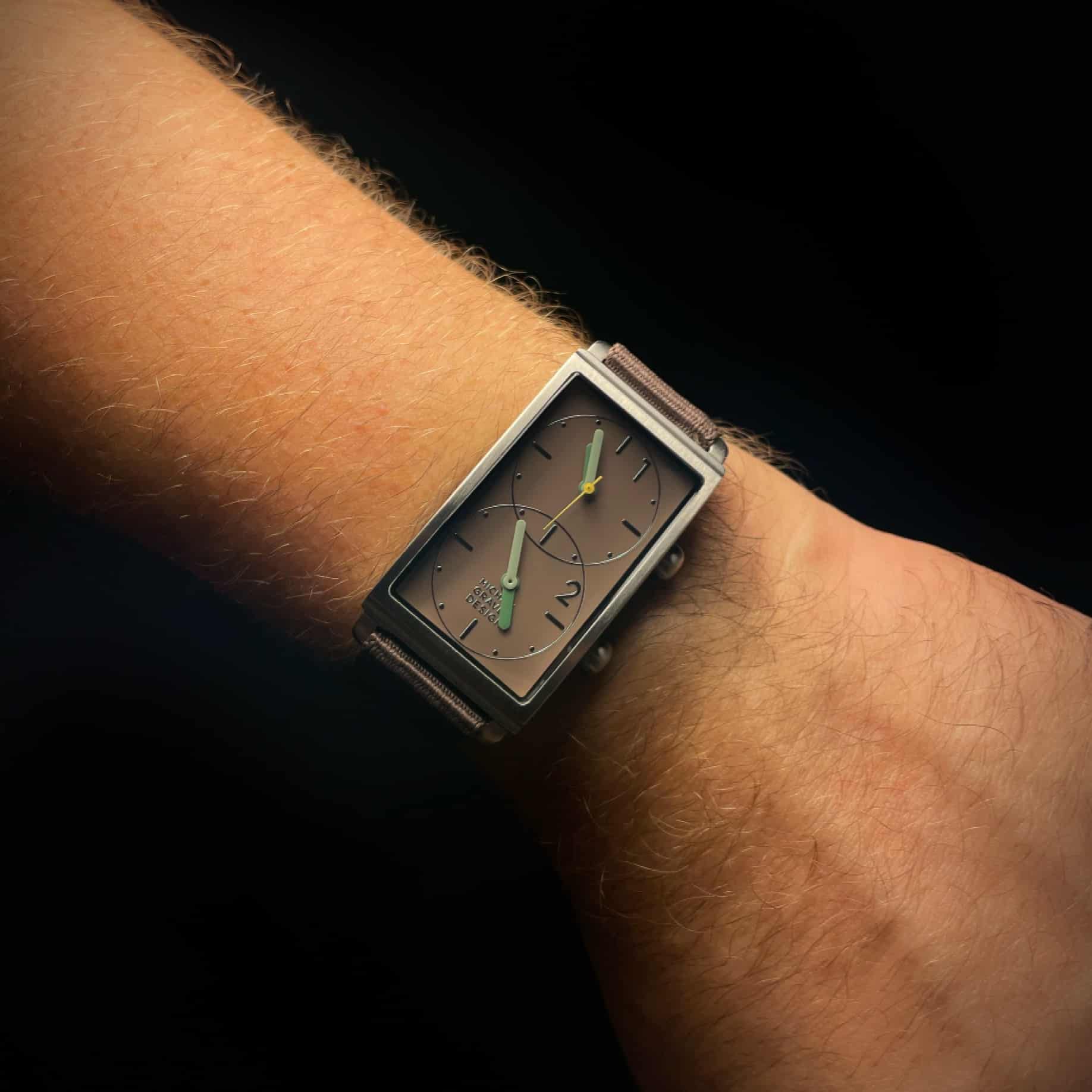 The watch measures 21 mm in width and 48 mm from lug to lug, with a height of less than 9 mm. It has an 18 mm wide, brownish nylon strap with a quick-release spring bar that makes it easy to swap the straps as you want.
Case and Crystal
The case is made of stainless steel with a nice brushed finish, which makes the watch resistant to scratches. The stainless steel caseback features several noteworthy elements: the engraved Projects Watches logo, the name of the watch, its 5 atm water resistance rating, and the signature of the timepiece's creator, Michael Graves.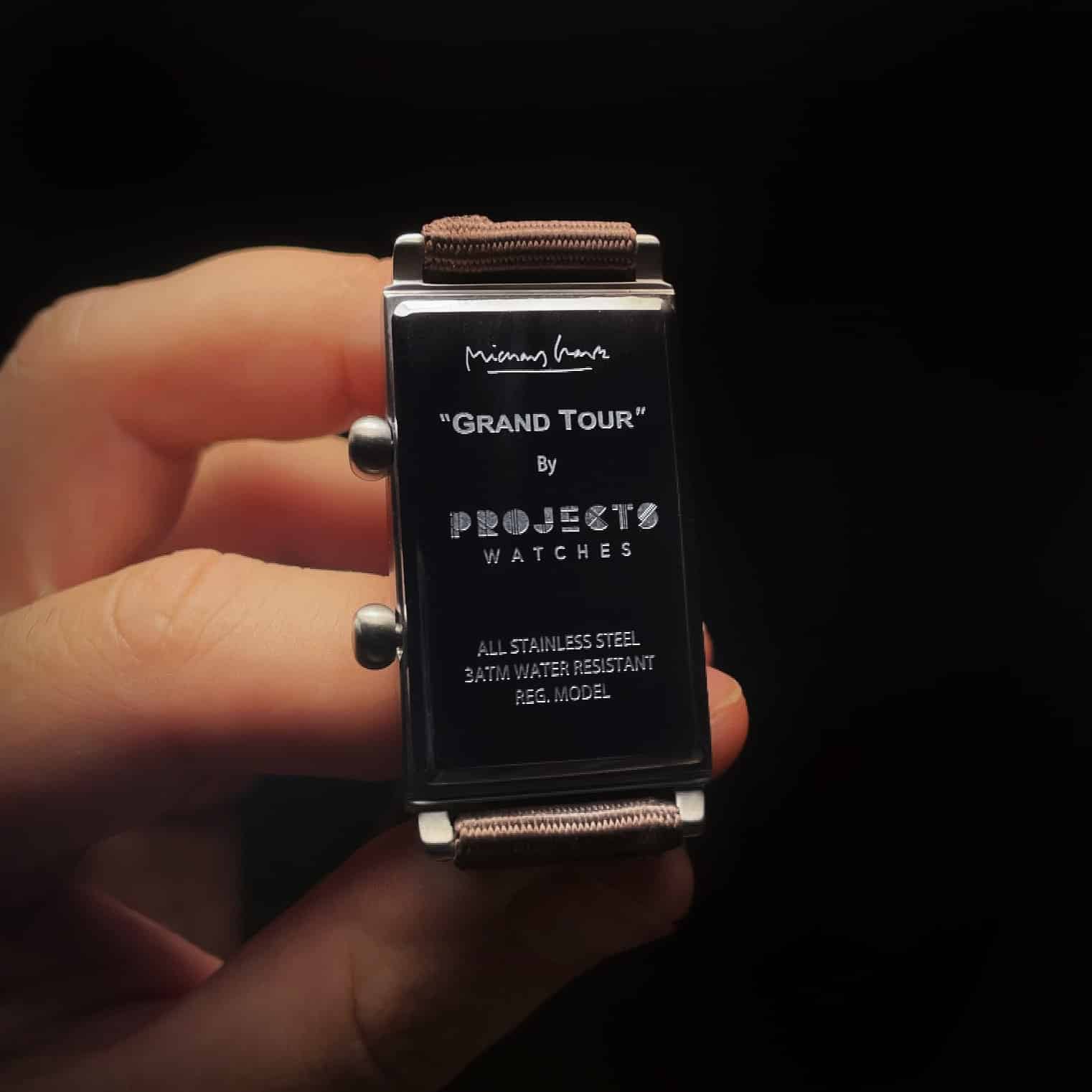 The crystal is mineral glass, which, while not as tough as sapphire, is still resilient and capable of enduring daily usage. As previously mentioned, the watch is water-resistant up to 5 atm, making it suitable for handling light rain and sweat without any issues.
Dials and Hands
The dial of this watch is a true marvel. With two distinct dials showcasing dual time zones, it's a practical yet stylish choice for frequent travelers or those with international connections.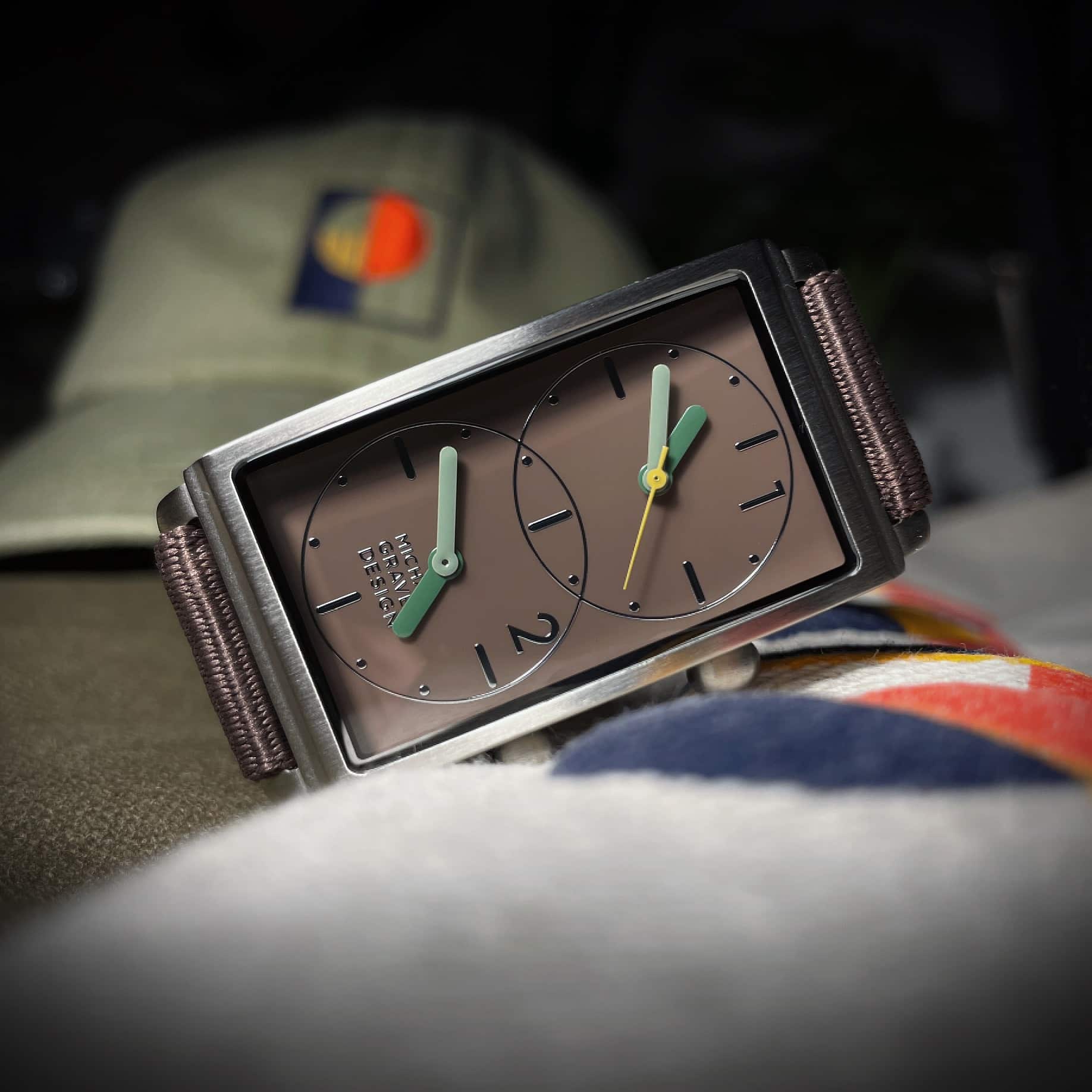 The brown hue of the dial perfectly complements the strap and vice versa, creating a harmonious and cohesive appearance.
The applied markers provide an exquisite touch, capturing and reflecting light beautifully, allowing the watch to reveal different facets under varying lighting conditions.
Beyond its functionality, the two-time zone display also gives the designer the creative liberty to craft a squared dial, adding to the watch's overall appeal and uniqueness.
Movement
Now, we are turning our attention to the less captivating aspect of this review for watch enthusiasts. The watch's movement doesn't appear to be their primary focus.
At the heart of this timepiece, we find two quartz movements proudly marked as products of the EPSON Corporation, a subsidiary of the Seiko Group.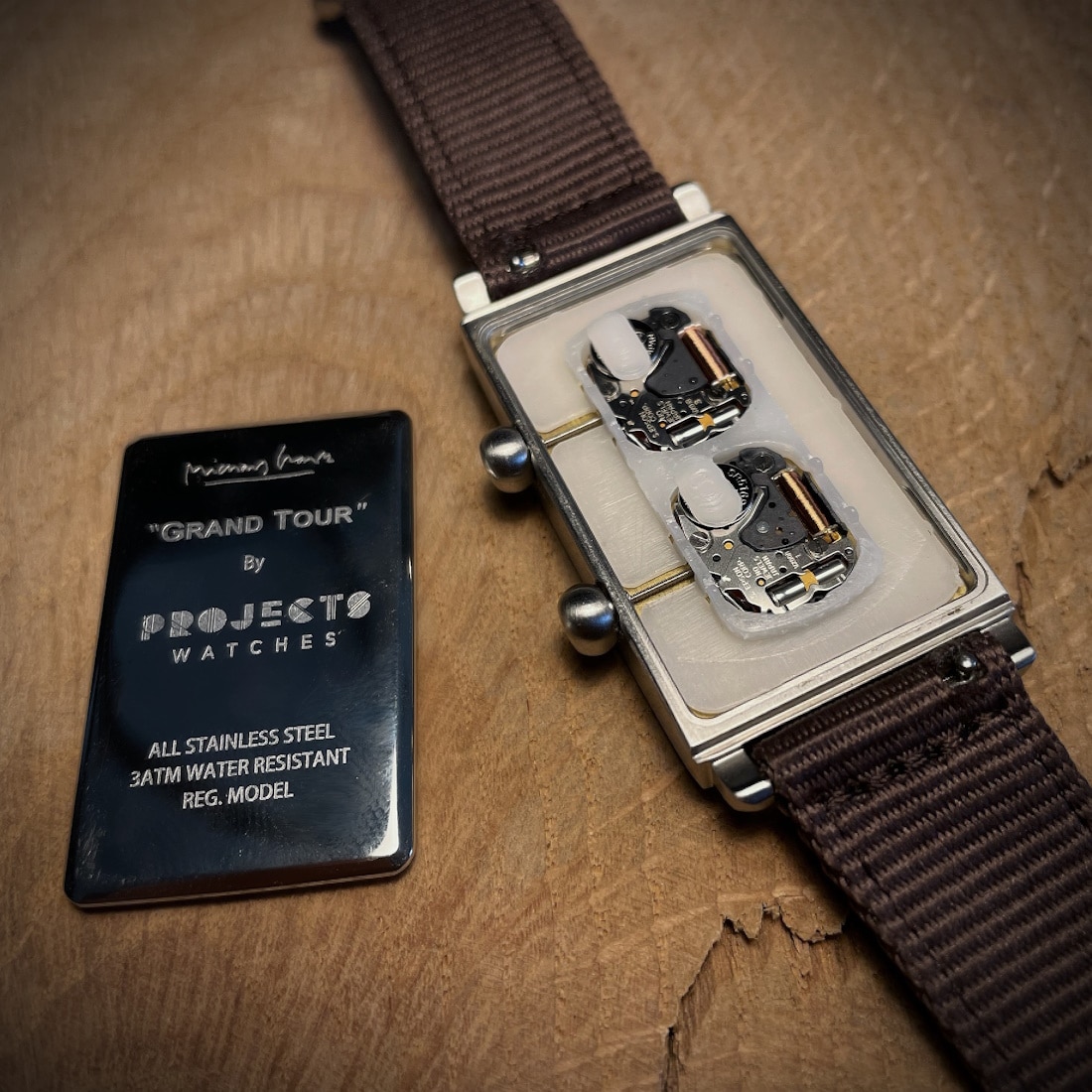 Interestingly, the Project Watches website claims the use of Miyota quartz movements. While this may seem contradictory, the Japanese origin of these movements remains undisputed, and I have not experienced any negative issues with them.
The Verdict
In my humble perspective, the Grand Tour Shiitake emerges as an exceptional timepiece, catering to individuals who genuinely value the fusion of artistic expression and design in a watch.
Notably, the movement within proves to be impressively reliable, ensuring that its owner won't encounter any undesirable issues in the foreseeable future.
On a personal note, I've harbored reservations about quartz movements.
Still, I had to set aside any biases and immerse myself in the artistry and elegance embedded in this meticulously crafted watch. It offers genuine enjoyment for everyday wear and serves as a splendid addition to any watch collection.
Let's put aside any preconceptions and appreciate the craftsmanship and aesthetic appeal of this meticulously designed timepiece.
Have questions or comments? Leave them below!