Buying watches online can be amazing when you know where to shop. Here are 14 places to buy watches online.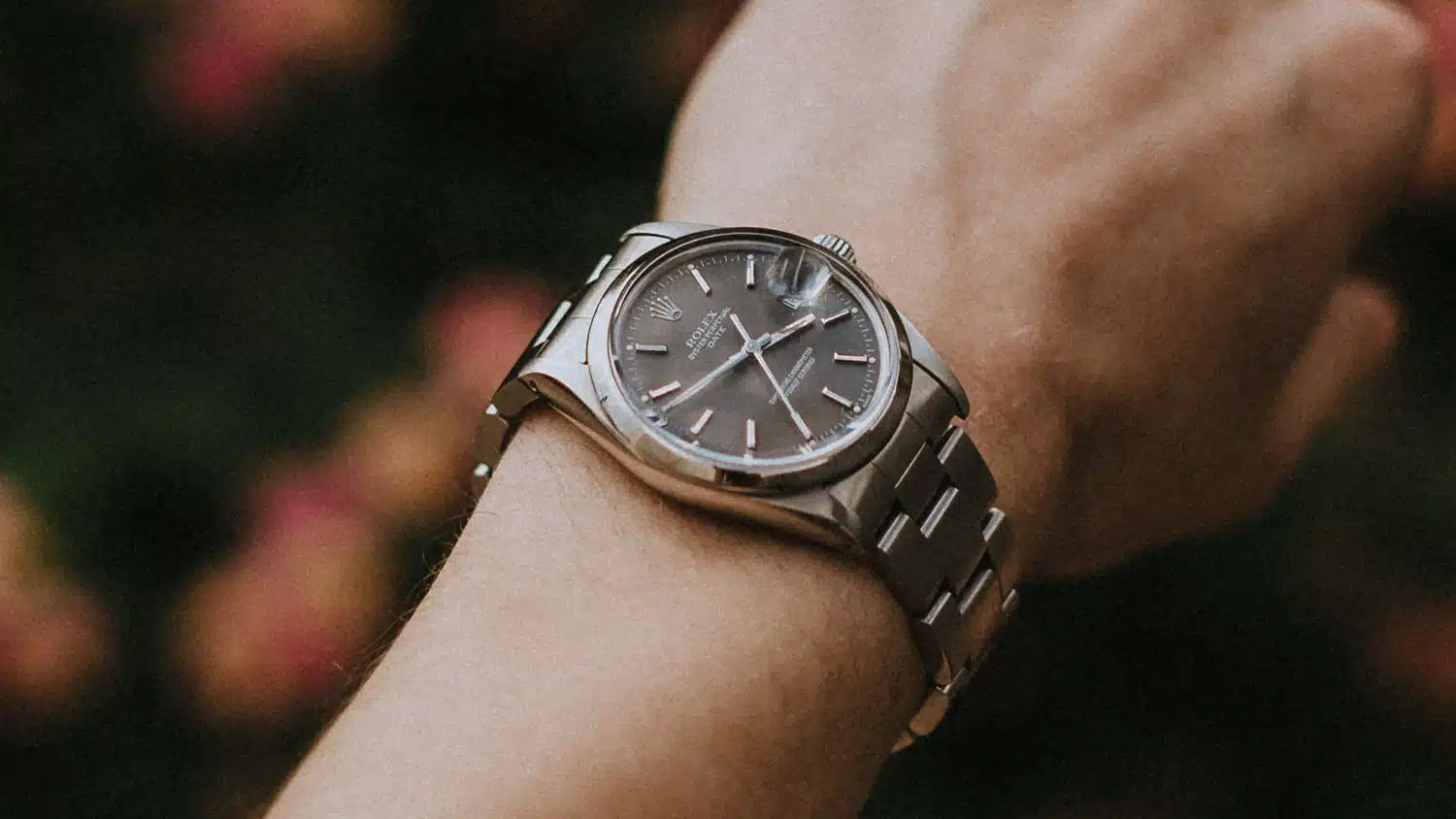 I know that the idea of buying a watch, especially a really nice one, off of the internet can be scary for a lot of guys. This is completely understandable.
When it comes to watches, you often want to hold them, wear them, and maybe do some tinkering before you buy.
These days though, watch acquisitions can be a super secure and even convenient experience when you know what website to go to (and what to go for when you're there), as many websites guarantee certification, host authorized dealers, and have try-before-you-guy options.
The online retailers below offer trustworthy shopping experiences and a wide range of watch options.
The Best Places to Buy Watches Online
Here they are, in no particular order!
Amazon
Yes, Amazon. Amazon really does have a mind-boggling assortment of items. It's an effective place to buy watches online as they have a huge selection of budget and mid-tier models, from Timex to Seiko.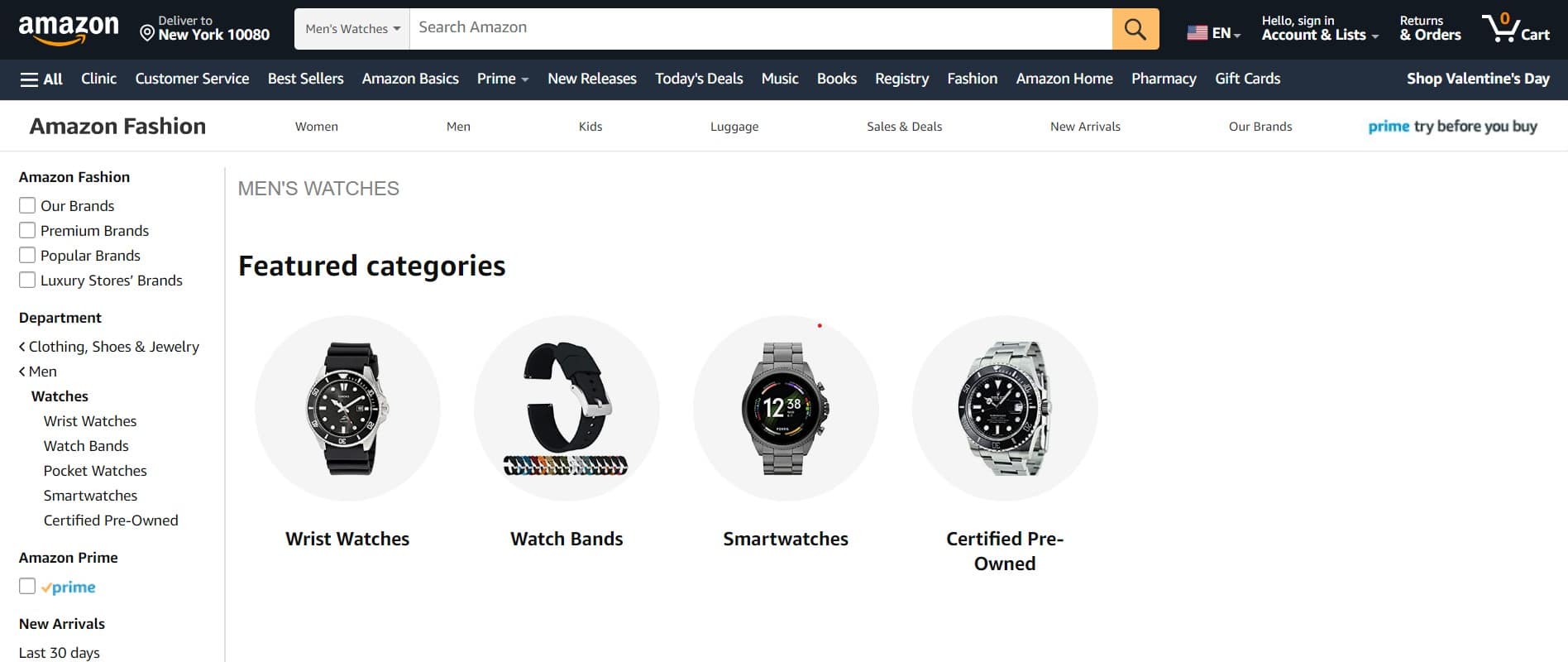 Believe it or not, though, you can even find some pieces from the Rolexes and Omegas of the world here too.
While Amazon might not always have the latest models available, classics like Submariners and Speedmasters tend to be mainstays. Also, several authorized dealers have shops on Amazon.
Of course, we all know about their famous customer service, which includes eerily quick delivery and often no-questions returns.
Jomashop
Jomashop is a premier grey market retailer, meaning they sell offloaded stock from other authorized sellers. They're like a much higher-end TJ Maxx, and they're completely legit.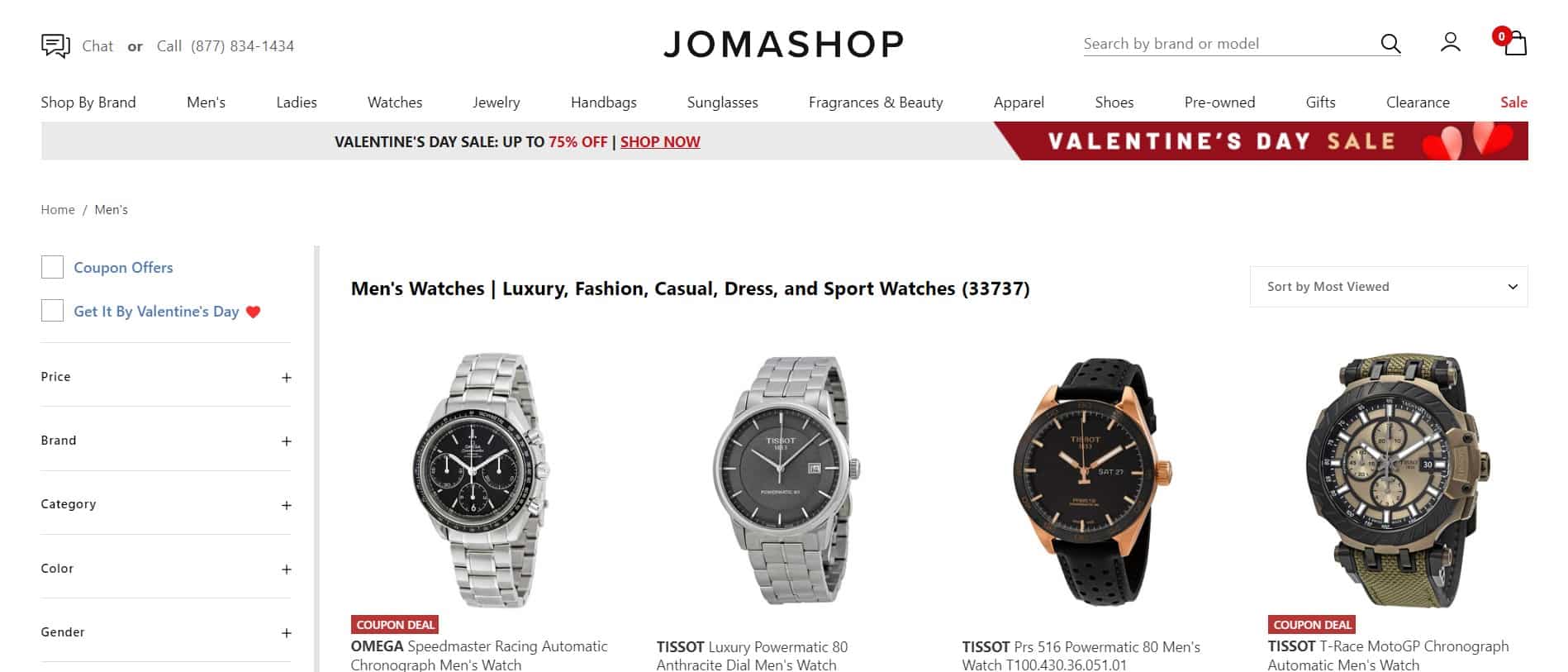 You can save a ton of money here, sometimes up to over 60%, on all sorts of designer items, from bags to apparel.
They have one of the most comprehensive selections of Swiss hard-hitter watches. Everyone is there from auction house darlings like Patek, Vacheron, and Rolex to creators of iconic models like Cartier and JLC.
It's not just the Swiss — Grand Seiko has a decent presence as well.
Missed out on that limited edition drop? Wouldn't hurt to check Joma every so often.
They carry pre-owned and new watches, and they reduce risk by offering authentication guarantees and warranties of up to five years.
Crown & Caliber
Whether you're buying, selling, or trading, Crown & Caliber is a great resource for new and experienced watch collectors alike.
They have fun and helpful guides on their website, like how-to videos and their blog, Unwound, which covers everything from histories to decoding watch model numbers.
Even if you aren't in the market for a new piece, it's a great place for the horologically curious.
The website is also super easy to use, which is surprisingly rare, especially on brand websites.
You can search by watch type, budget, brand, color, material, and more. Even if you don't know what exact watch you want, these levers can help you narrow down some options.
For some of their higher-end pieces, the manufacturer's warranty still applies, but for the rest, Crown and Caliber have a one-year warranty.
Theo and Harris
Many of you who are hesitant about buying watches online are probably even more hesitant about buying vintage watches online. Let me convince you to give Theo & Harris a shot.

They provide all of the watch information you could need, including whether or not there are any scratches and if there are any current or past malfunctions.
Each piece comes with a one-year warranty and physical documentation guaranteeing authenticity.
The high-quality images are of the actual piece itself, not some stock image, with tons of close-ups and angles.
Other cool extras Theo & Harris offer include payment plan options which make buying your first high-end vintage piece more attainable, and they also have a section with sold pieces.
While their inventory is constantly changing, this section gives you an idea of their general offerings despite what's available at the time.
eBay
Truly, with some patience, you can find just about anything on eBay. My grandfather had a Bulova from the '20s that I'd been on the lookout for, for years, and I found one on eBay.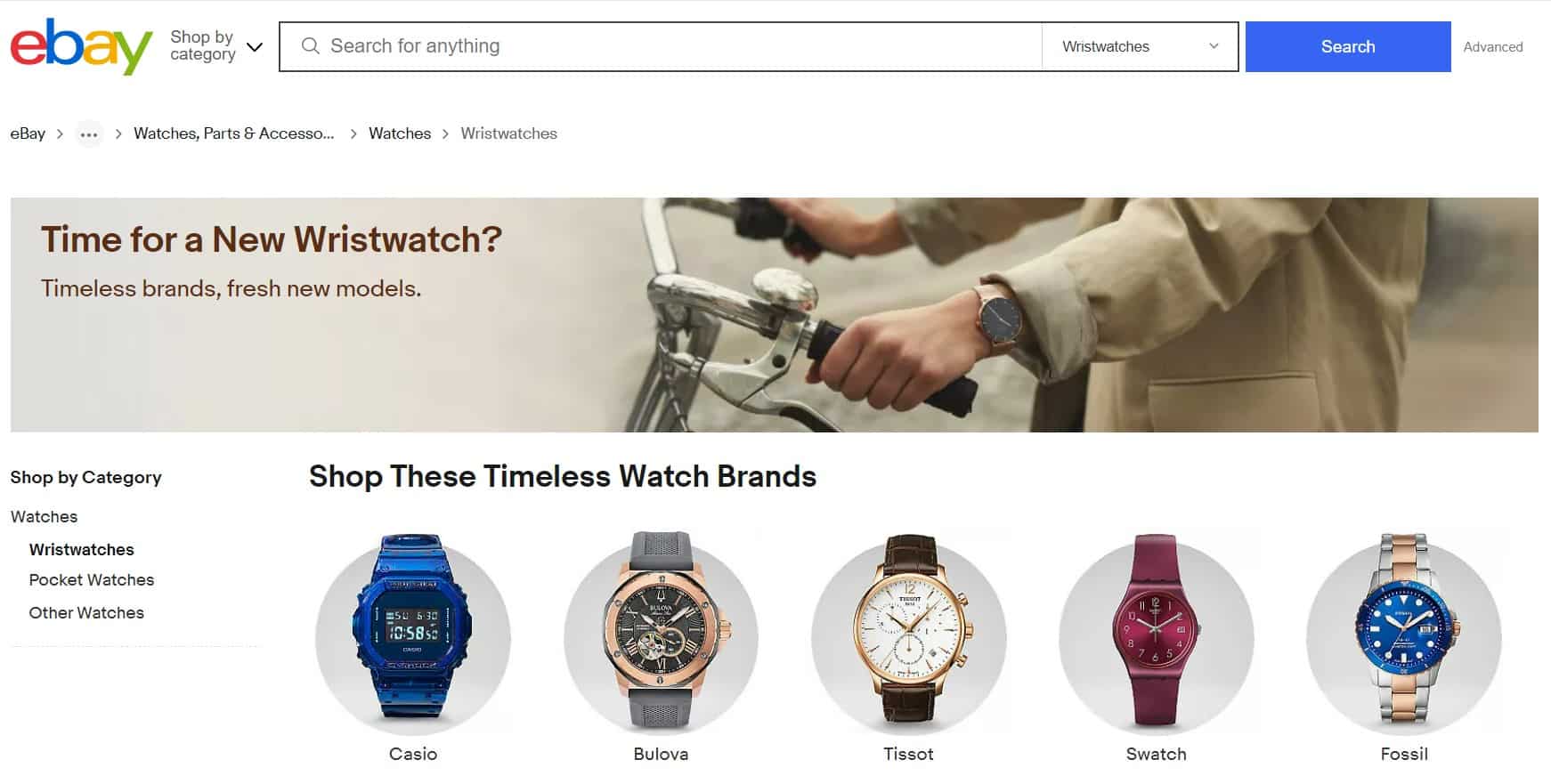 Even better, in recent years, eBay launched their Authenticity Guarantee program. Basically, they have a team of experts that physically inspect eligible watches before they're shipped to buyers.
They also inspect any returns, so as to avoid corrupting the inventory of their sellers.
As with any multi-seller marketplace, always make sure to keep in close contact with your seller since anyone can sign up. Make sure to read reviews, ask a lot of questions, and check out their return policies.
WatchBox
While they're mostly a global luxury retailer, WatchBox also offers entry-level watches. They're worth looking into regardless of your budget. Still, their selection includes Patek, Seiko, Panerai, and a whole bunch of Rolexes.

Their inventory is pre-owned but belongs to them, which means their team handles the quality assurance. They service timepieces as needed before popping a two-year global warranty on them.
If you're looking for a super unique piece, check out their Watch a Week section, where they spotlight different models. They often pick rare, off-the-beaten-path pieces instead of the on-trend or standard grails.
Long Island Watch
Long Island Watch is an excellent resource for would-be modders, entry-lever collectors, or those who love a good workhorse.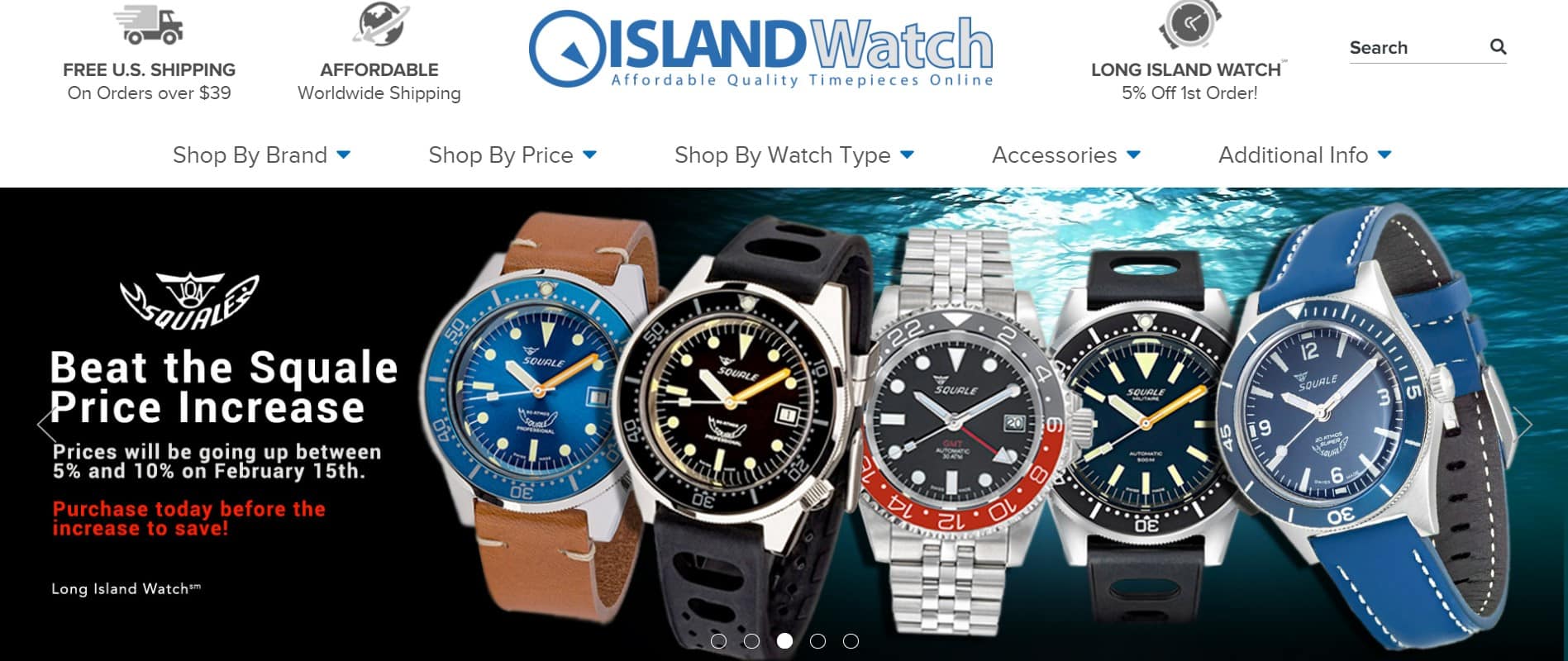 They offer Citizens, Lum-Tecs, Zodiacs, and a bunch of other brands that care more about meeting the requirements of professional industries over celebrity status.
Given their workhorse niche, Long Island Watch serves up a ton of Seiko watches. They even have a line of custom pieces (which are often modded from Seiko SKXs and SRPs).
Other lesser-known brands they offer include Chinese watchmakers like Seagull and Red Star, making them a go-to website for the Watchuseek crowd.
If you're looking for a good timepiece, especially a tool watch, in the sub-$4000 category, LIW sells a lot of new pieces with papers, warranties, and worldwide shipping.
Delray Watch
Delray Watch is the equivalent of a commercial art gallery that's owned by actual artists. Based in Florida, their team of full-time watchmakers has experience with some of the most complex, high-end Swiss models on the market.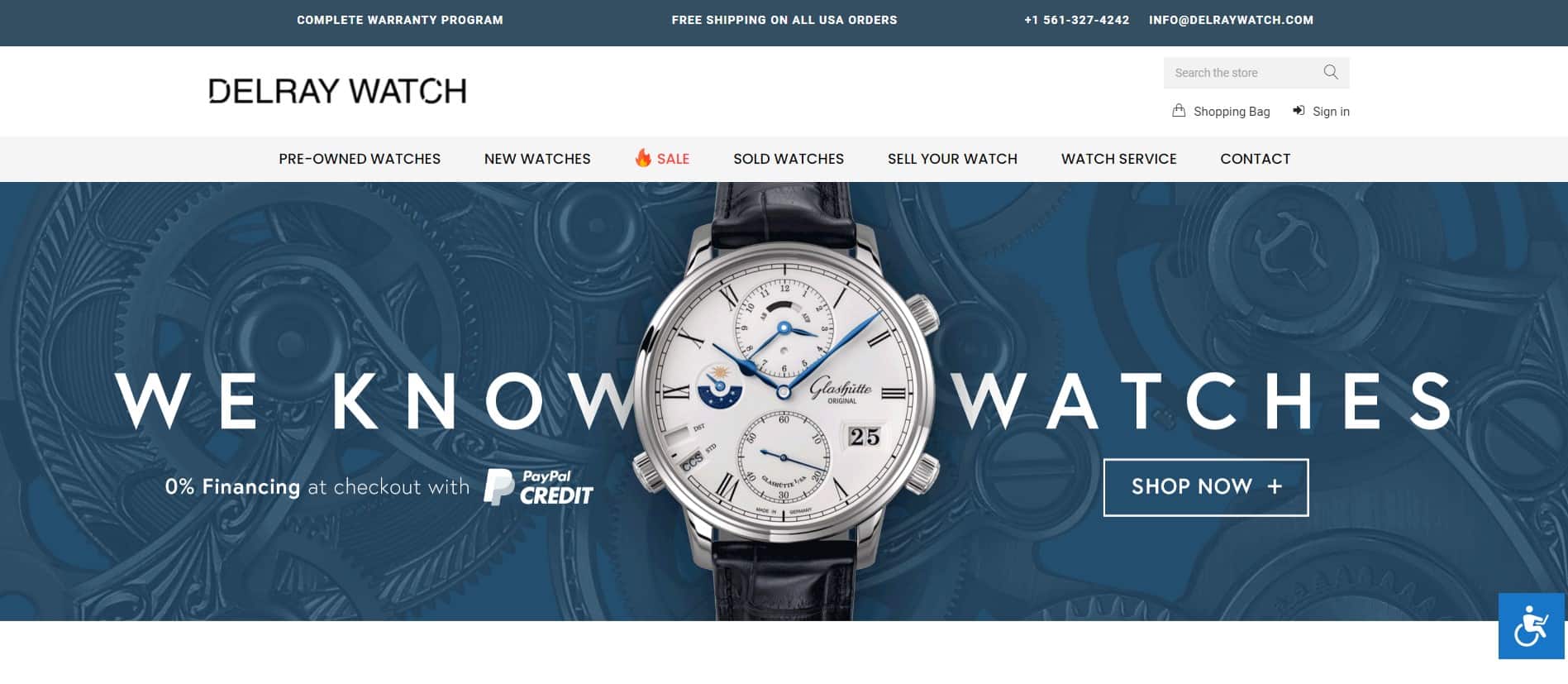 One of Delray's owners, Federico Lossa, even has a YouTube channel where he goes in-depth on the technical side of watches, as well as on how the industry works.
Delray is a top-notch website, with famously great customer service, if you're looking for new or pre-owned luxury models from brands like Breguet, Vacheron, Blancpain, and Hublot. They've got everything from elegant classics to big-and-bold statement pieces.
Hodinkee
Before they opened their online shop, Hodinkee established itself as a sort-of online "newspaper of record" for the watch industry.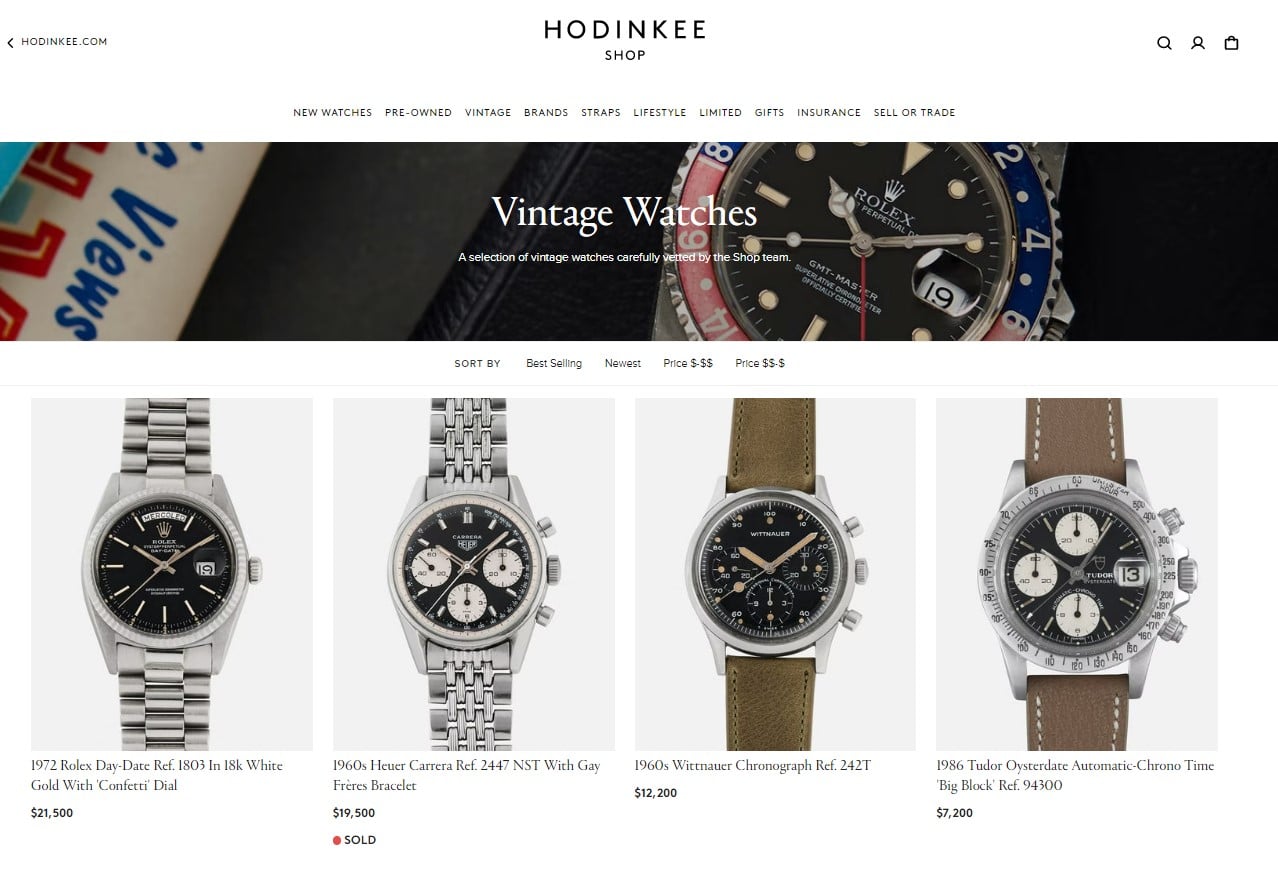 This esteem clearly gained them a lot of trust from brands (and eventually, sellers of used watches), because the Hodinkee store is pretty impressive.
I've seen Hodinkee offer a surprising amount of limited editions and brand-new references even before heritage brick-and-mortar shops had them out for sale.
Practically all brands are represented, from Zenith to Bremont and even G-Shock. There always seems to be a classic Speedy or Submariner available too.
Each new watch comes with the brand's warranty, of course. They also have free shipping and returns, which is always a plus.
Bob's Watches
Filling a gap in the market, the claim to fame of Bob's Watches is that it's the first pre-owned Rolex exchange — meaning you go there to buy, sell, or trade timepieces from the crown, all at the current, fair market value.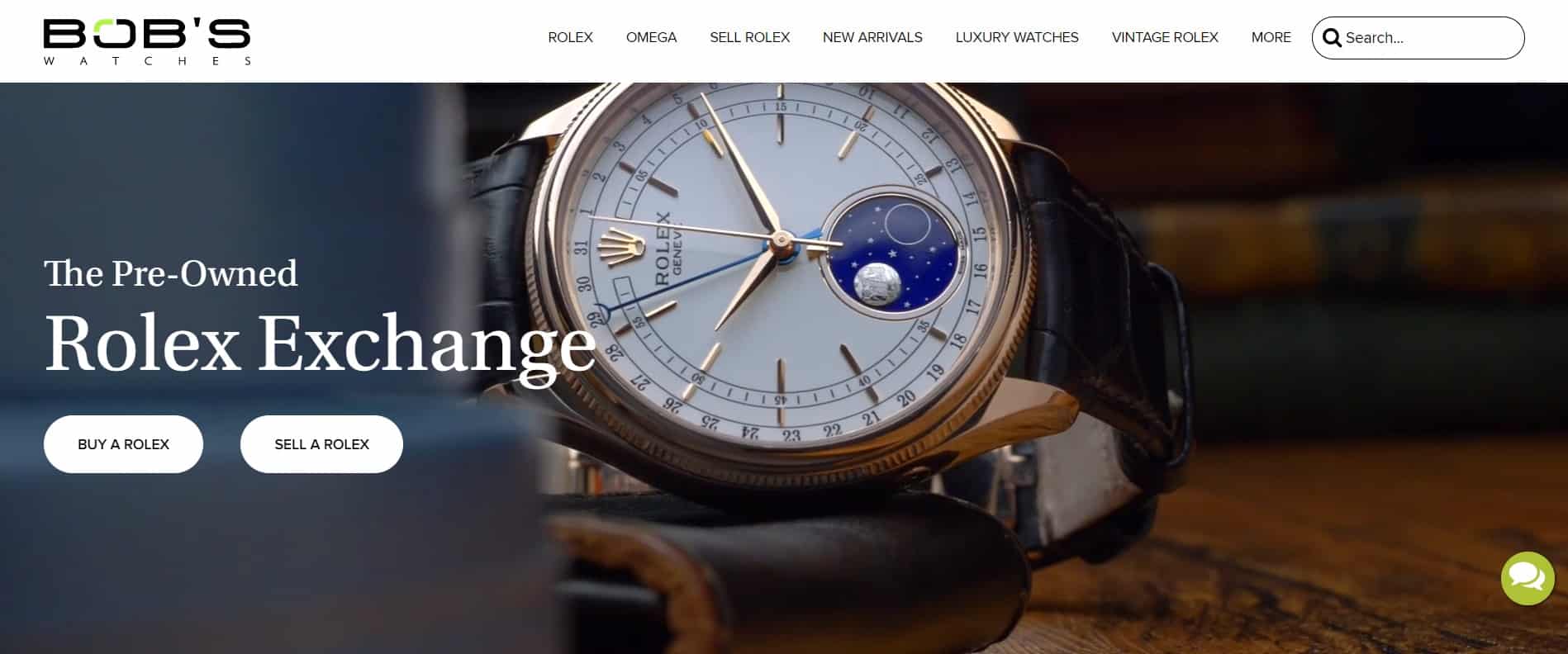 In fact, Bob's Watches publishes each model's current market value, so you know exactly what you're getting. Naturally, it's become a command center of sorts for investment collectors.
Market aspect aside, it's just a great place to find basically any Rolex model. Plus, the investment component Bob's Watches facilitates is something inherent to the brand.
Watchmaxx
Watchmaxx, like Jomashop, is a grey market dealer, and they're very straightforward about this. They don't hide the fact that they aren't an authorized dealer of the brands they sell, though they do get all of their inventory from authorized dealers.

Their always-changing inventory includes watches from brands like Tissot and Hamilton, all the way up to Patek Philippe. If you're into fashion house watches, they often offer tons of pieces from Gucci and Burberry too.
Not only do you often pay a fraction of a watch's market value on Watchmaxx, but they also come with 100% guarantees on authenticity, a warranty for up to two years, and all of the original packaging and accompanying swag.
The Time Teller Shop
"The Time Teller" is Jory Goodman, who runs a YouTube channel that covers watch news and commentary. The Time Teller Shop, run by Goodman, is a place to treasure hunt for vintage and rare pieces. It's almost like a museum.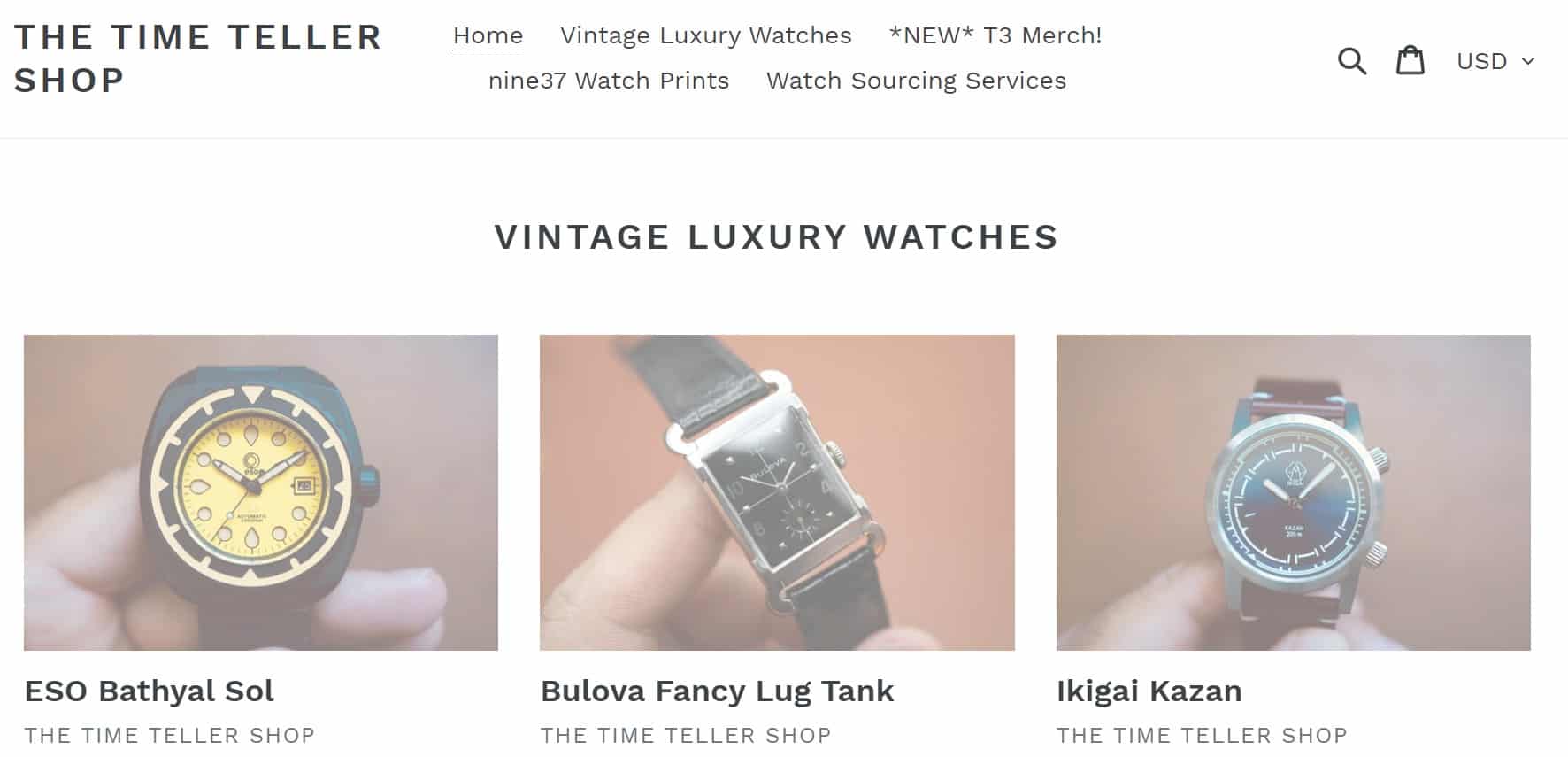 Here you'll find a lot of old-school mechanicals, Bulova tanks from the '60s and '70s, and Hamiltons that are actually made in America. As vintage shops do, the inventory is always fluctuating, and it's small but mighty.
Goodman curates the selections and gets them serviced by certified watchmakers. Each piece comes with a one-year warranty.
They also have some fun merchandise, like hats and hoodies, that are as irreverent and comedic as the man behind the brand.
Chrono24
Chrono24 is an impressive watch market to find rare luxury timepieces, likely because there seem to always be over 500,000 models available at any given time, from sellers in over 120 countries.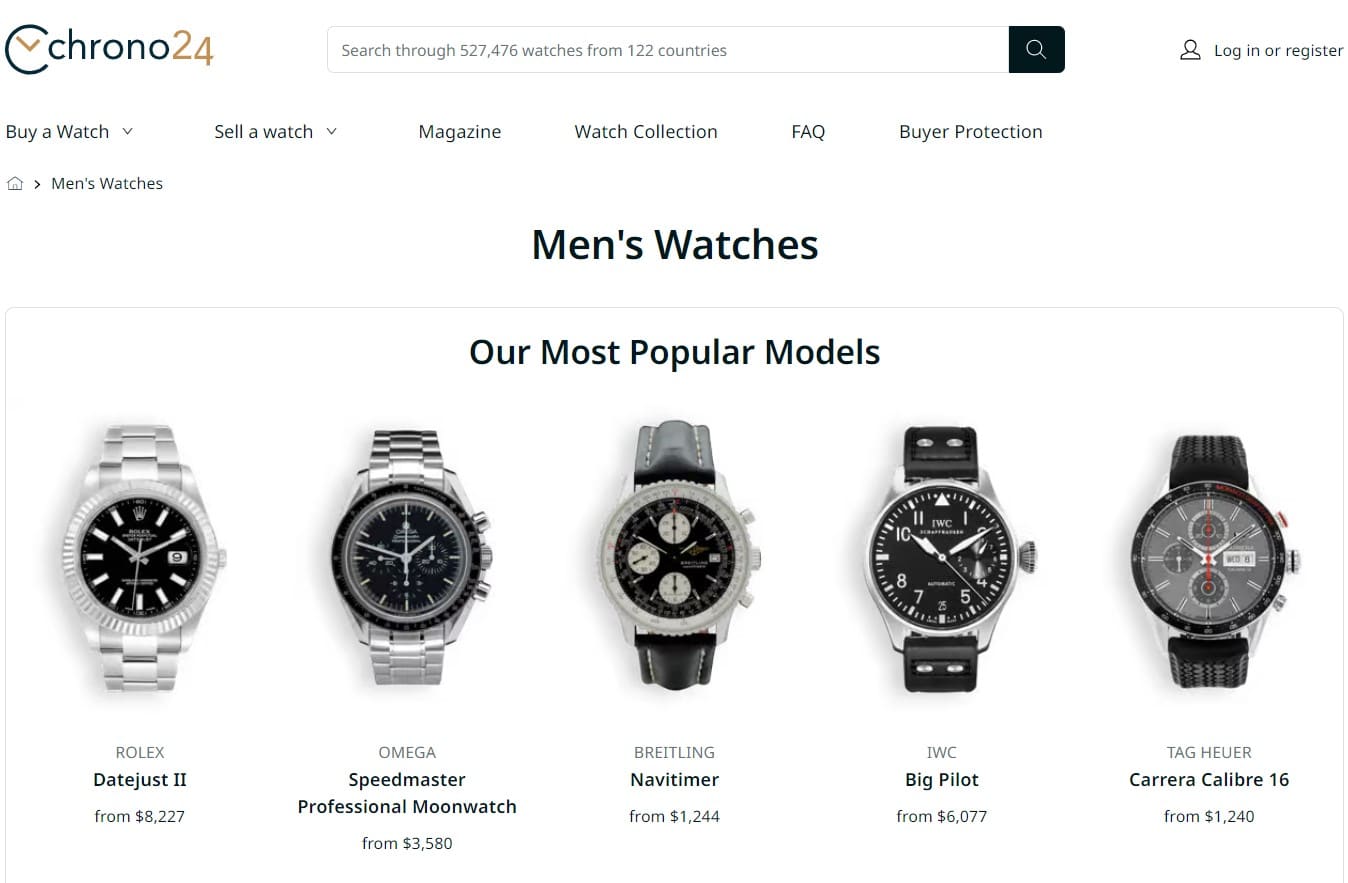 On top of that, Chrono24 has a unique way to protect its buyers. It's difficult to implement a certification and warranty program when your sellers are literally from all over the world.
However, when you pay using their system, Chrono24's payment process puts your money into an escrow.
Only once you've confirmed that you've physically received the watch and that you like what you have, does the money fully transfer to the seller. It's a pretty creative payment system.
TheRealReal
TheRealReal is also a brick-and-mortar, but does a lot of business online. It's basically an internet consignment shop for super high-end products, offering jewelry and fine art on top of watches.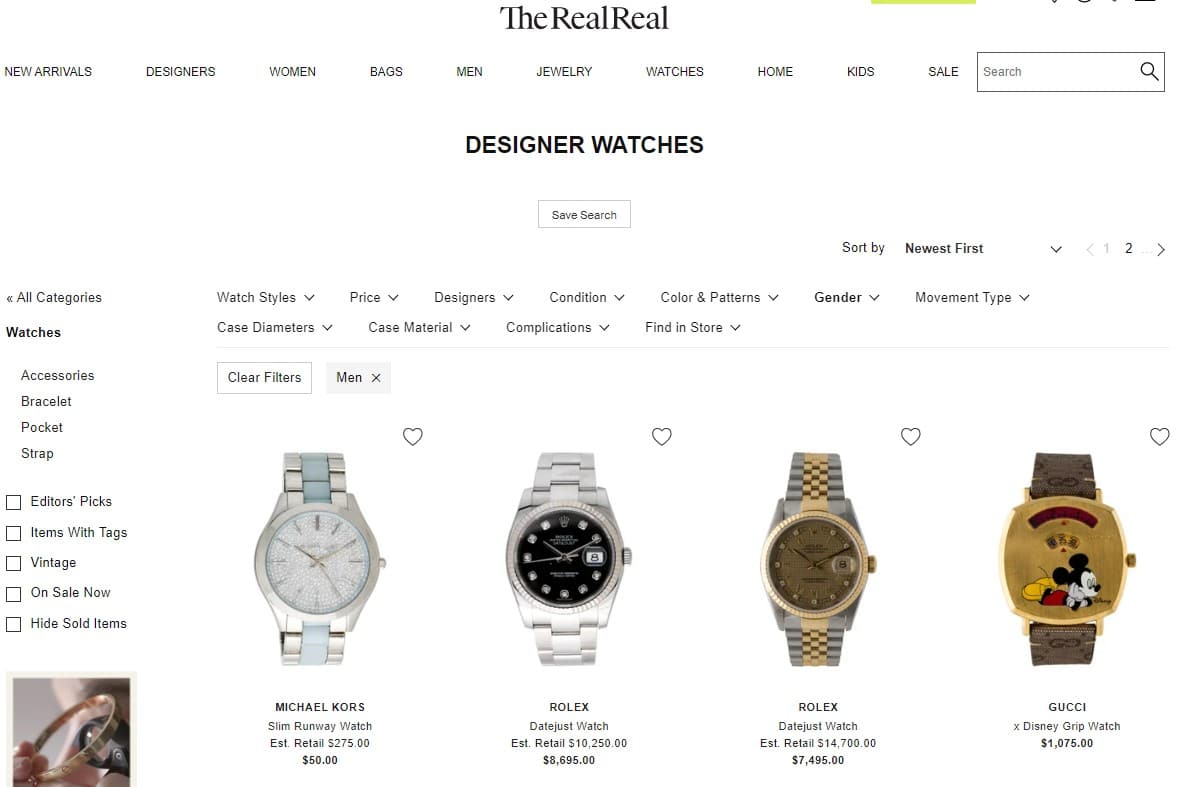 They're also like a big auction house, in that they have specialists dedicated to specific luxury goods.
As someone who's worked in the fine art and auctions industry for over a decade, I know that a lot of experts at TheRealReal have worked, or moved on to work, in the billion-dollar, rare-treasure auction and art industries.
So basically, the people authenticating and pricing your Rolexes over at TheRealReal have a trustworthy knowledge of these watches from academic, technical, and business perspectives.
FAQs
Here are a few answers to common questions when it comes to buying watches online.
Is It Ok To Buy Watches Online?
It's safer than ever to buy watches online. Just stick to trusted websites, like the ones on this list, know the return policies, and keep in close contact with your seller.
Why Are Watches So Cheap Online?
One reason that watches are often less expensive online is that digital retailers often don't have the overhead of brick-and-mortar stores.
Plus, a lot of online sites are either grey market retailers or sell used timepieces.
What Is a Grey Market Seller?
A grey market seller is one that buys the leftover stock from authorized dealers and then sells them at below-market value. They themselves aren't authorized, though the practice isn't illegal.
Conclusion
Again, as with any online platform, don't just hit the buy now button on a luxury timepiece without speaking to someone first.
Even if everything looks good with the pictures, the description, and the price, just send a quick message saying you're interested in this piece. At the very least, you can ask to confirm the return policies.
Fortunately, online watch buying is definitely easier and more reliable now than it's ever been.
Questions? Comments? Leave them below!