Curious about moon phase watches? Here's everything you need to know about this fascinating complication.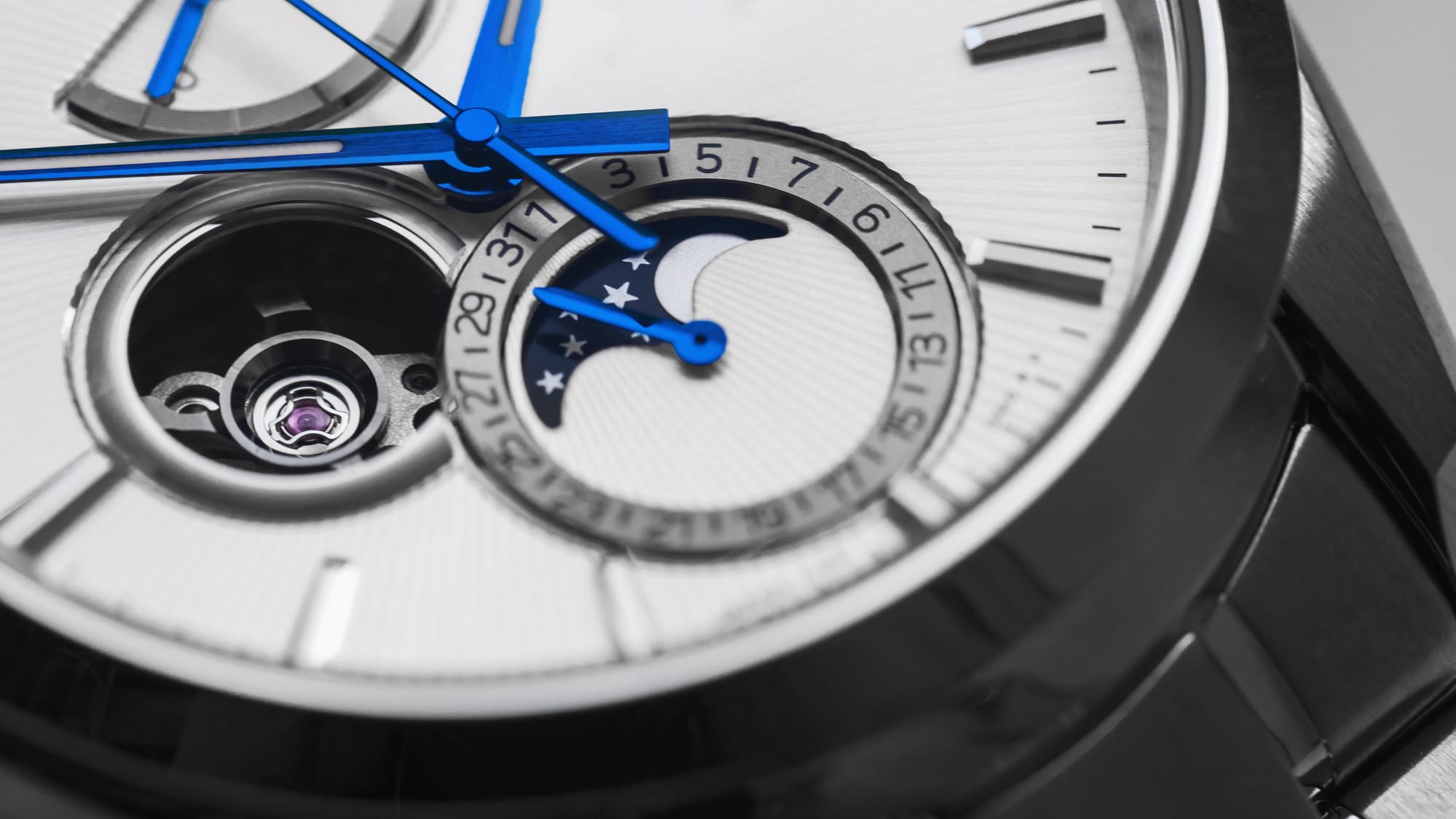 A moon phase complication is one of the most interesting features a watch can have. In this article, we'll share what you need to know about this interesting complication. Then we'll share what we think are the best moon phase watches you can buy.
What Is a Moon Phase Watch?
As the name suggests, a moon phase watch has a complication that keeps track of the moon's phases. With just a glance, you can tell if the moon is full, half, quarter, or new.
While moon phase watches are easy to read, they're incredibly complex inside. It takes some carefully crafted machinery to represent lunar cycles, which are approximately 29.5 days long.
In most cases, there are not one but two moons that are displayed on a disc with 59 teeth that advance once per day. The 59 teeth divided by the 2 moons give us 29.5 days per lunar cycle.
This means that the moons switch from month to month but still represent the correct phase of the moon, which is revealed through an aperture. Most often, the aperture shows the current phase by hiding portions of the moon being displayed, as this is much easier than having separate illustrations for each phase.
Because the complication can't accurately track an exact lunar cycle (which lasts an average of 29.53059 days), most moon phase watches are actually off by about 0.3 days each month. This means that the mechanism will go out of sync after about two and a half years, requiring a readjustment.
Some moon phase watches feature more accurate gears with 135 teeth that ensure accuracy for 122 years. However, most moon phase watches (especially non-luxury ones) use the simpler 59-tooth gear.
Moon Phase vs. Sun/Moon
Confusingly, many watches labeled as moon phase watches aren't actually what they purport to be.
For example, if you search for moon phase watches, you might see the Orient Sun and Moon pop up. At first glance, you might assume that it is indeed a moon phase watch.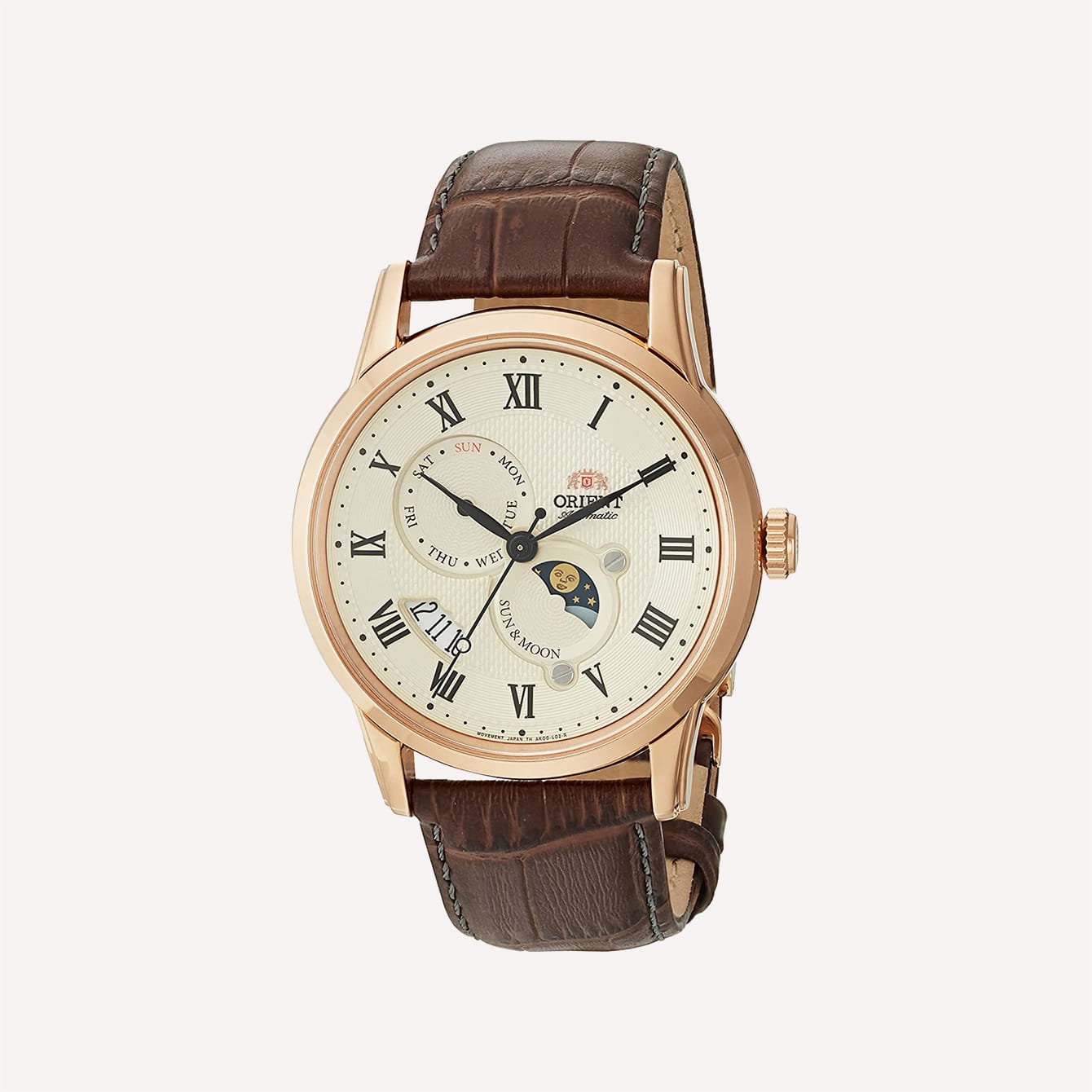 However, the complication in this watch is actually just a day complication represented by an alternating sun and moon subdial. In other words, it only shows you whether it's day or night (which is probably obvious to you unless you live underground or in the Arctic).
Unfortunately, it can often be tricky to tell whether some watches have true moon phase complications, so it's always important to do your research before buying. This is especially true for lower-priced watches.
History of Moon Phase Watches
Humans have measured and tracked the stars and planets for eons, so moon phase devices go back many centuries.
The earliest example of a mechanical moon phase complication is the Antikythera, a hand-driven model of the solar system (it's also often claimed to be the oldest known example of an analog computer). This ancient Greek device could track and predict several astronomical phenomena, including the phases of the moon.
Moon phase complications wouldn't be included in time-keeping devices until the advent of astronomical clocks in the 1300s. As this technology developed, it was common to see clocks with moon phase complications in churches and cathedrals.
By the time the wristwatch was invented, the moon phase complication had been in use around the world for centuries.
Watchmakers took that technology and adapted it to wristwatches, with two notable early examples being the Patek Philippe 97975 from 1925 and the Rolex Ref 8171 from 1949.
How To Set A Moon Phase Watch
Setting a moon phase watch may seem daunting, and while it's not too complicated, it's also not as easy as setting the time.
For some watches, this can be a long process, but the good news is that you only have to do it about every two and a half years. It's a reasonable sacrifice for such an intricate mechanism.
The exact process may differ depending on your watch, but here's a short general overview of how it's usually done.
The first step in setting a moon phase watch is to check the current phase of the moon, which can be done simply by entering "moon phase" into your favorite search engine, or by looking outside.
The second step is to set the hands at 6:30 to avoid damaging the mechanism and to ensure that the watch switches days at midnight and not noon.
Next, press the corrector button (usually located on the side of the case) to advance the moon phase display until it's correct.
It's helpful to find out how close you are to a new moon or full moon and set the watch using that distance as a reference. For example, if you know the moon was full three days ago, you can set the display to a full moon and then advance the mechanism three times. (On that note, it's even easier to set a moon phase watch when the moon is full or new).
Next, set the date to one day behind. You'll then need to set the time, going through a full day to ensure that the AM/PM is correct. Check with the moon phase display when setting the time — it'll usually advance around 1 AM.
As I mentioned, this is a general overview of how to set a moon phase watch. If you're in doubt, make sure to check your watch's instructions.
Moon Phase: Quartz vs Automatic
Even if you already have a preference between quartz and automatic movements, if you're going to be picking up a moon phase you may want to reconsider.
While it's safe to let an automatic watch stop, it can be inconvenient with a moon phase, as the complication will need set up all over again. It's easiest to keep the watch wound, whether that's by hand or with an automatic winder.
Alternatively, you can opt for a quartz movement so you don't have to worry about resetting the movement. This makes a lot of sense for moon phases, but ultimately it comes down to personal taste. Either way, it's something to be aware of.
Best Moon Phase Watches Under $500
For the most part, it's difficult to find high-quality moon phase watches for less than $500. Typically, on sub-$500 watches, you'll likely only find the sun/moon complication and if you do find a legitimate moon phase, it's likely to have horrible build quality.
However, it's gotten easier to find sub-$500 moon phases in recent years, so it's not completely impossible.
Here are our top picks for moon phase watches under $500:
Glycine Combat 6 Classic Moonphase Automatic
If you're looking for an affordable moon phase watch from a trusted brand, it's hard to beat the Glycine Combat 6.
Glycine is one of the best Swiss watch brands, and their Combat 6 is consistently ranked as one of the best budget moon phases for its excellent build quality and unique aesthetic.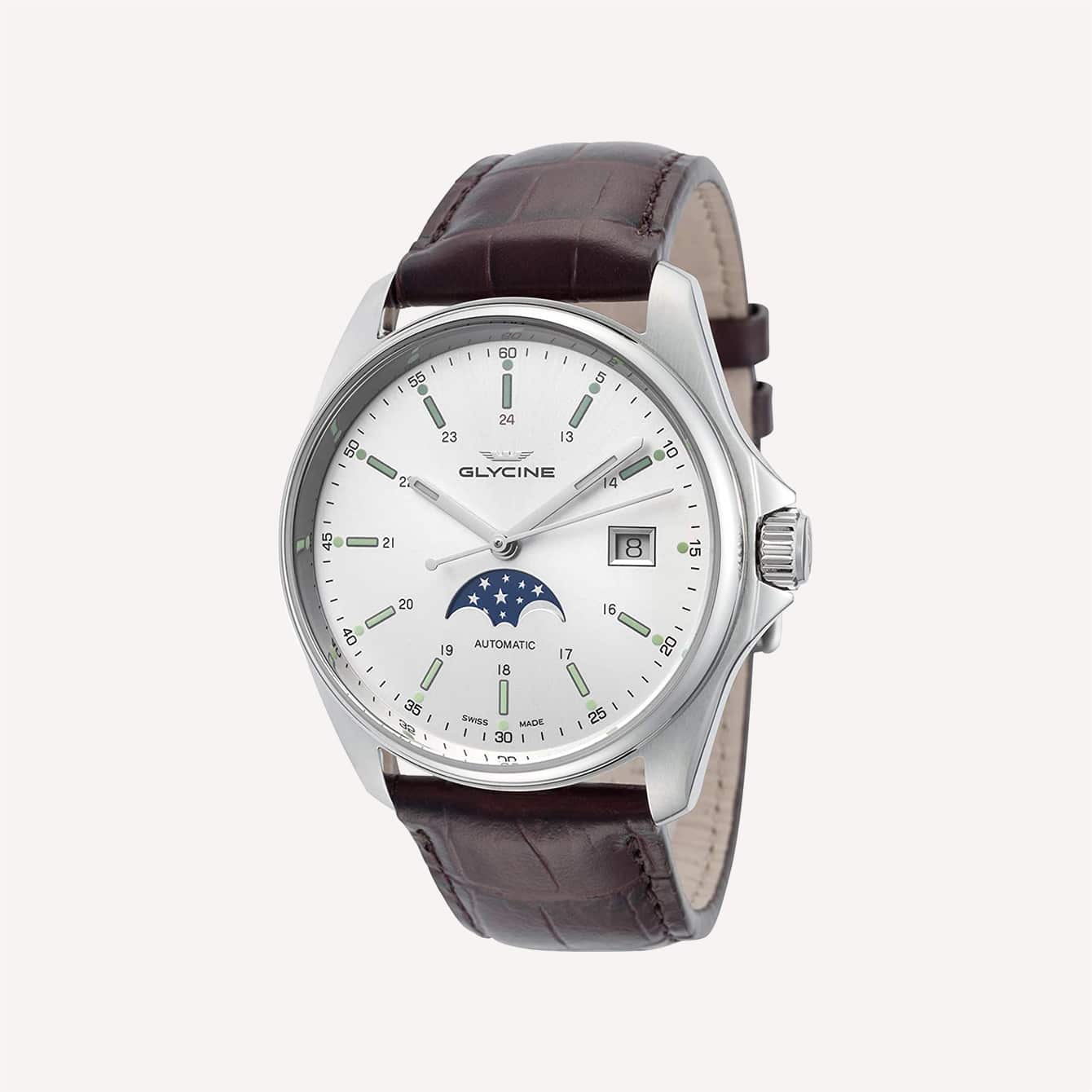 In addition to the moon phase, the Combat 6 boasts a proprietary Calibre GL 280 automatic movement, a date display, a transparent caseback, and a scratch-resistant sapphire crystal. It has 50 meters of water resistance and a 38-hour power reserve.
There is a caveat here — you'll have to wait for it to go on sale. The Combat 6 retails for $1,650 but can be found on sale for as low as $359. You'll have the best chance of snagging this for cheap during a holiday sale. (Check the current price on Jomashop here).
Still, the wait might be worth it, especially if brand heritage is important to you. Chances are you won't find another automatic moon phase from a storied Swiss brand for under $500.
Graf Zeppelin Hindenburg Moonphase
Graf Zeppelin is a German brand known for making inexpensive watches with vintage features and (surprise) aviation-inspired themes.
Their Hindenburg Moonphase is arguably the most accessible moon phase watch. It's easy to find on the market, and it can be found for around $300.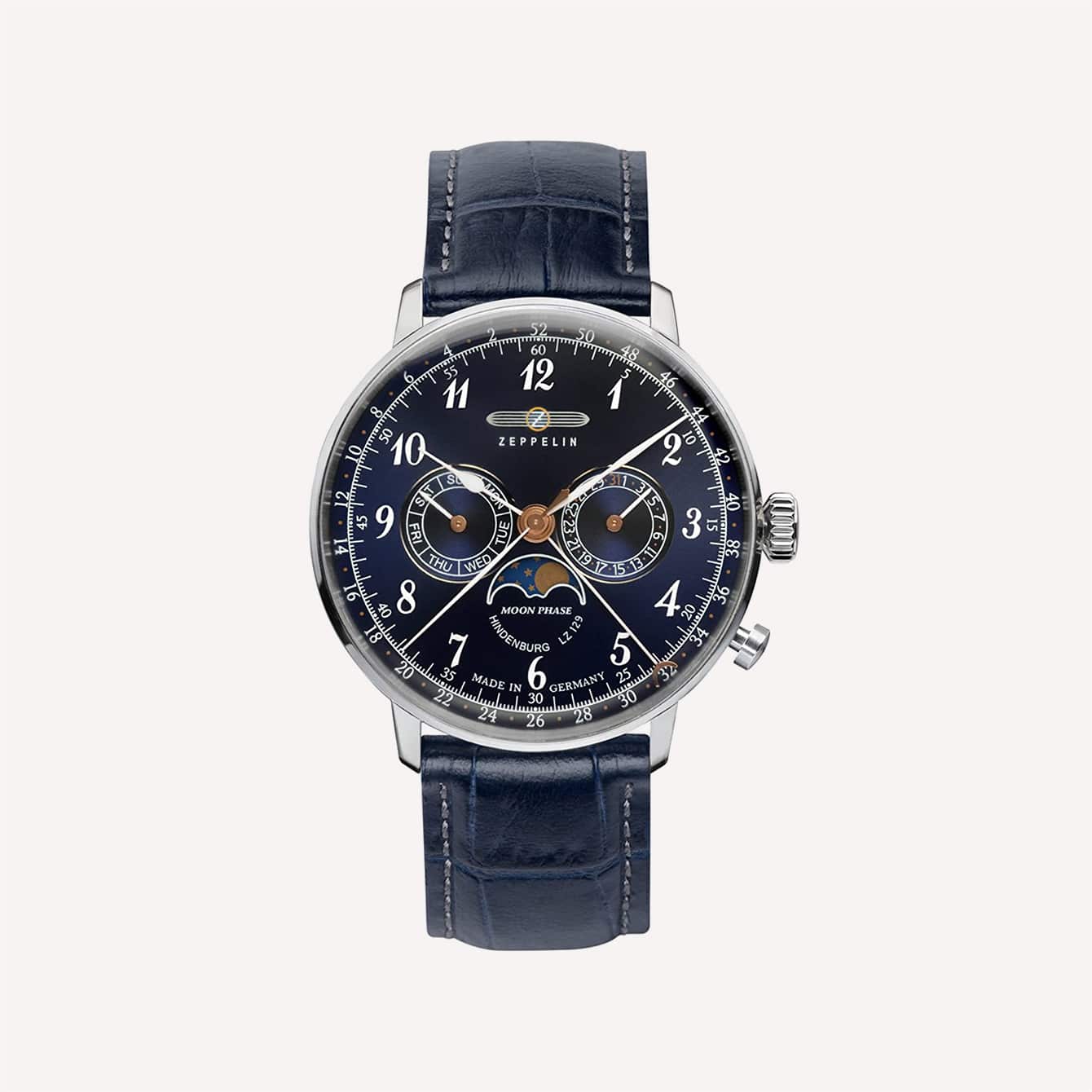 The watch features day and date subdials in addition to the moon phase. There's also a week complication with a long hand that sweeps counterclockwise. The movement is a Ronda 706B quartz, and the crystal is domed Hesalite.
Overall, it's impressive for a watch that can often be purchased for under $300. The build quality is consistent with the price range, so you're getting a solid quartz watch.
All of this makes the Hindenburg one of the easiest ways to get a moon phase on your wrist.
PerpetuaL Pointer Date/ Moonphase PM
PerpetuaL is an interesting and little-known brand with some seriously enticing options for budget watch enthusiasts.
Although they're based in China, PerpetuaL isn't a factory that mass produces countless watches. Their website states that they source Chinese movements and excessively test them for amplitude, beat error, and accuracy.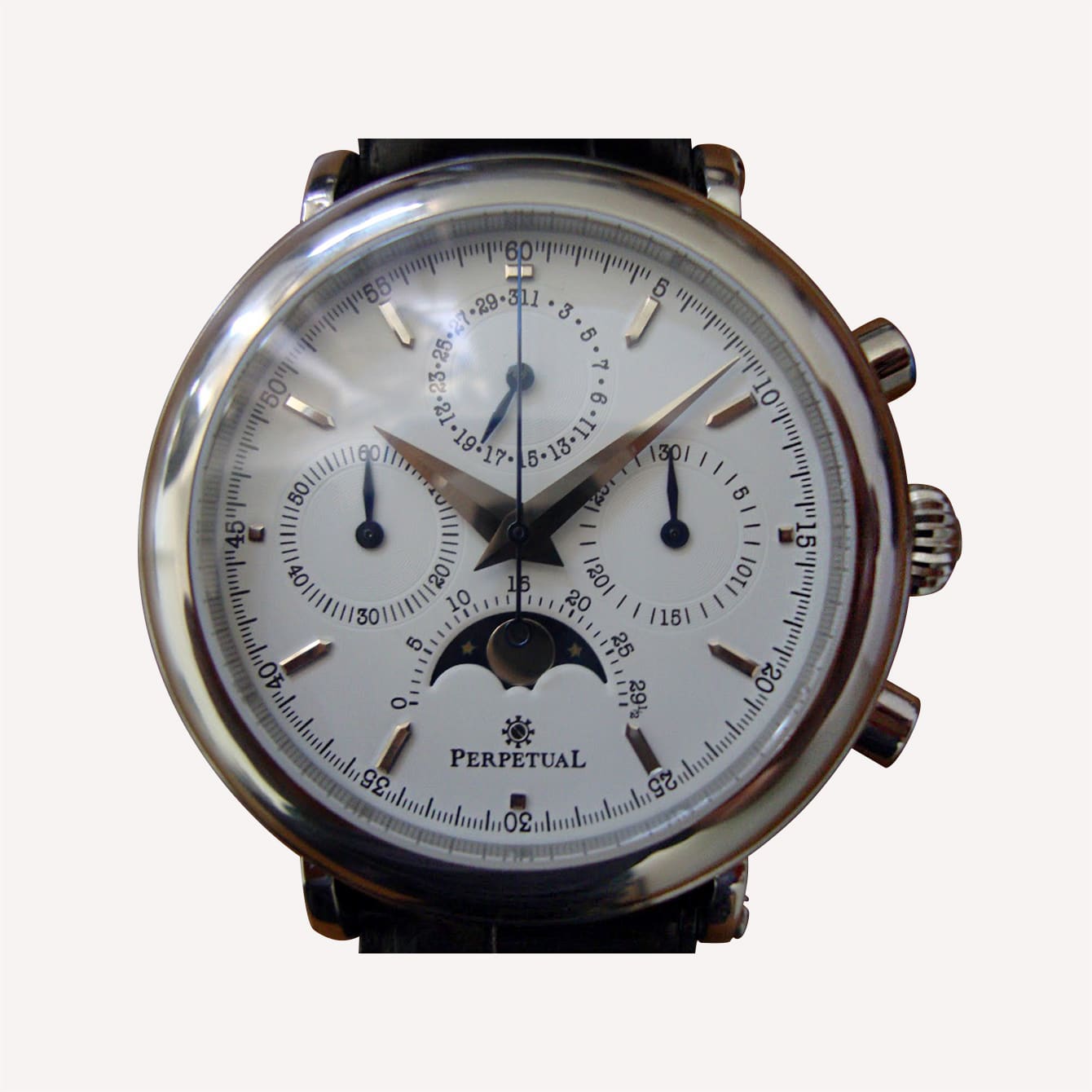 All PerpetuaL watches come with sapphire crystals, and many of the watches feature heat-treated blued steel hands.
At $280, the brand's PM model is another inexpensive moon phase option. Both the PM-01 (silver dial) and PM-02 (black dial) feature pointer date complications and Breguet-style blued hands. These watches use a Seagull ST2108 automatic movement and have a display caseback.
Given the price and specs, the PM line is another great way to get a moon phase without spending a lot.
However, since PerpetuaL only offers about 70 watches per month, you have to inquire first and may be put on a waitlist, so keep that in mind if you're eyeballing a PM. All things considered, it's not a bad compromise to make if you like the look and want an affordable moon phase watch.
Best Moon Phase Watches Under $1,000
Here are some awesome moon phase watches that cost under $1,000.
Certina DS-8 Moon Phase C0334501603100
Certina is easily one of the most underrated Swiss watch brands. Their watches usually have excellent value for money, but you don't hear about them too often.
Here we're featuring Certina's DS-8 C0334501603100, which is a sub-$1k moon phase with a well-rounded feature set. Typically, you can pick this up for around $500-$600.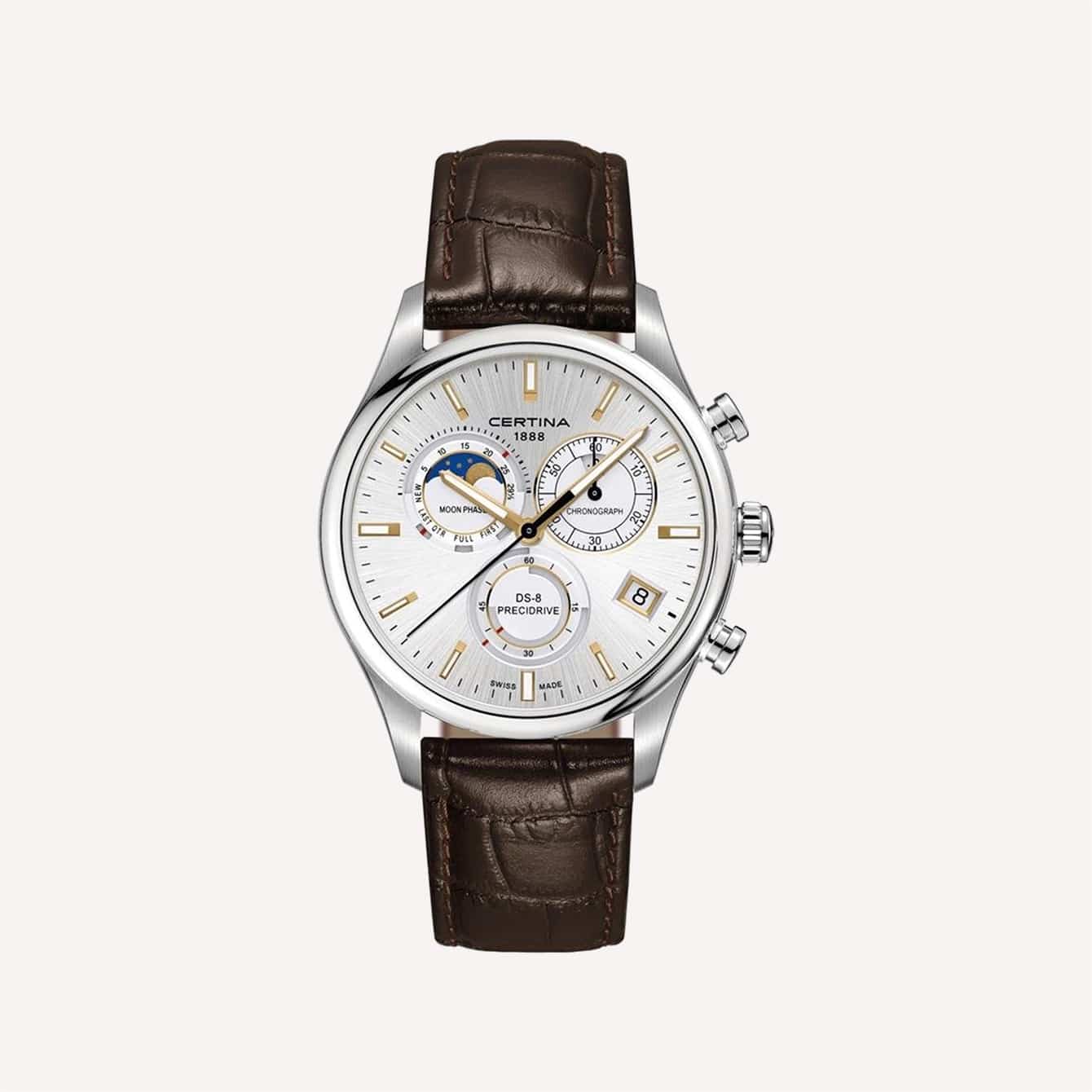 On the dial, there's not only the moon phase but also a date window, a 12-hour chronograph subdial, and a small seconds subdial, all housed underneath a sapphire crystal.
The watch is powered by a Precidrive quartz movement and offers a somewhat surprising 100m of water resistance.
The 42mm case with extending lugs means that this watch will wear quite large on the wrist, so you may want to look elsewhere if you have really small wrists. But all things considered, this is a solid moon phase option from a great brand.
Frederique Constant Classics Business Timer Moon Phase FC-270M4P6
Frederique Constant has some excellent mid-range offerings, and the Classics Business Timer FC-270M4P6 is no exception. This moon phase retails for $1,095 but can often be found on sale for well under the $1k mark. (Besides, $100 over is close enough, right?)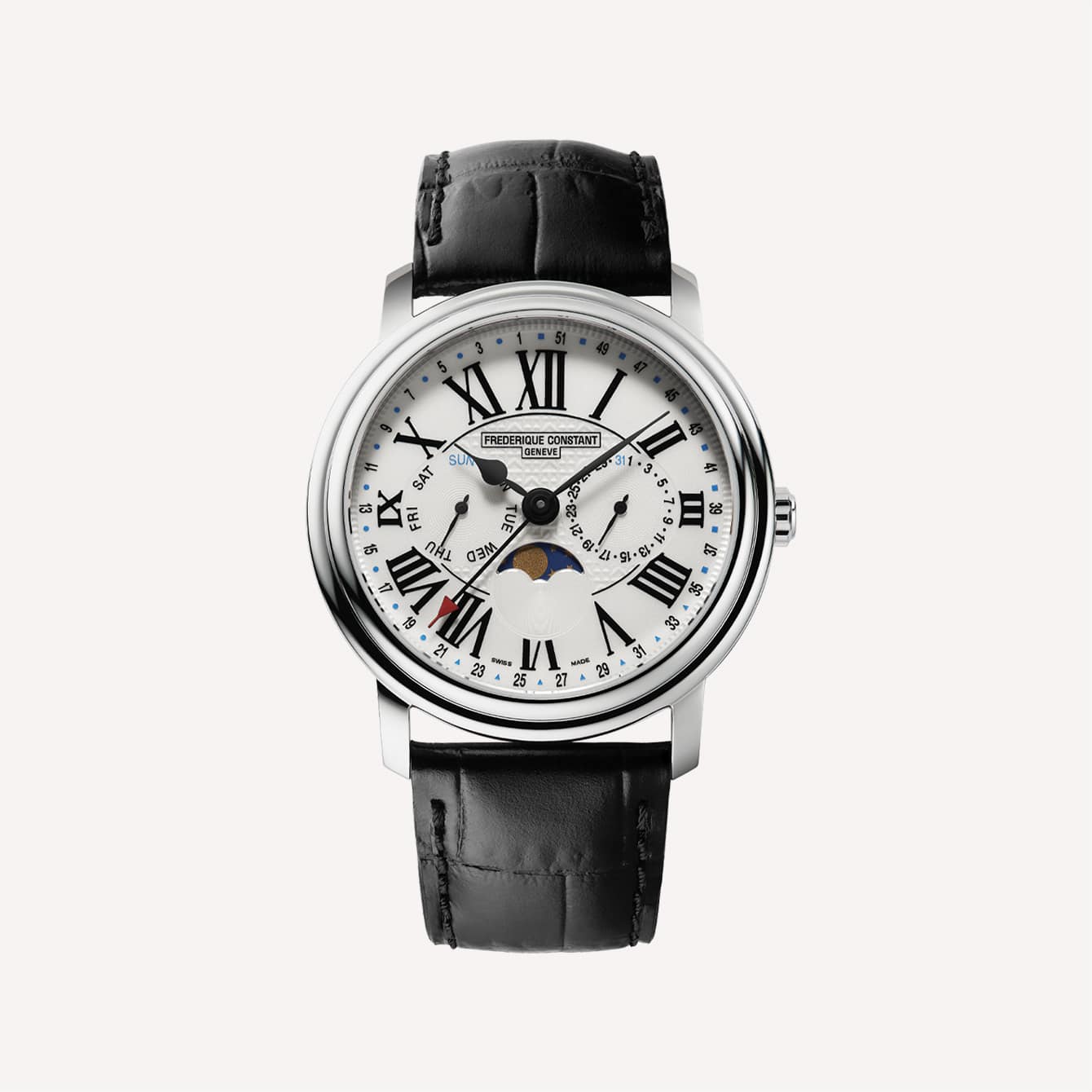 In terms of specs, the Business Timer isn't bad for the price. The watch has a FC-270 quartz movement with 44 months of battery life, so you don't have to worry about it running out before the moon phase needs to be readjusted.
You also get day and date subdials as well as a counterclockwise week display. It's moderately sized at 40mm and comes with a convex sapphire crystal.
Best Luxury Moon Phase Watches
If you don't mind spending upwards of $1,000, the following watches are worth considering.
Longines Master Moonphase
"Affordable luxury" may be a bit of an oxymoron, but it's not a bad way to describe the Longines Master Moonphase. Two of the watches in this line are priced at $2,350, which is quite an amazing price considering what you're getting.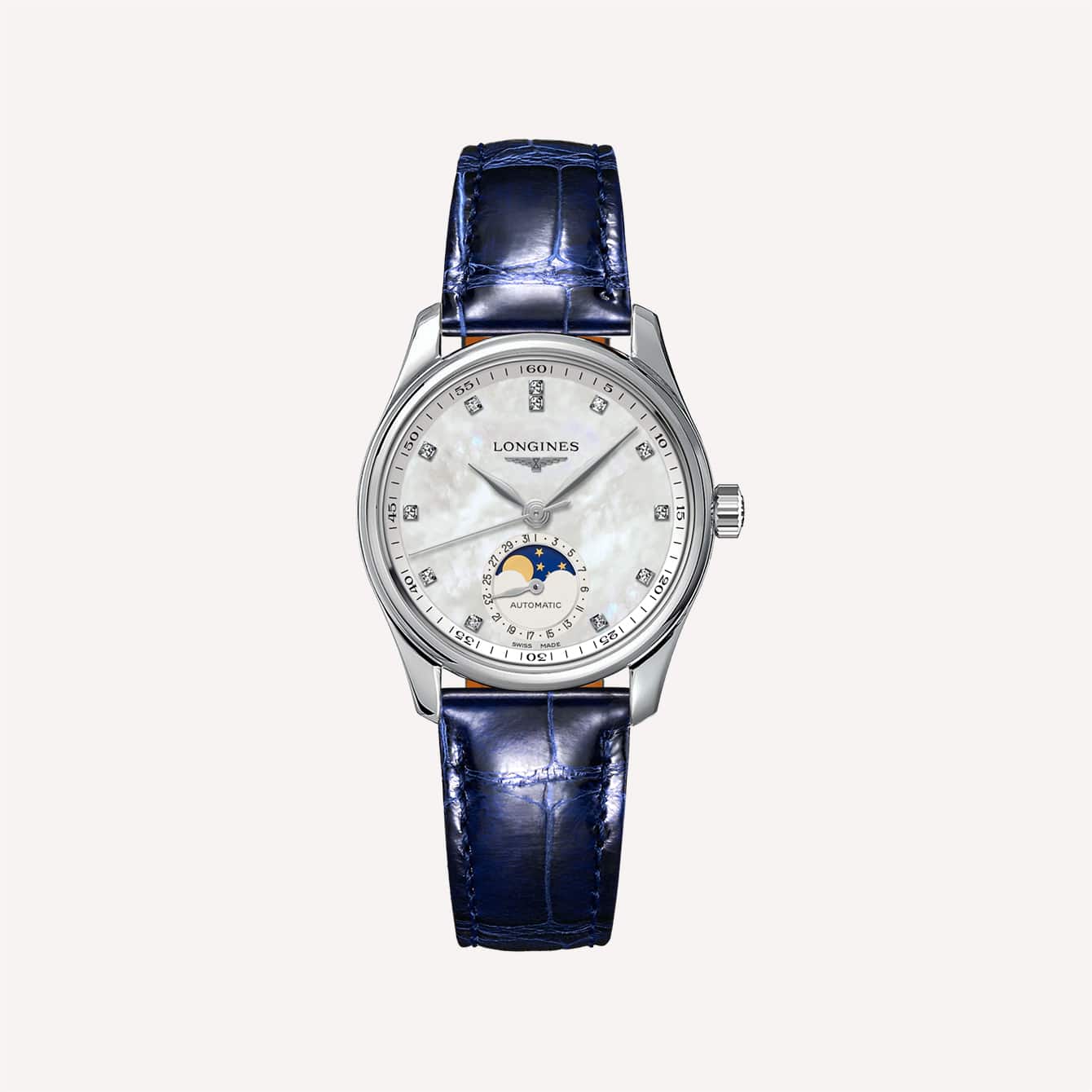 Longines is famous for their quality, so the Master Moonphase lives up to its name. With an automatic movement, a rich moon phase display, beautiful blued steel hands, and a dimpled barleycorn dial, the Master has a lot to offer.
Omega Speedmaster Co-Axial Master Chronometer Moonphase
Given that the Speedmaster is known for being worn on the moon, it's rather fitting that Omega offers a version of the watch with a moon phase display.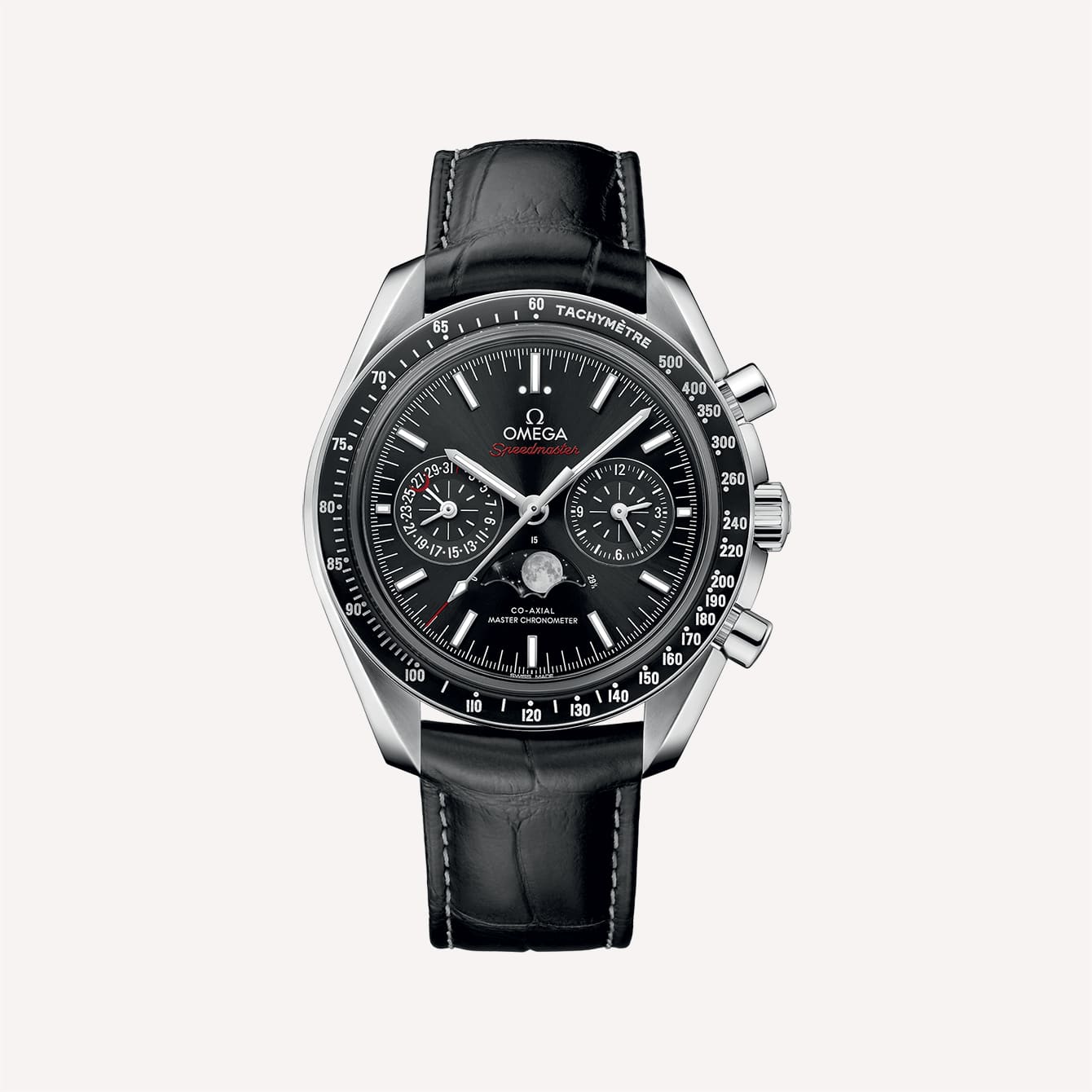 And it's a beautiful moon phase display at that. Instead of going for the default yellow circle and blue background, Omega opted for a more realistic white moon and stars set against a black sky. With a retail price of $10,600, this Speedmaster is a formidable luxury moon phase.
A. Lange & Söhne Lange 1
This watch from A. Lange and Söhne is nothing short of a masterpiece. With a beautiful moon phase display, solid silver dial, and solid gold appliques, it's easy to see why this watch costs around $46k.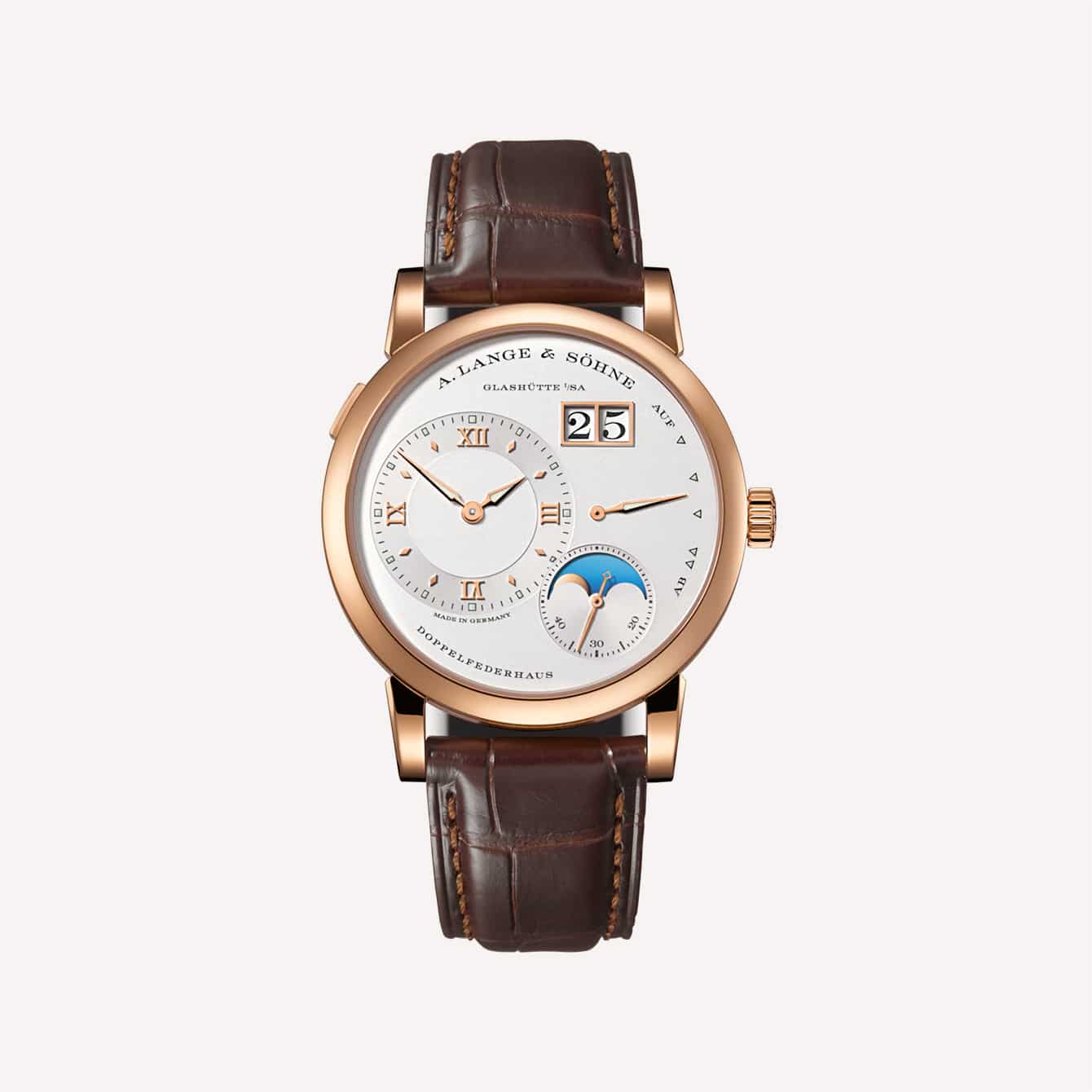 AL&S is famous for their insane levels of craftsmanship, and that's especially evident in their moon phases. All of the appointments — like the handsome date window and elegantly lumed hands—serve as further proof of the incredible quality.
Final Thoughts
There's no denying that moon phase watches are fun to look at, and their craftsmanship highlights what a lot of us love about watches.
Are moon phase watches for everyone? Definitely not. They can be expensive, and being able to track the moon on your watch isn't an all that useful feature for most guys.
But the magic is in the novelty and intricacy of the complication, and for that reason, it's safe to say moon phases aren't going anywhere soon.