Have small wrists but want to rock an Omega watch? Here are some solid options.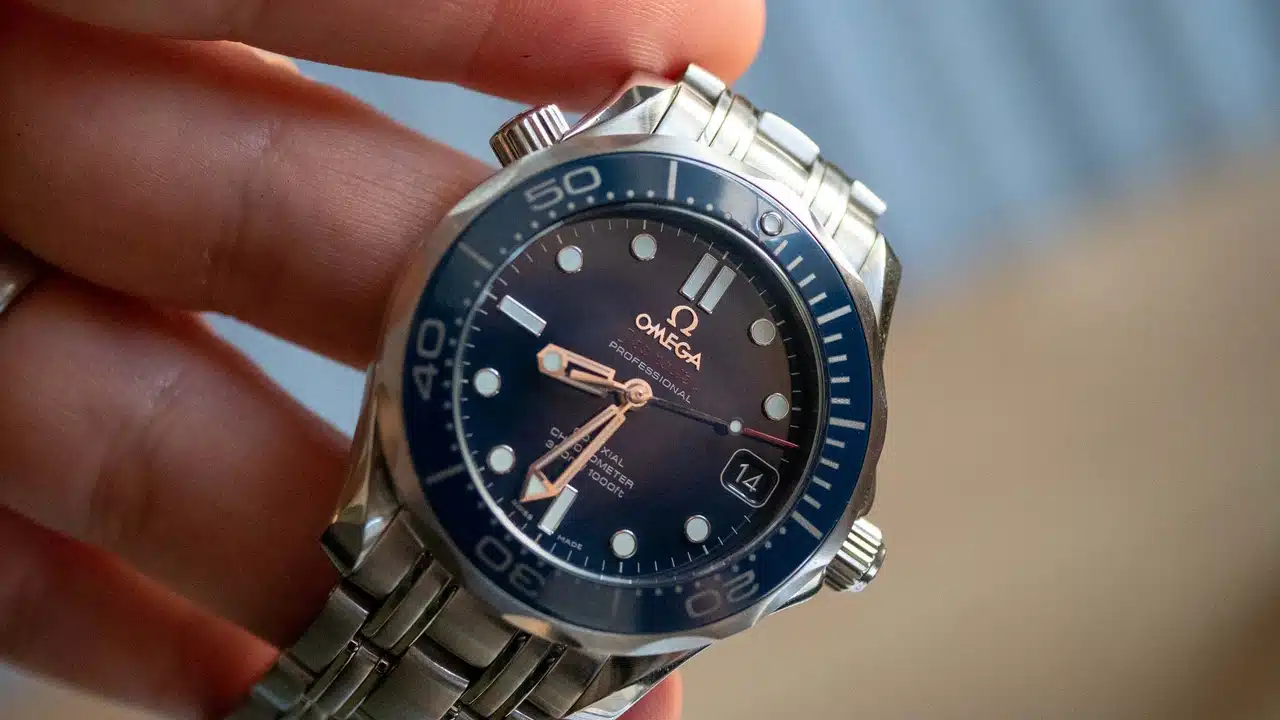 More than any Swiss hard-hitter, Omega's managed to get a lot of out-there designs into the canon of classics. Basically, they do interesting but not flashy, better than a lot of their contemporaries.
I've always been a big fan of Omega. While their history seems a bit more volatile than Rolex's, particularly since they gave in to the quartz movement, even compromising a lot of classic designs in the process. Still, in a way, it was all for the best. 
It also goes without saying that Omega is one of the masters of horology, and, unlike Rolex who's allergic to exhibition casebacks, Omegas often allow you to easily see their state-of-the-art movements.
Now that I'm done gushing over my favorite brand, here are some Omegas under the 40mm mark.
Omega Watches for Small Wrists
Here they are, in no particular order:
The Constellation Subline
Within the Constellation subline, there are the Globemaster models and the Constellation models.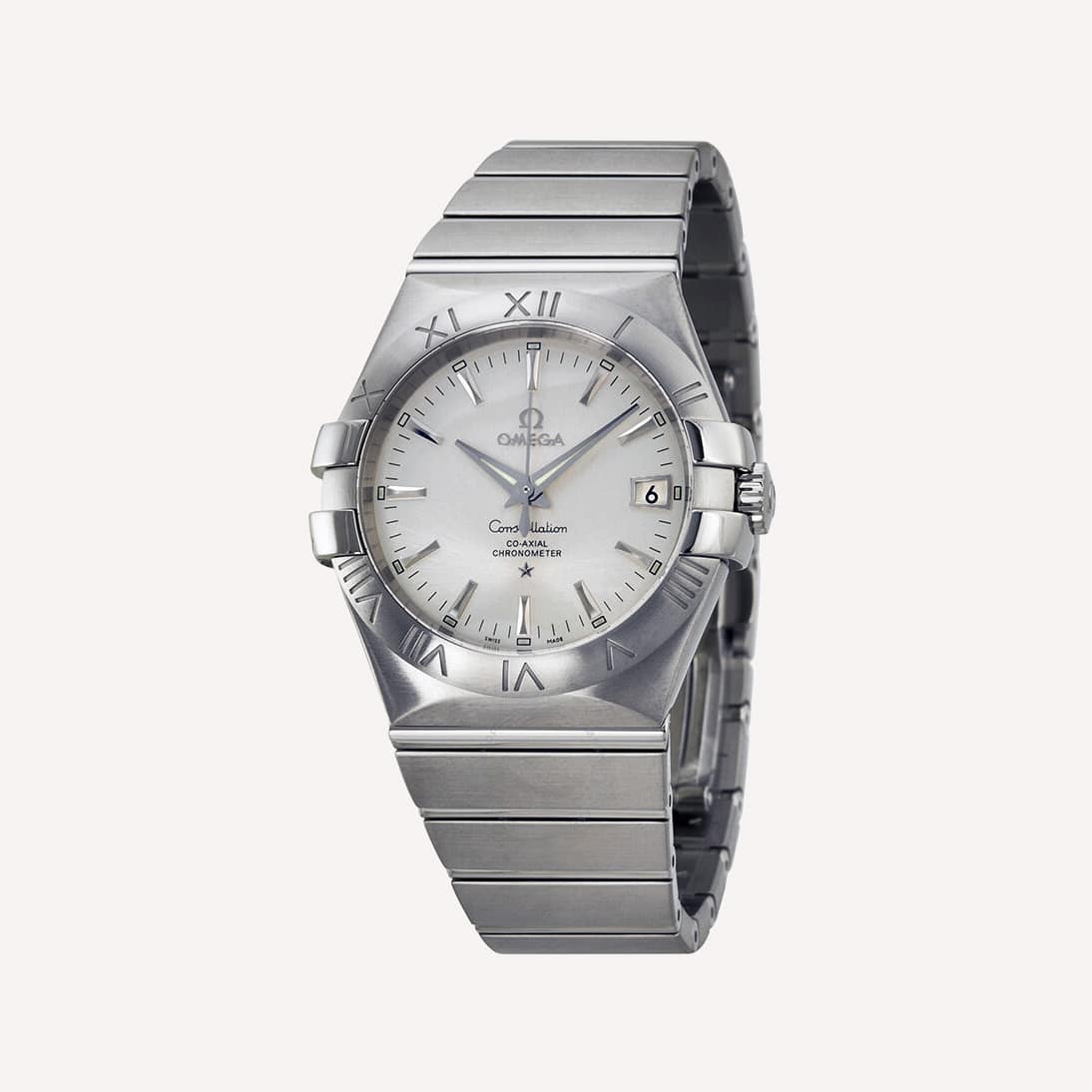 Yes, it's confusing to have Constellation-Globemasters and Constellation-Constellations, but Omega seems to like ensuring we all know the ancestry of each model.
The Constellation models look absolutely perfect in smaller sizes. You can find automatic men's' pieces with a 35mm case, while several current models are available at 36mm and 39mm.
Some of you might think that 35mm sounds small for even the most slender of wrists (I respectfully disagree — I wear my 28mm quartz Seamaster 300 as a dress watch).
But, the sculptural design is so monumental, it actually takes up a good amount of visual room without occupying a lot of physical space.
It's a balance of refined aesthetics and just edging towards gaudy, without getting there.
Many modern models feature the iconic claws on each side of the bezel which, along with the stately Roman numerals, combine the weight of a sport watch with the decorative sensibilities of a dress watch.
It's undeniably fancy but versatile, and definitely a flex.
The Aqua Terra 38mm
Technically in the Seamaster family, the Aqua Terra is a less tool-like sport watch, which makes it easier to pair with a wider range of dress codes.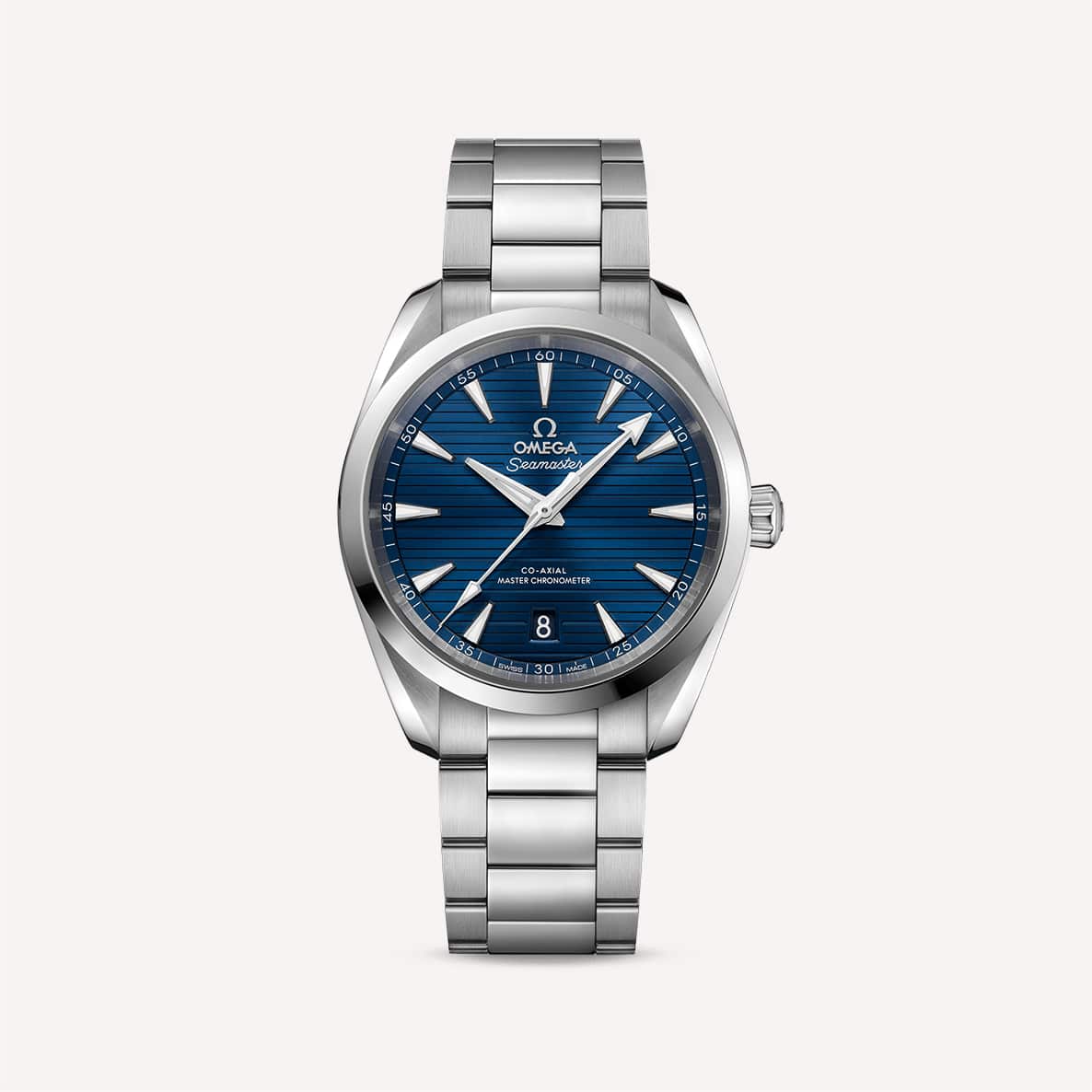 There are a few 38mm versions, including a slightly dressier one with gem-like teardrop indices and a small seconds subdial.
The core Aqua Terra design is an effective everyday watch, that combines a clean bezel and smooth lugs with dial elements reminiscent of the heritage Seamaster.
The difference is that these elements, like the broad arrow hands and pointy, flush indices, are considerably slimmed down for a classier, less robust look.
Plus, the horizontal lines on the background are reminiscent of a boat's deck, as if to say this should be worn with boat shoes on a yacht, instead of with a wet suit.
Regardless of which 38mm Aqua Terra you go for, most flaunt Omega's signature horological chops, including their co-axial COSC-certified movement and the famed 15,000 gauss magnetic protection.
Seamaster Trilogy 1957
Ever since Omega released their Trilogy 1957 set in 2017, this rendition of the Seamaster, with its broad arrow hands, multi-sectioned bezel, and flush arrow indices, made a comeback.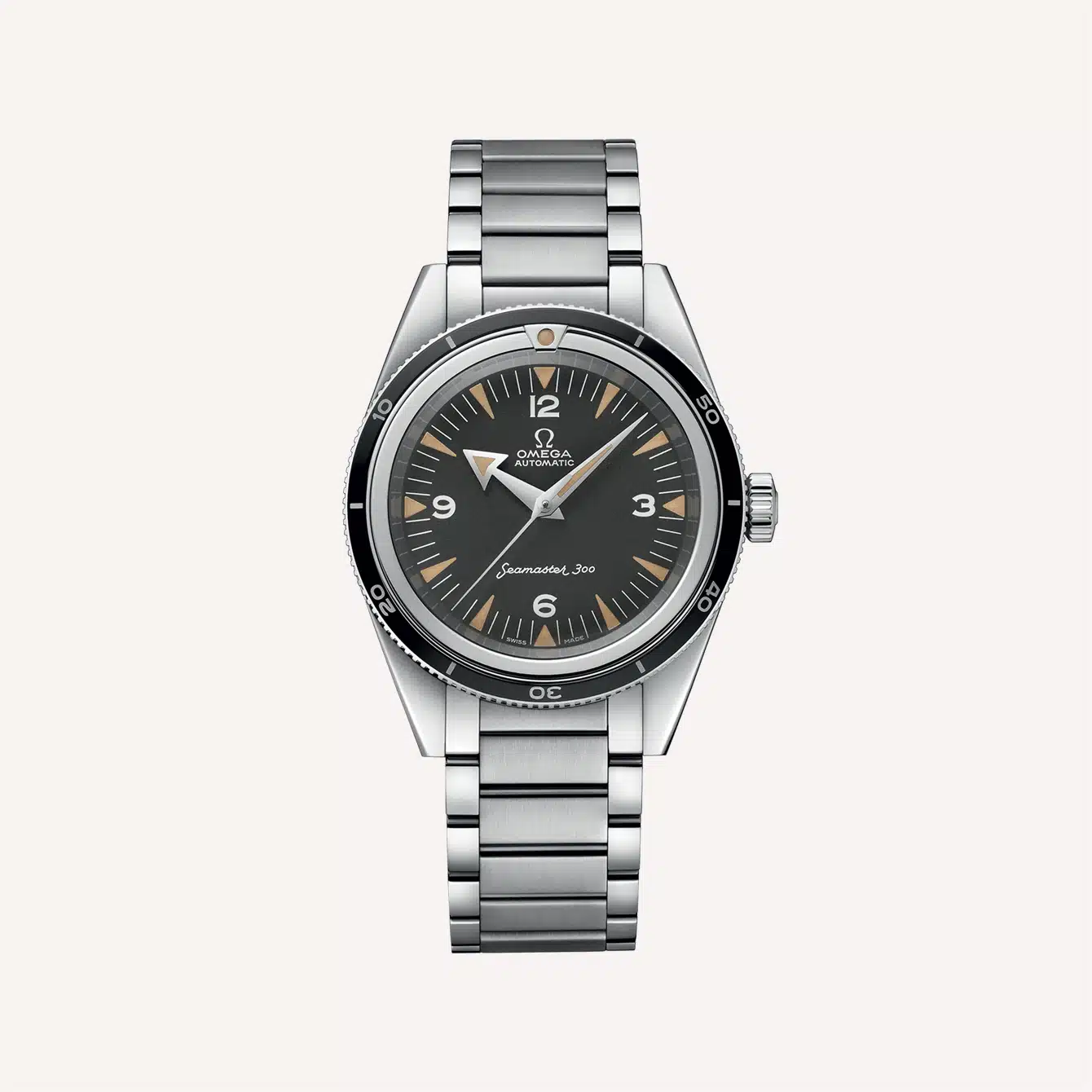 It's been used as the design foundation for several contemporary variants since, including for Craig-era James Bond watches.
Still, it's the version that came out with the Trilogy set that most accurately embodies the original, and in a 39mm case.
There are many versions that look nigh similar to this one, including a 41mm with a reference that's just a few numbers different, so keep an eye out.
If you want an iconic and striking sport watch, this Master Chronometer is definitely in Omega's A-team, along with the Speedy and the wave dial Seamaster.
Seamaster 1948
Remember when men wore suits to the airport? Me neither.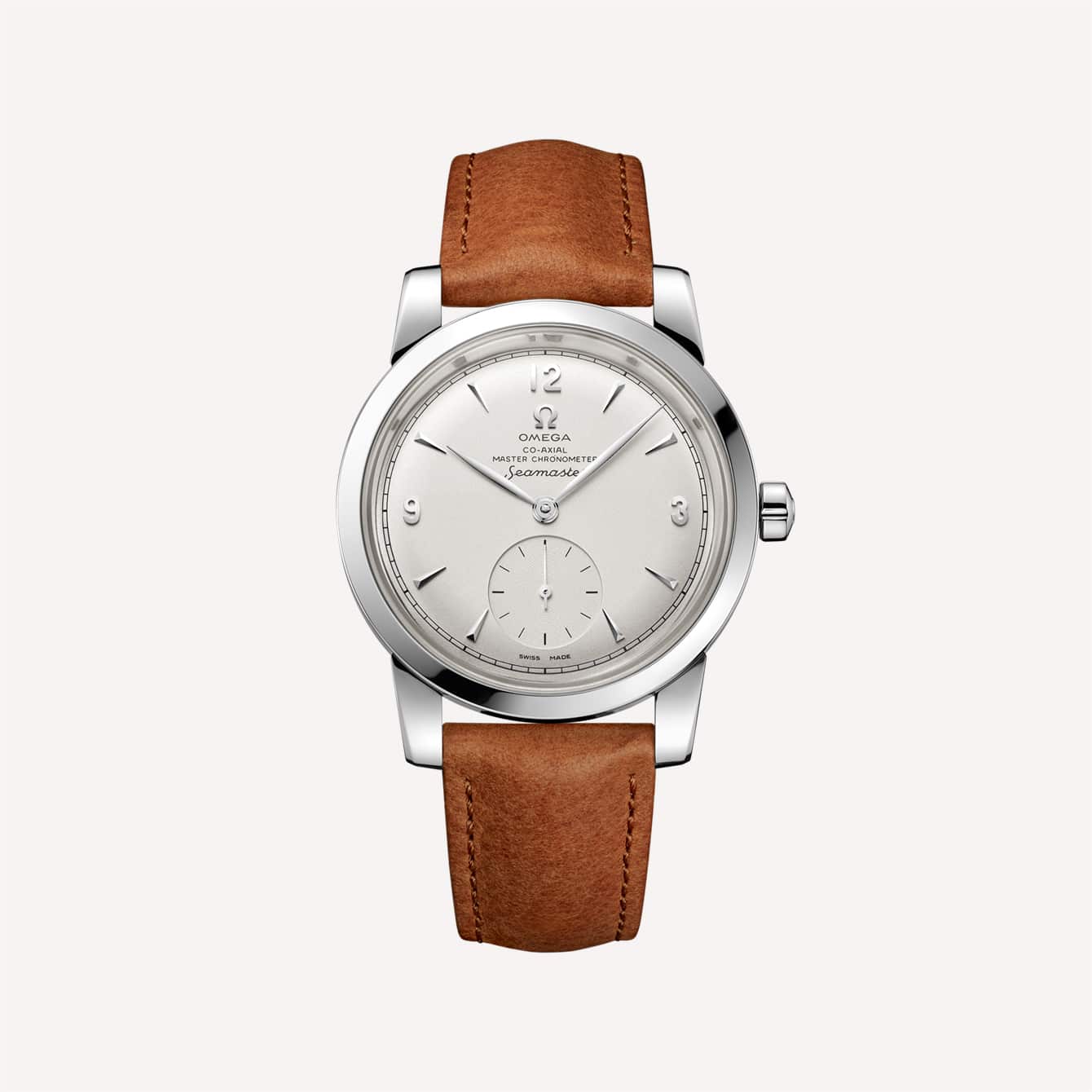 Likewise, the time when most everyday timepieces lean more dressy instead of sporty is a thing of the past. Since fewer men opt for dress watches these days, wearing one will make you stand out (in a good way).
The limited edition Seamaster 1948 looks just like the original pre-300 Seamaster, its small seconds subdial, opaline domed face, and fueille hands exuding a versatile post-war elegance.
The 38mm case can tuck beautifully under a sleeve but wears distinctly (but not loudly) with a casual polo.
An instant heirloom, this watch gives you the look and feel of a vintage timepiece minus the hassle of maintaining and the risk of acquiring an actual vintage piece. It's also not that hard to find and at reasonable prices no less.
Beneath the white gold construction, which pairs beautifully with essentially any strap, is Omega's Calibre 8804, a highly-accurate co-axial movement backed by the Swiss Federal Institute of Metrology.
Seamaster 300 Pro Mid Size
The blue wave dial Seamaster is best known as the inaugural Bond Omega, worn by Pierce Brosnan in 1995's Goldeneye.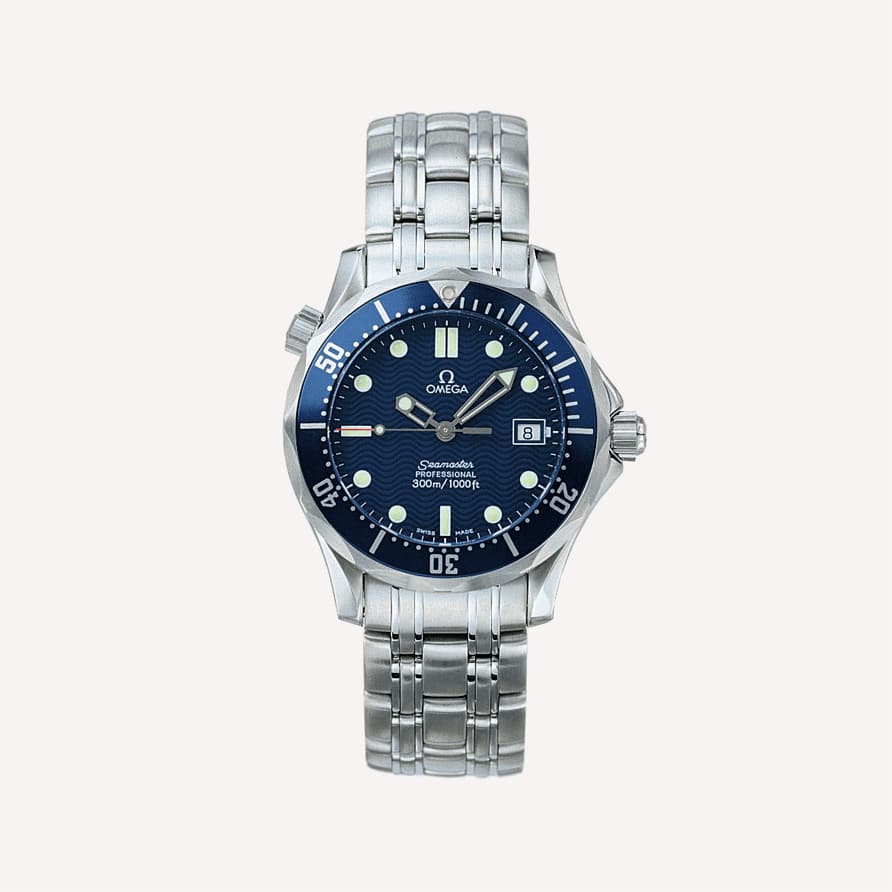 It's also known for its thrilling design, with its skeleton hands, scalloped bezel, and unique bracelet, on top of the dial's blue wave pattern.
Even more, it's a non-standard composition that's managed to make it into classic territory, along with more on-template sport watches like the Submariner and the Speedy. Call it an unconventional convention.
This, along with the broad arrow heritage Seamaster, are the two go-to foundational designs for different Seamaster variants.
However, the models directly related to the original '90s version are the most democratic. They come in a 36.25mm Mid Size variation, as well as an automatic and quartz.
Speedmaster Trilogy 1957
Another neo-vintage piece from the '57 Trilogy, the Speedmaster is probably the least changed out of the three reissues.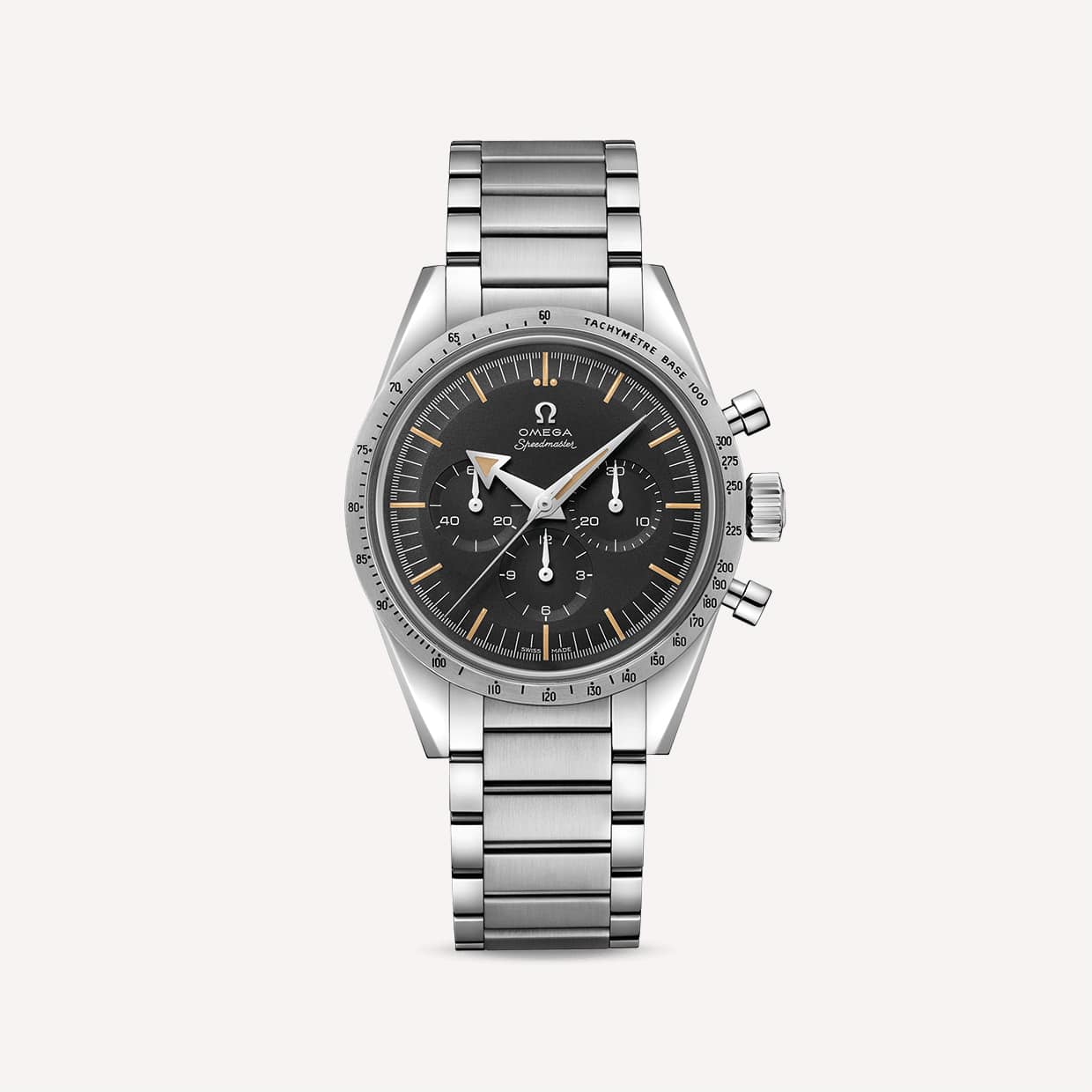 Some noticeable differences from today's standard Speedys include the tropical accents, which give it a retro charm, and the steel bezel, which provides a more traditionally athletic look.
I think the added tones give it more personality than most modern Speedmasters, though it's still perfectly neutral and similar in its styling potential.
Although the run is limited to 3557 pieces, like the rest of the Trilogy they aren't that hard to find.
At just under 39mm, this watch wears comfortably, even with the pushers.
It runs on the respectable, hand-wound Calibre 1861. This adds a fun tactility and is arguably a heritage caliber for Omega.
Cinching its status as a historical model, this watch was the first chronograph ever to put a tachymeter on the bezel instead of the dial. Suffice it to say, this watch started a whole new convention.
Speedmaster Calibre 321
Here's a quick history lesson to elucidate just how cool this Speedmaster is. Albert Piguet crafted Calibre 321, with which all Speedys were equipped before 1968. The Apollo 11 watches were 321s.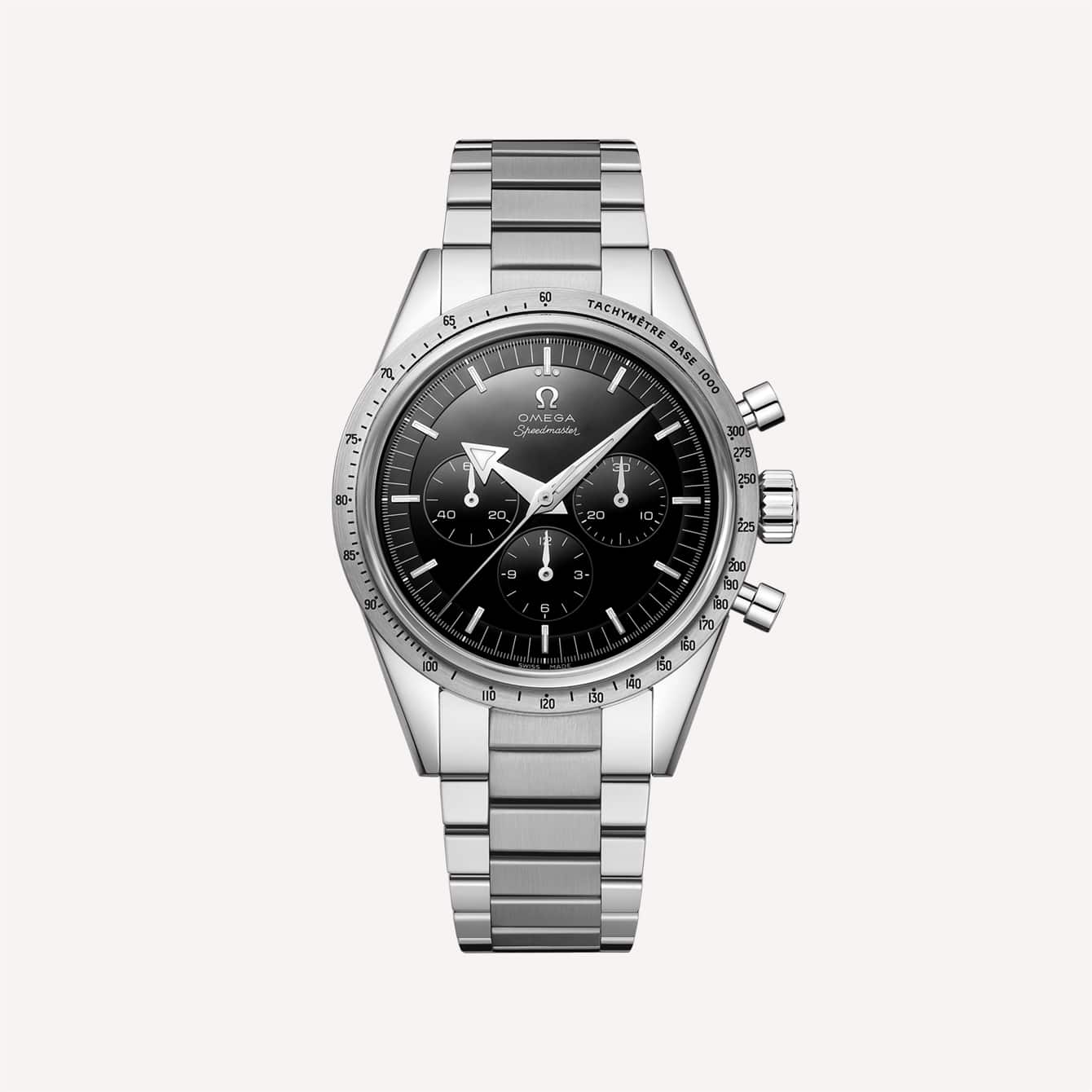 They eventually switched to 1863, or its variant the 861, which has a higher beat rate. However, the 321s are more difficult to craft and are rarer.
As its name suggests, this Speedmaster runs on the iconic 321 movement, making it a collectible with investment value potential.
Visually, it has a convenient 38.6mm case and is made of Canopus Gold, which is an 18k composition with platinum, palladium, and rhodium, resulting in an extra bright white gold hue.
That, plus the more modern baton indices give the broad-hand classic a sophisticated and contemporary remix.
Speedmaster Reduced
The Speedy Reduced may no longer be in production, but there are plenty kicking around in the secondary market. It's also easily found at a reasonable sub-3000 price point.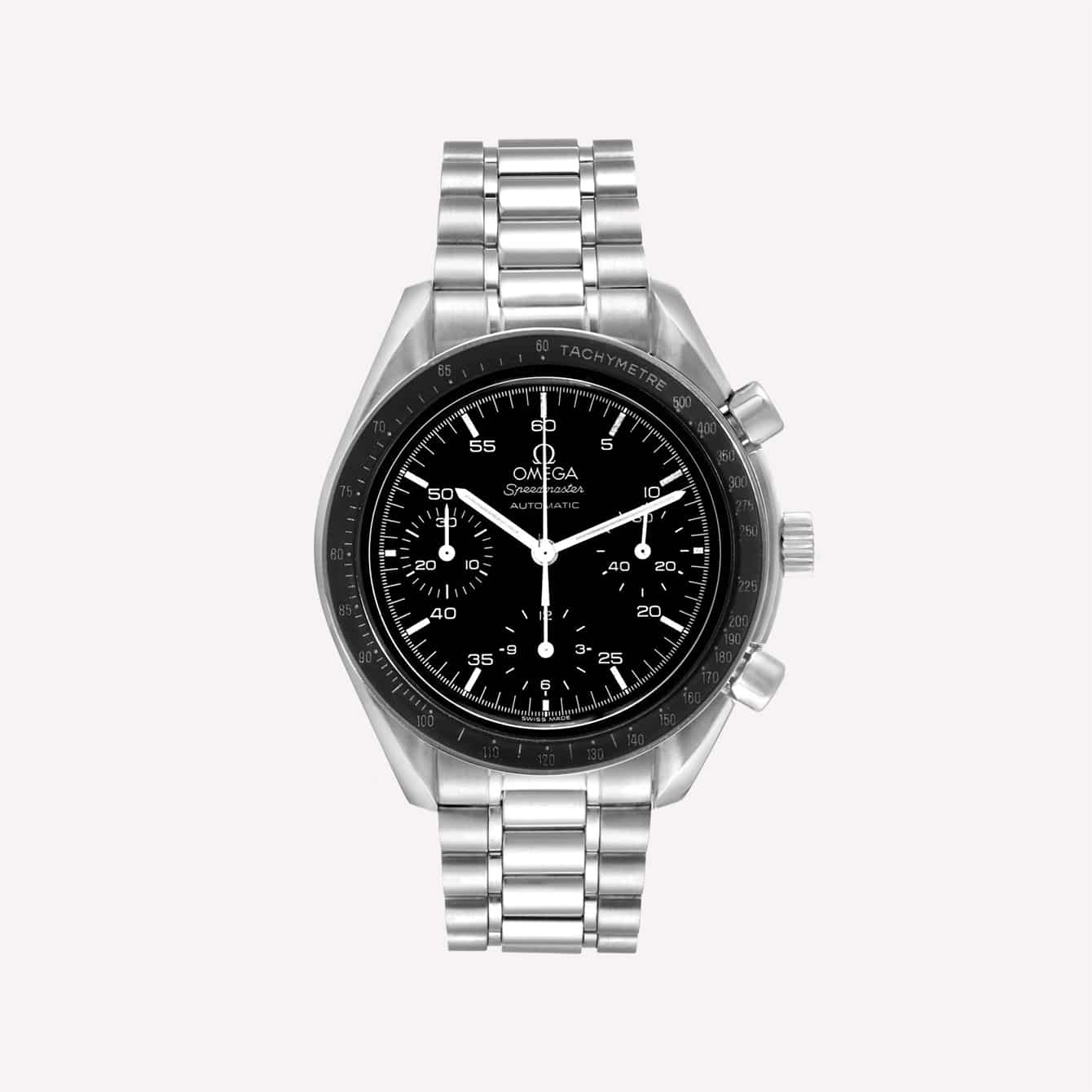 This cult classic is the 38.5mm version of the Speedy Pro, which also switched from a manual wind to an automatic. It may be smaller than its source material, but that added rotor provides a substantial and satisfying wristwear without being overly bulky.
Moreover, the dial is cleverly composed to give a feeling of space and legibility, despite the smaller dial.
There are Arabic hour markers and enough breathing room in the center with the subdials pushed closer to the edges. It's still fast and sporty looking, but not crowded.
Globemaster 39
Half of the modern Globemaster catalog may be outfitted with 41mm cases, but the rest have 39mm cases, which are well-sized but don't compromise its statement piece qualities.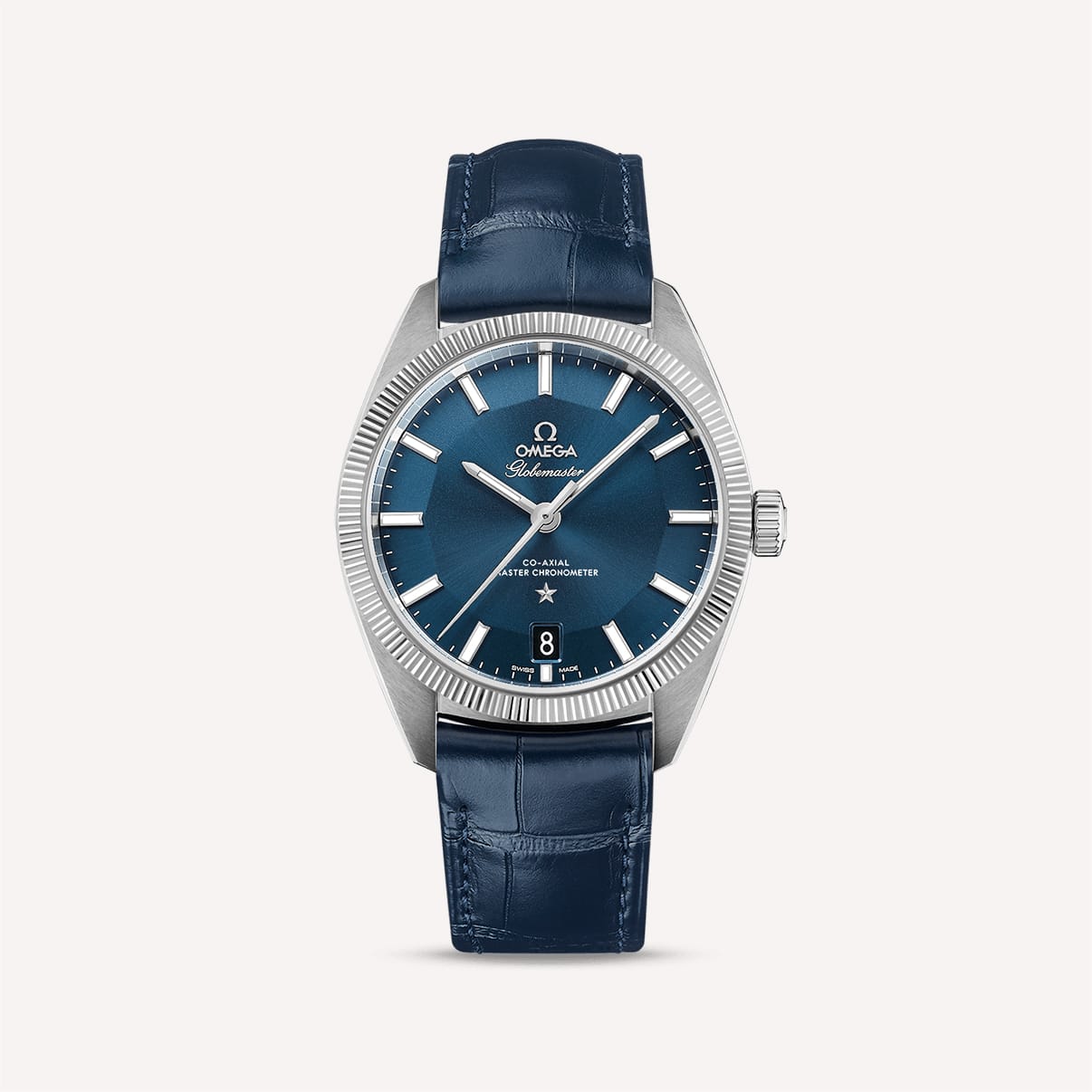 It's a bit like Omega's answer to a Day-Date, a status symbol with ornate qualities like the Art Deco-reminiscent fluted bezel and the star medallion.
That medallion, like all the elements on the silky rhodium dial, is so beautifully applied, it looks almost like it's floating.
It's also one of their heritage models, with the fluted bezel making its debut all the way back in the '30s.
And for you horology buffs, Globemasters tend to come with exhibition casebacks.
Railmaster Trilogy 1957
And finally, the third member of the 1957 Trilogy, the Railmaster stands at an adaptable 38mm, which is 2mm smaller than its contemporary counterparts.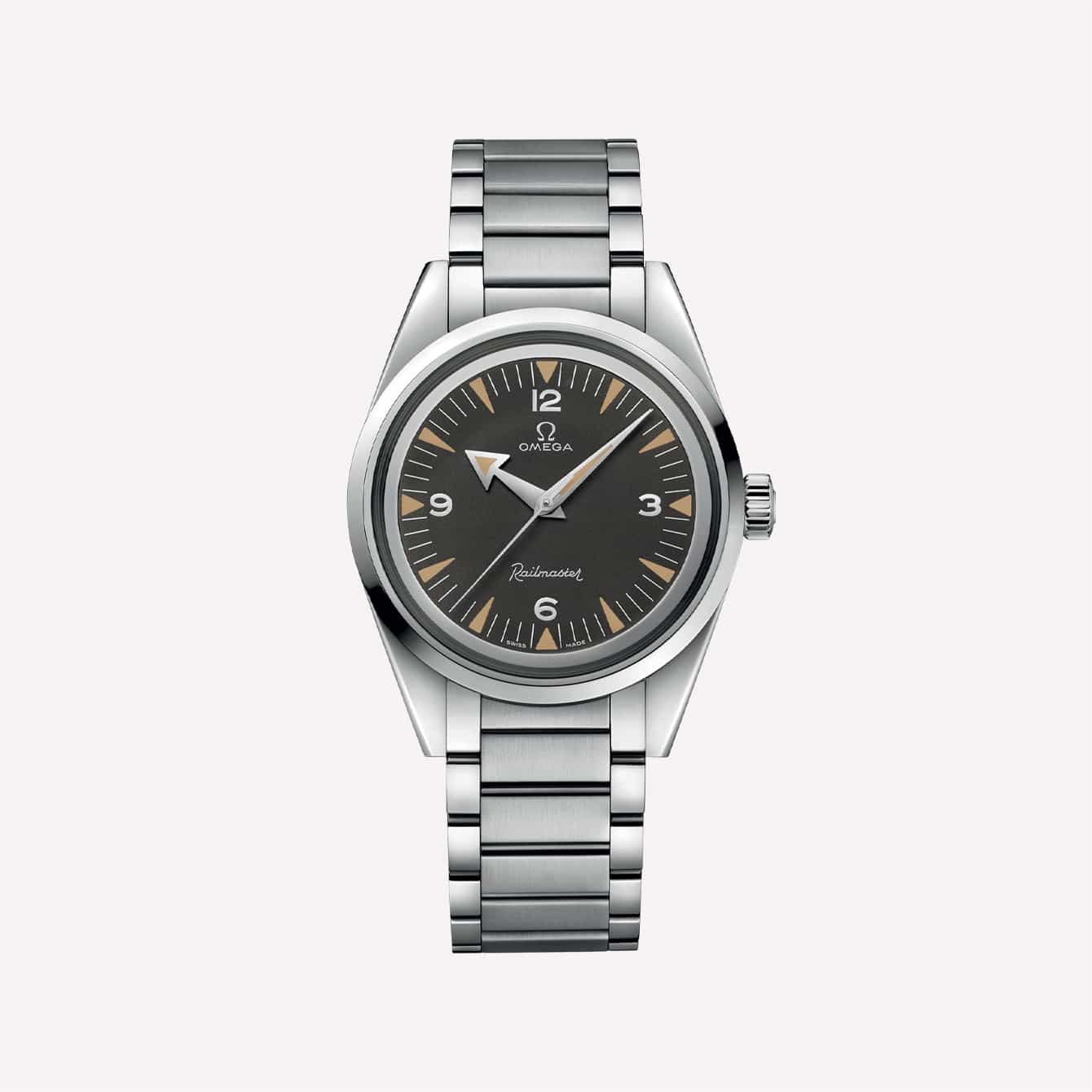 It's the simplest of the three, lacking the subdials of the Speedy and the rotating bezel of the Seamaster. I think putting the broad-arrow dial on a smaller, clean bezel makes it more versatile. You could even slap a leather strap onto this guy.
As Omega's response to the demands of an antimagnetic watch, the Railmaster has the image of being a scientist's watch, and, naturally, it sports that charming but neutral tropical-and-black color palette.
FAQs
For quick clarity, here are some at-a-glance answers to common Omega questions!
Is Omega a good brand for small wrists?
Yes, if you know where to look. The Speedy Reduced is a famous, smaller recreation of the Speedy Pro, while the Trilogy 1957 set recreates vintage sport models closer to the original sub-40 sizes.
Several subline variants go down to the 36m mark, like the Seamaster and the Constellation.
What is the thinnest Speedmaster?
Even the smaller Speedmasters aren't especially skinny, though the 3861 Calibre Speedy Pro is a reasonable 13.18mm thick, while the Speedy Reduced is 12mm.
What are the measurements of an Omega Speedmaster reduced?
The Speedy Reduced has a 38mm case, is 12mm high, and is 44mm lug to lug.
Conclusion
Despite Omega's importance, the brand remains relatively understated compared to, say, Rolex and Patek Philippe. However, this is part of their appeal.
Besides, several of their sublines definitely aren't understated, and now you now know just how many of them are good for thin wrists.
Questions? Comments? Leave them below!