In this article, we'll take a look at the pros and cons of Frederique Constant and share what we think are their best watches.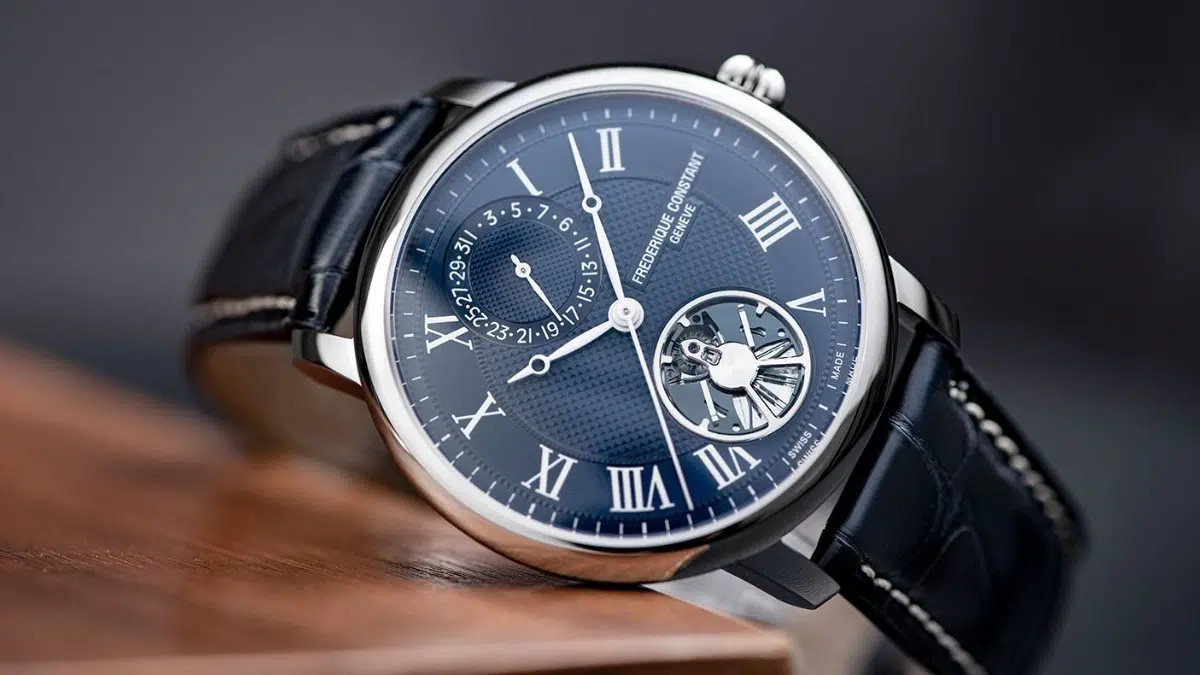 There are some powerhouse names in the Swiss watchmaking industry, and each has its own implied level of quality and design. Everyone knows brands like Rolex, Tudor, Omega, Patek, and Audemars Piguet have an understood level of craftsmanship.
But what about a smaller brand like Frederique Constant? Are Frederique Constant watches good?
That's precisely what this article will figure out. We'll go over some of the history of Frederique Constant, the pros and cons of the brand, and some of the most popular watches. By the end, you'll be able to decide if Frederique Constant watches are good.
Frederique Constant Company History
Frederique Constant is a relatively new company as far as Swiss watch manufacturers go. The company saw its beginning in 1988 when Aletta Francoise Stas-Bax and Peter Stas created the company.
As legend has it, the company name is a combination of both founder's grandfathers' first names: Frederique Schreiner and Constant Stas.
While the company might not have 150 years of watchmaking history to claim, it's certainly been busy for the last few decades. In 1992, Frederique Constant launched its first collection of six Geneva-assembled watches consisting of Swiss movements.
Two years later, it produced its first "Heart Beat" model, which featured a window on the face of the dial to allow a clear view of the pulsing balance wheel. At the time, this was quite an innovation.
Frederique Constant's focus has always been on creating affordable luxury, and many of their watches use modified ETA movements to achieve it. But, the company also designed its own high-end hand-wound movement, the FC-910 caliber, in 2004.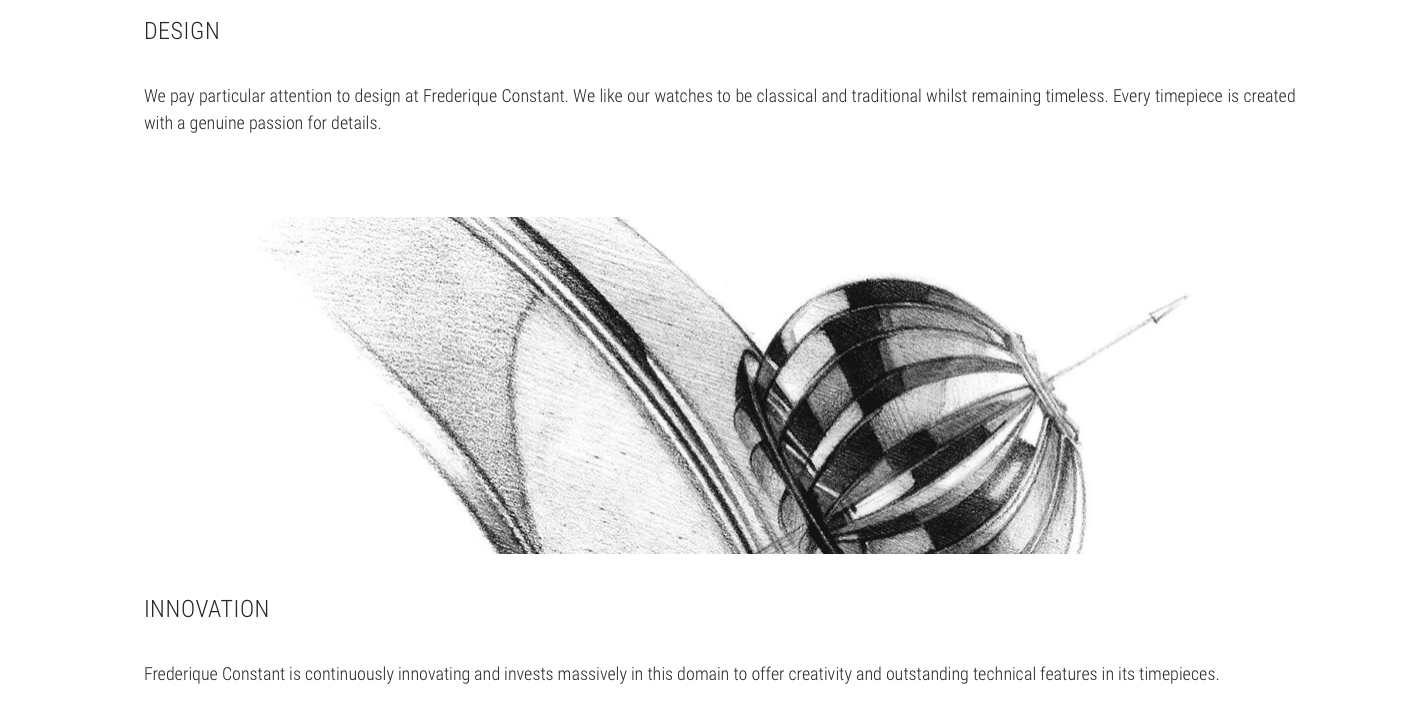 Even more impressive is the 2008 introduction of a tourbillon. In 2015, the brand introduced a hybrid smartwatch model that meshed traditional watchmaking with cutting-edge tech.
The year 2016 saw the introduction of an in-house perpetual calendar. And, most impressively, a perpetual calendar tourbillon in 2018.
It's also worth noting that when the company was just 14 years old, it acquired the much older Alpina brand name, bringing the two companies (along with Ateliers DeMonaco) under the Frederique Constant Group.
In 2016, Citizen Watch bought the group, and the brands now operate under the Citizen umbrella.
The company's headquarters are in Plan-les-Oates, Geneva, Switzerland, in a 3,200 square meter factory shared with Alpina.
Frederique Constant Collections
Frederique Constant offers watches from nine collections, each with its own theme or style.
Manufacture
The Manufacture line is Frederique Constant's entirely in-house group. These models are designed, produced, assembled, adjusted, and encased in the Frederique Constant workshop.
This line includes chronographs, moonphases, world timers, and Heart Beat models.
Highlife
Frederique Constant's Highlife line consists of watches with integrated straps or bracelets.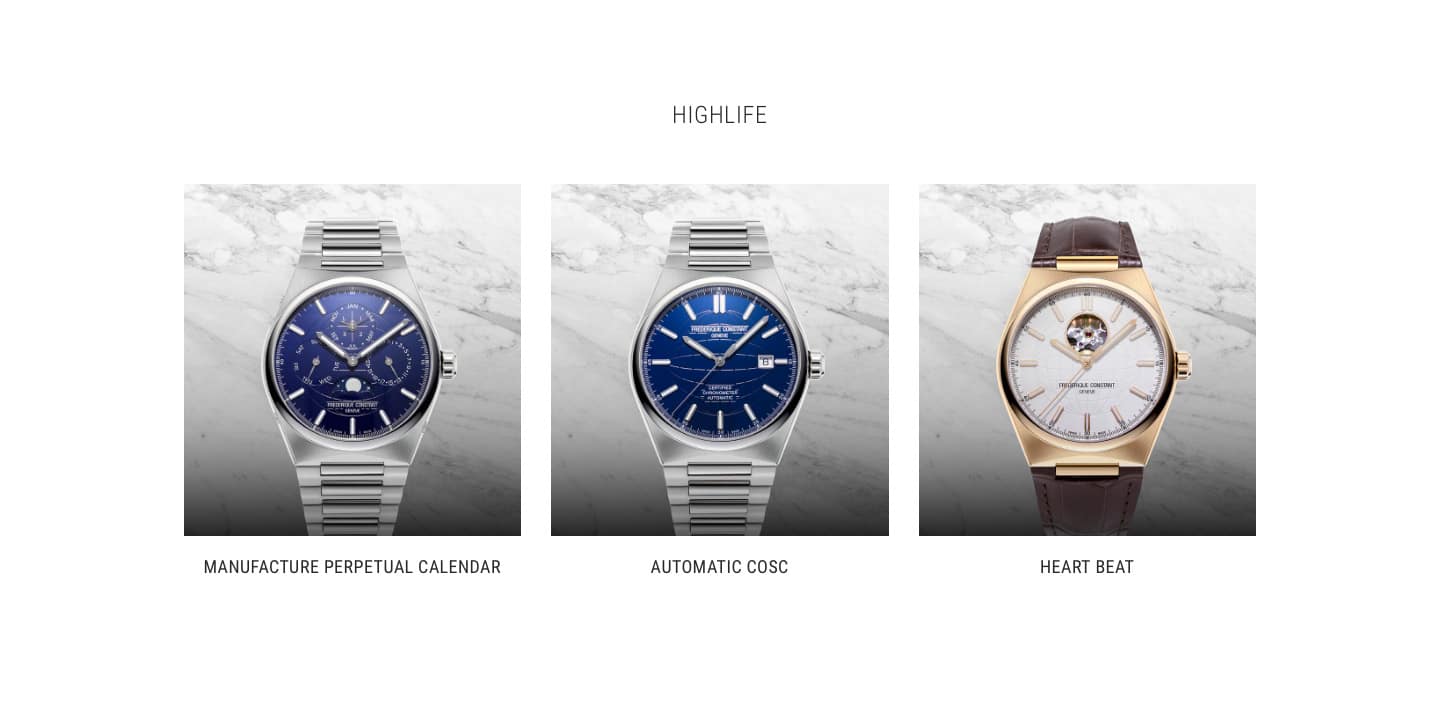 There are three models, including a perpetual calendar, a Heart Beat model, and a COSC-certified chronometer.
Ladies Automatic
The Ladies Automatic line from Frederique Constant is made up of two feminine, elegant pieces with modest proportions. The Double Heart Beat model consists of two intertwined hearts through which you can admire that balance wheel.
Smartwatch
As the name suggests, the Smartwatch consists of several variations of smartwatches. These aren't Apple watches, though. They have very traditional designs that are more at home in the office than in the gym.
Slimline
The Slimline collection focuses on creating thin, elegant watches for those that prefer a stylish watch that will fit under a shirt cuff. But, even in their slim glory, there is a Heart Beat model, a small seconds, and a ladies moonphase.
Classics
The Classics line is exactly what you might guess: timeless style and design hallmarks.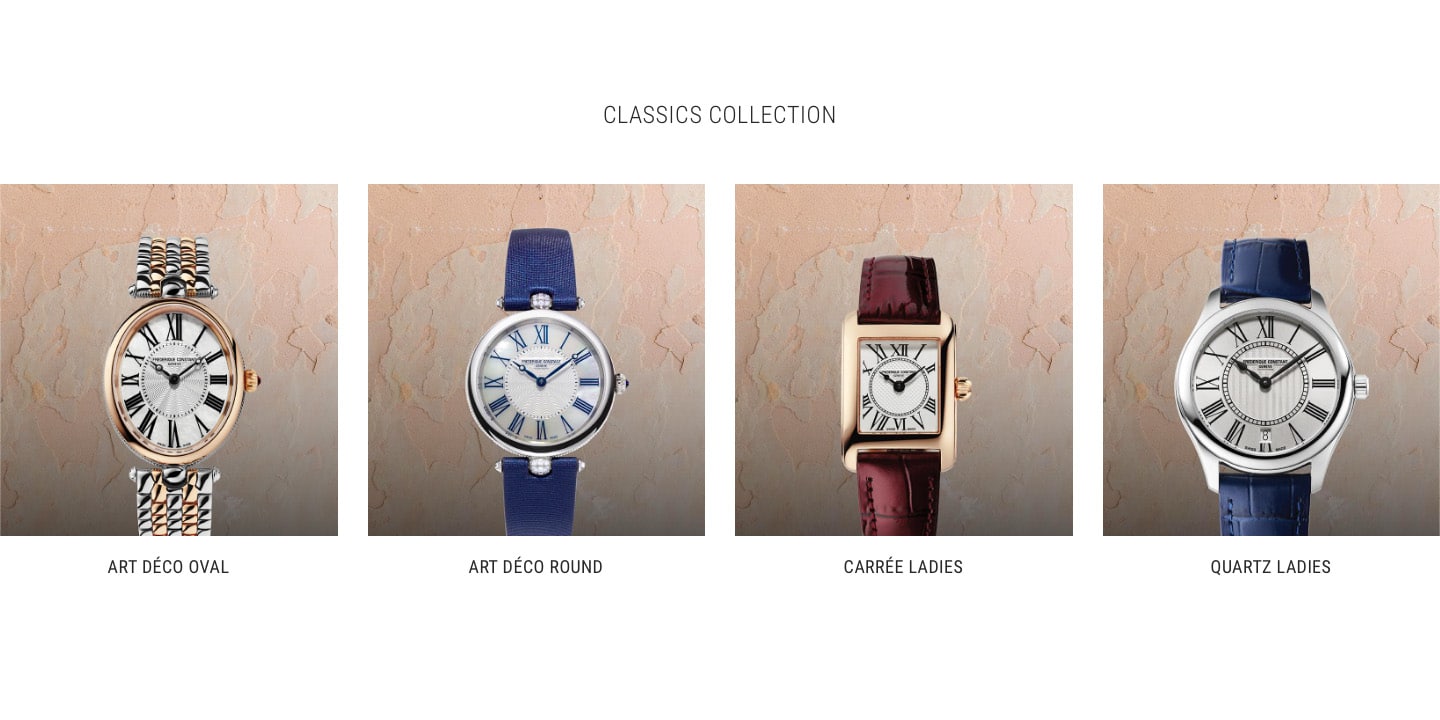 The line consists of several Heart Beats as well as some quartz-powered, more affordable models.
Vintage Rally
The Vintage Rally line consists of some automotive racing-inspired watches, including chronographs and speedometer-inspired designs. These watches are made in partnership with Healey, the British sports car manufacturer.
Runabout
The Runabout collection honors the legendary Runabout yachts of the 1920s.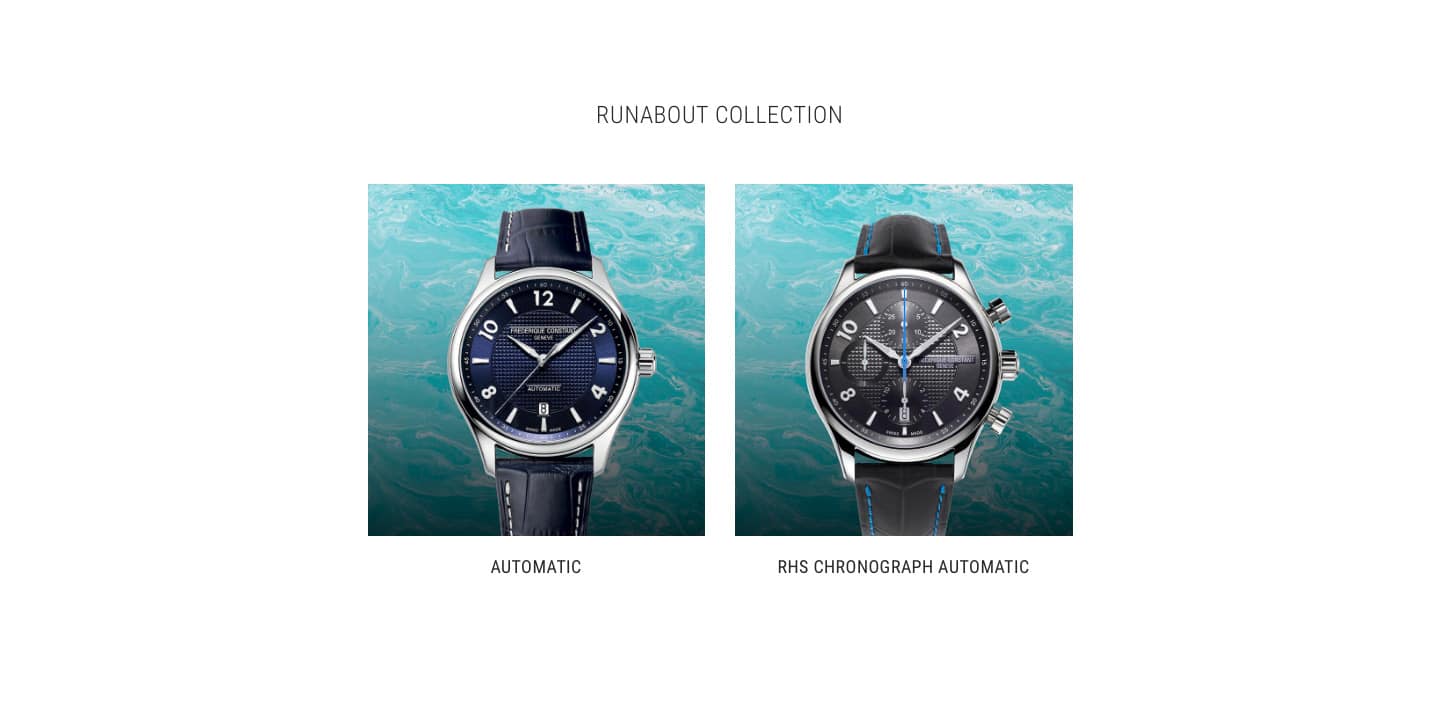 It consists of a chronograph and a nautical-inspired sports model.
Yacht Timer
If you're into yacht racing or sailing, the Yacht Timer line might be the Frederique Constant collection for you. The Yacht Time collection consists of a GMT and an interesting countdown timer.
How Good Are Frederique Constant Watches? The Pros and Cons
If you're still asking yourself, "But, are Frederique Constant watches good?", It's helpful to consider the pros and cons of the brand.
This section will take a deeper dive into why you might consider purchasing a Frederique Constant or why you should steer clear.
Pro: Price Point
Frederique Constant has a pretty good grip on the affordable luxury market. You can consider its wheelhouse the sub-$3,000 market.
Yes, there are some models that are more expensive, but the majority of its value is between $1,500 and $3,000. That price range puts it on par with other Swiss brands like Tissot and Longines.
Con: Brand Recognition
Frederique Constant doesn't have the storied history of other Swiss watchmakers, and it's far from a household name. That might not bother you if you're spending $500 on a piece, but some of Frederique Constant's offerings exceed $10,000.
With that type of purchase, most watch enthusiasts would prefer a little brand recognition.
Pro: Styling
With all of the innovation and technology that Frederique Constant has integrated into its watches, it wouldn't be a stretch to assume its watches are a bit over the top.
But, Frederique Constant has successfully resisted the urge to make big, gaudy watches and instead offers rather classy, traditional designs.
Con: Non-Swiss Ownership
If we're drilling deep, it's worth mentioning that this Swiss-made brand is no longer Swiss-owned. While the quality and design haven't suffered (some would say it's improved), it could be a drawback for some collectors.
Pro: Innovative Designs
Some Swiss brands have been accused of resting on their laurels and shirking innovation for production. With Frederique Constant's relatively fresh approach and lack of heritage, it's not afraid to try new things.
And between the Heart Beat models, the tourbillon, and the classy-looking smartwatches, that innovation has worked out.
Con: Negative Reception
Many "watch snobs" harbor negative feelings toward Frederique Constant, believing the company is trying to knock off another well-known brand with "Constant" in the name.
While the company explains its namesake, it hasn't received a warm reception on every front.
Pro and Con: Value
Some of Frederique Constant's watches offer a lot of value. Not so much the least expensive models, as you might be paying several hundred dollars for a basic quartz-powered watch.
Not that there is anything wrong with a quartz movement, but after a certain price point, they can be a bit confusing. The value is more so with the mid-range models.
Automatic chronographs, complicated movements, and high-quality materials and finishing are above the level of competitors like some Tissot and Longines watches in that price range.
The Best Frederique Constant Watches
With a better idea of the company history and its pros and cons, you might want to compare some of Frederique Constant's best watches.
These four watches are some of the best representations of the company's value in design and materials.
Frederique Constant Classic Heart Beat Automatic
Guys looking for one of the best values in the Frederique Constant catalog should consider the Classic Heart Beat Automatic. This part-casual, part-dress watch will work for most occasions, and it's a relatively affordable way to get into Swiss luxury timepieces.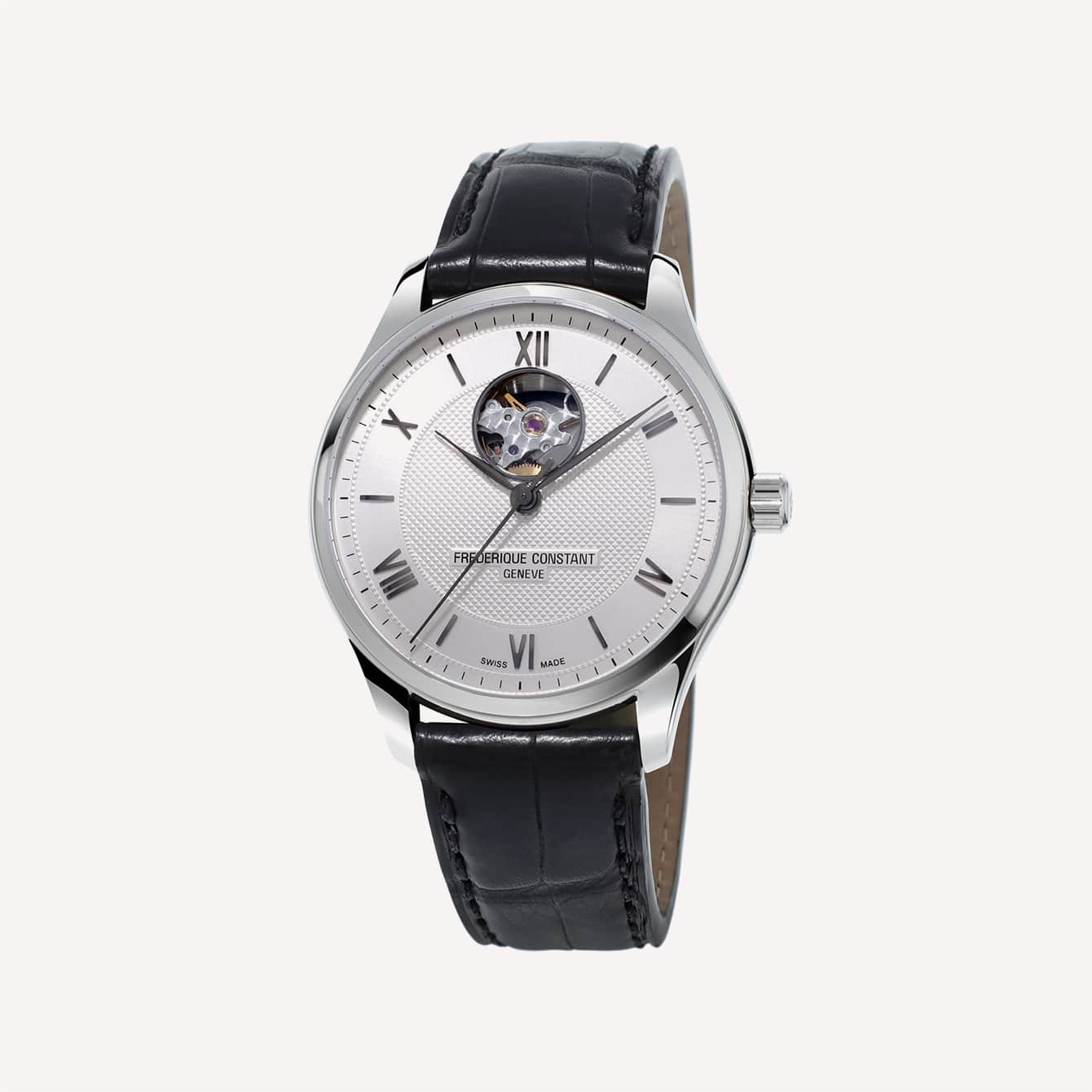 The Classic Heart Beat features modest dimensions and a classic look. The polished stainless steel case measures 40 millimeters across, and the lug-to-lug measurement of 20 millimeters.
The case measures 11 millimeters thick, so it still has some wrist presence without taking up too much real estate. This iteration features a silver textured dial and black applied Roman numeral indexes, and it comes on a black leather strap.
The convex sapphire crystal and see-through case back combine to give this piece 50 meters of water resistance. And with the Heart Beat window at 12 o'clock, there's a lot to look at.
The Heart Beat Automatic uses the FC303 automatic movement. This movement is an improved Sellita SW200-1, so it's reliable and affordable to service.
Frederique Constant Healey Chronograph Automatic
If you're a fan of Swiss watches, British roadsters, and affordable luxury, The Healey Chronograph Automatic watch is probably the perfect fit. It's sporty and stylish, with plenty of racing-inspired touches.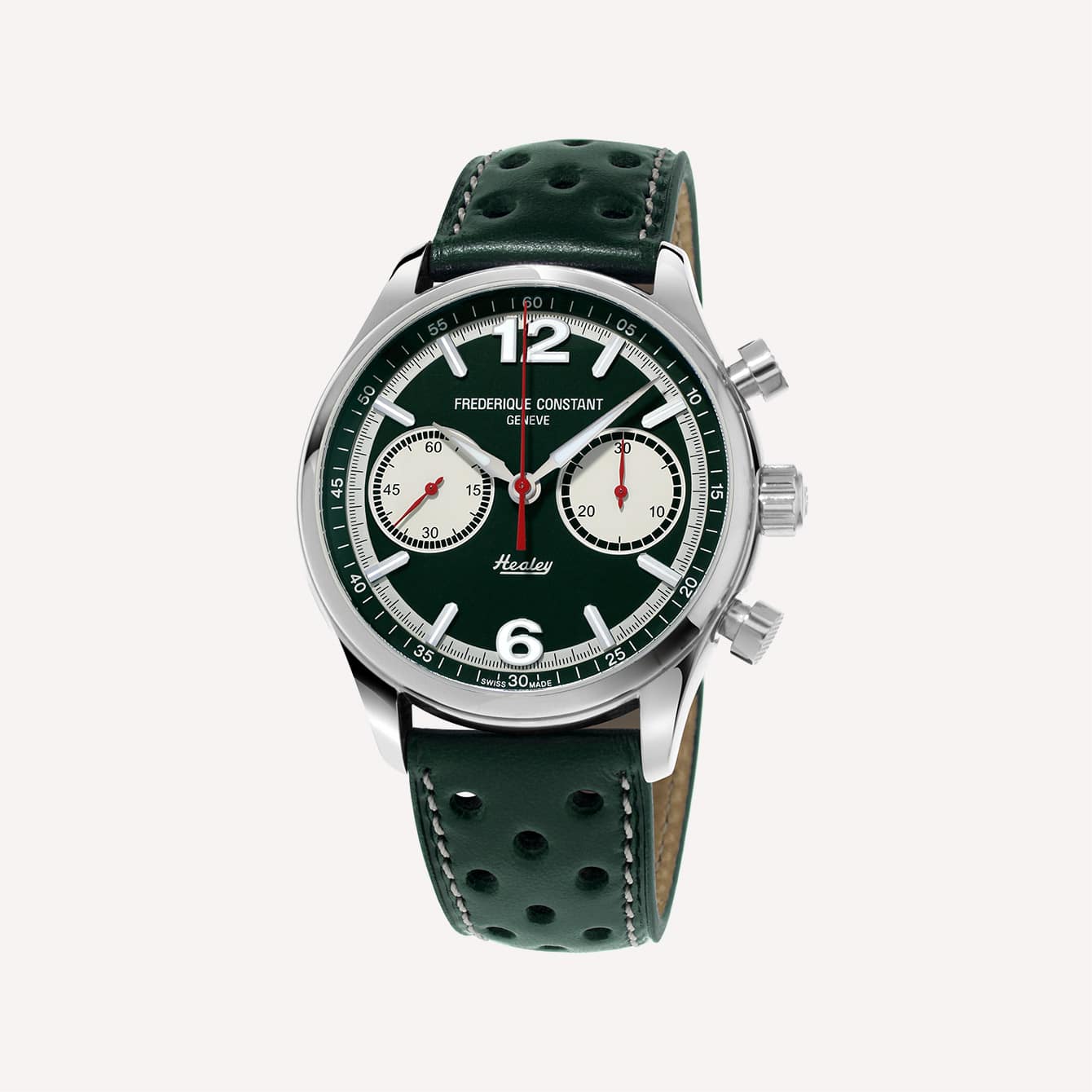 The Healey Chronograph is handsome, but it's not a small watch. The stainless steel case measures 42 millimeters across, but the lug-to-lug is only 20 millimeters, making the case look even larger than it might on a 22-millimeter strap.
Also, considering there are pushers at 2 and 4 o'clock, this piece has a lot of presence on the wrist.
The Healey Chronograph features a British Racing Green color scheme, with white subdials at the 3 and 9 o'clock positions, giving it a reverse-green-panda look. It also comes on a green leather rally strap.
The indexes and hands are silver, with lume on the minute and hour hands while the seconds and sub-dials feature a red finish.
The convex sapphire crystal dial and see-through case back give it a water-resistance rating of 50 meters. Also, the Healey Chronograph features the FC397 automatic movement.
Frederique Constant Classic Moonphase Manufacture
For the entire Swiss experience, the Classic Moonphase Manufacture is the way to go. Frederique Constant makes this entire watch in-house, including the movement. And with its rose gold plated case, it's sure to catch some looks.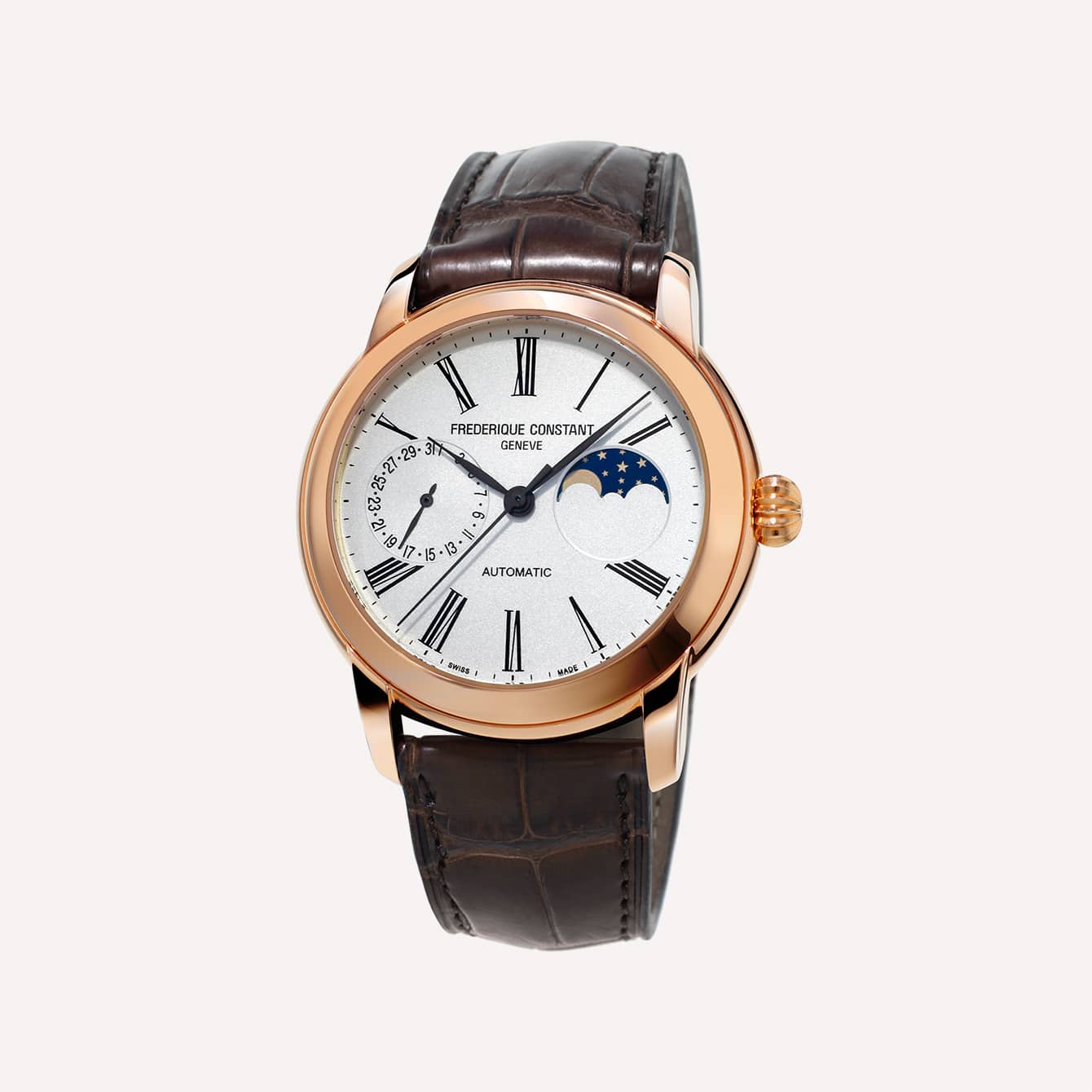 The Classic Moonphase is a bit large for a dress watch, making it a better fit for a casual watch at 42 millimeters across the rose gold stainless steel case.
The convex sapphire crystal and see-through case back combine to give this moonphase 50 meters of water resistance. And strapping it to your wrist comes via a brown leather strap.
The silver dial features black printed roman numeral indexes and hand-polished hands. The star of the show, the moonphase complication, sits at the 3 o'clock position while a date counter lives at 9 o'clock.
These complications come courtesy of the in-house FC-712 automatic movement.
Frederique Constant Classic Worldtimer Manufacture
Whether you're a world traveler or just an appreciator of Swiss in-house watches, Frederique Constant's Classic Worldtimer Manufacture is worth checking out.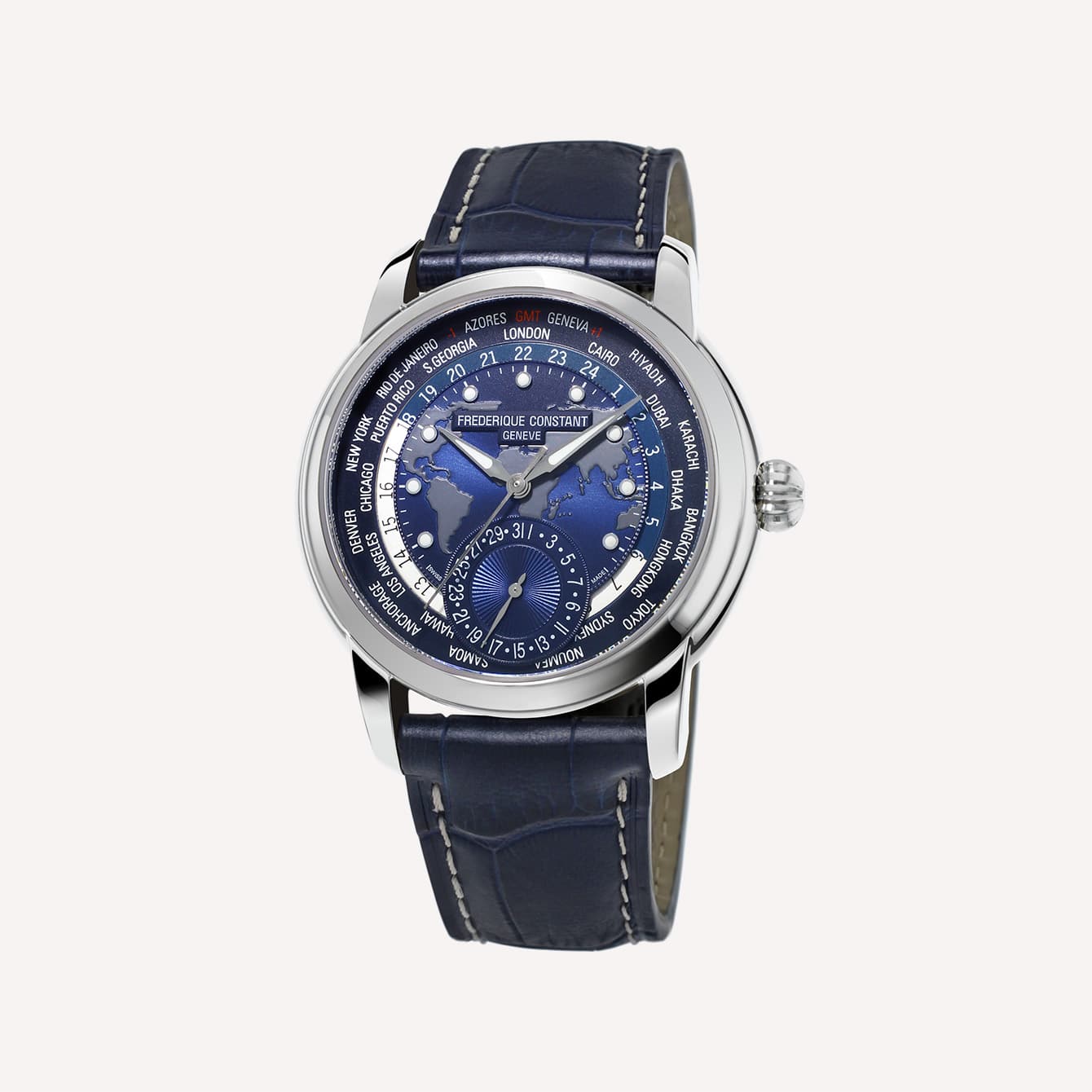 Frederique Constant's Worldtimer watches are actually quite popular, and it's easy to see why.
Like most of Frederique Constant's complicated watches, this one's case measures 42 millimeters across. It's also 12 millimeters thick, giving it some heft on the wrist.
For that 12 millimeters, you get a convex sapphire crystal and 50 meters of water resistance. The leather crocodile-style strap adds a bit of class.
The Worldtimer dial is busy but really handsome. This version has a navy blue dial with white applied markers. There's a three-dimensional world map in the center of the dial and a date counter at the 6 o'clock position.
Unlike other world timers that might require additional pushers, all of the adjustments come via the crown. There's a 24-hour day-night inner ring that rotates, passing underneath the date counter for an added detail and touch of style.
Final Thoughts
So, are Frederique Constant watches good? Overall, I'd say yes. The company's innovation and designs are fresh and exciting, and the models in the $1,000 to $3,000 range offer a lot of value.
Even some of the more expensive models, like the Worldtimer, provide more detail than some of the competitors in a similar price point.
Those are all reasons why Frederique Constant pieces are good watches, but are they all worth it? Probably not.
The quartz-powered models might be overpriced, and the $10,000 to $20,000 models might not offer the value or brand recognition one might expect. It's really about finding the sweet spot.
That sweet spot is likely the $1,000 to $3,000 range, with some $4,000 models making a pretty good case for themselves.
Within that range, some of the models Frederique Constant offers punch way above their weight class and outperform their competition based on value and quality.