TRIWA is a fashion watch brand, but are their watches worth it? This article aims to answer that question.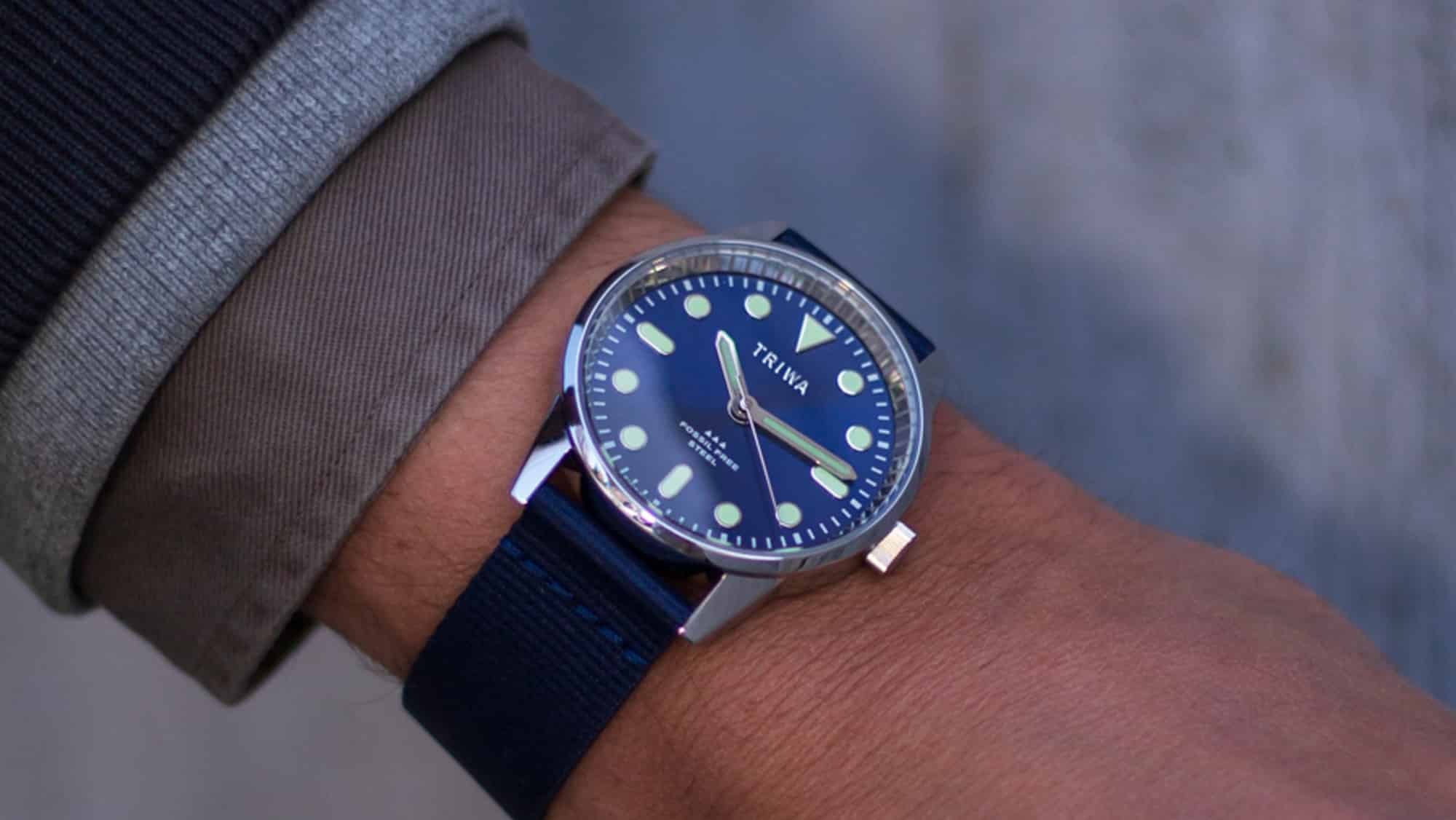 If you're up to date with current watch affairs, you'll already be aware of a recent shift in focus toward sustainable watchmaking.
Many well-known brands have been pledging their promise to look after the environment and raise awareness of important topics like climate change, pollution, conservation, and plastic waste.
Take for example, Maurice Lacroix's recent Aikon #tide watch crafted from upcycled ocean plastic and the Luminox Bear Grylls Survival Sea ECO Series watch, created from eco-friendly materials.
Not forgetting, of course, Omega's Planet Conservation Projects and its mission to minimize the ecological impact of its business practices. Companies making watches on a smaller scale are also doing their bit, such as TRIWA.
The Swedish company has some appealing qualities to offer those who enjoy the look of a minimalist watch with a Scandi edge, but the question remains — are TRIWA watches any good?
In this article, I'll answer that question, along with some other questions you may be wanting answers to.
About TRIWA
TRIWA was actually founded when four friends came together in 2007, looking to take the watch industry by storm.
They didn't quite do that, but they did bring some interesting concepts to the table like unusual materials and a focus on its carbon footprint.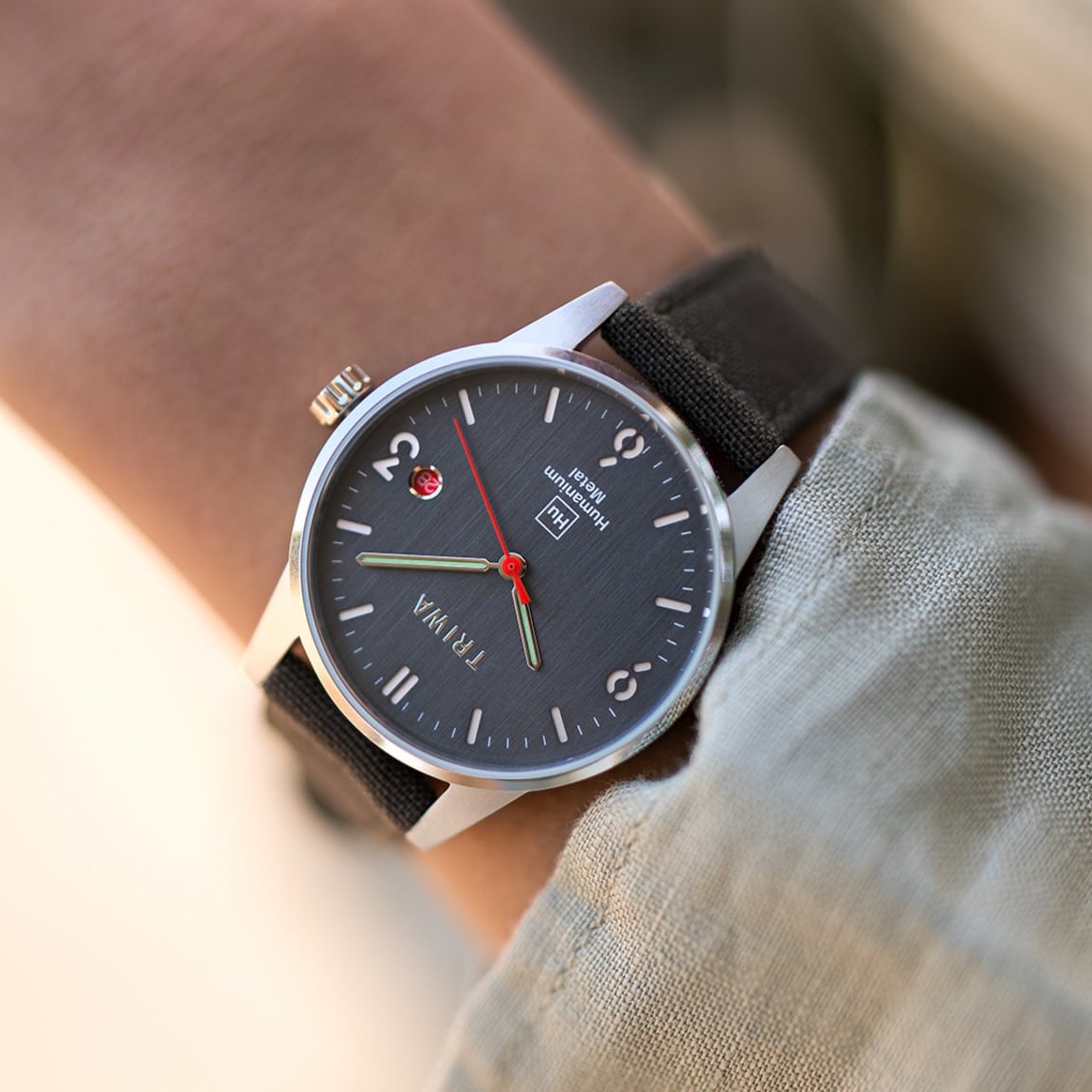 TRIWA tacked carbon reduction by assessing its use of materials, packaging, and transport.
To what extent these calculations have been carried out, we don't entirely know, but the company stands by this approach, believing that it assists the company in remaining environmentally focused and keeping its promise of sustainable watchmaking in check.
Resulting from this vision, TRIWA has released collections that use recycled ocean waste and plastic, as well as fossil-free steel.
Besides reducing carbon emissions, there is a watch collection in TRIWA's catalogue that uses melted-down metal taken from illegal firearms for its cases. TRIWA believes this concept is unique and valuable in making a positive change.
Some proceeds of the watches sold under this category go towards supporting families affected by gun violence in a bid to reduce conflict.
So, as a round-up, TRWIA produces watches for men and women and has recently explored the realms of fashion accessories and jewelry items.
Most of the collections designed by TRIWA are limited and offer timepieces that are clean, minimalist, and functional.
Popular TRIWA Watches
Although TRIWA was founded back in 2007, you could say that the brand appeared on the map when it released a watch off the back of the stock market crash in 2008.
Capturing the attention of watch enthusiasts, it displayed the words "recession-proof" on its dial where one would normally expect the words "waterproof".
In addition, it featured a second hand made into the shape of a falling stock index. Having hit the radars of fashion watch collectors in magazines, it became known as the "recession-proof version of the Rolex" — a bold nickname that gained the brand some significant and much-needed publicity.
Let's look at some key models produced by TRIWA and whether they hold up against other fashion watch companies.
Time for Oceans
Within the Time For Oceans watch collection by TRIWA are two key categories; the Ocean Plastic range and the SUB Ocean Plastic range.
Both sub-collections feature watches that incorporate recycled ocean waste and plastic but they offer different features in terms of functionality.
There are several bright colors to appreciate in the Ocean Plastic collection. The dials of these watches are inspired by the ocean and this can be seen on their surfaces with a wave-like pattern.
These watches serve as a reminder of the detrimental effects of plastic waste on the oceans and encourage the concept of recycling by purchasing a watch from this range.
The watches from the Ocean Plastic collection are powered by Miyota movements and measure a diameter of 37mm.
They also offer a 100-meter water resistance — a pretty standard water-resistant rating for a watch of this price category, but one that is more than enough for general day-to-day wear.
They also come fitted on an ocean plastic nylon strap in various colors that add a bold finish to these designs.
With the Ocean Plastic watch category, you can find models like the Ocean Plastic Octopus with a pretty attractive 1970s-inspired dial and a black ocean plastic case.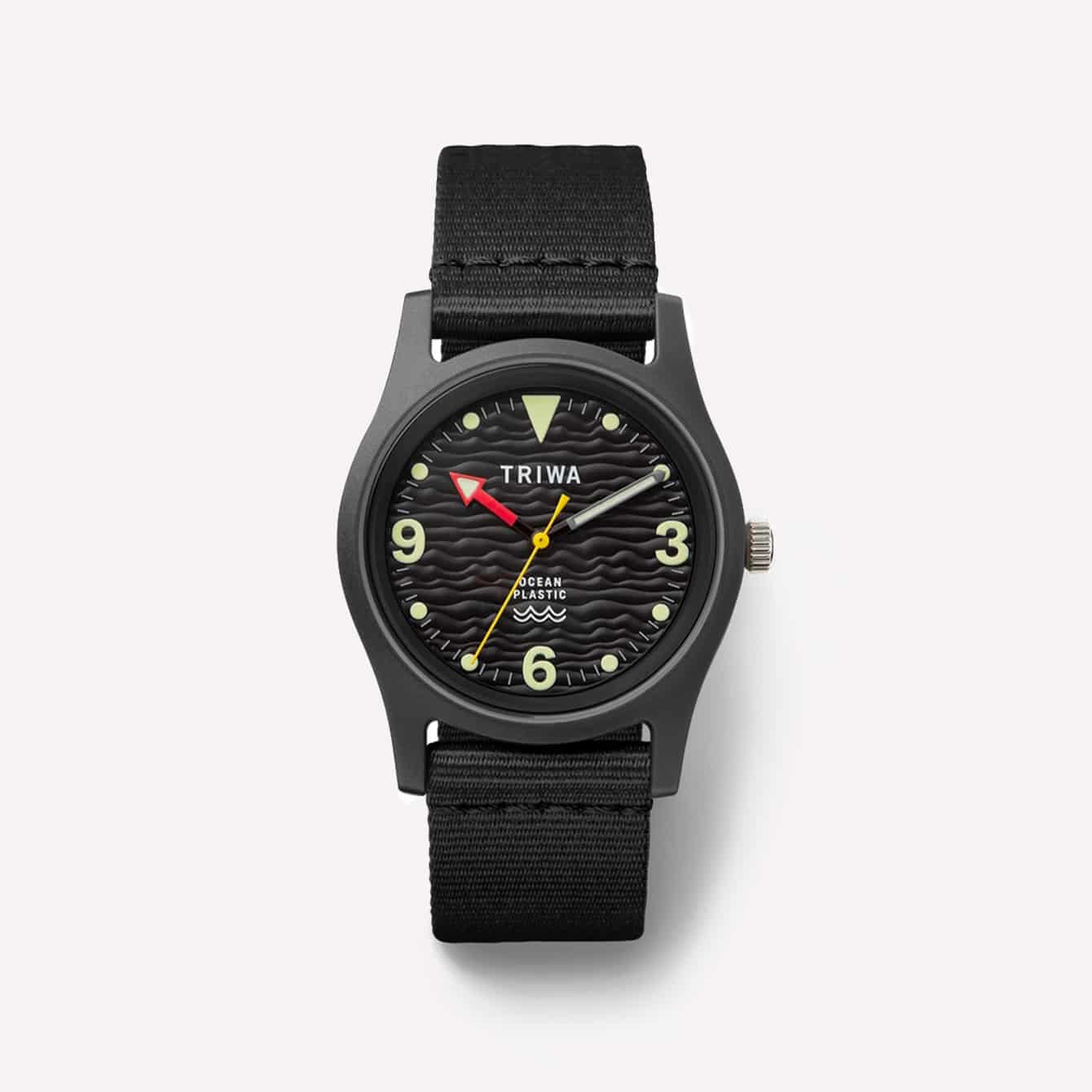 Topped with a mineral glass front, the watch features a black dial with cream-filled chronograph counters at 3 and 9 o'clock accompanying bright orange arrow-tipped hands.
Similar in design is the Ocean Plastic Timer Deep Blue watch with an aqua color used for its bi-compax chronograph scales and vivid orange hands that are set against a deep blue backdrop.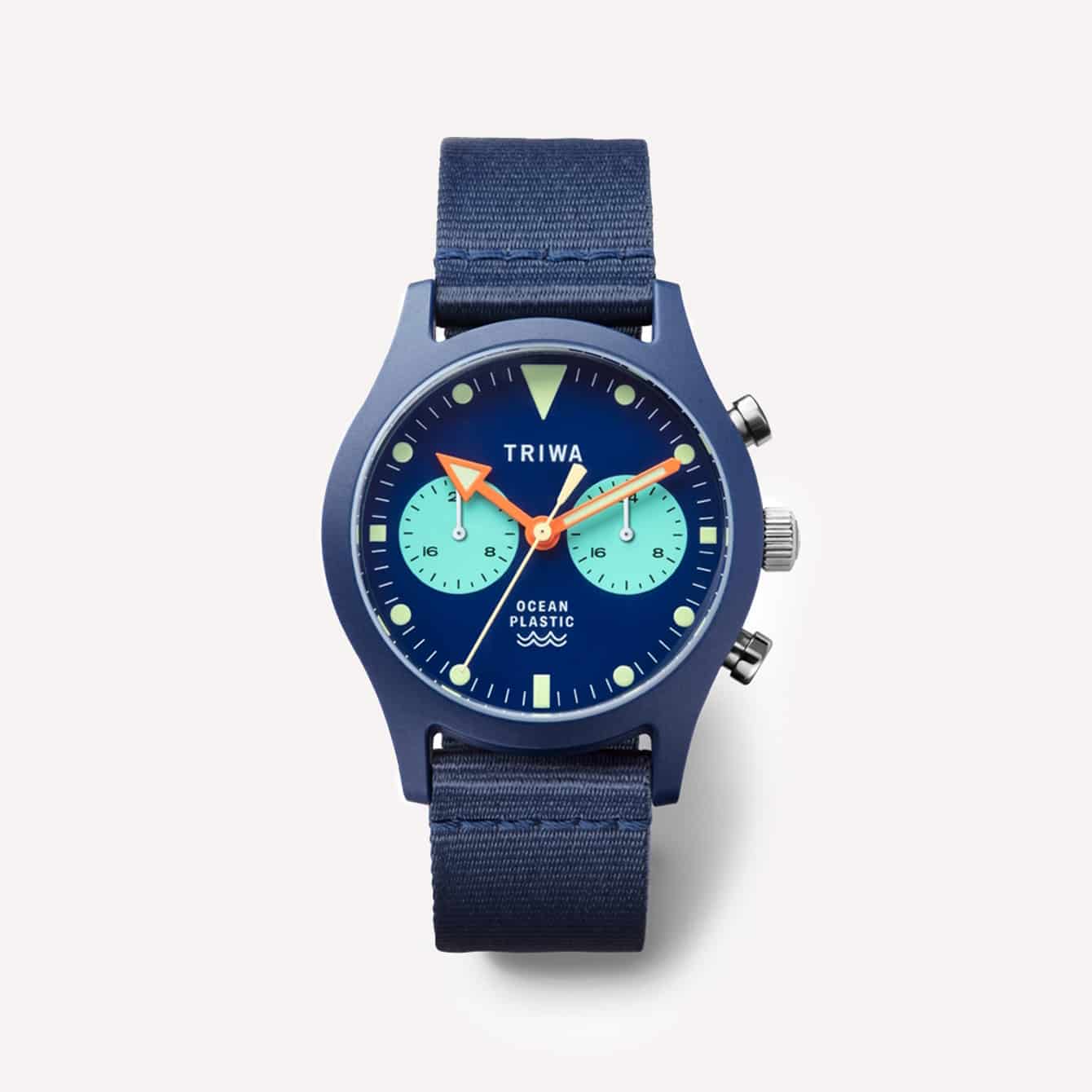 One of TRIWA's bestselling models from this collection, however, is the Ocean Plastic Sea Shepherd watch. It's an exclusive watch developed in partnership with Sea Shepherd and its mission towards ocean conservation.
As a nice touch, it features the Sea Shepherd logo on the dial and caseback, along with a woven strap made from ocean plastic.
The SUB Ocean Plastic collection is where you will find models like the Orca model with a simplified retro dial.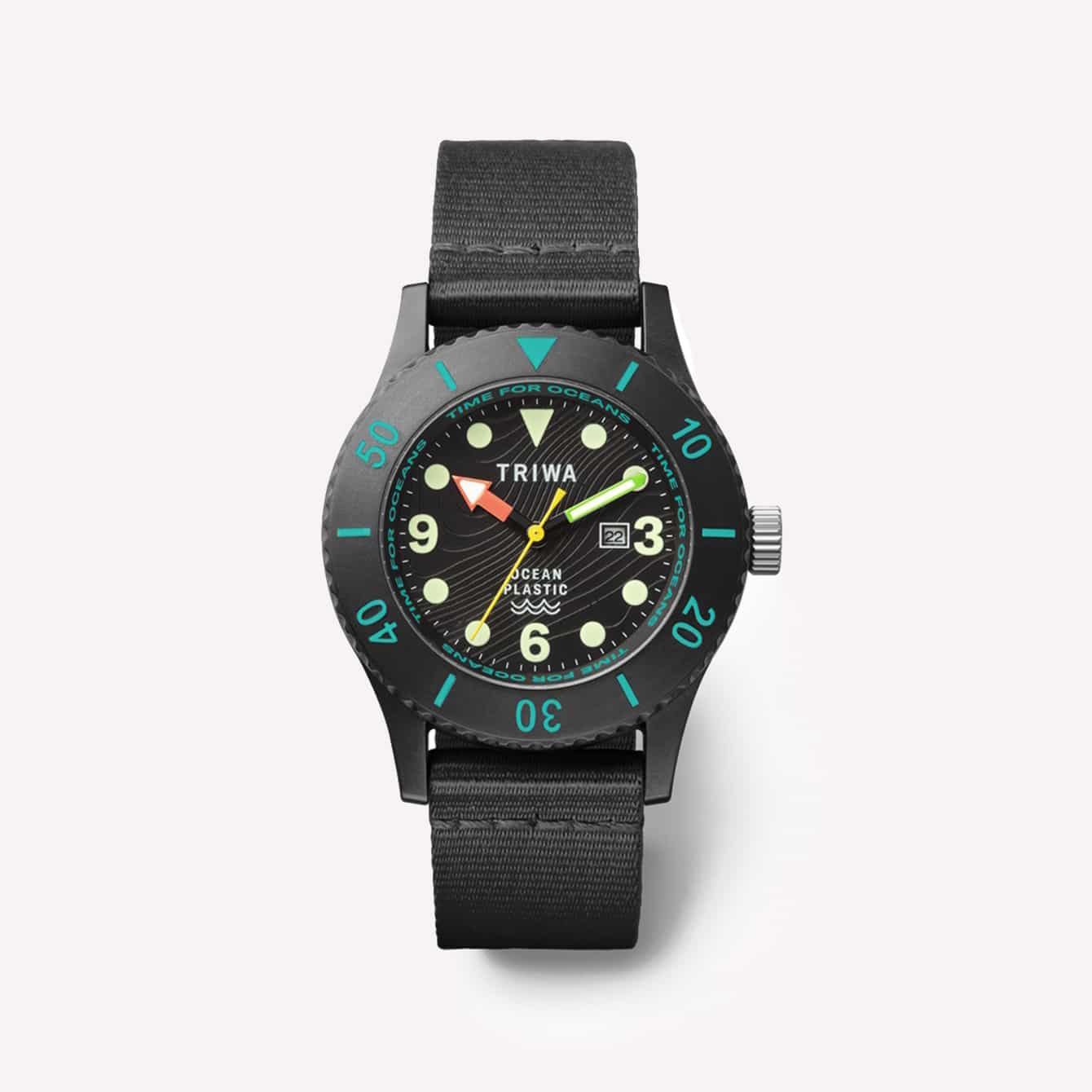 The watch has a black wave-like dial pattern, is powered by quartz movement, and features vibrant blue accents on its 60-minute bezel. It also features vibrant red and green hour and minute hands.
A bestseller from TRIWA's SUB Ocean Plastic range is the Nemo model, in a striking orange outfit. This includes its bright orange bezel and ocean plastic nylon strap.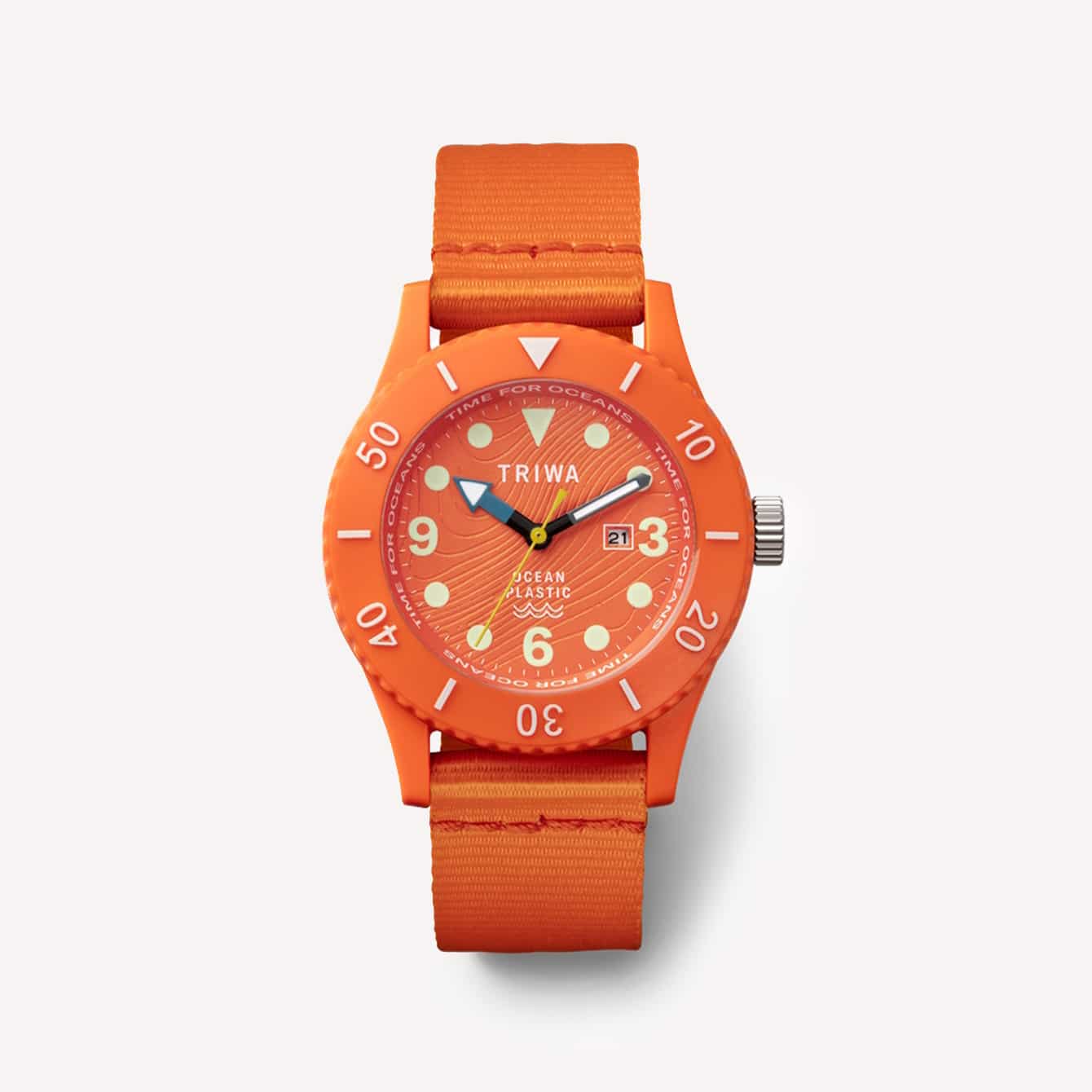 The watch is equipped with a date window at 3 o'clock and a mineral glass top.
Time for Peace
The Time for Peace watch collection by TRIWA plays a part in advocating for peace and ending armed conflicts.
By manufacturing watches that are made out of metal sourced from melted firearms, these watches not only echo the brand's focus on recycled materials but shine a light on a very worthy cause.
TRIWA works in partnership with IM for these watches — a Swedish organization that tackles economic and social exclusion. In fact, 15% of all sales of TRIWA's Time for Peace watches go to families affected by armed conflicts.
In that same vein, the company claims that it plays a role in not only repurposing illegal firearms but rehabilitating victims of gun violence too. Pretty neat.
TRIWA's Humanium watches from this collection are infused with many subtle references to the cause.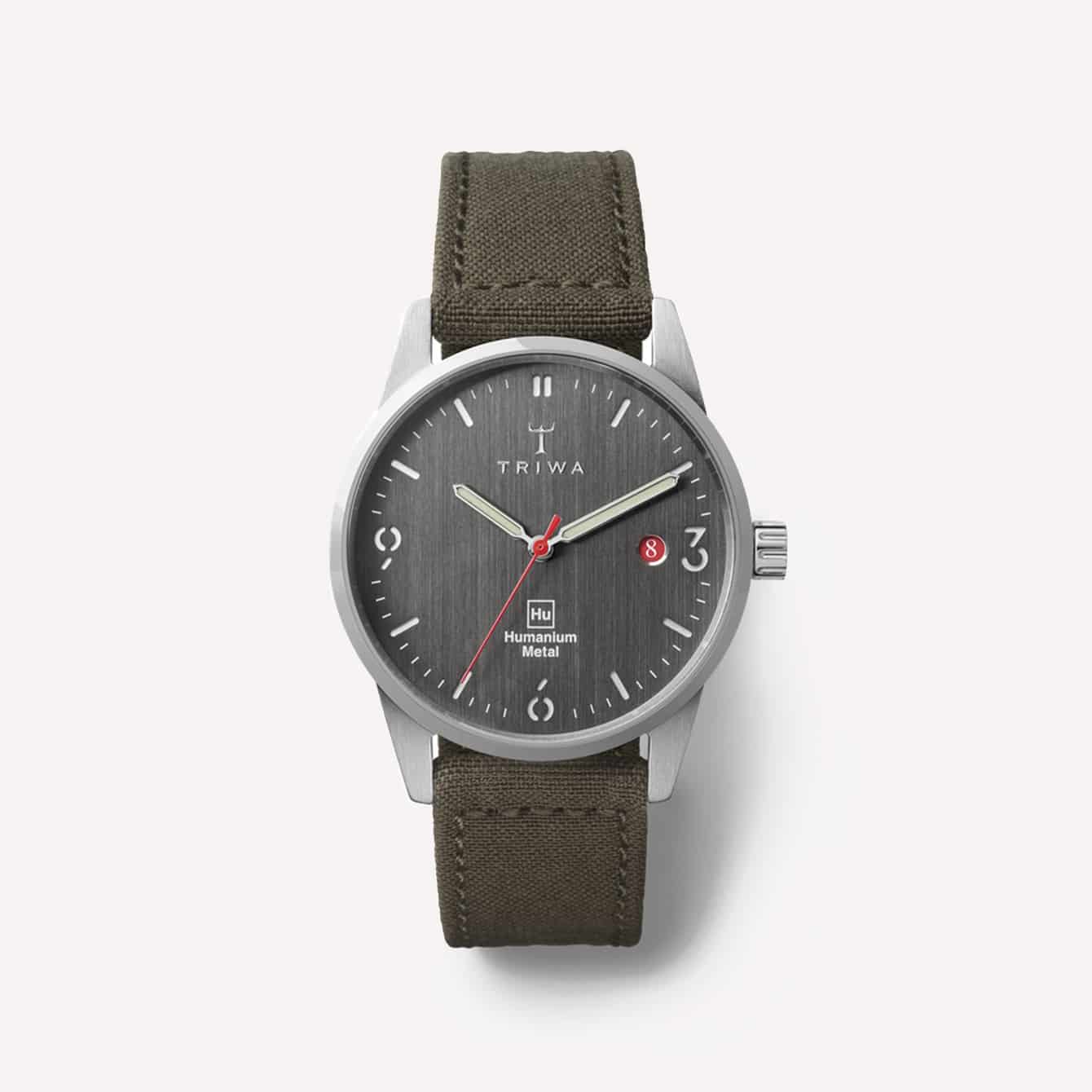 Aside from the destructed metal firearm material used to build its case, the watch features blood-red dial accents like the central second hand and date window at 3 o'clock.
While the watches from this collection convey a very important message, they are also simple and minimalist, adhering to the brand's signature look.
Aside from the Time for Peace Collection and the diving-inspired Ocean Plastic collection TRIWA also offers plenty of men's and women's watches that look classic and elegant.
Take, for example, the Falcon collection — a series that will appeal to those in need of a classic dress watch.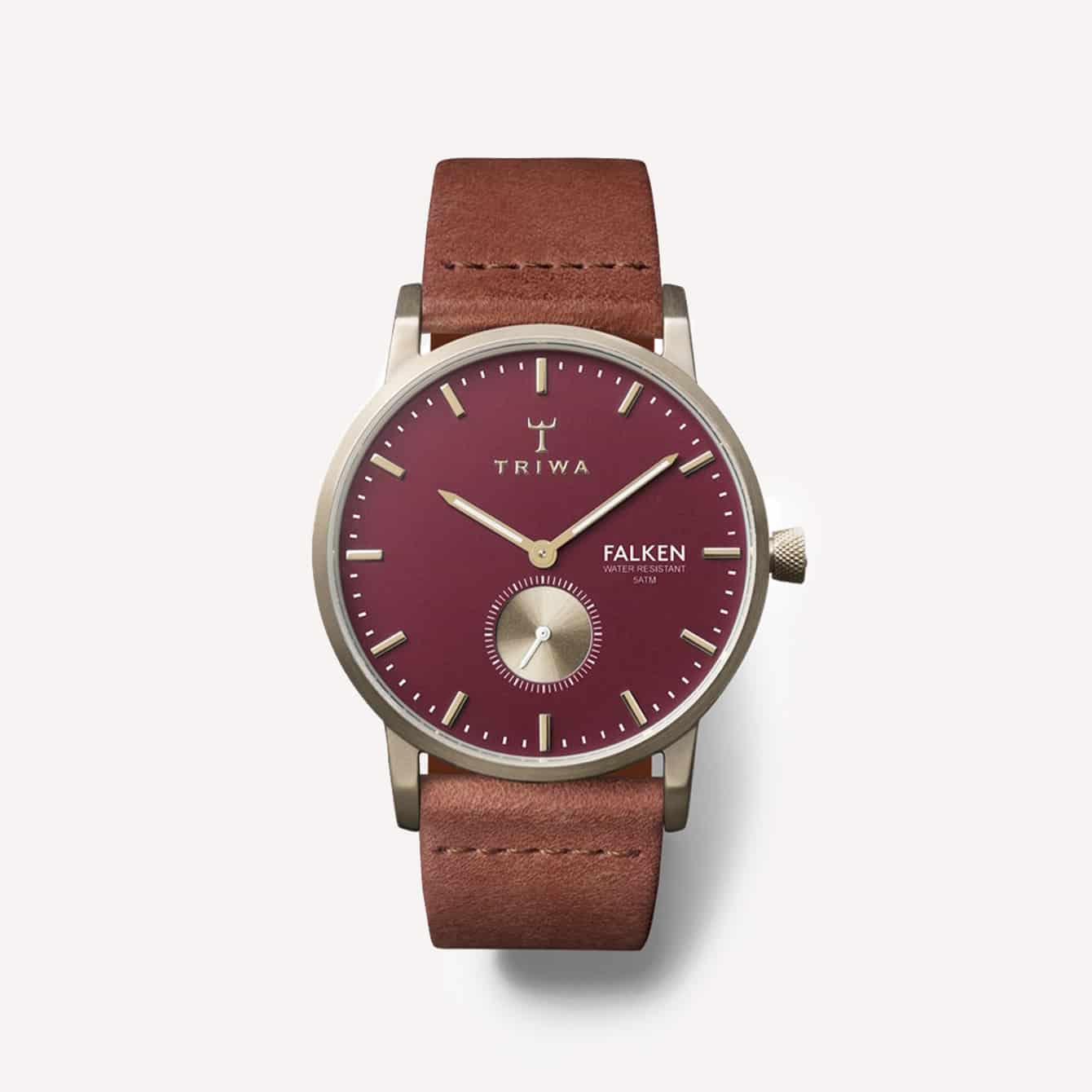 The designs from this range feature two-handed dial designs with a small second sub-scale at 6 o'clock and a traditional leather band.
Even sportier is the company's Nevil watch which has a steel construction with piston-style pushers at 2 and 4 o'clock for operating the chronograph features.
Frequently Asked Questions
Here are what people on the web are asking about this interesting brand:
Where are TRIWA watches made?
TRIWA is a Scandinavian company whose watches are developed in a design studio in Stockholm. The company is said to use the architecture and landscapes surrounding it as a source of innovation for its wristwatches.
Who owns TRIWA?
TRIWA is owned by its four co-founders. Harold Wachtmeister is a co-founder and also CEO of the company, while three other co-founders — Didrik Wachtmeister, Lludvig Scheja, and Tobias Ericsson — all drive the creative direction of the brand forward.
What does TRIWA stand for?
The name of the brand, TRIWA is an acronym for the company's vision shared between all four of its co-founders. TRIWA stands for "To Revolutionise The Industry of Watches".
The Takeaway
Although there is no denying that TRIWA watches belong in the fashion watch category, the company is leaps and bounds ahead of brands like MVMT and Daniel Wellington.
TRIWA chooses unusual materials that make a stand for important environmental factors and issues surrounding firearms, violence, and conflict.
This means that consumers buying watches within this affordable bracket can feel like they are making a change for the better when they purchase a TRIWA watch.
Many models from the brand's catalog are talking points with interesting backstories to share with fellow watch enthusiasts, yet they also exude a rather contemporary and simplistic aesthetic that will pair well with formal, casual, or elegant attire.
Suffice it to say, TRIWA watches are far from boring. If you're looking for an affordable watch with some quirky features to talk about with your friends, TRIWA is certainly worth some consideration.
Questions? Comments? Leave them below!