If you're looking for a watch that stands out, here are 15 red dial options to consider.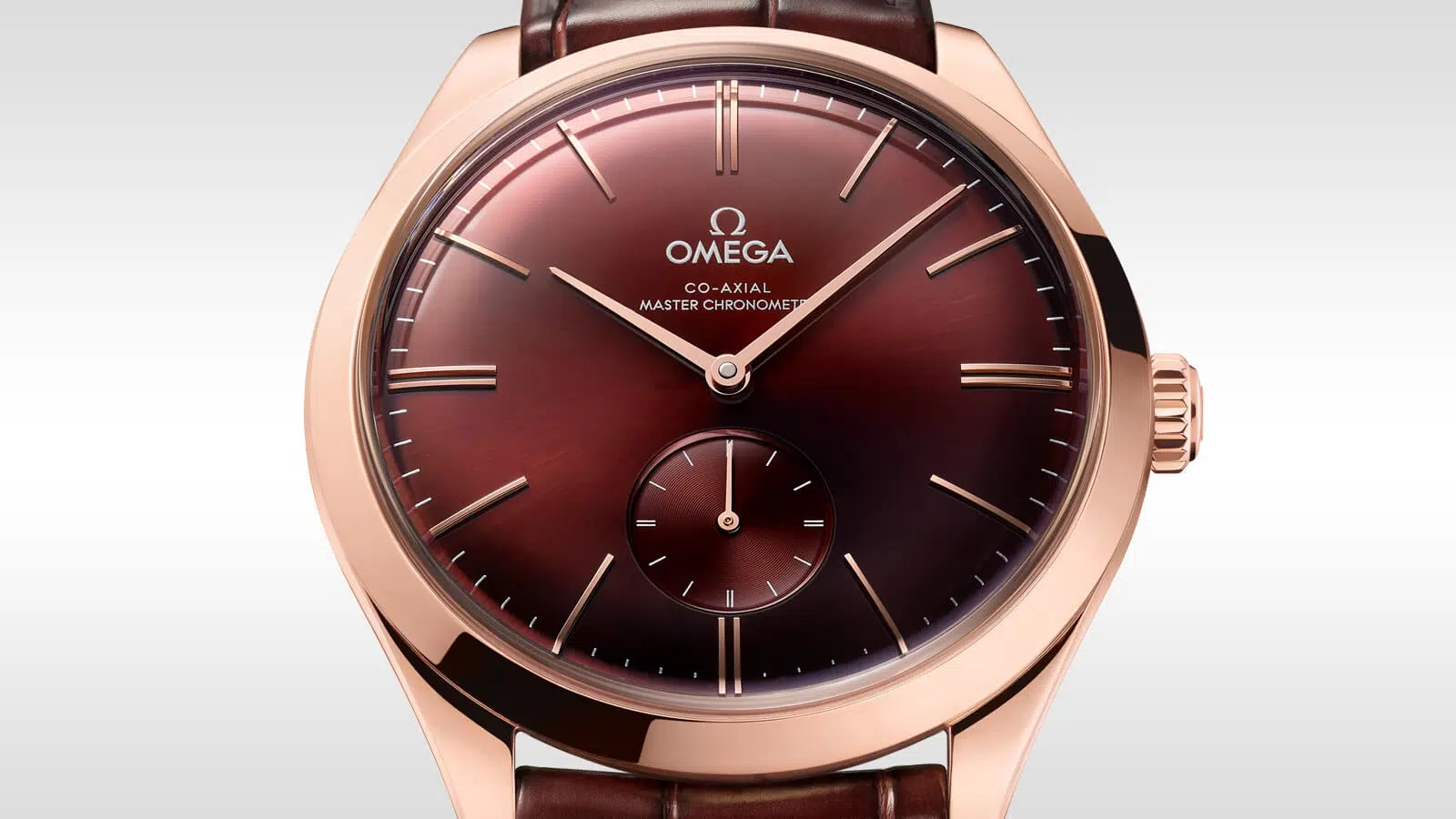 When it comes to fashion, red is one the most striking colors you can wear. Still, it catches people's eye in a way that isn't too far left of the field. It's not a neutral color by any means, but it's not as unconventional as, say, neon shades or lime green.
In fact, some even recommend wearing a red tie to job interviews, so you're more memorable. Plus, it comes in so many shades, each with a different vibe. Burgundy is more sophisticated, while primary red has a youthful energy.
15 Red Dial Watches
Check out today's round-up of 15 red dial watches. We've got everything from dress to tool, all at 40mm and under!
Seiko Presage SRPE41
Thanks to its reasonable size, simple silhouette, and gradated edges, the SRPE41 from Seiko's Presage line is surprisingly understated.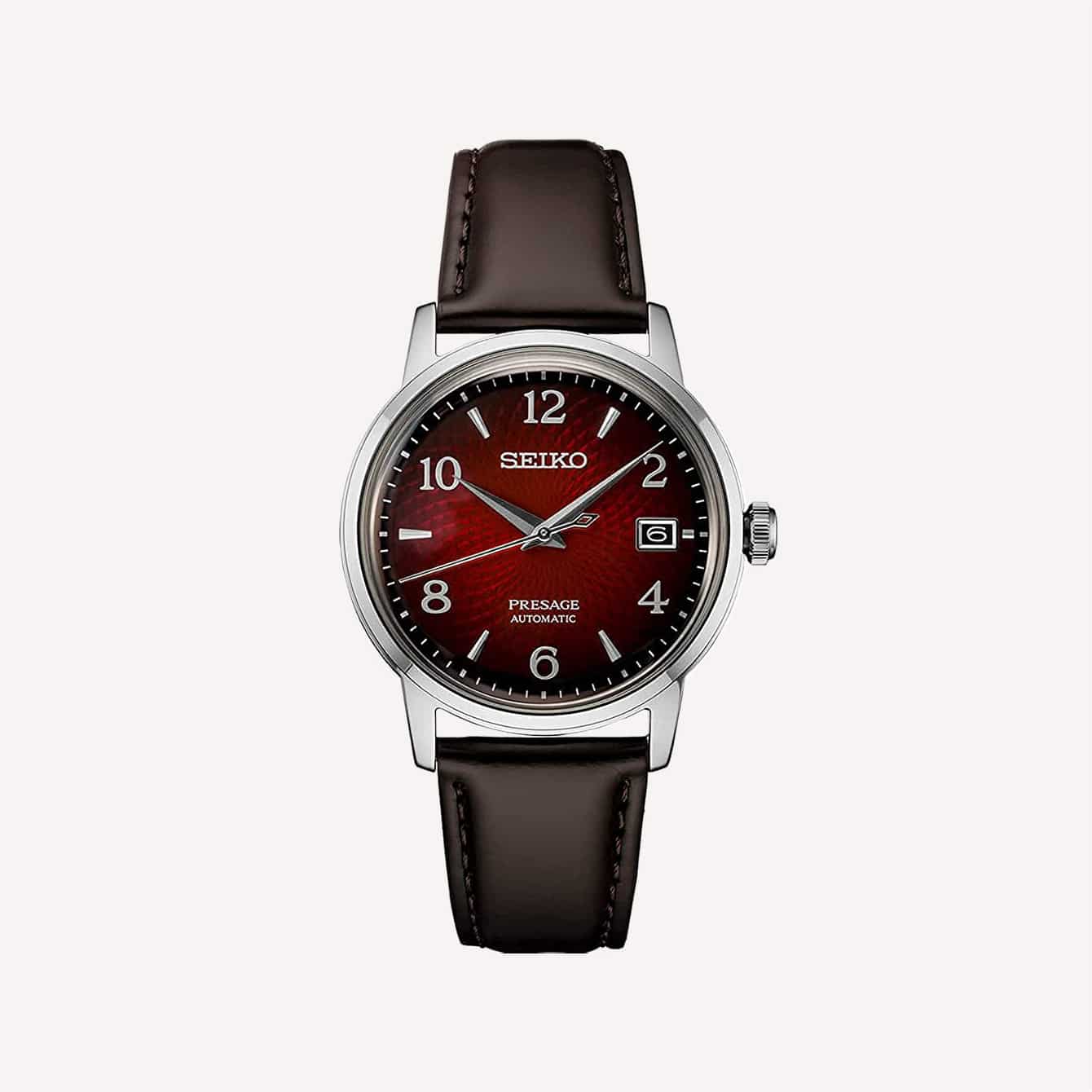 The pressed guilloche pattern seems to kaleidoscope, adding visual intrigue from every angle, especially with the boxed crystal. Meanwhile, the silver Arabic numerals and glossy finish allow you to pair this timepiece with any outfit, from smart casual to cocktail.
You can also admire Seiko's 4R35 caliber via the watch's exhibition caseback.
Dimensions: 38mm diameter, 11.8mm thickness
Case material: Stainless steel
Water resistance: 50m
It's a 24-jewel automatic, similar to the brand's 7S26 legacy movement, but upgraded with hacking, making it easier to use.
Omega De Ville Tresor Co-Axial Small Seconds
The extra subdial on the Small Seconds version of the Omega De Ville Tresor Co-Axial adds a charmingly technical aesthetic that doesn't interrupt the overall elegant dress watch look.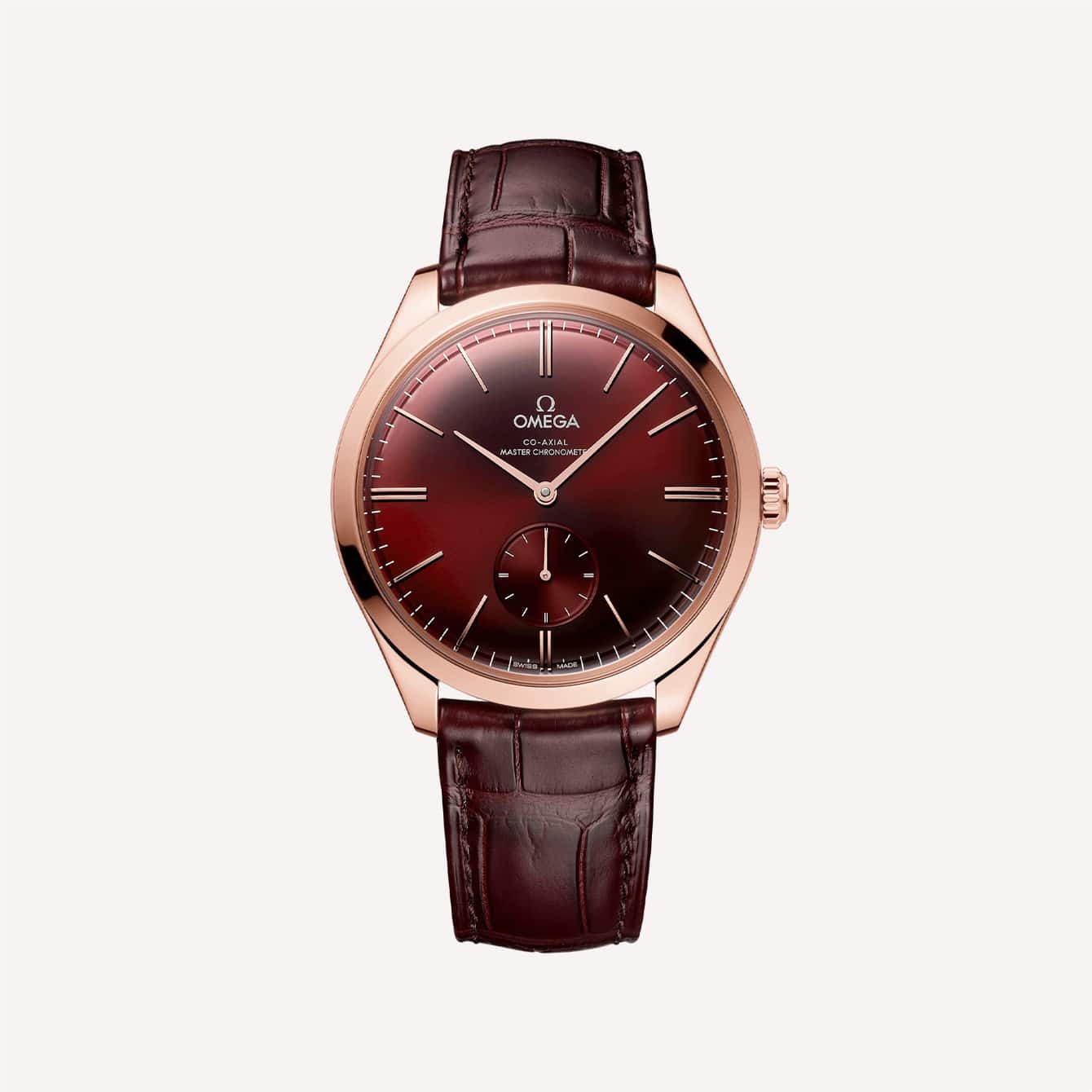 On top of that, the gradation on the deep red dial looks so solid and natural that it's actually reminiscent of leather patination.
All of these distinct qualities are encased in a traditionally thin Sedna gold, which is Omega's proprietary blend of gold, palladium, platinum, and rhodium. It looks and wears like brilliant 18k gold but is much stronger.
Dimensions: 40mm diameter, 10.07mm thickness
Case material: Omega Sedna
Water resistance: 30m
And since this is Omega, this timepiece runs on their Co-Axial Calibre 8927, a certified Master Chronometer that offers top-notch precision and magnetic resistance.
Ball Engineer III Marvelight Chronometer
Ball is one of the watch world's best-kept secrets when it comes to snagging a Swiss Chronometer watch.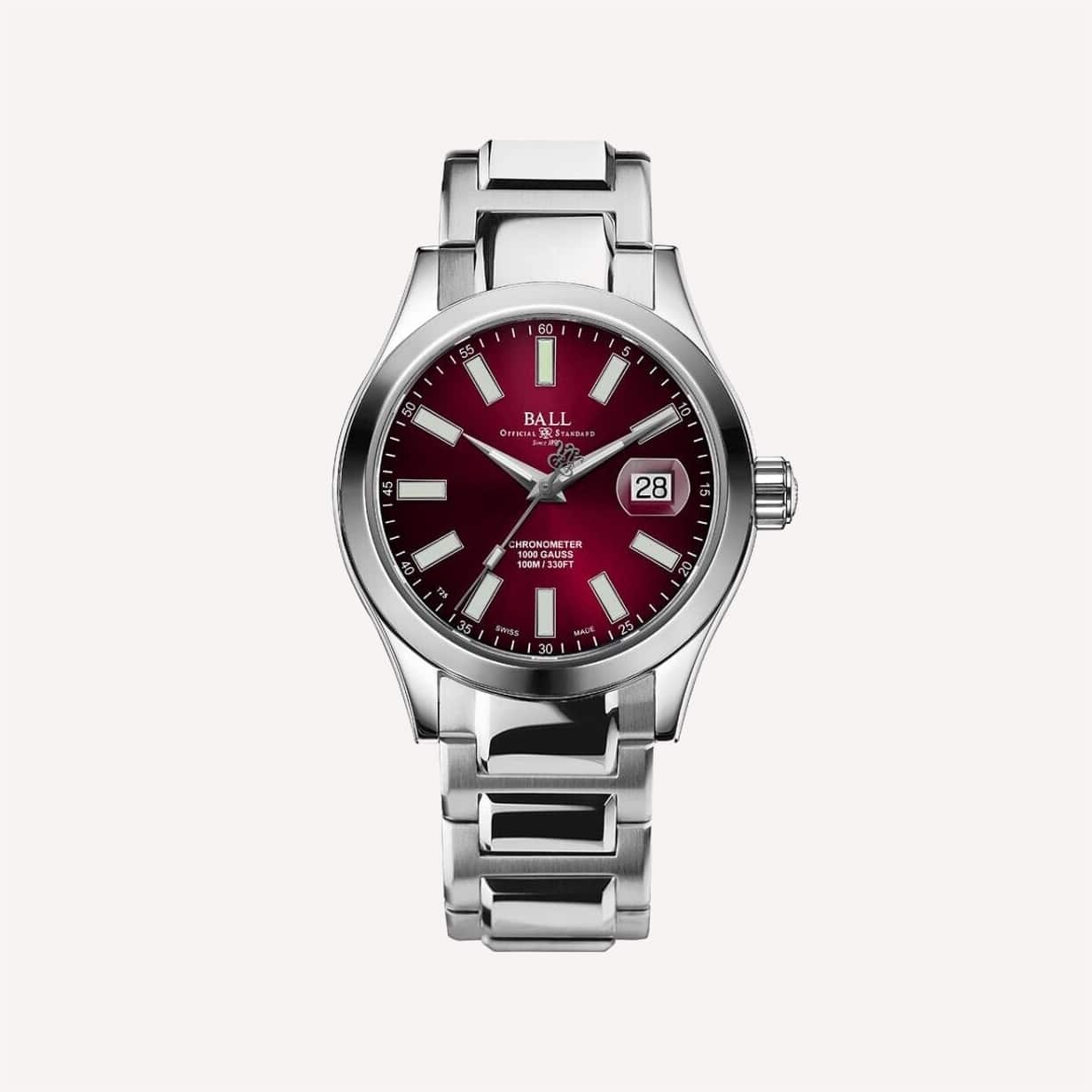 As a quick reminder, a Chronometer movement is an automatic that's certified by COSC for having maximum reliability, precision, and durability (all modern Rolexes are Chronometers). For a fraction of the cost of a COSC-certified Rolex or Omega, the Engineer III Marvelight is Chronometer-powered, with an elegant but sturdy body.
It's constructed like a classic luxury sport watch, though the boxed-in middle links of the bracelet paired with the smooth curves of the case add a proud brand distinction.
Dimensions: 36mm diameter, 13.15mm thickness
Case material: Stainless steel
Water resistance: 100m
The satiny dial boasts a crimson burgundy hue and features immaculate applications.
Swatch Wakit
While the straightforward and legible design of the Swatch Wakit is characteristically contemporary, its solid merlot color actually gives it a touch of class.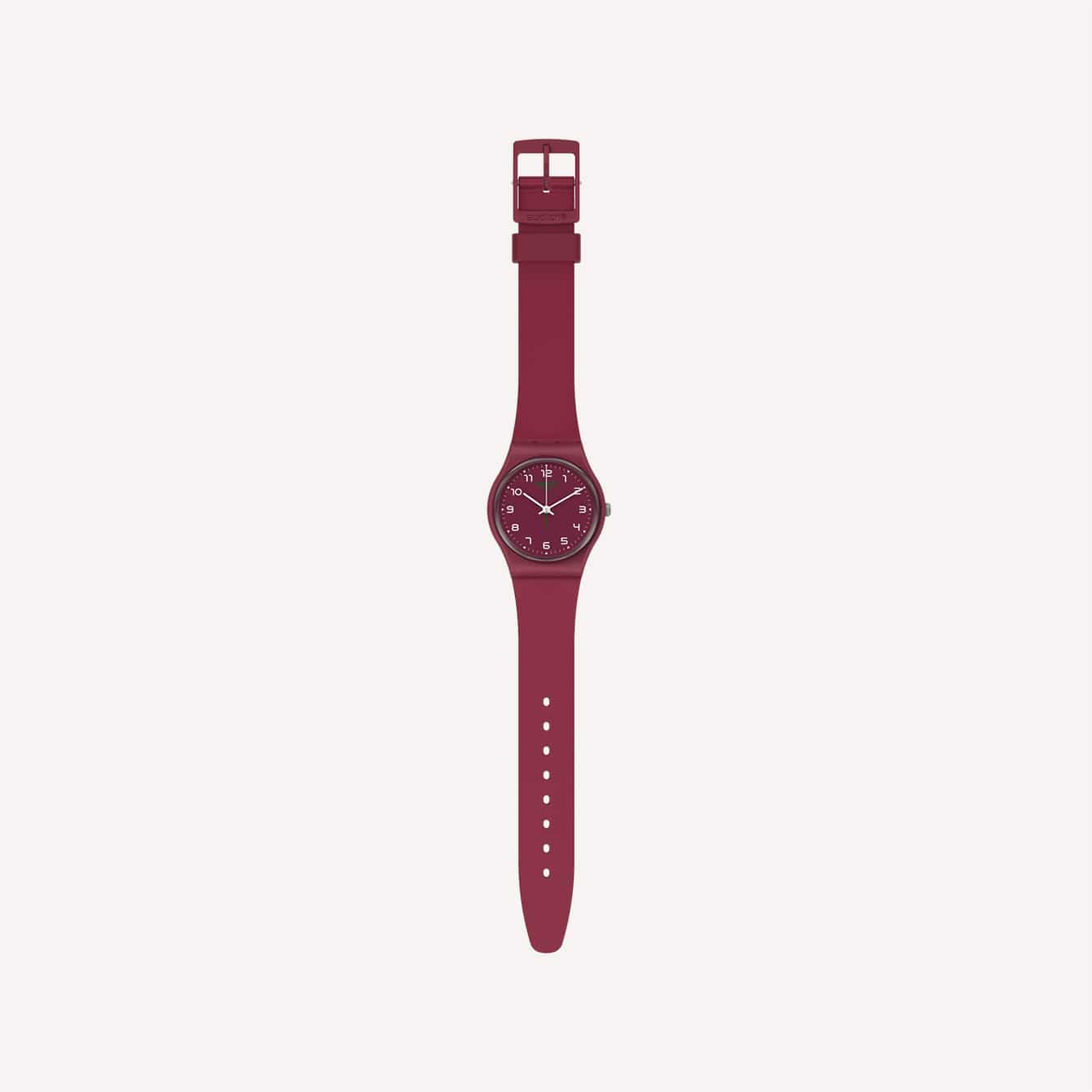 Between its 8.75mm height and the innovative bio-sourced plastic construction, this casual timepiece is notably comfortable to wear.
Cleverly, the boxed crystal adds a shiny frame around the dial.
Dimensions: 34mm diameter, 8.75mm thickness
Case material: Plastic
Water resistance: 60m
So while the watch is mostly monochromatic, this effect plus the green accents on the dial add fun variation while still keeping the color/black look.
Oris Big Crown
Oris took the standard pilot watch, remixed each feature to add distinction, yet carefully ensured the watch didn't fall into fashion territory.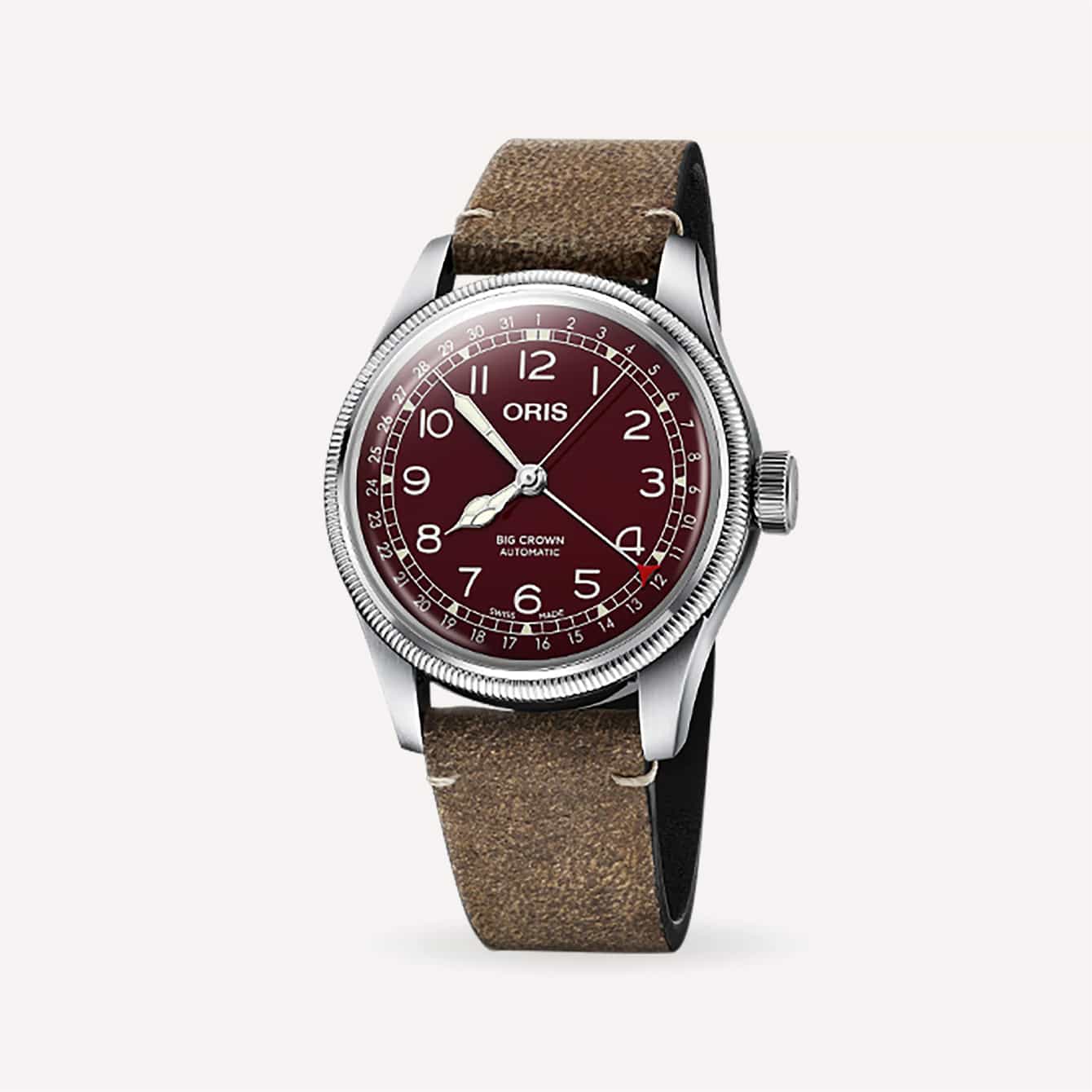 Sure, the Big Crown is fashionable, but not at the cost of its effectiveness and tool watch aesthetic.
The cathedral hands look ornate, but they're not out of place, as the railroad-style outer track frames them. Furthermore, the bezel itself is coined on the surface (not just the sides), which further matches the touches of visual complexities on the dial.
Dimensions: 40mm diameter, 11.2mm thickness
Case material: Stainless steel
Water resistance: 50m
Moreover, the face's garnet shade is a more neutral red, making this aviator surprisingly versatile
Revue Thommen Heritage
With the especially silky texture of its red sunburst dial, the Revue Thommen Heritage literally sparkles under certain lights — glitters, even.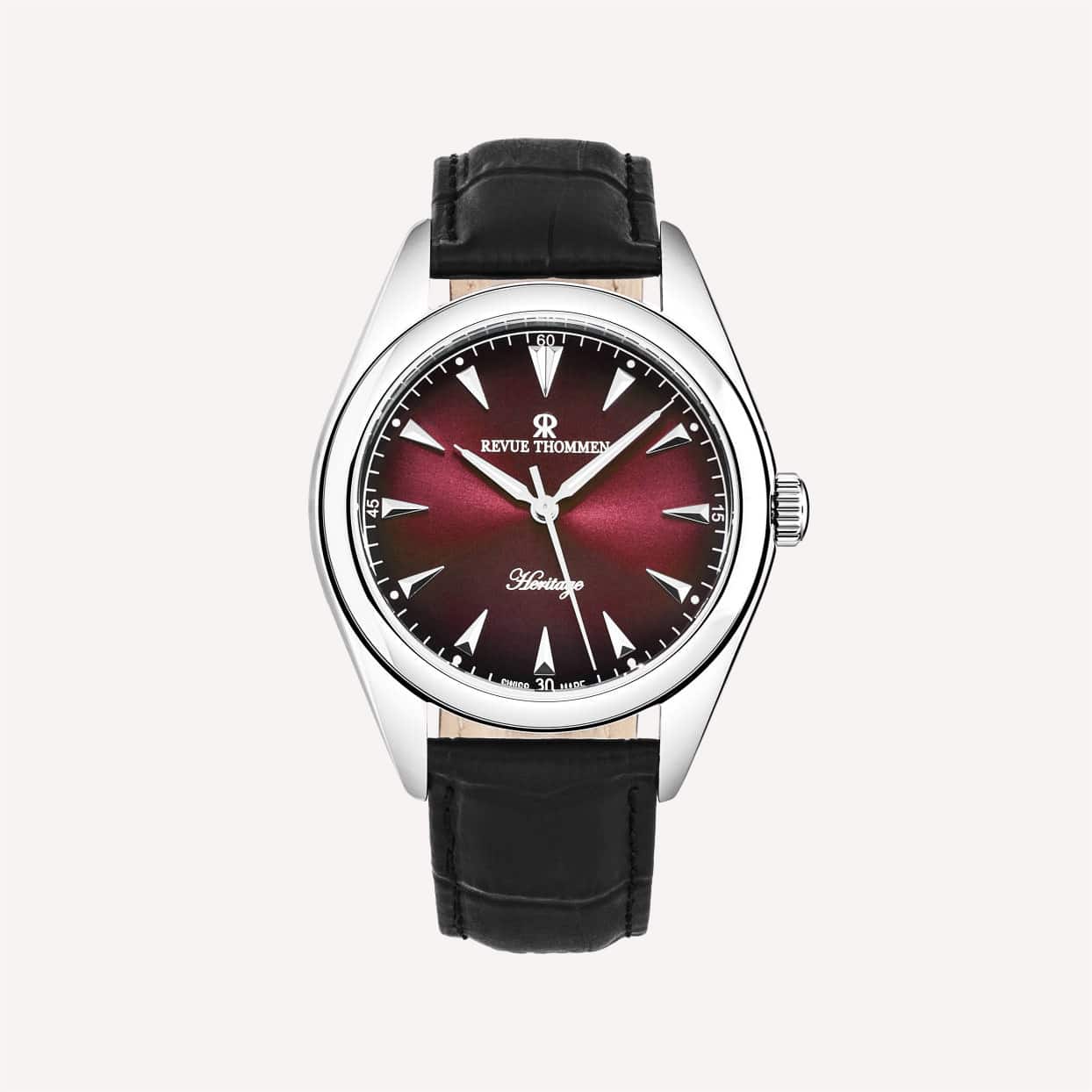 Add the high-polish static bezel and gem-like multi-surfaced indices, and you've got a watch that's simple enough for everyday wear yet also plays with light at several angles.
Dimensions: 39mm diameter, 10mm thickness
Case material: Stainless steel
Water resistance: 50m
More than just a pretty face, this timepiece runs on a Swiss automatic movement and is equipped with an easy-to-use push-and-pull crown.
Grand Seiko Heritage Autumn SBGH269
From Grand Seiko's exquisite seasons line, the red-dial version of the Autumn SBGH269 is limited to only 900 pieces.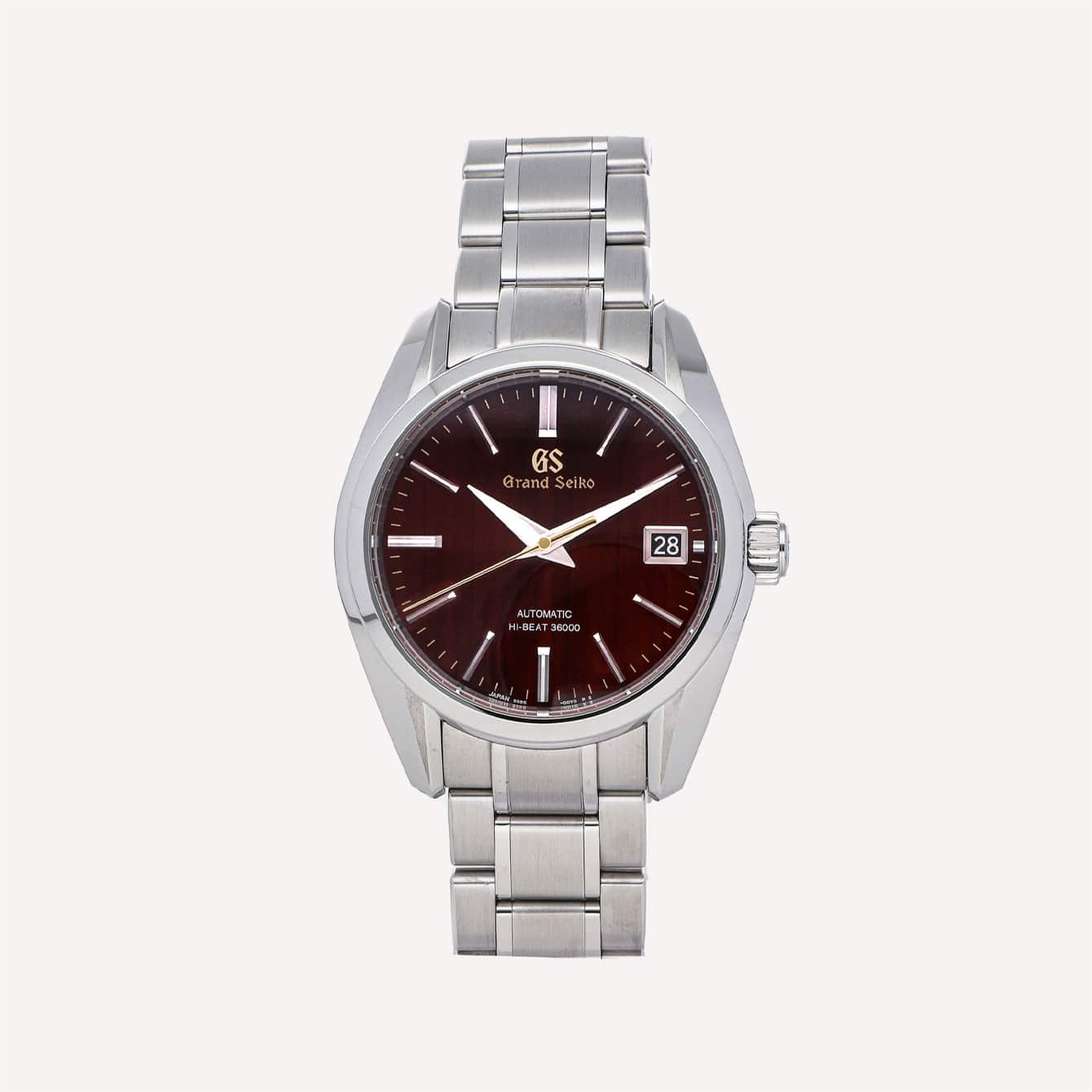 The handcrafted face design is based on Japanese lacquered wooden floors and flaunts flawless burnishing.
Its body is Zaratsu-polished, which is a special technique that Grand Seiko often employs that gives the surfaces a distortion-free mirror effect.
Dimensions: 39mm diameter, 13mm thickness
Case material: Stainless steel
Water resistance: 100m
This timepiece is powered by the brand's caliber 9S85, a super precise automatic with a central rotor and a high-beat frequency that even outdoes the beat frequency of Rolex movements.
Skagen Aaren Quartz
The Aaren Watch comes from Skagen's Kulor subline, named after a Danish word that means "to add color and fun." And this watch really delivers.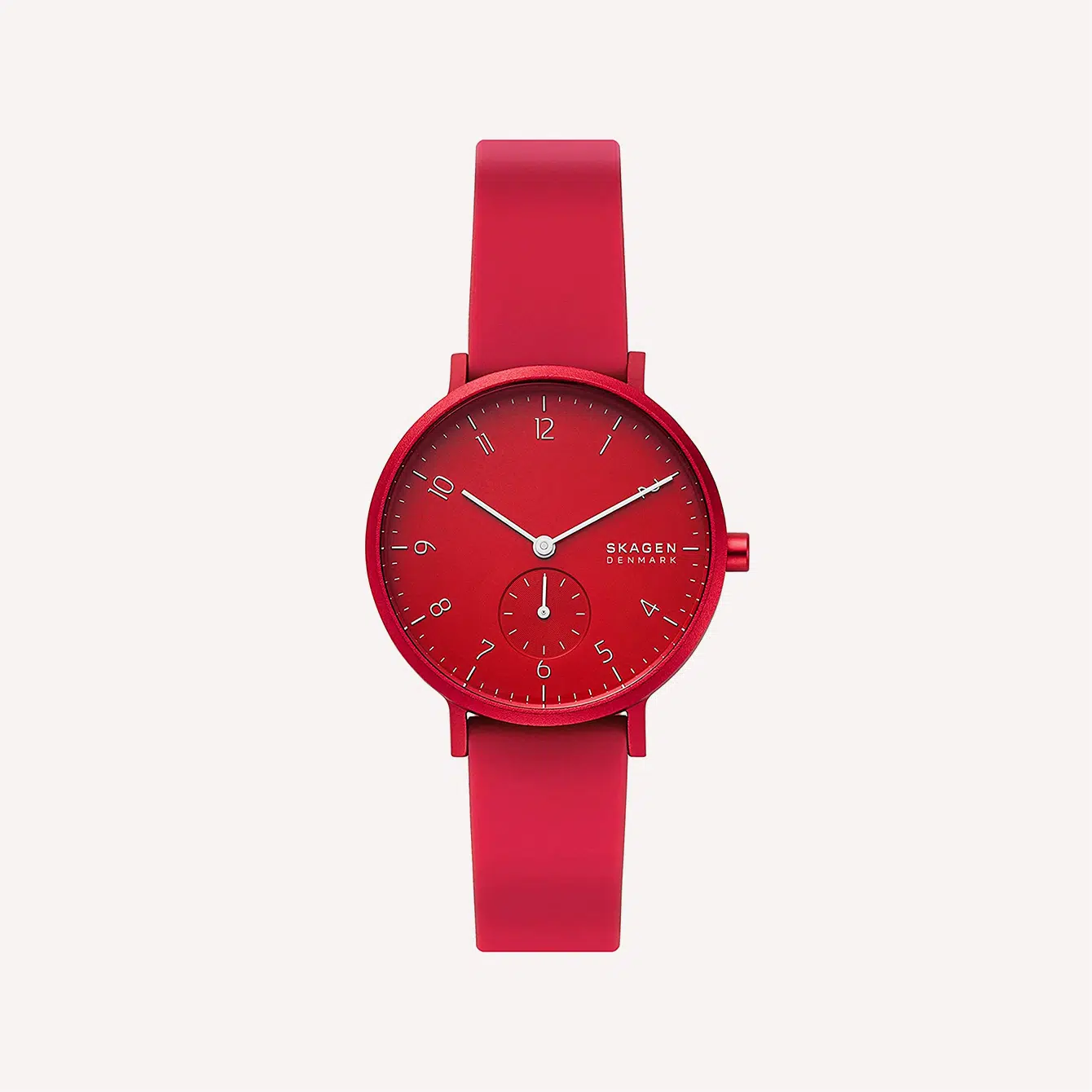 The clean Scandinavian lines temper the bold red shade of the watch, making it super wearable.
Additionally, the aluminum construction and 36mm case size provides an exceedingly lightweight experience.
Dimensions: 36mm diameter, 8.9mm thickness
Case material: Aluminum
Water resistance: 30m
While the overall look of the watch is playful and modern, details like the recessed racetrack subdial and the sandblasted case add texture that you don't immediately notice.
Movado Modern 47
The Modern 47 is an actual piece of art on your wrist, its design belonging to several museums around the world, including the MoMa in New York City.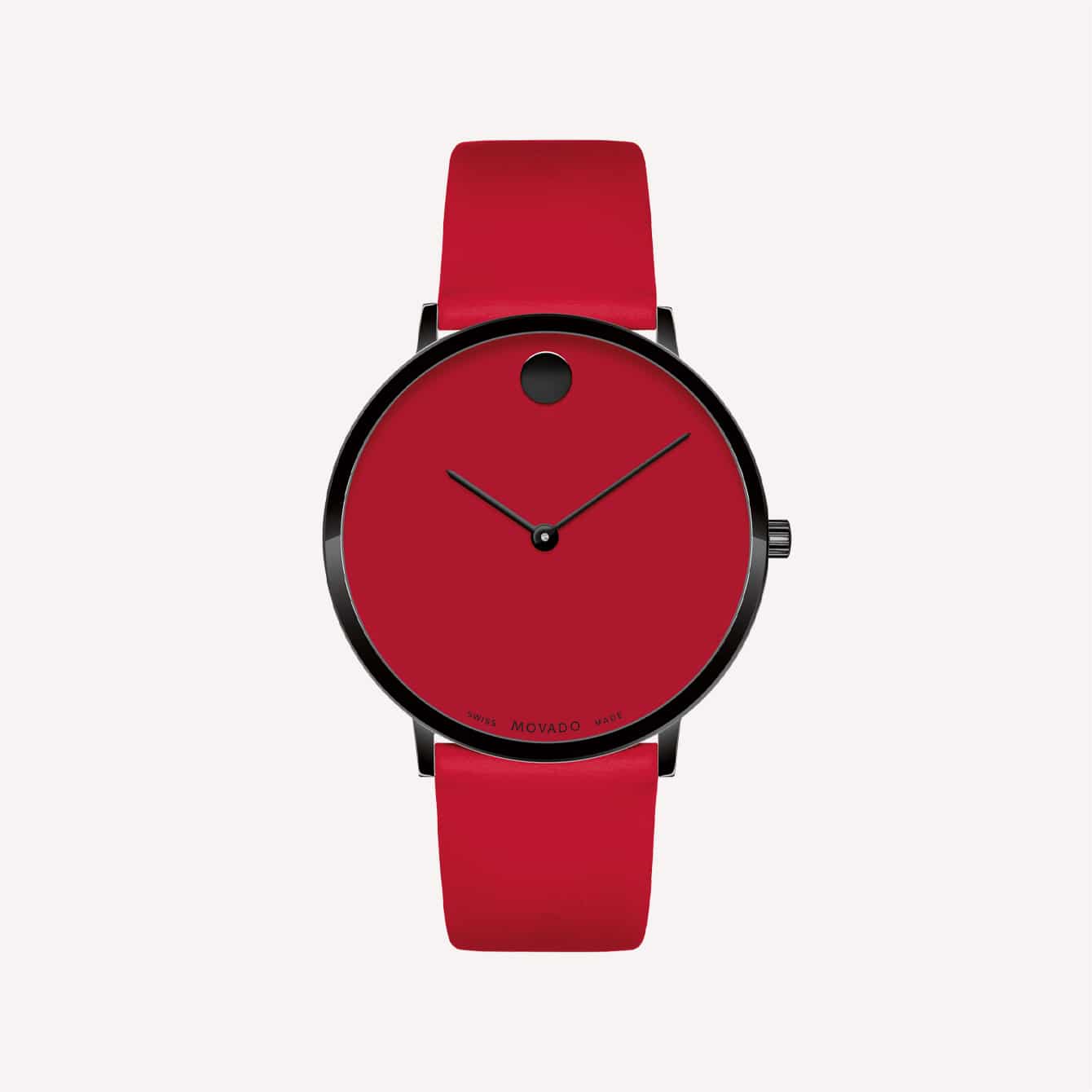 That's because the one-dot Museum Dial was designed by famed artist and industrial designer Nathan George Horwitt.
Dimensions: 40mm diameter, 6.3mm thickness
Case material: PVD-Finished Stainless Steel
Water resistance: 60m
More than just a fashion watch, though, the Modern 47 is armed with a scratch-resistant sapphire crystal, a lush red calfskin strap, and a stainless steel case that's PVD-finished for extra durability and oxidation-prevention.
Rolex Oyster Perpetual 36
If you search the secondary market, you can find the 36mm Rolex Oyster Perpetual with an eye-catching red dial.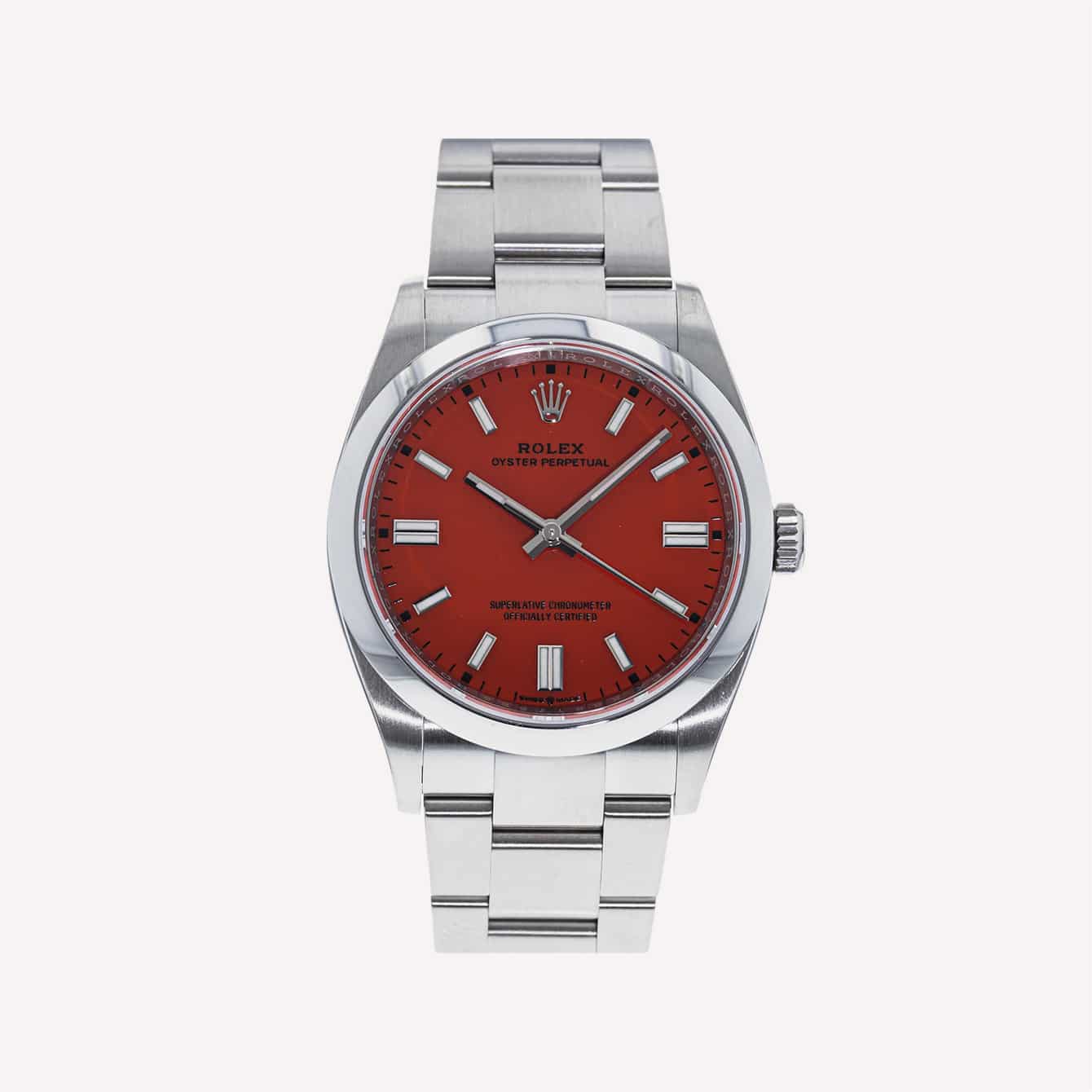 Reference 126000 from 2020, for example, offers a red variation.
Since the Oyster Perpetual is Rolex's stripped-down core piece, the dial actually takes to different, bright colors really well.
Dimensions: 36mm diameter, 11.5mm thickness
Case material: Stainless steel
Water resistance: 100m
Color-matching aside, in my view, the iconic OP is one of few watch models that can be worn in the most casual and in more formal situations. Plus, it's an excellent investment.
Todd Snyder x Timex Modern Art Watch
Courtesy of Todd Snyder and Timex's long-running collaborative partnership, the Modern Art watch is inspired by mid-century abstract paintings.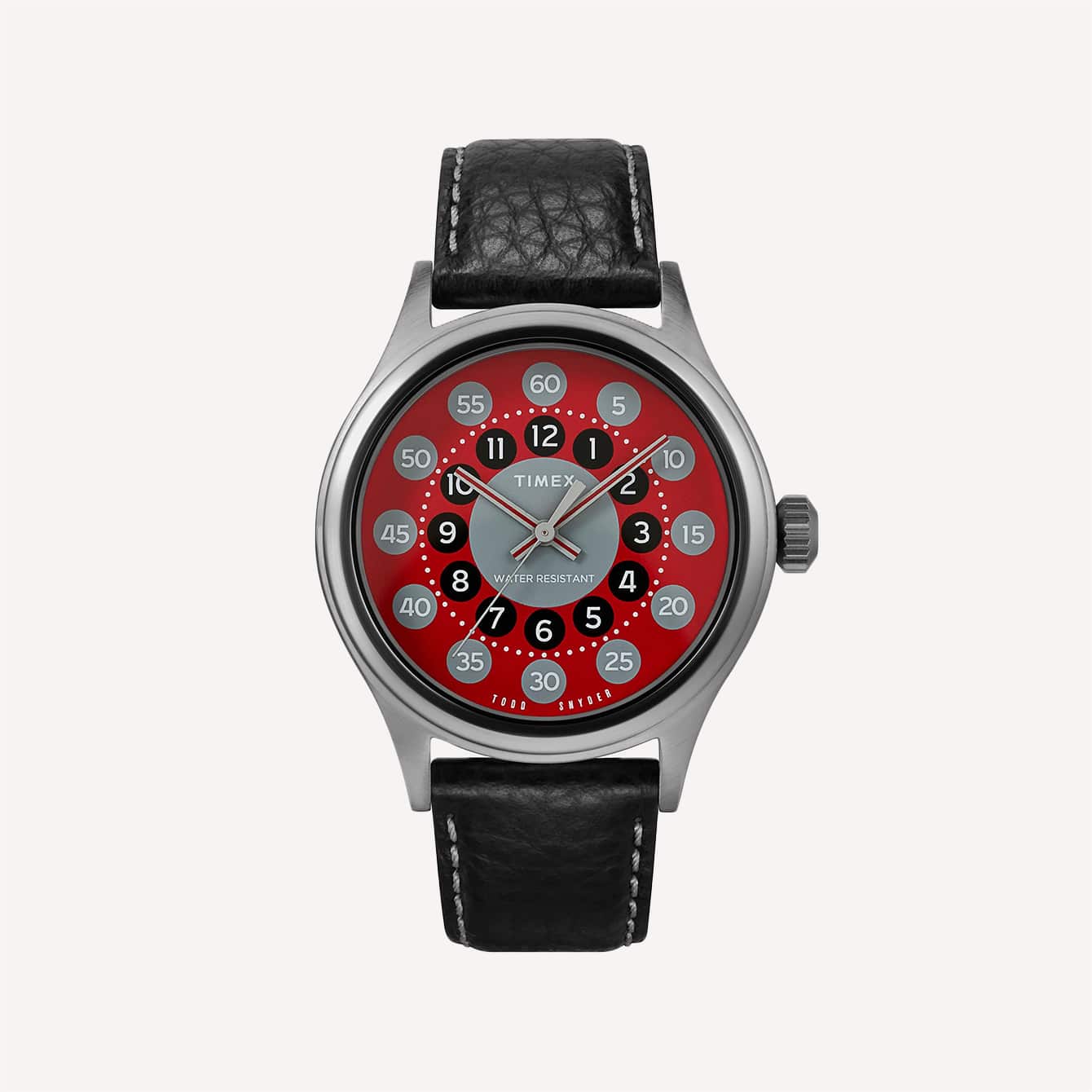 Still, while the resulting watch is certainly playful, the design is grounded, understandable, and more pattern-like than abstract.
Snyder's approach has a graphic quality, seen through the squared-off hands with a contrasting red center stripe and the numbers encased in bold circles. The pebbled leather strap has a comfortably worn-in look to it.
Dimensions: 40mm diameter, 11mm thickness
Case material: Stainless steel
Water resistance: 50m
This watch is arty but still practical, unlike the Movado, which is really just a cool accessory that you can't actually use to accurately tell time.
Tissot Carson
Though technically a lady's watch, I consider the regal look of the Tissot Carson to be effectively unisex.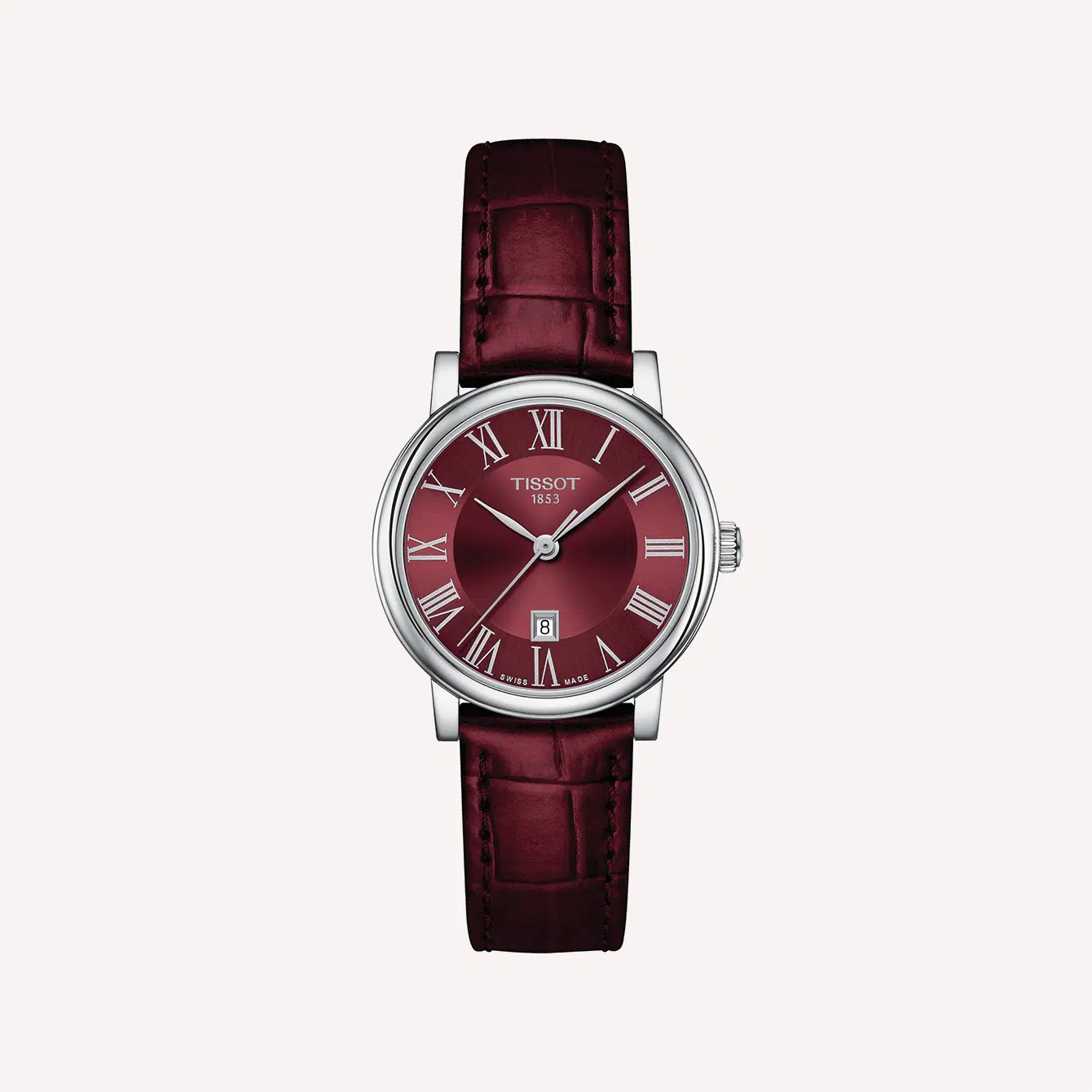 While some might think that the 30mm size is too dainty, it's a great way to balance out the bright and striking hues of the dial and strap.
There are also some fine details throughout this timepiece. The center dial flaunts a smooth sunburst dial, the shine of which goes in the same direction as the hands coming from the middle.
Meanwhile, the outer dial is brushed and silky, which complements the stately Roman indices.
Dimensions: 30mm diameter, 6.7mm thickness
Case material: Stainless steel
Water resistance: 50m
All of this not only gives the dial a refined look but adds to its legibility.
Cartier Tank Must Watch
Cartier's Tank watch is the model that turned an ultimately irreverent and unconventional design language into a timeless classic.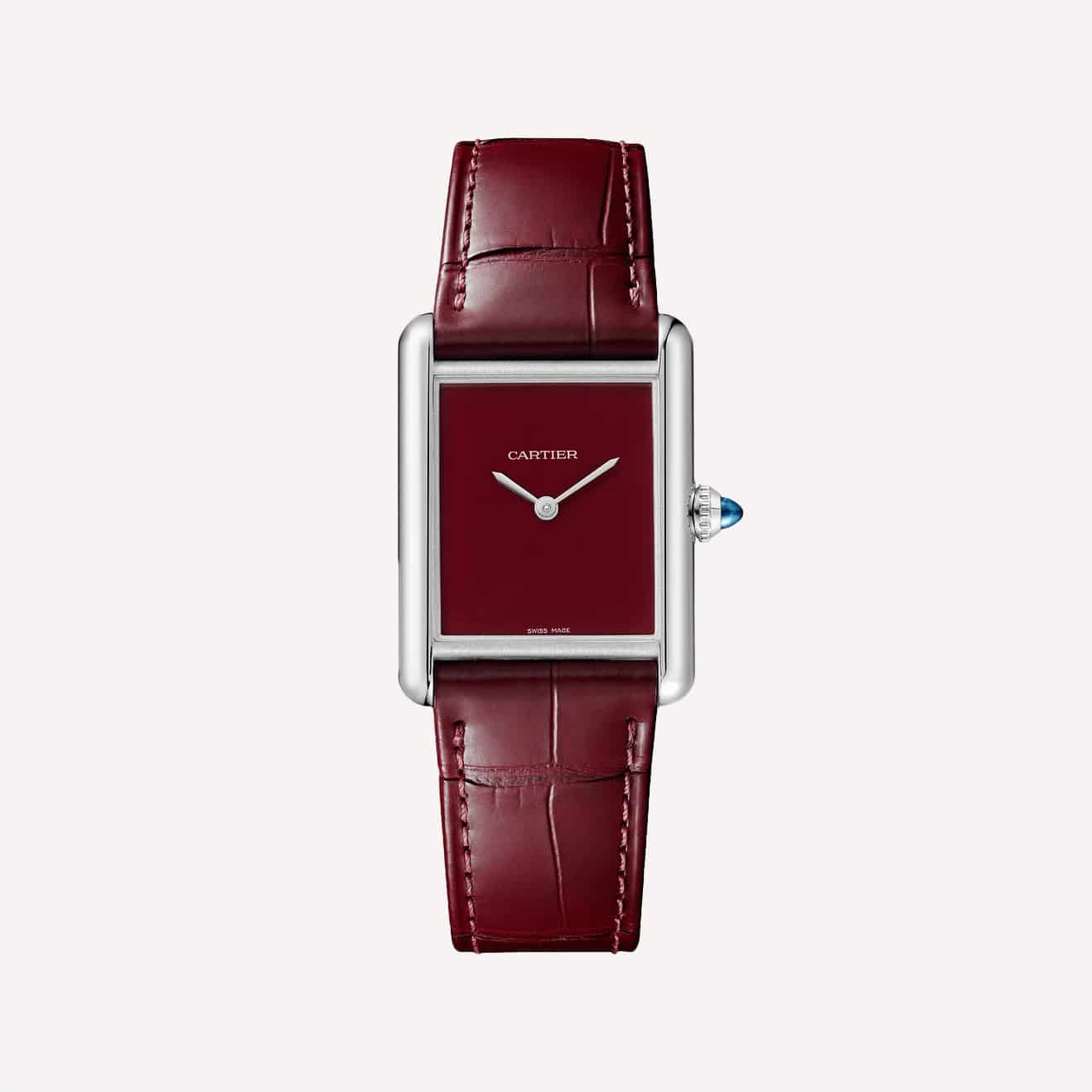 The Must version skips the fanciful wavy Roman numerals for a more minimal dial, then color-fills it with a lavish claret shade of red.
Dimensions: 33.7mm x 25.5mm, 6.6mm thickness
Case material: Stainless steel
Water resistance: 30m
What it doesn't forgo is the iconic jeweled crown, which is shaped like a chianti bottle adding an ornate style as well as providing an easy grip.
GEVRIL West Village Automatic
Despite what you may have heard, don't write off the GEVRIL West Village as a cheap Rolex OP homage.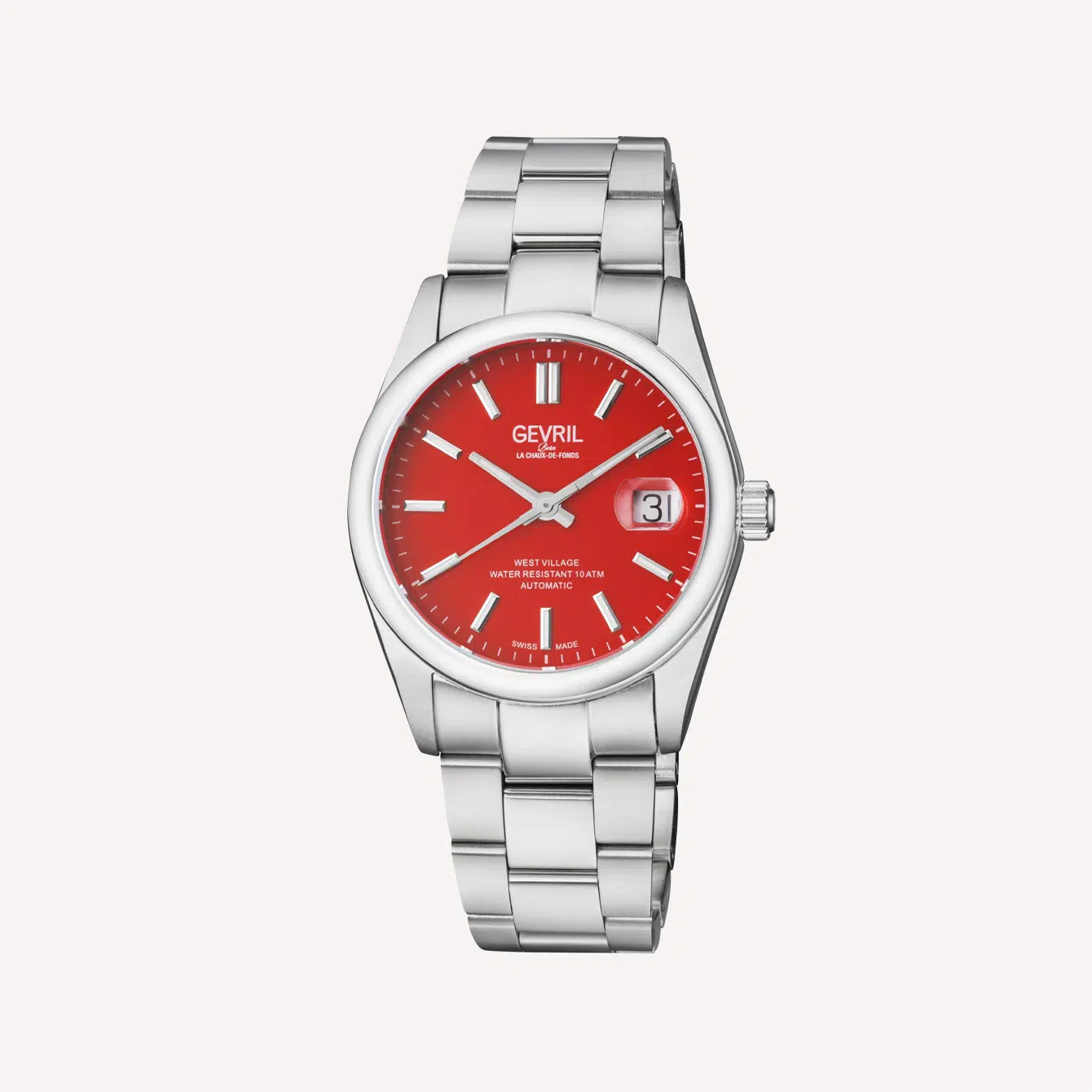 First off, it isn't cheap, not in price and not in its build and construction — though it's a lot more affordable than most watches of its caliber.
The West Village is beautifully finished, offering shine and luster throughout the watch's body. The indices are perfectly applied and have an extra brilliant lume.
Function-wise, this watch runs on a 26-jewel Swiss automatic by Sellita, which you can observe through the transparent caseback.
Dimensions: 40mm diameter, 12.5mm thickness
Case material: Stainless steel
Water resistance: 100m
That being the case, the West Village may even be more satisfying to a horologically curious person than an OP would.
Nordgreen Philosopher
The Nordgreen Philosopher is unabashedly Danish in its design sensibilities, with just a touch of dimension that doesn't take away from the minimalist style.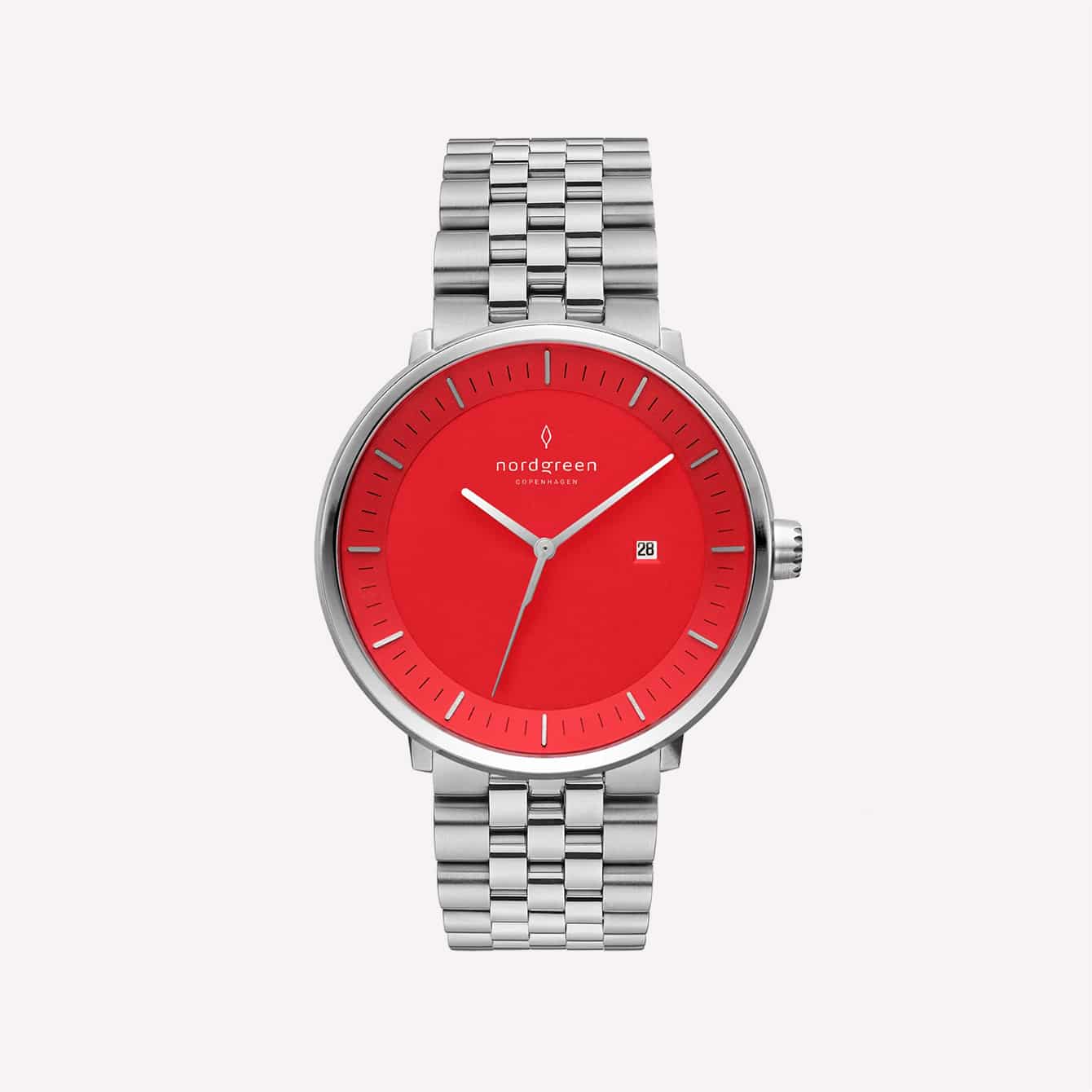 From a bird's eye view, the watch face has a flat and modern look. However, since the outer track slides into the recessed main dial, you can see the topographical dip at certain angles.
It's a simple and clean watch that changes ever so slightly depending on where you're looking at it from. This, and its bright red dial, make the Philosopher a funner timepiece than the standard Scandinavian watch.
Dimensions: 36mm, 7.2mm thickness
Case material: Stainless steel
Water resistance: 30m
Another cool thing about Nordgreen is that they're an eco-driven brand. Part of the sale of every watch goes to one philanthropic cause of your choice — be it health, education, or the environment.
The Best Red Face Watches
If you like the idea of wearing red but don't have it in you to go all-in with shirts or pants, accessories are a good way to go.
Red can certainly liven up the dial of a watch. Fortunately, the different variations of this primary shade also serve up a wide variety of aesthetics and vibes that can accommodate many personal styles.
Questions? Comments? Leave them below!