Forget cheap fashion watches. Here's a list of luxurious watches that you may be able to realistically afford.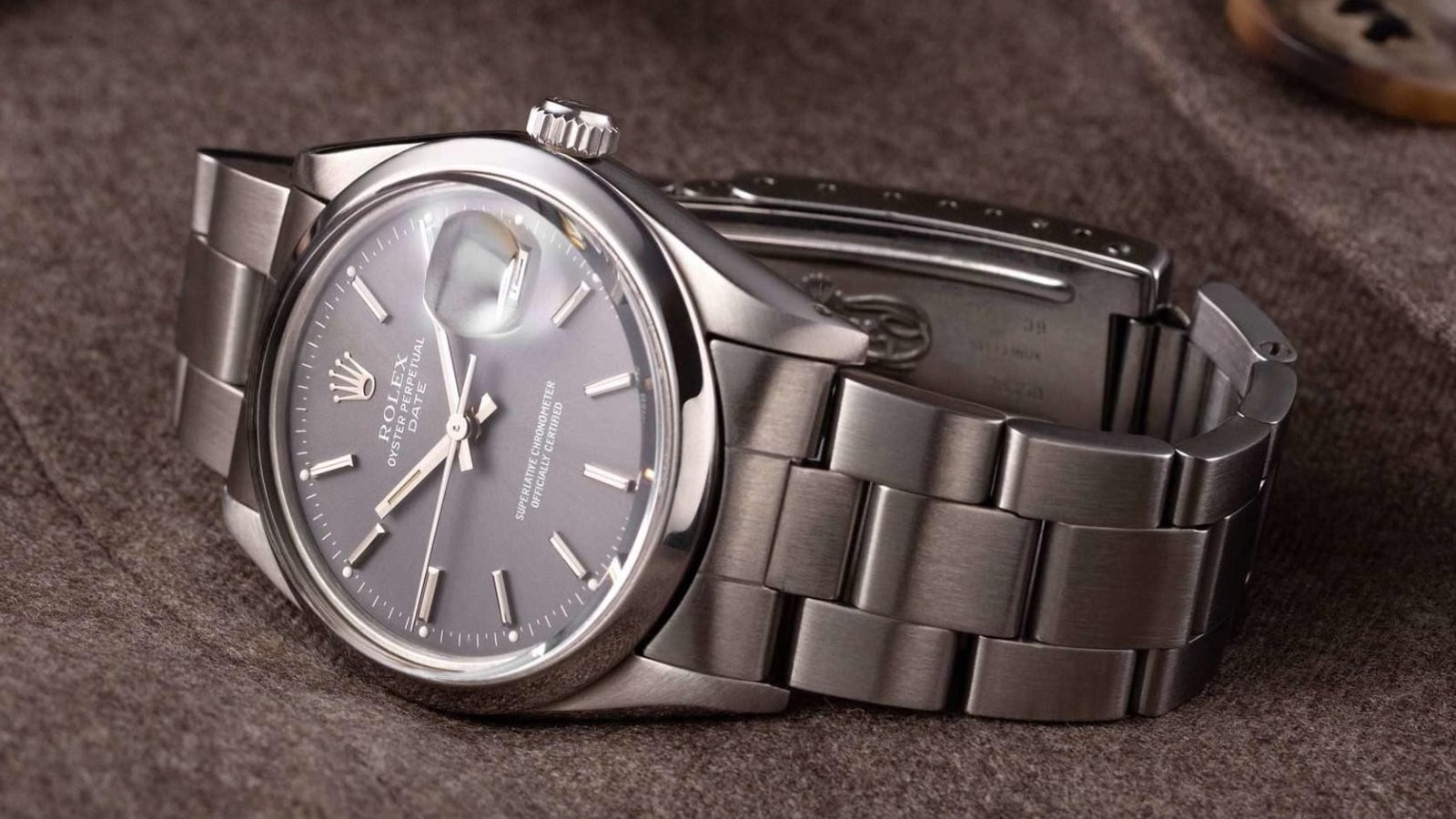 Entry-level luxury watches are some of the best investments you can make. Often between $1000 to $3000, timepieces at this level tend to be simple and honest, without the bells and whistles that add extra zeros to a price tag.
As such, affordable luxury watches are usually versatile, allowing you to get a lot of mileage out of them.
Entry-level luxury is also the category where you'll find top-of-the-line watches from trusted everyday brands, including the cheapest Rolex watches and the cheapest Omega pieces.
Our round-up includes functional tool watches, classic dress watches, and everything in between. A few will require you to save up a little longer than others, but I think that they're all worthwhile investments. And, of course, they're all under 40mm!
15 Entry-level Luxury Watches
Here they are, in no particular order.
Omega De Ville Prestige
You don't have to go vintage to find sub-40mm watches with Omega. The Prestige timepieces from their De Ville line combine traditional dress watch qualities with gadgetry aesthetics.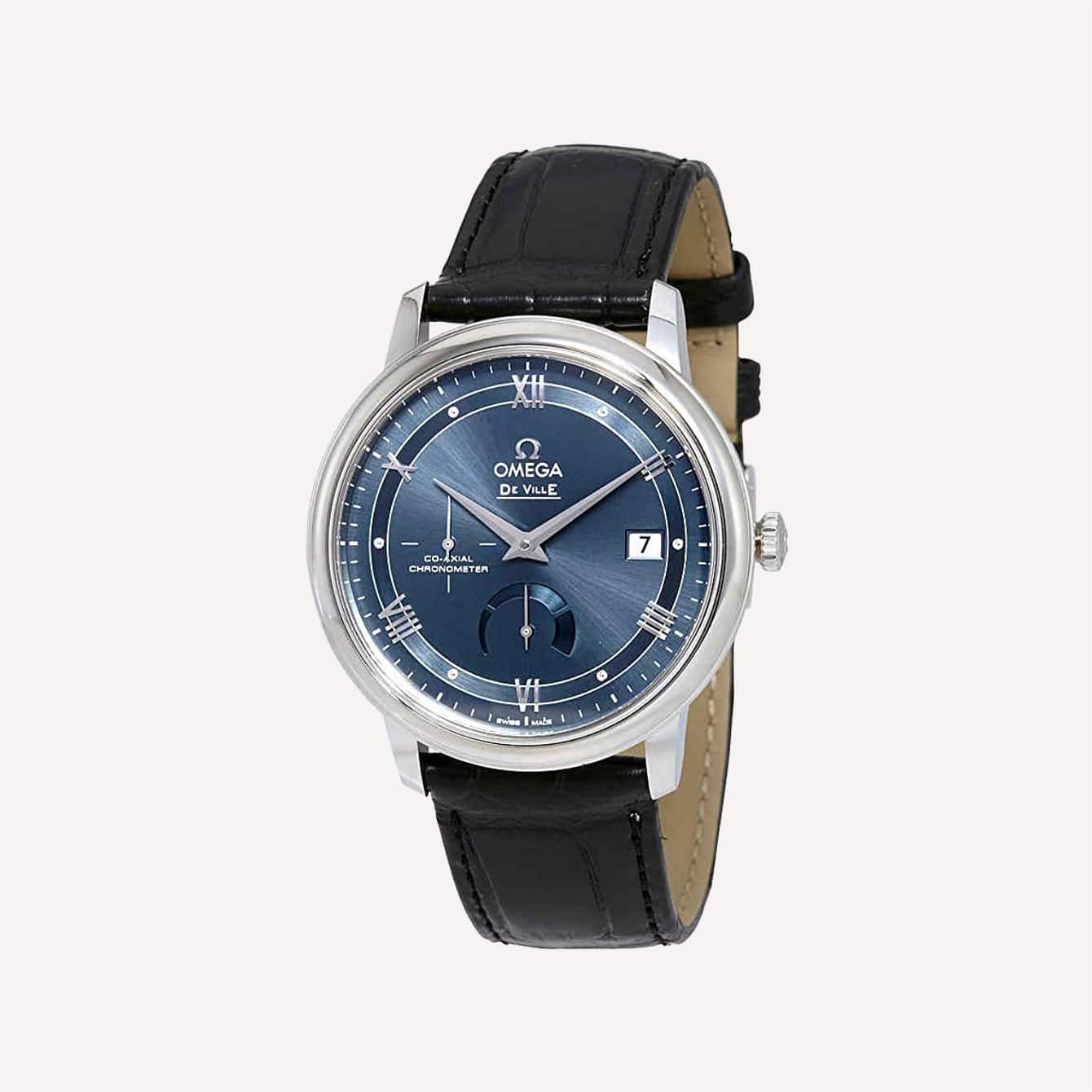 This makes it easy for the Prestige to go from day to night, a quality you'll want to consider when investing in an entry-level luxury watch. Even the power reserve looks elegant.
The 39.5mm diameter suits most wrists, while the simple round shape and 10mm profile make these pieces comfortable to wear. And since it's Omega, these watches are filled to the brim with top horological features, including the 27-jewel COSC movement and the brand's co-axial escapement.
Dimensions: 39.5mm diameter, 10mm thickness
Case material: Stainless steel
Water resistance: 60m
You can easily find a De Ville Prestige from below $3000 to $4000.
Stowa Marine Classic 36
The Stowa Marine 36 is simple and timeless, the kind of watch that can easily become a family heirloom.
The Arabic numbers and railroad outer track provide legibility on the white lacquer dial.
Meanwhile, the silver-toned case is a classic guardless shape, and the elegant spade hands are tempered blue steel. You can also level up the dressiness by opting for stately Roman numerals.
Dimensions: 36mm diameter, 10.2mm thickness (automatic) /9.2mm (hand-winding)
Case material: Stainless steel
Water resistance: 50m
You can choose between an automatic Sellita movement or a beautiful hand-wound that's adorned with blue screws. Either way, you'll be able to admire the caliber through the exhibition caseback.
Tissot Excellence
The Tissot Excellence boasts two particularly impressive qualities. First is its trend-resistant case. It's extra slim, wears comfortably, and comes with a small crown that barely interrupts its round silhouette.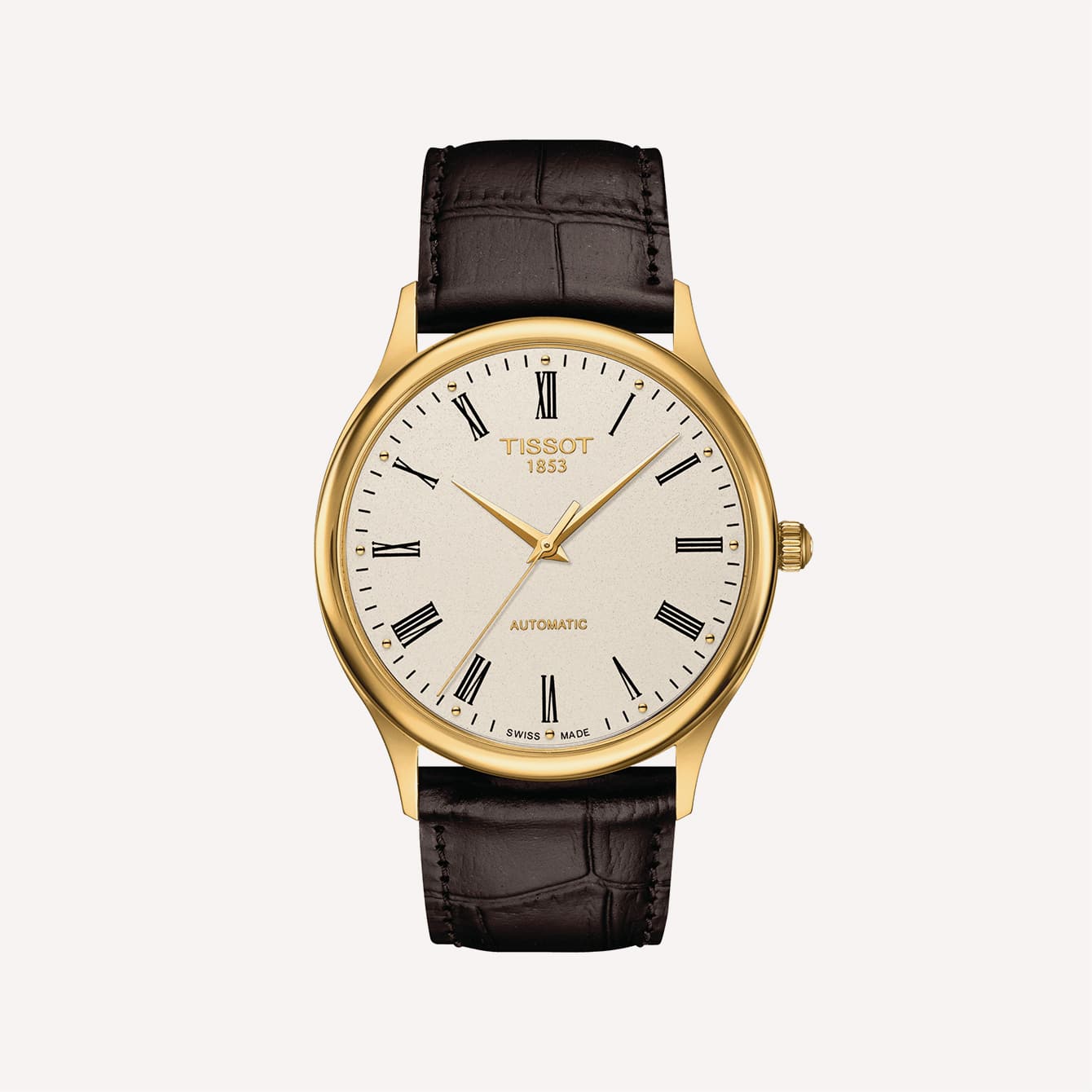 It's also made of 18ct gold, which adds a compelling value proposition.
Second is the beautifully thin ETA2892 movement, which allows for the watch's skinny profile. Fortunately, the see-through caseback also lets you admire this watchable Swiss caliber. The jewels are sapphire blue.
Dimensions: 39.8mm diameter, 7.6mm thickness
Case material: 18ct gold
Water resistance: 30m
While the oscillating weight is adorned with Côtes de Genève, a pattern of abrasively produced stripes that add dimensionality as it moves.
Grand Seiko Snowflake
With its astonishingly high level of handcrafted character, Grand Seiko watches are works of modern Japanese art. The Snowflake watch is distinct yet understated, with its sub-30mm case and seemingly simple design.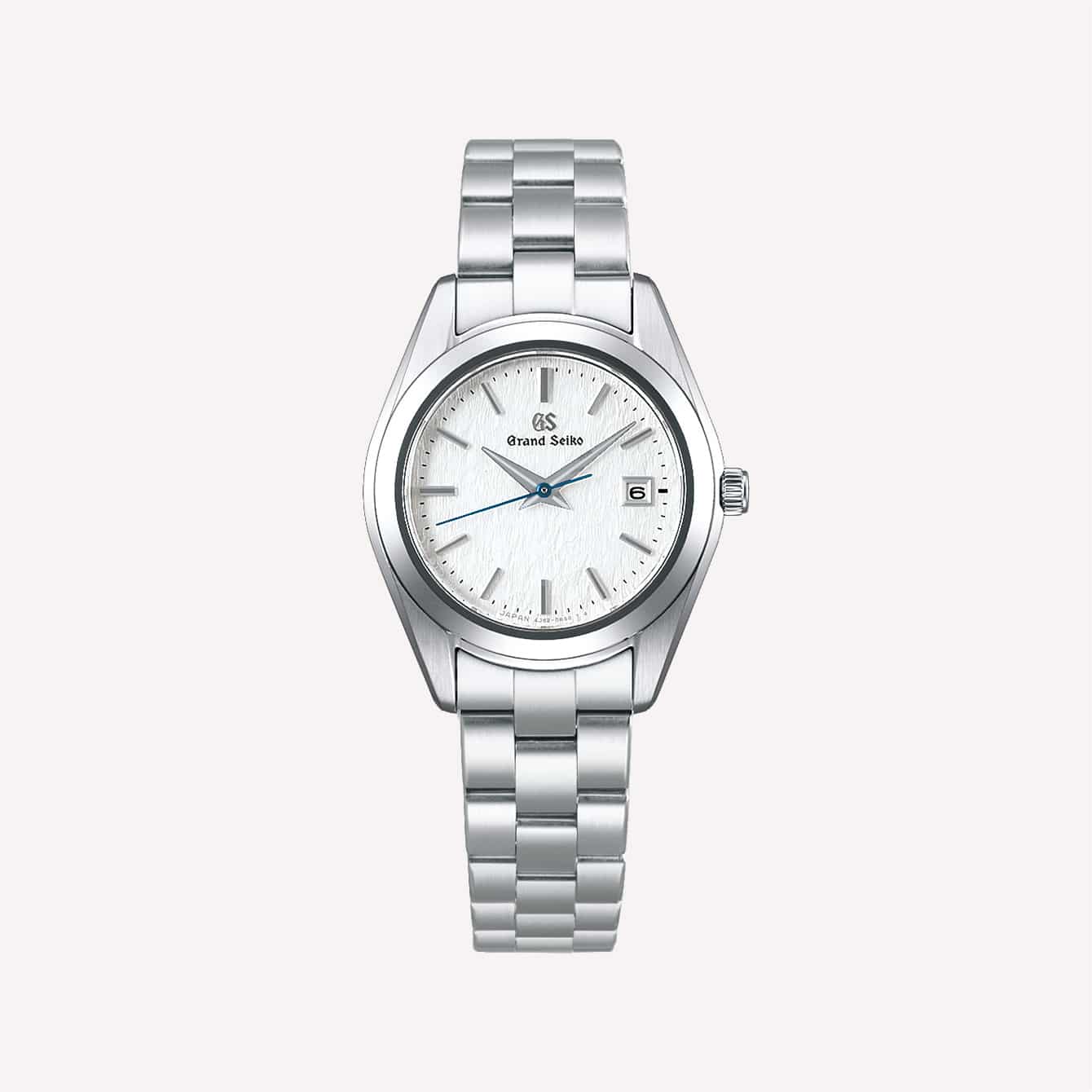 Upon closer inspection, the case and lugs are stepped throughout. This, along with the perfect mirror and fine hairline finishing, create flowing dimension and light play at every angle.
The white dial features snow-like texturing, making the blue-steeled second hand and flawlessly polished applications pop.
The Snowflake is equipped with an AR-coated dual-curved sapphire crystal and an in-house quartz movement.
Dimensions: 28.9mm diameter, 8.7mm thickness
Case material: Stainless steel
Water resistance: 100m
Grand Seiko grows and ages their quartz crystals for three months, and the  4J52 caliber that the Snowflake runs on flaunts an accuracy of ±10 seconds per year.
Breitling Navitamer 38
Technically a lady's watch, the main aesthetic differences between this and a men's Breitling Navitimer are its size options and the beaded bezel on the ladies' version, which gives it a jewelry-like vibe.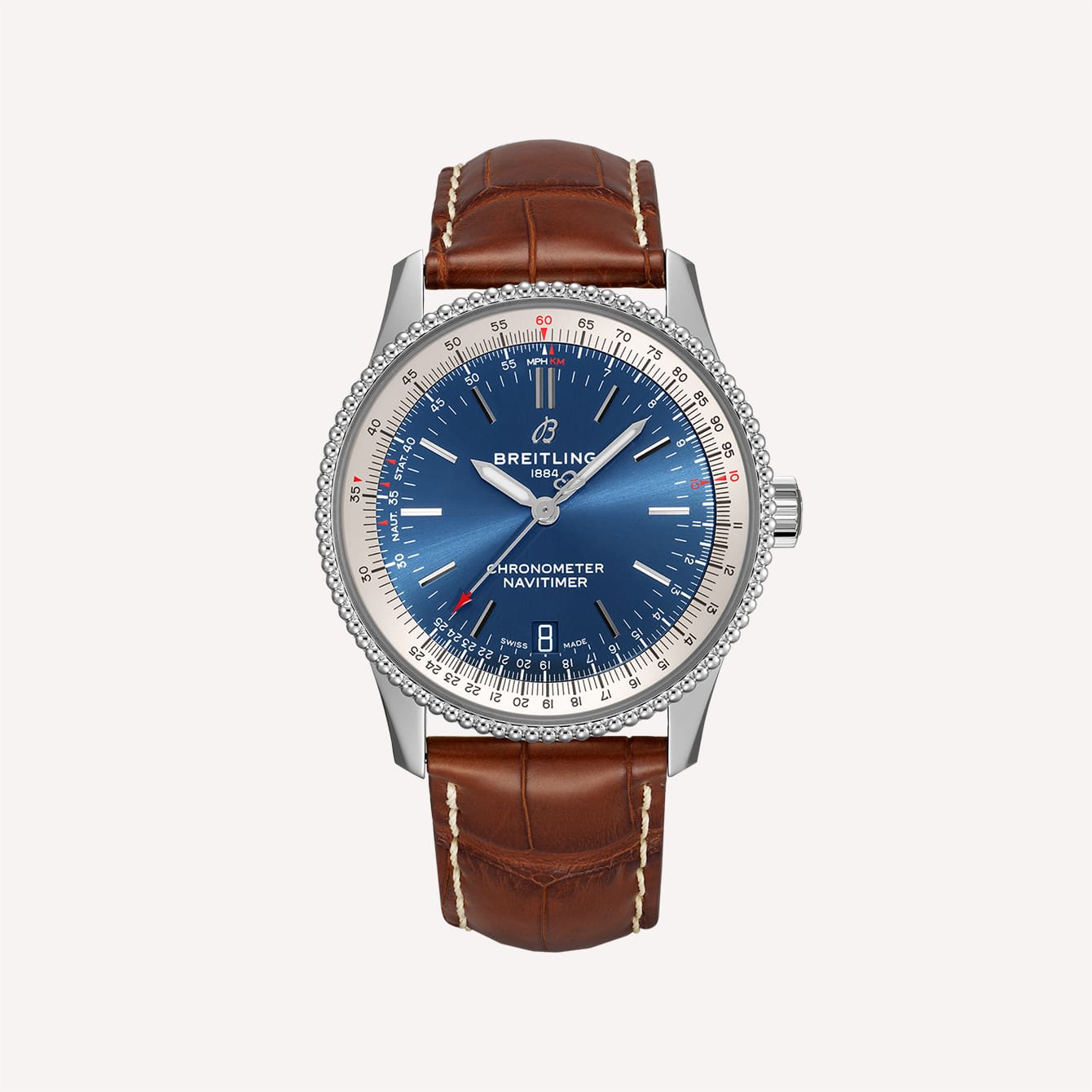 Decorative as it is, I think the "sciencey" look of the slide rule dial creates a unique balance of ornamentation and gadgetry.
This lets you lean hard into either aesthetic side, with a dressy leather strap or a tool watch steel bracelet.
Dimensions: 38mm,10.1mm thickness
Case material: Stainless steel
Water resistance: 30m
The stainless steel version of the Navitamer 38 is easily found in the $3000-$3500 range, comes in blue, black, or silver dials, and runs on a COSC-certified chronometer.
Hamilton Ventura
If you're a fan of Mid-Century Modern design, no watch in history better exemplifies this bold and angular look more than Hamilton's Ventura watch.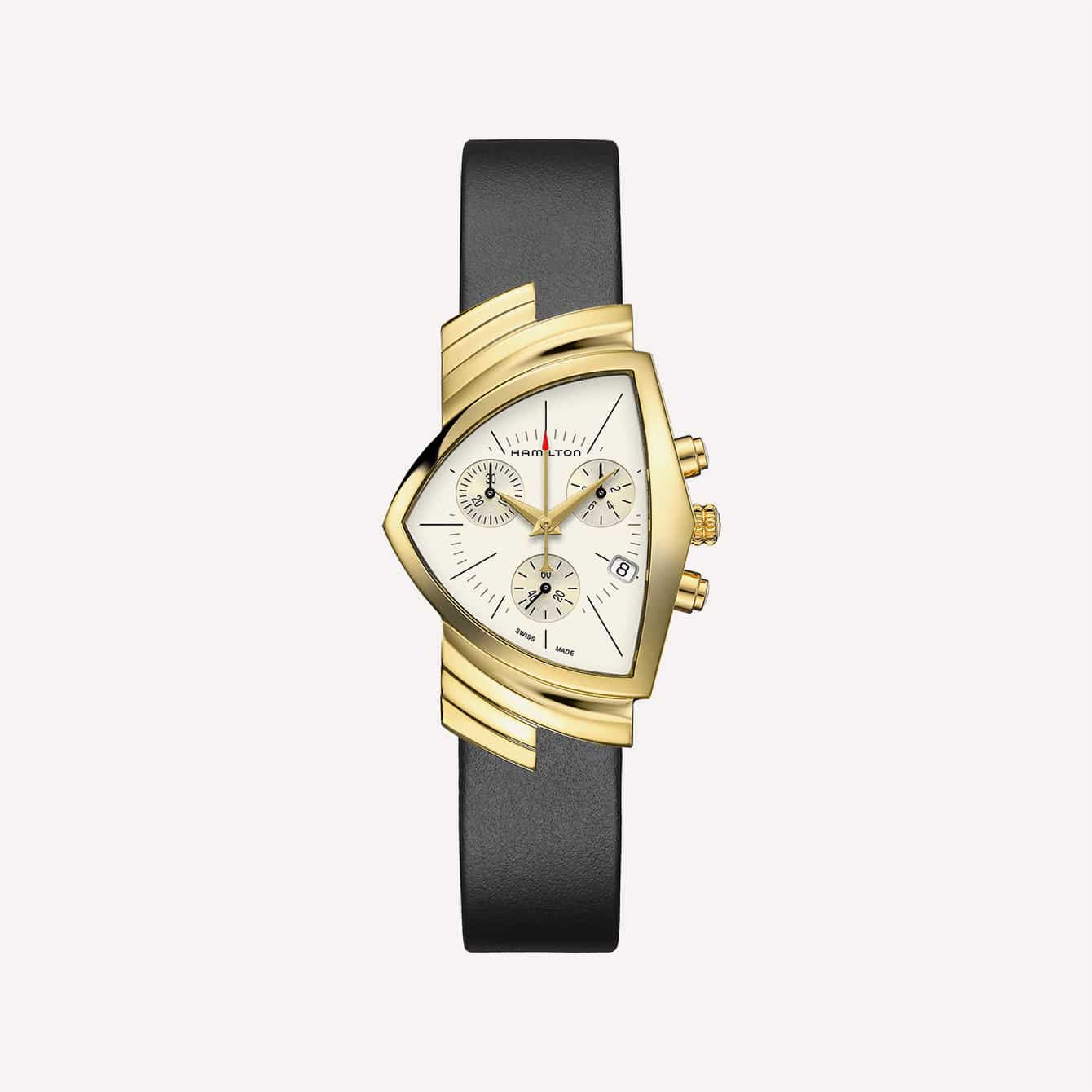 This culturally important timepiece is a real head-turner with its iconic asymmetrical shield design. Plus, the Ventura was the world's first electrical, battery-powered watch.
In addition to design-world street cred, the Ventura is known for being Elvis Pressley's go-to watch, this relationship immortalized in his 1961 movie, Blue Hawaii.
Dimensions: 32.3mm, 11mm thickness
Case material: Stainless steel
Water resistance: 50m
This version is a quartz chronograph for a touch of sportiness.
Tag Heuer Carrera Date
From its case lines to its applications, the Tag Heuer Carrera Date has fascinatingly immaculate details.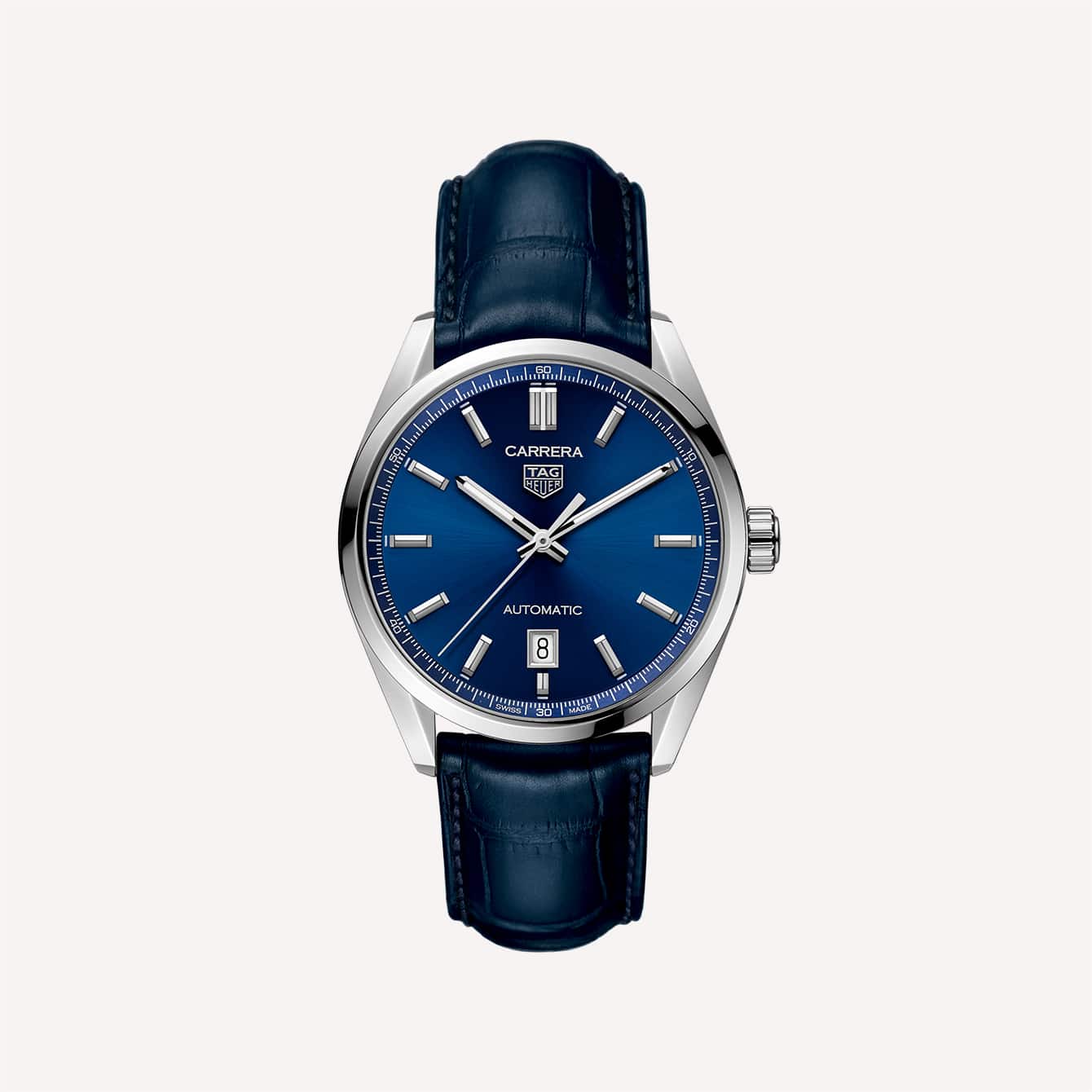 The inside of the lugs fold down, adding dimension and light play, especially with the simple but stepped bezel.
The multi-surfaced hands and indices sit on top of a sunray brushed surface, which adds to the dial's upscale look and its legibility — as does the Super Luminova, which never decays.
Dimensions: 39mm diameter, 11.5mm thickness
Case material: Stainless steel
Water resistance: 100m
The Date runs on a high-performance automatic caliber, showcased through the caseback. Overall, the Tag Heuer Carrera Date is a sporty and upscale everyday watch.
Cartier Tank Solo
If you opt for a quartz version, you can get one of the world's most iconic timepieces in the sub-3500 price bracket and a slender-wrist-friendly build.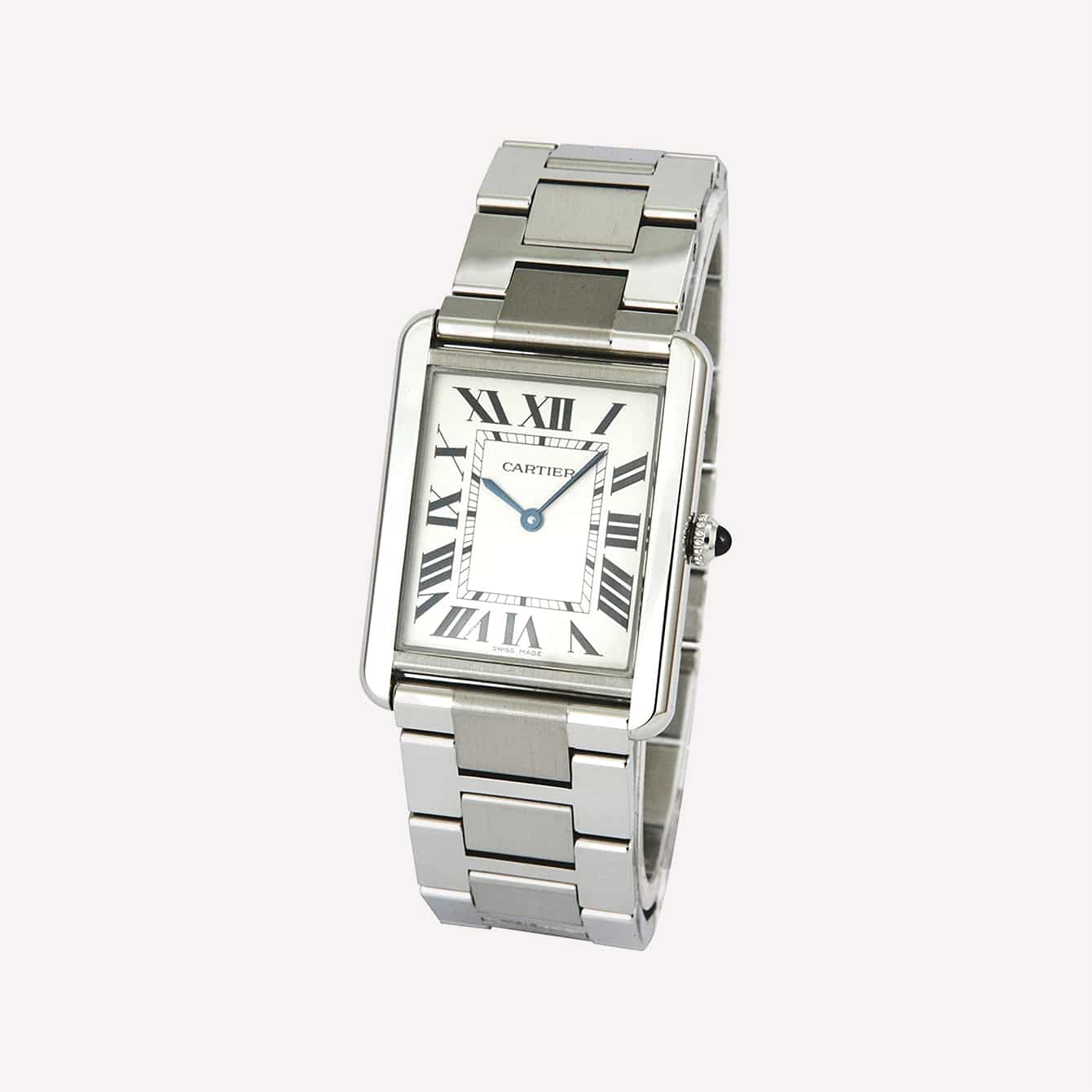 The Cartier Tank Solo has all of the trademarks: The silvered opaline dial, blue sword hands made of steel, and of course, the Roman numerals, square case, and jewel crown.
It's not the most function-forward timepiece, but it's a legendary design.
Dimensions: 34.8 mm x 27.4, 5.5mm thickness
Case material: Stainless steel
Water resistance: 30m
And between its scratch-resistant crystal and steel body, it will last you decades, if not forever.
Seiko Presage SPB167J1
Not only is the SPB167J1 a dressy and distinct-looking everyday watch, but you also get the Seiko signature bang-for-buck functionality.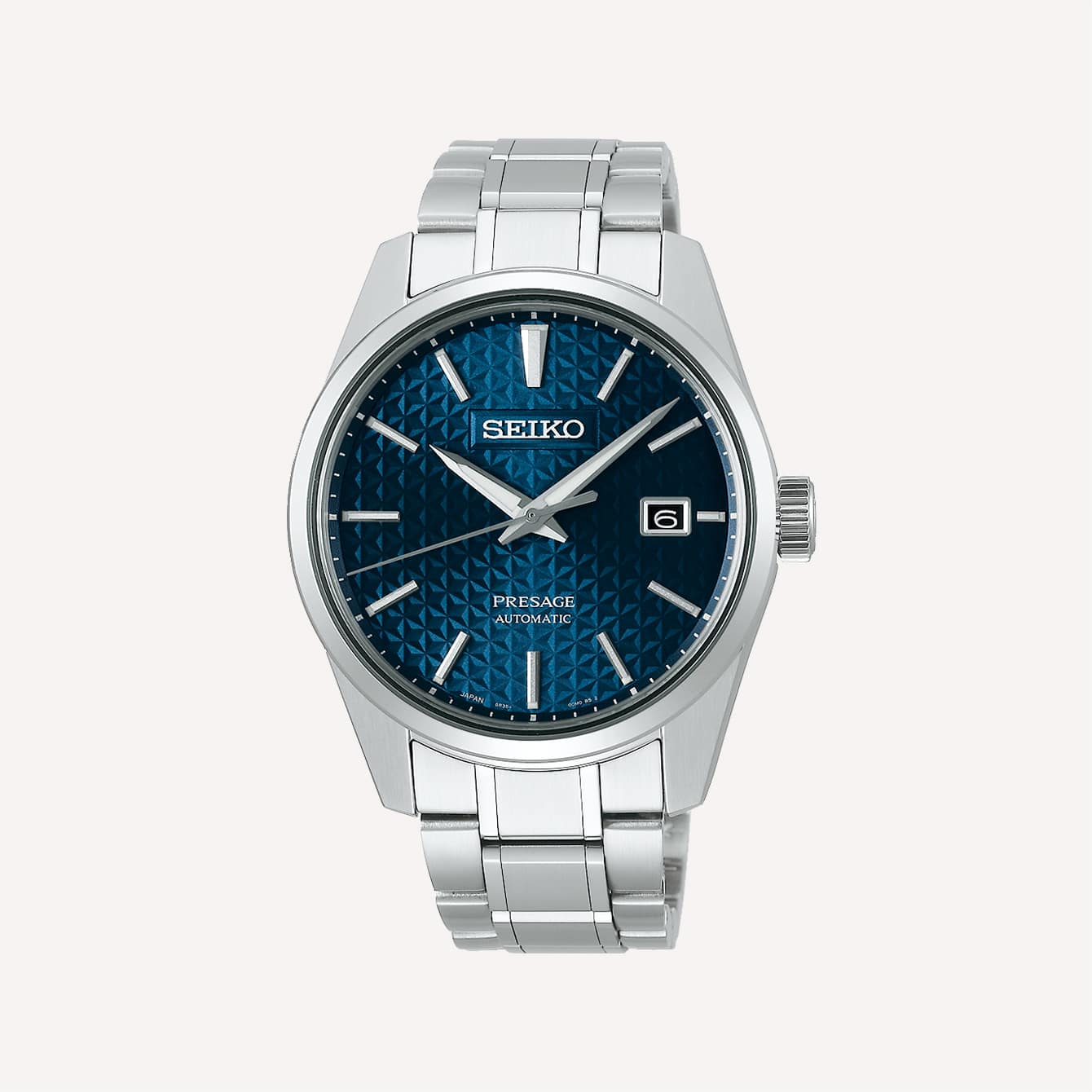 The in-house 24-jewel 6R35 movement comes complete with a date display and a whopping 70-hour power reserve.
Visually, the Presage line aims to combine craftsmanship with a Japanese aesthetic sensibility. The entire watch has a harmonious beauty about it, from the smooth way the lugs graduate into the bezel to the soft angles of the date.
Dimensions: 39mm diameter, 11mm thickness
Case material: Stainless steel
Water resistance: 100m
Its diamond-plate dial gives a slightly industrial touch that doesn't take away from the watch's versatility and elegance.
Bulova Banker
The Bulova Banker is a good-old-days kind of watch, with a premium build and construction.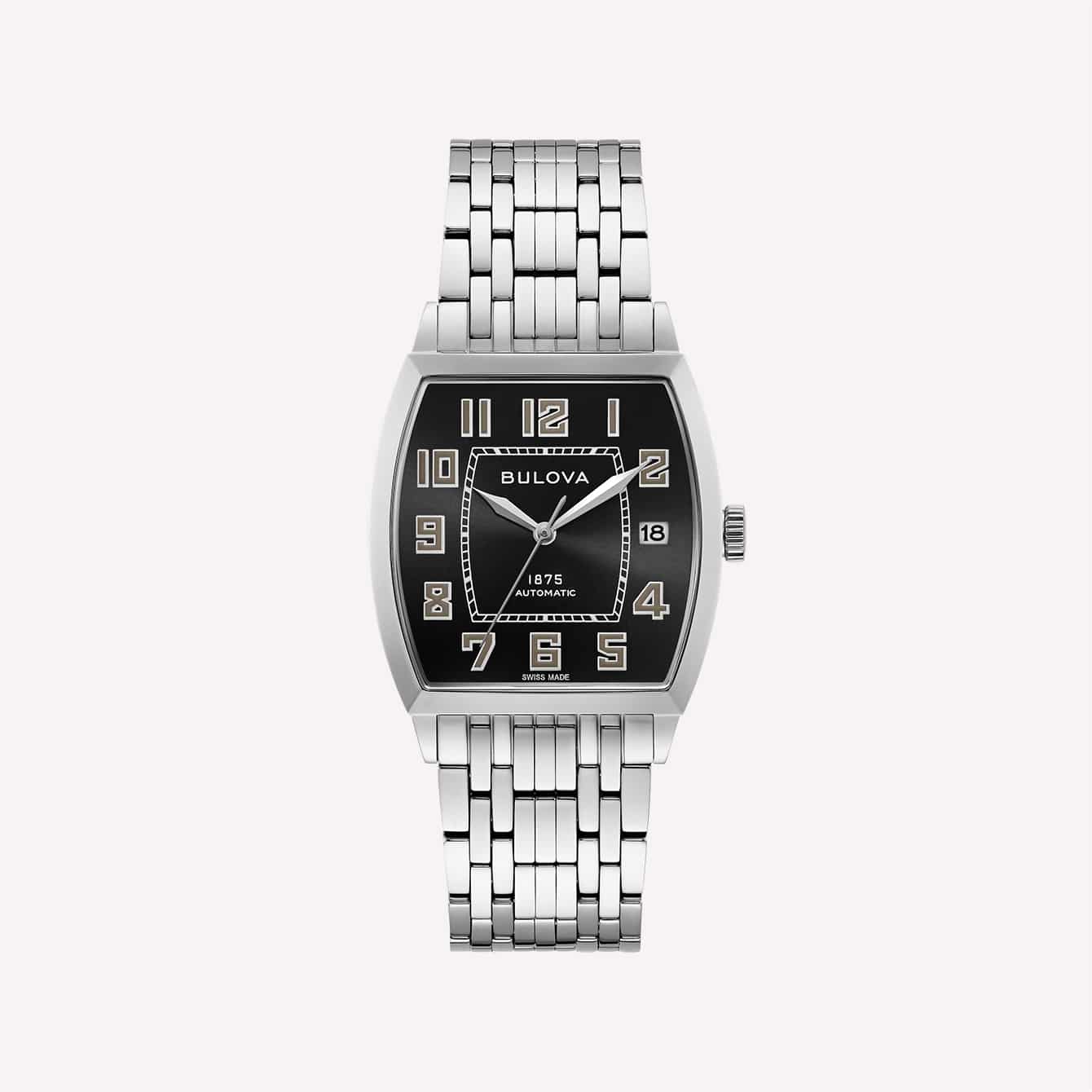 The painted Arabic markers look charmingly vintage in front of the silky black dial. Between the Deco font and the complex bracelet, this timepiece manages to be straightforward but eye-catching.
The 26-jewel Swiss automatic movement is exposed through the back and is adorned with a custom rotor and a Joseph Bulova signature.
Dimensions: 33mm diameter, 10.5mm thickness
Case material: Stainless steel
Water resistance: 30m
For pressure resistance, the Banker features a smooth deployant closure with pushers and an AR-coated domed sapphire crystal.
Longines HydroConquest
The Longines HydroConquest has everything you need in a classic dive.
The bezel moves crisply and play-free, the screw-down caseback contributes to the 300m of water resistance, and the scratch-resistant sapphire protects a well-lumed and legible dial.
The wide and long 12, 6, and 9 indices contribute to the watch's trademark look and give it a distinct dive-meets-pilot aesthetic.
Dimensions: 39mm,11.8mm thickness
Case material: Stainless steel
Water resistance: 300m
Plus, the L888 movement beats at a respectable 25,200 vibrations per hour and comes with a 72-hour power reserve.
Bell & Ross BR V1-92 Bellytanker
The Bell & Ross V1-92 line features six colorways, all slender-wrist friendly and all worth looking at.
We're focusing on the unique but versatile Bellytanker because of how labored over every single detail on this watch seems to be. It's also slightly more affordable than the other watches in the line.
The gilt dial, metal applique indices, and skeletonized Super LumiNova hands are flawless. The anti-reflective sapphire flaunts a strong curve, adding durability and an interesting profile in partnership with its thin case.
Dimensions: 38.5mm, 11mm thickness
Case material: Stainless steel
Water resistance: 100m
Even the date window is circular to match the overall arched aesthetic.
Mont Blanc Star 117577
A fanciful take on a classic dress watch, the Mont Blanc Star's design plays with texture and color, while still remaining fairly understated.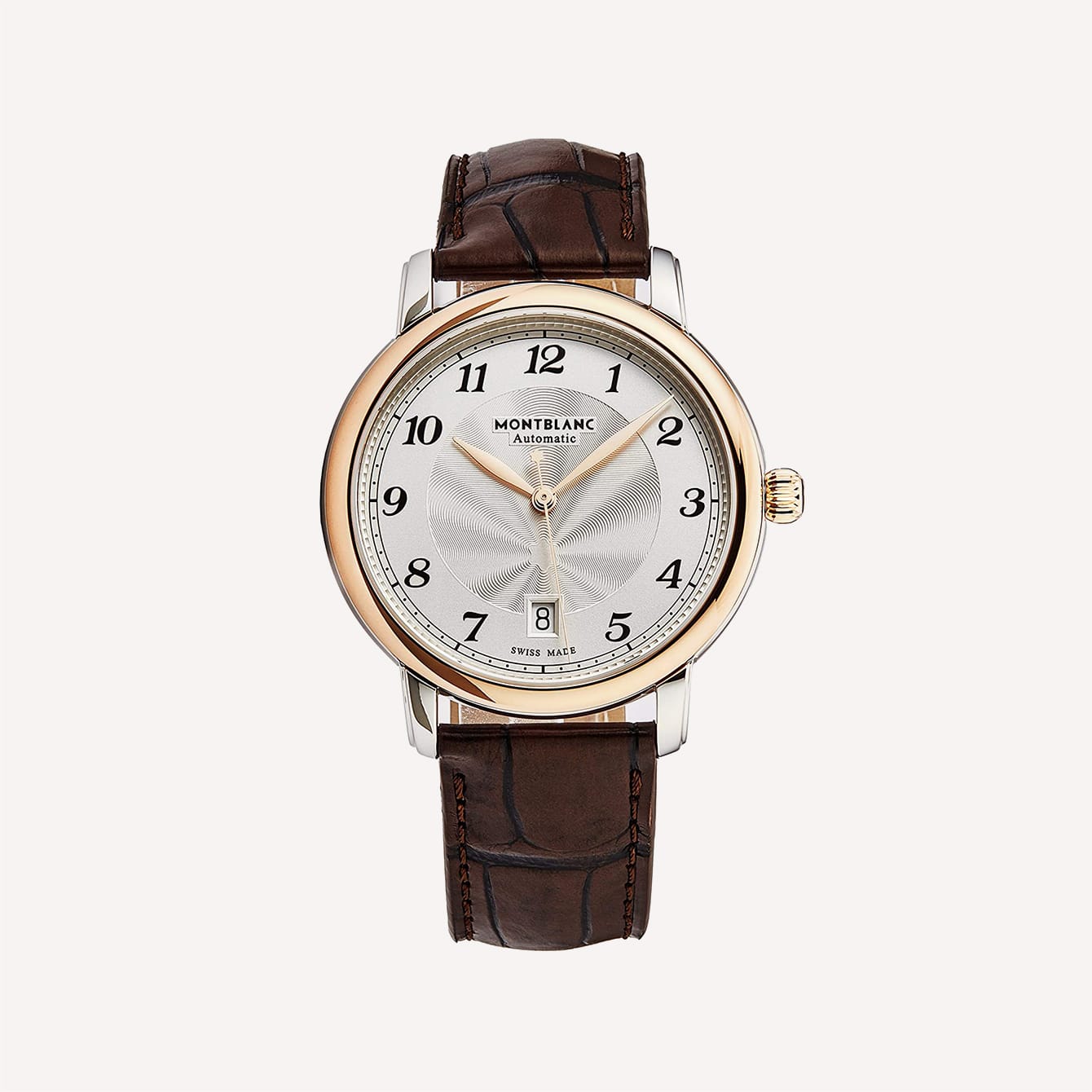 The inner dial features an almost psychedelic take on the classic guilloche dial, highlighting the Arabic numerals and elegant leaf hands.
Offering a fun contrast-color look, the case and lugs are silver, while the bezel is gold, as is the easy-to-operate onion crown. The 117577 runs on a 21-jewel automatic with an accurate 28,800vbh.
Dimensions: 39mm, 9mm thickness
Case material: Stainless steel
Water resistance: 30m
Overall, this watch is whimsical but not distracting or costumey, thanks to its foundation in classic design and premium materials.
Rolex Oyster Perpetual Datejust, Used, Vintage
With enough creativity, you can find used and vintage Oyster Perpetuals anywhere from $2,000 to just under $4,000. Used Air-Kings and OPs are the easiest to find at entry-level price points of all the Rolex lines.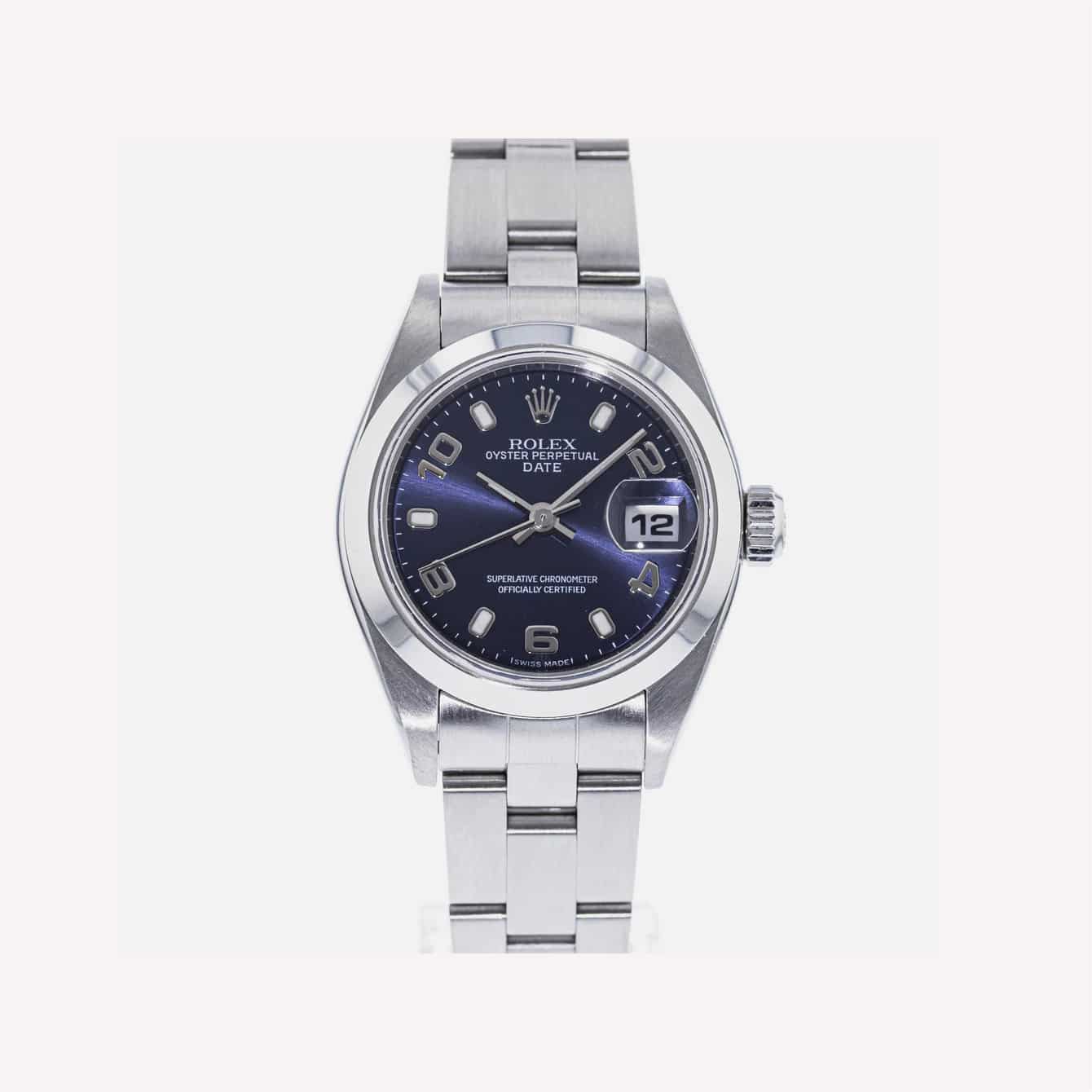 The Oyster Perpetual is Rolex at its essence, with no extra bells and whistles. This allows the spotlight to shine on the two features that put Rolex on the map — the oyster case and the automatic "perpetual" movement.
If you're going to invest in a Rolex, let's be real and accept that a level of recognizability is one of the priorities. While the Sub is Rolex's most quintessential sport watch, the Oyster Perpetual Date represents the brand at its core.
Moreover, Rolex watches are famously easy to service, which makes buying used or vintage a little less risky.
Dimensions: 34mm, 36mm, thickness ranges depending on reference and year
Case material: Stainless steel, precious metals
Water resistance: 0m-100m
Some great places to find used Rolexes include eBay, Hodinkee, Crown & Caliber, Chrono24, and occasionally Jomashop.
Christopher Ward C60 Trident Pro 600
The Christopher Ward C60 Trident Pro is chock-full of style and function. The Trident lollipop and arrow hands are instant classics, as is the silhouette of the lugs and crown guard, which curves before every sharp turn.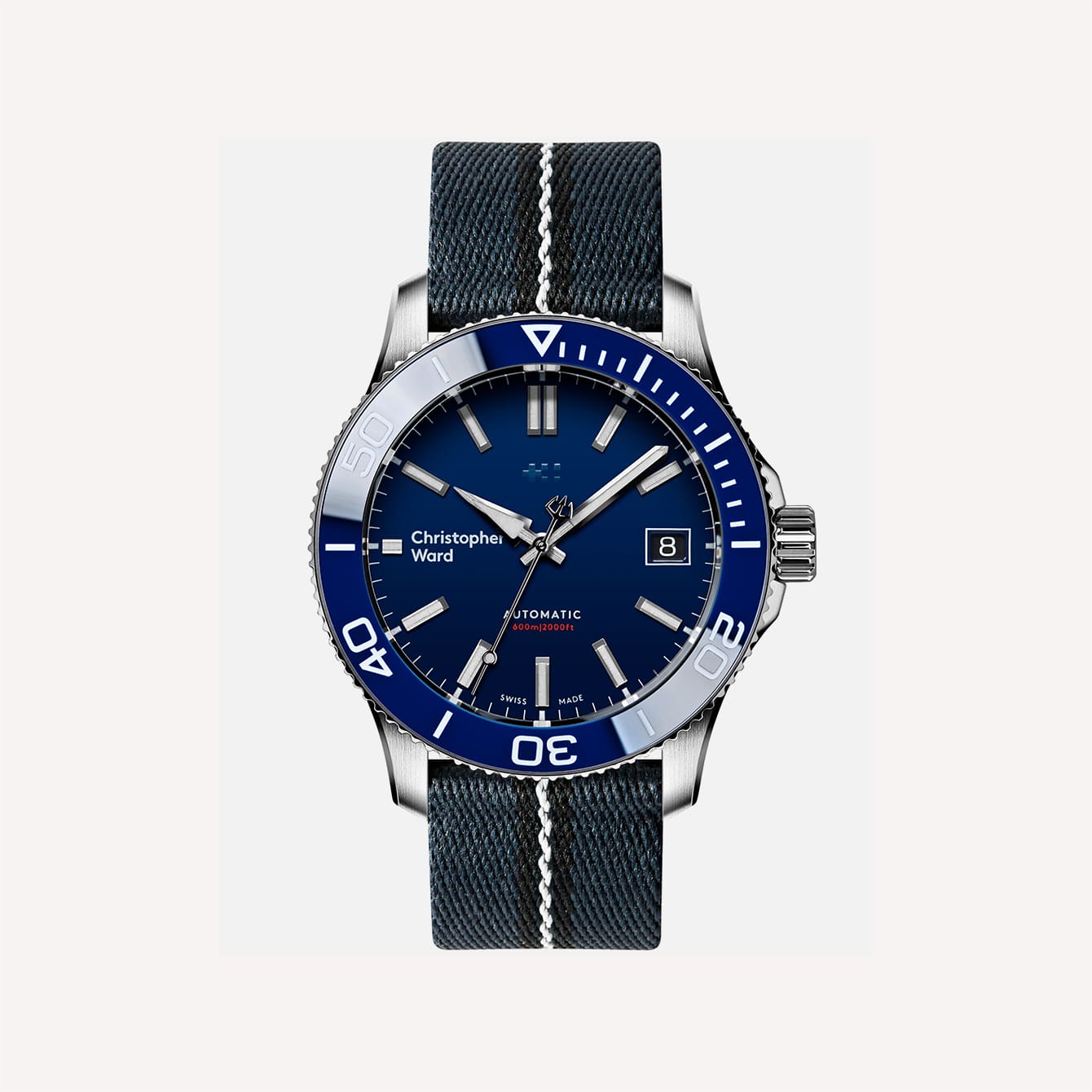 Distinguished style aside, the ceramic bezel is fade-proof and robust, while the 26-jewel Swiss movement is smooth and anti-shock.
The C60 also boasts a whopping 600m of water resistance. Thanks to Christopher Ward's direct-to-consumer model, this watch is only ~$895-$1015, depending on customizations.
Dimensions: 38mm, 12.7mm thickness
Case material: Stainless steel
Water resistance: 600m
With a traditional brand, a watch of this caliber can easily set you back a good $3000-$4000.
FAQs About Affordable Luxury Watches
Here are the answers to some common questions.
What Is an Entry-level Luxury Watch?
When it comes to price, entry-level luxury watches fall between $1000 to $2500 on average. Higher-end brands have more expensive entry-level models.
Meanwhile, mid-tier brands have less expensive high-end models that are also considered entry-level luxury.
For example, an "entry-level" Grand Seiko watch might cost $3000, while a "high-end" core Seiko watch could be less than a grand. Both are considered entry-level luxury watches.
Is Tissot a Luxury Watch Brand?
Because of its Swiss heritage and history, Tissot is considered a mid-tier luxury brand. Though they offer an affordable core line, Tissot also makes higher-end Swiss Made timepieces that cost anywhere from $1000 to $3000.
Is Rolex an Entry-level Watch Brand?
Rolex is a top-tier luxury brand. Among the world's most expensive, often-auctioned brands though, Rolex actually offers more reasonable prices. Vacheron and Patek, for example, arguably don't even offer entry-level watches.
What Is the Cheapest Rolex?
The Oyster Perpetual is the cheapest new Rolex at $5800. You can find used OPs and Air-Kings from just over $3000 to less than $5000.
Is Tag Heuer a Luxury Brand?
Yes. Tag Heuer is a luxury brand known for its connection to auto-racing and sports timing. Since they're so sports-oriented, Tag Heuer doesn't often offer precious metal constructions or super dressy designs.
This means their watches aren't as high-priced as the Rolexes and Omegas of the world. Still, they're a true Swiss luxury brand despite ranking below other Swiss timekeepers.
Affordable Luxury Brands: Which Ones Pique Your Interest?
Entry-level luxury watches are one of the best investments you can make as a collector. Even for you one-watch guys, I thoroughly recommend going for one of these honest investment pieces.
Whether they're sporting a classic style you can pass on to your children or equipped with long-lasting function, this category provides a high-end experience at reasonable prices.
Questions? Comments? Leave them below!