In this post, we round up the 10 best Daniel Wellington watch alternatives that you can buy for less than $300. Read on to see the full list!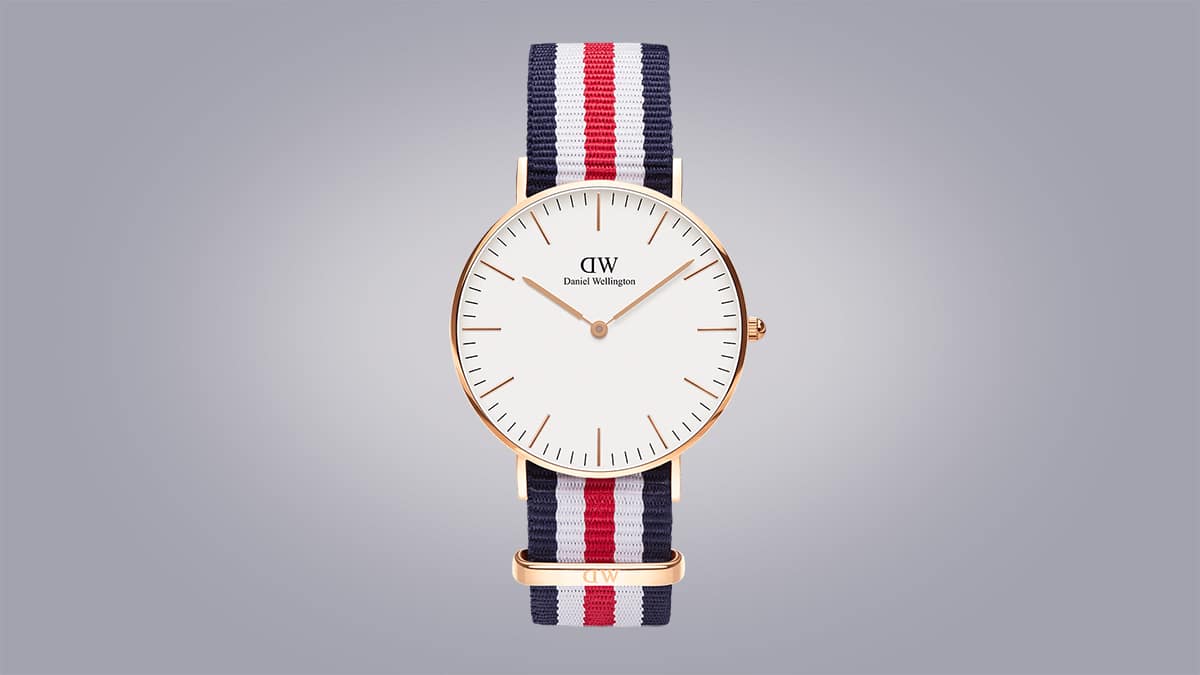 So, you're interested in a Daniel Wellington watch. Perhaps through a friend, coworker, or a beautiful person on Instagram, you've discovered this alluring watch brand. With nearly 5 million followers, the company is a huge success. Why, then, shouldn't you get a Daniel Wellington?
This brand is successful due to their clever marketing, not their heritage, quality, or craftsmanship. The reality is their watches are mass produced in China and sold at a huge markup.
Watches indistinguishable (and likely made in the same factory) from Daniel Wellington pieces can be purchased from Chinese retailers for a tenth of the price. Even their designs aren't unique or original.
First, let's identify the defining design traits of a Daniel Wellington watch. Though the brand's offerings have grown to include rectangular "tank" style watches, the dial layout remains practically identical throughout their catalog.
This minimalist design includes a big dial-to-case ratio with thin lugs and a small crown. The dial features applied baton indices, a printed minute track, and plenty of negative space.
The handset includes two slender pencil hands and forgoes a seconds hand. The only text on the dial is the company name along with their stylized monogram logo.
If you're interested in a DW watch for its design, here are some alternatives to consider that will give you much better value for money. We aim to recommend watches that are more affordable than a Daniel Wellington or superior in terms of build quality and brand heritage.
The 10 Best Daniel Wellington Alternatives Under $300
Here they are in no particular order…
Casio MW-240-1EVCF
First on our list is Casio. From calculators to keyboards, Casio is one of Japan's most prolific consumer electronics companies. In the 1980s, Casio dominated the watch market with their first ever mass produced digital watches.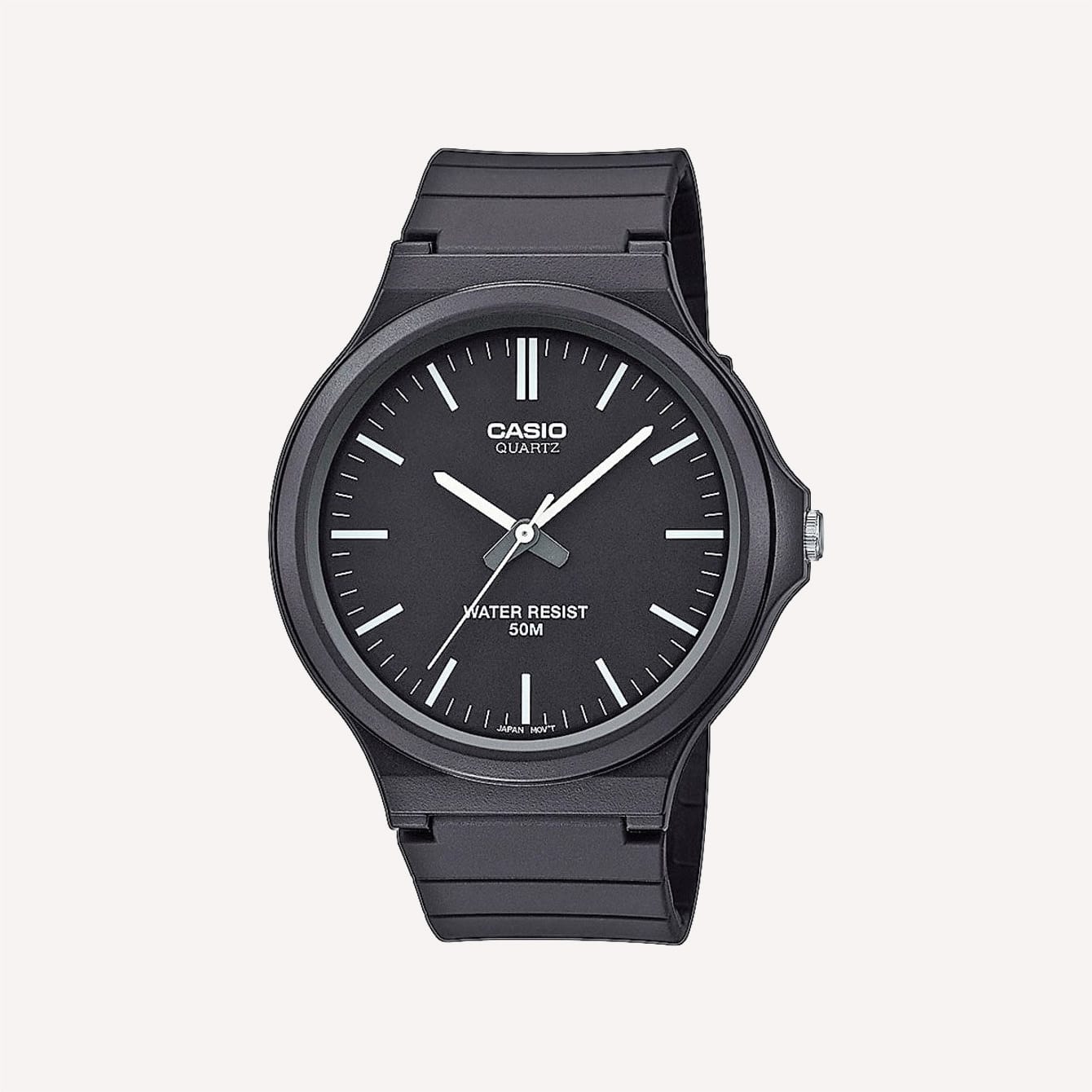 Their G-Shock line featured the first watches to incorporate an impressive shock-resistant internal structure and was an instant success. Today, Casio continues to design affordable digital watches with innovative technology.
Dimensions: 43.6mm diameter, 48mm length, 10.3mm thickness.
Case material: Resin
Water resistance: 50m
Modestly priced and highly dependable, you just can't go wrong with these. Available dial configurations include black, white, or black with gold/gilt style hands and indices.
Casio MTP-VT01 Series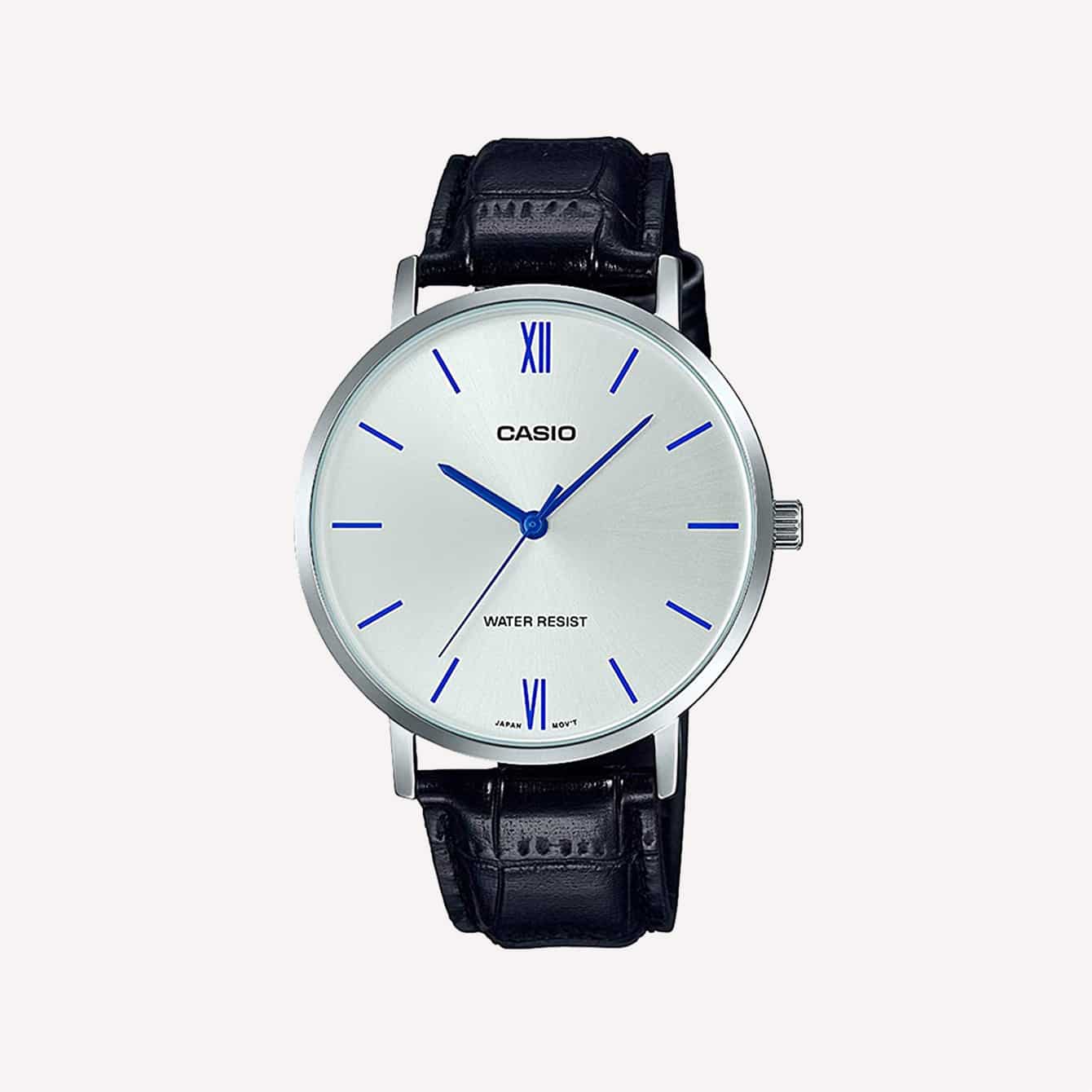 Dressier than the previous entry, this watch features a stainless steel case and classy roman numerals at the 12 and 6 o'clock positions.Available dial colors include black, silver, or blue, and the watch comes on leather or a bracelet.
Dimensions: 40mm diameter, 8.2 mm thickness.
Case material: Stainless steel.
Water resistance: 30m
Additionally, there is a version with Bauhaus style numerals: the MTP VT01D-1B2.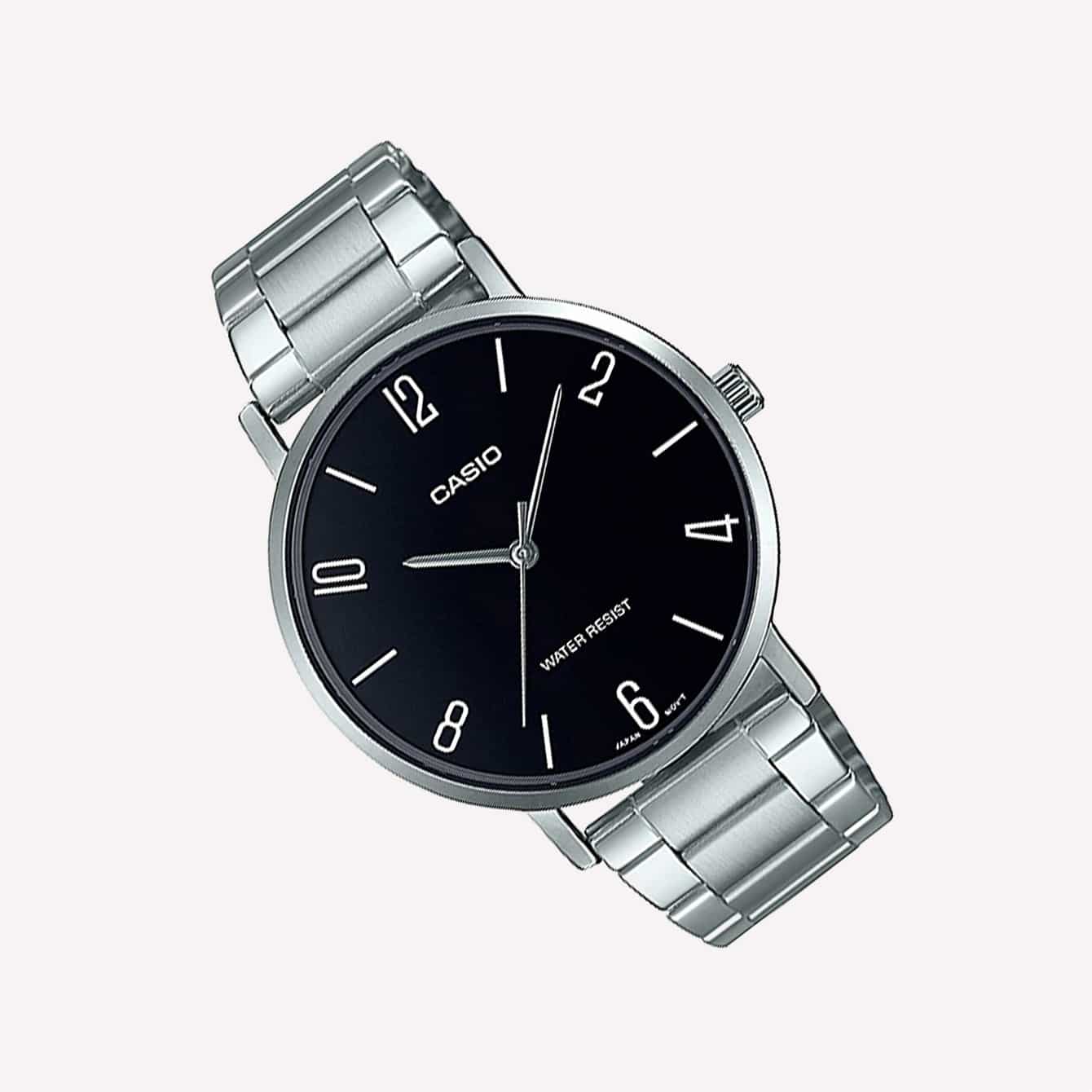 However, it seems to be an international release and you may have to pay a little more due to its limited availability. eBay is the safest option for buying this particular model in the US.
Timex Fairfield
Timex is a staple American brand first founded in 1854 as the Waterbury Clock Company. They made a name for themselves producing affordable and durable timepieces. In recent years, they've regained popularity through retro reissues and new automatic watches.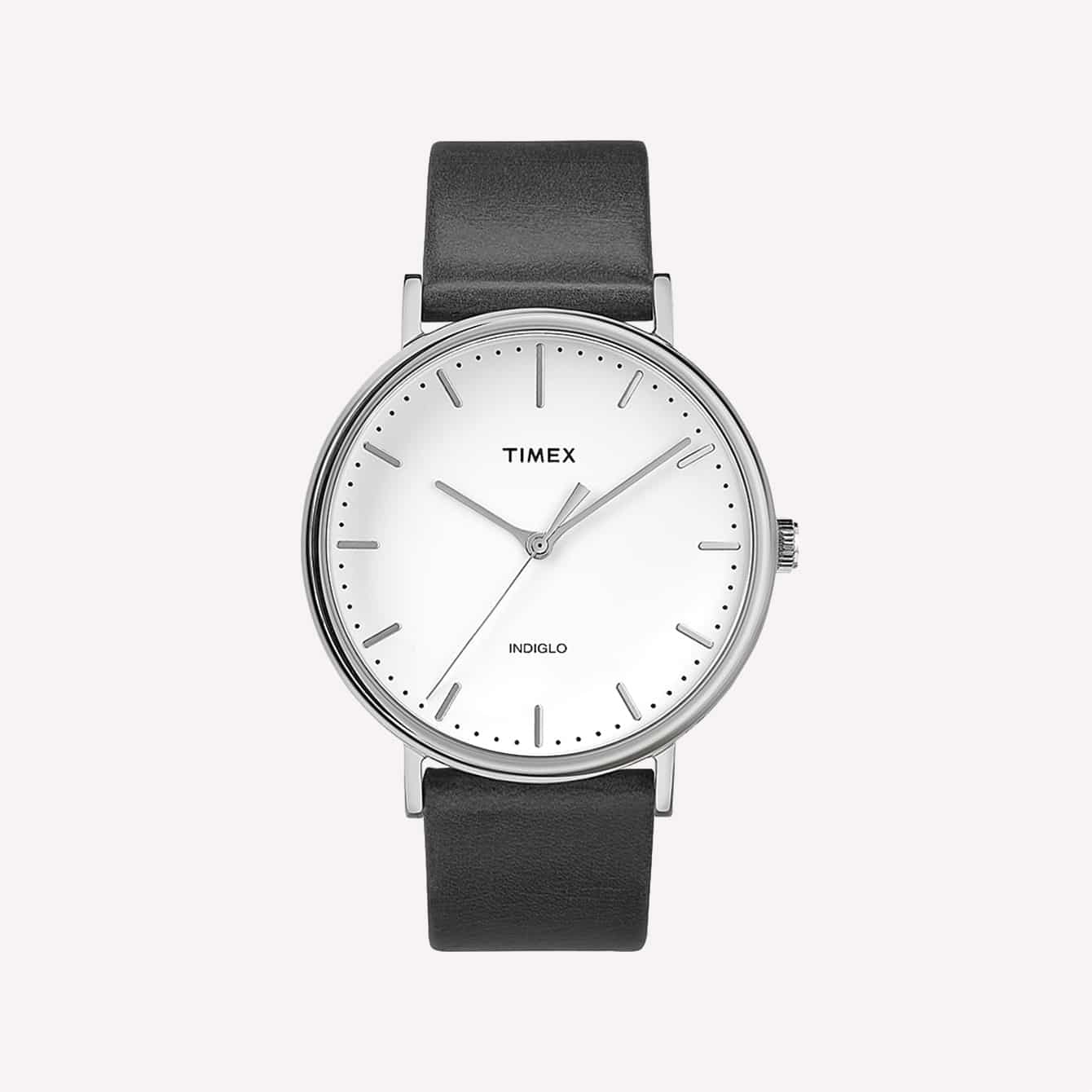 This one features the brand's take on minimalism with a rounded baton handset and matching indices, along with Timex's signature Indiglo backlight.
Dimensions: 37mm or 41mm, 8.5mm thick
Case material: Plated brass
Water resistance: 30m
The watch is available on leather, NATO straps, or a mesh bracelet and comes in polished silver, gold, and rose gold finishes.
Orient Bambino Gen II Ver 3
With history dating back to the early 20th century, Orient is known today for their affordable watches with in-house movements produced in Japan.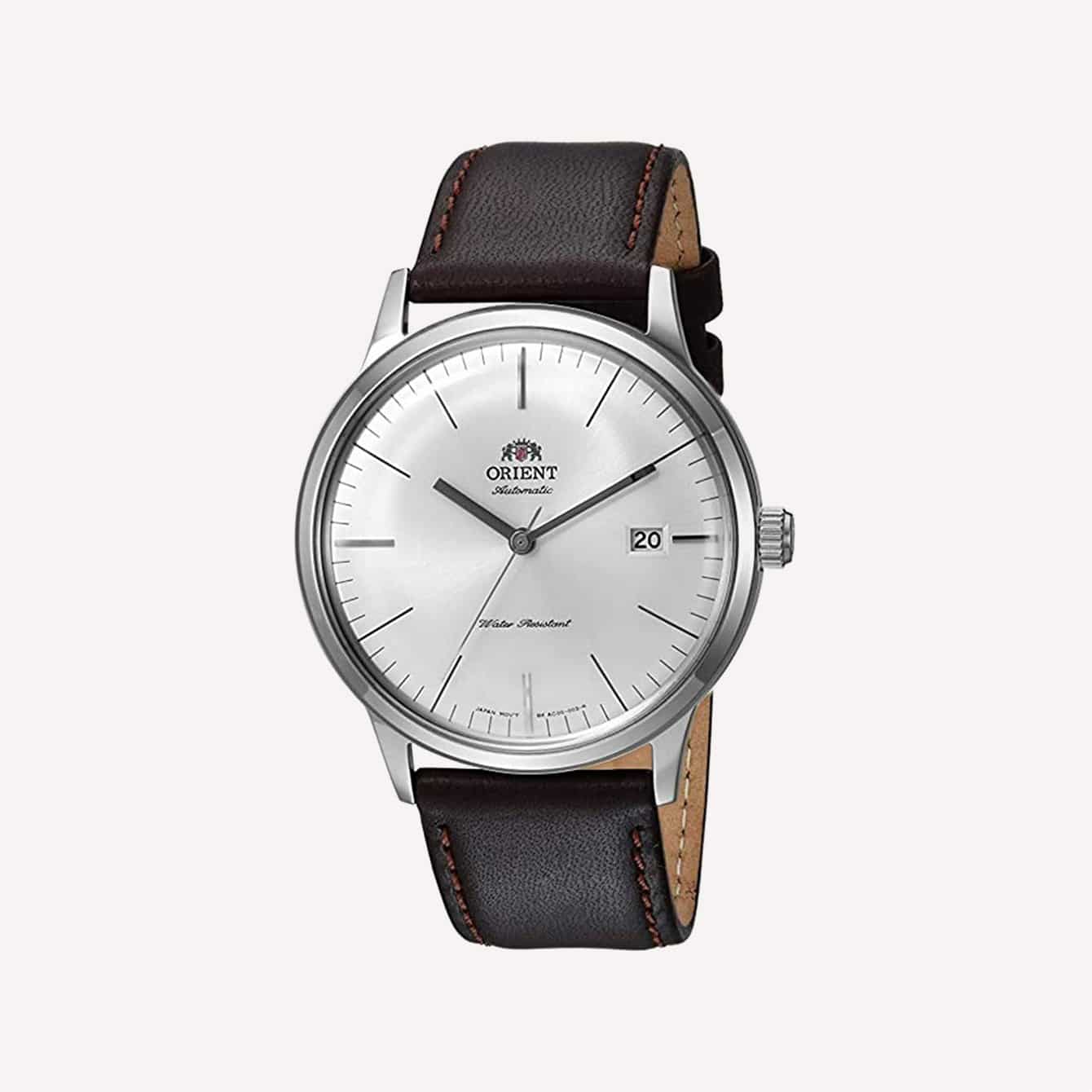 Powered by the Caliber F6724, the Bambino is one of the most affordable automatic watches on the market. It's no surprise why this watch is a hit among enthusiasts.
Dimensions: 40.5mm diameter, 11.8mm thick
Case material: Aluminum
Water resistance: 30m
This version is available in four dial colors, white, black, grey, blue, with each of them featuring a sunburst finish.
Tissot Everytime
For about the same retail price as a Daniel Wellington, you can get a Swiss-made timepiece from Tissot, one of the best entry-level luxury watch brands. This includes a Swiss ETA quartz movement, and scratch resistant sapphire crystal.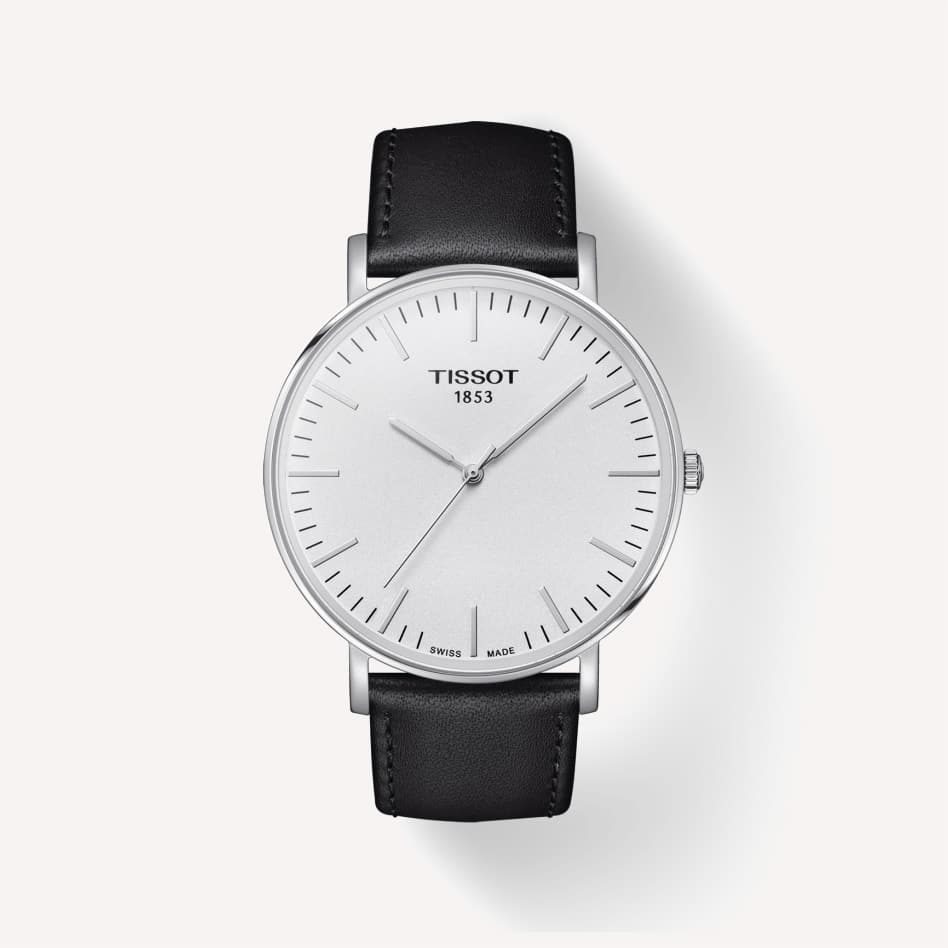 There's also an automatic version available with a date complication if you're willing to pay more for the upgrade. This watch comes on leather, NATO strap, or a beads of rice bracelet. There are different dial configurations and finishes available depending on which size you buy.
Dimensions: Everytime Large – 42mm diameter, 6.5mm thick
Everytime Medium – 38mm diameter, 6.5mm thick
Case material: Stainless steel
Water resistance: 30m
The Everytime Large offers an alternate printed dial with arabic numerals, while the Everytime Medium offers an entirely gold PVD version, one in rose gold, and a two tone gold/silver with matching bracelet.
Seiko SUP873
Founded in 1881, Seiko is Japan's premier watchmaking company. From their luxurious Grand Seiko line to their remarkably affordable Seiko 5 line, they produce watches at all price points and have made numerous horological innovations throughout history.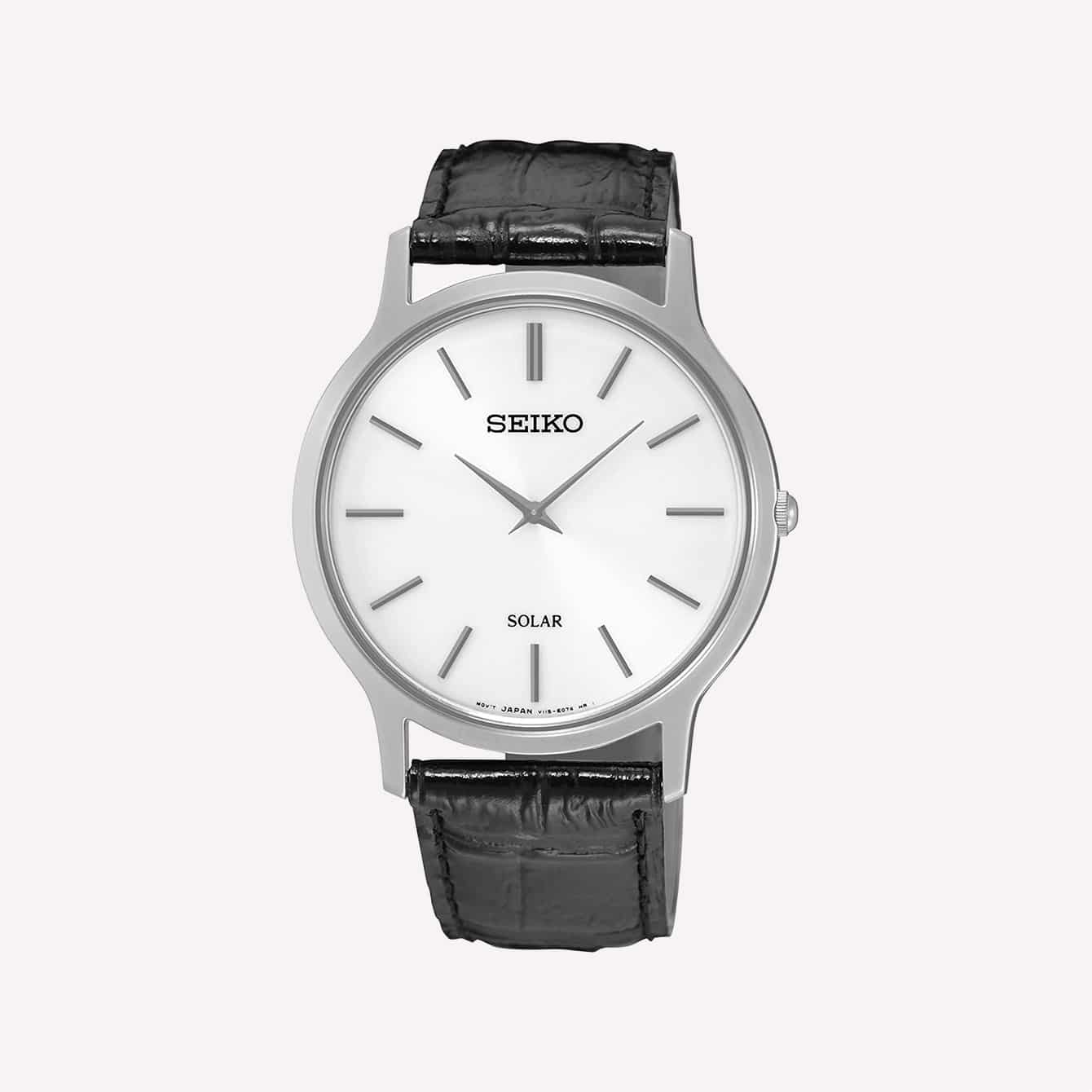 Showcasing a white sunburst dial, applied indices and two dauphine hands, this watch is understated in all the right ways.
Dimensions: 37mm diameter, 7mm thick
Case material: Stainless steel
Water resistance: 30m
Featuring Seiko's solar quartz V115 movement, one full charge will last for 6 months. This watch also features Seiko's in-house Hardlex crystal.
Swatch Skin Irony
In 1983, Swatch took the world by storm as the first Swiss-made affordable quartz brand. Aimed at the younger generation, they were perhaps the Daniel Wellington of the era.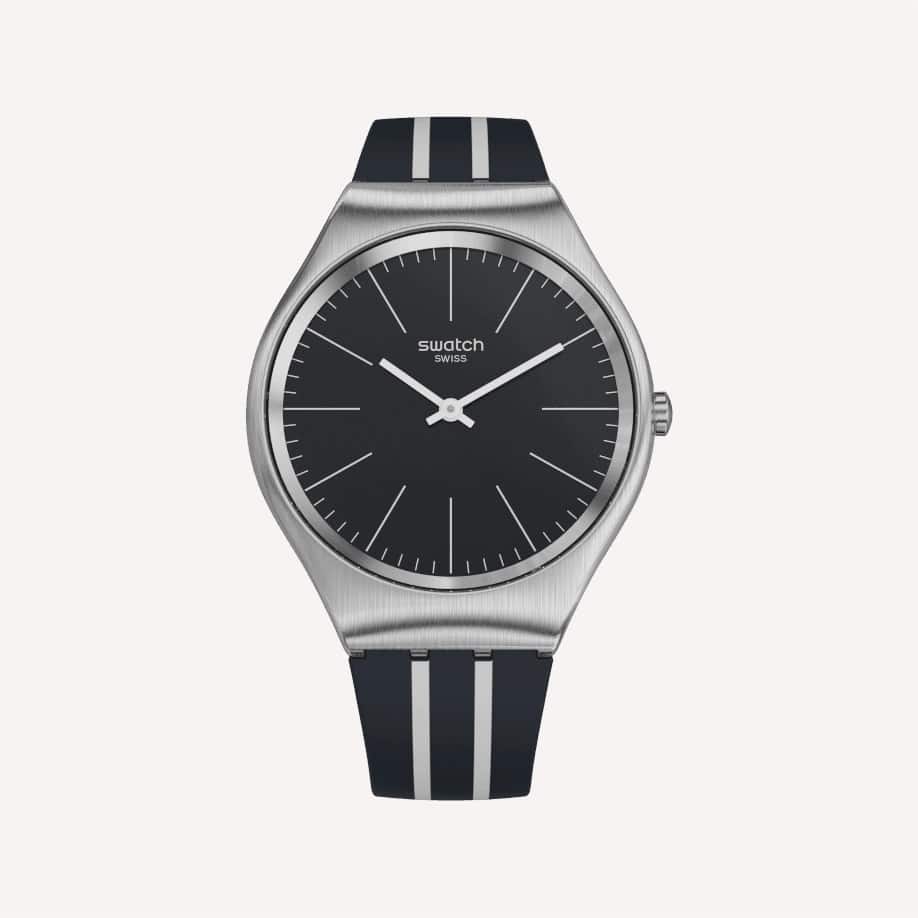 However, Swatch watches are unpretentious and made to inspire creativity and fun. Over the years, they have produced dozens of watches and several collaborations between artists and designers. Part of their Skin Irony collection, this is among the slimmest watches Swatch offers.
There are multiple colorways, dial layouts, and strap options in this collection, so have a look around if you don't love this one.
Dimensions: 38mm diameter, 45.6mm length, 5.8mm thick
Case material: Stainless steel
Water resistance: 30m
Swatch watches feature an integrated lug design, which means you'll have to buy their proprietary straps, but they're quite affordable as well.
Braun BN0172
Known for the minimalist industrial design of their products, Braun has produced everything from electric shavers to coffee makers. Though, it's impossible to talk about Braun without mentioning Dieter Rams, the company's design director for 40 years.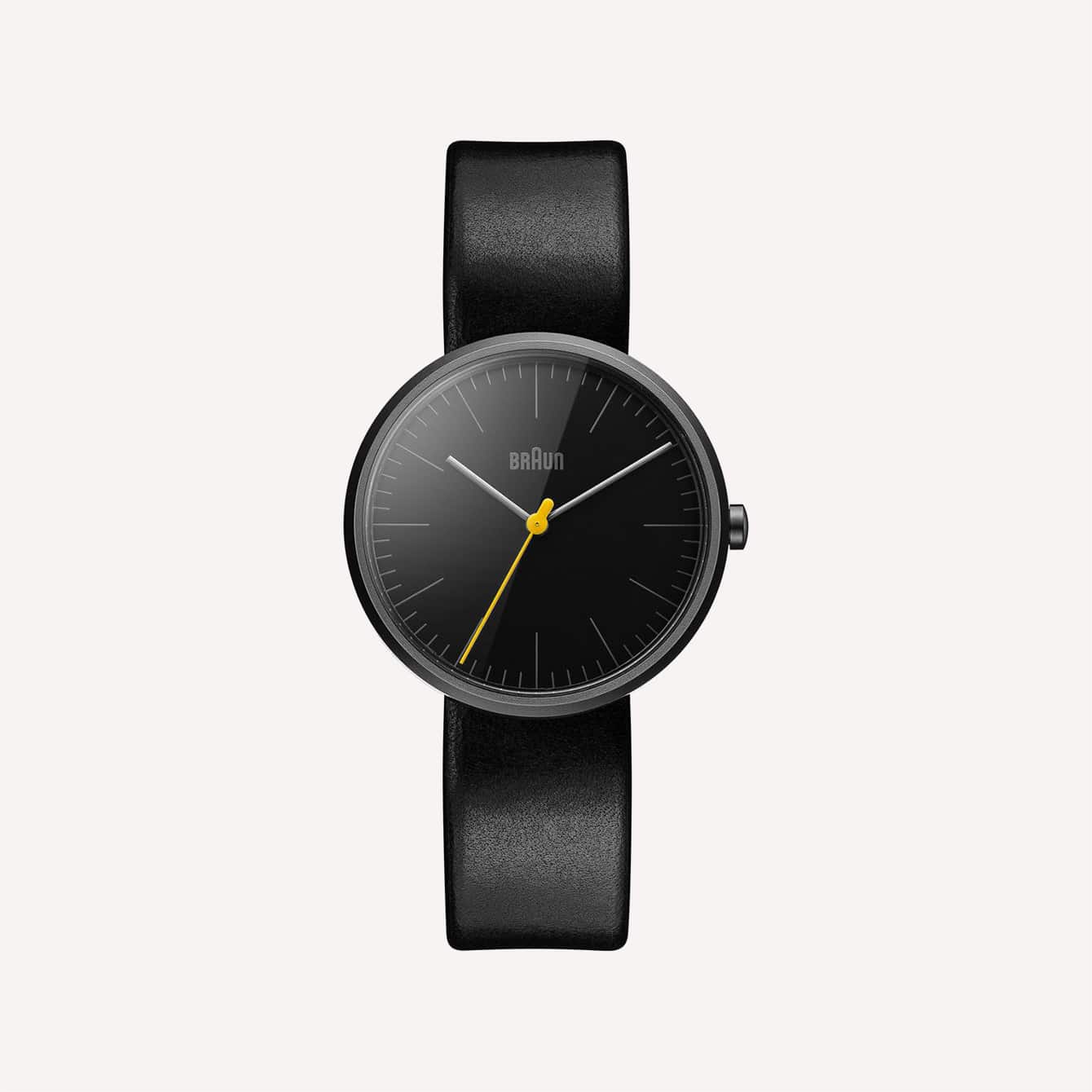 His timeless "10 principles for good design" continue to inspire designers today. This watch features a ceramic case and a unique lugless strap design.
Dimensions: 42mm diameter, 10.4mm thick
Case material: Ceramic
Water resistance: 30m
There are a few other models with an integrated mesh bracelet and a more traditional lug system, so take your pick.
Sternglas Modesto
Sternglas is a Hamburg-based microbrand founded in 2016 by Dustin Fontaine. His dream to start his own watch company was brought to life through Kickstarter, and he's been expanding his collection since then.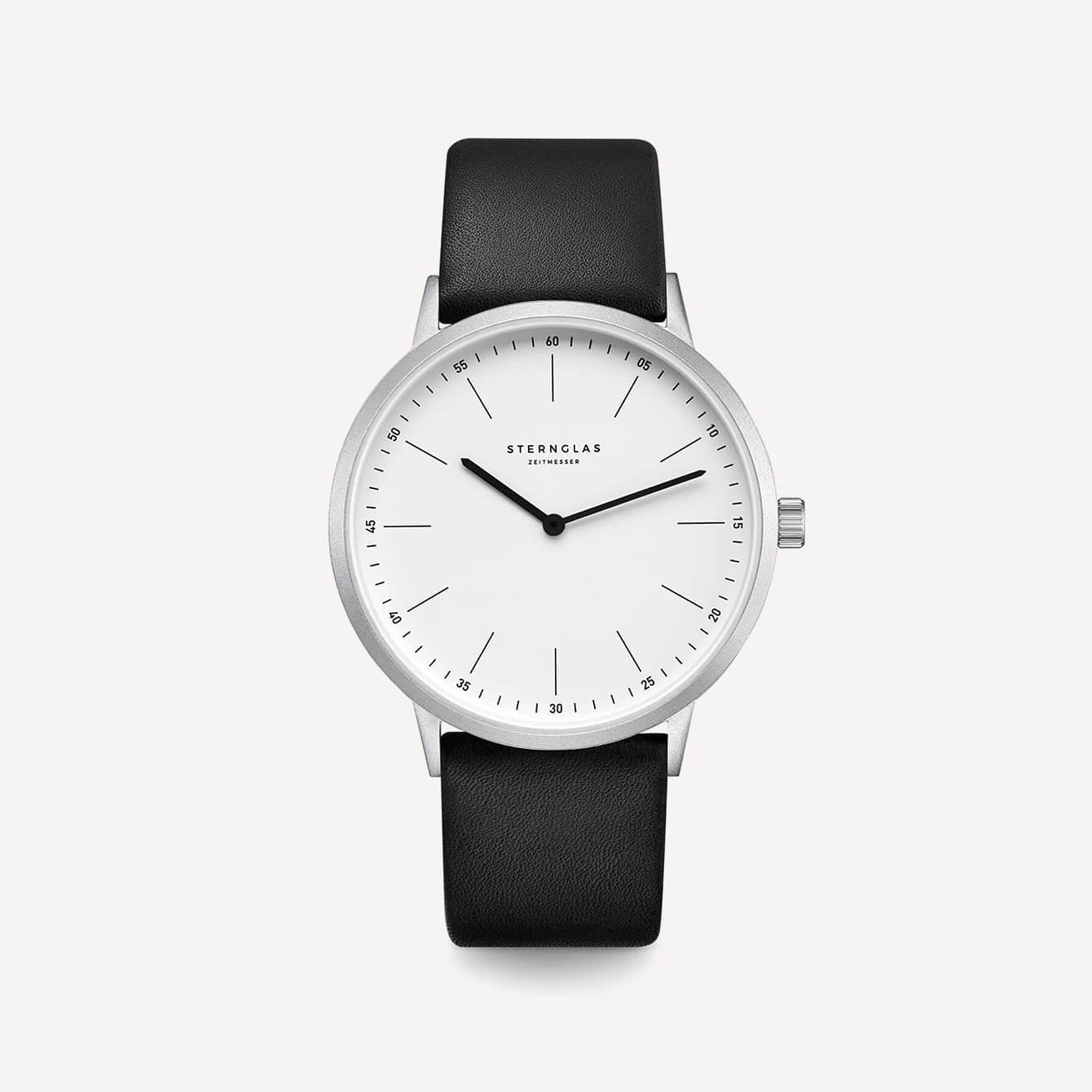 The newly introduced Modesto features a remarkably lightweight aluminum case.
Dimensions: 40mm diameter, 45mm length, 7.5mm thick
Case material: Aluminum
Water resistance: 30m
In keeping with the Bauhaus form-follows-function ethos, Sternglass designs are all minimalistic and easily legible.
Junkers Bauhaus
Named after Hugo Junkers, this company commemorates the achievements of its namesake. Junkers, an engineer and aircraft designer, created the world's first civilian aircraft.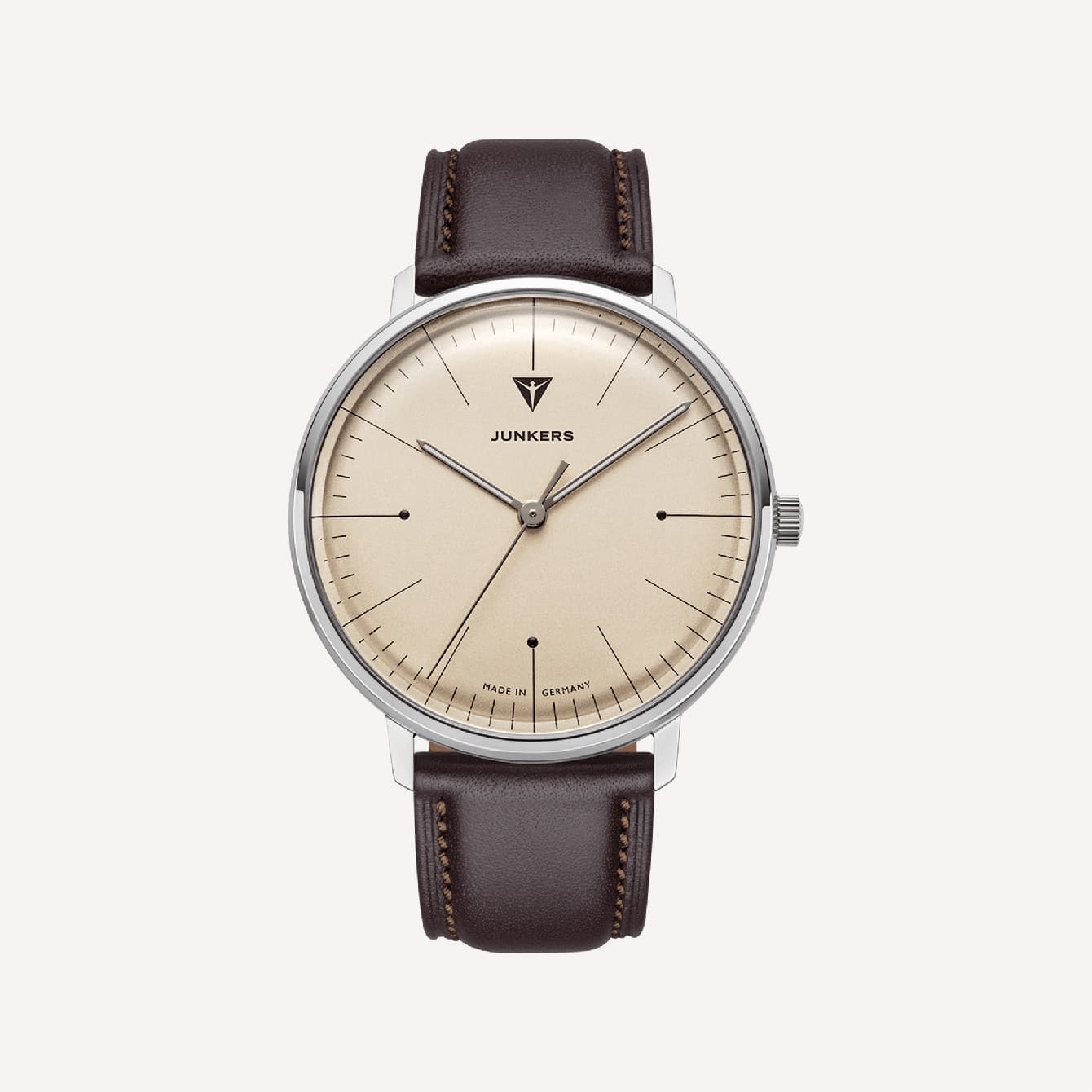 He was also an important sponsor of the Bauhaus school, and this watch was produced for the 100th anniversary of the school's creation.
Proudly made in Germany, this watch features subtle details like an acrylic crystal that give it an authentic vintage feel. While this material is more prone to scratches, it can just as easily be polished like new.
Dimensions: 38mm or 40mm diameter, 10.1mm or 10.6mm thick
Case material: Stainless steel
Water resistance: 50m
Note, Junkers watches are sold through their official German retail site, and you may have to pay more on import fees.
Conclusion
If you've gotten this far and still want a Daniel Wellington, that's fine. There's nothing wrong with buying a fashion watch, as long as you know you're paying for the brand name and not much else. In the world of watches, there's much more to appreciate than just the name on the dial.
Hopefully, this article has shed light on that, and one of these watches has piqued your interest. If not, we suggest you keep exploring and see what's out there. Rather than buying something cheap and disposable, the best watch to buy is one that you can grow to appreciate more the longer you own it.