If you're looking into buying a Steinhart watch, this article will help you decide if you should.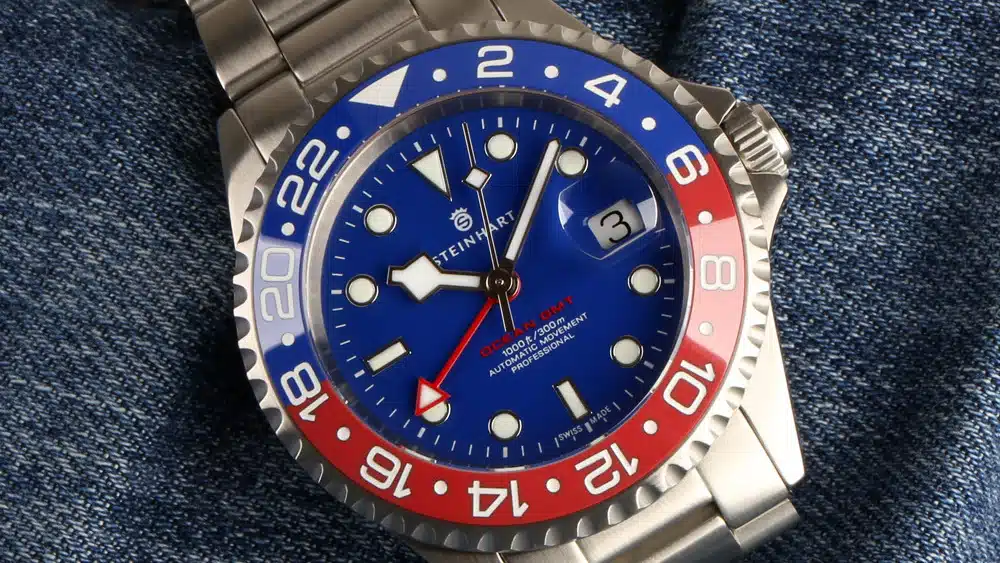 If you consider yourself a serious luxury watch enthusiast and you've experienced any measure of success in life, no doubt you have dreamt of owning your very own Rolex watch or something equally as pricey.
For some, it's a possibility. For others — a mere dream. If you're in the latter category you've probably considered settling for a cheaper alternative, but the difficulty in that lies within finding a reliable yet affordable brand that balances quality with longevity in equal measure.
Steinhart is a watch brand that positions itself within the affordable watch sector. Many of its designs are based on popular Rolex watches.
Whilst these watches may look similar, their price tags differ vastly, which makes Steinhart a consideration when it comes to searching the market for a suitable Rolex alternative. But how does a Steinhart watch measure up to a Rolex watch or other luxury watch brand?
First, let's take a look at some FAQs regarding Steinhart as a brand.
Is Steinhart Swiss-Made?
Steinhart is not a Swiss brand, although its watches are fitted with Swiss-made movements.
Founded in Augsburg by company chairman and watchmaker, Gunther Steinhart, the watch brand operates from Germany without the addition of any middleman or bricks-and-mortar stockists.
The Swiss-made movements that power Steinhart watches are ETA and whilst the brand's quest to produce in-house movements is still ongoing, you can upgrade to a Soprad movement in newer, more expensive models.
All sales of Steinhart watches take place online and are shipped directly from its Stadtbergen-based headquarters in Germany.
Is Steinhart a Homage Brand?
Steinhart is a homage watch brand that has produced timepieces clearly inspired by the Rolex Sub, and the IWC Big Pilot's watch, as well as GMT watches that strongly mimic the Rolex line-up.
Whereas some homage brands reiterate a popular design but combine it with their own style, Steinhart watches are considered a brand that mimics some of the world's most iconic collectibles in a very strong way.
However, for some, the designs are a little too close for comfort.
Is Steinhart As Good as Rolex?
One of Steinhart's most popular watches is the Ocean One dive watch. Equipped with legible hands and hour markers, a strong metal bracelet, and a unidirectional rotating bezel, the watch certainly has plenty of aquatic aspirations.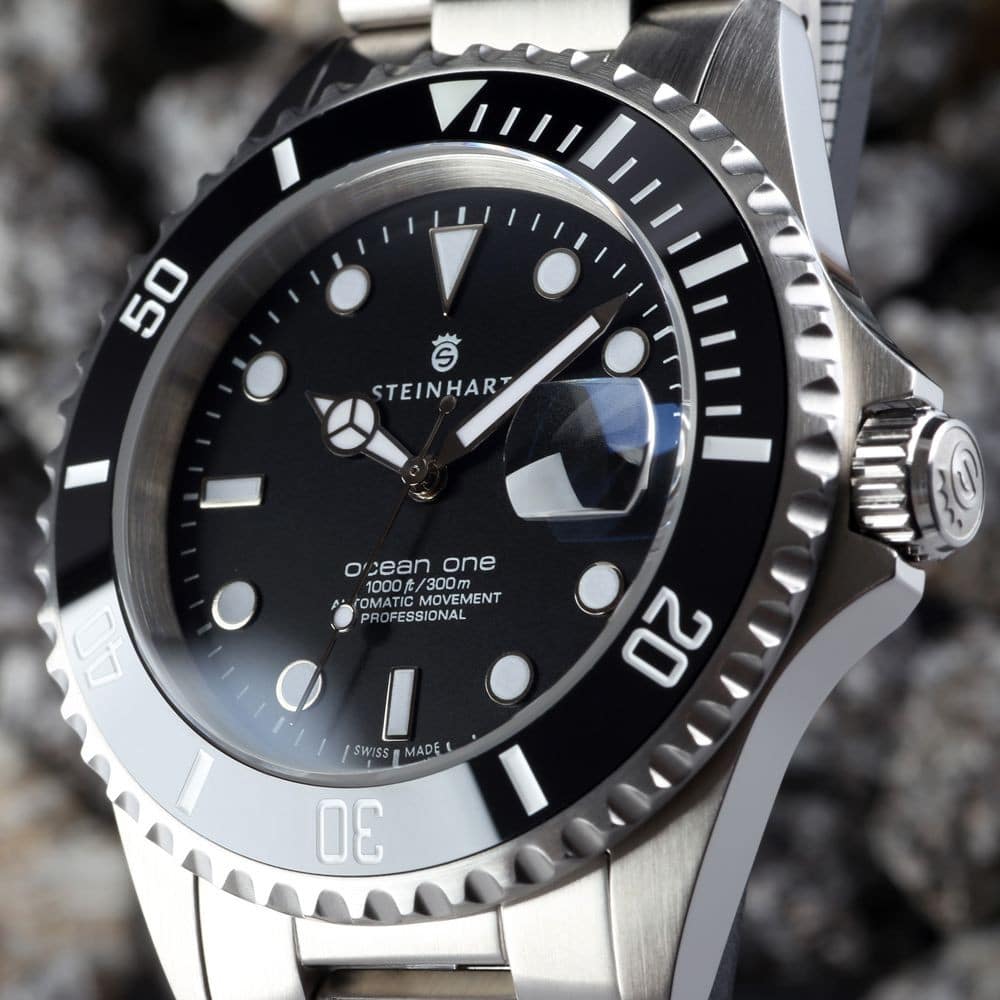 Its design is based heavily on the Rolex Submariner, however, which is one of the world's most sought-after and expensive dive watches on the market.
Any Rolex watch fan will agree that the price of a Submariner watch is reflected in the company's use of innovative materials and is backed by brand provenance.
Whether you like replica watches or not, we can all agree that the quality of a Rolex watch will never be matched by a watch sold for a fraction of its price. 
Rolex Submariner watches are incredibly durable and feature a special Oystersteel case integrated with superior waterproofing technology around the crown to prevent water damage inside the case — just one example of how the company has remained at the forefront of the luxury watch industry.
The Rolex Submariner has been a popular dive watch since it debuted in the 1950s. What's more, it has a fascinating back story that began with the release of the first all-steel Rolex Submariner, fashioning a black rotating bezel and a classic black dial.
Its 100-meter water-resistant design was incredibly avant-garde for its time, enabling watch enthusiasts the chance to swim into unchartered territory.
Over the years Rolex made some significant modifications, one being the addition of a date feature positioned at 3 o'clock underneath a cyclops lens and another being an improved water resistance of 300 meters.
Other additions to the design include improved materials for its bezel. The Cerachrom bezel is incredibly tough and scratch-resistant and promises color-fade resistance.
The Rolex Submariner has also grown slightly in size and is now offered in a 41mm case, alongside other features like a Triplock triple waterproofness system integrated into its crown.
In comparison, Steinhart offers the Ocean One watch with a very similar aesthetic to that of the Submariner.
Upon first glance, it may look identical to the Rolex Submariner. While avid Rolex watch fans may be able to pick out some instant differences, those who have their heart set on the next best thing may consider this watch as the next closest alternative.
But how does it compare?
Well, the 42mm Steinhart Ocean One watch, with a black ceramic bezel and matching black-colored dial, is just 1mm larger in size but does feature large luminous hour markers (albeit not treated with Chromalight but still, a blue-green Super-LumiNova).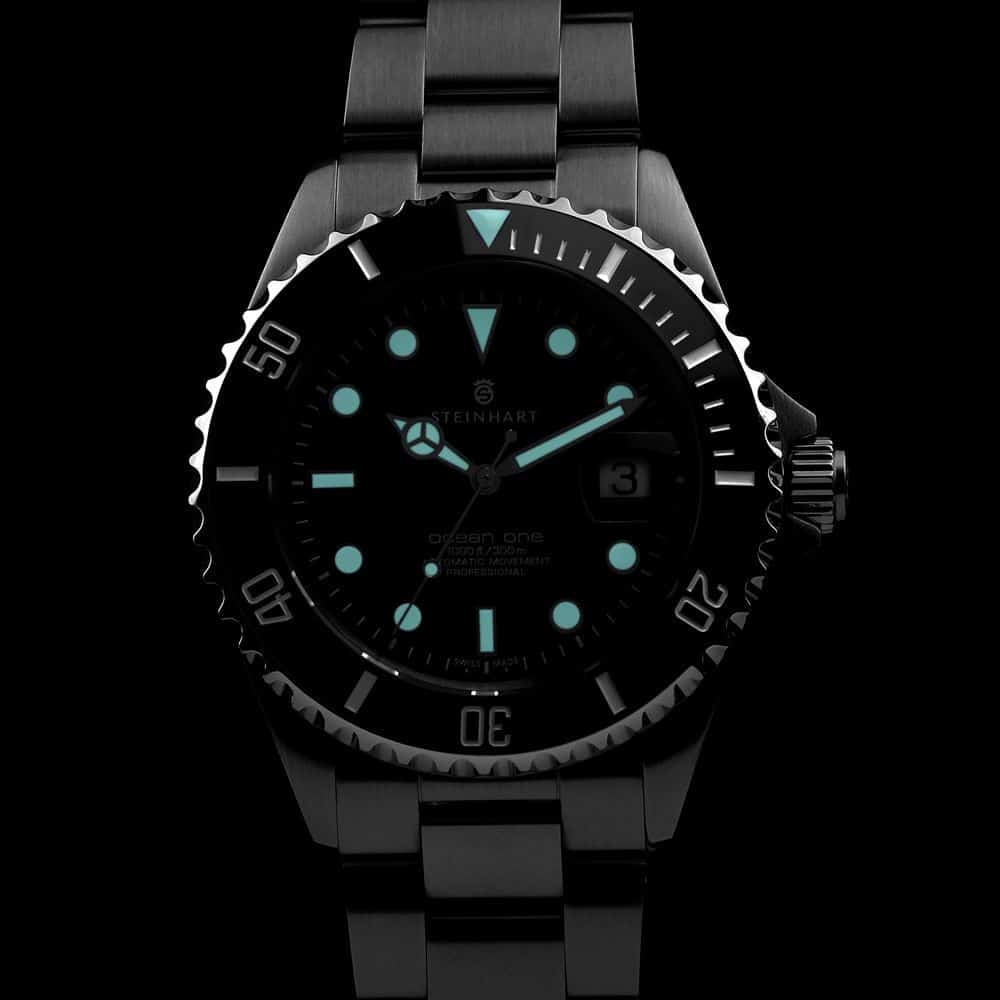 Similar in design are the recognizable luminescent Mercedes-style hands of the Sub, the cyclops date window at 3 o'clock, and a protective sapphire crystal glass front.
The watch also features a stainless steel bracelet with a safety deployment clasp, as does a Rolex Submariner.
Is Steinhart a True GMT?
Whereas original Steinhart GMT watches did not feature an independently operating GMT hand, newer models such as the Ocean One GMT Blue/Red are considered true GMT watches.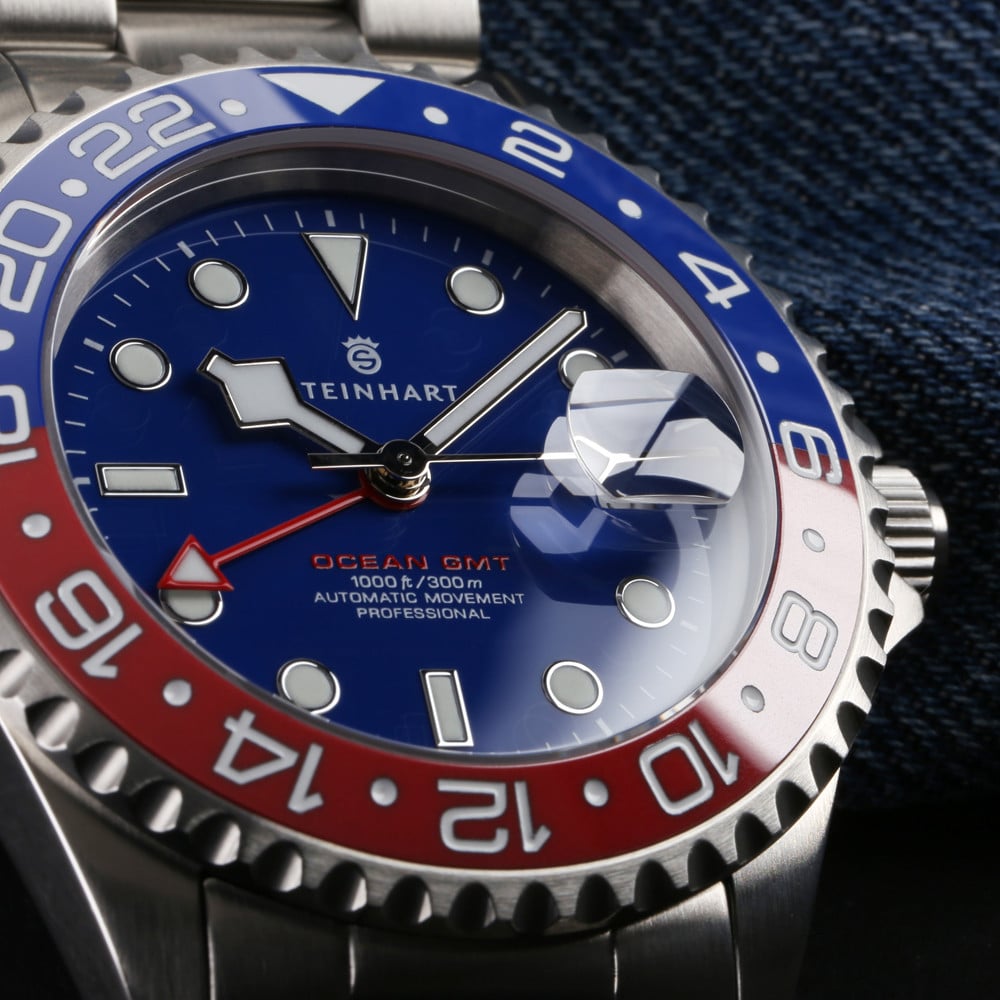 This is made possible by the addition of the Swiss Made ETA 2893-2 movement, enabling three time zones to be tracked with the help of the GMT hand and the GMT bezel, executed in a Pepsi-style, with red and blue ceramic inserts to represent day and night-time hours respectively.
Other Thoughts on Steinhart
When asked before why Steinhart watches are so cheap, the brand answered with another question; why are other watch brands so expensive?
While this is easily justified when you think about Rolex owning its own metal foundry, there are other factors to consider, namely the fact that you are paying for a brand name or because a watch manufacturer claims they are better in terms of materials, movements, and technical appeal.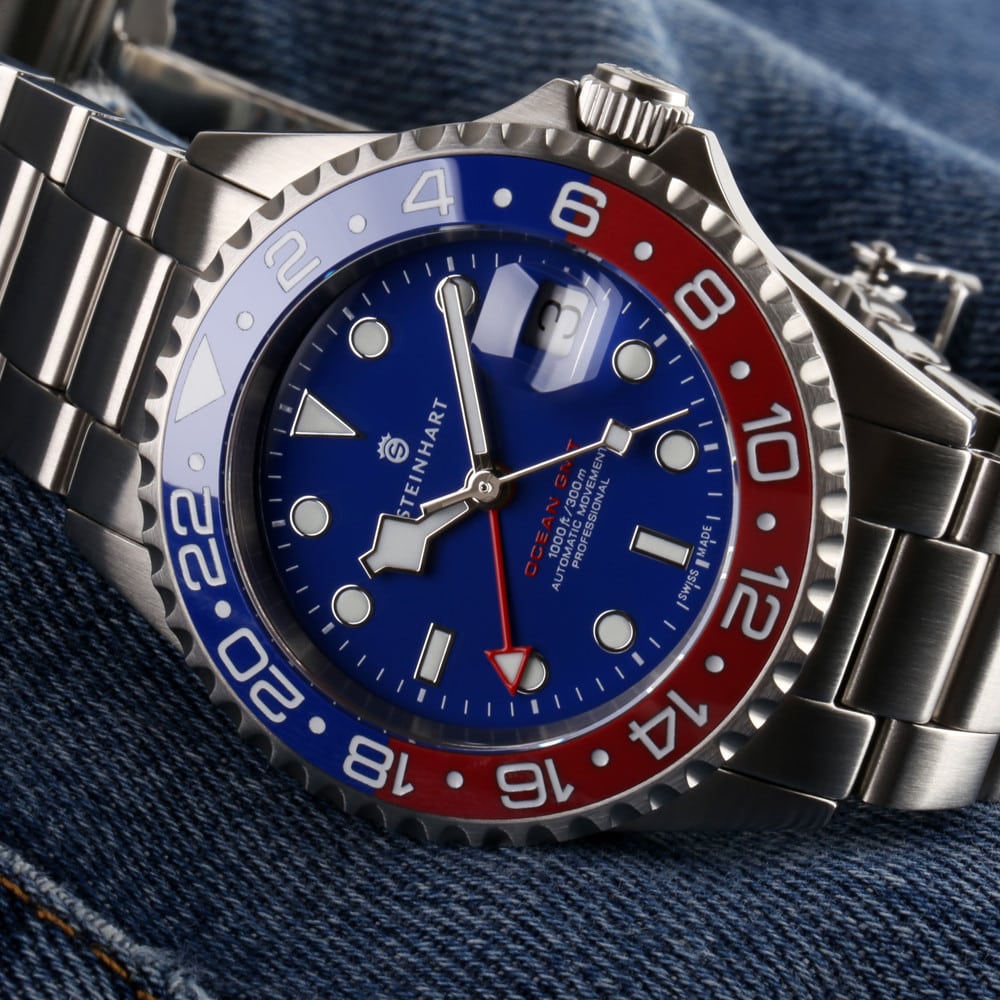 That said, the Steinhart Ocean One watch, for example, is not exactly a cheap watch, to begin with. Thus the debate surrounding a homage watch versus a true watch continues.
Bear in mind, there are many alternatives to consider here. If you want a dive watch that stands for quality and reliability but don't want to pay top-end prices, the Oris Aquis sits comfortably between the two.
The Aquis is attainable to those who want the status of a high-end brand on their wrist and have a little more money to spend.
Likewise, you can always opt for something like the Tissot Seastar as a quality luxury diving watch. If you're not a fan of homage brands, Tissot is a bona fide Swiss watch brand that produces quality automatic dive watches for a modest budget.
It's a personal choice whether homage watch brands like Steinhart are worth it, but many don't want to wear a watch that looks like a Rolex unless it's a Rolex and you can certainly understand the sense behind that.
Conclusion
Homage watches are a polarising subject that can divide the crowds but German-based watchmaker, Steinhart, on the whole, is probably doing a not-so-bad job of reiterating some of the world's most popular and collectible wristwatches.
The trouble is, every watch lover longs for a collection bursting with authentic and expensive timepieces.
The reality is that not many can reach that goal, but, like anything in life, if you're prepared to pay the price for a genuine Rolex or IWC watch, the rewards are aplenty.
To buy a "true" watch with its own identity is to invest in a timepiece that will uphold its value and maybe even appreciate in years to come. When it comes to an authentic timepiece vs a homage watch, you get what you pay for.
Superior materials, a brand with a reputation in solid, reliable materials, and a name that makes a true statement on the wrist are all worth the money.
The bottom line — Steinhart watches have a quality European construction, offering many keen watch collectors a well-priced, good-looking dive watch with a reliable Swiss movement.
But serious watch fans will never mistake a Steinhart watch for a true Rolex, and when there are so many luxury bang-for-the-buck watches on the market today, you may as well invest in a true grail watch and enjoy all the attention it deserves.
Questions? Comments? Leave them below!