If you're looking for an orange watch that makes a statement, here are 12 excellent options.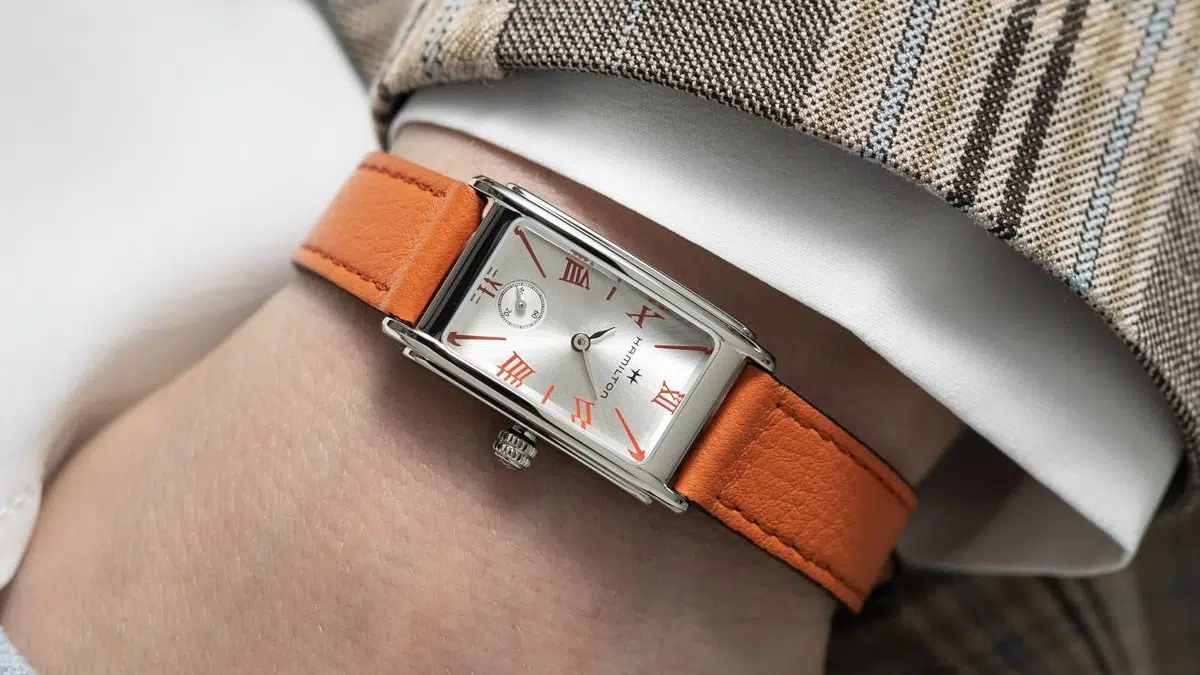 From classically-styled orange dive watches to citrus-hued statement pieces, orange is a warm secondary color that is surprisingly versatile for wristwatches. Depending on how it's used, it can evoke a fun summery tone or even add an officialness to a tool watch.
After all, orange is commonly used for utility worker uniforms and signage. Just as it's used for visibility purposes, orange timepieces are also generally very legible. Plus, the unconventional shade truly does add a unique pop of color.
We've rounded up 12 orange face watches for men. Naturally, they're all 40mm and under!
12 Best Orange Dial Watches
From bright orange to mahogany dials, here are our picks.
Nomos Glashütte Club Campus Reference 710
This watch's lively dial is balanced out with the clean Bauhaus lines of its silhouette. So while it certainly stands out, it's not especially gaudy.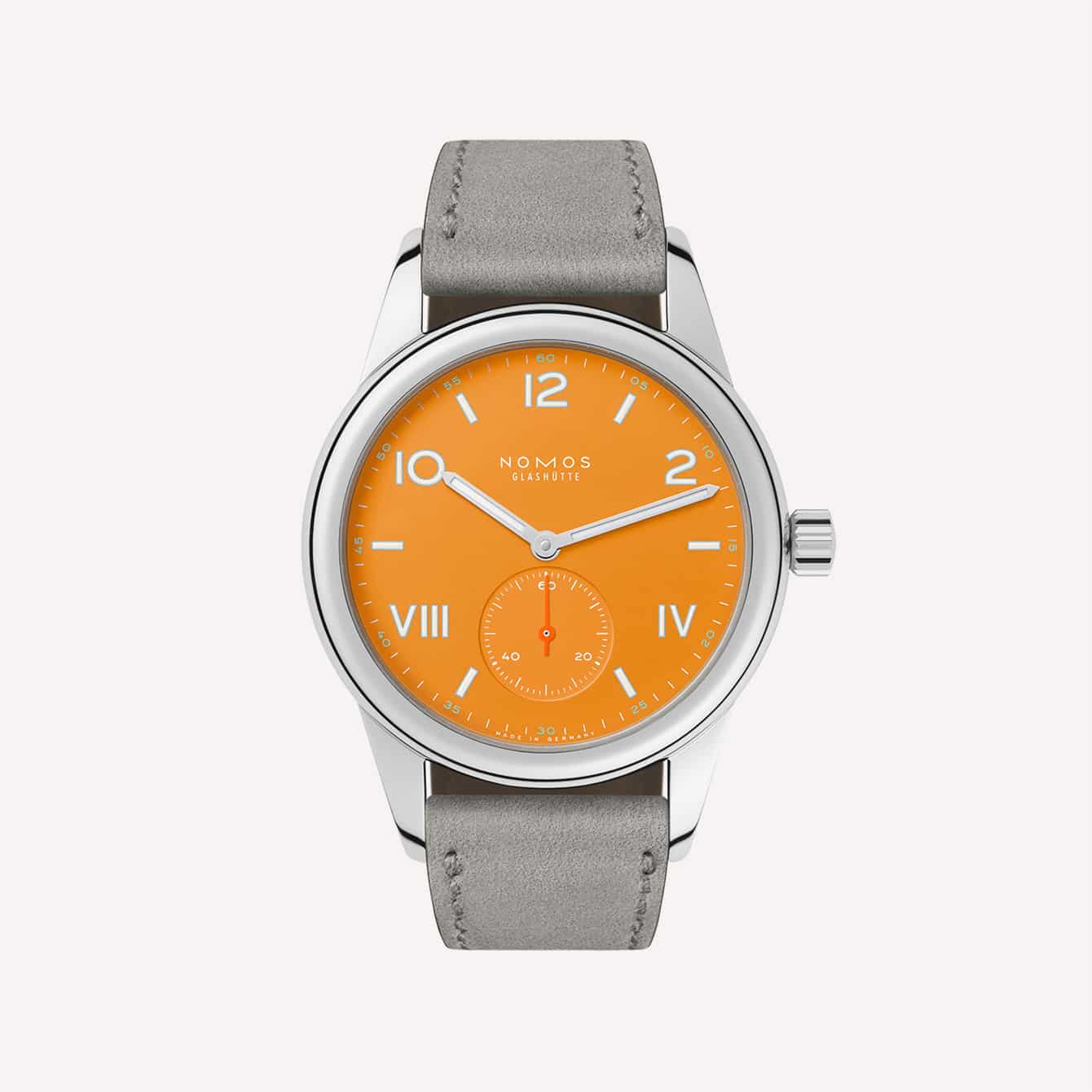 The mix of Arabic and Roman numerals interspersed with stick indices looks like a remixed and reversed California dial, which is familiar but unique.
On the function side, the Club Campus is equipped with rhodium-plated hands with blue luminescence that looks beautiful on the orange background.
Dimensions: 36mm diameter, 8.2mm thickness
Case material: Stainless steel
Water resistance: 100m
It also runs on a 17-jewel manually-winding caliber, which is a fun throwback for those of you who like a watch with some tactility.
Breitling Superocean 36
The Breitling Superocean 36 is supposedly designed for women, but there's literally nothing traditionally feminine about it.
Thankfully, most of the watch industry is moving away from designating sub-39mm tool watches in bright colors as being ladies' watches.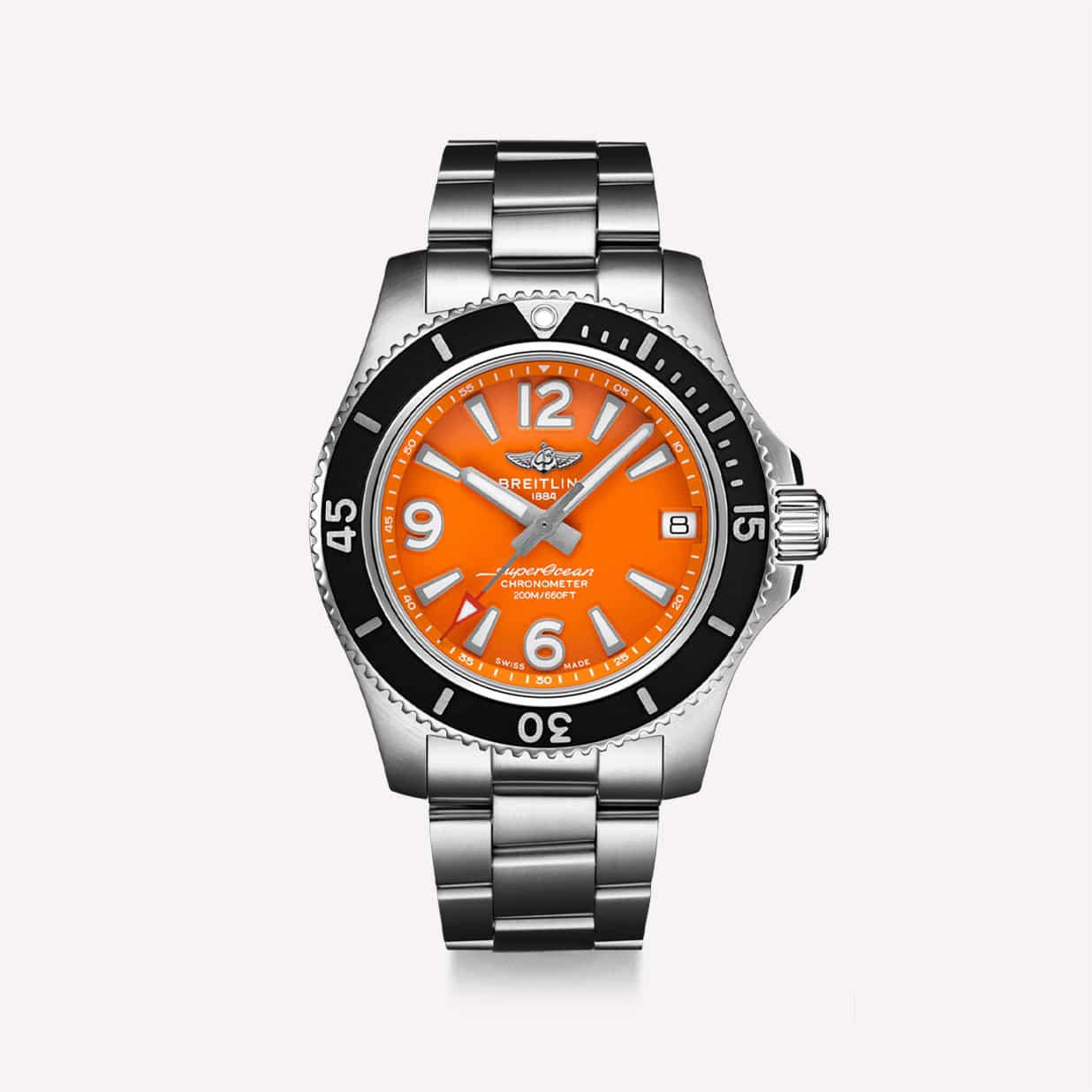 This timepiece is sporty and bold, with fun, extra-large hour markers for six, nine, and three. It's almost like a combination dive and aviator watch, with a case with beautiful curvature, adding a touch of elegance.
An adventure seeker's watch, this guy is packed with plenty of functionality. It has 200 meters of water resistance, a cambered sapphire that's glare-proof on both sides.
Dimensions: 36mm diameter, 11.2mm thickness
Case material: Stainless steel
Water resistance: 200m
It runs on a 25-jewel automatic movement with 28,800 vph, more than enough for reliable and accurate timekeeping.
Seiko SRPH33
While only the accents are orange on this black-dialed Seiko SRPH33, the orange accents are certainly the predominant visual experience.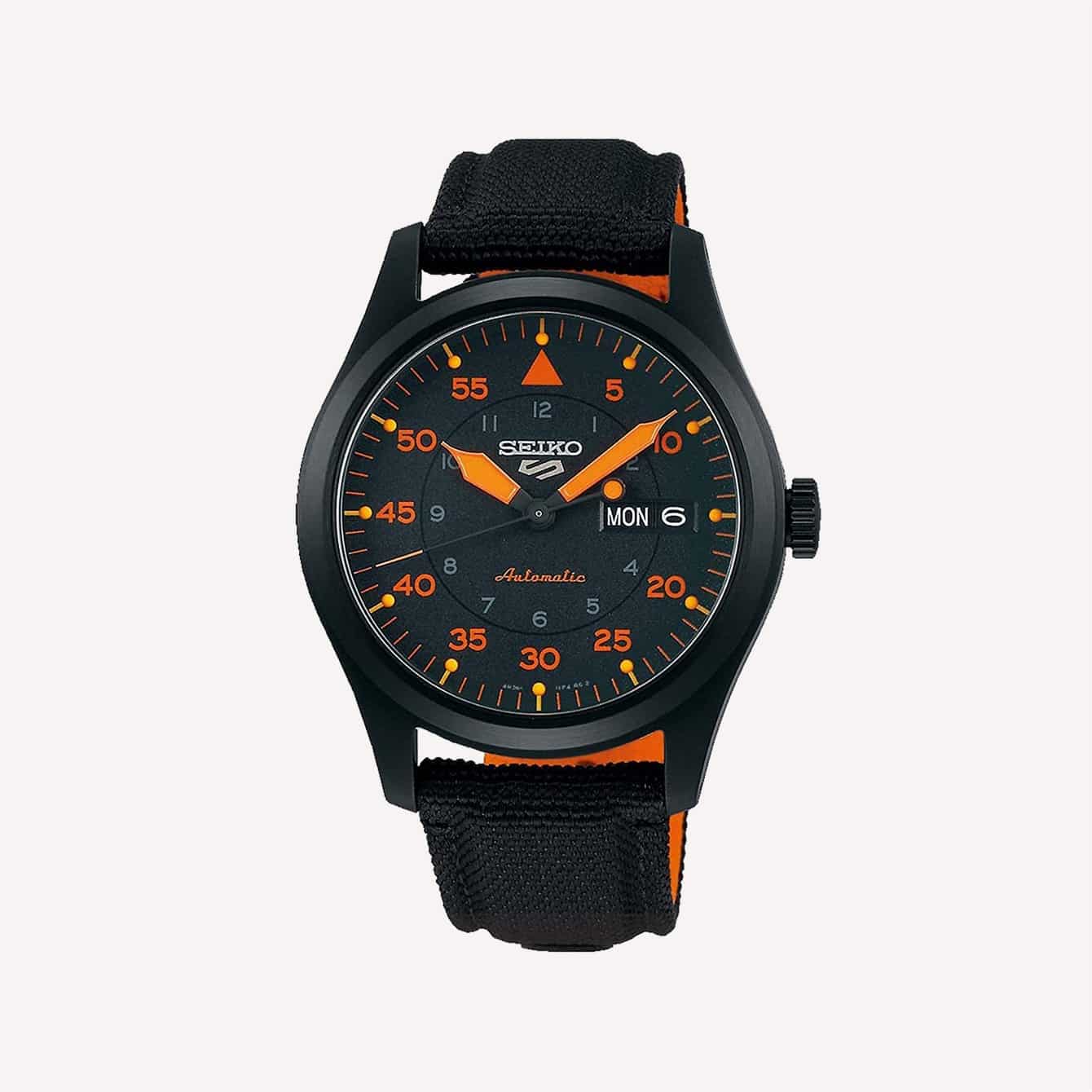 The pops of orange throughout, complemented by the marigold inner hands and hour markers, almost glow in front of the beautifully pebbled black background. Its case is finished with black ion, making it five times more durable and adding an authoritative look.
Dimensions: 39mm diameter, 13mm thickness
Case material: Stainless steel
Water resistance: 100m
And since this is Seiko, the SRPH33 is a bang-for-buck automatic, powered by their in-house 4R36 caliber that's shock-resistant, hackable, and can be seen through the exhibition caseback.
Aquatico Dolphin
The Aquatico Dolphin is a classic dive watch, but with a lively honey orange dial. The outlined markers add an illustrative quality, while the Mercedes hands are a clear hat-tip to the world's most famous diver.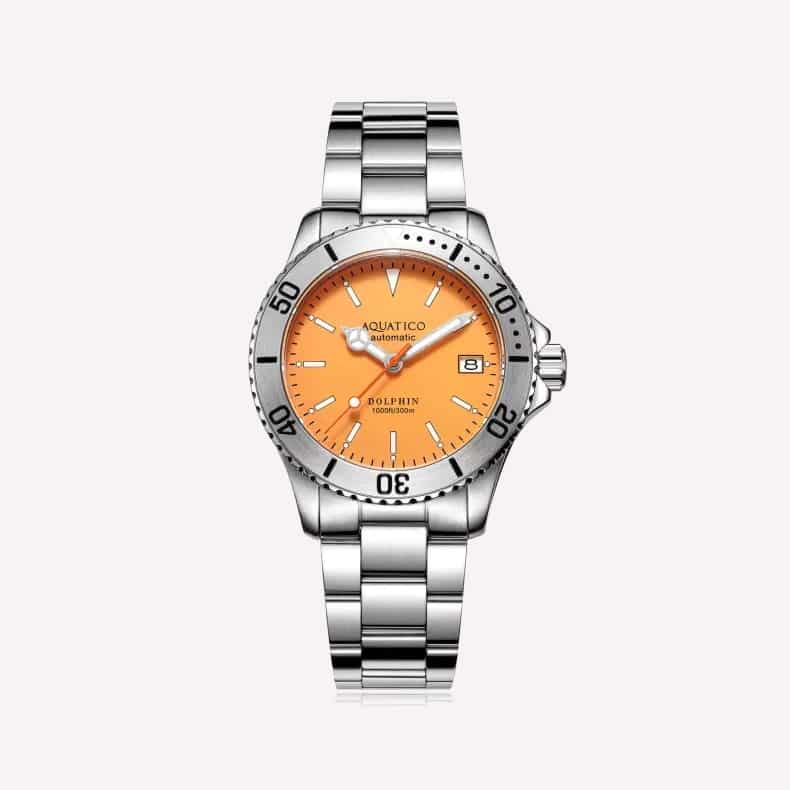 Unlike a cheap homage though, the Dolphin boasts a whole 300 meters of water resistance and a sapphire crystal, just like the Submariner.
It's powered by the ever-reliable Seiko NH35A automatic movement and comes with a crisp-clicking bezel.
The darker orange outline on the lollipop second hand is a nice semi-tonal touch.
Dimensions: 39mm diameter, 12mm thickness
Case material: Stainless steel
Water resistance: 300m
It also looks complementary with its greenish-blue glow, which comes from the powerful and fine-grade Super Lume BGW9 application.
Timex MK1 Orange Dial
The 9mm height of the Timex MK1, as well as its slim lugs and smooth silhouette, make this vintage-inspired timepiece an easy wear for all wrist sizes.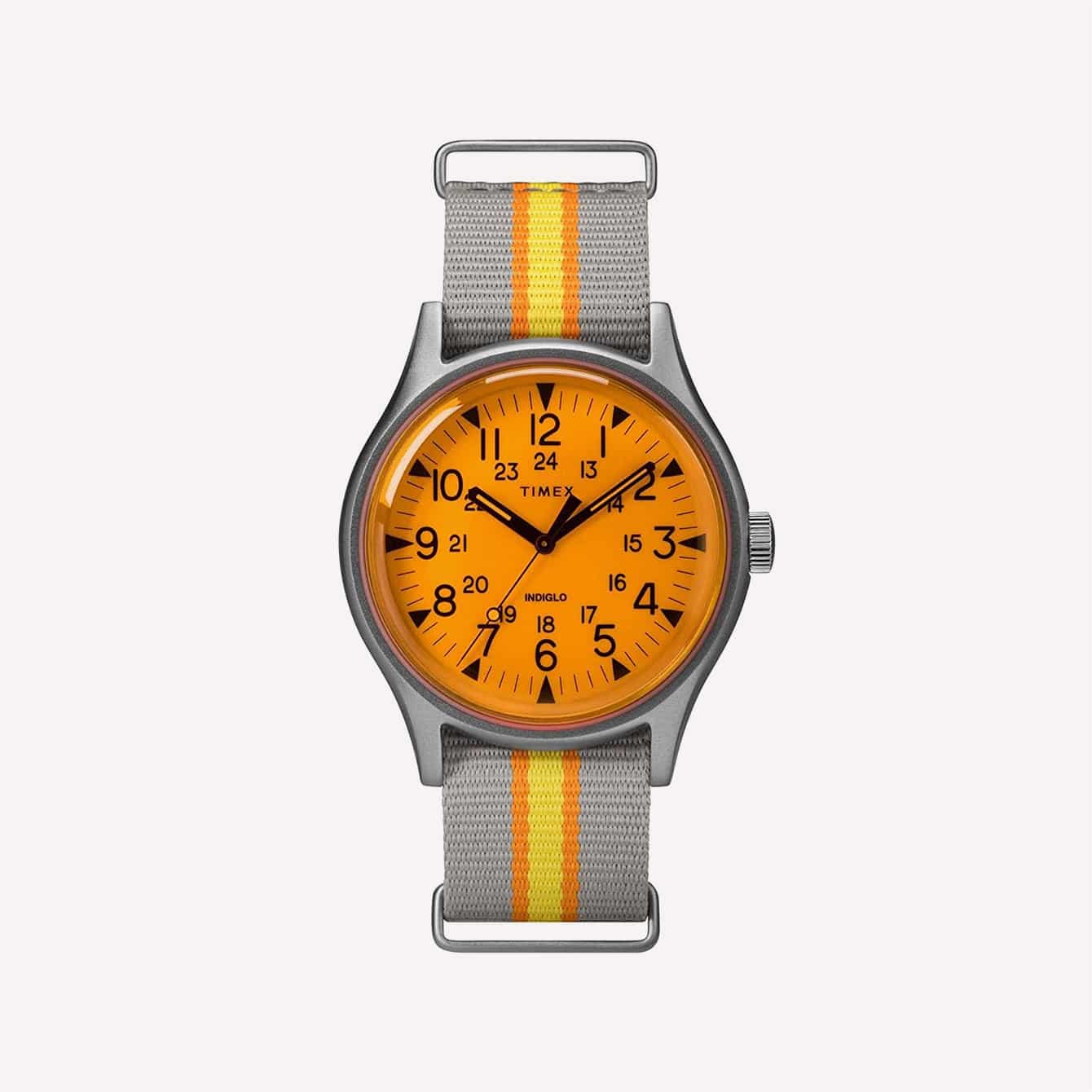 Besides, it would be an oversight to exclude this cult classic from any roundup of orange watches. The almost-luminous shade of the dial looks great with the retro triangle-clad outer dial and the orange and yellow accents on the canvas strap.
The domed acrylic crystal gives the already interesting watch face even more visual intrigue.
Dimensions: 40mm diameter, 9mm thickness
Case material: Aluminum
Water resistance: 30m
From a straight bird's eye view, its blur effect is seen around the edges and shifts around as you look at the watch from different angles.
Circula AquaSport
From one of Germany's oldest microbrands, the Circula AquaSport is the perfect example of how a watch can be unique without being outlandish or shocking.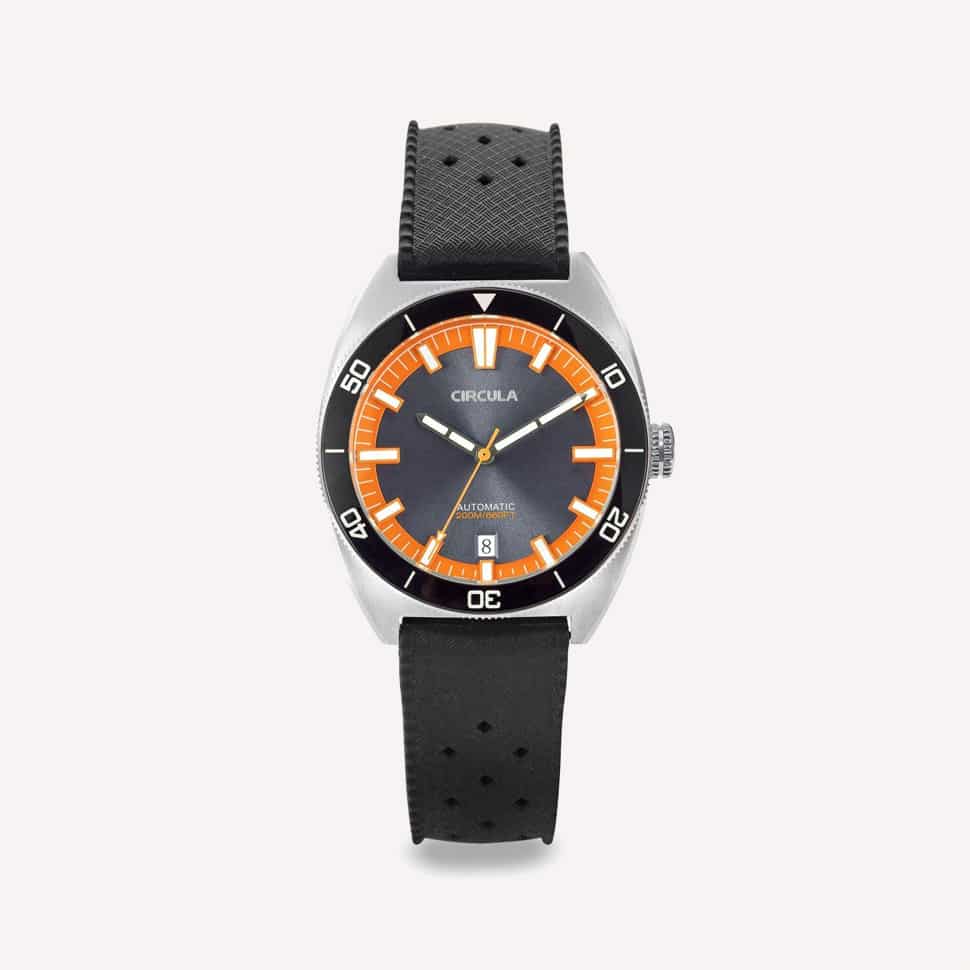 The case shape sits somewhere between a traditional round and a retro-cool cushion case.
The orange outer track on the dial is complemented and tempered by the silky sunburst inner dial and matched by the index outlines and second hand. Basically, each design feature pushes the boundaries without going fully unconventional.
Dimensions: 39mm diameter, 12.8mm thickness
Case material: Stainless steel
Water resistance: 200m
Circula is also known for serving up high-quality at reasonable prices. This true-blue dive has 200 meters of water resistance, Super LumiNova, a 120-click unidirectional sapphire bezel, and a curved sapphire crystal. It also runs on a Swiss ETA automatic.
Christopher Ward C60 Sapphire Orange
Many of us know about Christopher Ward's premium, value-priced tool watches. This C60 Sapphire Orange flaunts all of the same features as its other-colorway brothers.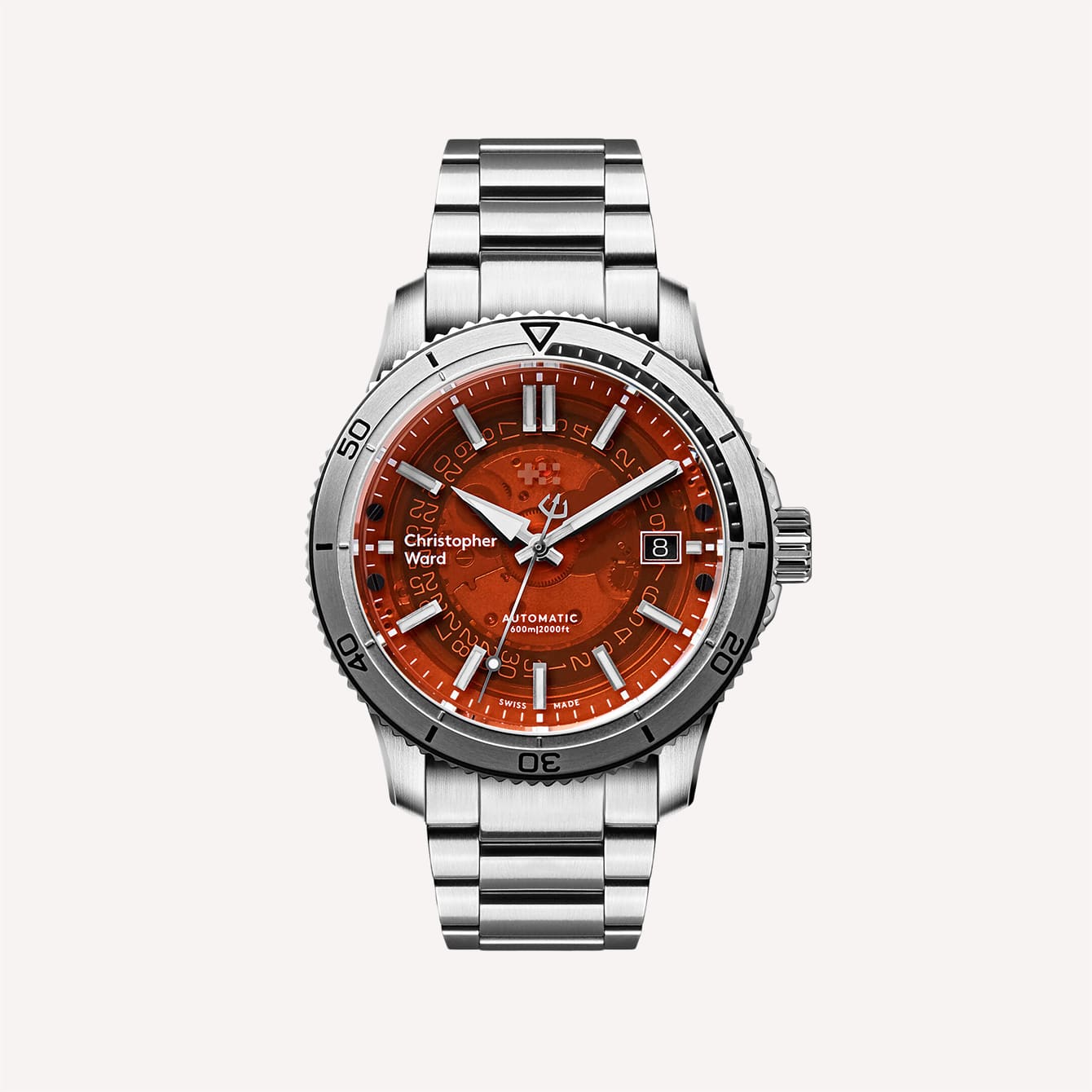 There's the marine-grade stainless steel bezel, the Swiss automatic movement, and of course, that whopping 600 meters of water resistance.
This colorway stands out thanks to its pure sapphire dial backed by a layer of orange polycarbonate. Not only does it give the watch an amber glow, but it adds to the dial's multi-layered topographic look.
Dimensions: 40mm diameter, 12.95mm thickness
Case material: Stainless steel
Water resistance: 600m
The hands and indices even seem to float above the dial at certain angles.
Oris ProPilot
The Oris ProPilot leaves no detail untouched, combining unlike features that somehow come together sensibly.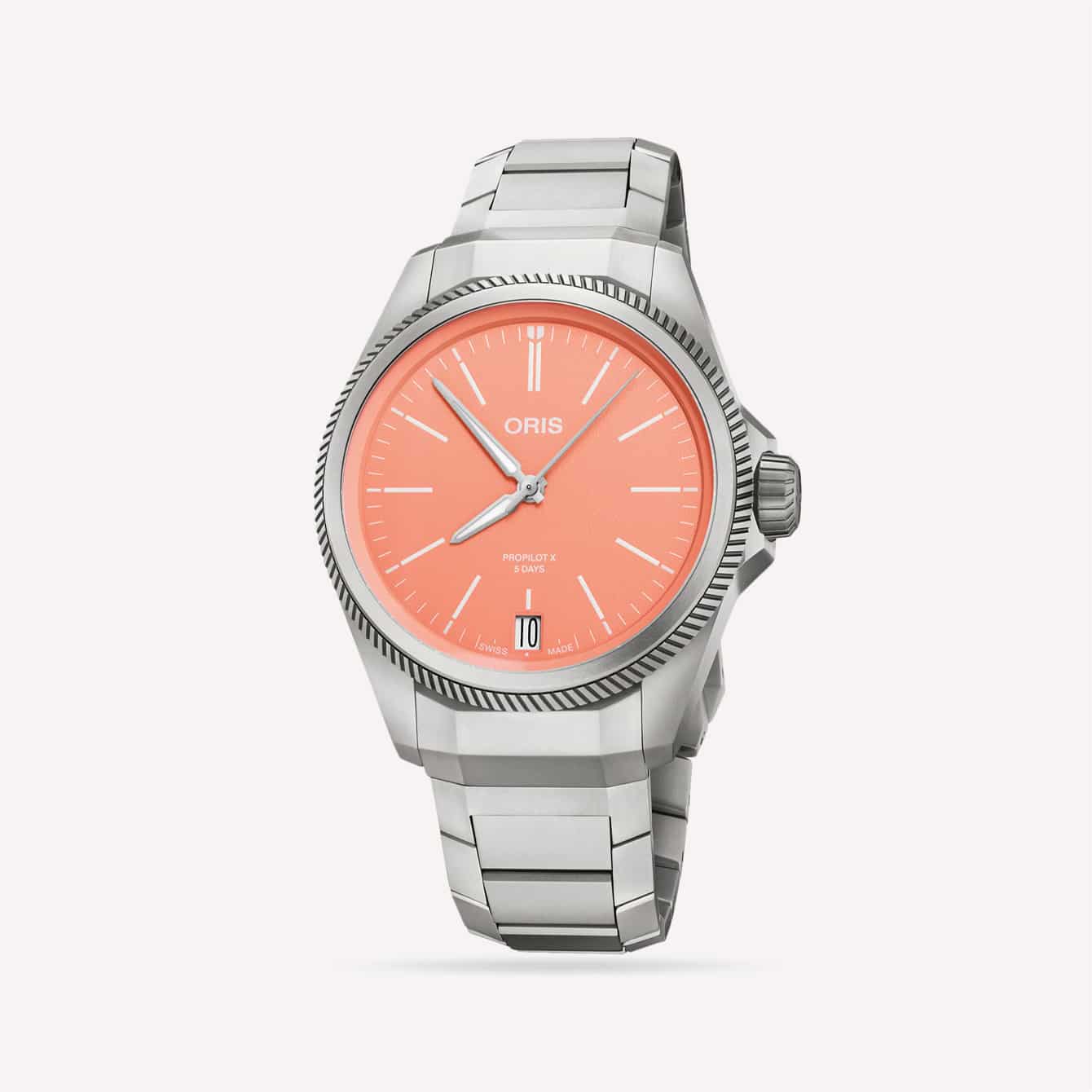 The white inner color of its alpha hands provides a bit of negative space, so they don't clash with the otherwise minimalist Scandinavian dial. Meanwhile, the rope design around the static bezel provides a unique accent, not unwelcome because of how close it sits to the similarly-textured crown.
The flat side links of the bracelet have a robotic feel to them, which matches the sharp edges of the case.
Dimensions: 39mm diameter, 12mm thickness
Case material: Titanium
Water resistance: 50m
This ProPilot is unique on the function end too. Its automatic movement has an accuracy -3/+5 seconds a day, which is within COSC tolerances, and it's built with titanium for an extra-strong but lightweight construction.
Hamilton Ardmore Quartz
Hamilton gives the classic tank a playful remix with the Hamilton Ardmore.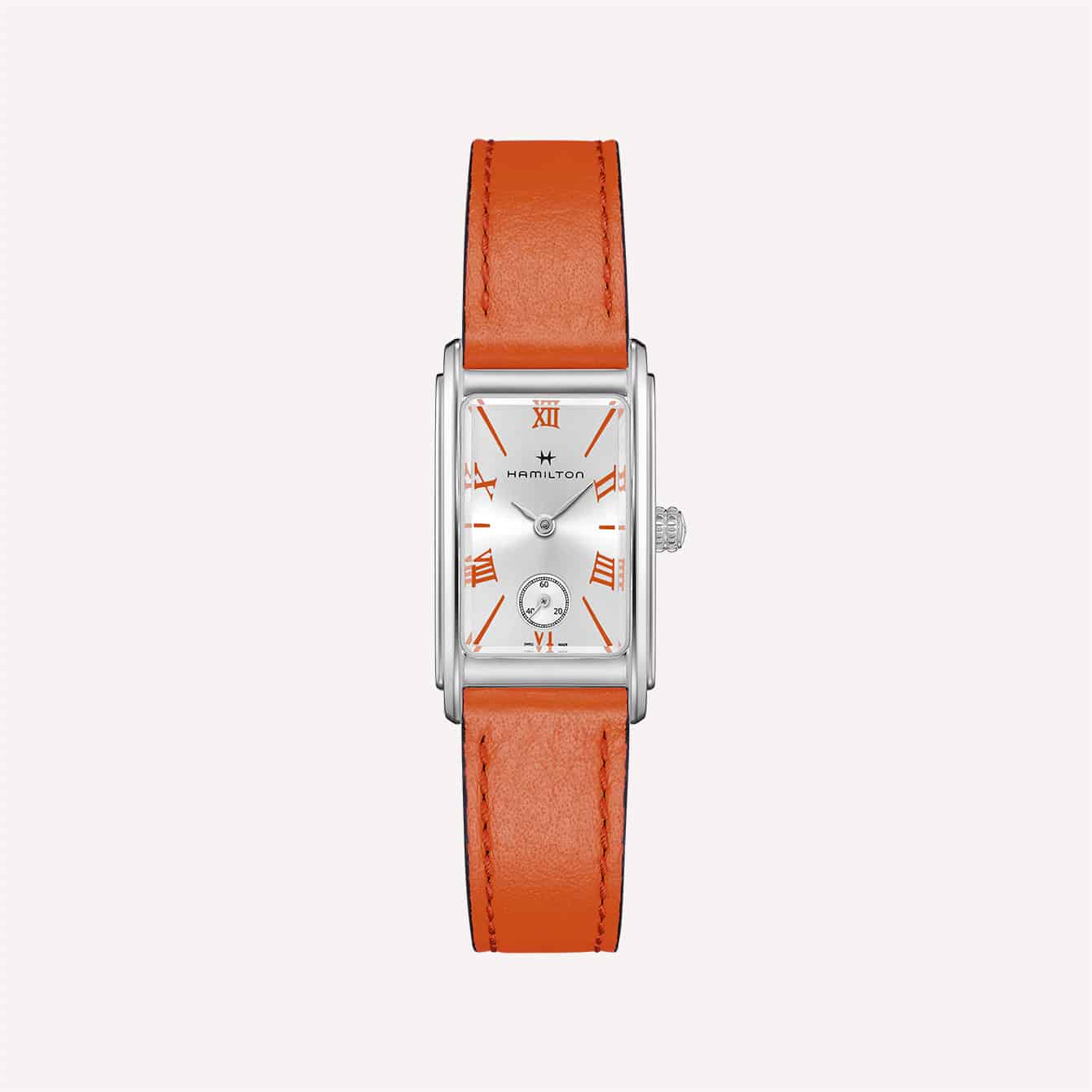 On one end of the design spectrum, they matched the orange calfskin leather strap.
On the other, the tank case is beautifully stepped, and the two-floor crown twinkles as much as any jewel crown does.
Dimensions: 18.7mm x 27mm, 7mm thickness
Case material: Stainless steel
Water resistance: 30m
It's a combination of class and extravagance, moderated by its traditional size and silhouette, proving that a conventional tank can be as expressive as any modern fashion watch.
Rolex Milgauss White Dial
Similar to the Seiko SRPH33, the white dial 116400 Rolex Milgauss is kind of a cheat.
Sure, the face of the watch isn't orange, but most people would say that the dominant, most important shade on the dial is orange because of the eye-popping accents.
The iconic thunderbolt second hand, outer track numbers, and the Milgauss appellate all flaunt a bright, almost neon orange. The applied indices are an ochre shade.
This watch is built with the finest Rolex proprietary materials and is powered by a COSC-certified movement.
Dimensions: 40mm diameter, 13mm thickness
Case material: Stainless steel
Water resistance: 100m
Plus, the Milgauss is a historical model, referred to as the "scientist's watch," since it was the first to withstand magnetism up to 1000 gauss.
Hamilton Ventura Mahogany
A legendary model in the worlds of Mid-Century Modern design, movies, and music, the Hamilton Ventura is known for gracing the wrist of Elvis Pressley, particularly in the 1961 movie Blue Hawaii.
The asymmetrical style is striking and unconventional, though the earthy tones of the mahogany outer dial ground the look a bit.
Mahogany is an interesting dimensional shade that contains tones of orange, yellow, red, and brown. When you partner this dial with an orange strap or shirt, it looks purely orange. The same happens with red, brown, or yellow pairings.
Dimensions: 34.7mm diameter, 12mm thickness
Case material: Stainless steel
Water resistance: 50m
You also get a glimpse of the H-10 movement on the dial, an automatic with 80 whole hours of power.
Swatch Gent GE722
You can't do a roundup of fun orange watches without a Swatch entry. Sure, it's a fashion watch, but at less than $100, I always say guys are allowed to have our equivalent of costume jewelry.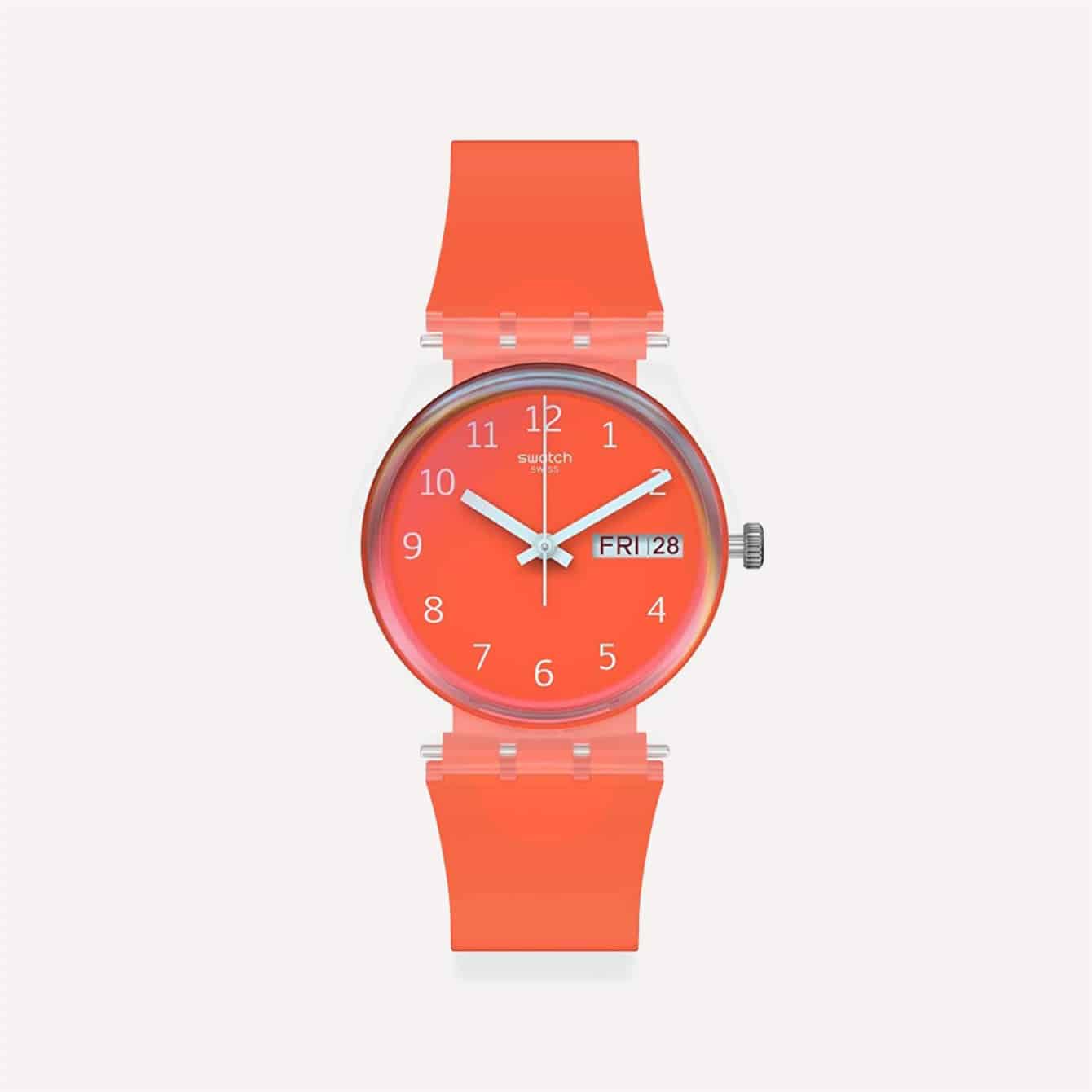 Undeniably playful, its transparent construction allows you to see where the orange silicone strap meets the case as well as where the crown meets the dial.
Dimensions: 34mm diameter, 8.75mm thickness
Case material: Plastic
Water resistance: 30m
This is actually a clever design choice, as these qualities highlight the bright orange face.
Truly Unique, Surprisingly Versatile
With the exception of the Swatch entry, I'm sure many of you were surprised at how many orange non-fashion watches are out there.
The good news is that orange comes in so many shades and tones, which is useful for practicality and style purposes!
Questions? Comments? Leave them below!