The Timex Weekender and the Easy Reader share some similarities, but which is best? The Slender Wrist compares the two in this Timex Easy Reader vs Weekender article.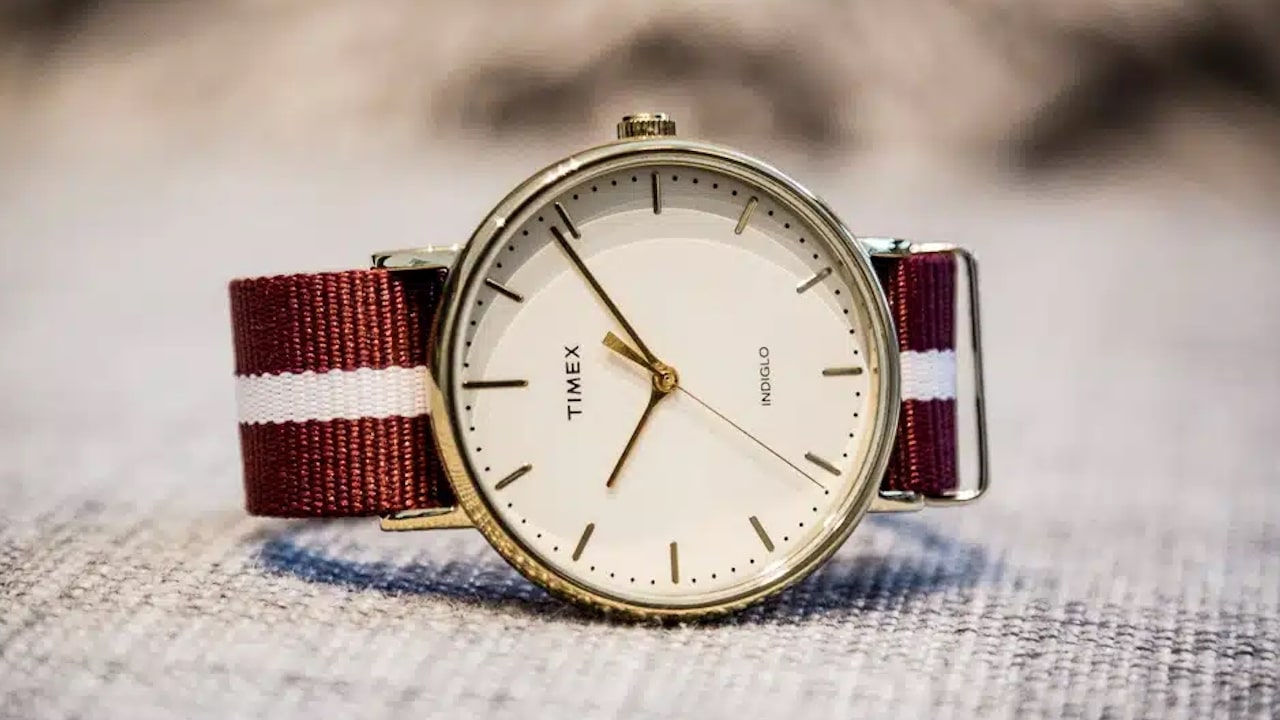 Timex owes its successful beginnings to affordability. From its very beginnings, the manufacturer has focussed on directing its designs to a mass market.
In doing so, it reaches those far and wide looking for an accessible daily beater.
Despite starting as a clockmaker, Timex was eventually able to roll out its innovative watch designs worldwide, manufacturing them on a global scale.
Before that, the company was known as The Waterbury Watch Company. In the early 1900s, the brand produced over 6 million of its famous Yankee pocket watches.
From 1914 onwards, it began developing watches for the military before signing a deal with Disney. Its Micky Mouse watches proved a great success in the 1930s.
Timex's first high-quality movement was developed in the 1950s. This was a prominent era for the brand, occupying a third of the watch market.
Timex's famous tagline during this time emerged; "takes a kicking and keeps on giving". To prove the robustness of its watches, the manufacturer took to television slots. Timex put its watches to the test in front of mass numbers of viewers.
Between 1984 and 1992, the Ironman watch was born, along with the popular Indiglo Night Light watch.
Today, Timex is still a large and powerful contender within the realm of affordable luxury wristwatches. Two of its most popular models feature in this Timex Easy Reader vs Weekender article.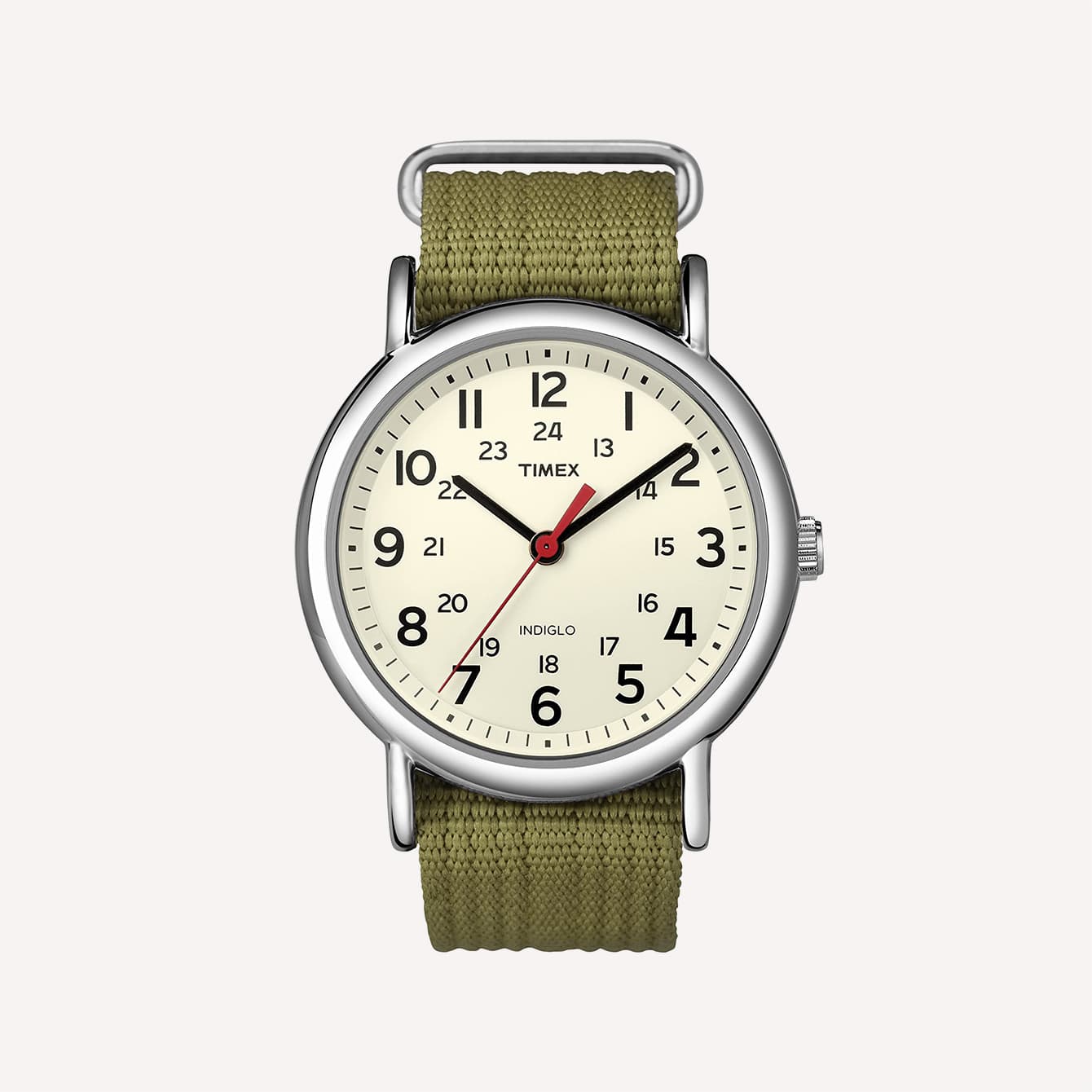 Here, I'll cover the pros and cons of both watches, giving you a breakdown of what each model offers.
The Timex Weekender
You can consider the Timex Weekender the ultimate casual companion.
The clue is in its name.
Perfect for weekends, you can relax with a watch like the Weekender. Its dial, although not minimalist, is certainly unassuming.
(Below: Timex Weekender 40mm Leather Watch ref T2P495)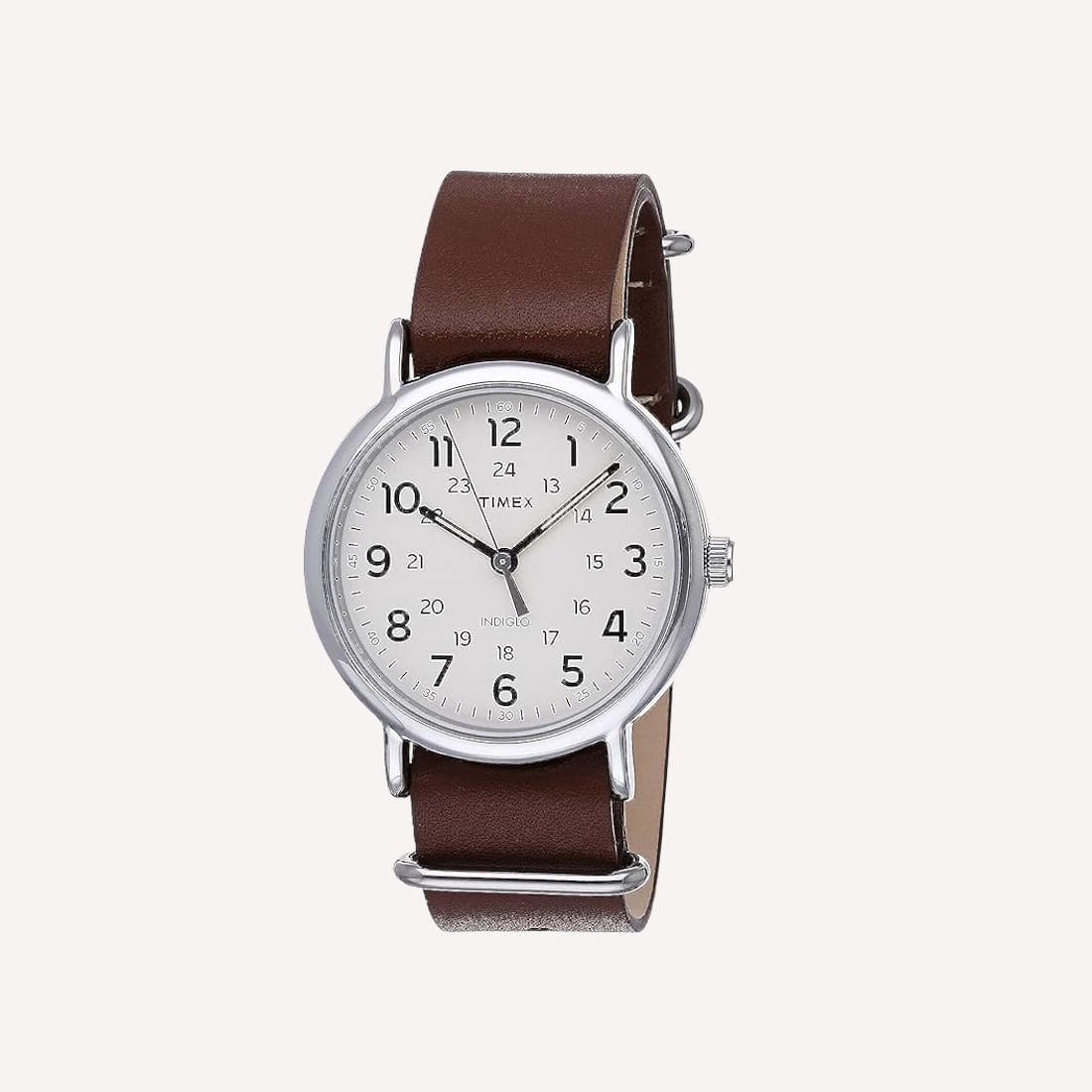 Watches in this collection come in the option of a brushed or polished finish and are available in a variety of dial colors. They're fun!
They add a playful edge to stuffy work suits while remaining comfortable.
How To Wear the Timex Weekender
Let's talk about how you can style a watch like the Timex Weekender.
As I mentioned, it belongs in the smart-casual bracket as opposed to the dress watch category.
That means it can be paired with pretty much any ensemble. It's a watch that can complete a cool jeans and t-shirt duo, but that's not to say that the watch can't be dressed up.
However, it does look quite at home when mixed with a casual wardrobe.
As you can see, it has a relaxed dial layout with a simple design featuring hour and minute hands, hour markers, and a date function.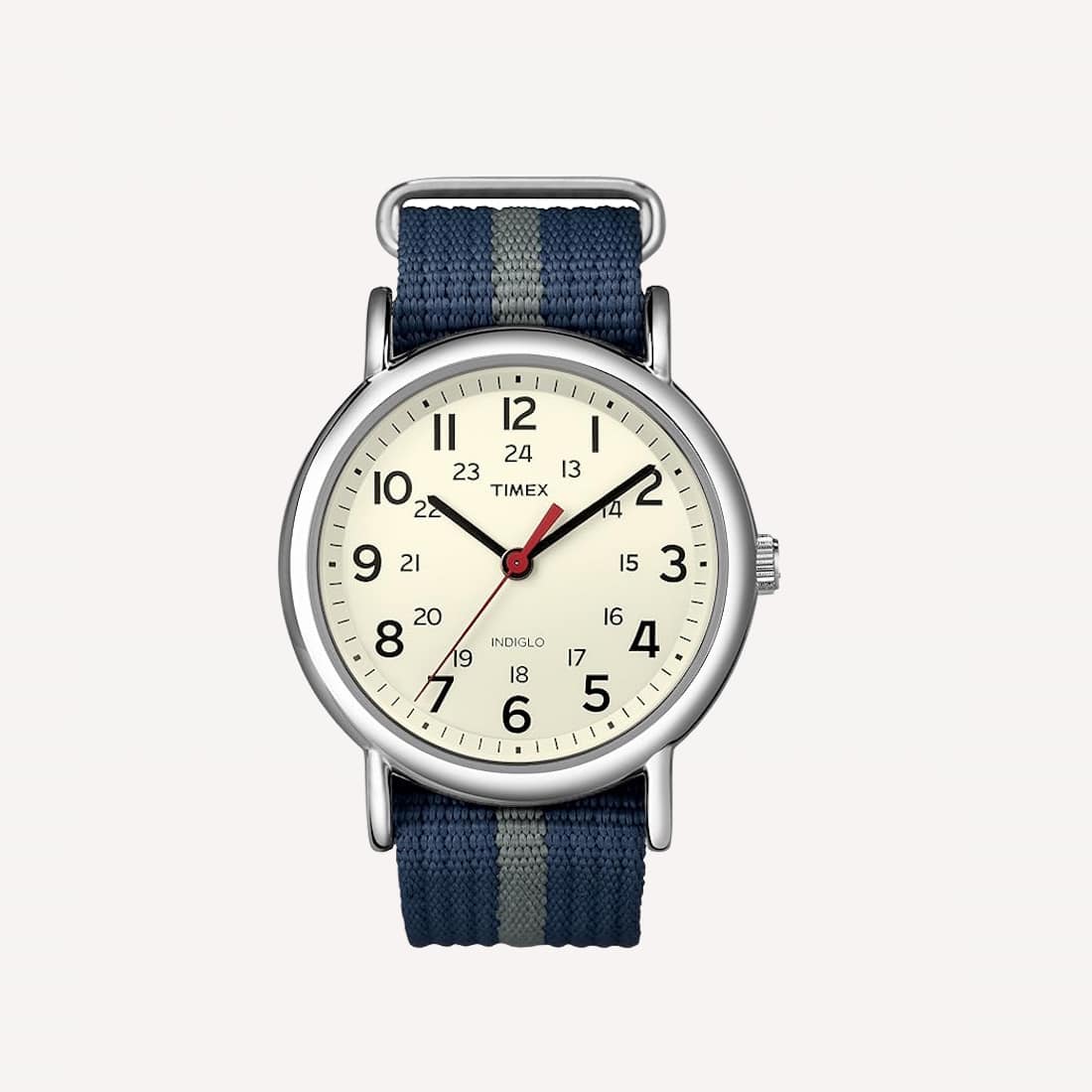 A military-inspired styling with an inner 24-hour track defines many Timex Weekender watches. The summer months are a great opportunity to enjoy a watch like the Weekender.
Combine it with a printed shirt and a pair of shorts, and enjoy how the watch brings a relaxed vibe to your beach fit.
Back at the office, it can easily enhance the look of a cashmere sweater. A pair of suede sneakers also calls out for a casual wristwatch like this, as does a fitted bomber jacket.
I should mention that this watch works great with a lot of different strap configurations. Whether you opt for a classic leather strap or a quick-release suede strap, the Timex Weekender watch looks right at home.
The Timex Easy Reader
The Easy Reader watch personifies the brand's simple and classic approach to watchmaking. It is perhaps a good example of a timepiece that wins people over thanks to its no-fuss design.
One of the key advantages to owning an everyday wristwatch is its ability to display the time clearly. That can certainly be said for the Easy Reader. Its dial you can read at a glance, making it an ideal option for you if you're on the go.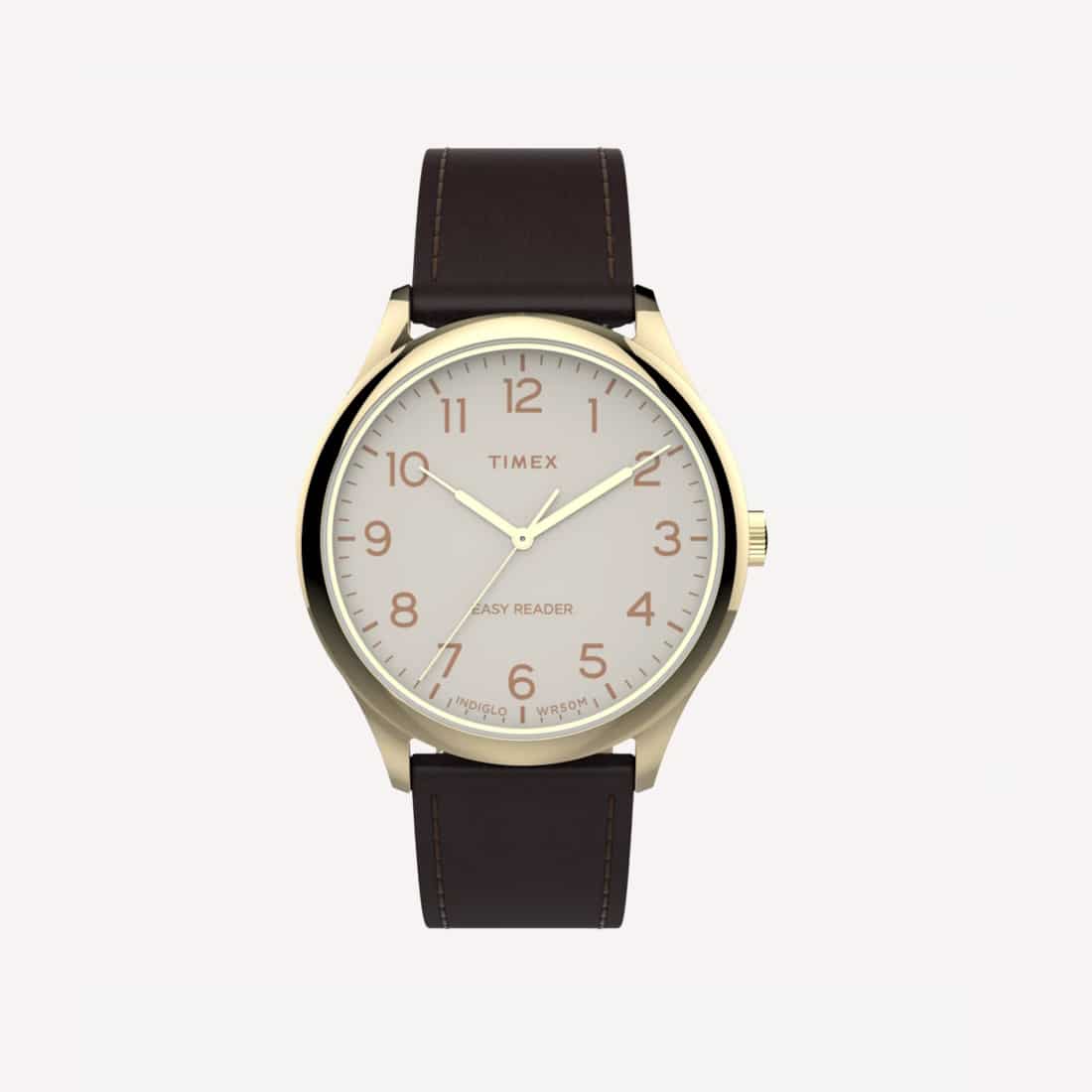 The designs from the Timex Easy Reader watch collection are inspired by the earlier products of the Waterbury Clock Company period. They each have an uncomplicated layout and prove to be one of the brand's bestsellers to date.
The Timex Easy Reader is slightly cleaner in design than its counterpart. The dial evokes clarity with a crisp hour track represented in Arabic numerals and, in some models, a handy date window.
It could be said that the Easy Reader watch is more at home in the office. Its pared-back design compliments an office suit quite well, so it's a safe option when wanting to create a good first impression.
While it is true that the Easy Reader watch has stuck around due to its simplicity, the same can be said for the Weekender. This is what chooses between the two, a pretty tough one.
The Easy Reader, however, has a meaningful design that nods to the brand's heritage. So, if you like your watches with a side order of history, it could certainly make for a good talking point with friends.
How To Wear the Timex Easy Reader
As mentioned, the Arabic numeral hour track defines the Timex Easy Reader's dial.
The numbers set against various dial colors in contrasting colors, ensures legibility. That means that you can wear the Easy Reader in dark conditions and still tell the time.
One of the great things about the Timex Easy Reader is that it comes with the brand's revolutionary Indiglo backlight technology.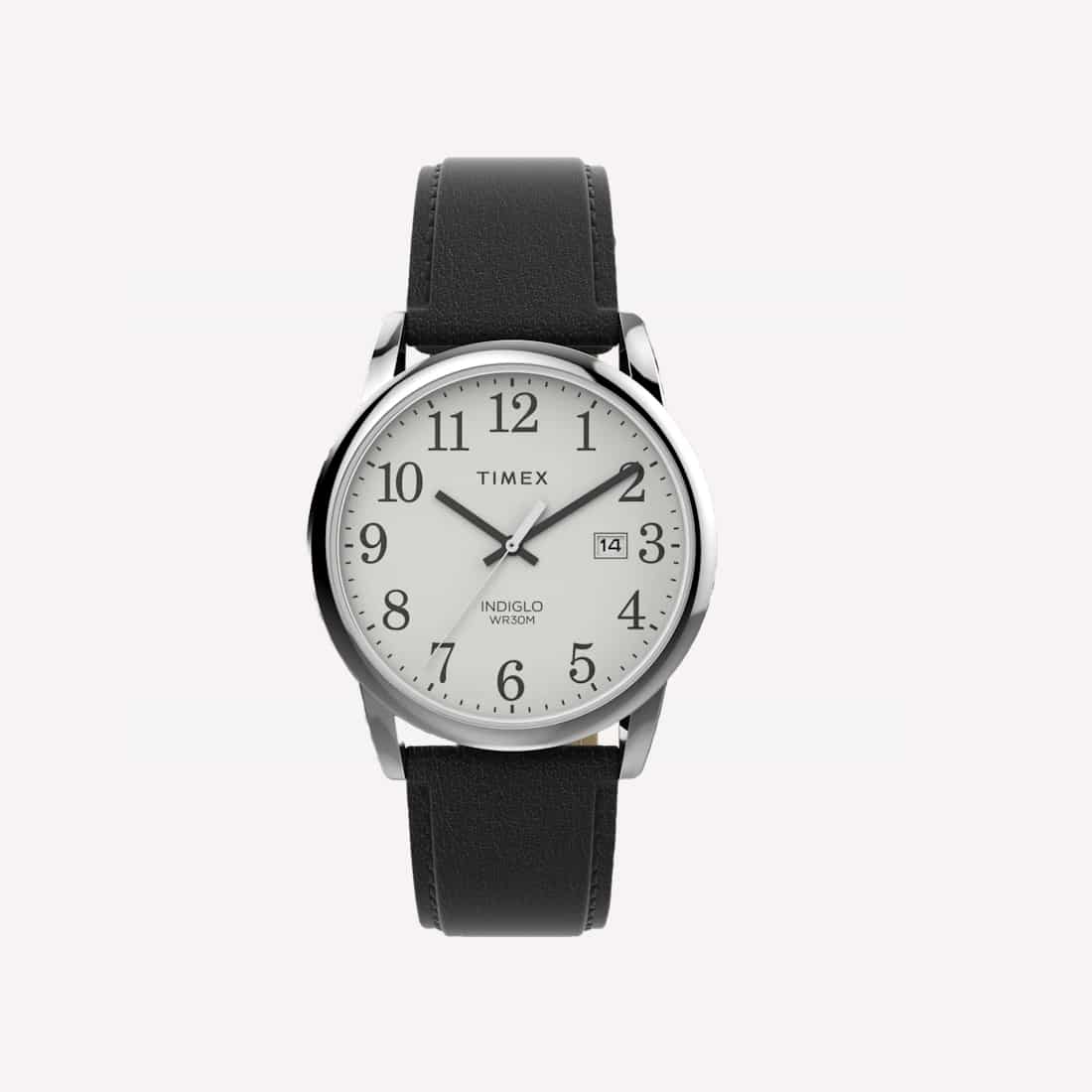 If you want to liven up the Timex Easy Reader, however, nothing beats a NATO strap. Whether green, navy, or some other color, never underestimate how a fabric strap can instantly transform the look of a smart-casual watch.
Conclusion: Timex Easy Reader vs Weekender
Even though deciding between the Timex Weekender and Easy Reader can be tricky, you can be confident that both respective designs have proved their worth.
Although not high-end luxury watches by any stretch of the imagination, they do offer a more than satisfactory level of reliability and robustness for their price range.
Both can be paired with smart casual attire, and both are simple and instantly readable. Strengthened by a strong brand heritage that dates back to the 1800s, either design could tip the balance for you.
While the Weekender offers some great military-infused designs, the Easy Reader is a great all-rounder for office-based duties. Its cleaner and slightly more refined style may just secure the winning edge over the Weekender, but that's for you to decide.
Let me know which you prefer!
For more news and details on the latest watch releases, sign up for The Slender Wrist's newsletter!