Interested in buying a Swiss watch? This guide will help you choose one!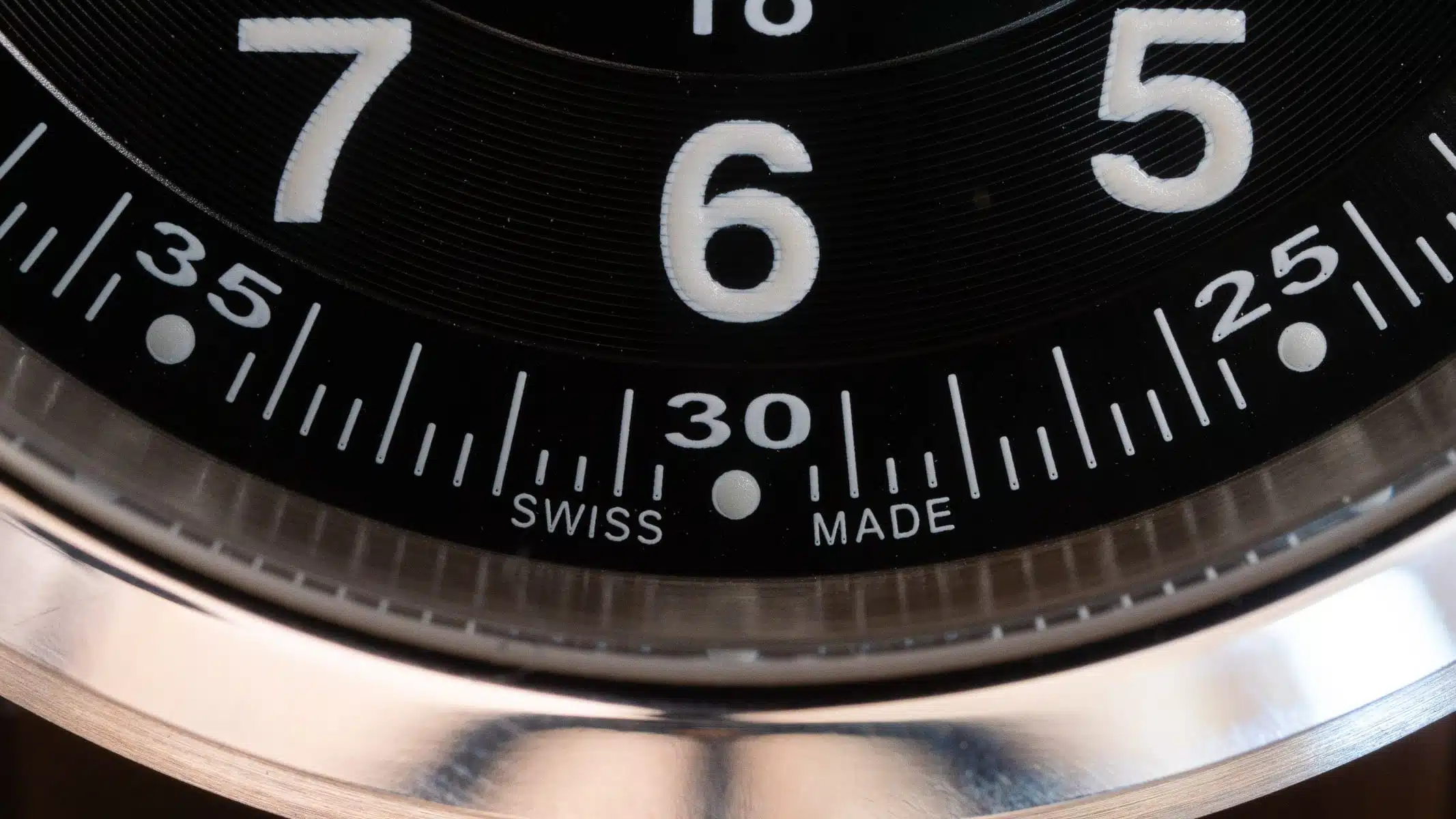 Like the Italians with leather or the Belgians with chocolate, the Swiss are undoubtedly the standard bearers when it comes to watchmaking.
Even the Swiss government is protective of what the "Swiss Made" label means. It's no surprise then, though there are undeniable marketing dollars backing the hard-hitters of Geneva, that these timekeepers do tend to be objectively good, horologically.
Fortunately, not all Swiss timepieces require Patek and Rolex prices to enter. This is partly thanks to technological advancements and partly because several mid-priced brands are in the same bigger watch group as luxury brands (looking at you, Swatch).
Our 15 best Swiss watches here are broken down into those under $1000 and those under $500 — all slender-wrist friendly, naturally.
Best Swiss Watches Under $500
Starting off, let's look at some more modestly-priced watches:
Tissot Mens Ballade COSC
The term "bang-for-buck" gets thrown around a lot, but the Tissot Ballade checks that box because of its movement alone. We're talking about a COSC-certified Powermatic 80 caliber here.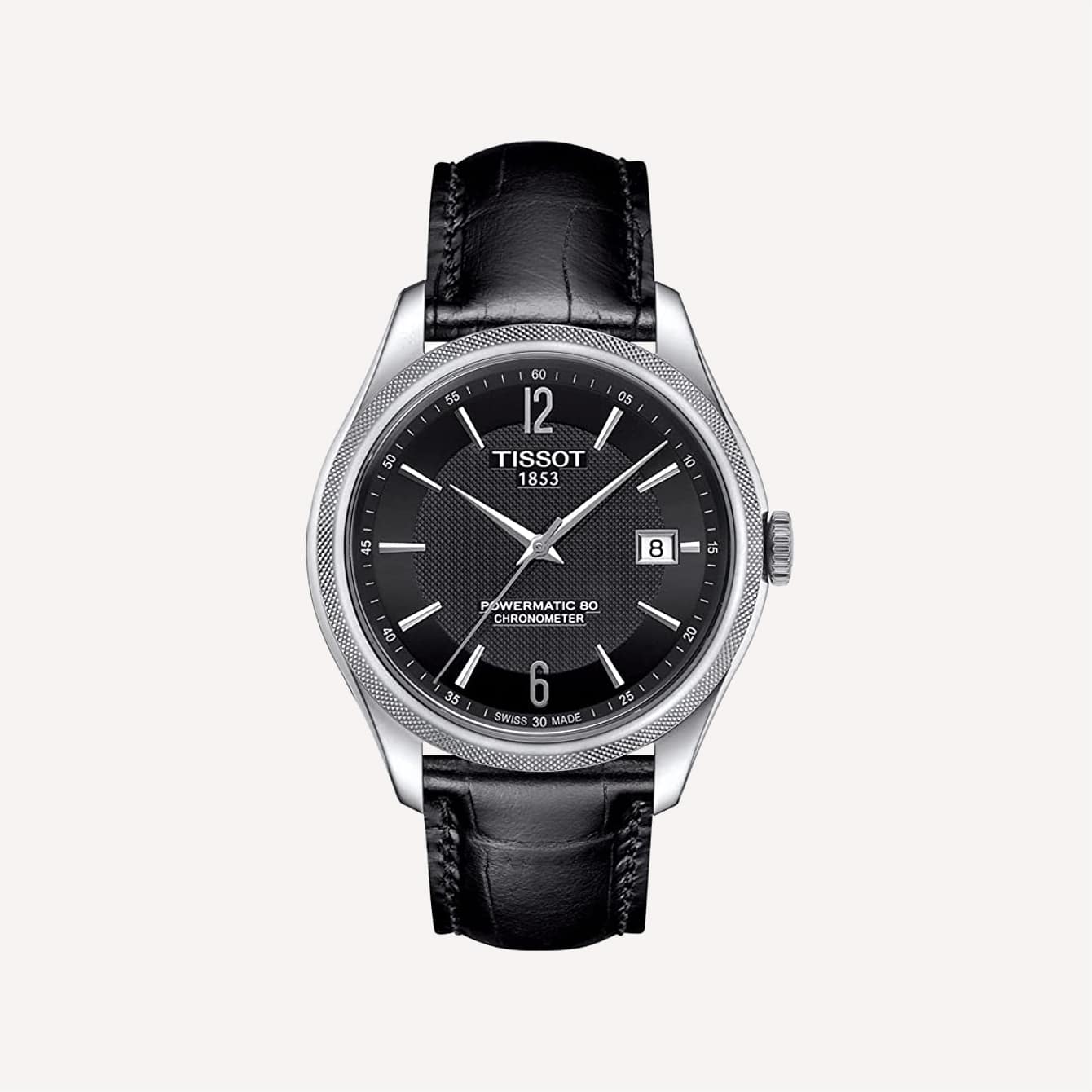 This means it's certified for durability and reliability in the same way that modern Rolex movements are. Unlike any Rolex on the market, however, Tissot gives you an exhibition window so you can actually admire this remarkable automatic caliber.
The movement is based on an ETA 2824, built with lower-friction, easy-to-service materials, more Hz, and leveled up to 80 hours of power. There's even a patented silicon balance spring in there.
Dimensions: 40mm diameter, 9.8mm thickness
Case material: Stainless steel
Water resistance: 50m
Style-wise, this satin-finished watch has an undeniably high level of finishing and a timeless, versatile design.
Certina DS4 Day-Date
The Certina DS4 Day-Date has a pretty standard "luxury sport watch" look, in the best way possible.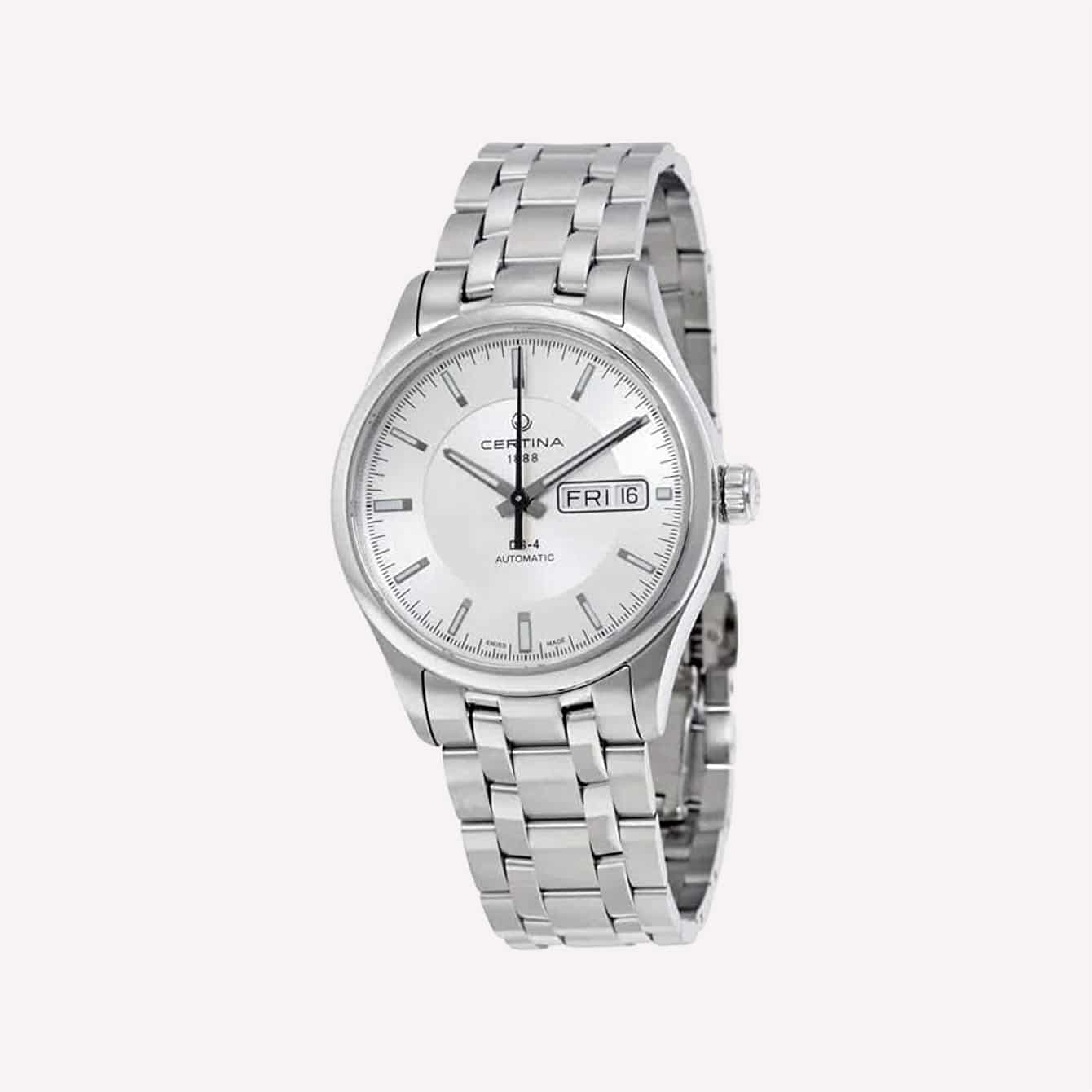 The fully tonal silver timepiece is beautifully polished, with a lustrous dial that's enhanced by baton indices, sporty luminous black hands, and a date window.
The bracelet, with its pseudo-zig-zag links and pseudo-oyster style, gives us Omega Seamaster 300 vibes in that it's just elaborate enough without being too flashy.
Dimensions: 38mm diameter, 11.5mm thickness
Case material: Stainless steel
Water resistance: 100m
With its respectable 25-jewel ETA movement, sapphire crystal, and 100 meters of water resistance, this Certina offers compelling value. It's like the Swiss answer to a core-line Seiko.
Victorinox Swiss Army INOX
Victorniox is for the no-nonsense watch guy. Still, it's this function-forward approach that's made their style so iconic to military watch lovers.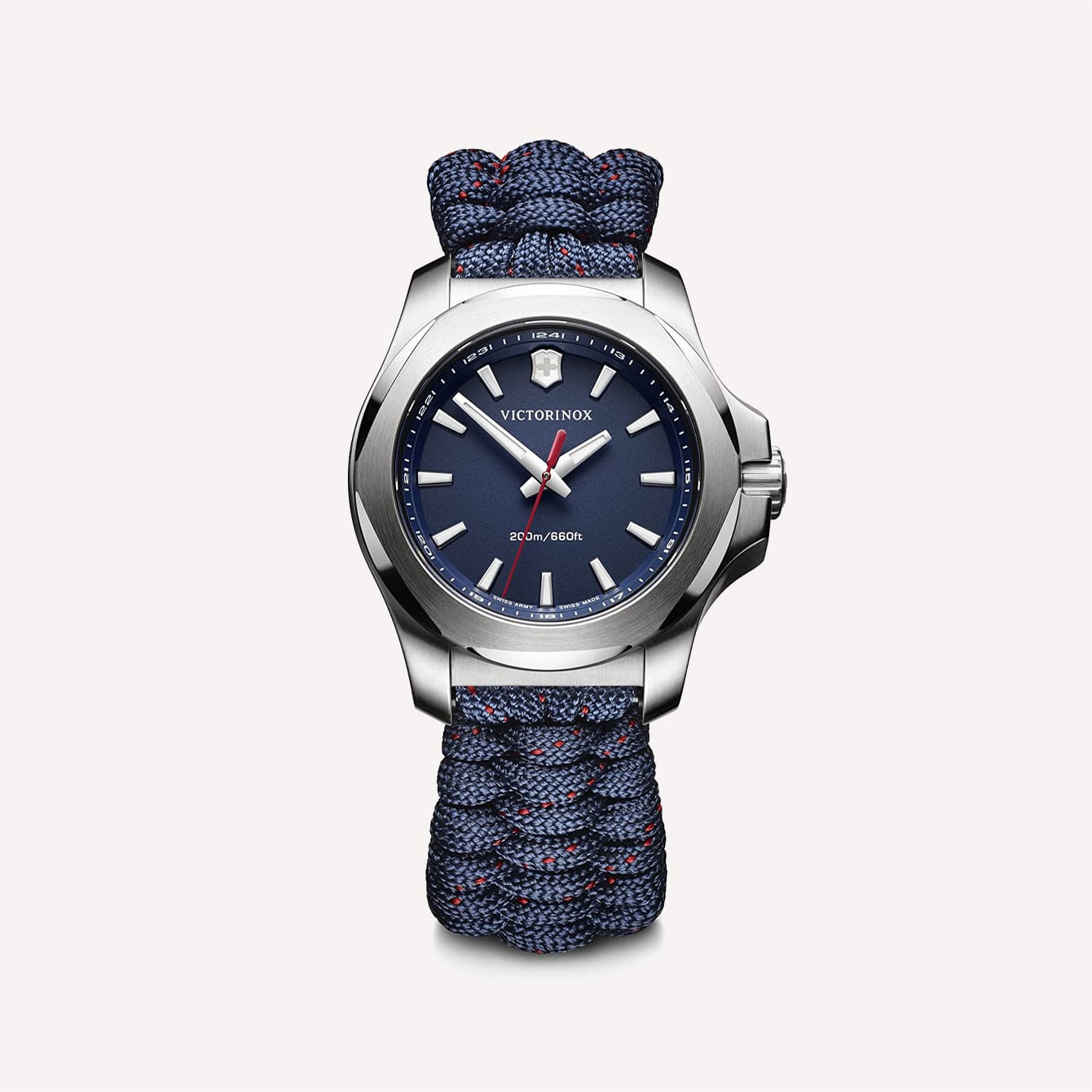 I complain a lot about how Victorinox has an old-fashioned approach to men's and women's watch sizes, especially with the INOX line.
The remedy is that the ladies' INOX watches are just as robust and quintessential to the brand.
Dimensions: 37mm diameter, 13.8 mm thickness
Case material: Stainless steel
Water resistance: 200m
The case diameter is 37mm, and like the "men's" version, it boasts the slick hexagon case and a paracord strap and has passed the same 130 durability tests.
Luminox Leatherback Sea Turtle
Similar to Victorinox, you'll have to check out the ladies' section to get reasonably-sized watches with Luminox. Fortunately, you'll likewise find equally high-quality and similarly-designed timepieces there.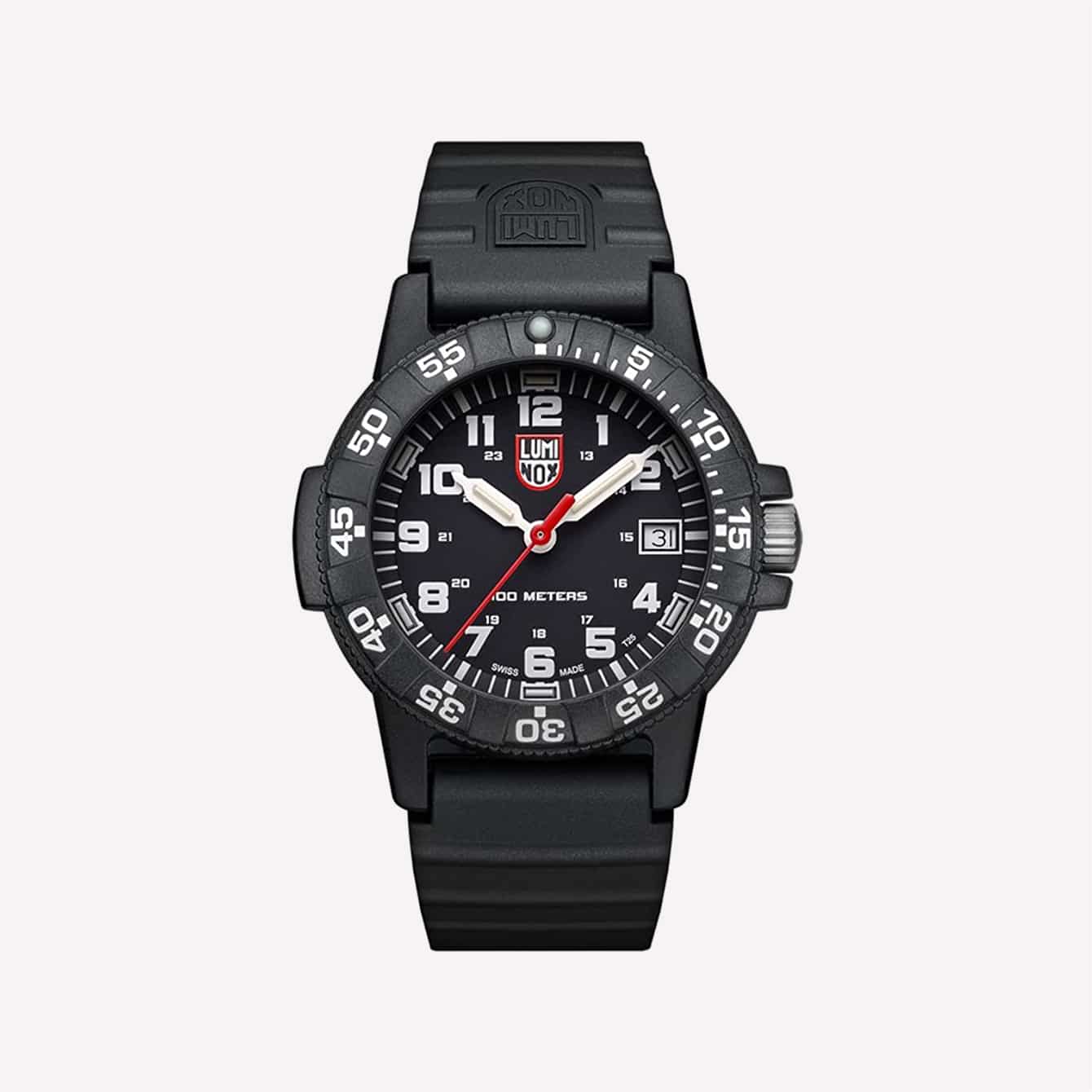 Enter the Leatherback Sea Turtle. If you're a small-wristed gent and you've always wanted to sport a G-Shock function-forward army watch, this is the one for you.
Instead of being 45 to over 50mm, this guy is 39mm and is made of an authoritative black carbon for strength (and style). It's insanely legible, despite everything going on.
Dimensions: 39mm diameter, 12mm thickness
Case material: Black carbon
Water resistance: 100m
And finally, it's not just a giant monstrosity; it has a sophisticated dimensionality to it, exemplified by the stepped hands and topographical bezel.
Wenger City Classic
Wenger's City Classic is another "high-quality standard," the kind of timepiece that works for you if you're a one-watch collection kind of guy.
It's well-finished, excellent applied, and regardless of which colorway you go for, it goes well with jeans or a suit. This is partly thanks to its 34mm case.
You can choose from stainless steel or rose gold PVD cases and sunray or flat dials.
Dimensions: 34mm diameter, 7.6mm thickness
Case material: Stainless steel
Water resistance: 30m
These guys are sold out on Wenger but often make their way into the eBays and Amazons of the world.
Glycine Bienne 1914 GL0336
From Glycine's Bienne 1914 collection, the GL0336 is based on an original reference from the '50s, upgraded to modern standards.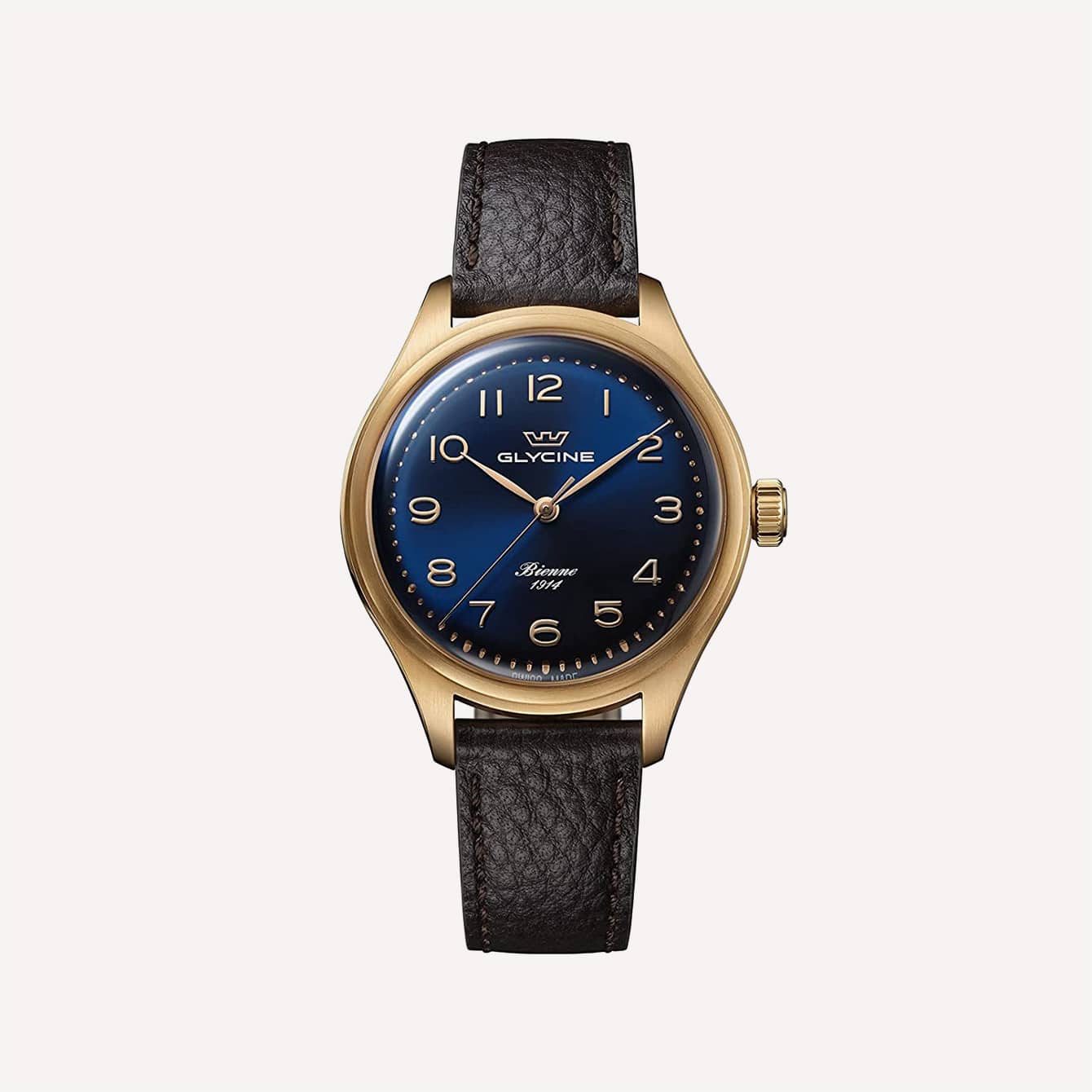 It's the kind of watch that's built from a classic template but injected with character. For example, the gold-tone and blue combination is lively but not loud, since they're complimentary.
Also, the dial itself is a murkier sort of sunray, giving it a non-standard ocean-esque look.
Dimensions: 39mm diameter, 11.5mm thickness
Case material: Stainless steel
Water resistance: 100m
It's powered by an accurate automatic movement and comes with Glycine's merciful two-year warranty.
Tissot PR 100 Powermatic 80
Another effectively unisex watch, the Tissot PR 100 Powermatic 80 looks like an elegantly straight-forward everyday timepiece but is the size of a vintage men's dress watch.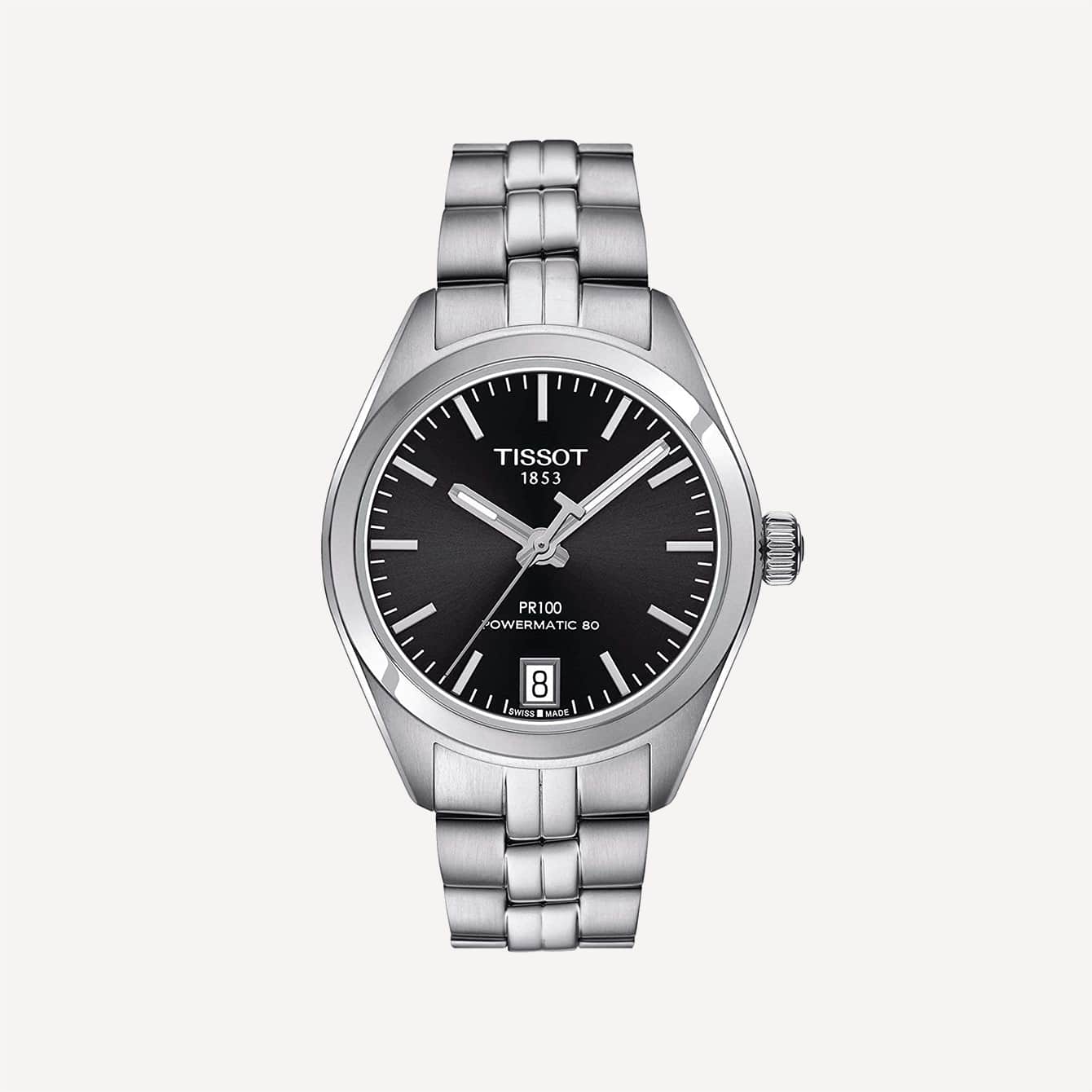 As a small-wristed guy with a penchant for sport watches, one of my favorite things to do is wear "ladies" sport pieces as dress watches (the 28mm quartz Omega Seamaster 300 is another great timepiece to do this with).
This PR100, however, is just so incredibly versatile and premiumly constructed, with its subtly silky dial and clean lines throughout.
Dimensions: 33mm diameter, 9.8mm thickness
Case material: Stainless steel
Water resistance: 100m
Most impressively, it's remarkable how they filled this timepiece with one of their signature Powermatic movements.
Raymond Weil 2837-STC-00308 Maestro
Stately but not overly ornate, this Maestro from Raymond Weil satisfies both the lavish guy and the horology nerd in all of us.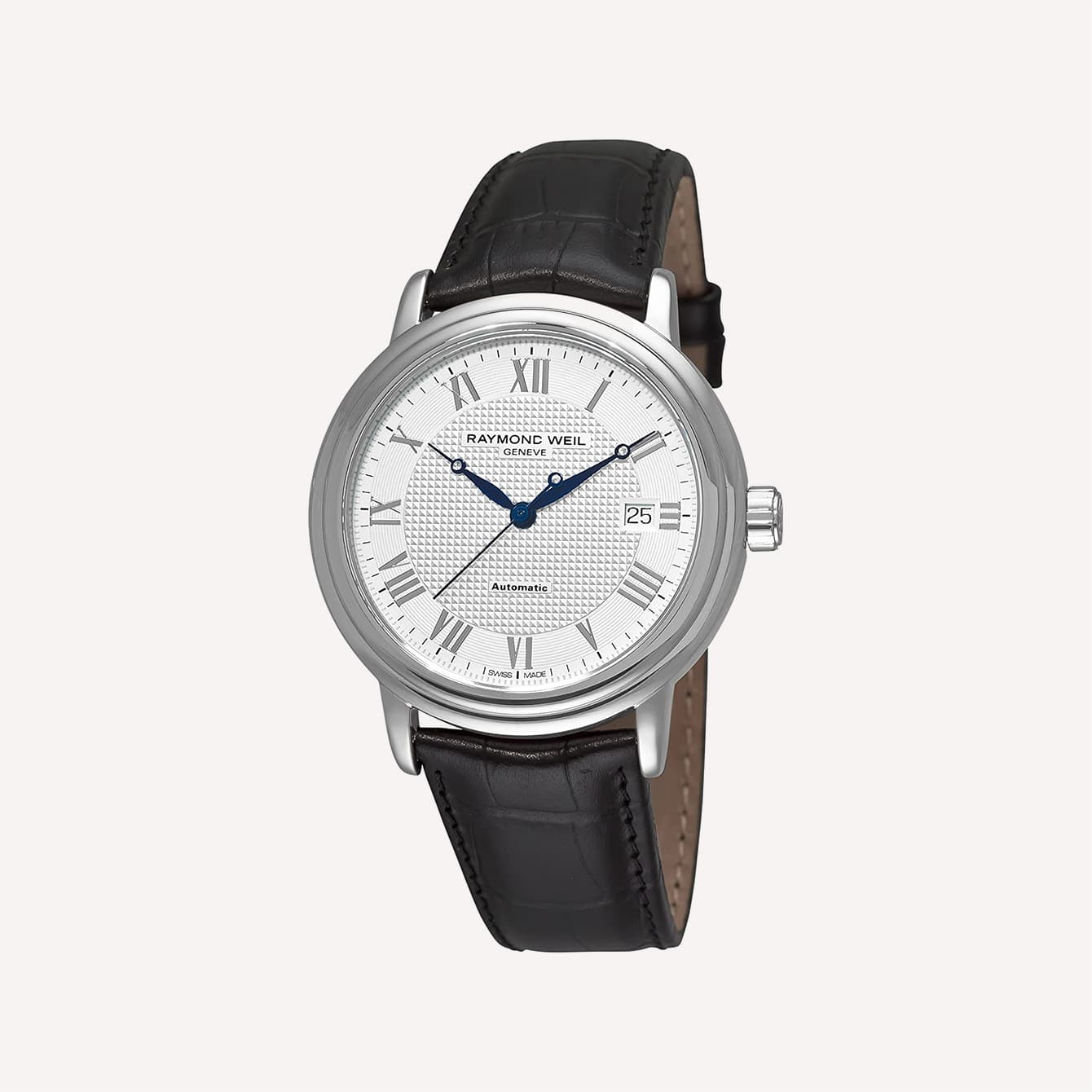 On the outside, this exquisitely finished timepiece boasts slightly fanciful dotted RW hands in royal blue, Roman numerals, and diamond-plating texture in the center dial.
Dimensions: 39mm diameter, 10mm thickness
Case material: Stainless steel
Water resistance: 50m
On the inside, it runs on the SW200, which isn't nearly as decorative as the dial covering it but is a 26-jewel automatic, layered with gold tones and silver tones.
Best Swiss Watches Under $1000
Here are some Swiss watches that require deeper pockets:
Glycine Combat Classic GL0106
The Glycine Combat Classic, GL0106, is technically just over a grand but is easily found at lower prices, often much lower prices — when it is on the market.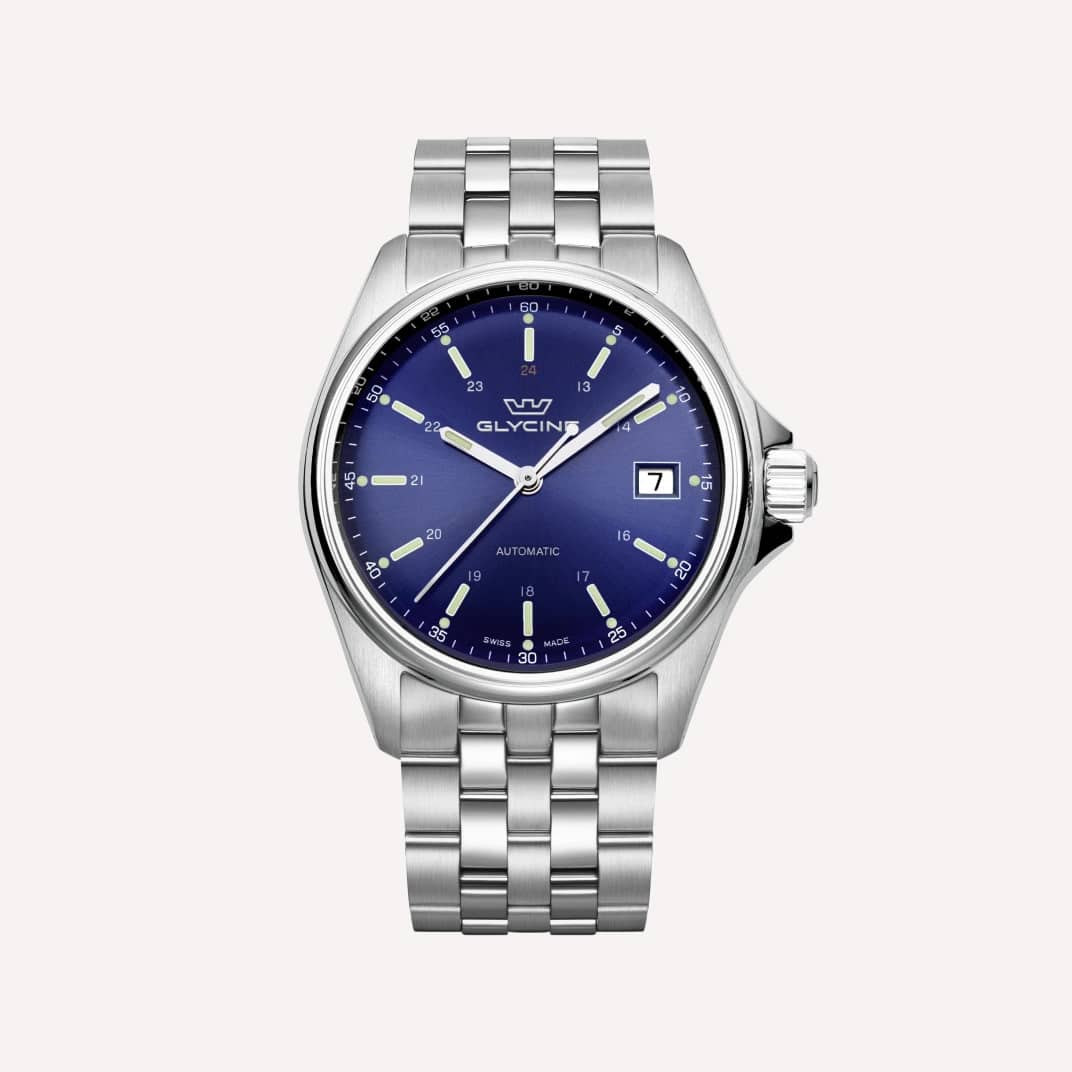 It's fully worth waiting for, though, because its design is timeless yet absolutely charming. It's particularly unique how each indice has a second on one side and a military hour on the other.
Its movement beats at a quick frequency of 28,800 beats per hour, or 8 ticks per second, as most high-end sport watches do.
Dimensions: 36mm diameter, 10.6mm thickness
Case material: Stainless steel
Water resistance: 50m
Plus, the easy-to-use crown has just enough resistance that it's fun to operate.
Mondaine EVO2 Petite Case
Mondaine's signature Official Swiss Railway clock now comes in an even smaller case size at 35mm, without compromising its automatic movement no less.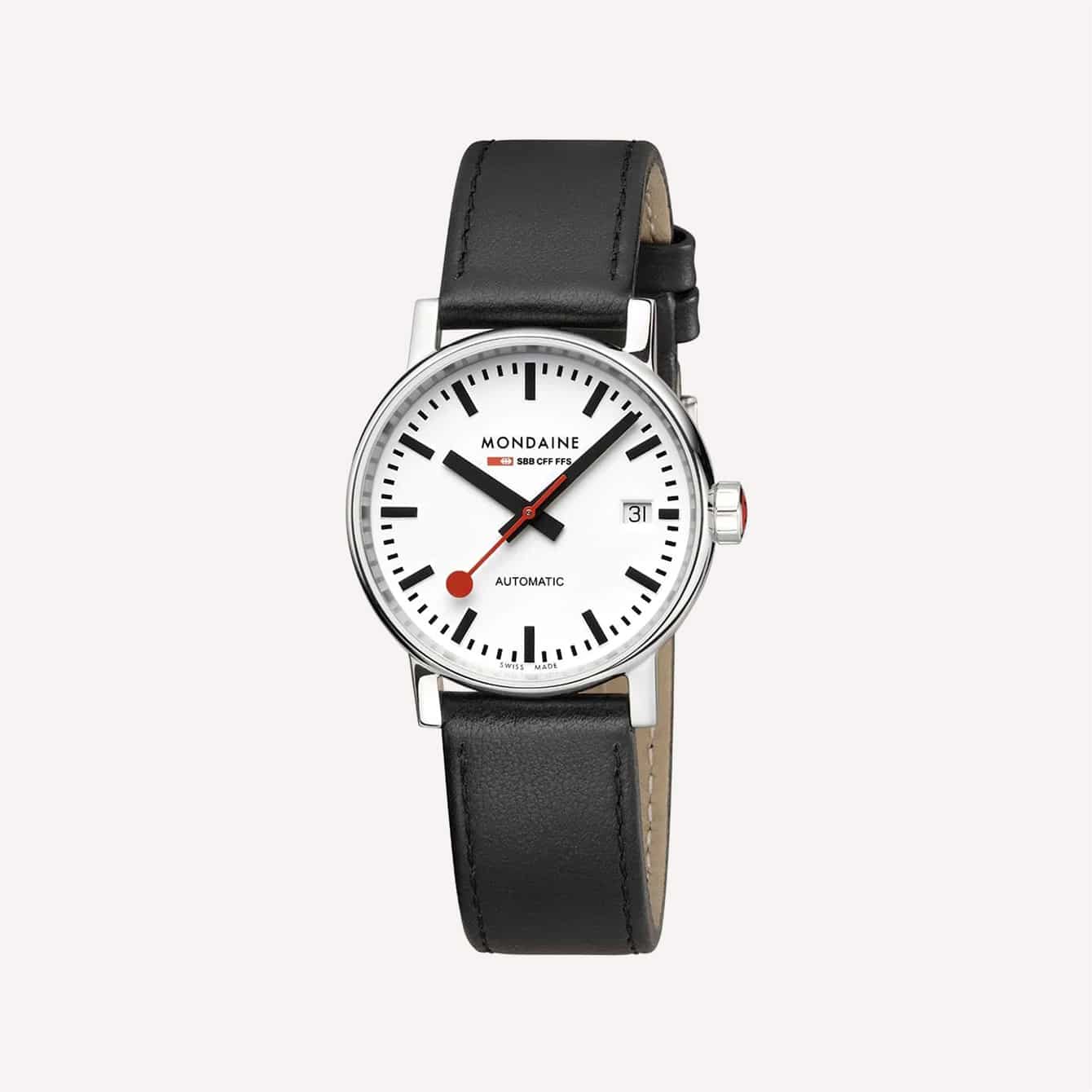 The iconic dial is almost cleanly Scandinavian, with the function-forward boldness of Swiss and German watches. The tone-matching of the red second hand with the jewel-like crown is a nice touch too.
This timepiece is downright ergonomic between its small case size and the almost seamless transition between the case and caseback.
Dimensions: 35mm diameter, 11mm thickness
Case material: Stainless steel
Water resistance: 30m
Its wear is as easy and comfortable as the dial's breezy aesthetic.
Mido Baroncelli Heritage Gent
The Mido Baroncelli Heritage Gent is one of, if not the thinnest timepiece in the game.
Regardless of a height of just over seven millimeters, it's powered by an ETA 2890, with a vibration of 28800vph.
Naturally, this Mido is also one of the most comfortable watches on the market.
Dimensions: 39mm diameter, 7.3mm thickness
Case material: Stainless steel
Water resistance: 30m
And while the clean lines complementing the splendidly textured dial look dressy at first glance, you can easily switch out the straps to fully transform its level of formality.
Farer AquaMatic Collection
The AquaMatic dive watches from Farer are fun and lively, whether you go for the relatively tonal Porthleven, the red-forward all-primary Cribbar, or the overall light-toned Thurso.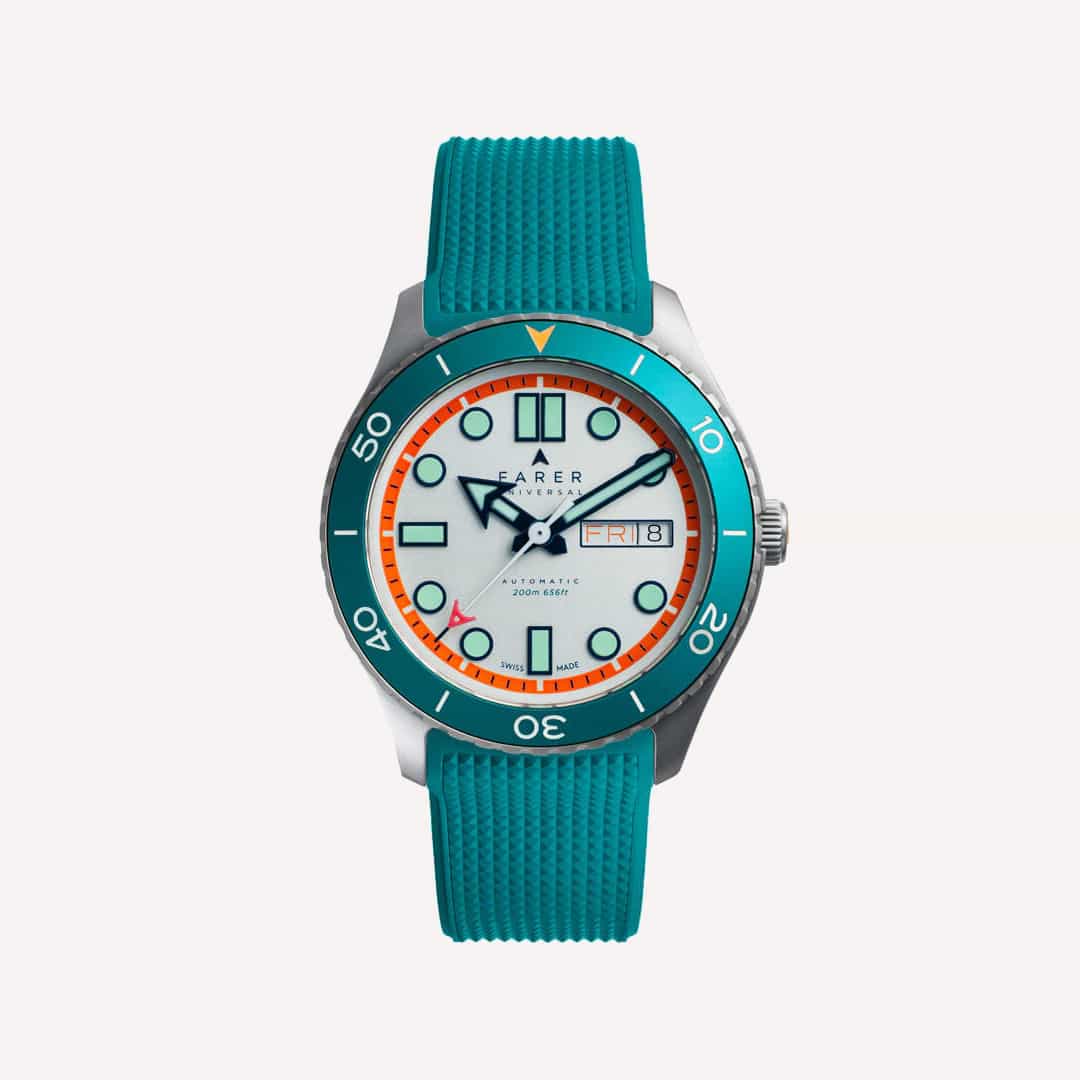 They're all playful, and all feature bright contrast accents to the dominant design color, and most importantly, they are reasonably-sized dive watches with high-level functionality.
They're equipped with a reliable and shock-absorbing automatic movement, 200 meters of water resistance, and are made of marine-grade stainless steel, among several other admirable qualities.
Dimensions: 38.5mm diameter, 711.9mm thickness
Case material: Stainless steel
Water resistance: 200m
Once again, Farer proves that you can be fun and serious at the same time.
Certina DS Action Diver
For less than a grand, Certina serves up a classic dive watch with the DS Action Diver.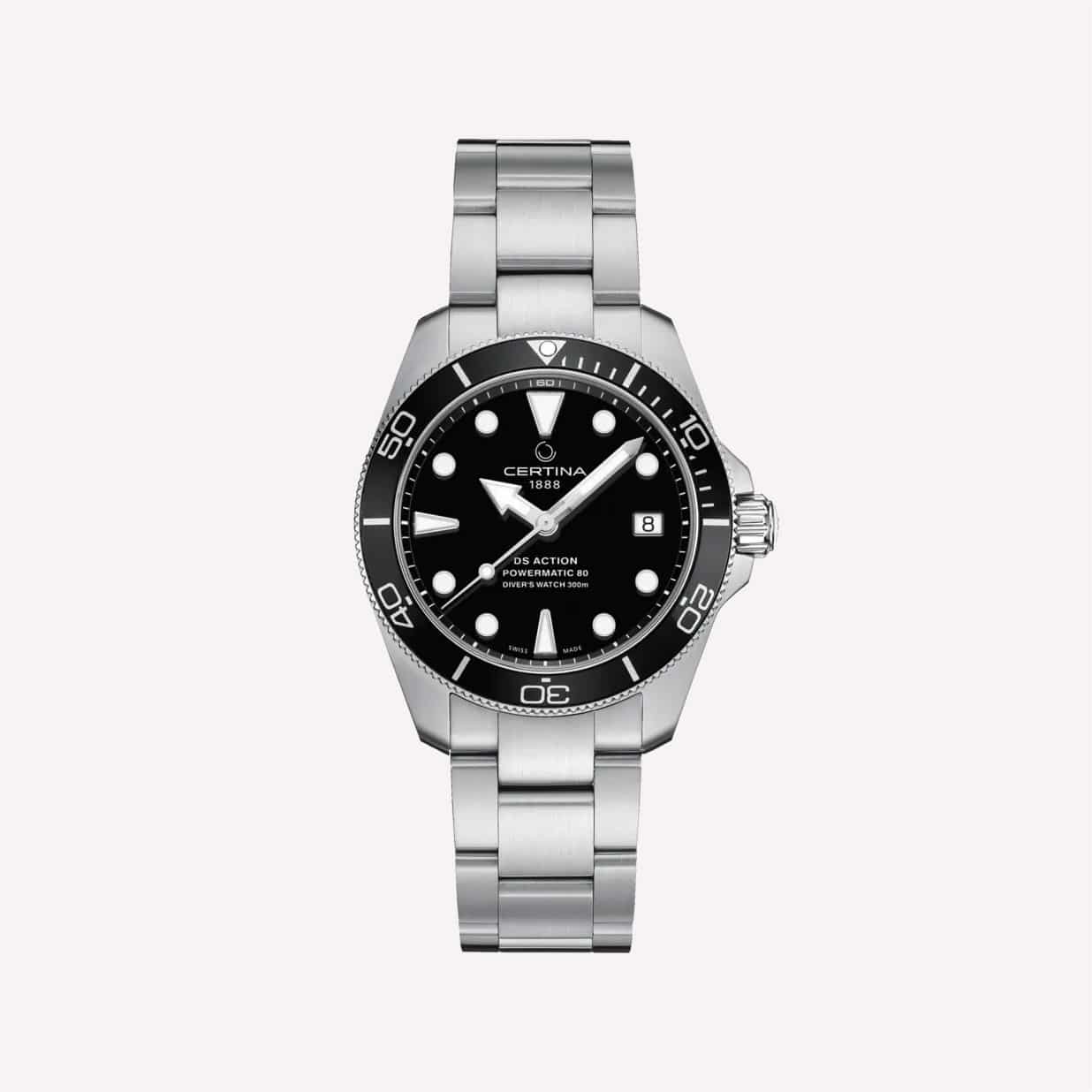 The timeless and practical design is in the same school as Oris divers and the Submariner but at a fraction of the cost. On the other hand, it's akin to a Seiko Prospex or SKX but with a Swiss pedigree.
It's a solid sport watch, with a sapphire crystal, certified diver's status according to ISO 6425, and that famous 80-hour Powermatic movement that's appeared more than once here.
Dimensions: 38mm diameter, 12.2mm thickness
Case material: Stainless steel
Water resistance: 300m
Most importantly, it fits this brawny build into a 38mm case.
Christopher Ward C60 Trident Pro 600
Though the design team of Christopher Ward is in London, their Swiss-made watches offer a distinct combination of Swiss engineering with a very English design sensibility.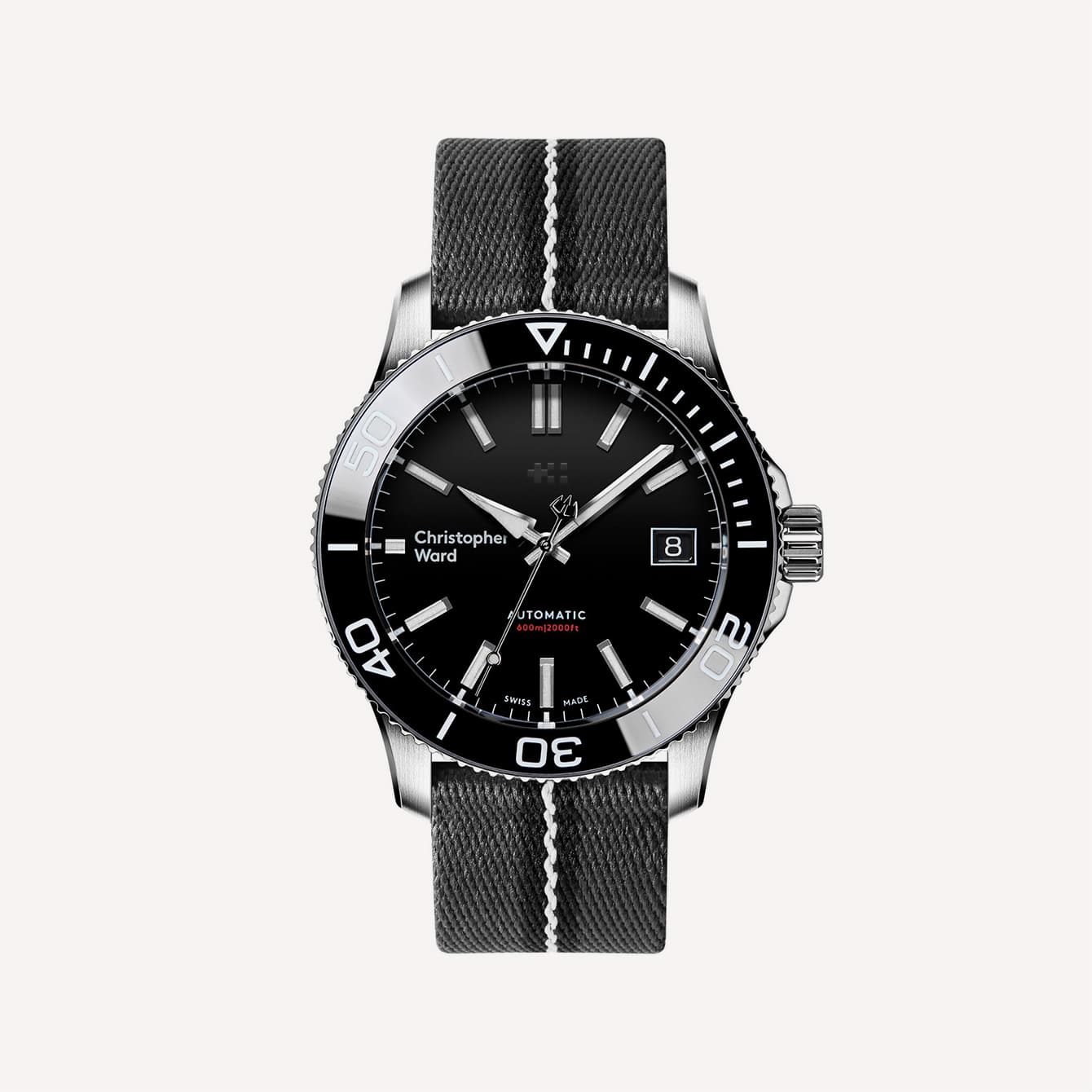 This includes the fancy decorativeness of the recognizable Trident-lollipop hand, tempered with the dry politeness of clean and traditional edges and lines throughout.
Dimensions: 38mm, 12.7mm thickness
Case material: Stainless steel
Water resistance: 600m
This C60 Trident Pro 600 is known for its 600 meters of water resistance and for offering premium materials (like the fade-proof ceramic bezel and SuperLuminova dial) due to its direct-to-consumer model.
Longines HydroConquest
The Longines HydroConquest is my go-to design to prove people wrong about needing big dials for legibility and aviator-like boldness.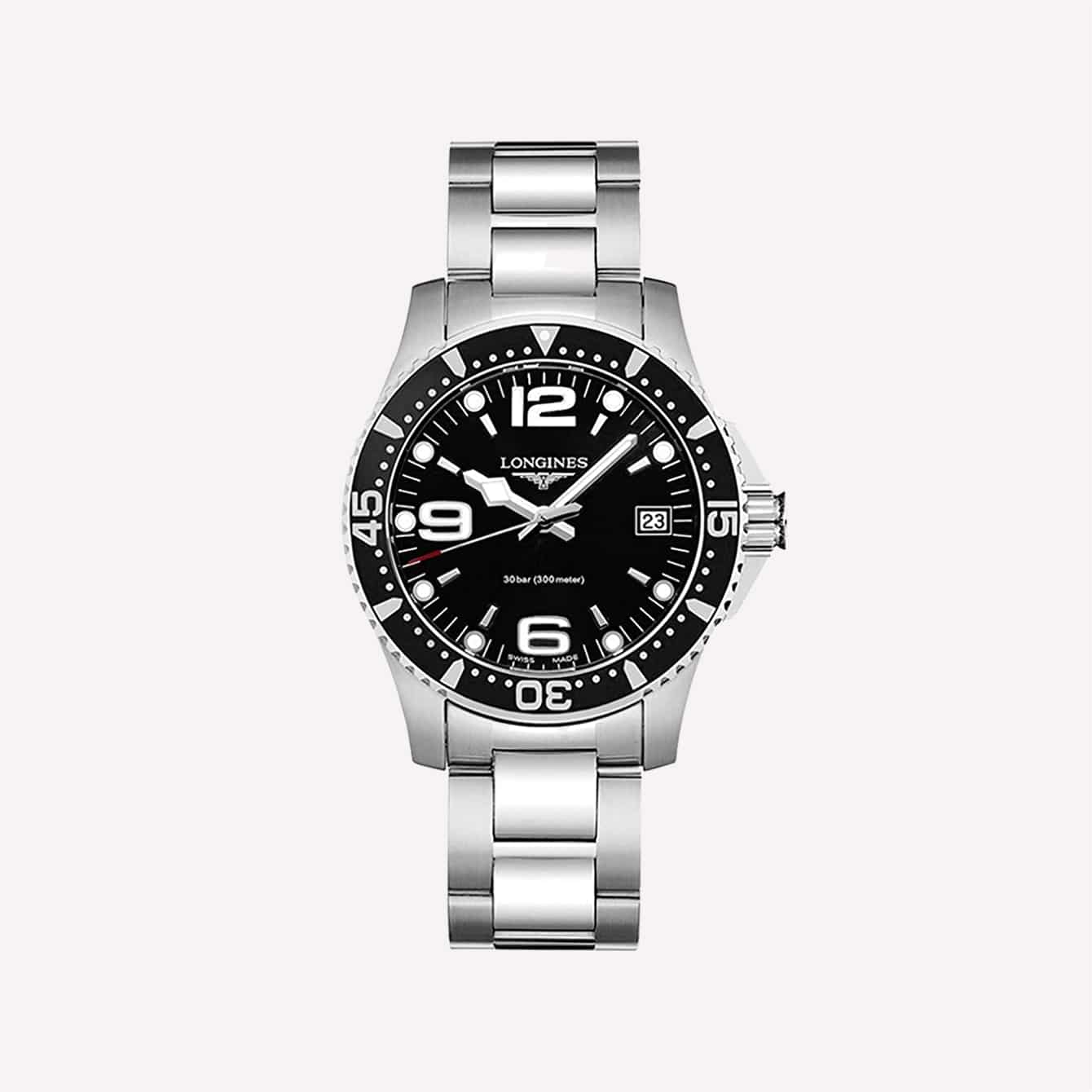 Though the dial is a sane 36mm in diameter, you still have the wide and tall cardinal-direction hour markers, speedy lines on the outer edge, and a general big-and-tall look.
Dimensions: 36mm diameter, 10.2mm thickness
Case material: Stainless steel
Water resistance: 300m
It has the classic sporty aesthetic of a Sub, and the practical, no-nonsense approach as an INOX, with its ceramic bezel, quartz movement, and scratch-resistant sapphire.
FAQs About Swiss Watches
Got questions about Swiss watches? Here are some answers:
Why Are Swiss Watches So Expensive?
Luxury Swiss watches have a slower production time because of the craftsmanship that goes into them.
For example, Rolex has registered over 500 patents, while some Patek complications take over six years to produce. That, plus high market demand, and an unwavering reputation, result in much higher prices.
Are Swiss Watches Worth the Money?
Yes, if you want the best of the best, knowing that watches aren't actually a necessity. While Swiss watches are, for the most part, the finest watches in the industry, they aren't exactly known for price-to-quality.
The Swiss label adds several extra zeros to the price tag, which is worth it for some and not others.
Is Switzerland Famous for Watches?
Yes, Switzerland is home to the top watchmakers in the world.
Is Switzerland Famous for Watches?
The Swiss have a long history of watchmaking and building watches that are easily serviced and can therefore last decades. They've mastered watchmaking to the point that the Swiss government even protects the "Swiss Made" label to specific regulations.
Final Thoughts
If you know where to look, you can find high-quality Swiss watches at any price point. It's pretty remarkable that you can get a COSC-certified Swiss timepiece for under $500.
Moreover, they come in so many different styles, with a wide range of movements, covering a likewise wide range of priorities.
Questions? Comments? Leave them below!