If you're looking for some cool watch straps that are suitable for small wrists, you're in the right place.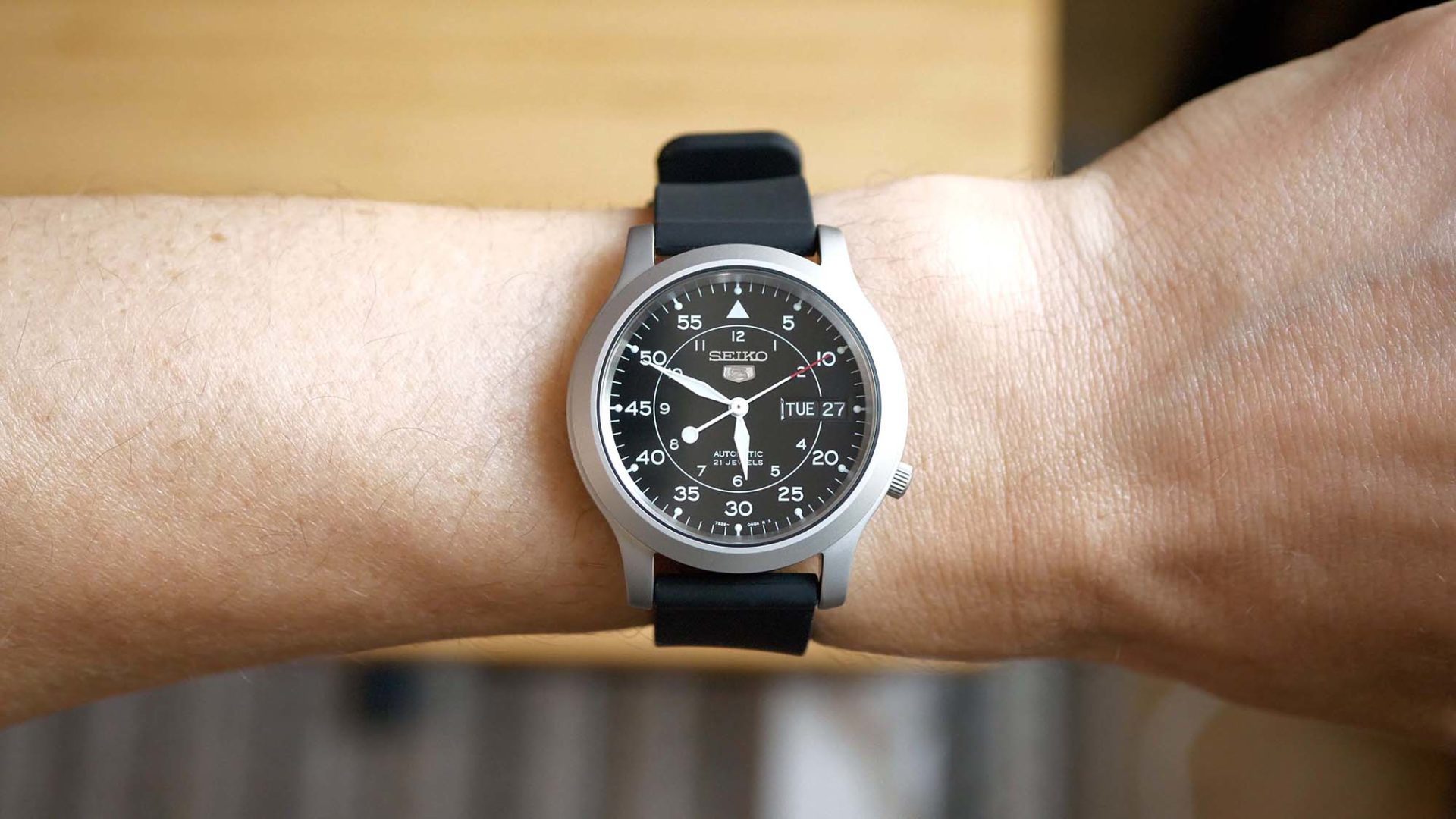 Being a smaller-wristed watch enthusiast comes with its fair share of difficulties. Often, the problem lies with the size of the watch itself — depending on how small your wrists are, even some 38mm cases may look too big and bulky.
Strap length is another bugbear that affects those with below-average wrists. The most common problem is the "long tail" issue caused by strap excess created due to having to use the shortest holes on the strap. Even if the tail can be managed, this excess is often unsightly and uncomfortable.
Even though most straps are made with a "one size fits most" approach, many standard-length straps are just too big for some people. You've likely encountered this issue if your wrist is about 6.5" inches around or smaller.
Recently, however, more companies have been taking note and have begun offering shorter straps to help combat this problem. I've rounded up 9 excellent options for short watch straps, so if you've struggled with finding the right size strap, you're in for a treat.
Strap Sizing 101
First, let's take a closer look at strap length.
Since standard-length straps work fine for most people, strap length isn't talked about a lot. Strap width is commonly brought up, but most watch wearers probably aren't up to speed with average strap lengths.
One-piece straps are measured by total length, while two-piece straps are measured by the individual lengths of the tail and buckle sides.
There are no universal standards, but typically "regular" straps tend to be about 190mm long. The average measurement for two-piece straps is around 120/70mm.
Short sizes vary, but they're usually no longer than about 170mm or 110/70mm. This is a good size for wrists in the neighborhood of 6" or below.
Of course, your mileage may vary, so make sure to measure your wrist and your current straps to get an idea of what you're working with and to understand how big is too big for you.
With all that in mind, here are 9 of the best short watch straps available today.
Best Watch Straps for Small Wrists
Here are the 9 best watch straps for small wrists in no particular order…
ColaReb Sustain Short
Italian strap maker ColaReb makes just about every kind of strap you can think of, so it's not a big surprise that the company offers several short options.
Of all of their shorter offerings, the Sustain Short is one of the most impressive. T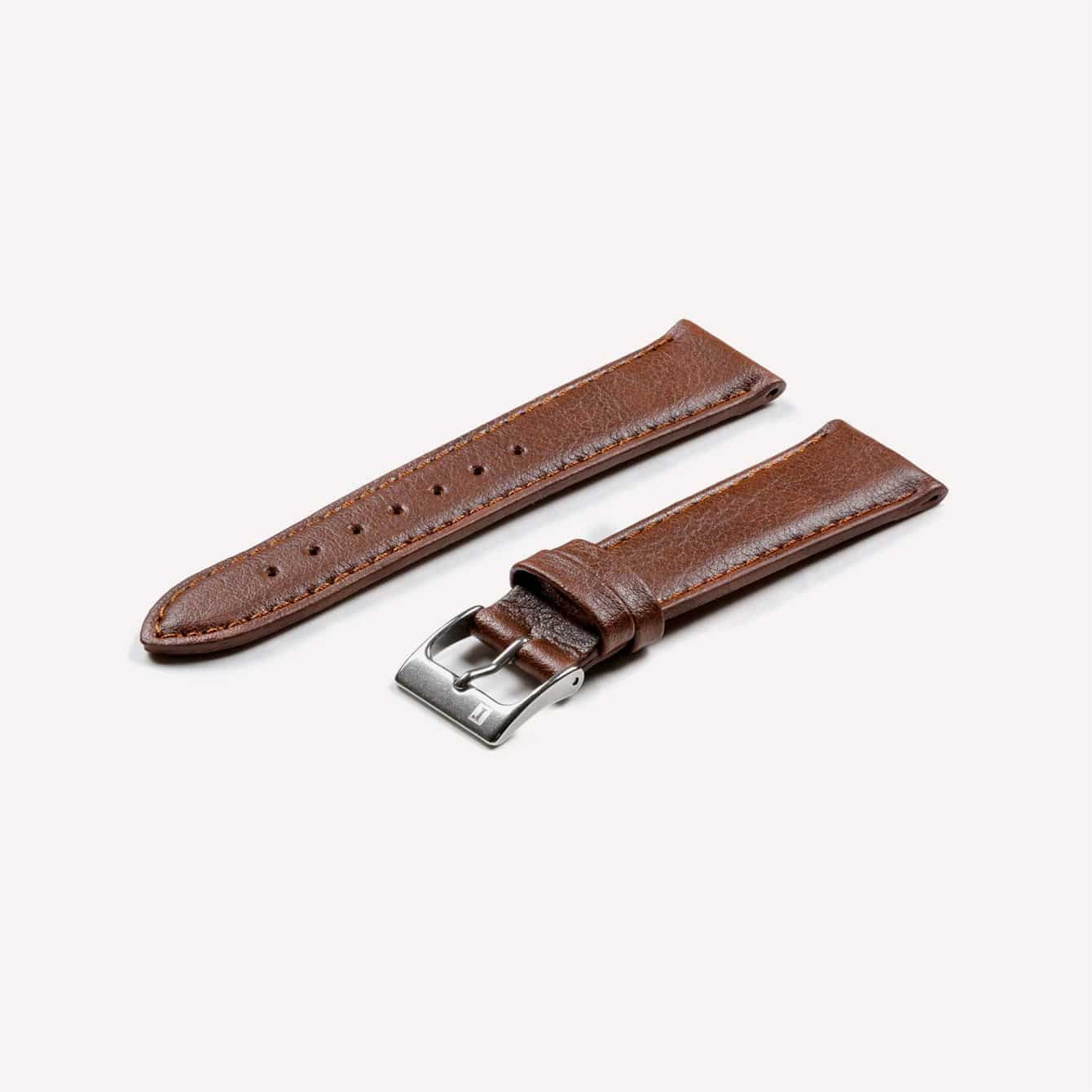 his environmentally conscious strap is made in Italy from ultra microfiber fabric that's vegan, biodegradable, and PVC-free.
This strap comes in at 100/70mm, which is an ideal size for most small wrists. It's available in 18mm, 20mm, and 22mm widths.
It's worth noting that some of ColaReb's short straps have different proportions. For instance, the Venezia Short is 105/70mm, so it's better for wrists that are on the bigger end of the short spectrum.
Hadley-Roma MS881
The MS881 is one of the only Hadley-Roma straps that comes in a short size, but it has a lot going for it.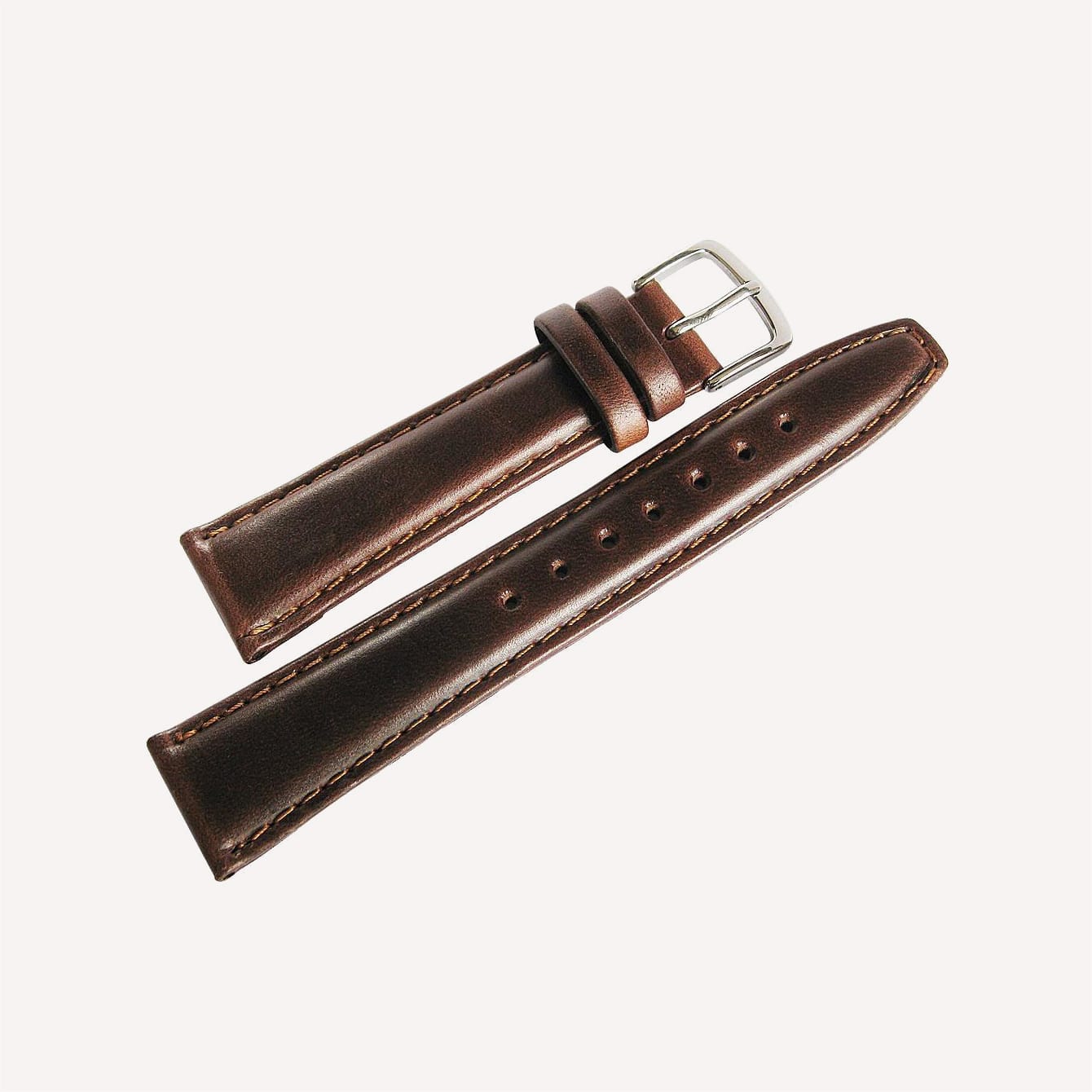 This oil-tanned calfskin band measures 105/60mm. It's made using Rembordé construction, which seamlessly connects the leather upper and lining for a premium feel.
As of this writing, the short MS881 is available in 16mm, 18mm, and 20mm widths. It can be hard to track down, but it's extremely affordable at around $22.
NOMOS Horween Genuine Shell Cordovan
NOMOS is best known for its Bauhaus-inspired watches, but the German giant also offers several high-quality straps that are available in an impressive range of sizes.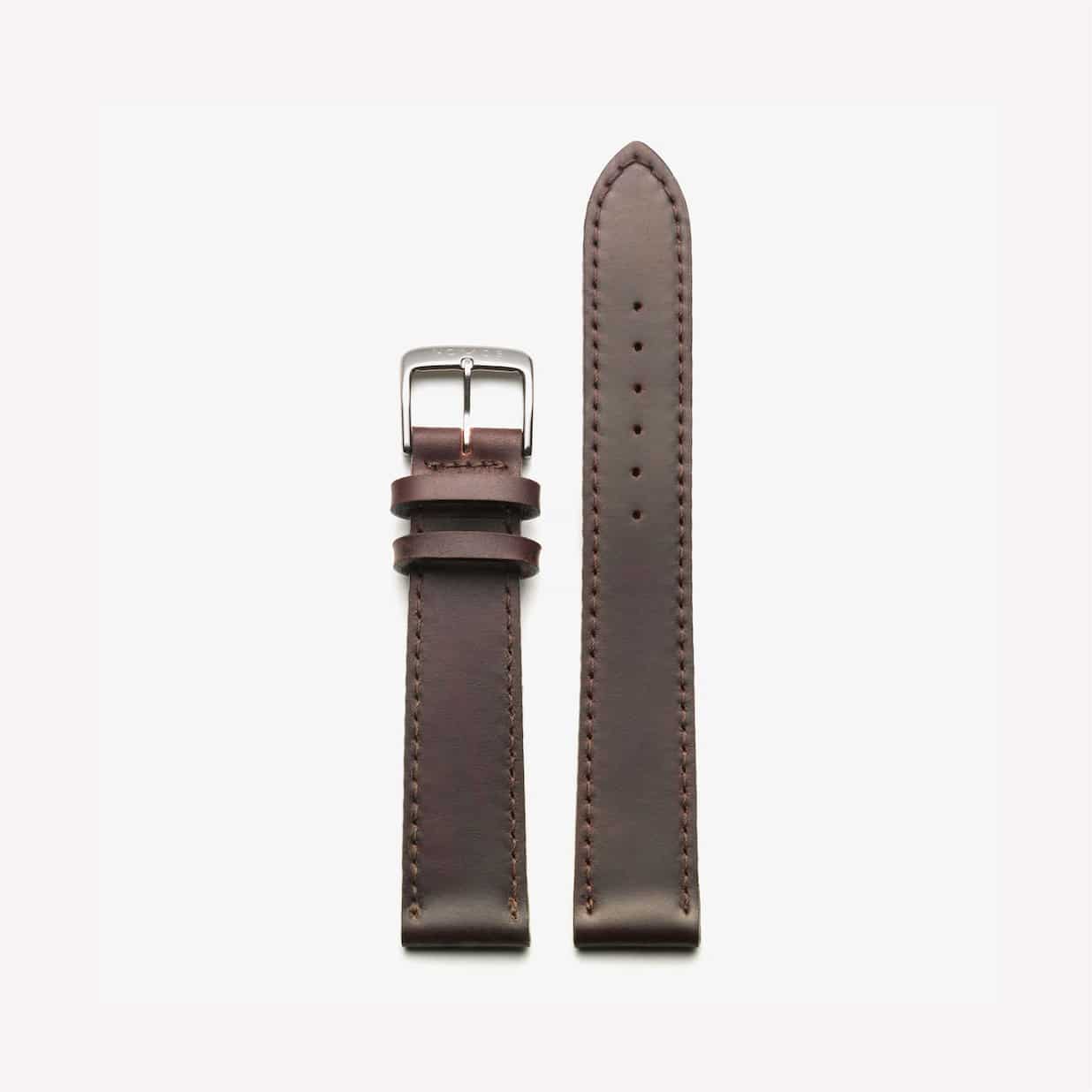 NOMOS offers five strap lengths sized from XS to XL. The XS is just 95/60mm long, making it one of the shortest strap options on this entire list. The S is a more typical short size at 105/70mm.
Because the straps regularly go out of stock, finding the exact strap you want can be tough. They're also fairly expensive—for example, the featured Horween strap costs $110. But it's hard to beat NOMOS if you're after an ideal balance of size and quality.
Hirsch Kansas
Hirsch has a surprisingly large selection of short bands that run the gamut, from simple rubber bands to exotic leather pieces.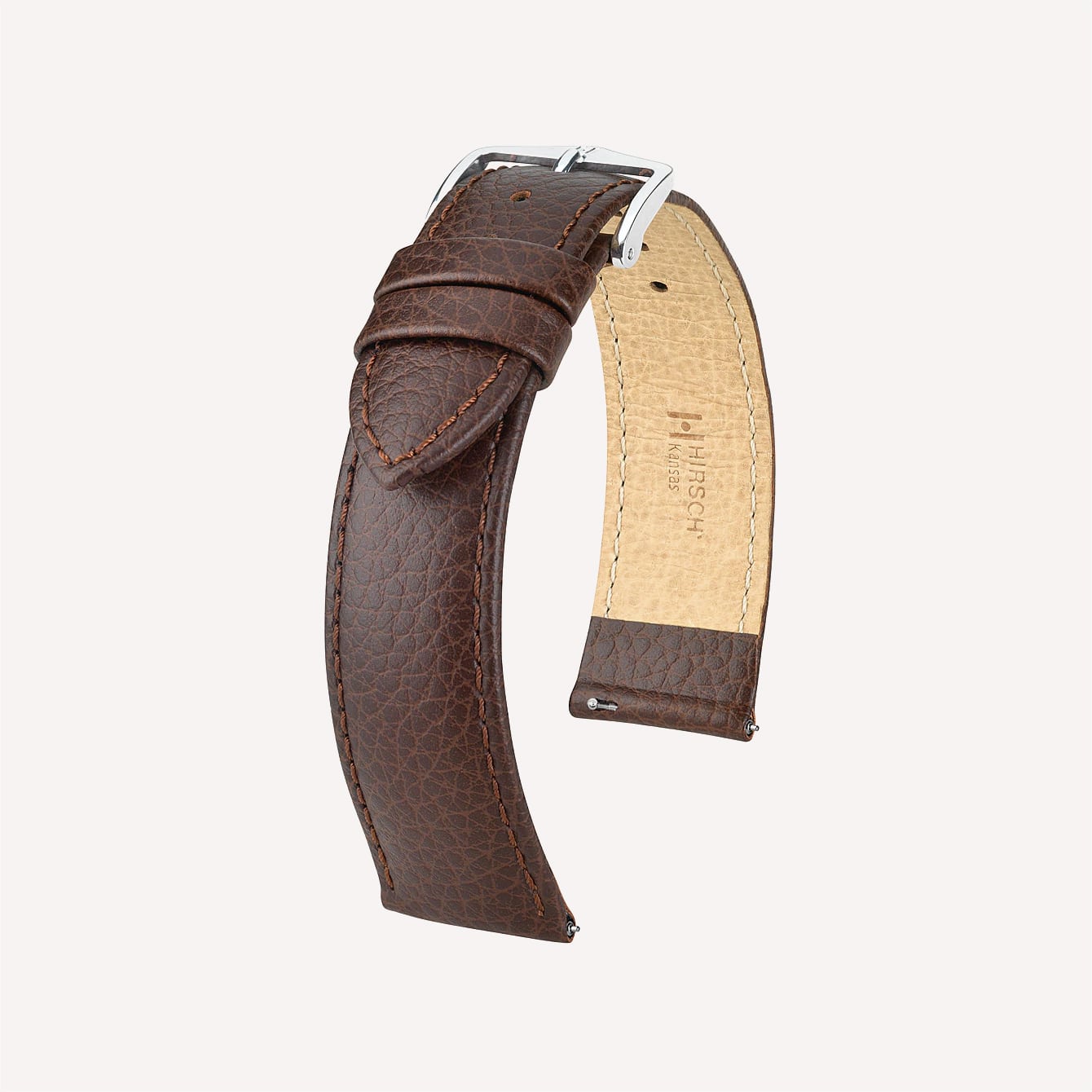 The Kansas is one of the best values in their lineup, not least because the available brown and black colors work well with most watches. This strap comes in a short length of 110/70mm and is made from buffalo-grain leather with a distinct texture.
At only $36, the Kansas has good value for money, and the size will fit a range of small wrists.
Fluco Chicago
Fluco is one of those "if you know, you know" companies. The German brand's straps punch above their price point, and there are tons of enthusiasts who swear by them.
The Chicago is one of Fluco's most popular short offerings. Made from Horween Shell Cordovan leather, the Chicago is a fairly premium strap.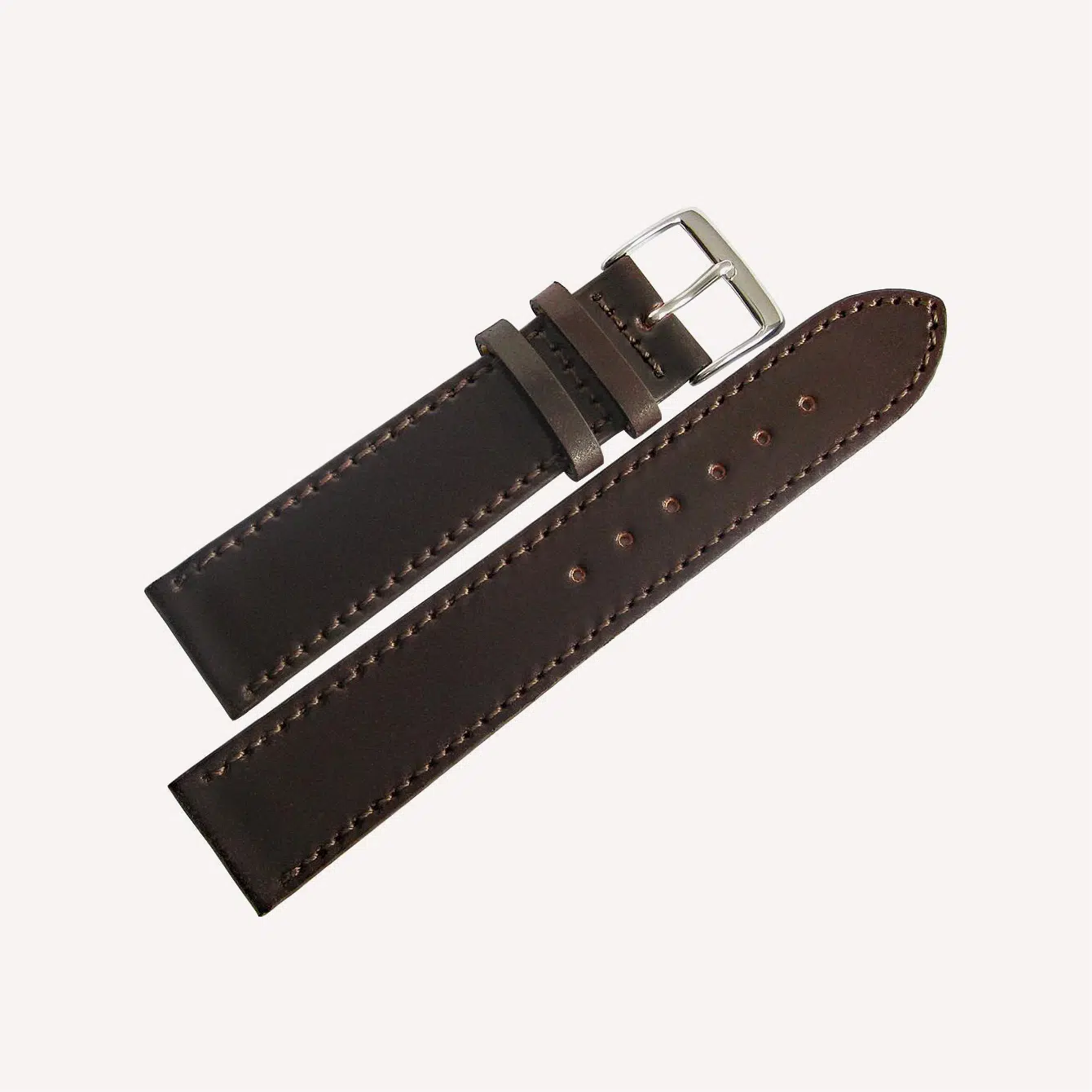 It has a pretty standard short length of 105/70mm.
The short length is only available in 18mm and 20mm widths, but since those are arguably the two most common widths, this isn't a huge disadvantage.
Color-wise, it's even more limited—you can choose between black or brown. But despite the lack of options, the Chicago is a competitive strap at a fair price.
Jack Foster Standard Watch Strap
Jack Foster isn't your average strap company. Founded in 2015, the brand is a newcomer to the world of straps, but it takes a tried-and-true bespoke approach resulting in plenty of satisfied customers.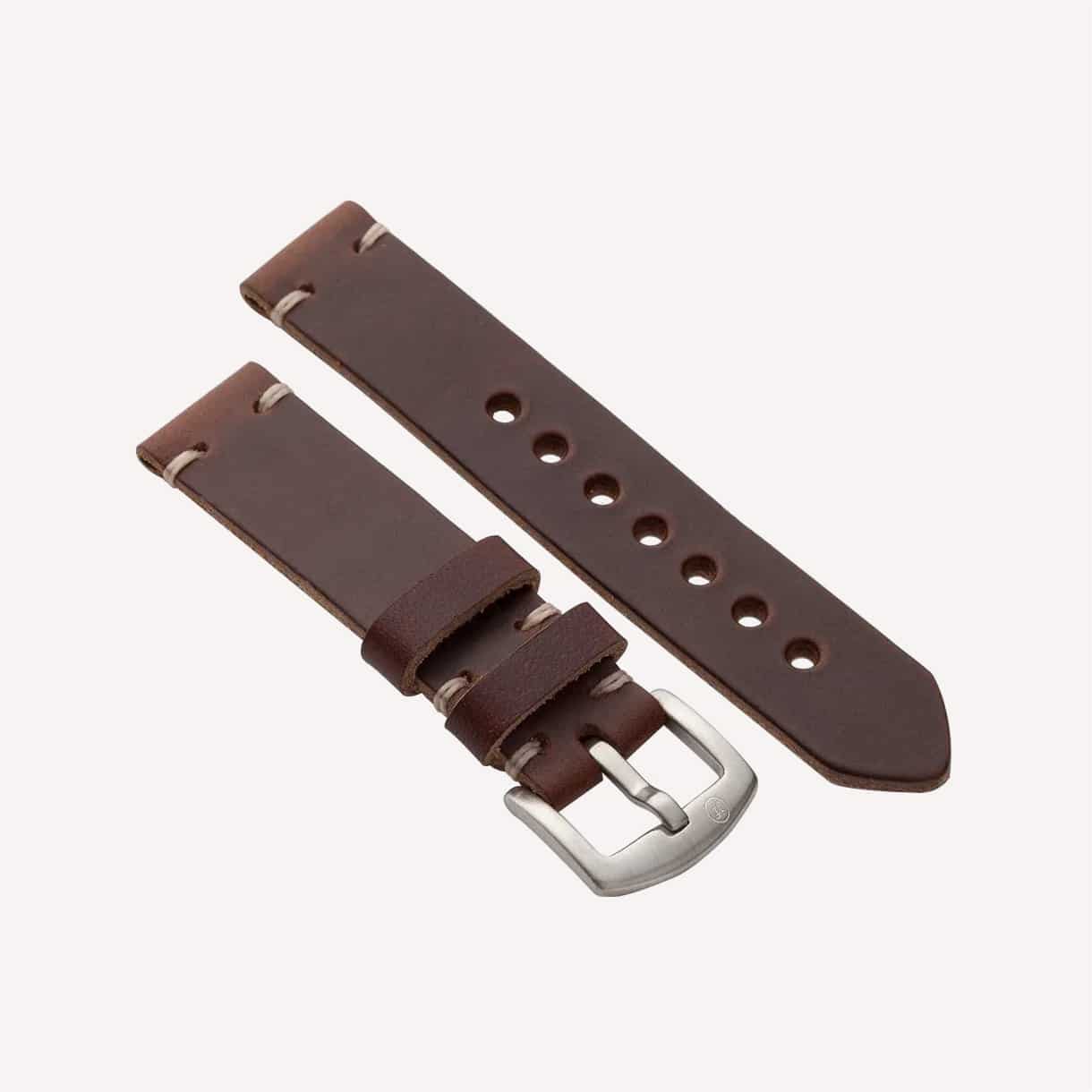 The company has standard and premium strap lines, but both offer customization that you typically don't see at this price range. There's only one short size (110/70mm), but you can choose any width from 16mm to 26mm (excluding 17mm) and customize the thread and buckle.
Upgrading to the premium line gets you higher quality leathers, but the standard is no slouch. It makes Jack Foster a compelling option for anyone needing specifically sized straps.
VEBLENIST Smoke Watch Strap
If you're thinking of going the custom route, consider VEBLENIST as well. These made-to-order straps can be entirely customized down to the smallest detail, and on top of that, most of the customizations are free.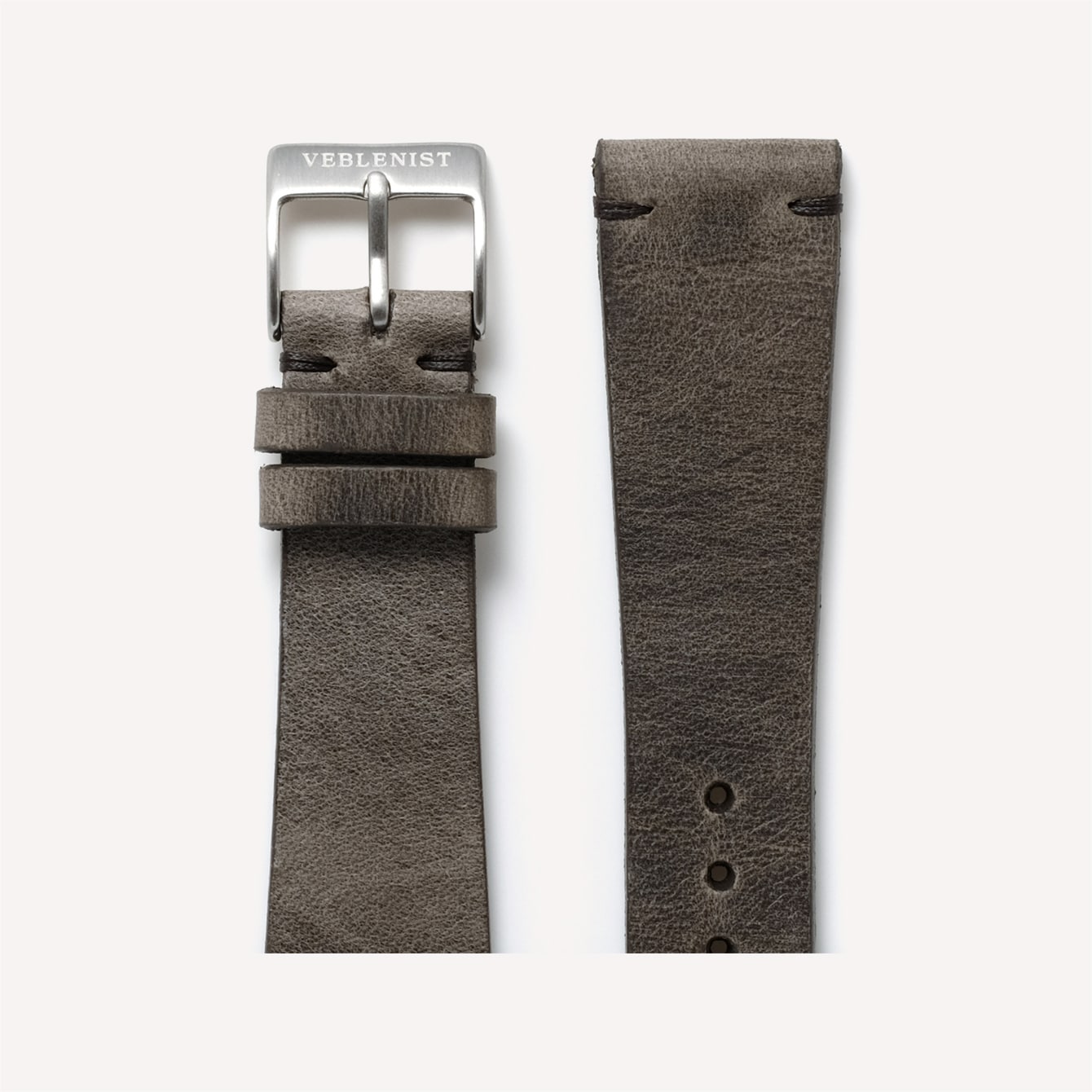 To start with, let's look at the straps themselves. You can choose from several leather, canvas, or nylon straps — I've picked out the Smoke leather strap for its unique color and texture. It comes in a short length of 105/70mm, but you can get even shorter custom lengths all the way down to 95/55mm.
Speaking of customizations, VEBLENIST offers 10 options, including lug width, thickness, lining, tip shape, stitching, and more. There's not much you can't customize.
Most of the straps fall in the $70-$100 range, which is an excellent price point for completely customizable straps.
HODINKEE Sedona
If price is no object, take a look at the Sedona from HODINKEE. This French calfskin strap comes in a short size of 105/65mm, and you can choose from 18mm, 19mm, 20mm, or 22mm widths.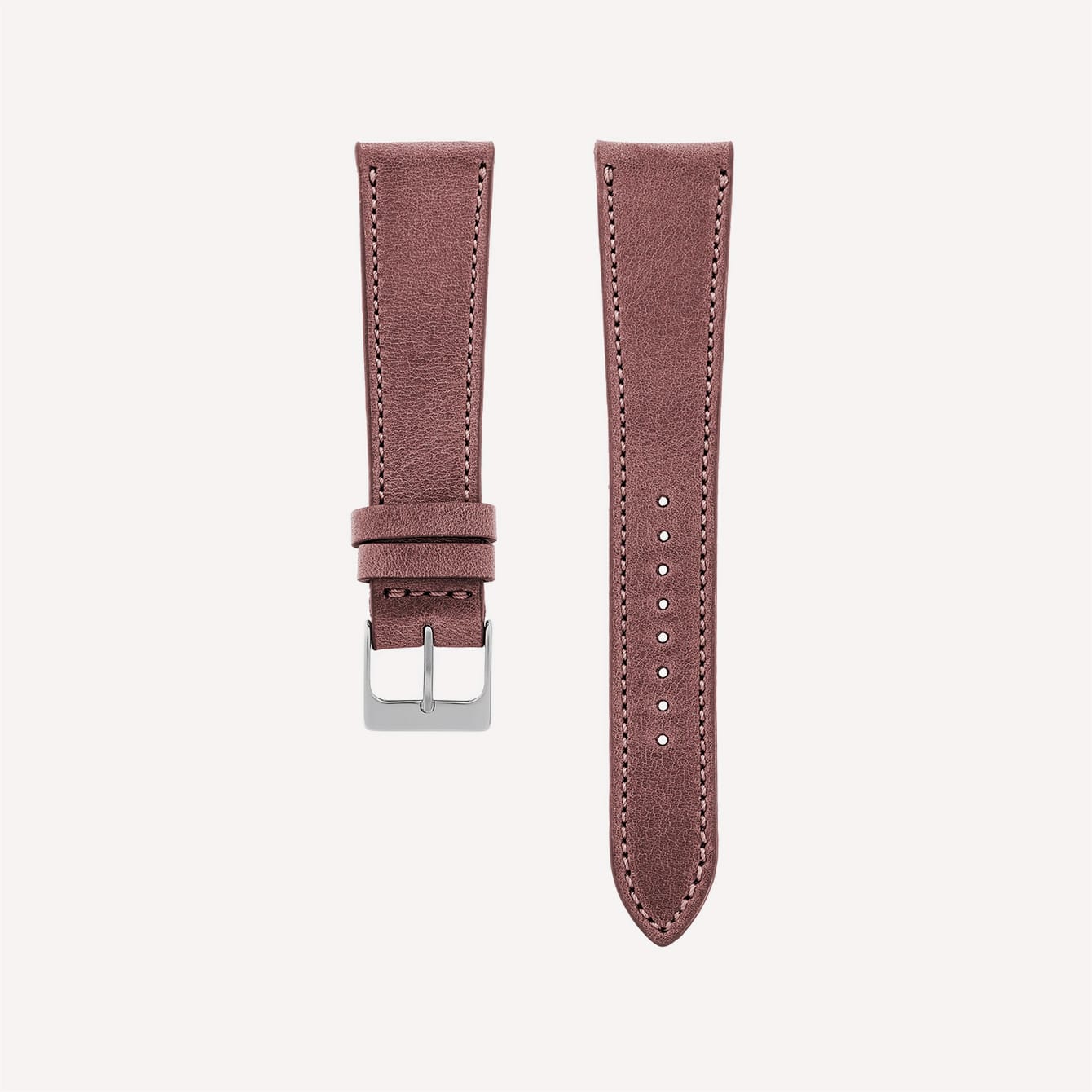 It's shown here in Antelope Canyon, but the Sedona is available in a whopping 19 colors. Priced at $165, it's undeniably a luxury strap, but if cost isn't a major factor for you, it's one to consider.
Bulang & Sons Ripstop Watch Strap
No one makes watch straps quite like Bulang & Sons. The company occupies an interesting space in the luxury strap market by offering refined, vintage-inspired designs.
The Ripstop Watch Strap is a good example of the Bulang approach.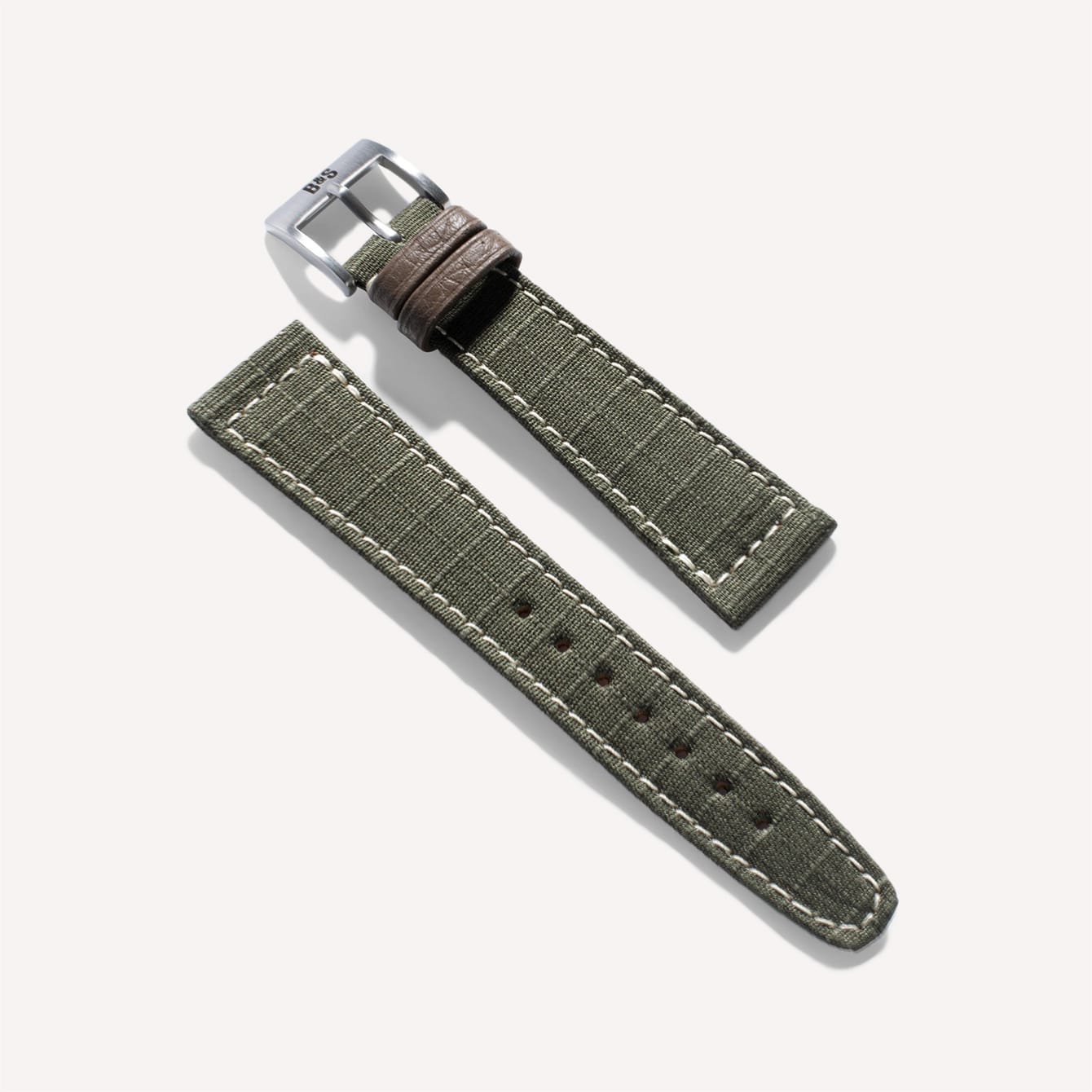 The fabric used is true vintage cotton ripstop from the 80s, and, true to its nature, it has an authentic military look that pairs excellently with field or pilot watches.
The strap is available in Bulang's universal short length of 105mm/65mm. At $160, it's one of the most expensive watch straps for small wrists, but its history and design easily justify its cost.
FAQs About Watch Straps for Small Wrists
Here are the answers to some common questions about small watch straps.
What Is the Smallest Watch Band Size?
While there may be smaller straps out there, VEBLENIST makes the smallest straps of any company I found. Their smallest custom size is just 95/55mm. NOMOS's XS size of 95/60mm gets a close second place.
How Long Is a Short Watch Strap?
The average short length is around 110/70mm.
What Are the Best NATO Straps for Small Wrists?
NATO straps are tricky for small-wristed folk. The vast majority of NATOs are about 300m long, and the placement of the shortest hole varies widely.
Your best bet is to go for a shorter NATO like the 290mm Supreme Nato from Crown & Buckle. If the strap is still too long or has too much excess, you can always shorten the strap to your liking.
Which Short Strap Is Right For You?
Buying short straps is still a little tricky, but there are more options out there than ever before. If you know where to look (and what lengths to look for), you can find a good variety of straps.
The good news is that you no longer have to be stuck with "regular" size straps that hang on your wrist or sag with excess fabric.
As you've seen, there are lots of both premade and custom strap options to fit all kinds of wrists. Hopefully, this list has helped you find your next strap!
Questions? Comments? Leave them below!