Looking to get into watch modding, but have no experience? Here are six accessible ways you can mod your Seiko SKX!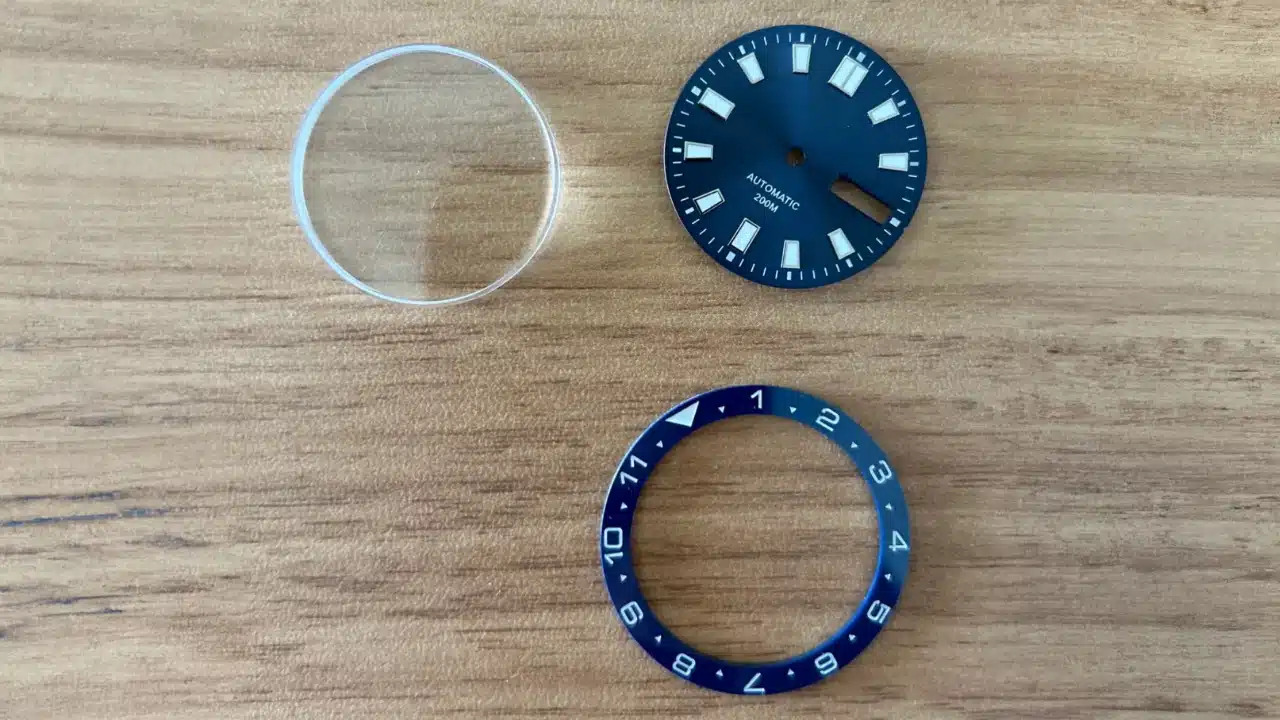 The Japanese watch industry (which is mainly just Seiko) is a lot like the Japanese whiskey industry. They started by copying and learning from the masters, the Swiss and the Scots respectively, before doing their own thing — and doing it well.
Thankfully, Seiko is the democratizer of watch brands. While they're generally good at watches at every price point, the SKX007, a go-to affordable alternative for the Submariner, also happens to come from the perfect line of timepieces for would-be watch modders.
Before we get to the six mods that anyone can do on the SKXs, let's talk about what tools you'll need.
Watch Modding Tools for Beginners and Beyond
You can find kits on Amazon that come with the most basic watch modding tools. These might include:
Spring bar tool
Caseback opener
Bezel remover tool
Tweezers
Crystal press
Beyond these essentials, you can also add the following to your arsenal:
Air puffer
Watch hand removal tools
Rodico (a sticky material which is used for a lot of things, including removing oil from watch movements and dials, and cleaning fingerprints)
Micro cloth
Movement holder
Depending on who you ask, some of these "extras" belong in the essentials category. Still, you can do most things with the top section of tools. Moreover, I do think switching out watch hands takes a pretty deft hand.
Why the SKXs? (A Brief Overview of the SKX Subline)
Seiko SKX watches are generally affordable and one of the most spec-forward and classic entry-level automatics on the market. This makes them perfect for modding. Plus, every single part can be modded, from the hands to the movement.
The SKX subline is also pretty wide-ranging, so newbies can cut their teeth on different sizes, like the Monster SKX779, and different colors, like the bright orange SKX011.
As mentioned, the SKX007, with its black dial and bezel, was a popular affordable Sub alternative, but has since become a bit of an icon itself.
The SKX013 is the smaller version of the 007, at 38mm instead of 41mm. These watches, along with the SKX009, a blue-dial, Pepsi-bezel version, are arguably the core SKXs.
They all boast 200 meters of water resistance and run on the 21-jewel Caliber 7S26, a workhorse automatic that's often referred to as Seiko's heritage movement.
6 Seiko SKX Mods: Perfect for Beginners
Alright, here they are! Some are easier than others, but all are worth experimenting with!
1. Strap and Bracelet Changes
Yes, switching up the strap is indeed a mod! It's the simplest change you can make and has a lot of visual impact.
The strap is kept in place via metal pieces called spring bars. Use the spring bar tool to pop them out, so you can replace whichever of the two cheap stock bracelets most SKX watches come with (usually a rubber strap or a jubilee-style bracelet).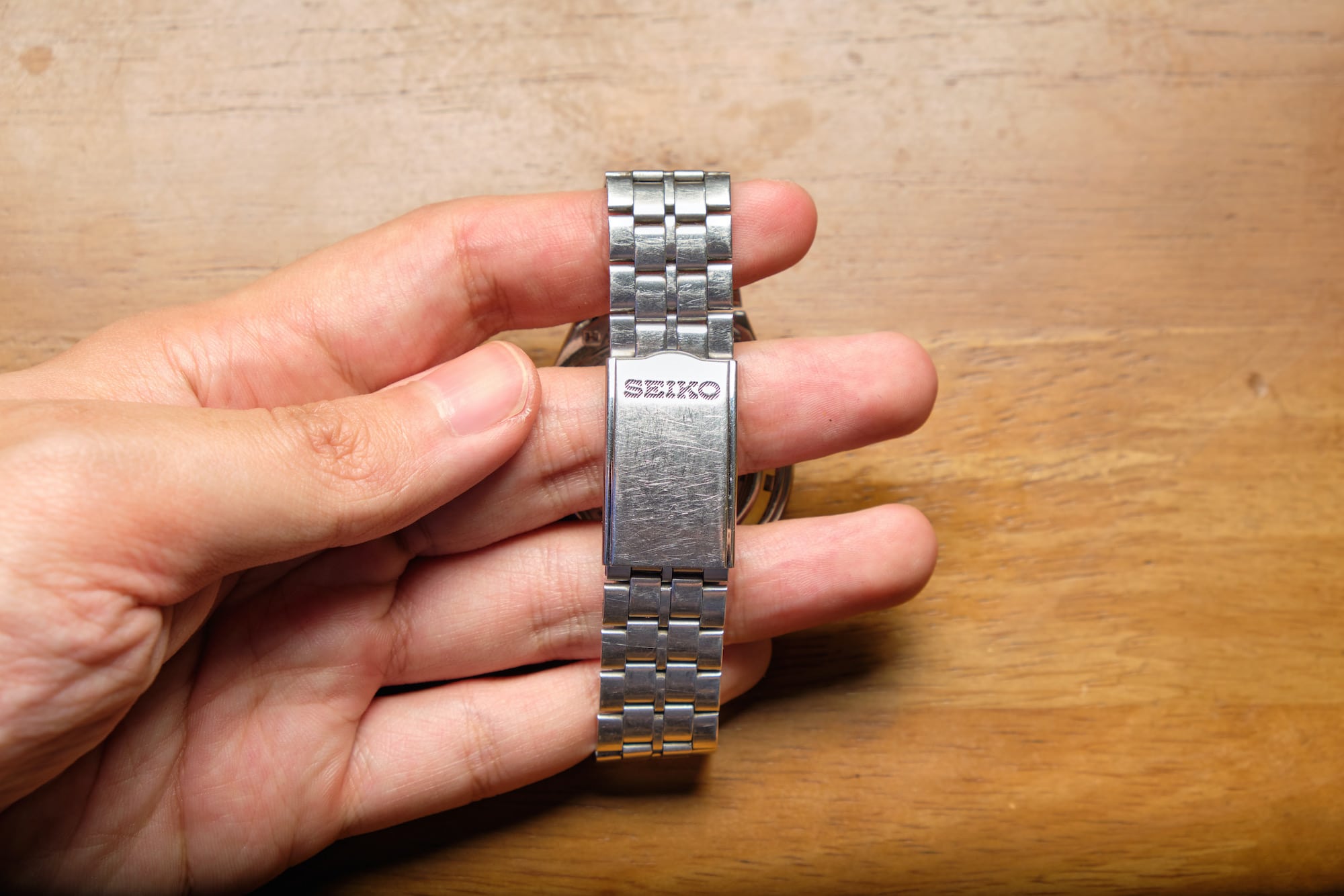 Another reason SKXs are great for modding is because these days, there are watches that have easy-change systems. Straps are more difficult to change out on the SKX which gives you, a budding watch modder, more chances to practice your craft.
By starting with a simple but noticeable change, like swapping straps, you can sort of get warmed up for more complicated things, develop small-tool dexterity, and build confidence.
Try going for one of these alternative strap styles:
Nato or Zulu Straps
Not only are these one-piece nylon straps made to go with dive watches, but they come in every color under the sun and they slide between the spring bars easily.
Theoretically, if you were diving and a spring bar breaks, the fact the nato is looped between the watch and the bars ensures it stays on your wrist.
Rubber or Silicone Straps
The rubber strap that the SKX comes with is low-quality and not especially comfortable. Instead, go for a higher-quality piece, like this durable and sophisticated Tropic Strap from Baltic.
Another tip: Go for natural rubber if you can, since they're more tear resistant due to the higher tensile strength.
Metal Bracelets
Admittedly, the jubilee-style bracelet that the SKX007 comes with is iconic, and it looks great paired with it. Still, at this price point, Seiko's stainless steel bracelets are a bit rattly.
The obvious route to go is to find a similarly-styled bracelet in a higher quality stainless steel, like 904L which is highly corrosion-resistant. You can also try other metals, like titanium which is just as strong, much lighter, and hypoallergenic.
Leather Straps
Technically, it isn't proper to pair a dive watch with a leather strap, but the whole point of modding is experimentation. I also think SKX watches look good with a slightly-worn full-grain leather strap.
2. Modding the Bezel
Changing up the bezel is easier than most people think, especially on SKX watches. The safest way to do this is by using an actual bezel remover tool.
Still, any solid object that you can slip in between the bezel and case can pop it off pretty cleanly.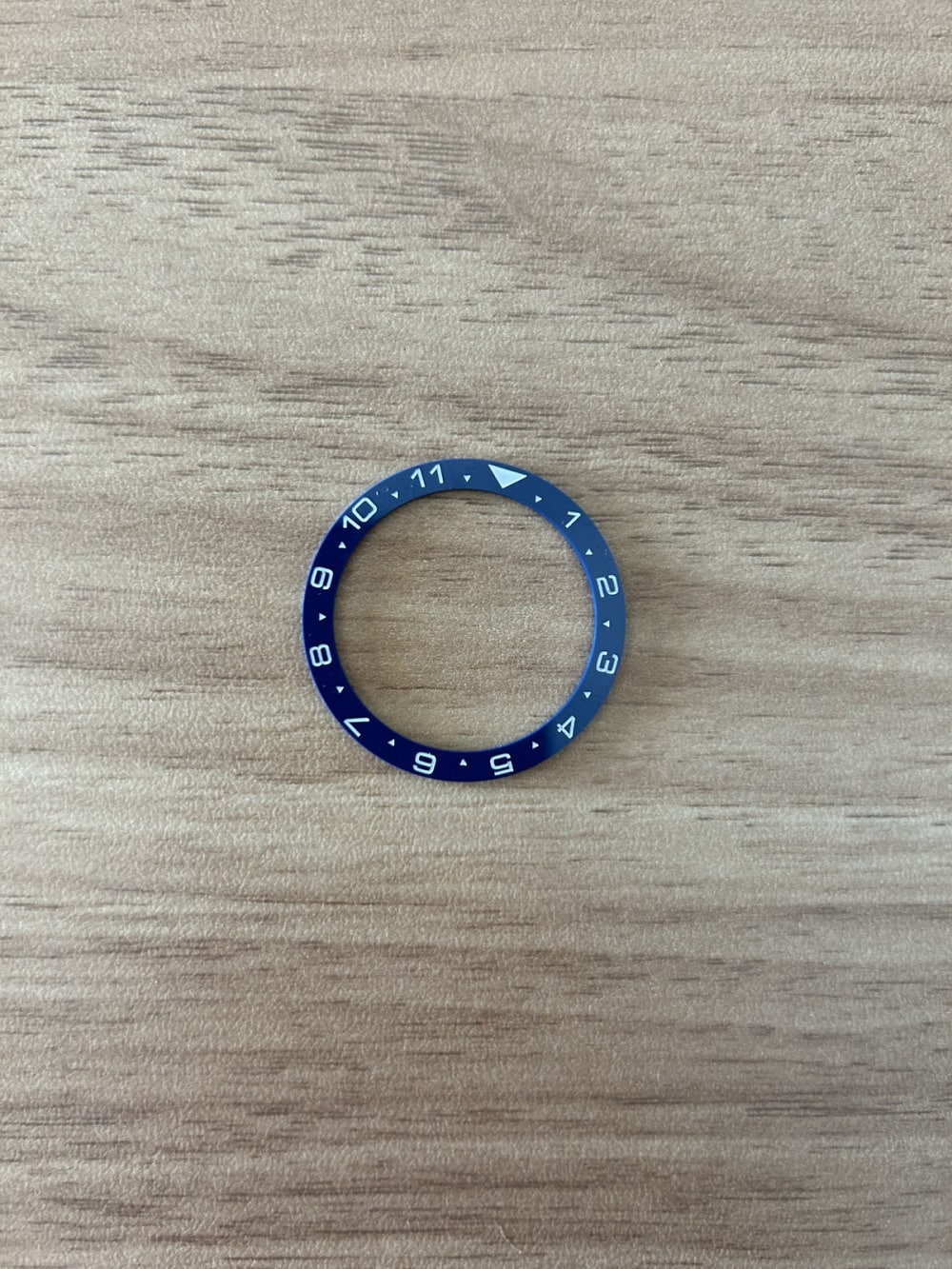 If you decide to go this DIY route, just make sure to put a piece of masking tape on the part of the case that you'll be going in through, and slip the tape into the crevice a bit so that the tool isn't directly touching the case too much.
Cover the top and side of the bezel with another piece of tape. Make sure you're working on a flat surface with the watch on top of a folded piece of microfiber to protect the back of it.
Since the SKX is such a perfect, classically-designed diver, homage makers can make it look more like any brand-name Swiss hard-hitter by simply switching out the bezel.
The Planet Ocean-style bezel makes it look more like an Omega Seamaster, while a Sub-bezel makes it look even more like a Submariner.
Though, keep in mind that one of the reasons the SKX007 is such a popular Sub homage is because it combines thoughtful differences with source-material design cues.
Other reasons to change the bezel is to switch up the color, or to perform an upgrade. Ceramic bezels are fade-proof, while sapphire bezels are scratch-resistant.
3. Modding the Crystal
The main reason people want to mod the SKX's crystal is to upgrade it.
Seiko's Hardlex is harder than the average mineral dial protector, but a scratch-resistant, anti-reflective-treated sapphire is definitely the watch industry's gold standard.
This is a good beginner exercise because it has a few steps, which are relevant to other, more advanced mods. For example, the first thing you have to do after taking the strap off is unscrew the back.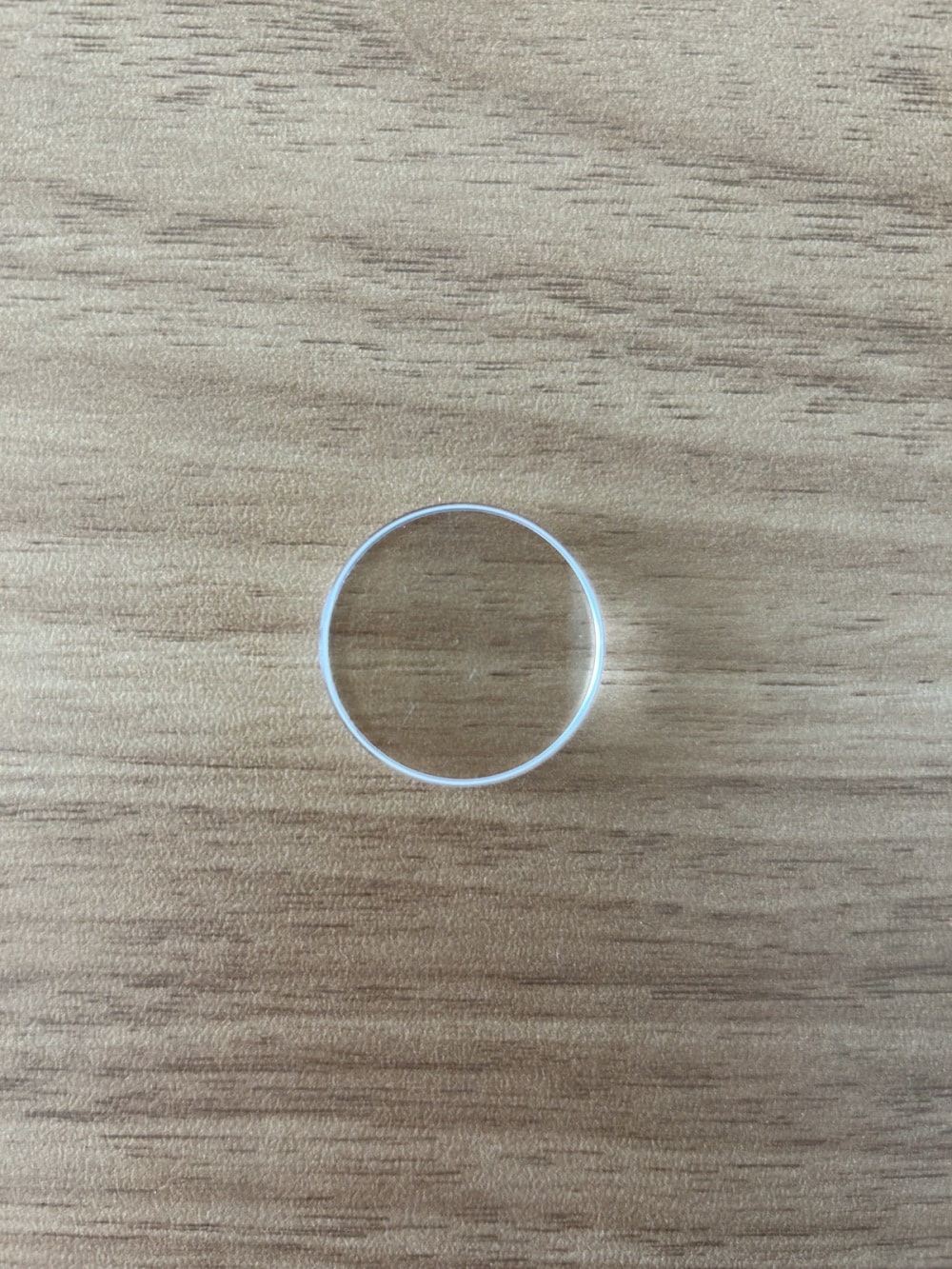 It's pretty straight-forward, but might take some elbow grease at first. To loosen the caseback, I recommend taking something soft, sturdy, and grippy, like sticky tack or even a rubber toy, pressing it against the caseback, and turning it until it loosens.
These are the same first steps you'll use if you're replacing the movement. And if you ever move into modding non-SKXs, you'll use a pry-slot to open non-screw casebacks.
From there, you'll just take the movement and dial out, then take the bezel off (which we already know how to do), and take the front part of the case to the crystal press.
Aside from upgrading the Hardlex, you might want different crystal styles, like boxed, double-domed, or one that simulates the blurred edges of a vintage crystal.
4. Modding the Case
Now that you know how to open up a case, and remove the movement, dial, and bezel, you basically have all of the skills to change up the case too.
This is definitely accessible for a beginner because modding equipment websites sell all sorts of cases. Plus, rescrewing a caseback is a lot easier than unscrewing one for the first time.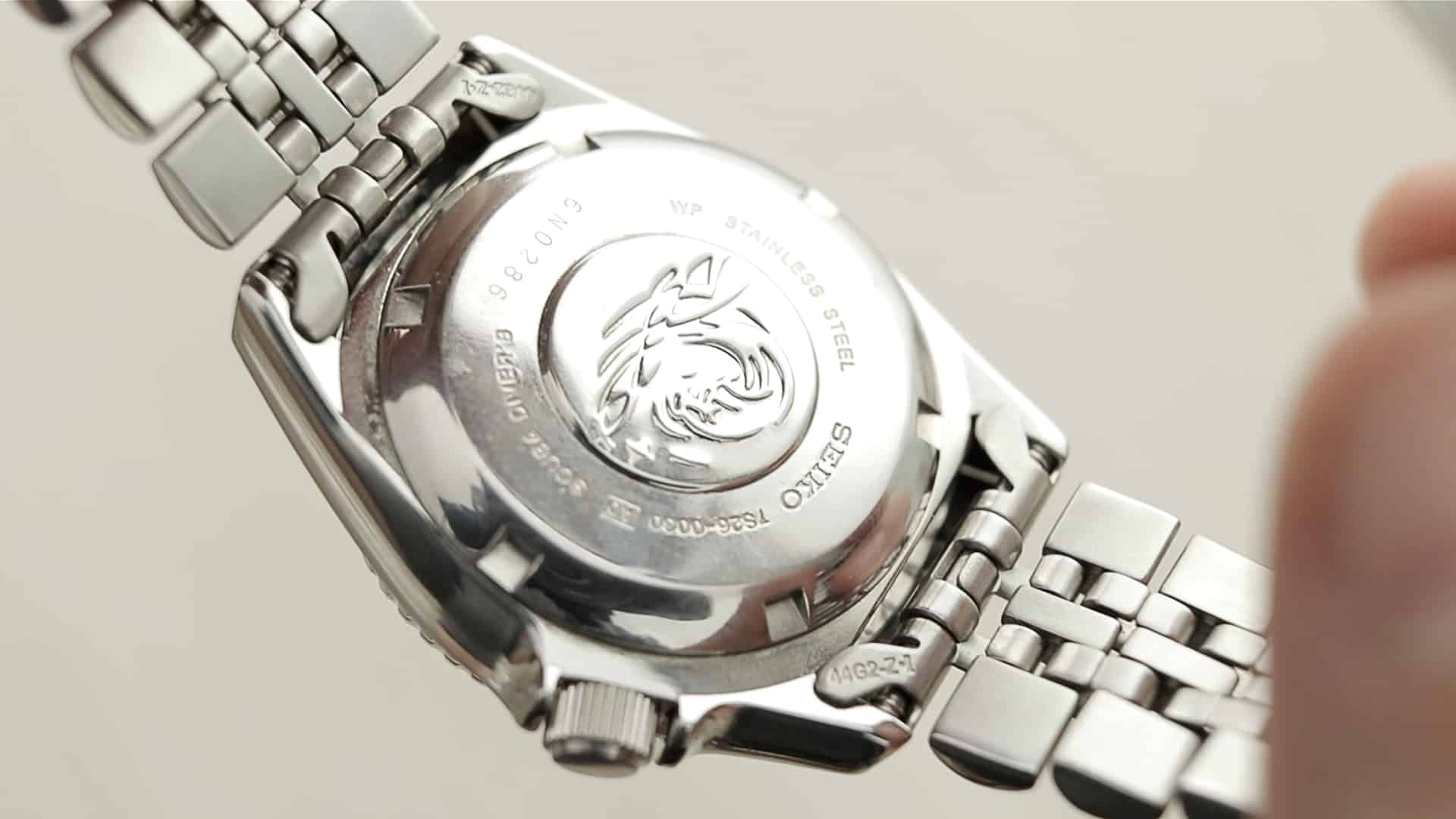 You can go for different colors and tones, or different shapes (perhaps a cushion case, like the Seiko Turtles), and even stronger materials.
A lot of SKX owners like to upgrade their cases by adding a Cerakote finish, the same kind on firearms, for extra durability. Coating it yourself is definitely not a beginner mod, but finding an already-finished Cerakote case online is easy to do.
Another cool thing you might consider is getting an exhibition caseback so that you can see the movement in action!
5. Modding the Dial
Again, modding the dial involves removing the strap and opening the case, although this time you can leave the bezel on.
This is a bit of an intermediate mod, but one still accessible to beginners depending on how dexterous you are. The reason is that you have to be pretty careful when you're removing the hands from the dial.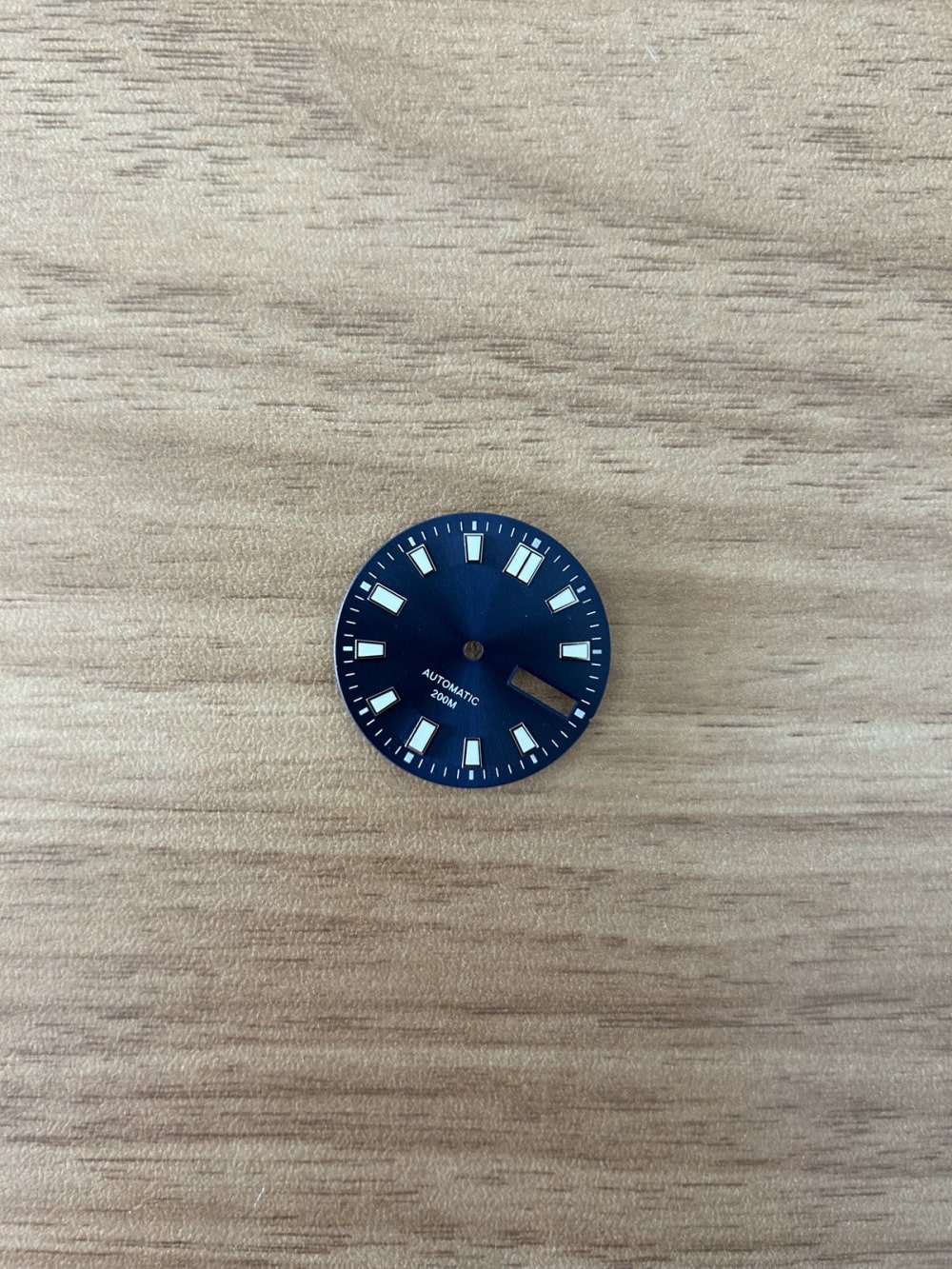 And if you're planning on replacing the hands, again, it'll take patience, care, and a good pair of tweezers, or better yet, a watch hand removal tool itself.
Just like with the case situation, you can order dials and hands of different colors, materials, and styles on any modding equipment website.
Want it to look more like a Rolex? Go for an extra lustrous sunray dial and Mercedes hands. Perhaps you're making a Tudor homage? You can find snowflake hands for sale on Amazon.
Just remember that watch hands need to have hole sizes compatible with the movement and that the hands need be the correct length for your dial size.
6. Modding the Movement
And finally, believe it or not, you can actually mod the watch's movement as a beginner. Going for a non-Seiko movement is a bit more advanced, but there are Seiko movements that can just be dropped into SKXs.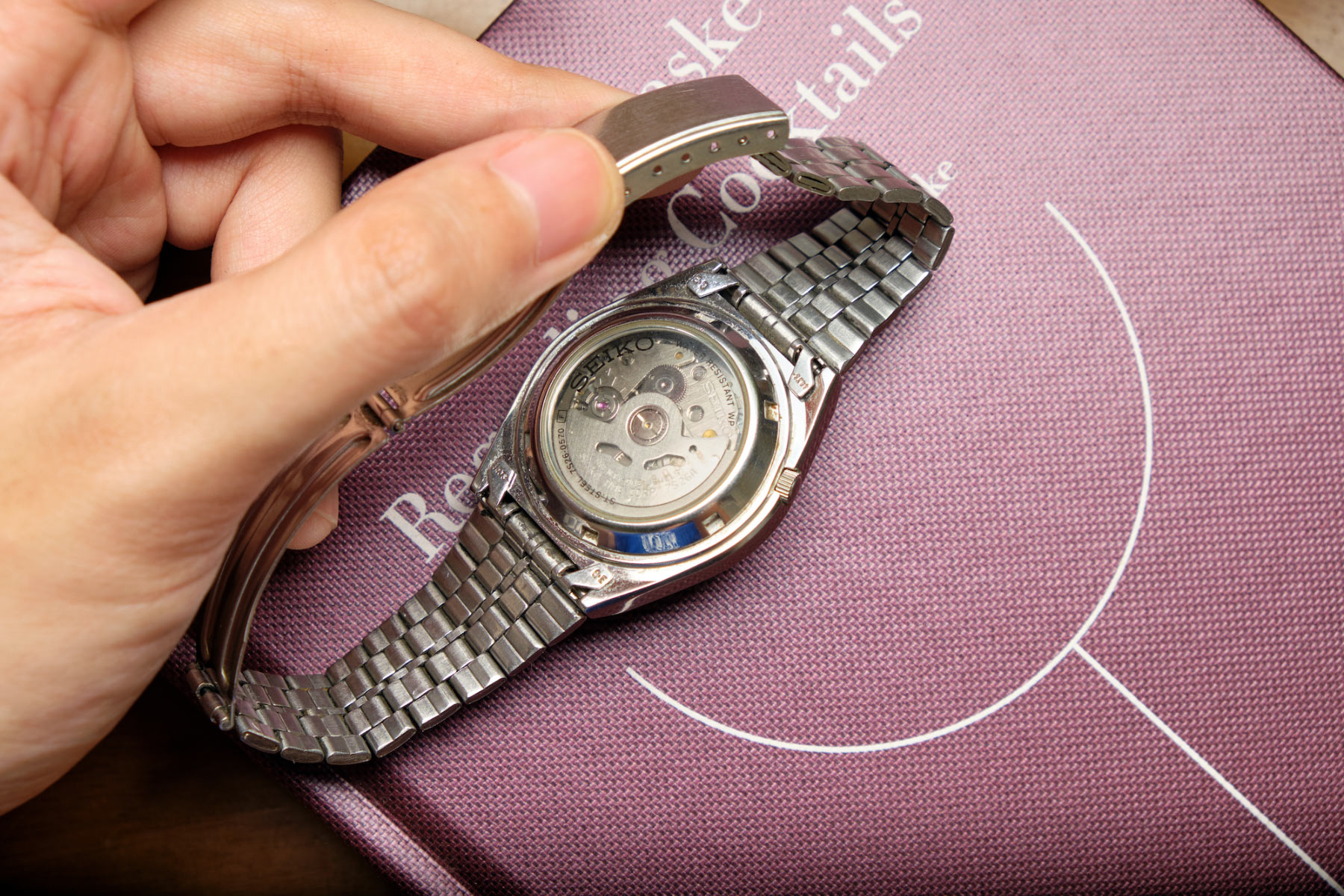 As mentioned, it runs on Caliber 7S26, but you can replace it with either a 4R or 6R Seiko movement which are a lot like the 7S26, but with hacking and hand-winding.
That being the case, you'll need to find a new crown and stem that's compatible with a hackable movement.
FAQs
Still have questions about modding the SKX? Here are a few common ones:
Are Seiko Mods Worth It?
It depends. Some modders are better than others. If there's a specific kind (or kinds) of mods that you want, say you wished a specific Seiko Presage had a sapphire crystal, but you don't want to mod it yourself, then it's worth setting a budget and seeing what Etsy and eBay have to offer.
Are Seiko Mods Legal?
Yes, as long as you're not "modding" the brand into something it's not. For example, if you replace the Seiko logo with a Rolex logo and try to sell it, that's fully illegal.
Is Modding a Seiko Hard?
No, core-line Seikos, especially SKXs are the easiest watches to mod, which is why so many modding equipment sites cater to them. Relatedly, it's also easy to find parts that are compatible with Seikos.
Conclusion
Modifying SKXs are a common gateway for getting into watch modding. They're easier and more modular than most watches, and accessible price-wise.
Even better, SKXs take on mods so well, you can level one up to the point that it looks like it's at a much higher price bracket.
Questions? Comments? Leave them below!