Rubber watch straps are cool, durable, rugged and practical. Here are the best ones you can buy right now.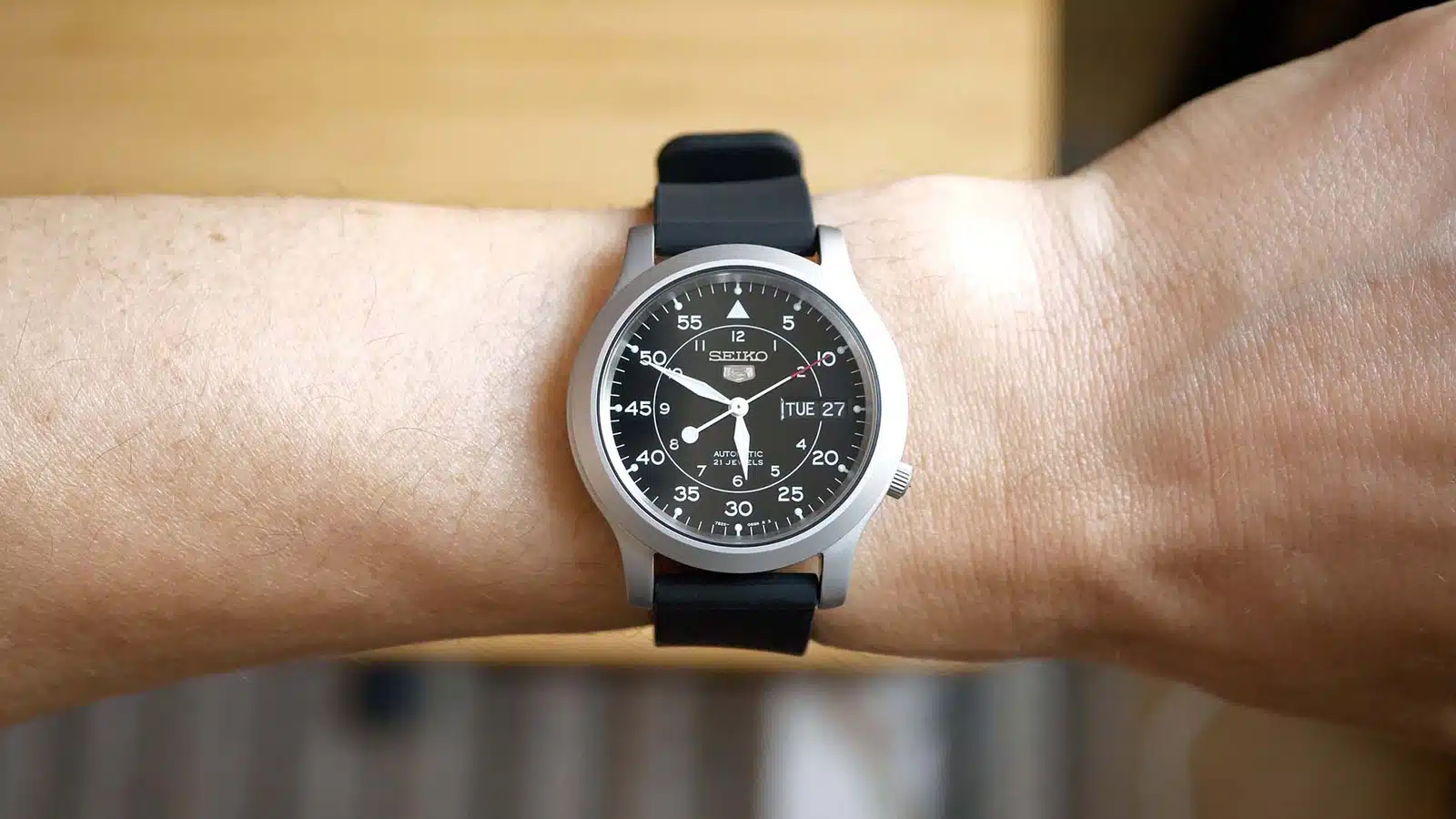 If you're a comprehensive watch collector or if your work or lifestyle exposes you to the elements of nature for long periods of time, you probably don't need convincing that you need a rubber watch strap.
To many, however, a rubber bracelet is too genre-specific for the casual watch wearer.
If you fall into the latter camp, allow me to show you just how versatile a rubber strap can be. They come in a wide range of styles, some even a bit dressy. The 15 rubber watch straps we rounded up here represent vast style and function priorities.
Yes, You Need a Rubber Strap: Here's Why
There are several reasons why you need rubber watch straps in your rotation — at least one. Here are a few:
Waterproof Durability
This is the reason rubber straps are a go-to for athletic wearables.
Even a cheap band won't scratch or get damaged when banged against surfaces as a cheap metal bracelet will, and there's usually no stitching that can come undone like with a textile or leather strap.
Plus, rubber's natural waterproofness also means they're easy to clean and maintain.
Comfort
Sure, some rubber straps are more comfortable than others, but they'll never be as uncomfortable as a stiff budget leather strap or an unsized metal bracelet. Basically, you can wear them right out of the box.
Versatility in Style
You're probably thinking that rubber straps aren't nearly as versatile as leather or stainless steel bracelets. Fair.
But as mentioned, these days, there's a wide range of styles when it comes to rubber watch bracelets.
The 15 Best Rubber Watch Straps
Here they are, in no particular order, and at every single price point on the market!
Synchron Tropic Watch Strap
The Tropic Strap from Synchron is the perfect example of a rubber watch bracelet that is almost as adaptable as a leather one.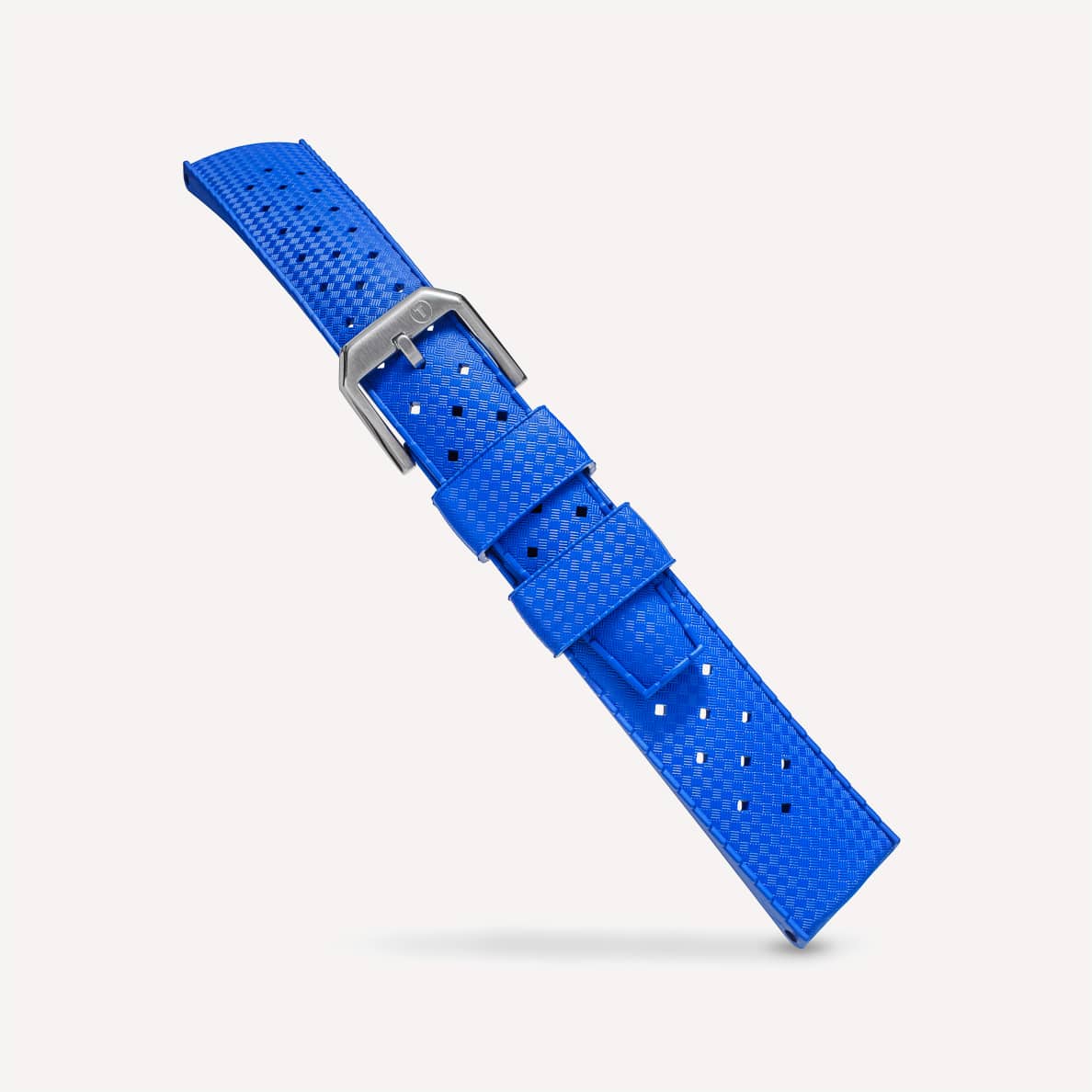 Tropic-style straps are made to look like dressier leather straps, with a regular buckle system. And while this happens to varying degrees of success, Synchron's rendition is both beautifully-designed and sturdily built.
Its surface features a complex tapestry that bounces light off of it in the same way an alligator strap would. It would either level up a sport watch or bring a simpler, dress-leaning everyday watch down to earth.
Pros
In-house vulcanized rubber is durable and long-lasting
Sophisticated design makes it versatile
Cons
Build-wise, they're made from an in-house rubber formula, which is strong and doesn't smell like petroleum, and is vulcanized for solvent resistance and added resilience.
ZULUDIVER 400 (MKII) Italian Rubber Divers
The ZULUDIVER MKII Diver Strap over at WatchGecko combines design cues from several different strap styles to create a unique combination.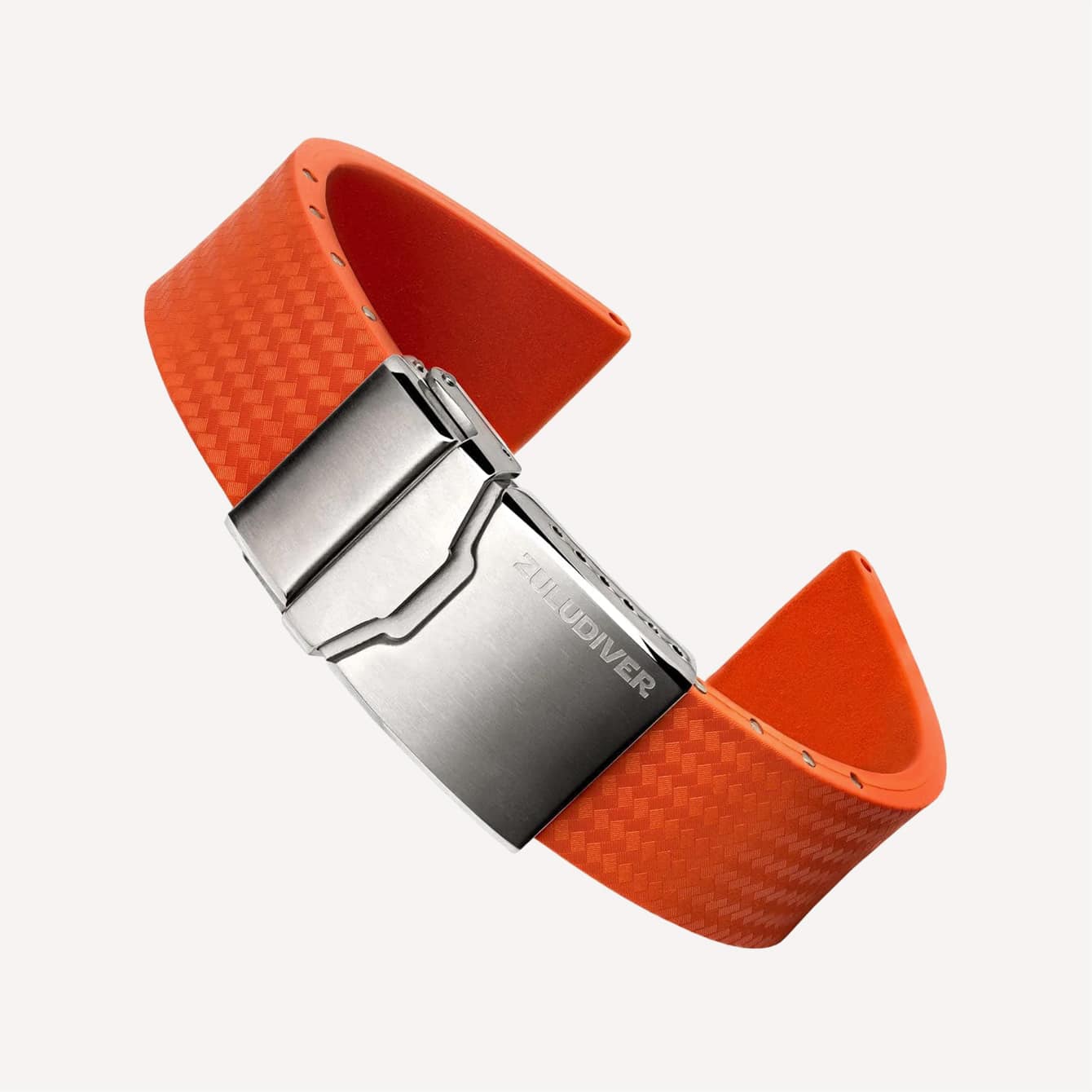 It has the simple silhouette of a standard rubber dive strap, flaunts a Tropic-style weaving texturing that gives it a touch of class, and even has an exquisitely brushed stainless steel buckle (polished on the sides to accent) that you'd likely see on an easy-adjust metal bracelet.
Speaking of, that buckle conveniently comes with six micro-adjustment lengths.
Pros
Unique "infusion" look
Easy to adjust and size
Cons
Definitely a pricer option
The look is a perfect balance of simplicity and detail. It can likely pull off even louder colors without being too in-your-face if that's your style.
Alpine Silicone Strap
The Alpine Silicone Strap is a bang-for-buck rubber strap with a sporty, rally-esque style, with small perforations throughout. It comes in a bunch of colorways including classy hues like burgundy, and non-monotones like grey with hunter-orange accents.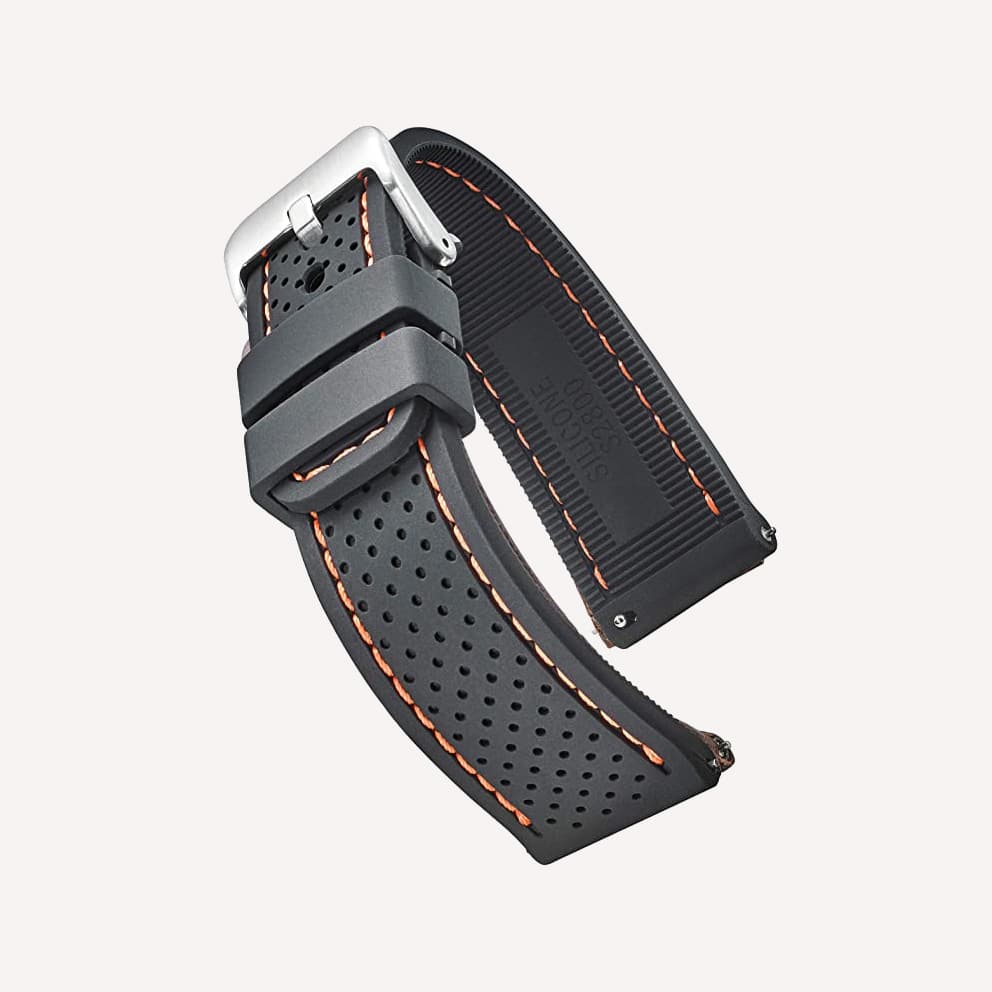 And don't let the price worry you: It smells neutral, is comfortable, hypoallergenic, and the hardware is real stainless steel.
Pros
Comes in 23 diverse colorways
Quick-release makes it easy to attach to any watch
Cons
You have to use the factory pins when attaching, or you risk the watch falling off
You have to use the factory-design pins, but the quick-release design makes it easy to switch out watches without any tools.
Barton Tropical Rubber Strap
The Tropical Strap by Barton Bands leans harder into the sporty look. This is especially the case when compared to textured, pointy-ended tropic straps, which are more dressy.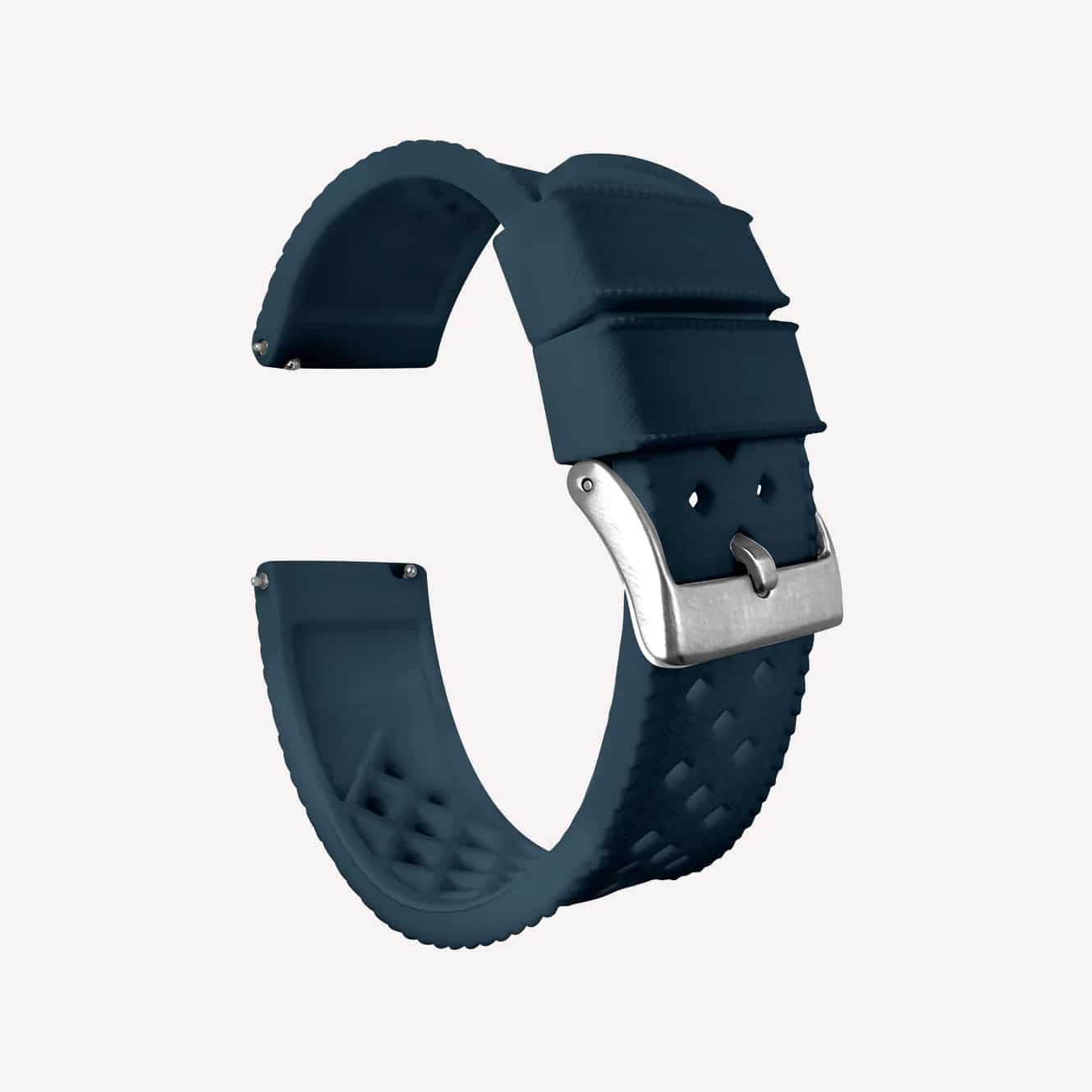 It has that "squishy" look you get from hardcore divers but has full perforations, which are placed there for micro-adjustments, but also make the strap more breathable.
That being the case, you can even pair this guy with a field watch as well as a diver, if you wanted to be so bold. It does come in an army green shade, after all.
Pros
Super breathable right out of the box
TPU construction is stronger than regular rubber
Cons
Only comes in neutral colorways
And while all rubber straps are meant to be strong, this strap is made from TPU. It's tougher than silicone or regular rubber, a sort of middle ground between rubber and plastic.
Bonetto Cinturini 324 Rubber Watch Strap
There are two main reasons why Bonetto Cinturini's 324 Strap is an easy purchase.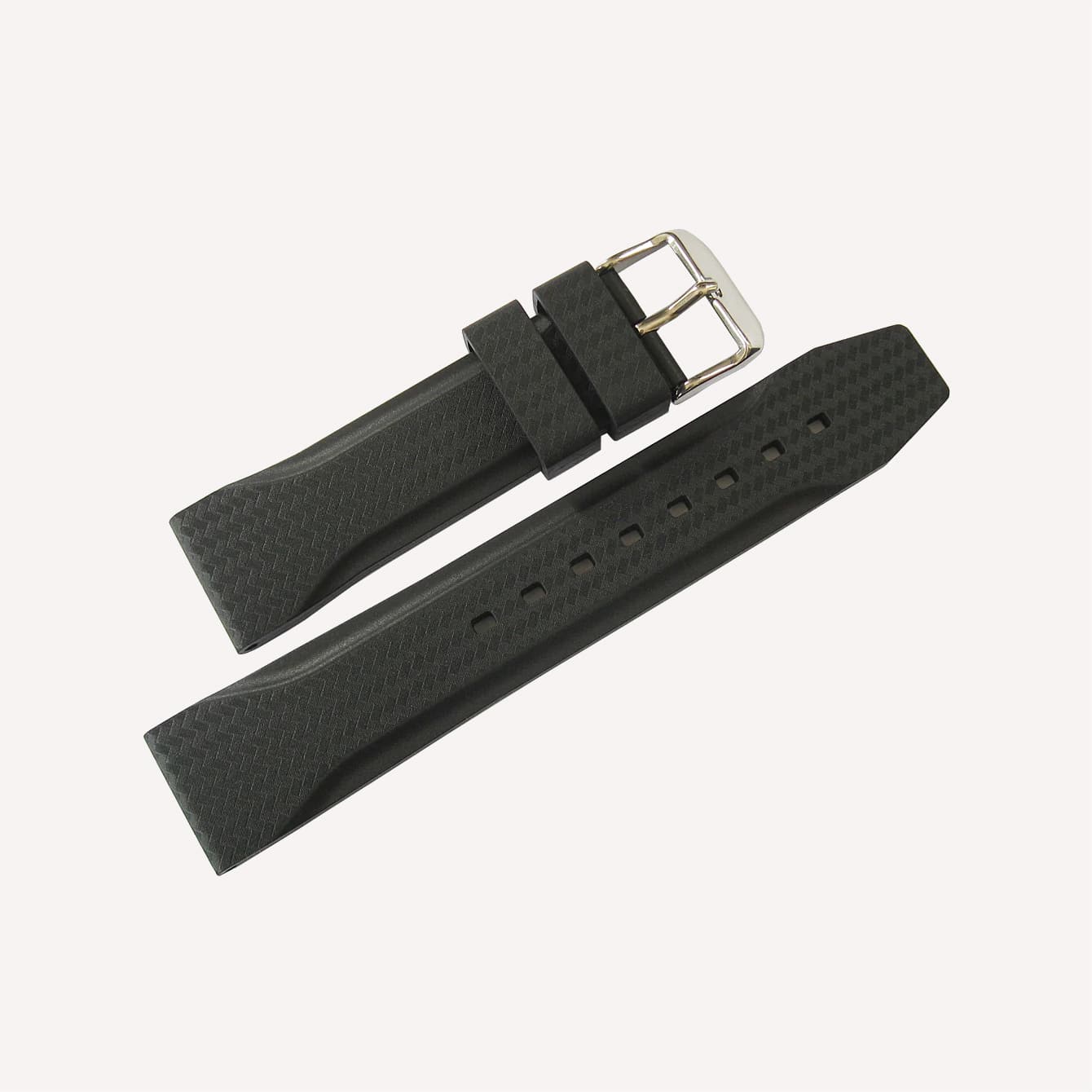 First of all, it's made with nitrile rubber. This makes it pliable, hypoallergenic, and wildly protective. Nitrile is well-resistant to oils, both crude and petroleum, in addition to water and gasoline.
It's even pretty resistant to some hydraulic liquids, making it a good choice if you work around heavy machinery.
Pros
Carbon fiber style is distinct but easy to pair with
Nitrile rubber is resistant to oils, as well as water
Cons
Second, it has a unique but still neutral design. The flat edges ensure it isn't too dressy, while the carbon-fiber-style surface adds texture that's neither too industrial nor too complex.
Isofrane 1968 Rubber Watch Strap
The Isofrane 1968 is named so because the design is an accurate reinterpretation of the classic dive straps that came out in the '60s. Isofranes were the first to be both comfortable and strong, providing a non-distracting wear.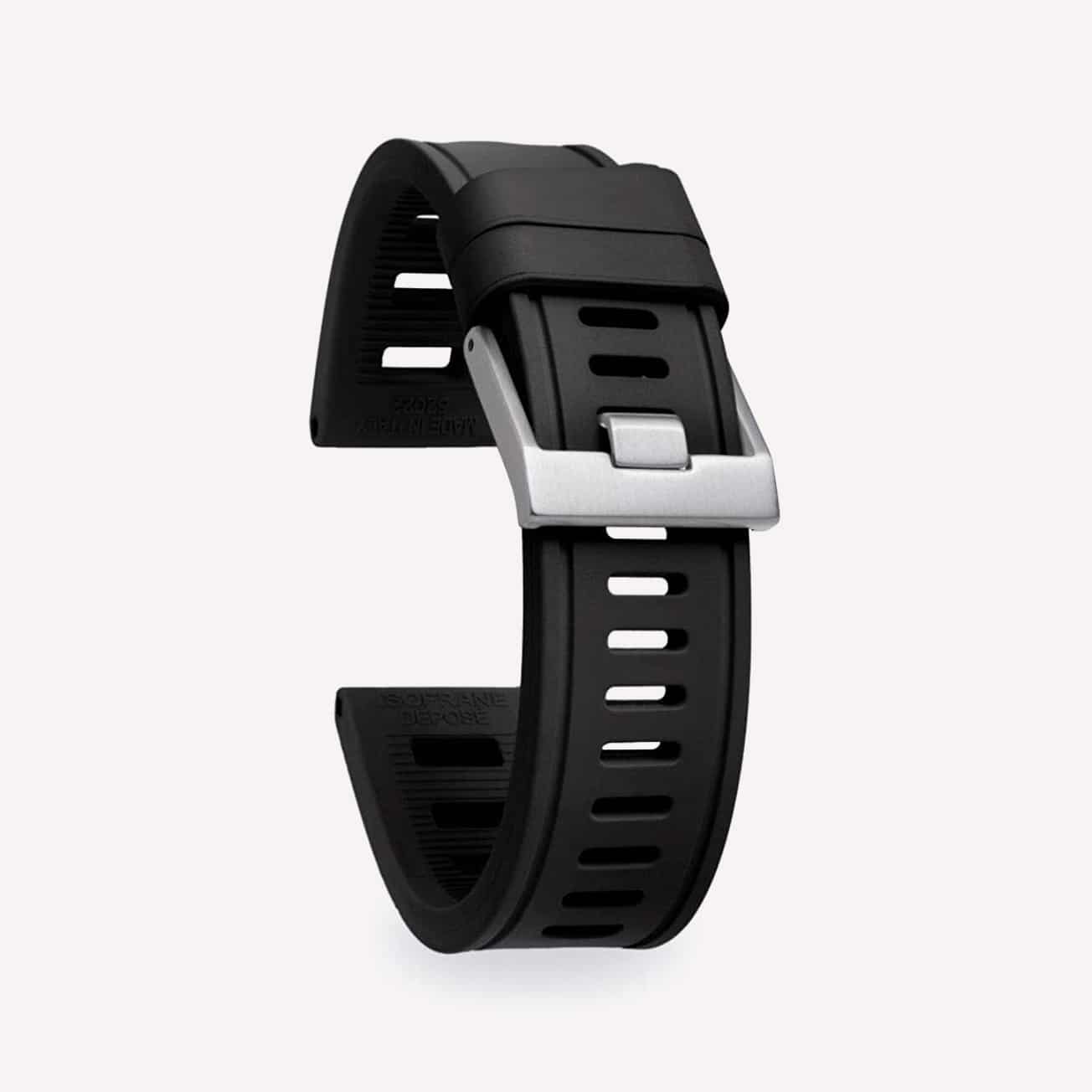 This strap is great because, though it has the exact look of those older straps, it's built with all the modern creature comforts.
It's made of hypoallergenic silicone-free rubber that can handle higher temperatures better than silicone can. This essentially makes the strap an effective year-rounder.
Pros
Heritage ladder design that goes well with vintage and modern sport watches
Despite its tough-as-nails durability, is immediately soft and comfortable
Cons
Additionally, the stainless steel hardware is also strong and hypoallergenic. And regardless of all of this, this strap is super cushy and comfortable without needing to break it in.
Barton Elite Silicone Watch Strap
Barton has a knack for collectibility, and this Silicone Watch Strap is a great example.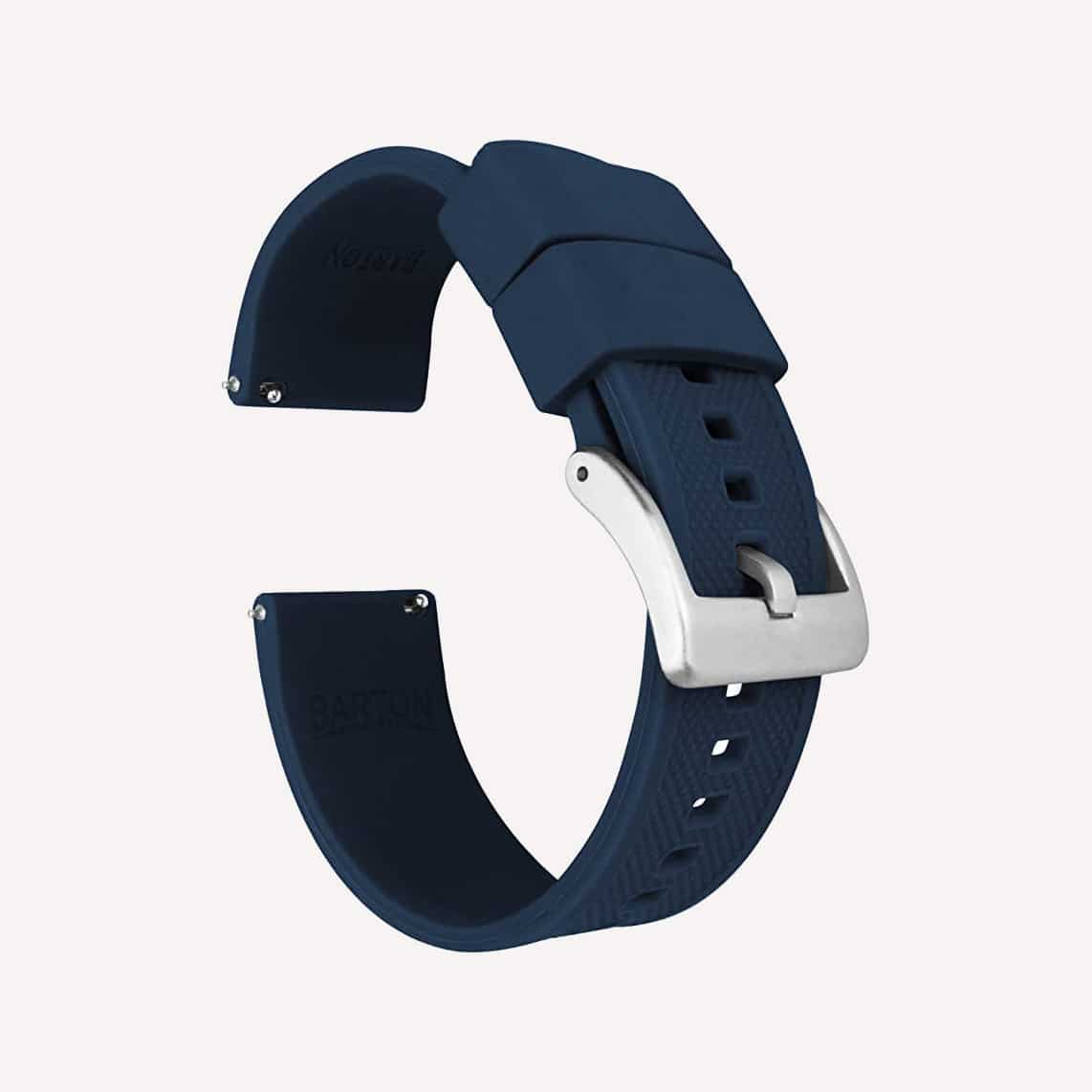 It comes in seven sizes, from 18mm to 24mm, and 44 different colorways. The different variants are pretty nuanced too, with similar colors partnered with different accents, including gunmetal hardware.
Considering how affordable these are, you can definitely go in on more than one color or width to match different outfits and looks.
Pros
The waffle texture adds a subtle decorativeness
Easily found in the ~$23, this strap is a great value
The quick-release spring bars provide convenient and easy operation
Cons
The lighter colorways, especially the white, get visibly dirty pretty easily
And of course, these come with quick-release bars that make strap changes smooth and easy.
Crafter Blue CB01 Rubber Strap
For you true-blue divers out there, the Crafter Blue CB01 Rubber Strap checks all of your boxes.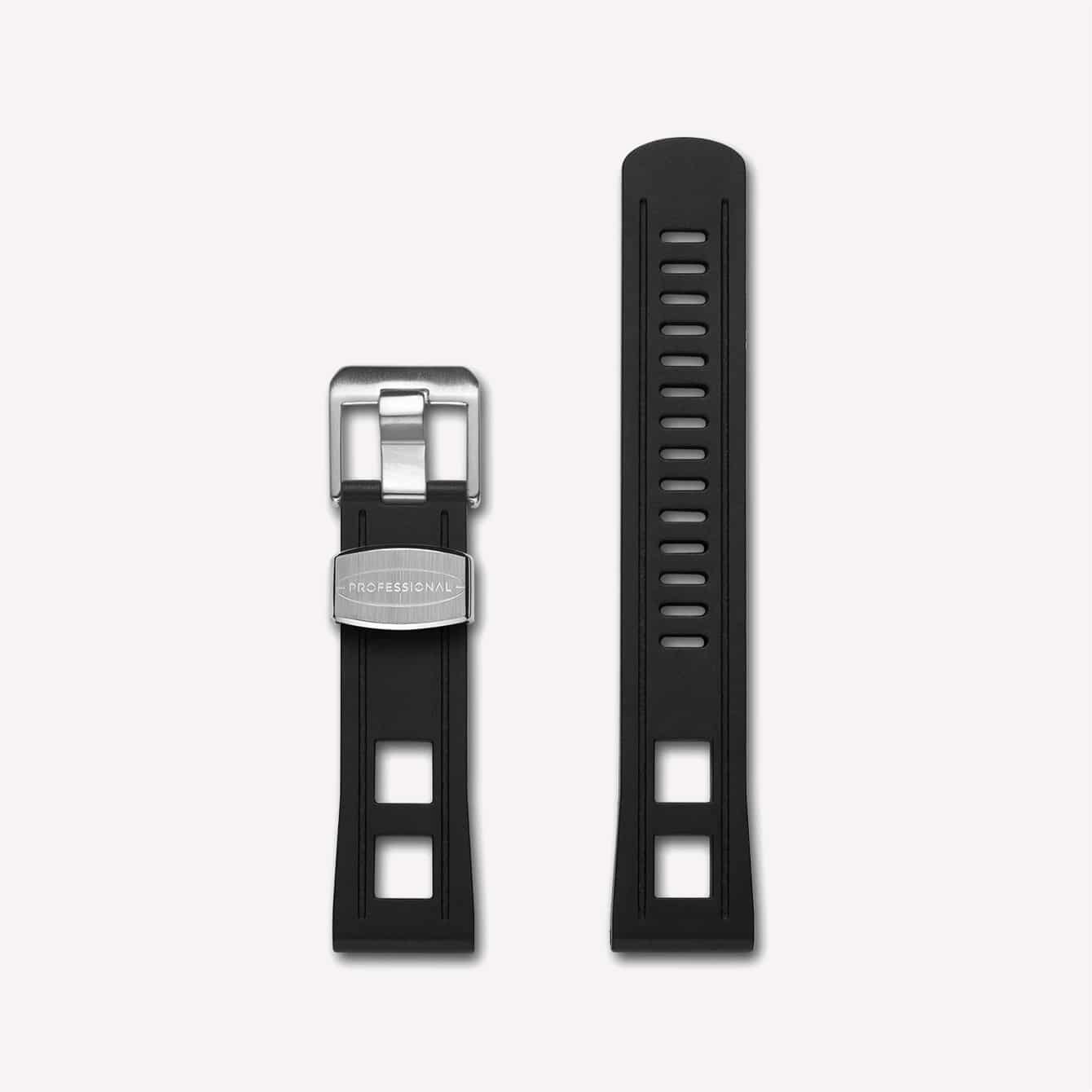 It's made of vulcanized rubber which has even lower water absorption than non-vulcanized rubber and offers topnotch shape retainment. As a dive strap should be, this guy is also resistant to acids.
There's a lot of size flexibility here too, thanks to all of the adjustment holes.
Pros
A genuine diver strap built for long-lasting durability
A whopping 14 adjustment holes
Cons
Cut-out style is unique but isn't as classic for a diver as a wavy "gill" design
Design-wise, the cut-outs give it an almost racer look, which makes it unique and slightly less standard than most classic dives.
ZULUDIVER 286 Italian Rubber Strap
The ZULUDIVER 286 Italian Rubber Strap is super design-forward, but in a way that each element has a use. Most uniquely, there's a "no-decompression limit" chart marked on it, which divers use.
This isn't everyone's style, but I think it gives it an air of legitimacy and makes it look like a true piece of diver's equipment (which it is).
It has poofy gills towards the center ends which makes it look brawny and sporty, while the perforations provide adjustability and breathability.
Pros
A gear-forward design with an interesting silhouette
Comfortable and breathable
Cons
Between all of the tactile design cues and the NDL chart, non-divers might think the design is too much
On top of all of that, the Italian rubber is extra soft.
Bonetto Cinturini 328 Rubber Nato
The Bonetto Cinturini 328 is a truly creative design, and one that makes sense if you really think about it.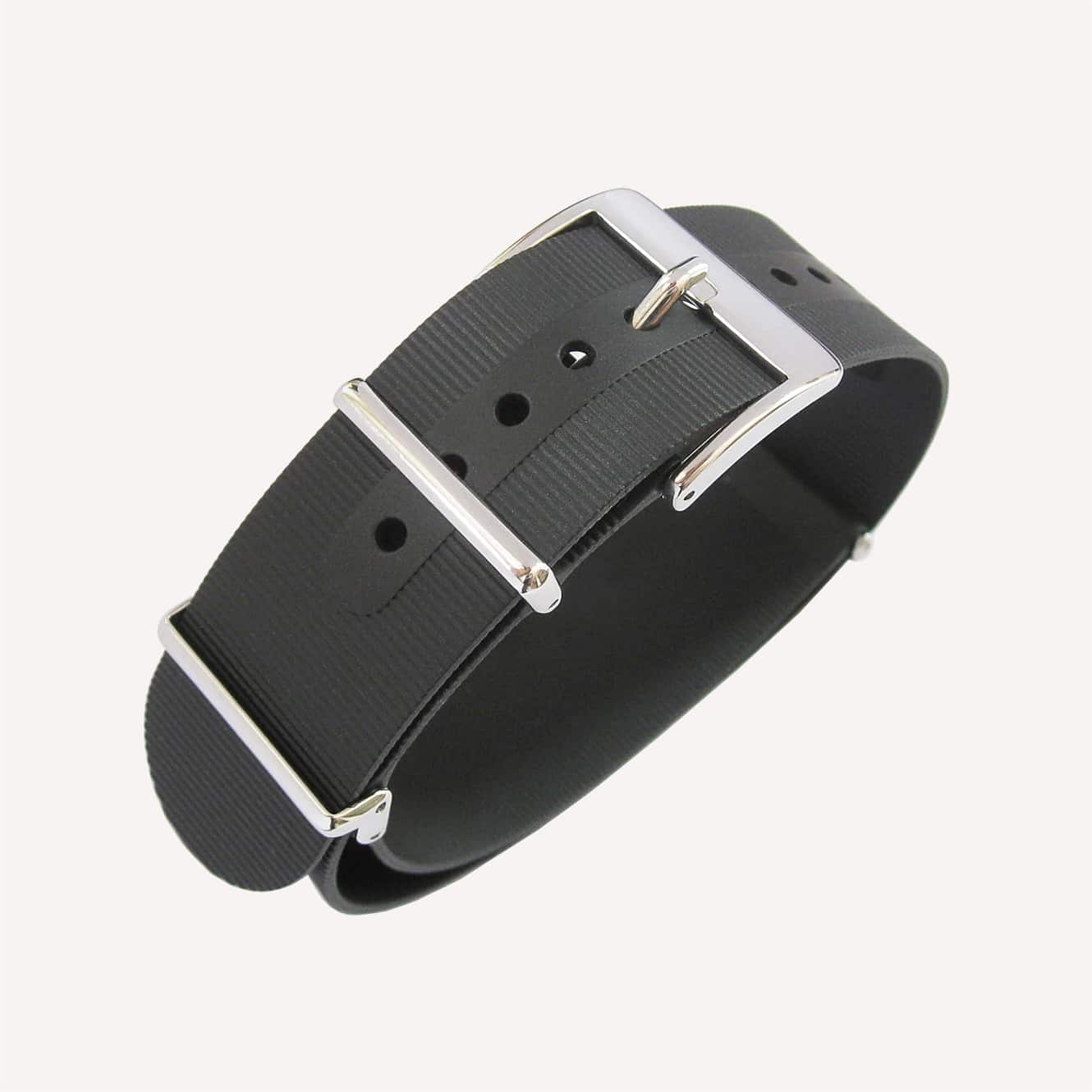 It's made of rubber (nitrile, which we previously mentioned is resistant to, well, most things), but sports a nato-style composition.
This makes them far easier to clean and maintain than traditional textile natos.
Pros
The rubber Nato look is stylistically uncommon, while also being a strong and easy wear
Nitrile rubber construction
Cons
Not super sporty, which is what most look for in a rubber strap
Nato straps are built for durability and convenience, while rubber straps are used by water-adjacent professionals for that very same reason. Combining the qualities of both is an undeniably practical approach.
Archer Watch Straps Silicone Band
The standardness of the Archer Watch Straps Bands is the exact reason they're such a great find. They're a perfect entry-level rubber strap, thanks to their simple design and monotone colors.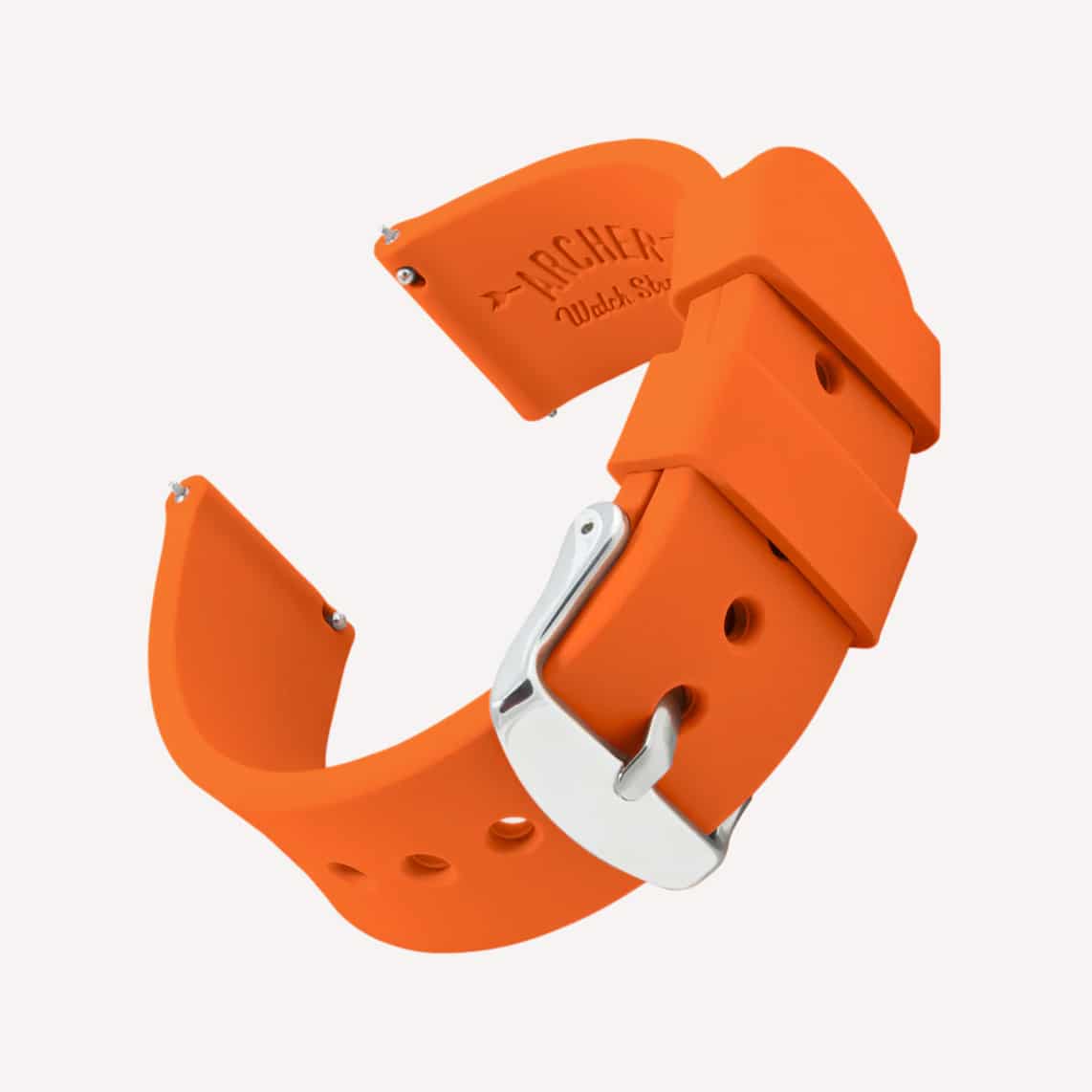 Even better is the fact their sizes boast a wide range, which casts a wide, unisex net of wrist sizes. The smallest are 16mm and the biggest are 24mm.
Pros
The low price point and adaptability offer great value
A wide range of sizes starting at 16mm
Cons
It's not weirdly sticky, but lint can cling to the surface
Sure, silicone isn't as strong as natural rubber, but at around ~$15, this quick-release strap is a low-risk buy.
Hadley-Roma Silicone Strap
The Hadley-Roma Silicone Strap is basically just a classic leather watch bracelet, except that it's made in silicone.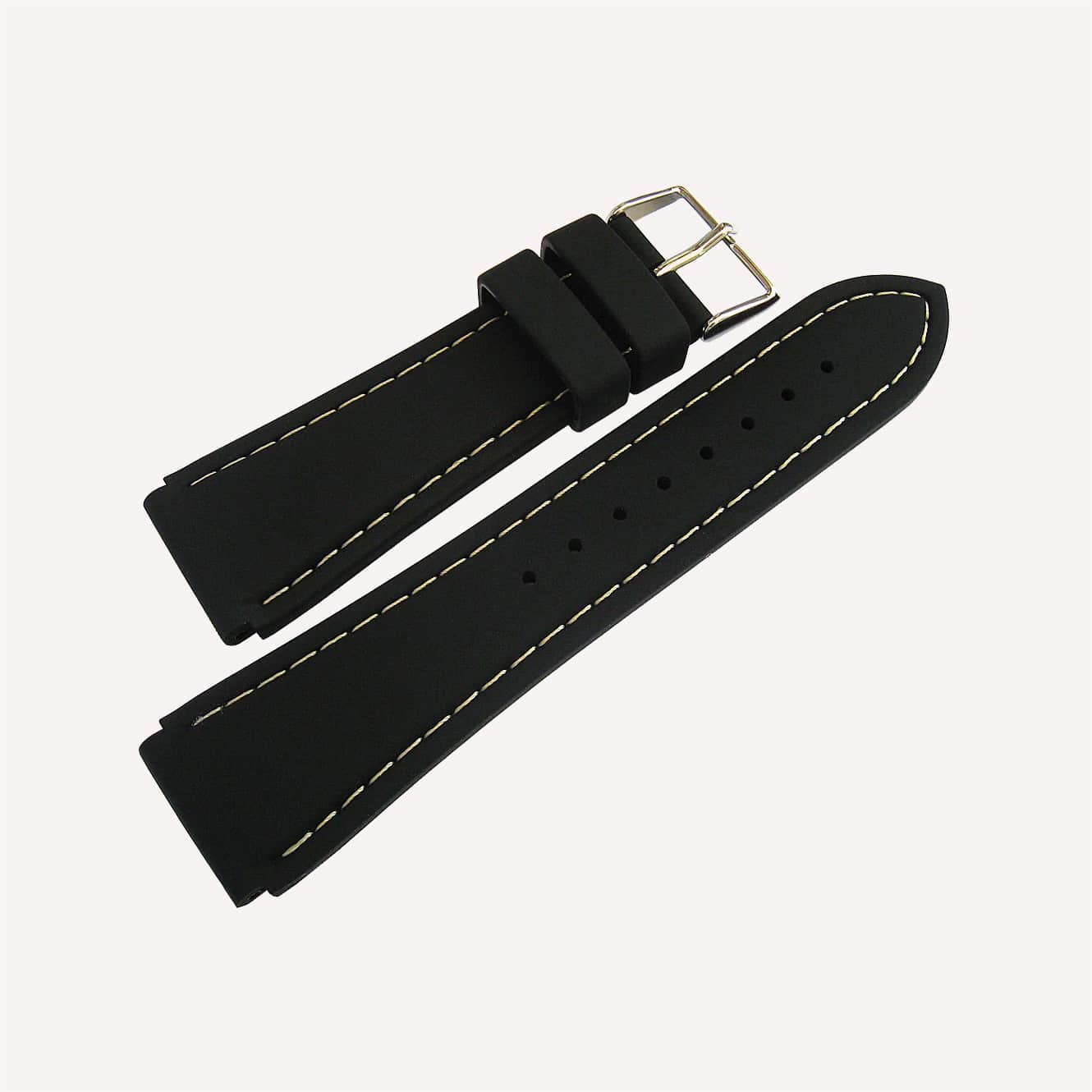 The benefits of this mismatch are that this strap doesn't need breaking in, and can handle extreme conditions more than a dress watch strap can.
Moreover, the traditional shape lets you pair it with a simple field watch, a maximalist chronograph, or anything in between.
It even has tapered English-style points at the end. The fact it only comes in black adds to its versatility, since black goes with everything, though you can choose from three fun contrast stitches or a tonal one.
Pros
Classic silhouette pairs well with most watches
Different choices of accent stitching add a non-distracting pop
Cons
The full non-sporty shape in a rubber construction might be too much of a design disconnect for some
When it comes to the wear, there are diagonal ribs on the interior giving your skin space to breathe.
Hadley-Roma Rally Watch Strap
While there are few things more iconic than a leather rally strap, this racer-inspired design lends itself to rubber quite well actually — as seen with this strap from Hadley-Roma.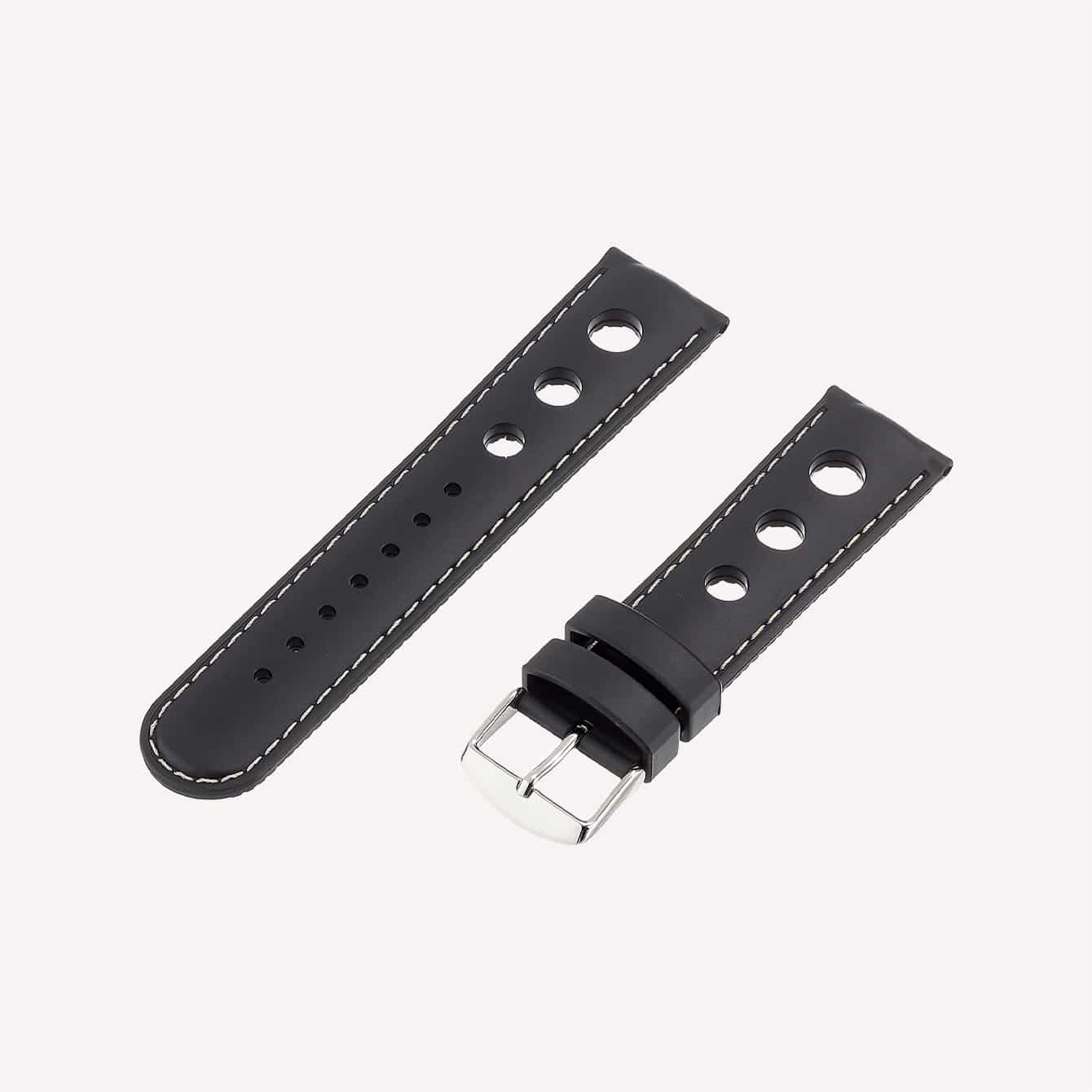 From the pair of three-hole sets on each side to the rounded edges, this athletic and breathably comfortable strap partners well with chronographs and divers alike.
Pros
A quintessential rally design that's stylish and sporty
Has a pleasant vanilla scent
Cons
Limited sizing and colors
The construction itself includes characteristically hypoallergenic rubber, and stainless steel hardware to match, and full-on waterproofness.
Uncle Seiko Tropic Strap
The Uncle Seiko Tropic Strap is based on an old design by Seiko from the '60s and '70s, made to pair with their field and dive watches. It flaunts an almost-but-not-quite dressy shape, with the edges tapering a bit without coming to an actual point.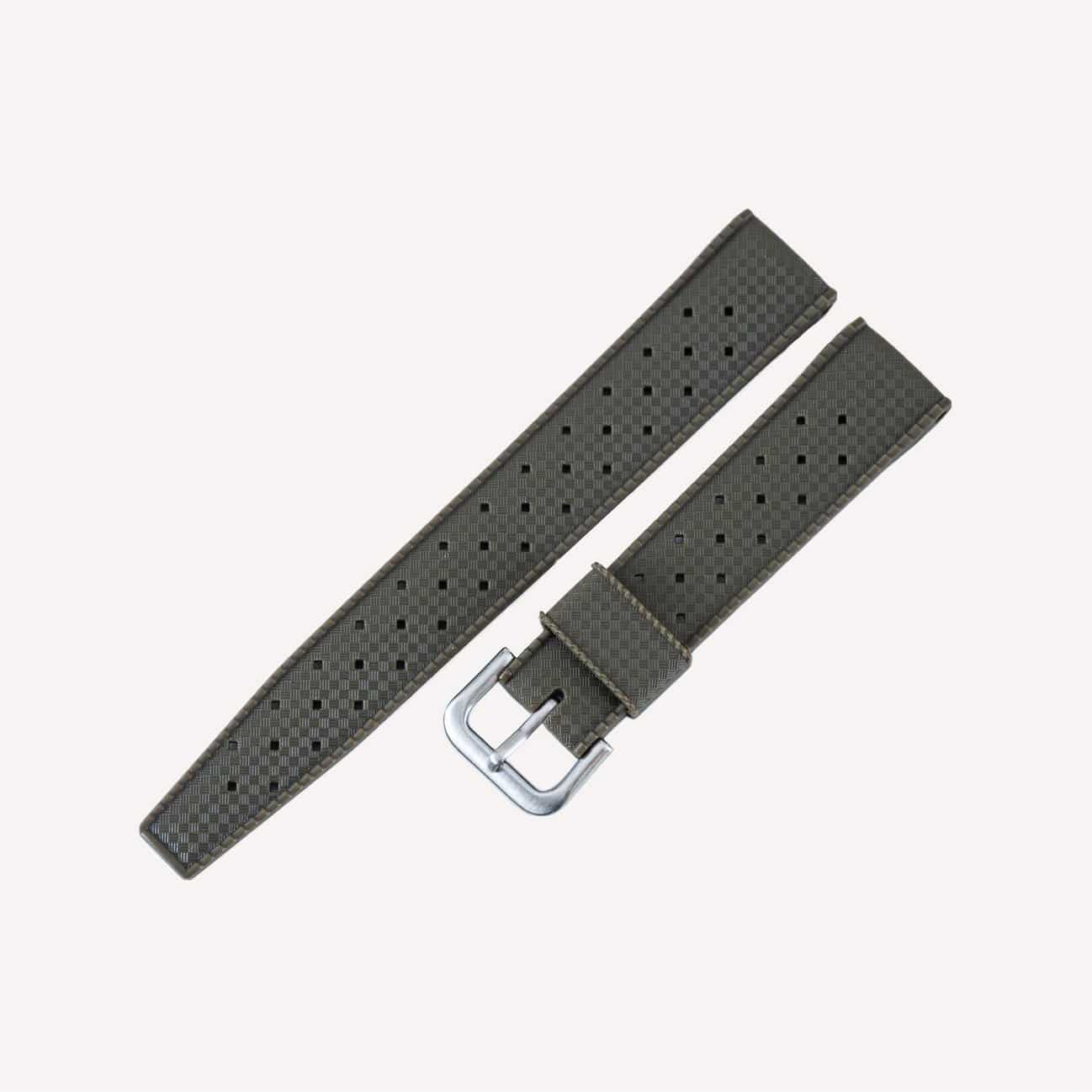 Meanwhile, the time-honored weaving pattern on the surface is complemented by almost reptilian steps all throughout the edges. Uniquely, this strap straddles organic and industrial aesthetics.
Pros
A well-respected heritage design
The waffle pattern and perforations on the underside let moisture escape
Cons
Definitely needs breaking in
While it's a bit hard out of the box, it definitely gets more and more comfortable with each wear.
Ritche Silicone Watch Band
The Ritche Silicone Watch Band sports harder lines than your average round-forward, cushy-looking rubber strap. You can see this in the gem-like edging on the strap keeper and at the edges of the strap itself.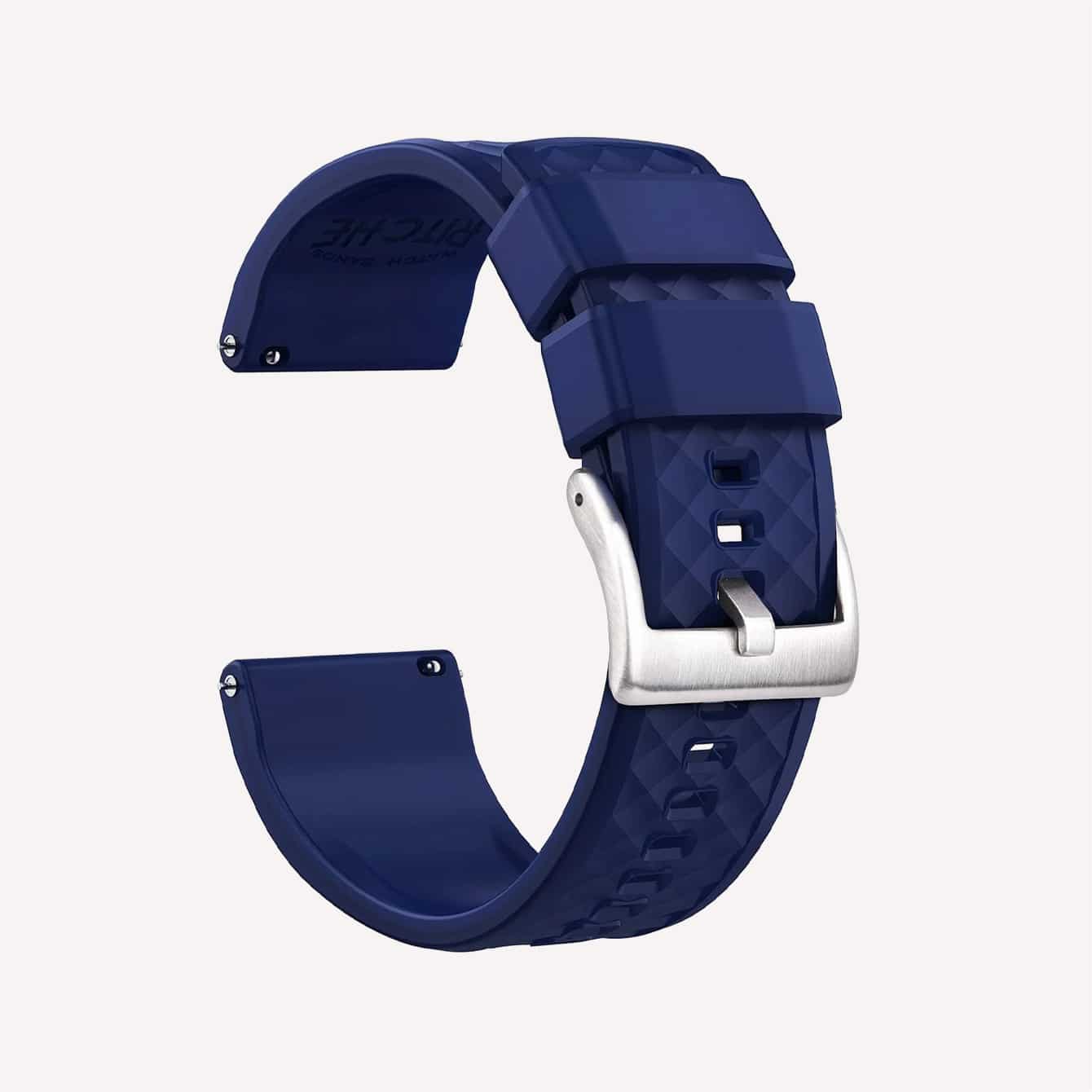 This gives it a hard, almost Casio-esque style as if it were made out of a more compact material, like plastic. It's a cool look, fully cinched by the diamond-plate surface.
It comes in several colors, ranging from neutrals with fun accents, via the underside that barely peeks out, and fashion-forward ones like violet with rose gold hardware or blue with shiny black hardware.
Pros
Fashionable and tactile waffling texture
Locking strap keeper provides extra security
Cons
As with a lot of silicone straps, there's enough tackiness on the surface to attract lint
The strap keeper even locks, which stops it from coming loose or sliding around as you move.
FAQs
Here are some quick answers to common questions about rubber watch straps:
What Is the Best Rubber for Watch Straps?
Vulcanized rubber is extra strong, retains its shape, is resistant to a lot of chemicals, and is naturally hypoallergenic.
Which Is Better: A Silicone or Rubber Strap?
Natural rubber is stronger and more abrasion resistant than silicone. It can also handle heat better.
Are Rubber Watch Straps Good?
Yes. They vary in quality, but rubber straps are generally comfortable and convenient.
Conclusion
Rubber straps can be designed for more than just a utilitarian beater. A lot of tropical versions, as you now know, can be downright dressy.
Still, when it comes to hard-wearing sport straps, rubber is truly one of the best options.
Questions? Comments? Leave them below!