Are you looking for some alternatives to MVMT watches? Good idea. Check out the brands and models we've got here.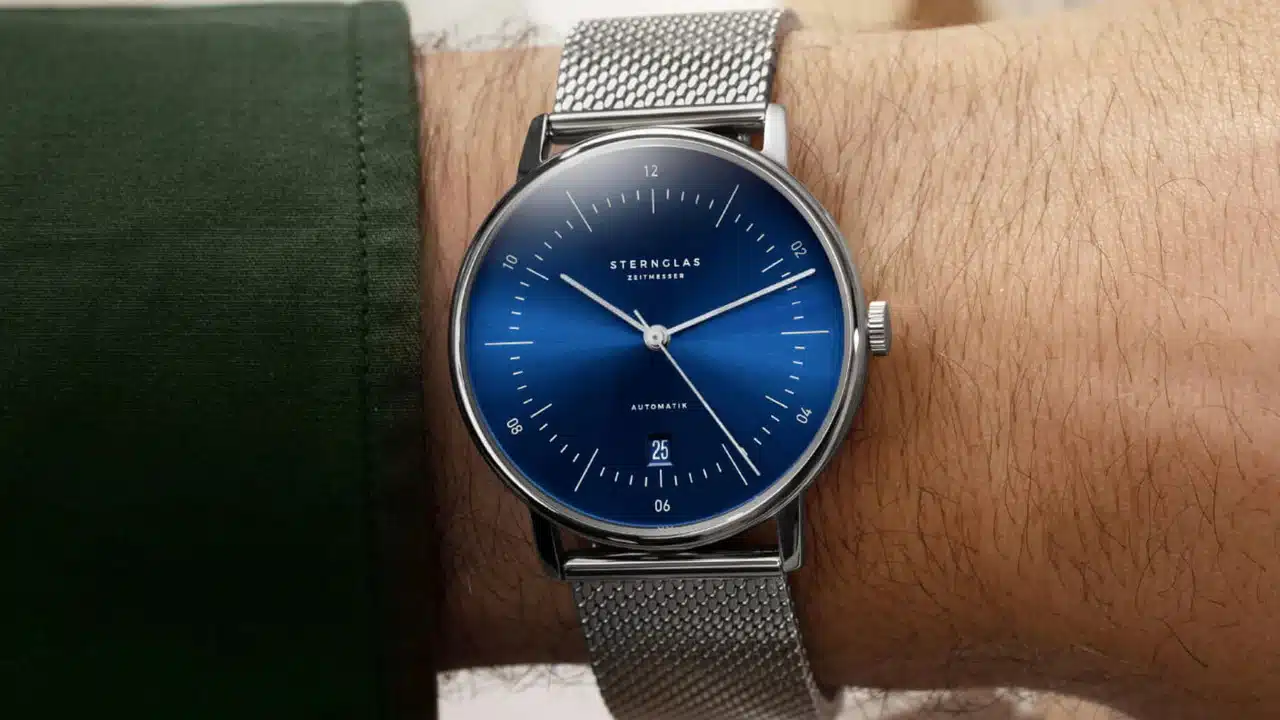 Movado acquiring MVMT stirred up a lot of conversation. Will MVMT watches improve in quality? Decrease? Stay the same? What about the prices?
A few years later, we now know the answers. There have been moderate quality improvements to MVMT watches. Also, MVMT has pretty much stayed in the same budget-to-mid-tier price range.
They continue to market themselves as affordable luxury, though few people would call their watches luxury. All that to say, do they deserve the hate they get from naysayers?
It's easy to be disappointed at a budget watch when the word luxury is all over their marketing (but at the same time, I do think their price points should be a dead giveaway).
If you love what MVMT has to offer, a sort of toy-like minimalism, a sculptural and impractical Bauhaus, then you should go for it! I believe watches are for enjoyment, not judgment.
That said, there are definitely watches out there that are more affordable, with similar aesthetics at sometimes only slightly higher price points.
If these alternatives still don't offer the exact style or wear that you'll get from MVMT, at least you will have done your homework!
Alternative Brands and Models to MVMT Watches
Here, I highlight brands that focus on a similar general aesthetic that MVMT goes for, or at least components of it. I also include a few that put out a model or series that look similar to MVMT watches, even if they otherwise aren't similar to MVMT watches overall.
Junghans
I thought it appropriate to start with Junghans. That's because MVMT seemed to be going for some kind of remixed Bauhaus look, especially in the beginning. Today, that's sort of what they're most famous for.
In fact, if you Google "MVMT alternatives" and deep dive into forums, a lot of people recommend simply Googling or Amazoning the phrases "Max Bill style watch."
Junghans is a German heritage brand that's been around since the 1800s.They started working with designer Max Bill in the 1950s.
Junghans has way more street cred and artist credibility than MVMT because of their work with Bill. He has artwork in the Museum of Modern Art's collection, including clocks that look exactly like his Junghans watches.
So even if you're going for one of the cheaper quartz versions of the Junghans Max Bill watches, at least you know it's an artist-authorized use of a real piece of art. (They come in more premium automatic versions, too). And Made in Germany just sounds better than Made in China.
Moreover, if you're creative, you can find one on Amazon for just hundred dollars more than the most expensive MVMT.
Here's an example:
Junghans Max Bill Damen Quartz
With its simple, clean, and line-forward design, the Max Bill is a true Bauhaus piece. It's a perfect everyday watch.
If you wear it and if worn with a leather strap you could even wear it with a suit.
Dimensions: 32.6mm diameter, 6.9mm thickness
Case Material: Stainless steel
Water resistance: 30m
Movado
I know that, technically, Movado and MVMT are the same thing. But, even though the former bought out the latter, they've maintained their distinct looks.
If what you love about MVMT is the irreverence of not actually being able to tell the time on your watch, Movado is arguably one of the OGs.
Also, they're revered for design. Even if they aren't your style, they've factually won a lot of awards for watch design. Ttheir watches are better quality than MVMT watches. Therefore, I'd sooner call Movado affordable luxury at a slightly higher price point than MVMT.
Like Max Bill's Junghans design, Movado's iconic Museum Dial is part of the MoMA's collection.
Movado Museum Black
Industrial artist Nathan George Horwitt designed the Movado Museum Black. Again, it's like having an artist-sanctioned design on your wrist.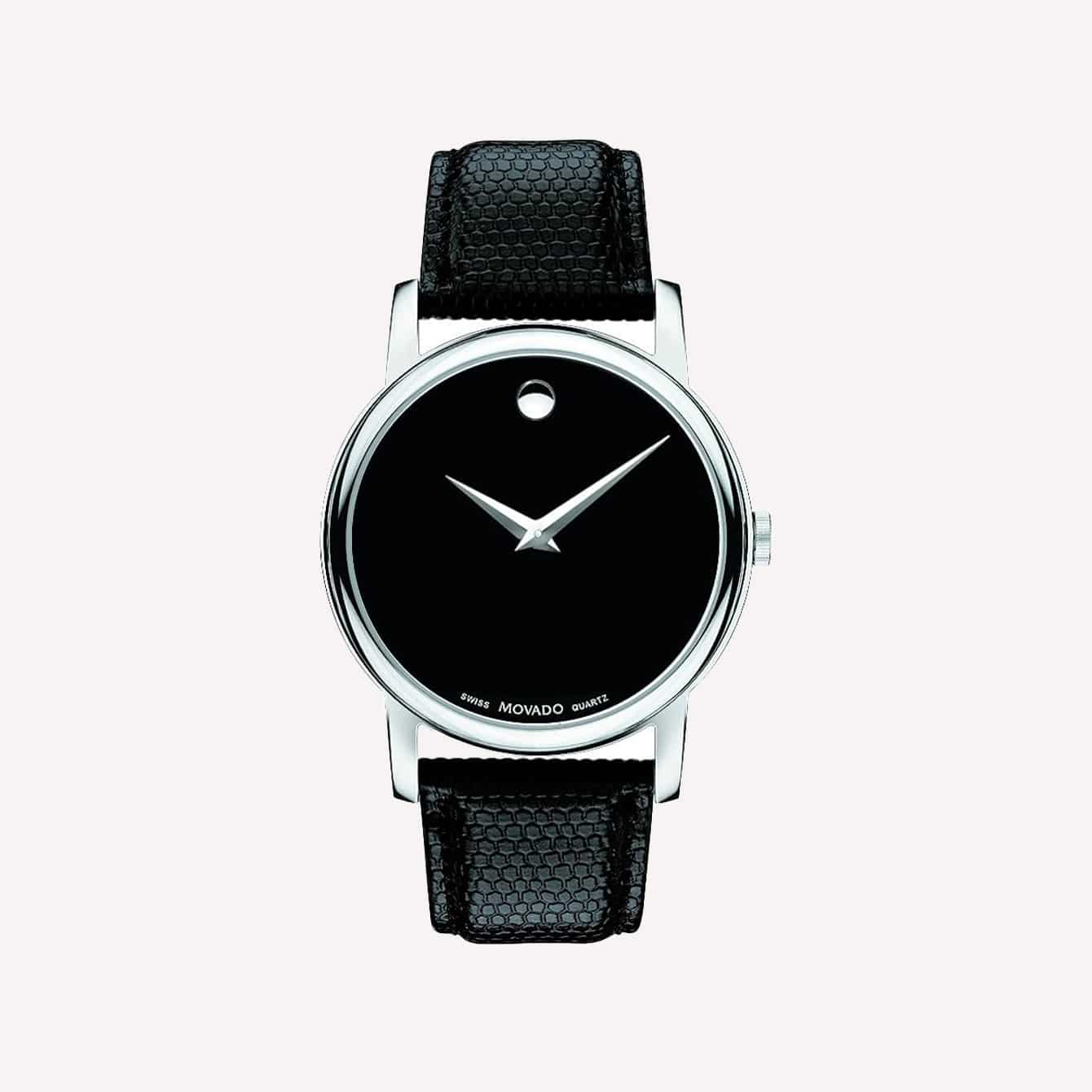 The face is modeled after an ancient sundial and is protected by a sapphire crystal.
Dimensions: 39mm diameter, 8mm thickness
Case Material: Stainless steel
Water resistance: 30m
Skagen
Fossil owns Skagen, so they're definitely fashion watches. Still, I think they have a lot more fun with their designs than MVMT does. Skagen doesn't take itself too seriously. There's not a single use of the word "luxury" is in any of their marketing. They're almost Swatch-like, and they're a lot more affordable than MVMT.
Like MVMT, they go for a minimalist look. Two Danes, Henrik and Charlotte Jorst, founded Skagen. They wanted the watches to have that uncomplicated Danish sensibility, slim profiles (excellent for the slim-wristed), and calming yet fun coastal colors.
They're also more ambitious than most fashion watch brands since they do automatic smartwatches and experiment with materials like titanium.
The Aaren is an example of a fun, well-designed budget piece that anyone can wear.
Skagen Aaren
Clean-looking and versatile, the Aaren somehow succeeds in being lively thanks to its different color options. At the same time this watch is also classy thanks to each colorway's matte and calm tone.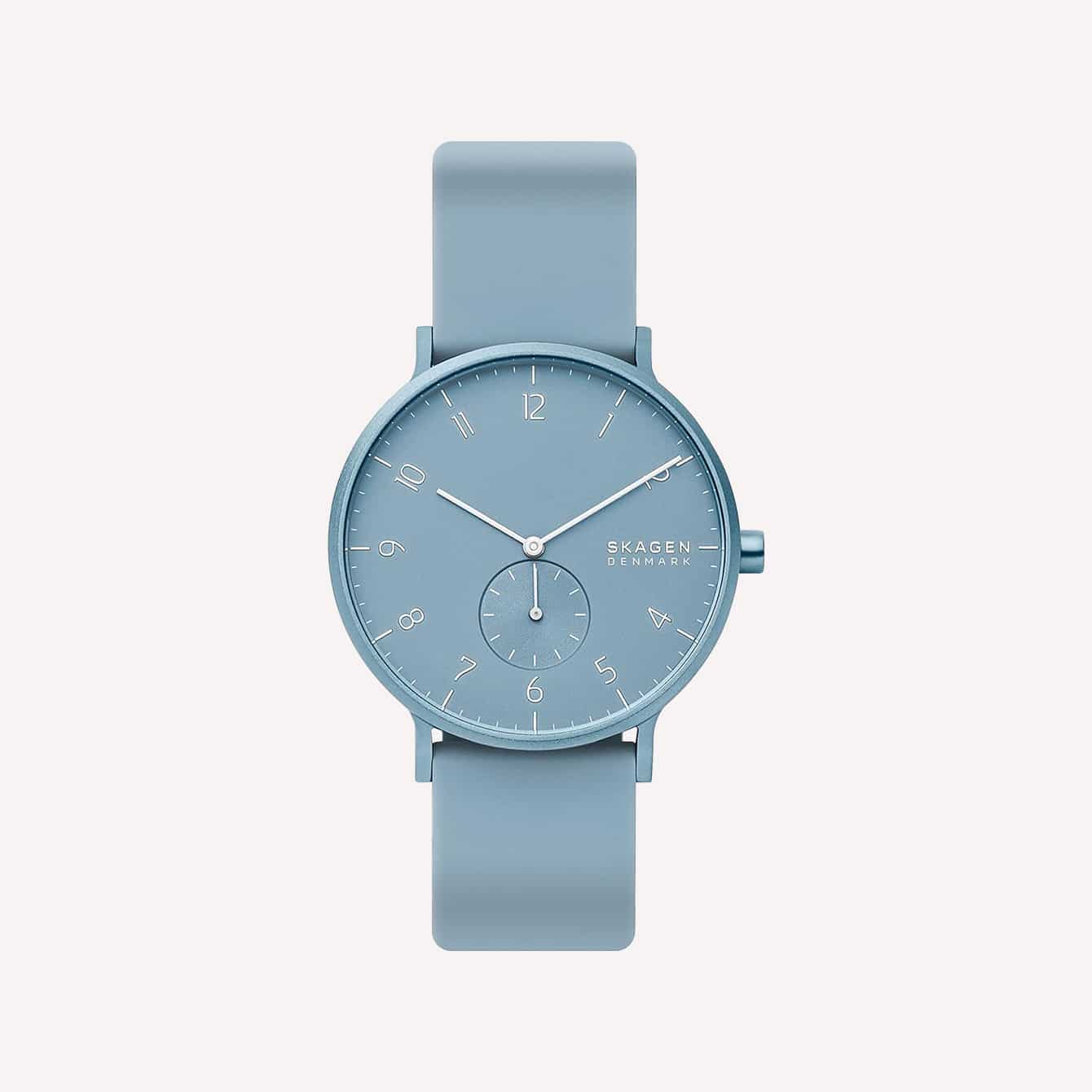 They're like a "Swatchified" version of MVMT's monochrome models. (One main difference is that it's a lot more practical since you can actually tell the time on them).
Dimensions: 41mm diameter, 9mm thickness
Case Material: Stainless steel
Water resistance: 30m
Braun
Another German brand, Bauhaus, is an electronics company that happens to make watches. But, when you're looking for a practical timepiece, those are actually the best brands to go to.
The watches might not be some horological innovation but built with engineer-level discipline. This is especially so if they're coming out of Germany.
Dieter Rams started designing for Braun in the '50s. Perhaps modern Apple aesthetics took from his sterilized design sensibilities.
Their Prestige Chronograph has a lot of visual similarities to MVMT's more detailed chronographs but is far less abbreviated-looking.
Braun Prestige Chronograph
This Chronograph represents a more authentic design movement compared to MVMT's modern take on Bauhaus-ish.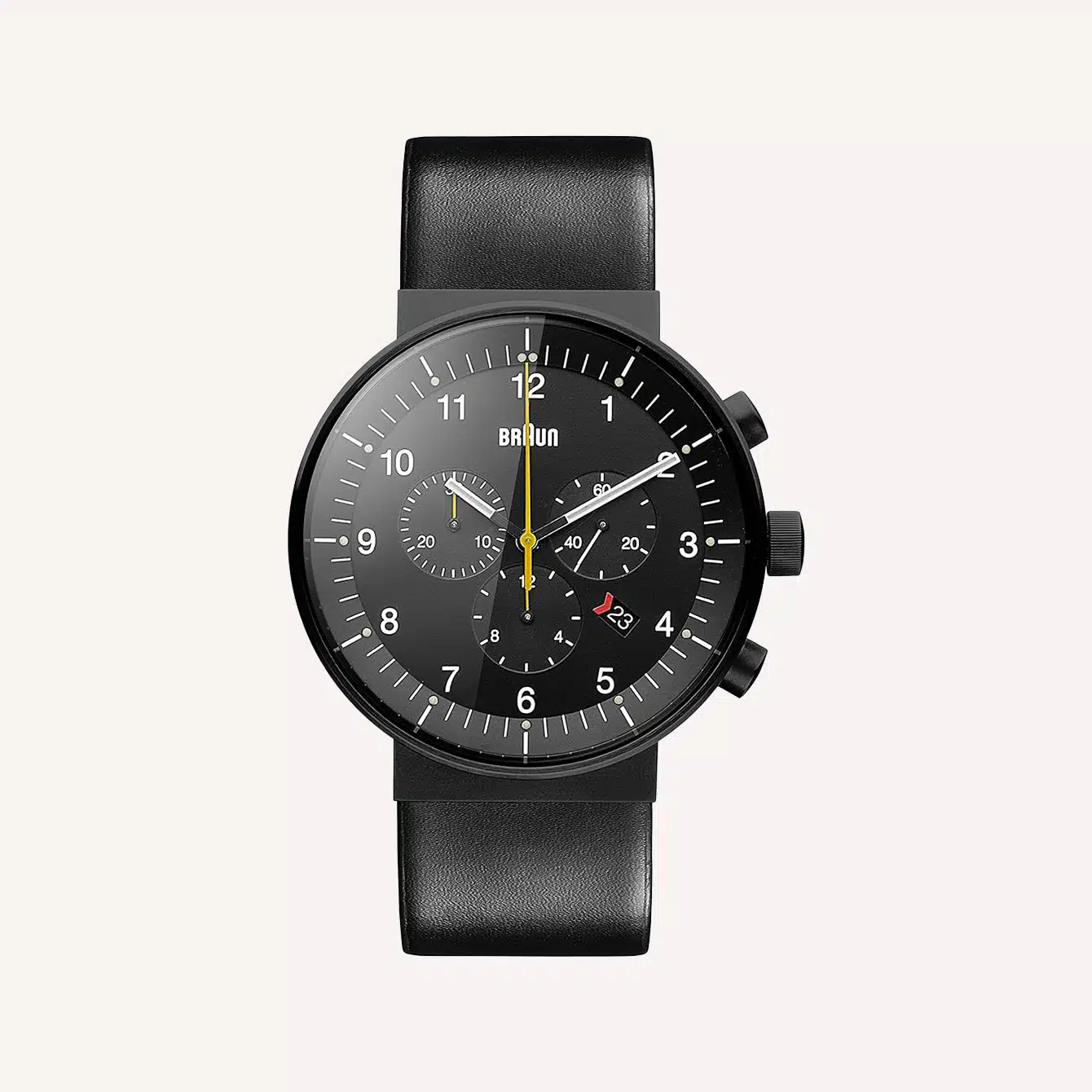 Moreover, since you can read the subdials, it's a real usable chronograph. That's not the case for many of MVMT's cleaner-looking chrono-style models.
Dimensions: 43mm diameter, 11.9mm thickness
Case Material: Stainless steel
Water resistance: 50m
Braun's cheaper watches are even more affordable watches than you'd find with MVMT.
For example,
Braun Gents Classic BN0032
From its non-horned lug area to the classic Germain pragmatism, Braun watches like this are almost like a more fully-formed, less "fashiony" take on what MVMT does.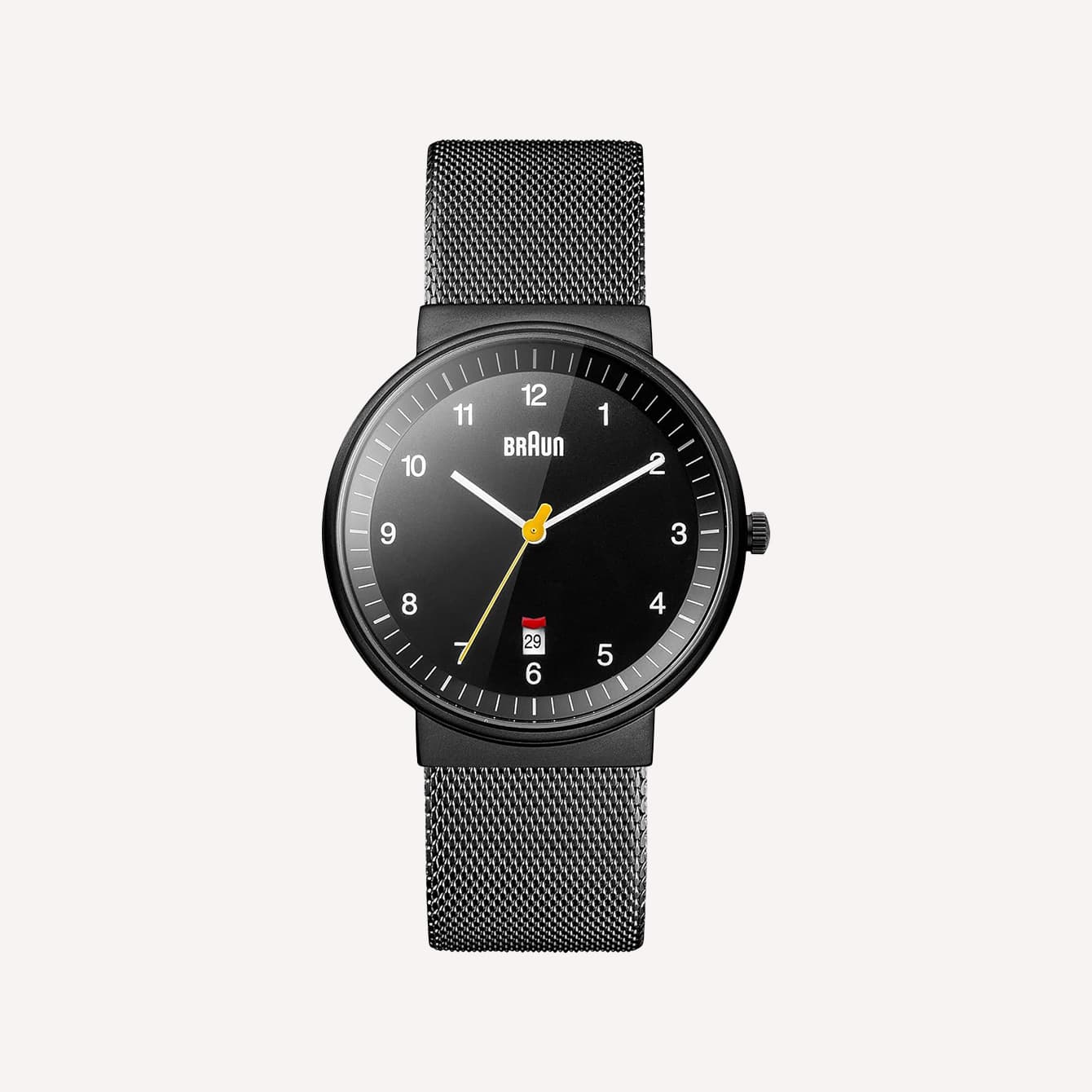 The mesh Milanese does add a touch of welcome sparkle, though.
Dimensions: 40mm diameter, 8mm thickness
Case Material: Stainless steel
Water resistance: 50m
Sternglas
Sternglas is another German brand that goes hard on the Bauhaus look and has visual similarities with MVMT. However, unlike the prior covered heritage brands, Sternglas is new and digital native, just like MVMT.
And unlike MVMT, there's more of a relationship with form and function in their watch designs.
I'd say that Sternglas is just a tier above when it comes to price. For that relatively moderate premium, though, you get a world of upgrades. This can easily be seen through their Naos Automatik watch.
Sternglas Naos Automatik
This minimalist design is truly thoughtful, proven by the fact it won the IF Award in 2020. It's built with premium materials like a domed AR-coated sapphire 316L stainless steel. (However, to be fair, MVMT started using 316L after it got bought out by Movado). It runs on a Miyota automatic.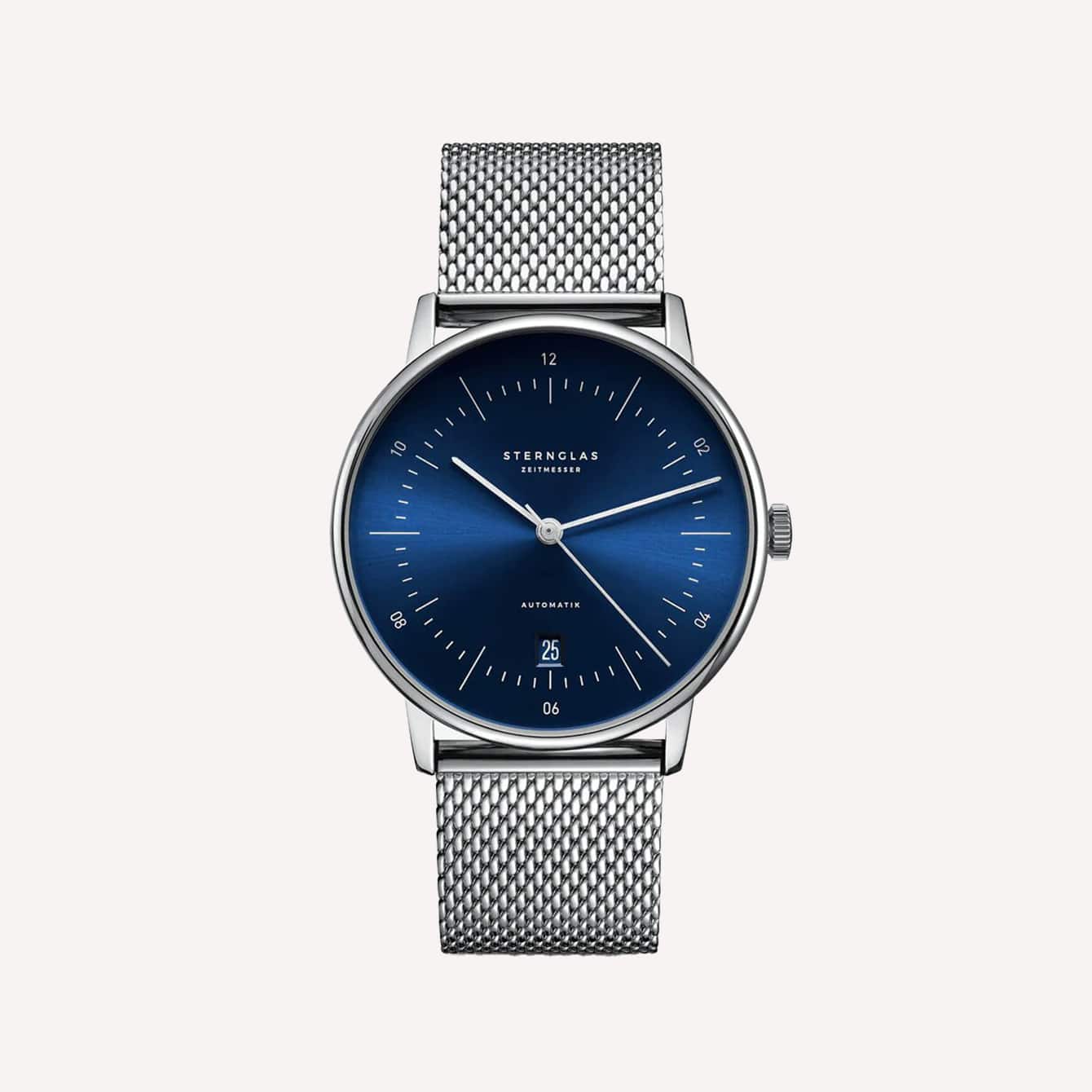 You can watch this movement in motion through the exhibition case back — always a plus for the horologically curious.
You just get a lot more for your money with Sternglas compared to MVMT.
Dimensions: 38mm diameter, 12mm thick
Case Material: Stainless steel
Water resistance: 50m
Junkers
Founded by a descendant of Hugo Junkers, the engineer who pioneered all-metal aircraft during World War I and World War II. With this history, Junkers is all about aviator watches.
As another German brand, it has that line-forward cleanliness in a lot of its designs. But, there are also a few Longines-esque models that look nothing like MVMT watches.
However, if you look at their Bauhaus-specific line, you'll find several watches that are reminiscent of Junghans and Sternglas.
So what is Junkers bringing that Sternglas and Junghans aren't? Well, one thing they do uniquely is capture that abbreviated look that MVMT leans into.
Junkers Bauhaus Watch
This watch is still more legible than a lot of the multi-subdial models you'll find at MVMT. However, it has that peppered look in which very few of the elements on the dial even touch each other.
In my opinion, it more successfully achieves the purposely unfinished aesthetic that MVMT watches go for. This is due to its legibility and superior finishing.
Of course, because the materials and movement are of higher quality, the Junkers Bauhaus watches are at a much higher price point than MVMT watches.
Dimensions: 41mm diameter, 13mm thickness
Case Material: Stainless steel
Water resistance: 50m
Vincero
We're now entering the competitor's section of the alternatives. Like MVMT, Vincero came out of the gate talking about affordable luxury, or in their exact words, "premium lifestyle accessories."
What these two brands have in common is that they're new, make affordable, admittedly huge watches. They also are both more about fashion than anything else.
That being the case, they're worth checking out if you're already looking at MVMT. I'd say one visual similarity between the two brands is they both love their monochrome palettes. Other than that, Vincero watches are much more detailed than MVMT ones.
One of their most famous models, the Chrono S, is probably the most MVMT-esque.
Vincero Chrono S
A super simple chronograph, Bauhaus-inspired, the Chrono S is a much sportier watch than you'd find in MVMT's range.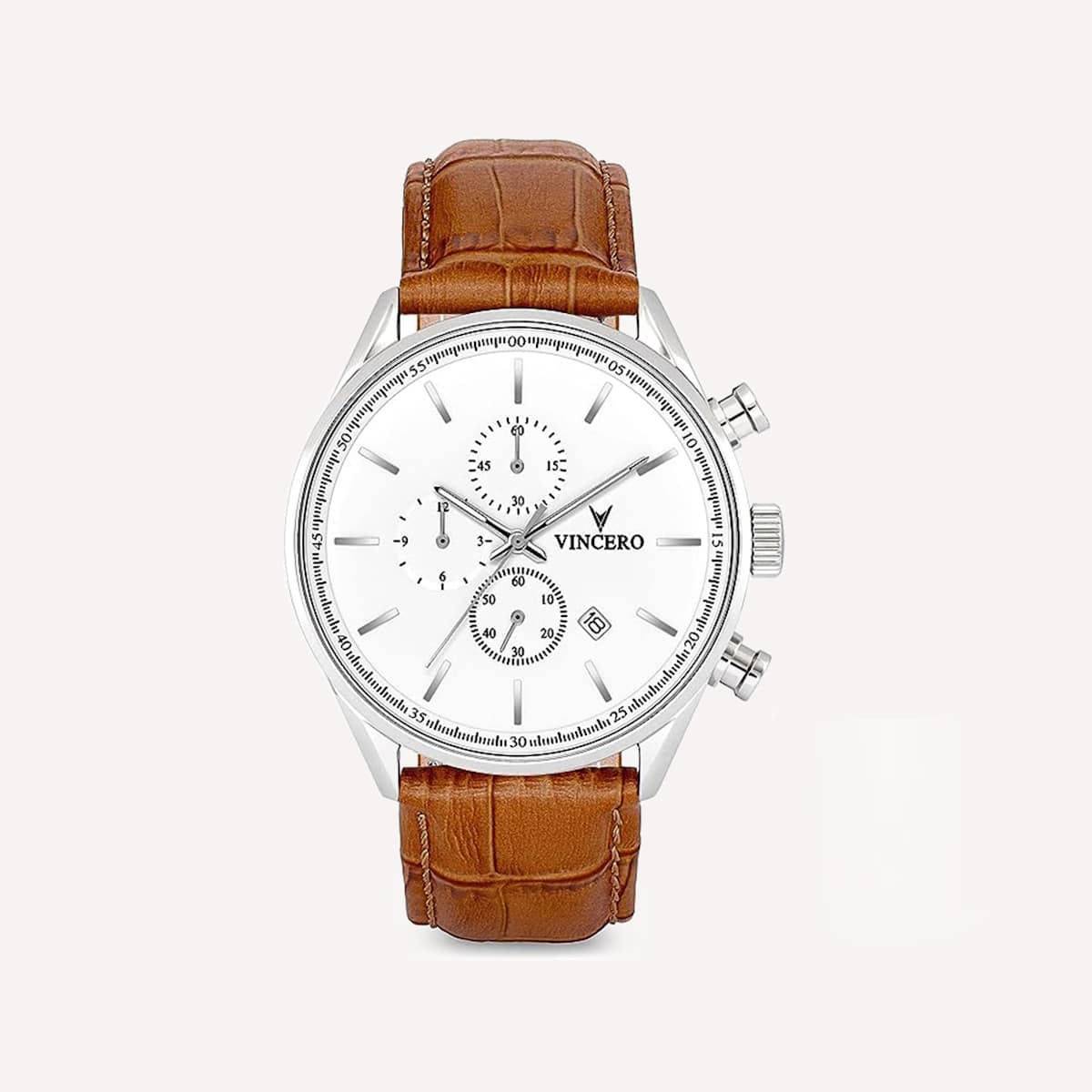 It's still made in China and runs on a Miyota movement. I do think the marble inlay on the back is a pretty cool touch, though!
Dimensions: 43mm diameter, 12mm thickness
Case Material: Stainless steel
Water resistance: 100m
Daniel Wellington
I'm not going to tip-toe around this. The mark-up for Chinese-made Daniel Wellington watches is pretty high. But hey, that's one of the reasons it's a lot like MVMT and, therefore, an alternative as well as a competitor.
Daniel Wellington has more of a consistent design language than Vincero and MVMT, though, which gives their watches a collectibility factor.
If you like exactly what they have to offer, then go for it! Otherwise, check out our Daniel Wellington alternatives.
I'd say out of the three (MVMT, Vincero, DW), Daniel Wellington makes dressier-looking pieces.
Daniel Wellington Classic Mesh Arctic
This super simple line-forward design has a decently good sunray dial. With a metal strap, you've got a more everyday look, and with a leather one, the watch looks dressier. That said, at 40mm, it's pretty big for a dress watch!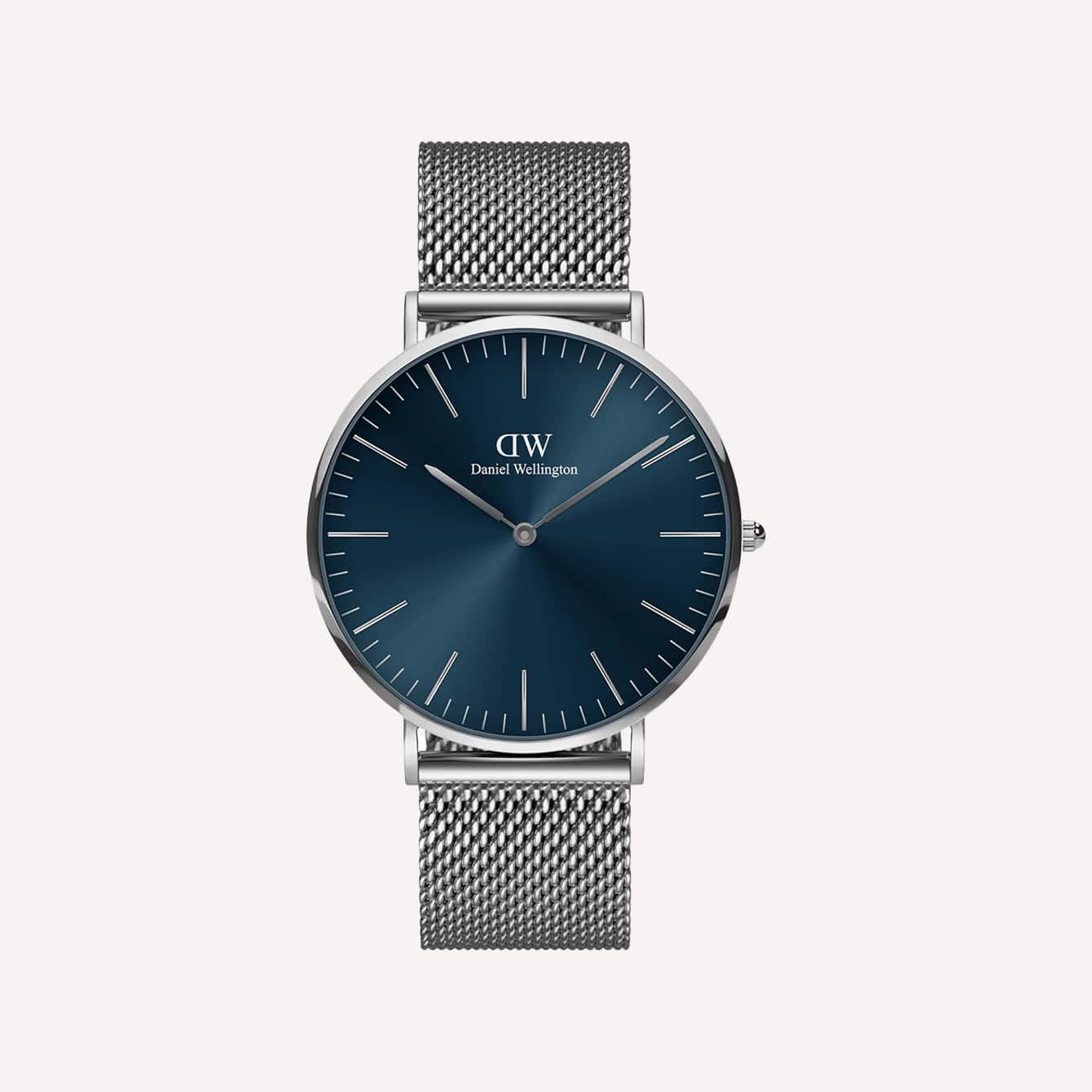 Fortunately, if you buy a strap and a watch together, DW will deduct the price of the strap. That's one cool thing it's got going for it!
Dimensions: 40mm diameter, 12mm thickness
Case Material: Stainless steel
Water resistance: 30m
Timex
So Timex is, in my opinion, a much more respectable budget brand than MVMT. Even though their watches are cheap, they're historical. Many of their models come from the brand's portfolio of iconic vintage pieces.
So, as a brand, Timex isn't a true alternative to MVMT. However, the Fairfield Chronograph does have that minimal look that both MVMT and Vincero share.
Timex Fairfield Chrono
This watch actually looks a lot like the Vincero Chrono S. However, it comes from an American heritage brand with Timex's famed push-button Indiglo.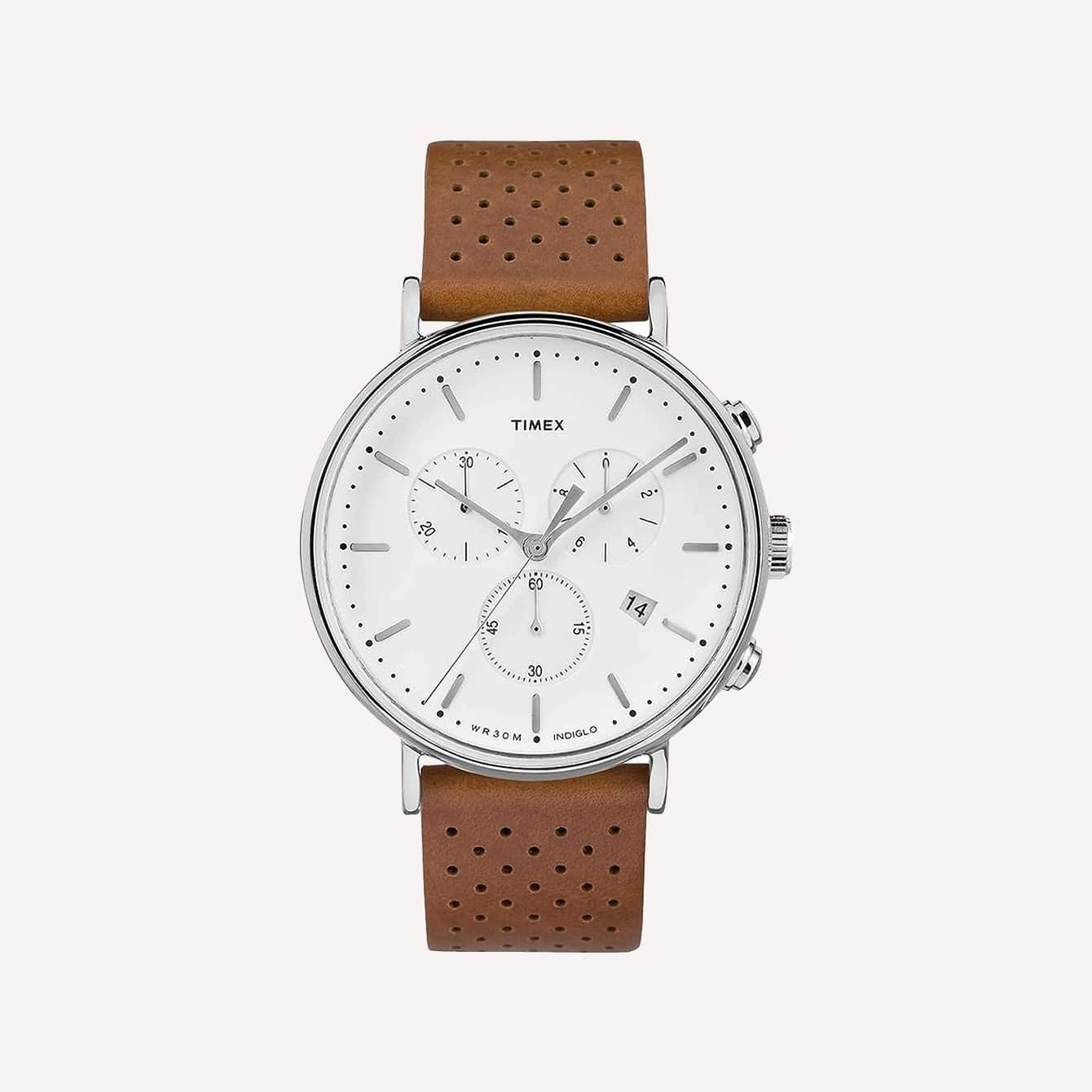 If you want a sportier, more practical take on MVMT's chronographs (and one with a respectable brand name), I'd go for this Fairfield Chrono.
Dimensions: 41mm diameter, 11.5mm thickness
Case Material: Stainless steel
Water resistance: 30m
Casio
Like Timex, Casio isn't comparable to MVMT as an overall brand. However,their minimalist LTP-VT01L-1B model iisn't exactly what first comes to mind when one thinks of Casio.This watch is an excellent alternative to MVMT's clean-lined, bare-dial watches.
Casio LTP-VT01L-1B
I love that, though this watch is pretty bare-bones. Small details like the Roman 12 and six add a touch of understated personality.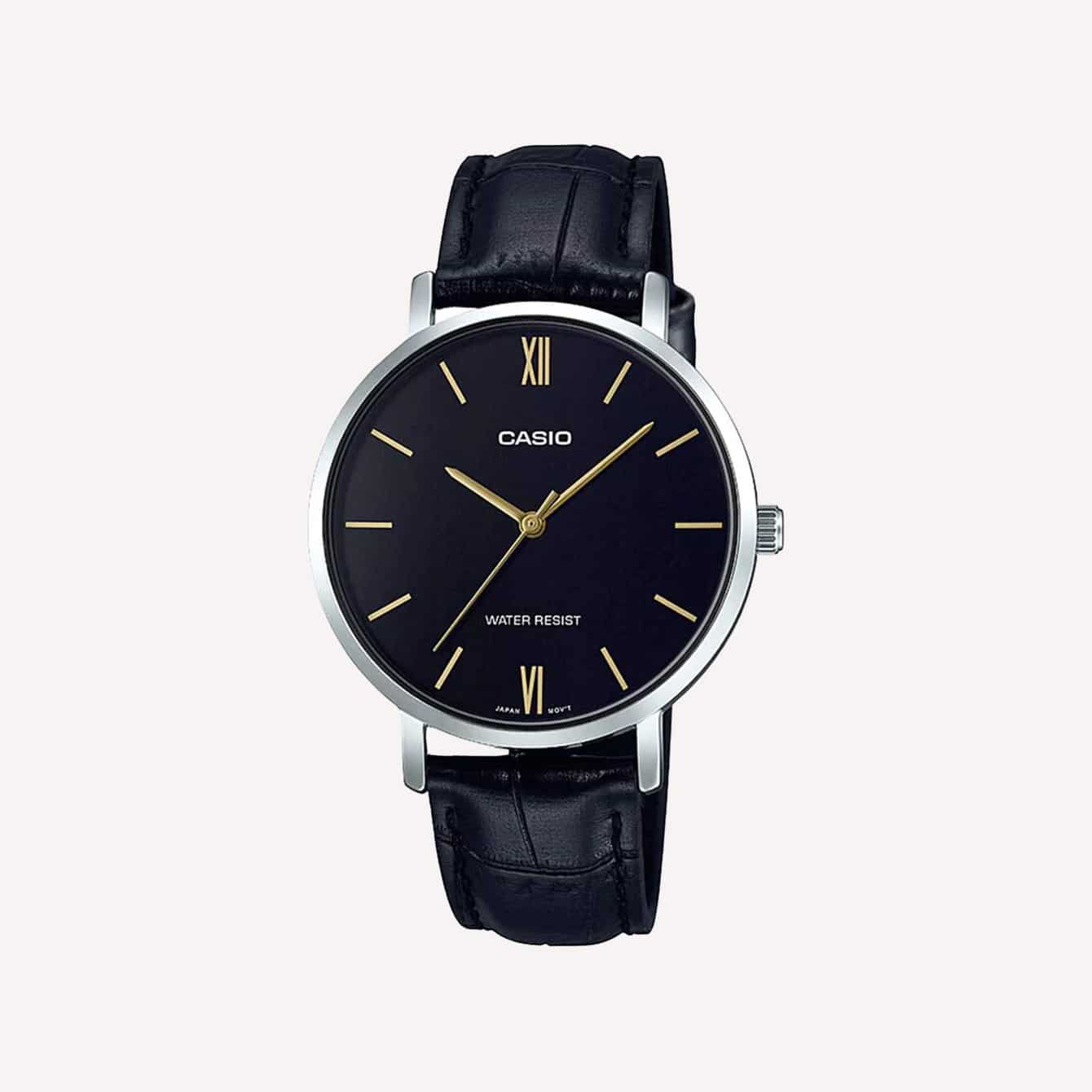 You can basically wear this watch with any outfit. Even more, it's less than eight millimeters high, making it exceedingly comfortable and easy to slip under a sleeve.
Dimensions: 40mm diameter, 7.9mm thickness
Case Material: Stainless steel
Water resistance: 30m
Tissot
Tissot is the last of my grouping of brands that aren't like MVMT overall but offer one model that can serve as a good alternative.
In this case, the Tissot Everytime has the sterile look of MVMT watches. It also has the dressy line-forward design of Daniel Wellington watches but with Swiss Made credibility.
Tissot Everytime
Not only does the Tissot Everytime boast a Swiss-made moniker, but it has better finishing than MVMT watches. It can also be just as affordable. It's commonly found on Amazon in the ~$200 range.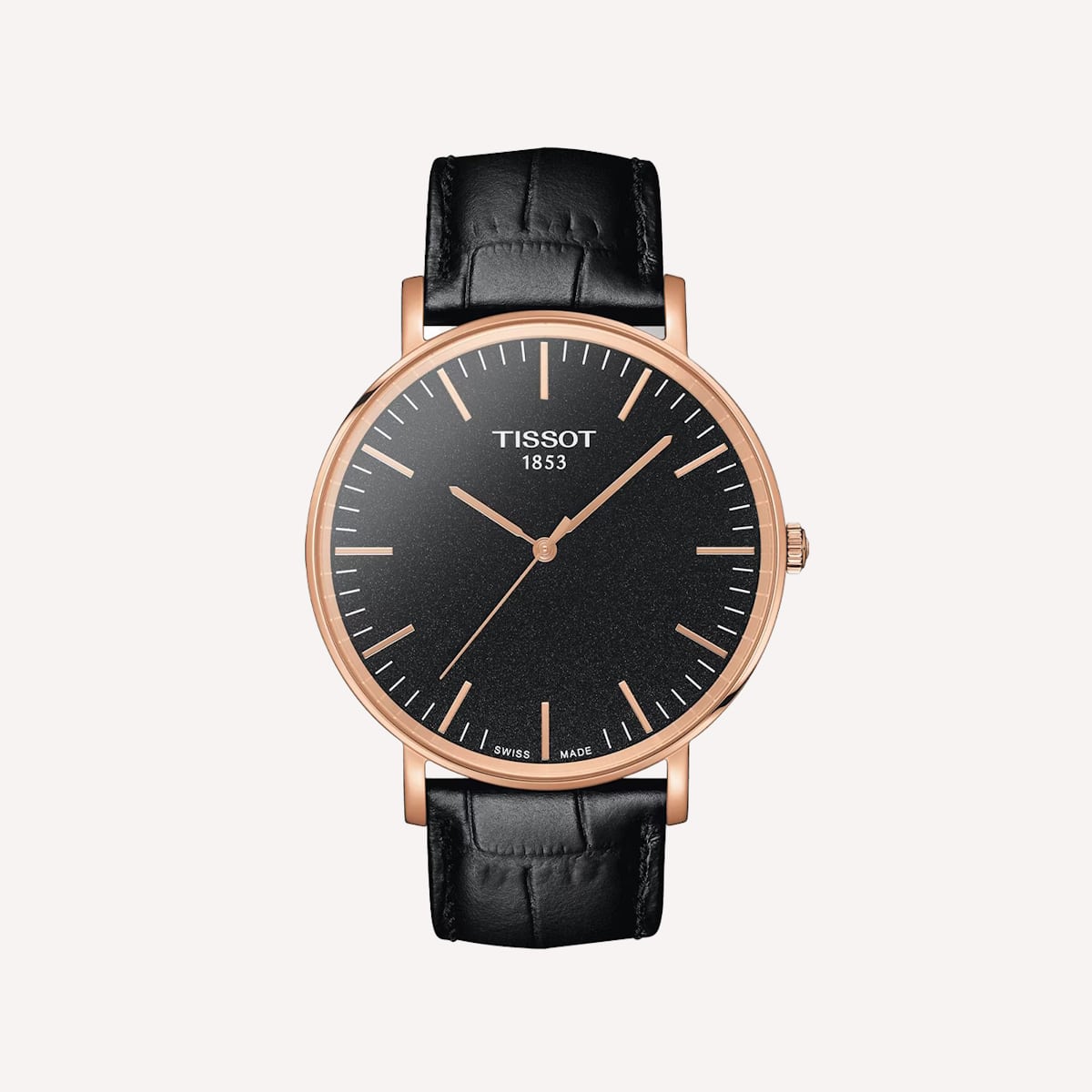 If you're looking at the MVMT Legacy Slim, then I'd say the Tissot is a superior alternative overall. That is unless you really love the nameless dial and that bowtie-esque application above the hands, which the Tissot doesn't have.
Dimensions: 42mm diameter, 7mm thickness
Case Material: Stainless steel
Water resistance: 30m
The Most Affordable MVMT Alternatives
One of the biggest criticisms naysayers had about MVMT is that they're Chinese-made watches at a high markup. What's more, one can find similar models in the Alibabas and Amazons of the world.
This is actually true. It was true before Movado bought them, but you can still search the budget Chinese watchmaker realm to find deals on similarly minimalist watches.
Yes, I'm referring to the mushroom mass-market brands that don't exist offline — otherwise known as brands in quotation marks.
If this doesn't offend you, then try giving these websites a search using terms like "minimalist watch", "Bauhaus inspired", or even "MVMT" to see what pops up. Likely you'll find some models from the following two "brands."
Feice
There's not much to say about Feice other than that they're the quintessential mass-market Chinese watchmaker. They do, however, make several Bauhaus-looking watches at lower prices than even MVMT offers.
Feice Bauhaus Automatic
This watch is a great example. It's clean-looking, it's versatile, and it doesn't feel like a crazy upcharge. Since you get an automatic movement and an exhibition case back (unlike MVMT watches at the same price point) it's a good deal.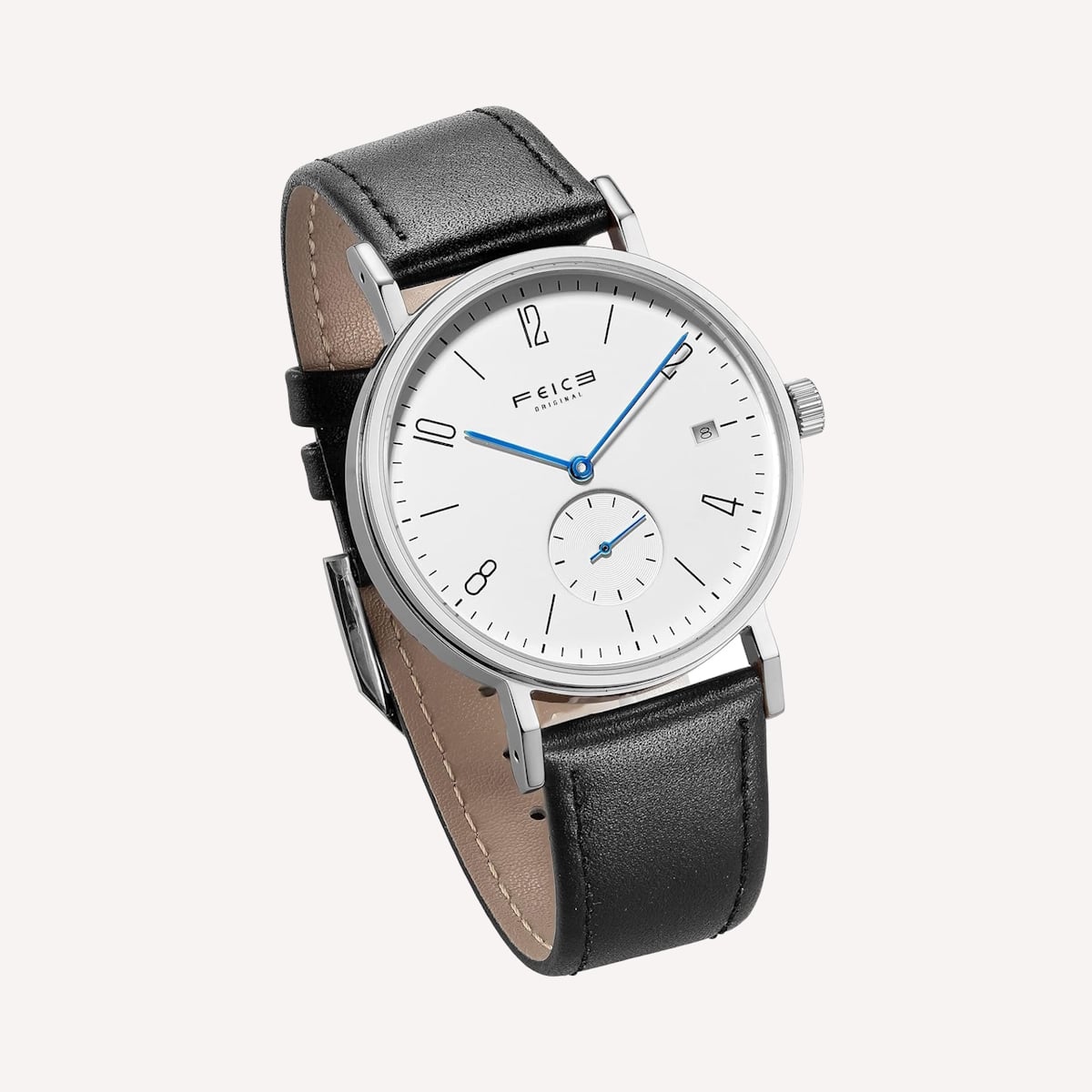 Sure, it's just a workhorse Seagull movement. Still, if you prefer mechanical to quartz movements, then that's already enough to go this route over MVMT. Another plus is that despite this robust mechanical movement, this watch is only 10 millimeters thick.
Dimensions: 38mm diameter, 10mm thickness
Case Material: Stainless steel
Water resistance: 30m
Pagani
People mainly know Pagani as a Chinese watchmaker who fully lifts designs from big-name brands. Technically, they're homages since they aren't illegal, AKA they never actually use the names Omega or Rolex on their watches.
Since Movado bought MVMT, they've been making more attempts at MVMT-ified classic templates, like their Cali Diver or their industrial-leaning Raptor.
If you're into this and are considering MVMT as an affordable alternative to a traditional sports watch, just search for Pagani on Amazon or Alibaba. I won't give any specifics because they do every classic template out there, usually with some basic automatic movement.
You might prefer them, whether in design or price.
FAQs
Here are some quick answers to some commonly asked questions regarding MVMT.
Who bought MVMT?
Movado bought MVMT in 2018.
Is MVMT a luxury brand?
No, MVMT is a budget to mid-tier brand with a unique take on the minimalist aesthetic.
What movement does MVMT use?
MVMT mainly uses Miyota quartz movements.
Conclusion
Again, if you love a certain MVMT watch and can't find a worthwhile alternative, then go for it.
You should love what you buy.
But, the truth is that MVMT watches are highly marked up. This isn't unique to them, and they do have a distinct look that a lot of people love.
Still, it's always worthwhile looking at alternatives. Who knows? You might find that you prefer one alternative's lower markup or another alternative's take on the minimalist aesthetic.
Is MVMT a brand you're interested in? Let me know in the comments!