Curious about why typically-affordable Chinese watches are making a positive shift in reputation? I've rounded up the eight best Chinese watch brands to answer that!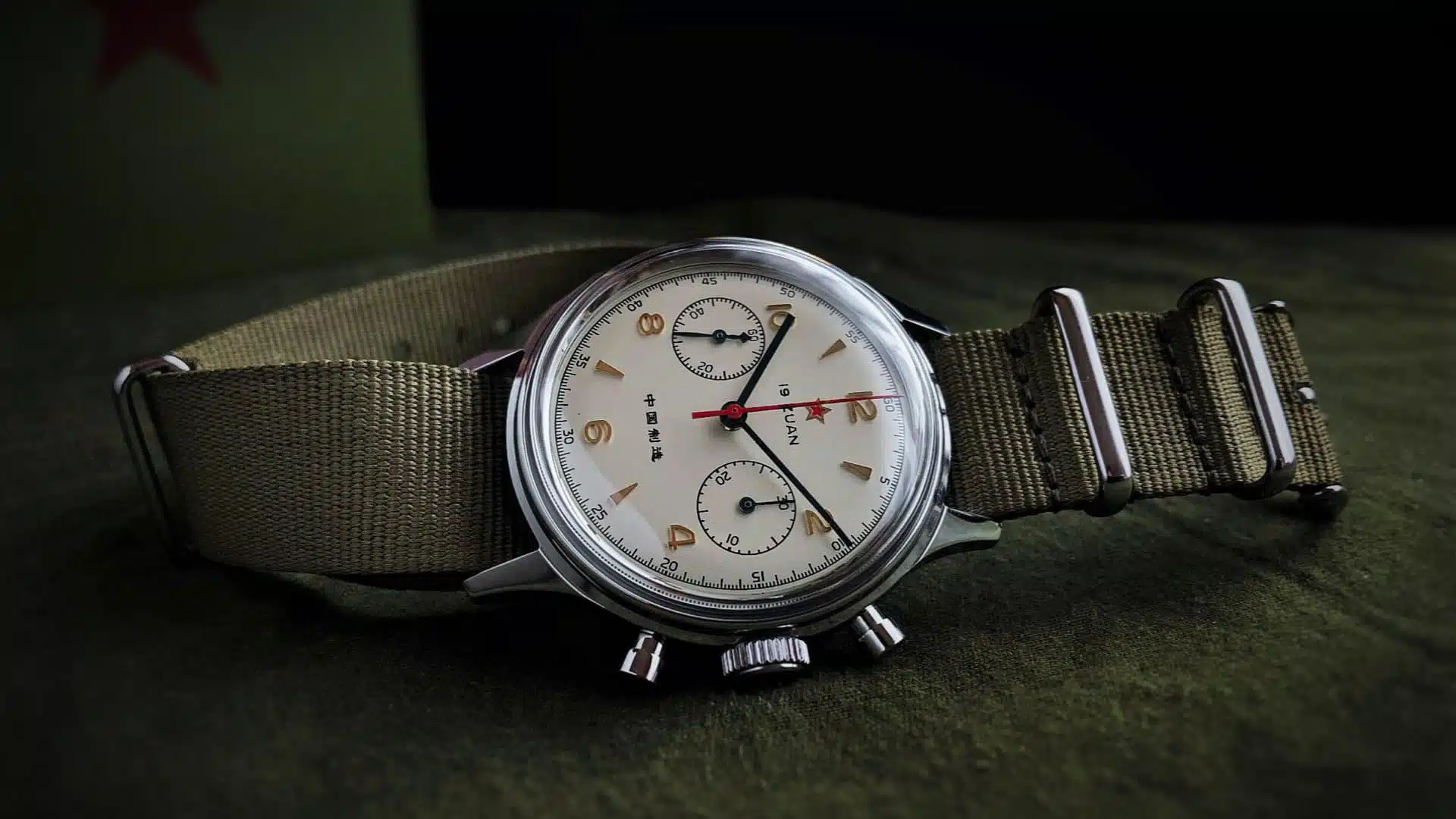 Watch collectors don't always love the "Made in China" label. Because of this, many watch companies that use Chinese manufacturing are mysterious about where their factories are located.
Others, such as Vincero, will assure you that their "Made in China" label is different from the others, incorporating into their brand lore how the founders actually moved there to painstakingly find the best manufacturers.
There are, however, several watchmakers from the Middle Kingdom that produce worthwhile timepieces.
China's market is much younger than the US or Germany's timekeeping industries, so they may have just needed time to do some copying before they did some growing. (Japan had a similar journey, before serving up much-loved and well-reputed brands like Seiko).
These eight Chinese watch brands each have unique offerings. Unlike those multi-name, possibly-mushroom brand manufacturers, these watchmakers are changing collectors' minds about Chinese timepieces.
8 Watch Brands from China
Here they are, in no particular order:
Seagull Watches
As one of the original Chinese watchmakers, the Tianjin Corporation has been in business since 1955. They started making watches with the Seagull (or Sea-Gull) moniker in the early '90s.
Today, they're perhaps the main reason that China has become a force in the global movement market.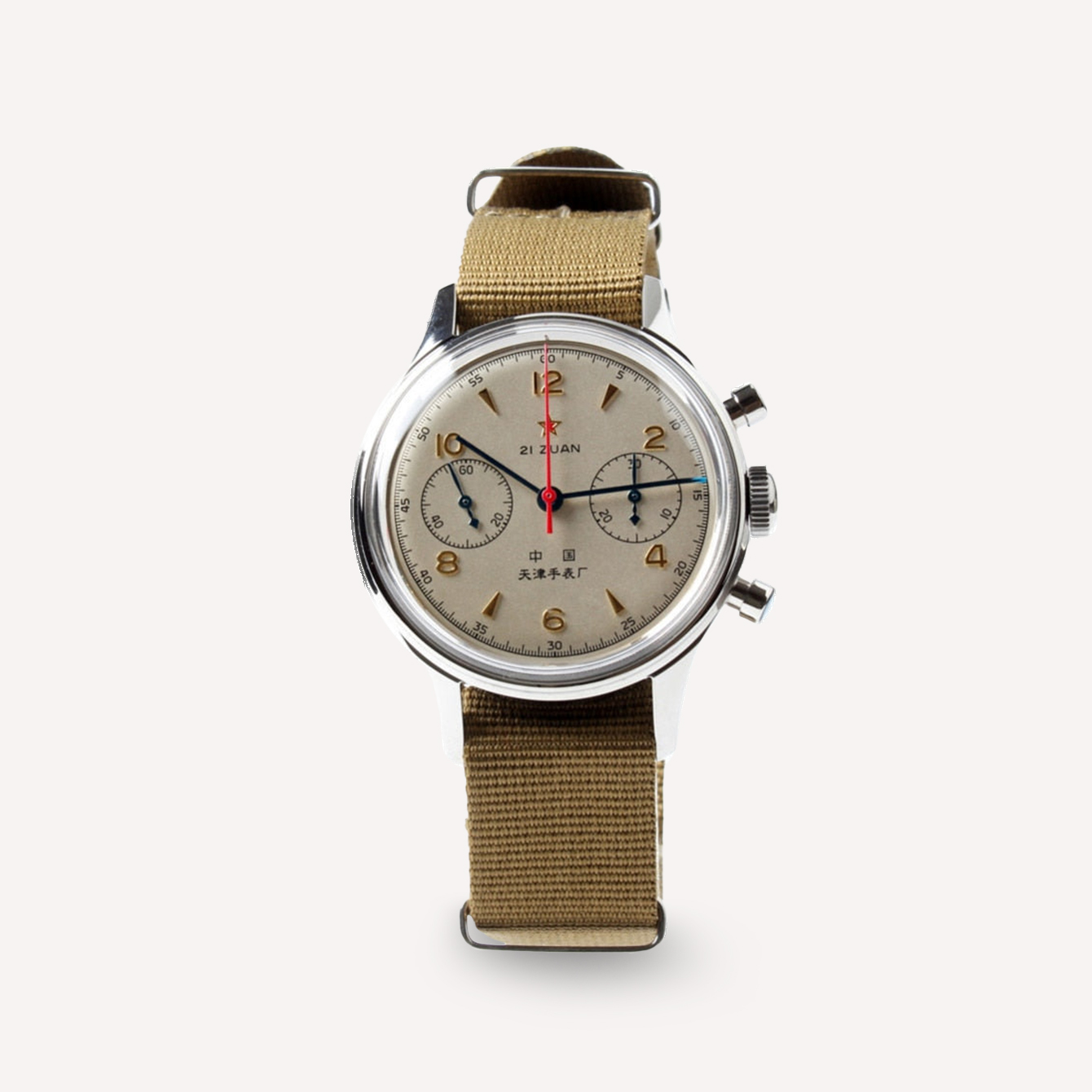 Sure, as with any affordable Chinese brand, their line isn't without a few uninspired fashion watches. Still, they've got fine mechanical offerings well worth their affordable prices.
Seagull's watches are outfitted with movements like the high-beat ST21 or the respectably accurate ST19 and cost as much as a lot of Seiko timepieces. The Seagulls aren't necessarily better (or worse) in quality, but they're often nicer looking.
No 200-dollar mechanical will ever be as accurate as a quartz watch, so there's nothing wrong with choosing the better-looking option between two comparable movements.
Before I highlight a model, I should note China does things a little differently, and it's confusing.
You can find the original Seagull 1963 movement and heritage watch design through Seagull themselves.
However, you can also find the same Seagull 1963 through the greater watch brand, Sugess.
It's not an illegal copy, it's two brands offering the same model. Moreover, the Sugess Seagull is, in my opinion, better, because it has an exhibition caseback and a sapphire crystal. It's also much more affordable.
Again, the Chinese watch world can be very confusing to outsiders.
With that out of the way, the Seagull 1963 is a strong military-inspired timepiece.
If you compare it to the similarly-priced Seiko SRPA27K1, you'll notice that the Seagull 1963 movement is actually nicer looking. The golden gears create a complex lattice that complements the jewels and blue screws.
Dimensions: 38mm diameter, 13.5mm thickness
Case material: Stainless steel
Water resistance: 50m
Also, Seagull movements are famously serviceable, making them an excellent brand for the horologically curious.
Atelier Wen
It appears to me that even the Chinese need convincing that their domestic watch brands deserve a spot next to the European hard-hitters. Atelier Wen is a Hong Kong-based watchmaker that's leading the charge.
This independent timekeeper employs French and Chinese designers to create genuinely artistic timepieces with a proud Chinese aesthetic, all of which are very proudly made in China.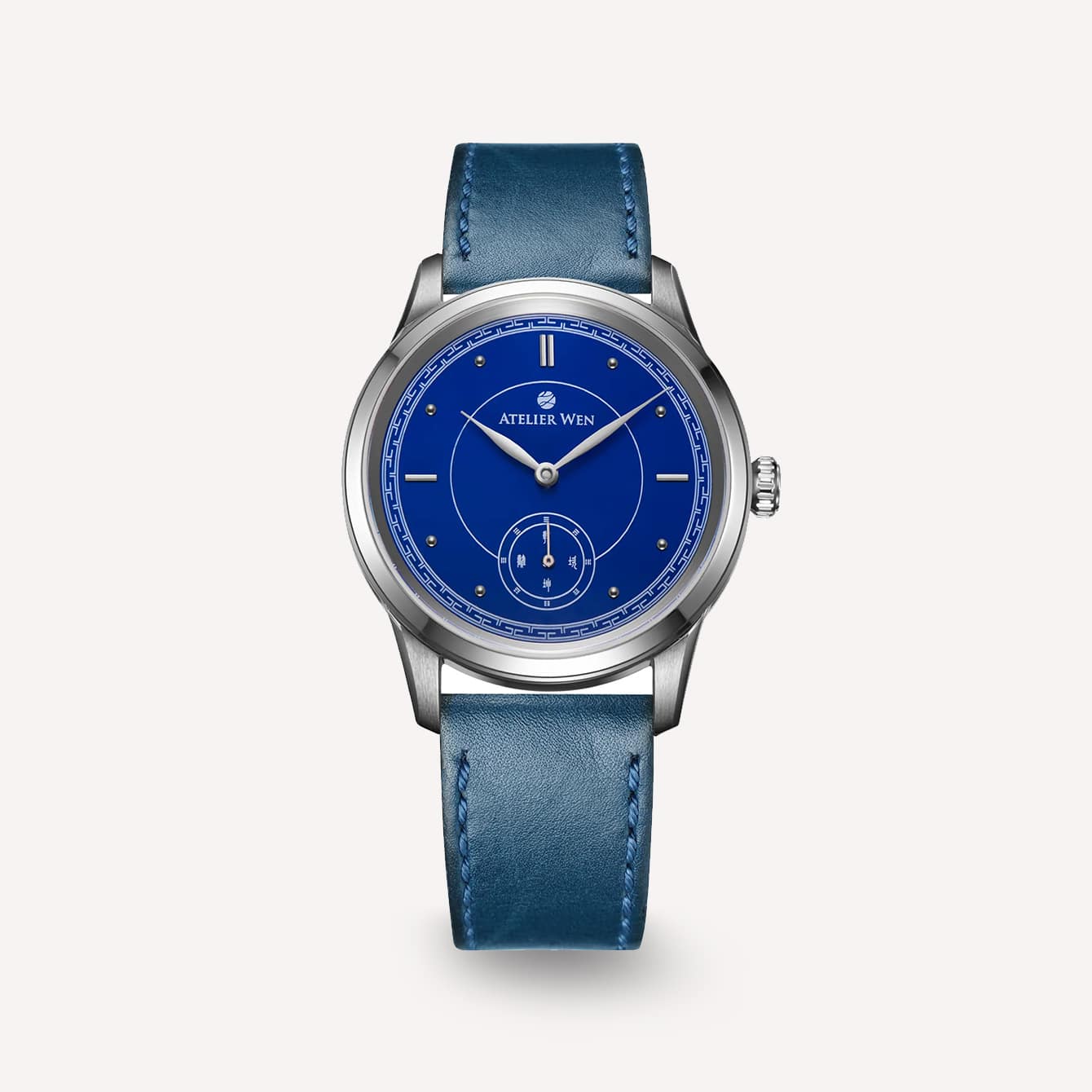 In so doing, many in the international watch community even believe that Atelier Wen literally created a league of their own.
Each watch features handcrafted pieces and automatic movements that visually celebrate a component of Chinese culture. Every model is limited and often gets sold out quickly, so you'll have to keep track of new Atelier Wen releases by signing up for their newsletter.
The Porcelain Odyssey is exquisitely refined, boasting impressive attention to detail. The dial is made of rare blue porcelain, while the hour pearls and batons are rhodium-plated. It's powered by a Peacock automatic caliber, also made in China, with an accuracy of +/-10 seconds a day.
It isn't right at the Rolex COSC-level, but it's fully on par with any Swiss workhorse movement from ETA.
Dimensions: 39mm diameter, 11.7mm thickness
Case material: Stainless steel
Water resistance: 50m
Naturally, this Atelier Wen timepiece is equipped with an anti-reflective double-domed sapphire crystal.
Memorigin
Memorigin is a watchmaker based in Hong Kong that exclusively builds tourbillon timepieces.
In their brand messaging, they seem to lean hard into their Western-infused styles and techniques. Memorigin claims to use Swiss machinery and even materials purchased from Europe.
This is an interesting (and in my opinion, unnecessary) flex, clearly rooted in Chinese watchmaking's inferiority complex towards Europe. After all, it takes a lot of horological skill to be an in-house tourbillon-only watchmaker.
Regardless, they do build a few authentically and proudly Chinese timepieces. The Tourbillon Zodiac Snake, for example, comes from a line inspired by lunar horoscopes.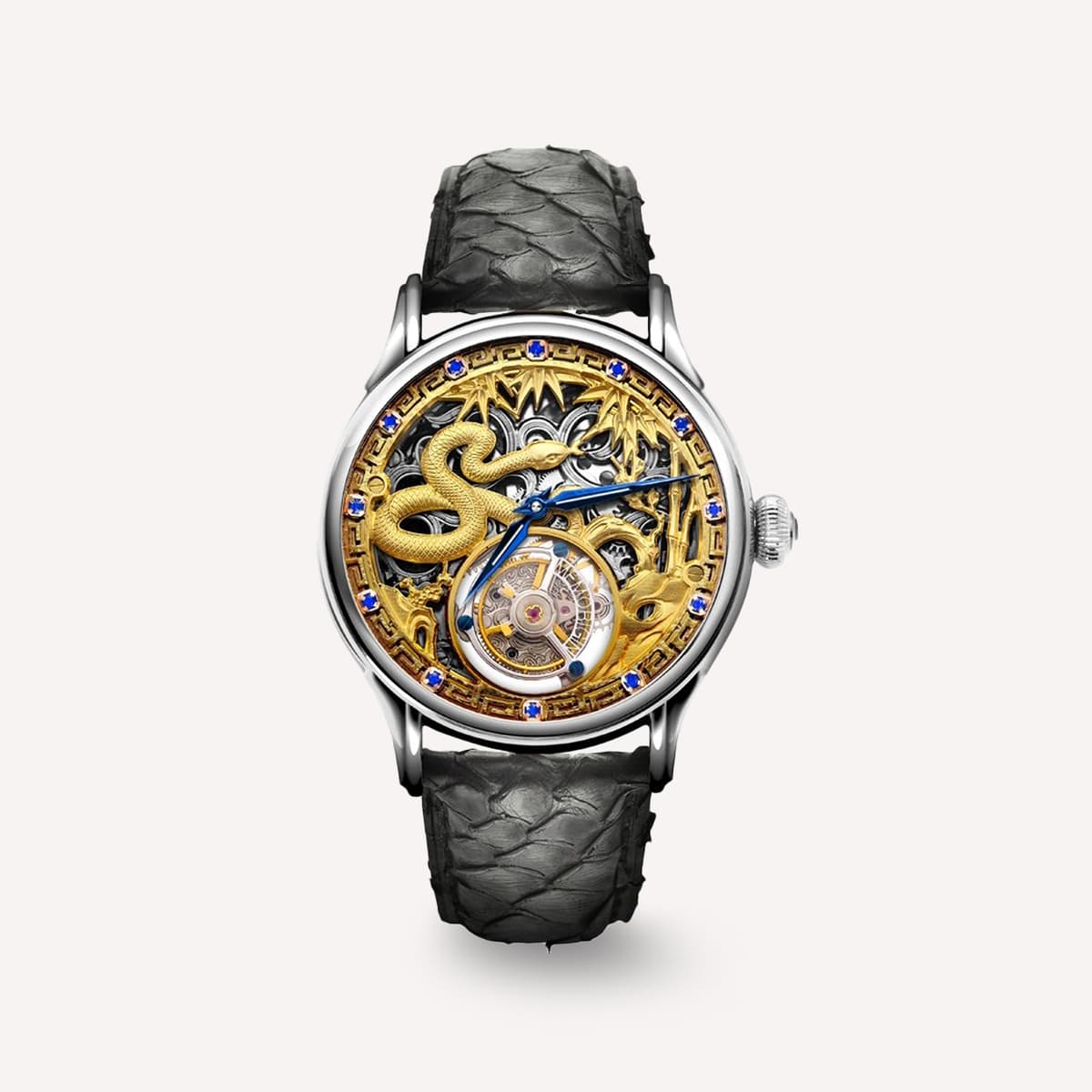 Tourbillons constantly rotate the balance spring, escapement, and balance wheel, creating a hypnotic and fast-moving motion. All Memorigin watches creatively exhibit this activity on the dial, whether it's through a fully open face or uniquely-designed open hearts.
Dimensions: 33mm diameter, 12mm thickness
Case material: Stainless steel
Water resistance: 100m
The Imperial Stellar is an effective representation of the Memorigin brand. It sports a scientific and fully-open look, clear branding, with an impressive world time feature.
The Imperial Stellar is also adorned with a piece of ancient Chinese planetarium decor made of 18k gold. Yes, Memorigin makes huge overstated watches meant to be noticed, but at least what makes them so flashy is based on genuine horology.
FIYTA
Whenever a watch brand is officially associated with an administration like the military or the navy, it's likely this brand is function-forward.
As the official timekeeper for the Chinese Space Agency, FIYTA builds sturdy and reliable pieces with performance-emphasized aesthetics.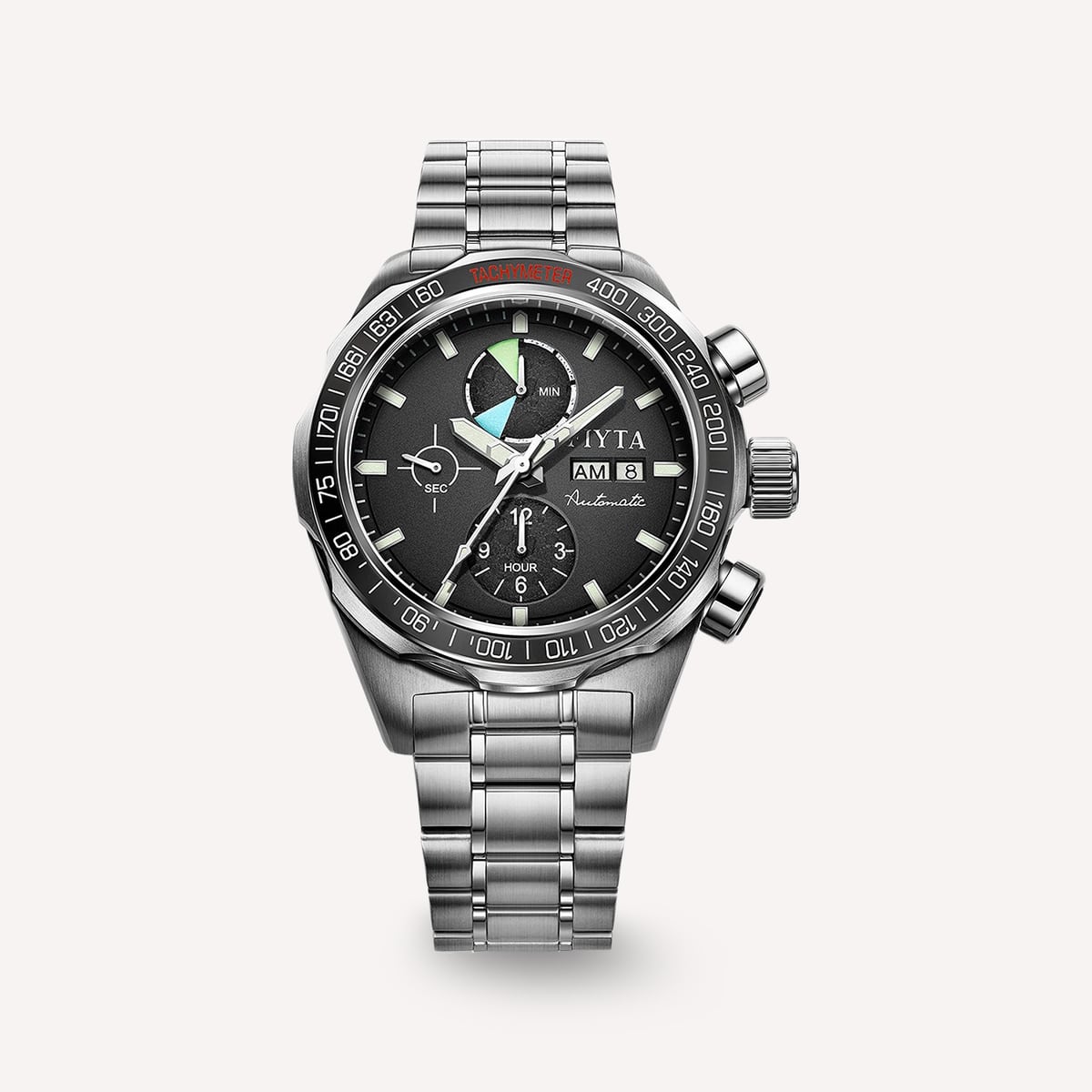 Founded in 1987, FIYTA is also one of China's best-selling watchmakers. Their line features a range of styles, including classic dress watches and artistically experimental pieces.
Their Aeronautics Collection best displays FIYTA's abilities to build a strong, practical watch. The Aeronautics chronograph, for example, is made of grade 5 titanium, much stronger yet lighter than steel.
Dimensions: 44mm diameter, 15mm thickness
Case material: Titanium
Water resistance: 100m
And it's not just the case that's made of titanium, which is all too common with watches advertised to be titanium-built. The butterfly buckle and the bezel, which features a ceramic inner, are also titanium.
Longio
Longio's designer, Mi Changhong, is kind of like the Mr. Jones of China. Longio watches are artistic conversation pieces, not always practical, and sometimes downright weird.
That being the case, they're definitely original, disrupting the assumption that Chinese watches are all just affordable copycat pieces.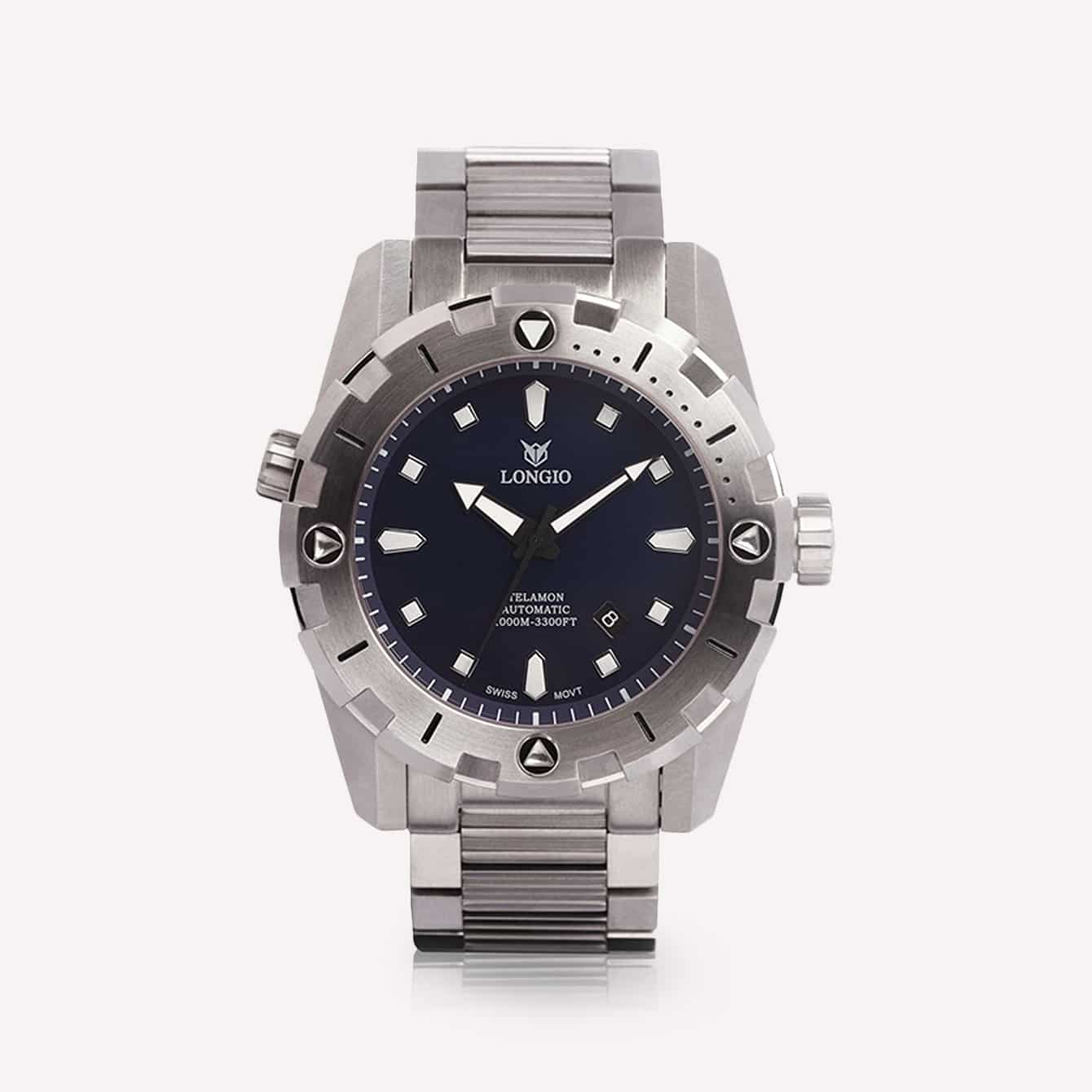 From ancient architecture to Greek mythology, Longio has been taking inspiration from a range of sources since their debut in 1996.
This fashion-forward brand also builds practical and impressive sport watches. Their Telamon Diver, for example, boasts a whopping 1000m of water resistance! However, Longio's Asmara collection best exemplifies their unconventional streak.
The Asmara watches come in several variations. The dynamically rectangular case serves as a frame for the piece of contemporary art on the dial.
Dimensions: 38.4 x 43.5 mm, 47.8 x 52.8mm
Case material: Stainless steel and PVD, Titanium and PVD
Water resistance: 50m
You can choose from a rose gold skull, a beautifully illustrated lion, or a Deco-meets-Film-Noir trifecta of dramatic Roman numerals. They come with a Swiss automatic movement or with a tourbillon and an open heart dial.
Beijing Watch Factory
The Beijing Watch Factory was founded in 1958 and focuses on distinct handcrafted watches.
They offer several lines, including the Oriental Culture line, which emphasizes Chinese design, the Classic line, made up of simple and understatedly versatile dress watches, and the Silk Whisper line, which features actual embroidery.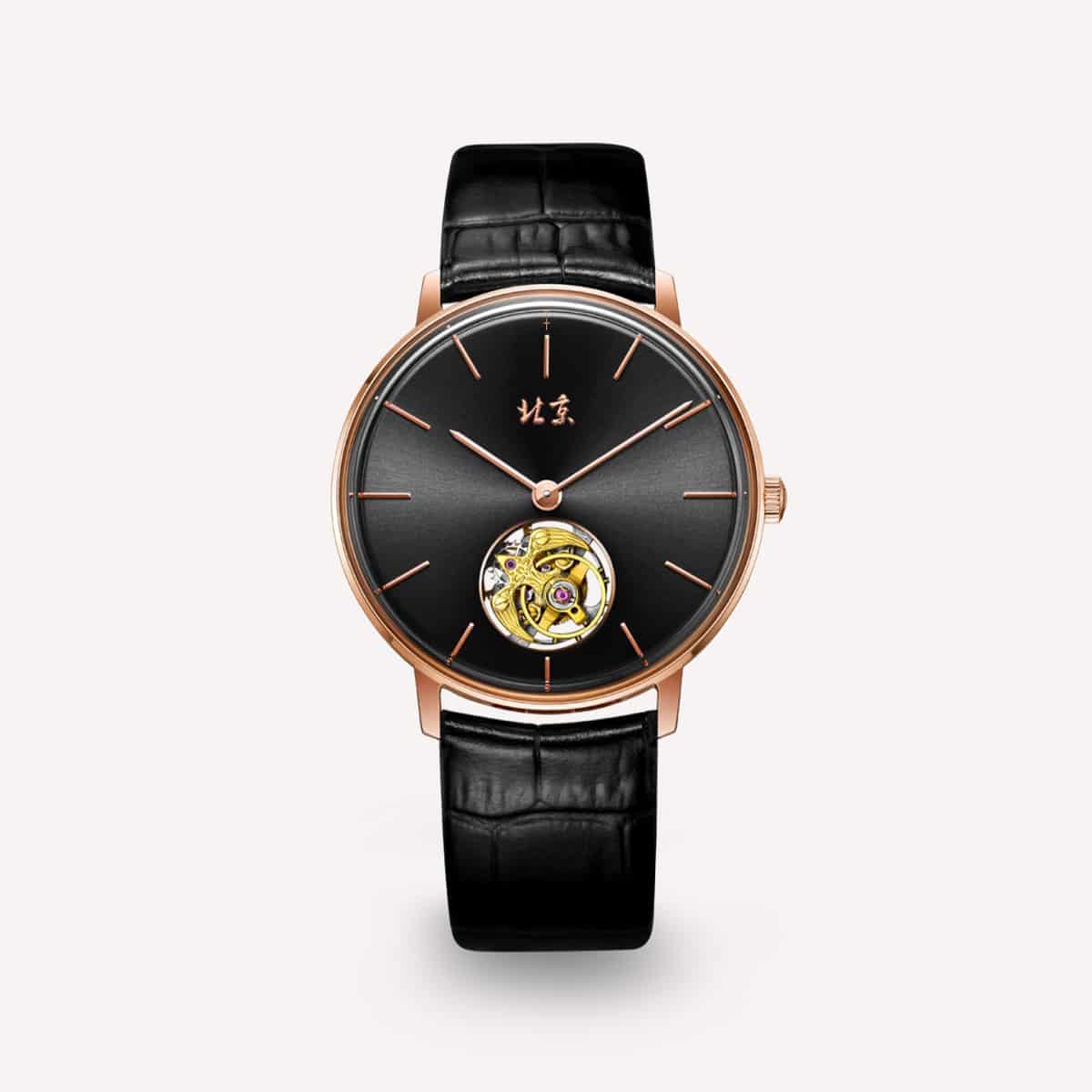 In 2016, FIYTA bought out BWF, though this hasn't had any effect on the company's unique approach to design. If anything, FIYTA's super practical approach would likely add a nice balance of function to BWF's aesthetic focus.
If you're looking for an elegant watch with an Eastern flair, that's also remarkably thin, Beijing Watch Factory has several options.
The Beijing Ultra-Slim Tourbillon is an excellent example.
Dimensions: 40mm diameter, 6.5mm thickness
Case material: 18k rose gold
Water resistance: 30m
Despite being a super skinny rose gold dress watch, it's rigged with a flying tourbillon cased in titanium, screw balance, and a double mainspring barrel. Like so many BWF watches, this guy boasts real horological chops.
Tian Wang
Founded in 1988, Tian Wang is a subsidiary of the greater Time Watch Investments Limited company, which is listed on the Stock Exchange of Hong Kong.
Being a subsidiary, I feel, is the driving force behind one of the brand's greatest strengths — ingenuity.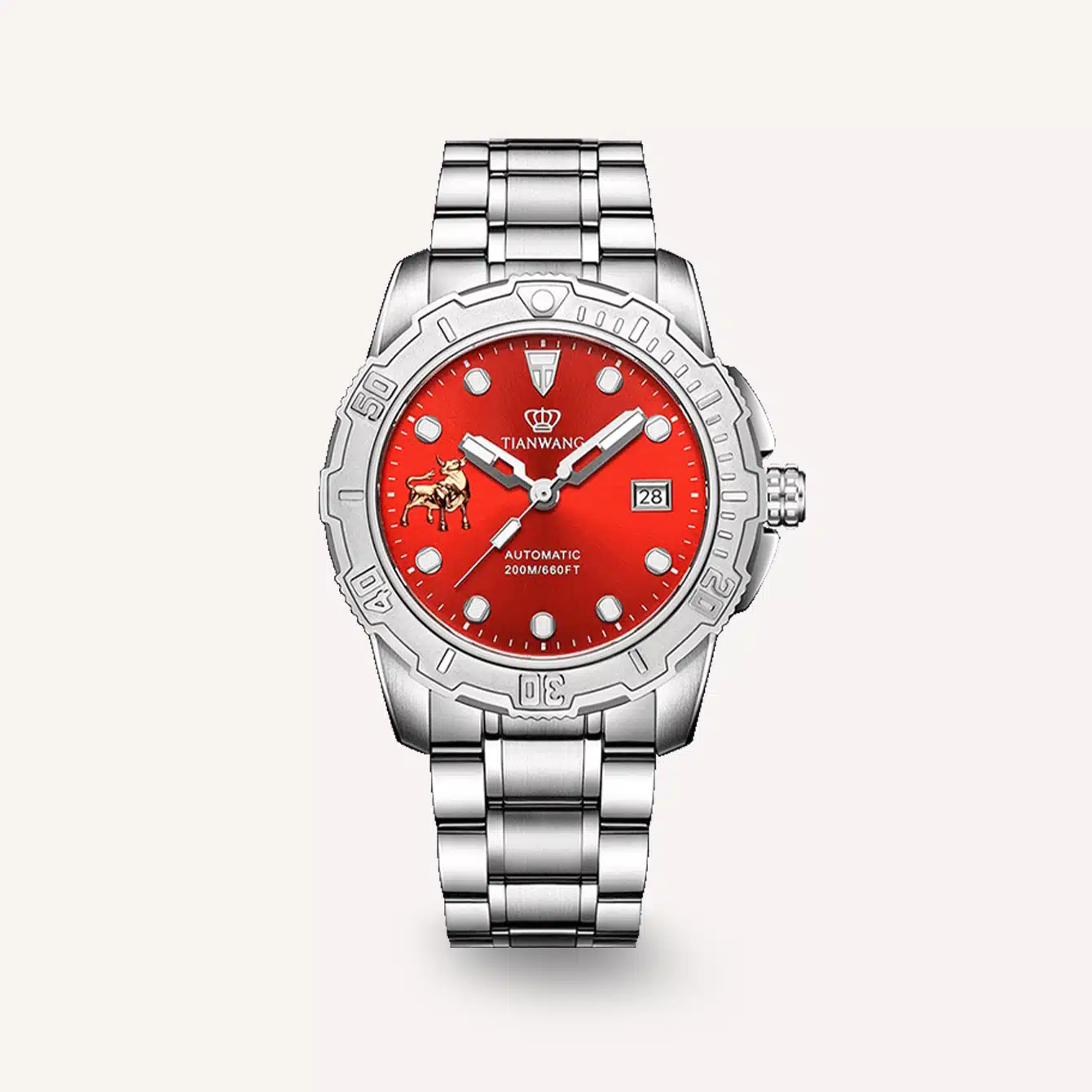 Since there's so much interest in Tian Wang, the pressure to perform motivates product improvements. They're one of the few watchmakers that continue to make it into China's top 500 brands.
This may not sound that elite, but there are thousands of successful brands in China (most of which aren't watchmakers).
The Tian Wang Electronics R&D Center is a collaboration with research universities to build better watch technology. They've actually built divers with up to 4000m to even 10500m of water resistance.
The Bluefin Red Dial with Ox has a more everyday water resistance of 200m and uniquely infuses a classic dive body with cool Chinese culture motifs.
Dimensions: 40mm diameter, 12mm thickness
Case material: Stainless steel
Water resistance: 200m
The shiny gold ox, which represents the 2021 zodiac year, pops out of the striking red background, a lucky color in Chinese culture. If you want a more traditional-looking dive, the Bluefin Series has plenty.
Guo Ming
More artist than designer, Guo Ming is the youngest watchmaker to be considered for entry to the prestigious ACHI, otherwise known as the Académie Horlogère des Créateurs Indépendants.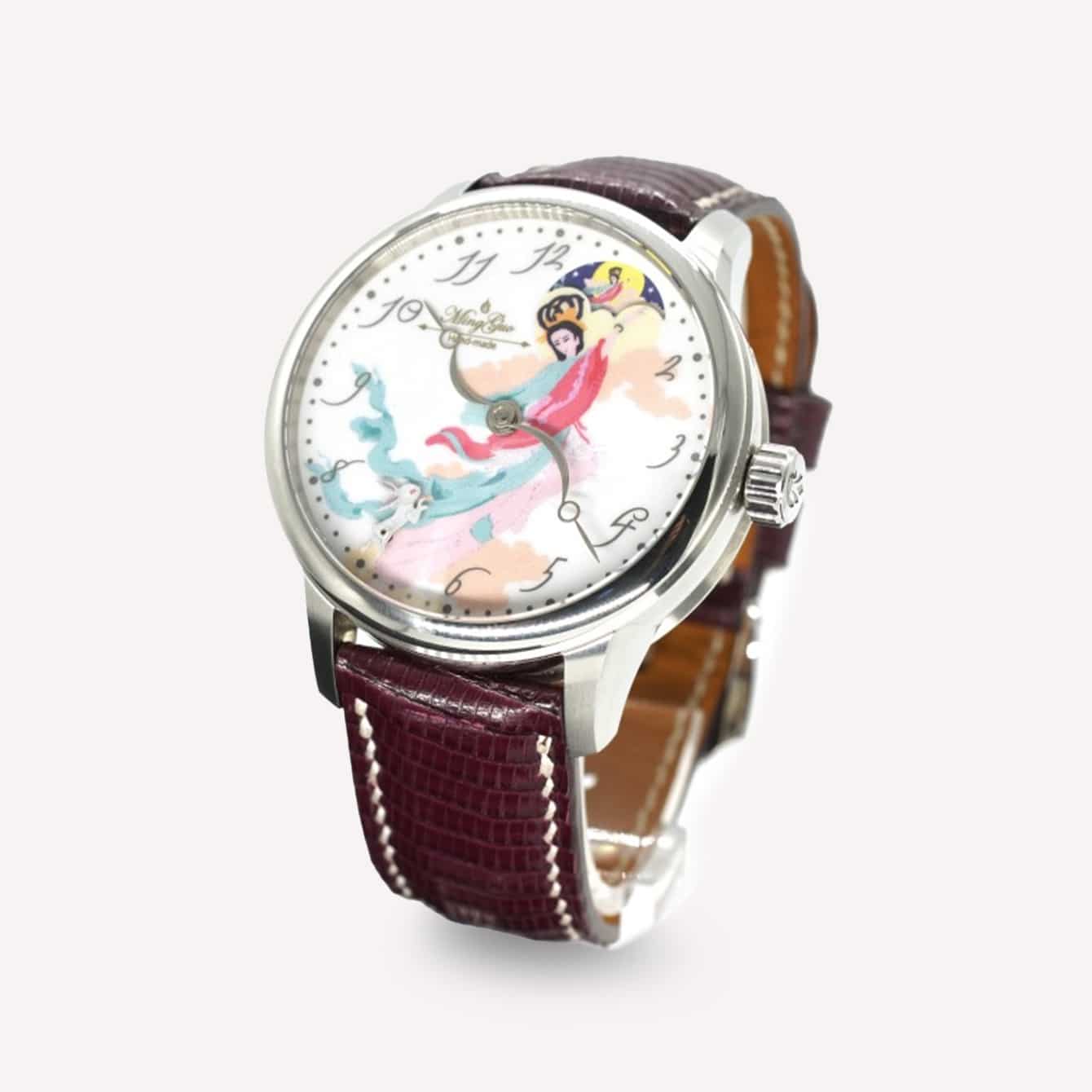 Based in eastern China, Ming is probably the hottest thing to come out of the country's burgeoning horologist scene, having caught the attention of in-the-know collectors and commercial outlets like GQ and Robb Report alike.
Ming debuted The Goddess Chang'e Flying to the Moon timepiece at Baselworld 2018, a 43mm watch with a beautifully decorated enamel dial inspired by Chinese mythology.
This is a 21-jewel tourbillon watch with a moon phase and a retrograde seconds indicator designed to look like a rabbit.
If you have the budget to commission a truly unique timepiece, you can contact his brand HQ through the ACHI.
Conclusion
It's true that much of China's watch industry is made up of mushroom brands — names that pop up on the internet, seemingly out of nowhere, many coming from the same point of supply.
Mushroom brands can be a fine resource if you're looking for a cheap quartz watch. (Megir, for example, is crazy affordable).
More and more though, older, more reputable Chinese brands are growing and improving, while young disruptive brands are creating new leagues within the market.
Chinese watchmaking is definitely still finding itself, but in the process is creating some real gems. Perhaps the current Chinese watch industry is too fluid for some collectors, but just give it time, it'll soon be a major player in the international market.
Do you have a favorite Chinese watch? Let me know in the comments!