Vincero is a popular brand, but are their watches high-quality and worth the price? Here's what we think.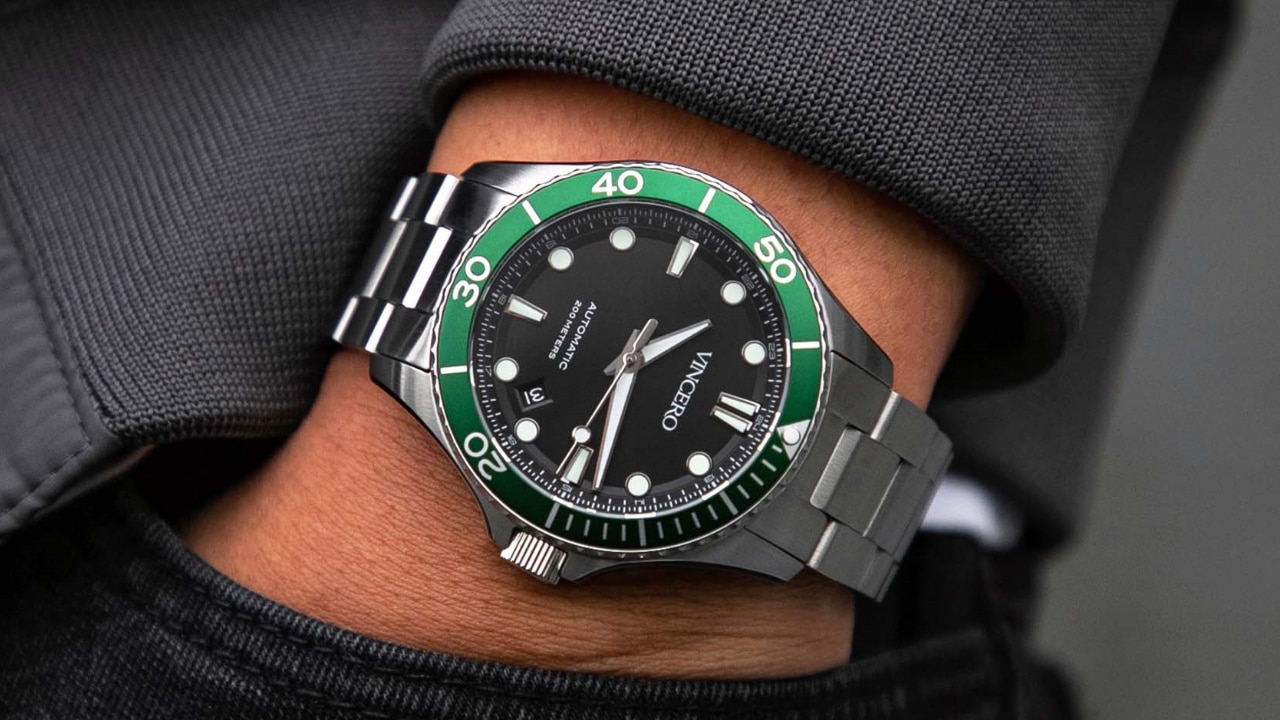 Vincero is a watch brand that sits nicely between two parallels — luxury and affordable. More often than not, this comes with an understanding amongst watch enthusiasts that the price of a watch reflects its quality.
Yet sometimes, a watch brand comes along and claims it can offer superior craftsmanship and quality materials that surpass other rivals on the market.
Vincero is a company that advertises itself as a luxury watch brand that promises exceptional craftsmanship. Skeptical? Then read on to learn why!
Vincero watches are a hot topic on the market right now. The brand offers a variety of styles, making it both accessible and versatile.
Like many watch brands, however, the company can divide the crowds. Experienced luxury watch collectors will no doubt say that Vincero is no match for a Patek Philippe or Rolex, and rightly so.
Others who have been collecting affordable luxury watches for some time may believe that Vincero does offer something a little "extra" for its price point.
So, who's behind Vincero, the watch brand? Well, Vincero was founded in 2014, and it remains one of the youngest watch brands on the horological market.
The company claims that its watches are a testament to the brand's dedicative approach to research, experience, and know-how.
Rather than sourcing all its materials from one place to cut costs further, Vincero extracts its straps, glass, and case materials from various suppliers to deliver a quality and standard that you wouldn't necessarily expect within this price range.
We've compiled the answers to some of the most frequently asked questions about Vincero Collective, so you can decide for yourself whether Vincero watches are for you.
Are Vincero Watches Worth the Price?
In an era when it's becoming increasingly difficult to find a quality wristwatch for under $200, Vincero is making its mark. True to its promise, the company offers various styles and designs to explore throughout its many collections.
Whether you consider a Vincero watch worth the investment depends on whether you like to throw all your savings into one luxury watch or whether you like to grow your collection by adding a few lower-budget timepieces to your range for the same price.
Vincero Watch Designs
Vincero also designs all its own watches from initial pencil sketches right through to the end product. It was the first accessories brand to become 100% carbon neutral certified in 2019.
Vincero also claims to adhere to a rigorous testing process carried out in-house on each watch and produces its wristwatches in batches. At this price point, that's admirable.
While some collectors can't fault the dial design of a Vincero watch, others believe the displays could offer a little more in terms of detail and quality.
Some of the more minimalist dial designs are clear and legible, while others, such as those from the Altitude watch line, exude a more technical look. Some dials feature a raised chapter ring, donating a sense of depth and dimension to the design.
Overall, the hands and markers on every Vincero watch are refined and visible for reading the time at a glance.
Vincero Watch Materials
However, how does Vincero compare to its bold claims on materials?
Well, the fact that Vincero watches are fitted with top-grain leather straps is a pretty good start.
These leather bands are both firm and tough and are considered a level above the premium leather straps used by many other fashion watch brands on the market.
Vincero also uses 316L stainless steel — a durable material that is scratch- and bump-resistant.
Timepieces like the Marble Automatic have a piece of marble integrated into the surface of their caseback. These unique designs also feature the same Italian marble on the links of their stainless steel bracelets.
It's a quirky design element that sets some of these timepieces apart from others on the market for sure.
Although not the same high quality as the sapphire crystal glass used frequently throughout the luxury watch industry, sapphire-coated mineral glass is the chosen material to top each Vincero timepiece, protecting the dial from scratching, light, heat, and moisture damage.
Vincero Watch Movements
Equipped with a Miyota movement with a useful 40-hour power reserve, these automatic watches, although not outfitted with anything special mechanically, can be considered a reliable daily beater with a movement that does the job it promises.
The fact that Vincero uses Japanese movements to power its watches ensures the brand can reduce the cost of manufacture, keeping its prices low.
In the past, automatic Vincero watches used to cost a lot more, reaching up to around $360. However, more recently, the brand's line of automatic models has reduced considerably, costing on average of around $160.
Commonly Asked Questions About Vincero
For quick reference, here are some Q&As about this popular watch brand:
Are Vincero Watches Made in China?
Although Vincero's customer service headquarters are situated in San Diego, the brand's timepieces are manufactured in China where the three college friends who founded the company relocated before launching the business.
Whilst the stainless steel and sapphire-coated mineral glass is sourced from here, other materials like the premium leather used for its watch straps, along with the marble pieces for some designs, are sourced from Italy.
The automatic movements that power a Vincero watch are manufactured and sourced from Japan.
Is Vincero an Italian Company?
Vincero was conceptualized by co-Founders Aaron Hallerman, Tim Nybo, and Sean Agatep.
Seattle entrepreneur Hallerman spent four years specializing in product development in Hong Kong before funding a Kickstarter campaign for designer watches, building on this momentum to launch Vincero Collective — a unique menswear business model.
How Long Has Vincero Been Around?
Vincero Collective was founded in 2014 by three college friends from the US who shared a passion for wristwatches.
The three moved to China, where the company now operates, manufacturing several watch styles, including chronographs, dress watches, open-heart models, dive watches, and simple time and date watches.
My Recommendation
If you're looking for a watch that will last without having to burn a hole in your pocket, Vincero watches are certainly worth exploring.
With a low to mid-range price bracket, the company's catalog offers a pretty good range of watch styles to choose from, including the Icon Automatic, the Altitude, the Apex, the Kairos, and the Argo Automatic.
Watches like the Vincero Vessel Silicon are worth some consideration if you need a robust watch for diving and outdoor exploration. These models are crafted from surgical 316L stainless steel and fitted with a silicone strap, offering 200-meter water resistance.
If you're a sports watch fan, Vincero's range of chronograph watches include the Chrono S watch series, available in 10 different colorways.
A 30-minute sub-counter, a central chronograph seconds hand, and a 12-hour totalizer are all offered in one compact 43mm case, while a choice between a steel bracelet or a traditional leather band changes the style of the watch from sophisticated to sporty.
For something a little more classic, the brand's Icon Automatic watches are good for pairing with smart attire. Powered by a Seiko movement, these men's Vincero watches feature simple sword-shaped hands and a date window at 6 o'clock.
On the one hand, it seems that Vincero does have a tendency to "fluff up" its products to make them sound a little more appealing than they actually are.
On the other, it does show a strong commitment to ethical sustainability and does its homework to research suppliers to source materials from trusted manufacturers whilst keeping manufacturing costs low.
So, if you know enough about watches to read between the lines and accept that an affordable luxury watch will only offer so much "luxury" for its price tag,
You can certainly find an affordable watch that suits your everyday needs from Vincero without breaking the bank.
Questions? Comments? Leave them below!