These Omega Speedmaster alternatives give you the same aesthetic and functionality as the original for a fraction of the cost.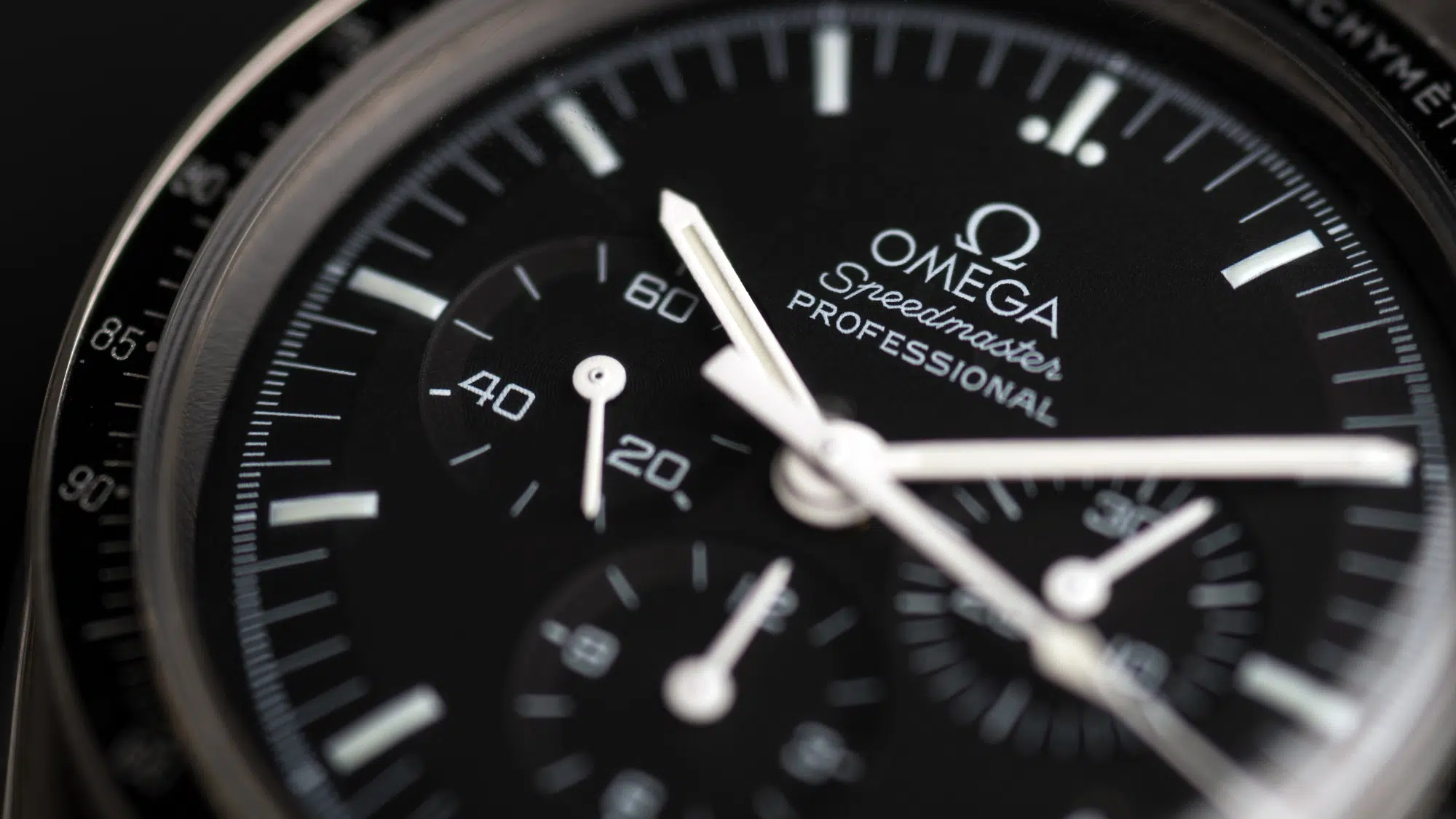 From its tachymeter scale to its frenetic three-subdial face, the Omega Speedmaster is undoubtedly the world's most famous chronograph. This revered timepiece checks all of the boxes when it comes to collectibility.
On top of being outrageously well-made, it flaunts a unique history (being the first watch on the moon), lore, and cool factor. After all, a Speedy technically saved the lives of the Apollo 13 astronauts.
Before we get to our 13 Omega Speedmaster alternatives, let's get one thing out of the way:
Why Is the Speedmaster So Expensive?
Chronographs are infamously complex and are one of the hardest watch complications to make. This is compounded by the fact the Speedmaster, especially contemporary models, are exceptional chronos with COSC-certified co-axial movements.
And yes, the brand-name factor plays a role in the extra zeros at the end of the Speedy's price tag.
That being the case, its premium build, fame, and historical importance, on top of the marketing dollars behind it, make the Speedmaster a typically sound investment.
Best Omega Speedmaster Alternatives
There are several chronographs on the market that boast a similar look and comparable functionality — some can even boast a storied history.
Tissot Couturier Chronograph
As its name implies, the Tissot Couturier Chronograph offers a bit of fashionable elegance to the sporty template.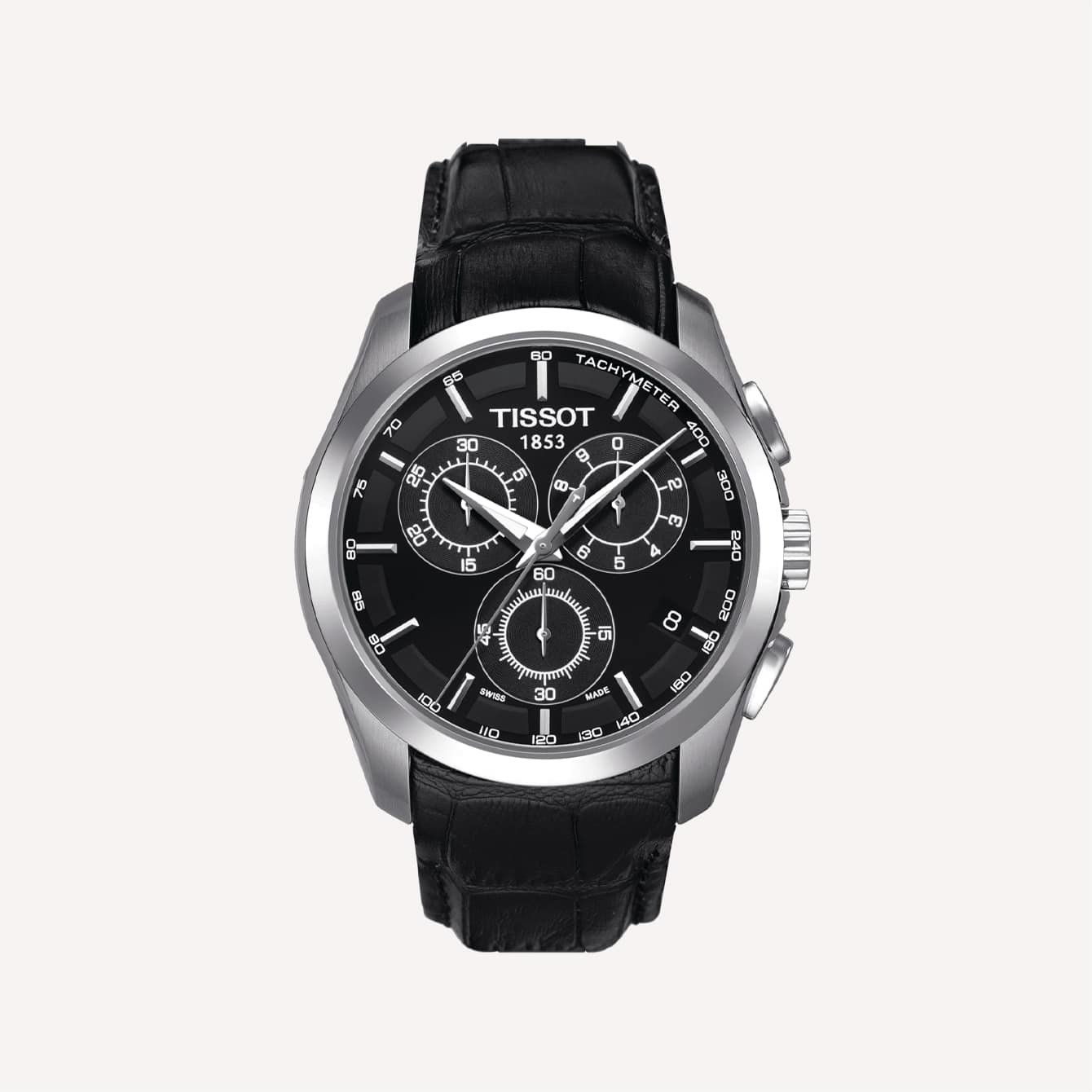 The tachymeter is simplified and moved into the inner dial, giving it a slightly cleaner look than the Speedy has. It also allows the immaculately polished bezel to give the face some extra shine.
The short pusher cleans up the silhouette, while the alligator leather strap infuses it with dress watch qualities.
Dimensions: 41mm diameter, 11mm thickness
Case material: Stainless steel
Water resistance: 100m
More than just a pretty face, though, this watch's ETA G10.211 movement is a commendably accurate Swiss quartz.
Seiko Pilot Chronograph SNA411
With its iconic rotary slide rule, the Seiko Pilot Chronograph SNA411 is even more scientific-looking than the Speedmaster.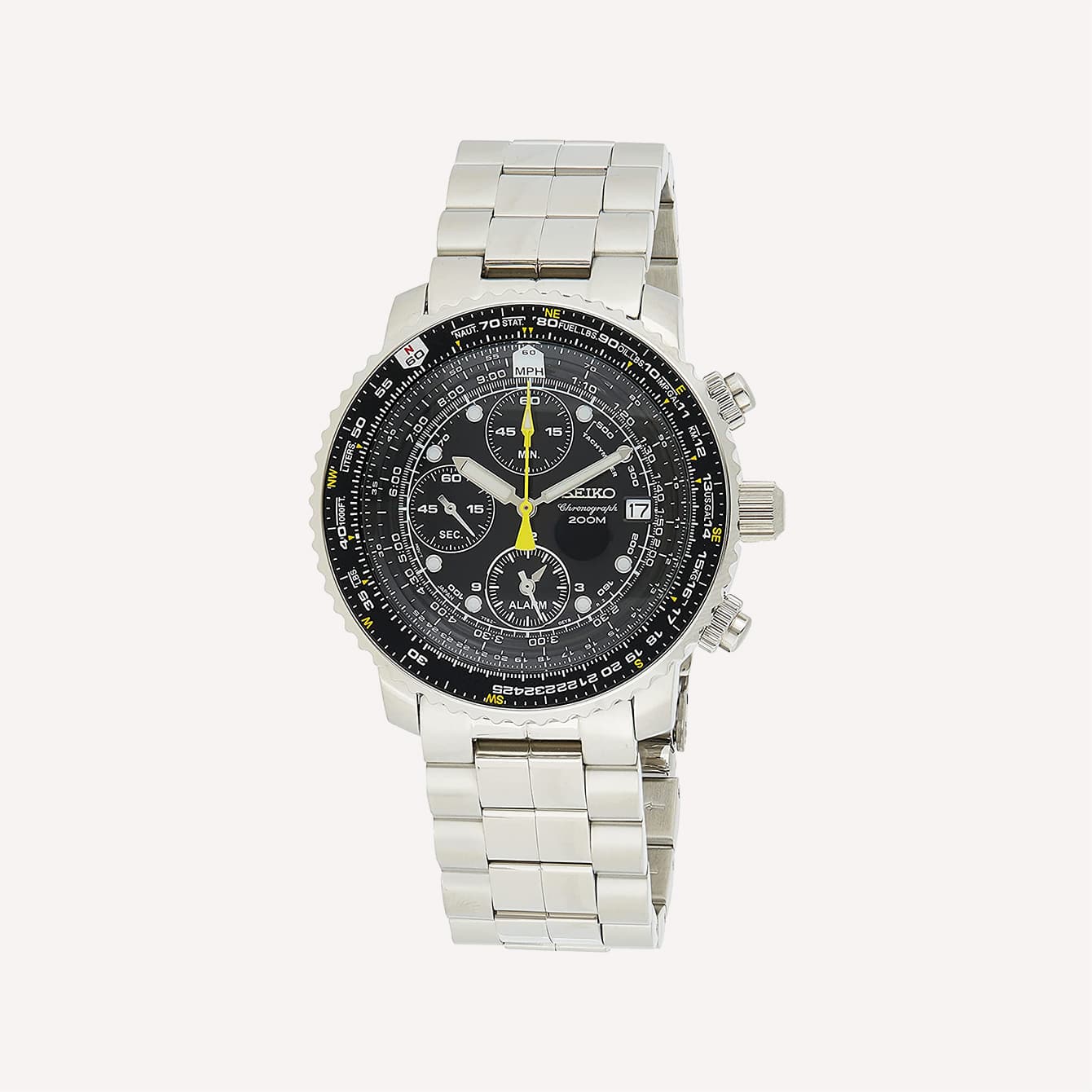 This super busy watch is the perfect example of a quartz timepiece that can still satisfy the most horologically curious and gadget-inclined.
The rotary slide rule is a manual calculator that we don't necessarily need but is fun to use. It makes the watch look great and is a neat party trick.
Dimensions: 42mm diameter, 13mm thickness
Case material: Stainless steel
Water resistance: 200m
Meanwhile, the 7T62 caliber is a reminder of how tuning fork quartz movements, with their ability to transform energy to keep the quartz vibrating indefinitely, is a watchmaking wonder.
Amphibian Antarctica
While the Speedmaster has mostly stuck to its original design language, the Amphibian Antarctica from Vostok is even more identical to its 1960s ancestors.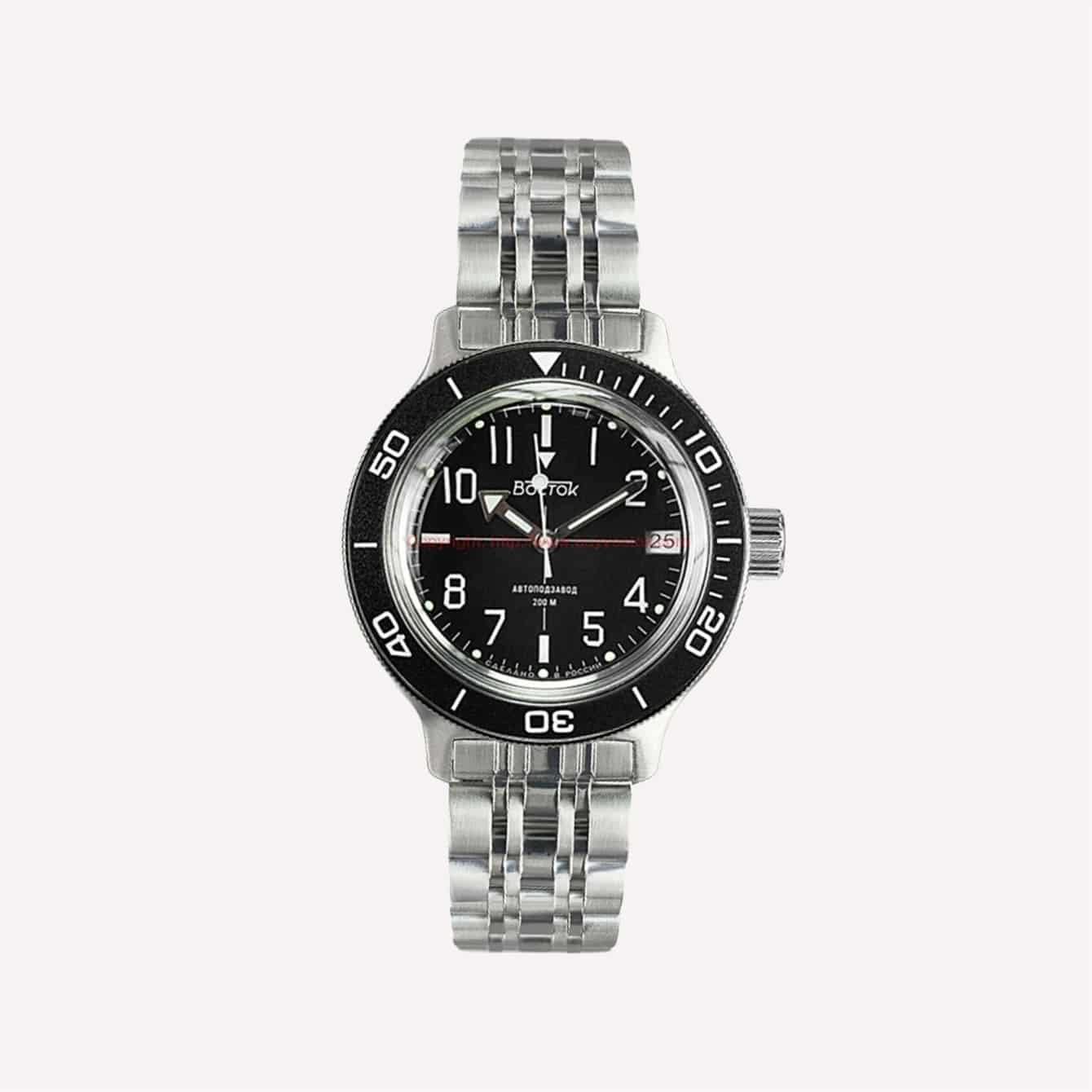 Between the vintage vibe and the Eastern European design sensibilities, this timepiece is both classic and distinct. The textured bezel and purposefully rough details give it an extra analog look, and a tough combat aesthetic.
And while a sapphire crystal is considered the gold standard, there's nothing more charismatic than a thoughtfully-placed edge blur.
Dimensions: 41mm diameter, 15mm thickness
Case material: Stainless steel
Water resistance: 200m
Overall, this 31-jewel automatic is just simply fun to wear.
Junkers JUMO
Like the Speedy, the Junkers JUMO is made for use by professional vehicle drivers and therefore has all of the classic chronograph offerings.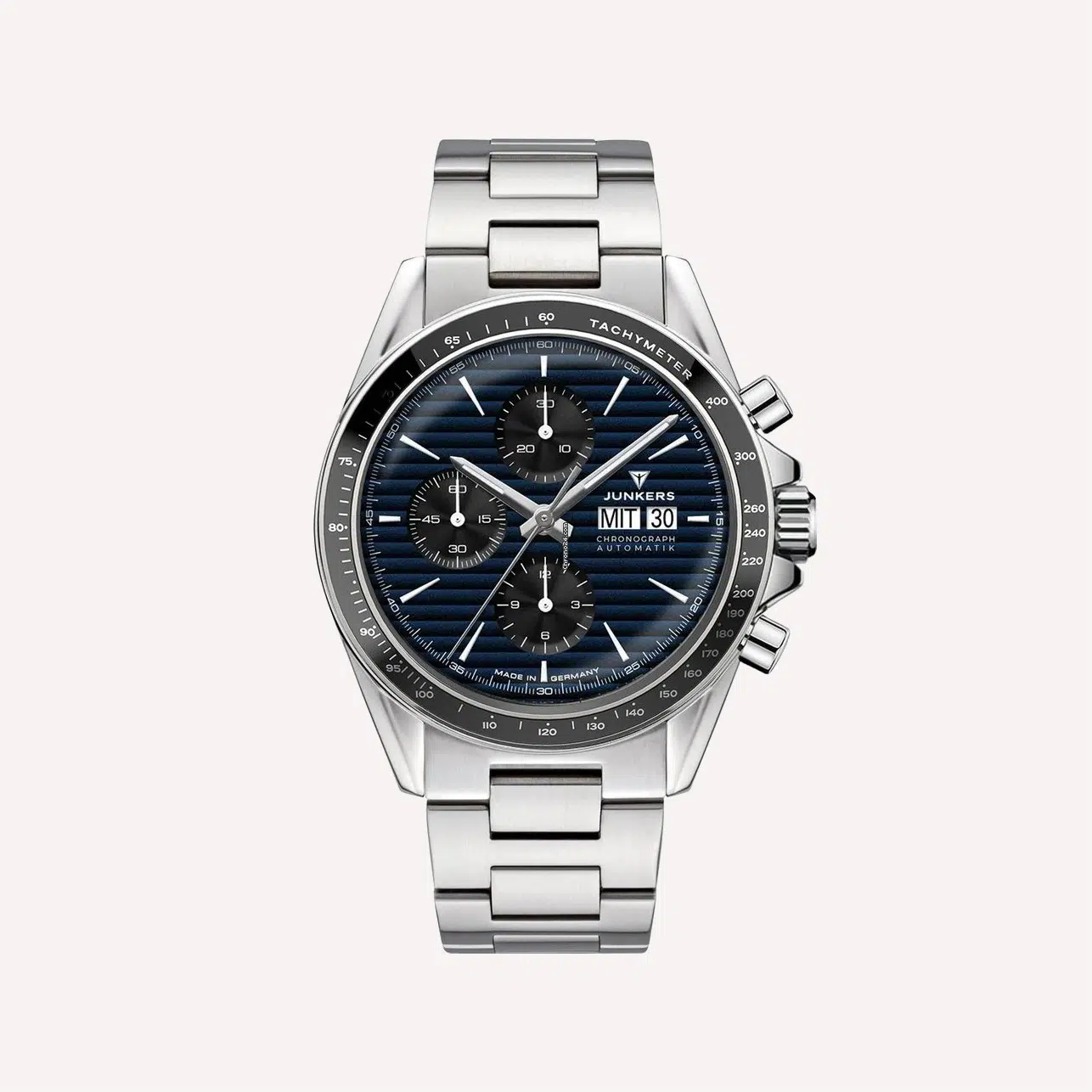 Since the JUMO is technically for pilots, though, there are some sleek, sophisticated design qualities on the dial to ensure extra legibility.
The blue paneled background allows the subdials to pop a bit, while the indices and hands are flawlessly polished.
Dimensions: 38mm diameter, 11.8mm thickness
Case material: Stainless steel
Water resistance: 100m
The Swiss automatic movement is a reliable workhorse. And though it doesn't flaunt any bright jewels or multi-toned cogs, the exhibition caseback is a gift to you horologically curious folks nonetheless.
Seiko Prospex SSC757J1
The Seiko Prospex SSC757J1 leans even harder into the racing roots of chronographs than the Speedy does, who's often too busy leaning into its space roots.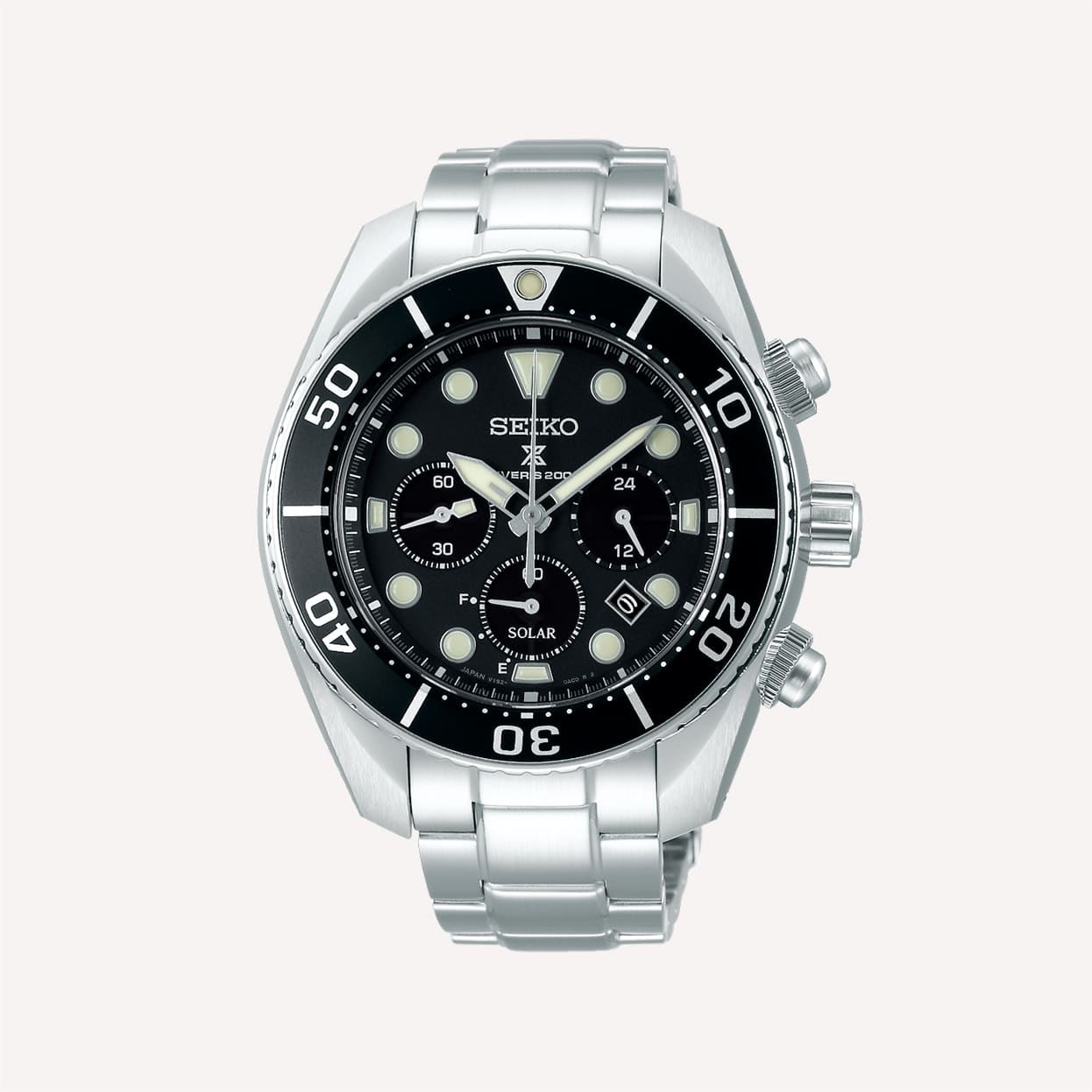 It's stouter and sportier, with a thicker bezel and sharper lugs. Also, since it's solar-powered, the bottom subdial displays the resuming electric power generation and even has markers designated for empty and full, just like a car dashboard.
Dimensions: 44.5mm diameter, 13.7mm thickness
Case material: Stainless steel
Water resistance: 200m
Function-wise, the SSC757J1 has a commendable accuracy of ±15 seconds per month, effective Lumibrite hands and indices, and a sapphire crystal, which is always a fun surprise since Seiko loves their Hardlex.
Victorinox Alliance Sport Chronograph
As expected from the makers of the Swiss Army knife, Victorinox infuses their Alliance Sport Chronograph with military precision.
And as usual, despite the composition choices coming from a place of practicality rather than style, the resulting design is as slick as it is disciplined.
However, the fact that the markers and the stopwatch needle's counterweight are shaped like Swiss Army knives is a charming touch.
Dimensions: 44mm diameter, 10.16mm thickness
Case material: Stainless steel
Water resistance: 100m
It runs on an accurate quartz, has 100 meters of water resistance, and of course, can take a beating thanks to its stainless steel build and double locking safety clasp.
Citizen World Chronograph A-T
Count on Citizen to serve up a watch literally overflowing with horological chops for its price point.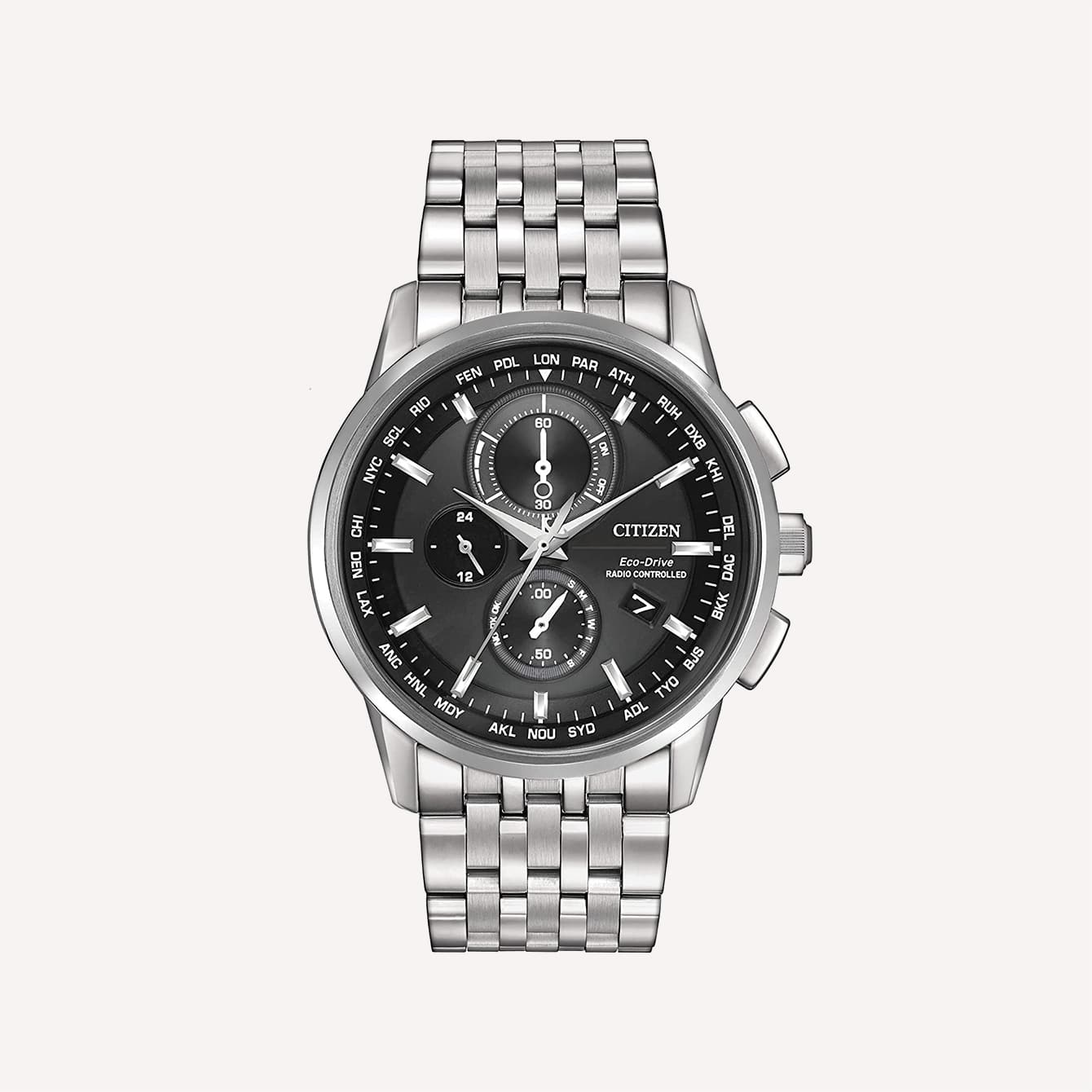 The World Chronograph A-T has a lot of travel-focused features, not least of which is its atomic timekeeping for 26 time zones. Basically, this watch is built with a signal containing the exact day, date, and time accurate to one second every 100000 years.
There are several steps and layers on the dial giving it a sophisticated and technological look.
Dimensions: 43mm diameter, 10mm thickness
Case material: Stainless steel
Water resistance: 100m
And since this is Citizen, it runs on their Eco-Drive technology, which is powered by light and never needs a battery.
Farer Moritz Chronograph Sport
The Farer Moritz Chronograph Sport looks slightly more playful than the Speedy but still professional in its functionality. Looks-wise, it takes a less sleek, more bold approach.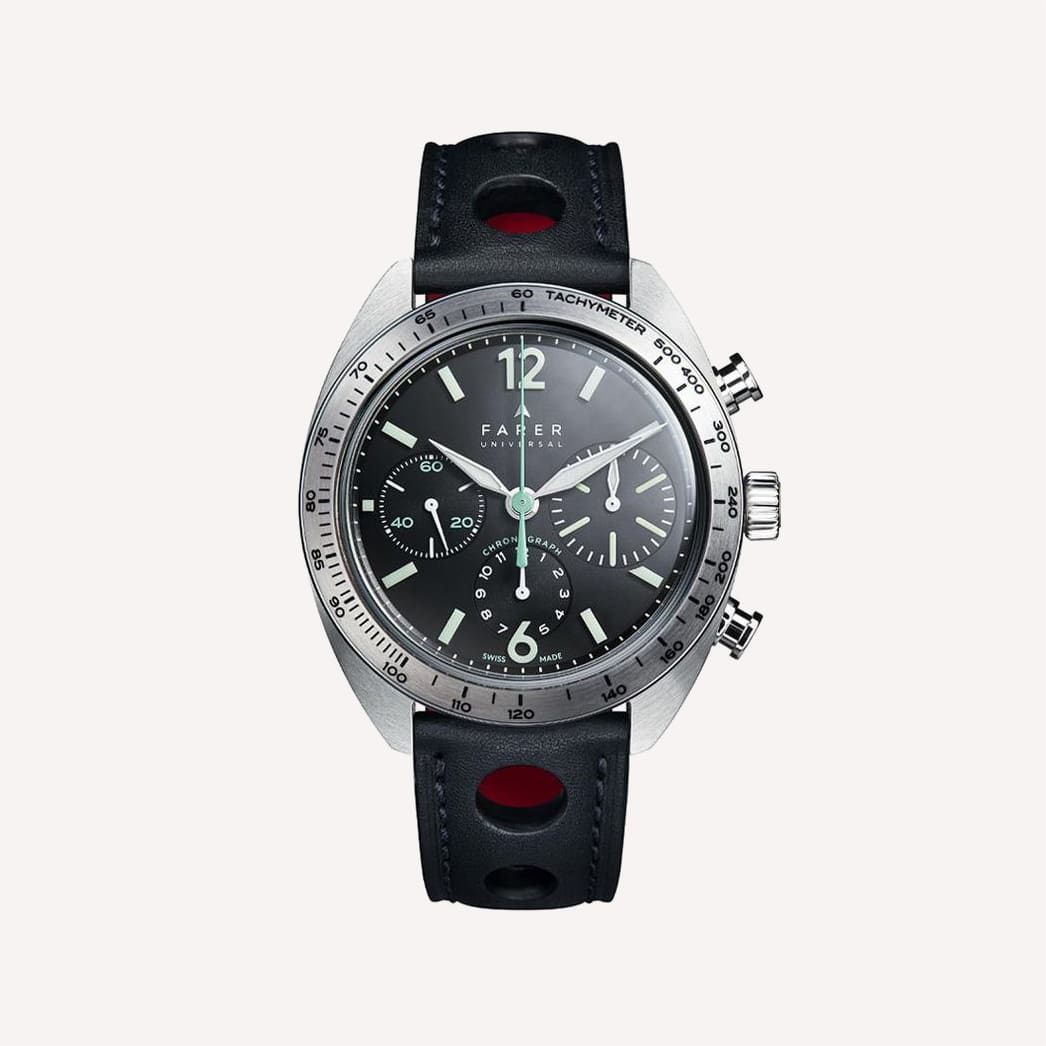 There are some soft edges throughout, the indices almost float above the matte dial, and the 12 and 6 are in a cartoon-like font. Plus, there are the seafoam green accents.
Regardless, the domed crystal is effectively impact-resistant, and the movement is an Elaboré-grade Sellita, which is leveled up on the accuracy and reliability front.
Dimensions: 41mm diameter, 11mm thickness
Case material: Stainless steel
Water resistance: 100m
Farer even employs a bespoke bridge with an engraved monogram cheque pattern.
Stuhrling Original Chronograph
Considering their sub-200 price point, Stuhrling Original Chronograph is pretty impressive in its details and functions.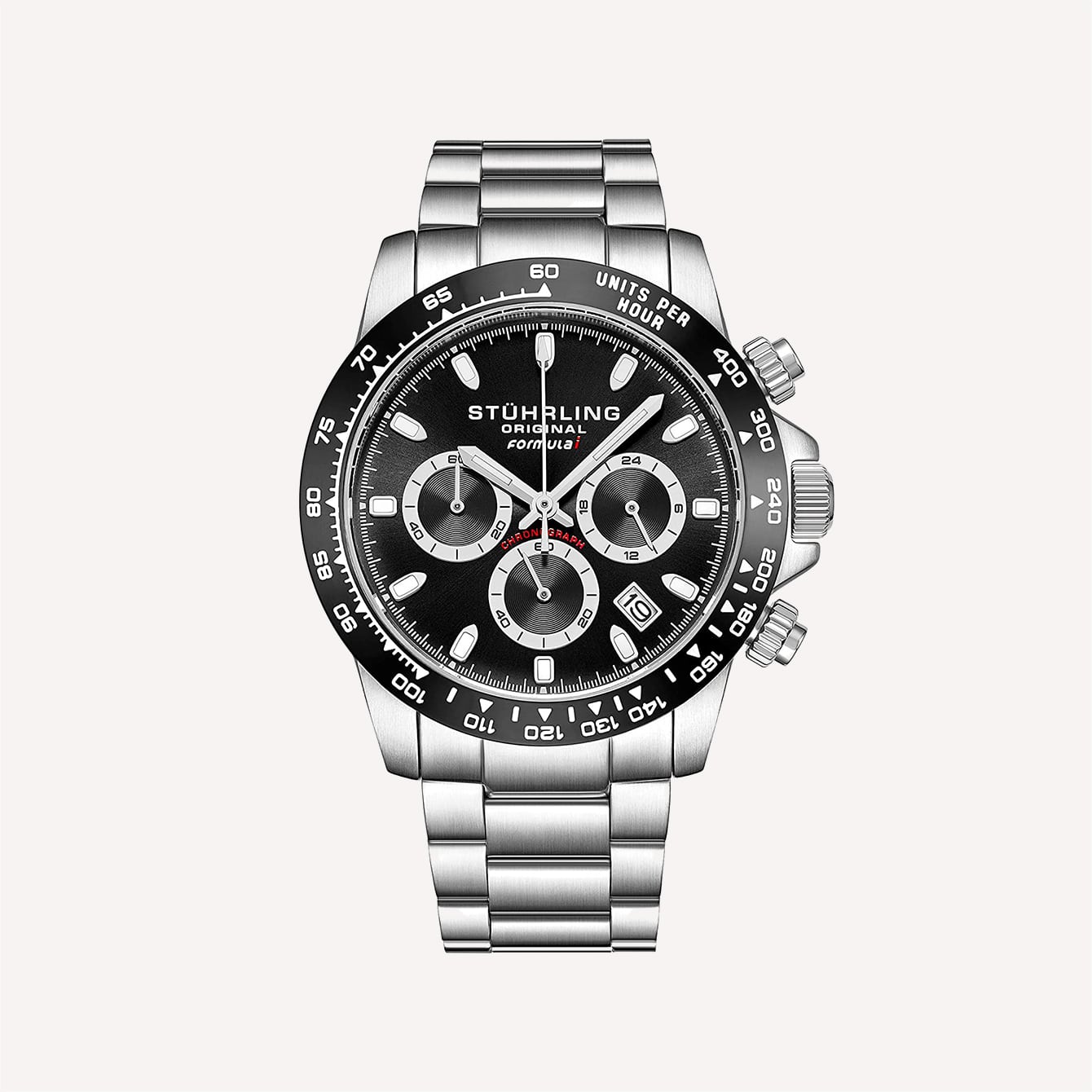 It runs on a special Seiko caliber wherein, though it's an accurate quartz movement, the second hand sweeps almost as smoothly as an automatic. Moreover, these come in some attractive colorways.
The standard black looks most like the Speedy, though the outlines around the subdials add dimensionality and legibility.
Dimensions: 42mm diameter, 12.2mm thickness
Case material: Stainless steel
Water resistance: 100m
Meanwhile, the silver version looks a bit like a luxurious panda dial since the mirror polished bezel and silky background add a high level of shine.
Bulova Lunar Pilot
Despite its much lower price point, the Bulova Lunar Pilot is a direct competitor to the Omega Speedmaster — a rare occurrence in the watch world.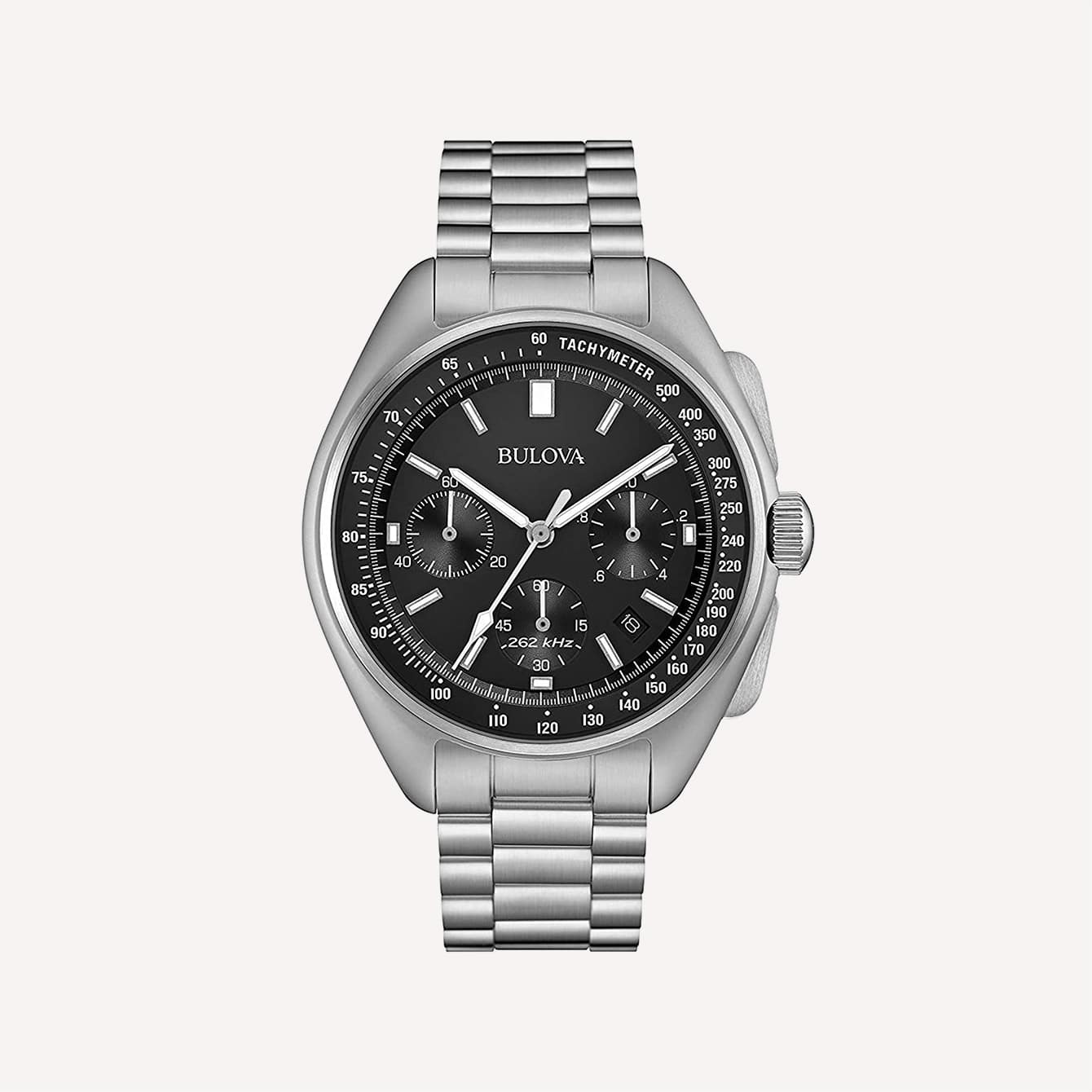 This is true, at the very least when it comes to the lore and history factor. Contemporary models are inspired by the 1971 watch that Commander Scott used on Apollo 15 when his Omega broke.
The Lunar Pilot is a classic sporty chronograph, with a smoother silhouette than the Speedy thanks to its less jagged lugs.
Dimensions: 45mm diameter, 13.5mm thickness
Case material: Stainless steel
Water resistance: 50m
It also runs on the brand's exclusive high-performance quartz, which is accurate within seconds per year.
Seiko SSB031
A go-to "budget Speedmaster", the Seiko SSB031 is for you if you like a super busy chronograph.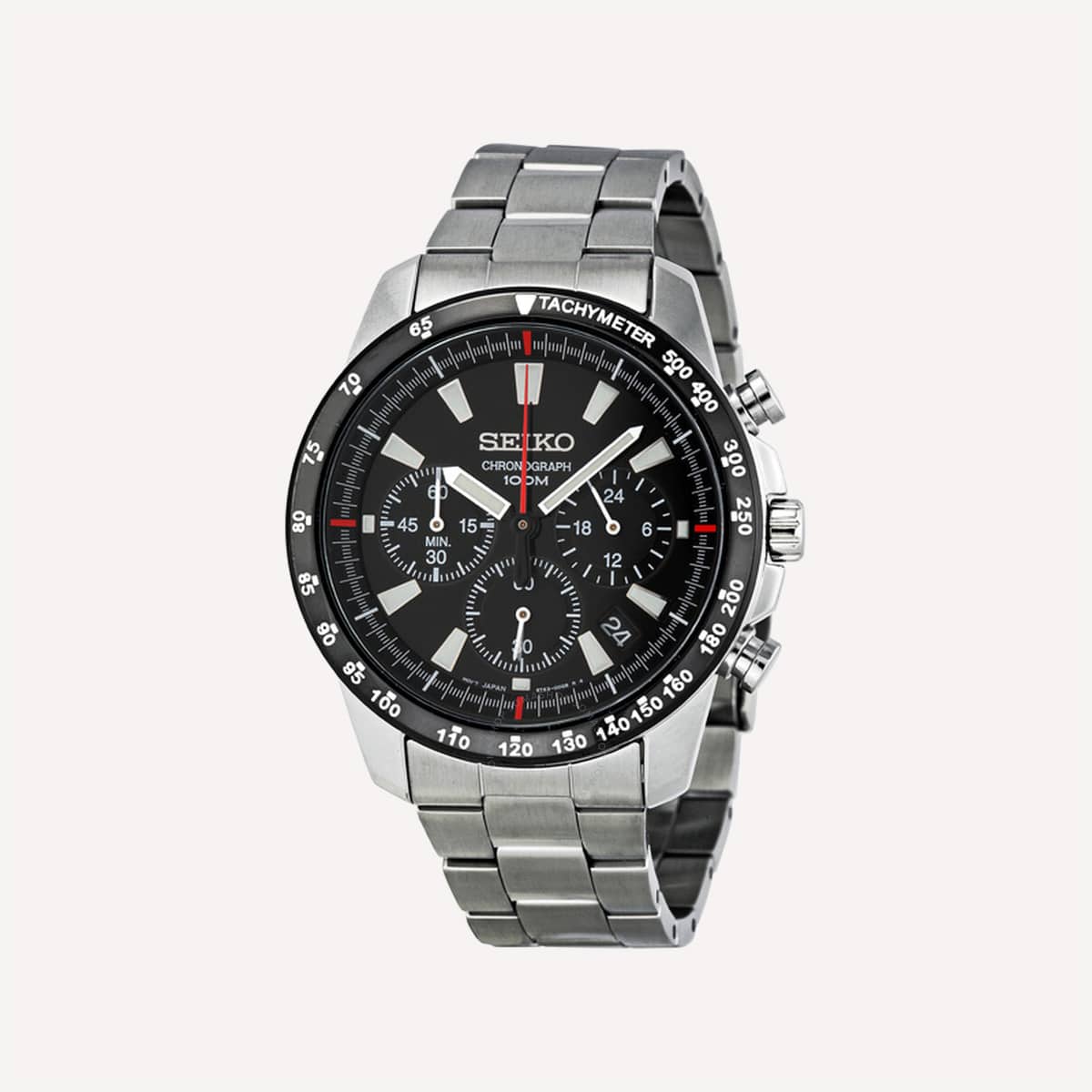 The subdial-to-dial ratio is bigger, and the date window is stuffed into the 4:30 position at an angle, giving an even more frenetic look than the Speedy has.
It also features red accents, a design cue taken from the Speedmaster Racing.
Dimensions: 40mm diameter, 11mm thickness
Case material: Stainless steel
Water resistance: 100m
Naturally, the movement is Seiko's meca-quartz, a hybrid of sorts that offers that second sweep that automatic fans miss when they wear quartz watches.
Casio Edifice
The Casio Edifice is arguably far sportier than the Speedmaster. Like the Vostok, it leans hard into an analog look but does so in a much more modern way.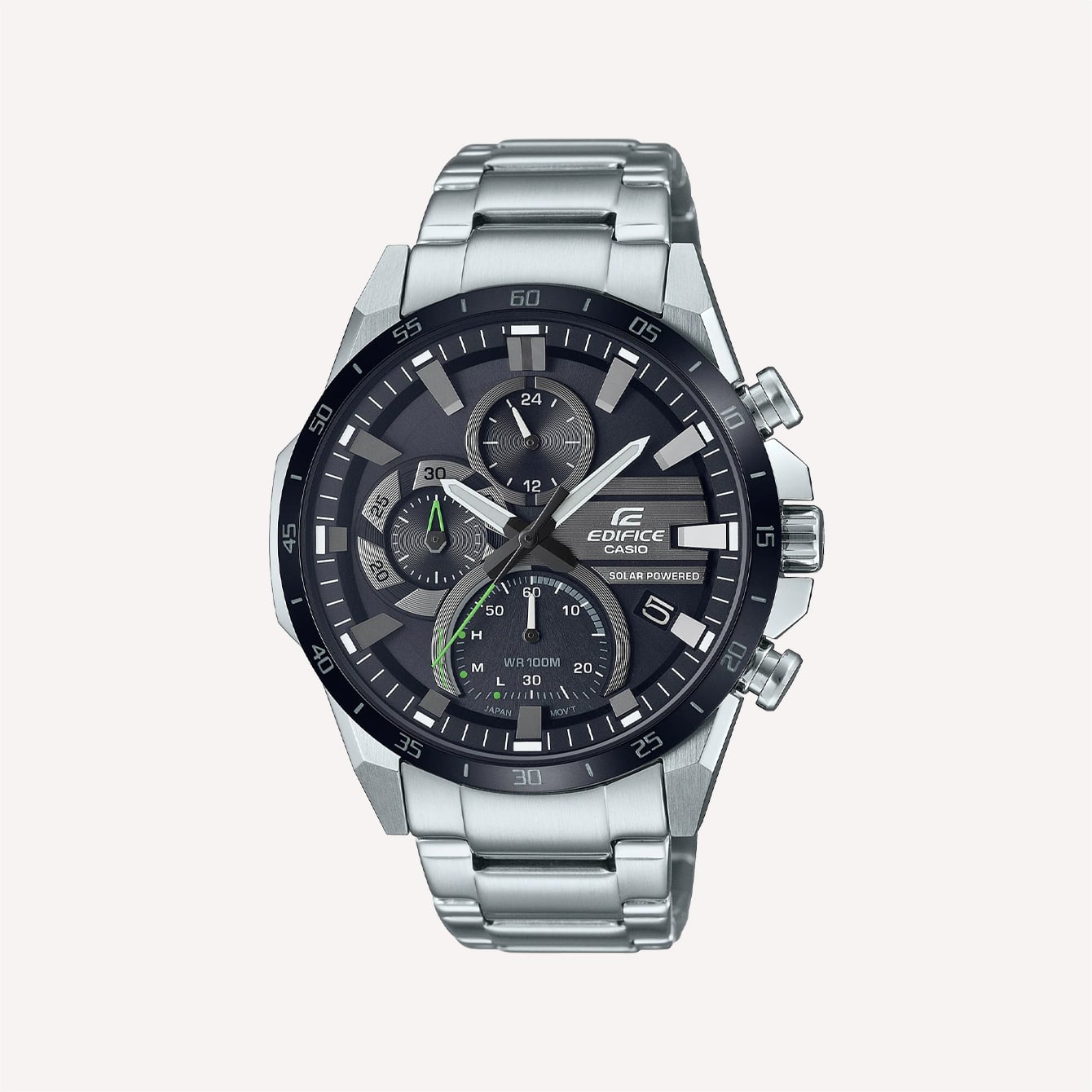 There's so much topography on the dial and bezel of this watch that it looks like a mini obstacle course. The indices that sit on the outer dial and "clip" onto the inner dial are a genius touch that contributes to the rugged look but adds true readability.
It's also tough as rocks, with the black ion-plated bezel for scratch resistance and the solar charging system that can store five months of power when fully charged.
Dimensions: 49.5mm diameter, 12.5mm thickness
Case material: Stainless steel
Water resistance: 100m
IWC Pilot's Chronograph
Like the Speedmaster, this IWC timepiece is a timeless chronograph, focused on the fundamental functions to their maximum ability, but with aviator sensibilities.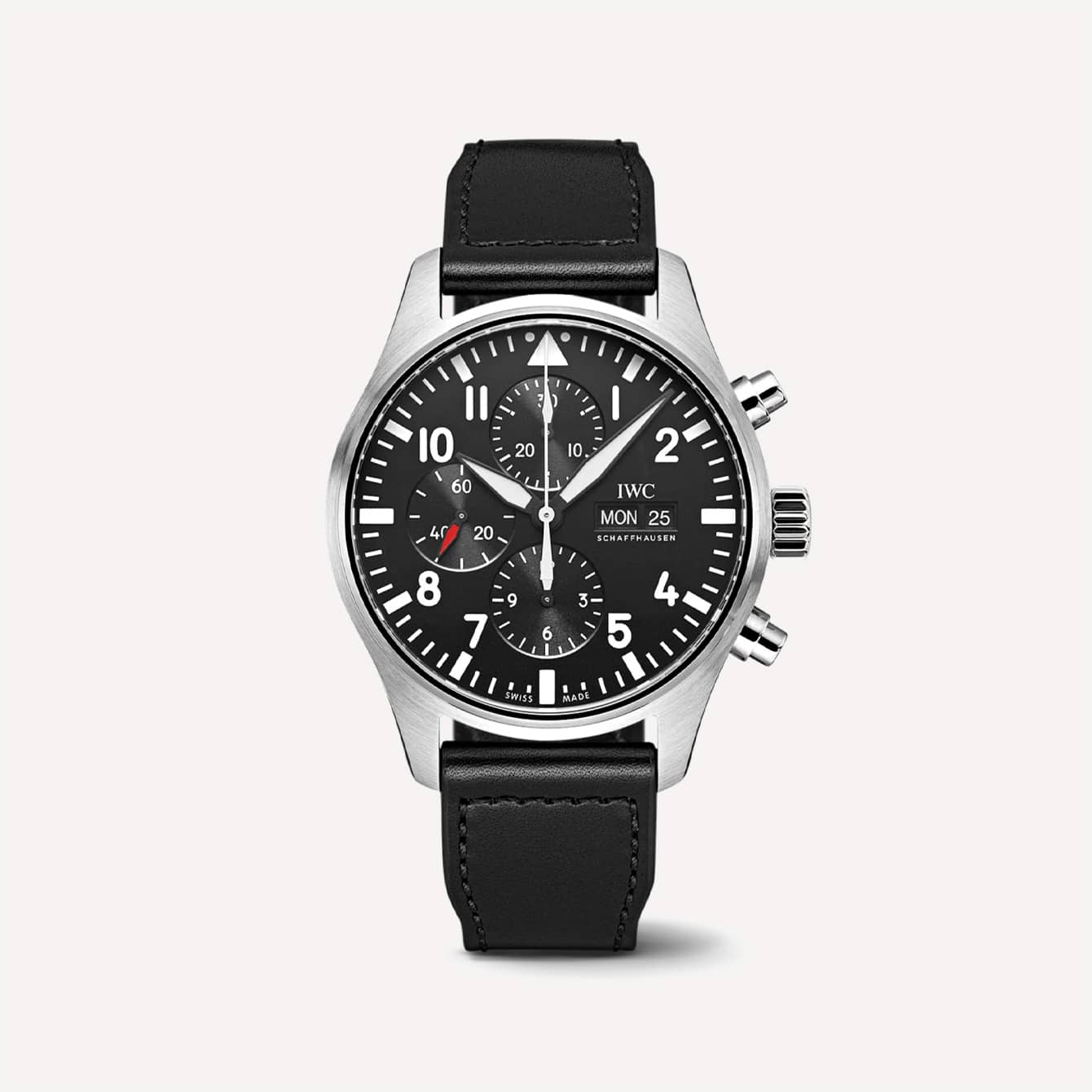 This is seen through its pointed alpha hands and easy-to-read Arabic numbers, all in bold white to stand out against the black dial. The racetrack subdials provide aesthetic dimension and even more legibility.
From its case to its lined bezel, the finishing and applications are flawless.
Dimensions: 43mm diameter, 15.4mm thickness
Case material: Stainless steel
Water resistance: 60m
The convex sapphire adds depth and elegance on the outside, while the 25-jewel automatic movement powers the watch from the inside.
FAQs About the Speedmaster
Still curious? Here's some more info about the Omega Speedmaster:
What Makes the Speedmaster So Special?
Speedmasters are genuinely well-made chronographs, with contemporary models boasting COSC-certified Chronometers. On top of that, they have historical importance as the first watch on the moon and have been part of every Apollo mission since.
Do Omega Watches Hold Their Value?
In general, Omegas, if bought for full retail price, will depreciate around 20% in its first year, to begin with. However, the exceptions to this are limited editions, the Moonwatch, and the Seamaster 300, which hold their value well.
Is Omega Considered a Luxury Watch Brand?
Absolutely. Omega is a top-tier Swiss watch brand. It doesn't have the auction house presence that Rolex and Patek do, but most would consider them on par with Rolex.
What Are Some More Affordable Alternatives to the Omega Speedmaster?
A lot of the watches in this roundup. The Lunar Pilot by Bulova is considered the Speedmaster's pinch-hitter since it also went to the moon, though far less marketing was happening around it.
Does NASA Still Use Speedmaster?
Even today, the new Speedmaster Moonwatch Professional is flight-qualified by NASA for use on all of its missions.
Final Thoughts
Whether you're going for an equally as luxurious alternative like the IWC or a budget Seiko, the market offers a lot of Speedy-esque options.
It's just a matter of figuring out what you like about the Speedmaster, or what you don't like about it and choosing an alternative based on that.
Even more fascinating is the fact you can even get a historical timepiece like the Bulova, or a sweeping second hand via Seiko's hybrid movements, at a fraction of Omega's prices.
Questions? Comments? Leave them below!