In the market for a watch but looking for something different? Here's are some unique watches to check out!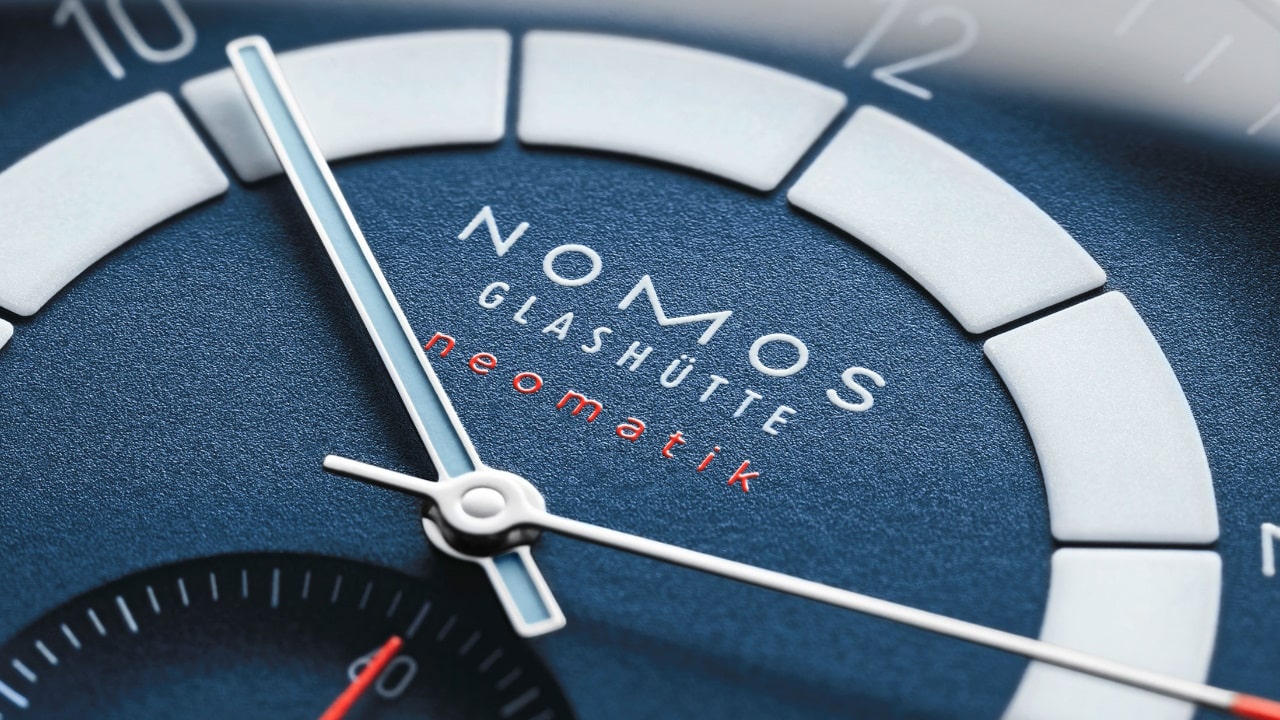 I was recently asked what six of my favorite unique men's watches were. I realized that I hadn't thought about it before.
In a massively saturated market, I most often get asked to round up the most iconic watches of all time. The only problem with that is they often center around the same handful of designs.
I could point out the Nautilus watch by Patek Philippe, for example, designed by the legendary Gerald Genta. The same designer that created the Royal Oak for Audemars Piguet, another industry icon.
Or I could pick out the Rolex Cosmograph Daytona, an instant hit after it was seen on the wrist of Paul Newman.
Truth be told, that kind of list could go on and on, but it would seldom change all that much. The chance to list my favorite unique watches for men got me very excited indeed.
A List of the Best Unique Watches for Men in 2023
I got to thinking, "What even makes a luxury watch unique anyway?".
Now, having considered many of the thousands of men's watches out there, I'm happy to share what I now consider six of the best unique men's watches to own.
In an ever-evolving industry that keeps us eagerly anticipating the next must-have timepiece, I'd be happy to hear your views.
What would you classify as the most unique men's watches right now? Let us know here at The Slender Wrist once you've read my six choices.
Now, let's get started:
The Nomos Autobahn Neomatik 41 Date Midnight Blue Watch Reference 1302
There is a lot more at play than just choosing a watch that looks unusual.
Before buying a unique watch for men, you should consider some deciding factors such as case material, size, strap, and features.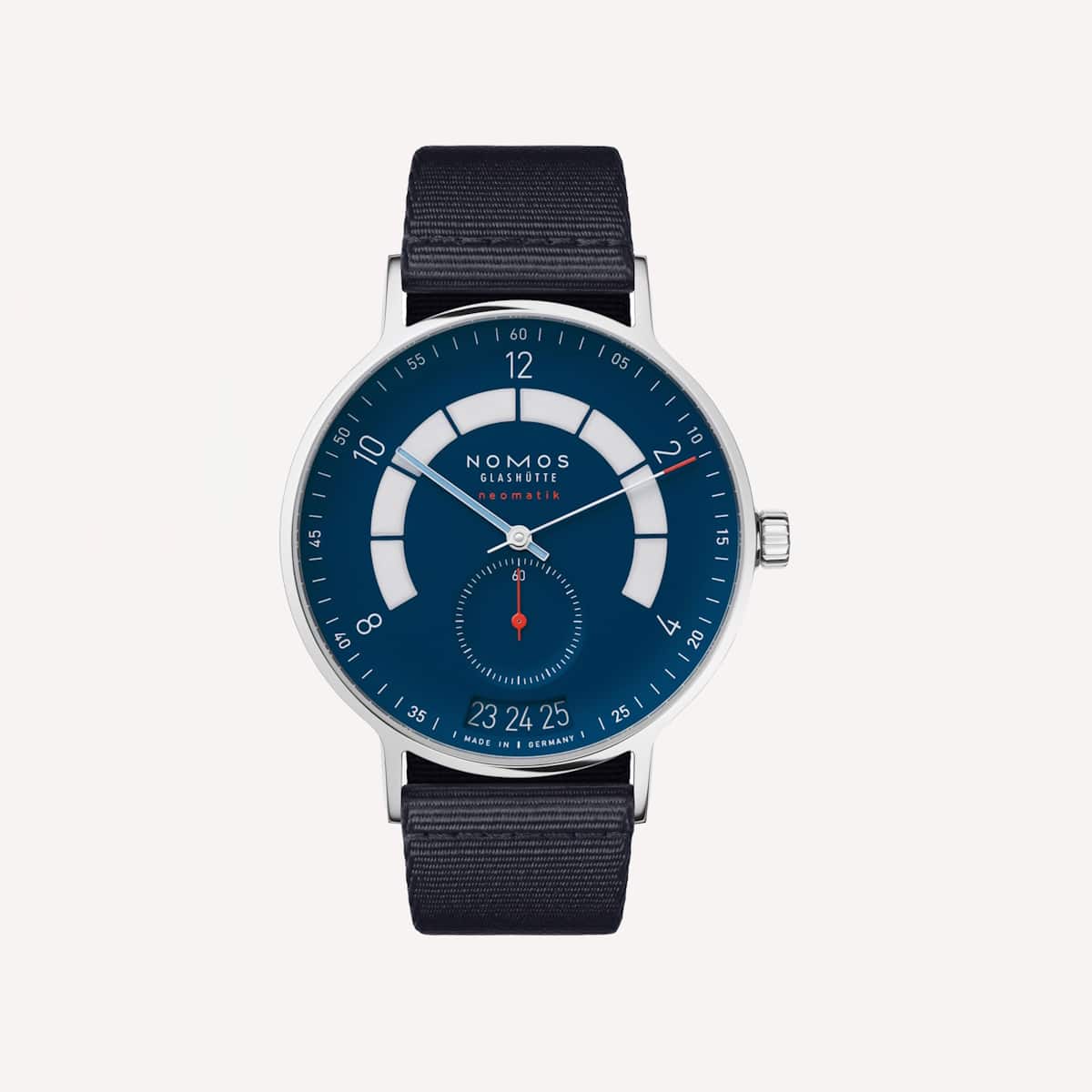 The Nomos Autobahn Neomatik 41 Date Midnight Blue is a timepiece that will resonate with you if you prefer simple, minimalist designs inspired by the Bauhaus movement.
The dial of this unique men's watch is clear and unfussy. This is great if you're the kind of person who likes clarity and the simple things in life.
The dial is an unusual shade of blue. It's paired with a unique, elongated date window at 6H and a ring of luminescent material between the hours of 8 and 4.
Different in many ways, the Autobahn Neomatik is as unique as the German brand itself and comes with a textile strap for wearing alongside relaxed, elegant attire.
Ludovic Ballouard Upside Down Black and Gold
Are you familiar with the Ludovic Ballouard Upside Down watch? You are now.
The unusual concept was first launched in 2010, yet this model was released just last year.
It features a luxurious 18ct rose gold case and an indulgent black dial. It transcends time with a balance of contemporary and traditional elements that are playful and technical, all rolled into one.
Here's where it gets "unique". Each hour's location runs on an independent disc that is upside down.
At a certain point during the hour, the corresponding disc makes a 180-degree turn to its upright position. A more detailed indication of the time is then afforded by the minute hand, the only hand on the dial.
It is an incredibly unique men's watch that is also a limited edition.
A. Lange & Sohne Zeitwerk Date Watch Reference 148.038
I've come to appreciate what it takes for a design to be classed as a unique men's watch, and I think the Zeitwerk Date watch on a leather strap from A. Lange & Sohn fits squarely in this category.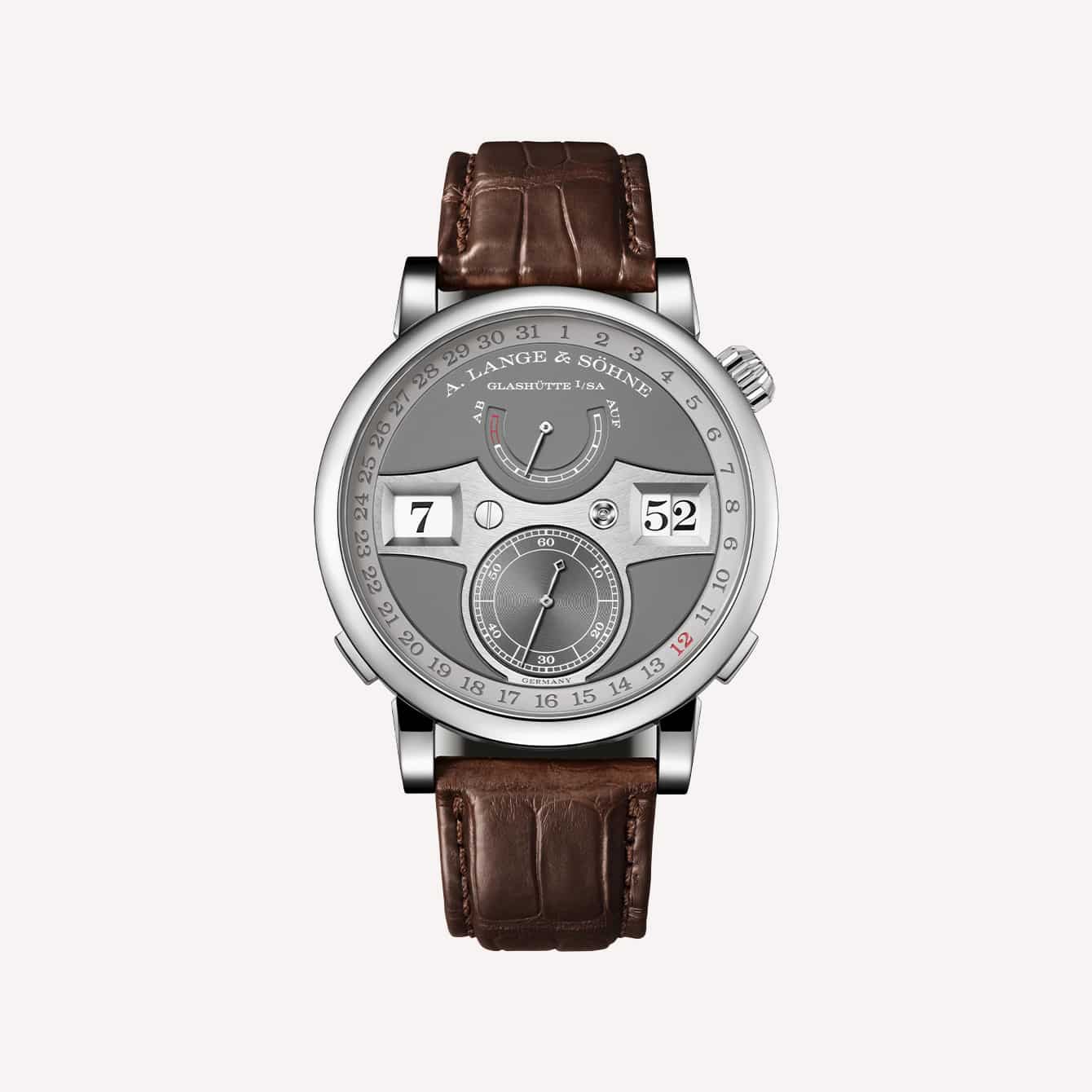 The watch is crafted from 18kt white gold, thus, it will certainly appeal to you if you like your watches to communicate uncompromised luxury.
The classic timepiece celebrates authentic craftsmanship but offers a unique spin on timekeeping. It features a peripheral ring for the date display on a grey dial, along with a pusher that simplifies setting the time.
To the left is the hour, to the right is the minutes and centralized in between the two is a small second sub-dial. A handy power reserve at 12 balances out the second sub-dial.
The reserve displays the remaining life of an in-house developed movement lying at the heart of the watch.
TAG Heuer Connected Calibre E4 Watch Reference SBR8010.BA0617
TAG Heuer is now into its fourth generation of the Connected Calibre E4 smartwatch, so if you're looking for unique digital watches for men, this is about as advanced as they get.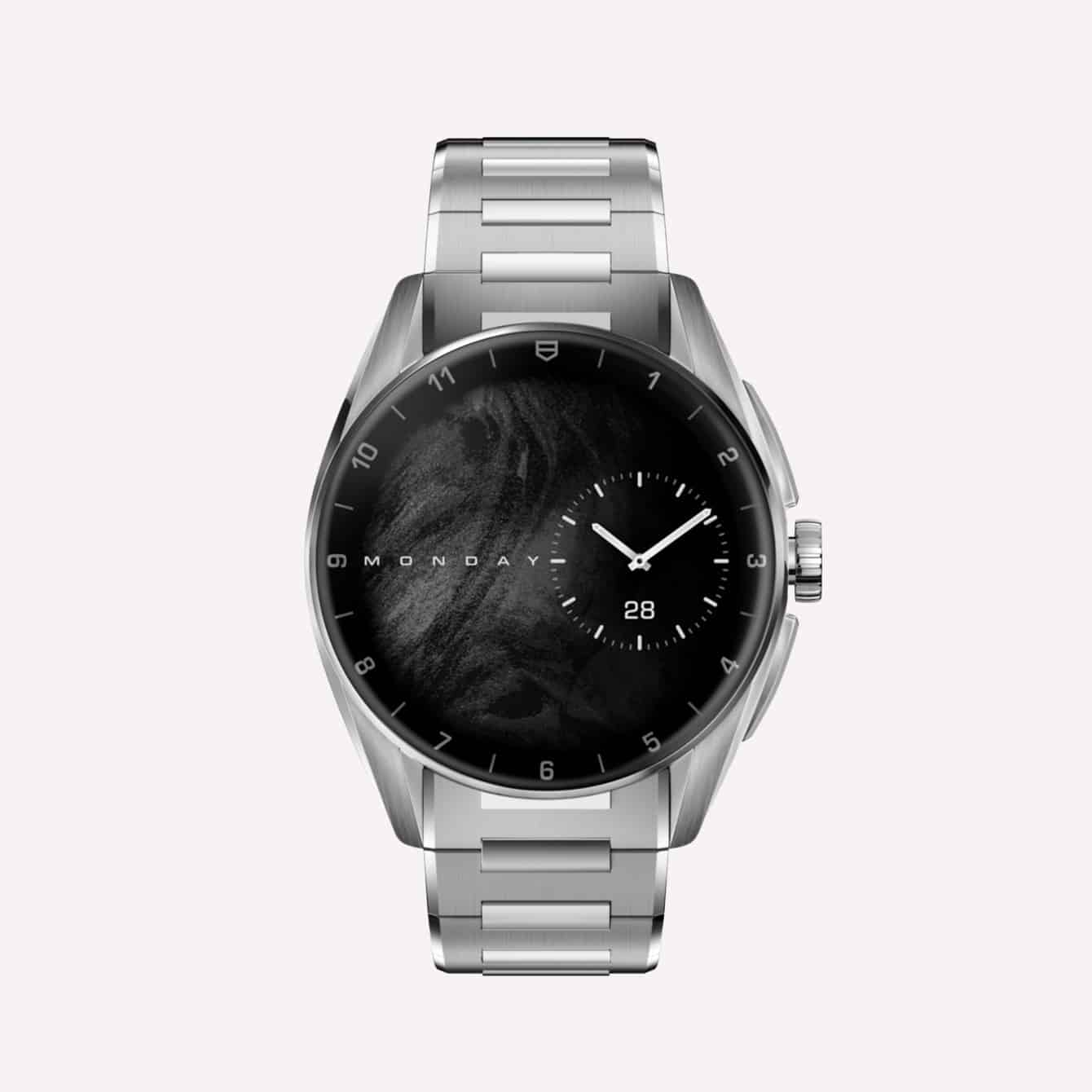 Packed full of customizable wrist-friendly software, accessible at the stroke of a finger, it's the perfect companion for runners and hikers.
Its classic design featuring a stainless steel case and bracelet, however, is a thing of beauty. They create the impression of a conventional wristwatch.
Meanwhile, a whole host of sports apps, including running, cycling, fitness, swimming, and many more, enable you to train at your best while looking super stylish. Other handy attributes include heart rate, compass, barometer, and microphone features.
Oris Aquis Depth Gauge Chronograph 01 774 7708 4154-Set RS
Luxury unique watches for men don't come better than this. The Oris Aquis Depth Gauge Chronograph will deliver that all-important luxury status but offers a touch more.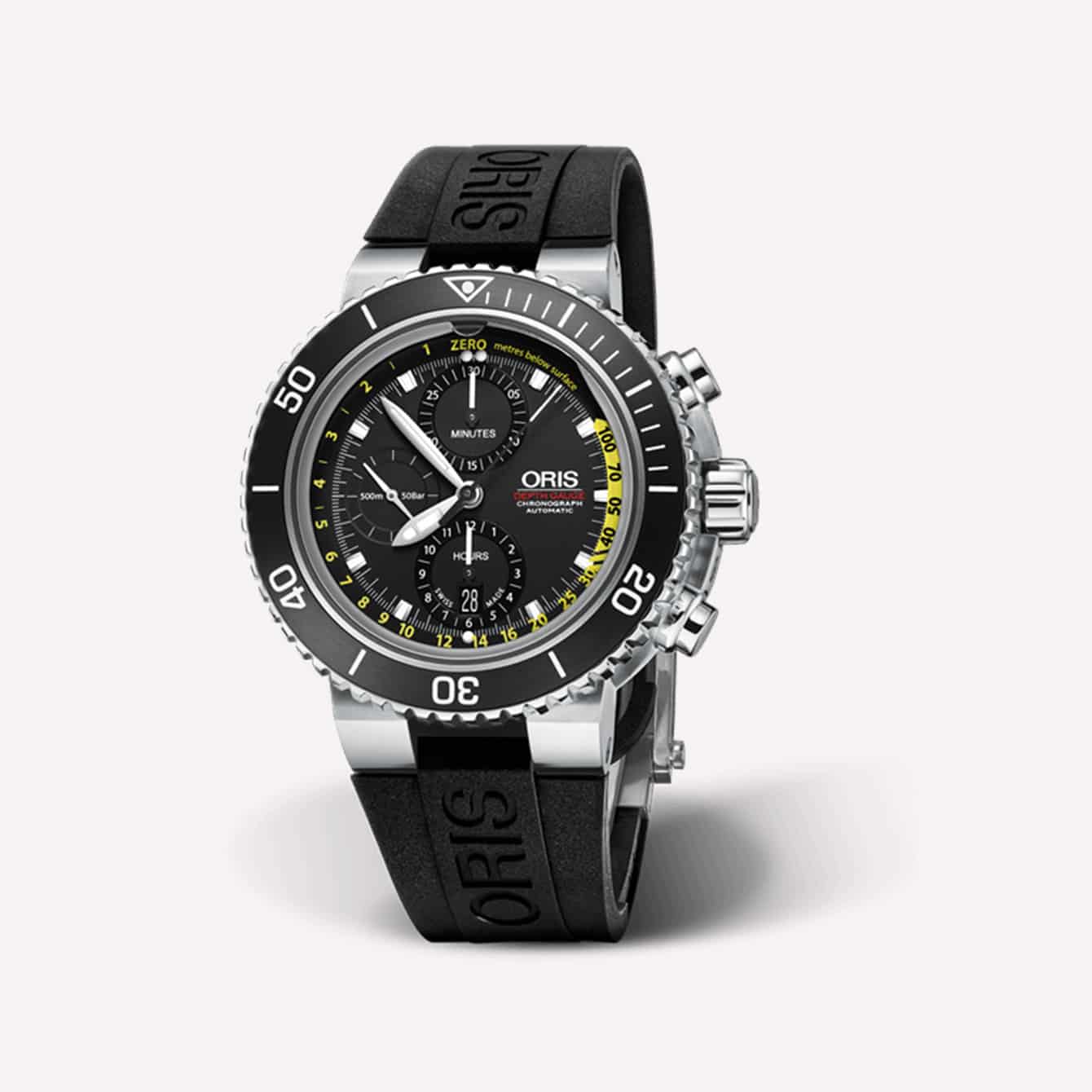 It features an analog depth gauge activated by water pressure, which you might find interesting if you like diving. But even if you don't, this unmissable dive watch has an impressive presence on the wrist.
The massive 48mm model is 500-meter water resistant and features a chronograph for timing dives, along with a screw-in security crown and a sapphire crystal front.
Tissot PRX Powermatic 80 watch reference T137.407.11.351.00
Cheap, unique watches for men are hard to come by unless you're prepared to make a sacrifice on quality. But the Tissot PRX Powermatic 80 is a great exception.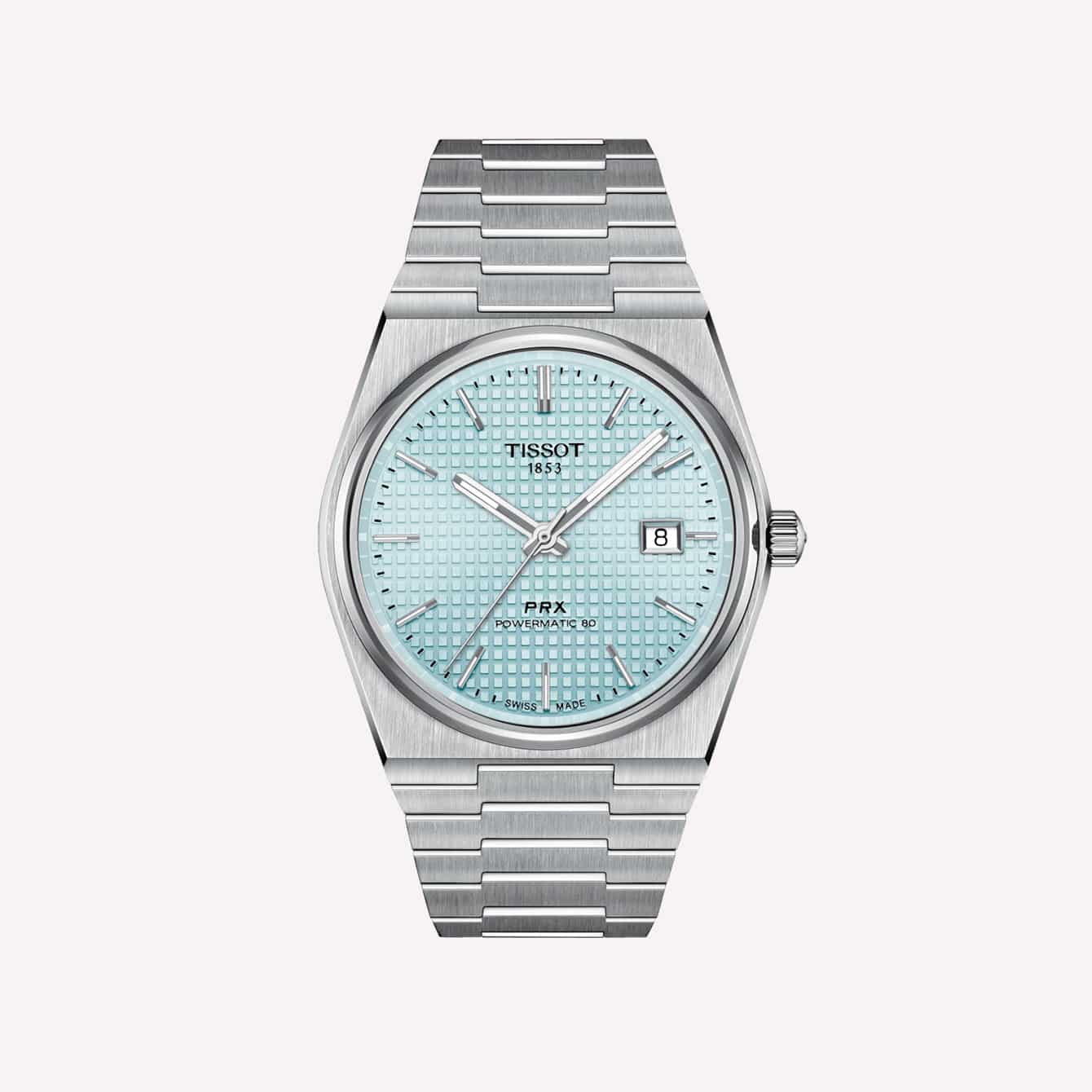 It won't break the bank but does offer you automatic movement and an unusual dial color in ice blue. You can't miss the subtle nods made to the steel sports watches of the 1970s (see that that integrated steel bracelet?).
What's more, the texture of the dial is executed in a waffle pattern, enabling the luminous hands to stand out with legibility at night.
The Take Home: Try Something Different
As I've mentioned earlier, there are plenty of cool watches out there that are worthy of investment, depending on the budget you have in mind. What drives the value of a watch up in both new and pre-owned watches is its desirable design and rarity.
Steel sports watches, for example, attract a large following and don't come cheap.
The Royal Oak, the Nautilus, the Patek Philippe Aquanaut, and the Overseas watch by Vacheron Constantin are highly collectible timepieces. But can they really be considered unique when they share so much of the same DNA?
Focusing on the not-so-iconic models on the market hopefully goes some way to proving that it's okay to think outside the box when investing in a timepiece. I hope you enjoyed this guide to six of the most unique watches for men.
Don't forget to leave your comments below and let us know what you think. Are you a gentleman who prefers to wear a watch that can be instantly recognized? Or do you like to set your trend with timeless designs from lesser-known brands?
To receive more guides like this, you can stay up-to-date with the luxury watch world by subscribing to our Slender Wrist newsletter!