Considering getting a new running watch? Read this before purchasing!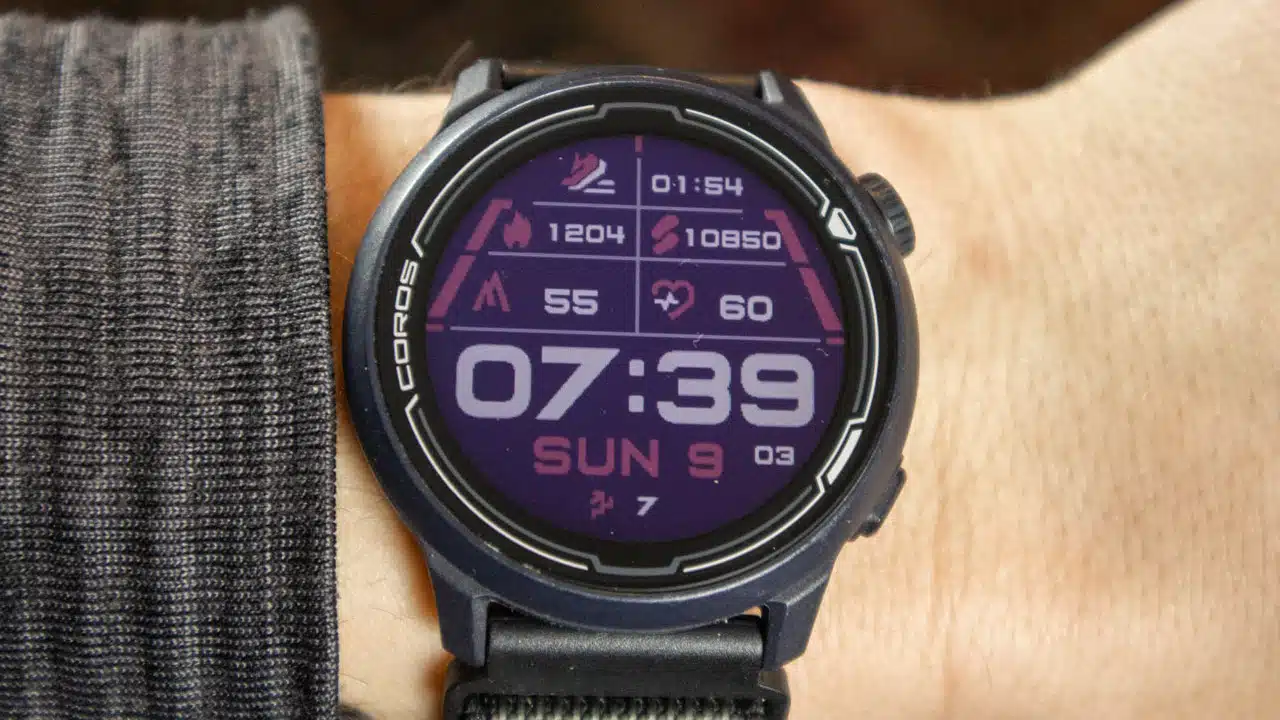 Apparently, my heart was about to explode. How embarrassing! The last time I ran I was lean and mean. Thin and fast! Yet, here I was. Standing in my bedroom after a fair-weather "easy" run of 3 miles, woefully out of shape.
My new running watch ignored my bruised pride, displaying an alarming heart rate in bright red text. I averaged 180 beats/min (bpm). My watch beeped at me sternly and told me to rest for a week.
I unceremoniously flung it across the room into a pile of soiled laundry. Later that night, I dropped over $100 on a standalone heart rate monitor designed to sync with the watch.
Next week, I ran again with an extra layer of redundancy strapped across my chest. My average heart rate was…180 bpm.
At that point, my ego finally acquiesced to the overwhelming data. I was upset that I was out of shape. I was simply pushing my body too hard. I was hurting instead of improving my health.
While a running watch is not technically necessary, they accelerate your fitness in the long run while also increasing safety by encouraging progressive overload, helping you make sure you're not overtraining.
The Best Running Watches For Men
I have referenced athletes, tested devices, and crawled the endless expanse of the internet with one singular purpose — to distill to our readers a definitive selection of running watches optimized to help you make the most out of your workouts. Here's what I found:
Coros Pace 2
GPS and running watches have historically been big, bulky, and ugly. In contrast, the Coros Pace 2 weighs a mere 29 grams. This economical selection accurately tracks heart rate, distance ran, and pace times without breaking the bank.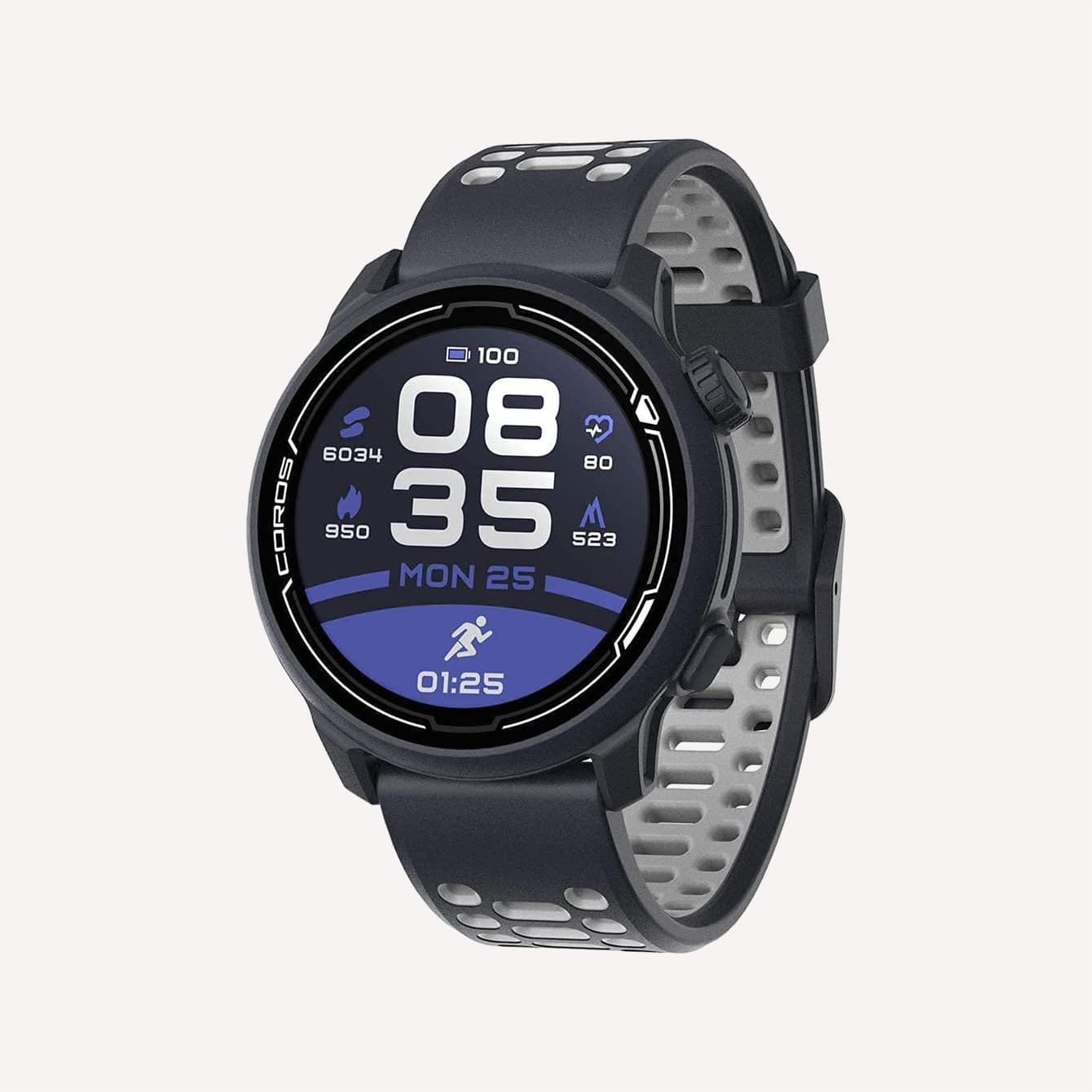 This watch is ideal for those that want to track and compile their training data without interacting with the watch mid-workout.
My training partner used to strap an older watch to his wrist that resembled a massive boat anchor. He's since replaced that relic with a sleek Coros Pace 2. He reports much less wobbling, swaying, and friction with his Coros.
Affordably priced at $200, this watch is a great option for men on a budget.
Garmin 255S Music
Many tech brands have similar hardware these days. However, Garmin still outshines the competition with its expert data analysis and software maturity.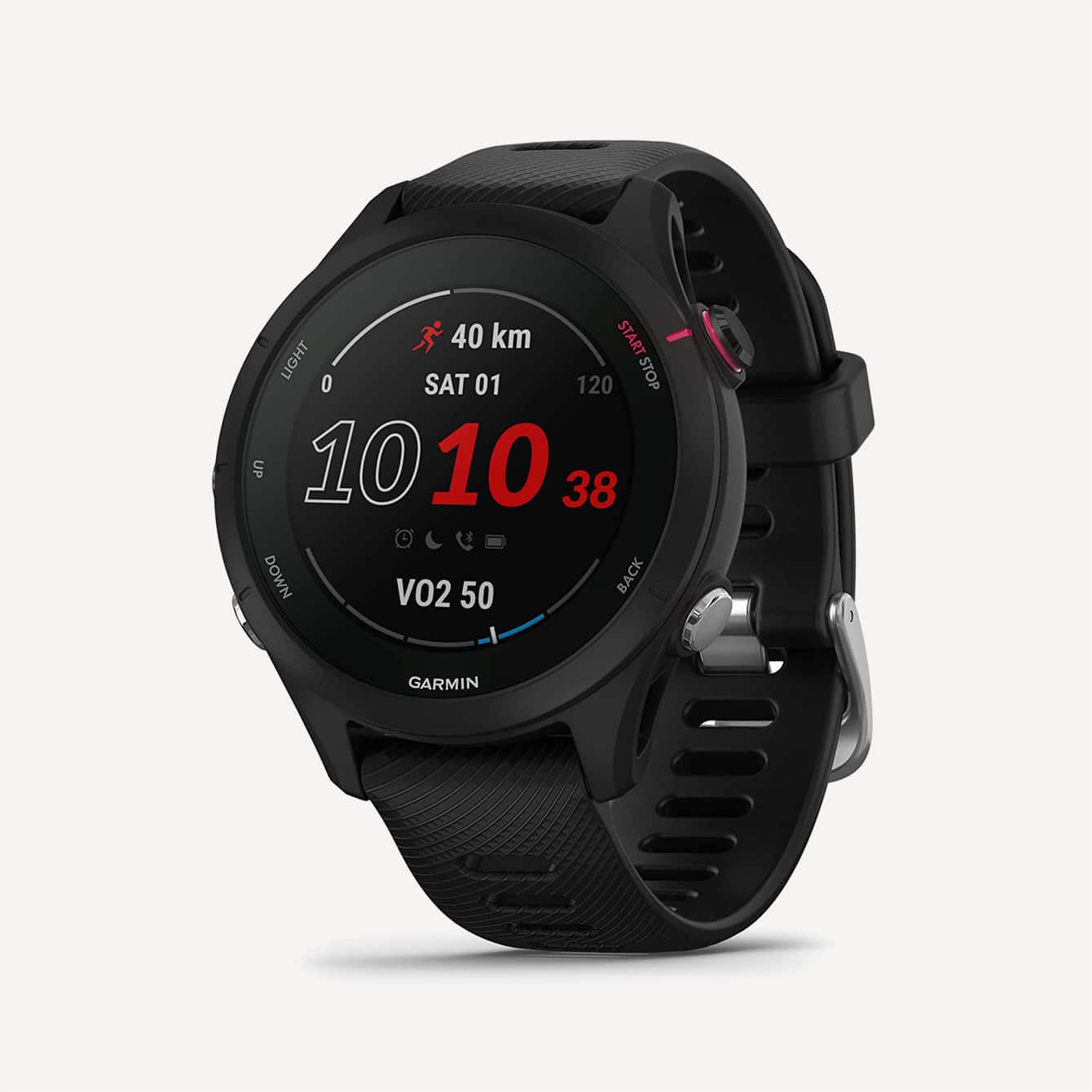 Brands such as Polar (and to some extent Coros) come with accompanying software that can be exciting, but a bit unpolished.
Garmin has been the leader of this space for many years and benefits from years of athlete feedback.
The companion app Garmin Connect syncs flawlessly with Strava, a popular online community to share running routes, design workout plans, and celebrate milestones.
A great middle-ground option is the Garmin 255S Music. This "S" variant is ideal for guys with smaller wrists as it sports a smaller face than the standard model.
As its name suggests, music can be pre-downloaded onto the device itself and connected with Bluetooth headphones. This functionally allows users to listen to podcasts and music on the go without lugging along their phones.
Coros Apex 2
This watch is slightly bigger than my last pick, but you get a lot for the extra 2mm. The Coros Apex 2 has sleek titanium housing, instead of a standard plastic exterior.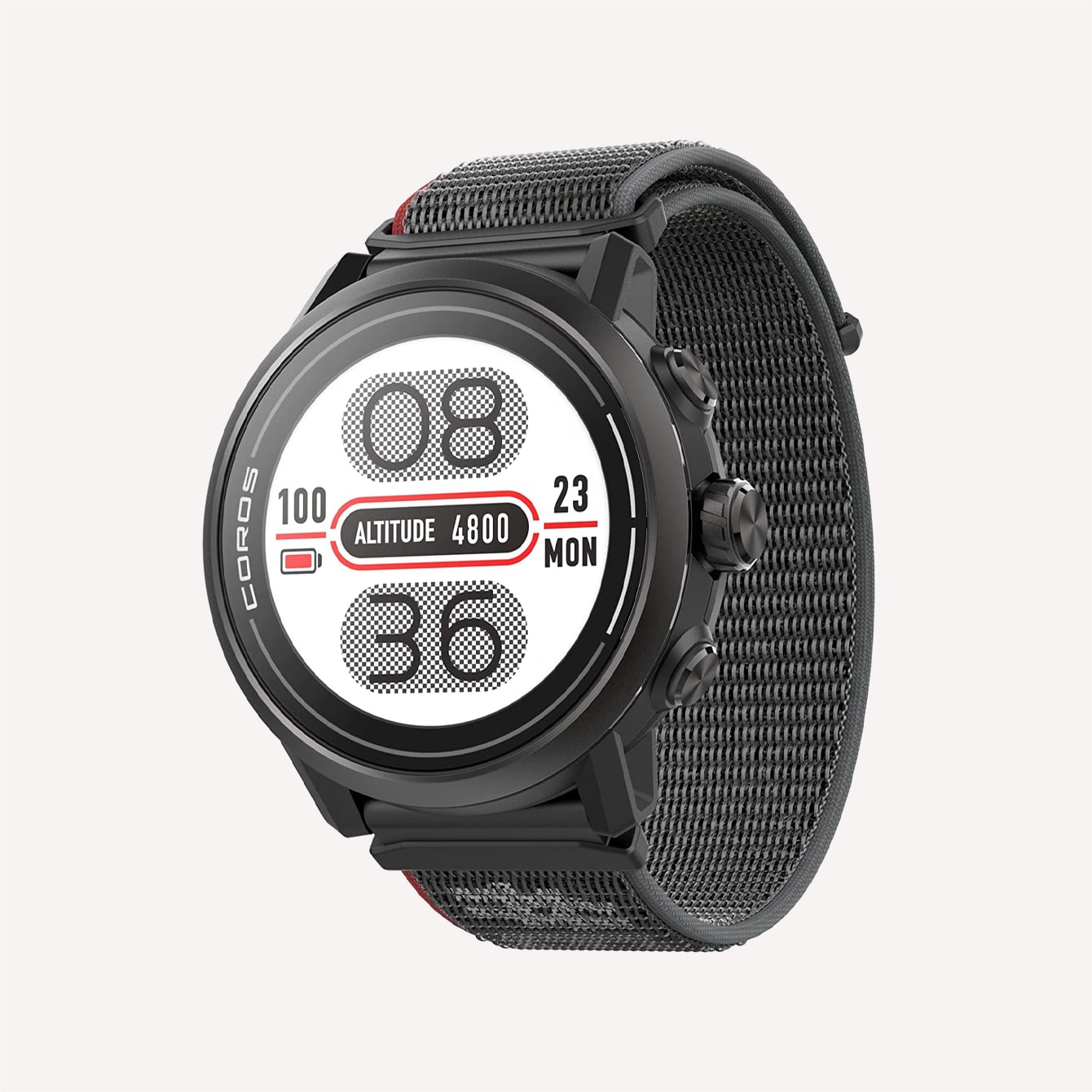 In addition to offline music storage, this device also stores offline maps. The Apex II is capable of showing real-time location onscreen like Google Maps.
This functionality is a lifesaver for those that frequently travel, but less useful for those that run familiar loops close to home.
With its upgraded metal housing, you could easily style this watch casually with relaxed, off-duty athleisure looks.
Forerunner 945 LTE 599
For the hefty price of $600, the Garmin Forerunner series is only justifiable for the more experienced and adventurous runners.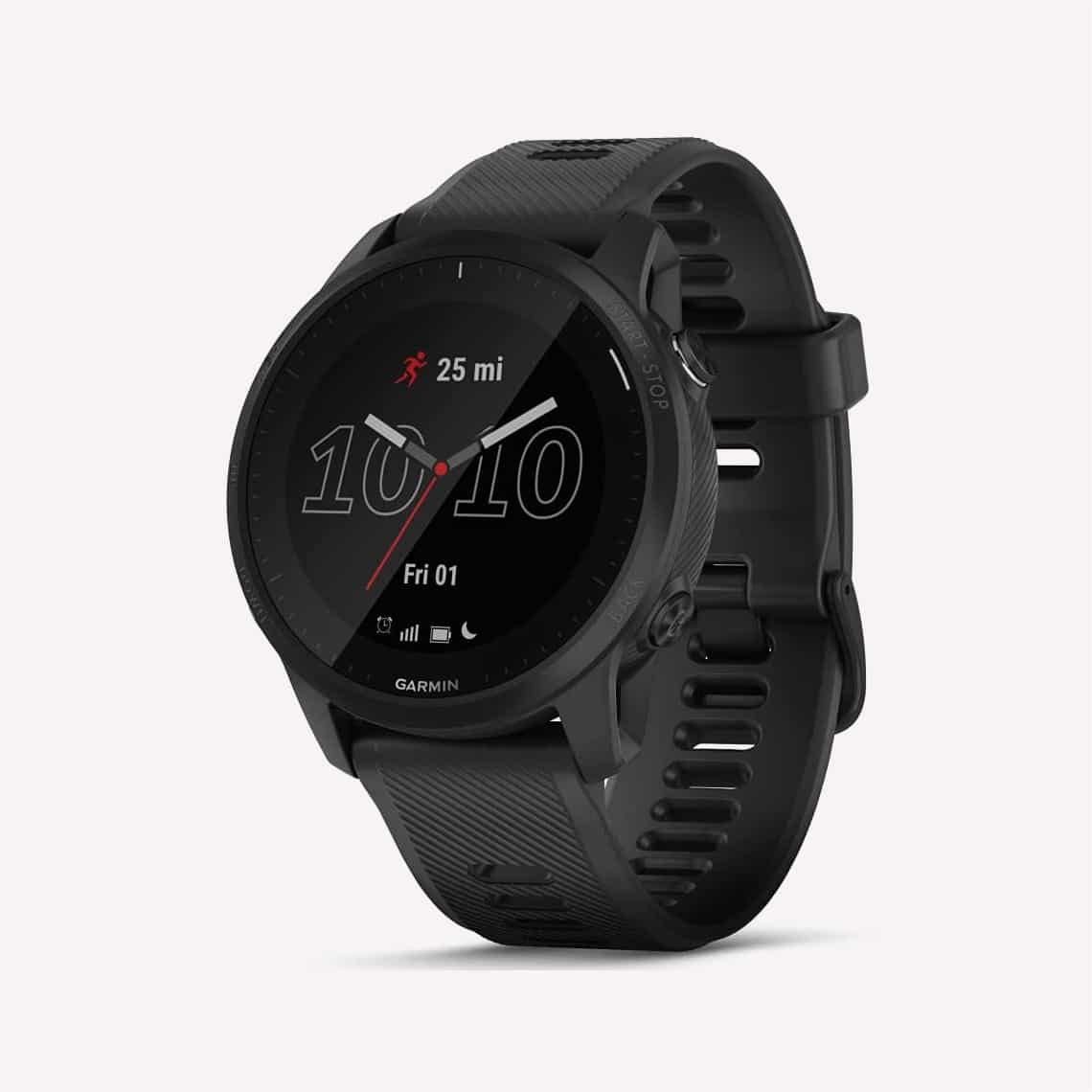 Although the 955 Forerunner has been released with a more advanced screen and solar charging, the 945 Forerunner LTE is the superior choice.
The 955 model does not have an LTE mobile data connection, and the solar trickle charge is too gradual to be useful.
The 945 has ample storage for offline music and real-time map data like the Coros Apex, while also supporting a mobile data connection.
Even better, for a small monthly fee, this watch's data connection can alert friends and family to your current location and update them on your status.
Being able to stay connected gives peace of mind to consistent solo trail runners like myself who, at one point or another, come across surprises on their path — whether it be a recent rockslide, a particularly precarious cliff, a curious bear, or anything else that serves as a swift reminder of our own mortality.
The LTE data plan is an expensive feature that most would never miss. However, for solo runners that take off into the wilderness without a phone for hours at a time, this device will likely be the only way to reach out to the wider world in the event of a disaster.
This is the watch you'll wish you had after one of your excursions leads to a major injury.
Why Buy a Running Watch?
A running watch serves a different purpose than the timepieces that we typically highlight here at The Slender Wrist.
Running watches are devices designed as tools to help keep the wearer's workouts consistent, honest, and productive. Consequently, they're not really designed with aesthetics in mind.
Of course, everyone is free to run sans watch. However, those that run to maintain their health and improve their strength get a treasure trove of actionable data in exchange for the upfront cost of their device.
Most smart watches are ultimately powered through a wireless phone connection. In contrast, running watches are built to be used as a standalone device.
Crucial features such as accelerometers, data storage, and GPS tracking are baked into the watch, allowing runners to leave their phones at home.
A phone's touchscreen reacts poorly to sweaty hands, making them difficult to use during sustained physical activity. It's also awkward to feel your phone bounce from the strap on your arm or waist with every single step of your run.
Each of these devices I've included above features GPS tracking, as well as physical navigation buttons that are reliable during the sweatiest workouts.
In contrast, the touchscreens of conventional smartwatches become unreliable during sweaty workouts.
Common Questions About Running Watches
Here are a few frequently asked questions about running watches:
Is a Running Watch Necessary?
A running watch is not necessary for all runners, but it can really help you to improve your training.
What Are the Most Important Features of a Running Watch?
Running watches most commonly have accelerometers, data storage, and GPS tracking built in, helping runners track their workouts without their phones.
What's the Best Running Watch in 2023?
I'd recommend the Coros Apex 2 as a versatile, rugged, and reliable watch for runners of all stripes.
How Can I Listen to Music on a Run Without My Phone?
You can listen to music on a run without your phone with the Garmin 255S Music. Just download your favorite music or podcasts before your run to listen unencumbered.
Is Running Alone Safe?
Whether or not it's safe to run alone depends on the time of day, your location, the weather, your general fitness level, and other factors. It's always safer to run with a friend.
However, if you do run alone, especially in remote areas, check out the Garmin 945 LTE which provides real-time map data and can even send location alerts to family or friends if you get into trouble.
Final Thoughts
Looking back, my resistance to getting a running watch was foolish.
Running watches provide irrefutable data for how fast you've run, analyze how well your body responded to the stress of a workout, and can even highlight a weakness in stride length or cadence that could lead to injury if left unchecked.
These devices are more than worth their cost to those that are committed to long-term workout and fitness goals.
Which running watch would you buy? Let me know in the comments!