In this review, we'll take a look at the Seiko SUP880 to help you decide if it's a Cartier Tank alternative suitable for your needs.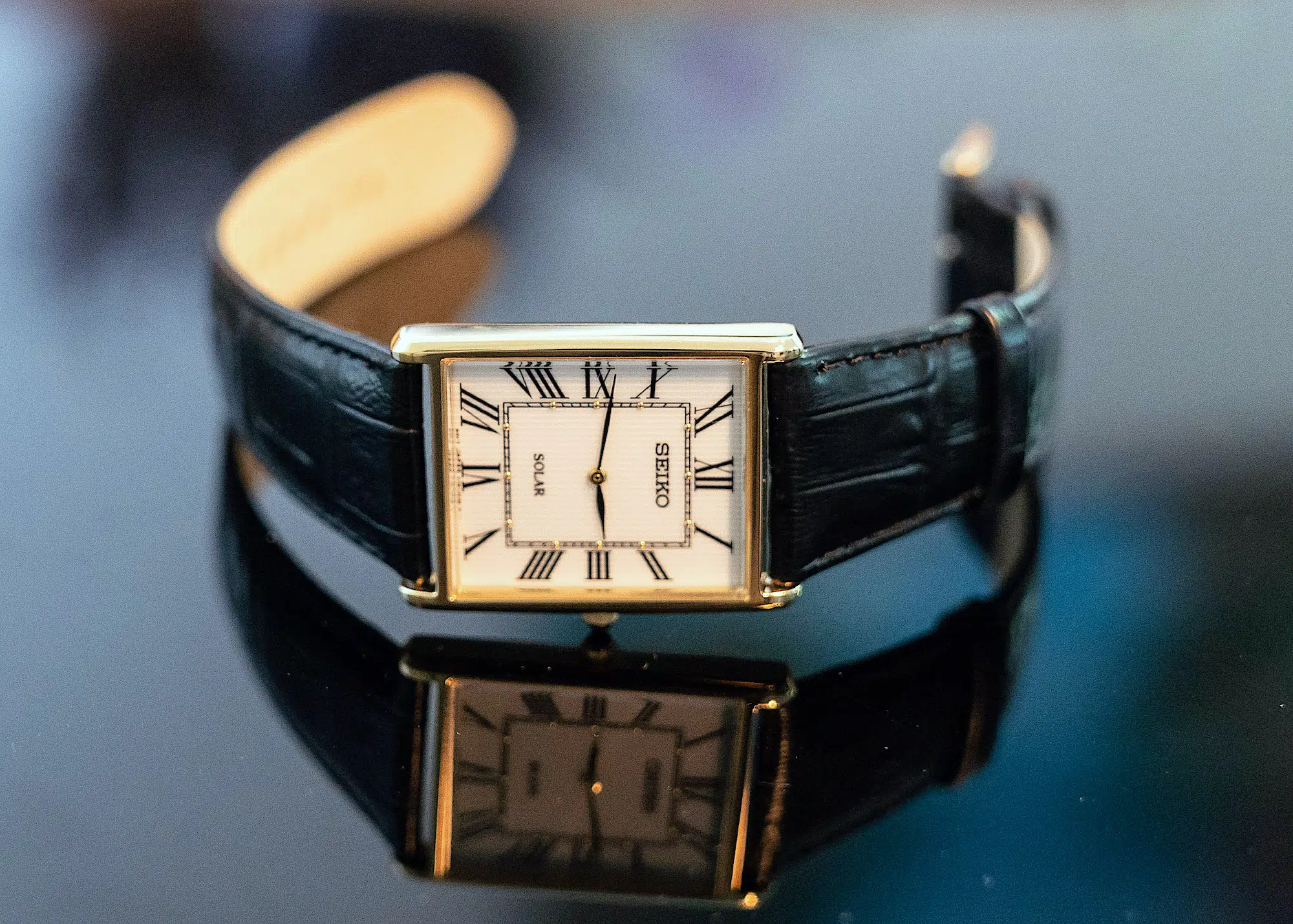 The Seiko SUP880 "Tank" pays homage to the Cartier Tank with its distinctively classic look and its slim design, making it comfortable to wear as a daily driver.
The watch is an elegant choice for both casual and formal occasions and perfect for those with slimmer wrists who prefer classy timepieces over bulkier chronograph or sport watches. In this review, we'll take an in-depth look at this watch to see if it's the right fit for you.
Seiko: The Company
Before we dive too deeply into the Seiko SUP880, let's take a brief look at Seiko as a company.
Seiko is a Japanese watch company known for introducing one of the world's first quartz wristwatches. Their history began in 1881 when its founder Kintaro Hattori established his watch and jewelry shop, called "K. Hattori." 
Drawing inspiration from Western-style pocket watches, Hattori worked with several foreign trading companies to expand his watchmaking business.
By 1894, Hattori pursued the next step in watchmaking by becoming the manufacturer himself, purchasing a factory in Tokyo which he named "Seikosha".
The company's growth continued further into the early 1900s, establishing distributors in Shanghai and Hong Kong while also launching Japan's first wristwatch, the Laurel.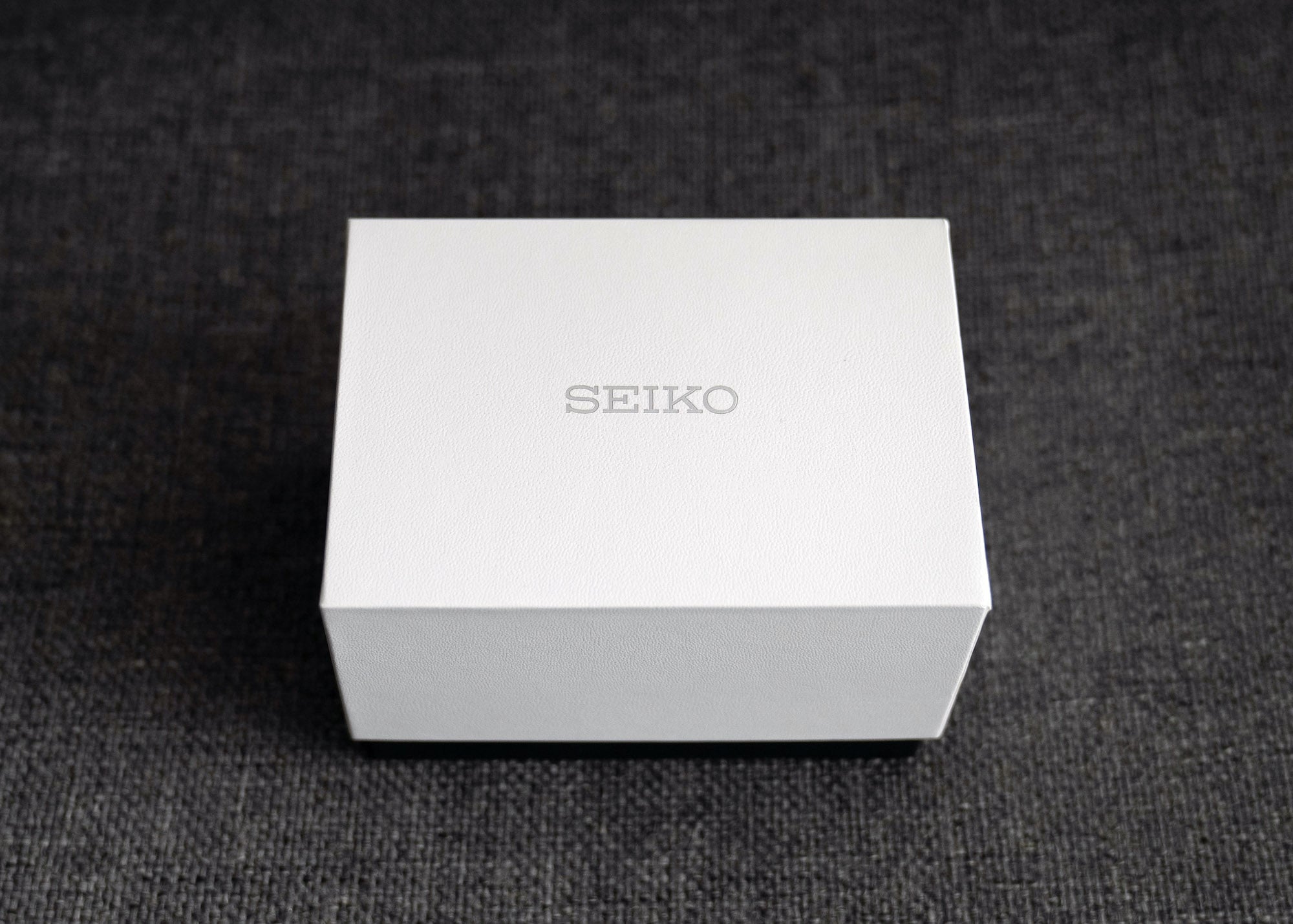 In 1923, despite losing all its factories and stores to the Kanto earthquake in September, Seiko recommenced operation shortly in November. They replaced all watches held in repair with brand new watches free of charge, gaining the trust of the public.
After World War 2, Seiko needed to build back up to their pre-war output, which they successfully achieved in 1953. They also began to market watches to the United States and other foreign countries, just as they increased their production output.
With the success of their quartz watches and clocks, Seiko's reputation was growing and they were chosen as official timekeepers for the Olympics which was held in Tokyo in 1964.
This Olympic Games brought huge international recognition to Seiko and turned them into a brand known around the world.
As technology continued to improve, Seiko developed more advanced watches like the Seiko TV watch in 1982 and the Seiko Computer Watch in 1984.
The name of the Seiko brand became more and more well known throughout the 1990s becoming the official timekeeper of the 1990 World Cup, the 1992 Summer Olympics, and both the 1994 and 1998 Winter Olympics.
In 2005, Seiko released "Spring Drive" movement watches. Through the 2010s, Seiko has continued its pattern of innovation to become the watchmaking powerhouse it is today.
Seiko SUP880 Overview
Now that you know a bit more about Seiko's history and its importance to the watch industry, we can dive into the SUP880.
Seiko SUP880 Dimension
Starting with the stainless steel case, the Seiko SUP880 measures 38.4 millimeters lug to lug, 28 millimeters across, and just 6.1 millimeters thin, making it a small, lightweight option to keep in your watch collection.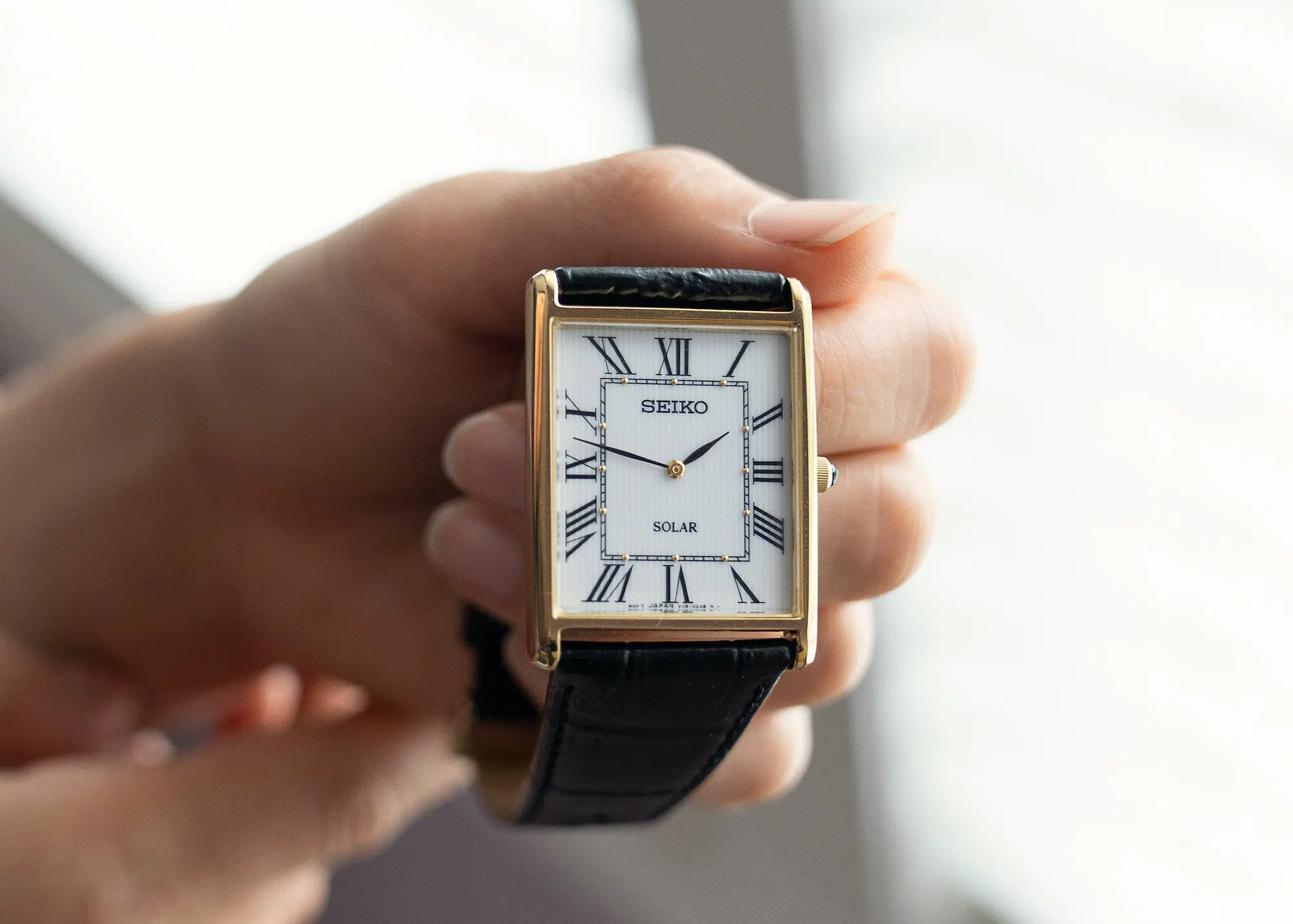 Additionally, it's water-resistant up to 30 meters and has a strap width of 23 millimeters.
Seiko SUP880 Design
Here's the rundown on the design…
The Case
The Seiko SUP880's case is stainless steel and features a hardlex crystal, so it's tough and durable. However, I did find that the push-pull crown was a bit finicky to use while adjusting the time.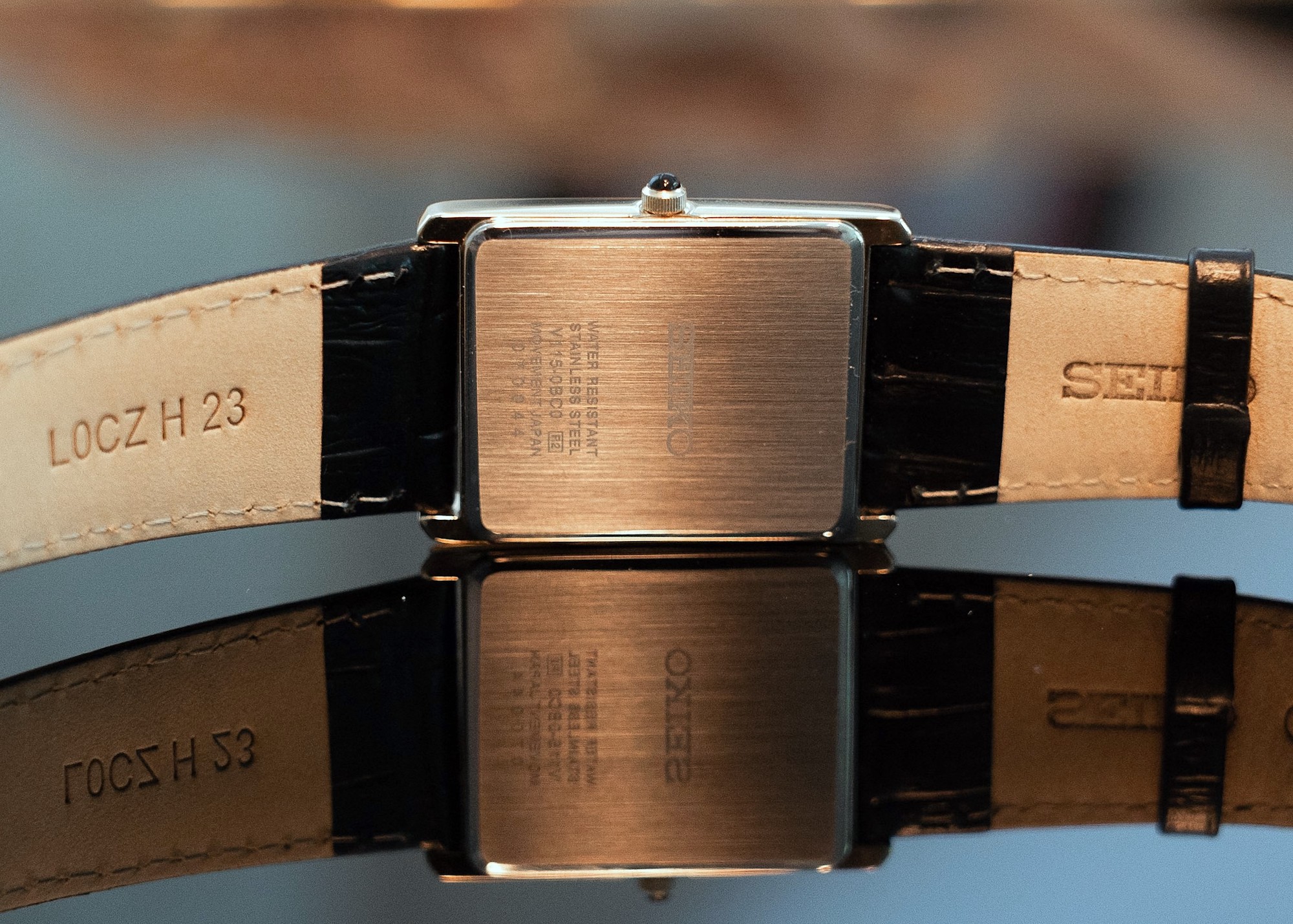 It didn't smoothly push and pull in and out, and the large hand shifted forward by a minute when pushing the crown back in.
Another thing to note is that the lugs are straight with no curvature and may take some getting used to. So, despite measuring 38.4mm lug to lug, the flat case shape makes the Seiko SUP880 feel slightly longer.
The Dial
The watch features a white dial with a subtle striped pattern that helps to give it more depth and interest. Similar to the Cartier Tank, the SUP880 has large black Roman numerals around the edge of the dial, with gold-colored circular markers for each hour.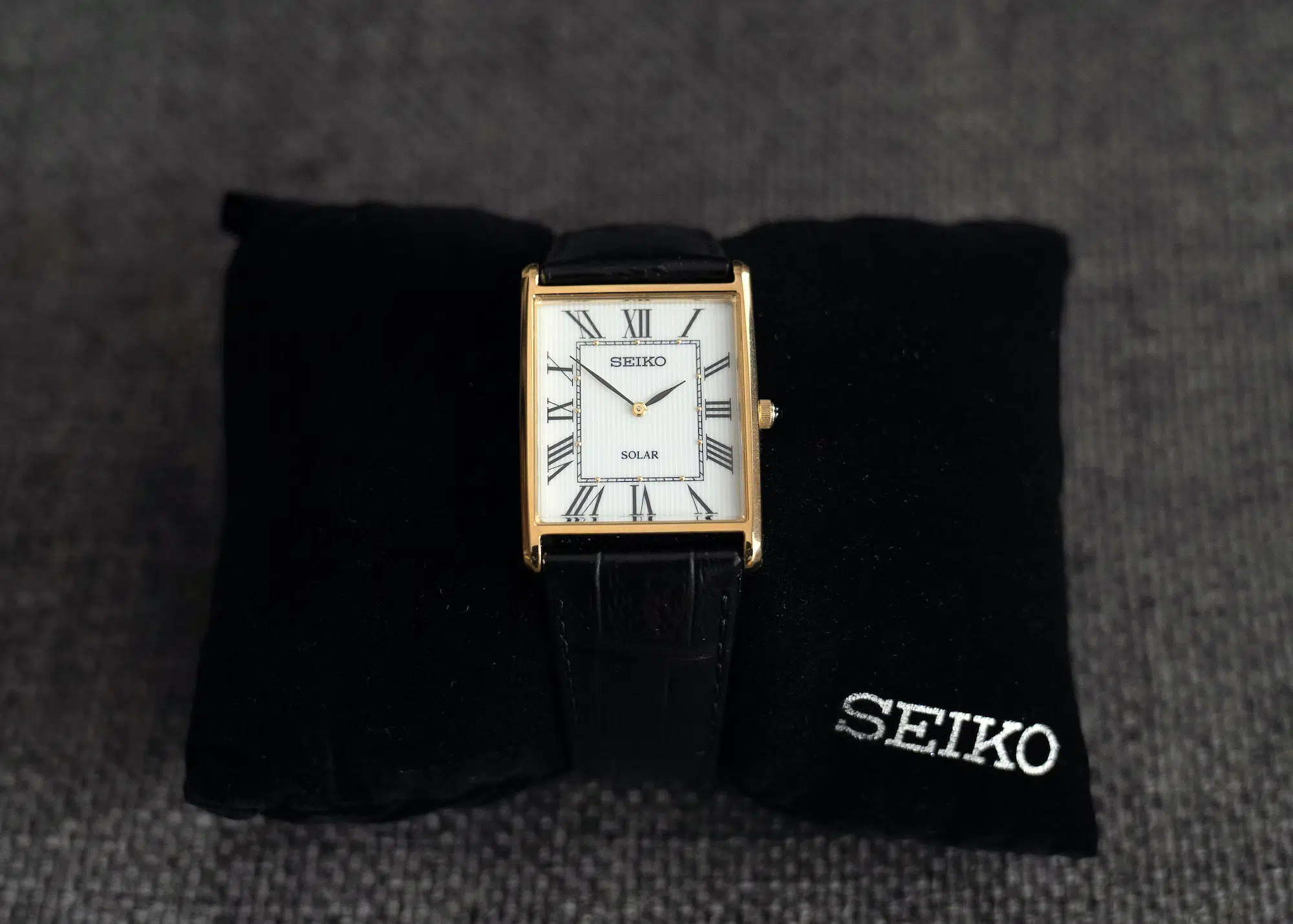 The small black lines inside the painted rectangular edge help signal each minute.
The hands are painted black and the watch lacks a second hand, which in my opinion helps give it an even cleaner look. The one distracting element might be the painted "solar" indication, but that's just a minor detail.
The Strap
The SUP880 has a black calf leather strap embossed with a crocodile skin pattern that matches the simplicity of the rest of the piece. Honestly, the strap was my least favorite part.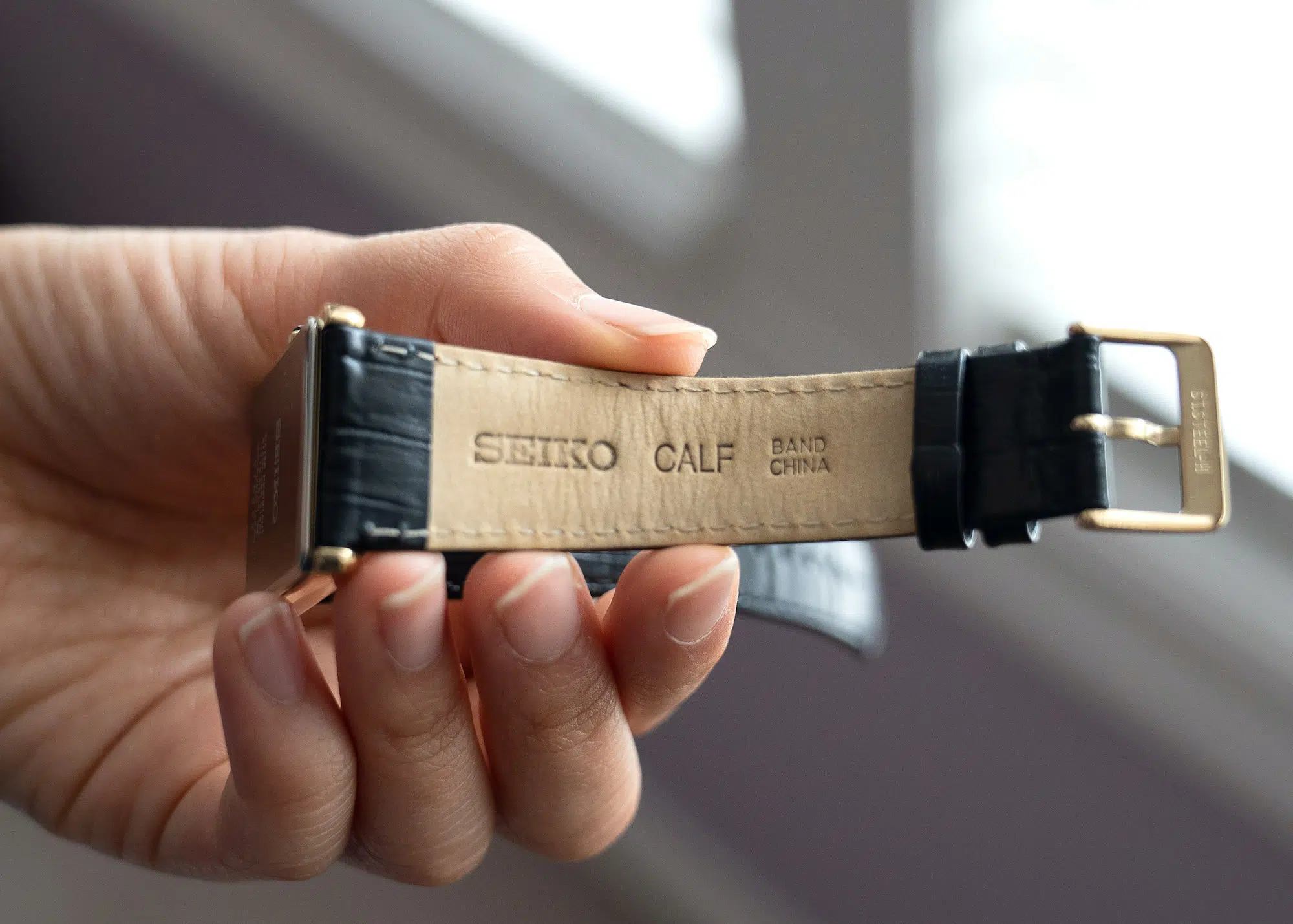 It was comfortable to wear, but it felt pretty stiff, and I'm not sure that it'll hold up over time. It measures 23 millimeters wide and tapers towards the ends.
The Movement
The SUP880 is a solar timepiece and features an accurate quartz movement.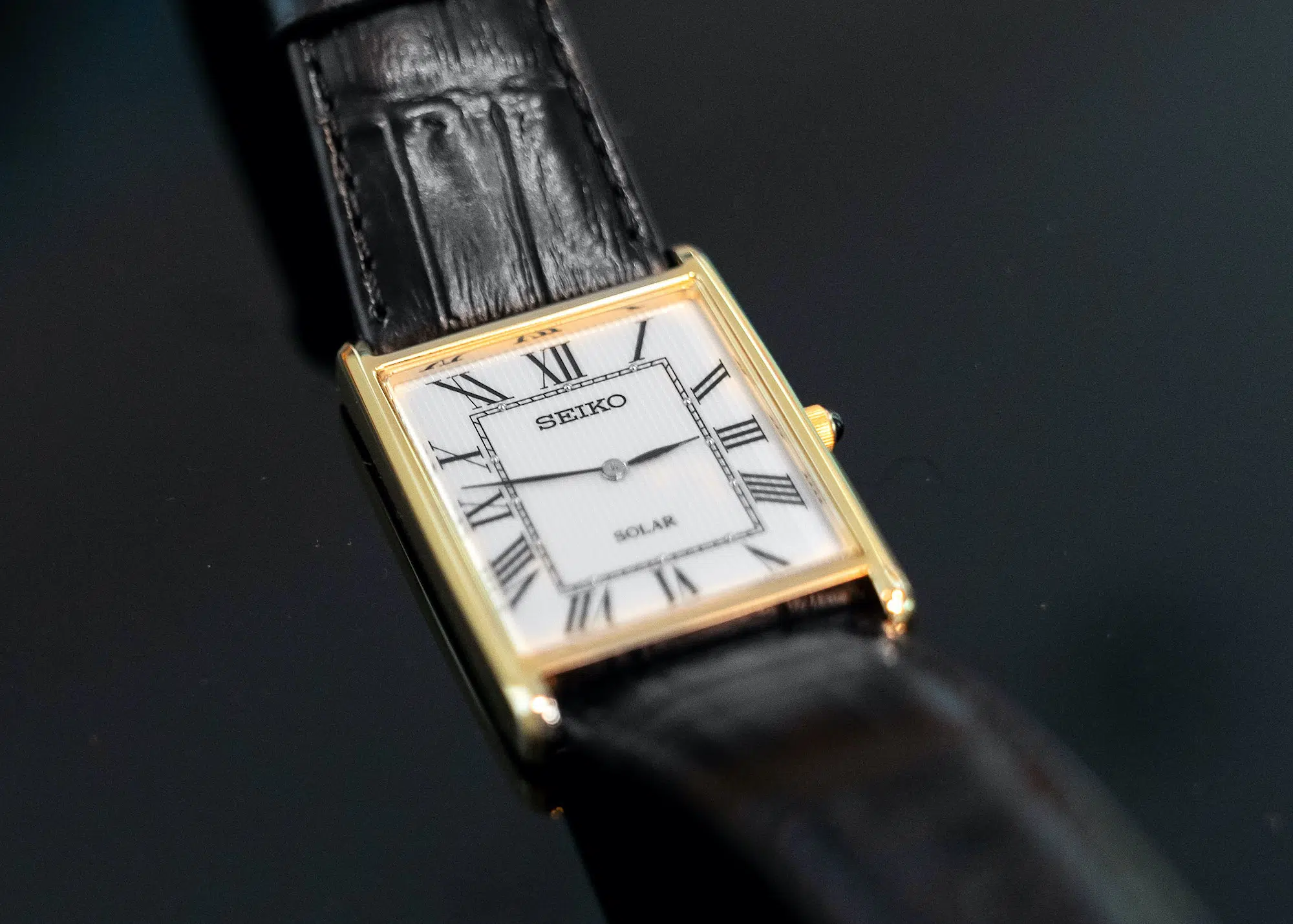 The V115 capacitor can charge the battery in 8 minutes to reserve 6-7 months of use in complete darkness when fully charged. No battery, no winding, no problem.
Overall Pros and Cons
Now that you know a bit more about the Seiko SUP880, this list of pros and cons should help you make an informed decision on whether or not this watch is the one for you.
Keep in mind that watch preference is subjective, so it's important to account for each point according to your own taste.
Pros:
Affordable price
Modest case size
Solar quartz movement
Classic, elegant dress watch
The SUP880 is a stylish, classy watch and the affordable price point definitely makes it an easy choice when considering a formal watch for your collection.
Coming in at $150 to $200, it's a great value for a dress watch. Additionally, it acts as a great dupe for the Cartier Tank watch, which will run you over $4,000.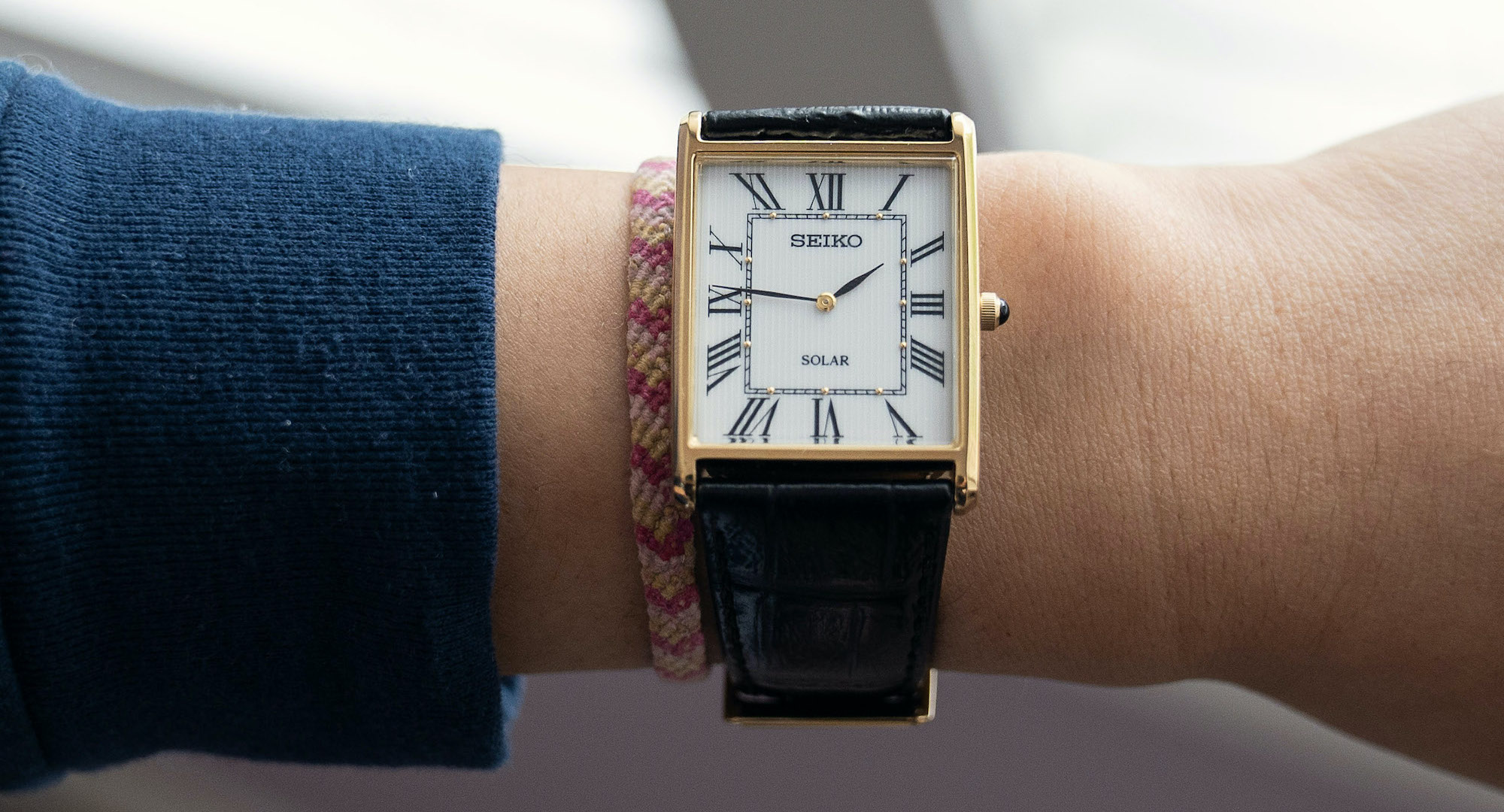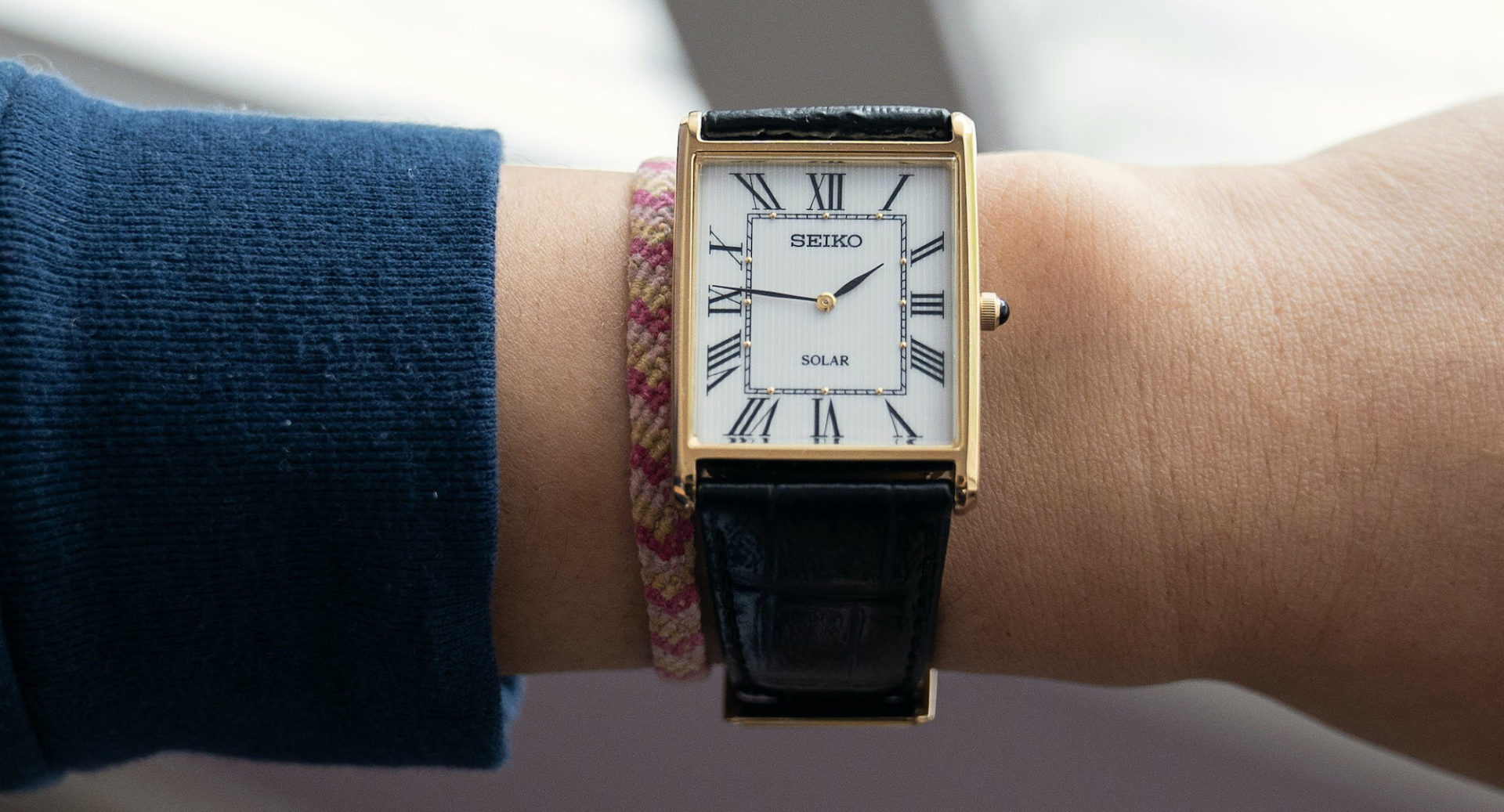 The modest case size makes it a fantastic fit for smaller-sized wrists. At only 28 millimeters across and 6.1 millimeters thick, the slim watch looks perfectly proportioned on my 6-inch wrist.
Finally, you have to consider the convenience and durability of a solar quartz movement.
Leaving it out in any daylight for 8 minutes will have you ready to go for the next 6-7 months without ever having to worry about a battery running low or having to wind the watch again. With just the peace of mind from low maintenance requirements, the SUP880 is hard to beat.
Cons:
My only minor gripe is with the strap. Although it's made of calfskin, it feels pretty flimsy and almost cheapens the look of the watch.
It feels a bit stiff initially, but it should change as it is broken in over time. The strap can easily be replaced with another 23 millimeter watch strap if you want to go for a different look.
Final Thoughts
Overall, the watch is very classic yet trendy and the roman numerals give it a timeless look. The square-shaped watch face is a refreshing look on a slim wrist and the black and gold theme makes it suitable for any occasion—casual to formal.
If you're on a budget and looking for a reliable tank style dress watch, look no further than the Seiko SUP880.