Looking for an open heart watch to add to your collection? Here are some great options.
Many types of watches offer a glimpse at their inner workings, whether that's in the form of a subtle display caseback or a full-blown skeleton dial.
Open heart watches also belong to this group, but they're unique because they offer a viewing experience that balances novelty with practicality.
As the name suggests, an open heart watch features a window that reveals part of the internal mechanism.
Usually, the dial will have a circular window on the dial that exposes the balance wheel. However, some watches divert from this with different cutout styles and placements.
Like moon phase watches and skeleton watches, open heart watches provide extra aesthetic value. Being able to take a close-up look at the mechanisms that make a watch work reminds you how much craftsmanship goes into watchmaking.
Best Open Heart Watches Under $500
If you're intrigued, read on to take a look at some of the best open heart watches you can buy today.
Orient Bambino Open Heart
In terms of value for money, Orient is one of the best brands on the market. Its regular Bambino model is a great dress watch that ticks all the right boxes, and the Bambino Open Heart is no different.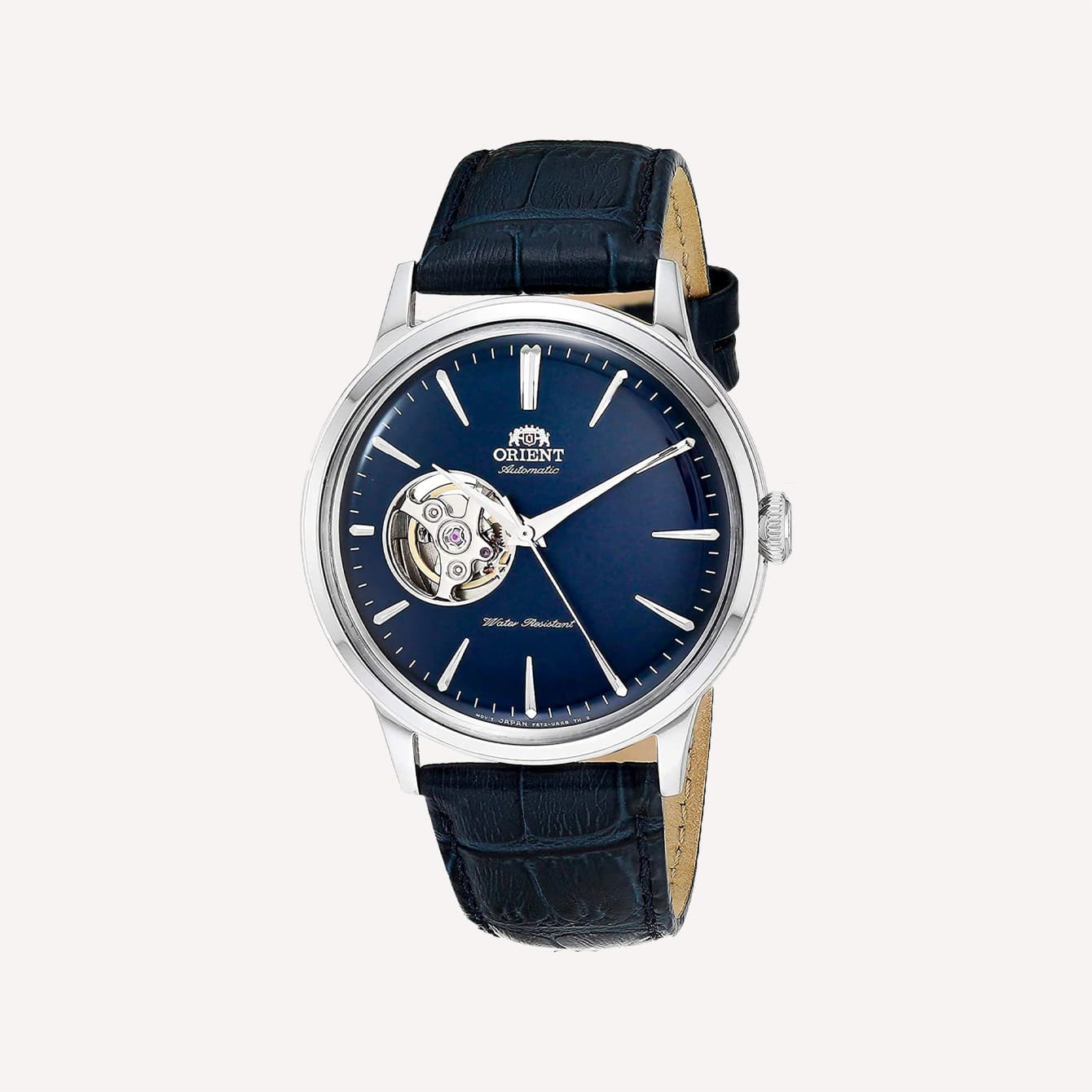 The 40.5mm Bambino features a generously sized display window at the 9 o'clock position. Both the balance wheel and hairspring are clearly visible, creating a strong "heartbeat" feel. Even though the open heart cutout is fairly large, it doesn't detract from the watch's sleek design.
Spec-wise, the Bambino Open Heart (like the other Bambinos) punches above its weight. Most notable is the in-house F6T22 movement, which is automatic and has hand-winding and hacking functionalities. You also get a domed mineral crystal, a 40-hour power reserve, and an exhibition caseback.
You can often find the Bambino Open Heart for around $170 on Amazon, which is a fantastic price. Given its affordability and feature set, it's easy to see why this is one of the more popular open heart watches on the market.
Seiko Presage Cocktail Time Blue Moon Open Heart SSA785J1
Even if you're familiar with Seiko's Presage line, you may have overlooked this open heart option. The Seiko SSA785J1 is marketed as a women's watch, but it's a solid choice for slender-wristed guys as well.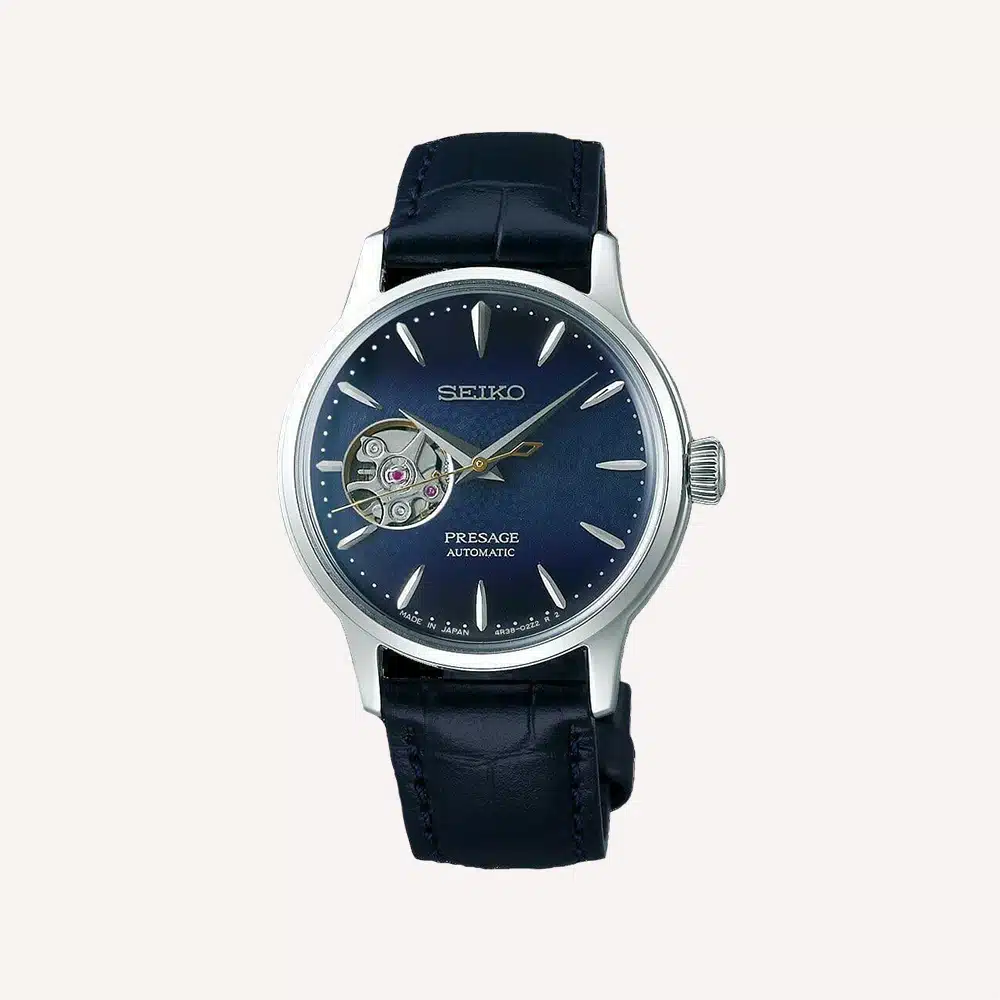 With a case diameter of just 33.8mm, the Blue Moon Open Heart is a small but mighty timepiece. The cutout reveals the balance wheel with its bright purple jewels that pop nicely against the dark blue dial.
While the Blue Moon is the same general style as the Orient Bambino, it offers a few upgrades. You get Seiko's 4R38 movement, a Hardlex crystal, and 50m of water resistance. Like the rest of the Presage watches, it's respectably priced — you can find it for around $289 on Amazon.
Timex Waterbury Traditional Automatic Open Heart
Timex doesn't make many open heart watches, so it's a bit of a surprise to see this one in the Waterbury lineup.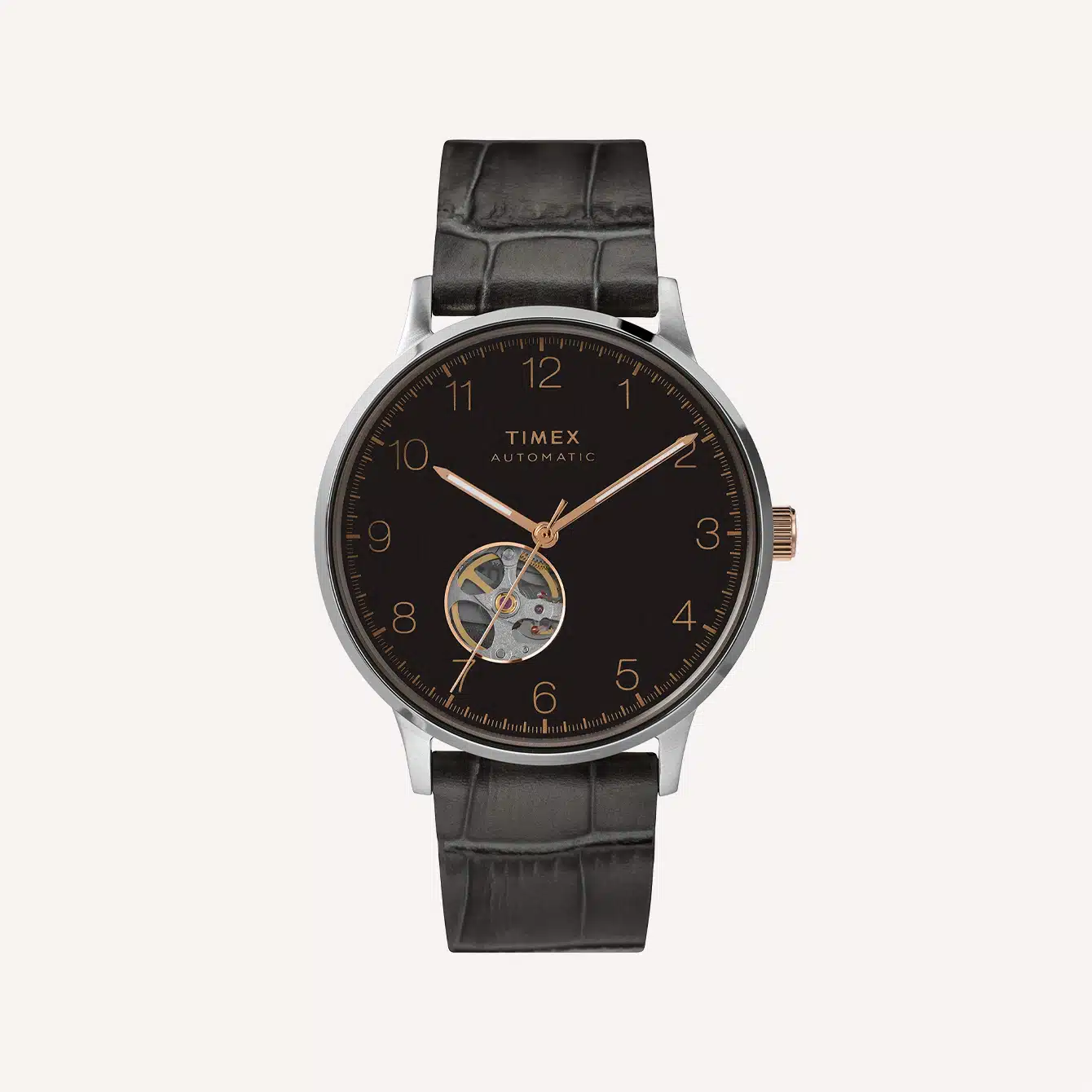 With a minimal, Bauhaus-inspired design, the Timex Waterbury open heart is a handsome piece with a 7 o'clock open heart display. Thanks to the slim hands and marker font, the dial has an extra minimal look that nicely emphasizes the colorful open heart.
Outfitted with an automatic movement carrying a 40-hour power reserve, the Waterbury is a solid pickup with a great look. Right now, it's hovering around the very competitive $150 range.
Zeppelin 7666-5 Graf Zeppelin Series
German watchmaker Graf Zeppelin specializes in vintage designs that borrow from the world of aviation. The brand has plenty of fresh twists on classic complications, and the 7666-5 open heart is no exception.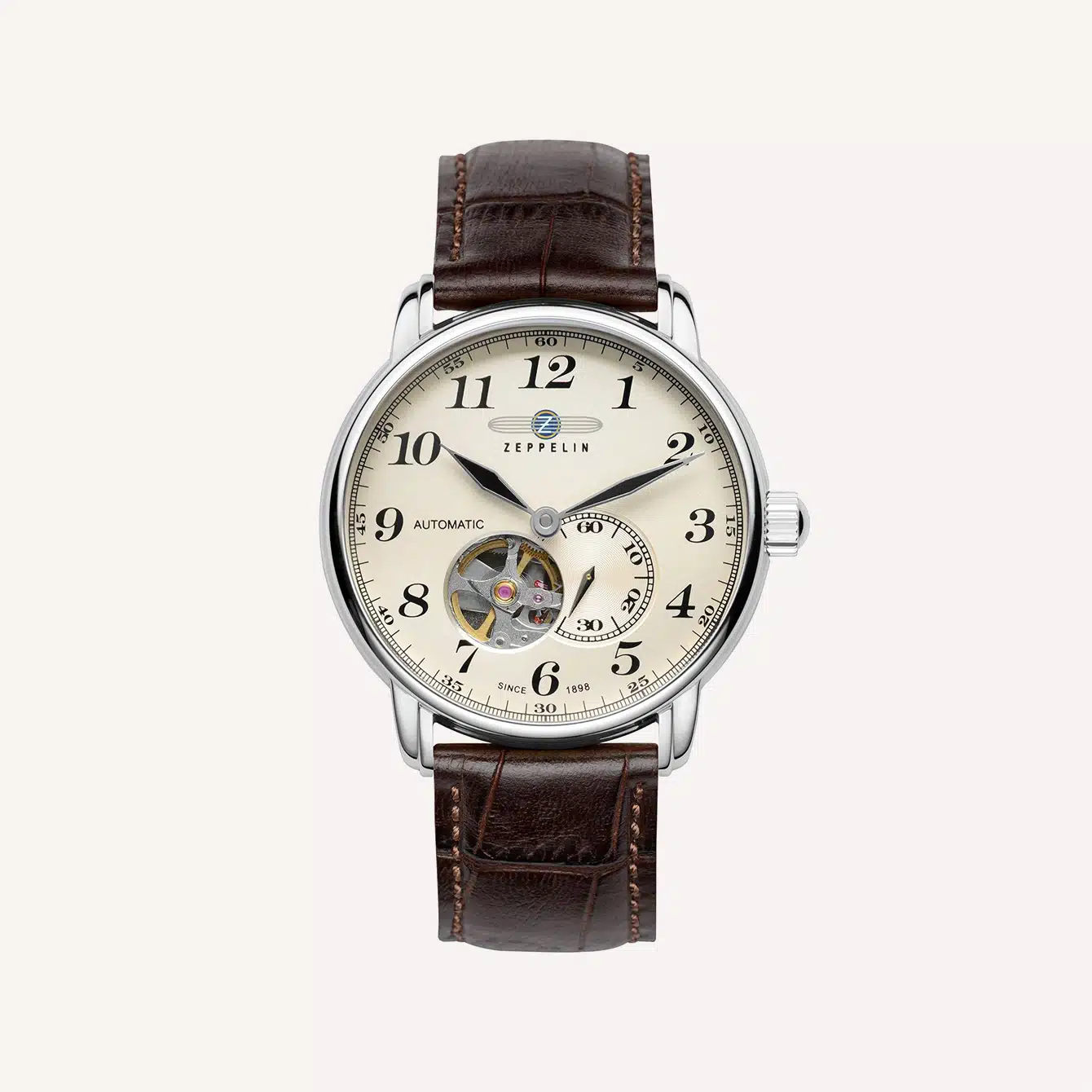 The open heart display sits at the 7 o'clock position, where it overlaps with a small seconds subdial. Because of that overlap, the small seconds hand sweeps across the exposed portion, which adds a subtle layer of depth to the dial.
It's got solid specs — the 82S5 automatic movement is hacking and hand-winding with a power reserve of 42 hours. It has a 40mm case and an 18mm band width, so it'll wear a bit smaller than its true size.
This watch can be picked up for around $230-$240, making it a competitive option in this price bracket. It's also one of the few non-dress watches on this list, so if you prefer casual watches, this might be the one for you.
Bulova Classic Automatic 96A201
The Classic Automatic 96A201 from Bulova is a different take on the open heart dress watch.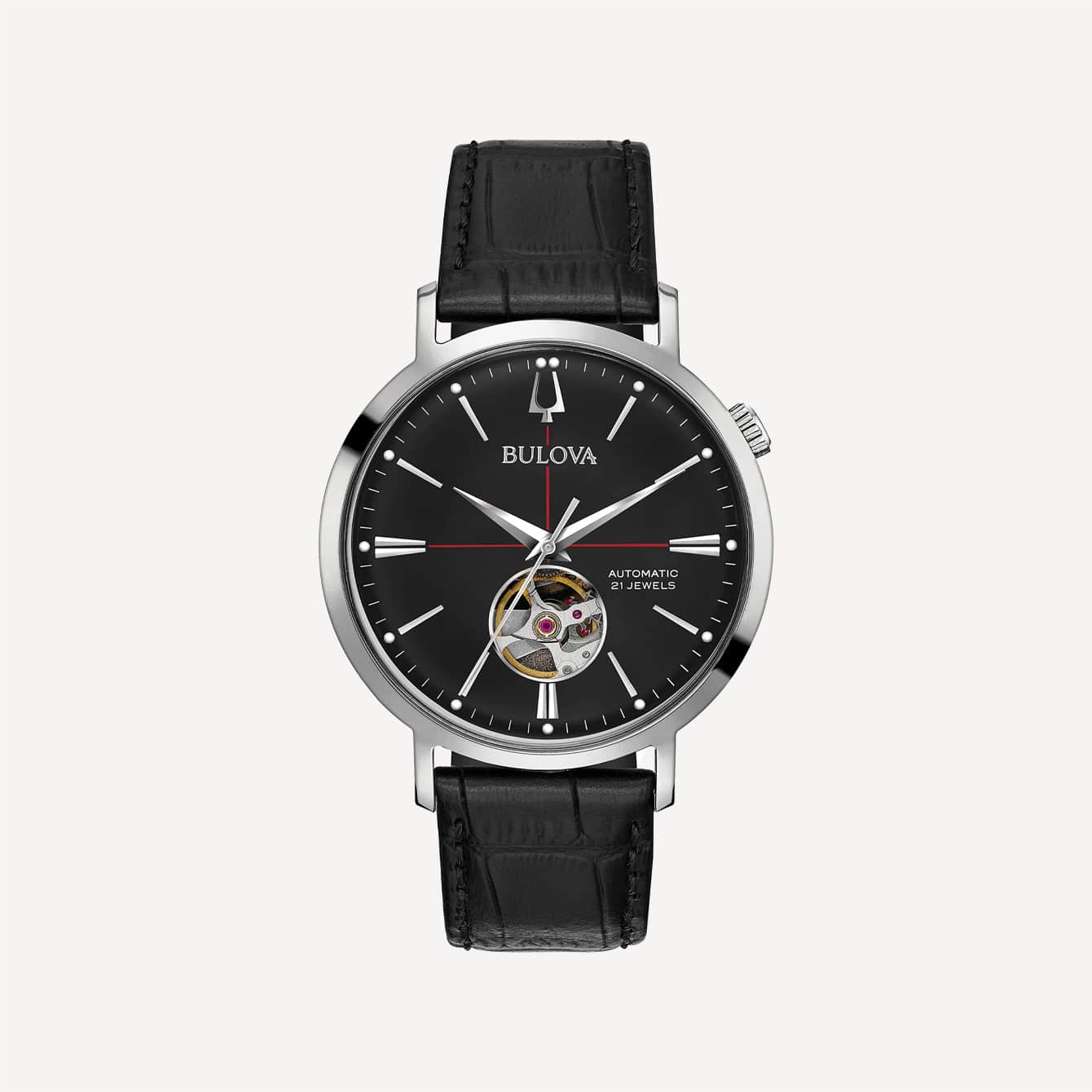 Unlike many of the watches on this list, the 96A201 places the open heart display at 6 o'clock, resulting in a symmetrical dial (although the exposed mechanism is not). The striking color scheme offers a lot of contrast, making for a bold design that's in line with other Bulova watches.
Inside, there's an automatic movement with a power reserve of 40 hours. A mineral crystal and display caseback round out the specs. It carries an MSRP of $395 but can often be found on sale for around $285.
Best Open Heart Watches Under $1000
For those of you that have a budget that is more flexible, here are some more pricy options:
Hamilton Jazzmaster Open Heart
Hamilton's Jazzmaster line covers a lot of ground—you can find everything from standard dress watches to skeleton watches. The Jazzmaster Open Heart Auto sits somewhere in the middle, offering an eye-catching yet classy take on the open heart.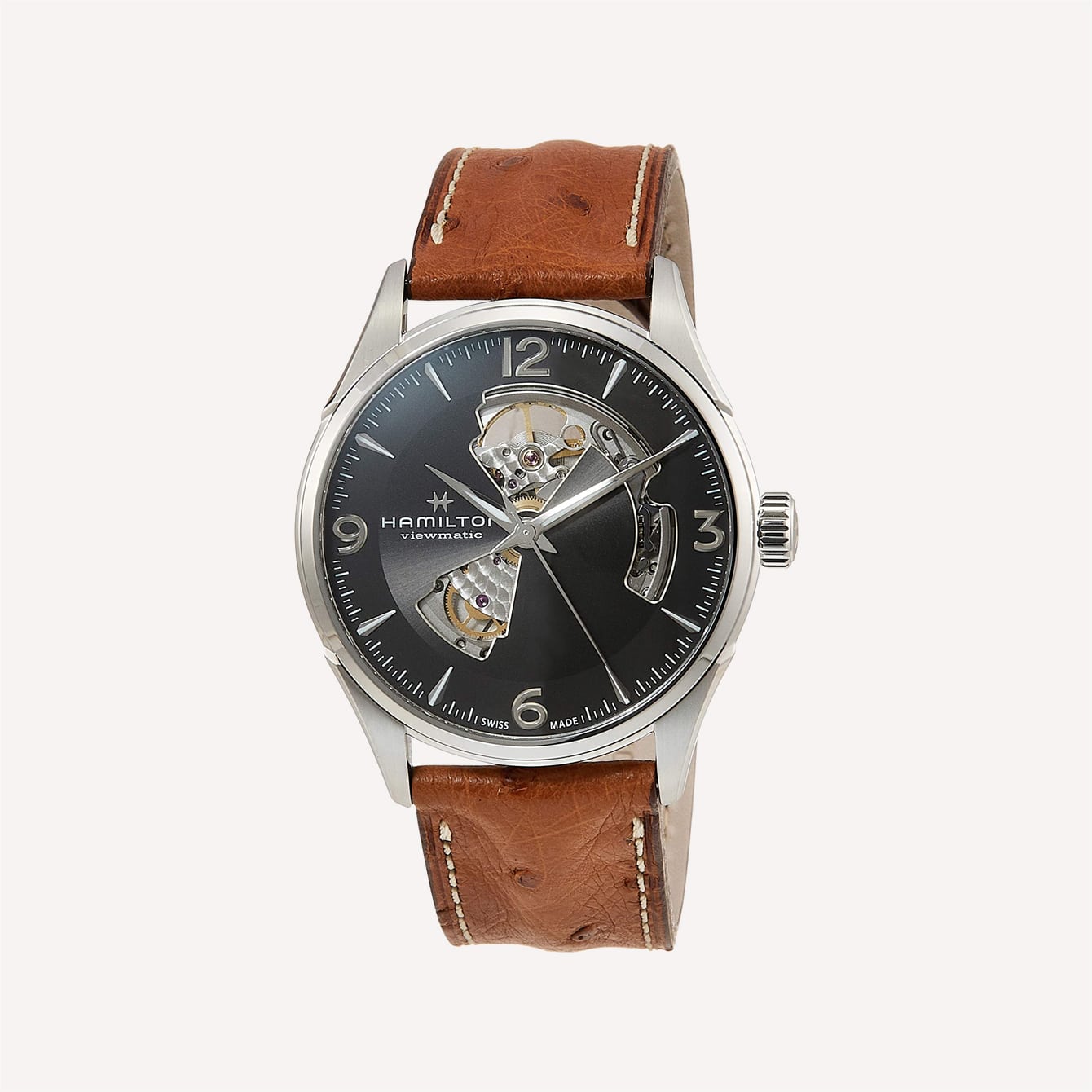 The Jazzmaster ditches the circular viewing window in favor of an angular cutout that cuts across the dial to reveal about half of the movement. The elegant design makes the watch easy to read despite the large cutout.
There are some impressive specs, too; the Swiss-made H-10 movement has an amazing power reserve of 80 hours, and the scratch-resistant sapphire crystal provides both aesthetic and functional protection.
With a case diameter of 42mm and a lug width of 22mm, the Jazzmaster is a tad on the large size, but this is nonetheless a remarkable watch. You can grab one for about $760.
Tissot Tradition Powermatic 80 Open Heart
On this tasteful Tissot, the open heart display sits at the 12 o'clock position for something a little different. It's not easy to integrate an open heart into a formal dress watch, but this Powermatic 80 pulls off the task with panache.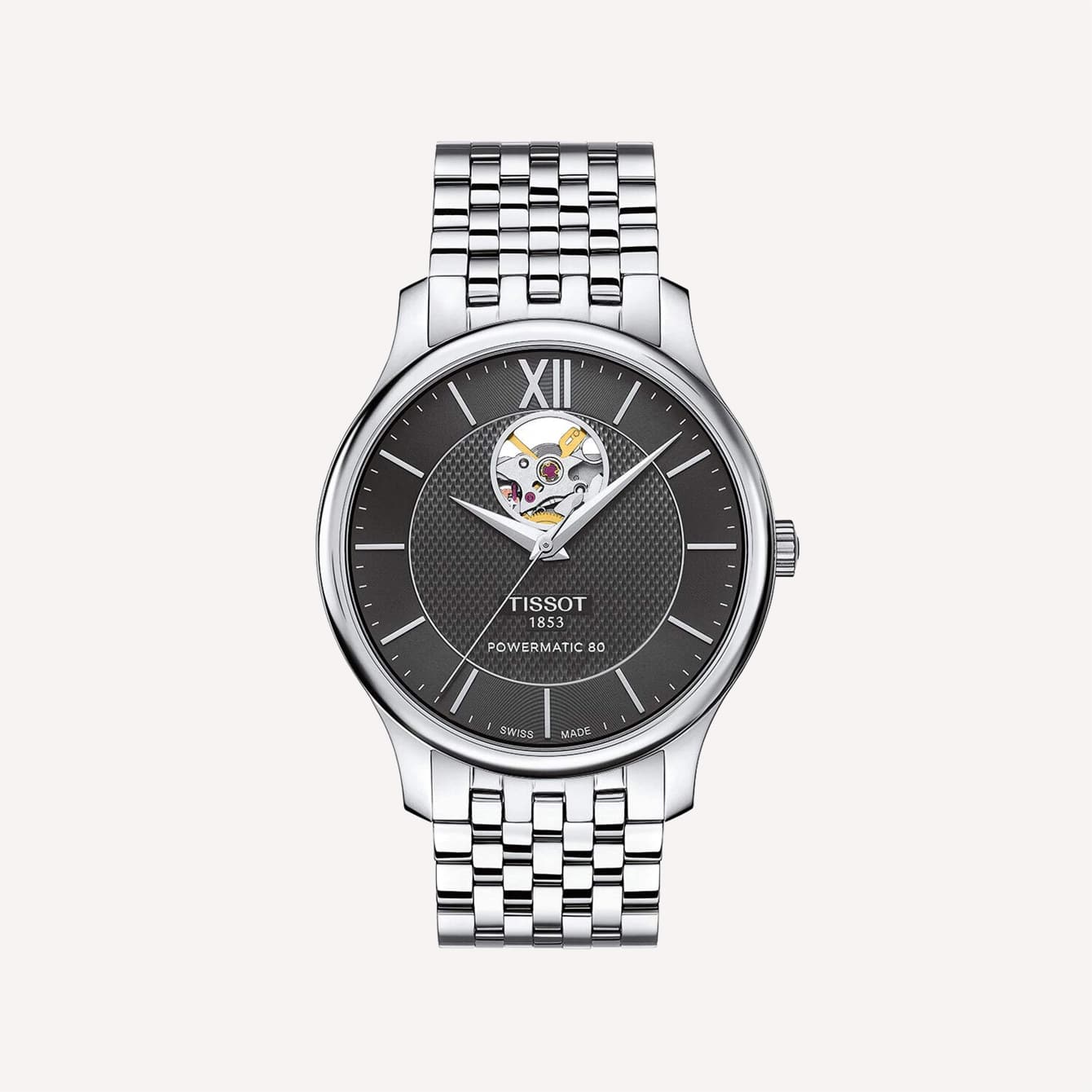 This 40mm watch features Tissot's Powermatic 80.601 movement (which also has an 80-hour power reserve), a domed sapphire crystal, and a see-through caseback. The subtle guilloché decoration is a lovely final touch that adds loads of depth and texture.
The Powermatic 80 Open Heart retails for $750, though you can often find it on Amazon for around $540.
Claude Bernard Sophisticated Classics Open Heart
The Claude Bernard name might not ring a bell, but this Swiss watchmaker has been around since the early 1900s.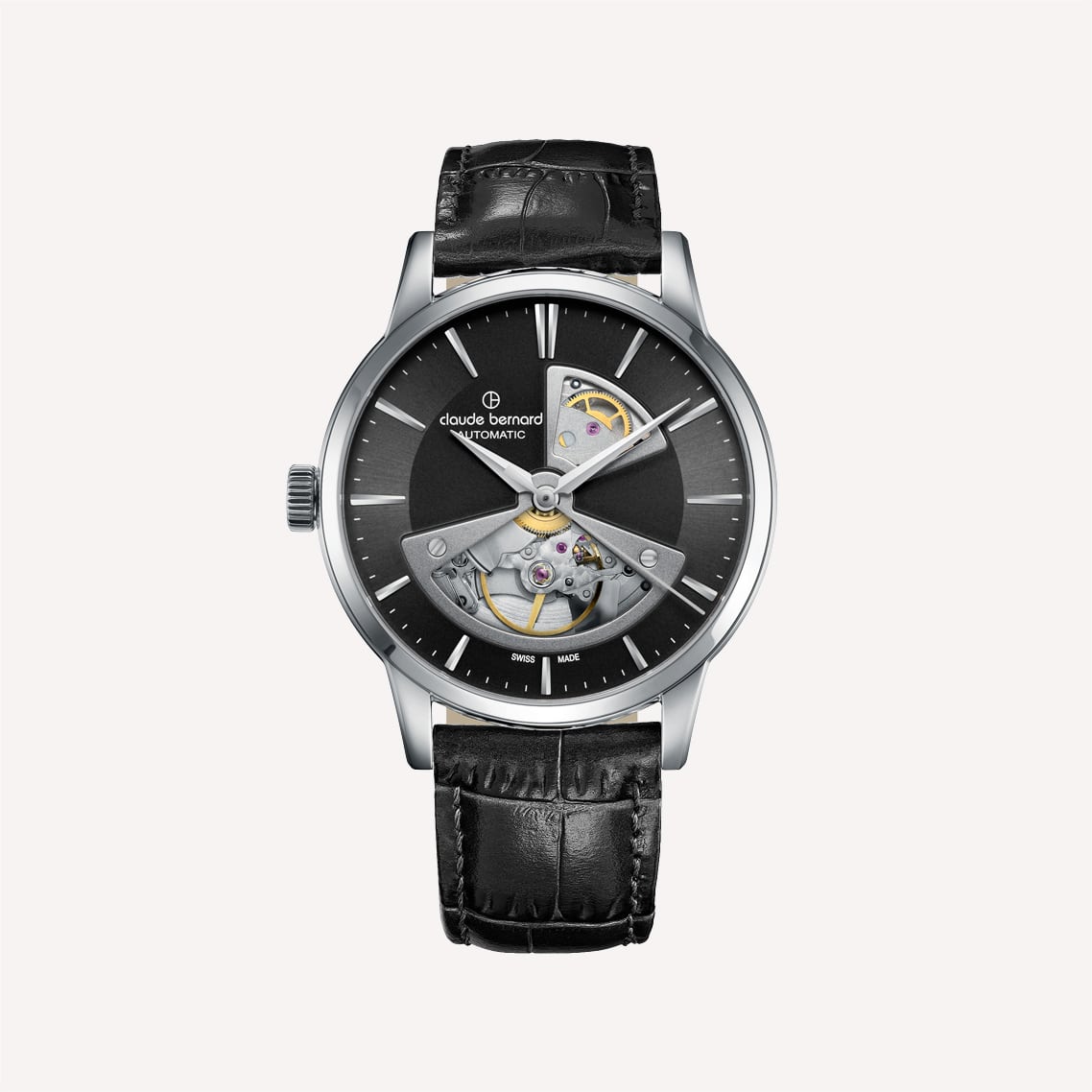 Their classic automatic series includes this stunning open heart with two display windows, one of which reveals almost the entirety of the balance. Like the Hamilton Jazzmaster, this Claude Bernard uses geometrical cutouts for a unique vibe.
The specs are in line with other watches in this price range. The CB 85 caliber automatic movement has a power reserve of 40 hours, and the dial is topped with a sapphire crystal. Availability and price vary, but you can expect to pay around $600-$700.
Best Luxury Open Heart Watches
Finally, for guys with a lot of extra cash, below are a few luxury-tier open heart watch models:
Rado Centrix Automatic Open Heart
This stunning piece from Rado toes the line between open heart and skeleton with its extensive display. I'm including it in this list simply because it's one of the more unique open heart options.
By reducing the dial to strips that resemble branching roadways, the Rado Centrix provides a hybrid experience — it's not completely a skeleton watch, but it's more exposed than a typical open heart. The cutout allows you to see almost the entire mechanism at work.
The Centrix uses Rado's 03.734.031 movement, which has an 80-hour power reserve, and the bracelet is made from stainless steel, titanium, and "high-tech ceramic." At $2,100, you're definitely paying for the design, but the specs are solid enough.
Zenith El Primero Chronomaster Automatic Open Heart
If you're a fan of watches with multiple complications, you'll like what the Zenith El Primero has to offer.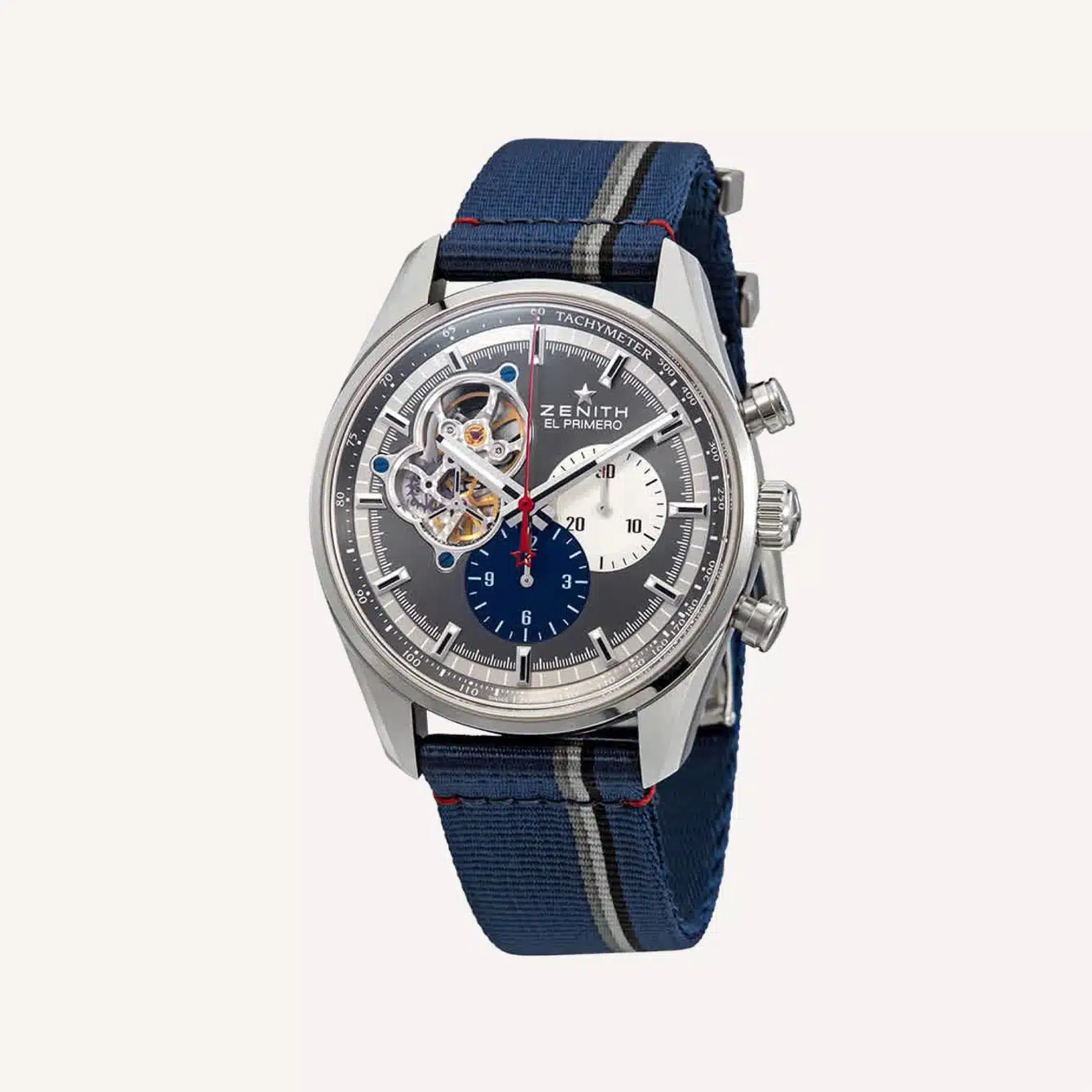 The El Primero is absolutely loaded. The large open heart display at the top left is just one of this watch's many features. This chronograph also has 12-hour and 30-minute subdials as well as tachymeter markings on the outer rim. An anthracite crystal and Zenith's El Primero 4061 movement round out the specs.
It's extremely rare to find a chronograph with an open heart complication, and as you might expect, the painstaking design comes at a cost: the El Primero has a retail price of $8,700. That said, it's often on sale at Jomashop, and it's easy to find it around the $6,000 mark.
Open Heart Watch FAQs
Still have questions about open hearts? See your cardiologist!
Just joking — here are a few Q&As:
What's the difference between an open heart watch and a skeleton watch?
Open heart watches expose part of the inner mechanism while skeleton watches expose the entire mechanism.
Why are there no quartz open heart watches?
Open heart watches typically reveal the movement's balance wheel, which quartz movements lack.
Are open heart watches tacky?
While this is a matter of personal preference, it's worth noting that a lot of open heart watches are poorly designed. It's part of the reason why some people think open hearts are tacky.
Which Open Heart Watch Will You Choose?
While open heart watches are somewhat divisive, there's no denying that they're intriguing.
In addition, all of the open heart watches on this list are more than mere showpieces. They have competitive specs, so even if you completely disregard aesthetics, you'll find a lot to like.
But, of course, open heart watches are driven by aesthetics, and that's what makes them so exceptional. They combine novelty and functionality in a way that few other watch types do.
Questions? Comments? Leave them below!