Looking for an alternative to the Hamilton Khaki Mechanical? Here are some great options!
The Hamilton Khaki Field Mechanical is a go-to bang-for-buck field watch for good reason. From its arrow-clad outer track to its all-Arabic hour markers (in military and standard), it has a timeless field watch design, which is a staple in men's style.
Plus, that manual hand-wind situation adds a tactility factor, making it delightfully interactive.
Still, there are many reasons you might want an alternative. Maybe it's based on your budget, whether you want something cheaper or more premium, with the same vibe.
Perhaps you like the general idea of the Khaki, but wish it were dressier or less busy, or even an automatic.
These 13 alternatives to the Hamilton Khaki Mechanical should scratch that itch.
13 Hamilton Khaki Mechanical Alternatives
Here they are, in no particular order!
Hamilton Khaki Field Automatic
The automatic version of the Khaki Field not only has an updated movement but a generally more modern and sleek look as well. The same Arabic indices are there but in a sharper, high-polish font.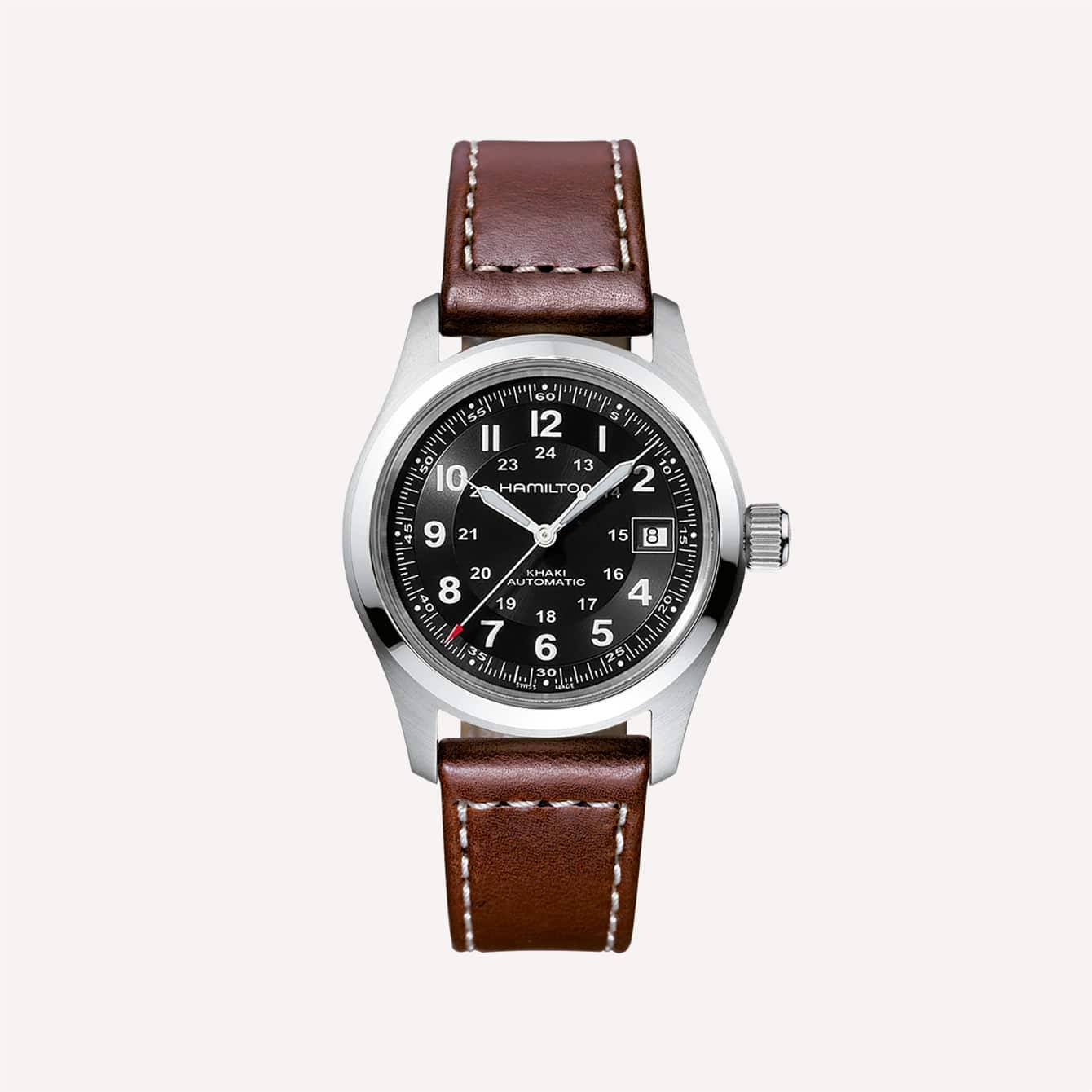 For legibility and aesthetic sophistication, the sunray effect on the standard hour track is going in a different direction than the one on the center dial.
This watch definitely has more range than the mechanical one, but with the same durability. You can pair it with a luxurious-looking leather strap and wear it with a suit, or a raw twine-enforced strap to partner with a flannel and jeans.
Dimensions: 38mm diameter, 11mm thickness
Case material: Stainless steel
Water resistance: 100m
Like the H-50 that the mechanical runs on, the H-10 automatic has an 80-hour power reserve. It also has a beautiful pearled pattern that you can see through the exhibition caseback.
Longines Heritage Military 1938
Admittedly, 43mm is a bit on the large side when it comes to classic field watches.
However, surprisingly enough, the Heritage Military 1938 is based on an actual, often overlooked, Longines design from the interwar period that actually featured this monstrous case size.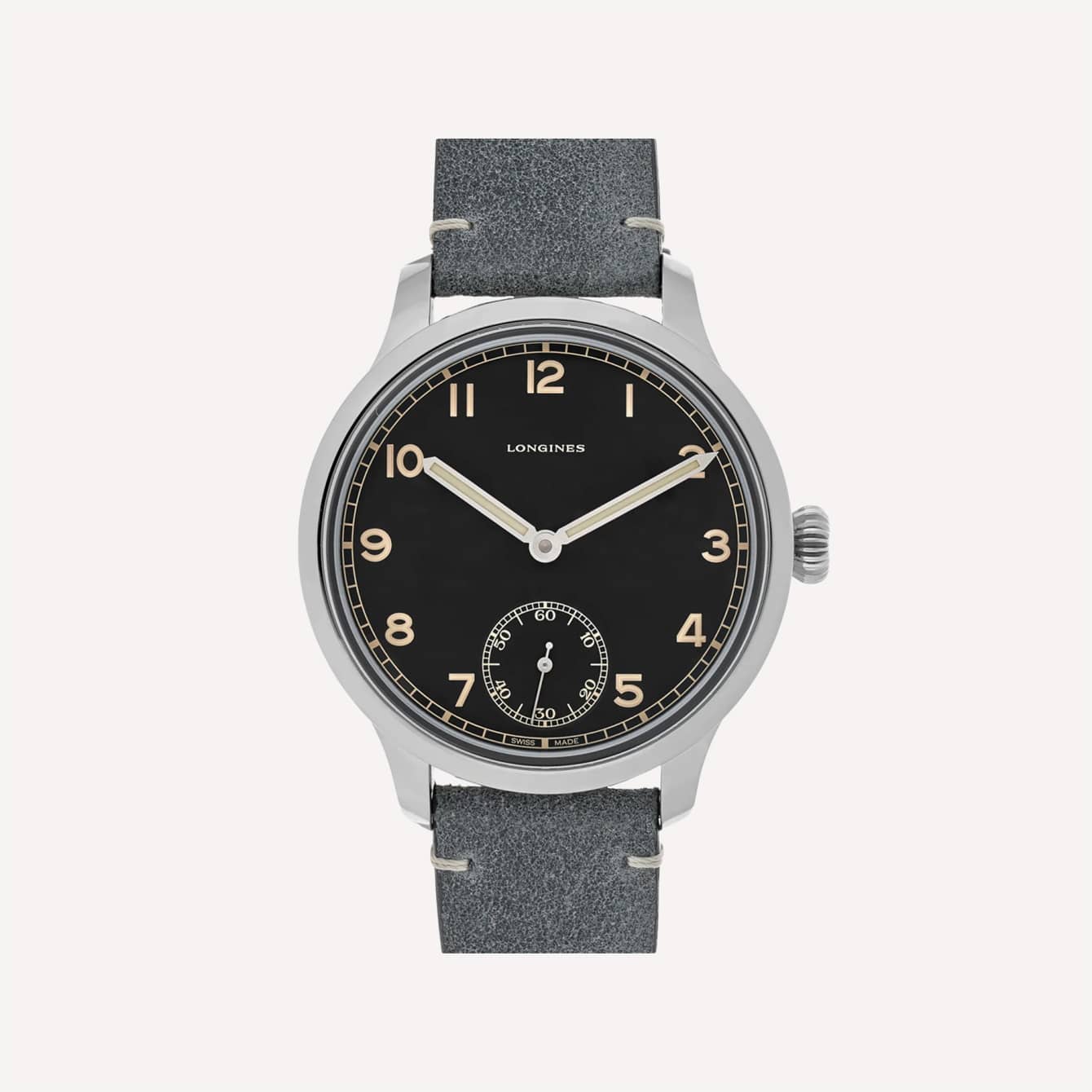 Not only is it from the brand's archives, as the Khaki is, but it runs on the manually-wound L507.2. This is an uncommon caliber, as its base, the ETA 6498-2, was made for pocket watches.
Dimensions: 43mm diameter, 12.5mm thickness
Case material: Stainless steel
Water resistance: 30m
Still, it has just enough resistance to make using the elegant onion crown truly satisfying.
Bulova Hack
Like Hamilton, Bulova is no longer under American ownership but often takes inspiration from its archives. That's also something the Hack and the Khaki have in common.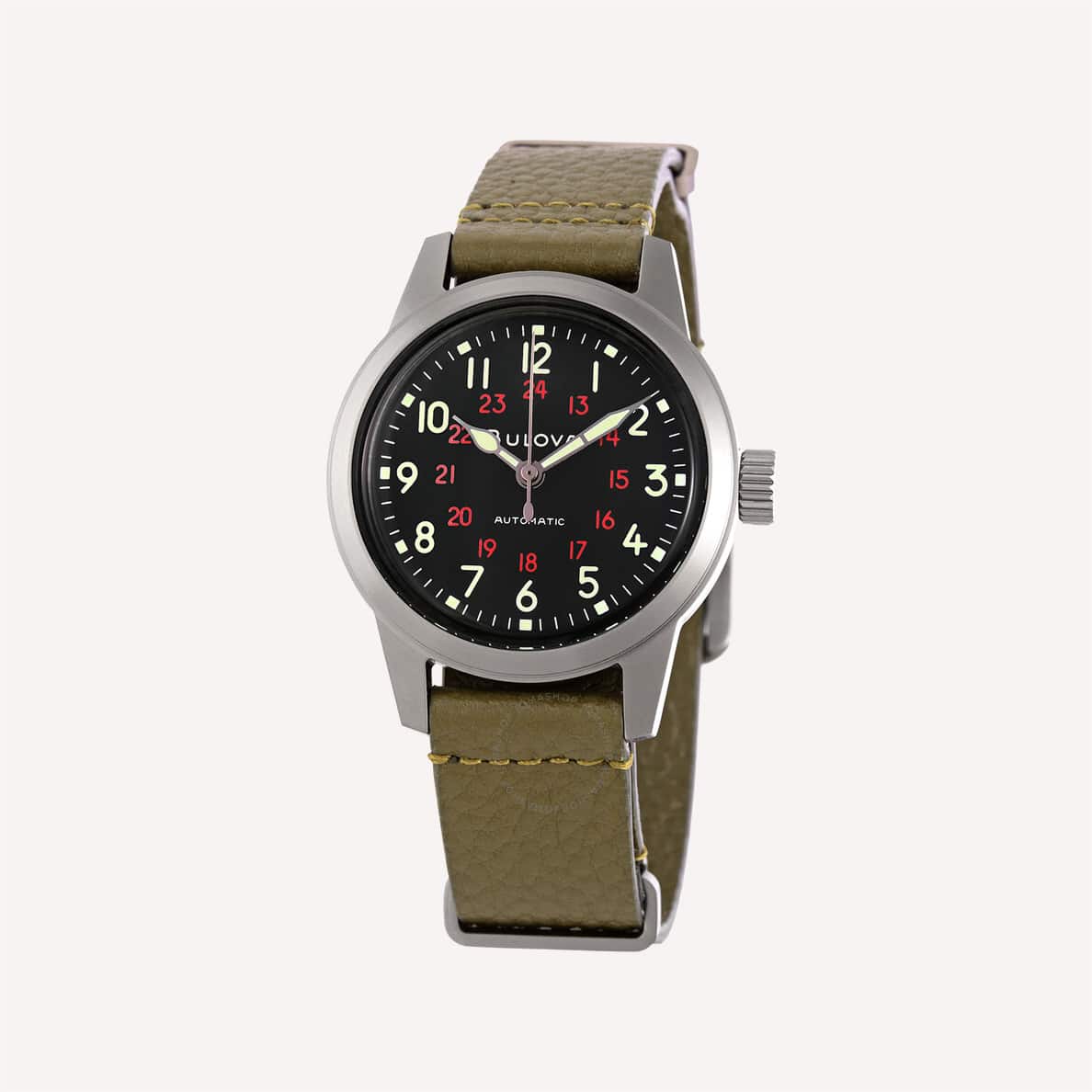 Though a real-deal field watch, the Hack has a bit of playfulness about it, with the illustrative almost-cathedral hands in lume-like green, and the square-clad outer dial.
This makes it different from the arrow-clad outer dial that traditional field watches, including the Khaki Mechanical, have.
These features really pop behind the ivory dial, making it super easy to read.
Dimensions: 38mm diameter, 13.45mm thickness
Case material: Stainless steel
Water resistance: 30m
The Hack runs on a reliable 21-jewel automatic movement. Its 41-hour power reserve isn't as substantial as the Khaki's 80, but as an automatic, it's more than enough for everyday timekeeping.
Seiko SNK Series
Whether you go for the green SNK805 or the cream SNK803, each leaning into their military origins, or the contemporary-looking black SNK809 or blue SNK807, this series of Seiko 5 watches are undoubtedly the best entry-level automatics on the market.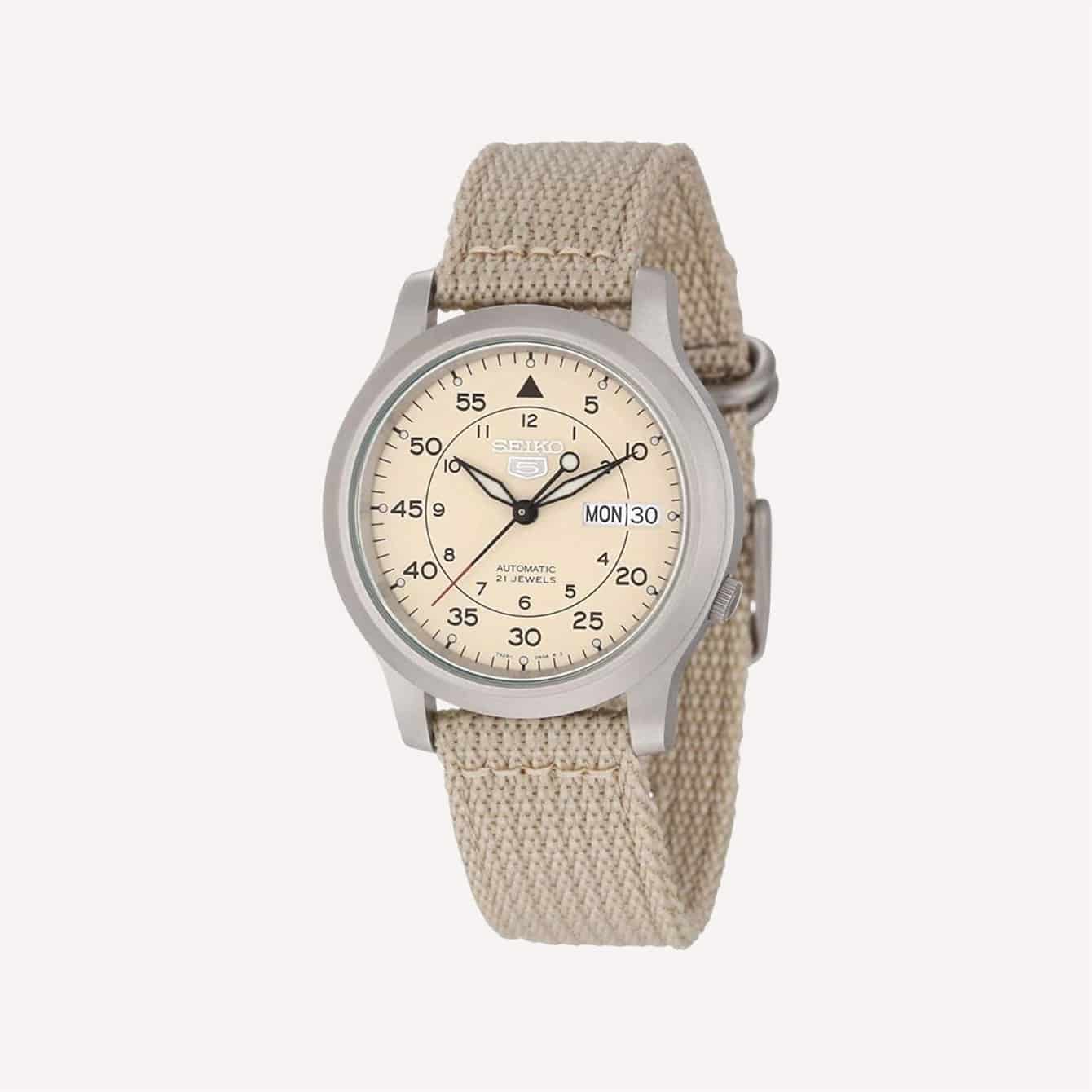 They're arguably some of the best entry-level field watches as well.
They all have the quintessential field watch look, with the military time track as the predominant indices, and an easy-to-read dial thanks to the alpha hands and lollipop counterweight second.
They run on Seiko's heritage 7S26 movement, which is viewable through the caseback.
Dimensions: 37mm diameter, 11mm thickness
Case material: Stainless steel
Water resistance: 30m
Moreover, the different colored dials, each with a tonal nylon strap, give the line a fun collectibility factor that the Khaki doesn't offer.
Seiko SNZ Series
The SNZ series is like the bigger and bolder, possibly leveled-up, cousin to the SNK series. It's much more dimensional, thanks to its raised outer track, featuring flush lines and rectangles which give it a more aerodynamic look.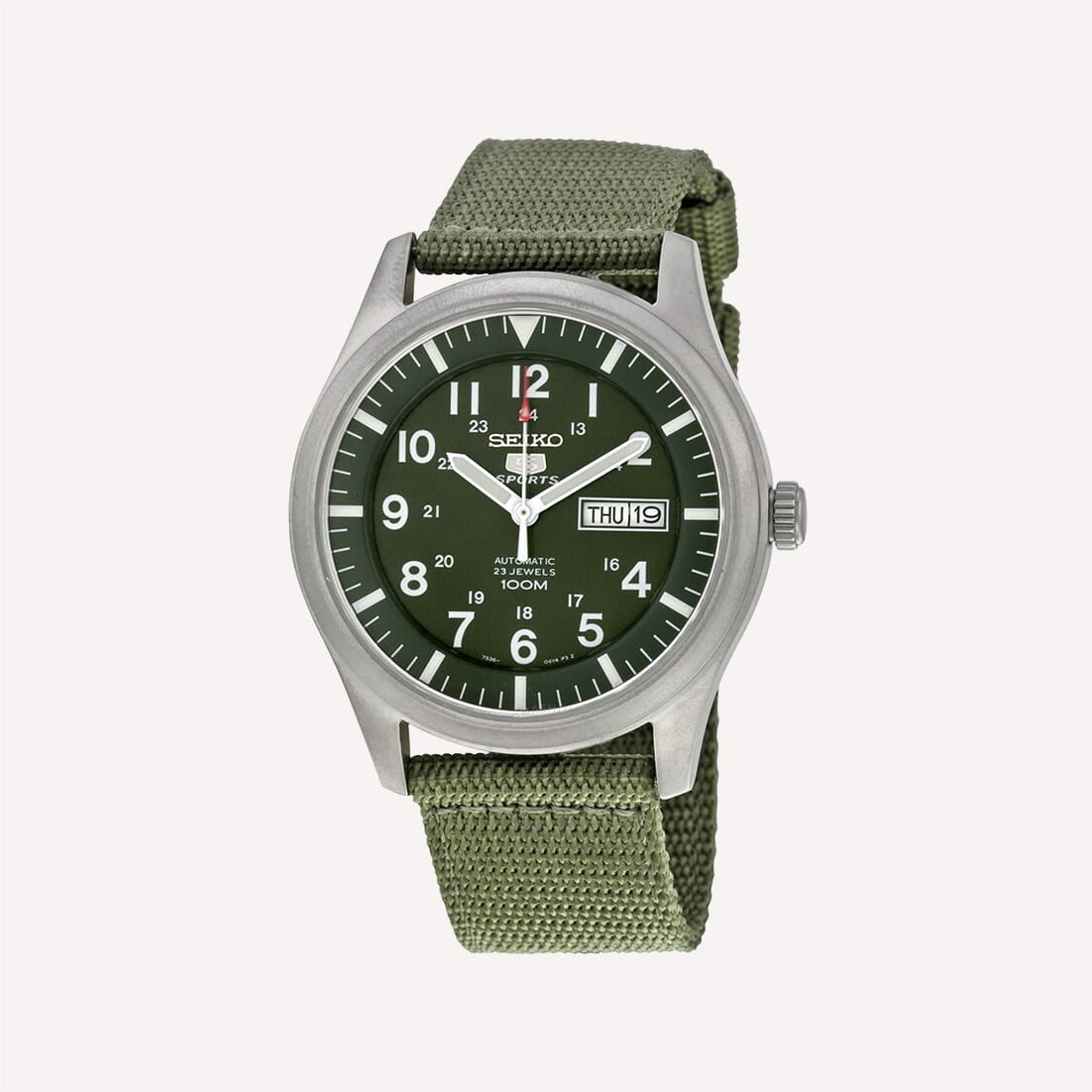 They're equally as legible as the SNKs, though some would argue the dominant 12-hour markers make them easier to read.
It runs on a caliber in the same 7S family, but this time, it's Seiko's 7S36, which is made domestically (as in, it's made in Japan). Often, Seiko saves its best stuff for the locals.
While the 7S26 and the 7S36 are mostly interchangeable, the latter has two extra jewels.
Dimensions: 41.5mm diameter, 12mm thickness
Case material: Stainless steel
Water resistance: 100m
They don't serve a consequential function, as far as the differences between the two go, but the extra pops make the caseback experience marginally more entertaining.
CWC G10
The CWC G10 is the British Military watch, originally issued to the forces in 1980. That being the case, this strongly-built timekeeper has a major legitimacy factor about it.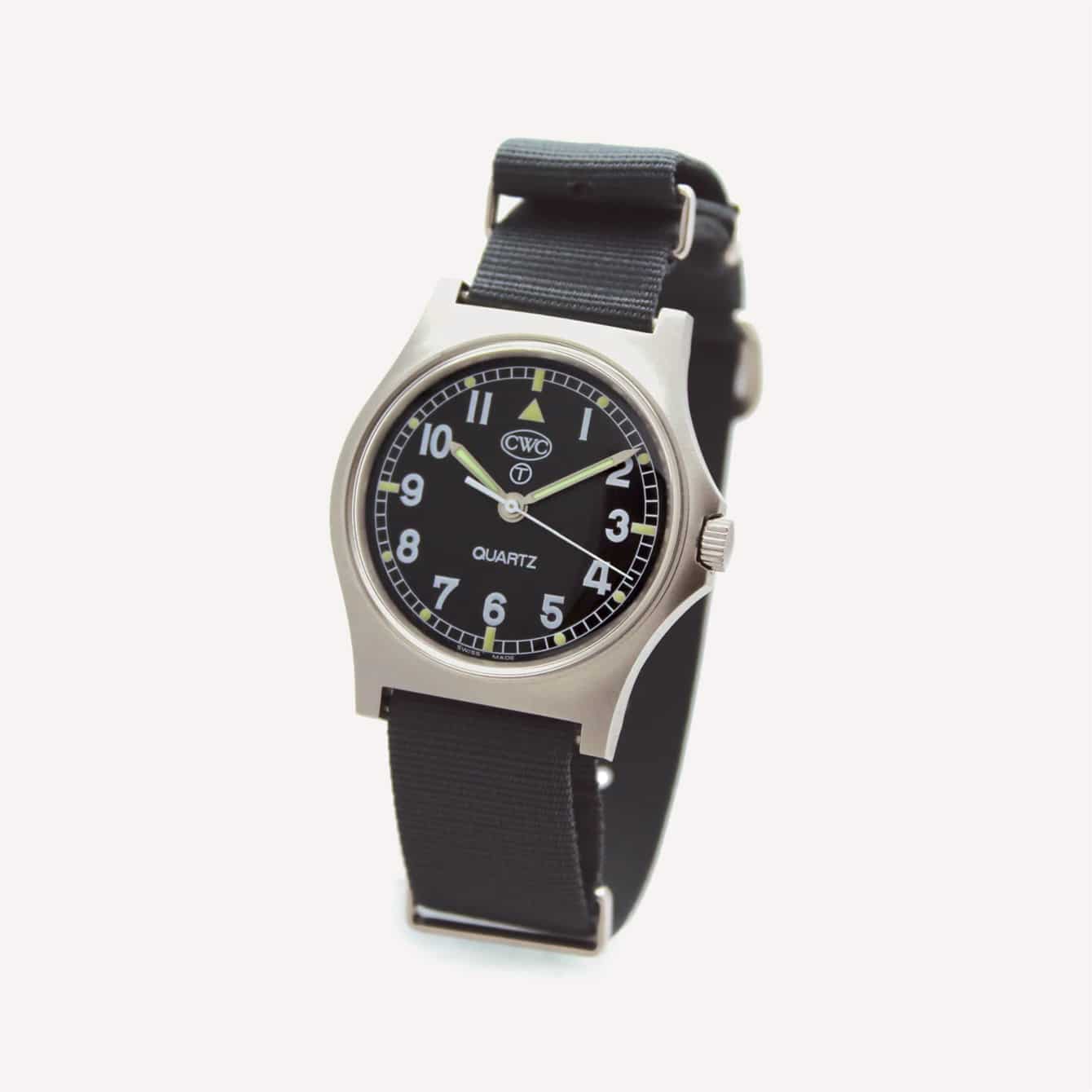 One of its most unique qualities is its tritium-fitted dial, which is self-illuminating and doesn't need a light source, unlike the more common photoluminescent lumes.
Dimensions: 38mm diameter 18mm thickness
Case material: Stainless steel
Water resistance: 50m
Basically, this watch is perfectly legible in all light conditions. It has a shatter-resistant acrylic glass and runs on an ETA quartz movement.
Weiss Standard Issue Mechanical
The word "artisanal" gets thrown around a lot, but the Weiss Standard Issue is hand-made to a high degree, which makes its painted naval brass dial and oxide-treated hands that much more impressive.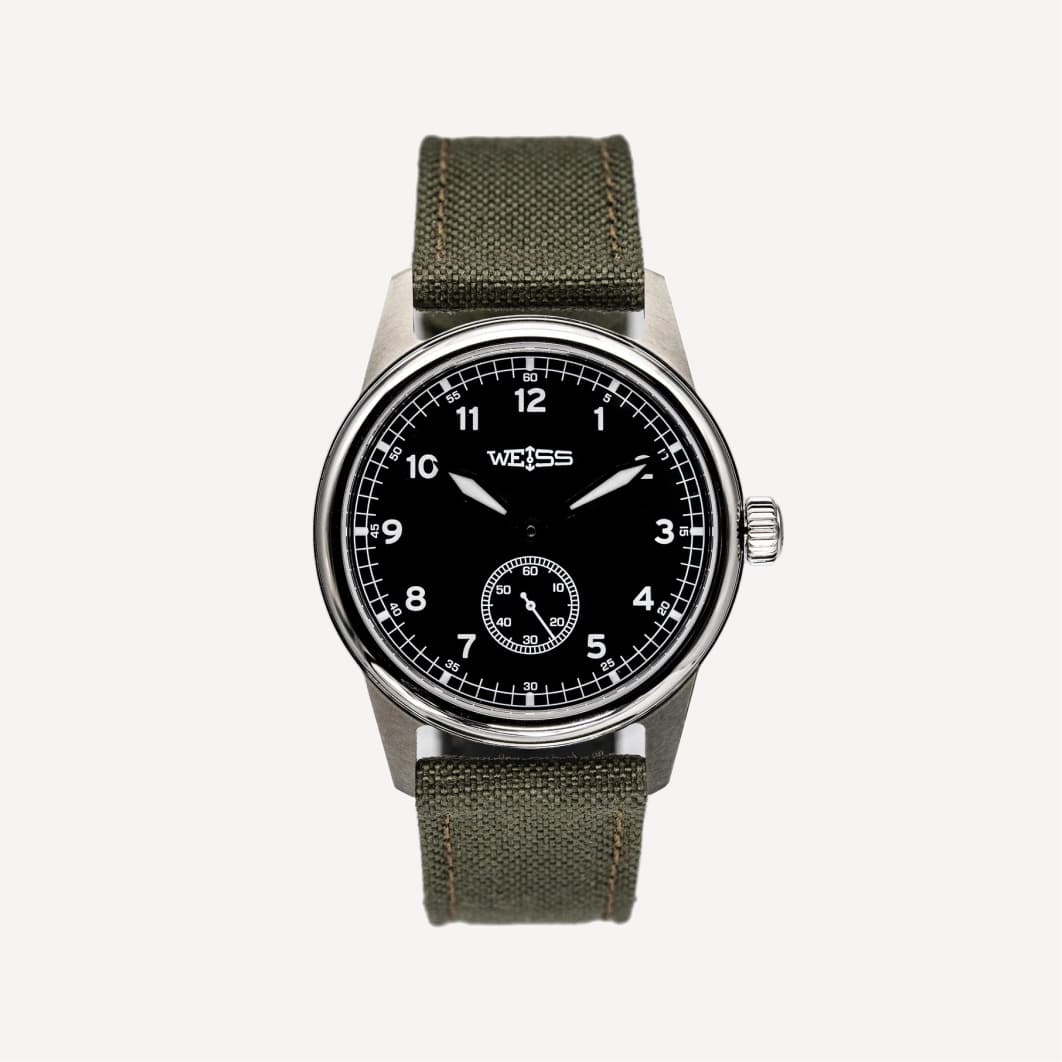 The sleek details on the subdial and the outer railroad, from which the "horizontal" tracks protrude just a little, give this watch a level of classiness without taking away from its serious military look.
Dimensions: 38mm diameter, 9.2mm thickness
Case material: Stainless steel
Water resistance: 100m
And like the Khaki field, the Standard Issue is an ever-tactile manual hand-wind.
Glycine Combat Classic GL0346
The Glycine Combat Classic has genuine military ancestry, being closely linked to the Air Force. The GL0346, however, is a quintessential luxury sport watch, checking all of the field watch boxes, and leveling it up with both aesthetic and function.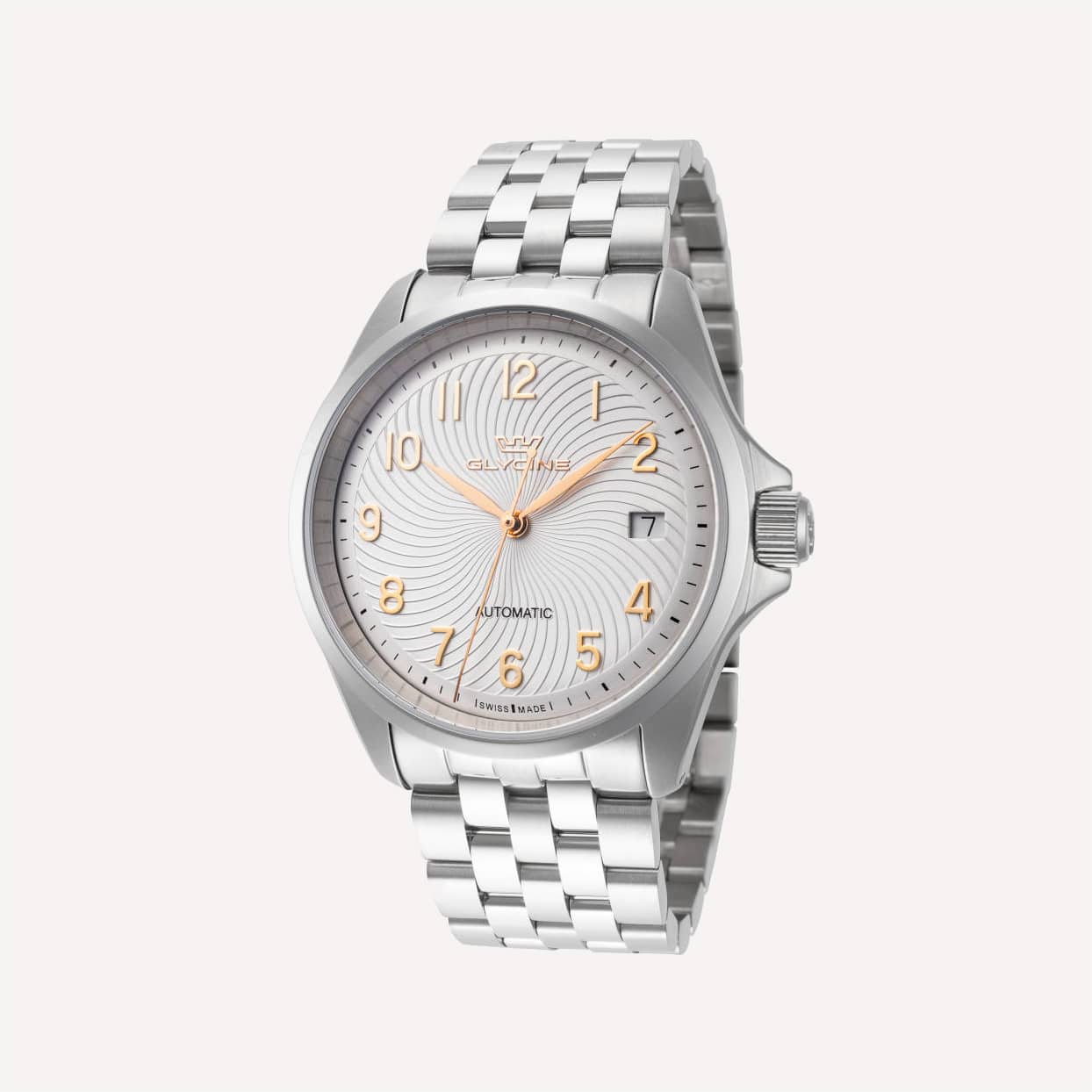 This Swiss hard-hitter is adorned with all Arabic indices, but they're applied in a stately gold tone, as are the hour hand, minute hand, and extra long and graceful-moving second hand.
Dimensions: 36mm diameter 10.6mm thickness
Case material: Stainless steel
Water resistance: 100m
All of this is complemented, and made more legible, with the wave design on the dial. It gives it a touch of elegance but is also reminiscent of the James Bond barrel sequence.
Nomos Glashütte Club 701
Another example of a watch that wasn't made or inspired by the military, the Nomos Glashütte Club, Reference 701 is nevertheless a sporty and durable timepiece. It's sort of like the Seiko SNK series in that the design is infused with playfulness.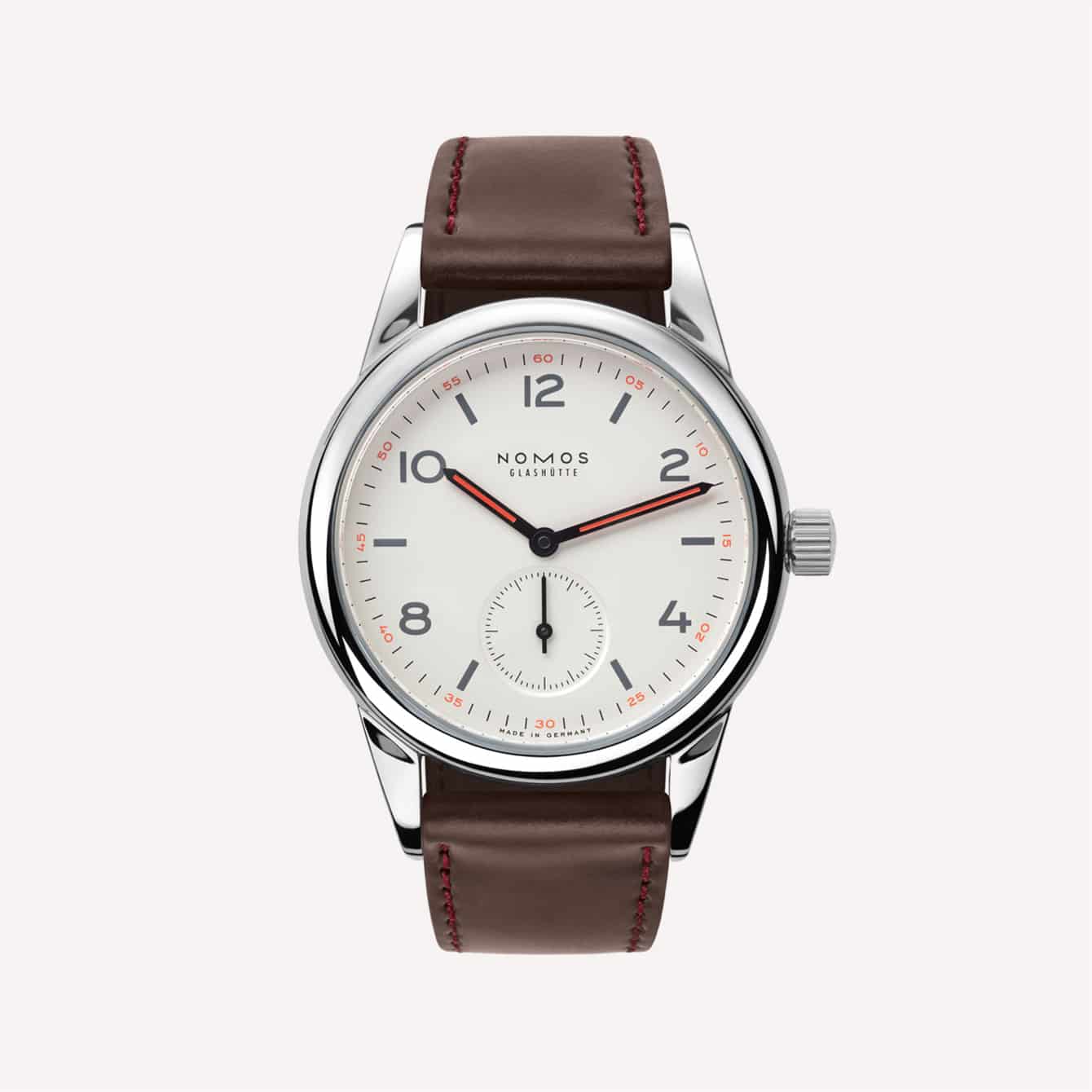 Instead of doing that with color though, it's through design elements, like the bright warm accents and the alternating index style.
The recessed second hand adds a bit of dimension without compromising the overall minimalist aesthetic of the silver-plated dial.
Dimensions: 36mm diameter, 8.2mm thickness
Case material: Stainless steel
Water resistance: 100m
This watch is built with high-end materials, including a sapphire crystal, and like the Khaki, has a manual hand-winding movement.
Bertucci Dx3 Field Watch
The build of the no-nonsense Bertucci Dx3 Field Watch takes no shortcuts to ensure strength and accuracy. Ironically, its anti-fashion level of practicality is also what gives it its distinct style.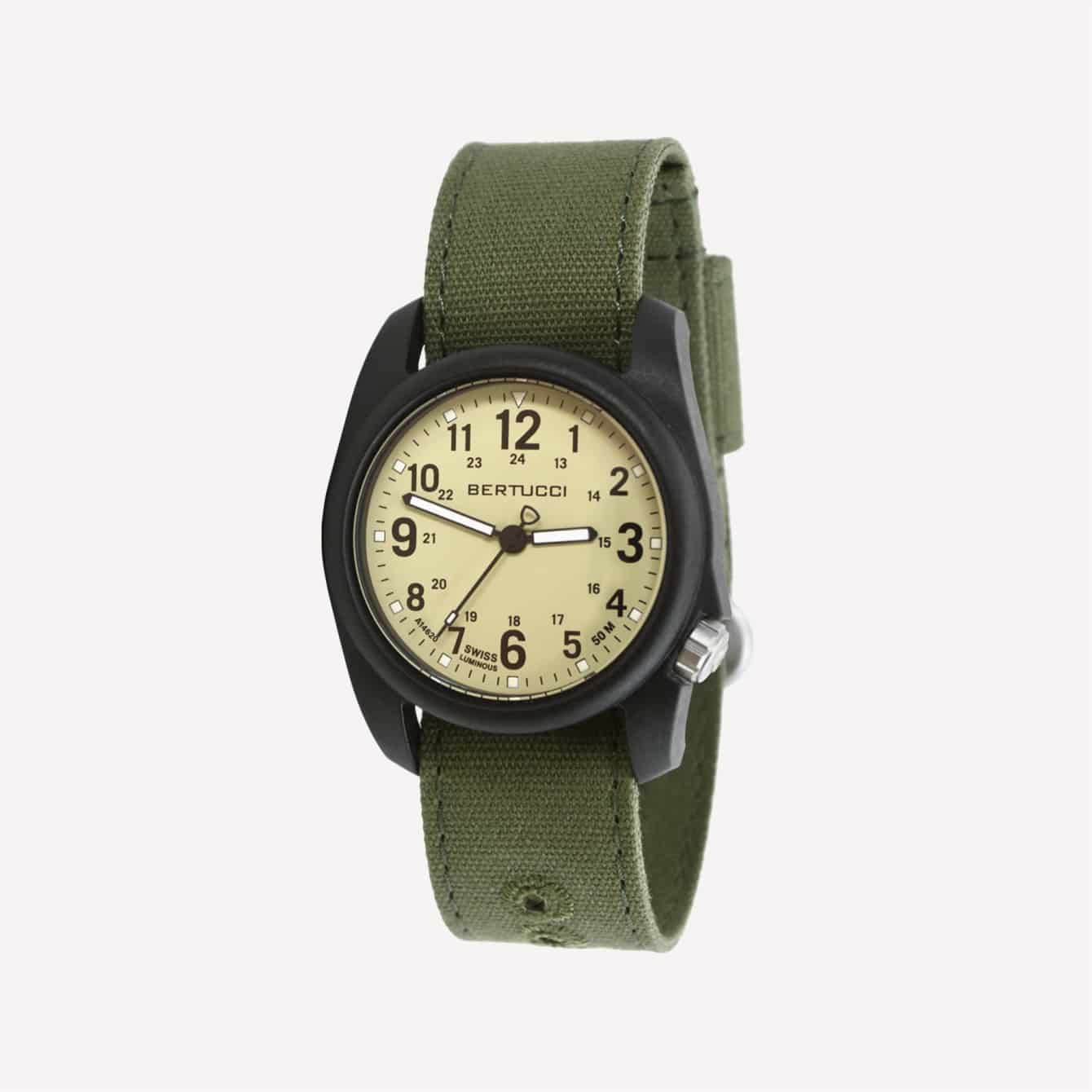 It looks like a Hamilton Khaki that takes itself a little more seriously but effortlessly looks cool while doing so.
The unibody fiber case is reinforced for extra durability, and also has a black matte finish that makes it look authoritative. Its crystal is a super clear scratch-resistant mineral, while the four-o-clock crown is ergonomic and compositionally unique.
Dimensions: 40mm diameter 11mm thickness
Case material: Reinforced polycarbonate
Water resistance: 50m
Finally, the nylon strap is incredibly fortified, due to the webbed construction that also provides visual texture that balances out the flat dial face.
Timex Expedition Mechanical
Another manual-hand winding entry, the Timex Expedition Mechanical looks like the missing link between the Hamilton Khaki Mechanical and the Seiko SNZ series.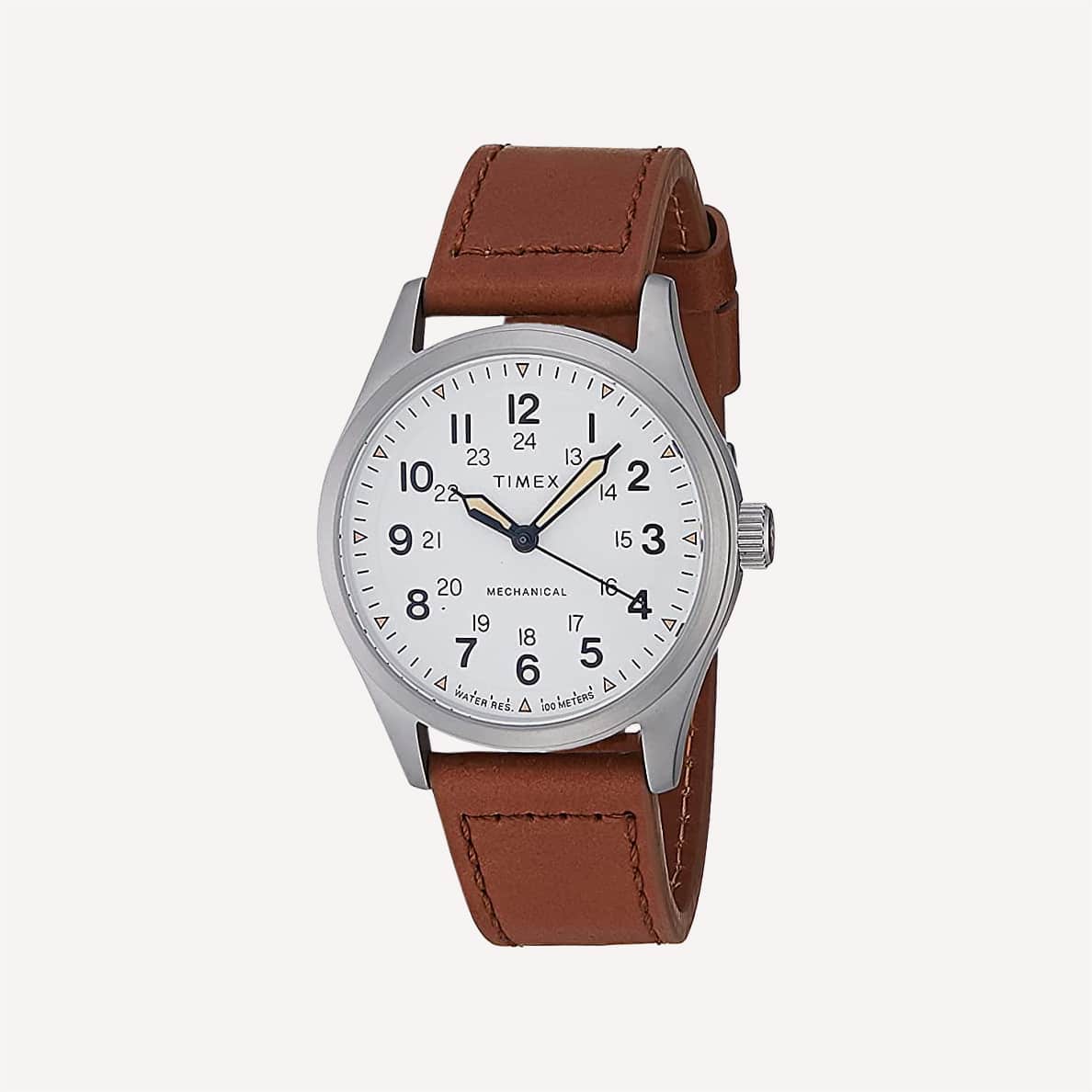 It's essentially the Hamilton Khaki, except the outer track is raised for more topography.
The Timex and the Hamilton have nigh similar hands, and indices, and both even have arrow accents on the outer track. Basically, if you want a more dimensional rendition of the Khaki, this is your guy.
Dimensions: 38mm diameter, 10.5mm thickness
Case material: Stainless steel
Water resistance: 100m
Also, its brown Ecco DriTan leather is a durable material that was made using eco-friendly methods, including utilizing the natural moisture already in the hides to majorly reduce the amount of water it takes to tan it.
Lorus RG877CX9
Lorus, a subsidiary of Seiko, serves up another classic-but-distinct field timepiece with the RG877CX9. It honors the canon military watch template, though the outer dial is accented with what looks like desktop clock icons.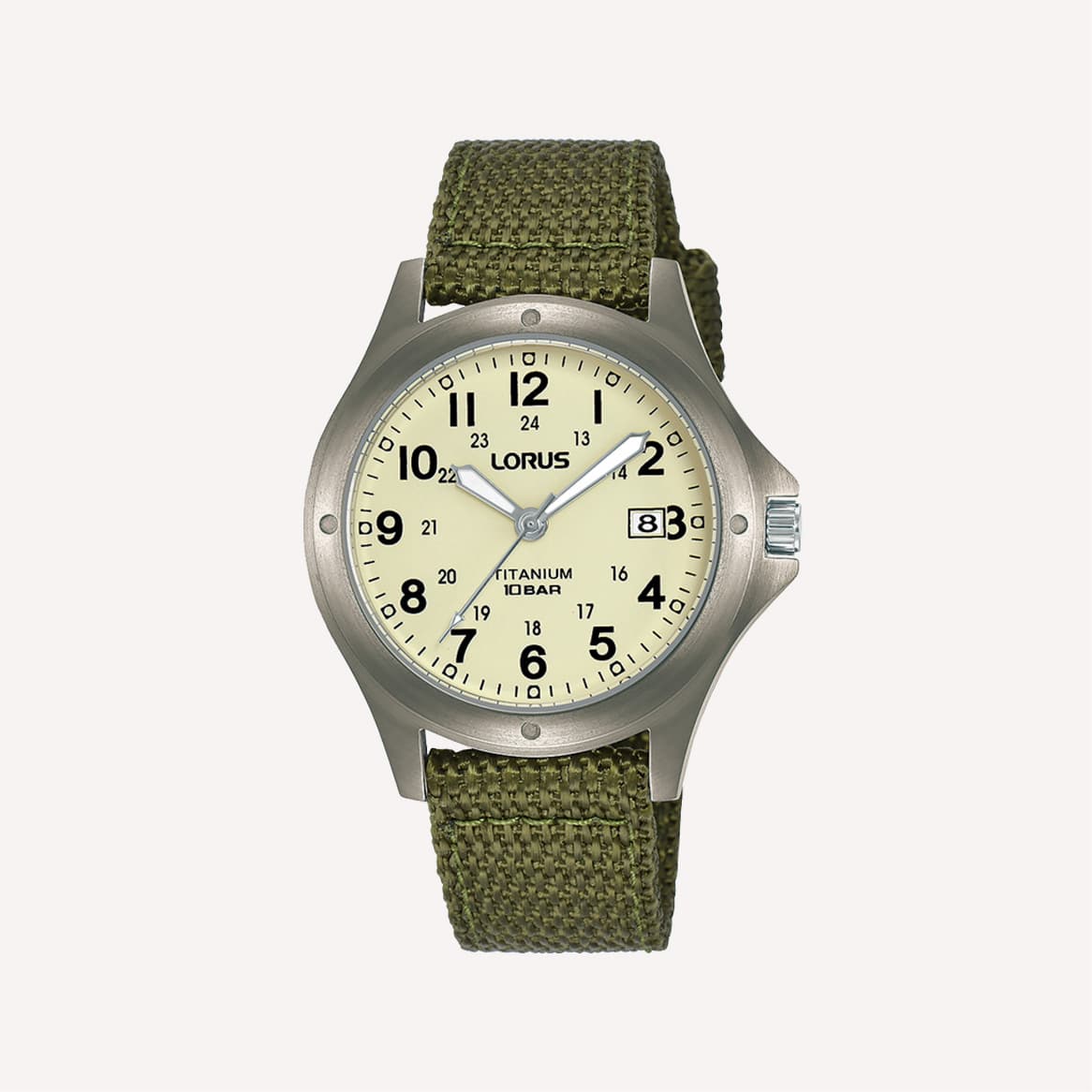 Moreover, its titanium case makes it extra special, providing a silky and high-shine aesthetic, while also making the watch just as strong as stainless steel, but almost twice as light — and hypoallergenic too.
Dimensions: 37mm diameter, 8mm thickness
Case material: Titanium
Water resistance: 100m
This watch has a flat mineral crystal and runs on an accurate Japanese quartz.
Marathon Mechanical
Currently contracting with the Department of Defense, the Marathon Mechanical is a literal active military watch.
It's the American counterpart to the CWC, and has a few design overlaps, including the crisply painted hour markers, the traditional acrylic glass, and the tritium-powered glow.
Dimensions: 39mm diameter 10.6mm thickness
Case material: Stainless steel
Water resistance: 30m
However, unlike the quartz CWC, the Marathon features applied lume markers on the outer dial (making it look more premium), and is outfitted with a mechanical hand-wind movement (making it closer to the Khaki, operation-wise).
FAQs
Here are some common questions from those looking for a Hamilton Khaki or alternatives to it!
Is the Hamilton Khaki Automatic a Good Watch?
Yes, the Hamilton Khaki Automatic is a good watch. It comes with premium features like a sapphire crystal and an automatic movement with an 80-hour power reserve, and it has a classic field watch design that won't go out of style.
What Movement Is in a Hamilton Khaki Mechanical?
The H-50 is an in-house mechanical with an ETA base. It's reliable, accurate, and has an 80-hour power reserve.
How Long Will a Hamilton Mechanical Watch Last?
Most current manual hand-wind Hamilton mechanicals use the H-50 caliber, which has a power reserve of 80 hours before needing to be rewound.
As far as its overall life, as with any mechanical, Hamilton mechanicals can technically last "forever." You can always revive the analog movement with servicing and replacement parts.
Is Hamilton a High-end Watch Brand?
Hamilton is a mid-level brand, with the core lines falling in the sub-2000 category (and most of those being less than a grand), with the occasional $5,000-$6,000 limited edition. The phrase "affordable luxury" is often used for brands like Hamilton and Tissot.
Conclusion
The Hamilton Khaki Mechanical isn't the only compelling value proposition when it comes to field watches.
It's definitely an excellent choice, which is why it's so well-liked. But, whether you want something cheaper or more expensive, slightly more polished or slightly more rugged, then definitely consider one of the 13 in this edit.
What alternative would you get? Let us know in the comments!