Straps are an integral part of the look, feel, and function of watches. This guide will explain the different types of straps you can get!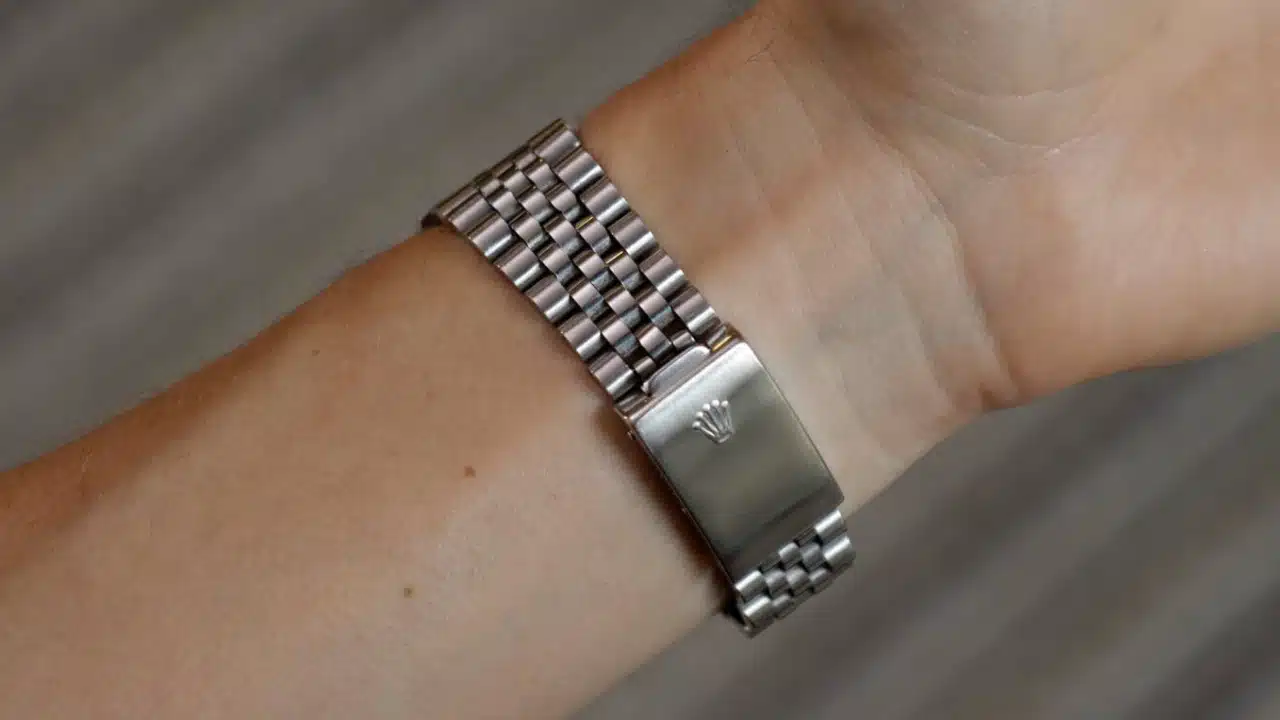 Swapping out your favorite timepiece's strap is an easy way to remix it. Besides, so many watch styles look great with different straps, each bringing out a different side of the watch itself.
A high-end sport model, like a Submariner for example, leans harder into its luxury side with a premium stainless steel bracelet and looks sportier with a nato.
Personally, when I'm working from home alone, I periodically like to break a style rule for a day to see if it grows on me.
For instance, I once blasphemously paired a Tudor dive with a leather strap and ended up liking it. Another time I tried a dress watch with a rubber strap with less success. (It doesn't matter. No one saw it).
Straps are a low-barrier, unintimidating way to experiment with watch looks since they aren't a permanent fixture.
14 Types of Watch Straps
Here are 14 types of watch straps, categorized by material and style!
Metal Straps
Metal watch bracelets are very common since they can go with any style of watch. They're pretty much the standard.
Even dress watches, which traditionally should be paired with a leather strap, have their own designated metal bracelet designs. The Jubilee, for example, is considered dressy, especially if it's made out of a precious metal.
Other than being versatile, a good stainless steel or titanium watch bracelet is incredibly durable.
Oyster Bracelet
If metal bracelets are the standard, then the stainless steel oyster bracelet is the standard of the standard.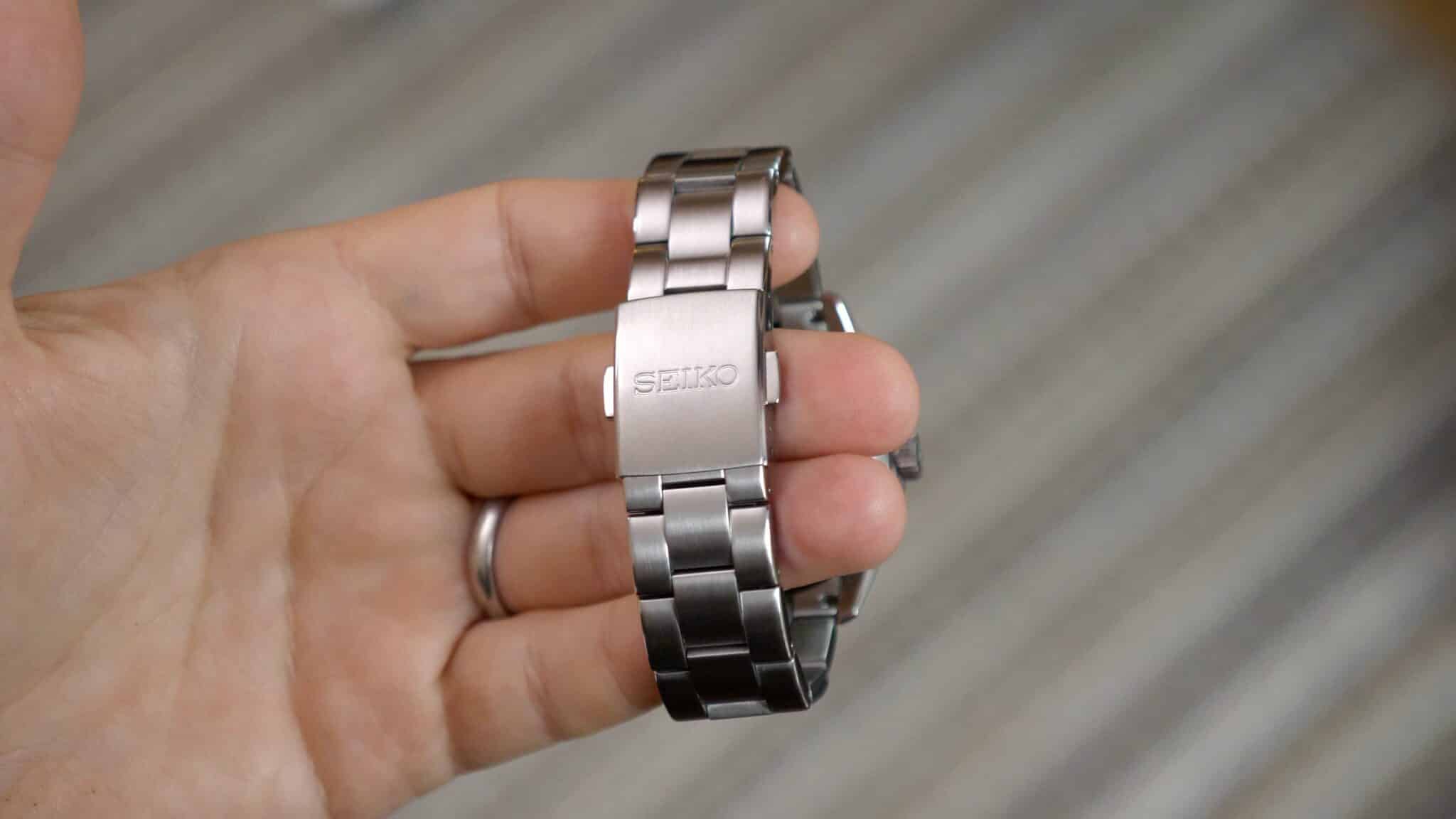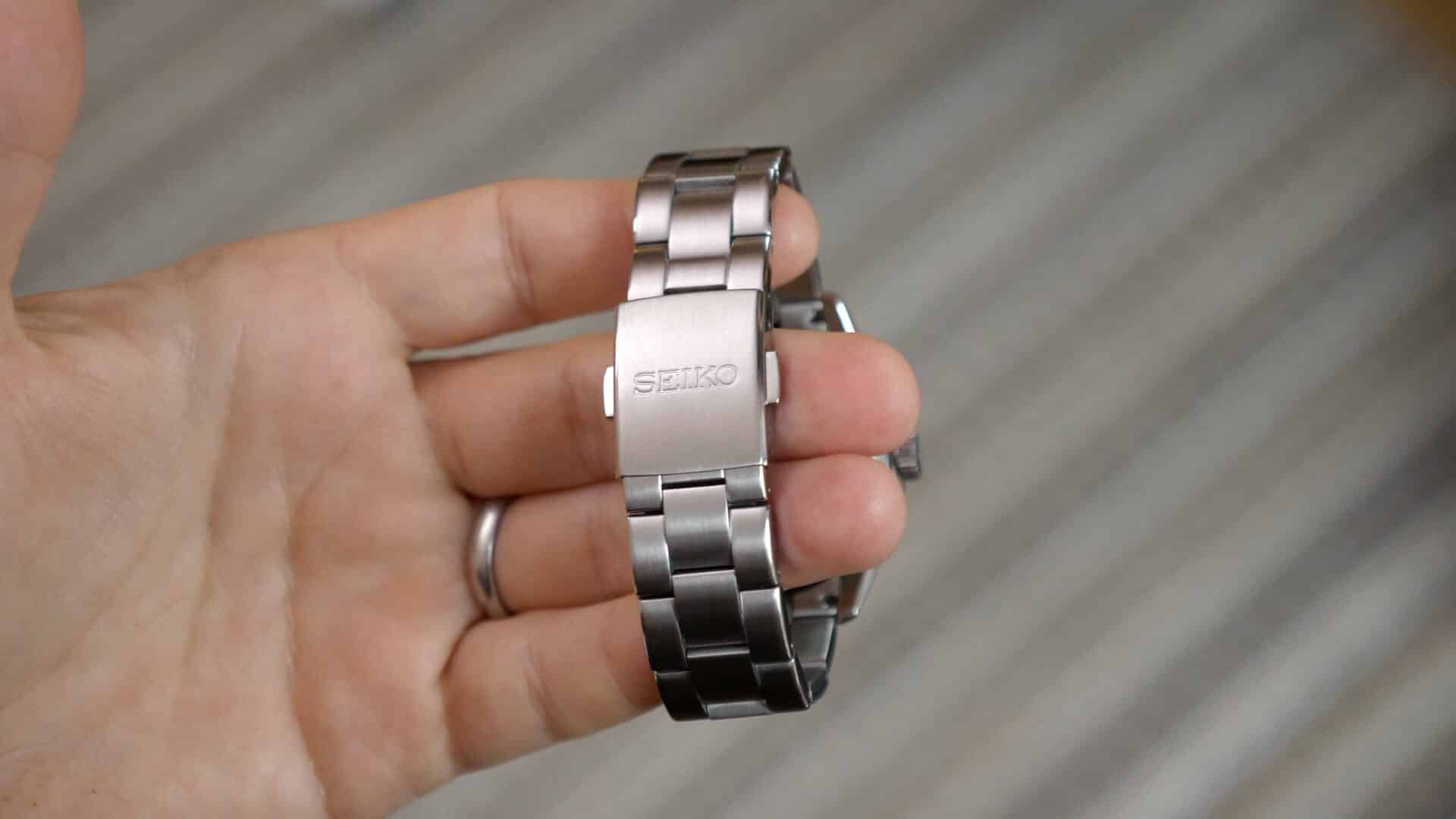 The original oyster, or at least its ancestor, was patented by Rolex in 1947, so there's a strong association between this bracelet style and Rolex sport watches.
Robust and adaptable, this strap features three flat links, and often a fold-over clasp with a deployment buckle.
The only downside is that a lot of bang-for-buck watchmakers will often take shortcuts on their oysters.
Still, this is preferable to taking shortcuts on something more horological since, again, you can always replace watch straps. Additionally, there are a lot of less-than-solid aftermarket reproductions out there.
Jubilee Bracelet
A perfect example of a dressier metal bracelet, or at least a more ornate one, the Jubilee consists of a series of rounded links.
The outer links are straightforwardly composed, similar to the oyster's outer links, while the middle links, which are smaller, are set up in a diamond formation, with a link at each point.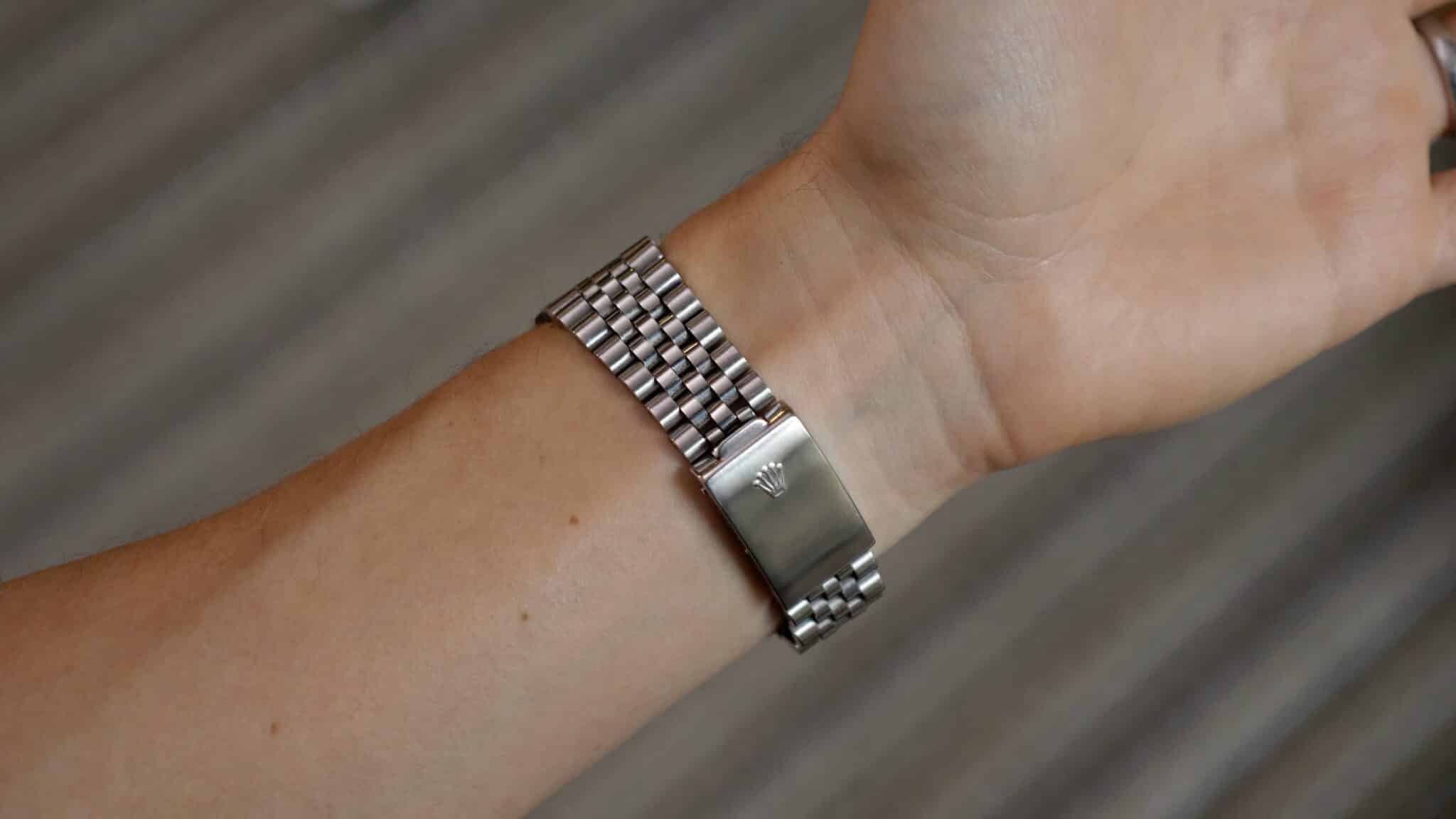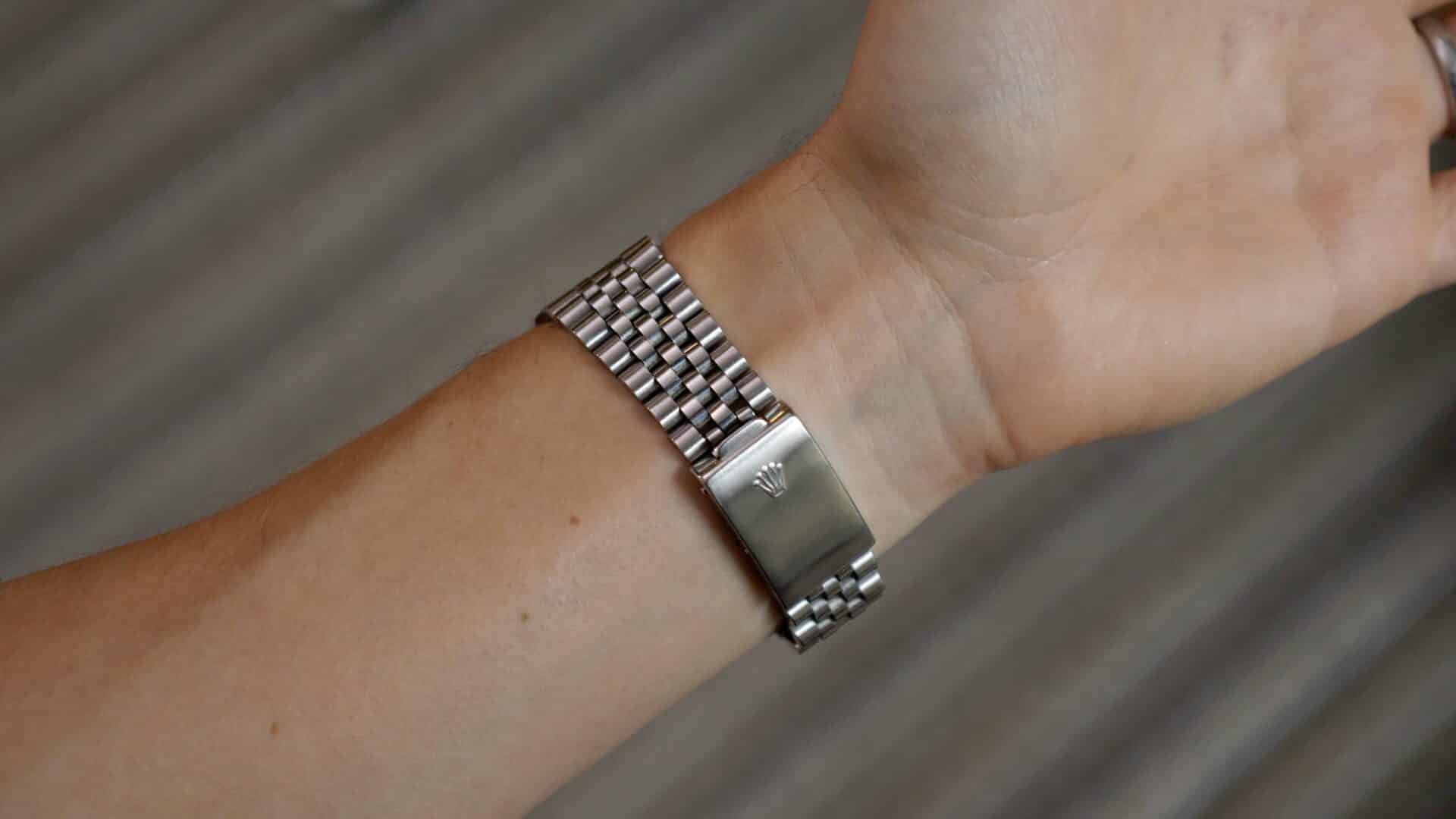 The several rounded, staggered surfaces provide a lot of lightplay, giving the Jubilee a lot of sparkle.
Like the oyster, this bracelet is another Rolex-pioneered design. It came out in 1945 paired with the Datejust, meaning you can find them in steel or precious metals.
They come with a variety of different clasps, but one like Rolex's crown clasp ensures that the bracelet's decorative surfaces are unobstructed.
It consists of folding components that are fully hidden beneath the bracelet, with a small crown-shaped lever for opening and closing.
President Bracelet
The President sits somewhere in between an oyster and Jubilee, some categorizing it as a type of oyster — which is fair.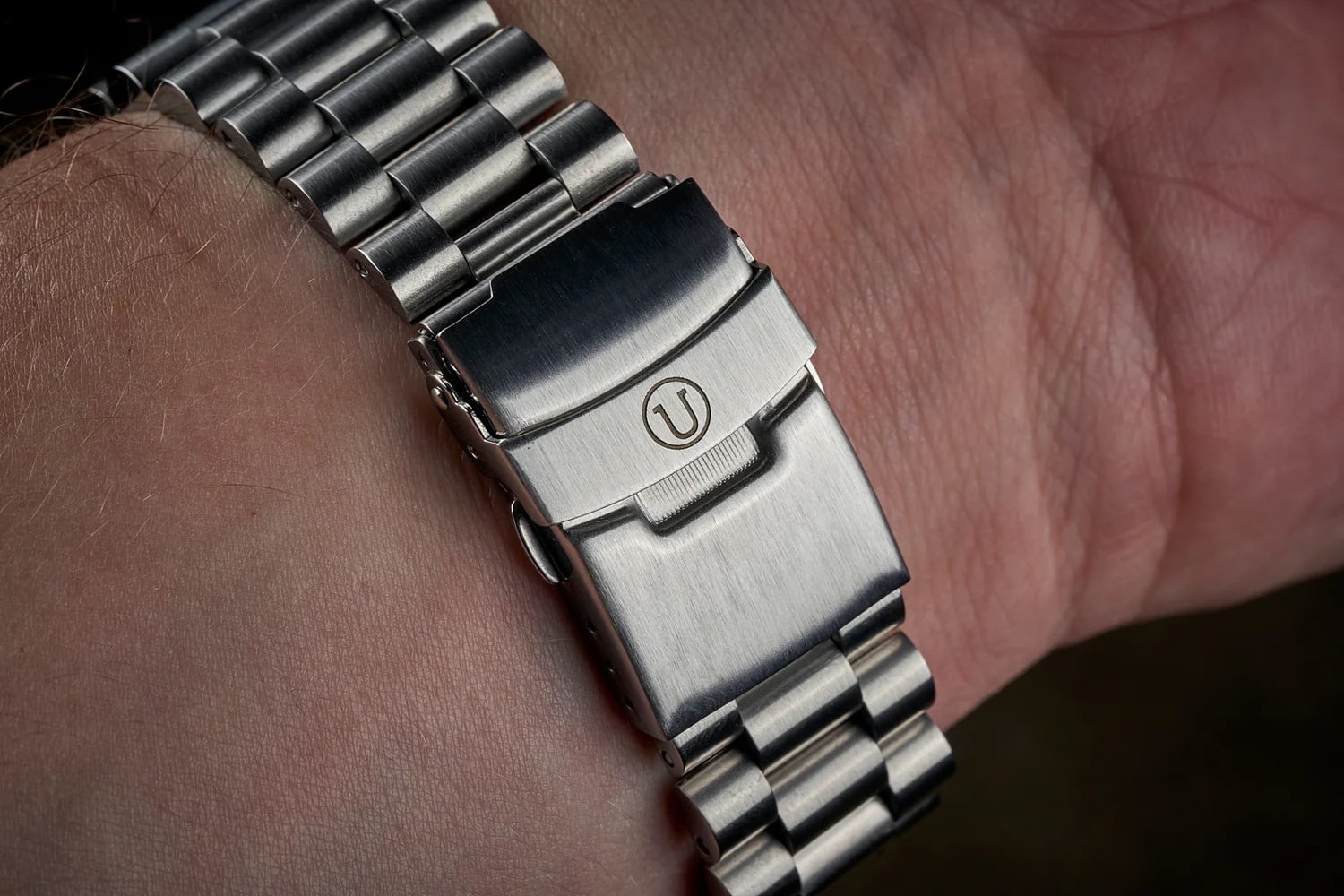 It's a three-link bracelet with the exact same composition as an oyster, but the links are rounded, allowing them to glisten from every angle.
Rolex reserves this design for their Day-Date watches. These are made exclusively of gold or platinum, though other brands have mimicked the design in non-precious metals.
Mesh Bracelet
As the name suggests, mesh bracelets are made of a network of metal wires. They're often pretty thick though, and tightly woven, so it's more like chainmail than mesh as we associate it with textiles.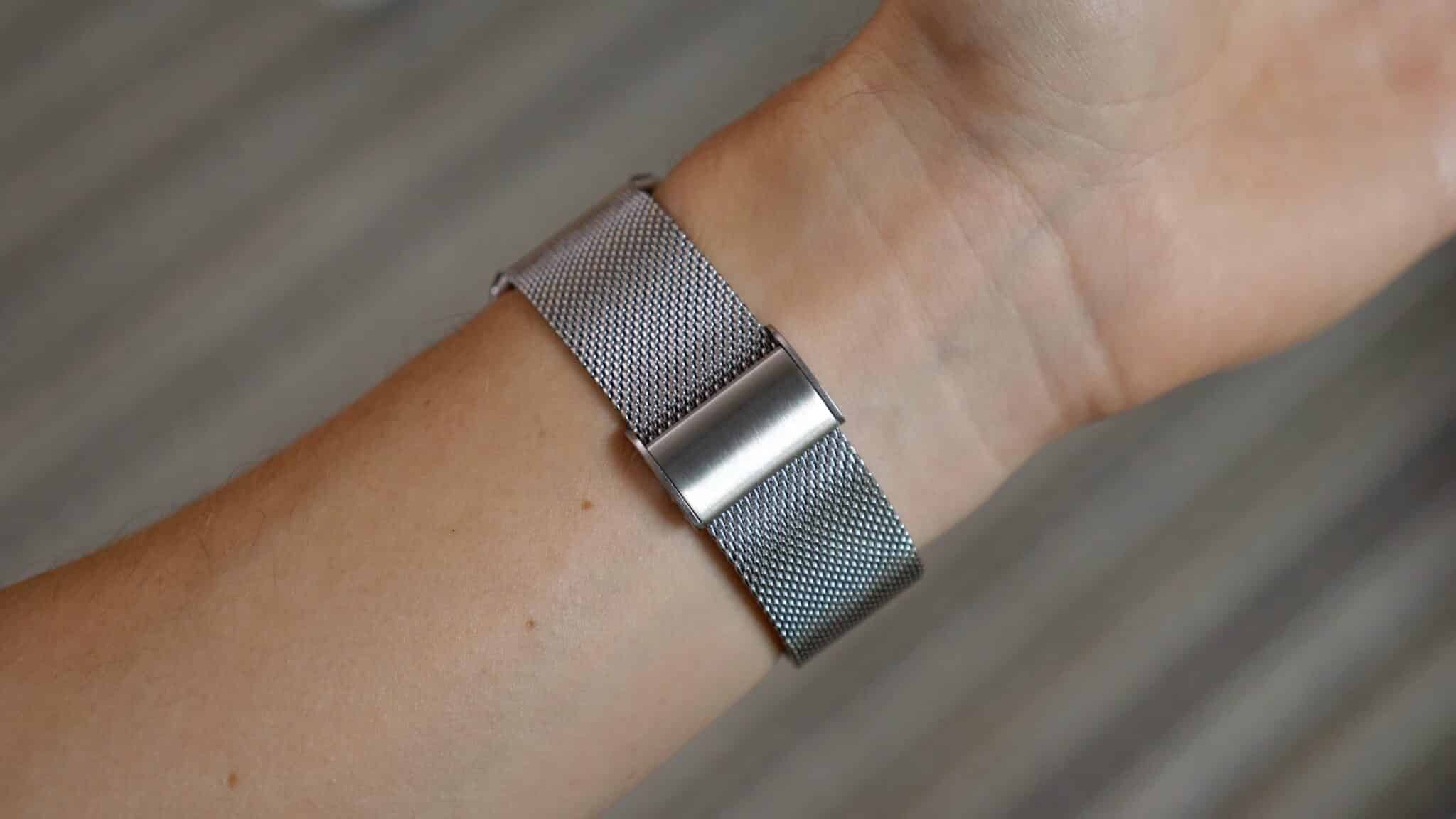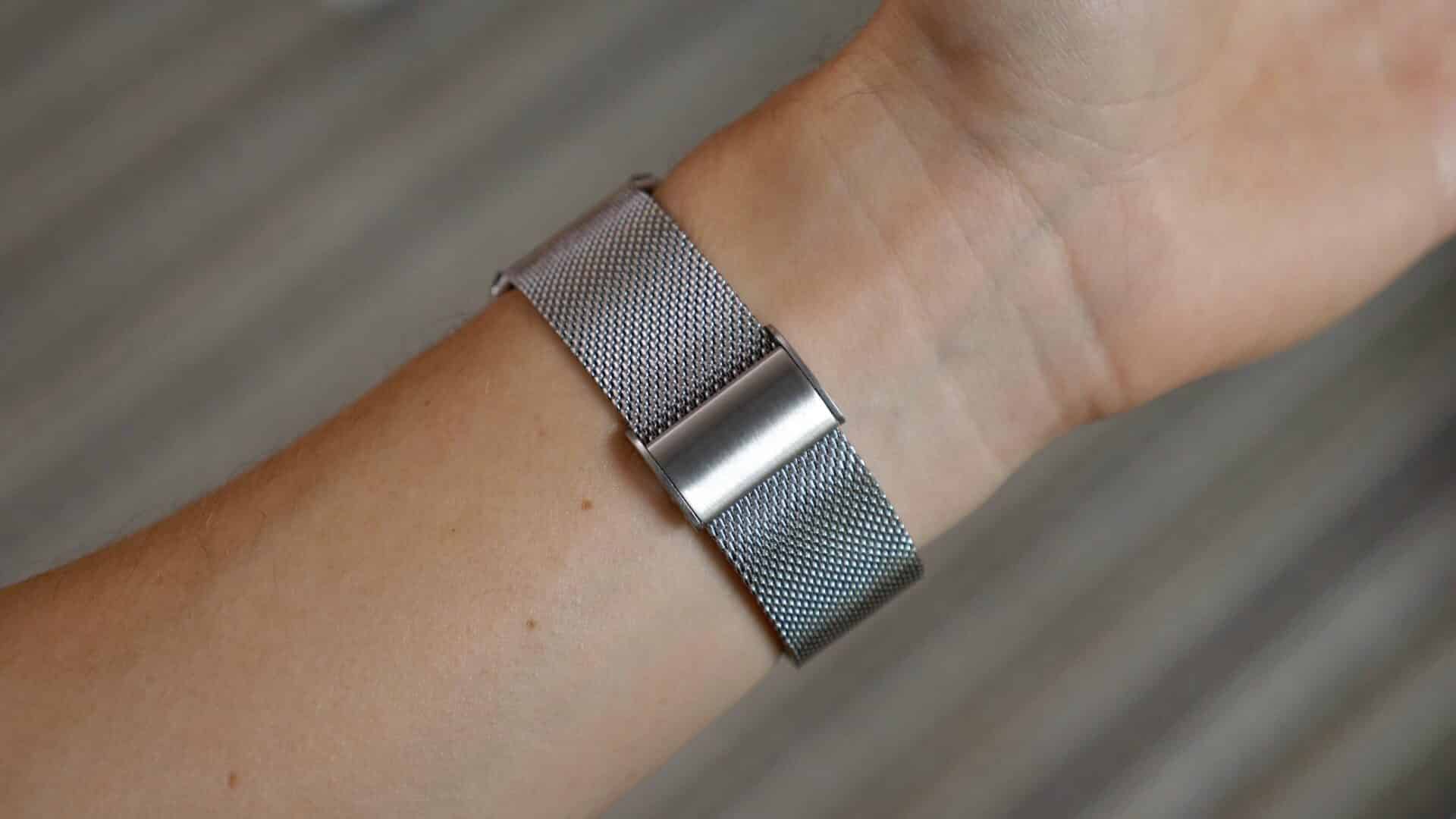 Omega paired their deep-diver Ploprof with a mesh bracelet in the '70s, claiming they were shark-proof That being the case, they're often associated with sport watches to this day. (Not sure why you'd need a shark-proof bracelet, though.
If a great white's chomping at my wrist, I'm pretty sure I won't be worried about my watch).
I think the extra sparkle on a mesh bracelet makes it fun and a bit jewelry-like. If you wanted to be bold, I'd wear it with something colorful, like a Seiko Orange Monster, a Farer watch, or even an OP in your favorite hue.
Engineer Bracelet
Popularized by Seiko sport watches, the engineer bracelet is composed of five links, each square-shaped (though the surface can be flat, rounded, or even multi-faceted), linked in a staggered, zig-zagged formation. It almost looks like brick stacking.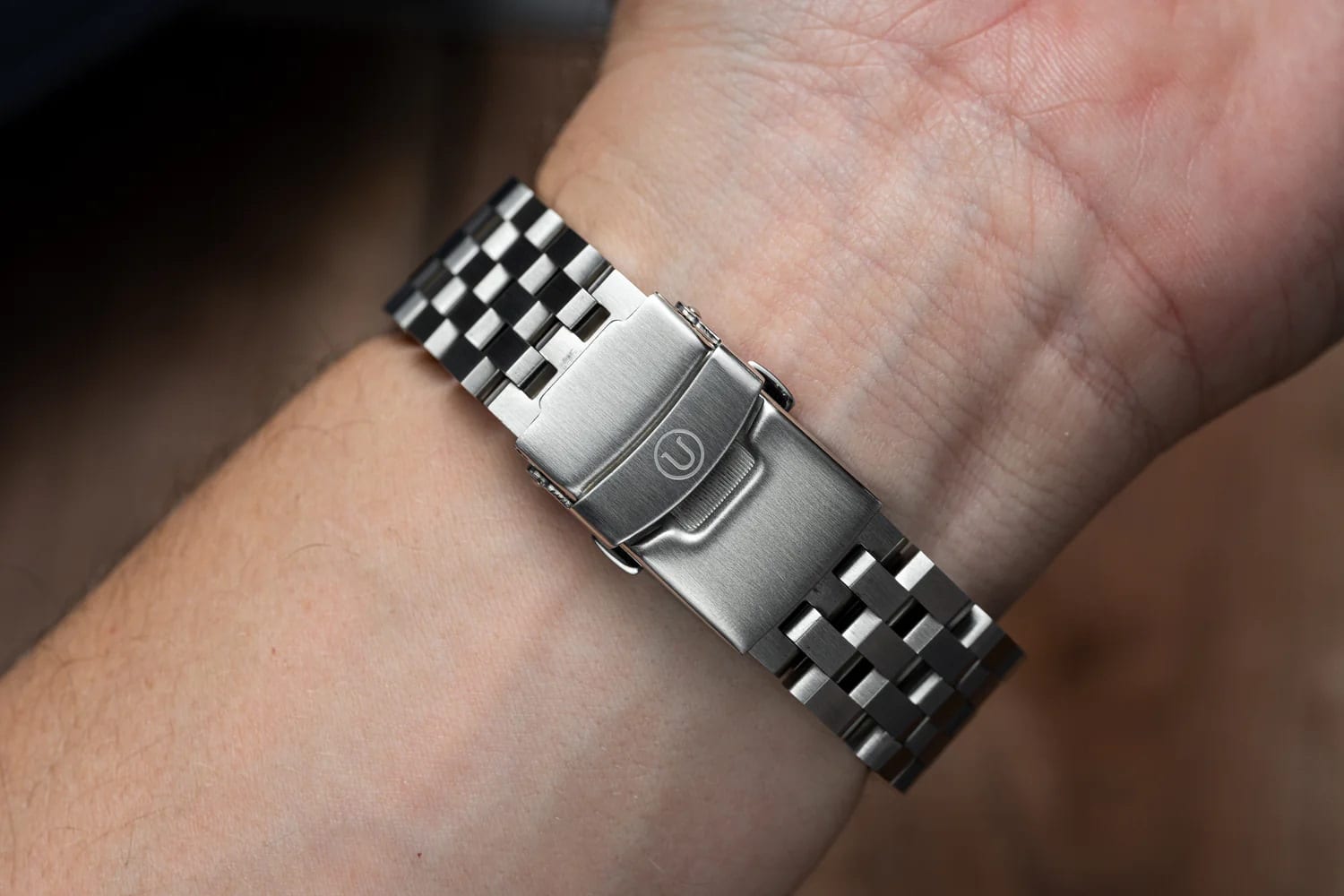 The result is a complex but industrial-looking sport bracelet. It reminds me of a racing flag, so I like partnering it with automotive watches and two-tone bezels.
Leather Straps
Leather watch straps are also pretty versatile since you can get them in raw, rugged variations as well as in eveningwear-style designs. As mentioned, leather straps are the traditionally appropriate option for dress watches.
As with any leather accessory, it's most commonly made of cowhide, though more exotic options like snake and crocodile are considered more luxurious. Budget leather straps are sometimes embossed with a pattern simulating exotic animal skin too.
If you like a lot of texture and topography, braided leather straps are another fun option.
Leather Dress Watch Strap
Leather straps for dress watches are often simple, one-tone, and have an elegant taper from the lugs to the buckle.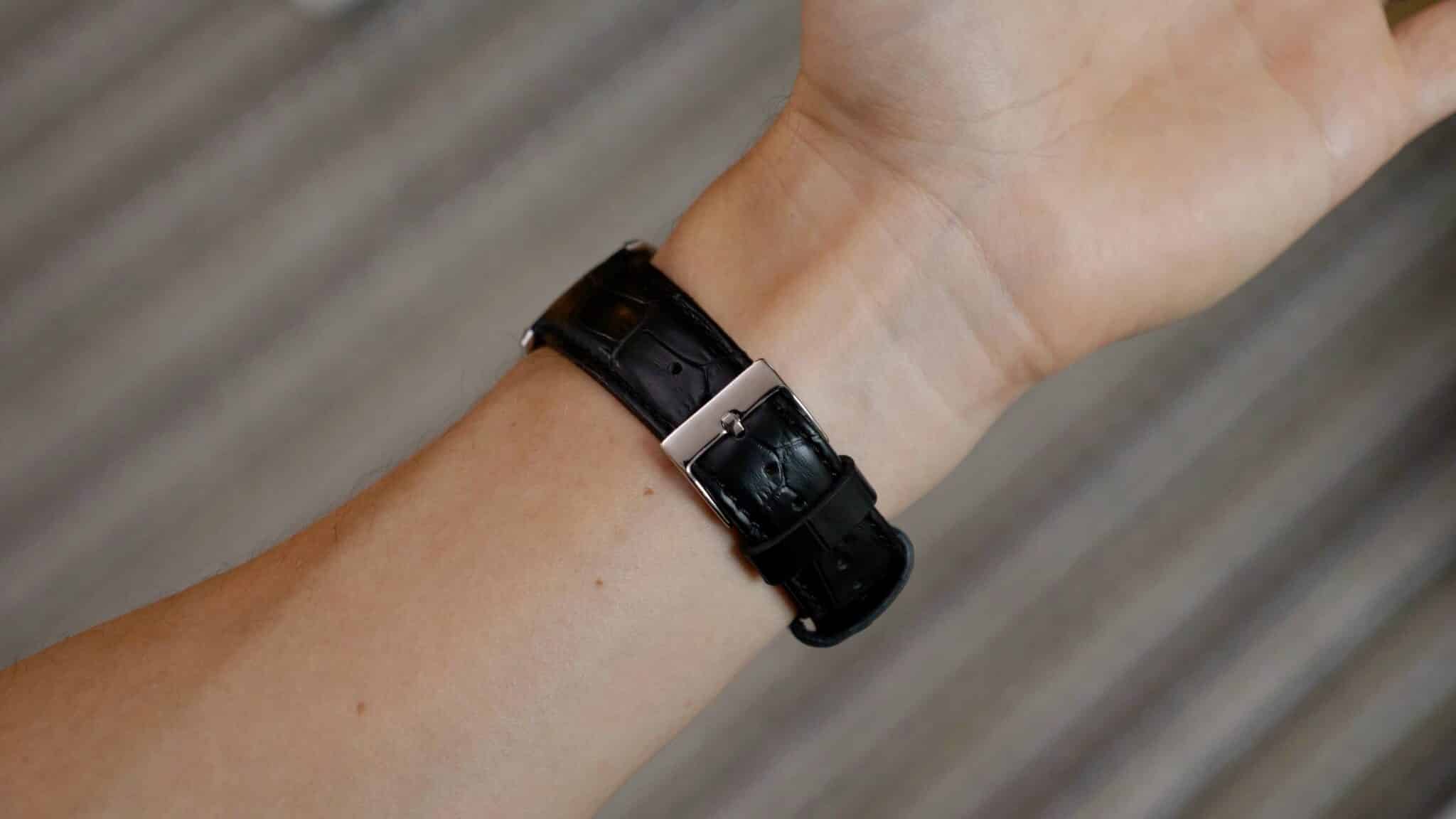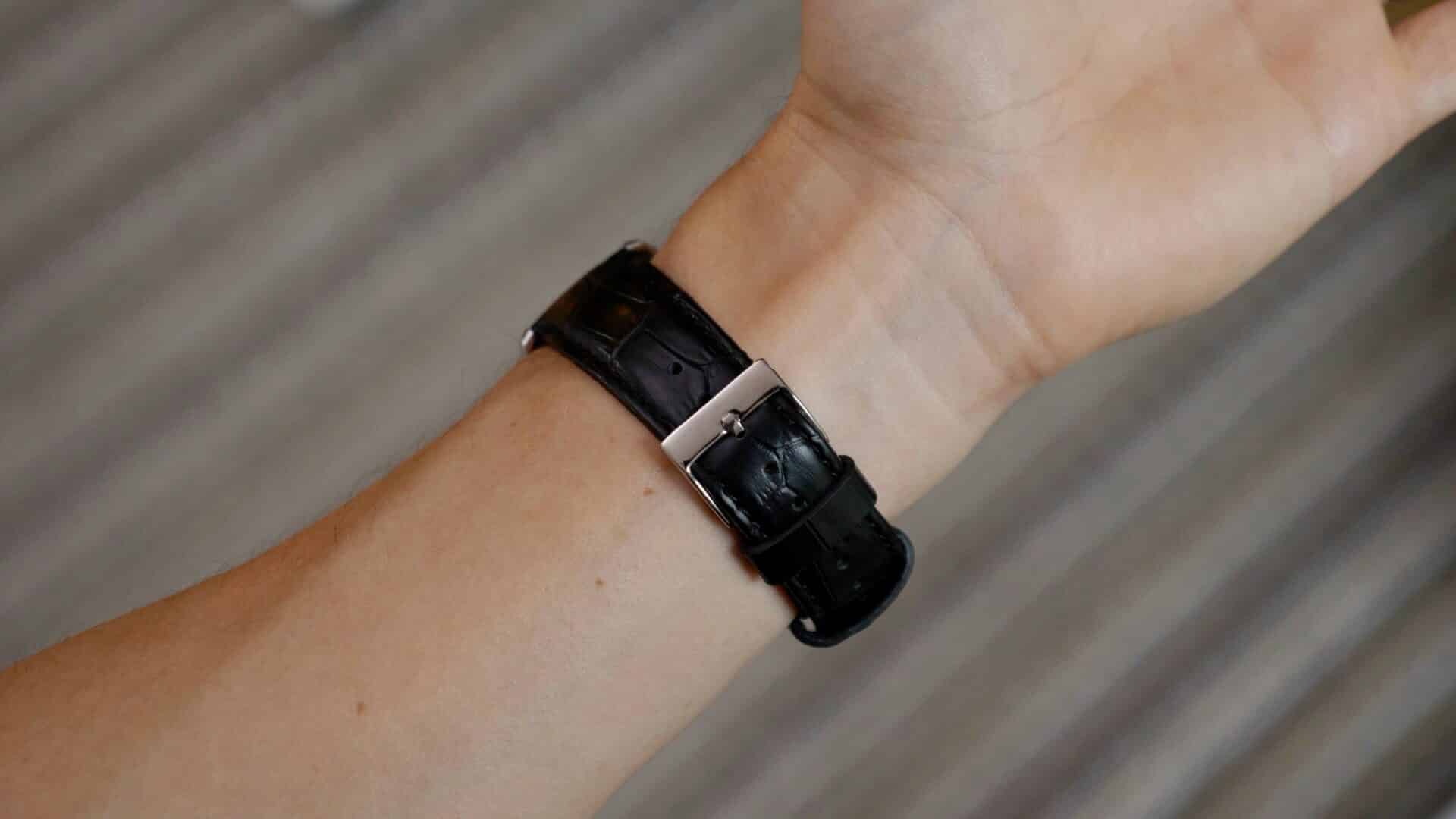 Instead of design cues on the surface, a good leather dress strap speaks for itself with a solid construction, a full-grain leather body that has either a natural finish or is beautifully buffed for extra shine, and simple hardware.
It's sort of like the aesthetic of a high-end opera pump compared to a leather work boot.
Traditionally, organic animal skin patterns are as flashy as a dress strap should get.
Casual Leather Strap
Casual leather straps can be "rawer" than their dressy counterparts. Napped surfaces, thicker builds, lively contrast stitching, and more industrial-looking hardware are just some examples.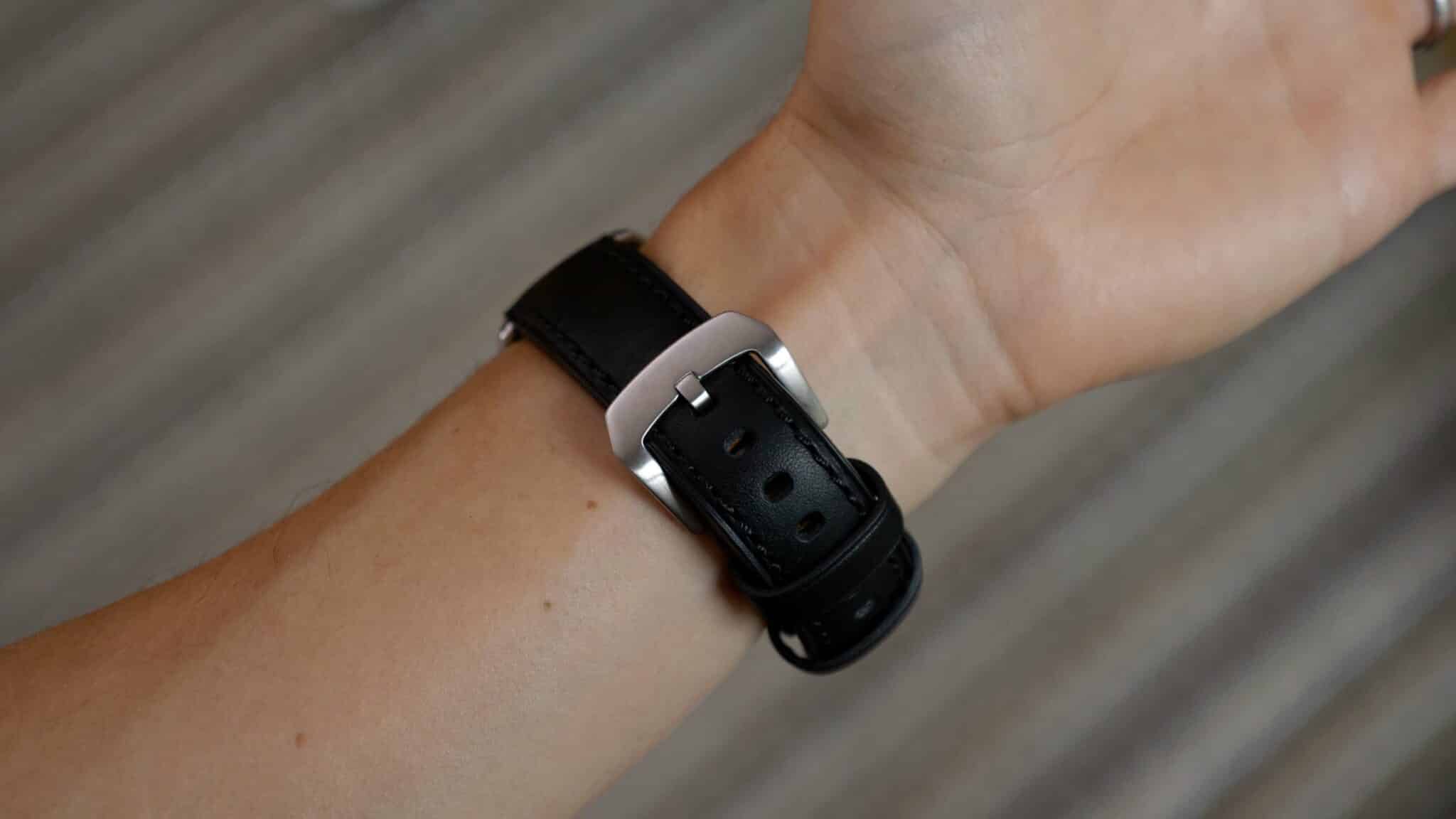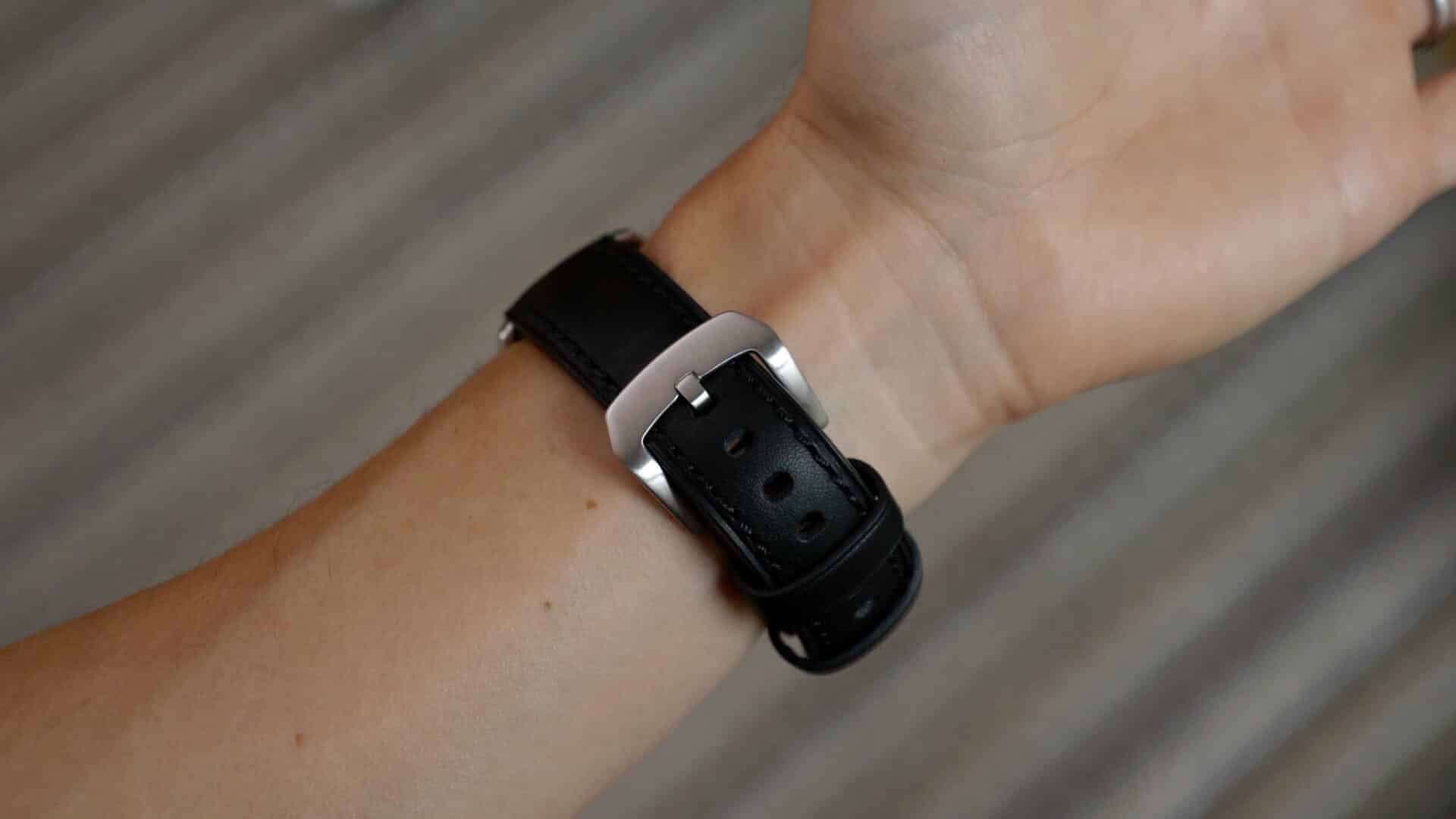 You can up the adventurer aesthetic on a field watch or chronograph by strapping a casual leather bracelet on it. Plus, it makes perfect sense from a functionalist perspective since leather is as durable as professional watches should be.
Bund or Aviator Strap
A bund is a watch strap that's, more often than not, made of leather and is distinguished by a protective backing that sits between the watch and your wrist.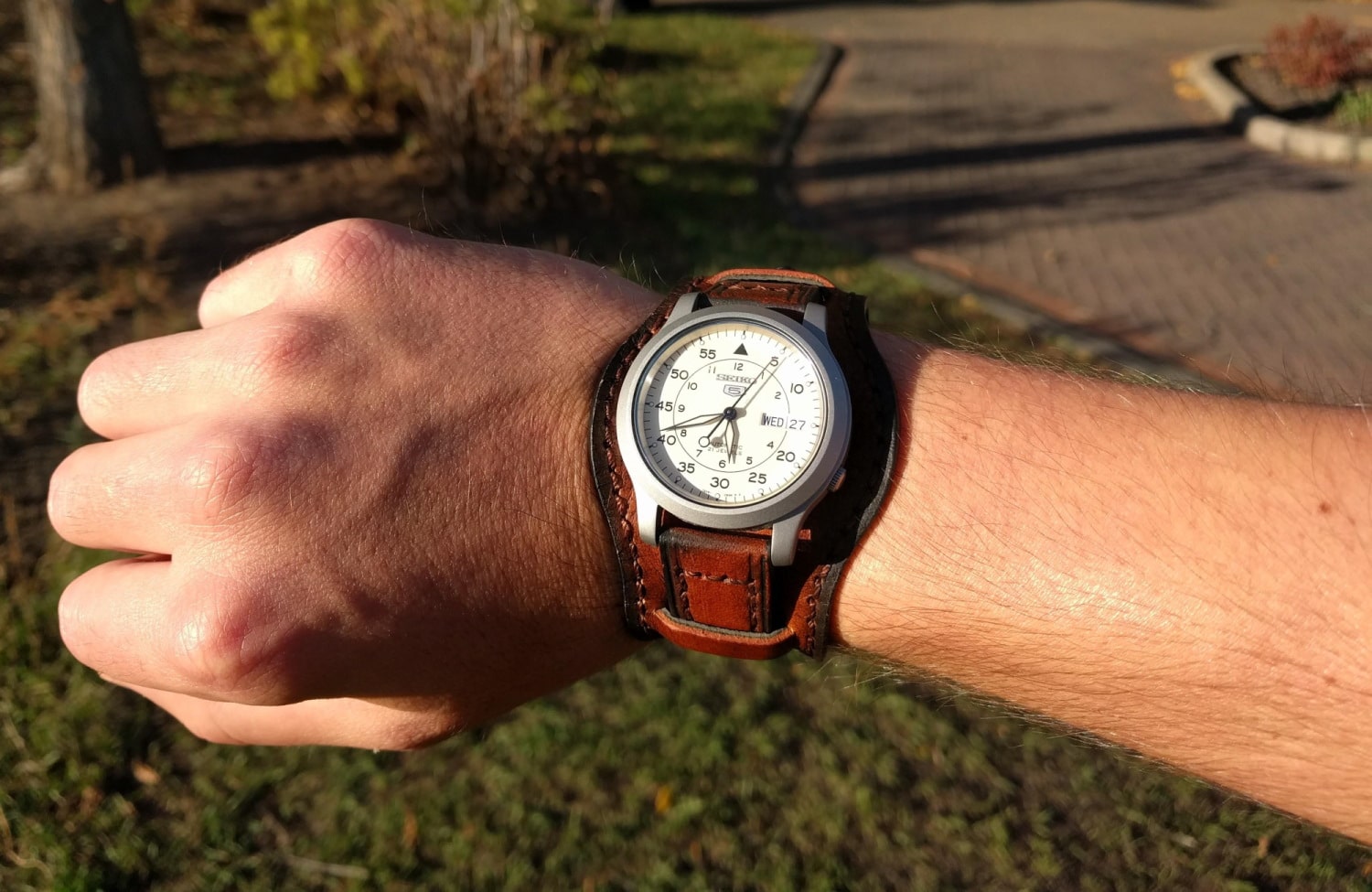 German soldiers wore them during the 1930s so that their watches wouldn't burn or freeze their wrists in intense temperature scenarios.
It's also called an aviator strap since Air Force men were the first to wear it. Unsurprisingly, these multifaceted straps look great with pilot watches, especially classic fliegers.
You can wear them with basically any tool watch, and basically zero dress watches.
Rally Strap
Even without knowing their origins, you might already get racer vibes from rally straps. In motorsports, a lot of gear is fitted with holes and perforations, including gloves and brake pads, to reduce weight and provide breathability.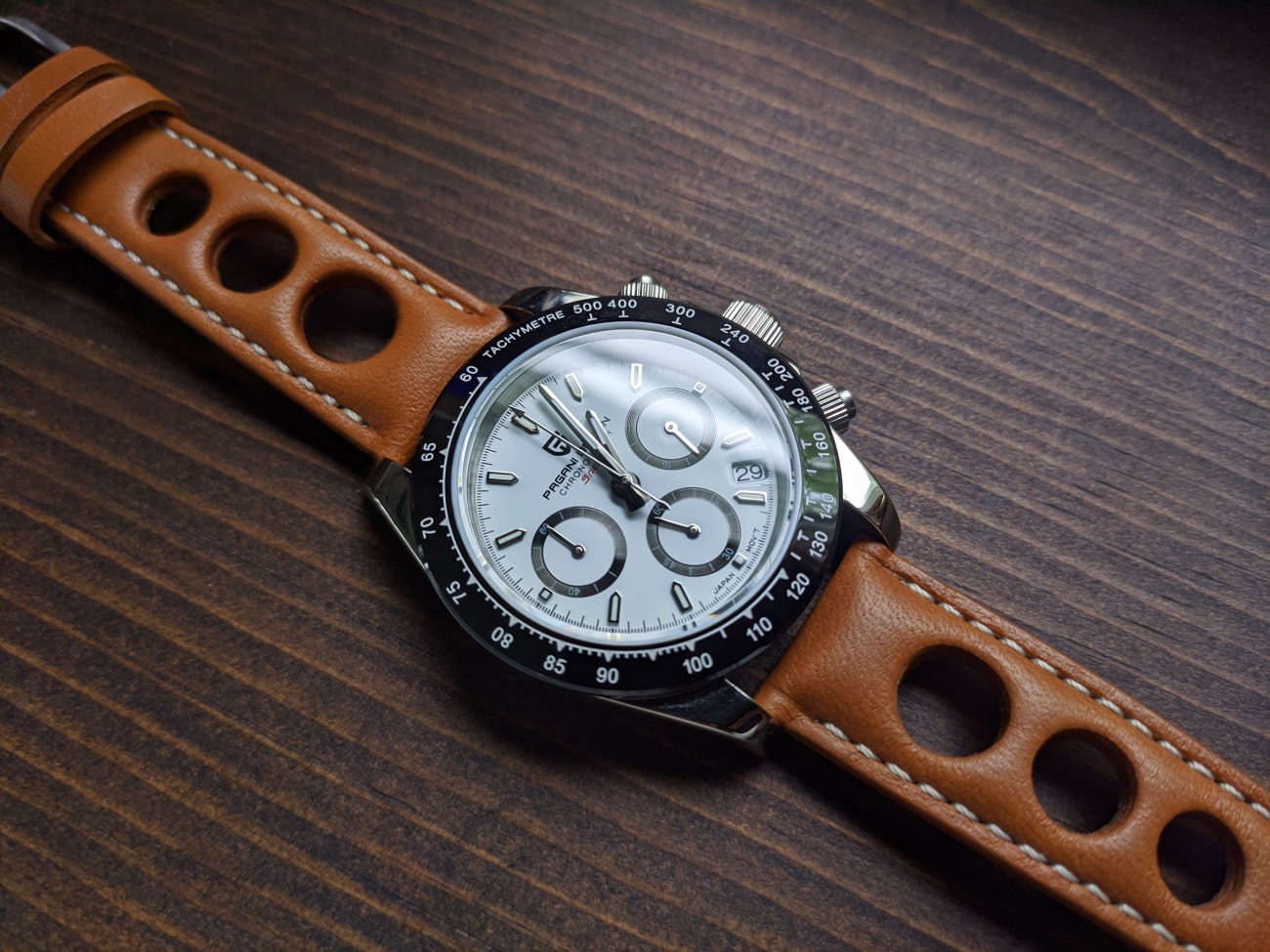 Rally straps flaunt this look, and can sport a few large holes or several smaller ones. Either way, they have an almost vintage-but-relevant look the same way a Pepsi bezel is reminiscent of the golden age of travel.
Naturally, rally straps should be worn with sport watches, vintage or modern, especially chronographs.
These straps are super distinct, and you can have a lot of fun with them. Pair bright-colored rally straps with dials that are complementary in color, for example, a rust-hued orange leather strap with a blue dial face.
Nylon and Canvas
The difference between nylon and canvas is that nylon is synthetic, while canvas is natural, often coming from cotton.
For the most part, the strength of a nylon or canvas strap is based on how well-woven it is, though canvas is generally more tear-resistant.
Still, a lot of nylon varieties, ripstop for example, are made with extra fortification and are strong enough for most everyday watch-wearers.
NATO Strap
As with so many style essentials, the NATO strap was born from the needs of the British military.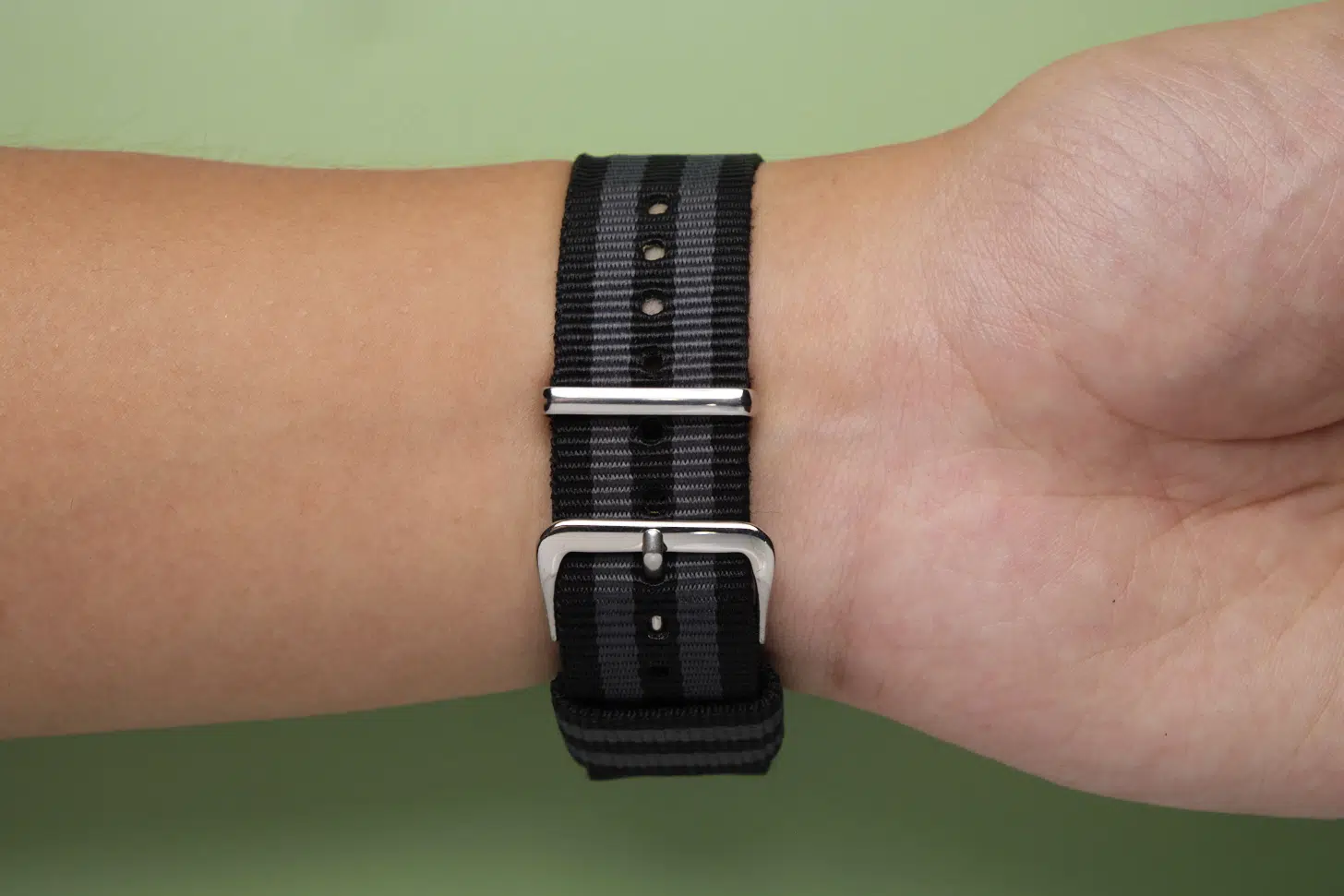 It's a strap with three keepers, a buckle, and a durable webbed construction, built so that even if a spring bar goes rogue, the watch will stay attached.
As expected, they're designed to go with field watches and dive watches, giving them an official air of legitimacy.
And if you're James Bond, they also go with a dinner jacket. Okay, they don't actually go with a dinner jacket. If you were to do that, it would be an obvious nod to 007 style.
Zulu Strap
Often a term used interchangeably with NATO straps, Zulu straps are a lot like NATOs but have an oval buckle and thick, rounded loops. The bodies of Zato straps also tend to be broader.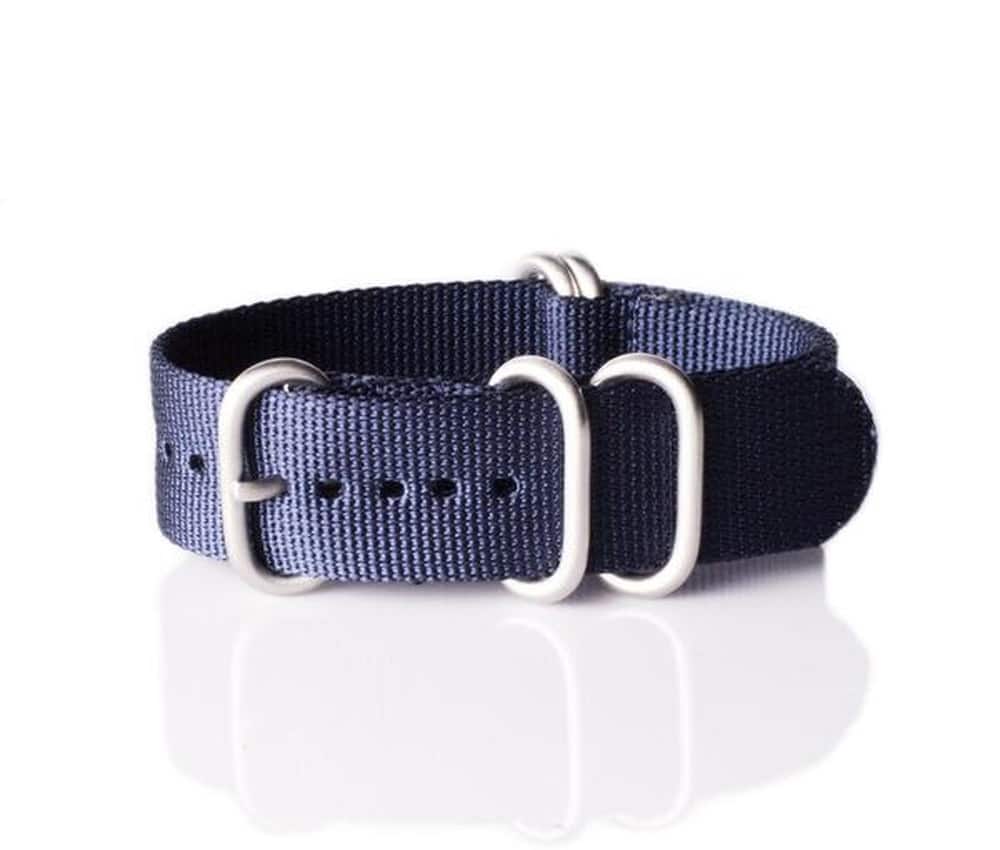 Of course, Zulus can be styled just like NATOs. In fact, a lot of brands these days make combination Zulu-NATO straps.
Sailcloth Strap
As its name suggests, a sailcloth strap is a nautical-themed textile watch bracelet made of sailing material.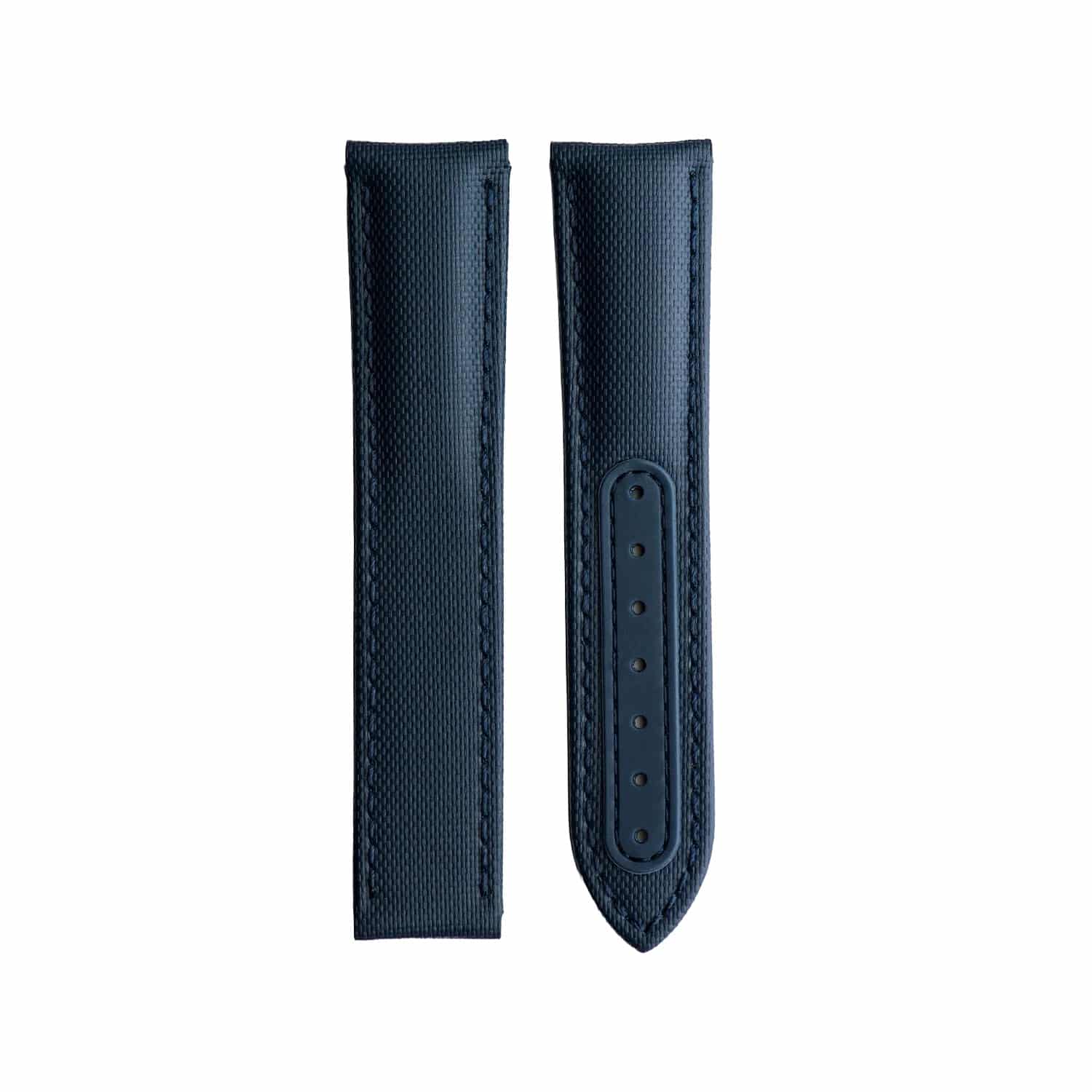 Though they're definitely a more casual and brawny accessory meant to be paired with divers, sailcloth straps can be made with slender, more refined silhouettes.
However, they aren't dress-watch-appropriate by any means. Granted, some are more akin to a sporty boat club aesthetic, while others a more survivalist look.
Of course, sailcloth straps are tough and quick-drying. Also, no one would bat an eye if you wore one with any sport watch, even non-divers.
Perlon Strap
Perlon is a strong nylon watch strap that's made into loops, almost like a thin, tight braid, giving it an espadrille-like aesthetic. Since you can buckle it at any point on the strap, wherever you find an opening in the weave, sizing is very flexible.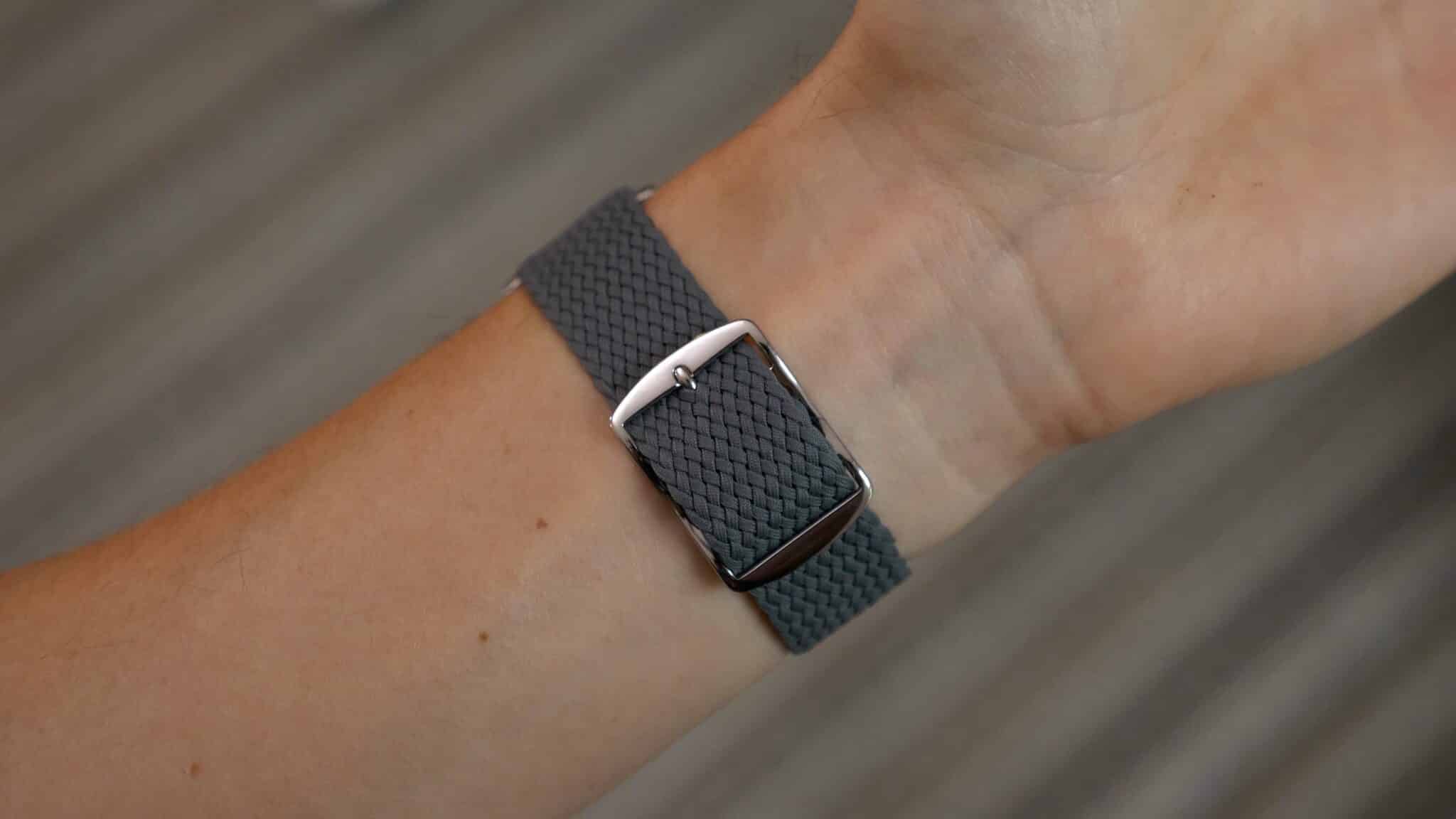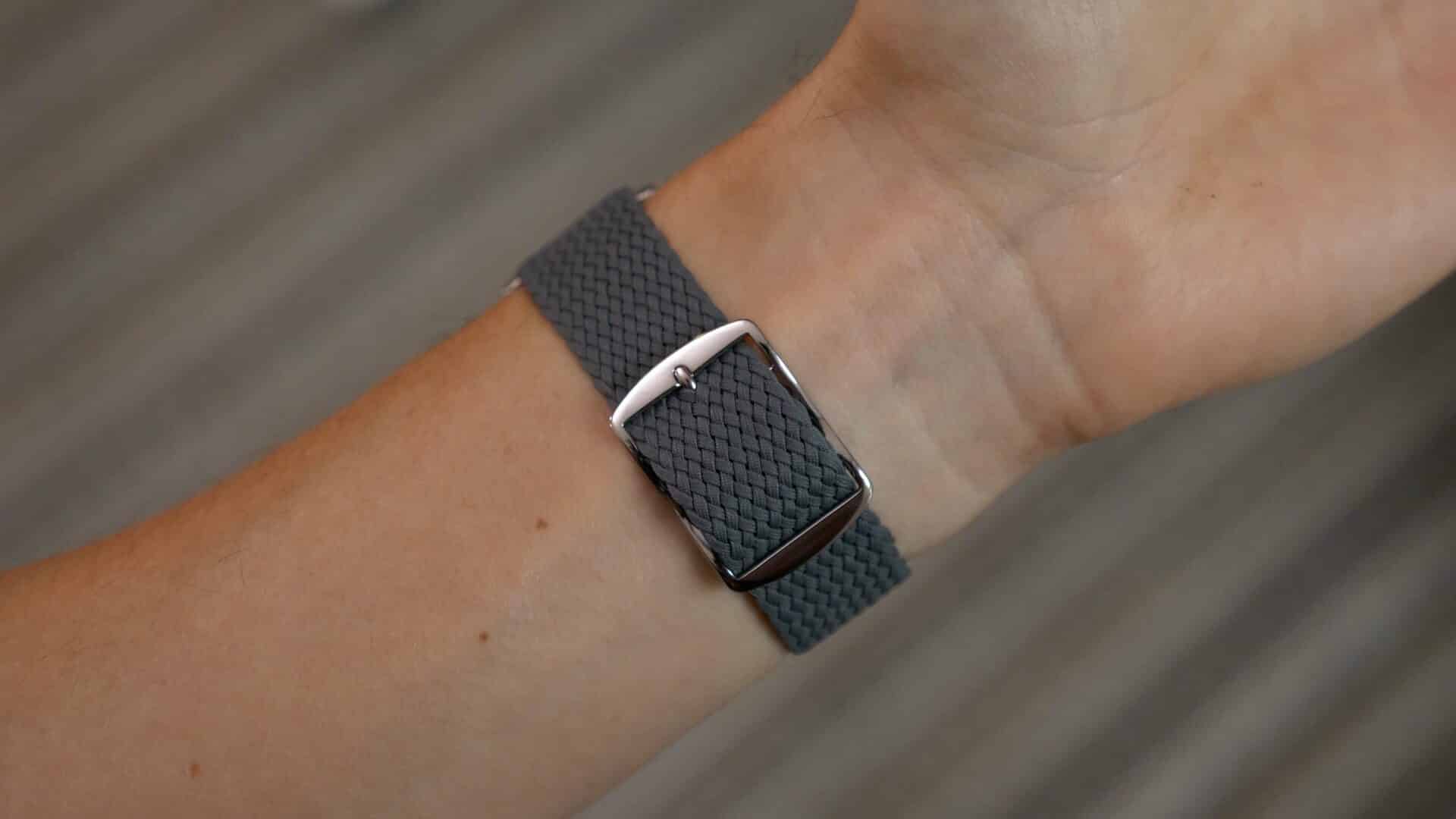 Perlon bands are popular among military personnel, athletes, and police officers because they're strong and comfortable. The weaving adds a sophisticated artisan factor, so I think they can go with a simple everyday watch, as well as a tool watch.
Rubber and Silicone Straps
Rubber is a natural substance, while silicone is synthetic. They feel and look similar, though, as with many organic substances, natural rubber will wear out. Silicone is often made to be UV-resistant.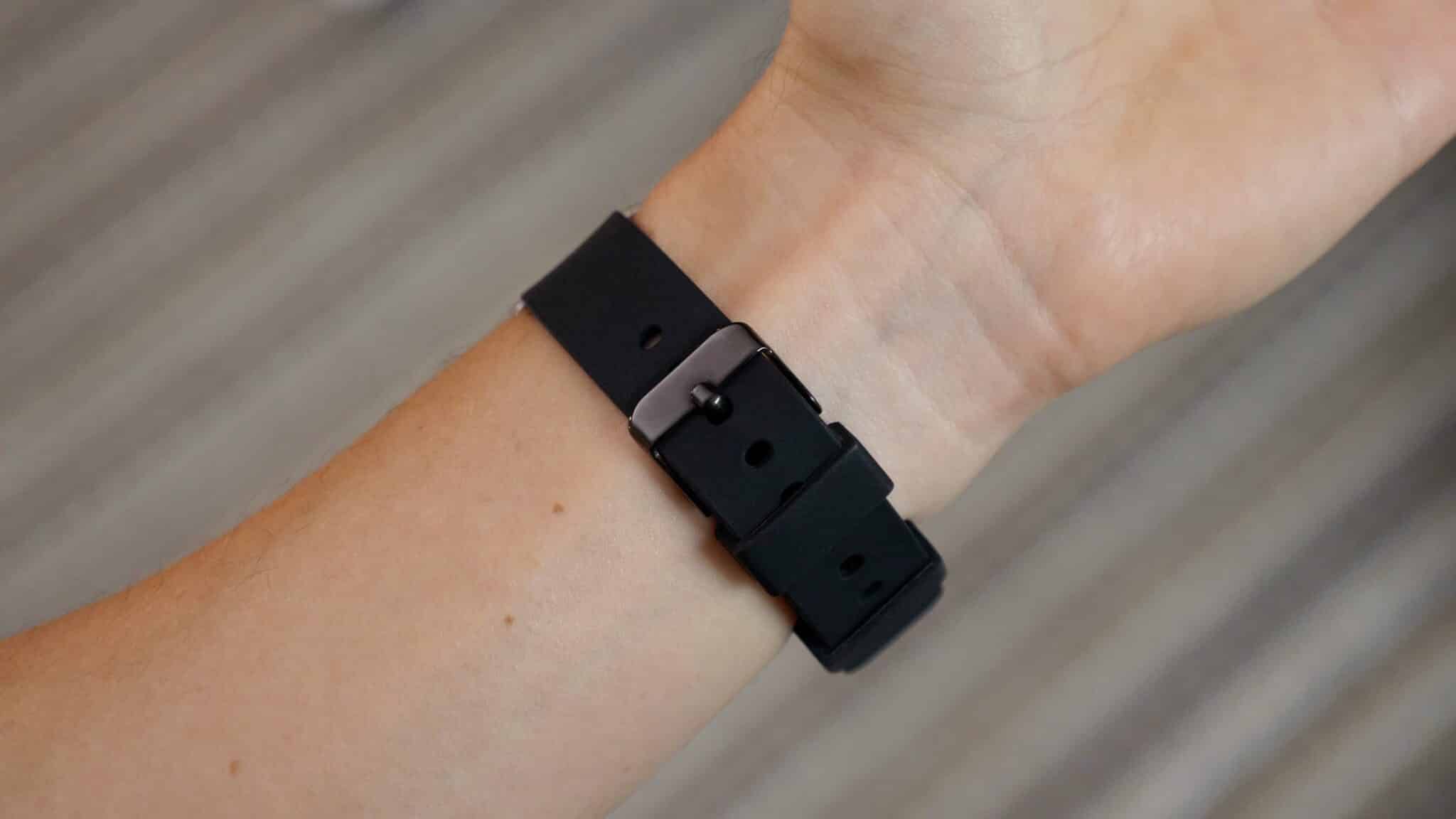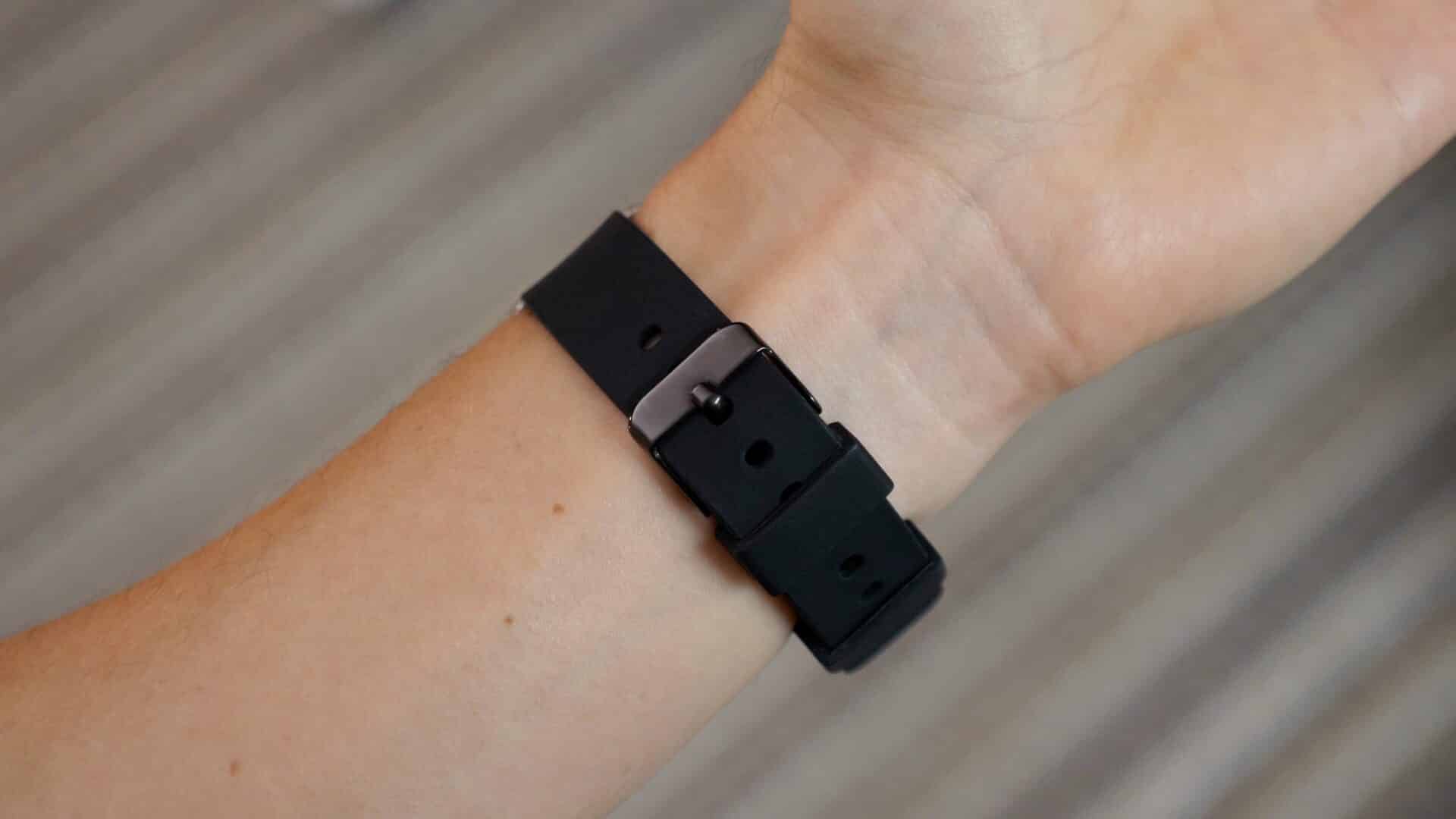 Rubber and silicone straps are considered mostly a practical fallback, often paired with smartwatches since they're comfortable and water-resistant.
So, there are a lot of pretty bad standard rubber straps out there. Look for soft, pliable bracelets over polyurethane ones that are brittle and stiff.
Style-wise, silicone, and rubber straps are undeniably athletic-looking. There are some beautifully-embossed nautical-themed ones and even ones that are quite sophisticated.
Barton watches make tropical rubber straps with exquisite weaving texturing and a slim silhouette.
FAQs
Still curious about watch straps? Check out these common questions!
What is the best type of watch strap?
It depends on what watch you're wearing and the look you're going for. Leather straps go with dress watches, while most sport watches can be paired with almost any style strap.
Look for flexible, soft rubber, full-grain leather, sturdy textiles, and high-grade metals.
What watch straps are most comfortable?
Good rubber straps are soft and limber, while full-grain, broken-in leather straps have a supple wrist feel.
What's the difference between a Zulu strap and a NATO strap?
A Zulu strap is more streamlined than a NATO and is often thicker, with rounded loops.
Conclusion
Not everyone considers strap changes a proper mod, but you can't deny what a big difference they make. These days, a lot of brands will equip their watches with easy-change functionalities, which makes them that much more convenient.
Personally, I'm a big believer that every watch in one's collection should have at least two straps to its name. When you swap straps it feels like turning one watch into two watches.
Questions? Comments? Leave them below!