If you're interested in the Orient Bambino but aren't sure of which model to get, this guide is for you.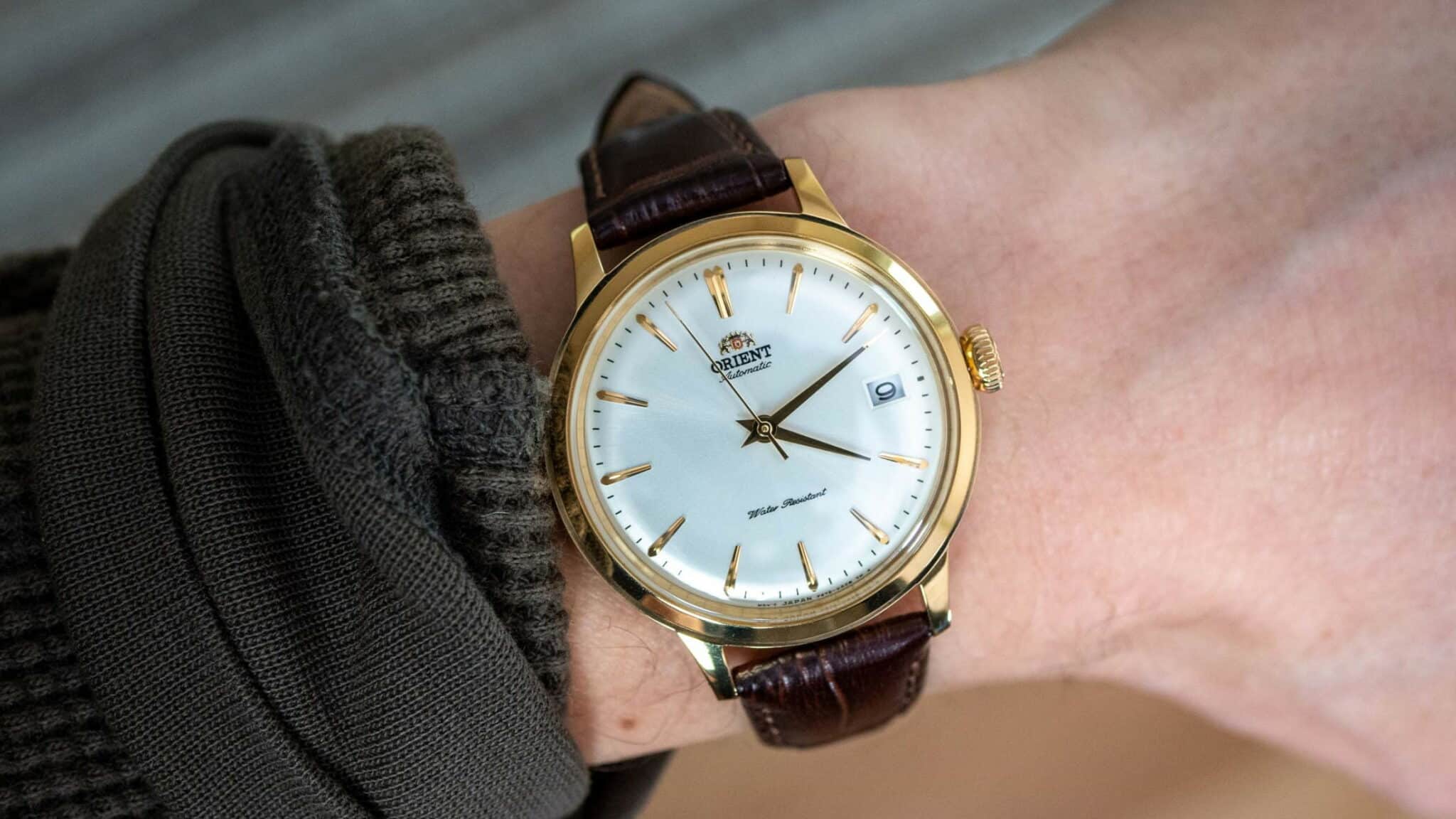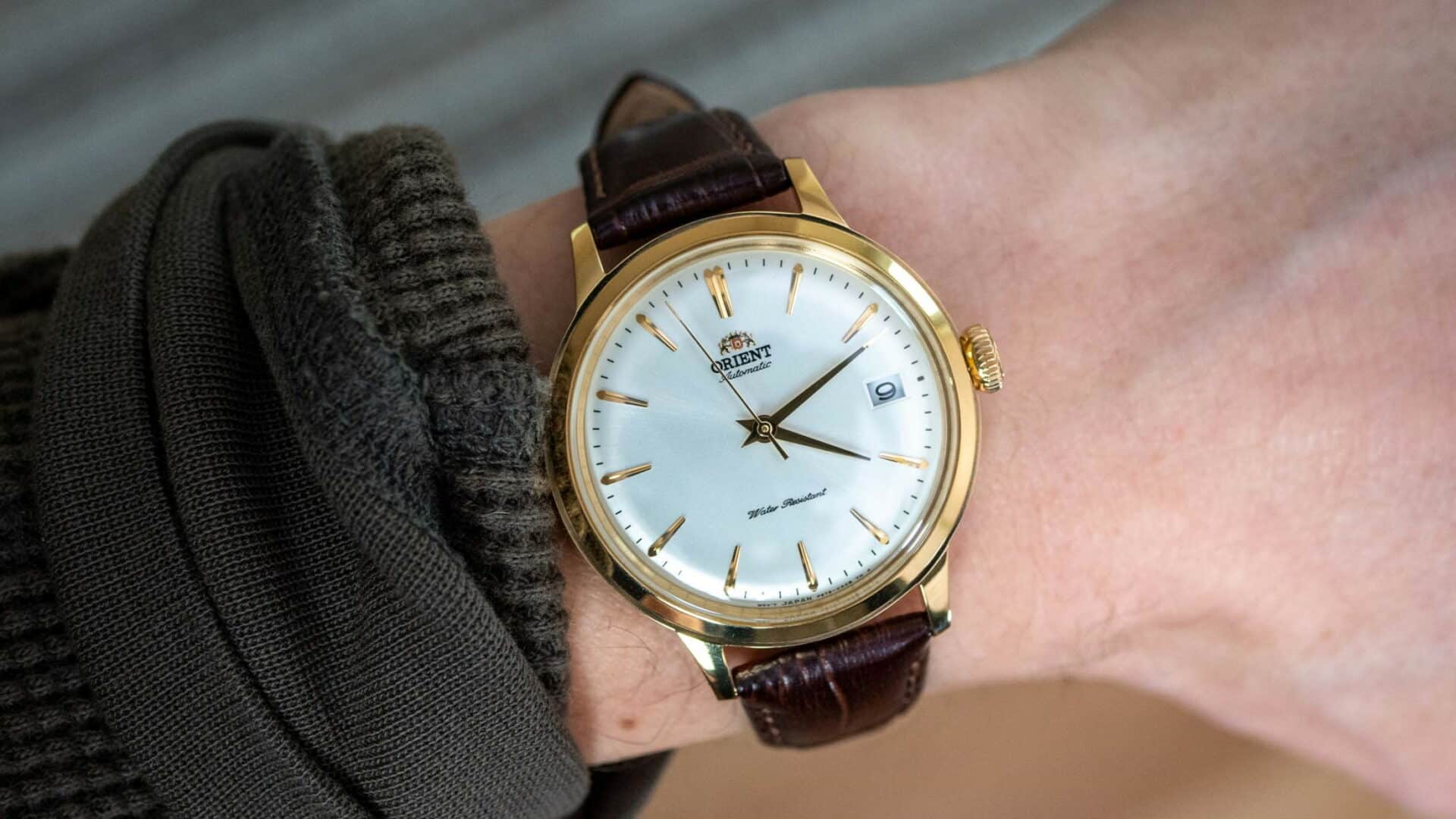 The Orient Bambino is a watch world cheat code on so many levels. It's a bang-for-buck mechanical that's technically a classically designed dress watch but is durable enough that it can be an everyday watch.
On top of that, there are so many Bambino models that, though none stray too far from the core design language, provide enough nuanced variation to suit any personal style.
In this guide, we're going to tell you everything you need to know about the Bambino so you know which is the right one for you.
A Brief History of the Orient Bambino
Now a part of the Seiko family, Orient is Japan's biggest producer of mechanical watches.
Still, they have a brand history that goes further back than their 2009 Seiko acquisition. The brand's original founder, Shogoro Yoshida, was known for selling gold wristwatches since way back in 1912.
For several reasons, the Bambino is a flagship of sorts for the brand, thanks to this dress watch heritage. It's a high-value, highly esteemed timepiece that comes in a few generations and versions, which we'll dive into right now.
Orient Bambino: Generations vs. Versions
The quick and dirty differentiation is that a Bambino's "generation" refers to what's going on inside of the watch (its movement), while its "version" indicates what's going on outside (dial style).
As with most Orient watches, all of these movements are in-house automatics.
The First Generation's Workhorse Movement
The first generation Bambinos ran on Orient's 48743 movement, an automatic caliber with a 40-hour power reserve and an accuracy of +/-15 seconds per day.
There are three versions (I, II, and III) available, each of which we'll specifically cover in the next section.
Added Features for the Second Generation
The second-generation Bambinos come in five different versions. Versions I, II, III, and IV run on Orient Caliber F6722, which is an upgraded 48743 of sorts.
It's a 22-jewel automatic that's as reliable as its predecessor but comes with hacking and hand-winding, making it easier to operate.
The 2nd gen version V runs on the F6724 movement. It's basically just like the F6722 but often comes with a white date wheel with black numbering instead of the 22's typically black date wheel.
The V comes with an exhibition caseback, so this is likely the reason behind changing the purely aesthetic mechanism.
The Different Versions of the Orient Bambino
Again, versions refer to the different dial styles. Let's take a look at all of the ones available.
Version I
Out of the first three versions, the version I dial best straddles the line between ornately classic and modern simplicity.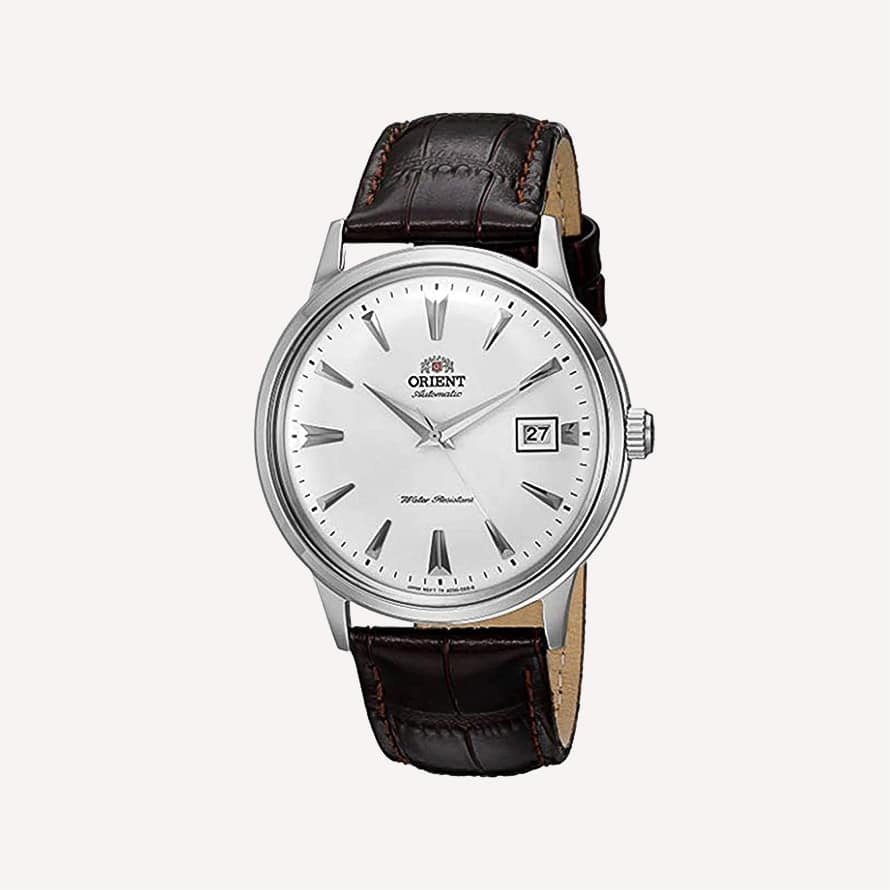 It features stouter elements, including thick hour markers and triangular sword hands. Few of the components touch each other, making them look peppered about on the dial, giving it an abbreviated aesthetic.
Overall, version I's moderate approach to dressiness makes it the most versatile variation.
Dimensions: 40.5mm diameter, 12mm thickness
Case material: Stainless steel
Water resistance: 30m
It comes as a first generation and a second generation, though the latter is more common.
Version II
With its stately Roman numerals and slender hands, Version II is definitely the most classic-looking of the group.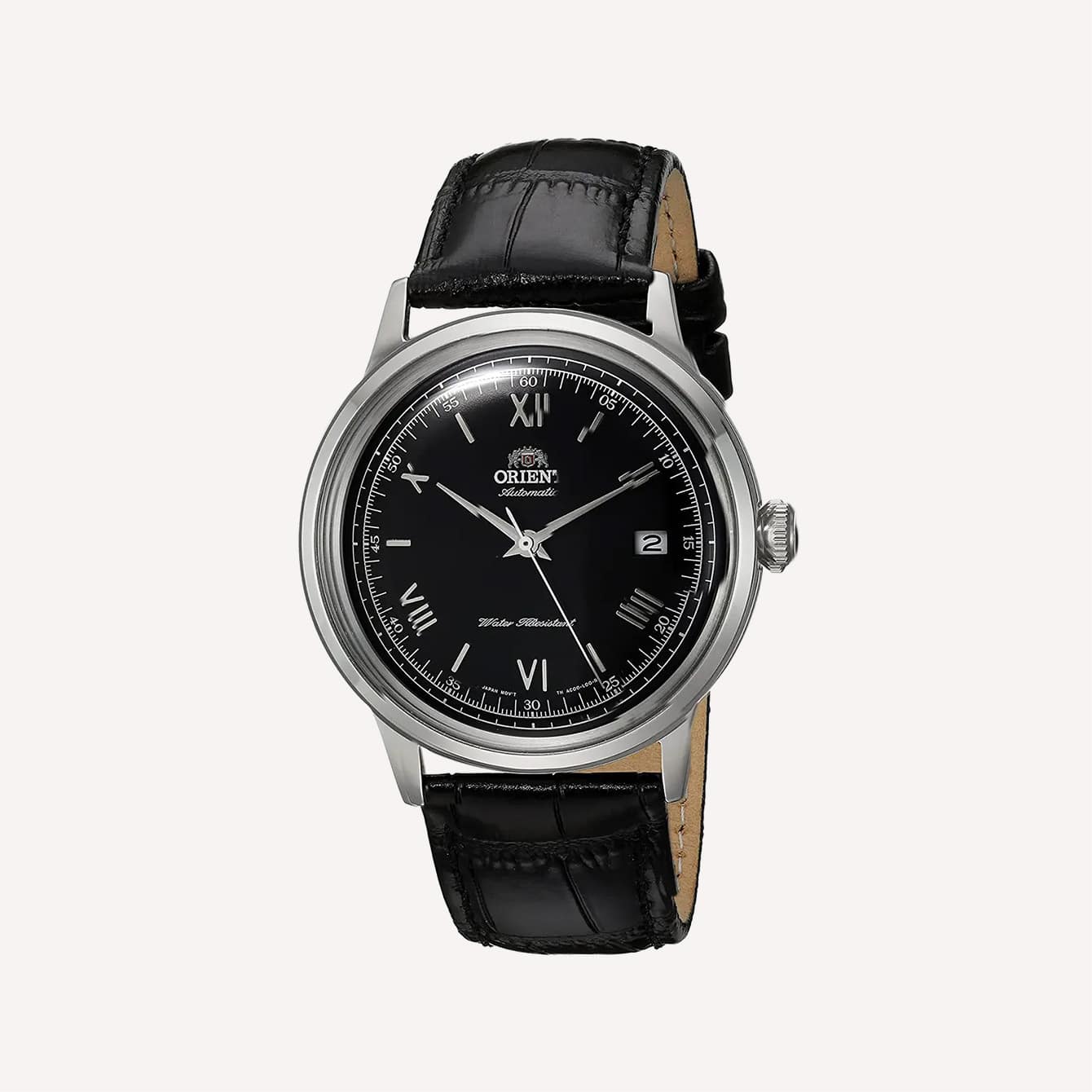 The gem-shaped onion crown, stepped case front, and outer train give the watch an antiquey vibe and also make the dial look busier than the other versions.
Like Version I, it's available as a 1st or 2nd gen and comes in five colorways.
Dimensions: 40.5mm diameter, 12mm thickness
Case material: Stainless steel
Water resistance: 30m
Uniquely, Version II also comes in a worn-in off-white color, which seems like a hat-tip to its old-world style.
Version III
Version III is the most contemporary looking, with its simple stick hands and indices. The minute markers and longer hour markers are sleekly flush against the edge of the dial.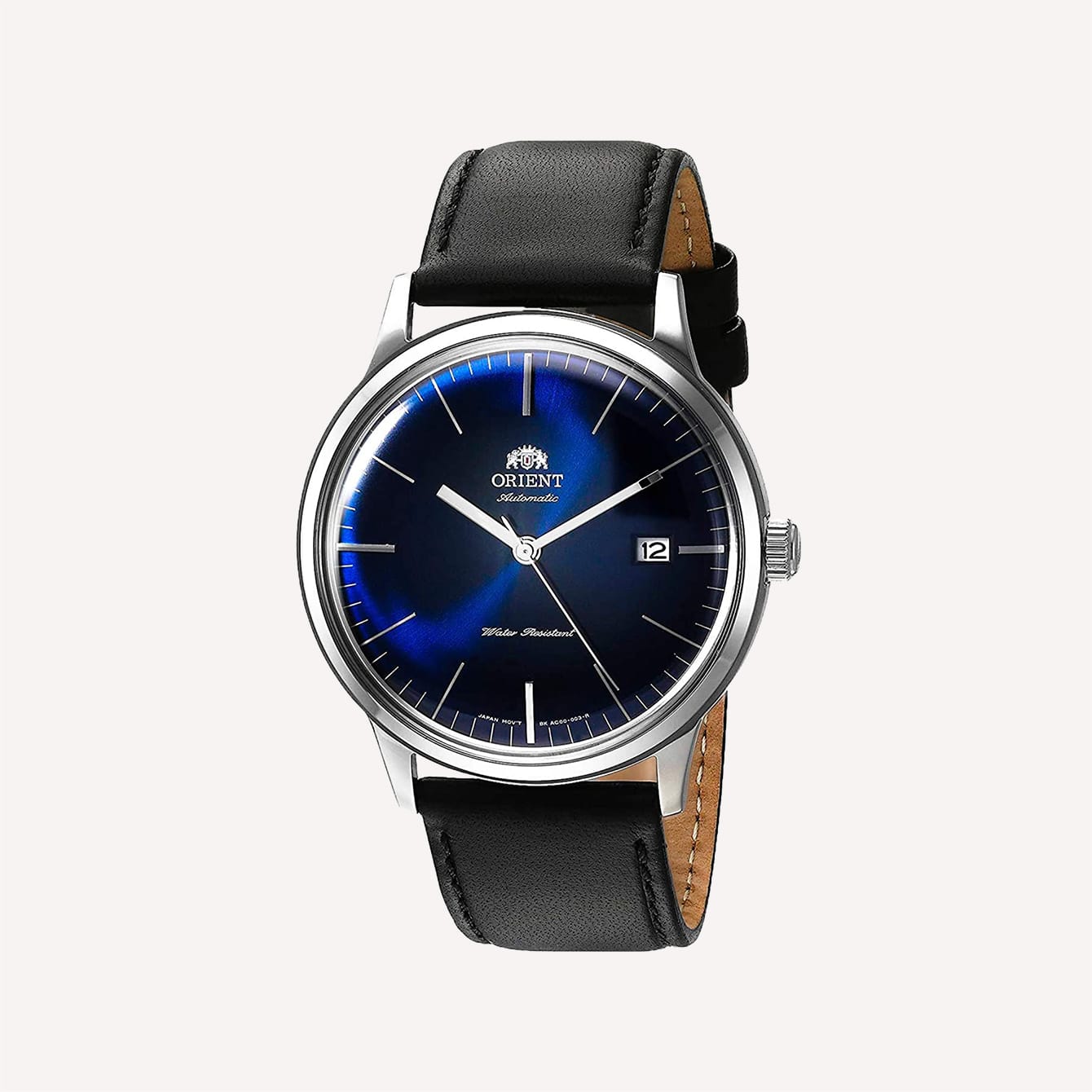 What makes this version distinct is that, though there are fewer colorways, they're much more nuanced, offering more than just color variations.
For example, there's a dark blue dial with a murky deep ocean aesthetic and an almost metallic gray version with sharp texturing.
Dimensions: 41mm diameter, 12mm thickness
Case material: Stainless steel
Water resistance: 30m
This creative approach balances out the minimalist style with some visual intrigue.
Version IV
The design language of Version IV sits somewhere between Version I and III. It leans into a minimalist aesthetic like the III but is adorned with diamond-shaped hour markers.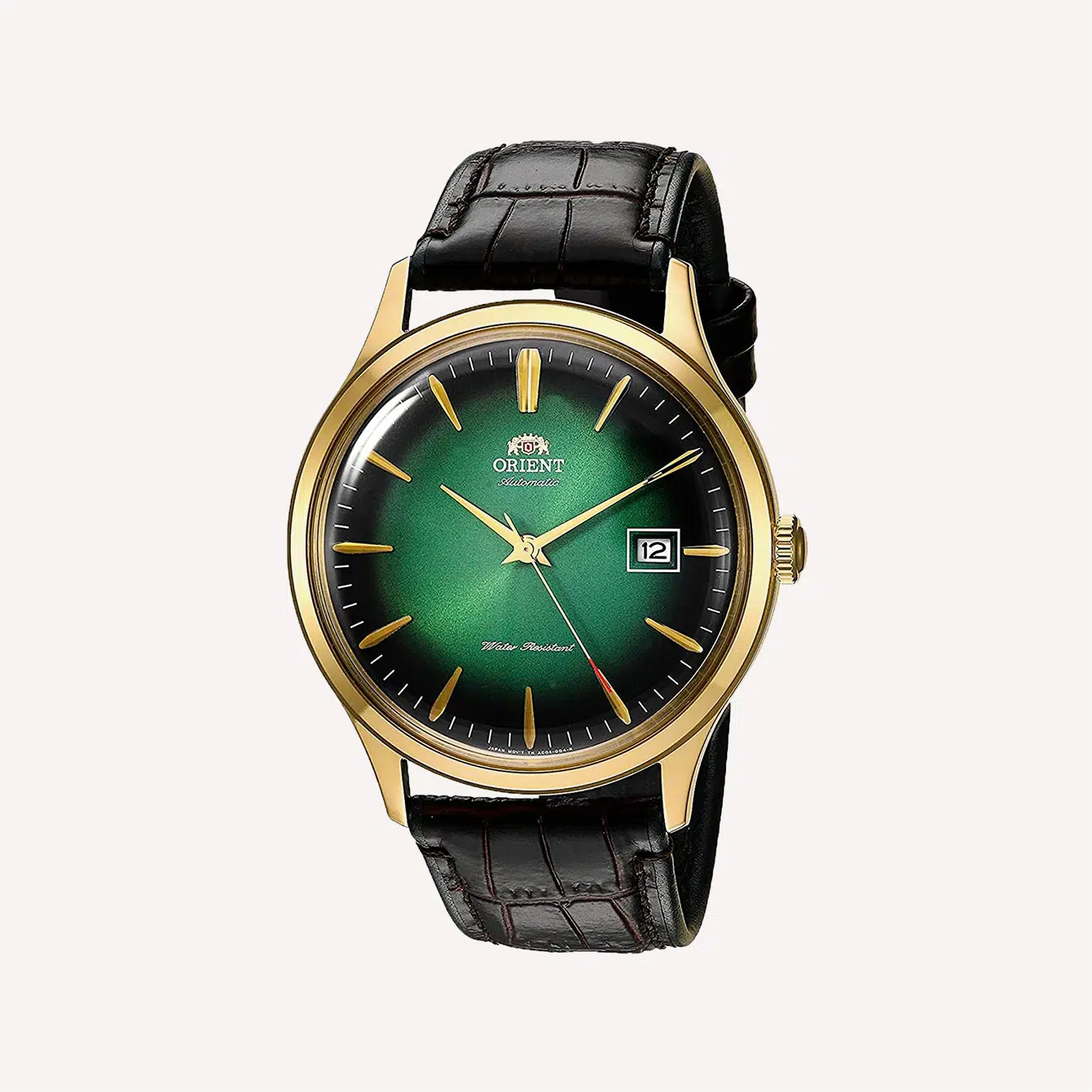 It's still super clean but isn't as Scandinavian and line-forward. Meanwhile, the thinner hands seem to be inspired by Version II, making this watch a self-aware homage to its predecessors.
Each dial colorway has a silky look, with a soft and cloudy gradation.
Dimensions: 42mm diameter, 11mm thickness
Case material: Stainless steel
Water resistance: 50m
Version IV is bigger than the prior three, though the short crown tempers this a bit. It's also the first version to come with a green dial.
Version V, Baton Markers
Version V is definitely a more modern design but still exudes classic elegance.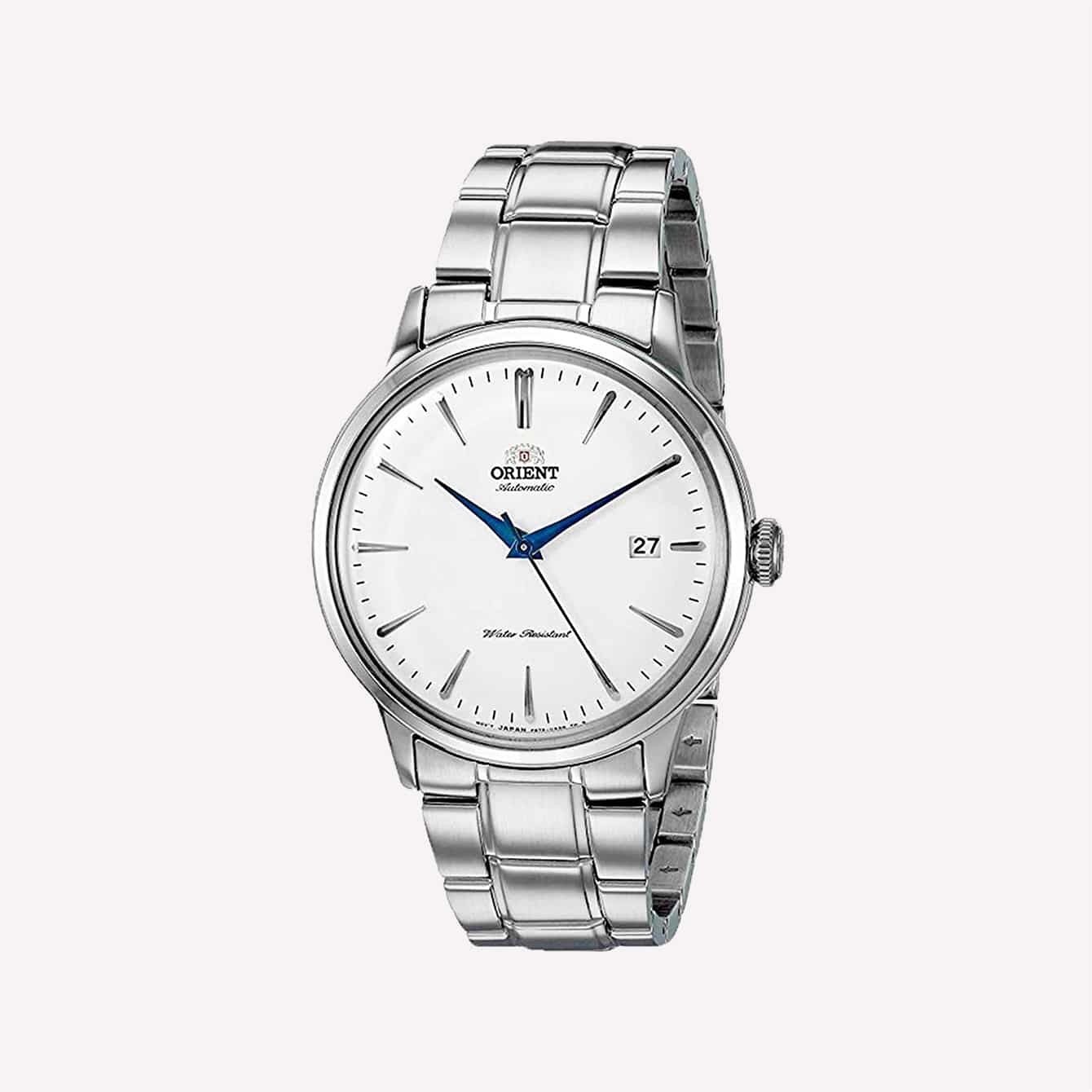 This is thanks to the slight remixing of classic elements, like the almost tear-drop shape of the baton markers and the tapered sword hands.
The baton marker variation of Version V is the only Bambino that's outfitted with a stainless steel bracelet. Like Version IV, it comes exclusively as a hacking 2nd Generation.
Dimensions: 40.5mm diameter, 12.7mm thickness
Case material: Stainless steel
Water resistance: 30m
Unlike the IV, it's equipped with an exhibition caseback, making it a good choice for the horologically curious.
Version V, Arabic Markers
Version V is different in that it actually comes in two sub-versions.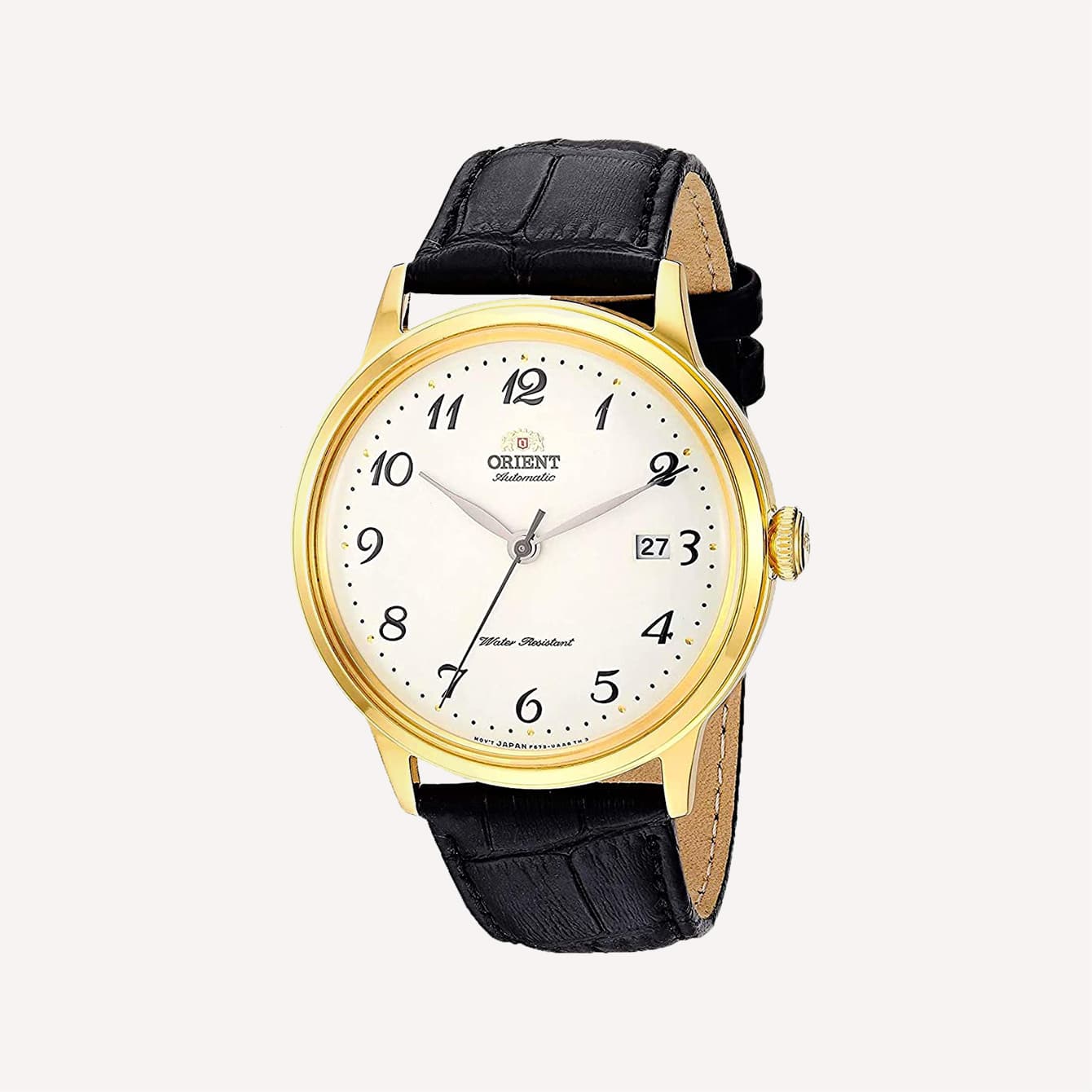 The V that comes with Arabic markers is so different from the other Bambinos you might not even see the relation.
Dimensions: 40.5mm diameter, 13mm thickness
Case material: Stainless steel
Water resistance: 30m
The hour markers are all Arabic, in a fanciful serif font, while the Feuille hands add a touch of whimsy.
The Orient Bambino, 38mm
The latest, and in my opinion the best-sized, Bambino is the 38mm variant.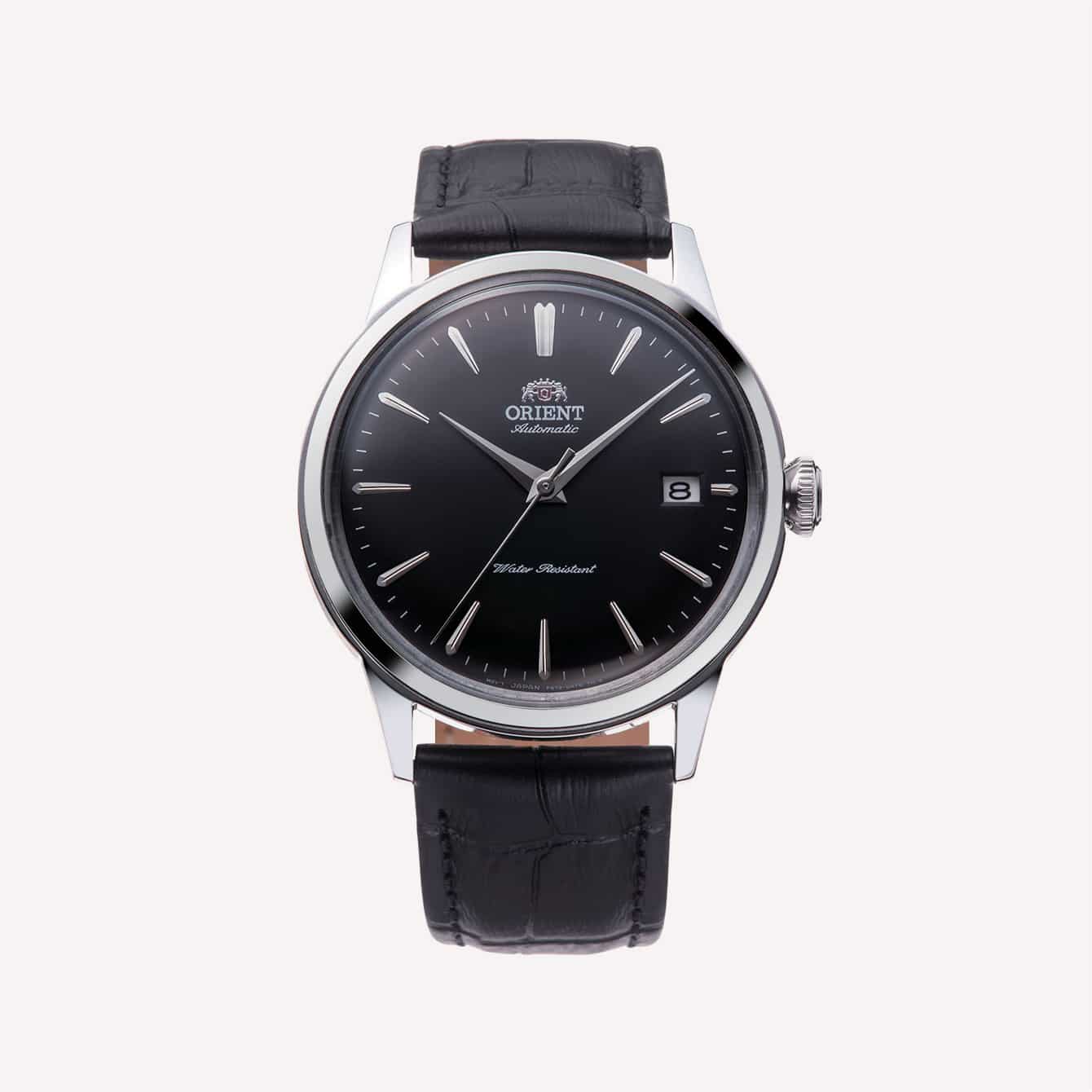 It looks a lot like the Version IV, but with elegant dauphine hands like the Version I.
Dimensions: 38mm diameter, 12.5mm thickness
Case material: Stainless steel
Water resistance: 30m
Not only does the size allow it to fit a wider range of wrist sizes, but the mix of simple and dressy features goes with any outfit, whether very casual or formal.
Small Seconds, Open Heart, and Ladies Versions
Apart from the two generations and five versions, the Orient Bambino comes in a few other size and visual variants as well. All of these "special" versions seem to be based on the baton-marked Version V template.
Bambino Open Heart
The Bambino Open Heart is just a version V, with a front dial window allowing you to peak into the movement.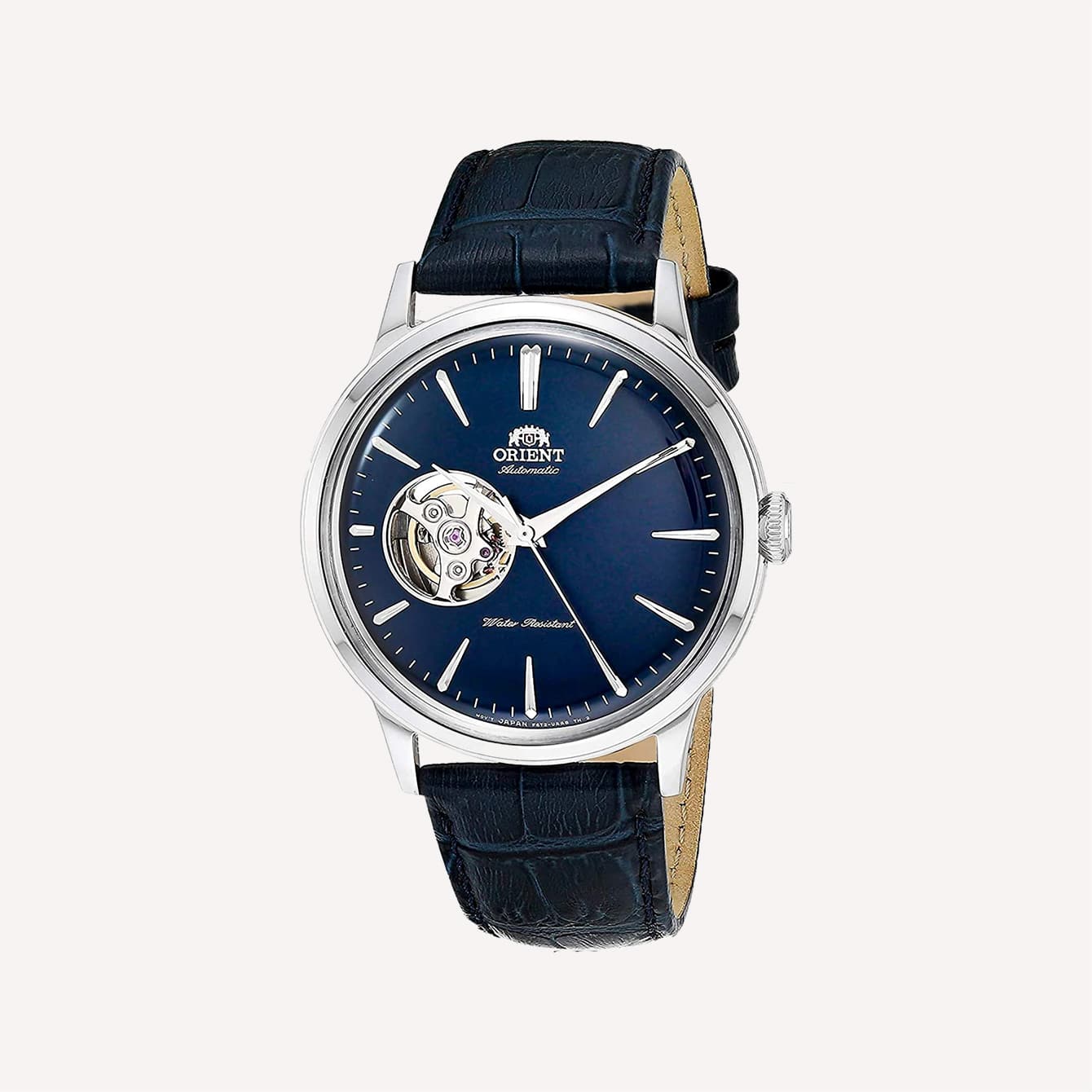 The V is just ornate enough that the open heart doesn't look out of place on its design, but also minimal enough that it isn't overly busy either.
Dimensions: 40.5mm diameter, 12mm thickness
Case material: Stainless steel
Water resistance: 50m
It runs on Caliber F6T22, a 22-jewel automatic with an open balance wheel at the 9 o'clock position, placed there, especially for the open heart design.
Bambino Small Seconds
The Bambino Small Seconds looks like the Version V, except that the cardinal directions are very modern-looking Arabic markers.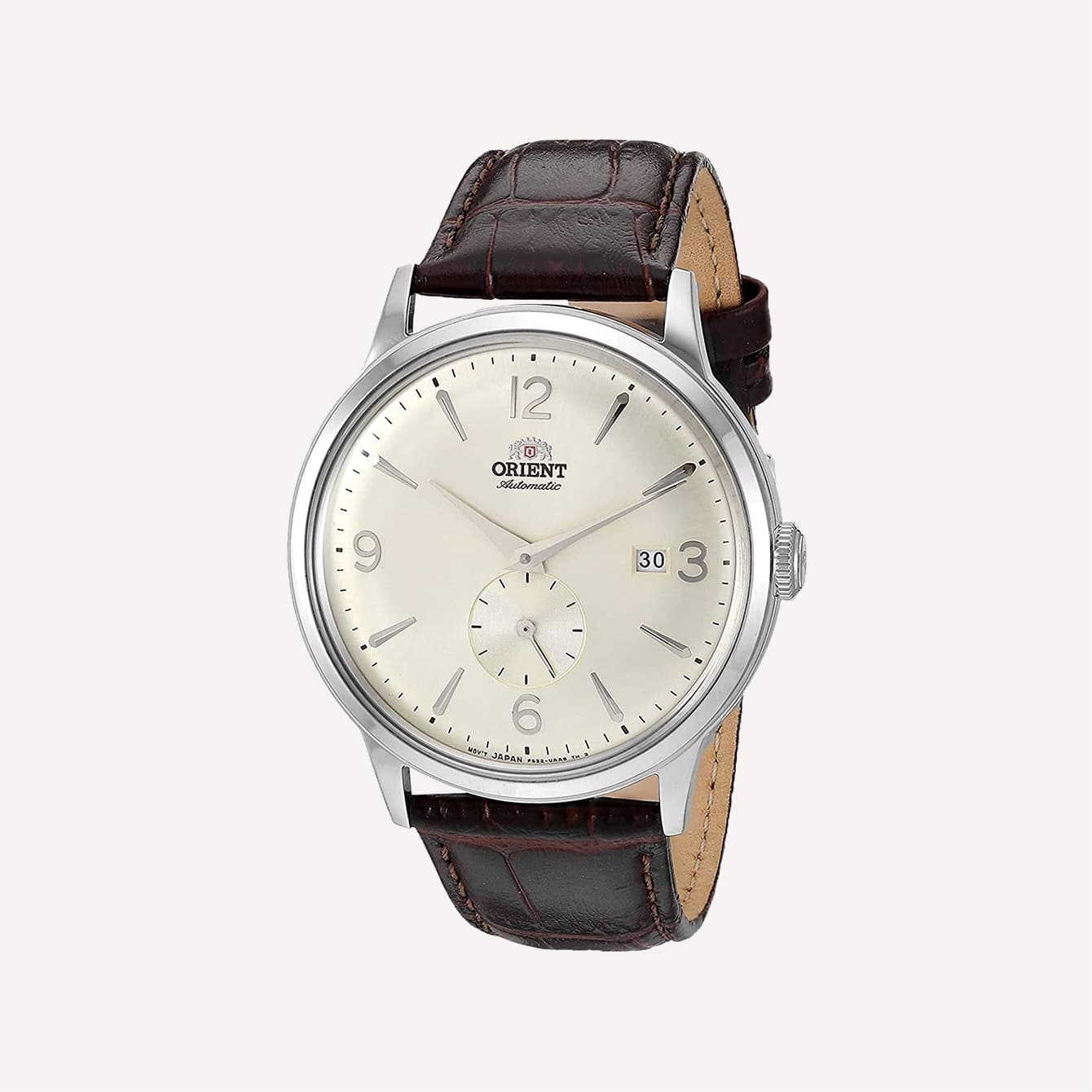 As its name suggests, there's a small seconds subdial right below the hands, giving the dial an overall fun, dimensional, and borderline gadget-like aesthetic.
Dimensions: 40.5mm diameter, 13mm thickness
Case material: Stainless steel
Water resistance: 30m
This watch runs on the 24-jewel F6222 movement, which is just the small-seconds version of the F6724.
Orient Bambino: Ladies Version
Also known as the 36mm Bambino, the Ladies Versions are just smaller renditions of the 2nd Generation, Version V. That being the case, anyone with thinner wrists can wear these, regardless of your gender.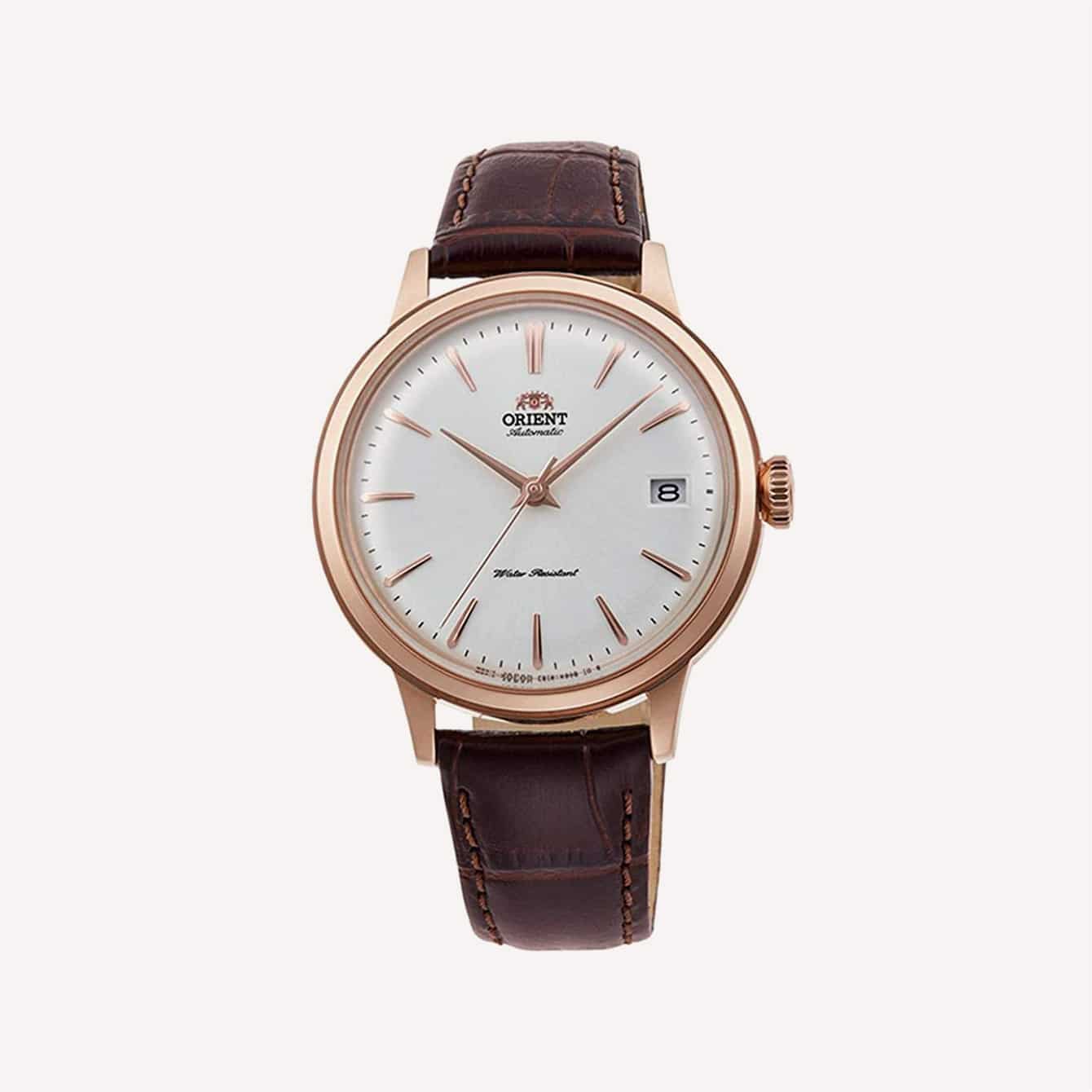 Often, if the reference number ends in A, for example, RA-AC0010S10A, it will likely be running on the Orient Caliber F6724, the same as the regular-sized version Vs do.
If it ends with B, like RA-AC0010S10B, it might mean it's running on the F6T22—not always, though.
Dimensions: 36mm diameter, 12mm thickness
Case material: Stainless steel
Water resistance: 30m
Since the main difference between the two movements is that the F6T22 is made for open hearts, this difference is completely inconsequential unless you're a modder.
FAQs About the Orient Bambino
Here are some frequently asked questions about the Orient Bambino.
Is the Orient Bambino Worth It?
As an in-house mechanical that's arguably pretty versatile regardless of which variant you go for, the Orient Bambino is one of the most bang-for-buck dress watches on the market
How Many Orient Bambino Generations Are There?
There are two generations, but several "spin-offs," including an open heart version and a small seconds version.
How Water-Resistant Is the Orient Bambino?
Anywhere from 30 meters to 50 meters.
Can You Dress Down an Orient Bambino?
Yes, especially the simpler modern-looking versions, like the Version III.
Which Orient Bambino Is for You?
if you prefer a more contemporary look, Version III has an almost Scandinavian feel about it. Meanwhile, Version II's Roman indices make it more vintage looking, while Version I sits somewhere in the middle.
I think Version V is the most versatile, thanks to its modern elegance. It's also likely why it has the most remixes (the open heart, ladies, and small seconds versions).
Functionally, Generation 2 and beyond are superior since they offer hacking.
There's a lot to consider here since the differences between versions can be pretty nuanced. Fortunately, Bambinos are usually just in the ~$100 range and don't often go too far beyond $400, so there's a collectibility factor about them as well.
Questions? Comments? Leave them below!