Looking for some good alternatives to Vincero watches? We've got you covered. Read on to see our top picks.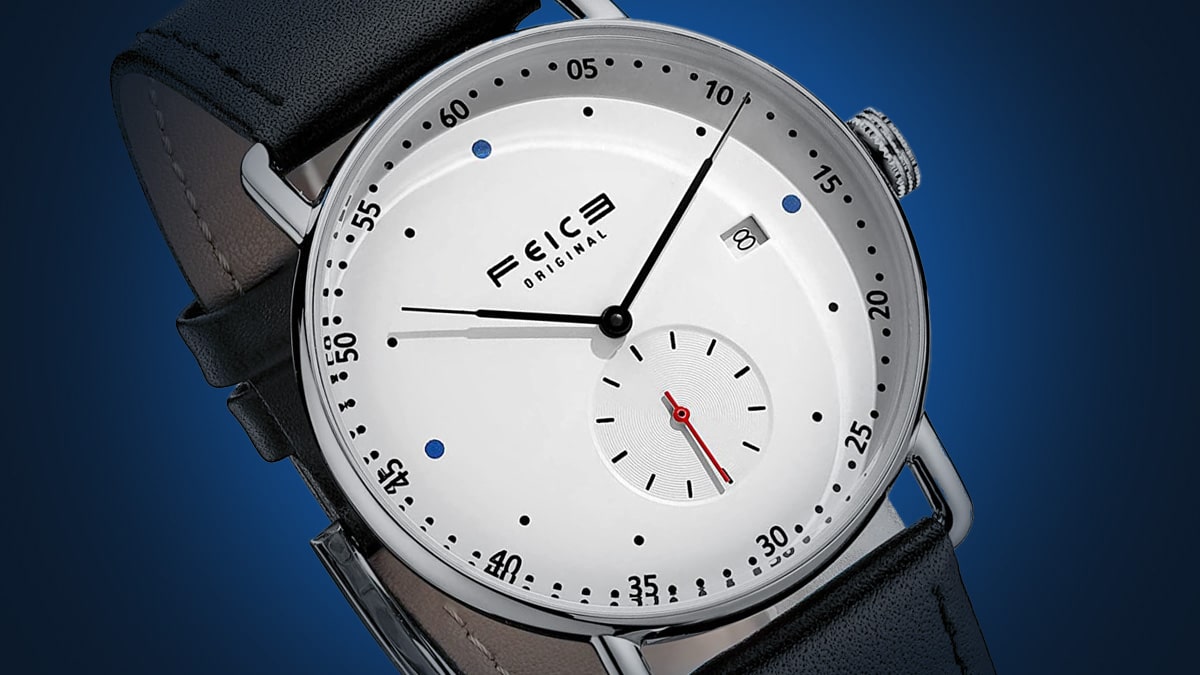 When it comes to low-mid range timepieces, Vincero is a brand that's collected a lot of strong opinions. Their flagship model, the Chrono S, seems to be as much of a fan un-favorite as it is the subject of devoted enthusiasm.
It's understandable then, that if you're considering buying a watch from this new American brand, that you haven't quite pulled the trigger yet. We're going to look at some Vincero alternatives here, to help you decide if you shouldn't go the Vincero route.
So why do people love Vincero? Well, they're affordable, and their models often offer a good range of colorways, so you get that personalization factor. They tend to add small touches, like the marble showcase back on the Chrono S.
As far as why people don't like Vincero, one reason is that they're made in China, while featuring an Italian brand name and a design studio in San Francisco. To their credit, they don't hide the fact they're made in China, and even make it part of the company lore.
Critics consider this to simply be a clever spin, which is related to the overarching critique from most people:
Vincero spins their watches as affordable luxury, but there are many other brands that are more luxurious, or more affordable, or more of both. Our picks for Vincero alternatives will represent all of these.
Watches Similar to Vincero
Here they are in no particular order…
Timex Fairfield Chronograph
Timex is an American heritage watchmaker. As a brand, it has a cool factor that can really carry a budget watch, reputation-wise. For example, their Waterbury line is a reissue of classic designs from their archives.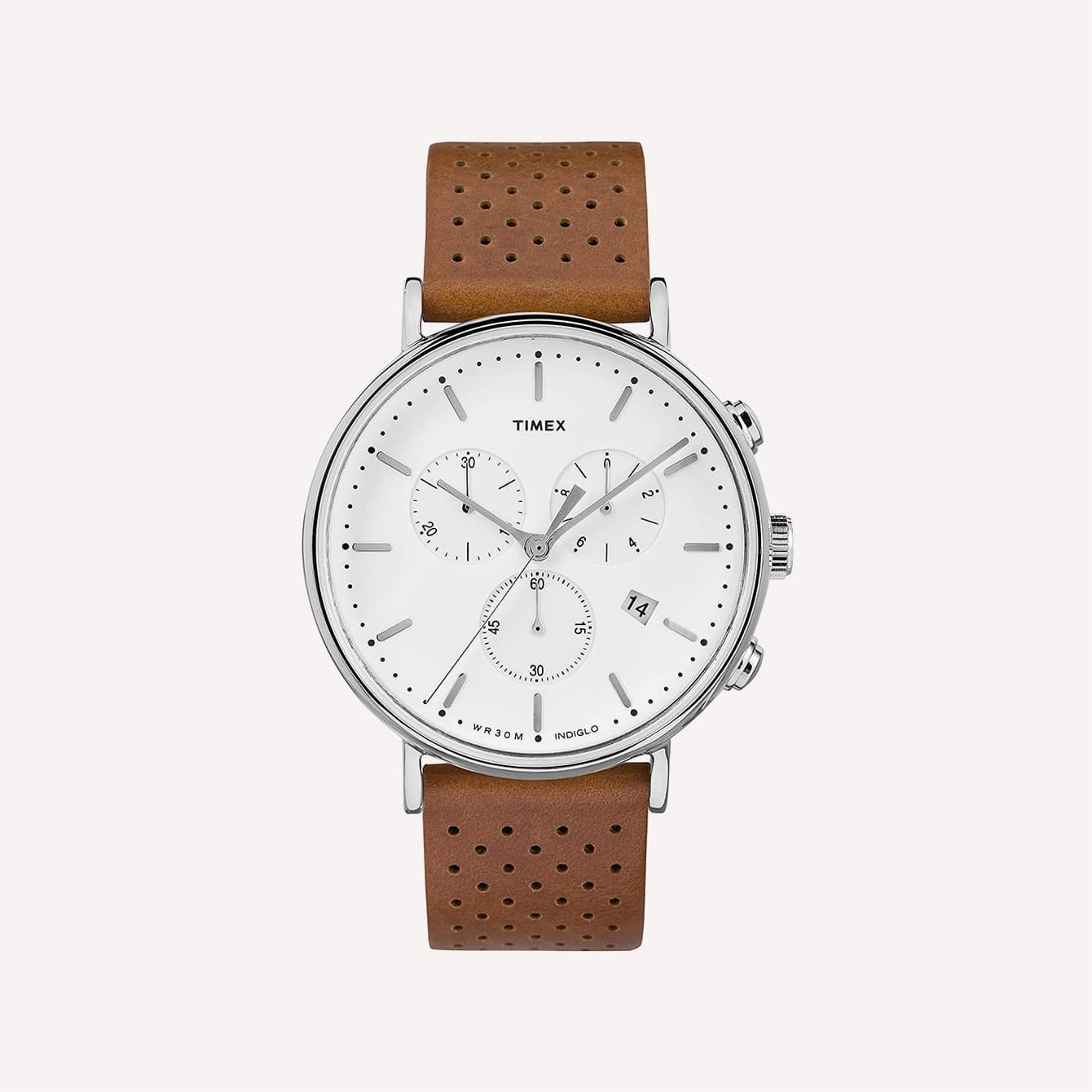 So even though Timex watches are made in China these days, they boast a street cred rooted in history that Vincero doesn't have, plus a lower price tag despite being the more reputable brand.
The Timex Fairfield Chronograph features the same modern minimalist style as the Vincero Chrono S. Design-wise, I like the Fairfield better because they manage to keep the subdials closer to the middle without it looking cramped.
Dimensions: 41mm diameter, 11mm thickness.
Case material: Stainless steel
Water resistance: 30m
The Vincero Chrono S does feature a sapphire-coated mineral crystal, which is slightly more scratch-resistant than a non-treated mineral. The Chrono S also has less neutral colorways than the Fairfield, like a green sunburst variation and a rose gold case option.
Pagani Design 2720k Chronograph
Pagani is not a better brand than Vincero by any means. In fact, they're a Chinese company that sometimes fully lifts designs from luxury brands, potentially at the factory across the street from the one that makes knock-offs.
That being acknowledged, you can get Pagani automatics for anywhere between $95-$130, compared to Vincero's $300-$500 automatics which are also made in China.
Pagani's 2720k Chronograph sports a very similar design to the Chrono S, from the applied baton hands to the sideways cut-out date window. At around $65 it has a much fairer price too.
Some may even think it punches above its weight ever so slightly, since it runs on Seiko's meca-quartz movement which is so hi-beat that the second hand seems to sweep.
The only extra thing you'd get with Vincero is their attempt at a brand identity. You know their "story" and you know who the guys behind the brand are. If that's important to you, no judgment.
Dimensions: 46.5mm diameter, 12.8mm thickness.
Case material: Stainless steel
Water resistance: 100m
Watch-buying should be fun. Just think hard on whether or not the price premium is worth it for you.
Skagen Ancher Chronograph
If what you like about Vincero is the sleek lines and minimalist aesthetic, Skagen's got that down pat. Their popular Jorn model makes Vincero watches look downright busy.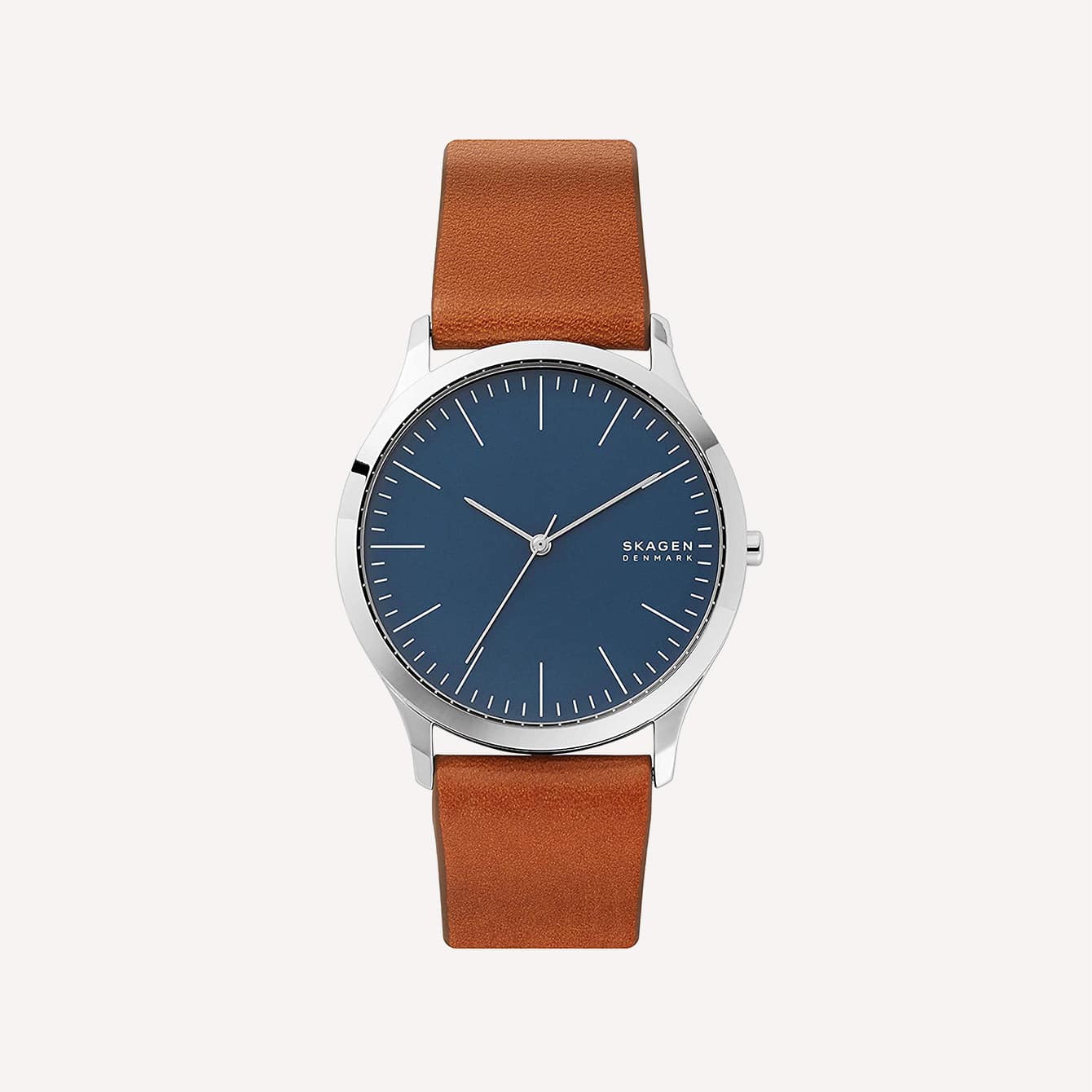 Skagen was founded by two Danish immigrants in the US who wanted to bring the minimalist yet playful Denmark aesthetic to the watch world. Though they're made in China, they're also several points cheaper than Vincero.
As far as a Chrono S alternative, I personally prefer the Skagen Ancher Chronograph over Vincero and here's why.
The minimalism is more consistent, with that aesthetic carrying on beyond the dial face and into the no-frills leather watch and hooded lugs. Moreover, the brand's Danish roots makes this approach seem more authentic.
Dimensions: 40mm diameter, 9mm thickness.
Case material: Stainless steel
Water resistance: 50m
Skagen watches feature a steady and consistent aesthetic, and I appreciate that. Sometimes, Vincero models remind me of a Spanish revival house with Roman columns in the front. If that's your thing, then definitely go the Vincero route.
Citizen CA0649-06X
The watch world's true workhorse, Citizen has far more horological chops than Vincero. As mentioned, Vincero buys Miyota movements, which are built by Citizen.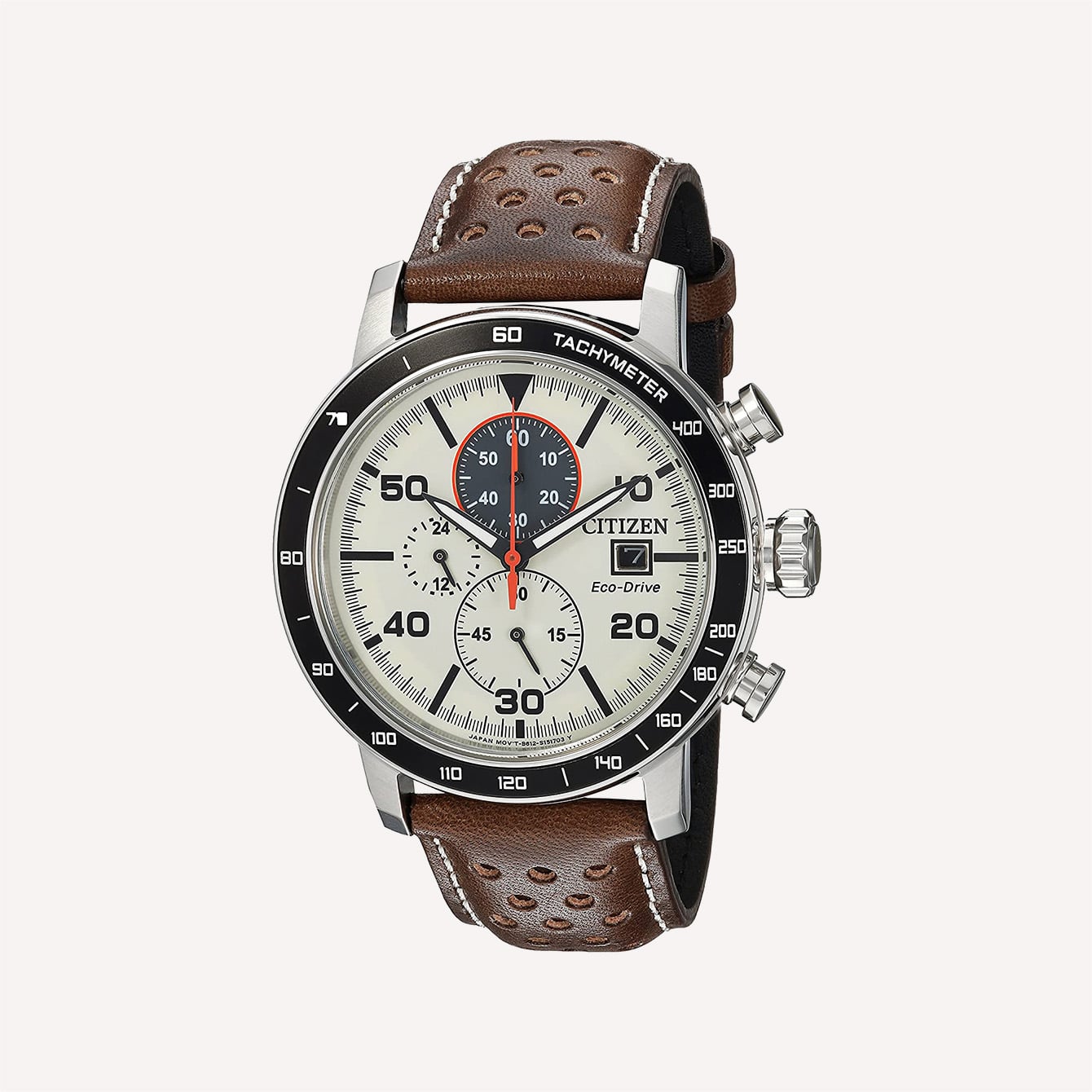 The biggest criticism I've heard regarding this Japanese-based company is that they don't have much brand identity or lore. People who take a fully functional approach to watch-buying don't mind this, and many even love it.
Like many Citizen sport watches, the Brycen CA0649-06X isn't very minimalist at all. It sports the same panda-like style as Vincero's Apex in silver and black, which is one of their best sellers.
This Brycen also has a better water resistance at 100m, and a superior movement. Citizen's Eco-Drive technology uses light to power the movement, and its battery never needs replacing.
Dimensions: 43mm diameter, 13mm thickness.
Case material: Stainless steel
Water resistance: 100m
If you like Vincero's dressier and minimalist chronographs, I still recommend you check out Citizen's catalog. The Citizen Corso AO9000-06B, isn't as modern as a Chrono S, but it does an equally good job of balancing out its utilitarian aesthetic with some elegance.
Seiko 5 SNKL231J Automatic
Seiko gives you much more for your money than Vincero does, and that's why people love this Japanese brand so much.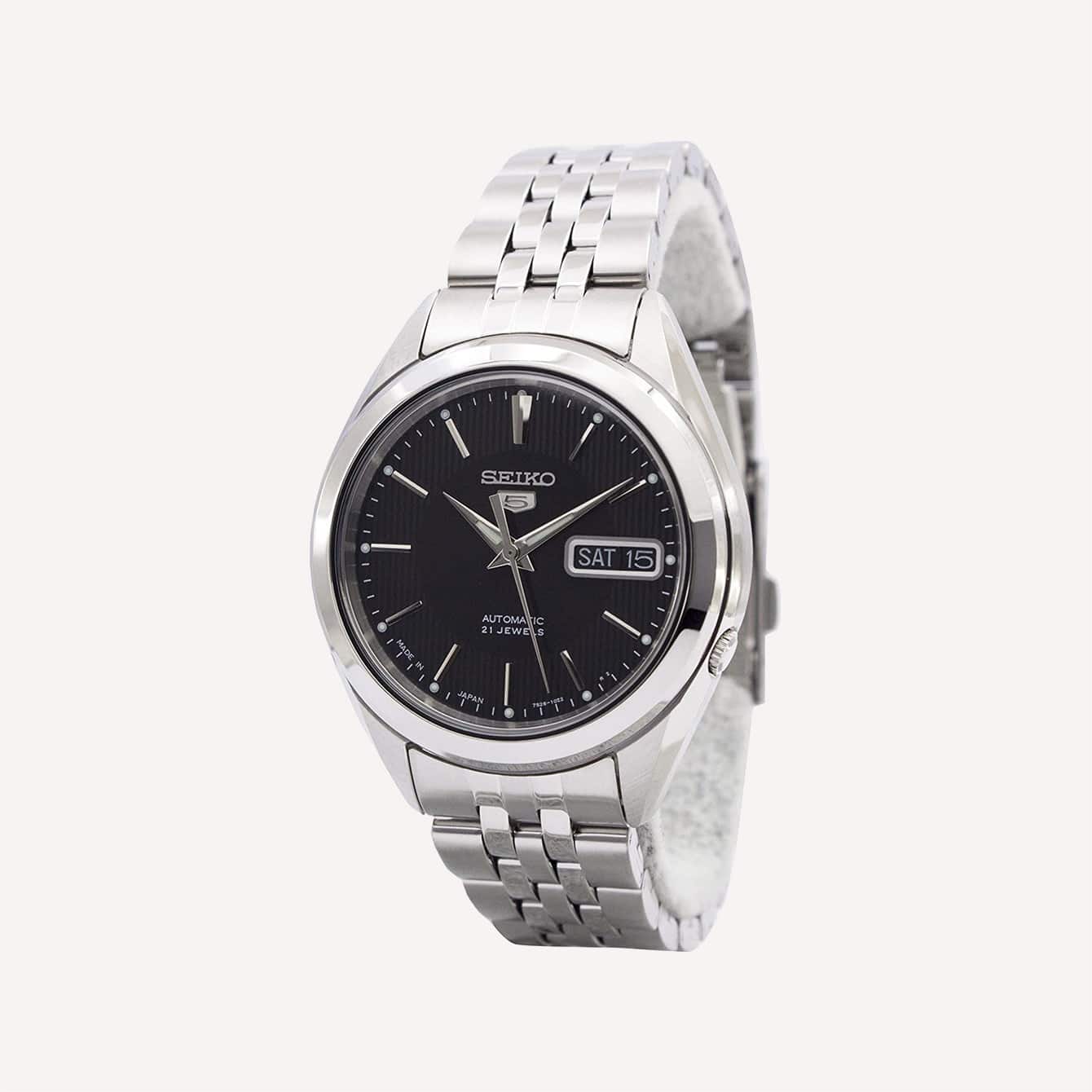 Frankly, I could probably go through Vincero's entire catalog and find a more bang-for-buck alternative in the Seiko catalog. Instead of going down the chronograph route, let's compare Vincero automatics with Seiko automatics.
Vincero's Icon Automatic is around $300. The Seiko 5 SNKL23J1 can be anywhere from $180-$200 cheaper, and is a lot more versatile, not least of which is because it has a reasonable 38mm case. Like all Seikos, the SNKL23J1 runs on an in-house movement.
This is just one example too, you can find many colorways of this style for even lower prices.
Similar to Citizen, you should look into Seiko in general. They have a reputation for not being particularly whimsical, but I think that's just based on the core line, and Seiko has a wide range of sublines.
Dimensions: 38mm diameter, 10mm thickness.
Case material: Stainless steel
Water resistance: 30m
Their Seiko 5 Specialist sub-subline, for example, plays with different textures and material just like Vincero's popular Marble Automatic line does.
Braun Chronograph
When I'm looking for a practical and affordable watch, I love lines from electronics companies. They're not disruptors in the watch industry, but they're built with the discipline of an engineer.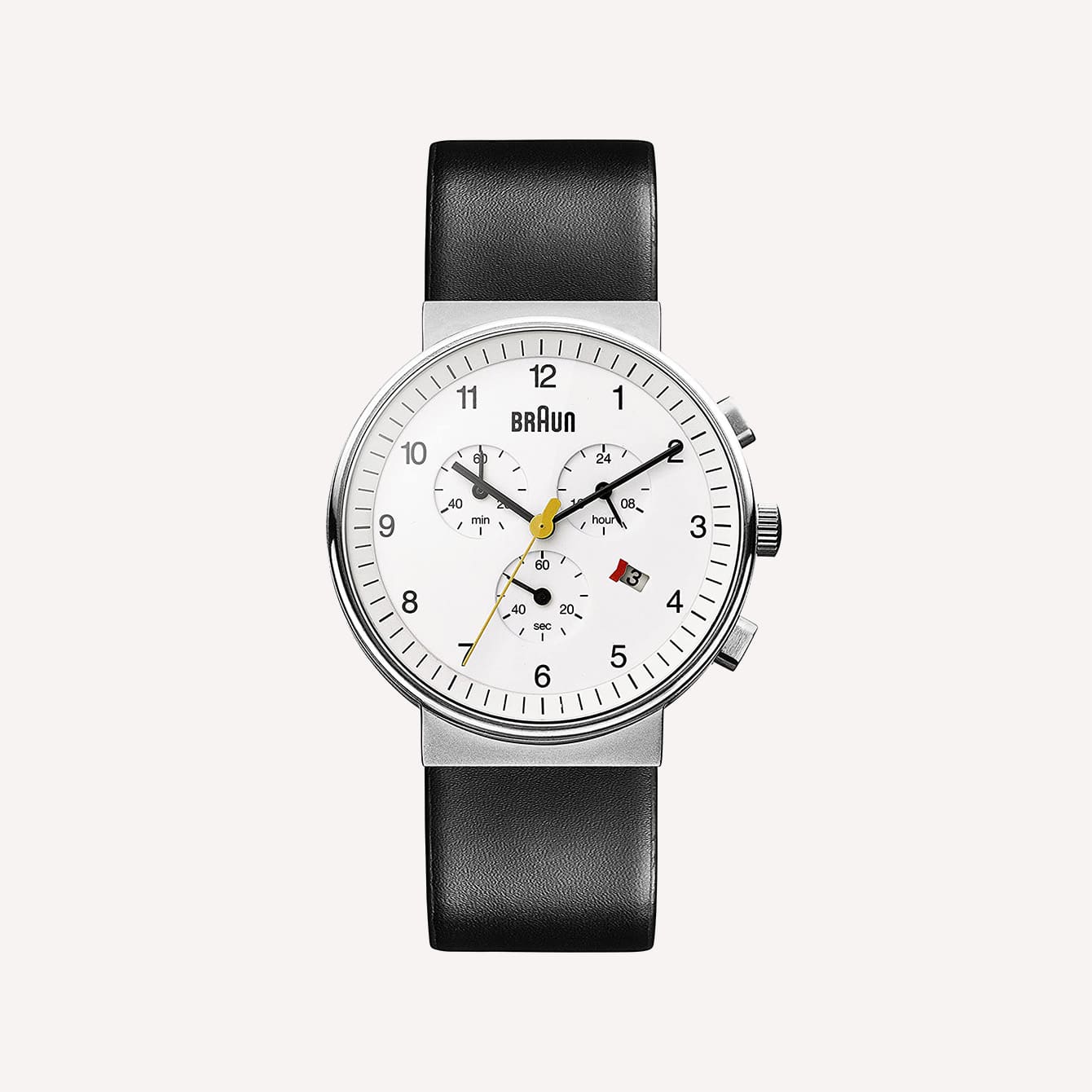 Germany-based Braun is known for their functional aesthetic, and in fact, Apple designs are pretty much inspired by former Braun designer, Dieter Rams.
The Braun Chronograph, like the Skagen Ancher, has a more authentic and history-rooted approach to its minimalism, sporting a uniquely German Bauhaus vibe.
Dimensions: 40mm diameter, 10mm thickness.
Case material: Stainless steel
Water resistance: 50m
The concealed lugs transition into the straps beautifully, while the cut-out look of the dial is both restrained and legible, but playful. It's better built than a Chrono S, and can be a real conversation piece too.
Orient Bambino
One of Japan's largest producers of mechanical watches, Orient is famous for their affordable automatic dress watches. The Bambino is definitely their most well-loved.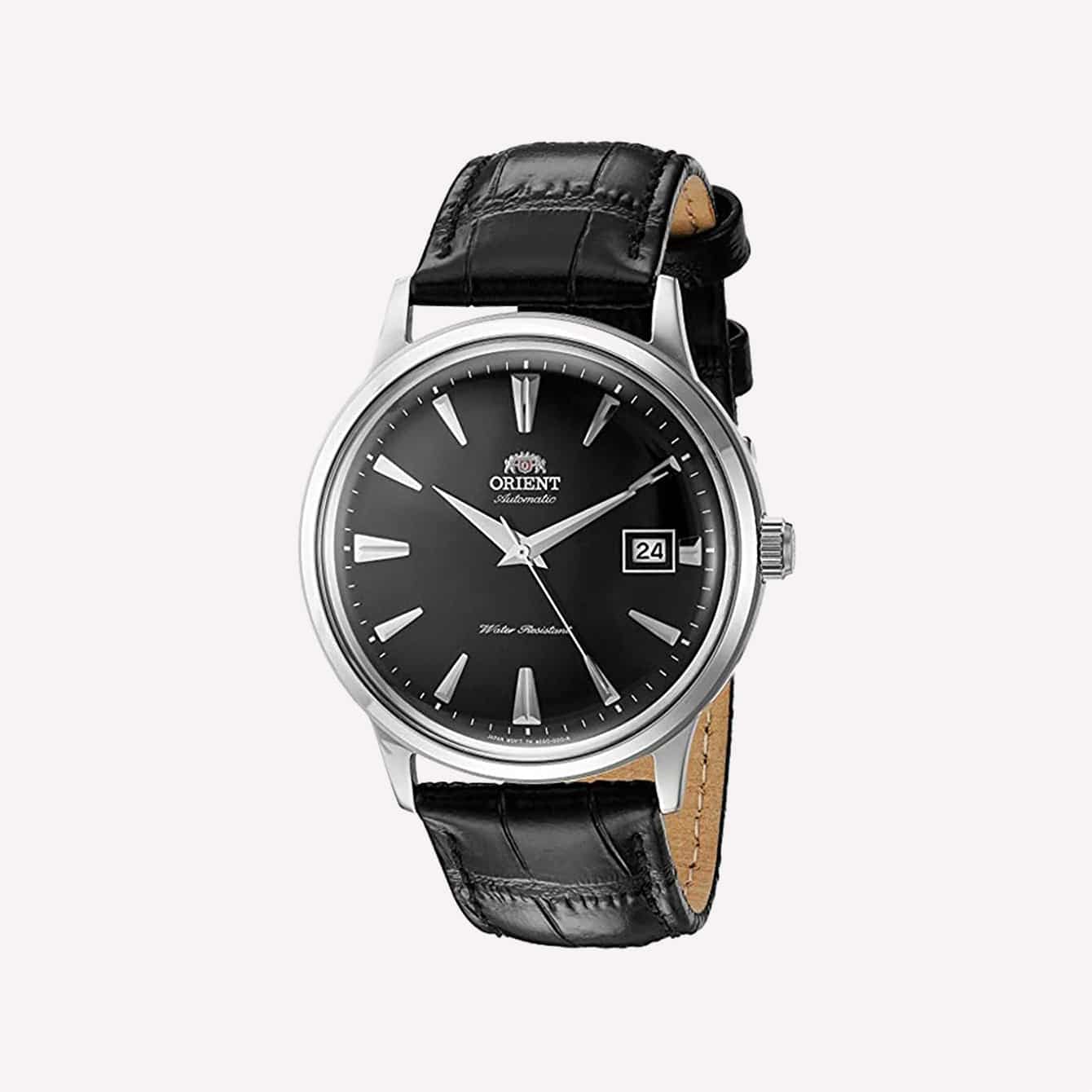 The variations come in different "generations" referring to the movement, and "versions" which refers to the face design.
We're going to look at the 2nd Generation Version I Bambino because of its visual similarities with the Vincero Icon. The Bambino is much dressier, with its domed crystal and bowed lugs. It runs on Orient's F6722 calibre, which is a 40-hour power reserve automatic movement with hacking.
This 2nd gen, version I Bambino is about $160 cheaper than an Icon. The Icon runs on a perfectly respectable Seiko movement, and it even has an exhibition caseback.
However, even a quick scroll through the Bambino's different generations and versions will show you a world of different colorways and design remixes (including an open heart version that I find more elegant than Vincero's Marble Automatics).
Dimensions: 40mm diameter, 12mm thickness.
Case material: Stainless steel
Water resistance: 100m
Many of which are even cheaper than the 2nd gen, version I.
Tissot PR Chronograph
There are plenty of Tissot watches that are much cheaper than the standard Chrono S, but this PR Chronograph is an example of how much more you'll get for just a $100 premium.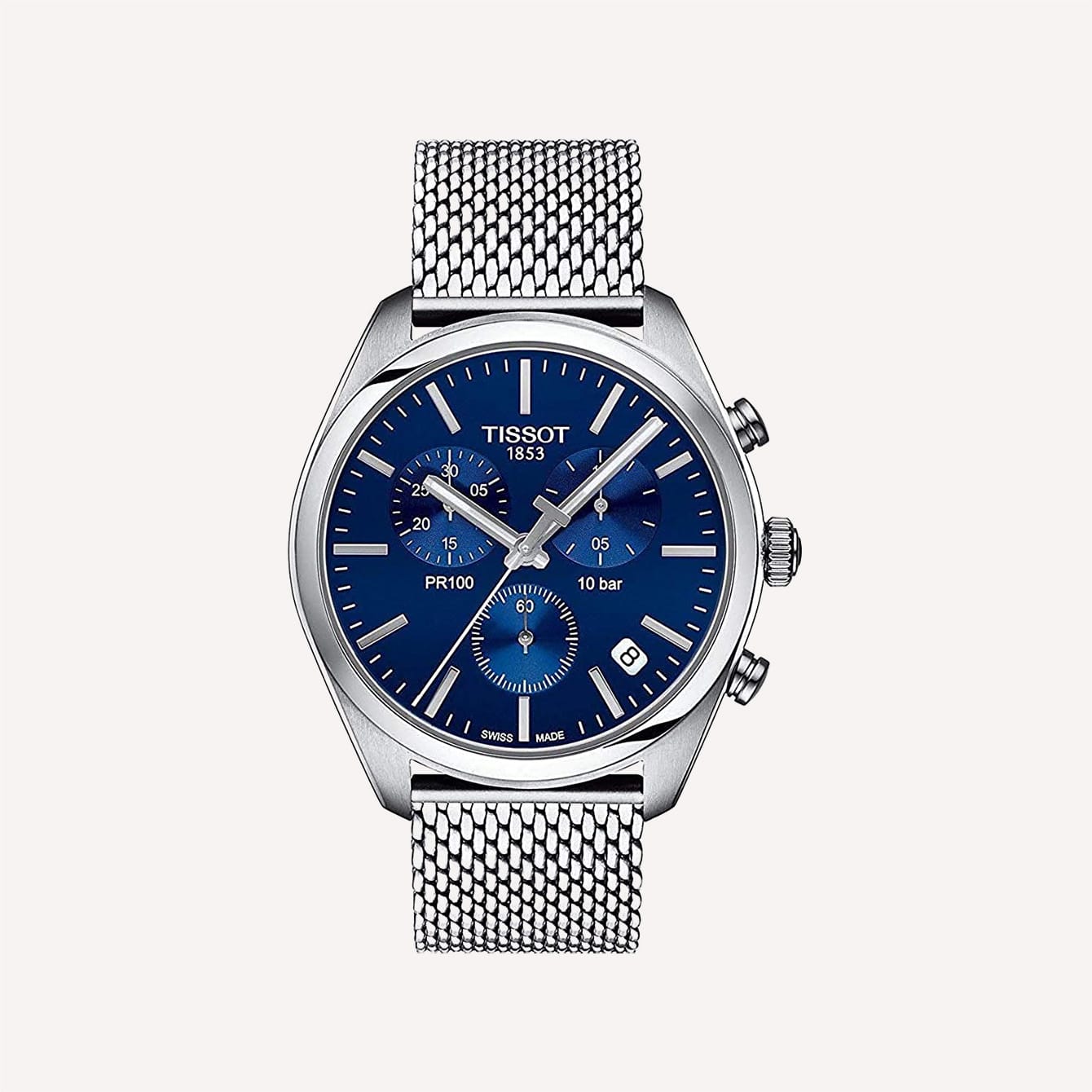 First off, the Tissot is much more efficiently designed. I understand that the subdials in the Vincero are huddled in the middle to create more negative space, but it does make me think that perhaps the movement isn't the right size for the dial.
This might be nit-picky, but the Chrono S also uses what looks like Times New Roman font on the seconds track. The Tissot just does a better job of the "affordable luxury" approach.
Dimensions: 41mm diameter, 11mm thickness.
Case material: Stainless steel
Water resistance: 100m
The PR Chronograph is a high-polish, aesthetically similar alternative. It's Swiss made, has a sapphire crystal, and is an overall more impressive brand.
Bulova Lunar Pilot
Bulova has much cheaper reputable chronograph options than Vincero, specifically if you're looking for an alternative to the Apex line.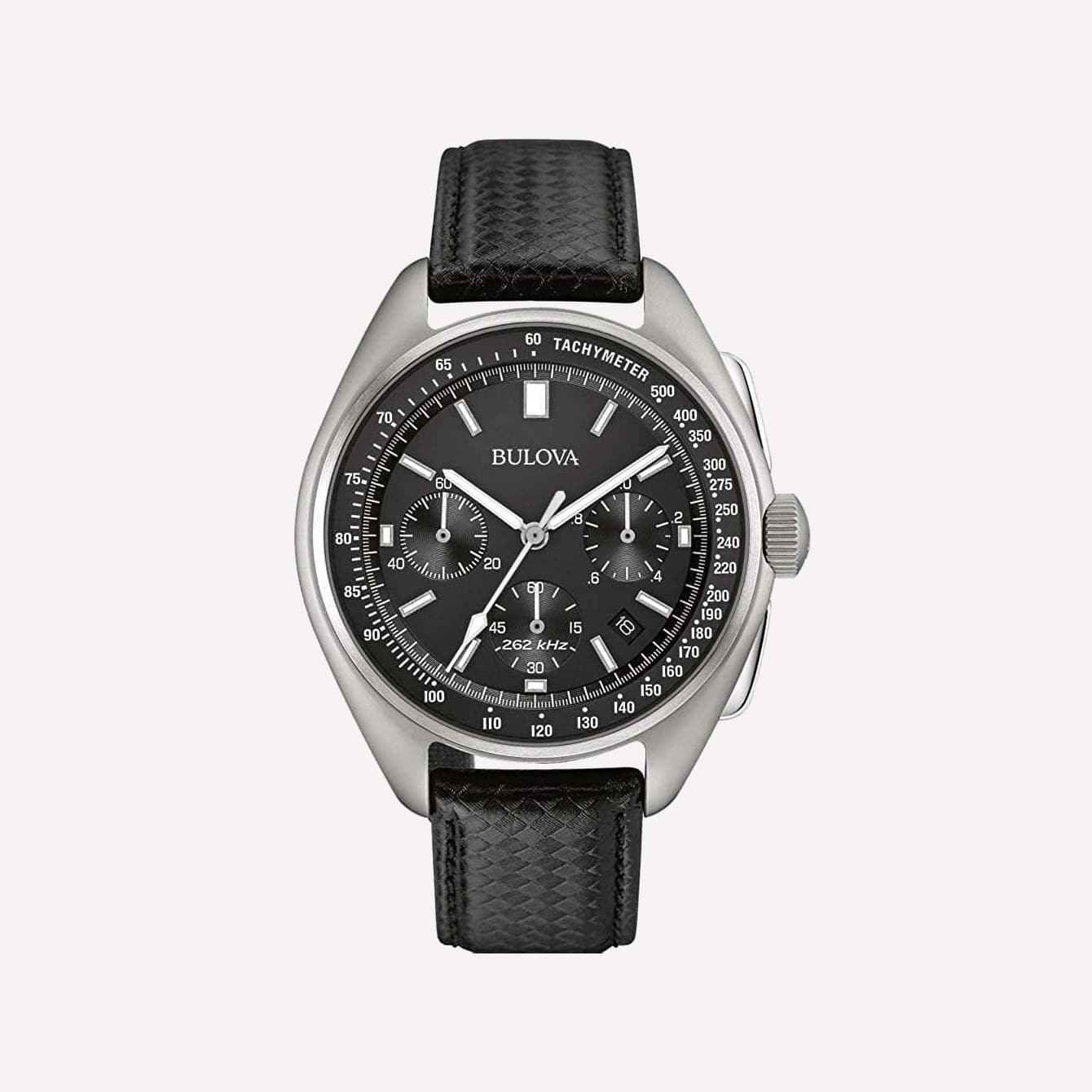 If you're willing to spend more, but aren't willing to surpass the $1000 mark, the $500-$560 Bulova Lunar Pilot is a much more exciting chronograph than any Apex.
Bulova is an American heritage brand that's now owned by Citizen. This arrangement gives you the fabled Bulova designs that tell interesting stories, and also Citizen's laser-focused discipline.
Dimensions: 45mm diameter, 13.5mm thickness.
Case material: Stainless steel
Water resistance: 100m
The Lunar Pilot design, besides being the perfect balance of masculine and elegant, is famous for being Captain David Scott's pinch-hitter when his Omega broke during the 1971 Apollo 15 mission. It also runs on Bulova's proprietary Ultra High Frequency quartz movement.
Akribos XXIV
Also made in China, Akribos watches are known for their out-there designs and cheap prices. The Akribos XXIV features a similar high-shine sunburst dial to the blue Chrono S and a surprisingly unbusy face considering its fourth dial.
The Akribos XXIV is $120 cheaper than the most affordable Chrono S.
Dimensions: 42mm diameter, 9.5mm thickness.
Case material: Stainless steel
Water resistance: 30m
However, that extra dial and the bubble indices make the XXIV less minimalist.
Cluse Aravis Chronograph
Cluse watches are designed in Amsterdam. Where they're assembled isn't clear, so it's probably somewhere in Asia.
Cluse falls into the same category as the Vinceros and the Daniel Wellingtons of the world, but their Aravis Chronograph is easily found in the $50 range.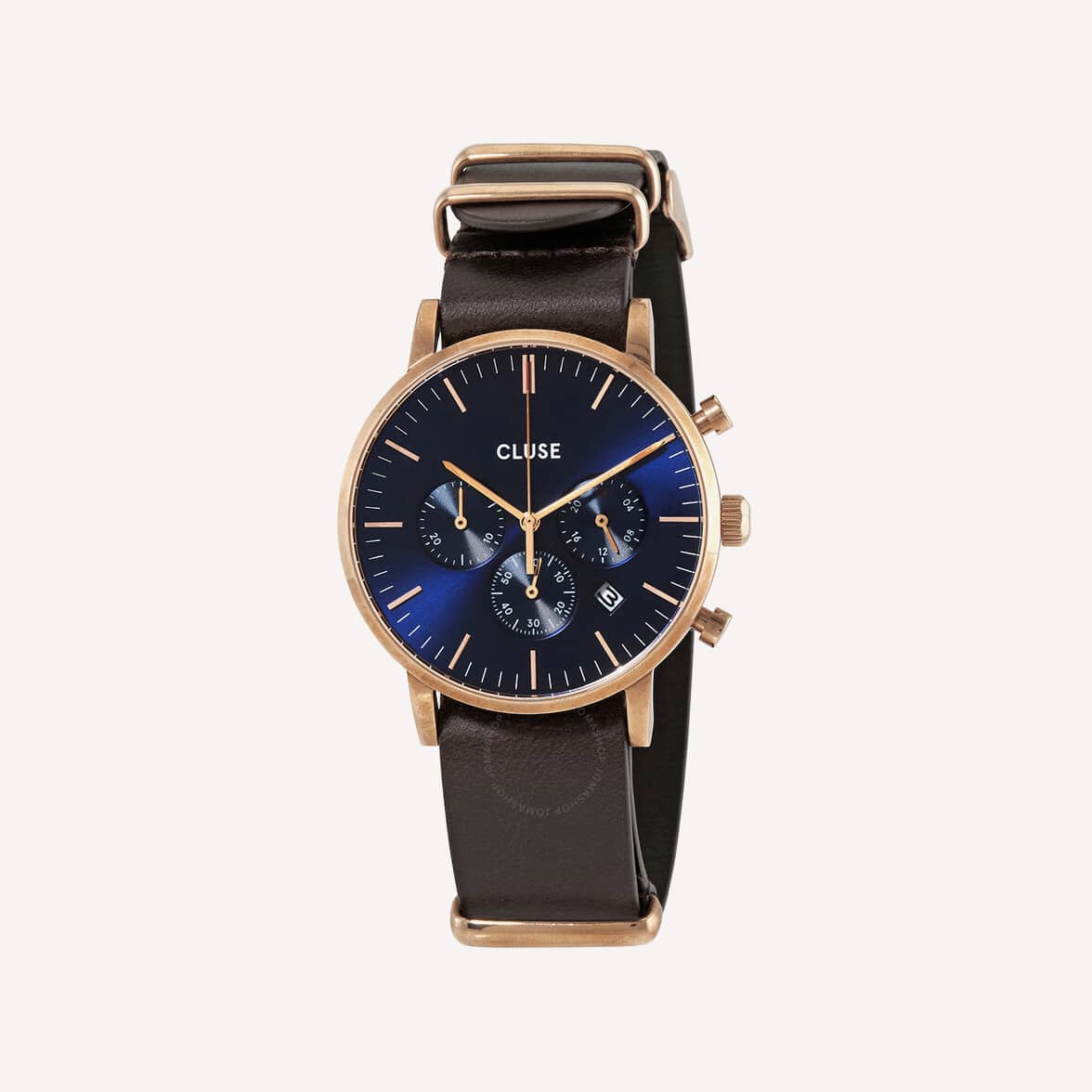 Unlike Akribos, Cluse does offer a "brand story" like Vincero does, complete with company values and a Meet Our Team section on their website.
Dimensions: 40mm diameter, 11.2mm thickness.
Case material: Stainless steel
Water resistance: 50m
The Aravis is beautifully minimalist, with a rose gold-toned case, hands, and subhands on top of a dark blue sunburst dial.
MVMT D-MC01GML
MVMT is another example of a brand that isn't necessarily better on the quality front than Vincero, but offers lower prices. They also lean harder into their strengths and stay in their lane.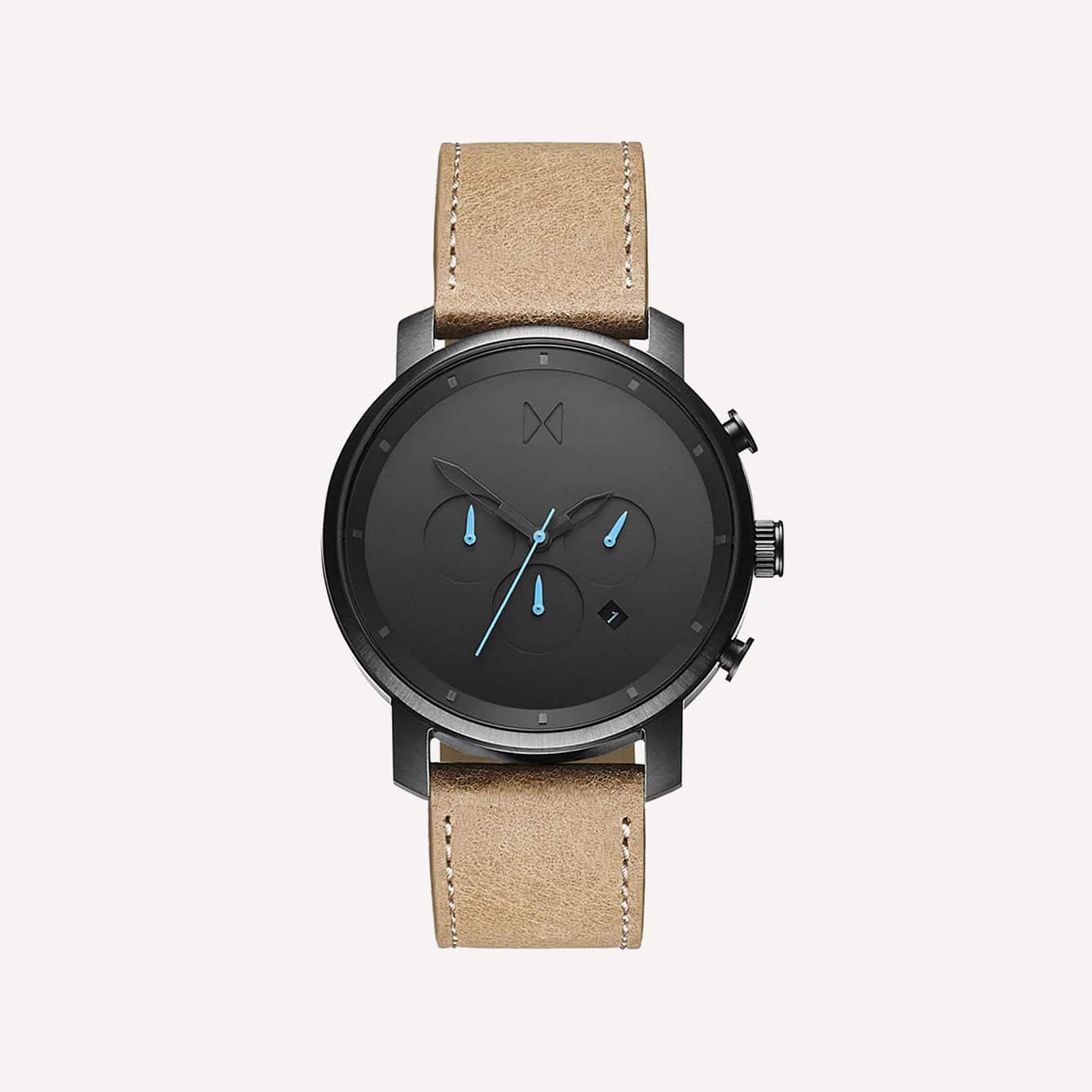 Vincero claims to offer affordable luxury, but they won't take the easy step of applying their logo instead of printing it on the watch dial. What I've noticed with MVMT is that if they can't do it, they won't try to, which is commendable.
The six-hand, dual-time zone D-MC01GML takes minimalism to the next level, but has a fun and tactile quality that's modern and distinct.
Dimensions: 45mm diameter, 12mm thickness.
Case material: Stainless steel
Water resistance: 50m
I will say that this watch is gigantic. The bare dial face makes up for that a bit, but 45mm simply doesn't work on all wrists.
Fossil Townsman Chronograph
People love Fossil because it doesn't try to be anything more than the fashion brand that it is. As unpretentious as the brand that made it, the Townsman Chronograph is more symmetrical than the Chrono S for a less feisty, but more grown-up and confident look.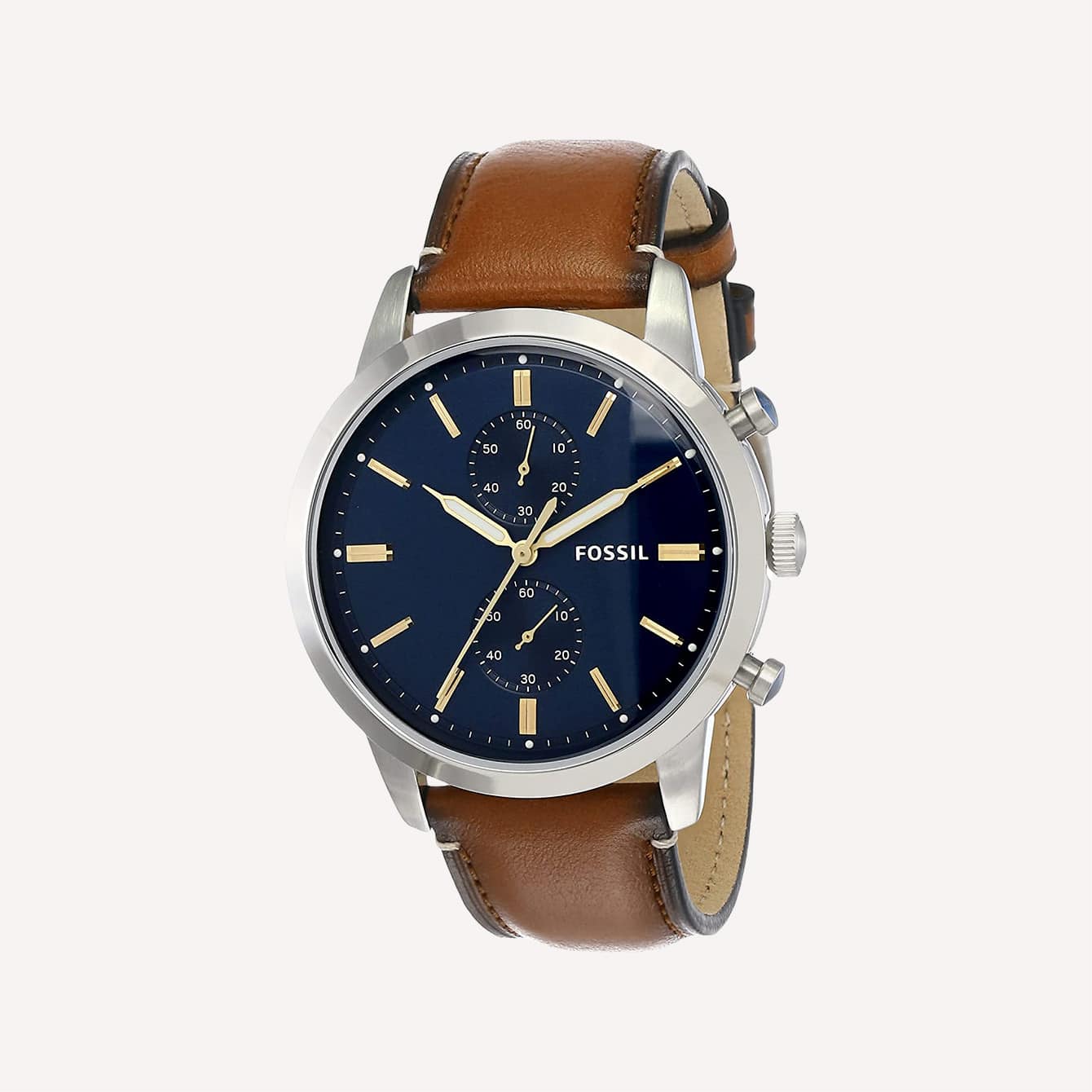 The beveled gold indices are applied, the hands are elegantly vaulted, and the subdials are subtly darker than the rest of the face.
Dimensions: 44mm diameter, 12mm thickness.
Case material: Stainless steel
Water resistance: 50m
It's an overall handsome and clean design, for $100 less than a Chrono S.
Glycine Airpilot GL0368
Definitely more expensive than Vincero's Altitude aviator watch, the Glycine Airpilot GL083 still isn't as high-priced as Vincero's highest-end options. On top of that, they're a real-deal Swiss brand, with far more earned stripes.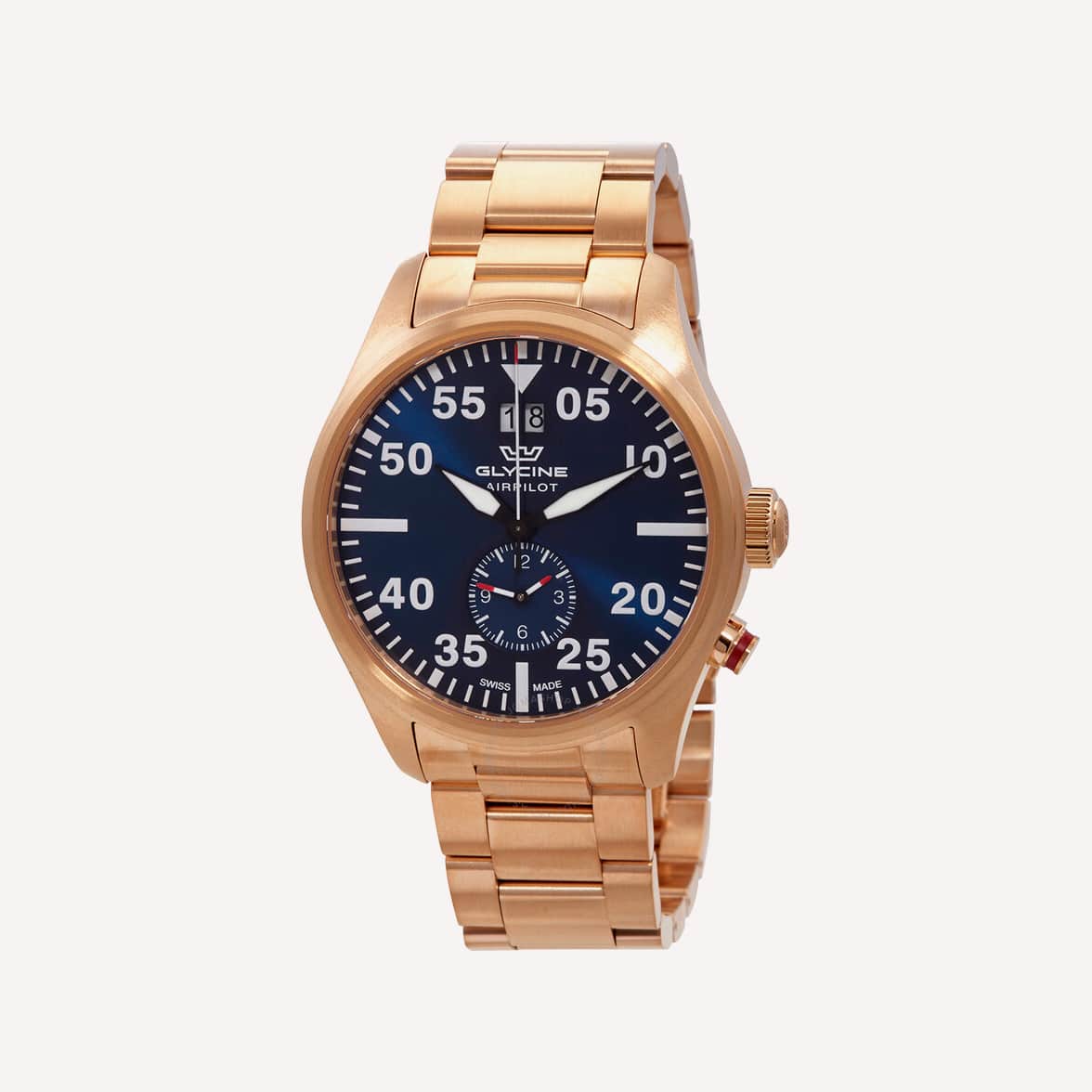 The rose gold-toned Airpilot GL0368 is professional but fun, featuring a legible blue sunburst face with red accents on the second and subdial hands. It runs on a more precise quartz movement than what Vincero uses, and features a sapphire crystal and a dual time chronograph function.
Especially when it comes to professional-style timepieces like pilot watches, I'd opt to spend just a little bit more for that legitimacy.
Dimensions: 44mm diameter, 10.75mm thickness.
Case material: Stainless steel
Water resistance: 100m
At least you can find this guy at less than $350. And if that's still too much, I recommend thumbing through the Glycine catalog for more affordable options than the GL0368, which are still higher-quality than Vincero.
Feice Automatic FM506
I put this at the end because I didn't want to lose street cred early on, but hear me out. The Feice Automatic FM506 gives you a little bit of everything.
You get the minimalist subdial look at a much cheaper price than a Chrono S, as well as the other higher quality quartz pieces on this list.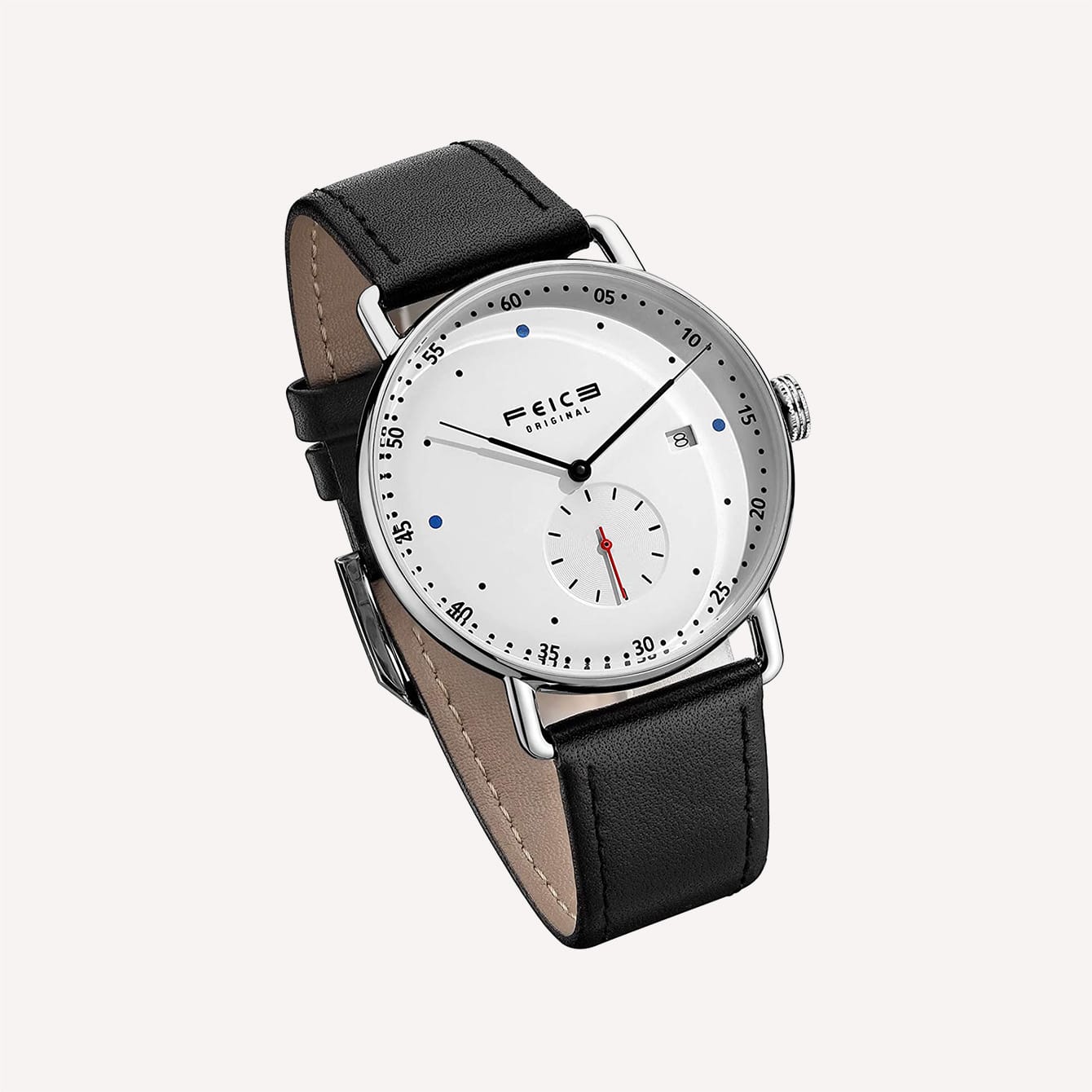 You also get the automatic movement and exhibition caseback that the horologically curious crave. Yes, Seiko has cheaper and better mechanicals, but they don't really offer the minimal subdial style in an automatic.
That being the case, Feice is definitely one of those mushroom mass market "brands" that don't really exist offline. You can't really count on reaching any non-robots if anything goes wrong.
Dimensions: 40mm diameter, 10mm thickness.
Case material: Stainless steel
Water resistance: 30m
This is 100% just a budget option without sacrificing an automatic movement.
Conclusion
Loved, hated, and definitely unavoidable, brands like Vincero are like the NFTs of the watch world. Again, if you love a certain style of Vincero watch to the tee, by all means, go for it.
That slight design difference may be worth the extra money for you compared to our cheaper alternatives, and that's great. You should love everything about your watch.
The point of these alternatives is to show that you can easily get one or more of Vincero's brand promises elsewhere.