Interested in Italian watches? You've come to the right place. We've rounded up 10 of the best Italian watch brands, each with a distinct offering.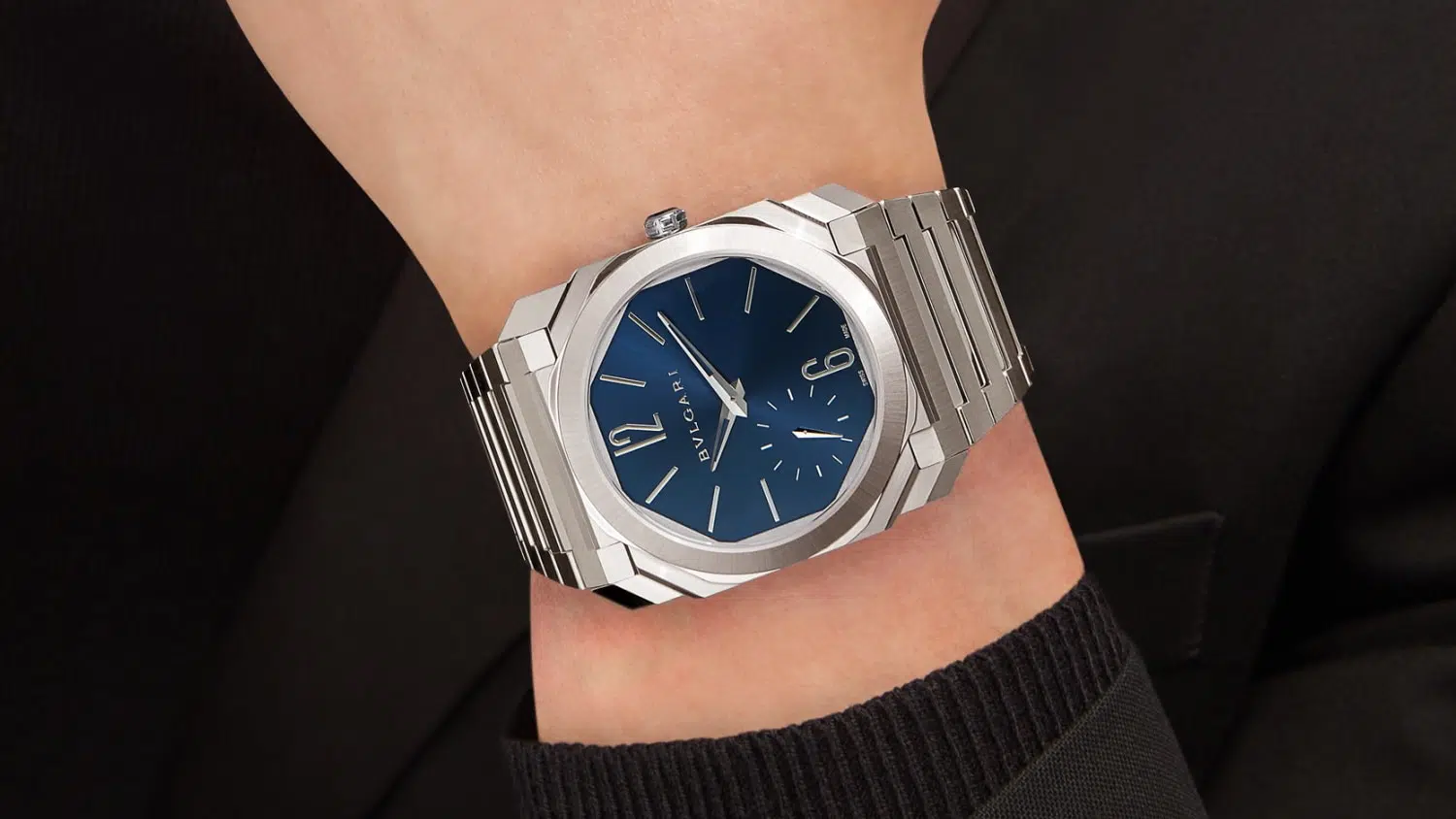 Often, what separates Italian watches from the Swiss, German, and Japanese traditions is the focus on fashion and style — not to be mistaken with actual "fashion watches," though.
The French approach watches similarly. Still, a big difference between the runways of Milan vs. Paris is that the French style is often more cerebral, not conservative per se. Still, their visual innovations are quieter than those of the Italians.
Italian fashion designers, and watchmakers, love their wow factor. These watch brands from the Bel Paese are a good place to turn when you're looking for good movements and exquisite designs.
Of course, not all Italian brands are made the same, and many are sporty and rugged. Still, it's fun to see how Italian watchmakers add their specific x-factor to even the most practicalist timepieces.
10 Best Watch Brands From Italy
Here are the best watch brands from Italy in no particular order.
U-Boat
Flashy Italian sensibilities come through in this tool watchmaker. U-Boat was founded in 2000, but the brand's signature bigger-is-better look was developed by the founder's grandfather.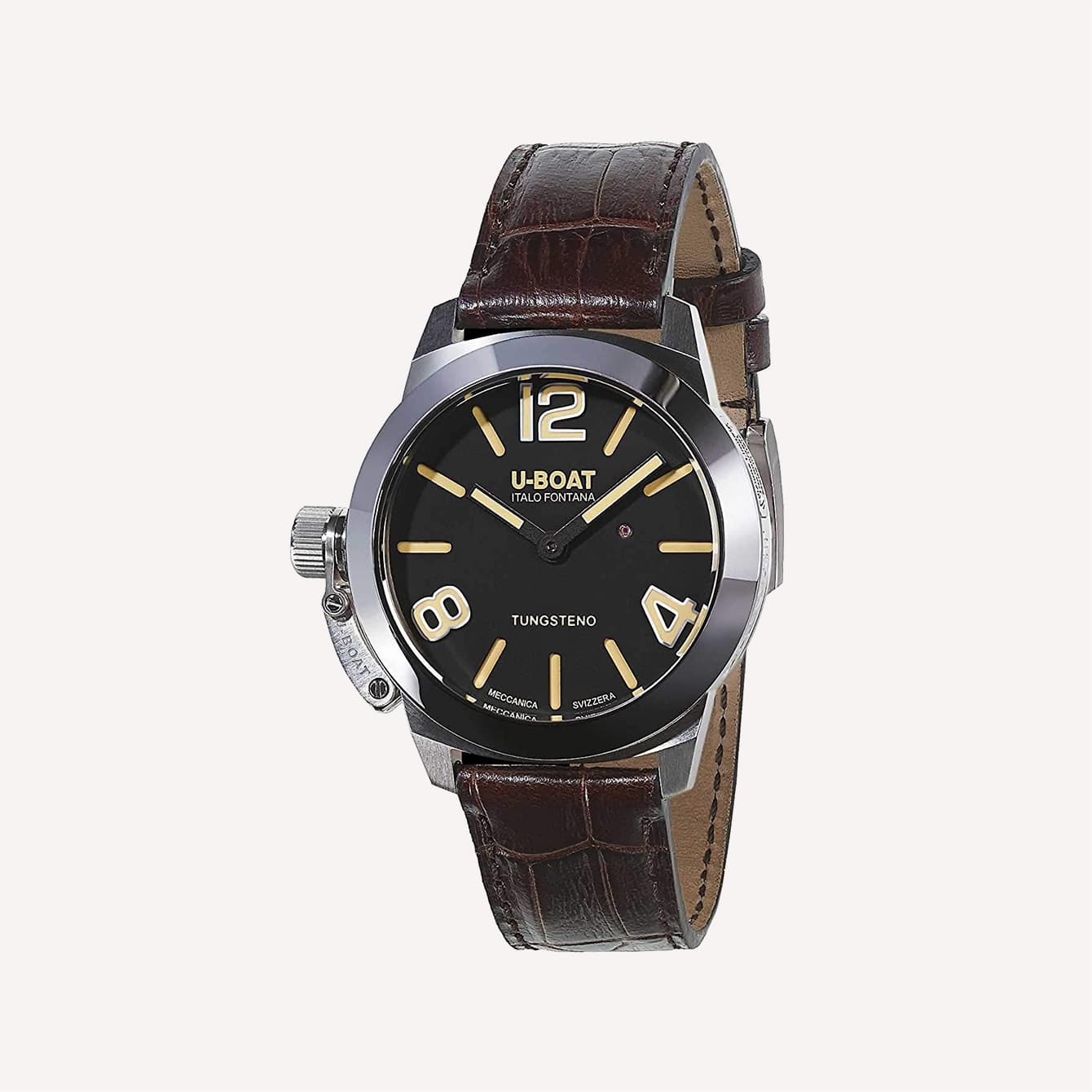 He designed a timepiece based on the Italian Royal Navy's requirements in 1942. So, despite being a fairly new brand (by watch industry standards), it has its roots in history.
While U-Boat isn't the best for small-wristed men, they have some cool design features if you like tool watches. They use a lot of different kinds of materials, including bronze and forged carbon. The canteen crown cover is the brand's signature.
If you're looking for a sub-40mm watch, you'll only find those in U-Boat's women's section. They look just like the men's watches but in lighter colors, pastels, and pinks.
Dimensions: 40mm diameter, 9.5mm thickness
Case material: Stainless steel
Water resistance: 100m
Otherwise, the Stratos 40 BK is a quintessential U-Boat watch in 40mm. From its sharp lugs to its generously sized 12, 4, and 8 indices, this watch sports that bold look people go to this brand for but will suit most wrists. Plus, the alligator strap adds a fashionable contrast.
Anonimo
A motif you'll notice with many Italian brands is the kind of big Arabic indices often associated with Panerai. Anonimo picked up this popular look via Panerai's exodus from Italy.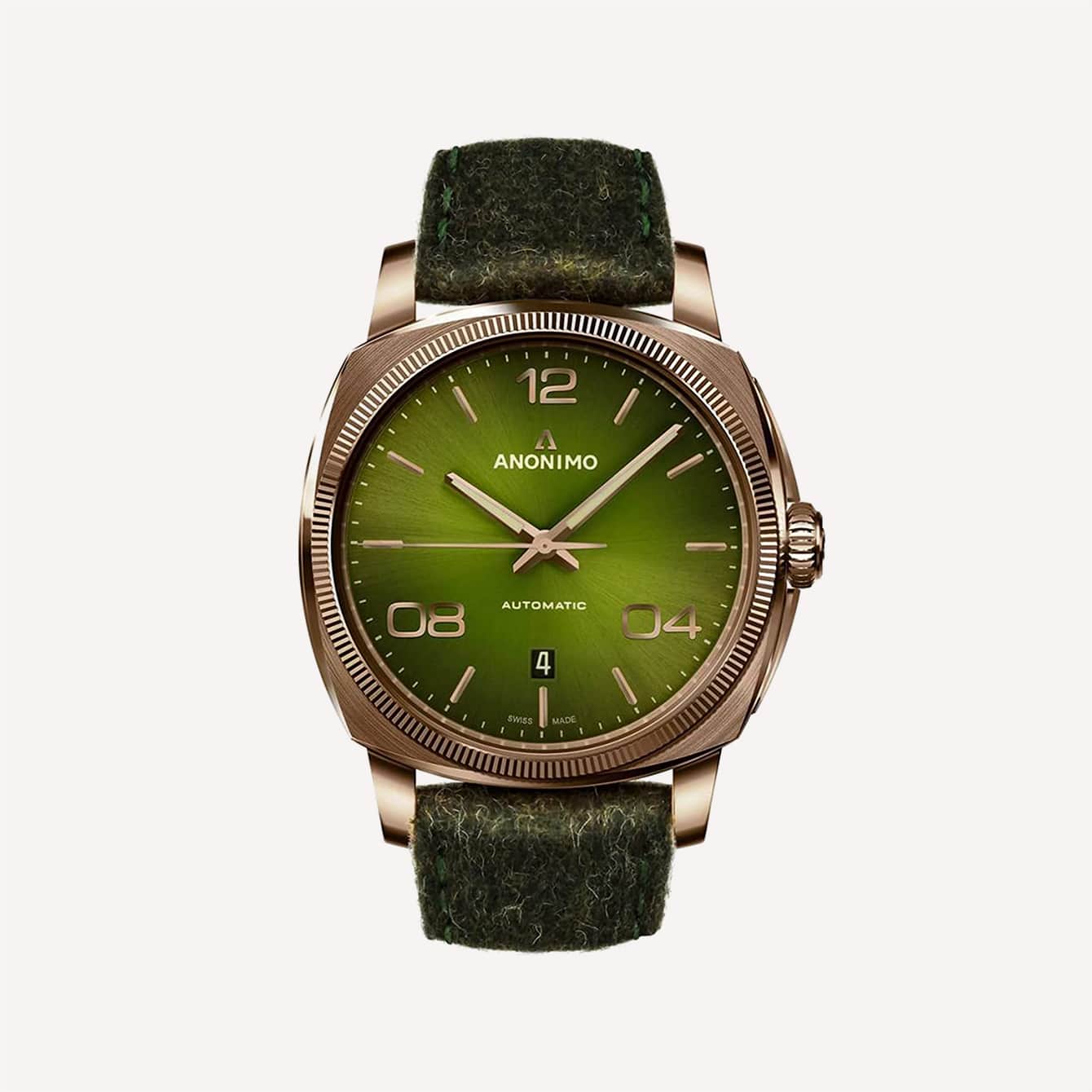 In 1997, Panerai left Florence for Switzerland. Anonimo's founder, Frederico Massacesi, then scooped up the main group of left-behind Panerai watchmakers, and Anonimo was born.
There are pros and cons to this. Anonimo retained the Italianness of the craft for longer than Panerai did. However, unlike Anonimo, Panerai started developing lines in the 40mm and below category.
Anonimo is sticking to its originalist guns, which is funny since they eventually moved to Switzerland. Still, both Panerai's and Anonimo's designs are wholly Italian, and both still have headquarters there.
If you like the authentic humongous Italian tool watch aesthetic, they've got well-crafted automatic pieces in their three military-inspired collections: Militare, Nautilo, and Epurato.
This Epurato timepiece is super unique and a testament to Anonimo's striking design approach. It's a style-focused automatic with sleek indices on its green sunburst dial.
Dimensions: 42mm diameter, 9.5mm thickness
Case material: Bronze
Water resistance: 50m
The thin pie-pan adds a dressy touch to the timepiece's tool watch template, and the highly textured strap is distinct and fashion-forward.
BVLGARI
The luxury brand BVLGARI, or Bulgari, was founded in Rome in 1884, where it's still headquartered.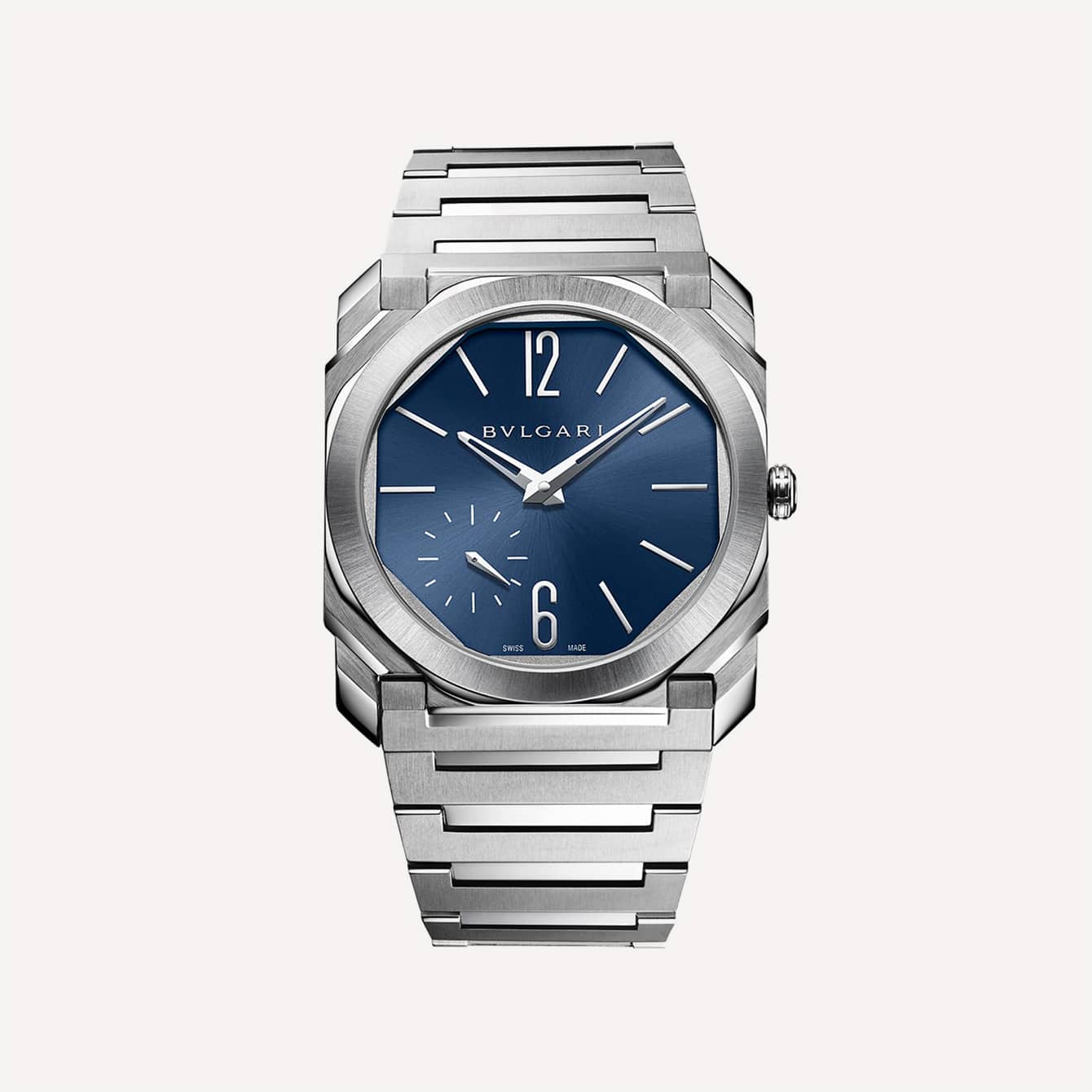 Some people are surprised that their watches are actually innovation-focused on the visual side, with many timepieces sporting hard angles and even some industrial looks. Yet, Bulgari has made a name for itself in the jewelry industry for distinct and bright color combinations inspired by the company's Roman roots.
When it comes to watches, Bulgari is bold. Yes, they approach watchmaking with jewelry-grade materials and craft, but not necessarily with the delicate looks often associated with classic jewels.
The Finissimo watches from Bulgari's Octo line are quintessential Bulgari, sophisticated and innovative. What I love most about these watches is that despite being 60-hour automatics, they're super thin!
Dimensions: 40mm diameter, 5.8mm thickness
Case material: Platinum
Water resistance: 30m
I'd recommend the cleaner 103431 reference version if you prefer a classic look. However, the 103463 is a stunningly thin 5.8mm, and features a playful but still posh dial face, in which the subdials are unlined, creating a peppered look.
Ennebi
Located in Prato, Italy, Ennebi is known for handcrafted professional watches, particularly in the realm of diving.
Their legendary Fondale watch has a water resistance of 1000m, and they've even built divers with 6000m of resistance. Unsurprisingly, these timepieces are gigantic tanks, even on the average-sized wrist.
Their tool watches rarities are not only because of their intense capabilities but also because of their visuals. Some incorporate California dials, bright red watch faces, and illustration embossed leather straps. Plus, they produce small batches, so they're rare.
While the famed Fondale is 47mm, Ennebi rebuilt it as the Bronzetto in a much smaller 40mm case. It still offers everything its predecessor does, from its automatic movement to its sturdy look and insane water resistance.
Dimensions: 40mm diameter, 15mm thickness
Case material: Bronze and titanium
Water resistance: 1000m
Again, since all of their watches are produced in small batches, this guy is pretty hard to find. If you're interested, I'd contact Ennebi directly on their website, check out their authorized dealers page, or hit up Chrono24 every so often.
Panerai
To many watch collectors, "Italian watch style" is synonymous with Panerai. This luxury brand often finds itself in the same high-end auction catalogs as Patek and Rolex. Founded in Florence, they were an official watchmaker for the Italian Royal Navy.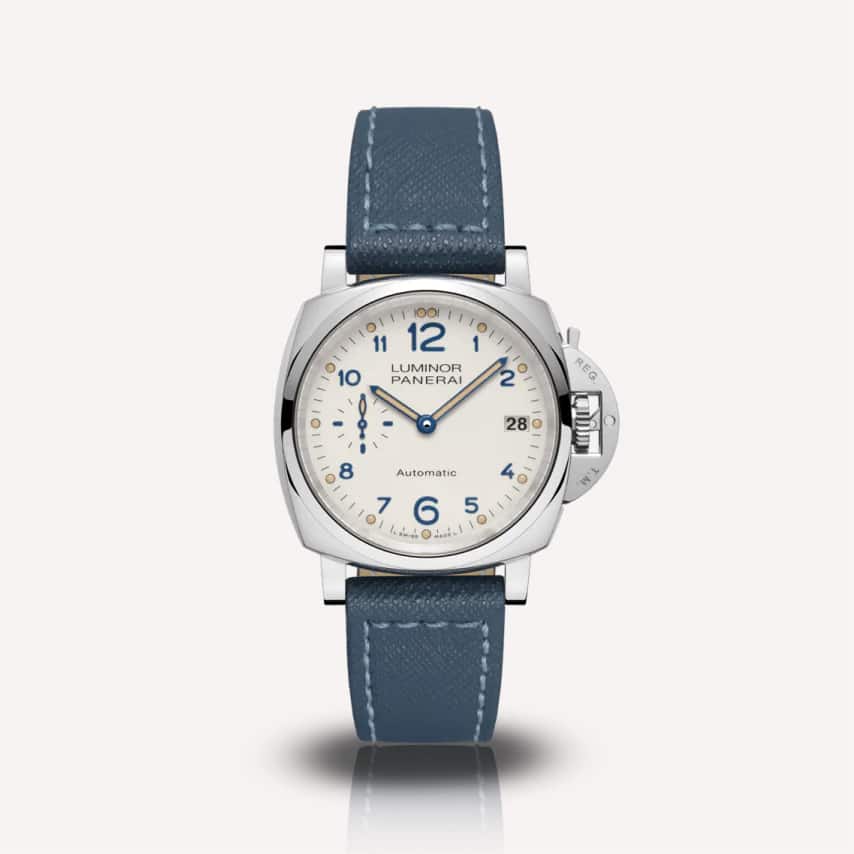 If you love labels, iconic big, bold designs, and an honest label-aside well-built timepiece, Panerai is the standard-bearer of Italian brands.
Everyone recognizes their big numbers, cushion case, and patented crown protecting device. All of these qualities add a tool-like quality to their even dressiest watches.
The best part about Panerai, and in my theory why they've soared above other similar brands, is that they make watches for everyone (everyone who can afford them, that is). For example, their sub-40 line of watches, including the Luminor Due, appeals to watch collectors of many different ilks.
Dimensions: 38mm diameter, 11mm thickness
Case material: Stainless steel
Water resistance: 30m
From the excellent movement to the Panerai signatures, they compromised nothing when shrinking down their coveted giant timepieces.
Visconti
Visconti is like an Italian Montblanc. Before launching into horology, they were known mainly for their well-engineered luxury pens. Like Montblanc, they took this expansion seriously.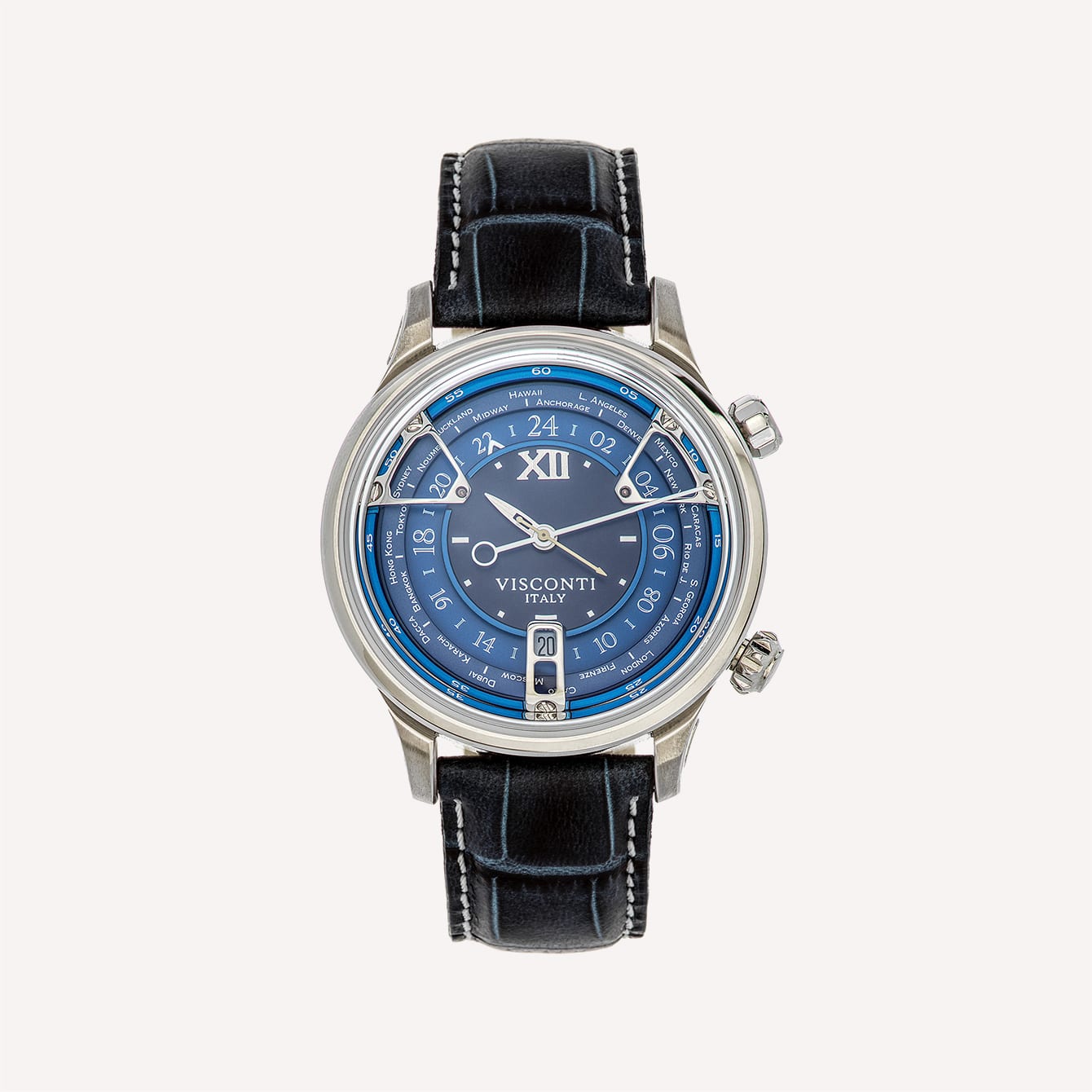 And while they've only been building watches since 2013, they're already known for selectively employing Swiss movements and their extensive research when it comes to materials.
Unfortunately, Visconti doesn't currently make watches below the 42mm size category. That's a shame because their Opera GMT watch is different from its elegant-yet-mechanical look. Some say that the dial's layers and small lugs make it wear smaller.
Dimensions: 43.5mm diameter, 15mm thickness
Case material: Stainless steel
Water resistance: 50m
I noticed that a lot of their older Visconti timepieces were in the 48mm range. It's possible that they're slowly creeping into making smaller sizes, so I recommend keeping an eye out!
Unimatic
Unimatic has grown quite the following despite only having been around since 2015. This independent brand builds limited edition lines that actually look pretty un-Italian.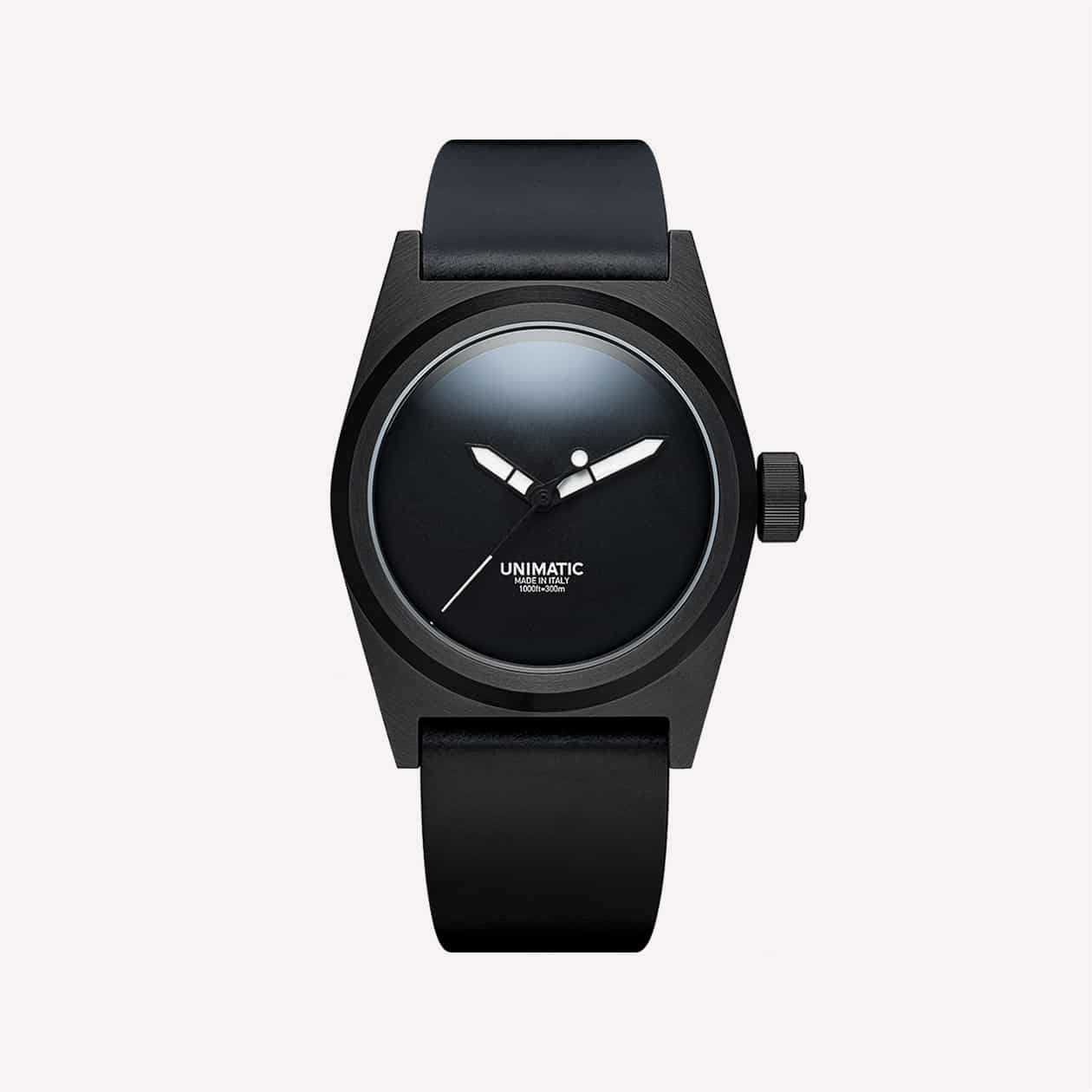 Their watches look like a combination of Movado and Sinn in that they're minimalistic and straightforward but sturdily built and function-forward.
Unlike other watch brands that lean into the brawny tool side of things, Unimatic makes slim cases in a variety of sizes.
Their Modello Due U2S-MN sports a diamond-like carbon case, which is as authoritatively strong as it looks. It boasts 300m of water resistance and a matte black vacuum dial with Super LumiNova.
Dimensions: 38.5mm diameter, 11.6mm thickness
Case material: Black DLC
Water resistance: 300m
It's not the easiest watch to tell time on, but it's an impressive piece of EDC.
Officina del Tempo
Officina del Tempo is a steadfast men's sporting brand, offering watches inspired by sports like racing, sailing, and even the "sport of deal-closing" (they have a watch line inspired by "big business").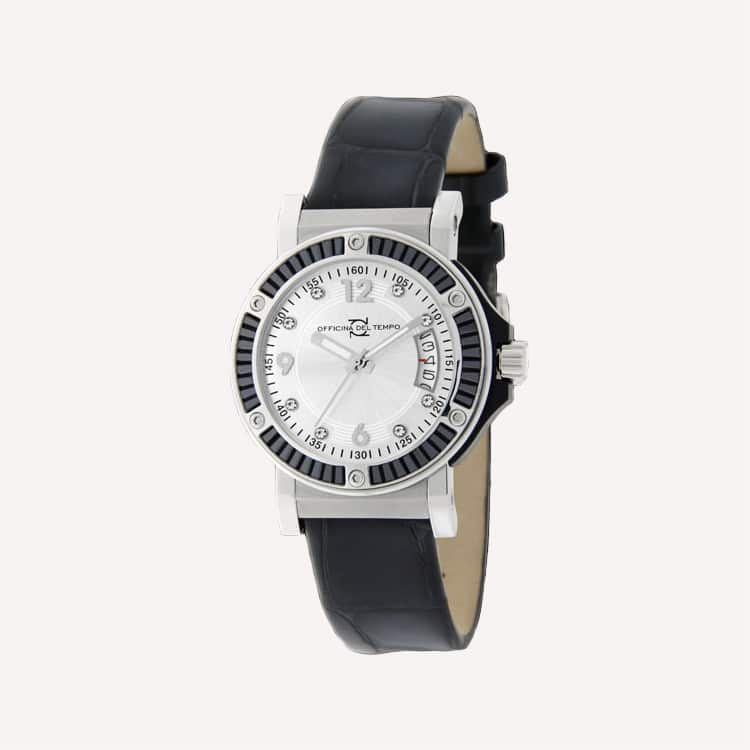 So yes, Officina del Tempo does have this Mr. Big quality about them, brand-wise. However, it isn't overbearing or overcompensating.
First of all, they make watches in all sizes, for big or small wrists. Second, they create rugged, detailed timepieces that have a lab-made quality about them. They're an overall excellent brand to turn to if you like a lot of texture and layers.
The Vanity watch has so many surface characteristics that it's surprising it all comes together so well.
Dimensions: 36.5-40mm diameter, 11mm thickness
Case material: Stainless steel
Water resistance: 100m
There's the race track middle dial, the crystal markers, the bold Arabic indices, and even the air-vent style bezel — it's a veritable mishmash of industrial and fashionable features.
Giuliano Mazzuoli
Giuliano Mazzuoli is an artistic Florence-based watchmaker known for using an air pressure gauge as the foundation for the Manometro, his first and most recognizable watch.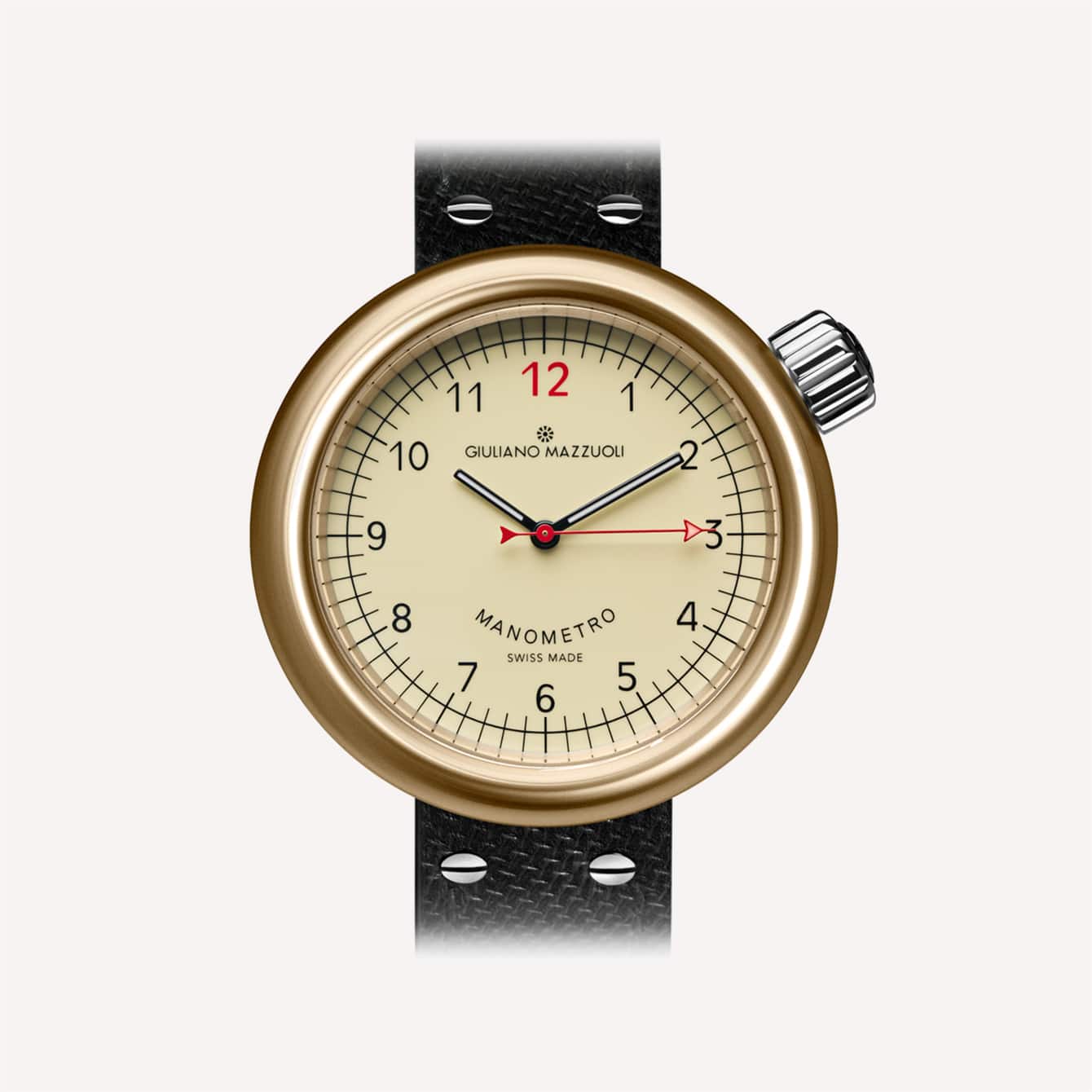 All Mazzuoli watches feature round cases and a fun "cobbled from something else" style that comes together cleanly and professionally.
Like so many Italian watchmakers, his timepieces are quite large and characteristically thick.
Something he did do, however, is he took his beloved Manometro and compacted it into the Manometro Compressed. While the original model is 14mm thick, this version is a merciful 10mm.
Dimensions: 45mm diameter, 10mm thickness
Case material: Bronze
Water resistance: 50m
It still has all of the great qualities, from the air pressure gauge face to the 2 o'clock crown placement. While 45mm is still huge, this compressed version is a start!
WeWOOD
Headquartered in Tuscany, WeWOOD is another young and unusual brand. It's known for its wooden fashion watches and for the fact that they plant a tree per watch sold.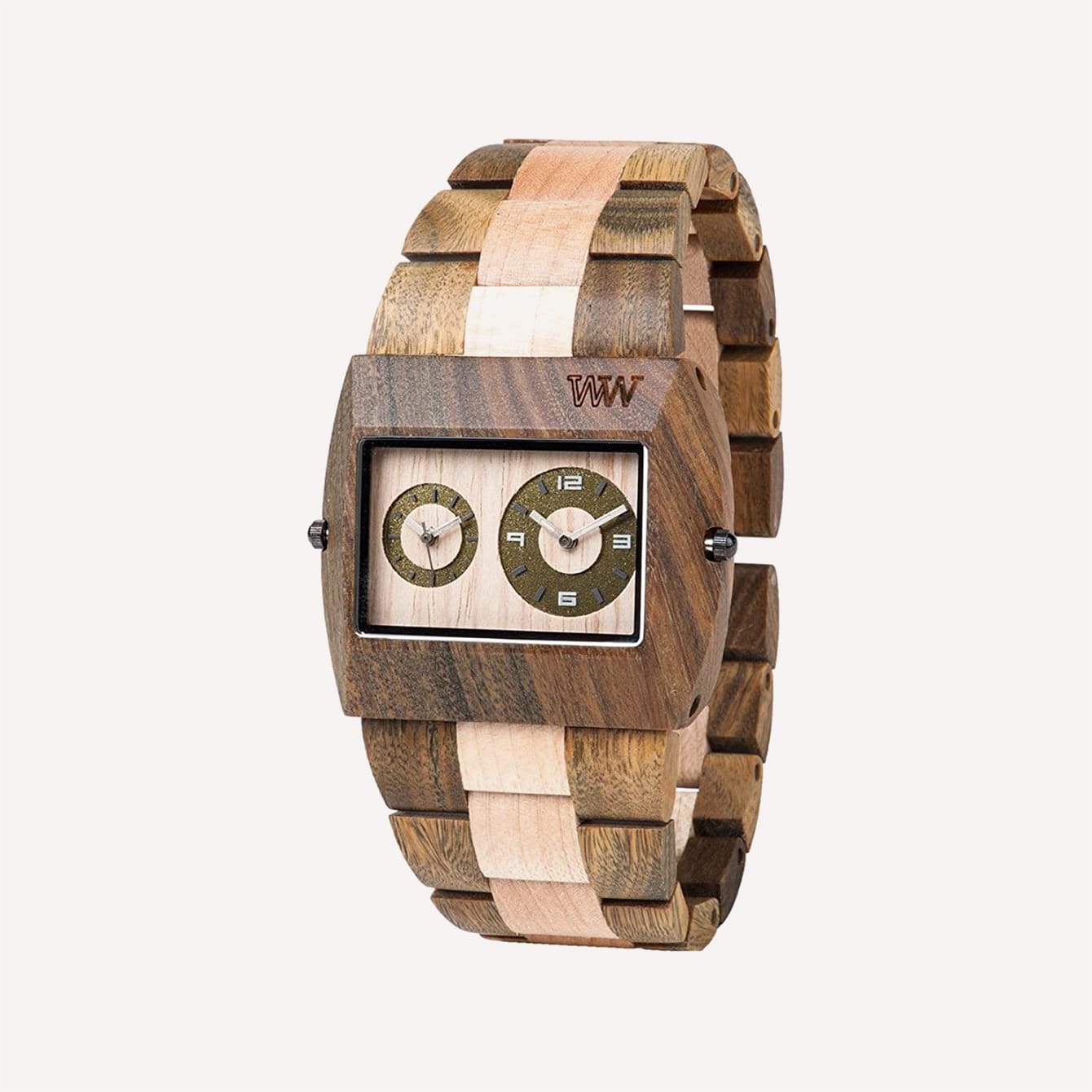 Despite being made of different kinds of wood, most of these watches are actually quite light. They're definitely novel, and some might argue gimmicky.
But, for their $50-$200 range, I wouldn't judge anyone who wanted to try WeWood for fun. They're well-built enough, definitely distinct, and widely available on Amazon.
Dimensions: 41mm diameter, 12.75mm thickness
Case material: Wood
Water resistance: 300m
Like most WeWOOD watches, the dial on the Jupiter Army-Beige looks like a log cabin's wall clock. The hardwood construction provides a strong and beautiful finish, while the cut-out style subdials for hours and seconds give this outdoorsy watch a contemporary touch.
Bravo to These Italian Watch Brands
The two challenges with watch brands from Italy are that it's difficult to find a heritage brand that didn't move to Switzerland and that Italian watches tend to run pretty big.
Still, brands like Panerai and Anonimo create watches with Italian-born designs. Meanwhile, brands like Visconti are worth keeping an eye on. With the direction they're already going, a lot of bigger-is-better brands just might start sizing down.
Questions? Comments? Leave them below!