If you've been shopping for an affordable watch, you might've seen a few timepieces from Armitron. Read on to see if they're worth buying.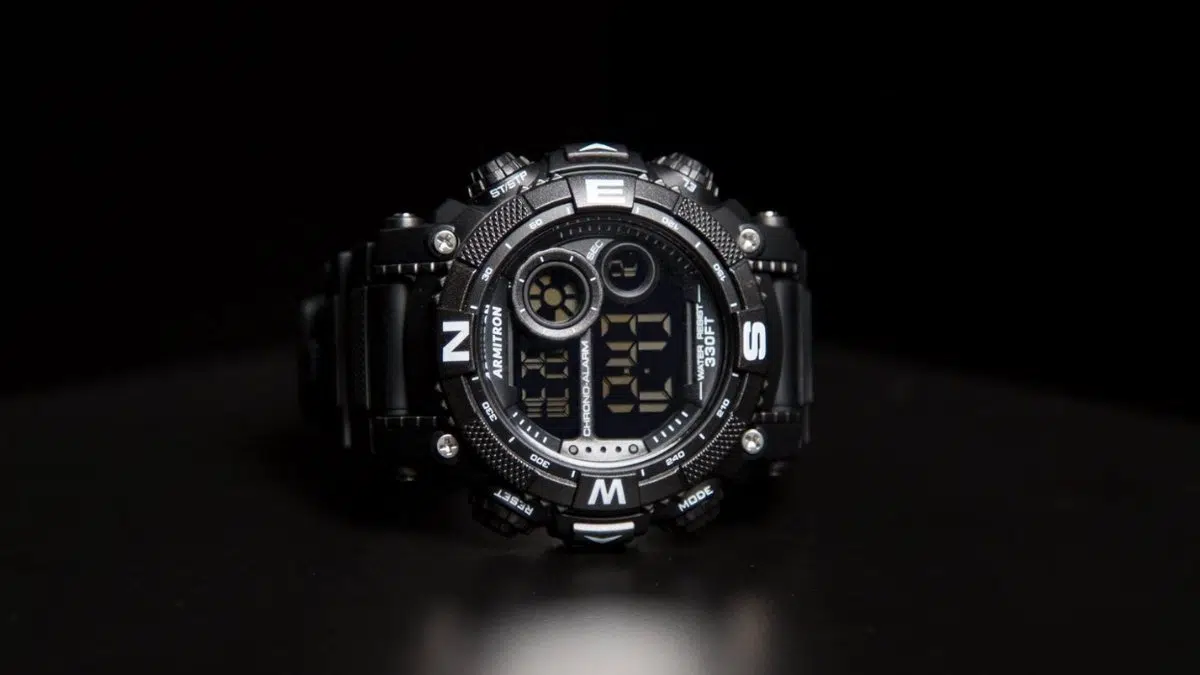 These watches have incredibly low prices, often costing less than $30. They're also quite flashy and easy to confuse with some of the more wild G-Shocks. But, are Armitron watches good?
Good is relative, and we need to take a deep dive into the brand before we give a definitive answer. With a series of watches so inexpensive, it's important to take a look at the whole picture before we pass judgment on the brand.
By the end, we'll have a better idea of whether or not Armitron watches are good.
Armitron Company History
Armitron was founded in the 1950s by a man named Eugen Gluck. Gluck was a Romanian-born Jew whose entire family was persecuted during the Holocaust. Eugen was his family's only survivor.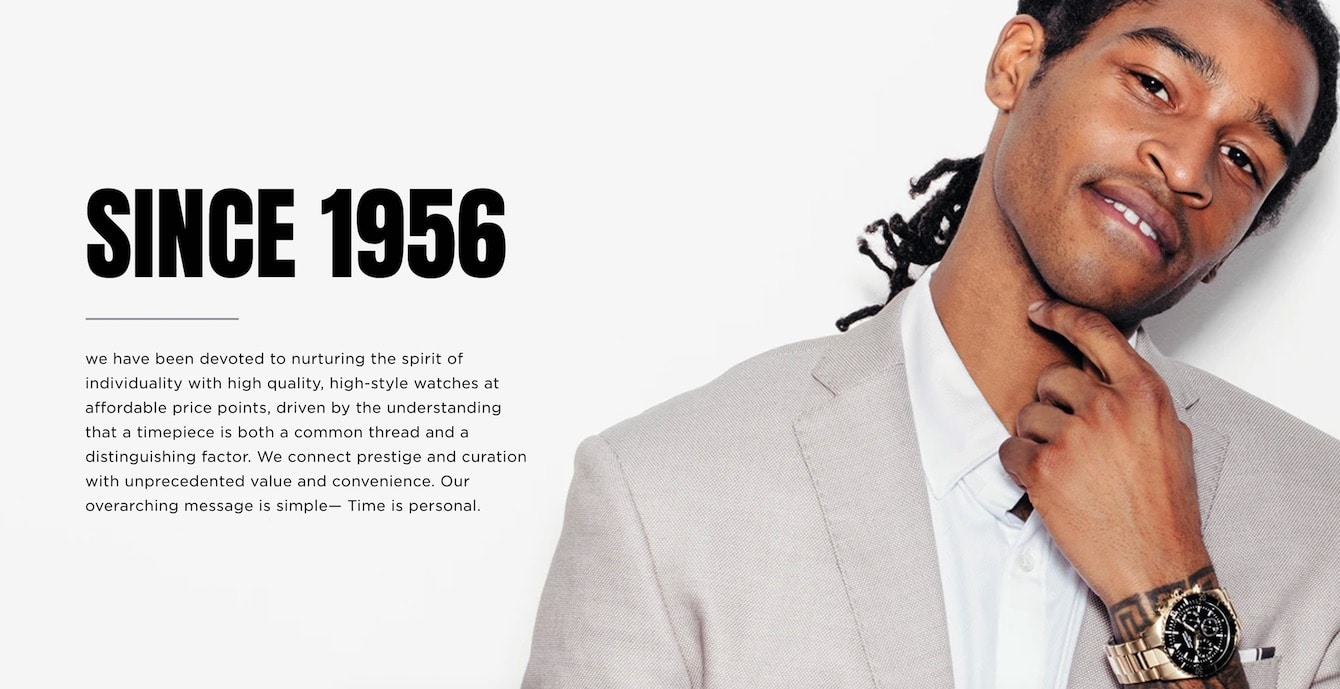 After WW2, Gluck and his wife, Jean, moved to the US and started several businesses. They owned a bakery before starting the E. Gluck Corporation in 1956 — the parent company of Armitron watches. E. Gluck's headquarters were (and remain) in Little Neck, NY.
The overarching goal of Armitron was to create quality watches that average people could afford. Initially, Gluck went to Switzerland to learn everything he could about watchmaking but then shifted focus to quartz-powered watches.
This put the company in the ideal position before the Quartz Crisis of the 1970s.
With the company's focus on quartz watches, it made sense that Armitron would create one of the first LCD watches.
The issue was the model failed, and Armitron returned the money to everyone who bought one, nearly bankrupting the company. But, by the 1980s, Armitron recovered and began producing millions of watches.
Armitron even partnered with several professional athletes, including Larry Bird, Jerry Rice, Boomer Esiason, and Darryl Strawberry.
The company was also the official timekeeper of American Gladiators and the New York Yankees, solidifying the company's role as a sports watch producer.
It's worth noting that E. Gluck produces more than just Armitron watches. E. Gluck also creates fashion watches for brands like Anne Klien, Nine West, and more.
Armitron Watches: Pros and Cons
The company history is quite interesting, and Mr. Gluck's story is inspirational, but it doesn't tell us anything about whether Armitron watches are good or not.
One of the best ways to answer the question "Are Armitron watches good?" is to take a look at the pros and cons of the brand.
Pro: Functionality
Armitron has always had its focus trained on functionality. Most Armitron watches offer at least five features: hours, minutes, seconds, day, and date.
The idea is to offer as much value to the customer as possible. Some Armitron watches offer much more, operating very similarly to Japanese quartz watch brands and offering timing functions, alarms, countdown timers, perpetual calendars, and more.
Con: Size
There's a big issue with most modern Armitron watches, and it's that they're absolutely enormous. Most tend to be more than 50 millimeters wide, which is just far too large for most guys' wrists.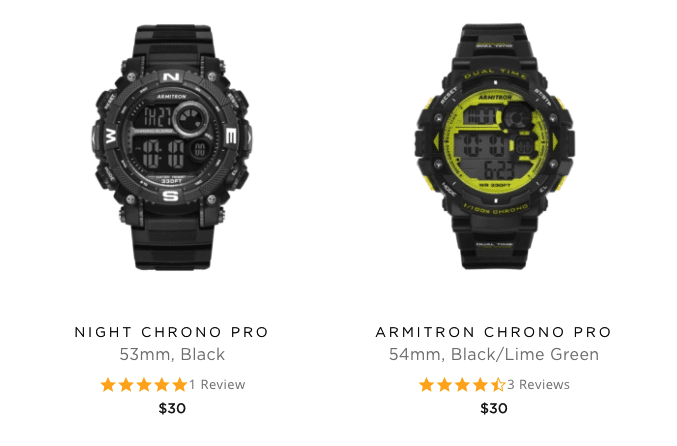 While there are a few models under 40 millimeters, they tend to be a bit more on the feminine side of unisex.
Pro: Availability
You can get an Armitron watch almost anywhere. All sorts of department stores and pharmacies carry them. No, it doesn't lend much exclusivity to the brand, but if you love these watches, you can find one in so many retail locations.
Con: Styling
Let's call it like it is: Armitron watches aren't very pretty. The ones that aren't terrible to look at look like G-Shocks. Not only are they big, but many are too flashy and too overdone.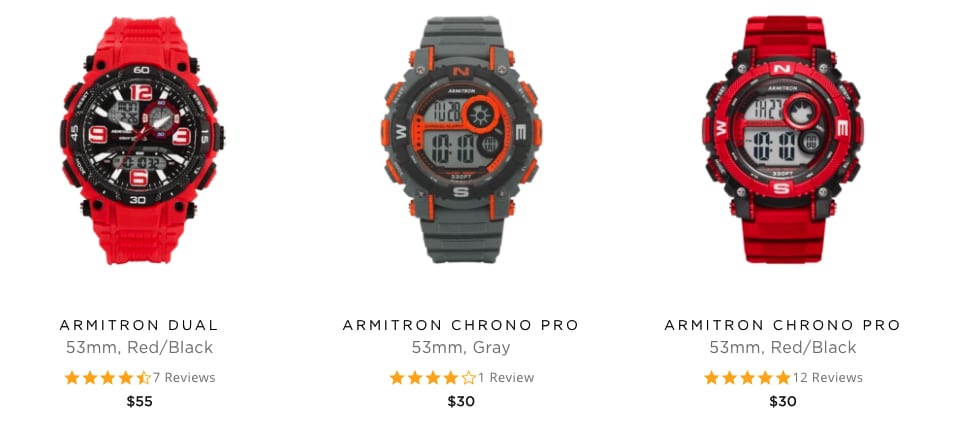 Not everyone can put together many outfits that look good with black and red or bright blue watches. And most guys aren't pining for a watch full of Swarovski crystals.
If you're into that sort of thing, Armitron's styling is right up your alley.
Pro: Value
Overwhelmingly, the greatest benefit of the Armitron brand is its value. Literally anyone can afford an Armitron watch. Most models cost less than $20, with the higher end of the price range rarely exceeding $75.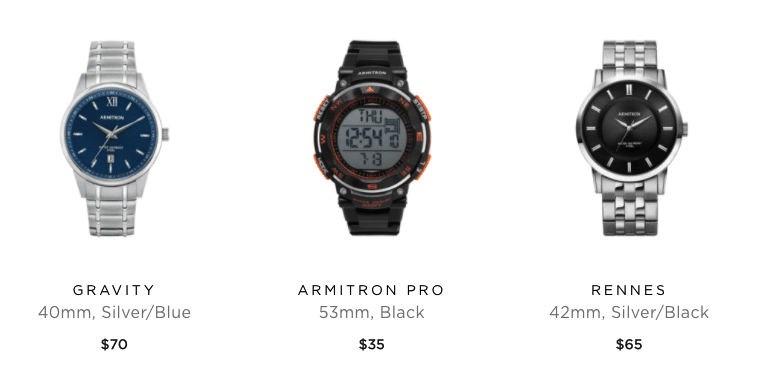 For that price, you're getting a fully-functioning sports watch with (often) 100 meters of water resistance.
If you're going to spend $20 to $30 on a watch, there are much worse options out there. And it's important to remember that at $20, if it breaks or stops working, you can just buy a new one almost anywhere.
Con: Quality
This point might be a little subjective, but no one's going to argue that Armitron watches are good quality pieces. They use cheaper materials, particularly for the case, screen, and straps.
Much of those complaints are offset by the fact that they're so cheap. Quality is a really tough point to argue.
The Best Armitron Watches
Now that you have a background about the company and you're more familiar with the pros and cons of the brand, it's time to check out some of the watches. The following are some of Armitron's most popular models.
Armitron Sport Men's 408209BLK
Armitron's Sport 408209 is one of the smaller sports watches the brand offers, making it worth a look for guys looking for a workout partner. At 49 millimeters across the dial, it's anything but small, but it's compact compared to some of the other models on this list.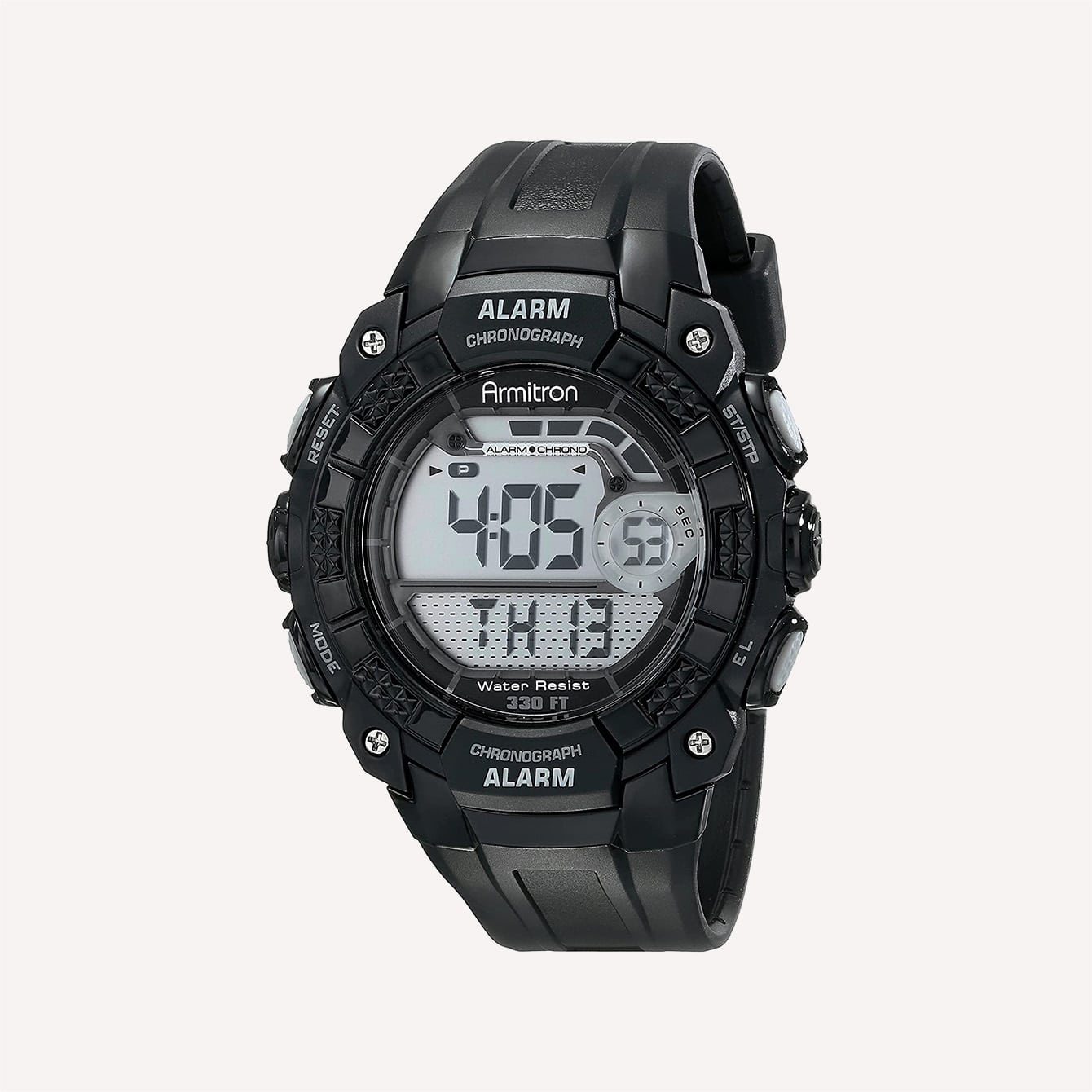 The 408209 has all the features you'd expect from a sports watch. It has an alarm, a chronograph, a backlight, a day-date function, a lap-timer, and military time.
It also features a dual-time function that allows the wearer to track the time in two different time zones. It comes on a stiff rubber strap, but it does feature up to 100 meters of water resistance.
The real beauty of the 408209BLK is not its styling or features; it's the sub-$15 price tag.
Armitron Sport Men's 40/8309 Digital Chronograph
Guys looking for a watch with some serious wrist presence should check out the 40/8309 from Armitron. This big beast of a watch measure 54 millimeters across, which could very well be too large for most guys, but it does make an impression with its black case and blue dial.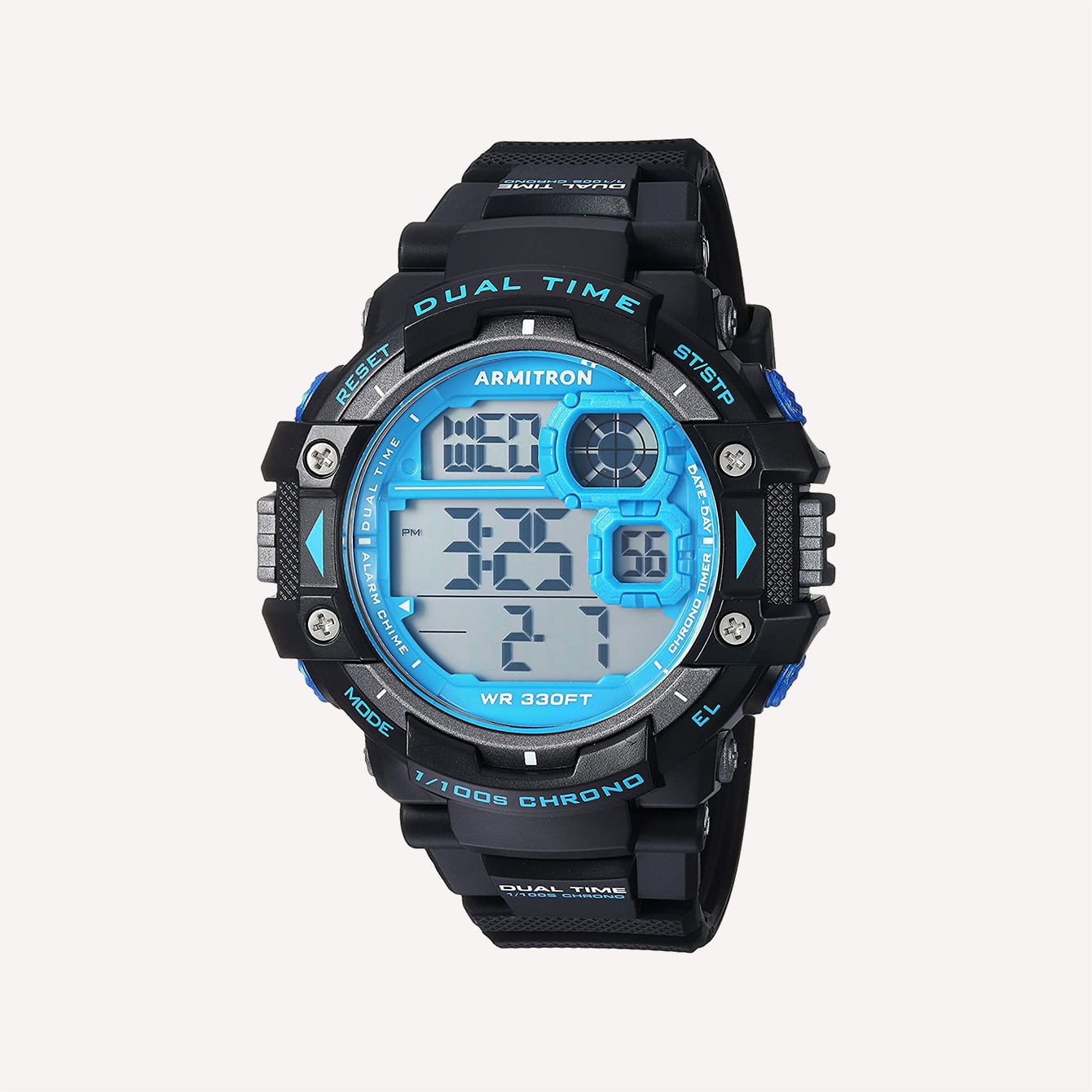 This flashy sports watch is chuck full of features, just like other Armitron sports watches. This one features all the basic Armitron functions like hours, minutes, seconds, and a date-date function.
It also features a chronograph, lap timer, alarm, backlight, and military time. This Armitron also offers 10 meters of water resistance and a dual time zone function that tracks another region's time.
And, at close to $20, it's replaceable if the resin strap fails and you lose it.
Armitron Men's 204692BKTI
Guys looking for something a bit more subdued that's still tough and sporty should check out the 204692BKTI. This all-black sports watch features a metal bracelet and a metal case to give it a more rugged look.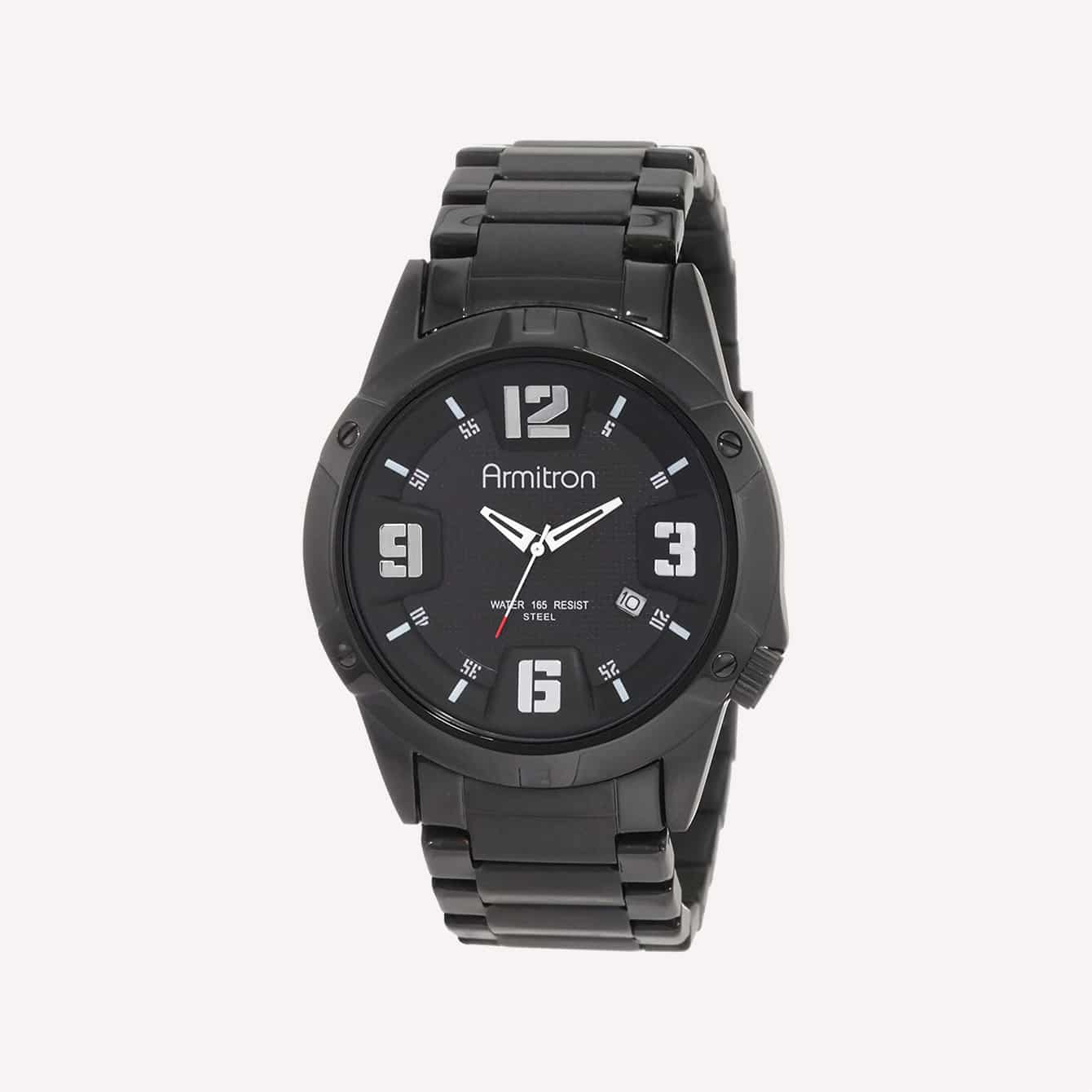 The 204692BKTI features a simple dial designed with numerals at the 12, 3, 6, and 9 o'clock position as well as a date function at 4 o'clock.
The black dial compared to the white numerals does help the time stand out. It also offers up to 50 meters of water resistance. And, at 42 millimeters across, it's not outside of the realm of possibilities for a guy with small wrists.
Just beware that this is one of the more expensive Artmitron's on the list, tipping the scales at right around $50.
Armitron Men's 20/4935 Day/Date Function
The Armitron 20/4935 Day/Date Function watch features all-metal construction that allows it to punch above its weight class in the sports watch world. This watch measures 41 millimeters across and provides up to 50 meters of water resistance.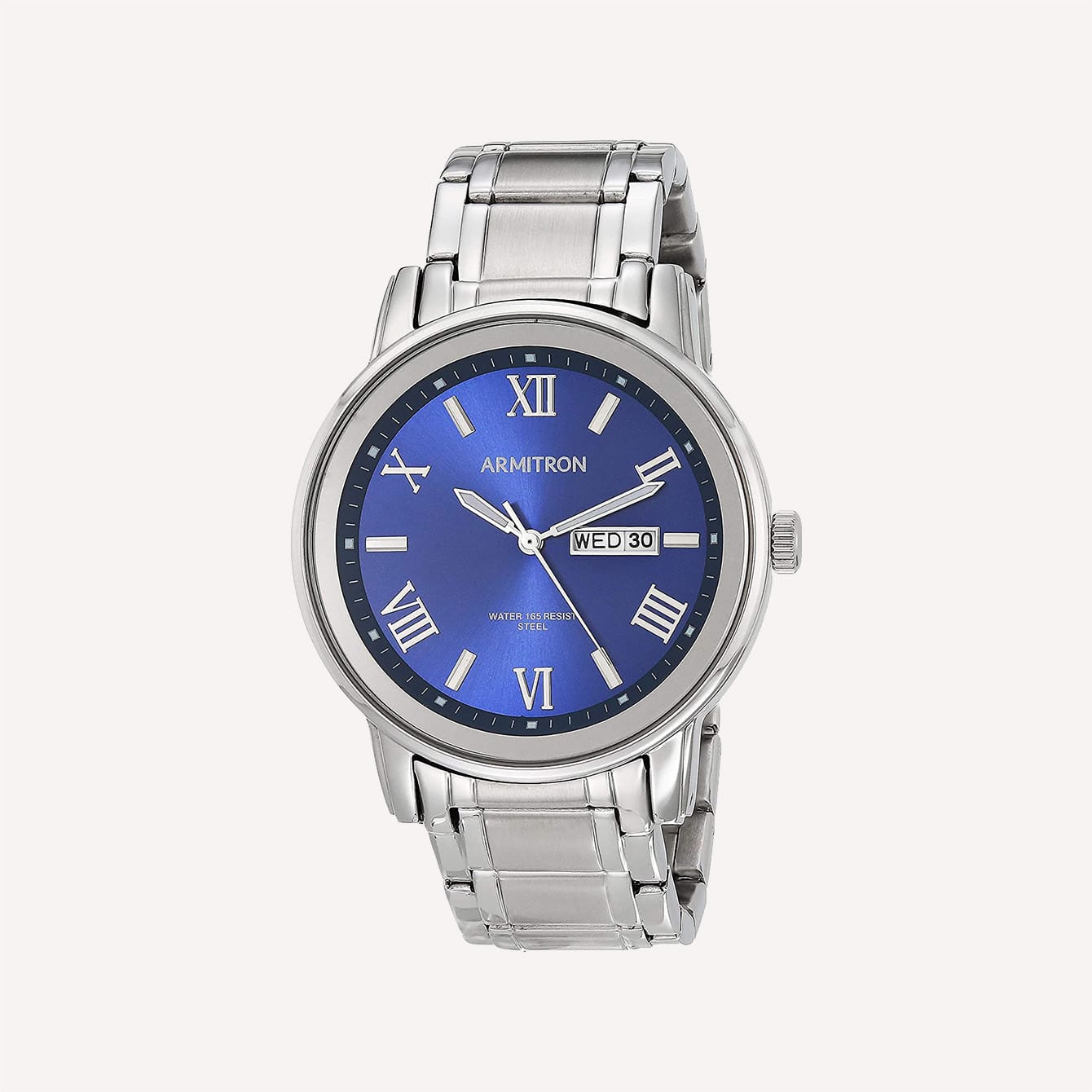 The 20/4935 is a bit more sophisticated than other models. It comes in several variations, with the all silver-tone model being a fan favorite. It features a mineral crystal and a blue sunray dial with a day and date function.
While the design might seem a little feminine, it does make an excellent unisex timepiece.
Armitron Men's 204309GYTT Two-Tone
Guys that are okay with a little flash but would rather keep the traditional look might want to give the 204309GYTT a look. Not only does this model have relatively tradition-looking styling, but it also measures in a traditional size at just 37 millimeters across the face.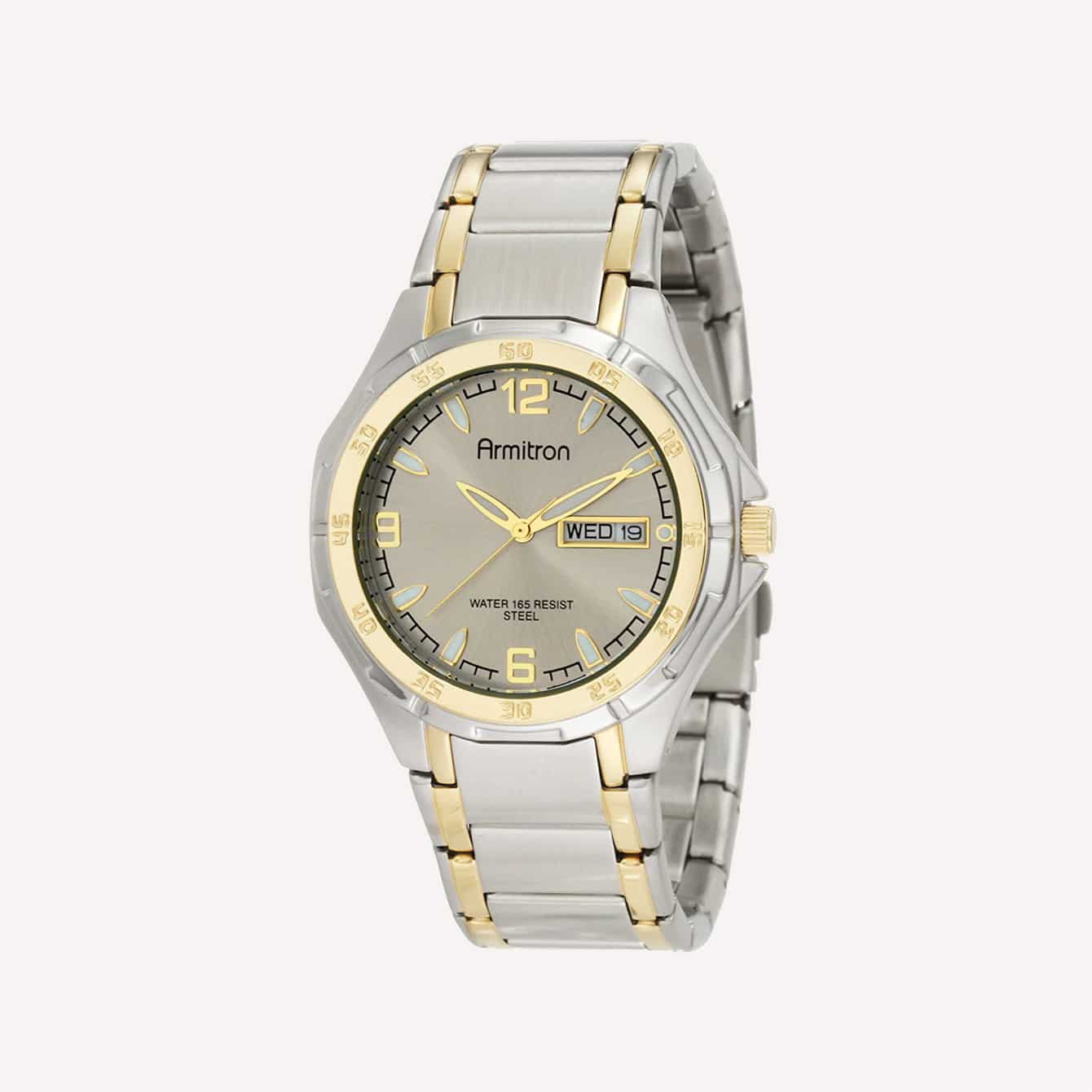 The 204309GYTT has plenty of design features. It features an off-white sunburst dial with a 12-6-9 layout and a day-date function at 3 o'clock.
The all-metal bracelet does go with the styling on the case and dial, with two gold strips matching with the gold-colored bezel. It does have water resistance to a depth of 50M.
And best yet, it'll only cost $48 on Amazon.
Armitron Sport Men's 40/8188 Digital Chronograph
For another relatively small sports watch compared to some of the others, check out the 40/8188. This one measures 48.7 millimeters across the case, and the 22-millimeter strap helps make it look a little more proportionate than other options.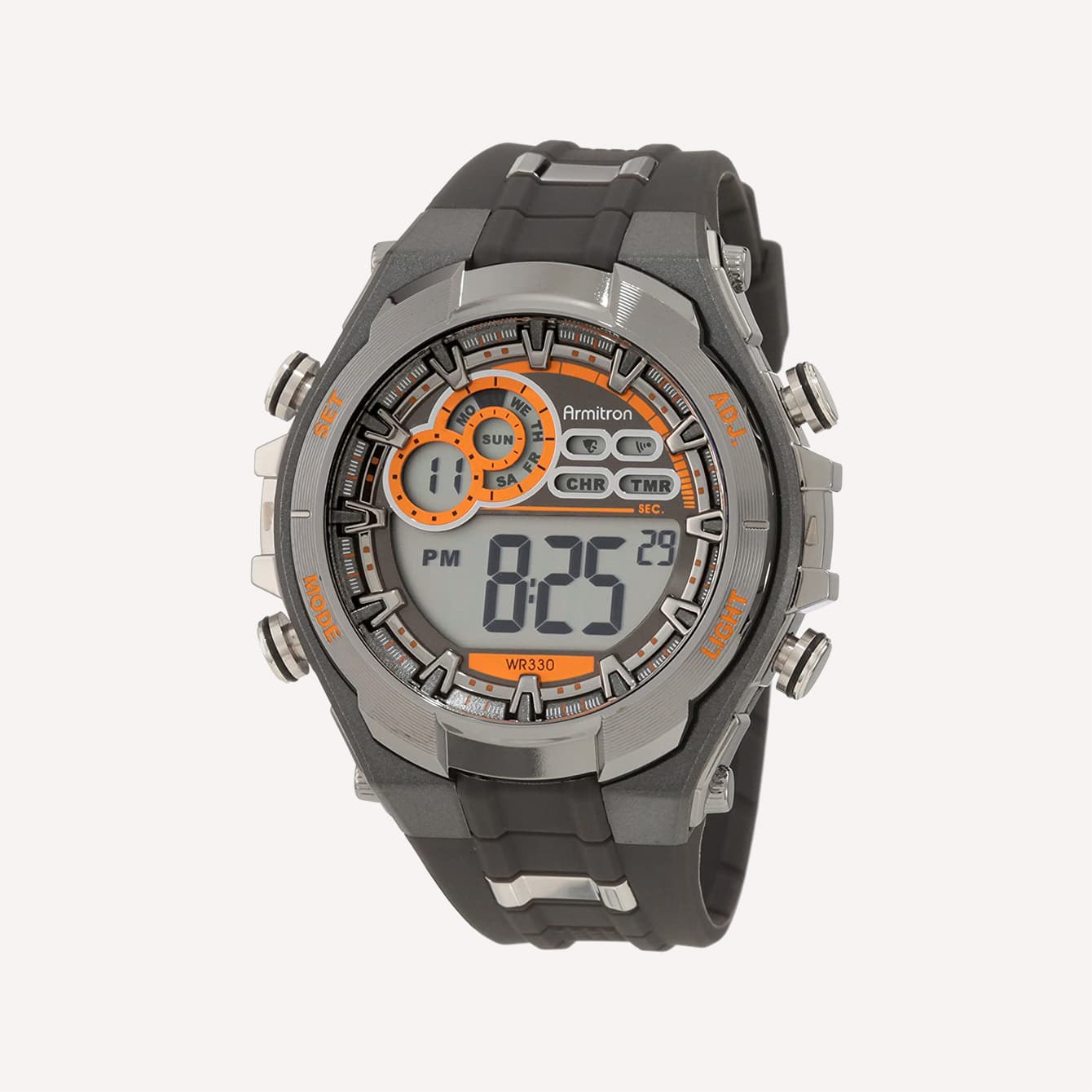 The bright orange trim and surround might make a statement, however.
While the 40/8188's color scheme might be a bit while, it runs on a very simple quartz movement that provides the hours, minutes, and seconds, as well as a day-date feature. This sports watch also features a timer, a chronograph, and a backlight, as well as 100 meters of water resistance.
One of the best features of the 40/8188 is the large size of the pushers, improving access to all the functions. And at around $20, the price is hard to beat.
Armitron Men's 20/1925GYBN
Armitron's 20/1925GYBN is arguably the most attractive option in the lineup, so it was worth saving for last. This watch features a two-tone design, blending a gold-colored bezel and a silver case, as well as gold indexes on the gray sunburst dial.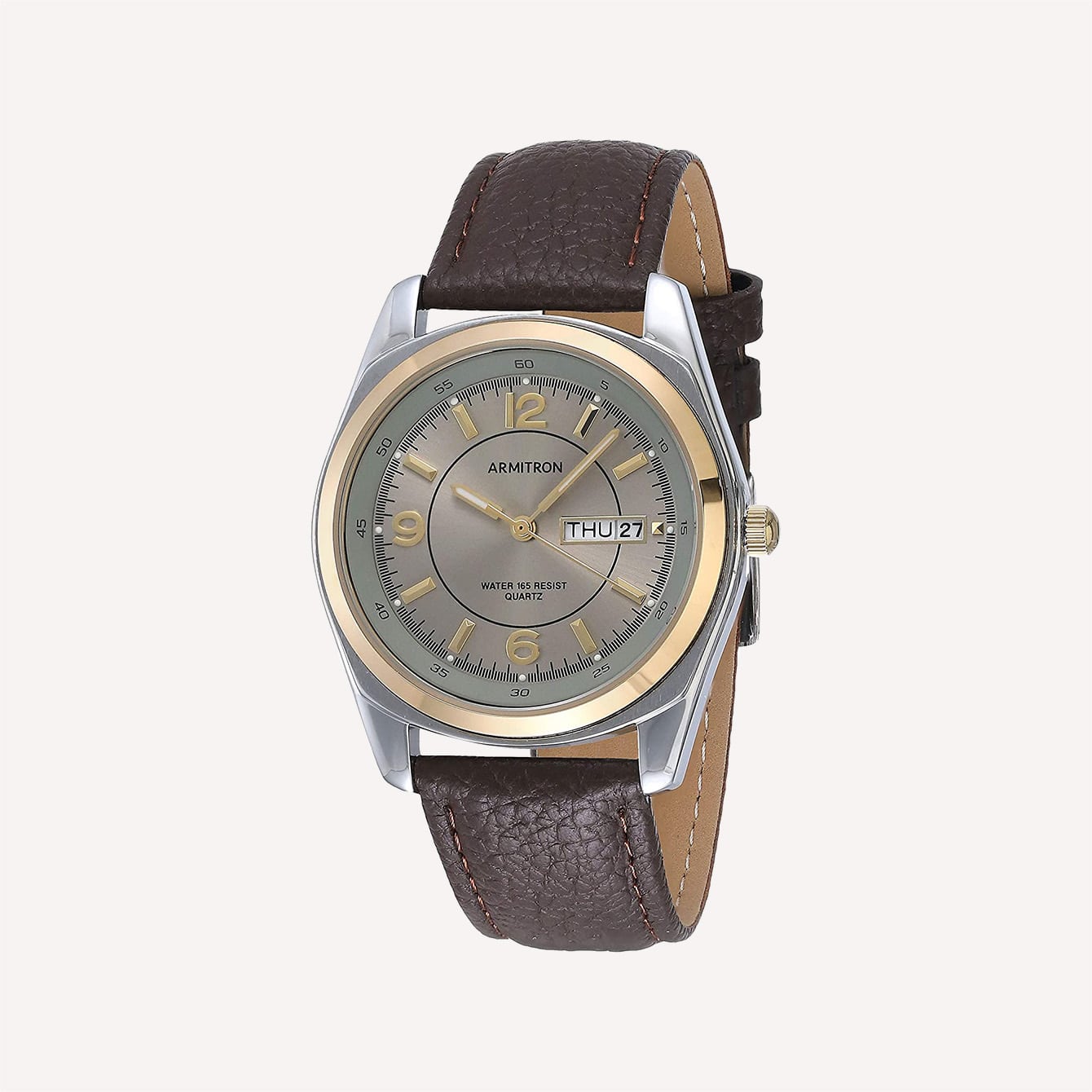 And at just 38 millimeters across the case, it's just about the ideal size for a watch of this styling.
The beauty of the 20/1925GYBN is in the styling, not the features. It only offers a standard three-hand design and a day-date function. But minute track around the outside of the indexes and the gray sunburst dial look great together.
While this watch does offer up to 50 meters of water resistance, the leather strap probably isn't up to the task.
But, all things considered, this watch might be unbeatable for analog timepieces under $40, as it costs just over $30 at the moment.
So, are Armitron watches good? The verdict.
Realistically, it's less about pinning Armitron as good or not. It's about recognizing that the brand does serve a purpose. It occupies a price point that other brands simply do not. It produces its watches by the millions because it sells them by the dollar.
Does Armitron use high-quality materials? No, not really. Are their designs innovative? Not at all. Are many of the watches the brand offers even attractive to most guys? Again, that has to be a no. But do they offer incredible value for what they cost? Absolutely.
So there's your verdict. Armitron watches serve a purpose, but they're not exactly good. They have a few models which might be attractive, and if you're in the very low price range in which you'll find these watches, one might be a great move.
Just recognize that you probably won't be able to hand it down to a child or make it last more than a year. The good news is that they're so affordable that you can buy a new one when the old one bites the dust.