When it comes to everyday watches, the Seiko SARB035 is one of the top options out there. For a reason: it has everything you want from an automatic watch, and nothing you don't.
The Seiko SARB035 is arguably the best automatic watch under $500 and a great everyday watch. It has a nice 38mm case width, which suits smaller wrists too.
The amount of watch and the quality you get for the money is excellent. It can be worn in business and casual environments and can serve as a dress watch by putting it on a leather band. The Seiko 6R15 movement is reliable and accurate. This watch will last you a lifetime if you take care of it.
This is a very cool and beautiful watch that many watch enthusiasts know and love. For a reason; it's a cracking JDM release. JDM stands for Japanese Domestic Release because, as you guessed it, you can only get one from Japan. But luckily enough, there are ways to import this watch to your country and you can even find a SARB035 on Amazon.
This piece has become one of my most worn pieces. And it will certainly stay in my collection for many years to come! Whether you prefer the black dial (SARB033) or the cream dial version, both watches are gorgeous and versatile to become your everyday (or your only!) watch.
Read on my review about what is so great about the Seiko SARB035!
Specifications
Dimensions
Case size: 38 mm
Lug to lug distance: 44.5 mm
Thickness: 11.5 mm
Lug width: 20 mm
This watch is very well proportioned and suits my 6 inch wrist absolutely perfectly. The lug to lug distance is very contained and will suit pretty much every wrist out there.
Features
Case: Polished and brushed stainless steel
Dial: Creamy white dial with date display
Crystal: Sapphire crystal and see-through case back
Hands: Dauphine hands with black line and lume
Markers: Hour indices with lume at the inside tip
Movement:

Seiko Caliber 6R15 automatic self-wind movement
23 Jewels
21,600 VPH (vibrations per hour)
Manual winding
Hacking seconds hand
50 hours of power reserve
+25 / -15 seconds per day

Water Resistance: 100 m / 330 feet
Complications: Date window at 3 o'clock
Strap: Stainless steel bracelet with solid links and solid end links
Design
Dial and hands
I really didn't expect to like the dial of this watch this much!
When you wear this watch on a sunny day, the dial exhibits a delicate color and texture that looks absolutely magnificent. In the sunlight, this dial sings, there is no other word. It sings quietly though, as it's not an in-your-face kind of sunburst effect (which I do prefer).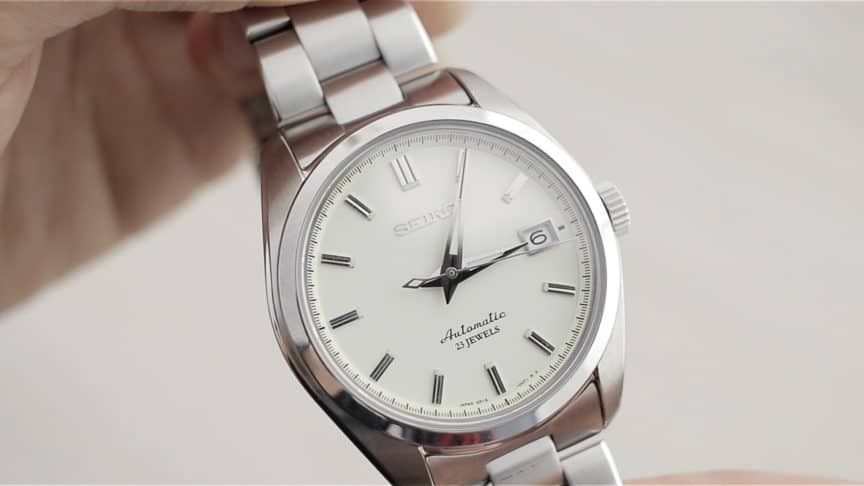 I was in the market for a white dial watch for a long time, since almost all my collection is made of black dial watches. So this is why I never thought about the SARB035. But then I saw it on display in a Seiko Boutique (even though it was already discontinued by Seiko) and thought that the cream dial had a really appealing warmth and summer vibe to it. So I pulled the trigger.
I now understand why most people call it the baby Grand Seiko. It doesn't feature a plain matte cream dial. Rather, you get this super light grainy dial that is almost impossible to get on other watches of the same price tier.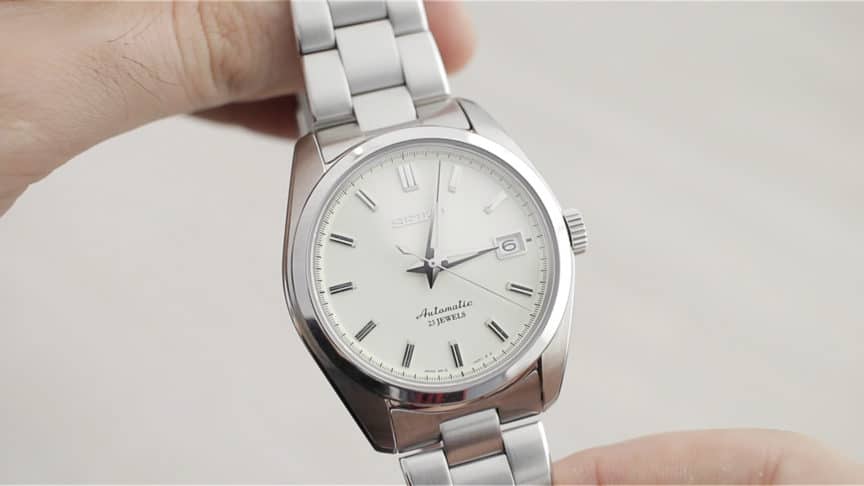 Another touch that I like is the black lines on the hour and minute hands. You don't see it that often on online pictures, but when you have it on your wrist, it becomes way more apparent. Of course, you'll have to make sure that the light hits the hands from an angle to reveal those nice black lines on the hands. I think that's a small but very cool detail.
Case and bezel
The case has an impeccable finish for the price of the piece. I mean, you get the quality of a Swiss watch that could retail for (way) more than €2000.
You have so many intricate details, too. For example, I think the small "lip" on the side of the case is the most beautiful detail of them. Brushed on the top, polished on the side, this chamfer looks incredible. I spend a lot of time looking at this particular part of the watch because it's so beautiful.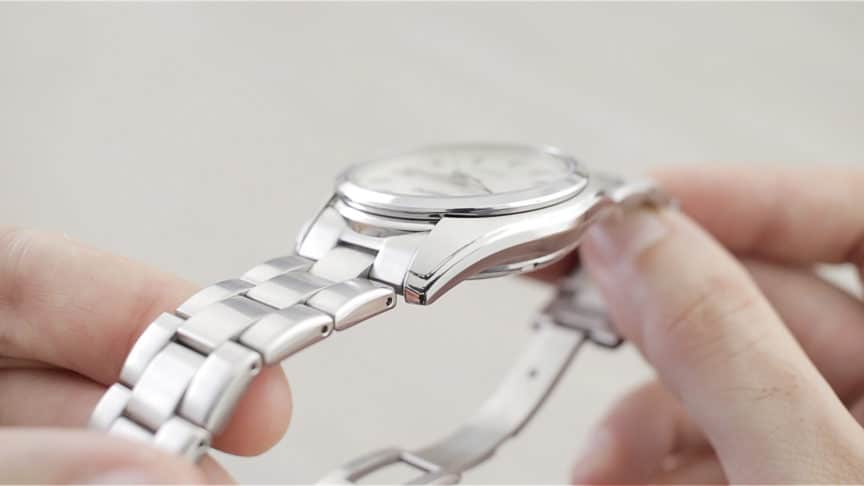 But then you have the bezel. It doesn't look all that special at first glance. But look at it from the side, and you'll discover that it's not a simple straight bezel. It actually goes back inwards before meeting the case. Yet another very nice touch that looks very cool and Grand Seiko-like.
Cool little detail: the crown, which is easy to grab, featured a very attractive engraved S.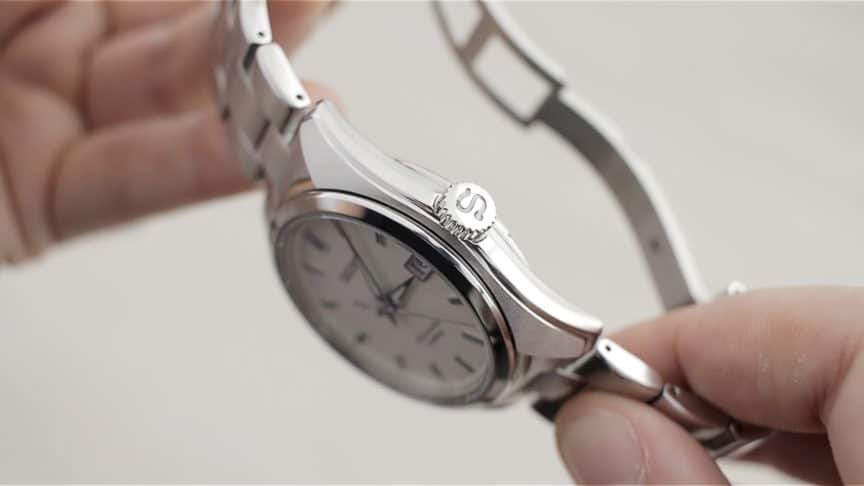 But what about the case in itself? Again, it's not a simplistic, straight a case. It is nicely shaped in both vertical and horizontal directions. It's tastefully and beautifully finished.
Back of the watch
On the SARB035, you get a cool exhibition case back to admire the 6R15 movement. Not the most beautiful movement out there, but for the performance it delivers and the price of the watch, you really can't complain.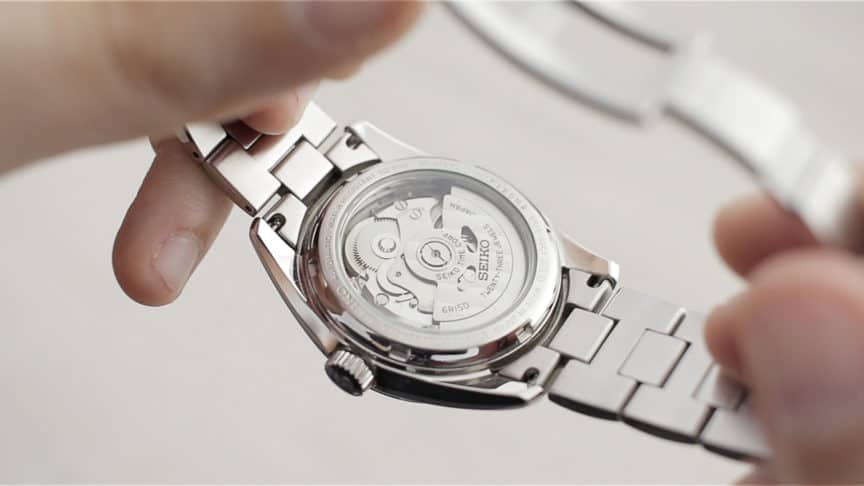 Bracelet and clasp
The Seiko SARB035 features your traditional oyster-style bracelet. It's brushed on the top and polished on the sides. The clasp is brushed as well and features the Seiko logo.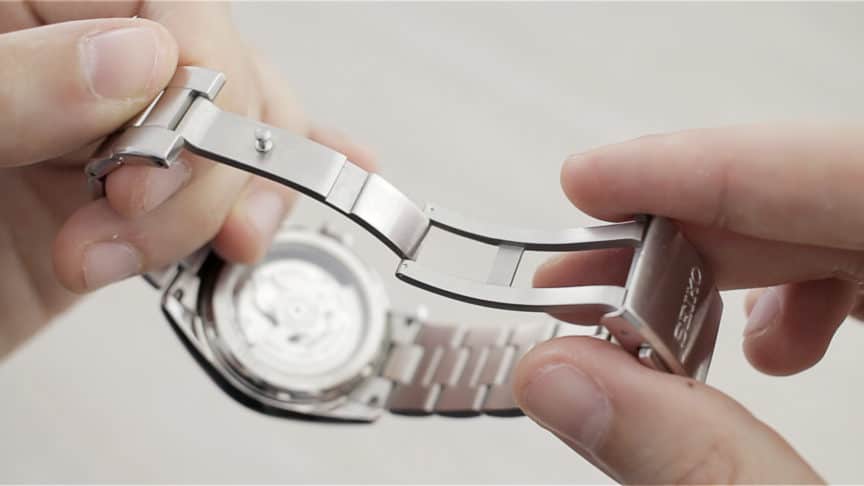 Yet the style of this bracelet suits the watch perfectly and gives it a nice sporty touch works well with casual and business attire.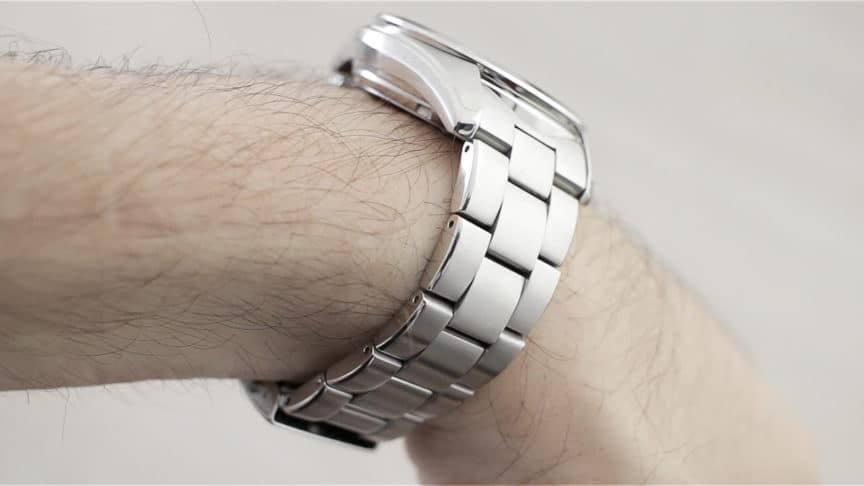 The bracelet and clasp catch scratches like any other brushed bracelets, no more no less. So be prepared for some scuffs if, like me, your week is filled mostly with desk diving.
Comfort
Comfort is of paramount importance in a watch. If a watch doesn't feel right or balanced on your wrist, you just won't wear it in the long run.
And here is the punchline: the SARB035 is super comfortable on the wrist. The bracelet is heavy enough to sit properly on your wrist without the watch head rotating around your wrist. Yet it's light enough to be worn all day without becoming disturbing.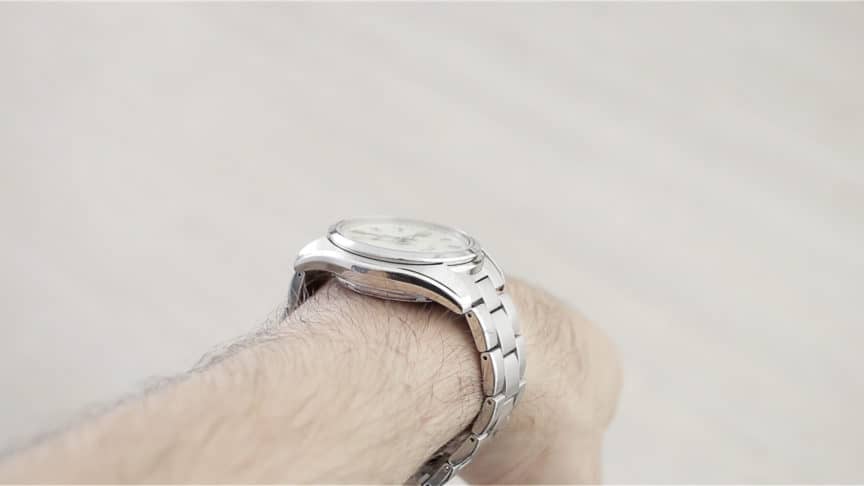 The end links do not extend past the lugs of the watch. Meaning that the lug to lug stays the same when the bracelet folds down on your wrist; this is really good news for small wrists wearers like me.
Speaking of the bracelet, it has a nice weight and heft to it. It's a quality bracelet, to say the least. It may not be of the same quality as a luxury piece, but it's definitely way better than any other watch you might find on the market for $500.
Now to be totally honest, sometimes the first bracelet link can get stuck in the upper position. Because it will come against the end link, a little horizontal mark can appear. Not really a big downside, but something to know nonetheless.
The clasp feels very solid and closes with a nice snap. The machining of the internals of the clasp is done impeccably for the price point. And it gives me great confidence that the clasp will work for decades no problem.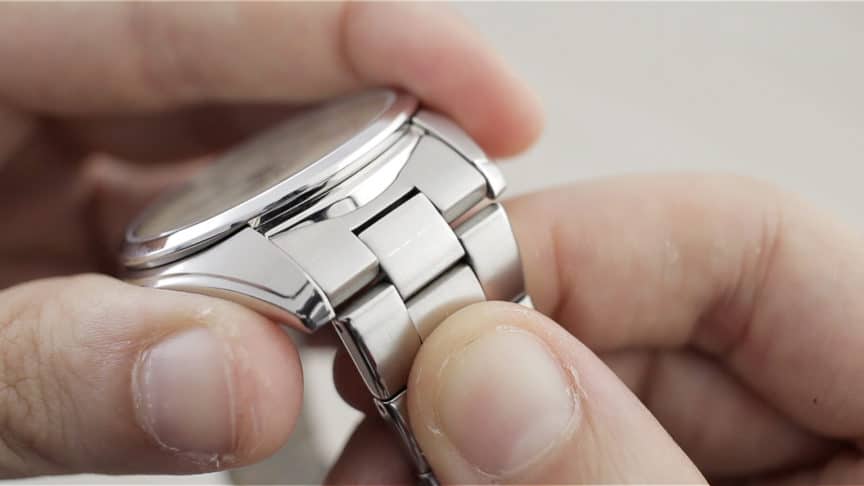 But the case also plays an important part in the comfort. It wraps around the wrist like no other piece of my collection. Because of that, you can wear it all day long, with no awkward or uncomfortable gap between the case and your wrist.
Practicality
This watch sports a Seiko 6R15 movement, which is one of their better grade movements. It's advertised as a 50 hours power reserve movement; I timed mine at 49 hours and 52 minutes.
When I wear this watch every day, this piece keeps incredible time: +5 / -5 seconds per day, which is incredible if you account for the factory standards (+25 / -15 seconds per day). The timekeeping of this watch improved after a few days of wearing it daily for about 2 weeks. I guess this has something to do with the movement starting to break in. As a result, the performance stabilized.
100 m of water resistance means that you can wear this watch in the rain while washing your hands or even while swimming in the pool. Of course, make sure the crown is pushed back in and never operate it while exposed to water. Last but not least, like all other watches, don't wear your watch in the shower.
So this is a sports watch, but certainly not a tool watch. I would rather classify this piece as an everyday watch. And this is why the lume is not that important for me here.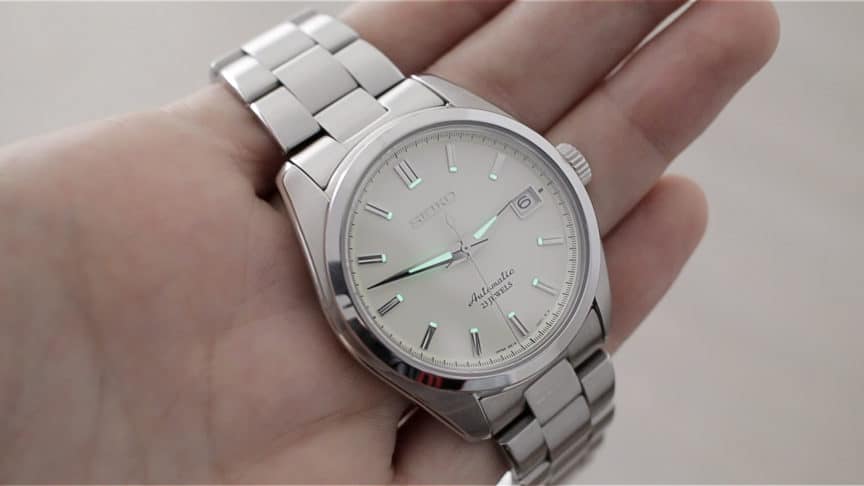 Yet, you get some lume on the hands and on the inside tip of the hour indices. There is not enough lume to last for the whole night as it quickly fades away when fully charged, but it's there in case you need it. The good thing is: because the lume is subtle, it doesn't ruin the overall style of the watch.
Style
This watch is the very definition of versatility. The hands, dial, bezel, beveled lugs, case shape, and bracelet all work together to build the most versatile watch I've ever seen. In that regard, it's really in the same league as a Rolex Datejust or Oyster Perpetual. It's that good.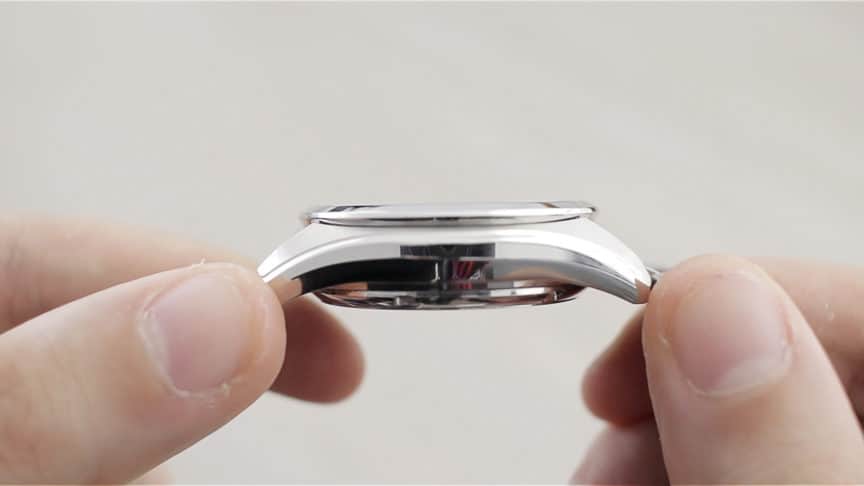 The case is not so rounded that it looks too dressy, yet it's not so square that you cannot wear it for business or dressy occasions. I don't know how they did it, but the size, proportion, and shape of the case of the SARB035 is perfect from any angle.
The dial is simple, but not simplistic.
You just get those gorgeous faceted hour indices; they play with the light quite a lot without drawing too much attention to them. Also, you have that "Automatic" writing in an old-style cursive font at the bottom of the dial which many of watch lovers are crazy about. I certainly am, too.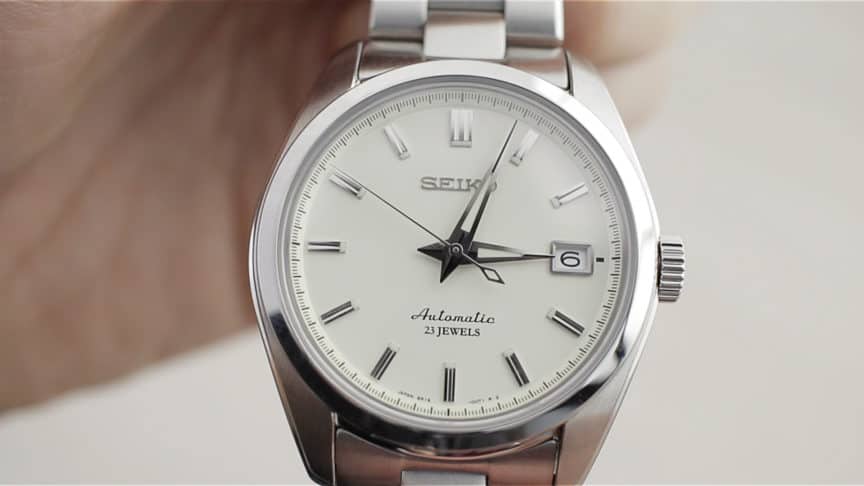 The date window has nothing special, besides that it's black on white. Some of you might have preferred a cream background. I don't mind the background being white, and I actually prefer it that way because it creates a welcome contrast that helps the date stand out (I use this feature quite a lot, this is why I love a little contrast with the dial).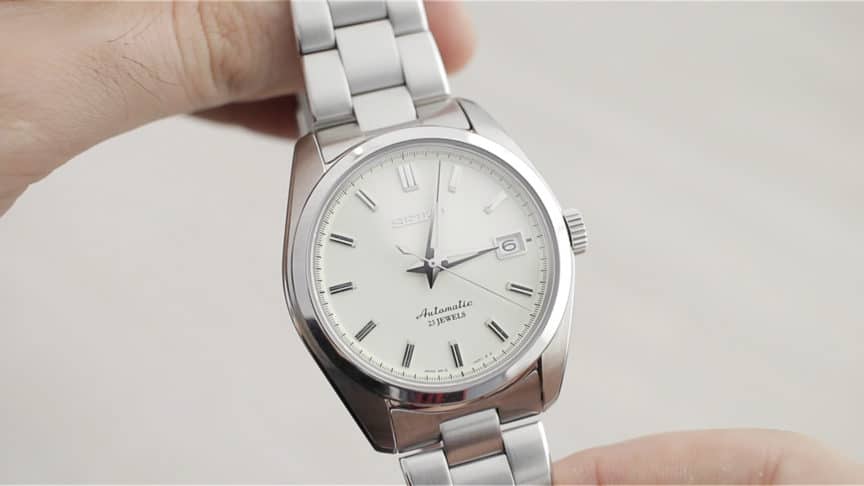 What I like the most about the Seiko SARB035
What I like most about this piece is how versatile it is.
I have had the occasion to wear it in casual environments no problem: it looks perfect with that metal bracelet. I had the occasion to wear in business environments and it looks very professional. I have yet to wear it for a formal event but I'm confident that it will work just fine. Just put in on a nice crocodile leather strap, and you're golden.
I have the luxury to wear my pieces casually most of the time (one of the perks of being a freelancer working mostly from home). But even when I'm in a hurry for a business meeting, I know I can pop this bad boy on my wrist and it will look good no matter what.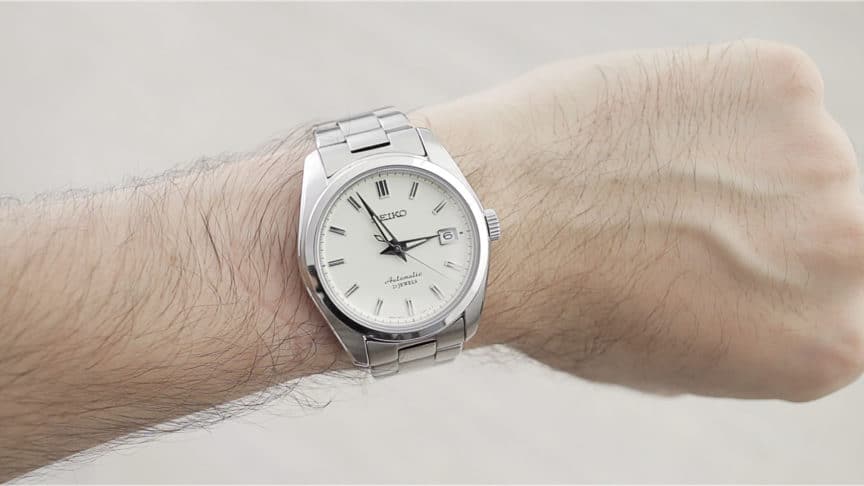 It's a perfect grab-and-go piece that can pair with every single outfit I might be wearing. You just can't go wrong with a tasteful, timeless, cream dial watch on a metal bracelet.
And even if I really didn't pick this watch for its versatility, this is the very reason I love it so much.
The final verdict
When I'm looking at a watch, I asked myself 3 questions:
Is it unique? – in the sense that it has its own vibe going on, or has a very distinctive feature or design element.
Is it clear? – it should be easy to "get" the design and to read the time. Here, some watches with a crowded dial can still qualify if the design is perfect.
Is it bold? – it should make a statement (but not be loud).
Is it unique?
I would say no because the SARB035 has a simple and pretty generic design. Now, the thing is I like this watch because it's so subdued. I love those dolphin hands especially (these are favorite type of hands, by the way). No being special and not pretending to be special actually makes this watch special for me. And I certainly love its versatility!
Is it clear?
Of course! The style of this timepiece is so uncluttered! You immediately get what this watch tries to say. And then, when you look a little closer, you begin to see all the intricated and beautiful details that never detract from its overall apparent simplicity. Well done Seiko.
Is it bold?
That's a close call but I would say… yes. A watch doesn't have to be big or loud, with a lot of design elements going on, to be bold. For me, it's pretty much the contrary. Being bold means doing its own thing without trying to impress anyone.
So here is the statement that this piece makes: you don't need a watch that people will notice in order to look sharp. A timeless, unpretending watch is all you need to convey the fact that you have good taste and that you like simple things. You don't seek or need any attention, because it's all in the detail. A perfect description of the Seiko SARB035.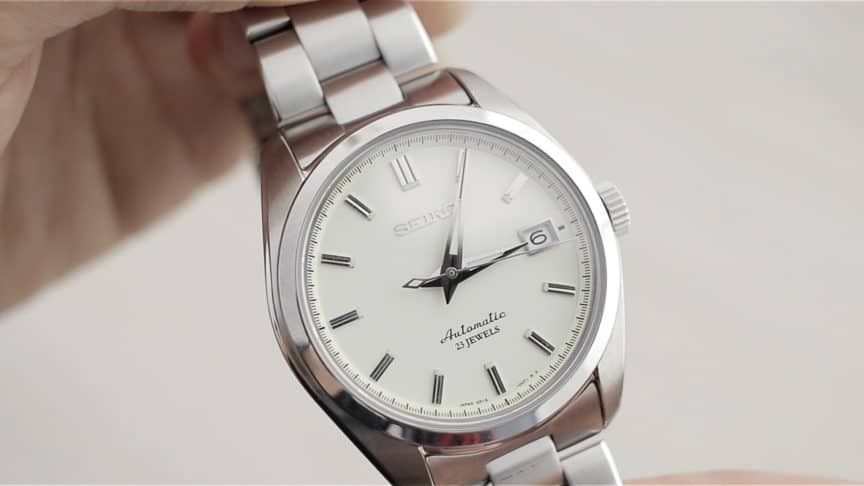 I give this piece gets a very impressive 9 out of 10.
Why not 10? Well, it's all because of the bracelet that could have been just a little bit heftier. But I'm really nitpicking here. For the price, you really really can't go wrong with this one.
This watch might have been discontinued, but it's still available at some Amazon seller. If you can find it for around $500, don't hesitate and get it immediately, you won't regret it, trust me. Check now if you can still grab one!
Because if, for some reason, you don't like it that much (I highly doubt that…), you can resell it no problem – probably for a premium because they are so sought-after. And of course, you can get the black one as well if that suits your vibe more.
And this might also be the perfect watch for a one-watch collection. If you just want one and only one piece for less than $500, this is the one I advise you to get. It really doesn't get any better than this!