This is a review of the automatic version of the Naos watch from Sternglas. Read on the learn everything you need to know about this Bauhaus inspired watch.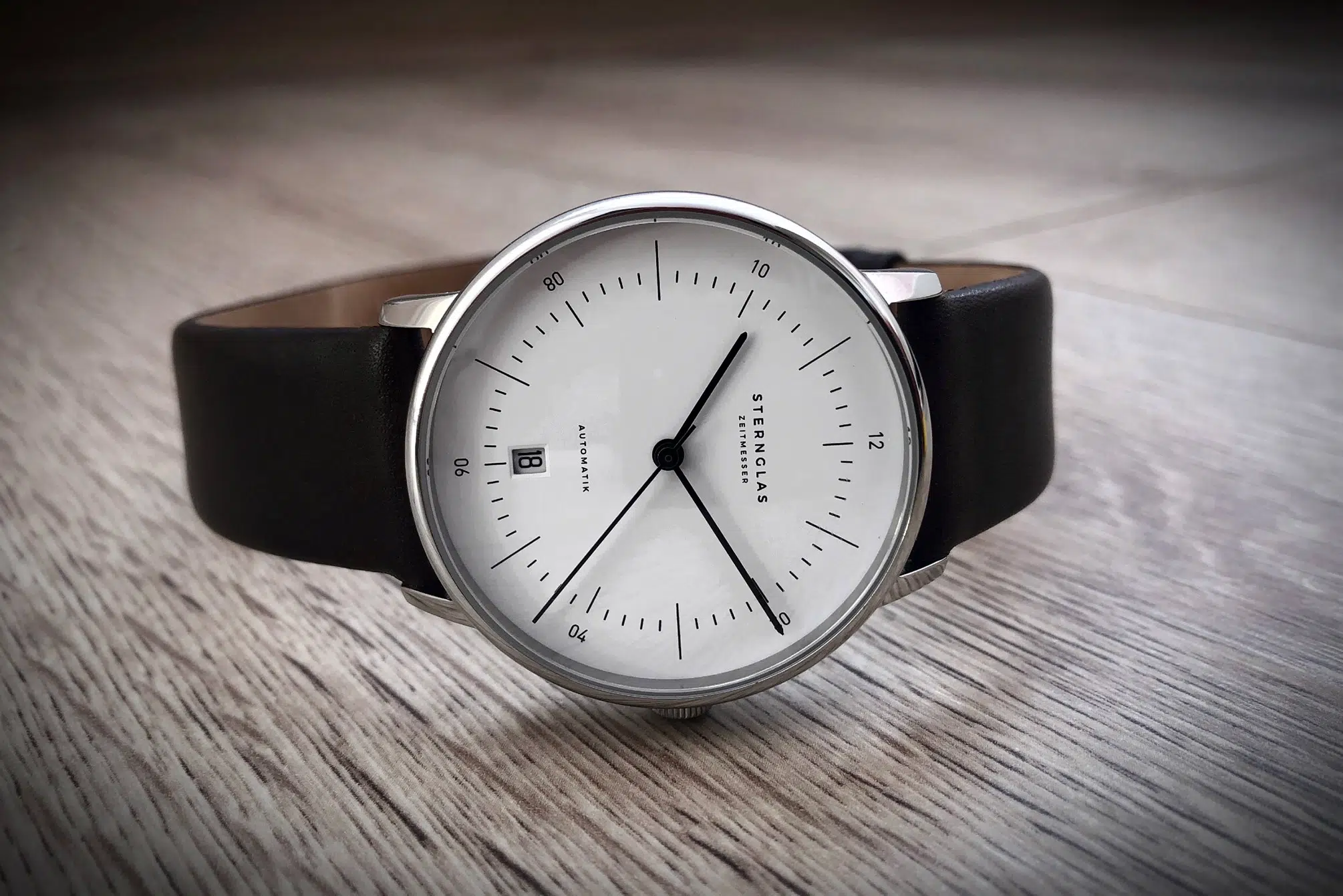 The story of the Sternglas begins with a 16-year-old German student, Dustin Fontaine who worked at a small watch company. At age 21 he decided to start his own watch brand. Sternglas, founded in 2016, is the fruit of years of effort.
Sternglas is considered as a fashion watch brand. They offer a stylish appearance and use high-quality materials and eligible movements, but it is not on the same level as the luxury watch brands of the world. In this review, we will be considering the Naos for what it is– a well-made fashion watch.
Despite being such a young brand, Sternglas has multiple collections including: the Asthet, the Chrono, the Sinja, the Marus, etc. and of course limited editions.
We will take a closer look at the Naos collection which has a quartz and an automatic version, vintage editions too, and the Naos XS which is designed for women with the diameter of 33 mm.
With the Naos collection, a buyer can choose between several different movement, dial, and dial color options. While I liked the black and the blue dials, I went with a white dial and an automatic movement.
Quick Take
Although not a top tier watch, the Sternglas Naos Automatic is very well made. Constructed with quality materials and a unique Bauhaus style, as far as fashion watches are concerned, the Sternglas Naos Automatic is top notch. 
Bauhaus Style
To understand the Sternglas Naos, first we have to get to know the Bauhaus style. Bauhaus style originated in the first half of the 20th century, integrating elements of art, technology and industry into architecture. It soon became a popular aesthetic in different fields as well.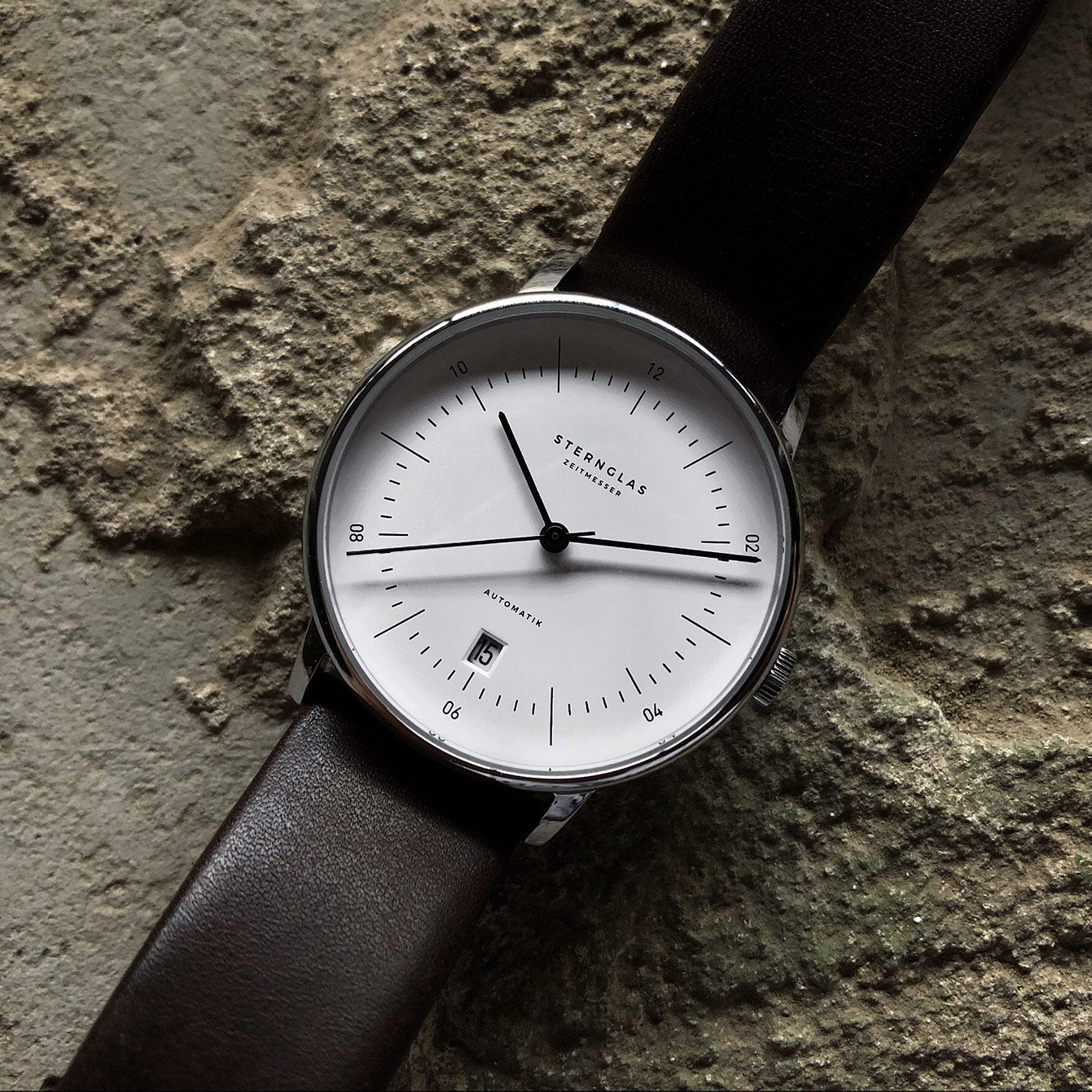 In the realm of watches, this distinguished style is characterized by white or well-set colours, lots of metal with polished surfaces, and big glass elements. We can notice the strong influence of the principles of functionalism and rationalism in the design of Sternglas.
Sternglas Naos Automatik
Although I am wary of fashion microbrands, the fact that Sternglas offers a watch with an automatic movement convinced me to give them a chance.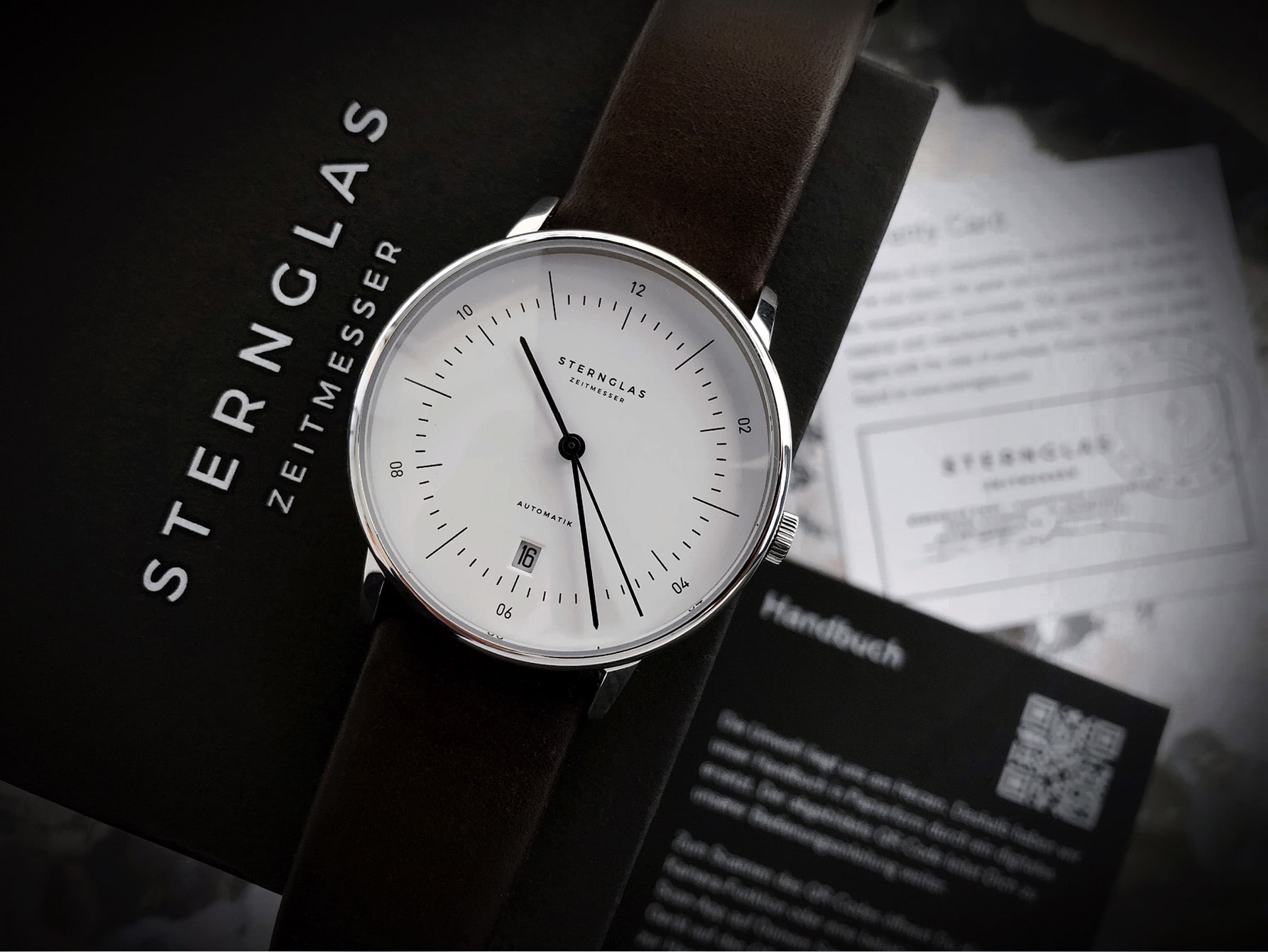 After ordering the watch, I received it very quickly. It only took three work days for it to ship to Hungary from Germany. I wonder how long it takes to arrive outside of Europe? While Sternglas watches are sold in some retail locations, for most guys online shopping is going to be the best option.
The Naos came in a nice cardboard box with papers, like a guarantee card and a user manual– a nice touch.
At first, I wasn't so sure whether or not I liked the minimalist Bauhaus dial, I needed some time to get used to it.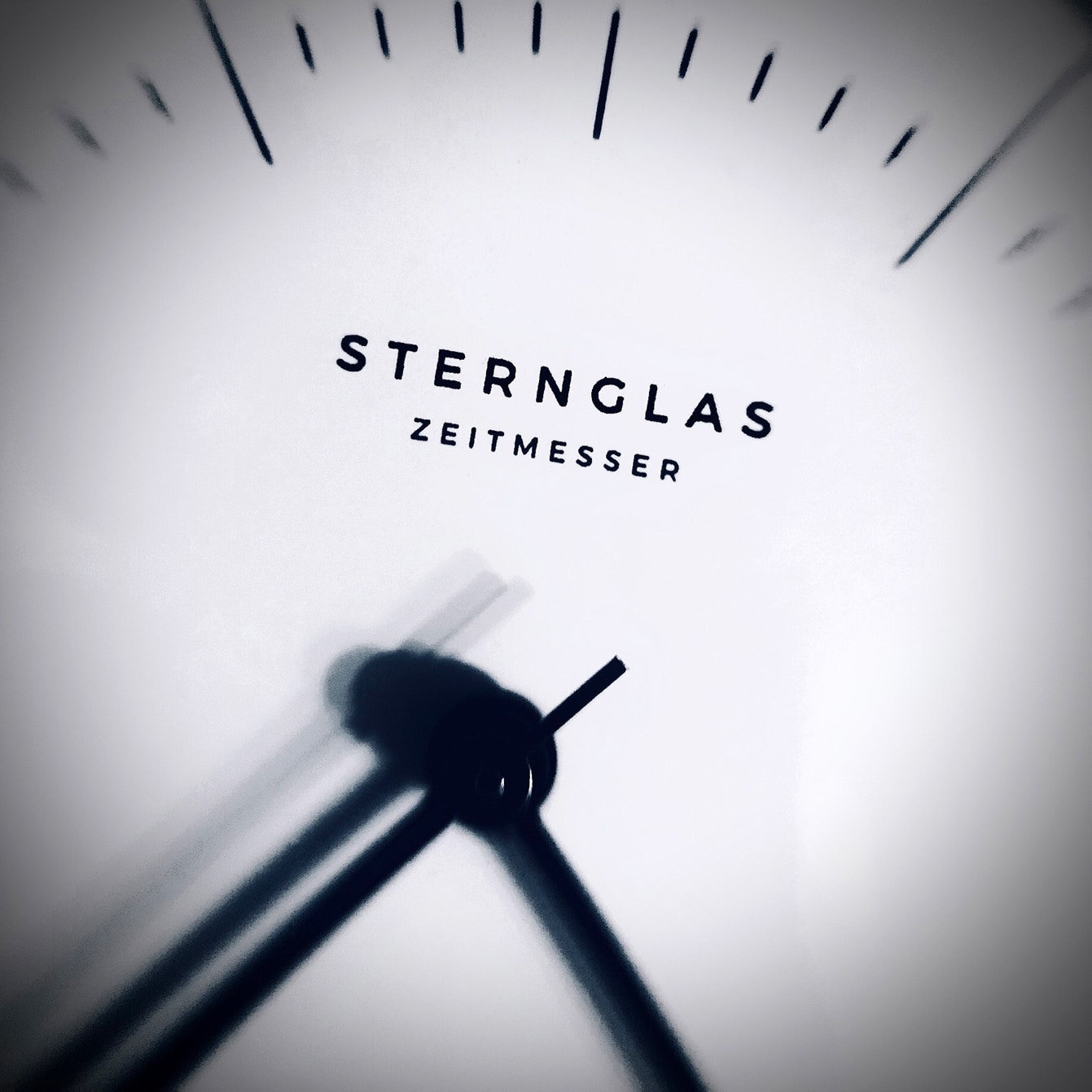 The watch case finishing is nice, as I expected. The only detail I wasn't happy with was the strap (I'll address that here in a minute).
This is my first experience with minimal watches. My first impression is that, while it is dressy, it could easily be my everyday watch.
Materials
Let's start with the case. It is a 316L steel with a nicely polished finish. It has a decent weight to it, but it didn't bother my wrist.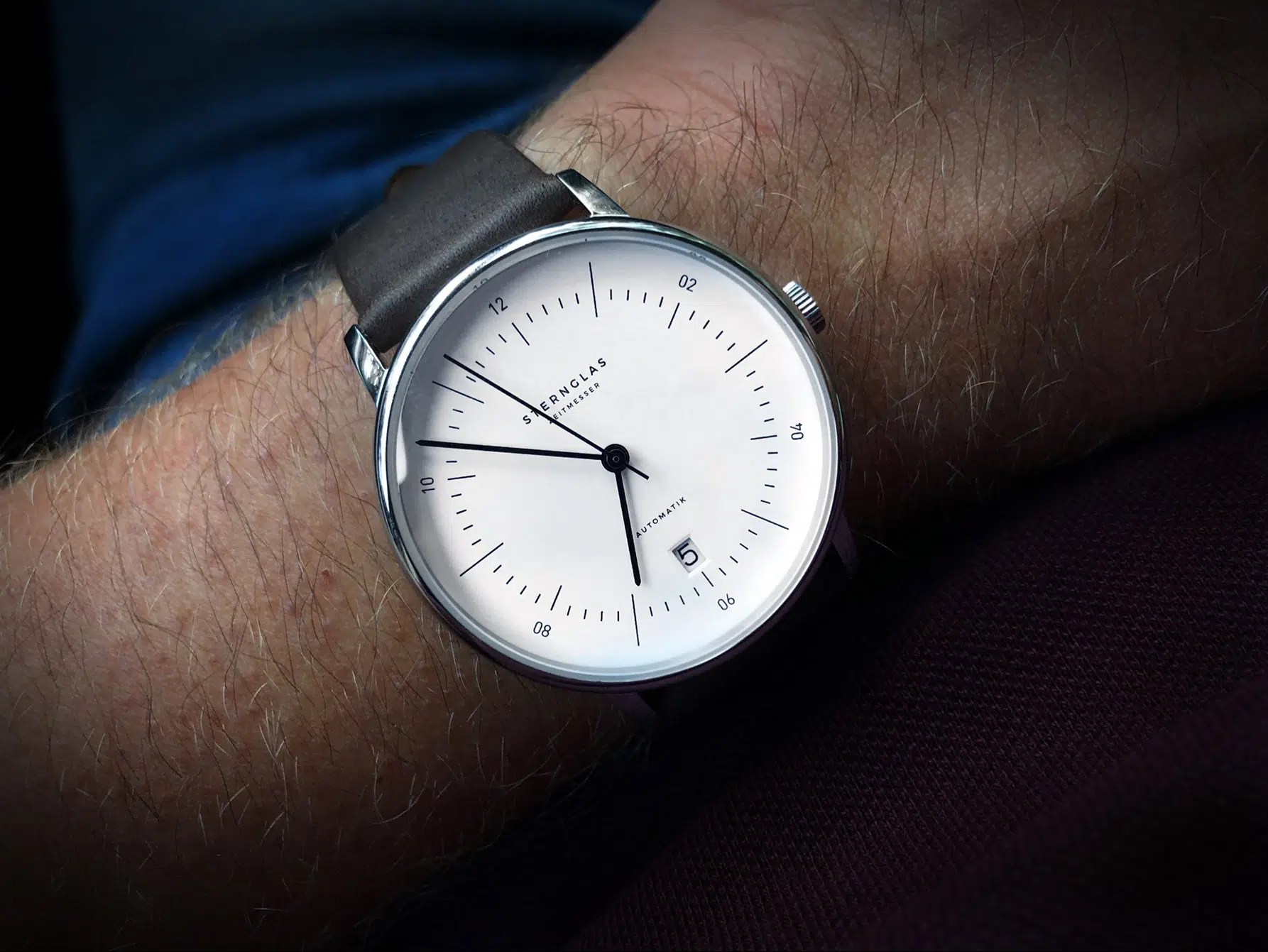 While they could have used a 904L steel which has a better stain resistance because of the added nickel, but it's more expensive. 316L steel is an affordable and economical alternative– a plus in my book.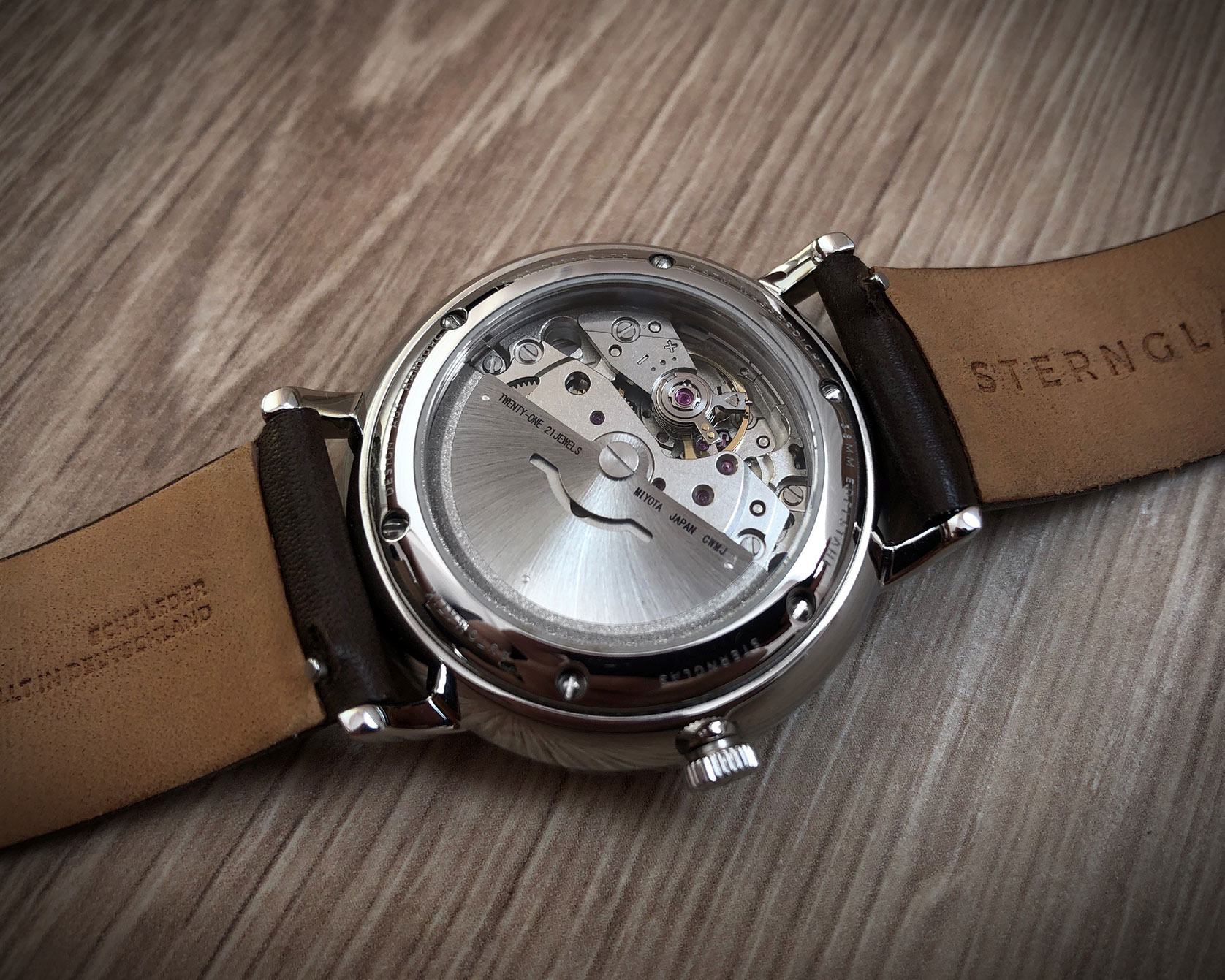 Next, let's move to the dial. The dial is painted with proportional indexes, numbers and signs. It's protected with domed sapphire crystal, and I must tell you, it makes it difficult to read the watch.
On the other hand, it's scratch resistant and it gives the plain dial playful vibes. The minimalist dial isn't boring, the crystal shines in the sun which I find enjoyable.
The strap smells like real leather but I have my doubts. It's comfortable on the wrist, but sometimes I'm afraid it will fall off, because it feels like paper. It says its real leather, made in Germany – 'echt leder hergestellt in Deutchland'.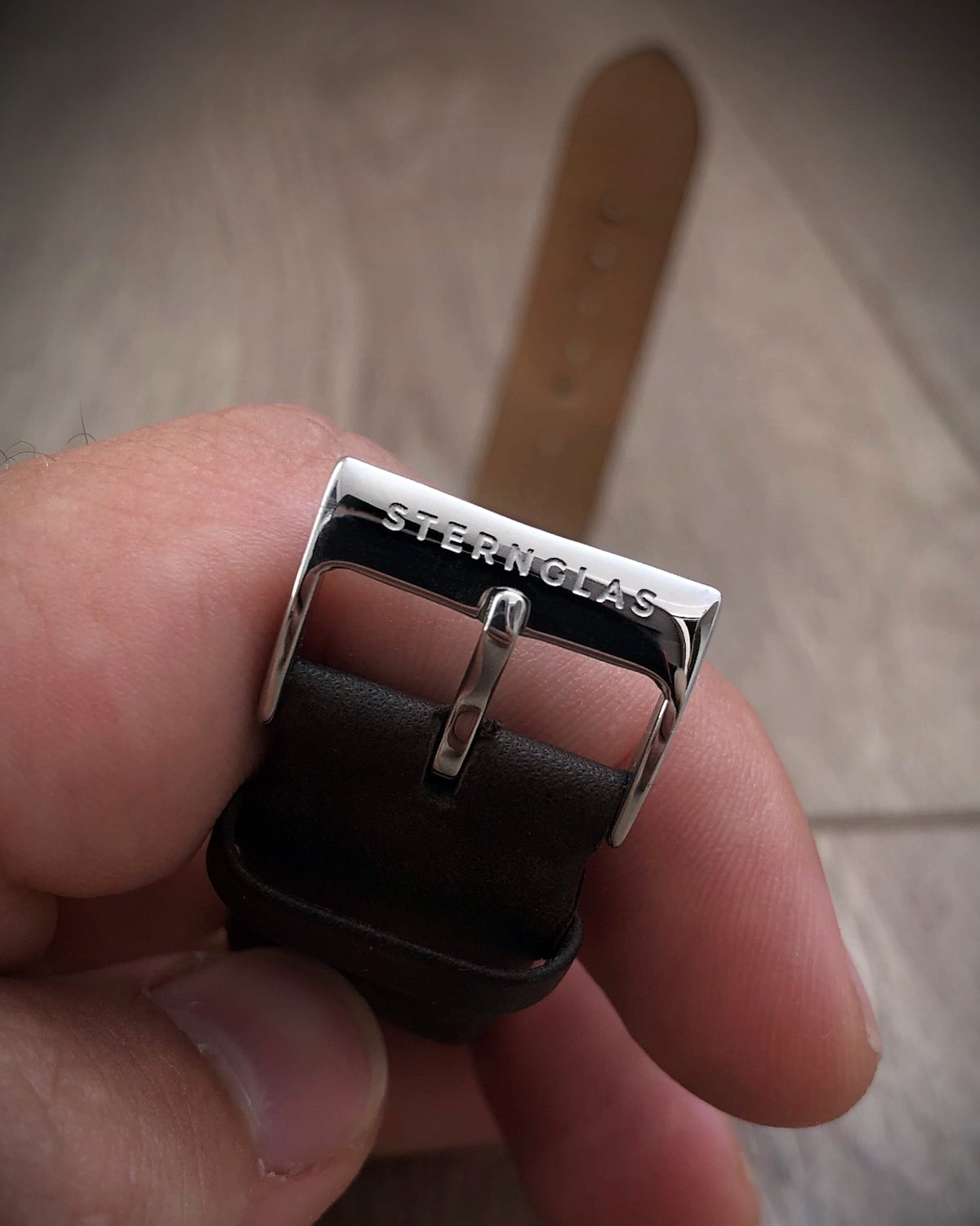 Since I wasn't satisfied with the stock strap, after a few days I switched it out for a black nato strap. I think that was a wise decision– the quick release system makes the swap effortless.
In all, the quality is way better than a fashion watch usually offers. This Sternglas Naos Automatik convinced me that it has a good quality with a lot of value, however I feel it's a bit overpriced. In my opinion, 250 euros would be a more reasonable price.
That said, I don't want to persuade anybody out of trying Sternglas watches. I really like my Naos Automatik.
Dimensions
The diameter of the watch is 38mm– it nicely fits on a slender wrist. On my 17,5 cm wrist it doesn't look small because of the big dial and fine edges, moreover I asked my girlfriend to try it on her 15 cm wrist and it still looks good.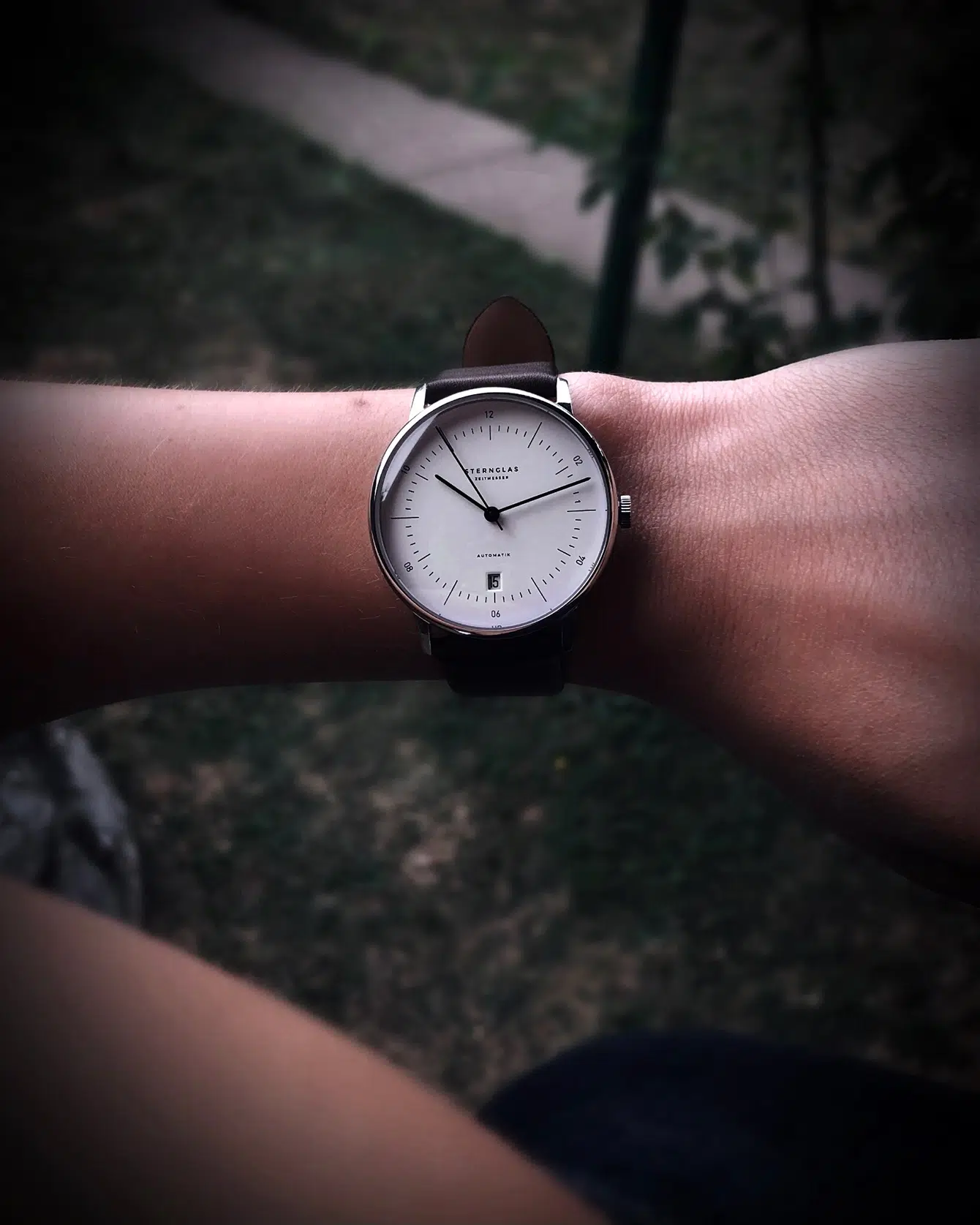 These proportions make the watch wearable for a wide range of people with different wrist sizes.
The 43 mm lug to lug size is comfortable. It does not fit comfortably under my shirt cuff because of its 12 mm height, but with a rolled up shirt it still is a perfect casual, yet elegant, combination.
As I mentioned earlier, the strap isn't great, but you can easily swap it with a regular 20 mm strap. Like I mentioned, I personally prefer a simple NATO strap with this watch.
Movement
The heart of the watch is a Miyota 821A. It's a 21 jewels automatic movement with a hand-winding option, but without a hacking movement. That's a shame because I like to set the exact time.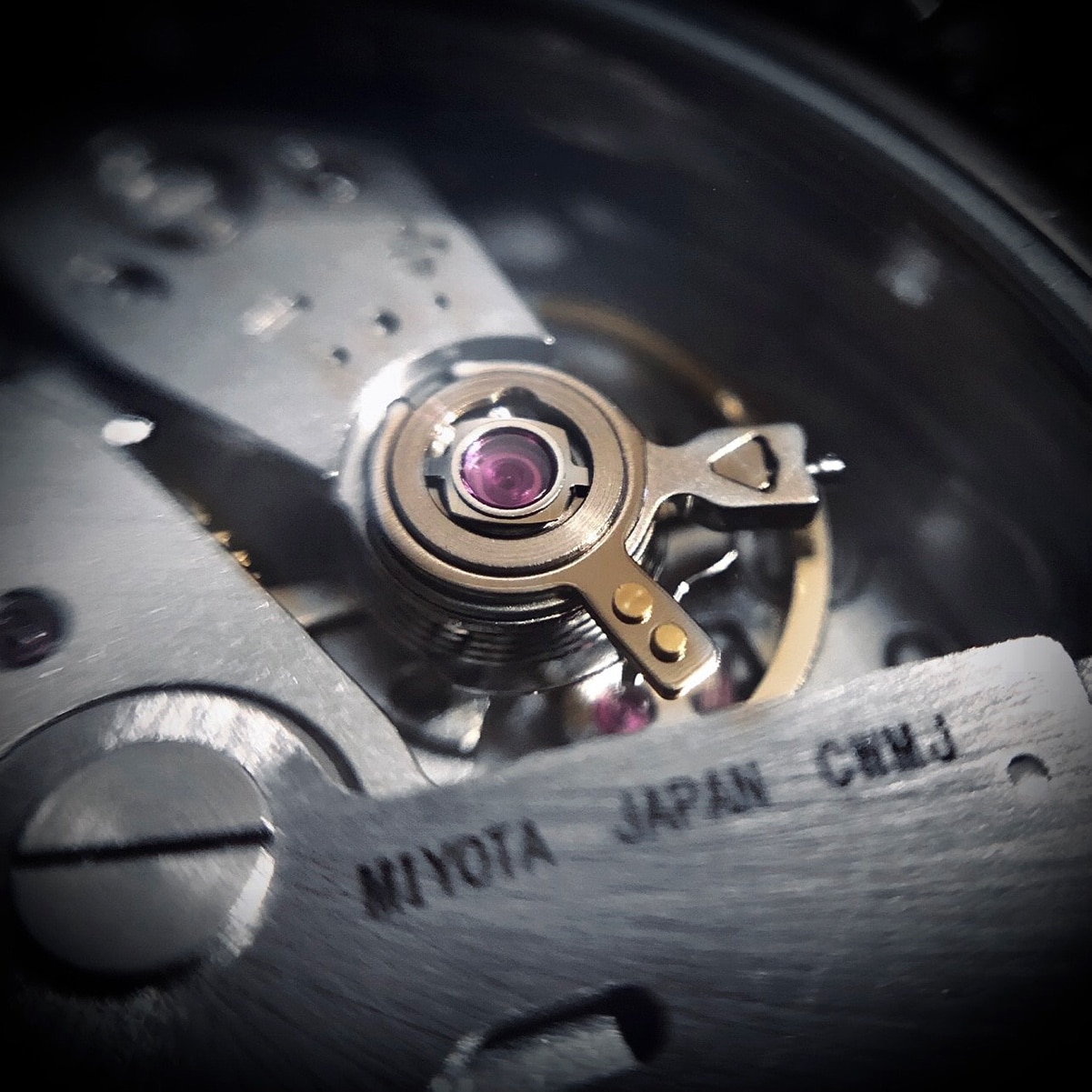 The power reserve lasts for about 42 hours. That's more than enough time for you to let it sit if you take it off when you work out, or if you have something to repair without worrying about it losing its tick.
Miyota, a brand based in Japan and owned by Citizen, has been making movements for nearly 40 years. Miyota also makes standard, multi-function and slim quartz automatic movements in standard or premium options.
The 821A is a standard automatic movement which is also used by brands like Avi-8, Invicta, Spinnaker and Laco. It has the Citizen Watch Company's proprietary anti shock system, called "parashock." Another useful function is the date window situated at 6 o'clock, which helps keep the watch symmetrical.
Through the exhibition case on the back, you can check the finishing of the movement. This is a relatively uncommon feature for a mass produced watch. If you like watches and mechanical movements, then you will enjoy seeing the gears and the wheels moving.
Pros and Cons
Like a coin, everything has two sides. Here are the pros and cons of the Sternglas Naos Automatik:
Pros
Not flashy
Great readability
Use of decent materials
Automatic movement
As you can see, it's a good watch overall.
Cons
Paper-thin leather strap
No hacking-function
Will not hold its value
No watch is without it's cons, but luckily the Naos Automatik doesn't have any major flaws.
Three Reasons to Buy a Sternglas Watch
On the Sternglas website they list 22 reasons to own their watches. I would like to highlight a few that I feel are the most relevant.
Readability
The simple white dial with black hands has a great contrast– you can read the time quickly in daylight.
Strap Change in 15 Seconds
It is possible thanks to the quick release system. The only things you have to attend is buying other straps with the same option.
A 2-year Guarantee
Omega, which costs ten times the price of Sternglas watches, offers a five year warranty. So I think that a two year warranty for a fashion watch is pretty reasonable. Hopefully, I'll only need to take it to a watchmaker for regular cleaning and servicing.
Final Thoughts
Impressing design connoisseurs, the Sternglas Naos Automatik recently won the international IF Design Award in Bauhaus style.
I understand why. Overall, the Naos Automatik is a beautiful watch made from quality materials.
Check out this article for recommendations for other automatic watches for small wrists!