Are you interested in the Citizen Eco-Drive BM8240-03E? Read on to see our full review with all of the details you need to know.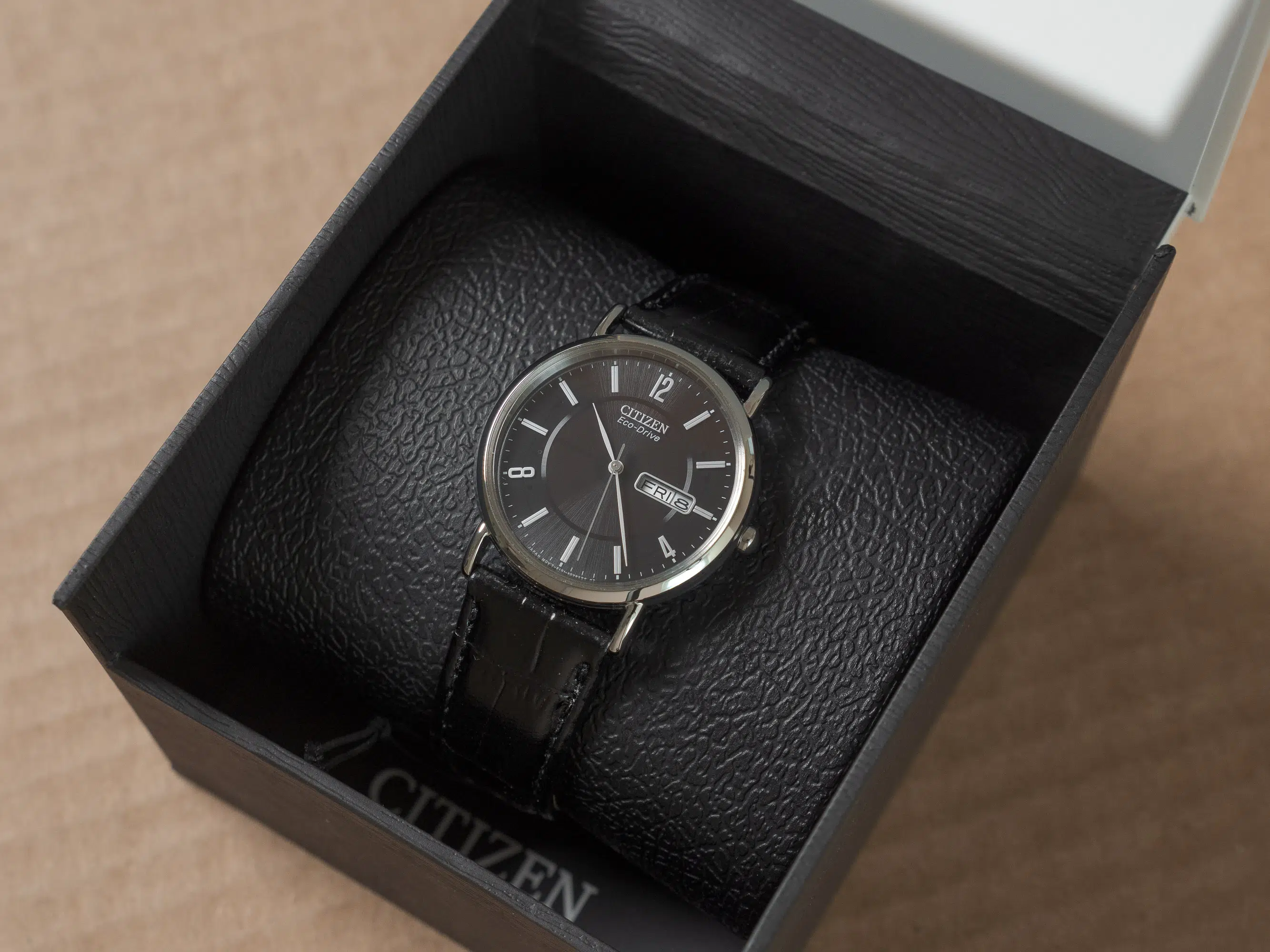 In the past few years, the entry-level dress watch market has become flooded with options, and many of them are very well known.
Among the Bambinos, Marlins, and, dare I say, SARBs is a lesser-known option that might be worth a look. In this Citizen Eco-Drive BM83240-03E Review, we'll dig into this sleeper watch.
If you're looking for a dressier watch at an affordable price point, Citizen's BM8240-03e might be worth a look. Keep reading to learn more about this watch's style, size, movement, and the value it brings.
Citizen Company History
Before you can evaluate a watch, it's helpful to know quite a bit about the company that produces it. We've covered Citizen's company history in-depth in other reviews, but a quick overview is always helpful.
Citizen is a Japanese watch company based in Nishitokyo, Tokyo, Japan. The company started as the Shokosha Watch Research Institute in 1918. Shokosha was originally a pocket watch maker until it developed a wristwatch known as The Citizen.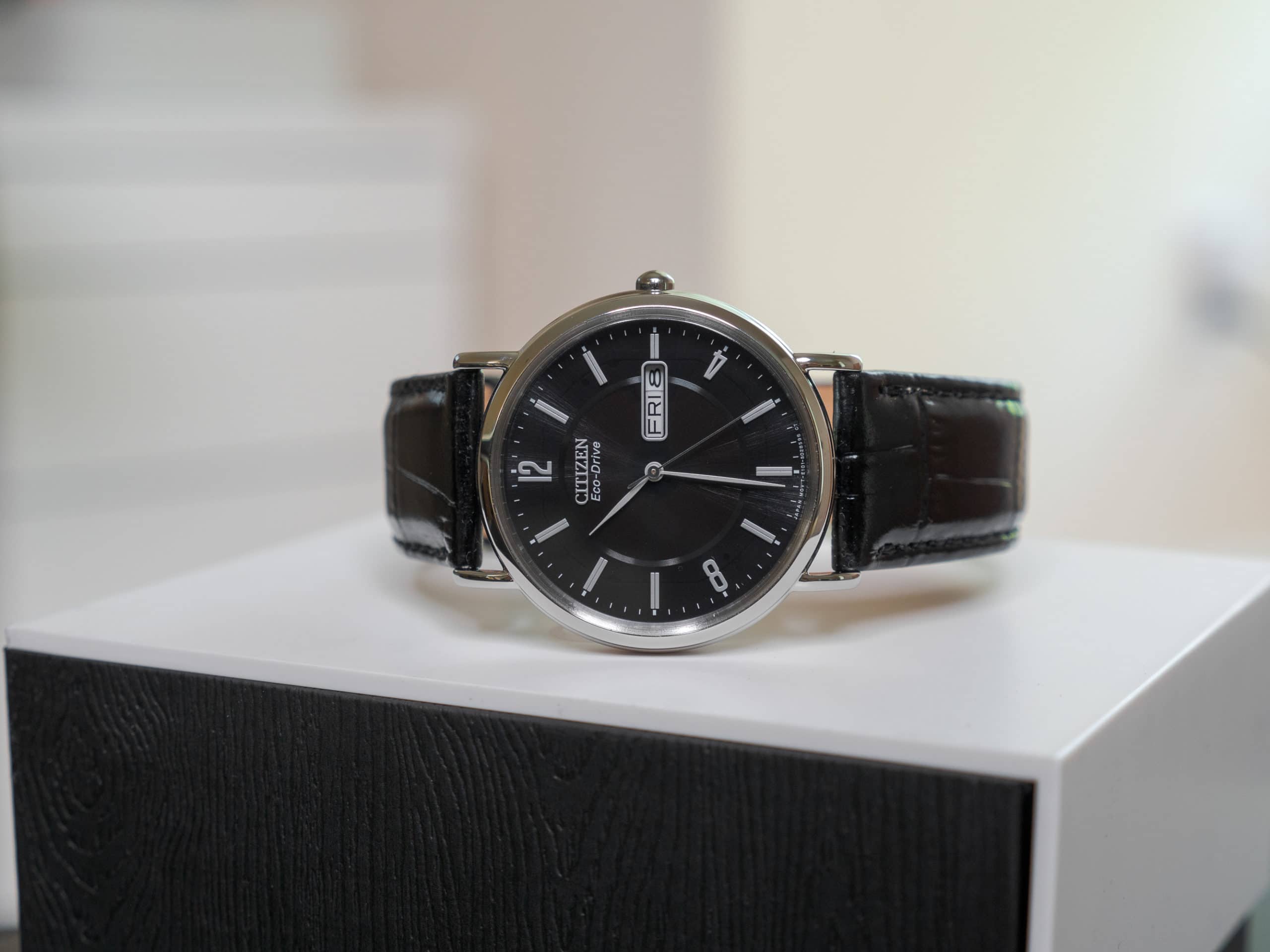 By 1930, Shokosha changed its name to Citizen Watch Co. By 1931, Citizen started producing mechanical watches in mass.
The next 40 years were full of growth and global expansion, but it was the 1970s that brought us the company we know today. In 1976, right in the middle of the Quartz Crisis, Citizen released its first light-powered timepiece, giving birth to Eco-Drive solar-powered watches.
Citizen continued to grow, banking on its Eco-Drive movement and innovation. It was in the 2000s and 2010s when Citizen began buying other well-known watch brands, such as Frederique Constant, Alpina, Bulova, and the Japanese movement company Miyota.
Eco-Drive Movements
Citizen's Eco-Drive movements aren't the only solar-powered watch movements on the planet, but they're certainly among the best.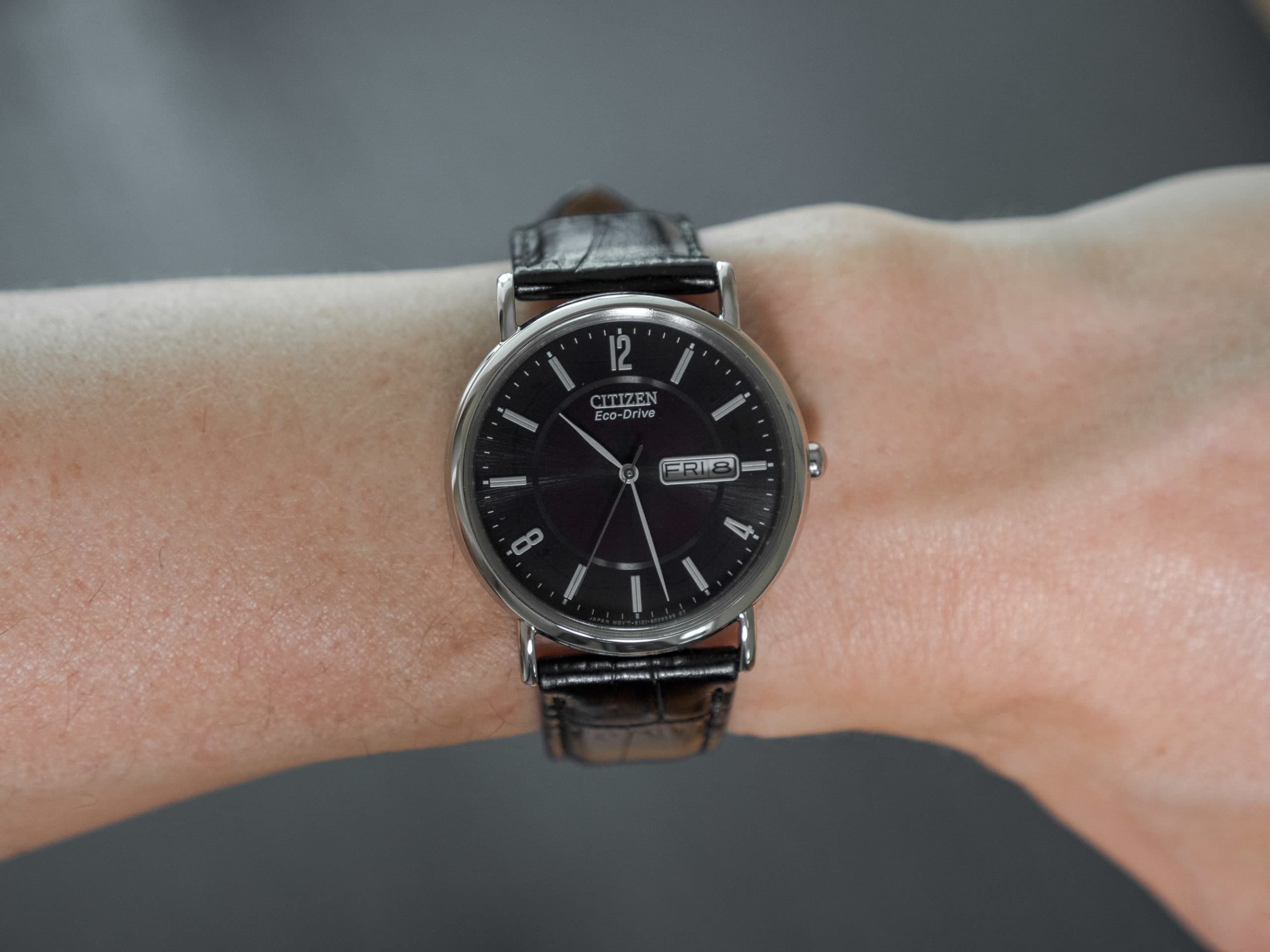 If you've ever had the opportunity to check out a watch powered by Eco-Drive, you probably noticed the dial looks a little different in certain areas. That area is where the photovoltaic cell lives behind the dial.
As light of any type (sun, artificial, or otherwise) hits that cell, the cell turns it into usable electricity. That electricity is stored in the battery, allowing most Eco-Drive-powered watches to run for months at a time in total darkness.
It's also worth noting that Eco-Drive movements are notably reliable.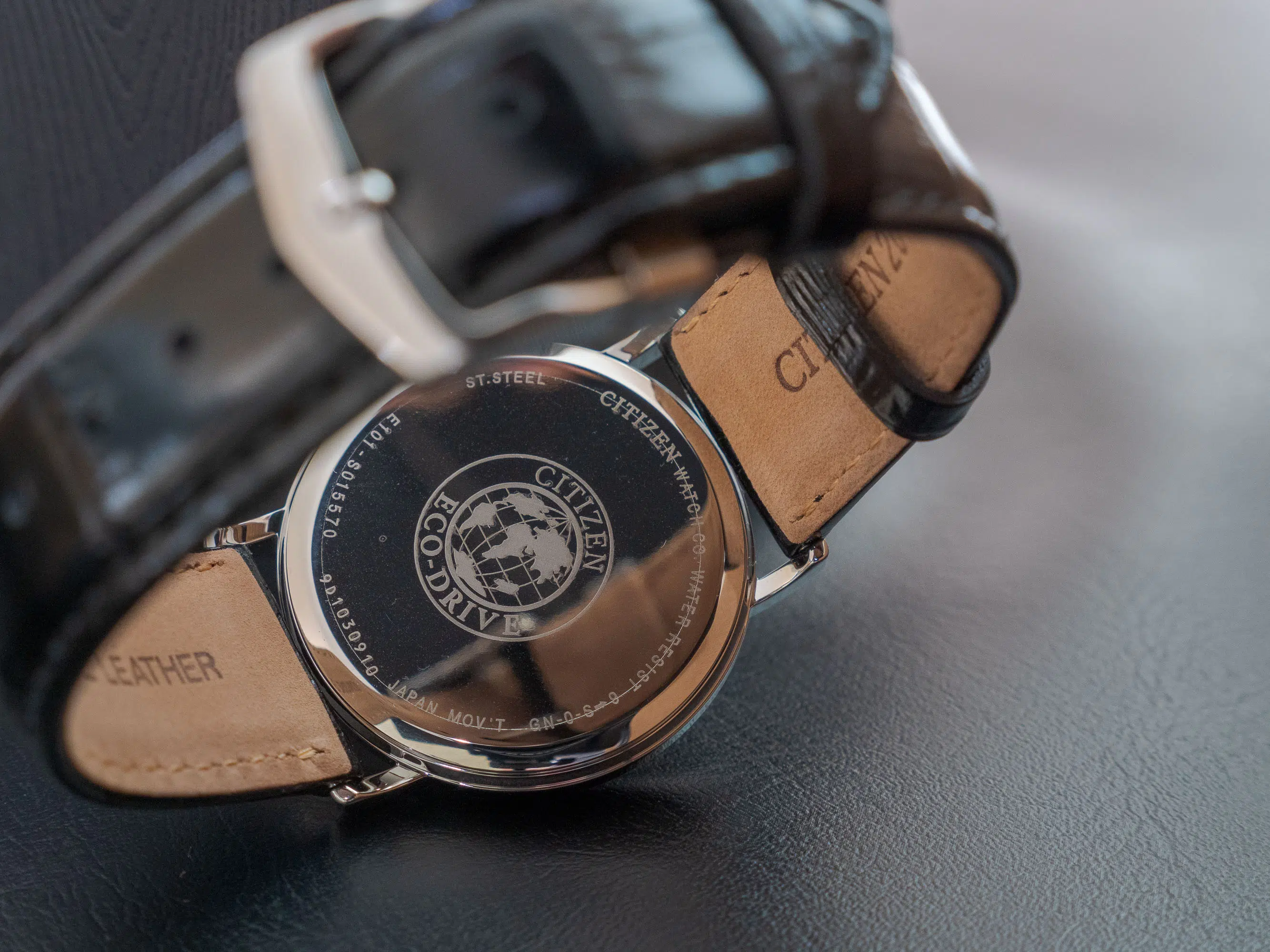 There is a common misconception about Eco-Drive movements, or simply solar-powered watches in general. Reading any number of reviews will yield countless articles that A) believe Eco-Drive watches don't have batteries, or B) say you'll never have to replace the battery.
Obviously, neither of which is true. Essentially, any solar-powered watch is just a quartz movement with a rechargeable battery and the addition of a photovoltaic cell. The battery will eventually die, and it's best to take it to a Citizen repair shop when it does.
Citizen Eco-Drive BM8240-03E Review
With that background on Citizen as a company, as well as the Eco-Drive-powered movements, it's time to take a good look at the BM8240-03E. We'll discuss the dimension, materials, and styling so you'll have a better idea of the type of quality and look this piece will provide.
Citizen Eco-Drive BM8240-03E Dimensions
The Citizen Eco-Drive BM8240-03E is definitely a modest-sized watch, which really does wonders for its dress watch'ish status. In a market full of massive watches, the BM8240-03E's case measures just 36 millimeters.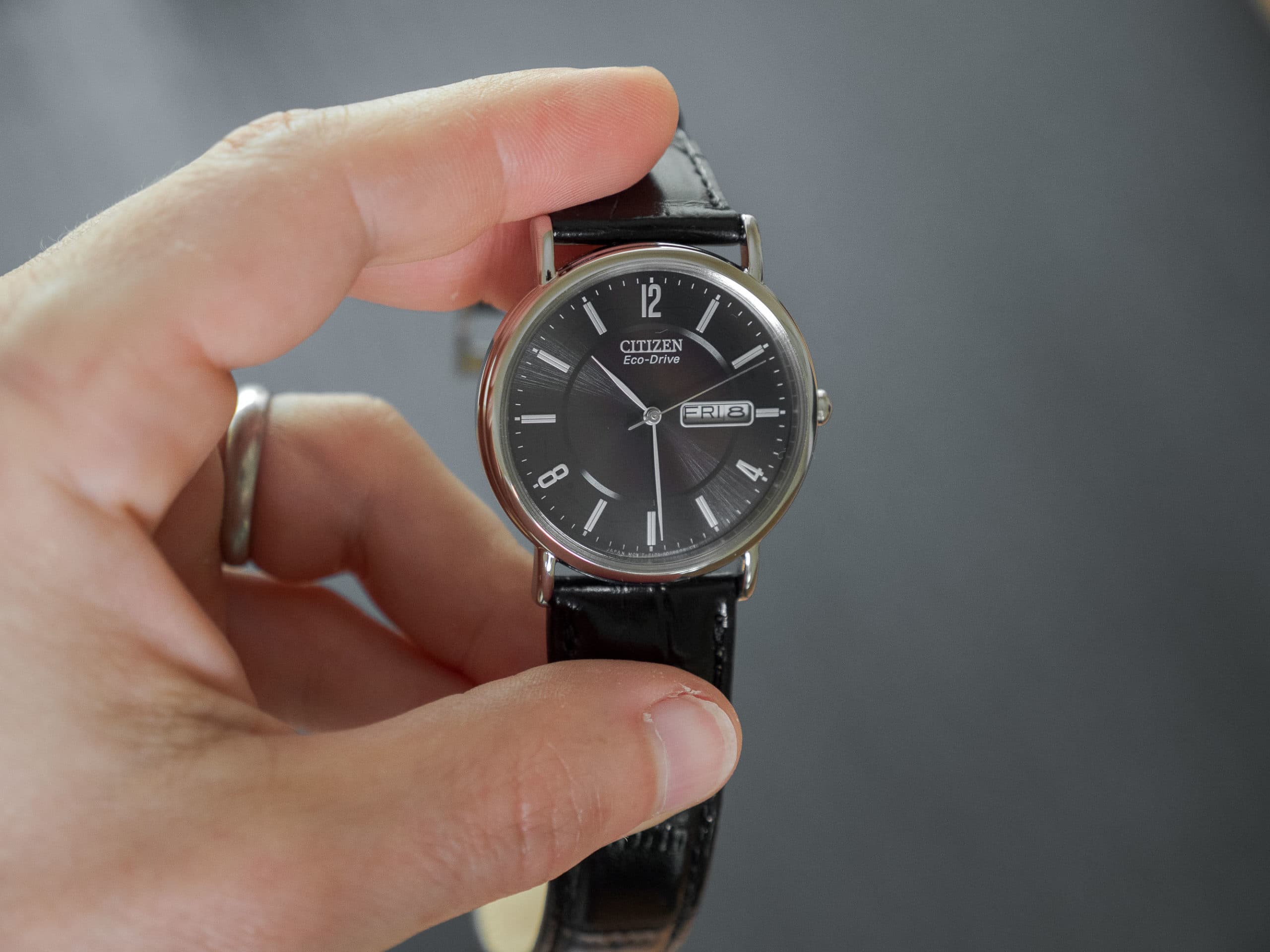 The lug width is 20 millimeters, making it a great candidate for a strap swap, should you desire. It also features 30 meters of water resistance, thanks to its non-threaded crown and snap-on case back.
Here's the special part about the BM8240-03E's dimensions: the case is only 8 millimeters thick. This is interesting for a few reasons, and we'll discuss that in a bit.
Citizen Eco-Drive BM8240-03E Materials
When it comes to entry-level dress watches, the materials Citizen uses to construct the BM8240-03E are on par with the other watches mentioned earlier in this article.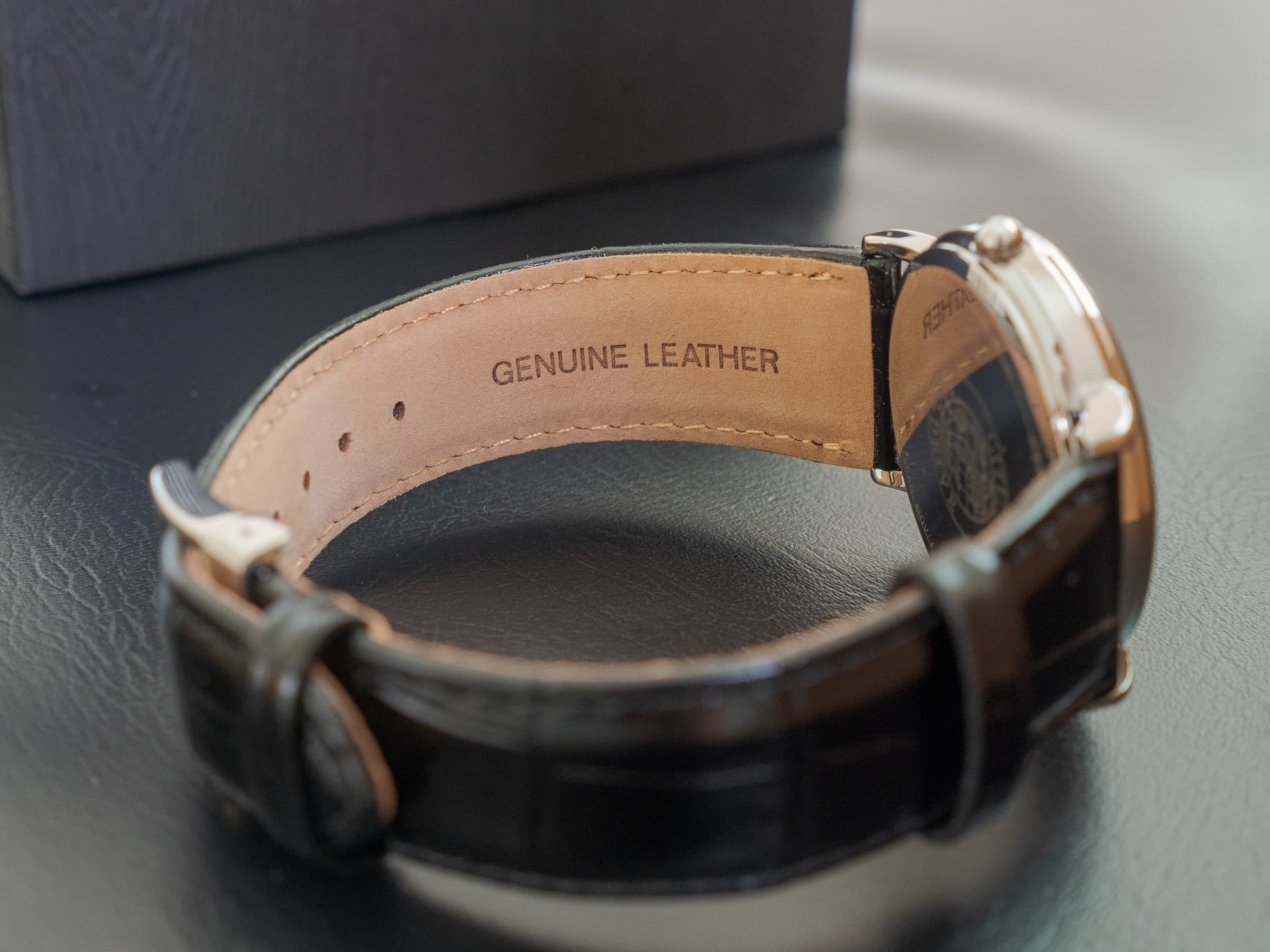 The case is polished stainless steel, as is the buckle on the strap. Speaking of the strap, it's a genuine leather model with a crocodile pattern. Finally, the crystal is a scratch-resistant mineral crystal, which gives it a vintage touch.
Citizen Eco-Drive BM8240-03E Styling
The BM8240-03E might look like a basic dress watch at first glance, but it has some interesting, attractive design cues worth mentioning.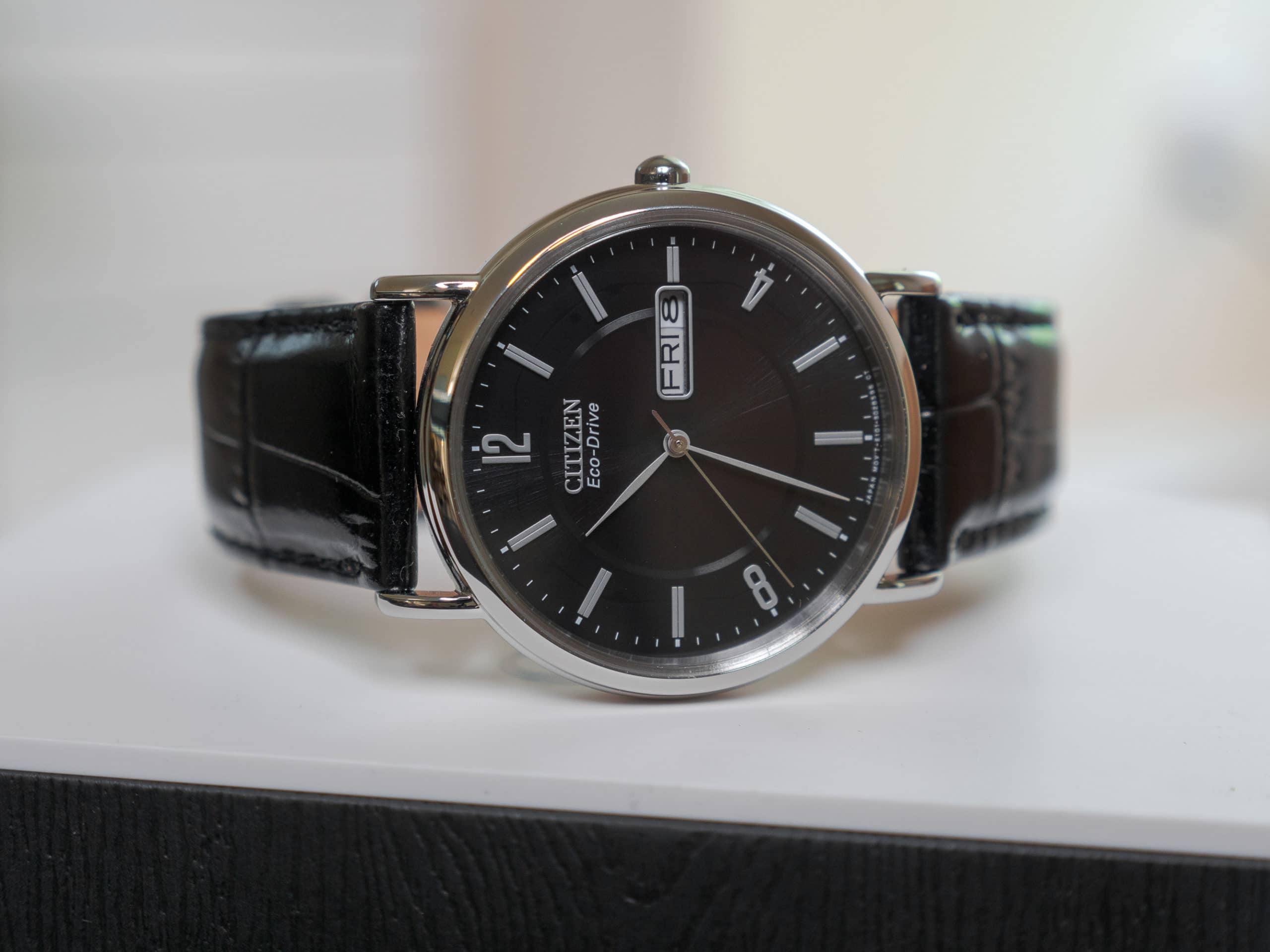 This piece has a black satin dial with a recessed center section, somehow giving this dial more depth than seems possible with an 8-millimeter-thick watch. It's in this center section where the photovoltaic cell lives, so it's not just for looks.
On this satin dial are polished indexes with a unique touch: the 4, 8, and 12 o'clock markers feature numerals. The numerals are small and thin enough to blend nicely with the stick indexes, lending well to the dress watch look.
There's a day-date window at the 3 o'clock position and a somewhat strangely small, simple crown right next to it. The dial is free of any lume, so low-light time checks will have to be reserved for your phone.
Citizen Eco-Drive BM8240-03E Pros and Cons
One of the best ways to assess a watch is to go over its pros and cons. The following are some of the best and worst features or characteristics of the BM8240-03E.
Pro: Unique Dial Design
When it comes to dress watches, you're typically stuck with stick indexes, and maybe a bit of sunburst. Everything else is too flashy or busy. But that's not the case with the BM8240-03E.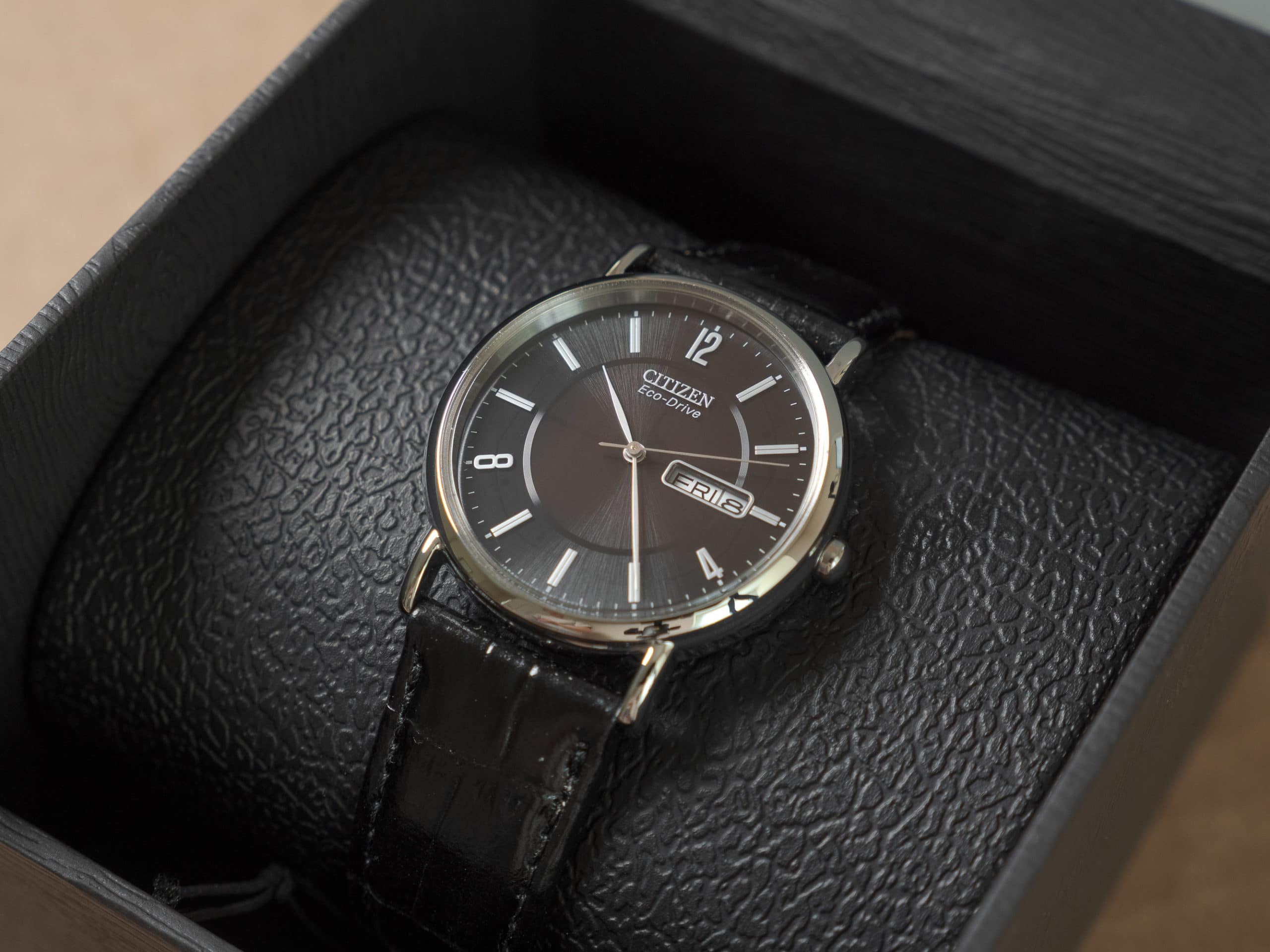 Between the stepped dial design and the numerals at the 4, 8, and 12 o'clock position, the BM8240-03E's dial is pretty unique.
The fact that the numerals are so thin at those hour markers allows them to blend right in with the indexes, and that's a touch of which it's worth taking note. The added touch of sunburst just adds a nice flair.
Con: Boring, Small Crown
Since we're being so honest, it's important to point out that crown. It's really the worst part of this piece.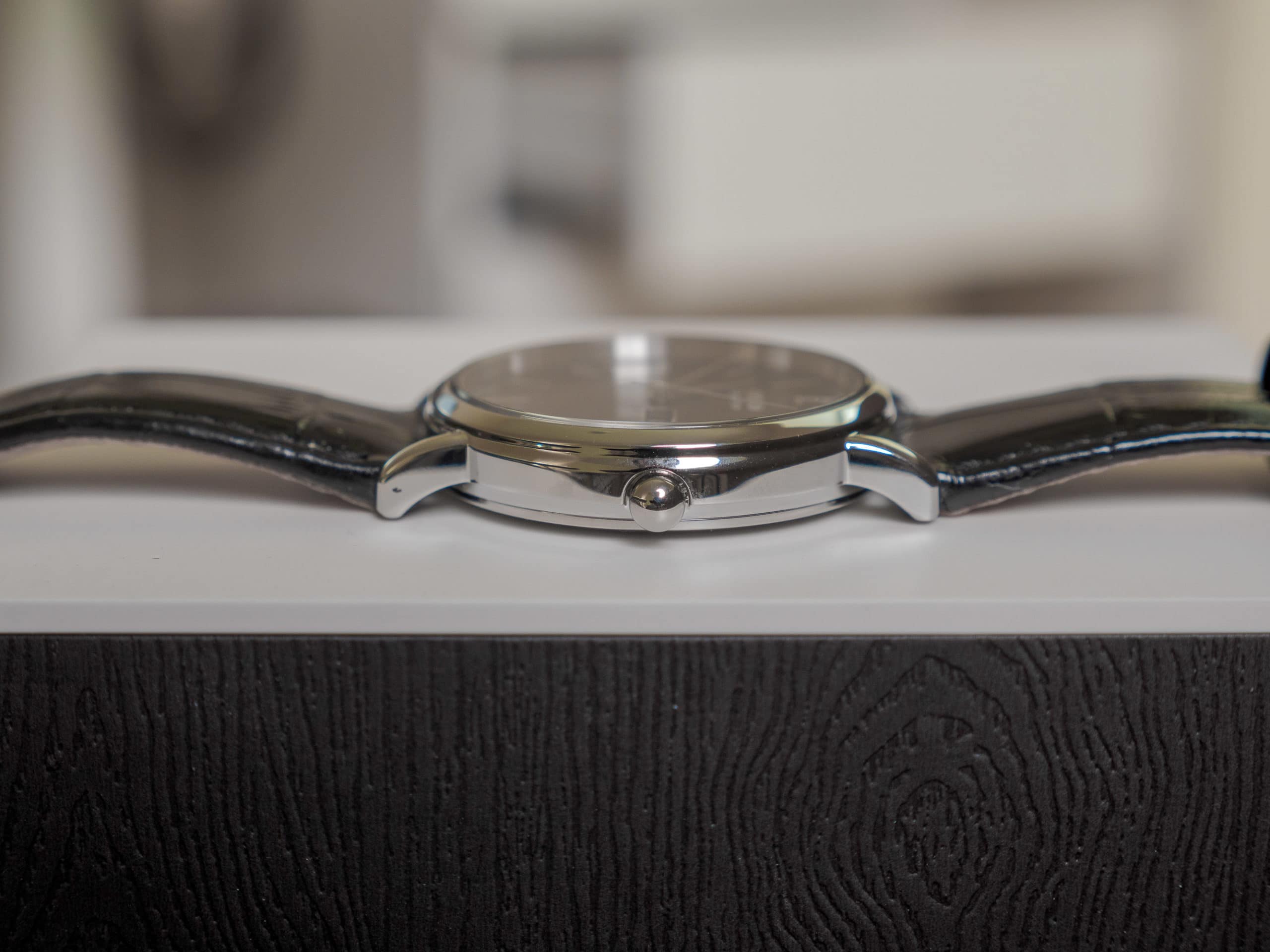 The BM8240-03E's crown is tiny, which is typically okay on a dress watch, but it's also free of any design, texture, or flair. It's just a round, perfectly smooth dome, and it's incredibly boring.
Citizen could literally do anything and it would be a major improvement. While it's not like you'll have to wind this piece like you would a mechanical watch, it's still a missed opportunity for design and style.
Pro: 20-Millimeter Strap Width
Citizen designed the BM8240-03E with a 20-millimeter strap width, and that will make most watch enthusiasts jump for joy. Even though most watches with 36-millimeter cases feature larger than 18 millimeters, this one bucks the trend.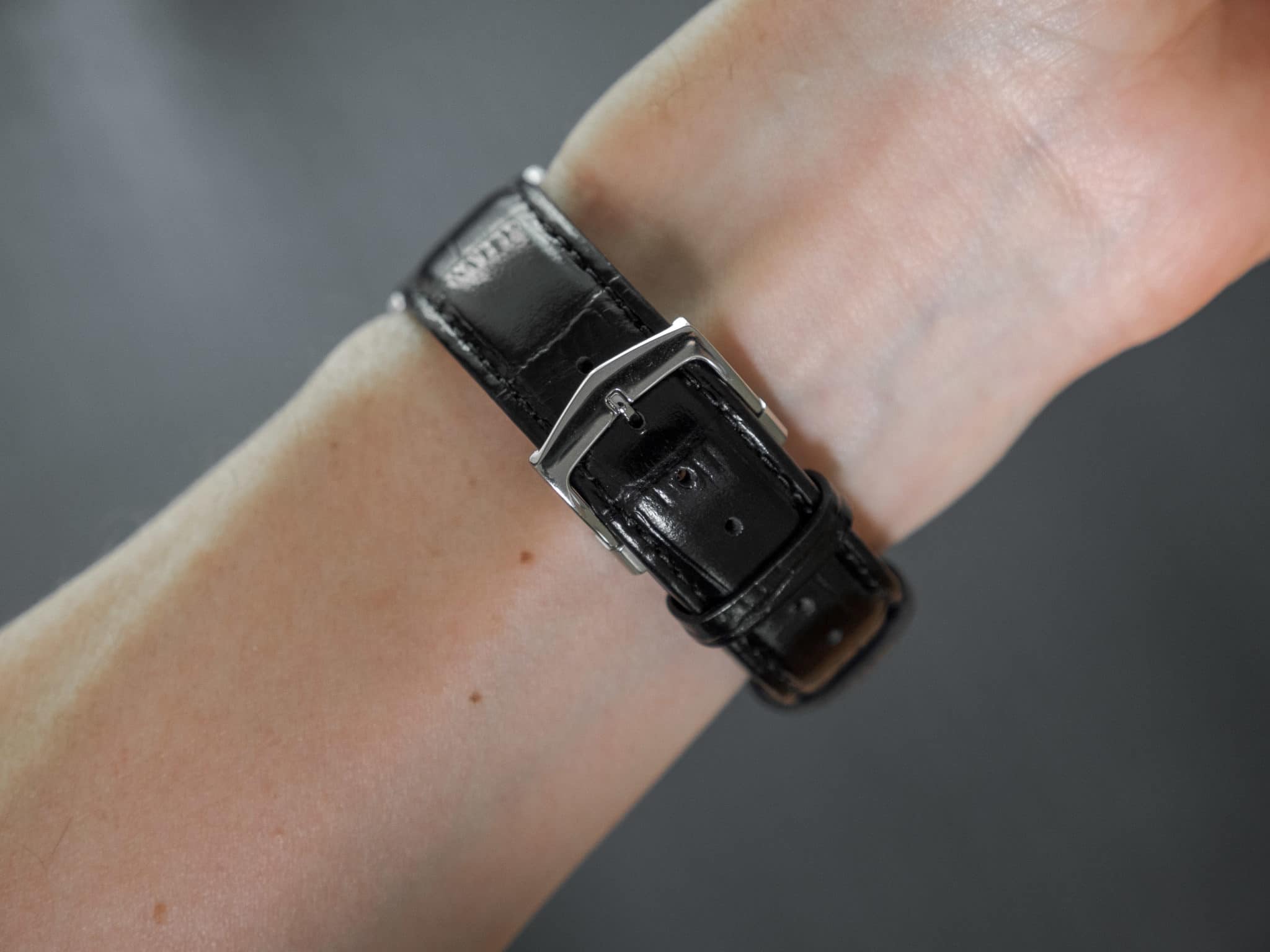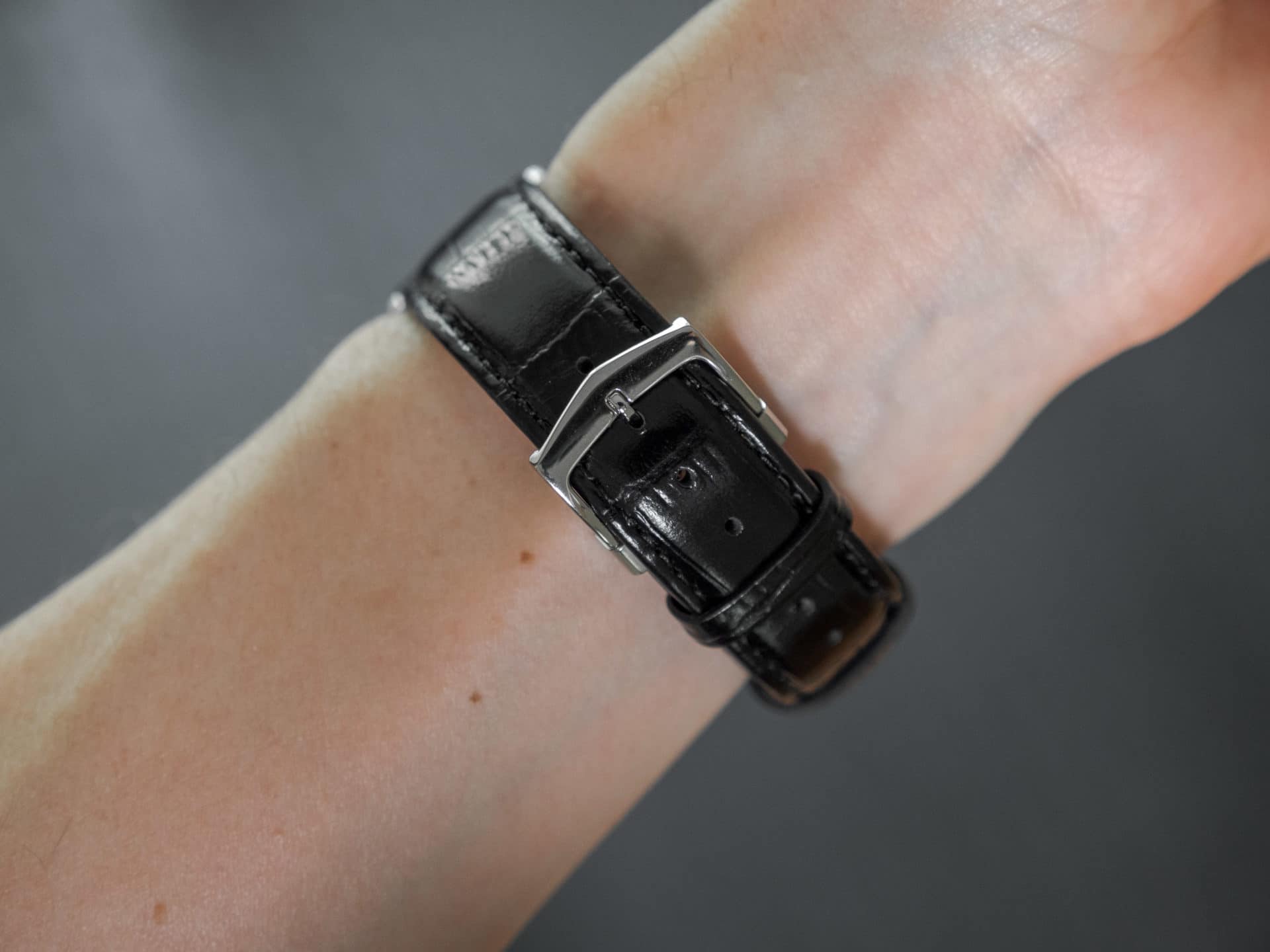 The strap that it comes with isn't terrible, but you'll probably want to upgrade it at some point. With a 20-millimeter lug width, the choices are near limitless.
Con: The Day-Date Window
The BM8240-03E's dial is great, but it could be awesome if Citizen cleaned it up a bit. Traditional dress watches don't usually feature the date, but they almost never feature the day. The fact that this piece does is actually a little distracting.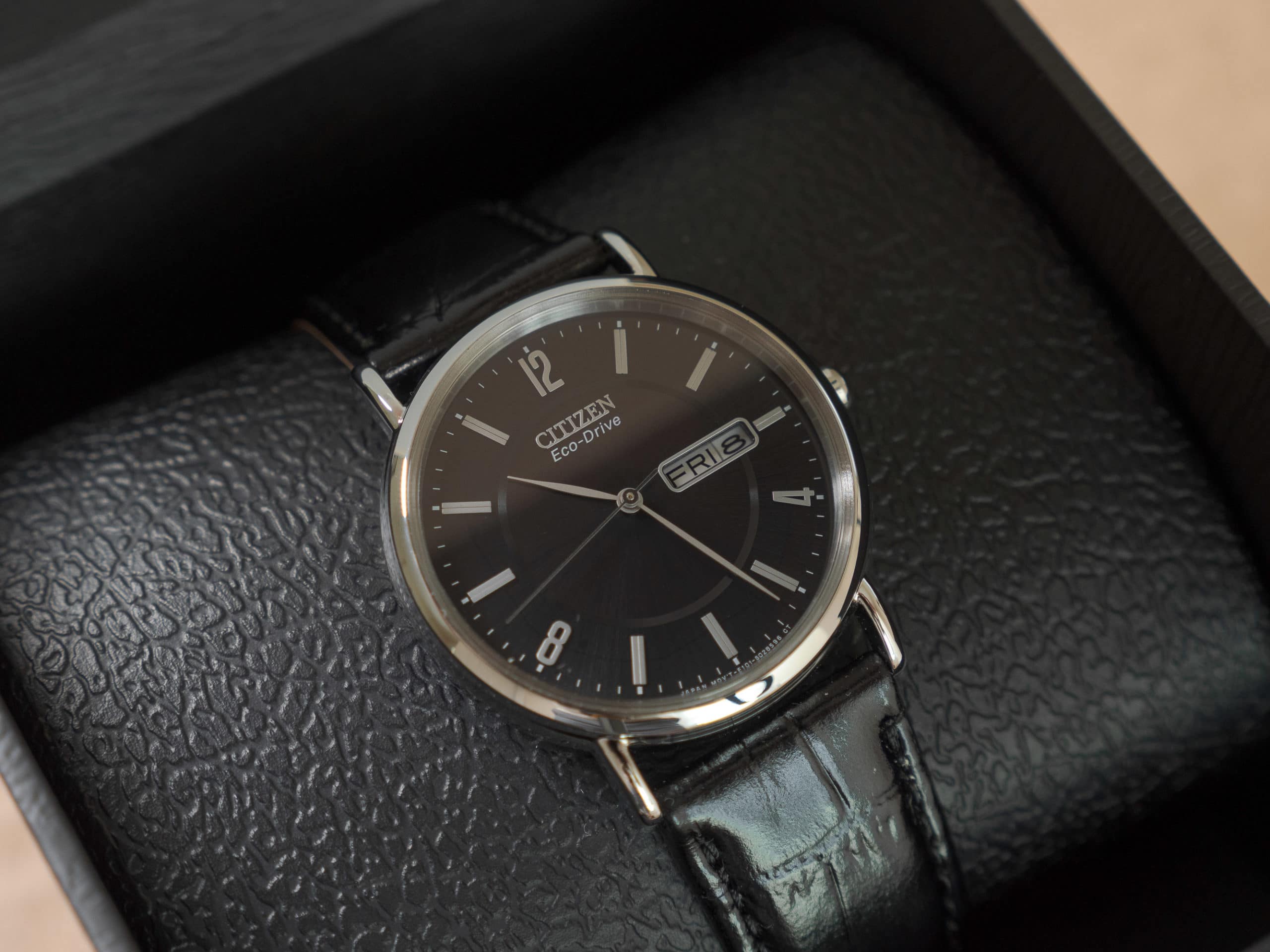 And, the day and date wheel are both white. That doesn't help at all.
Pro: Super Thin Design
I touched on it earlier, but the fact that this watch is only 8 millimeters thick is really pretty remarkable. Most manufacturers don't even come close to that with their quartz watches. When you consider that this one also has a photovoltaic cell inside, it's even more special.
Pro: It's Something Different
Most guys wearing affordable dress watches are wearing Marlins, Bambinos, or cheap department store junk. The fact that this is a quality watch and isn't one of those quality watches is something worth noting.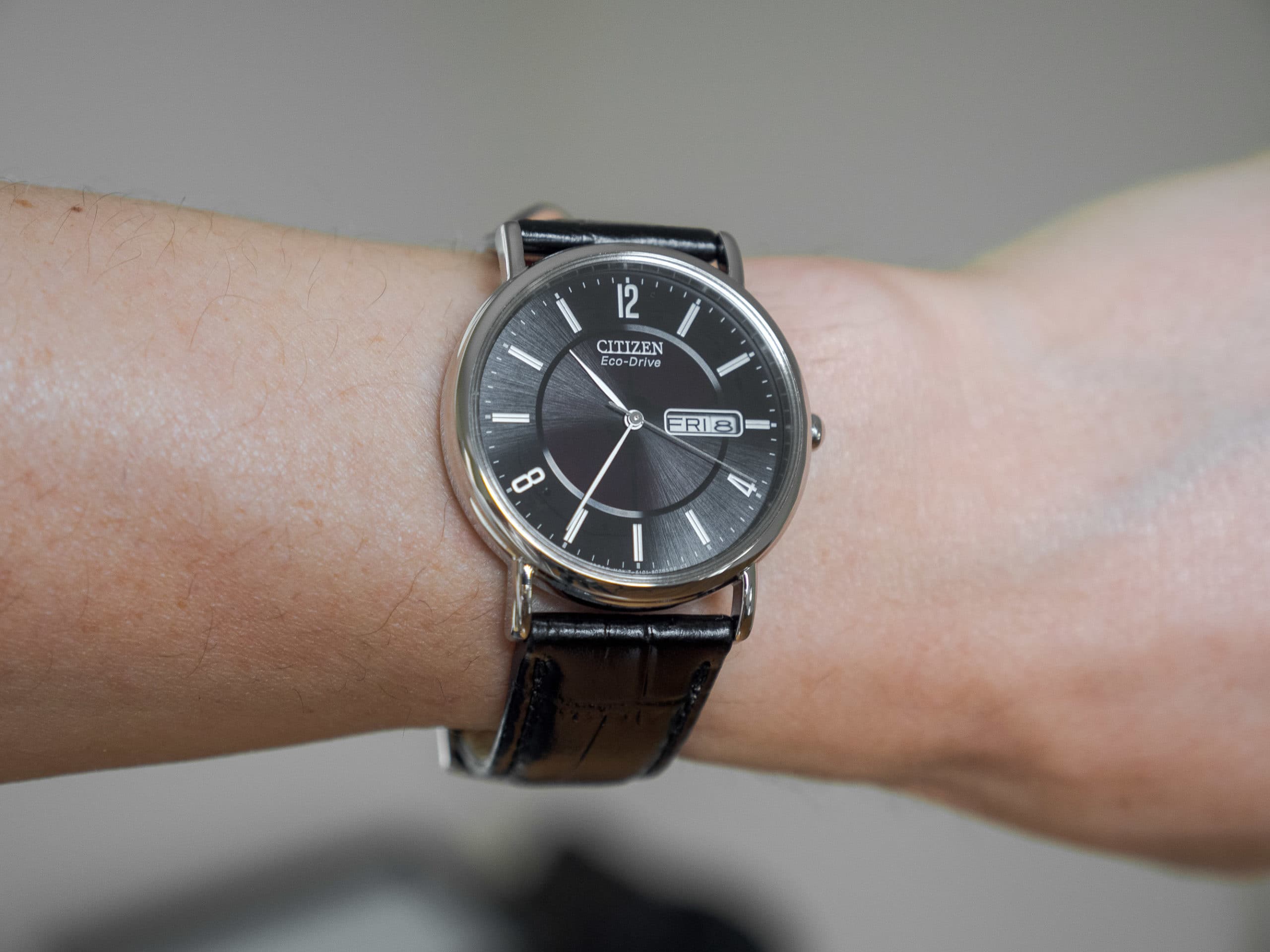 Is it better than a Bambino or Marlin? Probably not, but it's lower maintenance than both, and it's likely to last longer, so it's definitely a worthy alternative.
Pro: Price Point
It's unfair to go this far into the Citizen Eco-Drive BM8240-03E without addressing its price. At right around $150, there's a lot of value to be had.
If you shop around, you can even find these pieces through gray market sellers for less than half that price. Sure, it won't come with a warranty, but these Eco-Drive pieces are very reliable.
Final Thoughts
As far as affordable dress watches go, the BM8420-03E has plenty going for it. It has some unique styling, a bulletproof movement, a strap size that's easy to work with, and an affordable price point — all great things to look for in any type of watch.
The Citizen Eco-Drive BM8420-03E is undoubtedly worth a look for any guy who wants a reliable dress watch that he can store away for a few months without worrying about it.
It's also a great alternative to some of the more popular models seen under the cuffs of dress shirts and jackets at most functions and events.
Is this the best affordable dress watch? Probably not. There are other watches that tick all the boxes, and they have better-looking crowns. Is it a good affordable dress watch? It absolutely is. It has style, value, and dependability, making it an excellent choice for an affordable dress watch.