Have you ever wondered how a solar-powered watch works? This article sheds some light on the topic.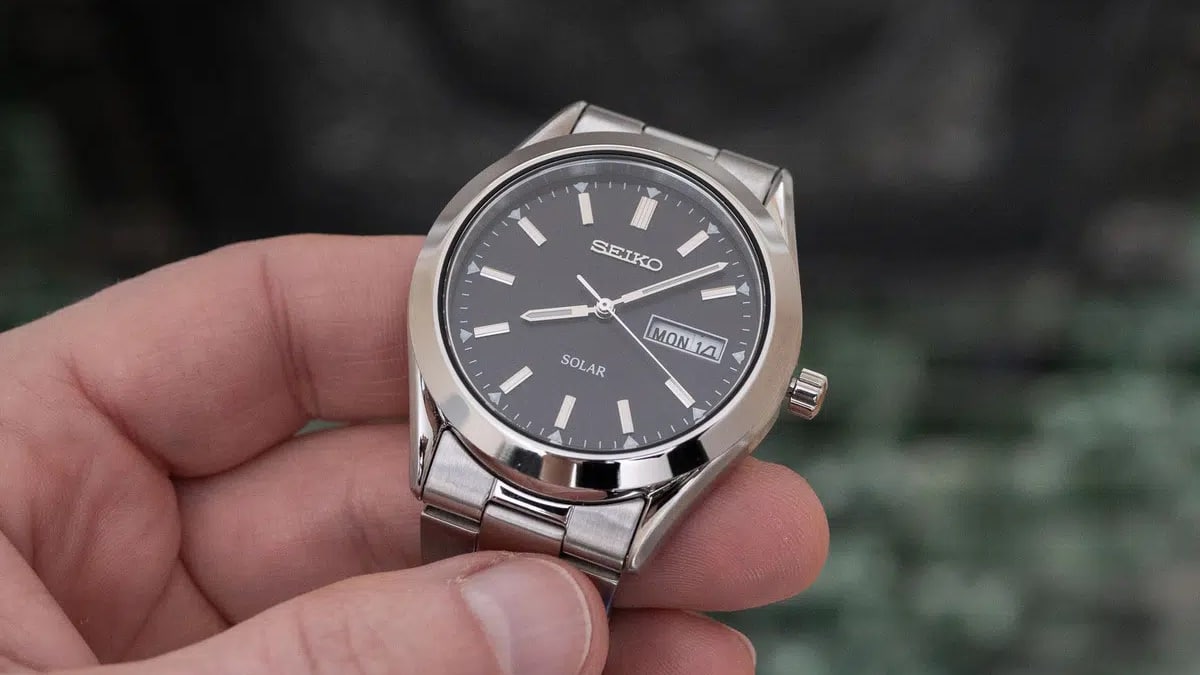 So, you've tried insulating your home and implementing your house with energy-saving light bulbs. You've followed every rule when recycling your trash: took the stairs instead of the elevator, even. But it doesn't feel enough.
There's something else you could be doing to help the planet, and it doesn't involve rinsing dirty cartons out.
You could wear a solar-powered watch. But wait – you don't know how one works, right? That's what I'm here for.
This short article aims to provide you with all the knowledge you need before you buy your first solar-powered watch.
It might not be the first thing that springs to mind when you think about changes you could make live more green. Solar-powered watches help you cut back your carbon footprint since it won't require a battery replacement for at least 30 years.
What's more, solar-powered watches also require very little maintenance.
With such a good life expectancy and even better accuracy than a quartz movement, it's clear to see why the solar-powered watch is the preferred choice amongst many watch enthusiasts.
(Below: Maserati Successo Solar Chronograph watch reference R8873645002)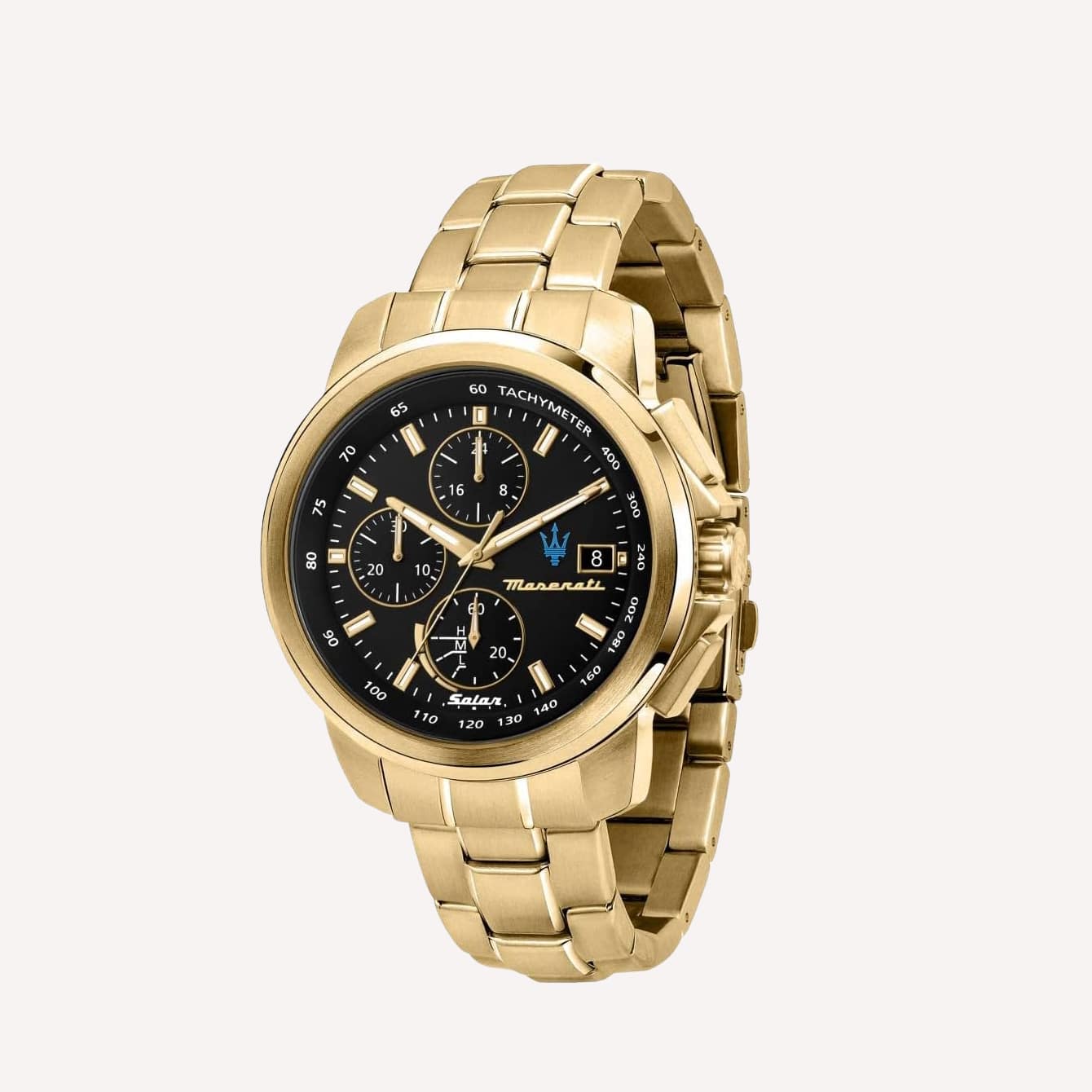 But are they for you?
How Do Solar-Powered Watches Work?
Put very simply, solar-powered watches work by converting the energy provided by light into electronic energy.
Watches can do this by a specially designed photovoltaic system, as used in traditional solar-panel energy systems.
Beneath a semi-transparent dial of a watch (or sometimes on top of the dial) is a solar cell, and when light hits this, it induces an electrical current.
This electrical current stimulates "free electrons" (now your science lessons from school come flooding back, right?).
This electrical energy is passed to a battery inside the watch, where it is then stored. The power is then slowly released from the battery to power the watch, and voila! Light-powered timekeeping!
If you're researching solar-powered watches and you see the word "quartz" in the name, this refers to the fact that the rest of the movement acts in the same way as a traditional quartz crystal. It keeps accurate time and beats at a rate of 1 tick per second.
Solar-powered batteries do not regularly need to be disposed of. Instead, they last for years and years thanks to their rechargeable lithium-ion cells.
Masters in Solar-Powered Watch Technology
Two main industry leaders that shouldn't go without mention when discussing the topic of solar-powered watches are Seiko and Citizen.
Seiko launched its first solar-powered watch back in 1977. Over the years, the Japanese brand has reached some incredible technical achievements, including the Spring Drive and its Kinetic-powered watches.
Eliminating the pesky battery changes made the solar-powered watch an instant success, however. As such, the brand now offers an array of different models, from innovative designs like the Astron GPS Solar.
Seiko offers a wide range of complications to choose from, to the more affordable and simple, crafted with a mineral glass top.
Some versions are crafted from titanium as a lightweight alternative to steel. Other more advanced Seiko solar watches have a power reserve that will run for six months or more.
(Below: Seiko Prospex PADI Compact Solar Scuba Diver watch reference SNE575P1)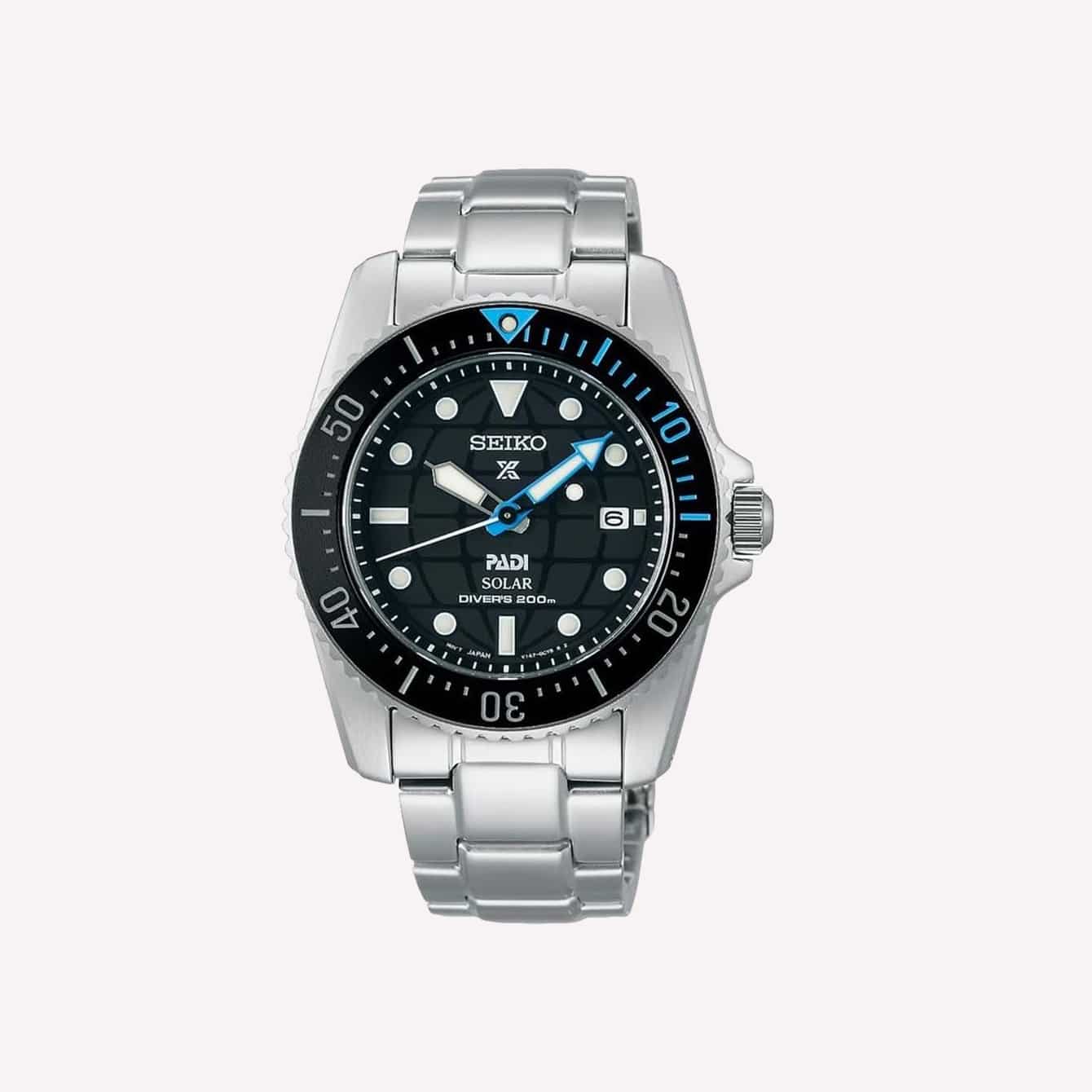 On the other hand, Citizen's Eco-Drive technology is also very impressive.
The Japanese brand began to explore sunlight-operated devices in the wake of the quartz crisis. Citizen wanted to get past some of the less desirable attributes of the quartz battery (its short life cycle and poor recycling process).
The brand launched the innovative Citizen Quartz Crystron Solar Cell watch in 1976, a year before Seiko launched its solar model.
By the basic principle of converting light to energy by storing it in a power cell, engineers at the company continue to improve the technology.
Now, even the smallest amount of light can be captured to provide a power reserve in a Citizen watch that lasts many months, even years.
The Beginnings of the Solar-Powered Watch
Solar-powered watches have become a favorable option for people wanting to lessen their impact on the environment. Over the years, technology has improved so vastly that timepieces can now extract energy from artificial light sources as well as natural light.
The first ever solar watch was developed in 1972 by an inventor named Roger Riehl. He created his prototype just two years before release.
It was named the Synchronar, and had an unmistakable futuristic design for its time.
As such, it was termed the "Space Age Design".
It had a time-telling display on the side of the case to make room for the two banks of solar cells displayed at the top of the watch.
As one of the longest production lifespans in watchmaking history, the Synchronar only ceased production in 2007.
(Below: Citizen Crystron 1976)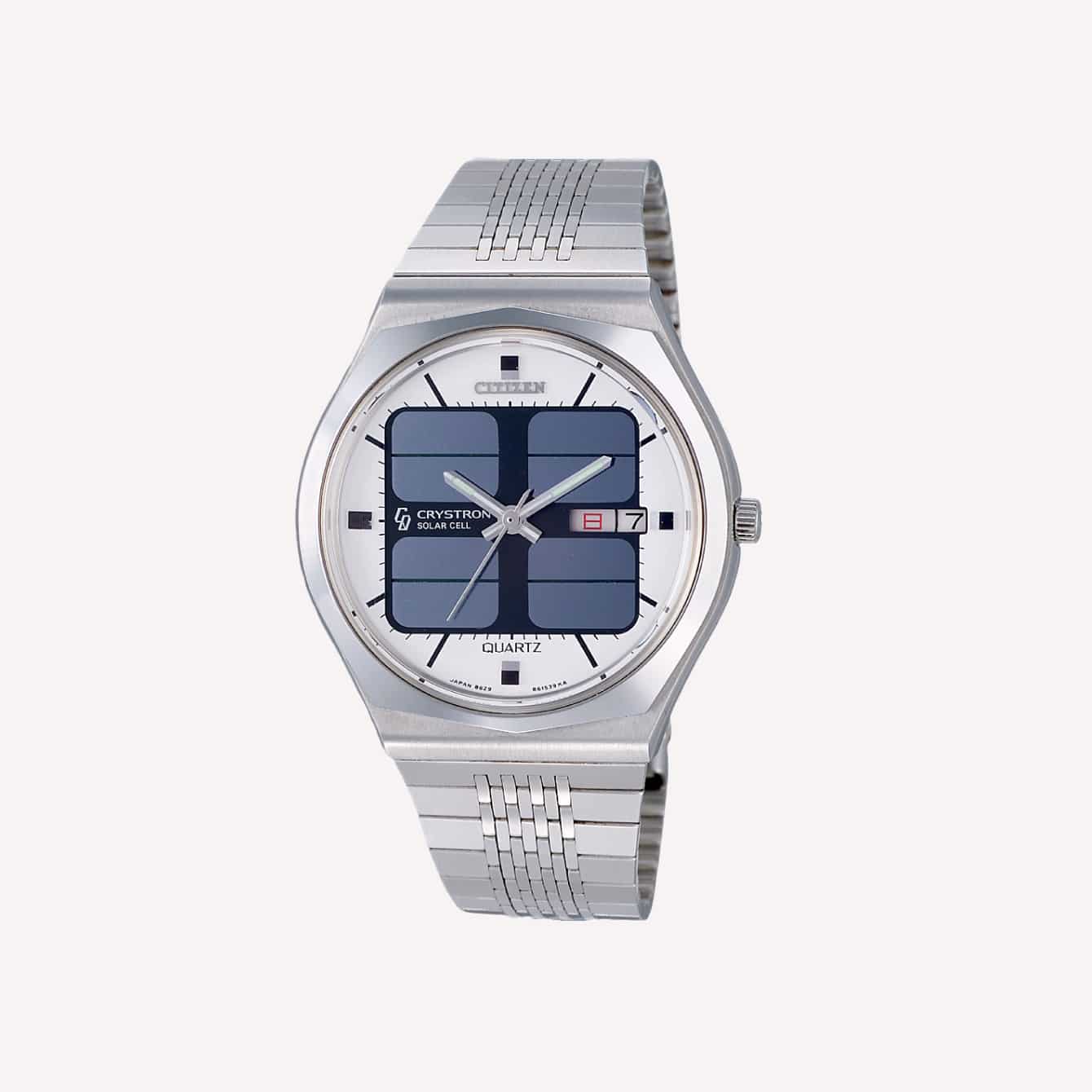 The next solar-powered innovation was the Citizen Crystron, which arrived in 1976. It had an analog display that offered a more classic design (it was the first solar watch to do so).
At the time, it was also one of the most expensive watches in the brand's catalog.
(Below: Bering Solar Brushed Black watch reference 15239-727)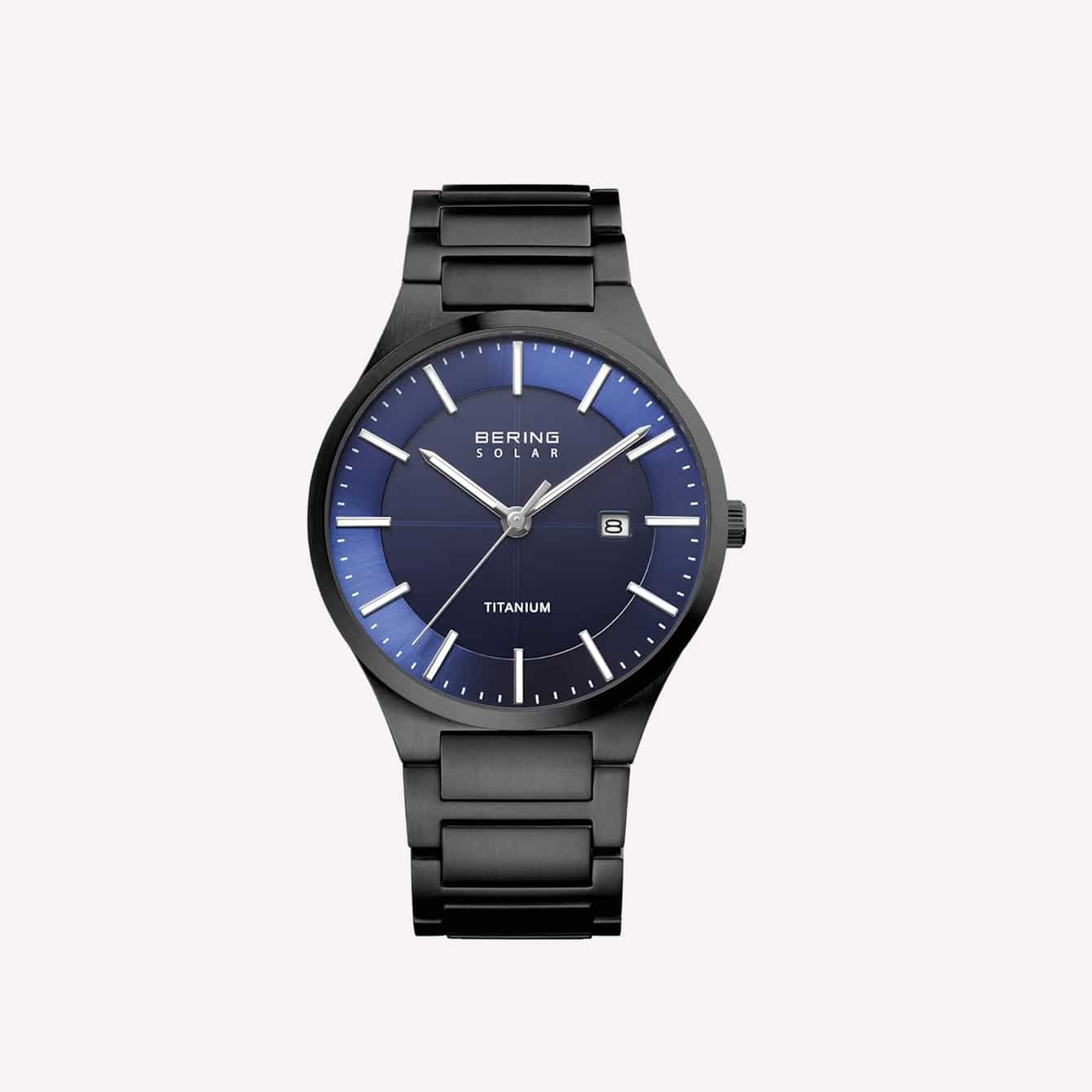 The design would mark the start of 20th-century solar-powered watchmaking technology and the foundation of the brand's revolutionary Eco-Drive series.
FAQS
Here are answers to common questions about solar watches:
How long do solar watches last?
Although solar-powered watches, like any battery, need to be replaced eventually, a timepiece can last as long as ten years right up to 35 years.
It all depends on the manufacturer and the technology incorporated into the model.
Are solar-powered watches any good?
Continually charging whenever they are exposed to light, solar-powered watches are among the most reliable and accurate timepieces you can find on the market.
Energy stored in a lithium-ion battery inside the watch enables the timepiece to run even in the dark.
How often do you have to charge a solar watch?
Understandably, watches exposed to dim artificial light will take longer to charge compared to natural light exposure.
The time it takes to charge a solar-powered watch all depends on the watch and the manufacturer.
State-of-the-art Citizen Eco-Drive watches and high-end solar-powered Seiko watches, for example, take just minutes to charge.
Solar Watches: Cool, But Not For Everyone
Since the first solar-powered watch was released back in the 1970s, technology has improved dramatically.
More watches are offering the benefits of solar-powered technology alongside complications like the perpetual calendar and chronograph.
Today you can experience the accuracy and reliability of a quartz movement without the hassle of periodic battery changes.
Although not the preferred choice for everyone, particularly hardcore fans of manual-winding and automatic watches, they certainly help the environment. Plus, they look just as stylish as any conventional quartz watch or mechanical watch.
For more information on seasonal trends and the latest watch releases, join our community of wristwatch enthusiasts and subscribe to our newsletter at The Slender Wrist today.