In this review, we'll take a look at the Seiko SNE039. Read on to learn everything you need to know about this affordable solar-powered watch.
If you're looking for a solar-powered watch that isn't a Citizen, some options from Seiko have probably crossed your screen.
While the brand isn't as solar-oriented as the competition, Seiko does have plenty of attractive options at affordable price points. In this Seiko SNE039 Solar review, we'll take a look at just one of those options, compare its pros and cons, and determine whether or not it's worth adding to your collection.
Along with the ins and outs of this particular piece, we'll discuss how solar watches work and dispel some of the myths about this power source as it applies to timekeeping.
SNE039 Solar Review: How Solar Works
There are lots of misconceptions about solar-powered watches, and it might make sense to dispel them first before jumping into exactly how they work.
Do Solar Watches Have Batteries?
First, solar watches do have batteries. A lot of people believe that solar watches run on solely light from the sun (or any light source, in some cases), but that's not actually the case. They turn that light into traditional electricity and charge the battery.
Will a Solar Watch's Battery Last Forever?
Second, solar watch batteries don't last forever. Some people choose solar watches because they think they'll never need a battery. This isn't the truth. Eventually, the batteries in solar watches will weaken, stop charging, and need to be replaced.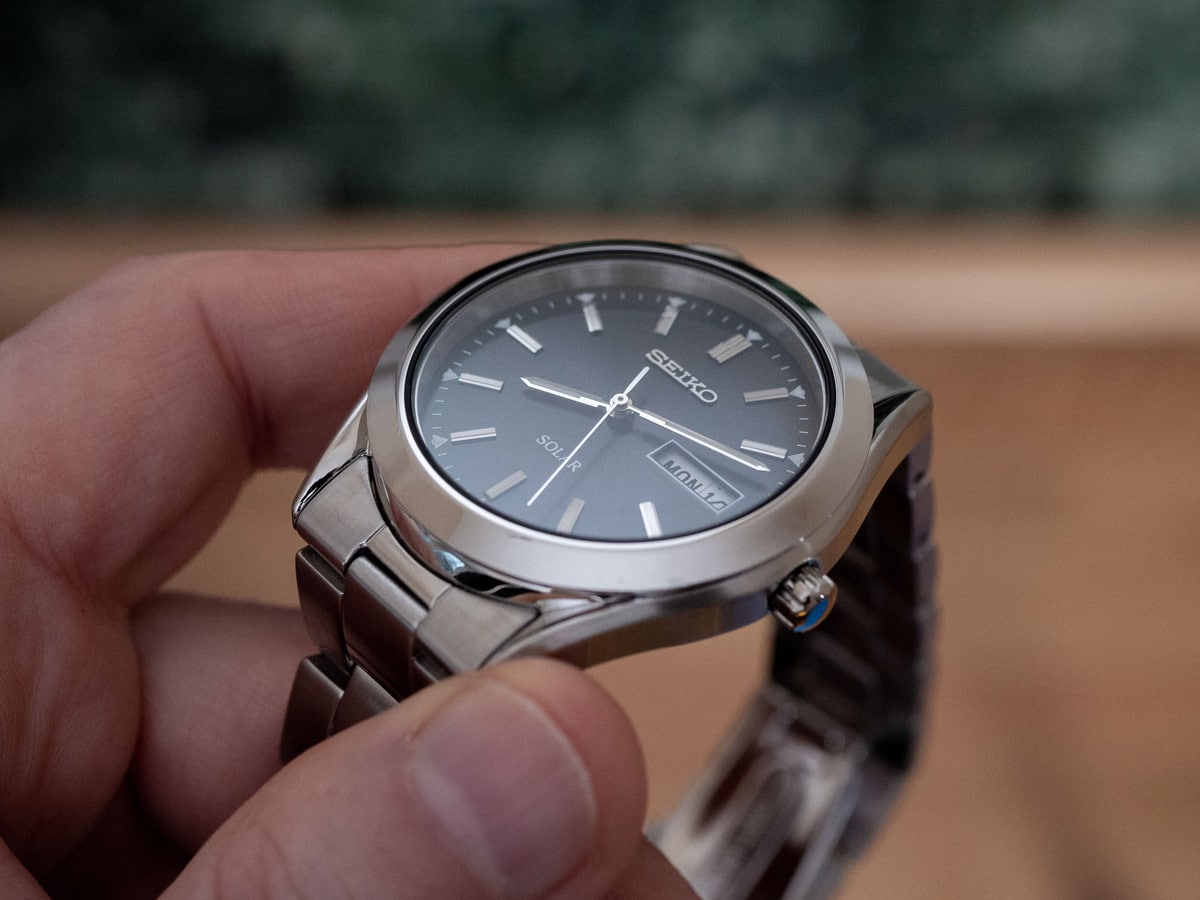 While these batteries do last longer than standard batteries (10 to 20 years, in some cases), they absolutely will need replacing at some point in the future.
How Do Solar Watches Work?
The Seiko SNE039 is a solar watch, so before we review it, it's helpful to understand exactly how solar watches work.
Solar watches absorb light energy from the sun and artificial light sources like office lights, lamps, and other sources and turn it into electricity. The light is absorbed through a photovoltaic cell hidden behind the dial.
The cell takes that light, transforms it into electricity, and then charges a quartz battery stored within the watch.
This quartz battery is just slightly different from a standard quartz battery, which allows it to be charged (a standard quartz battery cannot). But the movement it powers is really no different than a standard quartz-powered watch.
It's primarily basic equipment past the photovoltaic cell and the battery.
And here's the kicker: a solar-powered watch will run longer between battery changes, but a fully charged solar battery will not last as long as a fresh quartz battery.
You can place a watch with a fresh quartz battery in a dark drawer for 3 or 4 years. With a solar watch, it will die in that dark drawer sometime around a few months, though it can be recharged thousands of times otherwise.
SNE039 Solar Review: Dimensions and Specs
With a solid background on how solar-powered watches work, we can take a closer look at the Seiko SNE039 Solar. We'll go over all the details of this watch, including materials, designs, and specifications.
Materials
The SNE039 Solar is a straightforward watch. The case is stainless, and so is the bracelet that it comes on. The crystal covering the dial is Seiko's own Hardlex crystal, which is somewhat scratch resistant but very durable against shattering.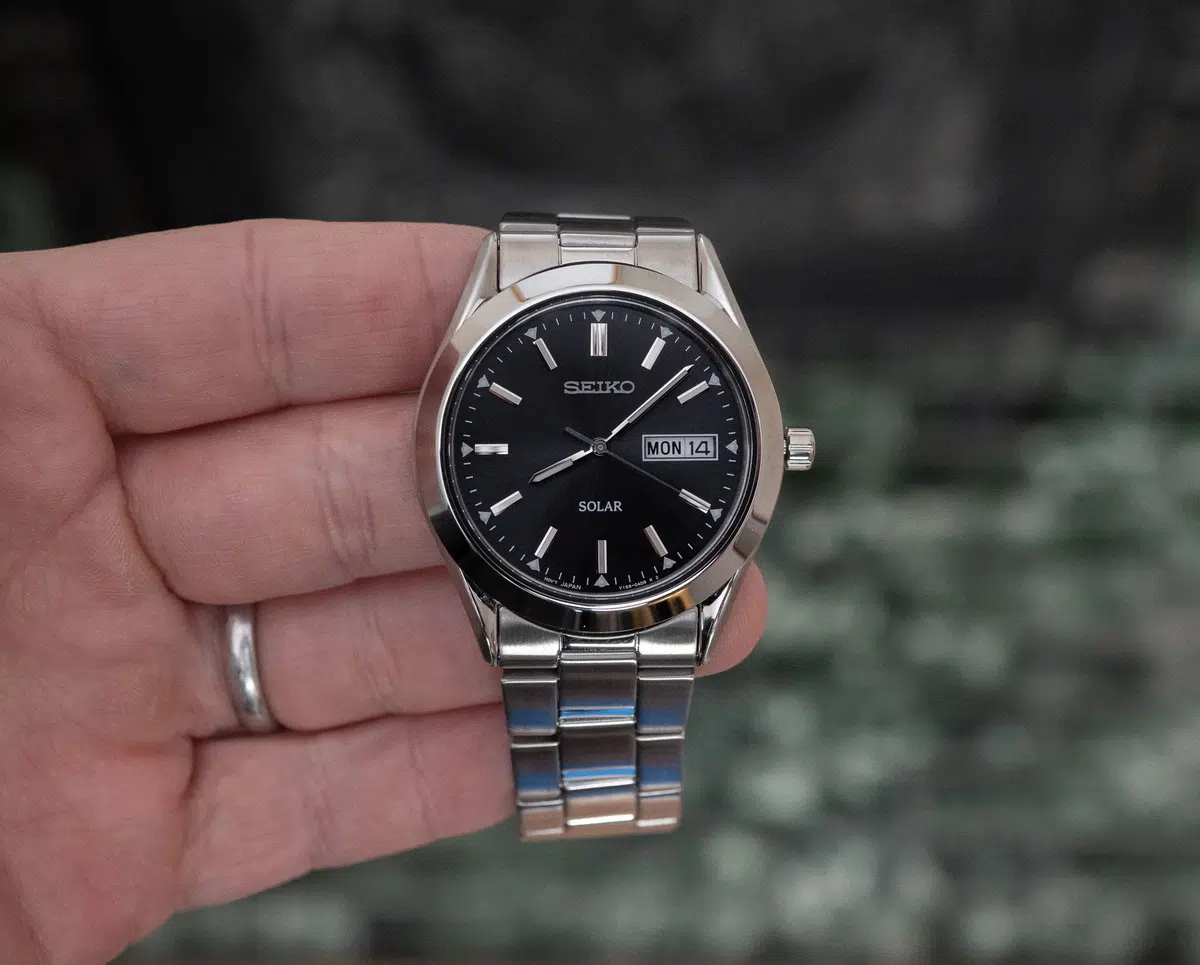 The hands are a silver-tone metal, as are the hour, minute, and seconds hands. The hands and markers are also lumed with Seiko's proprietary Lumi Brite lume.
Design
As far as solar watches go, the SNE039 is a bit more on the minimalist side. The black dial features a bit of a sunburst effect, while the markers are a simple stick design, and the hands are index-style.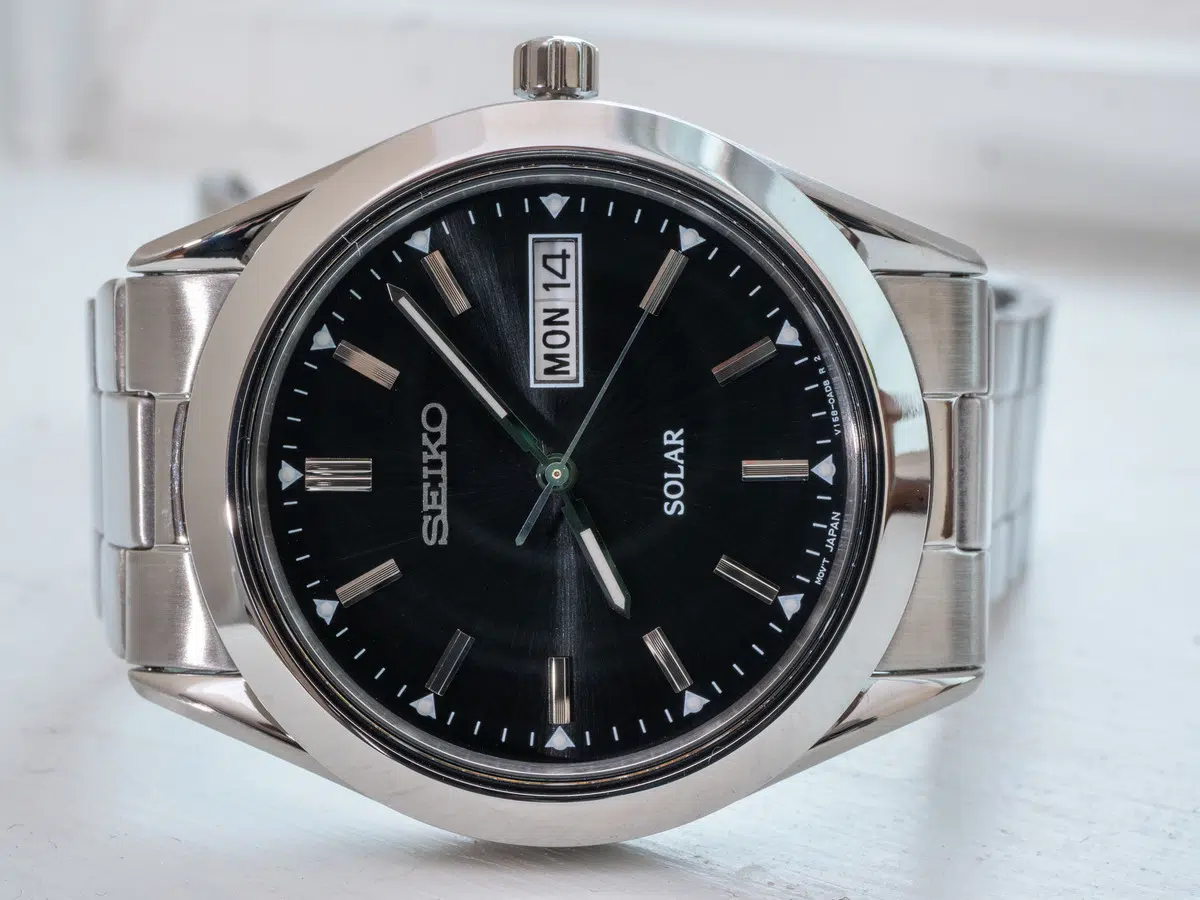 There are no numerals on the dial, but there are seconds markers around the perimeter of the dial, as well as a day-date feature at the 3 o'clock position.
As far as the case goes, it features a simple round shape, a screw-down case back, and a push-pull crown at 3 o'clock. The bracelet is a stainless steel oyster-esque design with a double push-button clasp.
Dimensions
Along with the minimal design, the SNE039 Solar's dimensions are relatively modest. The case measures just 37 millimeters across, making it considerably smaller than most modern solar options.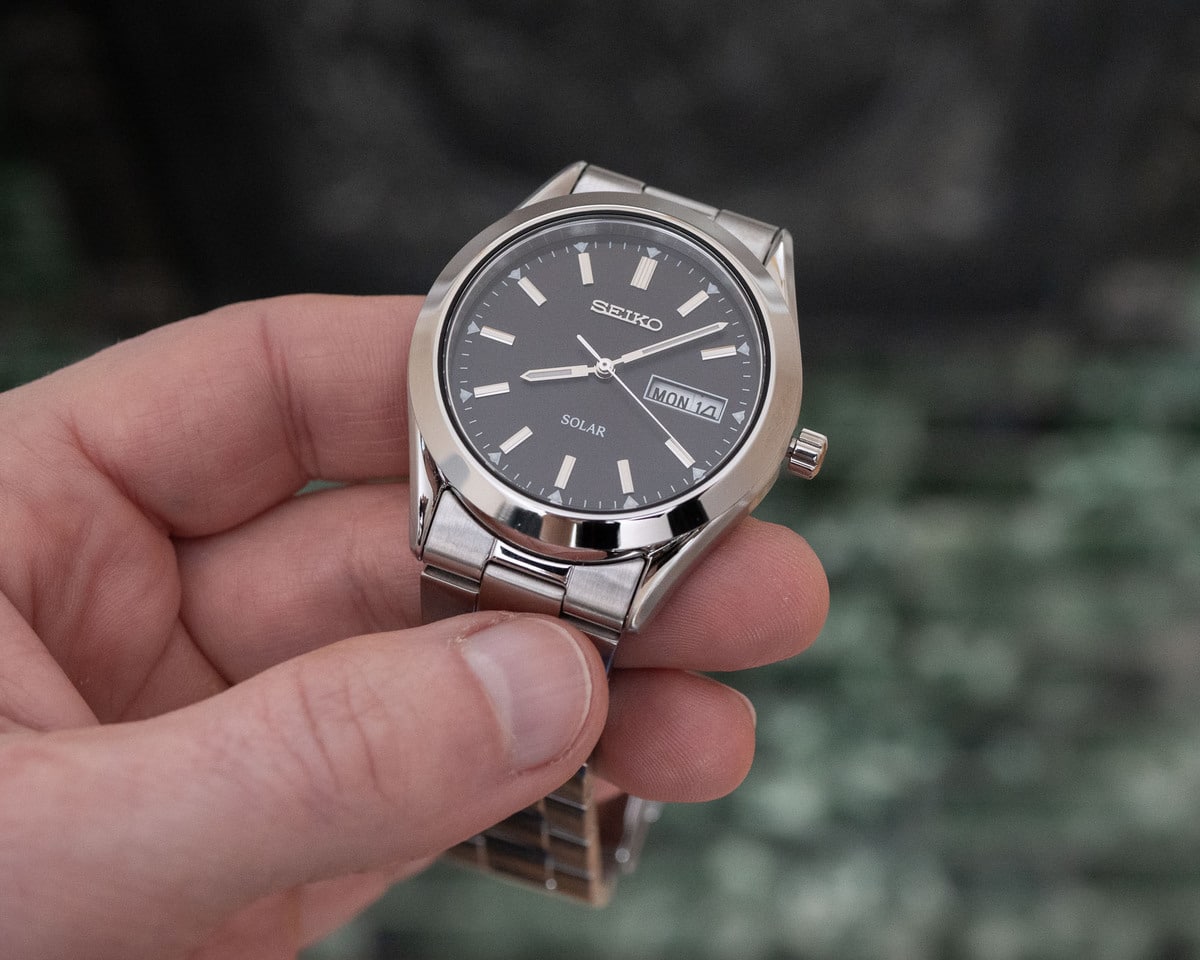 It also measures roughly 10 millimeters thick, which is also fairly thin considering there is a photovoltaic panel inside. The lug width is 19 millimeters, and the lug-to-lug measures approximately 44 millimeters. It also provides water resistance of up to 30 meters.
And as far as battery power goes, the SNE039 can convert natural and artificial light and create a power reserve of up to 10 months.
SNE039 Solar Review: Pros and Cons
The SNE039 makes a pretty good case for itself, but let's take a closer look at its pros and cons. We'll take a look at what this piece does well and what about it could use a bit of improvement.
Pros
Modest size
Dress up or down
The solar cell isn't evident
Offers plenty of power reserve
Lots of value for the price
Truth be told, there's a lot to like about the SNE039 Solar. It's a good-looking watch that comes in a modest size, and it proves that there is still a market for sub-40-millimeter watches (we're not alone!).
The dimensions are perfect for just about any setting, whether you're wearing this as a casual piece or it's accompanying you to a formal event.
This brings us to our next point…
You can dress the SNE039 Solar up or down, and it'll take well to either role. It actually has a bit of a poor man's SARB033 flair, so it will look great on anything from a high-end leather dress strap to a NATO strap for the beach or another adventure.
One of the reasons it fits so many roles is that the solar cell isn't evident. With many solar watches, they're either incredibly thick or you can actually see the location of the photovoltaic cell through the dial.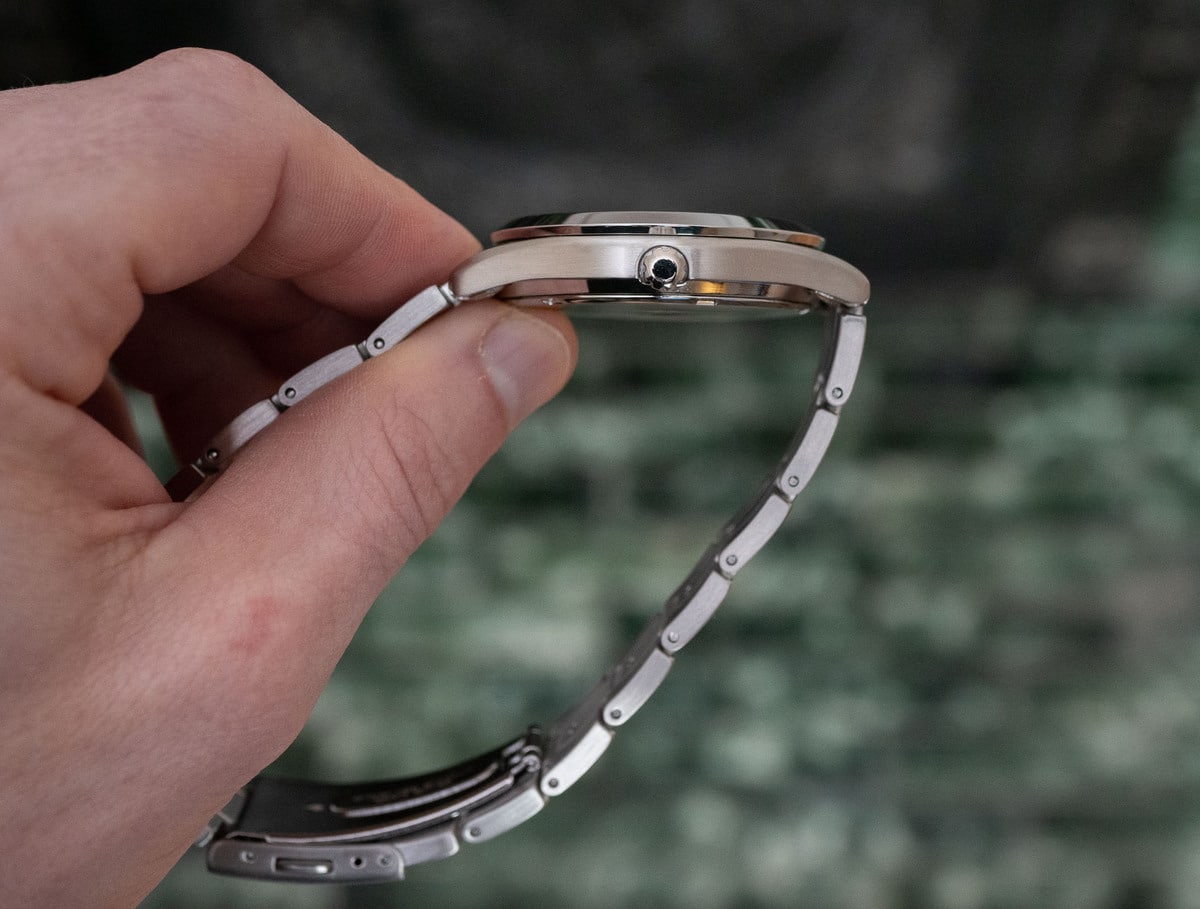 The fact that you can't see the cell makes the SNE039 Solar one of the only solar watches that actually could see time worn as a dress watch.
And what makes the hidden photovoltaic cell that much more impressive is the SNE039 Solar's 10-month power reserve.
If you wear this watch just one day each year, it'll probably be ready for you the next time you slap it on your wrist. This reserve puts it right on par with some of the best solar watches on the market.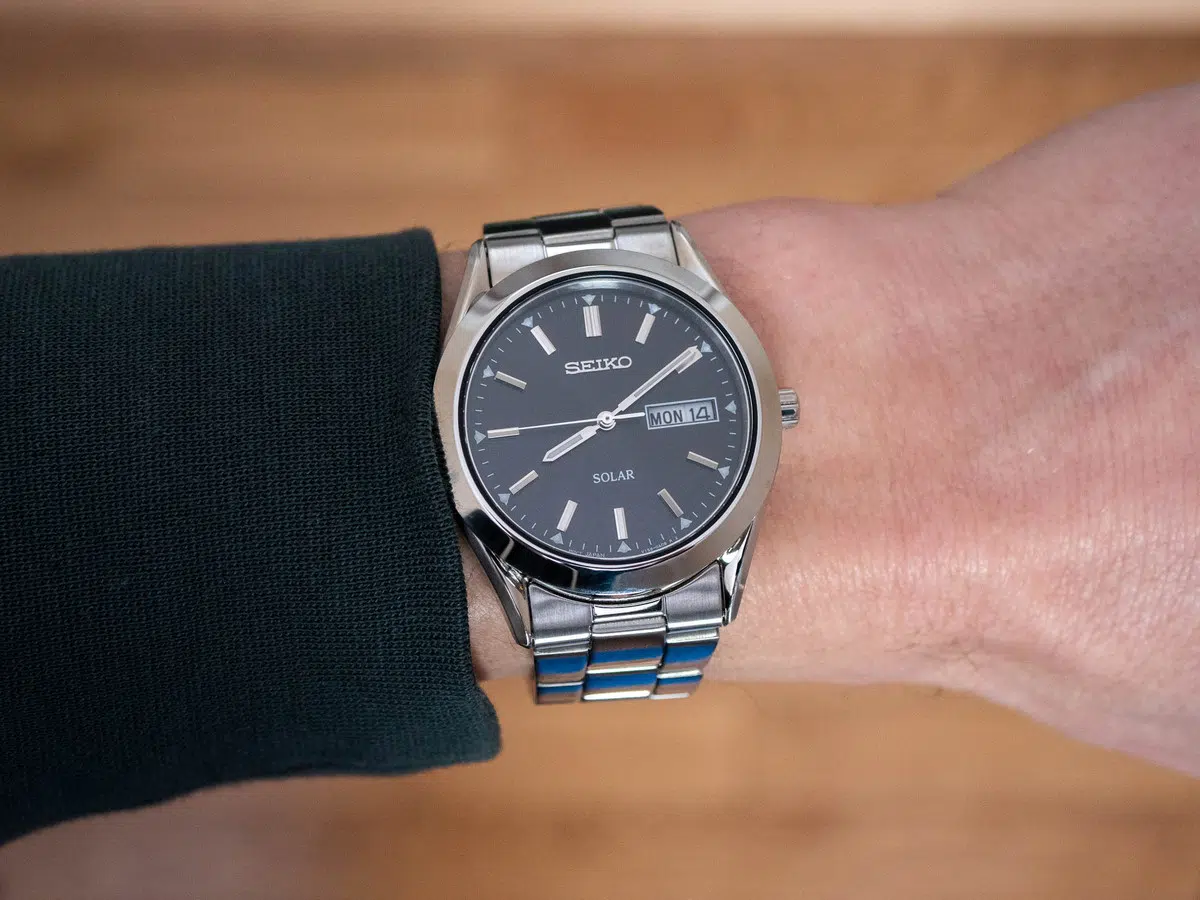 All of these points bring us to the Seiko SNE039 Solar's strongest attribute: Its price. At the time of writing this article, the SNE039 Solar is available for under $100. Between the clean design and generally decent quality, it offers a lot of value.
Cons
Bracelet's not terrific
Water resistance is a bit low
It's not a Citizen
The SNE039 does offer a lot of value, but it's not perfect. It wouldn't be fair to tout its pros without mentioning the areas where it falls short.
The SNE039 Solar's bracelet isn't great, and since it's 19 millimeters across, it's a little bit of a pain to replace. While it's rare to find a watch at this price point with a great bracelet, the SNE039 Solar's bracelet is really its weakest point.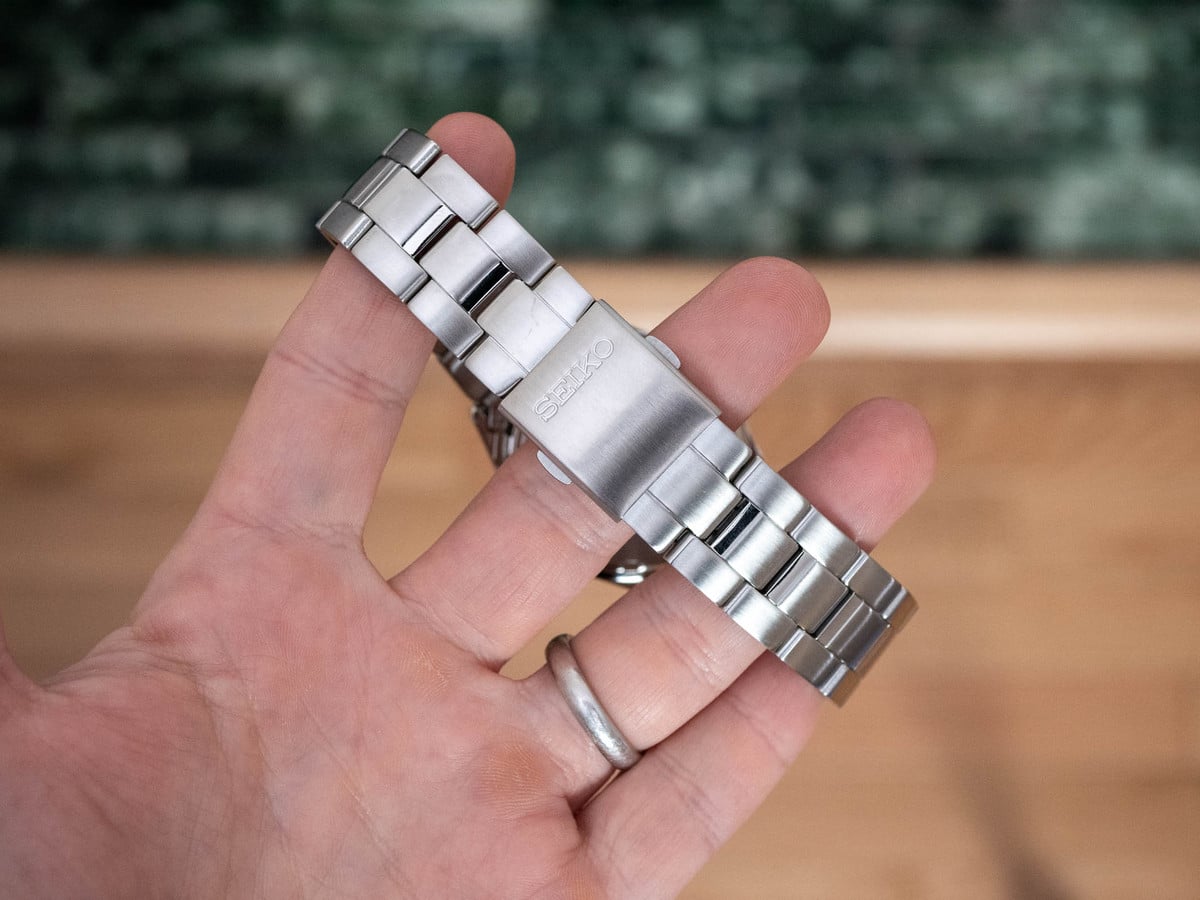 Some guys have had luck fitting 20-millimeter replacement straps on their watches, so that is something worth thinking about.
The SNE039 Solar has a screw-down case back, but it also has a push-pull style crown that gives this watch a relatively low water-resistance rating.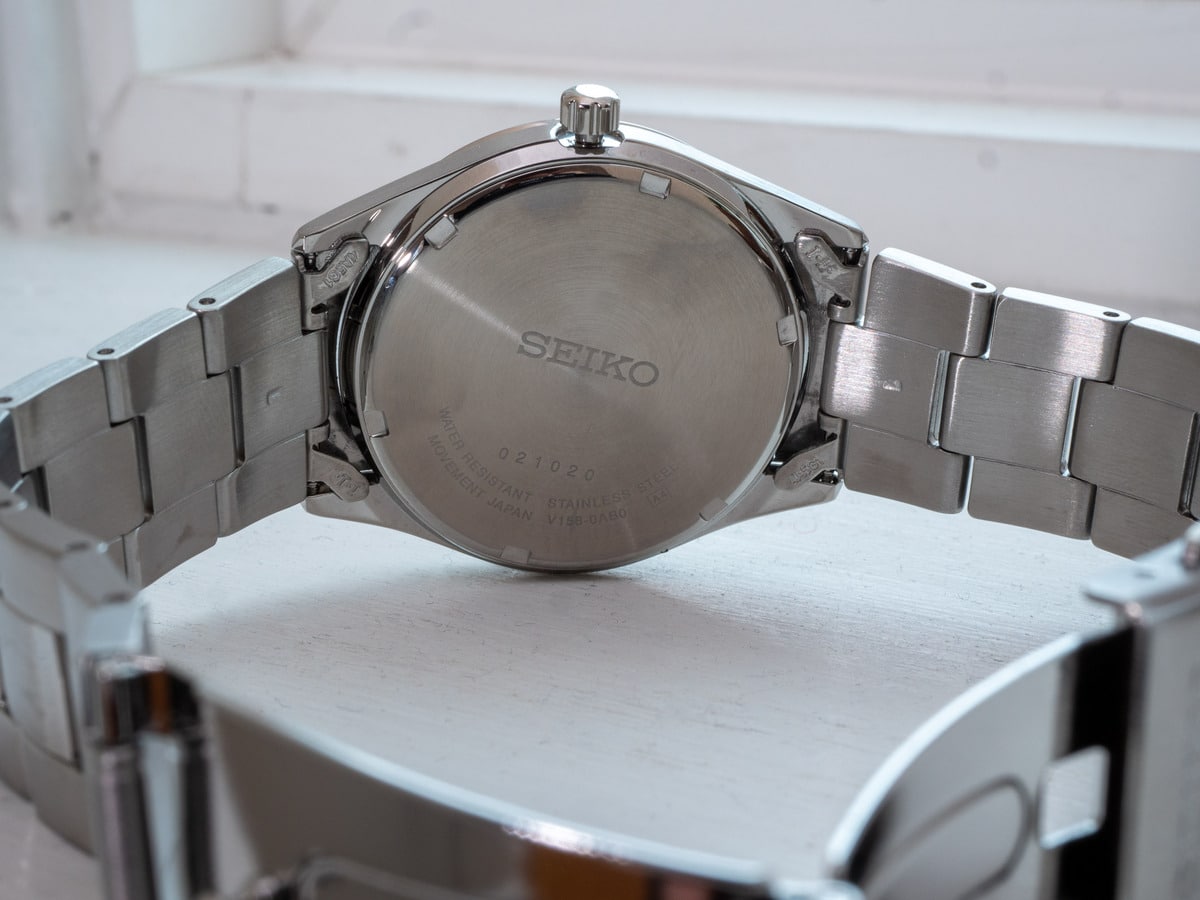 While a screw-down crown would probably be overkill (but awesome), an o-ring or two that bump the resistance up to 100 meters would take this piece over the top in terms of desirability.
And, there's one aspect of the SNE039 that really holds it back: It's made by any company other than Citizen. The $100 to $200 price point is where many of Citizen's best Eco-Drive powered watches thrive, and some guys won't trust a solar option from any other brand in that range.
Yes, Citizen is the best at affordable solar watches, but Seiko has some killer options too. It's a shame the brand doesn't get the recognition, but it's worth pointing out.
Final Thoughts on the Seiko SNE039 Solar Review
As mentioned before, the SNE039 Solar really does make an excellent case for itself. It's well-designed, offers a long power reserve, and provides plenty of flexibility in reward to how you can wear it. What more can you realistically ask from a solar watch that costs less than $100?
Overall, the Seiko SNE039 Solar gets TSW's seal of approval. It's a high-quality solar watch from a company other than Citizen, and the value it provides is undeniable.
Sure, you might need to swap it over to a NATO or leather strap, but doing so only plays to the SNE039 Solar's strength of flexible design.
And, you can even make an argument that it's a budget-friendly stand-in for the SARB033, which is something many guys are looking for and can appreciate.