If you're in the market for a cool solar powered watch, this is the guide for you! Read on to see our favorite solar powered watches.
If we're being quite honest, solar watches don't get the type of credit they deserve in the watch game.
Their incredibly low maintenance requirements, price point, and (sometimes) flashy designs make them quite appealing to the run-of-the-mill consumers. The average watch collector thinks they're above these watches.
The truth is that there are a lot of high-quality solar watches that are both collectible and a great value. Any one of them would make an excellent addition to the collections of any discerning watch enthusiast.
If you're shopping for one of the best solar watches, this guide will help.
How Solar Watches Work
When solar watches first came out, they were pretty mystifying. In today's world or renewable energy, there's a bit less secrecy surrounding them. Still, it's better to understand how they work before deciding if one of these watches will work for you.
Contrary to popular belief, there isn't much of a difference between a quartz-powered movement and a solar movement. They both have batteries and quartz crystals; they just go about their energy supply a little differently.
Solar-powered watches have photovoltaic cells behind their dials. These cells take light energy from the sun or an artificial light source and transform it into electrical energy.
That energy then charges the battery, which powers a quartz crystal, just like a standard battery-powered watch.
There are a few differences, though. For one, you're not supposed to change your own battery in a solar-powered watch. The watch should go back to the manufacturer should the battery stop taking charges.
Also, the power reserves are very different as a solar watch can last up to 12 months, while a standard battery can last for several years.
Solar-powered watches also tend to be a bit larger. Their faces and dials are bigger as they need to allow plenty of light through to the photovoltaic cells. Plus, there are a few extra parts in there.
Things to Consider When Shopping for a Solar Watch
Solar watches are pretty awesome, and they come in a wide range of styles and models. Before you head to the glass displays in your local department store, there are a few things that you need to understand in order to choose the best solar watch for your needs.
Power Reserve
While we already established that solar-powered watches are basically just quartz watches with built-in solar panels, their batteries are quite different. Some solar watches can run for up to a year on a full charge, while others may only last a few months.
If you're wearing your watch every day, this isn't that much of an issue. If you're a collector and like to rotate through your watches, recognize that there could come a day where you might need to set your watch on a sunny window to get it to start ticking.
Charging Time
A solar-powered watch doesn't hit full charge the second you expose it to light. You have to allow it to charge, which can take from between a few minutes to a few hours in the sun.
Also, understand that artificial light doesn't create the same amount of energy as the sun on a clear day. A watch under a desk light can take much longer to charge.
Your owner's manual will explain how long your watch takes to charge. Ideally, this will be just a few hours of direct sunlight.
Style
Solar watches come in a wide range of styles, colors, and designs. If you're in love with a particular style of watch, you'll be able to find a solar option.
There are solar watches from chronographs and divers to dress and field watches, with a wide variety of other styles available.
With that said, there are a few watch styles that lend themselves to solar-powered components better than others, making them the most popular choices.
Tool watches like dive, field, and pilots' watches have large faces perfect for stuffing solar components behind.
Some of these designs can also be pretty flashy and tacky, so be sure to consider if the watches you're looking at fit your style.
The Best Solar Watches for Men in 2022
Now that you know how solar watches work and the important factors to keep in mind, you're ready to check out some watches.
As a disclaimer, this list is extremely Citizen, Seiko, and Casio heavy. In fact, this list could be entirely Citizen watches, as the company's Eco-Drive solar tech really is the benchmark in the solar watch industry.
Seiko Solar and Casio's Tough Solar are able to stay relevant, but they can't match Citizen's solar-powered watch selection and technology.
The Best Solar Field Watches
If you're a field watch lover, you'll want to check these out.
Citizen Eco-Drive Chandler BM8180-03E
The Chandler field watch from Citizen is really the quintessential solar field watch. Its simple, military-inspired design has everything you need and nothing that you don't.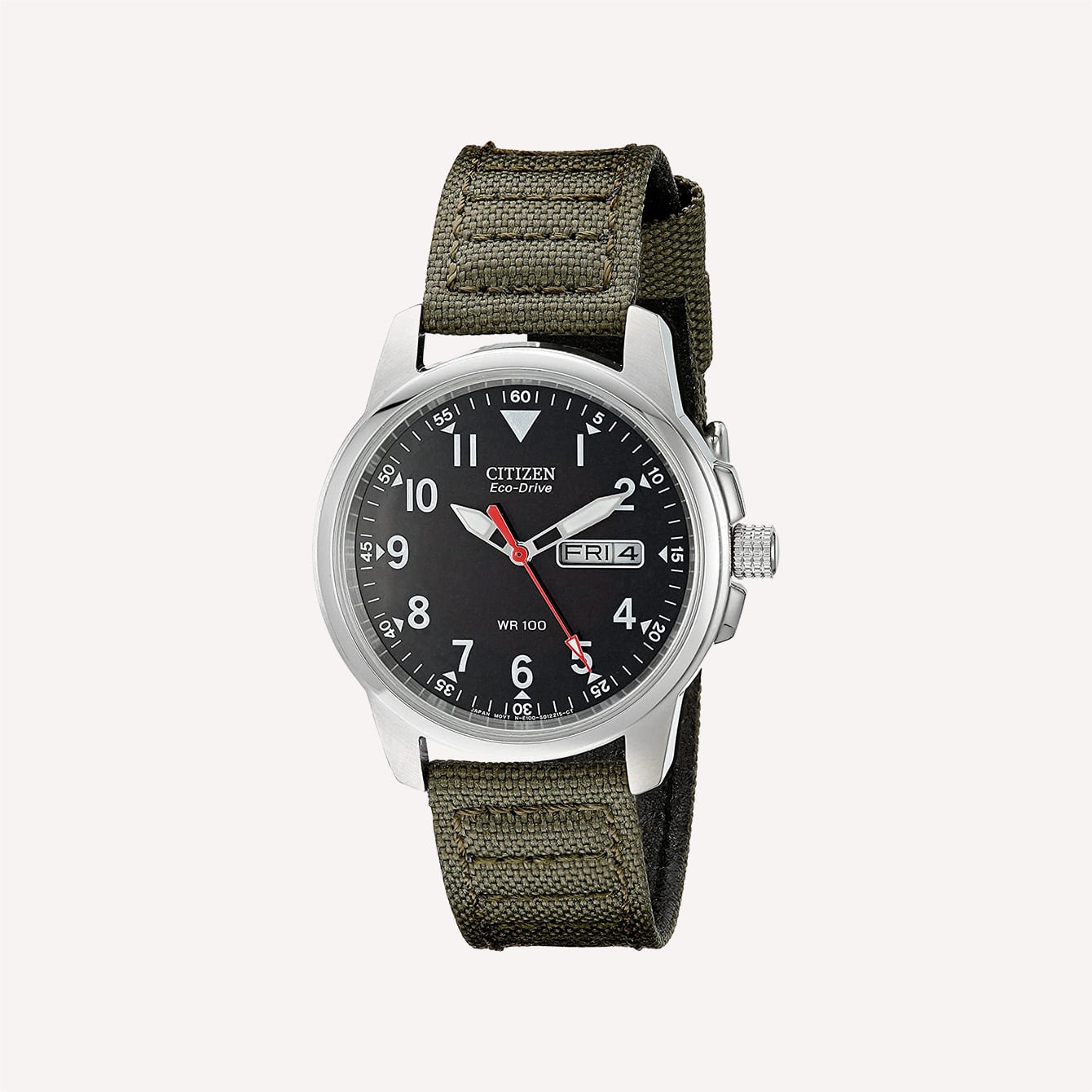 Its compact size makes it easy to wear without being cumbersome when you hit the open trail. It measures 37mm across with an 18mm strap width.
The Chandler has plenty of great features as well. It has a day/date complication for staying on track when you're off the beaten path.
The power reserve will last for six months when fully charged. It also features a mineral crystal, screw-down crown, and screw-down caseback, the combination of which creates a 100M water resistance.
Seiko SNE331
If you're looking for a tough field watch with a great, simple design, check out the SNE331. This field watch's large numerals make it easy to read, even in low-light conditions at camp.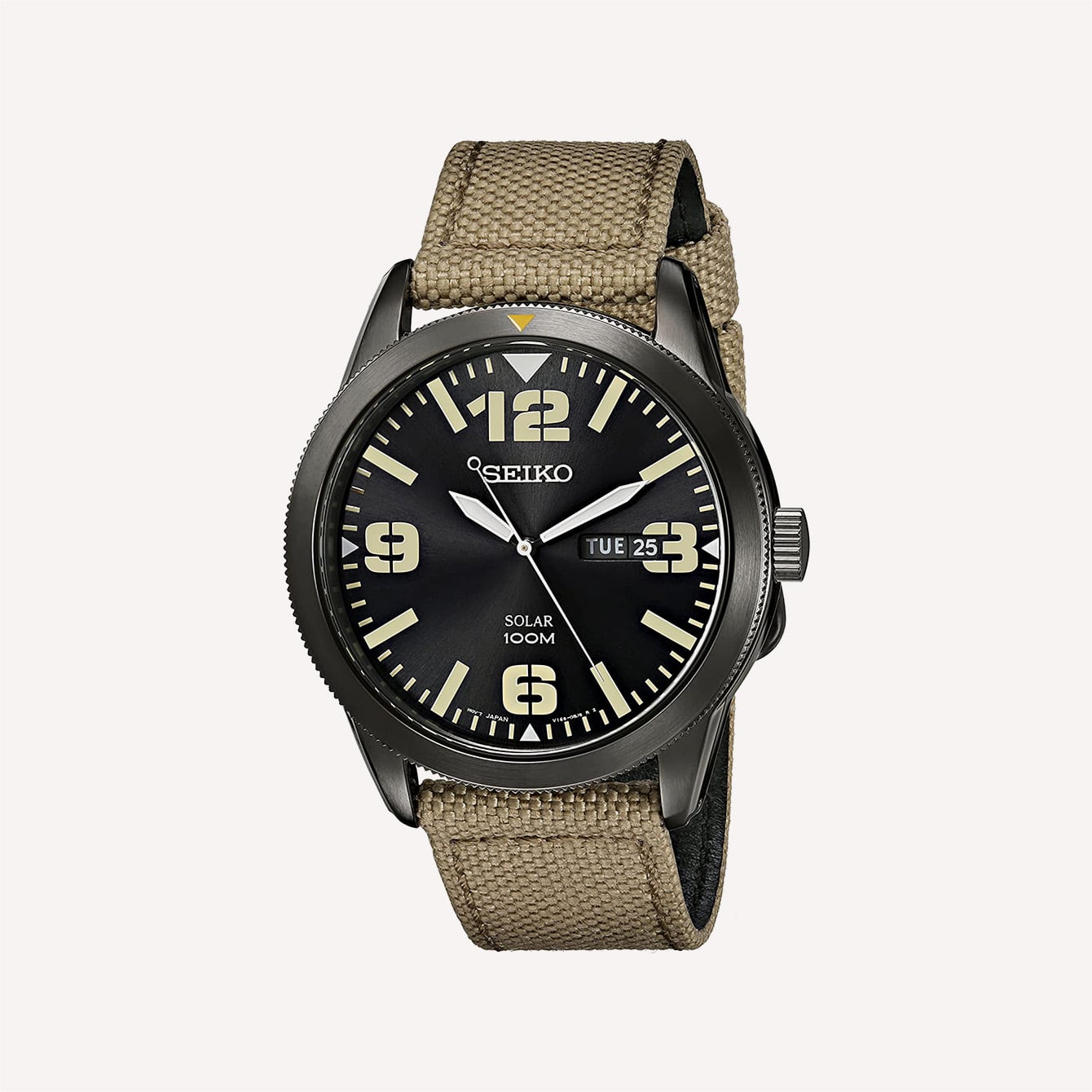 It measures 43mm across with a 22mm lug width, making it a bit chunkier than other field watches.
This watch is all about function. The Hardlex mineral crystal is tough and shatter-resistant, and the day/date window keeps you informed.
It has a 100M water resistance, which is really the sweet spot for field watches. It will also run for ten months on a full charge, and the Lumibrite numerals are easy to read when the sun goes down.
Timex Expedition Scout 40
It would be downright unfair to not mention a watch whose namesake begs for trips past where the blacktop ends. The Timex Expedition Scout is a great affordable solar choice that doesn't skimp on features.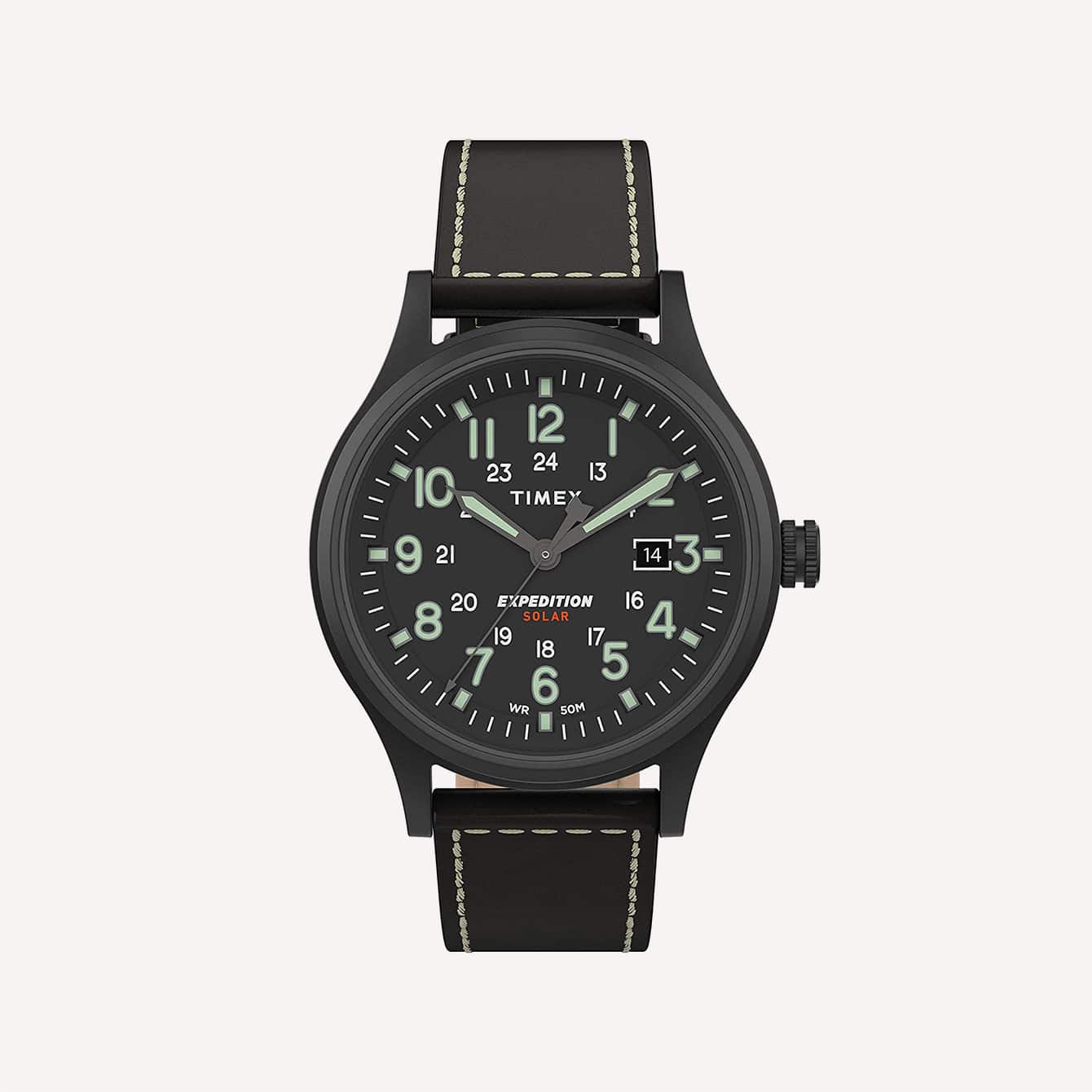 It measures 40mm across and features a 20mm lug width for plenty of strap choices.
The Expedition Scout 40 has a few features and stats to note. It has a scratch-resistant mineral glass crystal, a 50m water resistance, as well as a four-month power reserve.
Instead of Timex's famous Indiglo, the Expedition Scout 40 has lumed hands and numerals.
The Best Solar Dive Watches
If you're looking for a solar powered diver, here are the best options to choose from.
Seiko Prospex Solar Diver SBDJ017
When it comes to affordable divers, Seiko still reigns supreme — even in the solar market. The SBDJ017 is an excellent example of a solar dive watch with all the style and functionality of the more commonly seen automatic variants.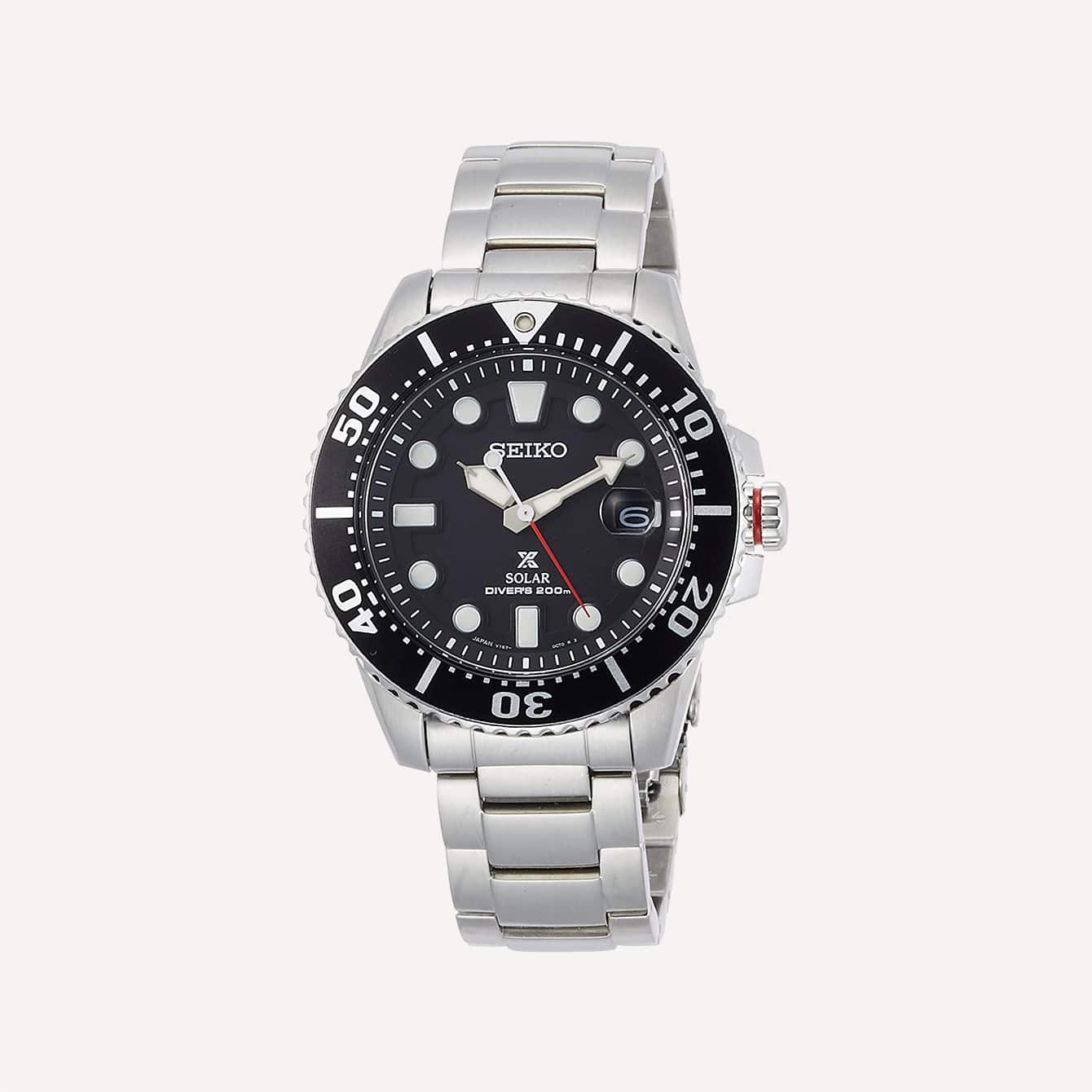 While it's a little larger (at 43.5mm), it's got the classic diver look so many enthusiasts appreciate.
The SBJ017 offers plenty of features worth talking about. For one, it features Seiko's Lumibrite lume on the hands and indices. It has a unidirectional bezel, as well as a screw-down caseback and crown, making it a legitimate diver.
It also has a 200M water resistance and a power reserve good for ten months. Some guys might not like the Hardlex crystal, but it's almost a necessity at this price point.
Citizen Eco-Drive Promaster Diver BN0150-28E
There's something about the BN0150-28E Promaster Diver from Citizen that makes it easy to admire. Competing directly with SKX for many years, this watch's solar power secured its place in the affordable diver market.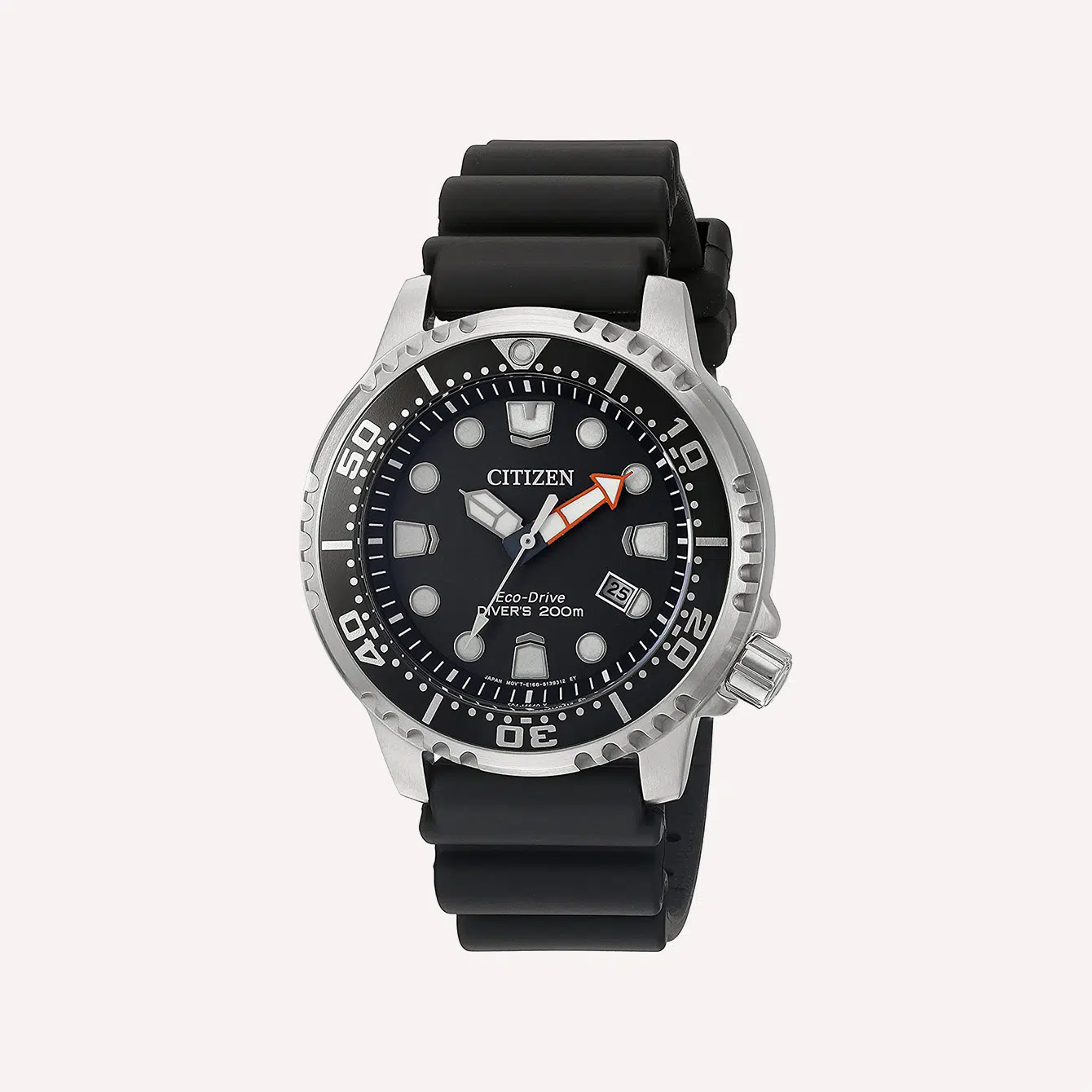 There's no denying that it's large, measuring 44mm across, but the 20mm rubber strap it comes on widens a bit right after the lugs, shrinking the case just a bit.
The BN0150-28E has a lot going for it. Not only does it feature a six-month power reserve, it also has a unidirectional bezel, a 200M water resistance, and scratch-resistant mineral crystal.
You could even argue that the Citizen's dial is more attractive than some of its competitors, though the four-o'clock date window is a hot-button topic for some watch collectors.
Seiko Prospex Arnie SNJ025P1
There's no denying that the Arnie is somewhat of a wild watch. It has knobs and pushers everywhere, and it's a hulk of a timepiece at almost 48mm. But as far as solar-powered divers go, it deserves a position near the top.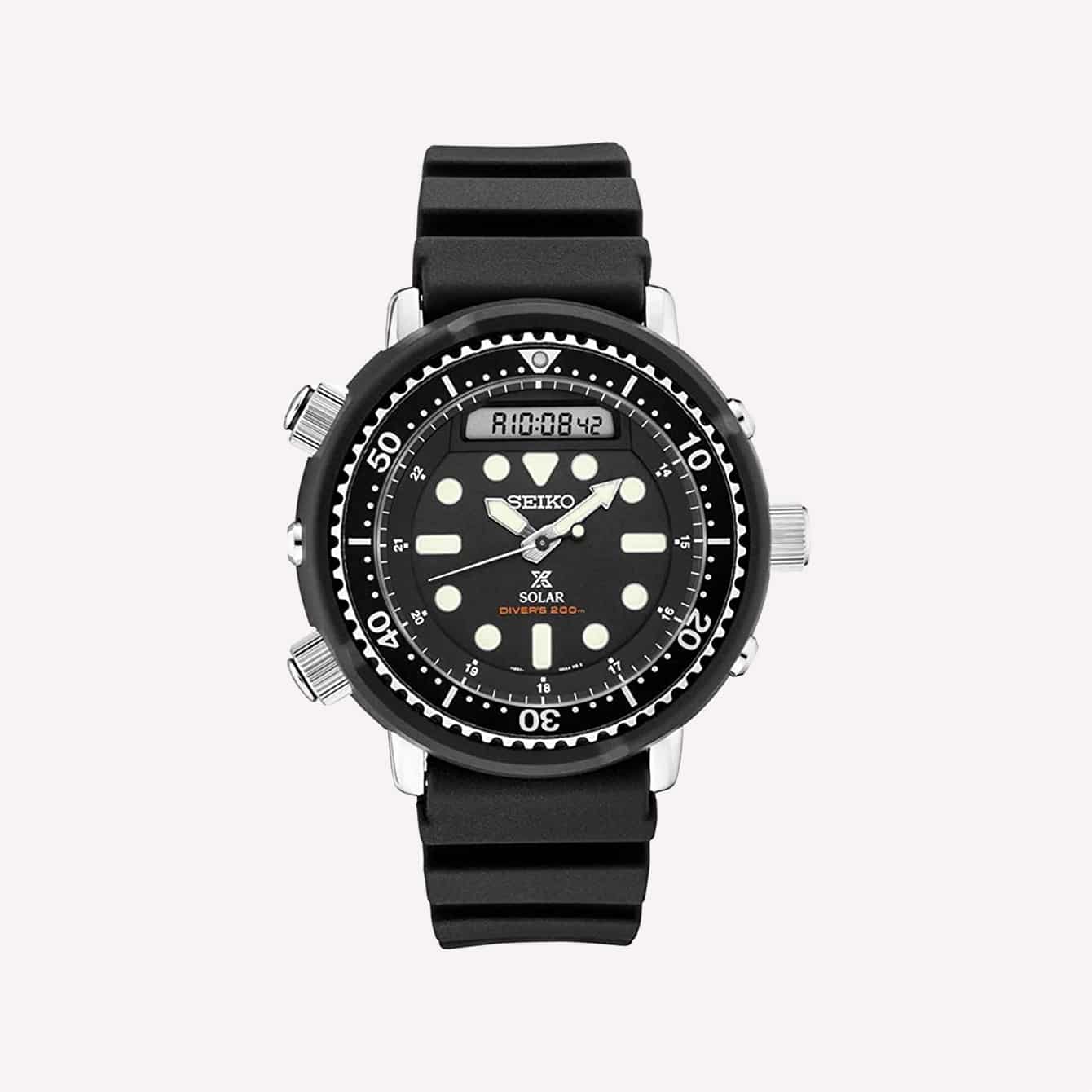 This half-analog, half-digital watch has plenty of features. It has a fully automatic calendar programmed through December 31, 2100. It offers a chronograph function, two time zones, an alarm, and plenty more.
As far as reissues go, this one's pretty impressive. Plus, you can pretend you're chasing (or being chased by) aliens in the jungle.
The Best Solar Pilot's Watches
If you're a pilot's watch sort of guy, here are some solar powered options.
Citizen Promaster Nighthawk BJ7000-52E
Citizen owns the solar aviation watch segment. The Nighthawk is probably the most popular model, and it really shows why Citizen is the king of the solar-powered skies.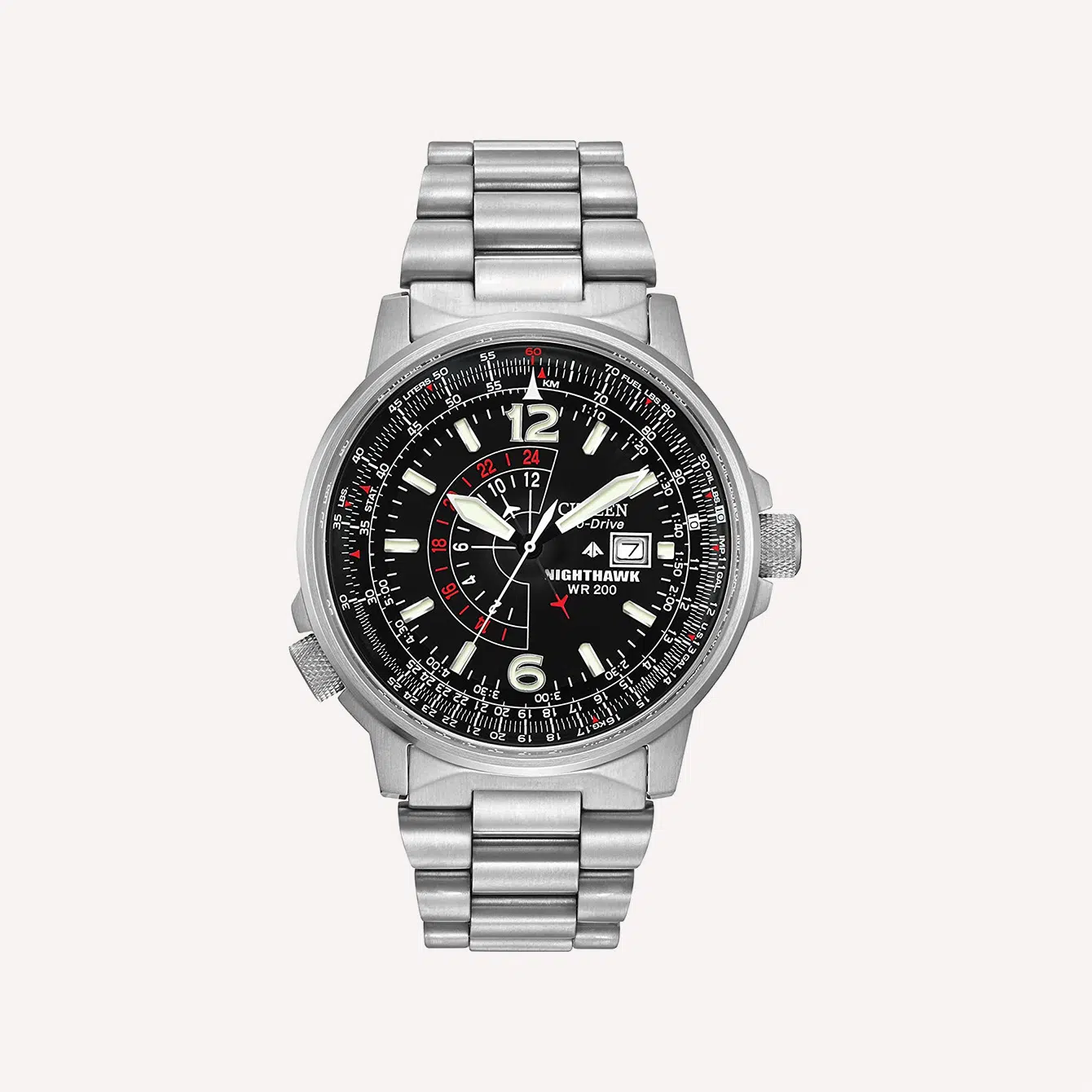 The Nighthawk features a tremendously complicated dial, a stainless steel bracelet, and a 42mm case width, making it large but wearable on smaller wrists.
The Nighthawk is absolutely full of features. It has a second time zone, a slide rule (operated by the eight-o'clock crown), and a date complication.
It also features a 200M water resistance and a six-month power reserve. It also features a low-charge indicator to tell you when it needs some time on your wrist.
Citizen Promaster Skyhawk A-T JY8078-01L
Citizen's Skyhawk is another shining example of how well the brand knows the aviation watch market. A bit larger than the Nighthawk, it measures 45.5mm across, which is pushing it for smaller wrists. But, with that size comes tons of features.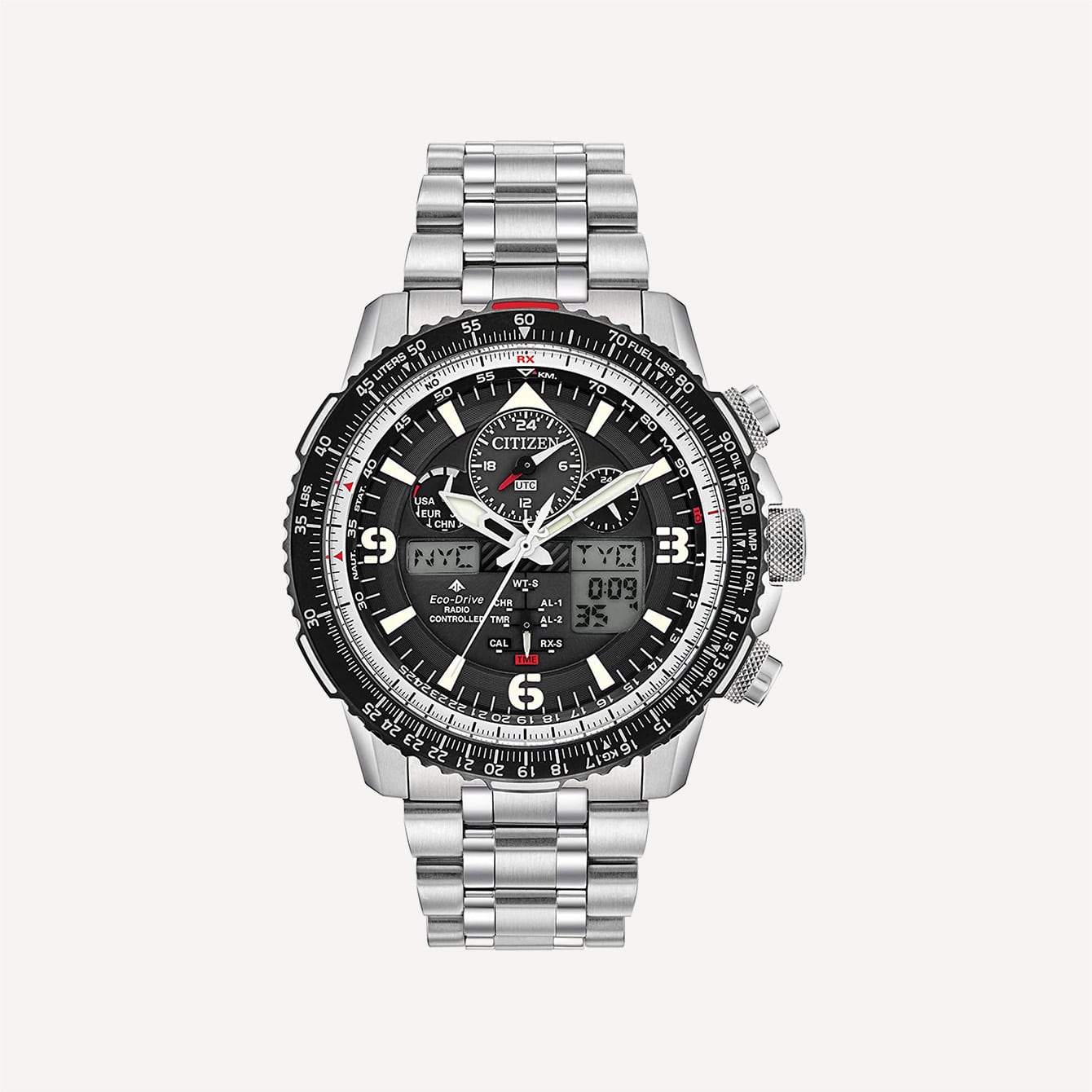 The Skyhawk has a function for almost anything. It has a slide rule, a chronograph feature, dual time zones, alarms, a perpetual calendar, and a backlight.
It keeps atomic time in 43 different cities, and it features Citizen's standard six-month Eco-Drive power reserve. It's water-resistant up to 200M. Best of all, it features a sapphire crystal.
Citizen Eco-Drive Avion
If you'd prefer a flight watch a little less over-the-top, the Citizen Avion might be the way to go. This far-simpler approach to a pilot's watch features a mix of chronograph-meets-Flieger style.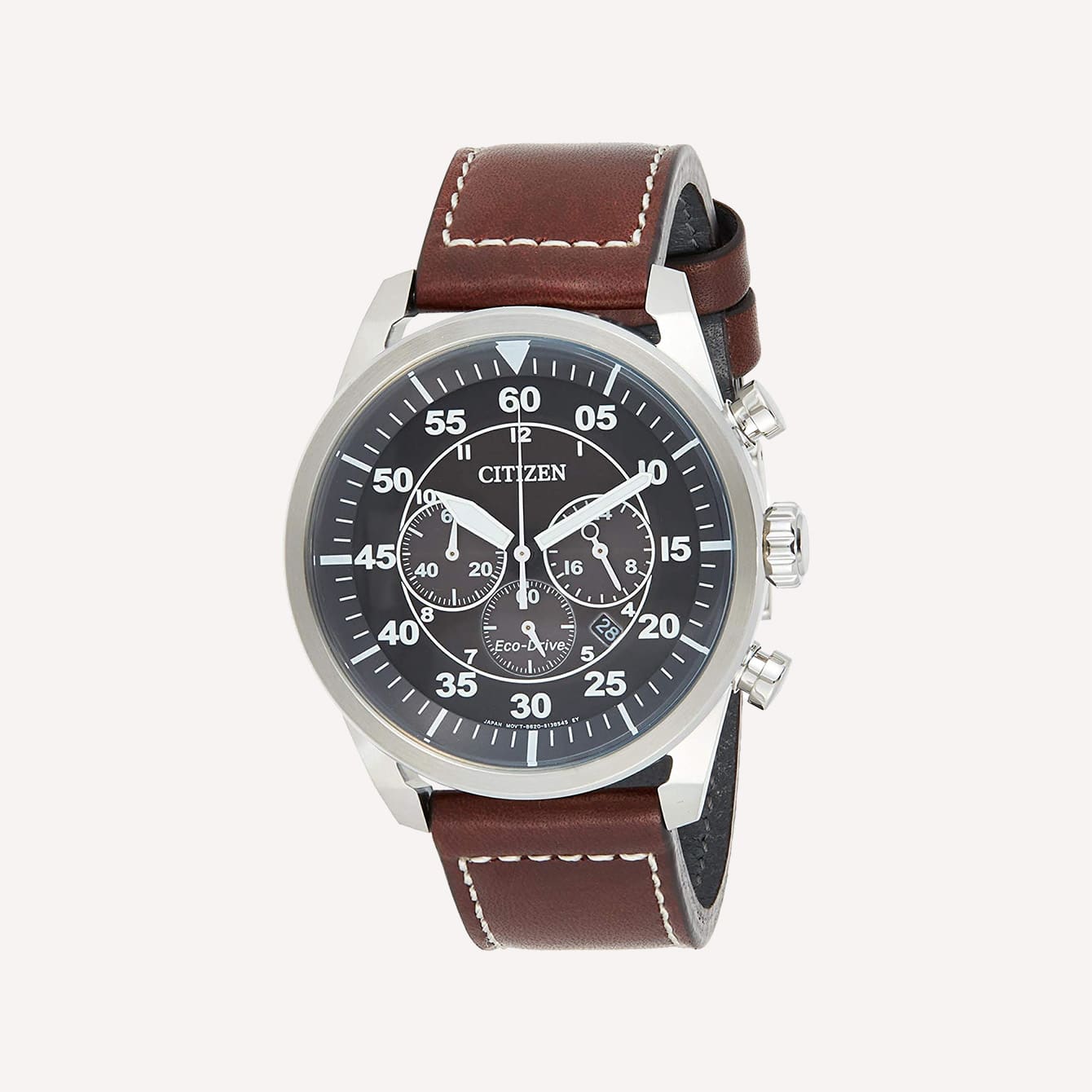 It's large (at 45mm across), as all good pilot's watches should be, but the 23mm leather straps do their best to minimize its width. Also, the oversized dial provides plenty of legibility should you find yourself in a dark cockpit.
The Avion's classic looks come with some modern features. It has a three-subdial layout with a date window between the four and five-o'clock markers. The Avion has a mineral crystal, a 100M water resistance, lumed hands, and a six-month power reserve.
The Best Solar Chronographs
If you're in the market for a solar powered chronograph, look no further than these options.
Orient Solar Panda WV0041TX
One of the best-looking watches on this list, Orient's Solar Panda clearly takes some of its inspiration from some very expensive racing watches.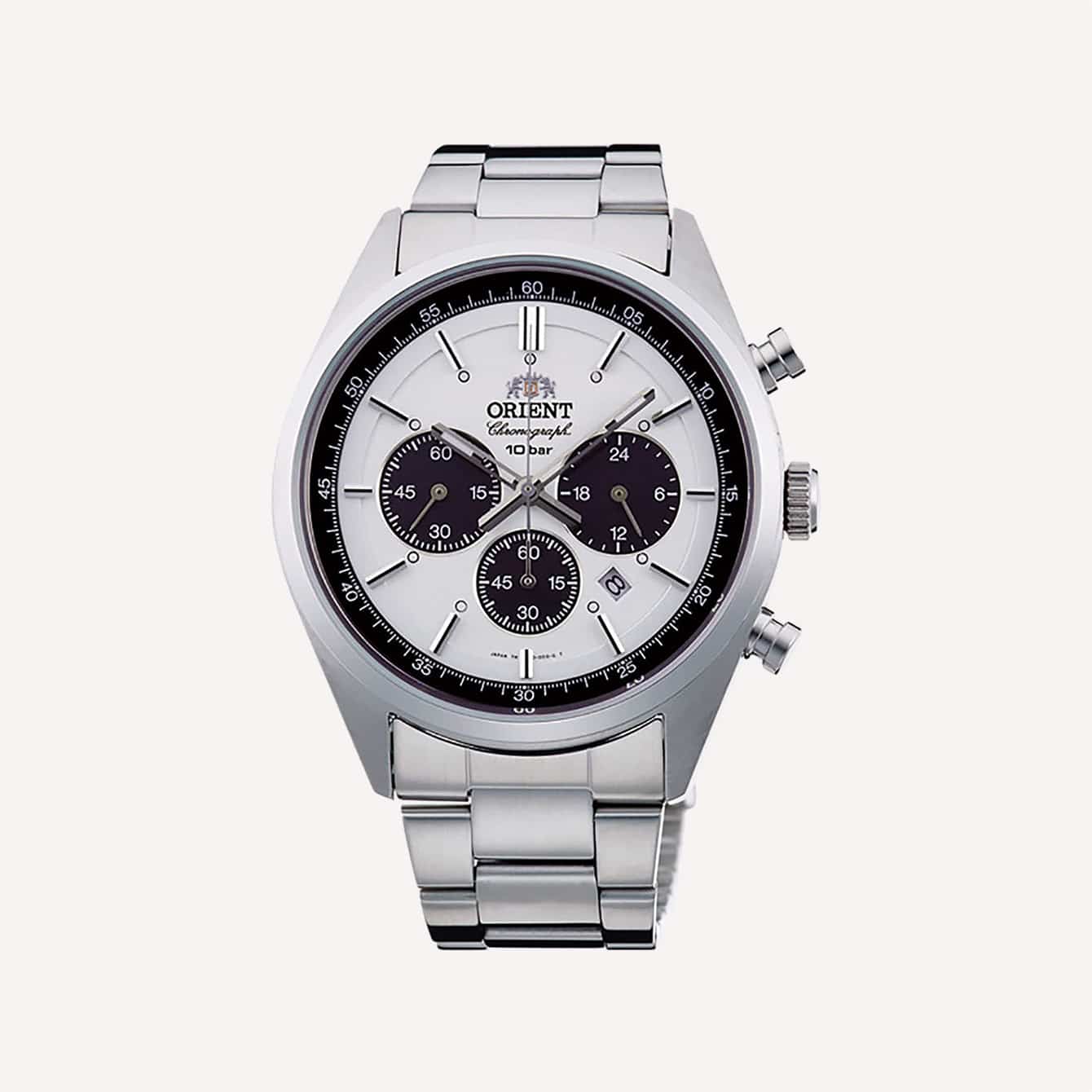 The good news is that the Solar Panda is affordable, allowing you to look like a race car-driving movie star for much, much less. It measures 42mm across with a 22mm lug width, making it an attractive size for wrists of any size.
The Solar Panda features a three-subdial layout, with pushers to operate the chronograph at two and four o'clock. It has a date window between the four and five-o'clock markers and a six-month power reserve.
Although it comes in a stainless steel strap, a 22mm leather rally strap will really bring this beauty to life.
Citizen Eco-Drive CA0649-06X
Guys looking for a racing-inspired design from the leader in solar watch technology should certainly give the CA0649-06X from Citizen a serious look.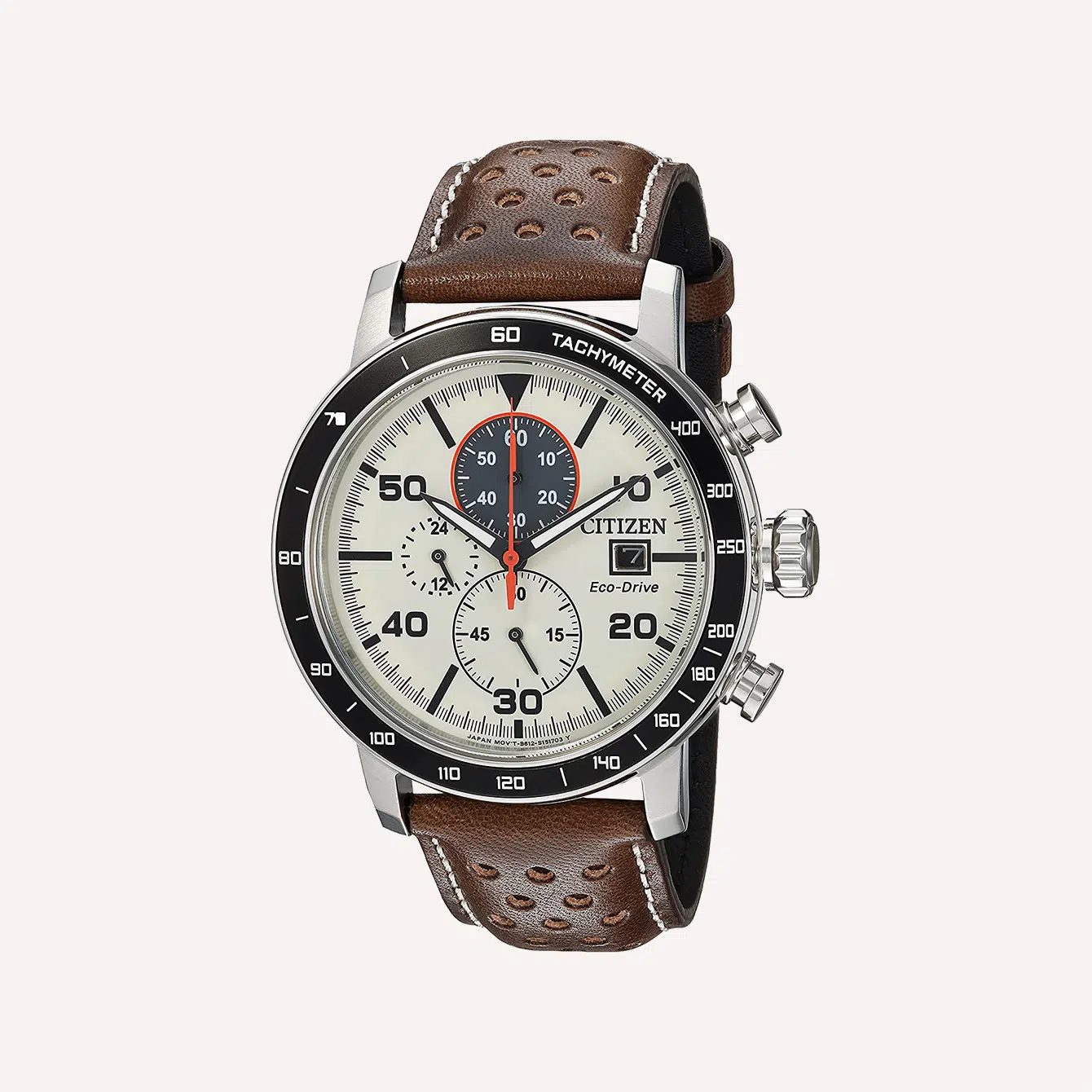 This handsome chronograph has a vintage-inspired cream dial paired with gray and orange accents that make it look like it fell off the set of Grand Prix. While it's a bit large at 44mm, the 22mm leather rally straps help a bit.
The CA0649-06X has a reasonably standard chronograph design. It has three subdials, a tachymeter bezel, and a traditional three o'clock date window. It also has a 100M water-resistance, in case you'd like to reenact a scene from the 1966 classic movie.
Seiko Recraft SSC667
If it's a more colorful watch you're after, be sure to check out Seiko's Recraft SSC667.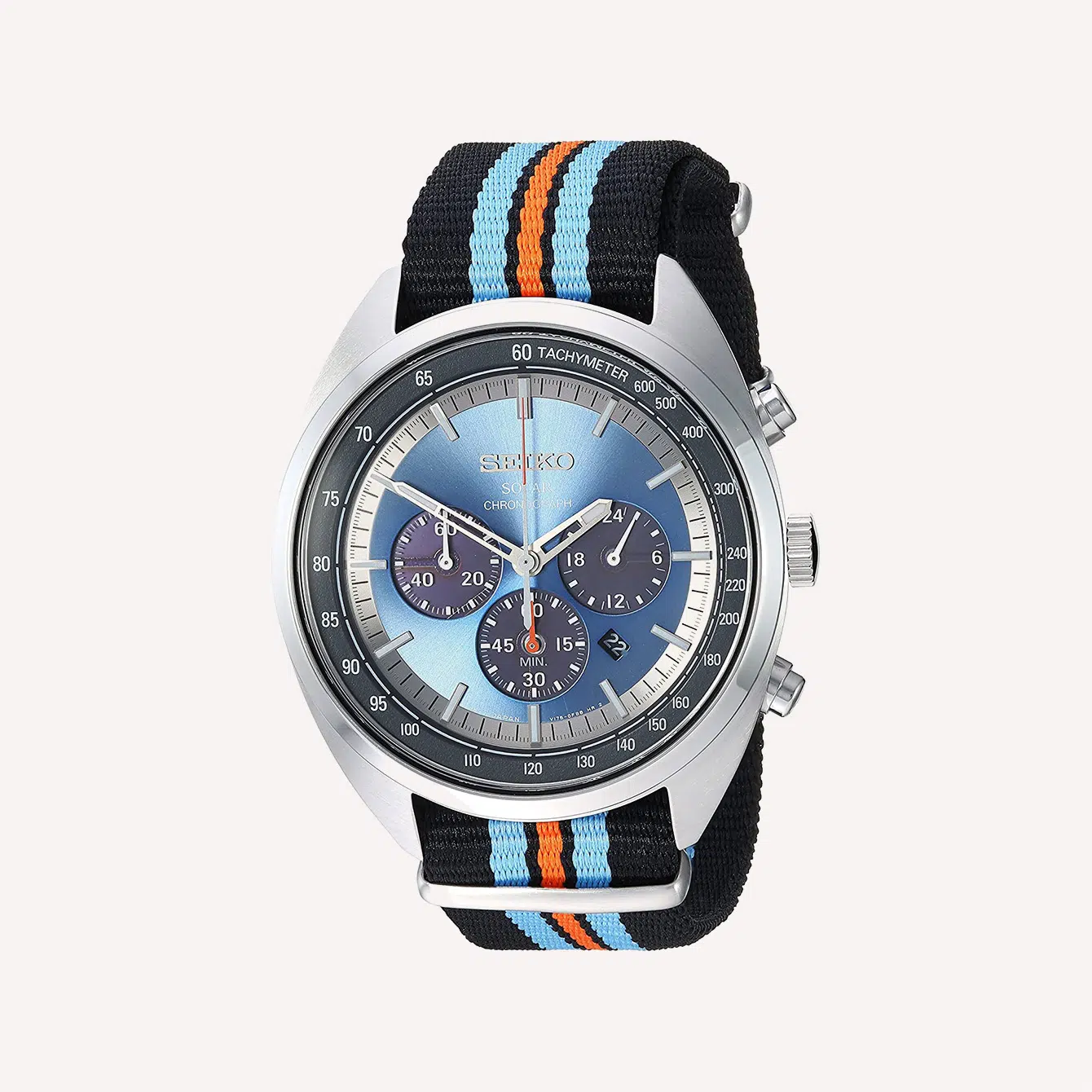 This blue dial chronograph comes on a colorful NATO-style strap, the combination of which seems to get its inspiration from the Gulf Porsches that ran at Le Mans.
At 43.5mm, it might be a little large, but this watch will make an impact on any size wrist.
The SSC667 has a traditional design, even if the colors are a bit unique. It features a three-subdial layout, a tachymeter ring, and pushers at both two and four o'clock.
It also has a Hardlex crystal and a 100M water-resistance. Once you top off the battery, it has a six-month power reserve.
The Best Solar Dress Watches
There are solar powered dress watches too, here are our favorites.
Seiko SUP896
Dress watches can be tricky, but Seiko's SUP896 is a great blend of solar tech and dress watch simplicity. This rectangular watch features a 28.1mm case width and comes on a crocodile-textured calfskin leather strap.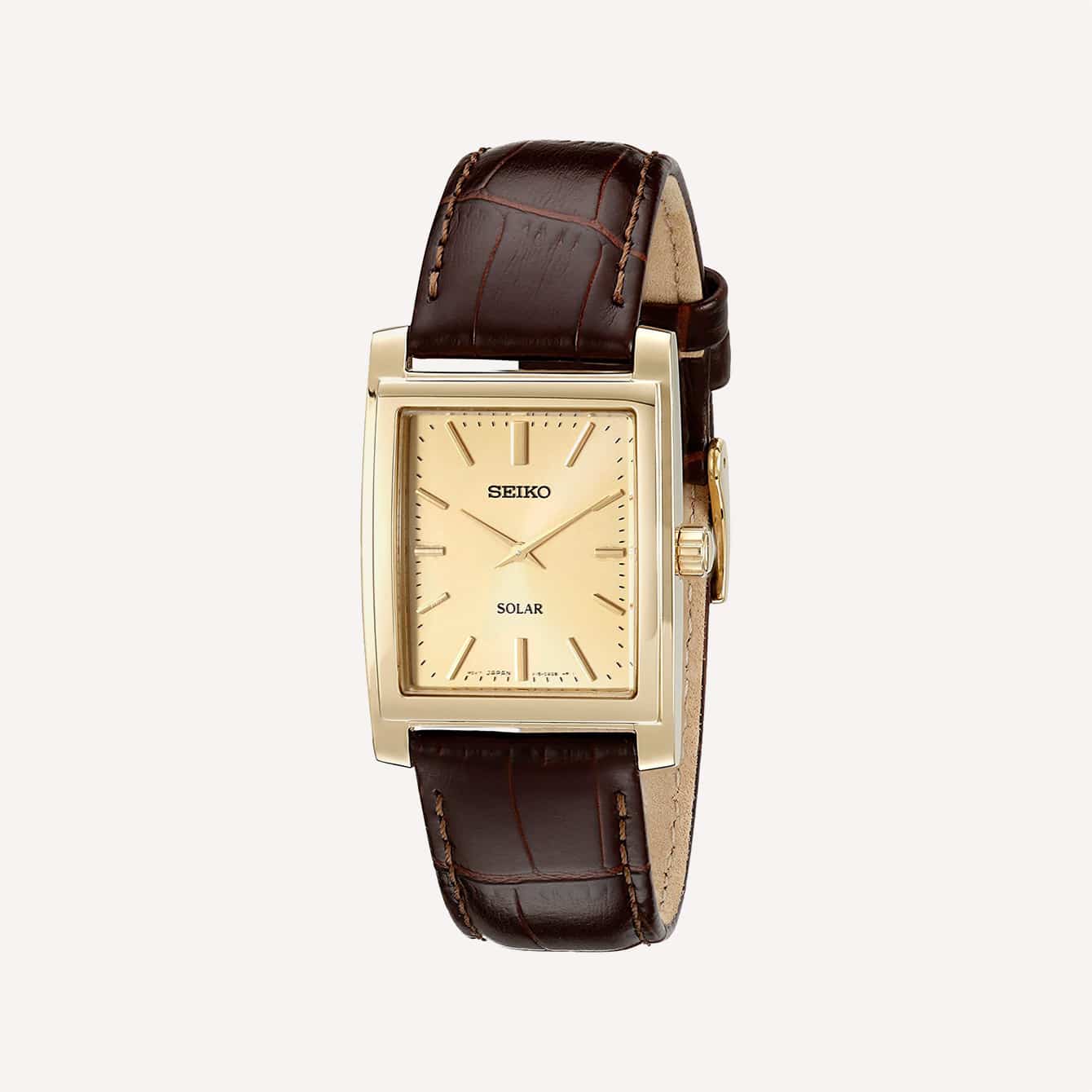 While it's not exactly a Tank, the squared design works well with dress attire. The simple gold dial and gold-plated case are free from any complications or garish date windows, making the SUP896 a truly sleek option for formal occasions.
It has a 12-month power reserve, which is perfect for dress watches that don't make it out of the watch box very often.
If you'd prefer something a bit more Tank'ish, check out the SUP880.
Citizen Eco-Drive AW1236-03A
Citizen's Eco-Drive-powered AW1236-03A is a great choice if you're looking for an affordable solar dress watch that can pull double-duty at the office or in casual settings.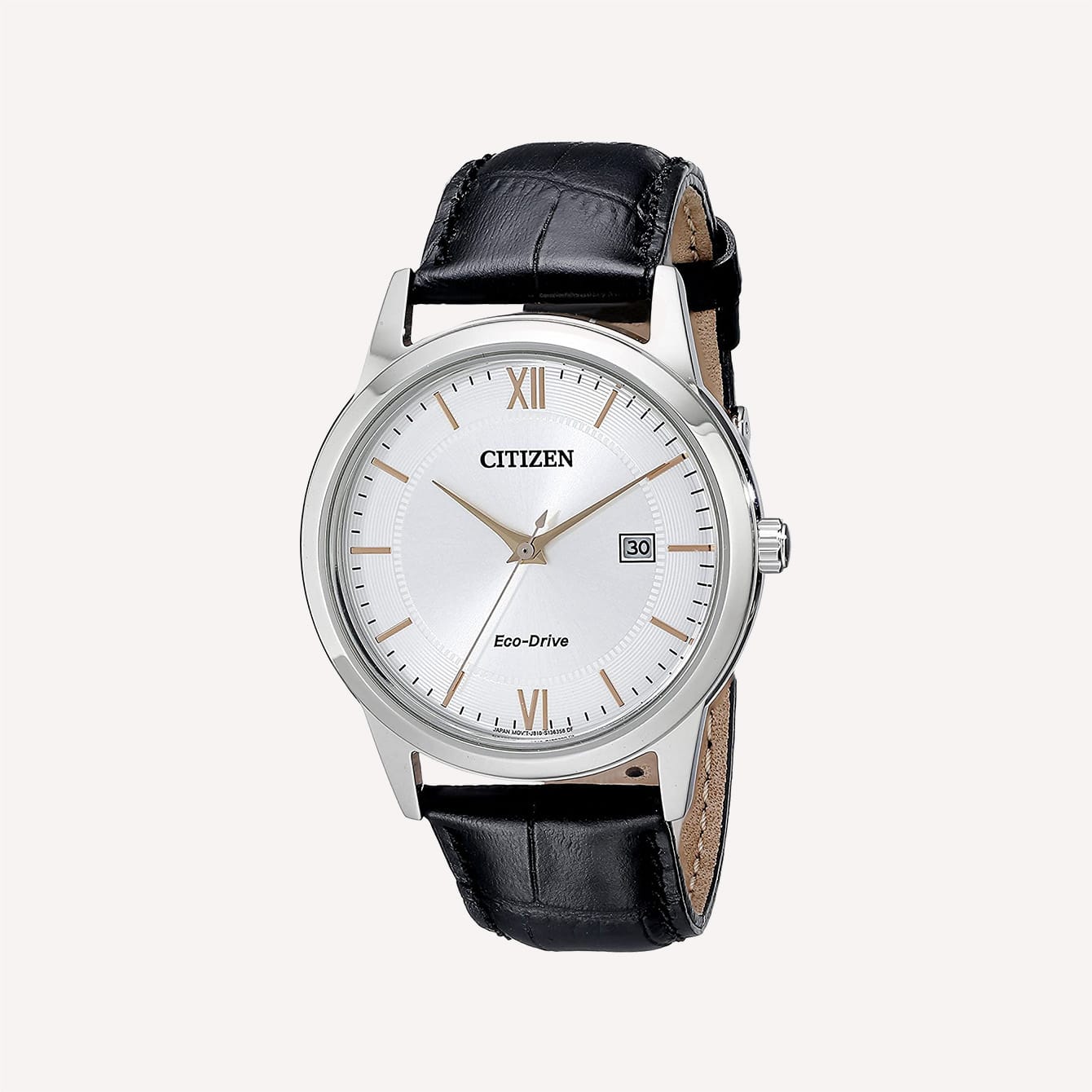 This watch measures 40mm across, and it comes on a genuine-leather band.
The AW1236-03A is all about the details. The white dial features a circular pattern around the outside of the dial, while the center has a more subdued look.
The gold-colored hands and indices are also a nice touch. It features a three o'clock date window, a six-month power reserve, a mineral crystal, and a 30M water-resistance.
Citizen Eco-Drive BM7193-07B
For guys that like a bit more depth from their dress watches, check out the BM7193-07B from Citizen. Gold indices surround the patinated-looking dial, providing a bit of contrast and shine to the surface.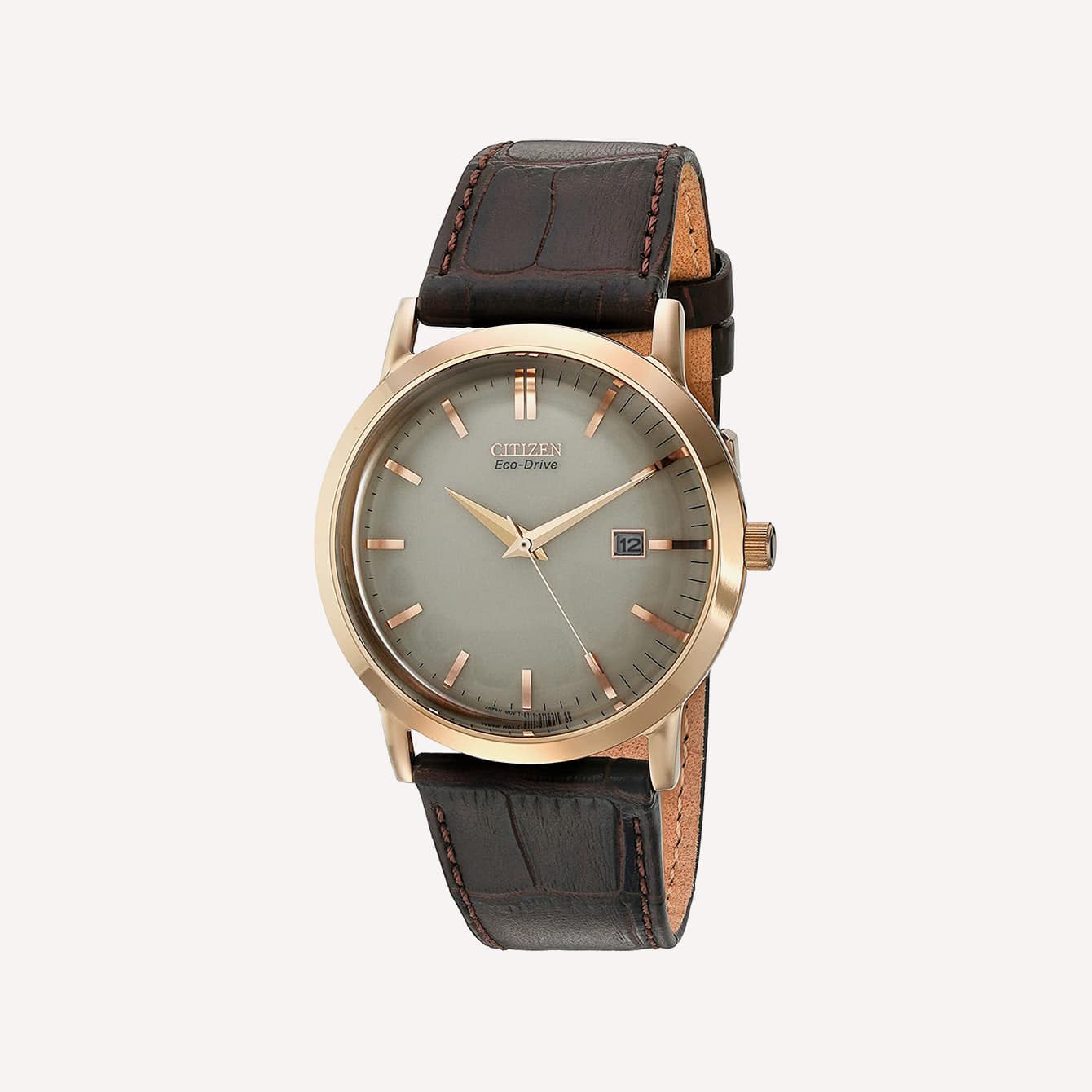 The 40mm width is ideal for most guys, and the dial's low position in the case provides a bit of depth. It comes on a crocodile-embossed leather strap.
The BM7193-07B works well in more formal wear, but it will also feel right at home in the office. Its gold case and indices draw a bit of attention, and its three o'clock date window will ensure you don't miss a meeting.
Like other Eco-Drive dress watches, it has a six-month power reserve and a 30M water-resistance.
The Best Solar Digital Watches
A solar powered digital watch makes a lot of sense. If you're looking for one, here's what we recommend.
Casio G-Shock G5600E-1
No list of solar watches would be complete without the G5600E-1 G-Shock from Casio. This watch has plenty of features housed within its classic original-G-Shock-esque design.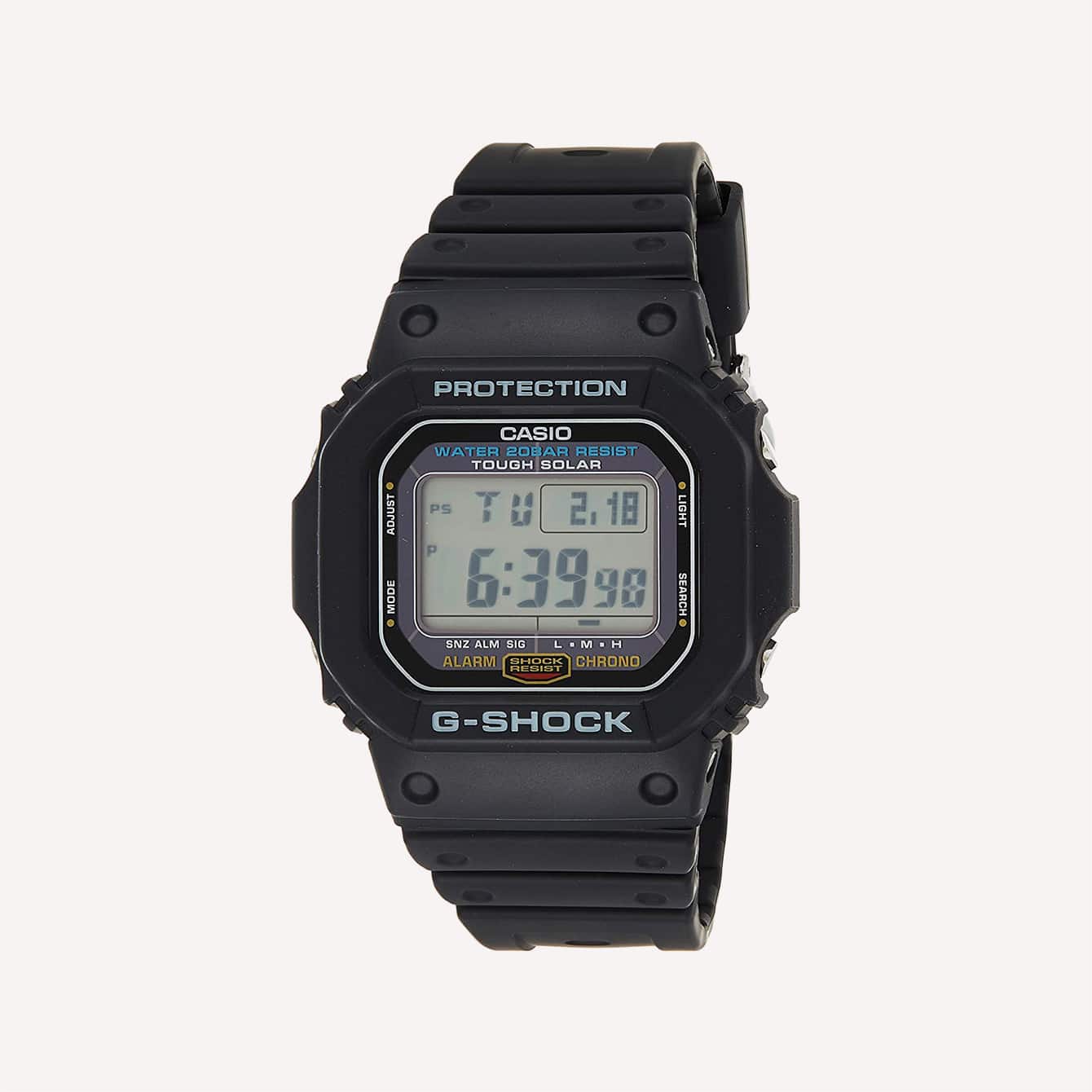 It's all-resin case and strap make it tough and durable. It measures 47mm across, but it's easily manageable on a smaller wrist.
The G5600E-1 does it all. It has the customary G-Shock 200M water-resistance rating. It also features a date, alarm, stopwatch, timer, and a backlight. Possible best of all, it has a Power Save function that provides up to a 27-month power reserve.
Casio G-Shock GBD-H1000-8CR
Guys looking for a feature-rich, solar-powered training partner need to look at the GB-H1000-8CR from G-Shock. This massive watch (55mm across) has so many features and goodies that it's a wonder how the battery lasts at all, sun or not.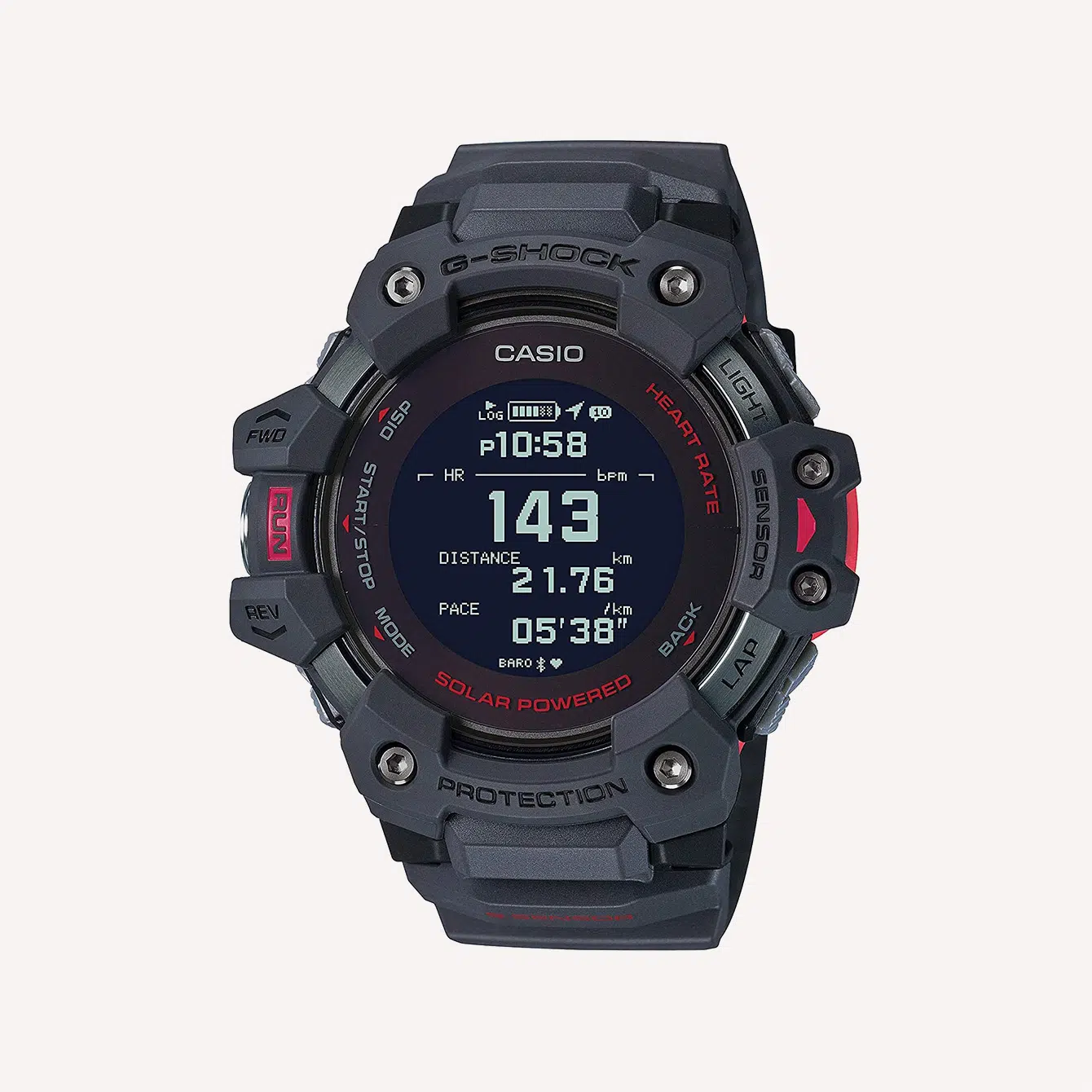 The GBD-H1000-8CR is GPS-enabled, and its Bluetooth functionality allows you to tie it into your phone. It tracks workout data like heartbeat, distance, speed, and much more.
It has a 200M water-resistance, an altimeter, a barometer, a thermometer, and a compass.
Casio Pro Trek PRW2500R
The PRW2500R is a great choice for guys looking for a tough, durable watch that can keep up on all of their adventures. While it might not be the most attractive to look at, its appearance definitely inspires dependability.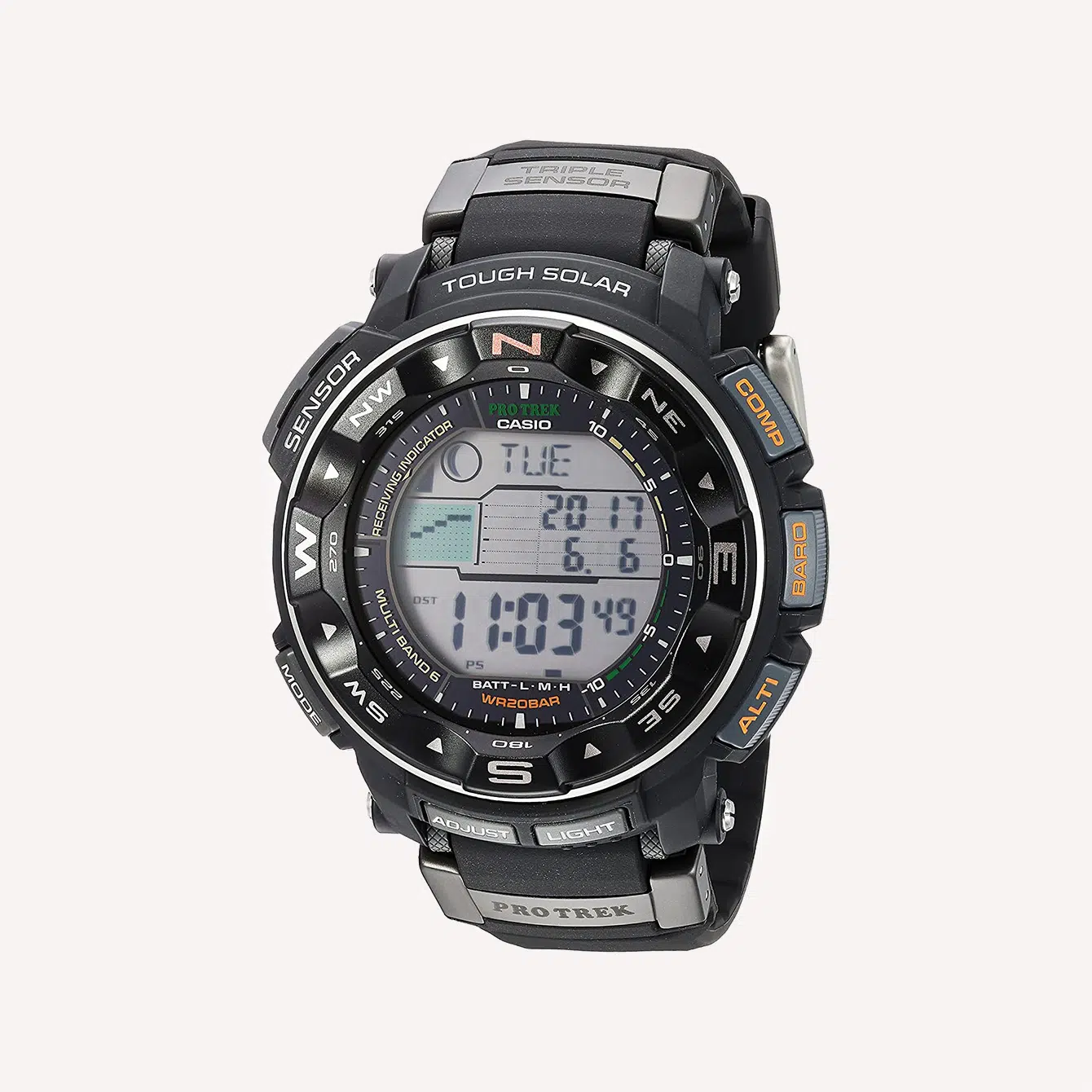 At 52mm, it could be a bit much for some guys, but it's a sacrifice others will make for the functionality.
The Pro Trek has some features to back up its rugged looks. It has a 200M water resistance, multi-band six atomic timekeeping, an altimeter, a barometer, and a compass. It also features a moon graph for tracking the tides and a dual liquid crystal display.
Final Thoughts
With 18 incredible solar watches available, it's easy to see that these aren't the throwaway, department store junk watches most collectors think they are.
They are legitimate, stylish, functional watches that you can count on remaining low-maintenance for the duration of your ownership.
If you're looking for a great solar diver, definitely check out the SBDJ017. If you're looking for a handsome racing chrono, you might have a hard choice to make between the Orient Solar Panda and the CA0649-EX from Citizen.
If it's just a bombproof training partner you're after, you can't go wrong with the G-Shock GBD-H1000-8CR.
It doesn't matter what your style is or what types of watches you collect, if you're looking for an awesome solar-powered watch, there's an option on the market for you.