Want to know the differences between the Omega Seamaster and the Tudor Black Bay? We've got you covered.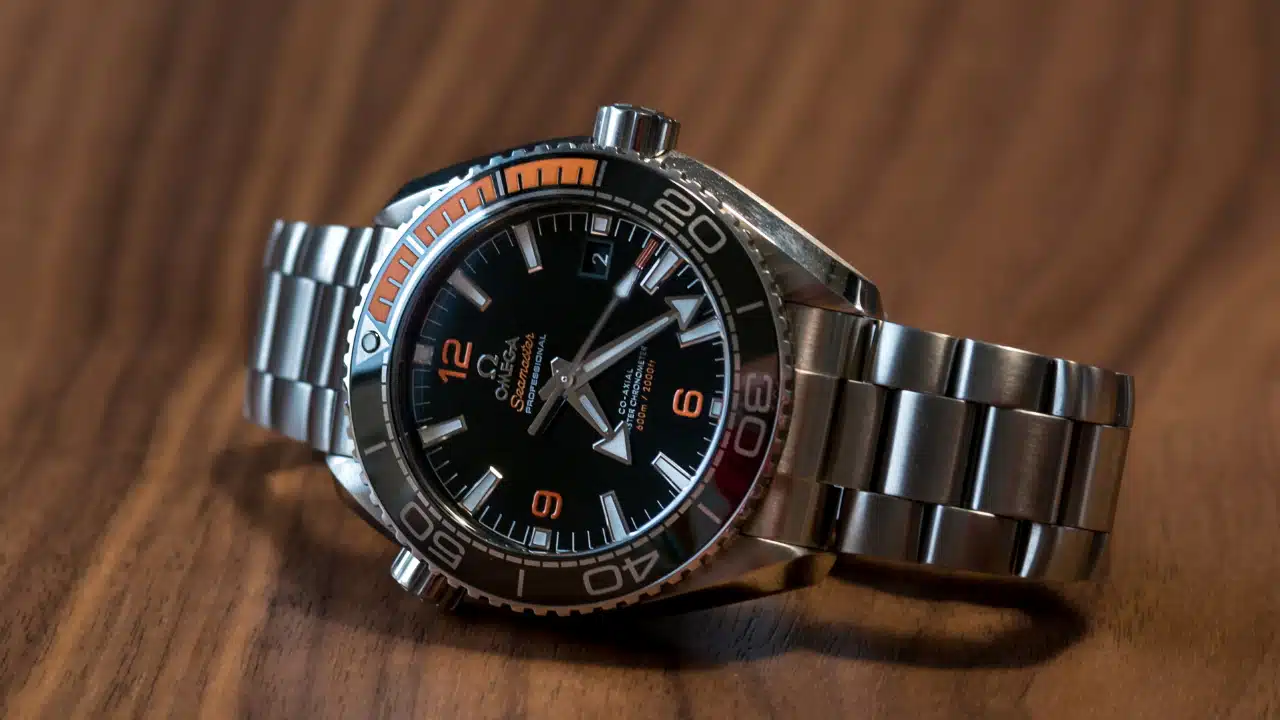 Since they both have so much historical importance and cultural cache, the Seamaster is often compared to the Submariner. And as siblings often are, the Black Bay often gets compared to the Submariner too. However, it actually makes a lot of sense to put the Seamaster and the Black Bay side by side.
After all, they're both "non-standard standards" in many ways since they play around with vintage and modern elements, the Black Bay's retro silhouette and signature snowflake hands being one example.
Another example is the Seamaster's original aerodynamic dial face and its iconic wave dial. They both also have many collateral variants, including GMTs and chronographs.
Basically, most people who don't want the Submariner but want a diver in the same quality realm will end up looking at one of these two.
Seamaster vs. Black Bay: Quick Overview
While both models have a lot of variation, the Tudor Black Bay has one template that it works from, inspired by their 1954 7922 Oyster Prince Submariner.
Meanwhile, the Omega Seamaster has at least two iconic core models that are completely different from each other, like the original triangular-forward design from the '50s and the wave dial that came out in the '90s.
All Black Bays are, therefore, a mix of vintage and modern aesthetics and are generally more simple overall. Depending on which variant you're looking at, the Seamaster can be either retro-inspired or more recent, with a generally more dynamic look.
Functionally, the Omega might win simply because it checks more boxes. However, perhaps a jack of all trades isn't as important to you, and you want a watch with just one or two outstanding functions (like the Black Bay's 70-hour power reserve compared to the Seamaster's 55).
There's a lot to look at here. So, let's start with the Tudor Black Bay:
Tudor Black Bay
The Tudor Black Bay has a lot in common with its older brother, the Submariner. In recent years though, many collectors have come to appreciate it as an important dive watch in its own right, outside of the Sub's shadow.
Looks
Since the Sub set the standard for what a classic diver looks like, the Black Bay is one of many tool watches that resemble it. Unlike those other lookalikes, though, the Black Bay is legitimized since Tudor and Rolex are sister companies. Their similarities are more like a family resemblance than a copycat situation.
All modern Black Bay divers have the Rolex-like circular applied indices, triangular 12, and rectangles for the other cardinals, as well as the unidirectional bezel.
Uniquely, the Tudor then combines a guardless crown, which is recognizably retro, with their signature snowflake hands, which have an almost playful, polygonic look. These hands became an instant classic. Essentially, the Black Bay is standard but still distinct.
The Black Bay comes in a wide range of colorways, all of which are impressively versatile.
For example, the red bezel colorway can still be worn as an everyday watch since it's tempered with a stark black dial. Meanwhile, the bronze outer track and yellow outlines around the indices and hands ensure the shiny red and stark black don't contrast too dramatically.
Even the champagne dial, as bright as it is, is about as neutral as any piece of gold jewelry. It's also a unique colorway rarely seen on a Seamaster.
Another aesthetic approach that the Black Bay takes on more effectively than the Seamaster is the military look. The Black Bay Pro and P01 look like a vintage Explorer I merged with a classic dive.
Sure, the Seamaster Reference 2231.50 has the same black-dial-metal-bezel combination. Still, the Pro and P01 have a less decorative approach — no wave dials, simple lugs, and a generally no-nonsense look.
Maybe it's because Tudor has learned a thing or two from Rolex, but they just really do the standards justice.
There are a few dressier Black Bay offshoots, but since they don't have rotating bezels, we aren't considering them here. It's worth mentioning that all of these satellite sublines are something the Black Bay and the Seamaster have in common.
Both the Blacky Bay and the Seamaster, unlike the Submariner, also infuse their dives with other tool qualities, like GMTs and chronographs.
Features
Modern Black Bays run on in-house COSC-certified Chronometers. And while COSC movements guarantee a -4/+6 accuracy on average, these Tudor calibers are known to be 40% more accurate than even the certification calls for.
The simplest caliber on a current Blacky Bay is the MT5602, a 25-jewel automatic that actually has a higher VPH than the current Seamaster 300 has, as well as a higher power reserve at 70 hours.
In fact, if you compare the two watches, you'll notice that the Black Bay does in fact have a slightly smoother second hand sweep.
Older Black Bays run on ETA movements, all of which are perfectly reliable for everyday timekeeping and are furthermore super easy to service.
And overall, these watches boast premium Swiss construction. The ceramic bezels are fade-proof, vivid, and have a crisp and satisfying click. Its 200 meters of water resistance is good enough for professional diving, and the lume is excellent, lasting anywhere from half an hour to eight hours.
And again, you can even get Black Bays with GMTs and chronographs, imparted into that classic template.
History and Pop Culture
Even though the Black Bay came out in 2012, it's inspired by Tudor dive watches from the 1950s.
Ironically, the snowflake hands that many believe give it a sharp-turn modern aesthetic (compared to the Sub's ornate Mercedes hands) date all the way back to 1969.
Though if you remember your art history, this was arguably right after the polygon-focused Mid-Century Modern movement, which informs many contemporary styles today. So it's not actually that ironic.
I think the Black Bay is for people who want a classic premium dive, legitimate in its own right, that's subtly more distinct. Maybe you love the timeless and objectively effective design of the Submariner but don't want something so "obvious."
Or maybe, you just like good old-fashioned efficiency in a watch, with a few fun visual updates here and there.
Omega Seamaster
Like the Black Bay, even the core Seamasters come in many variants, both visually and functionally. Unlike the Black Bay, and unlike most recognizable watch models, the Seamaster doesn't riff off of just one fundamental design.
Despite this, it's still an iconic line and one of the most important divers in history. Here's why.
Looks
While the Black Bay has fun with the textbook design most associate with standard dive watches, the Seamaster plays its own game completely when it comes to aesthetics.
Most recognize the wave dial version from the '90s that James Bond made famous. The design is undeniably thrilling, even today, with its scalloped bezel and that alternating-link bracelet.
Meanwhile, the original Seamaster from 1957, Reference CK 2913, continues to inspire the heritage line, as well as several contemporary versions. The triangular indices, broad arrow hands, and generally dynamic visuals almost make it look like a cross between a dive and a racing watch.
The Planet Ocean, for example, looks like a CK 9213 on steroids, boasting bigger features throughout.
The 2020 James Bond Seamaster combines elements from the two tent-pole Seamasters, featuring the hands and indices of the wave dial, the coloring of the CK 2913, and a bezel that's a little bit of both. Of course, this watch became an instant classic.
Features
While most would argue that modern Seamasters boast a better movement than modern Black Bays, I'd say it depends on your priorities.
The Omega 8800, for example, is what the current wave dial Seamaster runs on. It's an in-house automatic that's wildly accurate, COSC-certified, of course, and objectively more sophisticated than what Black Bays run on.
Part of the reason is that it has a co-axial escapement instead of a lever escapement. Not only does this mean that it won't need servicing nearly as often, but the complexity makes it more visually interesting. This is more important if you go for a Seamaster with an exhibition caseback.
Plus, it's super antimagnetic, which is important considering how much technology we have on our person at any given time. The downside here is that, on the rare occasions your Seamaster might need servicing, it'll be way more expensive than servicing a Black Bay.
And as mentioned earlier, it has a smaller power reserve at 55 hours and a lower VPH, meaning the second hand jumps a bit more — though the naked eye could hardly discern that.
Also, if you prefer an accurate quartz movement, the Seamaster offers that as well.
It's also 100 meters more water resistant than the Black Bay, or 400 meters more if you're looking at the Planet Ocean.
History and Pop Culture
Immediately, the Omega Seamaster is way more famous than the Tudor Black Bay. There's no competition there. This watch isn't for those who want something subtle and anonymous.
The CK 2913 from 1957 was the first true Seamaster with water resistance. Since it was associated with the British Navy in real life, it became the James Bond watch after the Submariner in 1995.
In the 2006 Bond film Casino Royale, 007 wears a contemporary wave dial design. Daniel Craig would wear several Omegas throughout the franchise, culminating in the prior mentioned 2020 sum-of-all-Seamasters Bond watch.
Basically, the Seamaster has both historical and pop culture street cred — having been an important model in the fictional and real world.
FAQs
Here are some common questions regarding the Black Bay and the Seamaster!
Which Is Better, Tudor or Omega?
Between the two, Omega is the higher-end and more famous brand, but both produce quality timepieces. Tudor's movements aren't as complex as Omega's, but they do offer classic, understated styles that some might prefer.
Is the Omega Seamaster a Luxury Watch?
Yes, it's one of the most coveted and recognized dive watches in the world, built with upscale materials and powered by horologically advanced movements.
Is the Omega Seamaster Worth It?
Yes, if you find a design you like, the Seamaster and the Speedmaster are the two most sound investments in the Omega family.
Is Tudor Black Bay a Luxury Watch?
Yes, with its premium Swiss construction and dependable movements, especially the modern COSC-certified ones, the Tudor Black Bay is an objectively high-end watch.
The Omega Seamaster vs. The Tudor Black Bay: Which One Is for You?
The conclusion here is similar to a comparison between the Submariner and the Seamaster in that the Black Bay is generally a better fit for those looking for a traditional dive watch.
What makes it different is that it's a little more fun, offers a few off-template variations, and unlike so many dive watches going a "classic route," its similarities to the Sub are non-suspect.
Black Bays will often have a smoother second hand sweep, a more substantial power reserve, and better lume.
The Seamaster, however, is still the more important diver, culturally and historically. You can choose from different core models, depending on your personal style, and its COSC-certified movement is horologically more advanced.
While the Black Bay is a master at its strengths, the Seamaster is more comprehensive, checking more boxes, from its co-axial escapement to its anti-magnetism to its Bond pedigree.
Questions? Comments? Leave them below!