Watches are an integral part of James Bond's classic style. Here are some of the iconic watches from the films.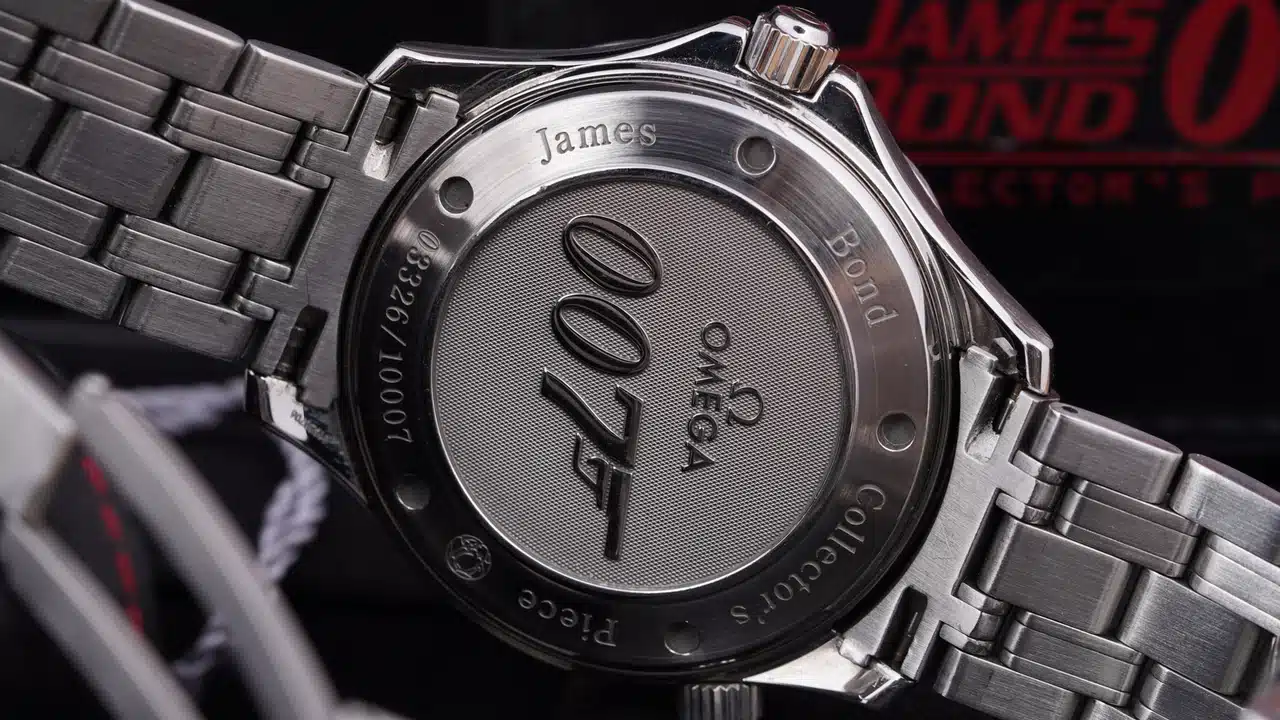 There are few fictional characters as associated with watches as James Bond is. Sure, kids in the '40s loved Dick Tracey's wrist communicator, and '80s tweens wanted to sport Marty McFly's calculator watch (and Nike Bruins).
Even '90s kids dreamed of the day you could use a wristwatch to teleport à la Power Rangers.
Unlike many other fictional film heroes, from the beginning Bond wore real watch models (though sometimes with fictional functions), and the popularity of "watches worn by Bond" sometimes even sparked changes in the watch industry.
Personally, I don't think Bond has ever worn a bad watch. While some people might argue that the Seiko era was a misfire, I respectfully disagree — it worked for the Roger Moore era.
Did you know Connery wore more than just the Submariner? Or that the journey of the Seamaster to true-007 status was a long, hard-earned one?
We're going to take a look at eight watches Bond wore throughout the franchise, starting with the two big ones.
The Two Bond Watches
The two longest-running watches worn by 007 are the Sub and the Seamaster. Let's dive in!
Rolex Submariner
The Sub is the first-ever watch that Bond wore, and is still considered by many to be the true Bond Watch. One of its biggest contributions to men's style is the idea of the luxury sport watch.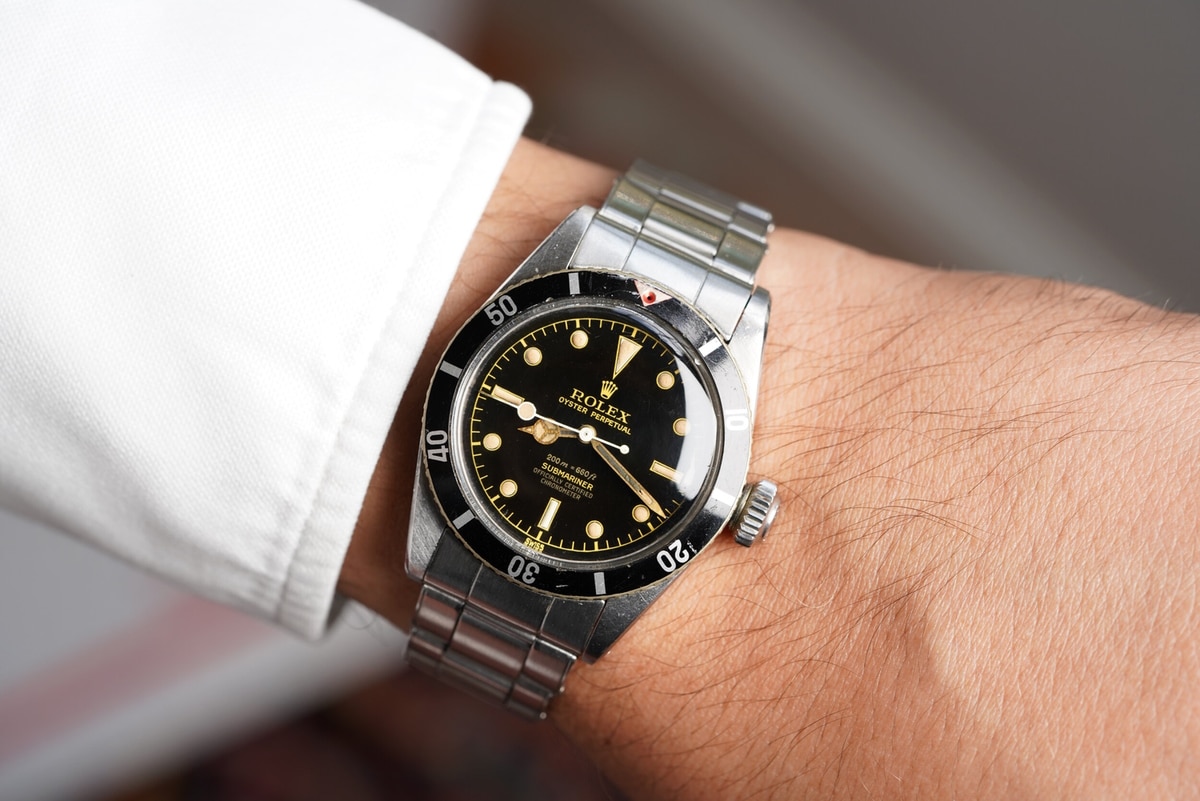 When Sean Connery paired a Submariner with his dinner jacket in Bond's first cinematical outing, 1962's Dr No, the world saw a new way to wear a tool watch.
Though it's still a tricky thing to pull off today (What if you're at a banquet with dimly-lit programming and your lume is activated?), this combination fully entered the fashion zeitgeist.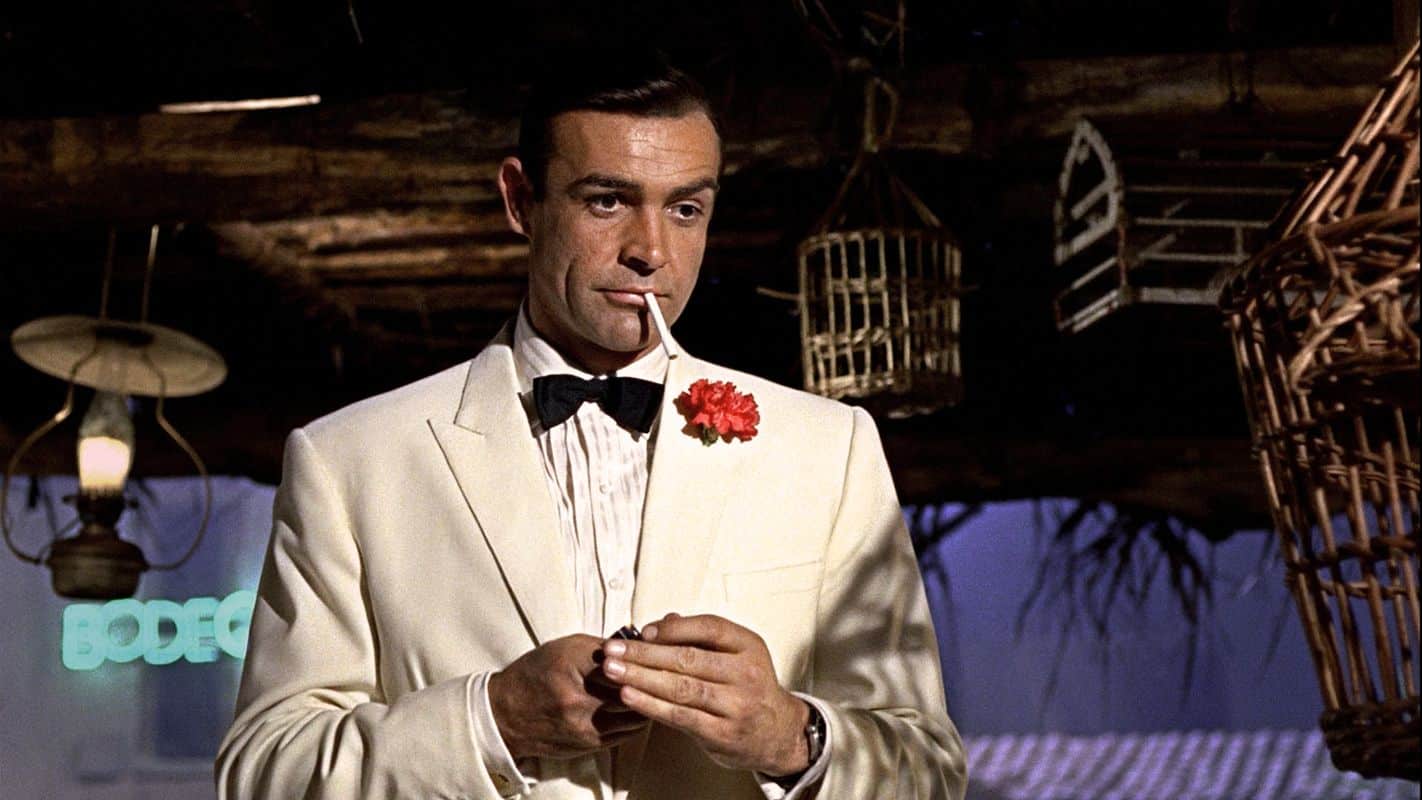 Also, the fact that 007 wore a non-specified Rolex in the books, and that his creator, Ian Fleming, also wore an Explorer definitely cinches the cultural relationship between the two brands.
With its rotating bezel and stylishly legible indices, the Submariner's straightforward design is both iconic and ever-practical.
While Rolex's design language hasn't changed much over time, it has evolved somewhat.
The Mercedes hands came soon after the original's debut (although it seems as if they've always been there), and today's Subs boast COSC-certified movements and several proprietary materials.
This quintessential diver was worn by the most number of Bonds.
The Bonds Who Wore Submariners
As mentioned, Connery wore a Sub in the very first Bond movie, Dr. No. It was a guardless, Mercedes-clad Reference 6538.
He continued to wear it in 1964's From Russia With Love, and 1965's Goldfinger and Thunderball.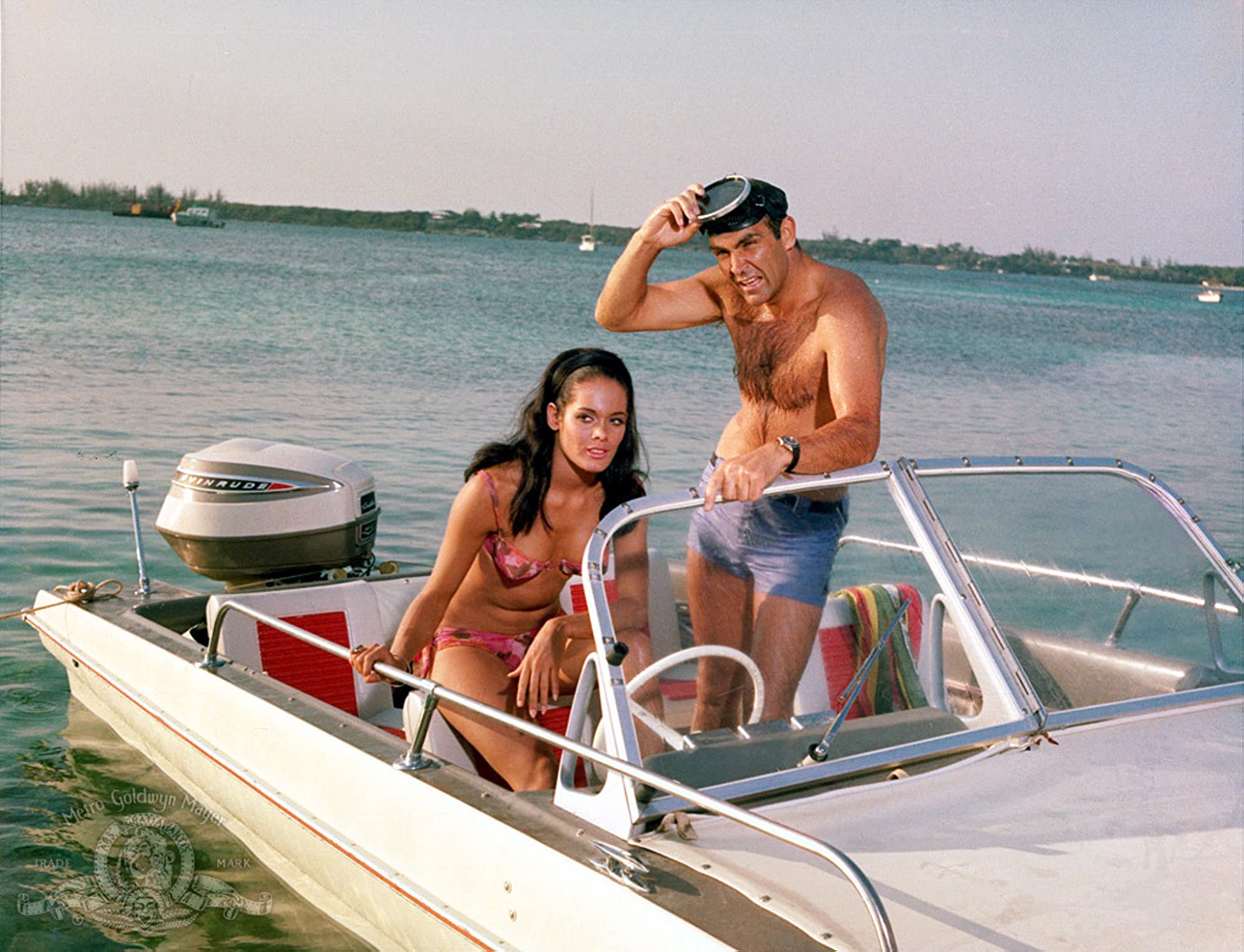 When Connery was temporarily replaced by the tragically underrated George Lazenby for 1969's Her Majesty's Secret Service, Bond wore a Reference 5513, now with crown guards.
He even wore it to his wedding to Tracy Di Vicenzo. (No, Daniel Craig's Bond was not the first Bond to fall in love). It's worth noting that Lazenby also wears a pre-Daytona chronograph in this film.
Roger Moore, Bond number three, ushered in a new, comedic era when he became the first blonde Bond. He'd eventually also ushered in a new era of watches.
Producers decided not to frighten the horses for his first Bond outings, however, sticking to the 5513 in both 1973's Live and Let Die and 1974's The Man with the Golden Gun.
Moore's Bond movies are the first time we see 'Q' adding some superspy functions to the Sub. It was equipped with a handy buzzsaw, though, sadly, none of the real-life 5513s ever featured one.
Timothy Dalton, Bond number four, was in two grittier-than-ever Bond flicks. In his second movie, 1989's License to Kill, he brought the Submariner back for his, and the Sub's, final 007 adventure.
The Omega Seamaster
After the darker take on Bond during the Dalton years, the '90s went back to a lighter, Moore-esque tone. However, this Pierce Brosnan era would do this with self-aware puns and over-the-top gadgets instead of using straight-up comedy.
With this, also came a new chapter of Bond watches focused on the Omega Seamaster. Though, we didn't know that this would be the case when Brosnan's Bond first sports one in 1995's GoldenEye.
It's the current Bond Watch, and both of the Seamaster's tent-pole designs are represented in the franchise.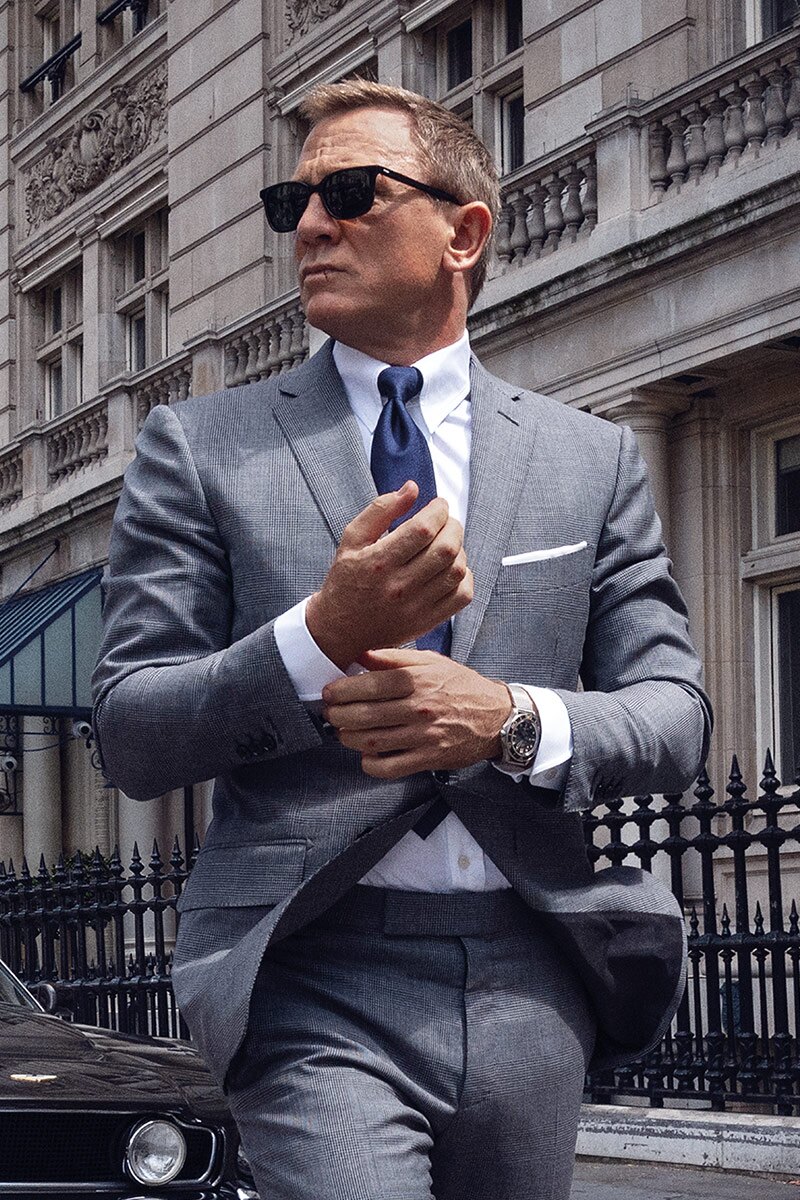 There's the now-legendary blue wave dial design, with its skeletal hands, scalloped bezel, and alternating-linked bracelet.
There are also designs based on the first Seamaster (Reference CK 9213), and its flush indices, broad arrow hands, and overall aerodynamic aesthetic.
Plus, the Seamaster was actually worn by real Royal Navy officers, so it makes sense that Bond would wear one. He may have fictionally served as a captain, but the Seamaster has real-life historical importance.
The Bonds Who Wore Seamasters
Different Seamasters sat on the wrist of two 007s, Brosnan and Craig, and was featured in nine films overall.
Pierce Brosnan was in four Bond movies, a wave-dial Omega Seamaster Professional 300M on his wrist for every single one. His first Seamaster was quartz-powered.
This timepiece would follow him into Tomorrow Never Dies in 1997 and The World is Not Enough in 1999, where the Seamaster was equipped with a grappling hook.
And in the first Bond film of the new millennium, 2002's Die Another Day, all the stops were pulled — for better or for worse.
In addition to the infamous invisible car and the Madonna cameo, this movie features a Seamaster with an explosive charge that's detonated using the bezel and a literal crown laser.
Since Die Another Day was just one degree away from being an Austin Powers movie, the next era would take a more serious tone. It would also, in my and many others' opinion, cinch the Seamaster's status as "The Other Bond Watch."
The first of Daniel Craig's films was 2006's Casino Royale, an origin story of sorts. In what might just be the best product placement in cinematic history, Vesper Lynd, soon to be 007's second love, tries to "read" Bond.
She says that MI6 looks for "former SAS types with easy smiles and expensive watches." Then she looks down, glances at his watch and asks, "Rolex?" Bond replies flatly, "Omega." "Beautiful," Vesper says admiringly while raising one eyebrow.
By name-dropping the original Bond watch, then ID-ing his Seamaster, this self-aware moment is an official baton-pass.
Though it's the same wave dial variation as the first Seamaster Diver 300M in the franchise, Craig's Reference 2220.80 is an automatic Chronometer instead of a quartz.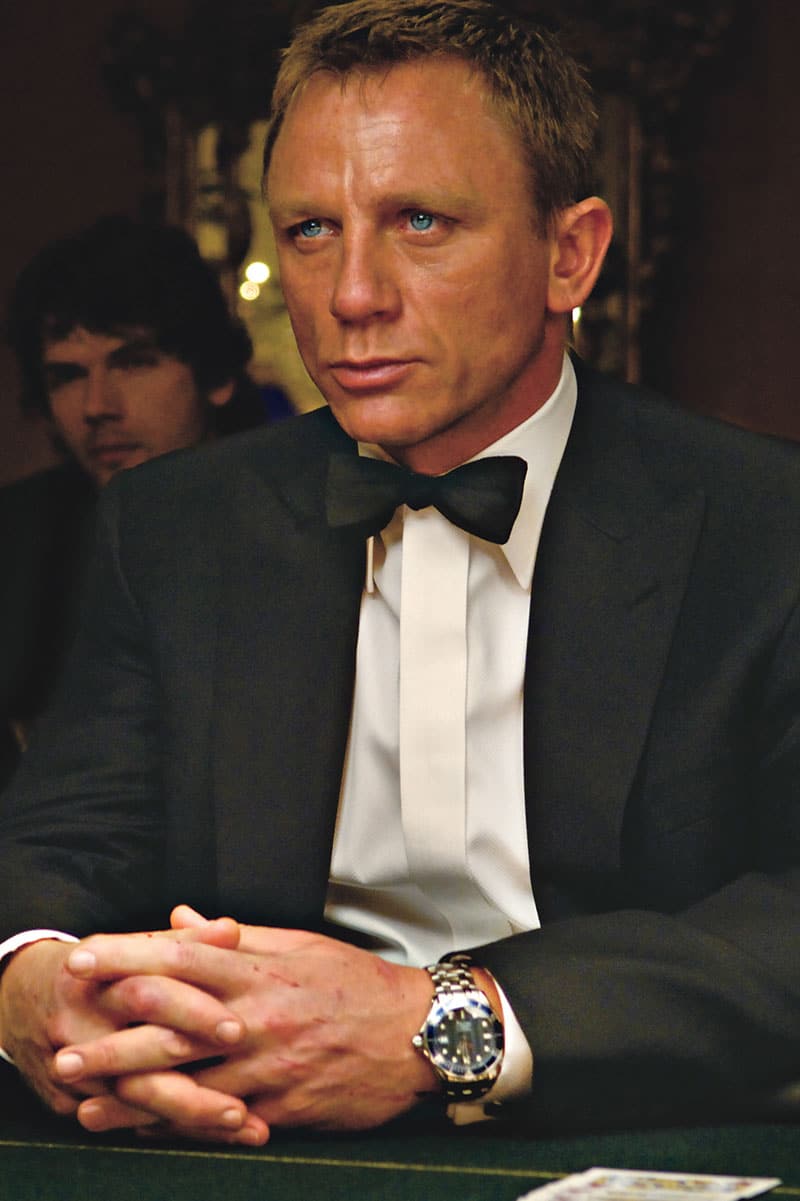 He also sports a Seamaster Planet Ocean, Reference 2900.50.91, the first broad arrow, original-inspired variant to show up in the series.
Craig continues to stick to the Seamaster Planet Ocean in 2008's Quantum of Solace and 2012's Skyfall.
In 2015's Spectre, he goes for the Seamaster Spectre, which leans even harder into the original '60s look by sharpening the indices into perfect flush arrows.
And finally, the Omega Seamaster Diver 007 Edition from 2021's No Time To Die was co-designed by Craig and the movie producers, and looks like a mix of both the wave dial versions and the original-inspired versions, for an even more obvious military look.
Other Watches Bond Wore
007 didn't just wear Seamasters and Subs. In fact, he didn't just wear dive watches. Here are other stylish watches Bond wore throughout the franchise.
Breitling Top Time from 1965's Thunderball
The Breitling Top Time was worn by Connery's Bond and was the first ever watch to boast a 'Q' modification. 007's Top Time is also a Geiger counter, used to measure radiation.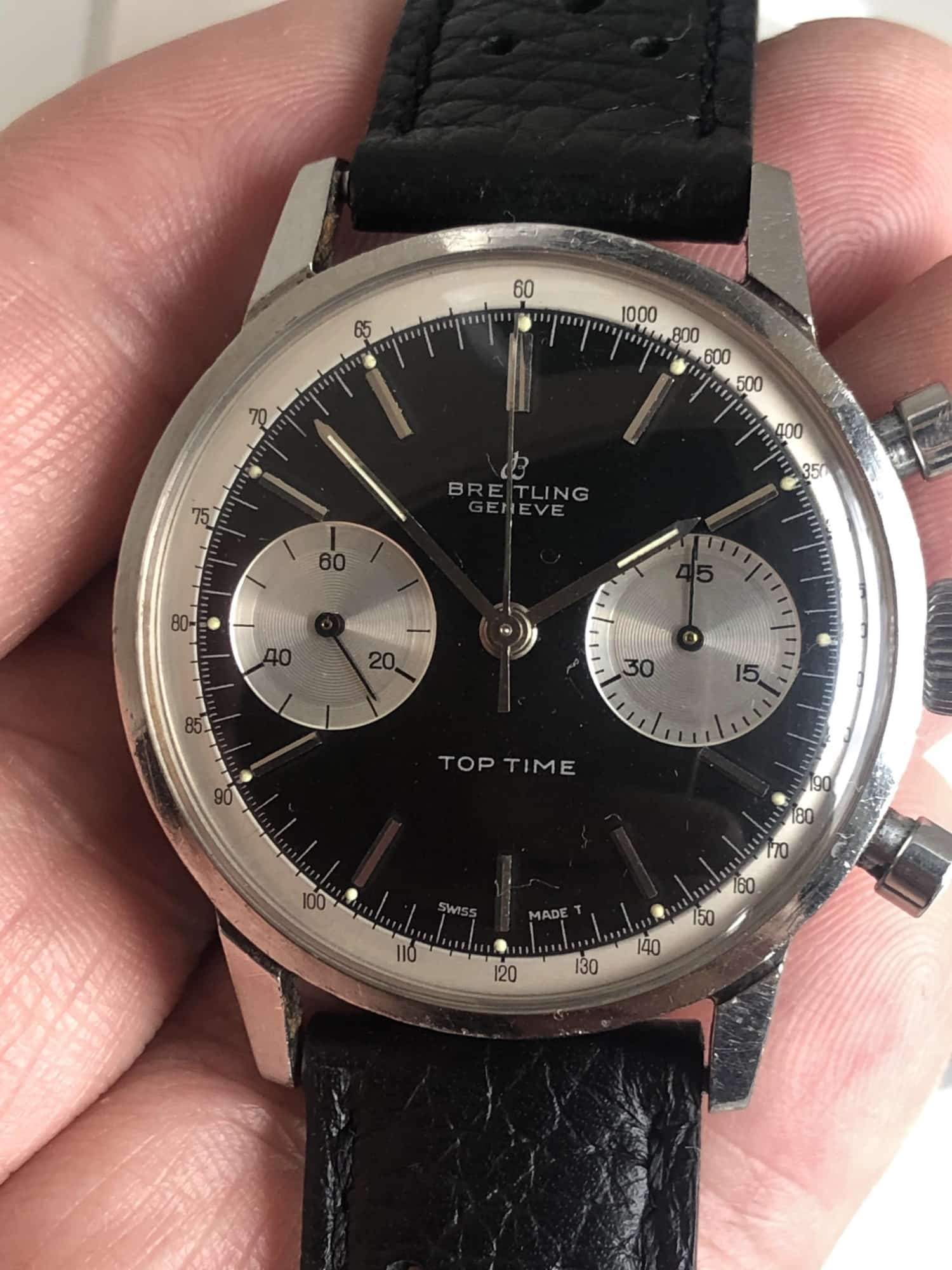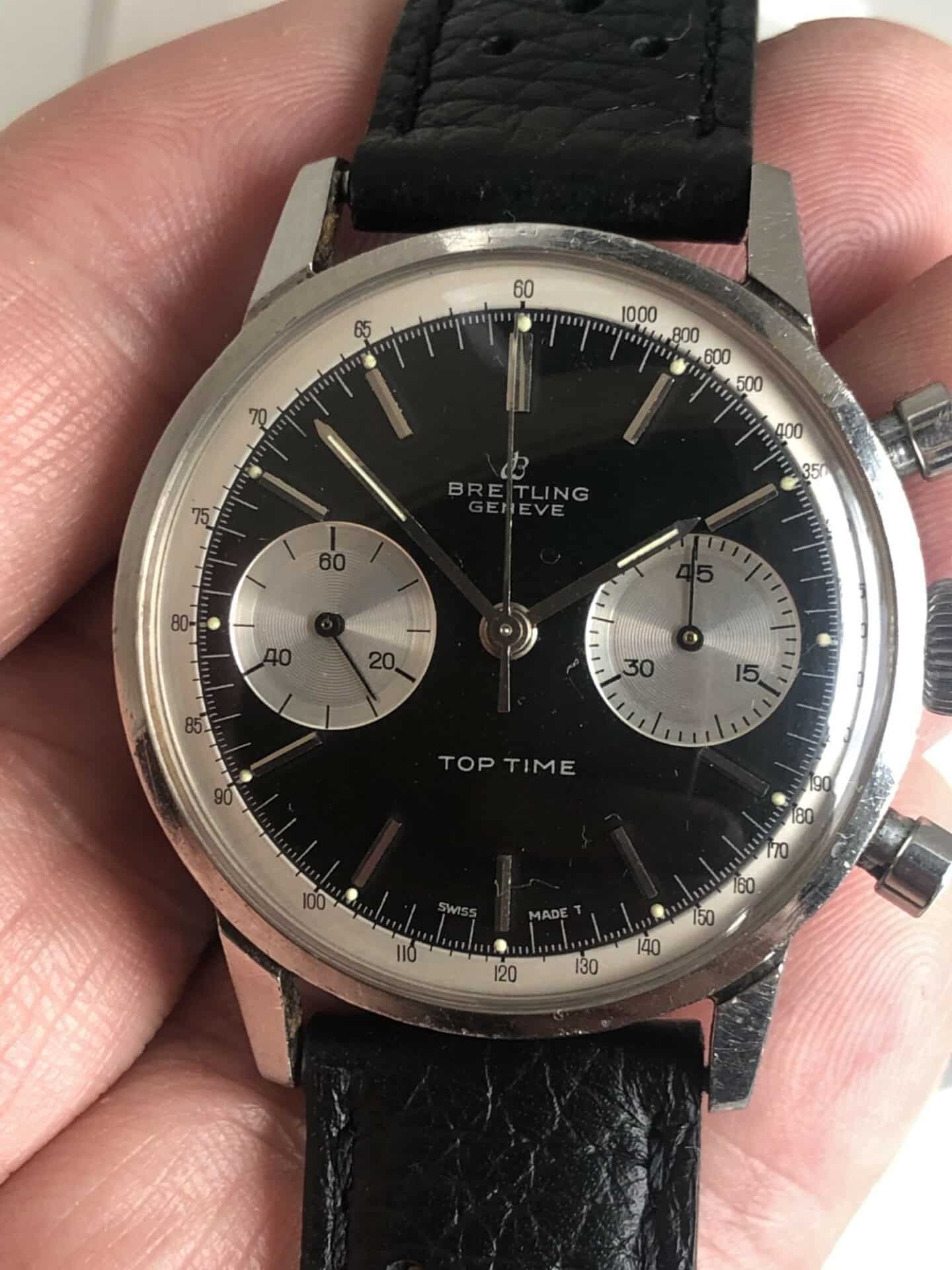 The Top Time was a popular chronograph in the 1960s, thanks to its sporty but still elegant look. It often only had two, small-proportioned metal subdials, leaving a lot of negative space on the dial.
Between that and the fact the tachymeter ring wasn't on the bezel itself, Breitling achieved a pretty dressy chrono, as far as chronos go.
As recently as 2020, Breitling released a modern Top Time with applied indices and a Chronometer movement. This model was a limited edition of 2,000 pieces.
Hamilton Pulsar from 1973's Live and Let Die
Immediately after Live and Let Die's title sequence, we transition into a bedroom scene, where fans noticed something a little different than usual. Bond, Roger Moore this time, was wearing a digital watch!
And not just any digital watch. It was the Hamilton Pulsar P2 2900, one of the first digital watches in the world.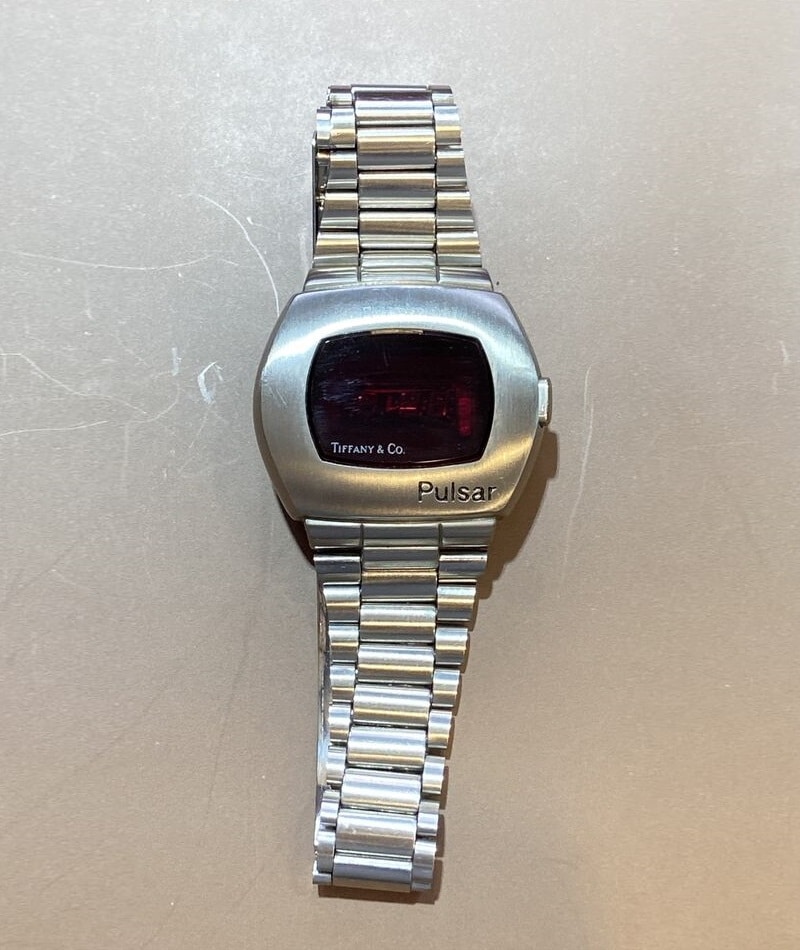 This LED-clad timepiece came out just the year prior, offering a futuristic look that we'd now describe as retro-futuristic.
It was one of Hamilton's popular watches at the time. And as they do with their hey-day archives, it's been relaunched in a modern construction.
The modern-day PSR features the same bloated square screen and oyster bracelet that gives 2001: A Space Odyssey vibes but has 100 meters of water resistance and a hybrid LCD/OLED screen.
Seiko 0674 LC from 1977's The Spy Who Loved Me
The first of several Seikos during the Moore chapter, the 0674 LC that Bond wore looked a bit like a more reasonable, more wearable version of the Pulsar. It was smaller, with tighter turns on the silhouette, and a vertically-linked bracelet.
And since this is Roger Moore we're talking about, the movie's 0674 LC also printed messages from M. These hilariously came in the form of long strips, not dissimilar to the labels that come out of old-fashioned label makers.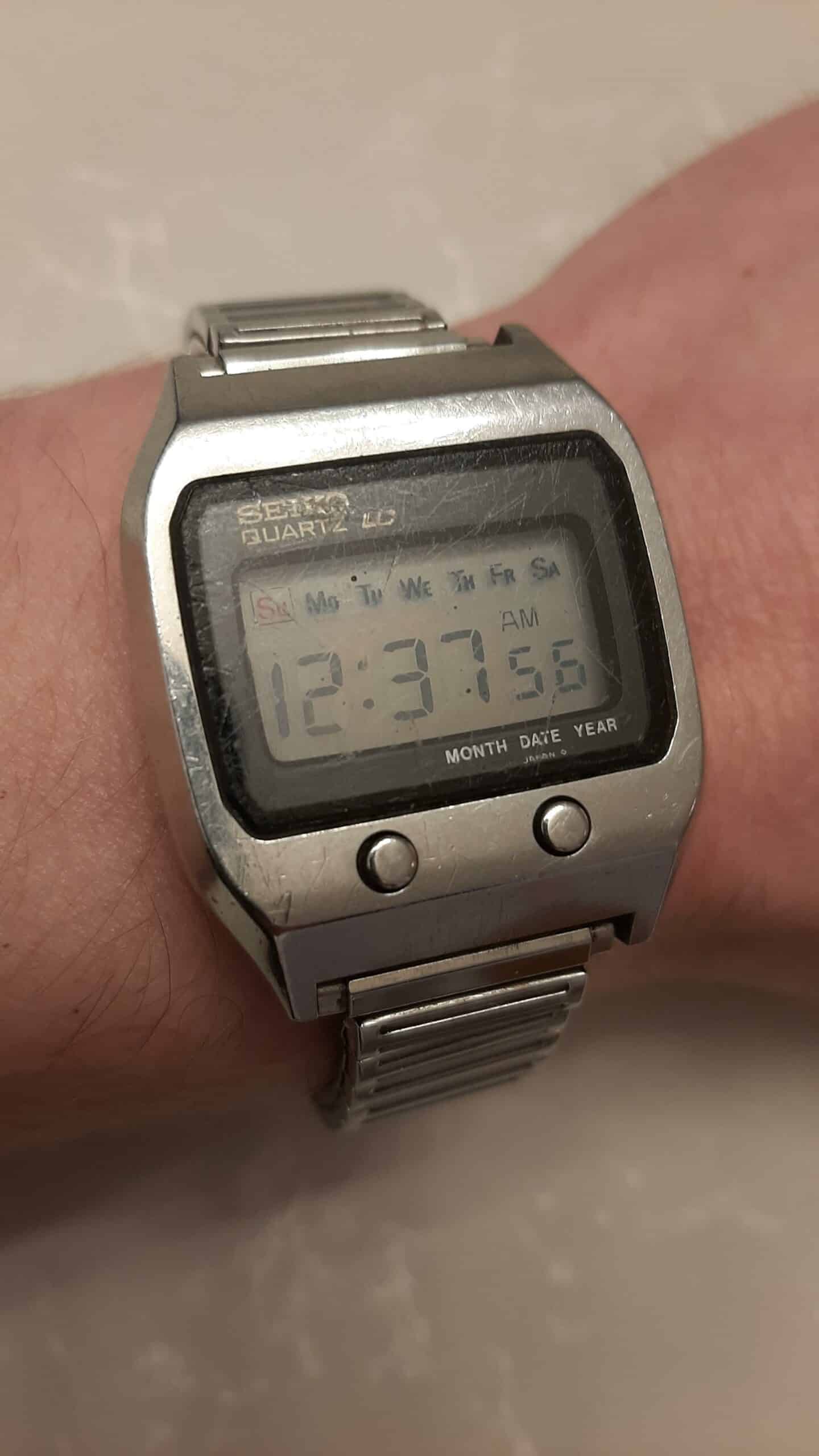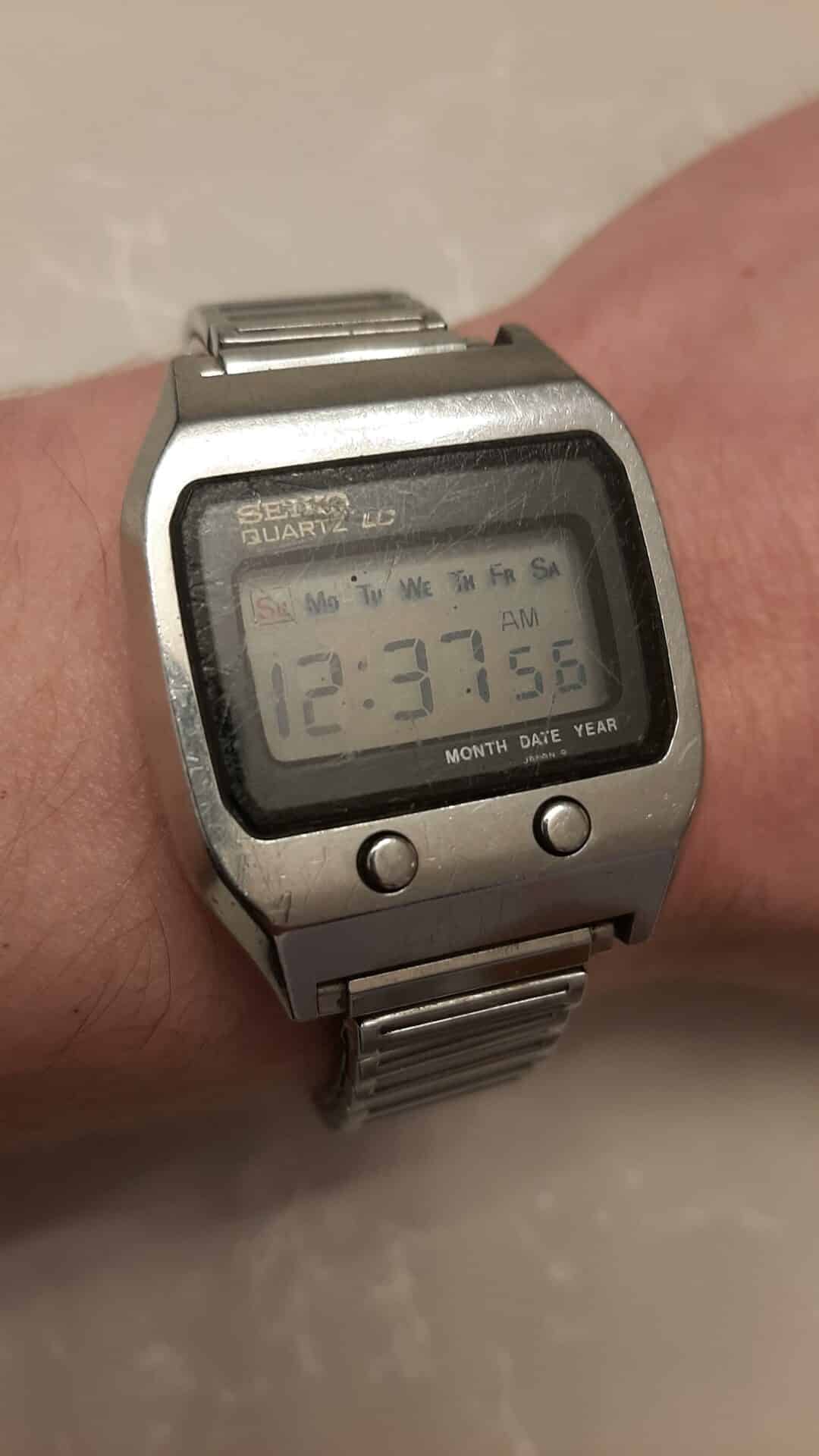 Seiko might be the third Bond brand when it comes to watches, which is a big feat for a Japanese watchmaker in a club full of Swiss hard-hitters. It was a big departure, but a lot of Roger Moore's era was untraditional and borderline irreverent.
Besides, this opened the door for the more reasonable experimentation that happened in the '90s with the introduction of the quartz wave dial Seamasters.
Now one of the most important Bond Watches of all time, I'd argue that the Seiko era broke barriers that made Seamaster's introduction much less jarring than it could've been.
Seiko M354 Memory Bank from 1979's Moonraker
Another Roger Moore Seiko, the M354 Memory Bank, has a look that you might more associate with Casio.
It has a square digital face, a sleek black background surrounding the screen, silver-toned accents throughout, plus a bracelet with three-beaded middle links and rectangular links to each side of it.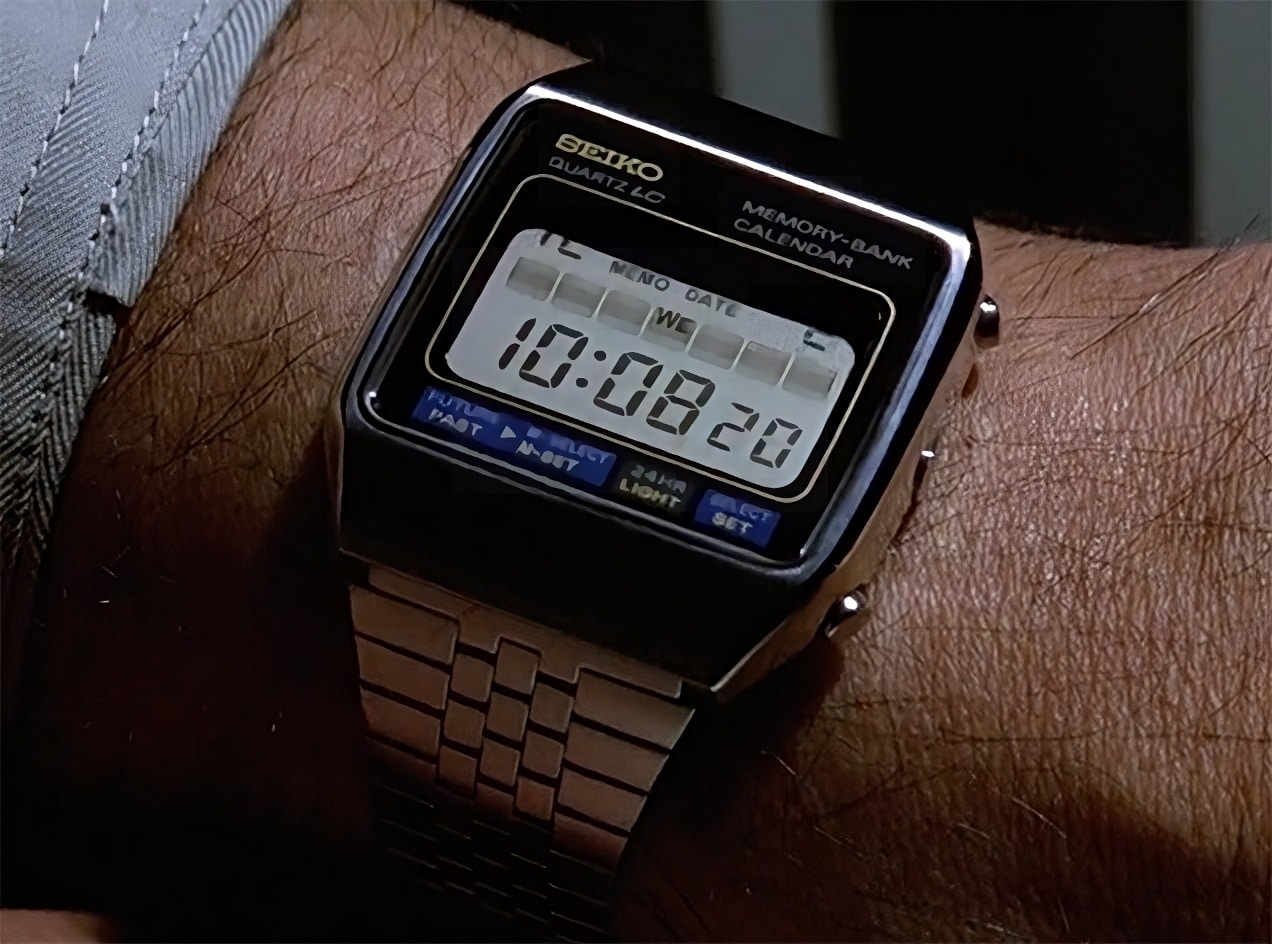 Since Moonraker is one of Bond's most outrageous romps, literally blasting off into space, it's no surprise the watch featured in it is equally as out-of-this-world.
Bond's M354 comes with explosives and a detonator, which he uses to escape the Moonraker launchpad.
Seiko 7549-7009 Golden Tuna from 1981's For Your Eyes Only
The first analog Seiko that Roger Moore wears, the Seiko Golden Tuna is seen during the dive to the wreck of St. George's in For Your Eyes Only.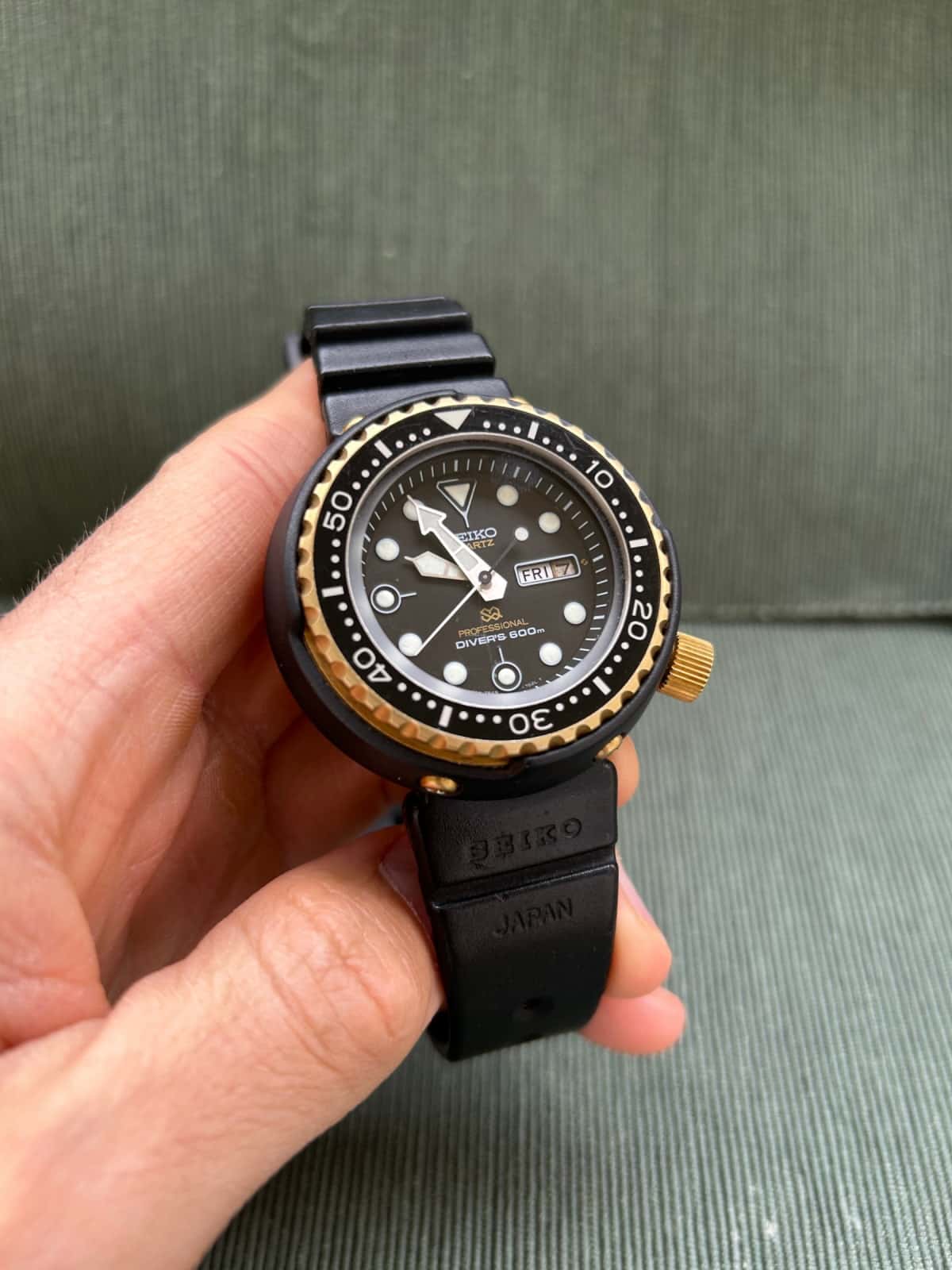 This is actually one of Seiko's most important models since it was their first quartz diver and their first titanium watch. Of course, it also has a distinct design, with an extra fortified case that includes a screwed-in outer armor around the gold-edged bezel.
It basically looks like a classic diver that's been beefed up to tank-durability status.
TAG Heuer Professional Night-Dive from 1987's The Living Daylights
In a way, the TAG Heuer Professional Night-Dive that Timothy Dalton wears during his inaugural Bond outing was the start of steering Bond back into a traditional diver style.
The Night-Dive is clearly based on the classic dive template invented by the Submariner, from its unidirectional bezel to its legible indices, which were triangular at the 12, rectangular at all of the cardinals, and circular everywhere else — sound familiar? It even had Mercedes hands.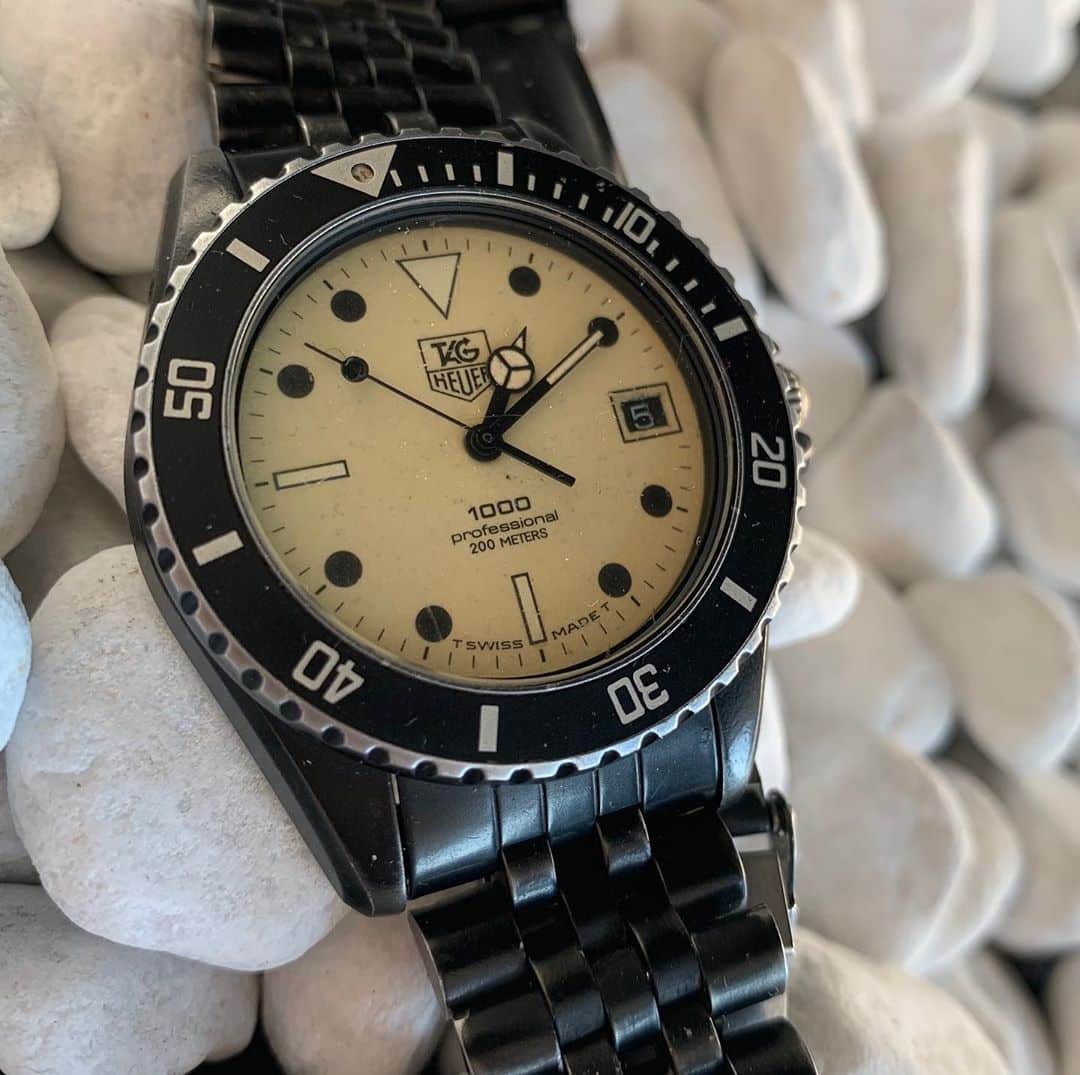 This quartz watch was named for the fact it had a brilliantly lumed dial. Dalton even wore it with a rubber strap, striking a balance between the utilitarian-looking watches worn just prior to his stint, and the luxury sport aesthetic from earlier in the franchise.
This would be the first and last time TAG Heuer would be seen on 007, as Dalton's follow-up movie featured the Submariner's encore, before diving straight into the Seamaster era.
FAQs
Still have some questions? Here are some commonly asked ones!
What Was James Bond's Favorite Watch?
It's a toss-up between the Rolex Submariner and the Omega Seamaster since they're the most commonly worn. While most other iterations of Bond wore more than one model of watch, Pierce Brosnan's Bond was faithful to the Seamaster Professional 300M.
Does James Bond Wear a Rolex or Omega?
Bond wears both, starting with the Rolex Submariner in the first few films, then the Omega Seamaster from 1995 on.
What Kind of Rolex Did James Bond Wear?
James Bond wears several references of the Submariner in the films, as well as a pre-Daytona Rolex chronograph. In the books, he wears a non-specified Rolex, though it may have been an Explorer, as that's what the author, Ian Fleming, wore.
Bond's Lasting Impact on the Watch Industry
Bond actually wore a lot of watches, including some mystery references. Other notable models include a golden Gruen that Connery wears in You Only Live Twice, which was his first and only true dress watch.
In Octopussy, Moore wears the Seiko TV Watch, which ultimately failed since the picture quality was so bad and it was wildly inconvenient to use.
Still, no fictional character has contributed to the culture and market of the watch industry as much as 007 has.
There's no doubt in anyone's mind that the Submariner is the most famous watch in the world, due at least in part, to the world's favorite British spy.
Questions? Comments? Leave them below!