There are some awesome watch brands based in Sweden. We rounded up a list of our favorite ones right here!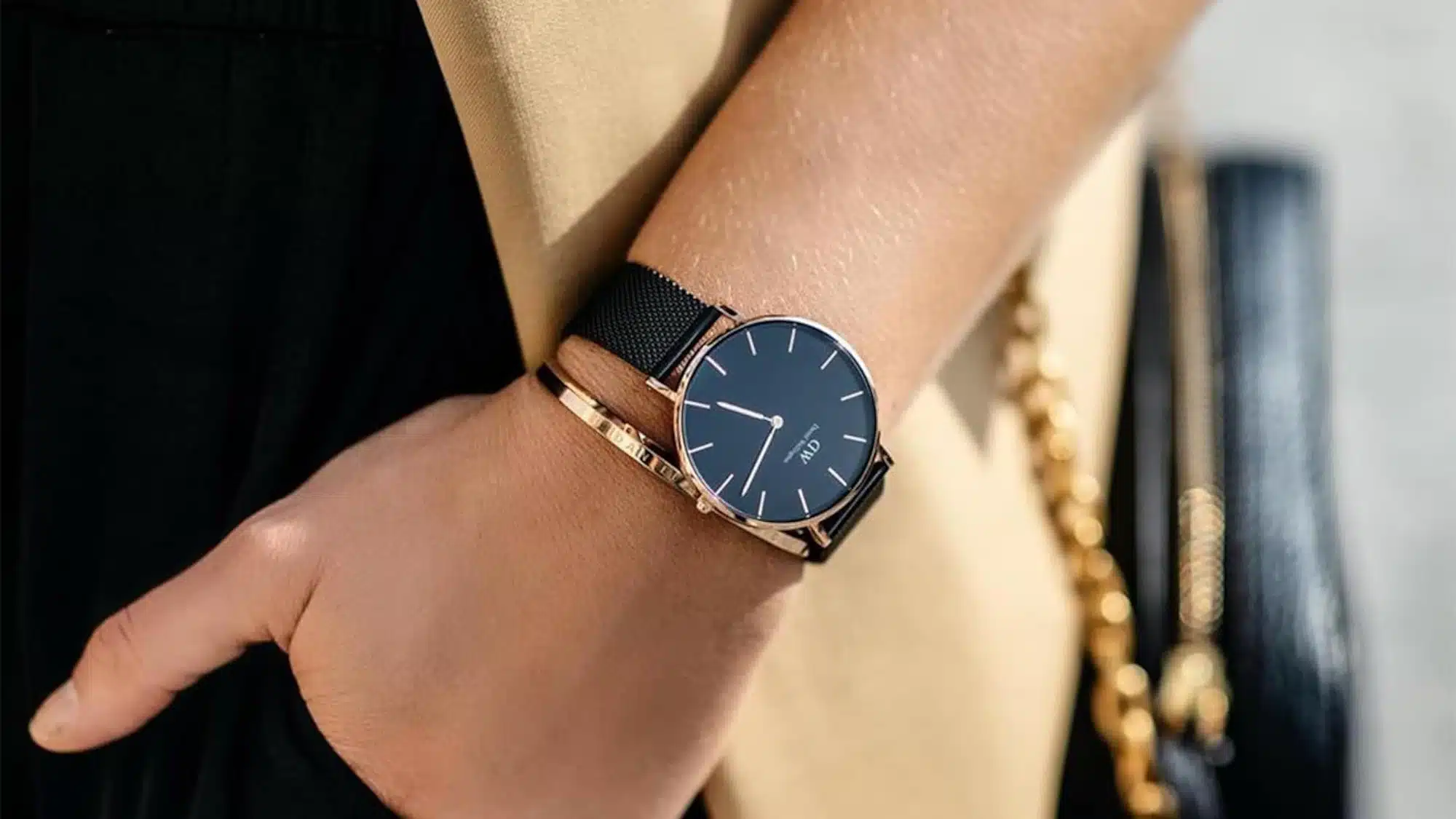 You might be mistaken for thinking that Sweden is an unlikely corner of the world for successful watchmaking. But the reality is Sweden has been setting the pace for ambitious watchmaking for quite a few years.
In 2016, Sweden had the fastest growth rate in watches by a significant margin compared to the rest of Eastern Europe.
This could be thanks to watchmakers like Daniel Wellington, a brand known for its minimalistic Scandinavian design.
Top 12 Swedish Watch Brands
I've put together some of Sweden's leading watchmakers.
Let's delve straight in and discover what the country known for pop music, recycling, and innovative design offers in terms of timekeeping.
Daniel Wellington
Daniel Wellington's rise in prominence became apparent in 2011 and has transformed the notion that people only wear watches as a status symbol.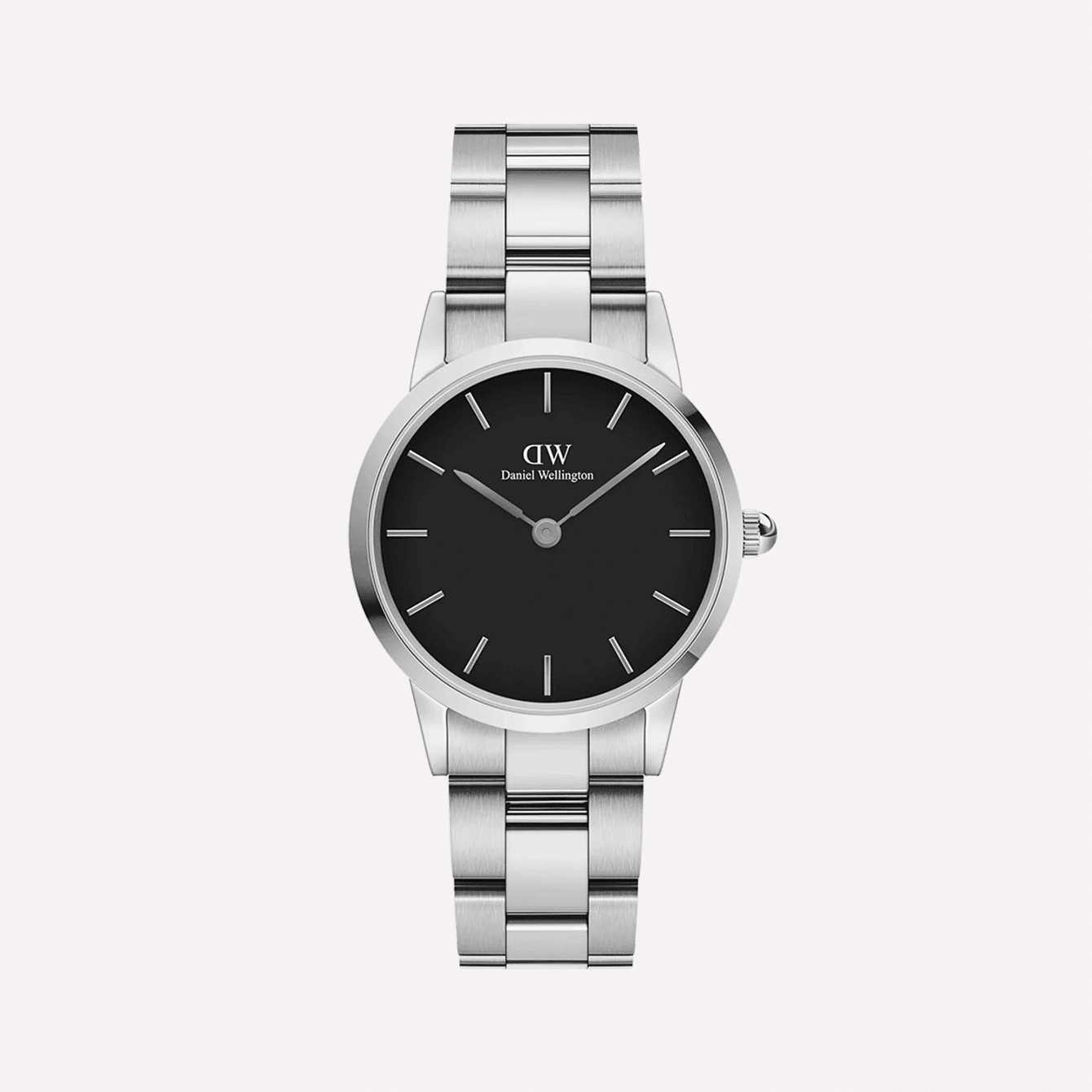 DW, founded by a British gentleman who liked to wear vintage watches with weathered NATO straps, has reshaped a market driven by socio-economic consumers.
The brand is known for its range of unisex and minimalist watches, many of which are thin and light. They often feature mesh bracelets or NATO straps to complete their simple and modern styles.
Daniel Wellington watches from the Classic and Dapper collections are named after British cities and towns.
Known as perhaps the most "notorious" fashion watch brand among watch lovers, social media is the primary boost behind the DW's growing success.
While Daniel Wellington watches certainly aren't the best bang for your buck, if you like them, don't let watch snobs stop you from wearing one.
TRIWA
At the forefront of many modern-day watch brands is a focus on sustainability.
TRIWA is a watchmaker headquartered in Sweden that works to reduce carbon emissions by using eco-friendly materials. It also aims to raise awareness of worldwide issues through its global-minded missions.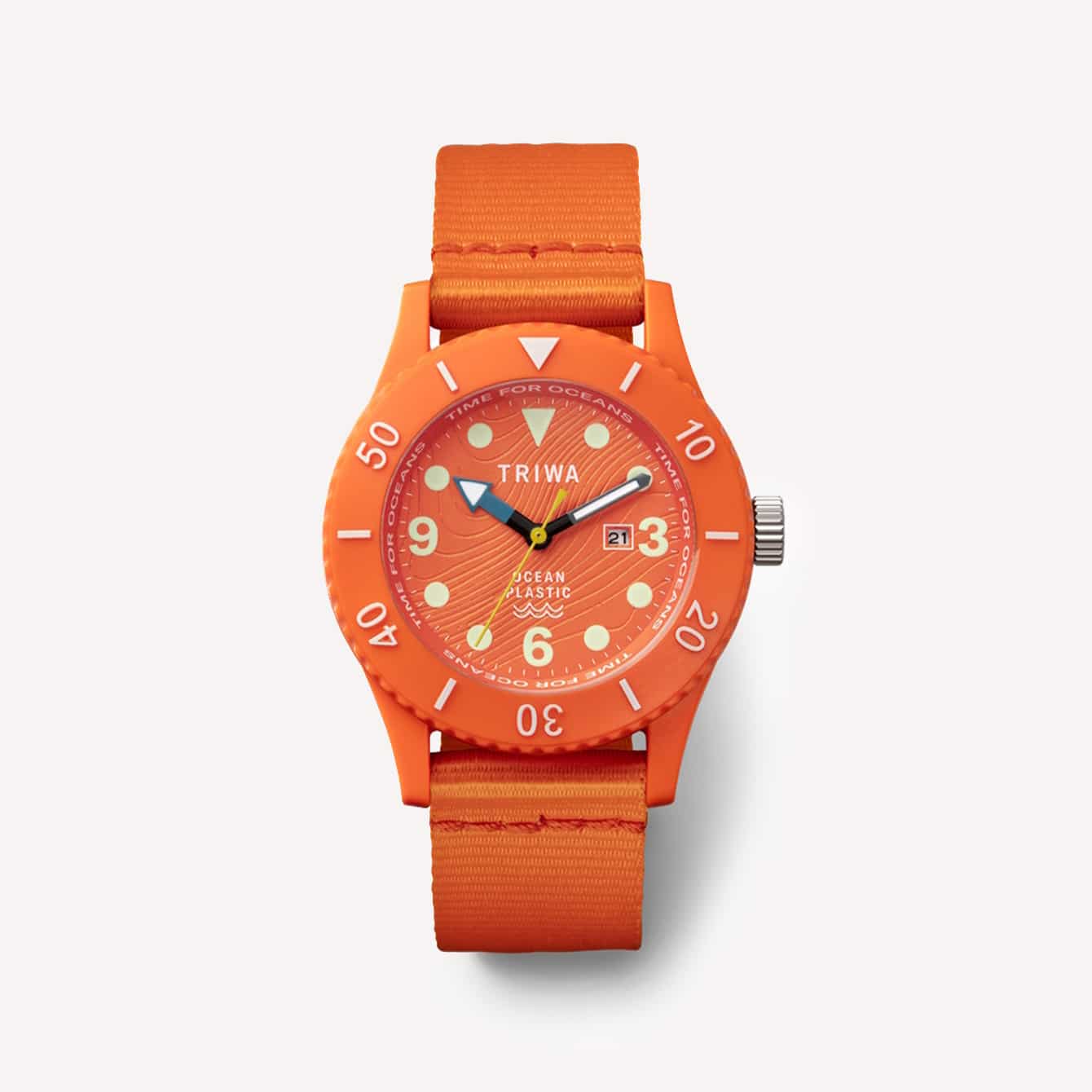 If you're searching the market for quirky watches in and around the Scandi area, TRIWA is worth some consideration.
Founded in 2007, its name, which stands for "Transforming the Industry of Watches," TRIWA soon became recognized across Sweden and eventually globally.
This was thanks in large part to its innovative approach to making men's and women's watches with a twist – each one enveloping elements of the Scandi lifestyle.
Watches like the brand's Ocean Plastic Sub Watch combine a funky style with practical elements and are crafted from recycled ocean plastic for a lightweight finish on the wrist.
Others, like the TRIWA x Humanium Metal watch, are forged from melted-down metal taken from illegal firearms with an aim to highlight the issues surrounding gun-related violence.
Check out out complete TRIWA brand overview here.
Bravur
Two things work in Bravur's favor.
For one, the Swedish watchmaker prides itself on in-house designs apart from its Swiss-sourced movements.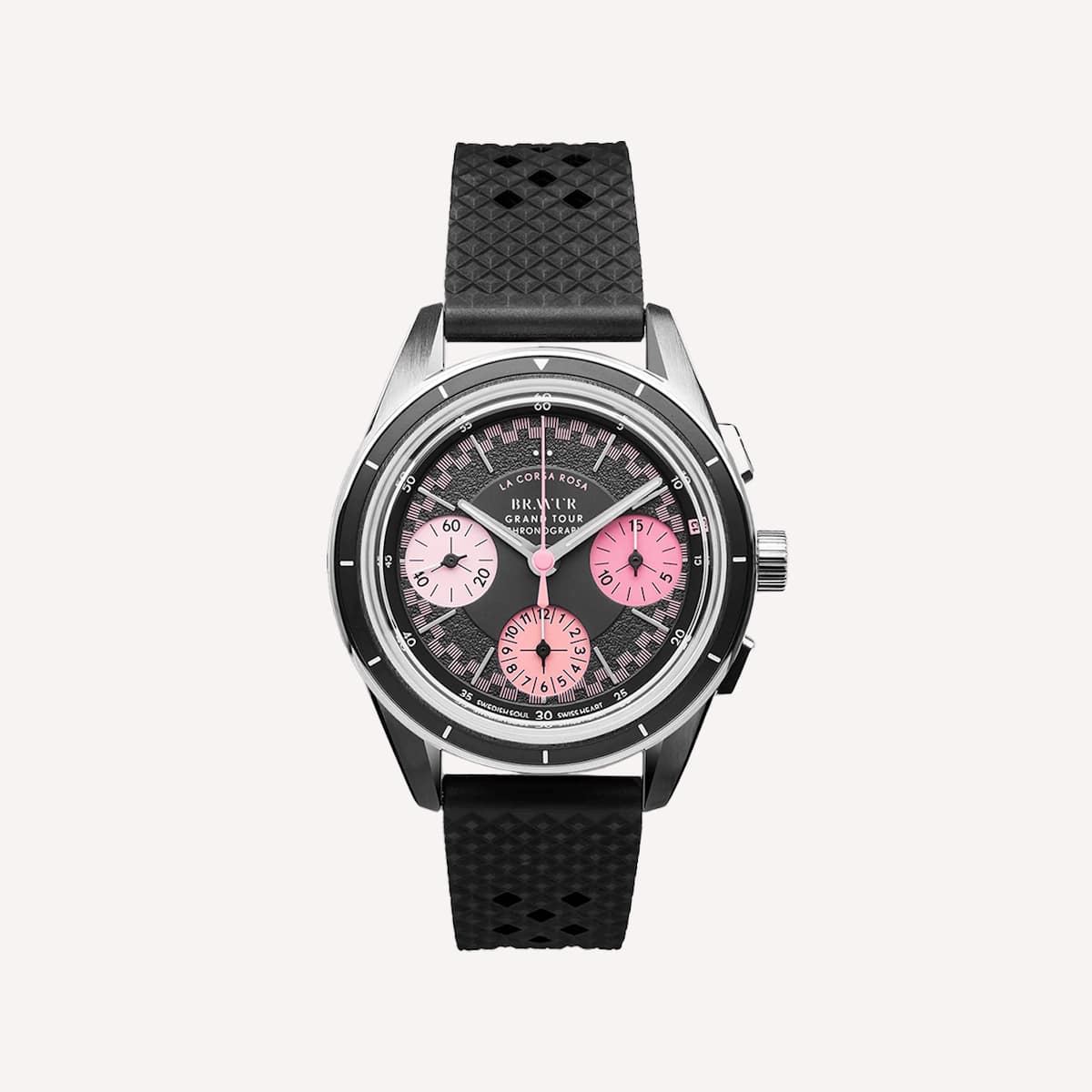 Secondly, the watches manufactured by Bravur are made to ensure better control over its manufacturing processes.
Bravur watches will appeal to those with a preference for modern designs. If the watches are not minimalist and contemporary, they are naturally sporty.
They often pay homage to the brand's relationship with cycling through collections like the Grand Tour – a chronograph series that remains the crown jewel in the brand's catalog.
You can grab yourself a travel watch for under $2000 with a model from Bravur's elegant Geography watch collection.
TID Watches
TID watches take durability to the next level, with a broad selection of watches made for use on the wrist daily. The watchmaker has been around for a little over a decade and, within this time, has acquired a reputation for affordability.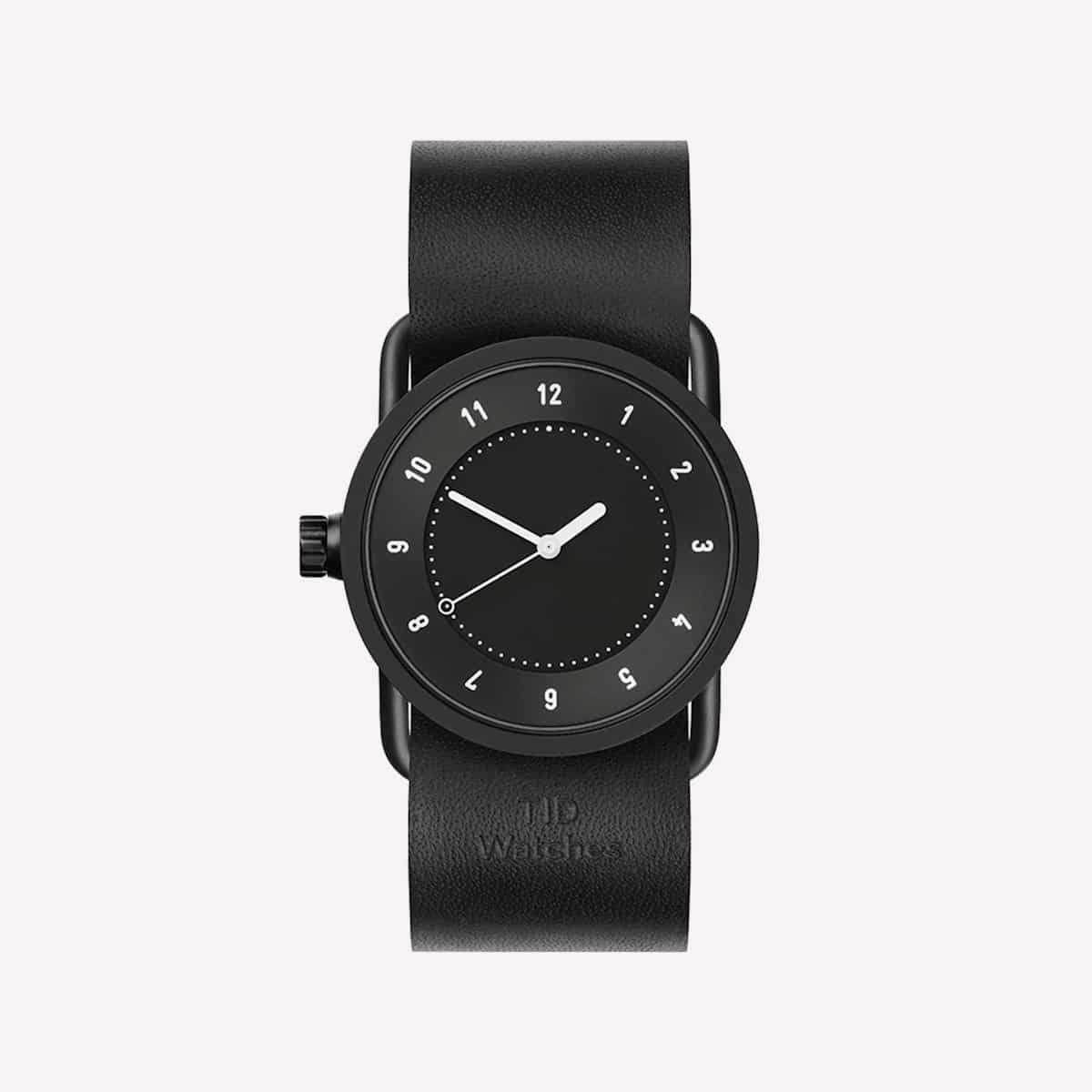 The design language behind each watch from this Swedish watchmaker is simplicity and straightforwardness. The collections are named No.1, No.2 (and so on).
Integrated wire lugs on watches from the No.1 collection are perfect for styling with a NATO strap.
In contrast, the monochromatic brushed steel cases of the No.2 collection remain versatile for every occasion.
Alternatively, polycarbonate cases set the tone for the No.3 series, while the No.4 range of TID watches offers something a little more classic.
Maen Watches
Based in Stockholm, Maen Watches is a Swedish brand that uses Swiss-made movements to power its mechanical and quartz-driven models.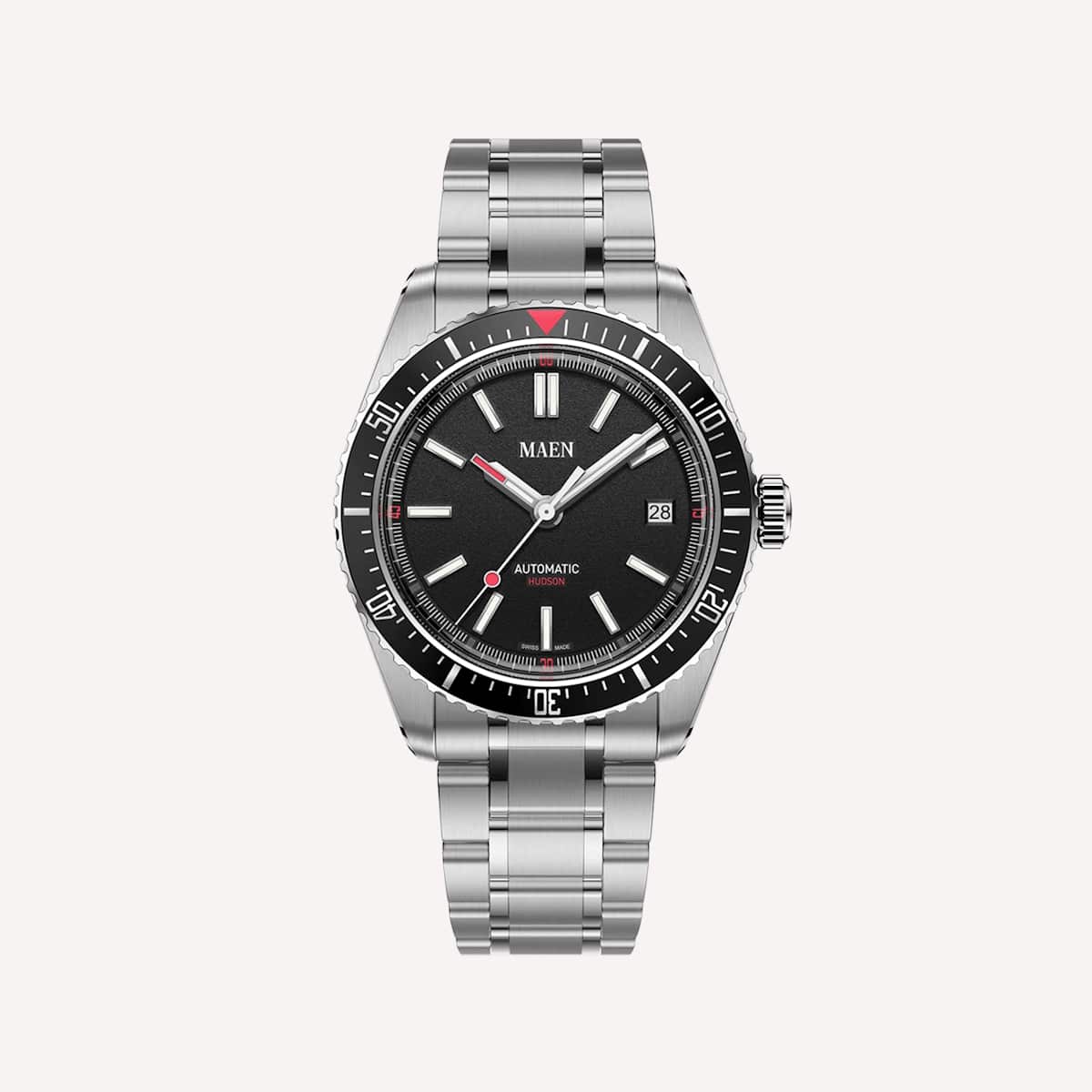 The brand focuses on quality over quantity, giving watch collectors many reasons to invest in its range of affordable timepieces.
Maen has dedicated a large proportion of its offerings to tool watches, with models from the Hudson collection proving ideal for diving. They also have classic-looking GMT watches for travel.
If you prefer less conventional watches, you could check out Maen's Manhattan range, featuring an octagonal bezel and an almost square-shaped case.
South Lane
South Lane produces Swedish watches with a bold and industrial-inspired look. Monochromatic colors combined with earthy hues form the signature style of a watch from this brand.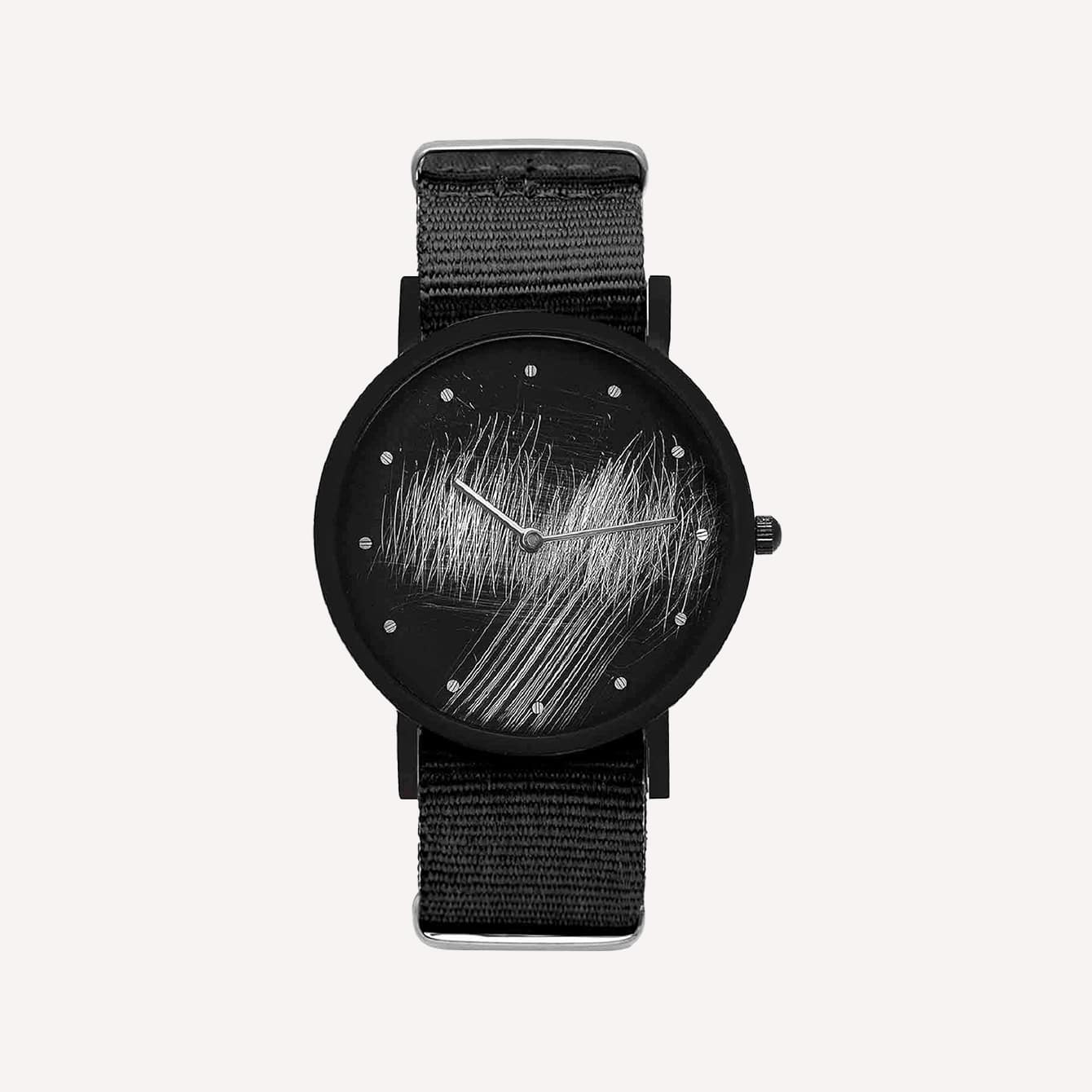 Each of the models is powered by quartz movements, keeping costs down, while the straps fitted to these watches are sourced from reputable premium leather strap manufacturers.
One of the most unique selling points of a South Lane watch is its authentic hand-applied dial finishes. Every watch has a display that has been hand-scratched to give each model an industrial-infused appeal.
If you want a watch that is like no other and doesn't want to break the bank, South Lane is a Swedish brand worth serious consideration.
Miro
Miro is a watch brand from Sweden with a Spanish twist. The watches draw inspiration from Spanish artist Joan Miro and carry design features reminiscent of models from the 1940s, 50s, and 60s.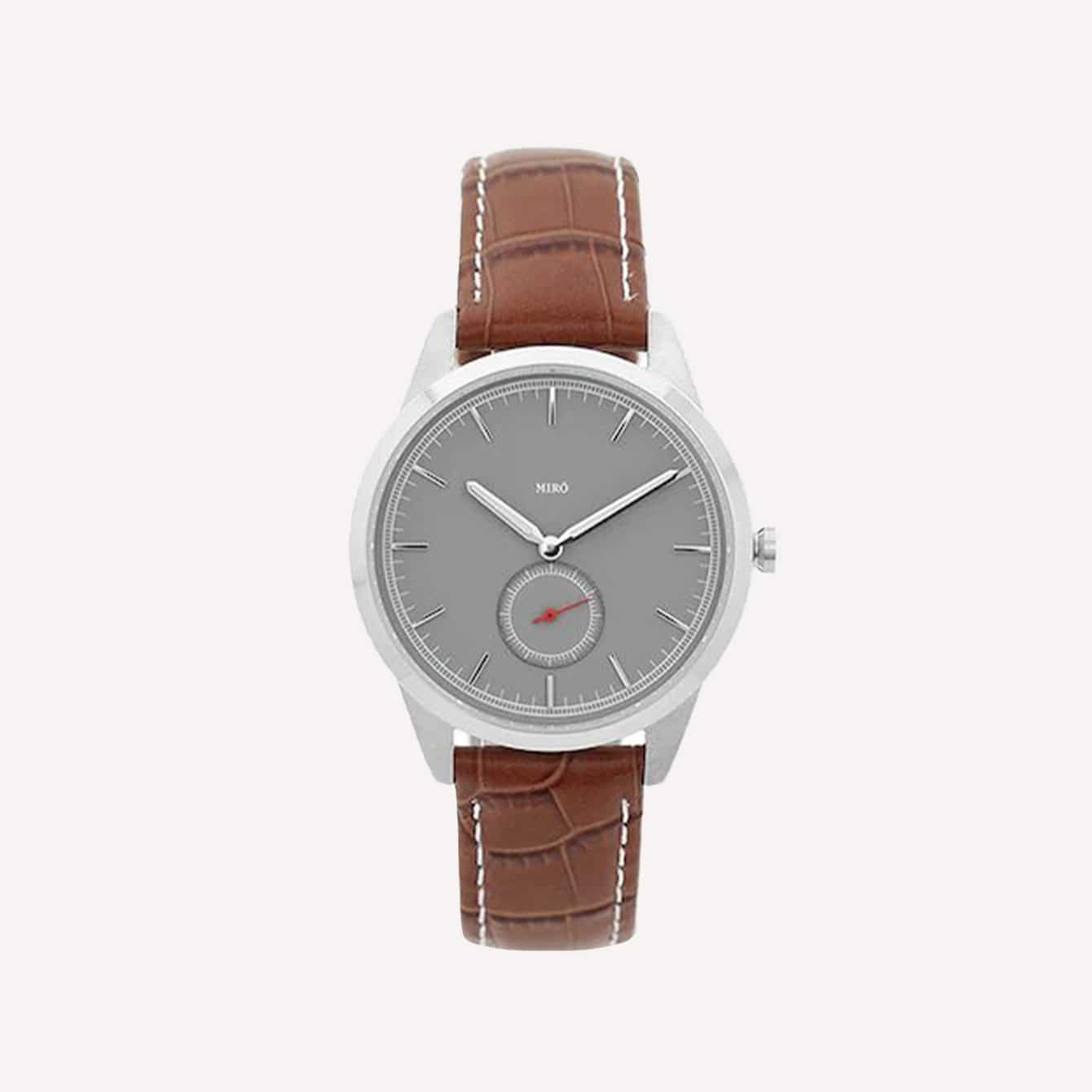 Designers at the company balance vintage elements with contemporary aesthetics and believe that timekeeping is best enjoyed in the simplest of formats.
Miro watches are free of any unnecessary clutter, appealing to audiences that prefer a no-fuss design. Simple stick indexes and minute tracks display timekeeping essentials alongside slim, unimposing hands for a neat and modern finish to any attire.
Halda Watch Co.
If you're looking for a watch brand with plenty of history, check out Halda Watch Co. The brand remains the oldest watchmaker in Sweden — it's been around since the late 1800s.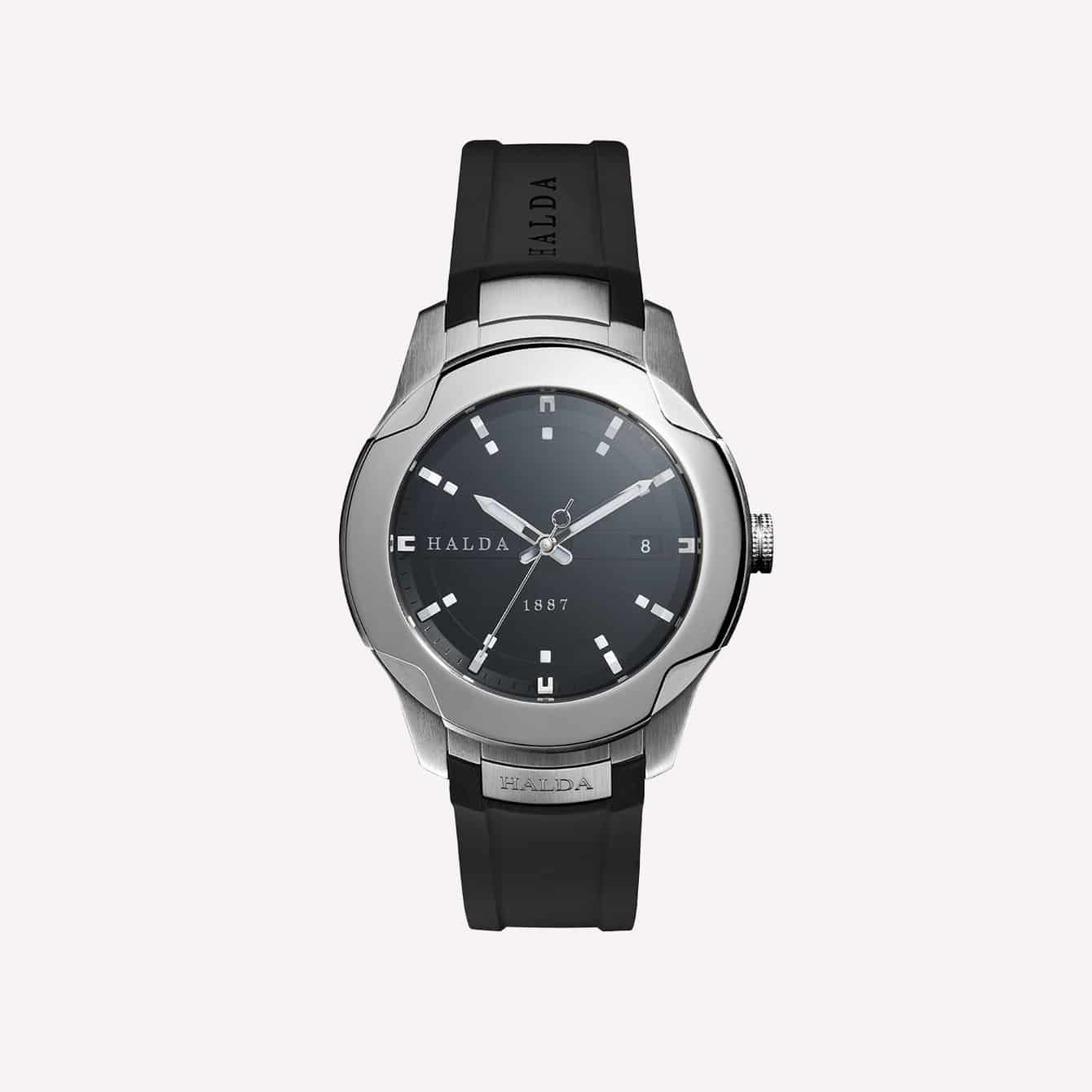 Despite its time-honored processes and its heritage in crafting timepieces that are guaranteed to stand the test of time, Halda Watch Co. has also demonstrated that it can move with the times.
Today, its watches are modular and can be interchanged, allowing you to enjoy both a digital and mechanical dial all in one.
Some of the most popular Halda Watch Co. designs are those from the Space Discovery range. Space Discoverywatches have been tested in the most hostile environments, not to mention the racing-inspired Trackmaster collection.
Tuseno
Swedish micro watch brand Tuseno is one of the youngest to be making its way in the industry. The company was only founded in 2015 yet has acquired a faithful following due to its affordability.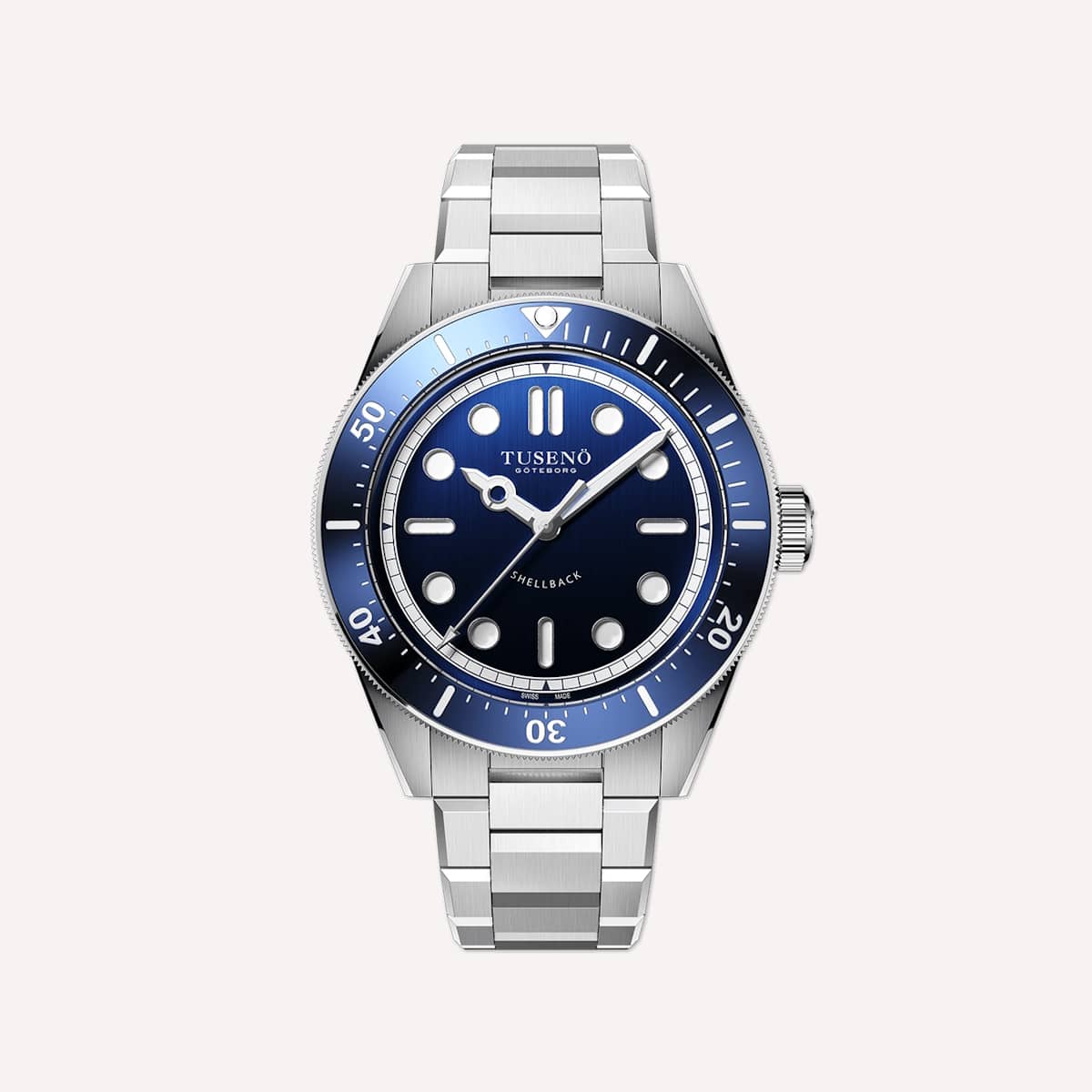 Its watches cost little more than a few hundred dollars. However, thanks to its decision to switch to an all-mechanical catalog, the watchmaker from Sweden promises stylish watches that are great value for money.
Tuseno watches like the Shellback are designed for underwater exploration, offering 200-meter water resistance. At the same time, the Windseeker range combines a simple dial layout with a punchy-colored display for adding a bold pop of color to the wrist.
Knut Gadd
If you like retro designs, you'll want to check out this Swedish watch brand.
Knut Gadd was founded in 1916, so designs with a vintage flair come naturally to the company. The family-run watchmaker has focused primarily on paying respect to late members of the Gadd family.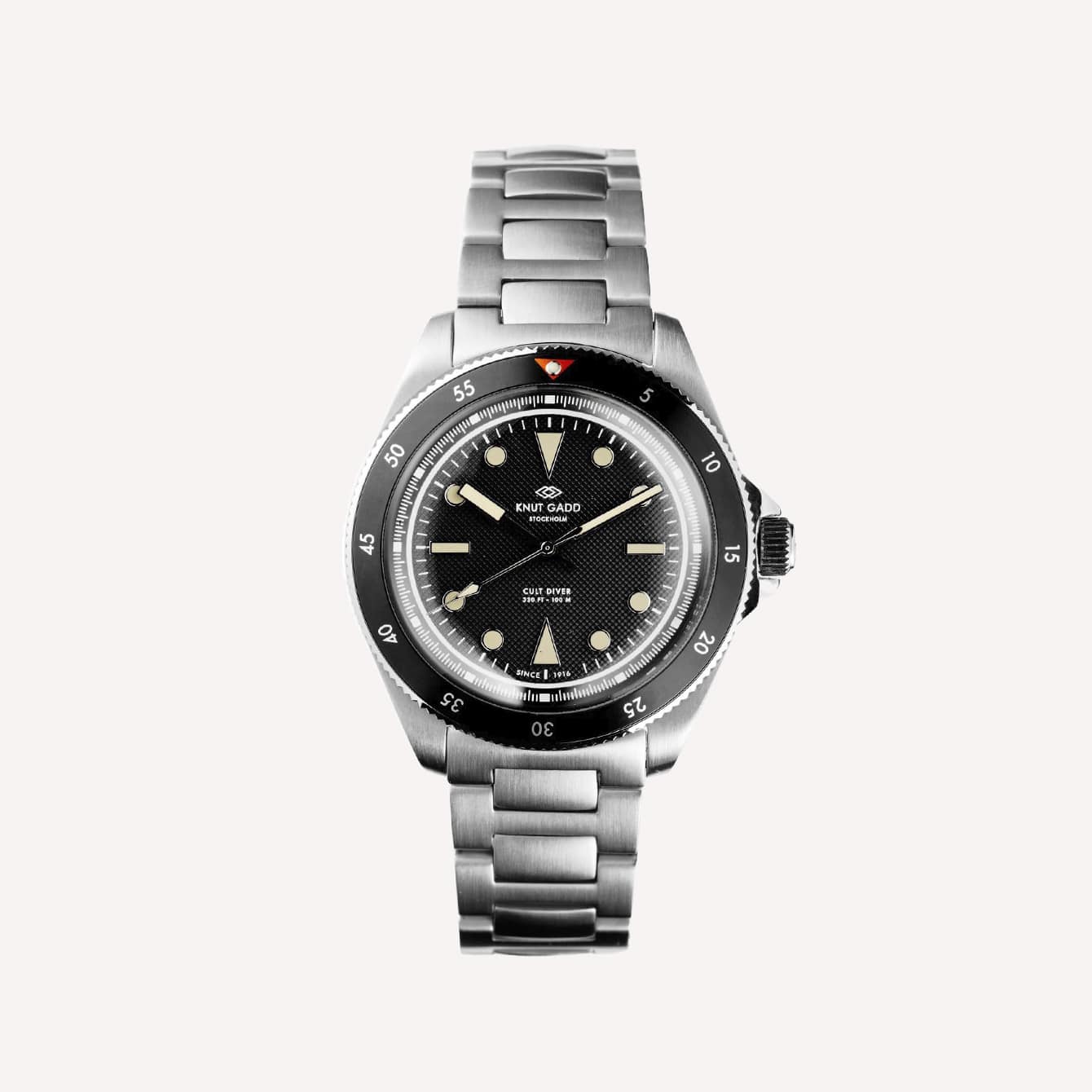 Knut Gadd's bestsellers include the Cult Diver watch, inspired by the vibrant personality of the company founder himself.
At the same time, the Cult Chrono is home to a particularly stylish three-counter chronograph watch design, with black-filled sub-dials overlapping for an unusual take on the sports watch.
BOOM
Similar in principle to Halda Watch Co, BOOM is a forward-thinking Swedish Watch brand that offers its customers a chance to choose a watch design personal to their tastes.
The company allows you to build your watch through an interactive system where you can assemble and configure a watch to your specific requirements.
With BOOM watches, you can choose a separate case, bezel, strap, and dial. In the meantime, you can build up a collection of parts for giving your watch a complete makeover at home whenever you want.
GoS Watches
Taken from the initials of the two company founders, GoS Watches is a brand known for its timepieces forged from Damascus steel. The use of this unusual metal is the hallmark of GoS Watches, setting the brand apart from others in the Swedish market.
You may pay a little more for a GoS watch, but each model is designed to feel exclusive and premium thanks to its detail and finish.
What's more, the design concept behind every GoS watch takes inspiration from Sweden's history and the many beautiful elements found in nature.
Their meticulously crafted dials take cues from phenomena such as the Northern Lights, glaciers, sunsets, and the changing seasons of the year. GoS watches have entrancing colors and a level of detail that is considered superior by many.
The Takeaway
There's a good chance that before you read this article, you would never have considered buying a Swedish watch. Even without a rich history in watchmaking, I believe that Sweden has some of the best value-for-money watches on the market.
What brands did I miss? Let me know in the comment section!