Looking to learn more about timepieces from Great Britain? We've got the twelve best British watch brands right here!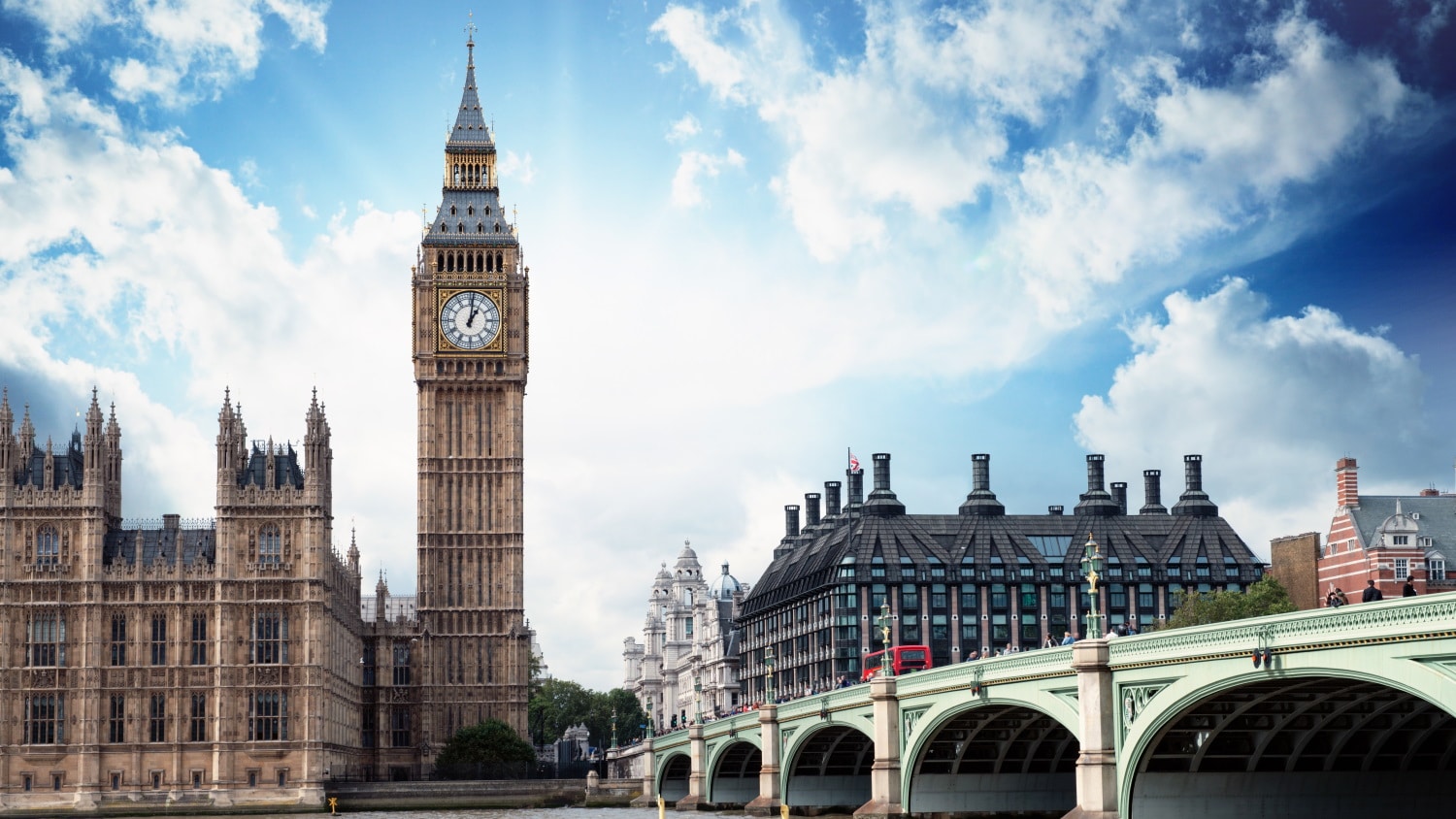 If you think about it, it's actually surprising that the island that brought us Big Ben isn't more prolific when it comes to horology. In fact, in the 1600s, British watchmaking was hard on the heels of the Swiss (thanks to the Crown's many commissions).
British mathematician John Hooke may have even invented the balance spring (though some attribute this accomplishment to the Dutch mathematician Christiaan Huygens). Many now agree they developed balance springs independently, within five years of each other.
Balance spring drama aside, the British do have a heritage in timekeeping. In recent years Great Britain, as an entrepreneurial and creative region, has been the birthplace of several new brands.
You'd be surprised at how many of these watchmakers are quietly changing the game and how many of them make watches appropriate for small wrists!
12 Watch Brands from Great Britain
Here they are, in no particular order.
Loomes
A popular luxury brand with the tweed-clad set, Loomes & Co. is quintessentially English. Founder Robert Loomes picks up where his ancestors left off. Thomas Loomes ran the largest clock and watchmaking firm in London in the 1650s.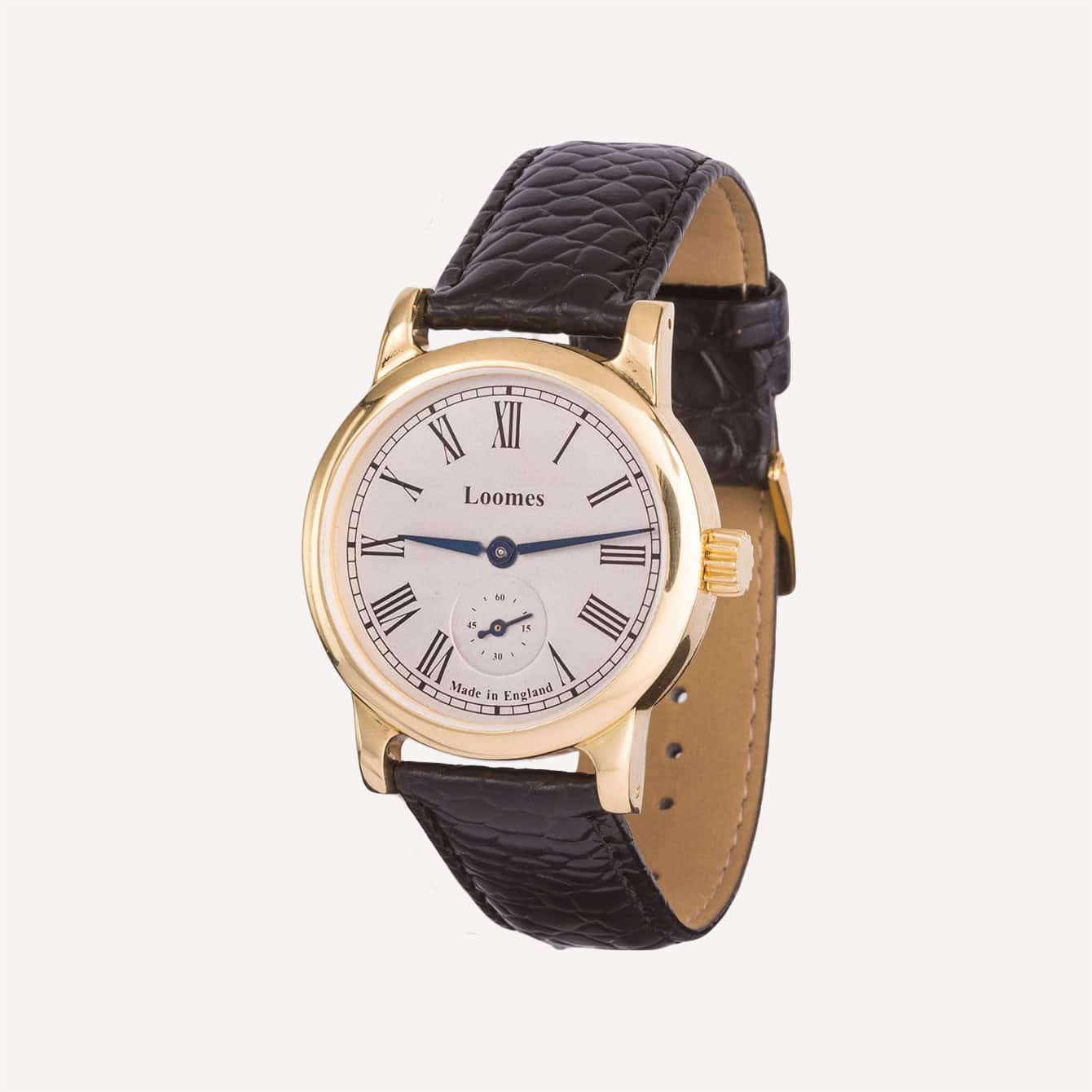 Today, Loomes & Co sources watch parts from local producers and designs everything in-house. Though their timepieces have won awards in the past, the brand is still pretty niche.
Their target audience seems to be limited to British style enthusiasts and adjacent style genres but I think they prefer to cater to the tastes of this group.
Dimensions: 39mm diameter, 12.25mm thickness
Case material: Gold
Water resistance: 30m
The Loomes Original is just one example of their many traditionally elegant, reasonable-sized designs. Everything, from the movement to the matte rhodium dial, is hand-built in the company's English workshops. Topped off with a classic pop of blue, you've got a high-class and very British dress watch.
Mr. Jones
If you're going to go for a cheap fashion watch, you might as well pick one that's designed unlike anything out there. In fact, despite their typically sub-$400 price points, I wouldn't even categorize Mr. Jones into the fashion watch category.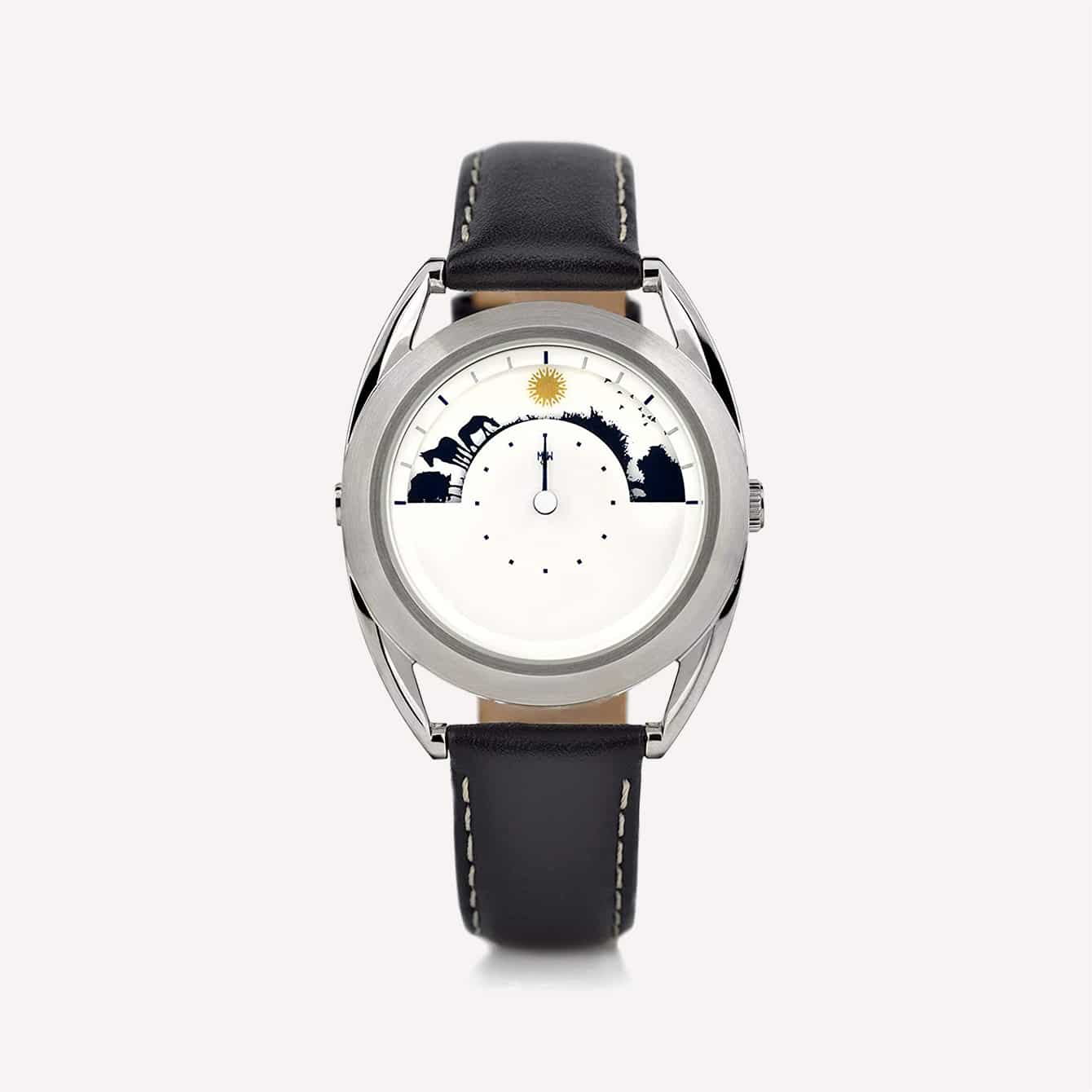 These artistic watches are created by designer Crispin Jones, who hails from the Royal College of Arts. Each timepiece comes with signed paperwork (as all true pieces of art do). Every watch in their line is unusual, creative, and often interactive.
While their now-iconic Sun and Moon watch isn't that great for telling time, it's a lovely conversation piece. It sports a crescent cut-out with a moving day-to-night image to represent the hour. It's an artistic depiction of how our ancestors told the time by simply looking up at the sky.
Dimensions: 37mm diameter, 9mm thickness
Case material: Stainless steel
Water resistance: 50m
This thin 9mm watch would sit comfortably on any wrist.
Bremont
Despite having launched twenty years ago, Bremont is one of the best-known and highly-esteemed British watch brands. They started with a focus on aviator timepieces. They often close out the year as one of the largest watch brands in the UK.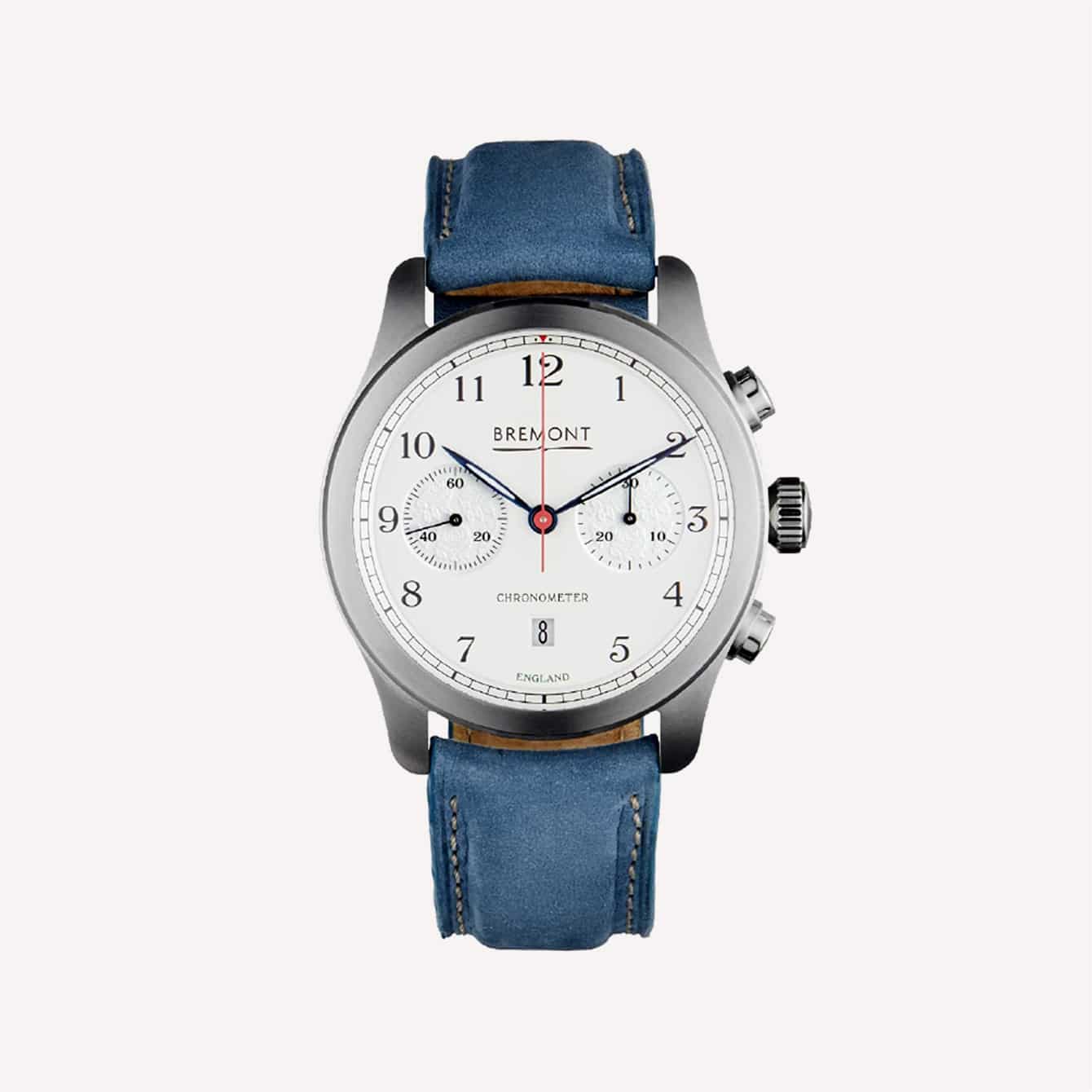 Hand-built by Bremont-trained assemblers in Henley-on-Thames, widely considered the birthplace of British watchmaking, Bremont watches are known for combining innovative mechanics with a very British look. Bremont's offerings are conservative and trend-resistant but not without personality.
With the embossed roses on each subdial that balance elegance and sporty, I love how their Rugby Twickenham Rose watch manages to make a chronograph look uncrowded.
Dimensions: 37mm, 12mm thickness
Case material: Stainless steel
Water resistance: 100m
However, I also want to shine a light on their Solo-37 line. It might be that stereotypical British politeness, but I think it's commendable that Bremont created a line for guys who prefer a light-wear watch that doesn't compromise a strong look, function, and versatility.
Christopher Ward
Yes, Christopher Ward watches are manufactured in Switzerland. However, they're all designed in England, and they are headquartered in Maidenhead, which is just outside of London. Moreover, their disruptive approach (online-focused, anti-middleman), is more akin to a London start-up than a traditional Swiss watchmaker.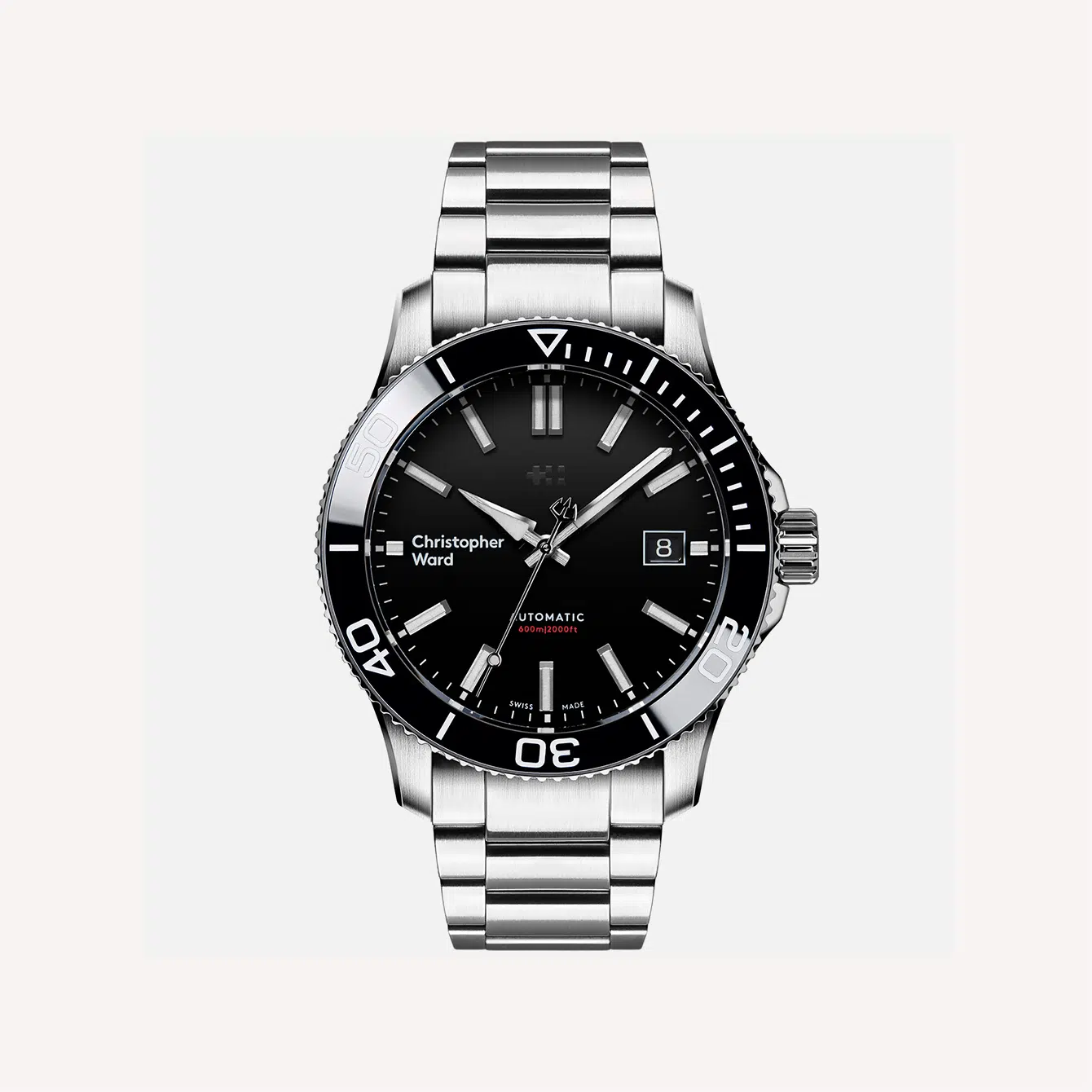 Though founded in 2004, watch collectors everywhere already recognize their signature Trident-lollipop second hand, as it contrasts starkly with the sharp hour hand.
Dimensions: 38mm or 40mm diameter, 12.7mm thickness
Case material: Stainless steel
Water resistance: 600m
The C60 Trident Pro 600 sports this dynamic design combination, plus a ceramic bezel and a sapphire crystal, all at around $1,000. And for you genuine divers and sportsmen out there, the C60 boasts 600m of water resistance.
CWC
When it comes to no-nonsense military watches, CWC, or the Cabot Watch Company, is internationally renowned. CWC doesn't try to impress but instead focuses on pure functionality. It's this quality that makes their watches so impressive.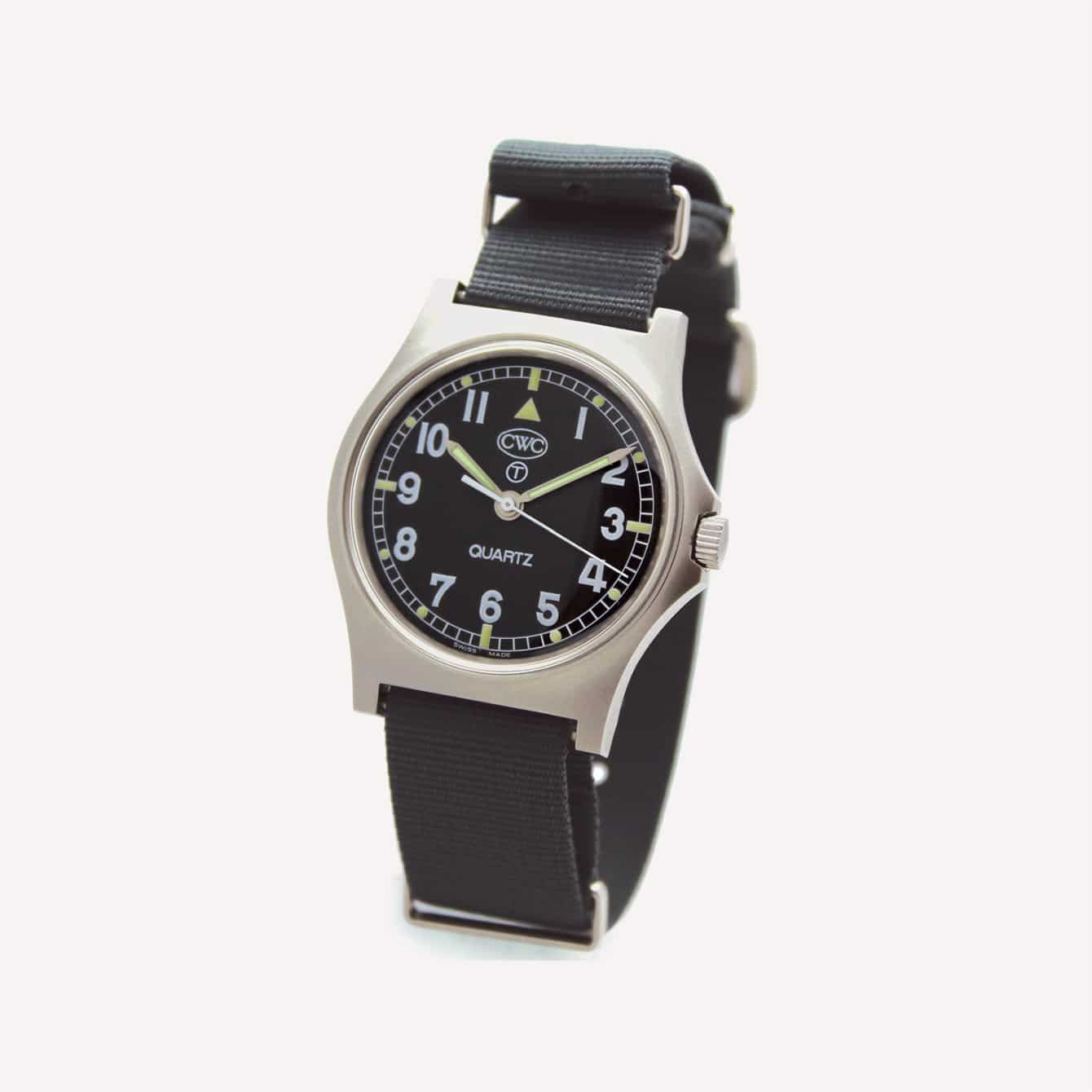 These affordable and long-lasting timepieces are often inspired by legacy lines from the Royal Marines SBS, RAF Pilot Watches, Royal Navy Divers, and the General Service G10. In other words, these are true military watches.
The CWC British Military G10 notably has a tritium-powered lume, which means it won't fade after a few hours like typical photoluminescent lumes.
Dimensions: 38mm diameter, 18mm thickness
Case material: Stainless steel
Water resistance: 50m
Like a traditional military watch, the G10 has an acrylic glass. This is part of the reason this robust watch is so affordable. The army used acrylic instead of sapphire because scratches are more acceptable than shatters on the field. You could always get it replaced if you're not an acrylic kind of guy.
Farer
Farer is a newer watch company that launched in 2015. This brand's specialty is explorer-focused timepieces. They take vintage designs and complications from the 1960s and update them with Swiss movements, modern materials, and striking.
They also sometimes play with colorful designs — in the spirit of having a good time, of course. Many of their lines are named after British explorers and vehicles.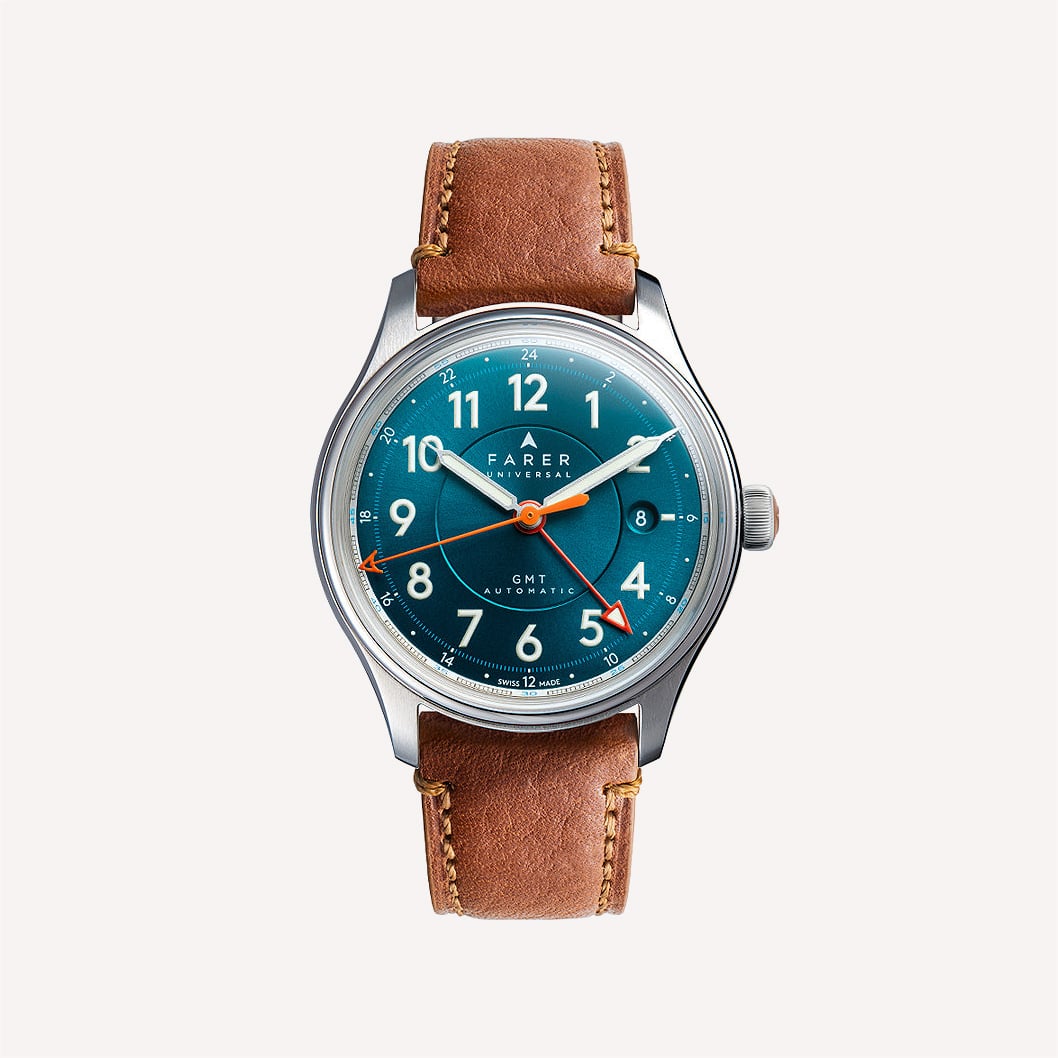 The sea green dial, pop of orange, and bold Arabic indices of the Farer Lander IV make for an undeniably fun timepiece. Yet, the serious and premium construction, and legible design make it a perfectly appropriate watch for a grown man.
Dimensions: 39.5mm diameter, 10.8mm thickness
Case material: Stainless steel
Water resistance: 100m
Named after a Cornish innkeeper who was the only surviving explorer during a group trek in West Africa, the Lander also runs on a Sellito automatic that you can admire through the exhibition caseback.
Roger Smith
Roger Smith, an apprentice to the renowned British watchmaker George Daniels, has become an independent designer for high-end collectors. He makes every single piece of the watch by hand, using traditional methods.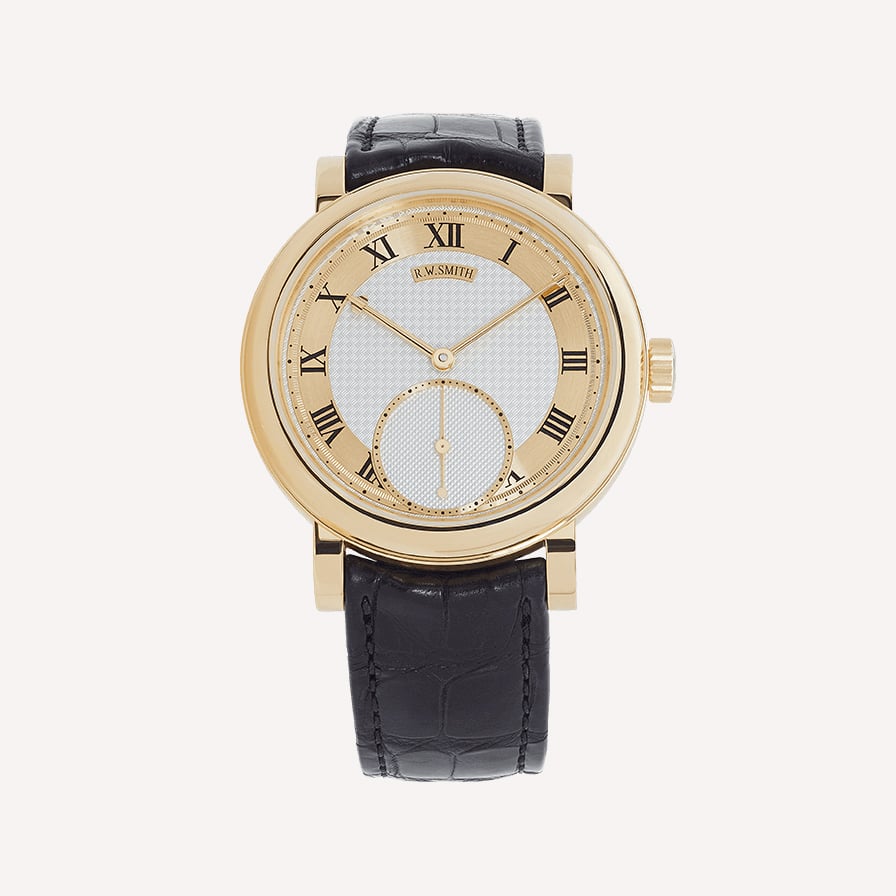 An apologetic purist, Smith even makes his own tools. Naturally, Roger Smith only produces about ten watches a year, so if you're looking for a prestigious and actually artisanal timepiece, contact his workshop to get on his two-year waiting list!
Dimensions: 38mm, 8mm – 12mm thickness
Case material: Platinum or 18k gold
Water resistance: 50m
Aesthetically, Smith's are sophisticated and traditional. In his Series 1 line, he incorporates components like yellow gold and applied Roman indices on the watch faces. He isn't afraid of texture.
Still, every component on the piece is organized with a classical eye, resulting in dress watches that are often romantic and never gaudy.
William Wood Watches
Highly fashionable, but hardly fashion watches, William Wood is a concept luxury brand inspired by the firefighting community.
The founder's grandfather was a decorated firefighter. The result is a collection of lively but sophisticated timepieces with many trademark features, running on either Swiss or Japanese movements.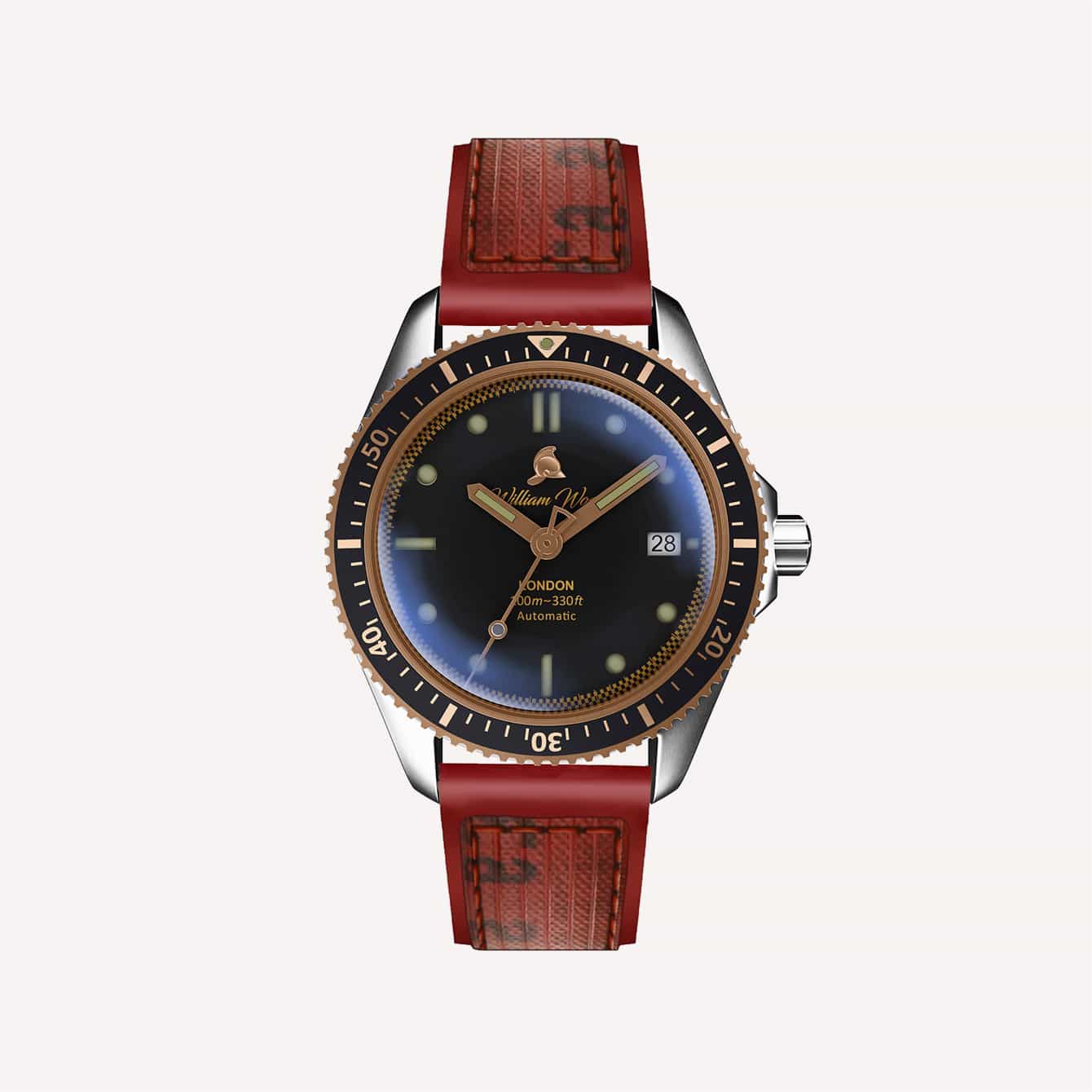 They build all of their watches from scratch using actual upcycled firefighting materials sourced from all around the nation.
Their Rose Watch from the Valiant collection is a great example. The stripe indices on the 12 mark represent a fire brigade crew manager's markings on their uniform collar.
Dimensions: 41mm, 16mm thickness
Case material: Stainless steel
Water resistance: 100m
William Wood's special straps are made out of British fire hose rubber, and the crown has an inset made from a 1920s British brass firefighter's helmet. Movement-wise, you can choose between a Swiss Sellita SW200 or Japanese Seiko NH35.
Schofield Watch Company
The Schofield Watch Company is known for timepieces adorned with distinct digital-inspired features right out of a vintage computer's green number matrix. They're also known for their commitment to quality.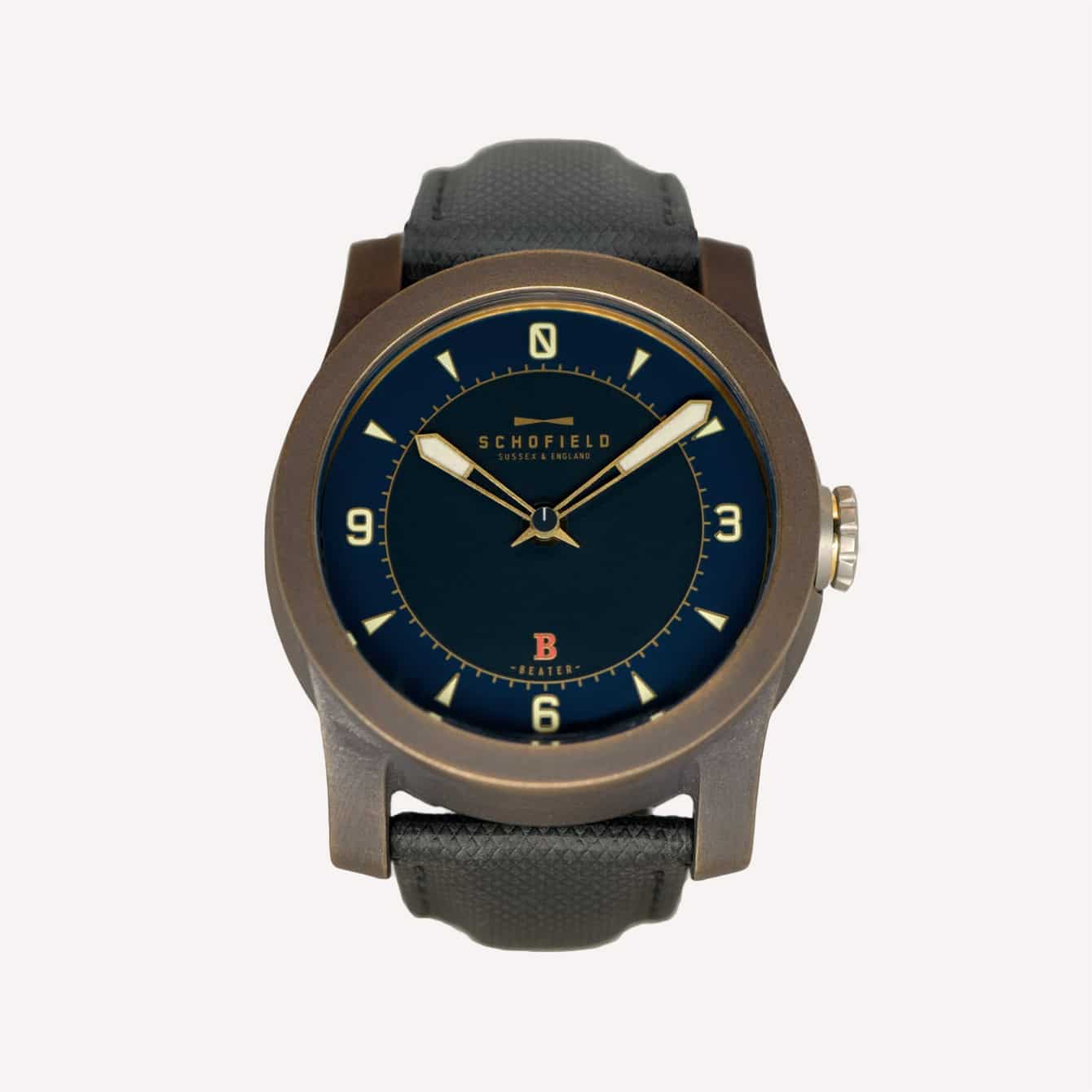 The brand's designer, ex-coder Guy Ellis, recruits Rolls Royce dial suppliers to produce his watch's dial numerals, while also building his own supply chain.
Many might argue that Schofield Watch Company is setting the standard for British watchmaking, practice-wise. They have a brick and mortar in Sussex, or you can order their watches directly from their website.
While their robust watches aren't the most slender wrist-friendly. For example, the Patinated Bronze Beater is meant to look tall and broad even on bigger wrists.
The patinated bronze case is especially unique and, when worn with their quadrant leather strap, wears like a thick cuff on your wrist.
Dimensions: 44mm diameter, 14.5mm thickness
Case material: Patinated bronze
Water resistance: 200m
If you have a smaller wrist and are interested in huge watches, this is one way to try and pull it off. Again, make no mistake, it will look huge on you though!
Pinion
Designer Piers Barry founded Pinion in 2013 and has since lowkey cultivated a strong following.
While many British watch brands love taking style cues from old military timepieces, Pinion is one of few microbrands putting modern design twists on the tried-and-true.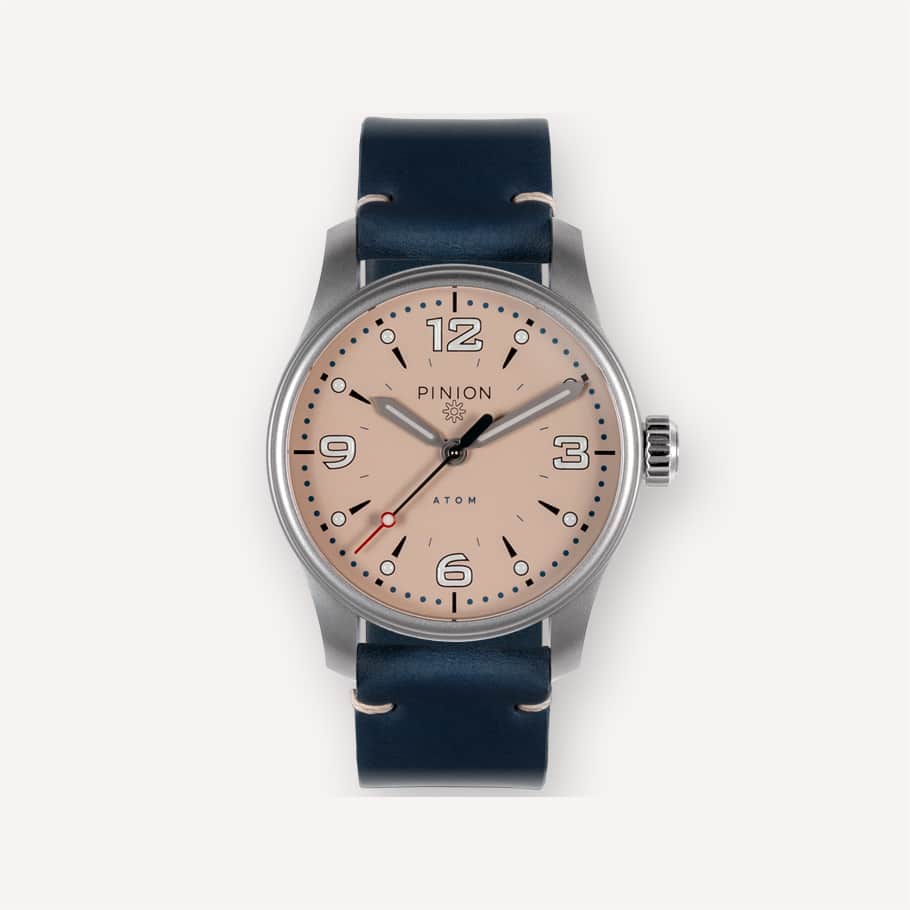 Their small batch approach makes each line comparatively affordable but with more demand than supply.
Pinion's Atom line is a collection of 39mm watches powered by Swiss automatic movements.
Dimensions: 39mm diameter, 11.5mm thickness
Case material: Stainless steel
Water resistance: 100m
The features a slate painted dial, with indices that "pop" just a bit so the light hits each exquisitely. This helps with legibility, as well as gives it a lively aesthetic. The stainless steel case is matt-blasted for extra durability.
Dent
Since it isn't a hip and disruptive new brand, many British watch round-ups don't include Dent. I think that's a huge oversight.
Dent traces its roots back to 1814 with Edward John Dent, the famed clockmaker who started the construction of Big Ben''s movement. (After his death, it was finished by his stepson, Frederick Dent). If England, and Britain, have any surviving heritage watch brands, Dent is it.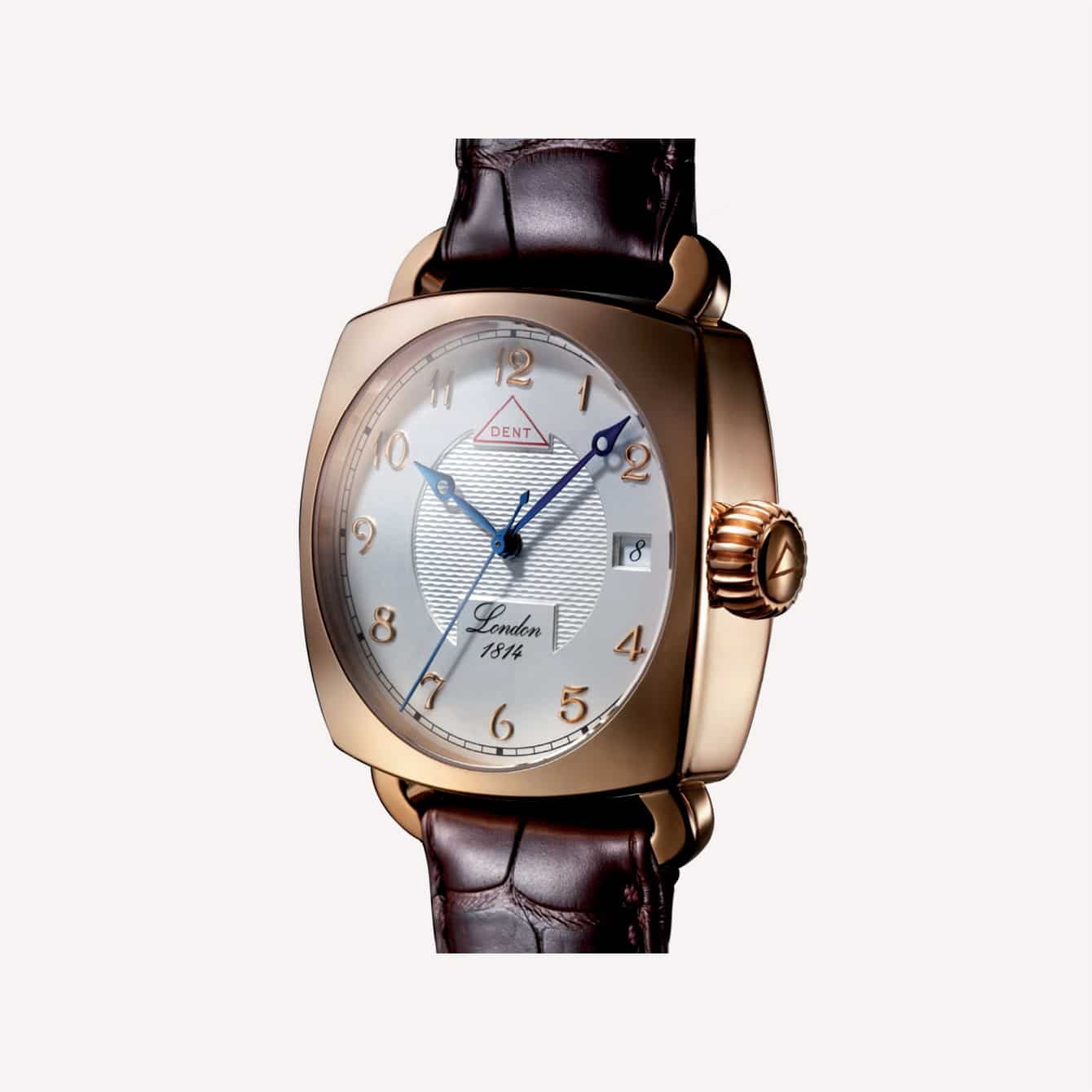 Though they spent decades focusing on clock repairs and commissions, Dent started releasing traditional wristwatch lines again In 2008, with the help of British investors.
They're known for super luxurious timepieces, all traditional dress watches, made of precious metals.
Dimensions: 35mm x 43.5mm
Case material: Gold
Water resistance: 100m
The ever-classy Denison watch features a cushion-esque case that comes in rose gold or white gold. This elegant timepiece runs on an in-house automatic movement made especially for it, and is attached to a beautiful alligator strap.
Garrick
If you're looking for a quirky and truly individual watch, look no further than Garrick. From unique open hearts to an unconventional use of texture, every single watch in their line is eccentric.
Still, their incorporation of Guilloche, royal blues, and exposed jewels has an undeniably British style sensibility.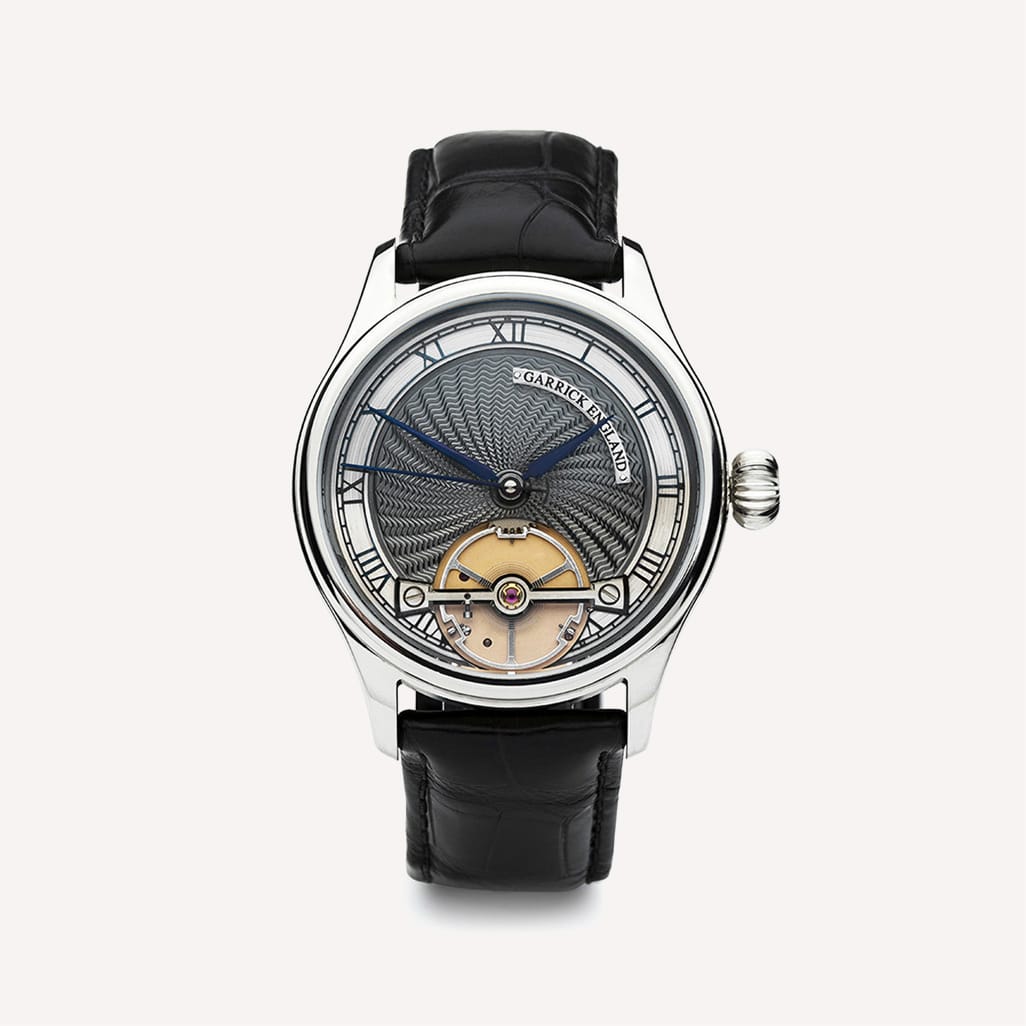 While their main focus is bringing fanciful designs to the luxury market (though all their watches are assembled by hand and in-house), they're steadily moving into more horological-focused endeavors too.
They even co-designed their own hand-wound movement, the UT-G01.
The hypnotic and texture-heavy S2 watch is a quintessential Garrick design, boasting topnotch craftsmanship.
The gated open heart, Roman numeral-clad chapter ring, and wavy engine-turned dial are fascinating to look at and are available in rhodium or gold plate finishes.
Dimensions: 42mm diameter, 10mm thickness
Case material: Stainless steel or gold
Water resistance: 100m
Most of their timepieces are 42mm in diameter with a thin 10mm height but you can use their bespoke services to create a customized watch as well.
Which Brand Will You Choose?
Overall, I'd say there are two main reasons I love going to British watchmakers.
The first is the fact it's always fun to see what start-up brands are doing when they aren't fully accommodating to a particular tradition. Britain has plenty of these types of brands to choose from.
Second, older British brands excel at that timeless trad style that can complement many looks. Moreover, these older brands continue the horological tradition of their heydays, unlike say, some American brands who carry on the style but forgo the latter.
Questions? Comments? Leave them below!