Dive watches and small wrists usually don't pair well. Dive watches are meant to withstand water pressure… a lot of it. As a consequence, they are built for the task with thick and large cases.
Because of that, it's hard to find a good-looking dive watch under 40 mm. So what do you do, if you have smaller wrists?
The Seiko SKX013 is the best dive watch for small wrists. It's affordable, tough, and look manly. It has a 38mm case width, yet has a lot of wrist presence.
In my opinion, the Seiko SKX013 is the only option worth considering if you're in the market for an affordable small dive watch. It has a robust in-house automatic movement, it's hefty, and it can take a beating. And because it's a tool watch, is also has a nice and unique look.
Of course, there are other options out there but they just don't come close to the value proposition of the SKX013 – be it from a design, movement or construction point of view.
But being affordable doesn't mean it's cheap. Quite the contrary. This thing is thick and heavy – maybe a tiny bit too heavy (I'll talk about this later in this review). And it has found its way in many watch enthusiasts' collections. Including one-watch collections, affordable collections, and super high-end collections.
It's that good.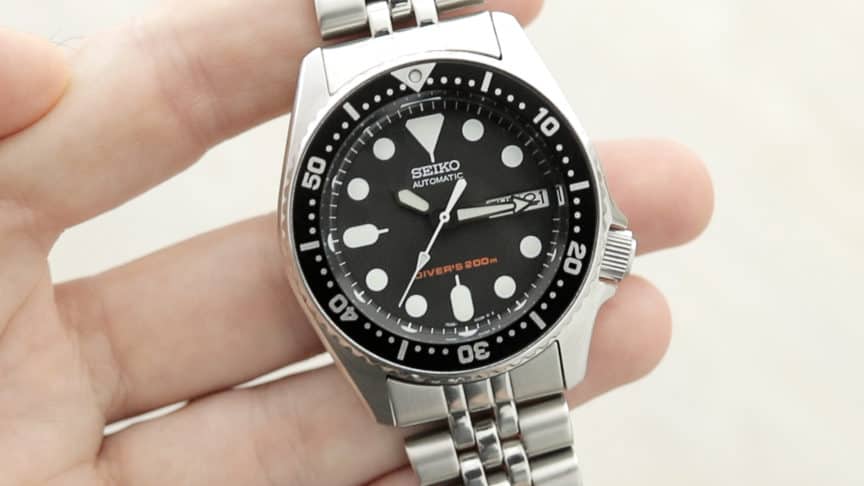 Let's talk for a second about the value proposition of this watch: it's unmatchable. You can wear this watch in casual and business environments no problem. And being an ISO-certified diver, it can be used for actual diving without a problem. This is the real deal.
All this for a (tiny fraction) of the cost of some way more expensive watches that don't especially look better or don't provide the same amount of water resistance.
It's equipped with the infamous 7S26 movement. I say infamous because some watch lovers hate that it doesn't hack or hand wind (more on this later). I actually like it. Also, this movement is known for running perfectly fine for up to 15 years without any service. Talk about efficiency and reliability!
The Seiko SKX013 is super easy to source. Maybe not as easy as its bigger brother – the 42 mm Seiko SKX007 – but still very easy. You can actually get an SKX013 on Amazon – sellers are plenty.
When I'm looking for a rugged look, or want to wear something that I don't want to baby all day long (because I'm busy with "heavier" activities), I just reach for the SKX013. This thing will probably outlive my Orient Ray II in my collection.
Read on my review about the Seiko SKX013!
Specifications
Dimensions
Case size: 38 mm
Lug to lug distance: 44 mm
Thickness: 13.1 mm
Lug width: 20 mm
The very first time you will wear this watch, you might think it's a bit small.
Of course, a 38 mm watch with a bezel will always seem smaller than what you're used to seeing every day. Usual suspects include the 40 mm Rolex Submariner, the 41.5 mm Orient Ray II or the 42 mm Seiko SKX007.
But if you have small wrists, it's just a matter of days before you appreciate just how well it fits. That crazy small 44 mm lug to lug distance is where this watch really shines. I wouldn't get it if you have 7 inch wrists or bigger, though.
Features
Case: Polished and brushed stainless steel
Dial: Matte dark grey dial with date display
Crystal: Hardlex crystal
Hands: Custom-designed hands with lume
Markers: Painted hour indices with lume
Movement:

Seiko Caliber 7S26 automatic self-wind movement
21 Jewels
21,600 VPH (vibrations per hour)
No manual winding or hacking
Around 40 hours of power reserve
+25 / -15 seconds per day

Water Resistance: 200 m / 660 feet
Complications: Date and day window at 3 o'clock, quick set via the screw-down crown
Strap: Stainless steel jubilee bracelet with solid links and hollow end links
Design
Dial and hands
Let me begin straight away with the dial: it's not black. Some photos on the Internet and from sellers may make it appear like it's black, but it's not.
Instead, it's a very cool matte dark grey that really contrasts with the rest of the watch. And especially the bezel that is pure black. this difference in color is even more visible the sun, where the grey seems a tiny bit more light than it actually is.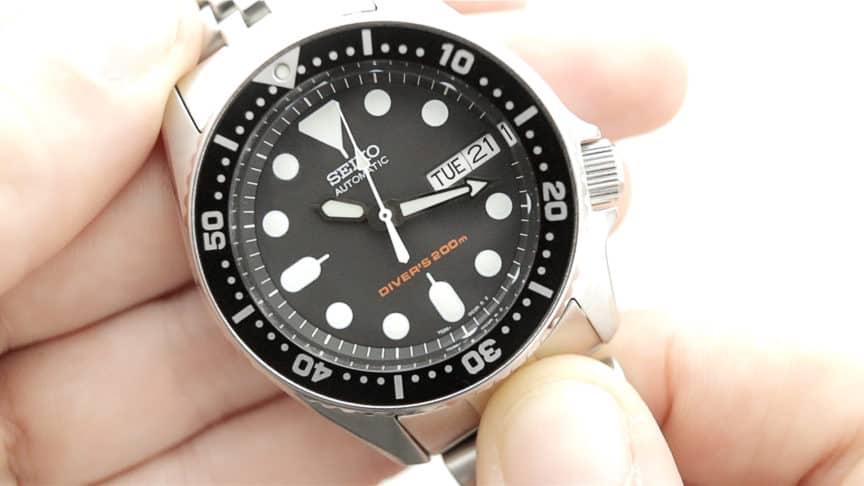 When I received the watch, I was kind of upset about this. I like matte dials for tool watches (and I certainly expected the Seiko SKX013 to be finished with a matte dial), but I didn't expect it to be any lighter than pure black. And now, I like it. It gives depth to this watch. It gives something different to look at – after all, toll watches were never meant to be boring, right?
So of course, the dial features big chunky painted hour markers. You just can't miss them. Even if the proportion between the size of the dial and the size of the hour markers are exactly the same as the one on the SKX007, for some reason, they appear very striking on the SKX013. They are bold and glorious.
Painted hour markers scream tool watch. I like that not every single dive watch on the planet has applied hour markers – they just would look all the same. This one happens to have its own 6, 9 and 12 hour markers, which makes it very distinguishable even from a great distance.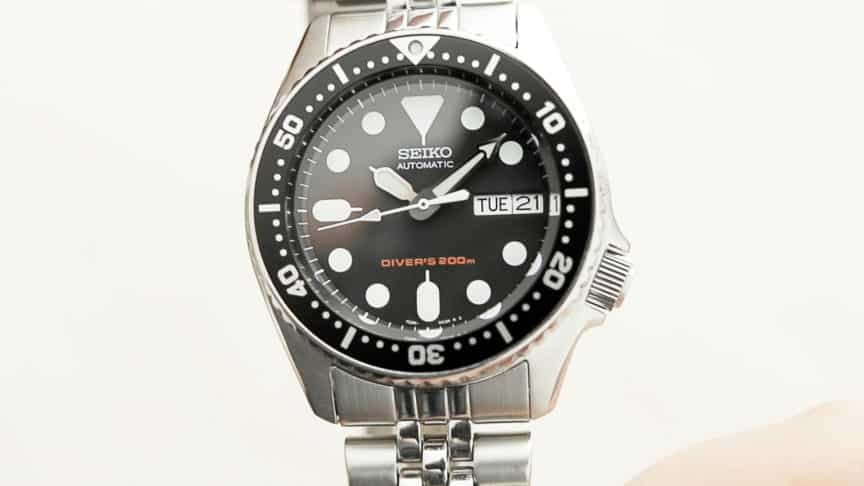 The seconds thing that pops out of this dial is the orange "Diver's 200 m" inscription at 6 o'clock. This is the only splash of color on this watch, but it makes all the difference. Without it, it would have looked cold and boring. More than this, and it would have looked like it's trying too hard. Seiko nailed this detail on the SKX013.
The chapter ring is nothing special to write about – besides the fact that some don't like it because it can be misaligned. I was lucky enough to get an SKX013 that perfect in this regard.
Moving on to the hands.
Whereas the SKX007 and the SKX013 share the same hour hand, that's about where the comparison stops. Sure, the minute hand have the same kind of esthetics, but the one on the SKX013 is more refined, less in your face. It almost has a bit of an Omega Seamaster vibe going one. I like its understated presence.
The seconds hand is even better. It has one of the most interesting and best-looking shapes I have yet to see on a watch of this price point. Seriously, that little lumed arrow looks absolutely gorgeous. And the counterweight also points in the same direction, giving a strong sense of movement when the watch is running.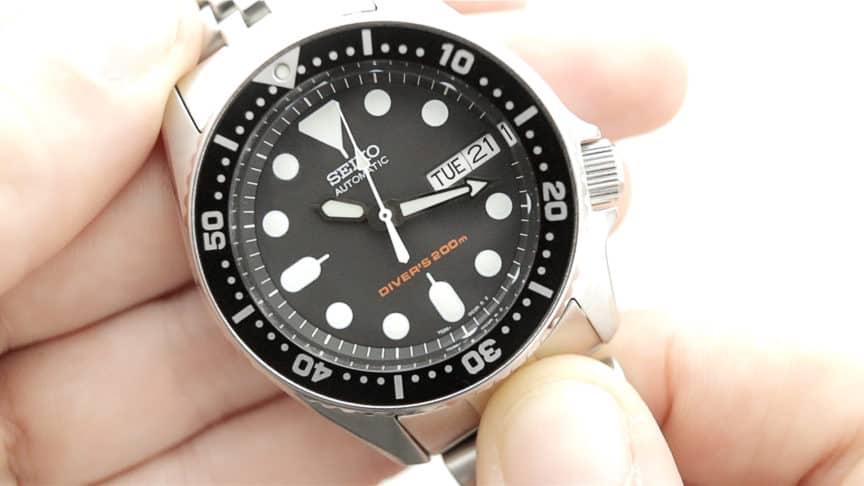 The dial and hands of the SKX013 might not appeal to everyone's taste, but they are certainly their own thing, and quite striking too. I personally love them.
Case and bezel
Ha! That case is THICK!
13 mm thick is a lot for a small 38 mm… almost too thick. Would the watch be any thicker than this, and it would have ruined the design and comfort, making it a piece that probably nobody would ever talk about, let alone buy.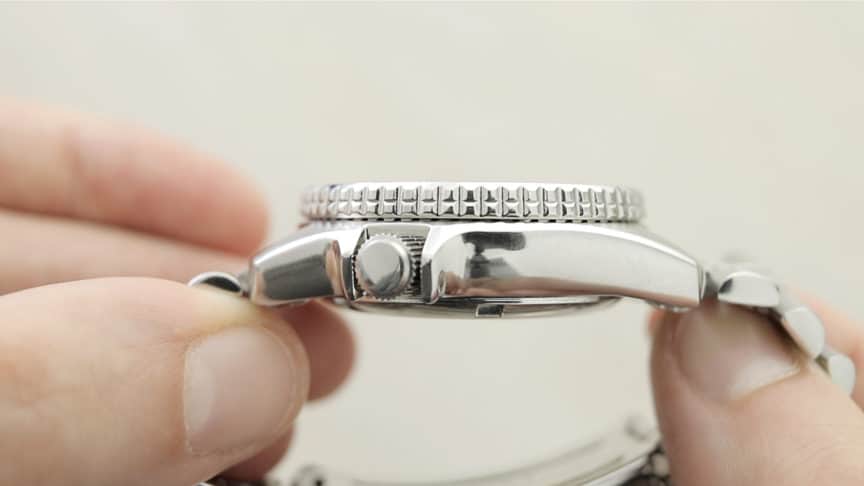 Yet Seiko managed to give this watch just enough thickness to make it water resistant to 200 m (this is why it's thick, obviously), look tough, and feel great – more on this later in this review.
Besides thickness alone, this unpretending SKX013 actually has a nice case. It's a nice curved shape, with almost flat lugs when seen from the side (not unlike Omega). It also features fat, chunky lugs.
Yet, the watch manages to still look refined.
This is mostly due to 2 design elements:
the polished chamfer that runs along both sides of the top of the case
the classy appearance of the bezel grip, with its chamfered squares and polished surfaces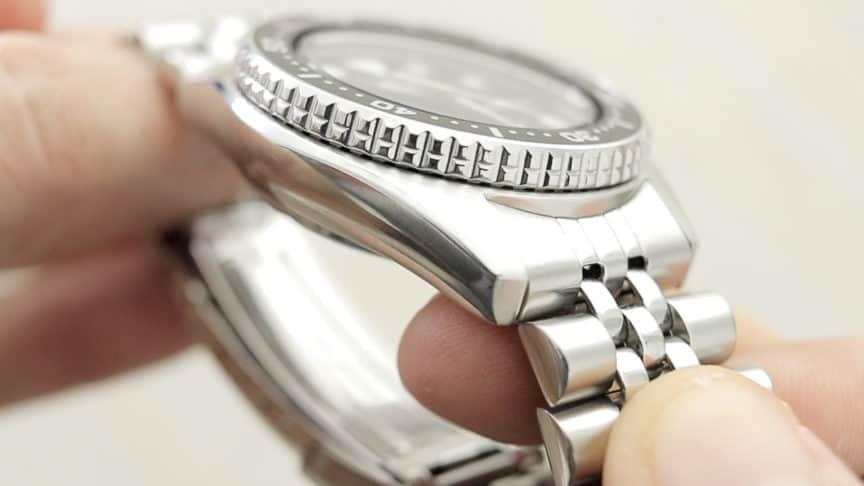 These polished parts of the watch elevate the overall aesthetics of the watch. Without it – and let's say with only a brushed or bead blasted finished – it would just have looked dull.
Also, this bezel plays an important role in the SKX013.
Of course, being a proper dive watch, it's a unidirectional diving bezel. It only turns anti-clockwise and has 120 clicks for better timing precision.
The positioning of the bezel doesn't always hit the minute markers perfectly, but just twist a little bit clockwise (it actually has a tiny little play), and all will look perfect and sharp.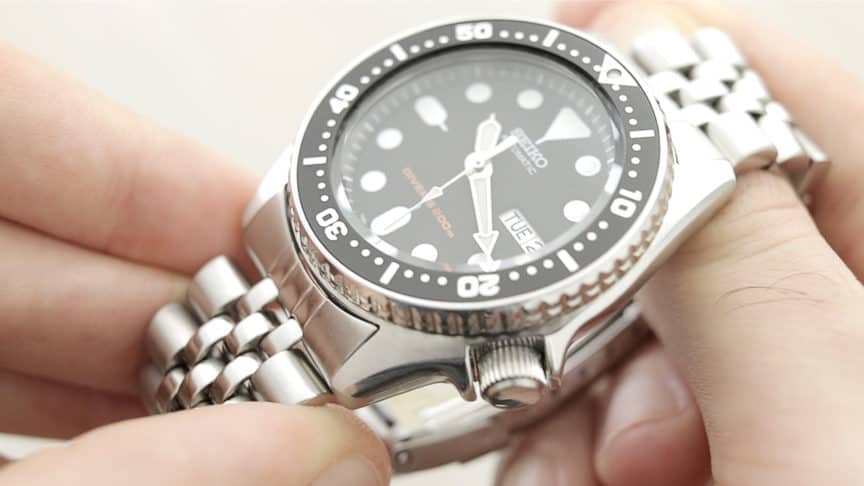 But the best thing about this bezel is actually its insert. Having a dot all around the bezel for insert every single minute marker give this watch a totally different look than, say, your typical Rolex Submariner homage.
It gives it a very cool-looking, toolish appearance – not to mention that it's way more practical as soon as you use this bezel to time things that are longer than 20 mins. I certainly do for my job!
Back of the watch
The watch comes with a practical and tough-looking screw down case back. Many proper divers don't feature an exhibition case back, as it would impair their ability to have a high water resistance.
But the SKX013 being a tool watch, it's built for a purpose, and not to admire the 7S26 movement that, truthfully, is not very interesting to look at (more on this later).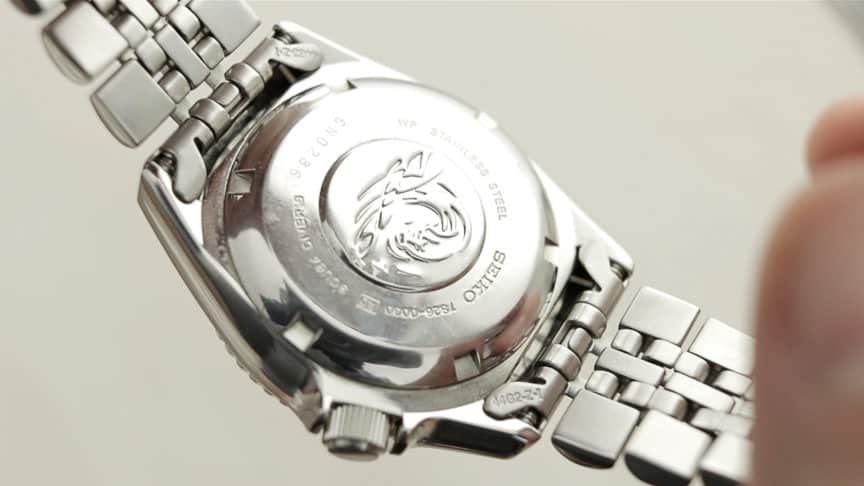 Yet you get a very cool embossed wave that looks like a tsunami wave (which it's not). This wave is inspired by a work from by Katsushika Hokusai called The Great Wave off Kanagawa. And it's only featured on Seiko watches that have a water resistance of 200 m or more.
So besides looking good, it's actually a sign of how much your little Seiko SKX013 is a dive watch that means the business!
Bracelet and clasp
Ha! This will tear watch enthusiast apart.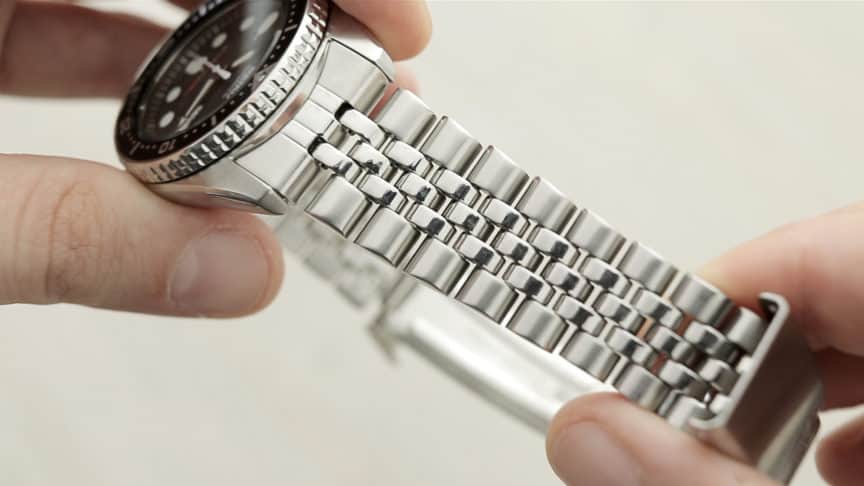 Some people really like the jubilee bracelet that the SKX013 is shipped on. Some really don't. I'm part of the first group. I actually love it, and for several reasons.
it's lightweight, yet perfectly counterbalances the weight of the watch head.
it's one of the most comfortable metal bracelets that I have yet to wear. Jubilee bracelets are known to be very comfortable thanks to their small links, and this one is no exception.
it looks good and makes a welcome contrast with the rugged appearance of the watch head.
I find myself wearing the SKX013 on its original jubilee bracelet more often than not. Every time I put it on a Nato strap, I just revert to the bracelet a few days after. It's that good-looking and comfortable.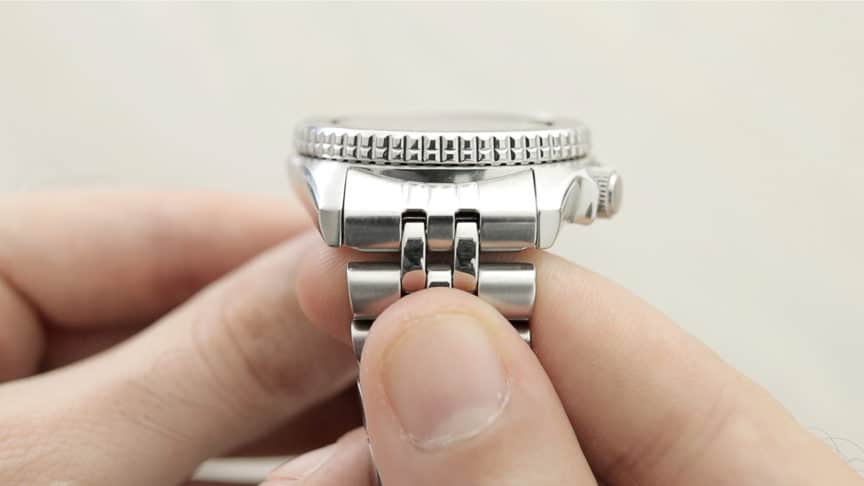 The polished center part of the links gives this bracelet an almost luxurious appearance.
Also, the bracelet features enough removable links to fit a 5.25 inch wrist. So don't fear: it will fit your wrist no problem.
What about the clasp? Meh. I mean, it's not bad, but it's not good either. It looks okay and gets the job done.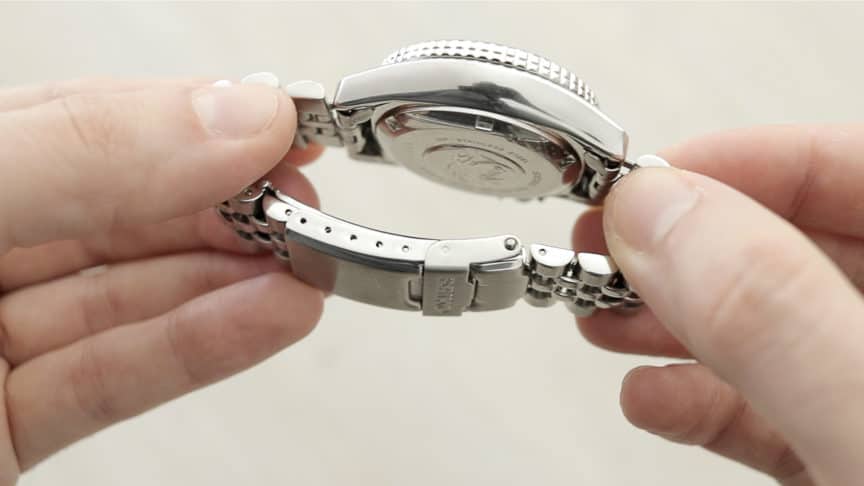 Now, to be perfectly honest, being a foldover clasp with safety, it gives you confidence that the watch will stay in place no matter what. I certainly never experienced it opening unexpectedly.
Also, being quite large, the clasp features 5 micro-adjustment positions, which – with the help of the small bracelet links – will allow you to find the perfect size for your wrist. And you'll be able to quickly adjust it for the hotter days when you need a little bit more room.
Comfort
When I first saw how thick the SKX013 watch case was, and how heavy it weighted, I was afraid that it would be top heavy, and spin around my wrist like crazy. Spoiler alert: it doesn't.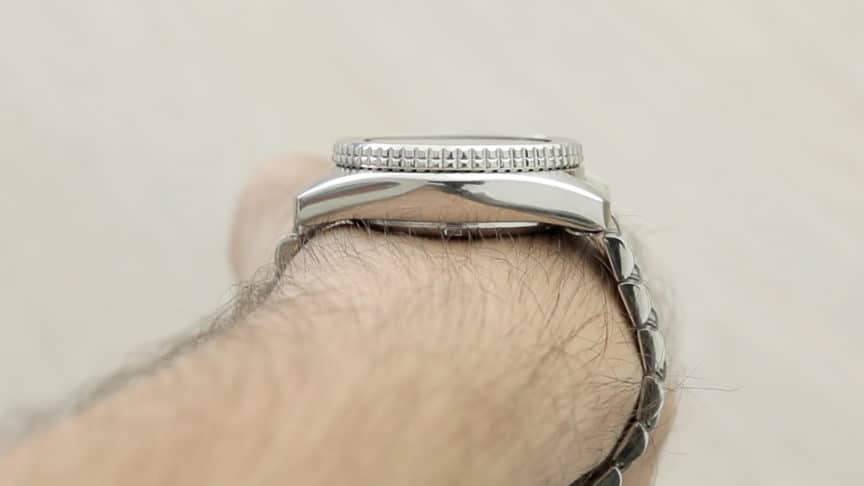 I don't know exactly how Seiko managed to pull this off, but the watch is very comfortable to wear for a chunky dive watch. It's certainly not as lightweight as my Casio G-Shock GW-M5610, but it's almost as comfortable as my Seiko SARB035!
The reason why this is surprising is that the watch head is quite heavy, whereas the bracelet is quite lightweight. This is the perfect recipe for a top-heavy, uncomfortable experience. Fortunately, it's really not the case.
After 10 minutes, the tiny amount of sweat that will appear on your wrist will make this watch sit comfortably on your wrist without moving. You just have to get the dimension of the bracelet just right – not too tight, not too loose.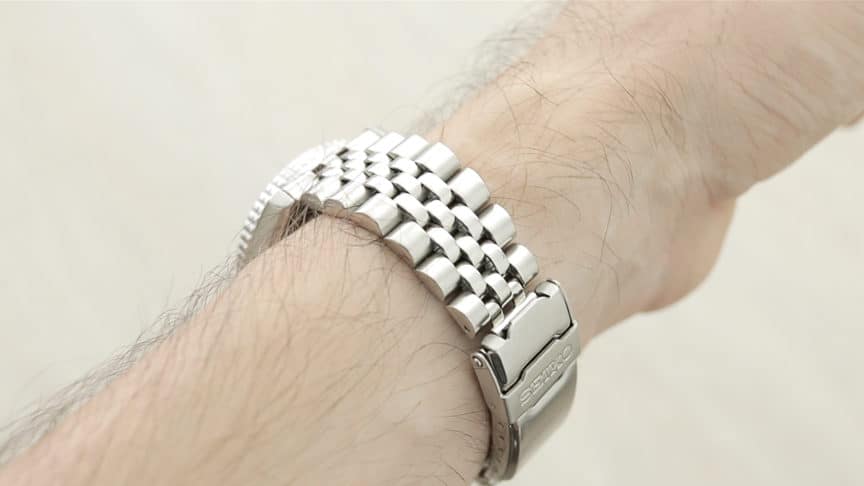 Of course, you could always go for a Nato strap But truth be told, the original jubilee bracelet is more comfortable, it doesn't spin much, and I just happen to prefer the look of it.
Practicality
The SKX013 being a dive watch, it'd better be practical, right?
So let's address the 2 things that you will use the most on this watch: the crown and the bezel.
The crown is very easy to grip, unscrew and screw back in place. Of course, being a proper dive watch, it has a screw-down crown. It's protected by 2 small but effective crown guards. Add the fact that's located at 4 o'clock, and it will pretty much never catch anything while moving your hand or arm around.
The bezel is quite stiff, but not so stiff that it becomes a nightmare to use (like the one from the Orient Ray II). I wish I had a little more grip from the side of the bezel, but it's still usable. There is a little bit of play when you try to turn the bezel clockwise, but this is good as you can perfectly align the markers on the bezel to the markers on the dial. 120 clicks mean you can be as precise as 30 seconds, which is always a good point.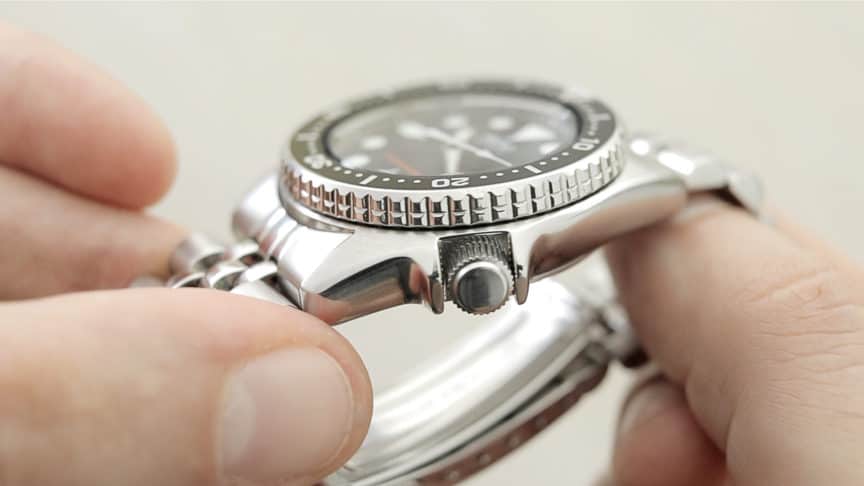 This watch sports a Seiko 7S26 movement, which is tough as nails. It doesn't hack (the seconds hand doesn't stop when you set the time) and you can't wind it manually, but it's quite enjoyable nonetheless.
Now, you can actually precisely set the time to the second on this watch. Here is a known trick of the 7S26 movement to do so: when setting the time, if you apply some counter-clockwise force to the crown without actually moving the hands, the seconds hand will stop or even go backward. Using this trick will allow you to set the time exactly.
Depending on my wearing pattern, my particular model fluctuates between -10 and -5 seconds per day. I could open the case back and try to regulate the balance wheel to get it to run more precisely, but this is good enough for me. And well within the 7S26 specifications as well.
It's not the most precise movement in the world, but it was never meant to be. It was built to be tough.
Another aspect of the watch is its rattling. Yes, the bracelet rattles. When you put it on, when you move your arm, … it just rattles. Add the noise of the spinning rotor from the automatic winding mechanism, and you get quite a noisy piece.
If that bothers you, you should consider changing the bracelet or put it on a Nato strap altogether. I don't mind, personally.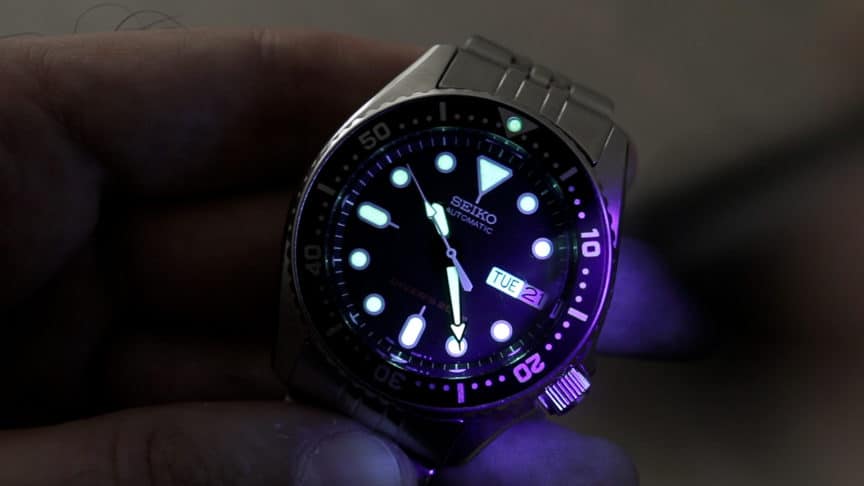 The lume is very bright for the very first seconds. Then it quickly fades away. Yet, you'll be able to see these throughout the night no problem, as your eyes will get accustomed to the darkness. I could definitely read the time of my SKX013 around 6:00 AM, so you should be good to go in that regard.
And of course, water resistance. 200 m means you can deep dive with this baby. I even have swum with my SKX013 for an hour or so with the crown unscrewed (yeah I know )- and it was running just fine.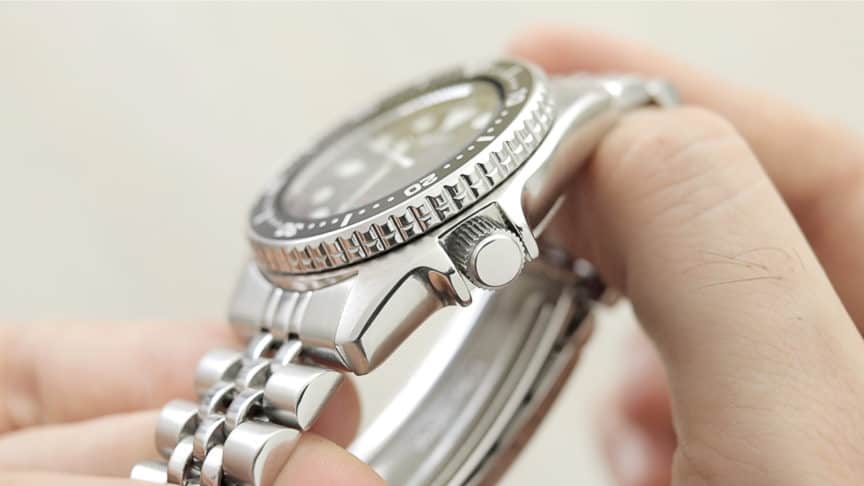 I forgot to screw it back when I was done setting the time and went for a bath and then a small boat trip. Yet, nothing happened. So I'm not saying you should never care about it – not only it looks bad, but it's plain silly. You could ruin your watch for good. But should you forget to screw your crown down – as long as you are swimming on the surface – this SKX013 will handle water just fine.
Style
On to the most subjective part of the review.
The style of the Seiko SKX013 is iconic for sure. Some find it's yet another boring dive watch. I'm part of the fans: I really like the blend of styles that you get with this watch.
The toolish appearance of the dial, hands, and case nicely contrasts with the almost elegant finish of the outer ring of the bezel and the jubilee bracelet.
Surprisingly, this watch feels at home on a wide variety of outfits and occasions. I've worn the SKX013 with everything from t-shirt and jeans to a dressier shirt and suit outfit: it just works. Of course, you probably won't be able to pull this one off for the most dressy occasion out there, as it won't feel a bit out of place.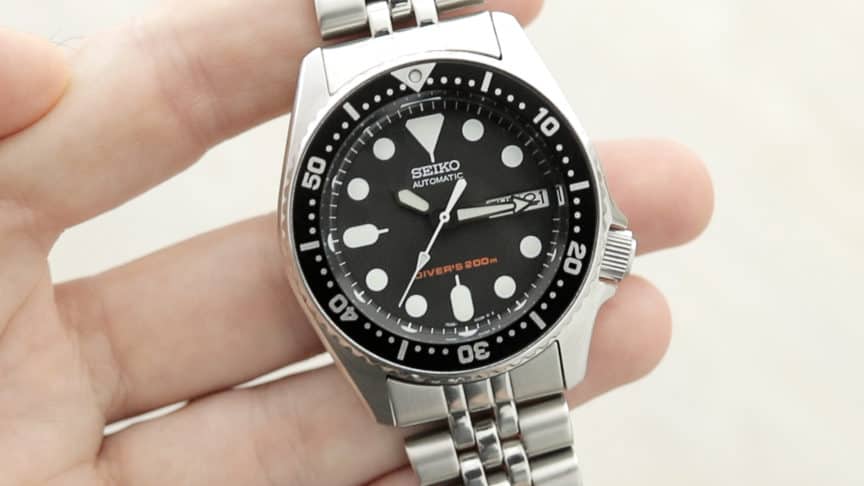 But for some reason, this unassuming watch can handle both casual and business environment no problem. And being an iconic piece, you'll be sure to get some nods every now and then. Watch enthusiasts from all around the planet know and love the SKX (even people collecting only high-end pieces), and that says a lot about a sub $300 watch!
What I like the most about the Seiko SKX013
The Seiko SKX013 is unpretending. It's toolish and classy at the same time. It's bold yet it doesn't seek for attention. It's understated yet packs a lot of wrist presence in a smaller package. You pretty much get the best of all worlds.
What I like about this watch is the actual blend of every thing I just outlined. It's very impressive how such an almost under-the-radar watch can bring so much enjoyment – in the eye of the beholder, at least.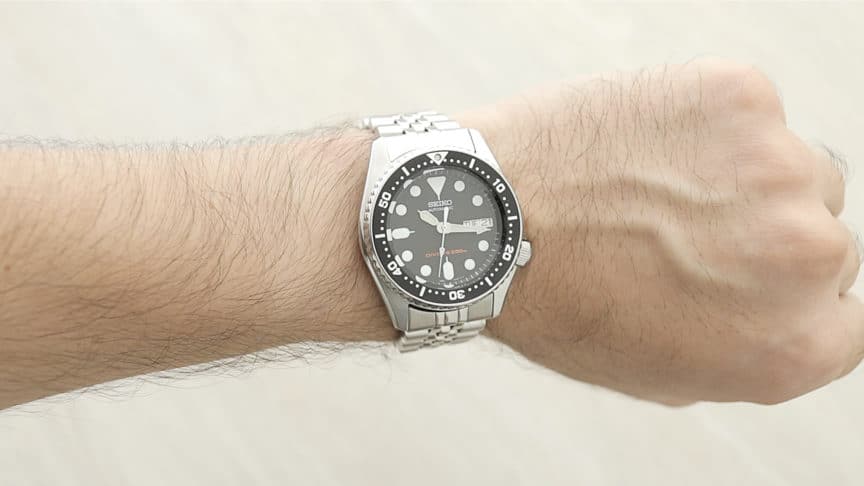 If you're always on the edge because you find a watch too sporty or too dressy, too big or too small, too heavy or too thin: this might just be the watch you're looking for. And the best thing: it's built to take a beating… or a dive.
The SKX could very well be your only tool watch. And your one and only watch, for that matter. Really, I like my more classic Seiko SARB035, but I value this Seiko SKX013 just as much – for almost half the price.
The final verdict
But a watch is not only the sum of all its parts. It's more than that. This is why I like to rate my watches according to several factors, namely:
Is it straightforward? – I want to understand at first glance what the watch is all about. What is it trying to say?
Does it stand out? – It somehow has to have something that stands out when you look at it. Not brag or shout, just stand out.
Is it refined? – It should show some sign of refinement. I'm not talking about Patek Philippe or A. Lange & Söhne grade finishing here, but I want to see that there is some attention to detail going on.
Is it comfortable? – Or else I just wouldn't wear it in the long run.
How big is the "what the hell factor"? – This factor is all about throwing away everything about the context (the outfit, the occasion, and the environment) and just go ahead and wear a watch because you want to, period.
Is it straightforward?
You bet!
It doesn't get any more straightforward than this. The Seiko SKX013 is a dive watch in every single sense of the word. It works and looks exactly like it's supposed to be.
It's not filled with useless and weird "stuff" from a design standpoint, and it handles the job like a champ.
Straightforward – a perfect 5/5
Does it stand out?
The bulk of the watch and the big hour markers really help this watch stand out. It's not a pure under-the-radar watch, which I can never bring myself to wear anyway. It strikes a good balance of wrist presence and wearability.
Maybe not the watch stands out the most, but still a very interesting piece in that regard.
Standing out – a good 4/5
Is it refined?
Maybe not at a first glance.
But when you start to look closer, you see those very interesting details like the chamfer running around the top part of the flanks of the head, or the finishing of the bezel grip. Also, those polished metal hands add a nice little pop to the dial.
Refinement – for this kind of watch and price point, 4/5
Is it comfortable?
Yes.
I know I told you that it could feel a bit top heavy, but it's just going to be the case if you're not used to wearing heavier watches – and only for the first 10 minutes of wearing it. As soon as your wrist will warm up a little bit and gain some size, it will be absolutely perfect.
It's not an ultra slim dress watch for sure, but then again, it's a dive watch.
Comfort – for a diver, 5/5
How big is the "what the hell factor"?
The SKX013 is not so bold or appealing that I want to wear it all the time, but it's a cracking piece nonetheless. And presented with the choice between wearing this on or the Orient Ray II (that is a little more classy), I tend to go with the SKX013.
What the hell factor – a solid 4/5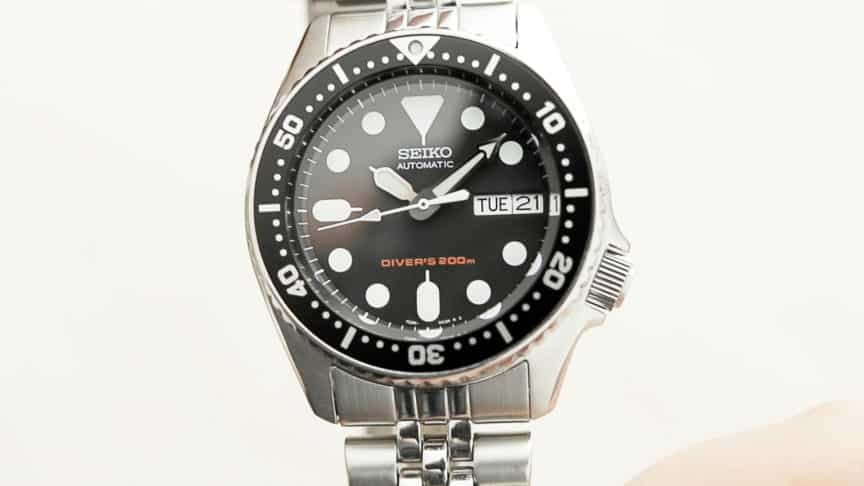 Overall, I give this piece gets a very good 88%.
If you're looking for a smaller dive watch (just because you happen to love it better of having smaller wrist), the SKX013 is a perfect option.
It's readily available pretty much everywhere – and of course, you can find the Seiko SKX013 on Amazon for a good price. Don't wait though, as this gem tends to go up in price as more and more people realize how great it is.
This cool watch will serve you for decades to come, and won't go out of style anytime soon!