G-Shock watches rule. They are tough tool watches with a lot of wrist present, and a ton of functions for an affordable price (if you don't go for the limited editions). Electronic watches don't get any better than this. But they can be bulky at times.
So what is the best G-Shock for small wrists?
The best G-Shock for small wrists is the Casio G-Shock GW-M5610. It's one of the smallest and thinnest G-Shocks. With its 46 mm lug to lug distance, it will suit a wrist down to 5.5 inches without overpowering it. It's solar powered and radio-controlled. It has a world timer function, 5 alarms, a stopwatch and a timer.
If you need something rugged but have a small wrist, this has got to be the first (and maybe only) G-Shock you should get. You'll never have to worry about it, the battery will always be charged, it will always be on time, and it's immune to shocks. Check the Casio G-Shock GW-M5610 on Amazon.
This is my go-to piece when I'm in a hurry. I know it's gonna be always running, always on time and I'm not afraid of damaging it. And it's so lightweight you almost forget that you're wearing a watch!
Read on my review about what is so great about the Casio G-Shock GW-M5610!
Specifications
Dimensions
Case size: 43 mm case width (including protrusions), 33 mm height (only taking the bezel into account)
Lug to lug distance: 46 mm (even if it's still technically the case)
Thickness: 12.5 mm
Lug width: 25.5 mm, the strap tapering down to 18.5 mm
For a G-Shock, this is probably as small as it can get. The case height (or lug to lug distance) is so small that it will fit on wrists down to 5.5 inches. It sure suits mine which has a size of 6 inches.
Features
Case: Resin, shock-resistant, and vibration-resistant
Case back: stainless steel case back held with screws
Dial: Positive LCD dial (black text on light green / grey background)
Crystal: Mineral glass
Movement:

Casio Module No. 3159
Solar-powered
Radio-controlled (automatically syncs to the atomic clock every night)
± 15 sec per month (with no signal calibration)

Complications:

Calendar: Full automatic perpetual calendar programmed from the year 2000 to 2099
World Timer: 48 cities and 29 time zones in both standard time and daylight saving time
Stopwatch: with split time and two finishes, up to 23'59:59.99″
Countdown timer: from 1 minutes to 24 hours

Other features:

Electroluminescent panel (backlight)
Power saving

Water Resistance: 200 m / 660 feet
Strap: Resin with polished metal buckle
Design
The overall design of the Casio G-Shock GW-M5610 is a direct throwback to the very first G-Shock ever introduced in 1983: the DW-5000. The size, case shape, and overall look are really, really similar.
Yet this Casio G-Shock GW-M5610 manages to pack a lot more punch than its ancestor (most importantly, it's solar powered and radio controlled). But it does so by being very close to the original that started it all.
If you want to be more true to the original, you should check the Casio G-Shock DW-5600.
Dial
On G-Shock, talking about the dial is a bit tricky.
To make it simple, I consider being part of the inner dial everything that is part of the module itself (every indication of the LCD) whereas the outer dial is located between the module and the bezel.
The inner dial is actually very sober and uncluttered for a G-Shock. Many smaller electronic watches have a simple inner dial, but that's not a given for every G-Shock. On this one, Casio managed to keep things very simple.
And it's a good thing! It makes reading the important indications that much easier.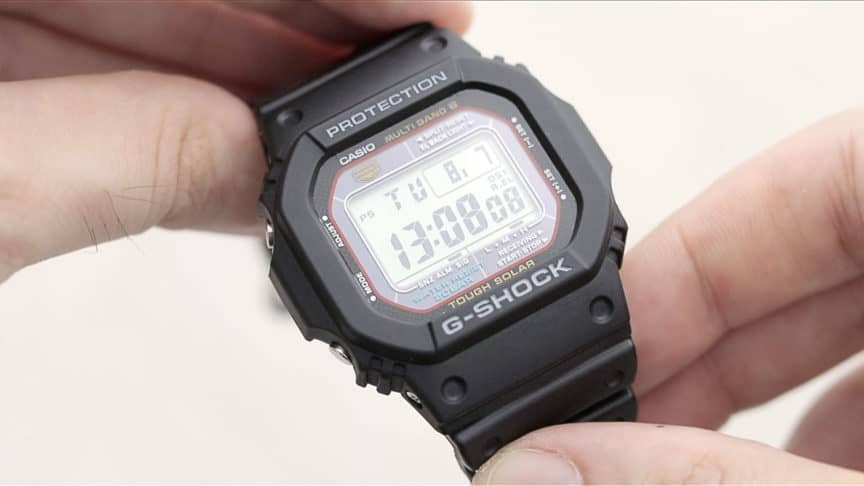 Of course, when every single function of the watch is enabled, it can become a bit cluttered (you'll have an indication for power saving, radio controlled timekeeping, auto illumination, daylight saving time and tone off). But still, these indicators don't get in the way of the all-important information for each function and mode of the watch.
The outer dial, between the bezel and the actual module, is another story.
It's filled with inscriptions. I mean: Casio, Multiband 6, Split – Reset, EL. BackLight… I'm not going to list them all because you're gonna get crazy. And I get it, it's how we've come to expect any G-Shock to look. It's part of the design. And I actually like it.
Now, between the bezel and the red line, you have a very fine gilt-colored squared pattern on top of the black background (you'll have to check the watch really closely to actually see it).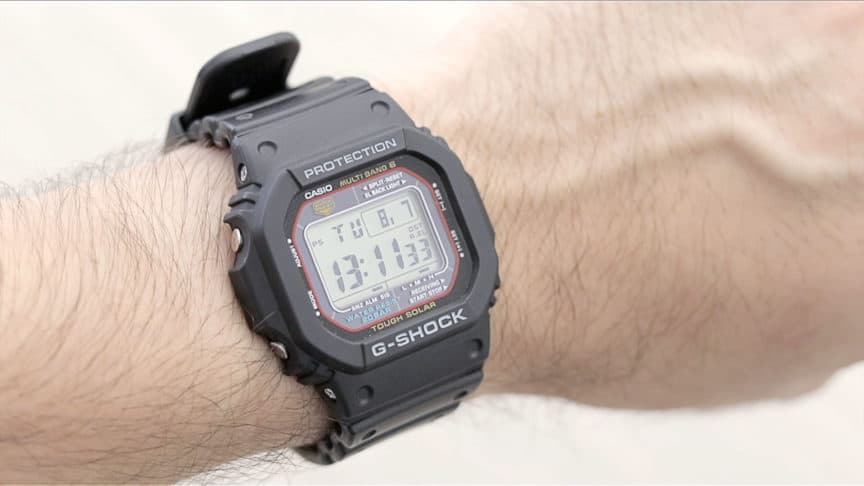 And between the red line and the module, you have the solar panels recharging the battery. Depending on how the light hits the dial, they will appear completely black or with a nice light purple / lilac color. I kinda like it!
If cluttered dials are not your thing, well maybe you shouldn't be considering a G-Shock in the first place. But if you like them – and I happen to like it – then this Casio G-Shock GW-M5610 should be perfect for you in this regard.
Case and bezel
This is your typical G-Shock case and bezel. It's made of resin, which is way better than simple plastic as plastic will crack over time when submitted to higher temperatures and dry air.
The case in itself is pretty thin for a G-Shock, only measuring 12.5 mm in thickness. Some automatic watches are bigger than that!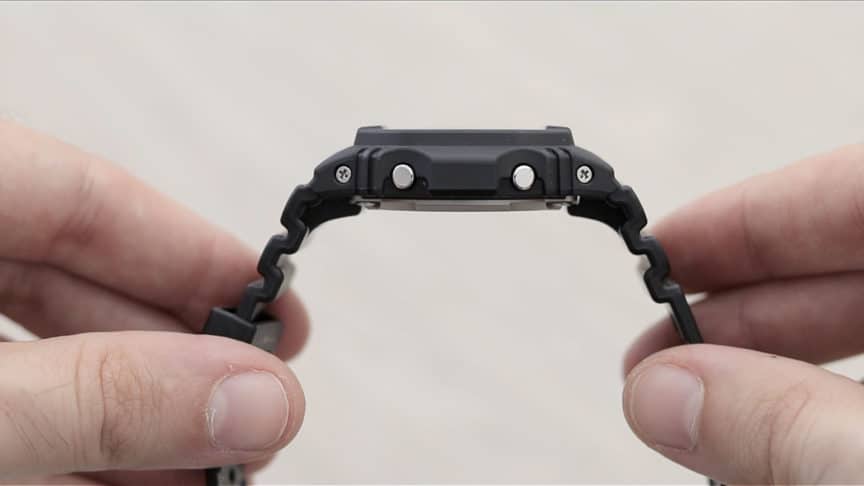 The bezel is also pretty standard, in the sense that you get the "G-Shock" inscription, like all other G-Shock watches. But in place of the "shock Resist" inscription that you find on most G-Shocks, this one says "Protection" to mimic the original DW-5000 from 1983.
The thing that really makes this Casio G-Shock GW-M5610 look different is the shape of the case. It's part of the square series. Actually, this is a rectangular dial with cut-off corners, and these cases have their detractors and supporters.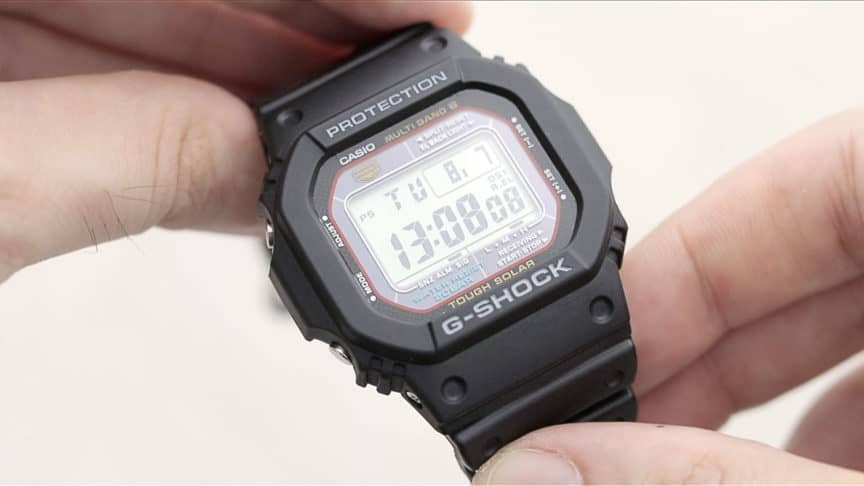 I actually love this case. I love the vintage vibe and shape it has. And surprisingly enough, it pairs with many outfits and styles without drawing too much attention. I really didn't expect a square case to work that well from a style and fashion point of view.
The 4 buttons are really understated and do not detract from the overall look of the case, unlike some other bulkier G-Shocks out there. I'm just not a big fan of the small circular "holes" that show on the "lugs" of the watch head and on the first part of the bracelet, but this is just a matter of personal preference.
Overall, the watch looks laid back and smart. And in any case, for the price you are paying, it really doesn't get any better than this!
Back of the watch
The watch back is made of stainless steel and is held in place with 4 screws, like many other entry-level G-Shocks. Yet this one still has 200 m of water resistance, which is not always the case with case backs of this type.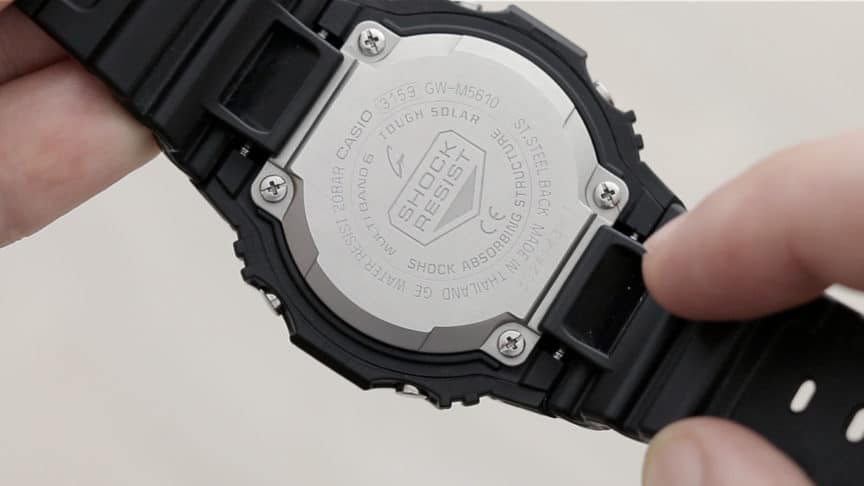 The back itself is filled with your typical watch information.
It's partially covered by the "flaps" of the strap, which – for some reason – helps with integrating the case back in the design of the watch. Not that you will often see it, though…
Strap and buckle
The strap is made of the same resin as the watch head. It's a soft resin that is pretty flexible and gets even more flexible the more you wear it.
It's made of 13 holes, which make sure that everybody will be able to wear this watch. Even with my 6 inch wrist, I have 3 holes to spare so space is plenty.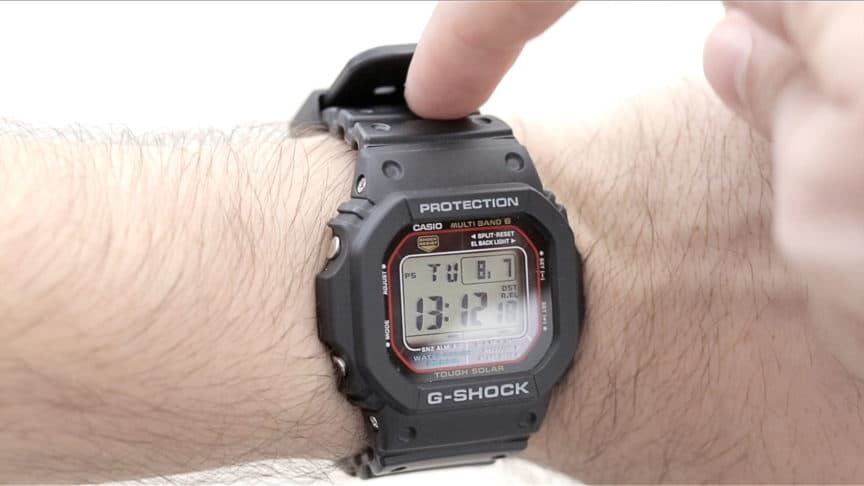 The bottom part of the strap is a bit long though. For small wrists, it will stick out at the top of the watch case. As a matter of fact, the keeper cannot be pushed hight enough for the end of the bottom strap to be firmly held in place again the top part of the strap.
The buckle is plain… too plain. It may have the same finish as the buttons, but for some reason, I think it doesn't work well the rest of the watch. It feels like an afterthought.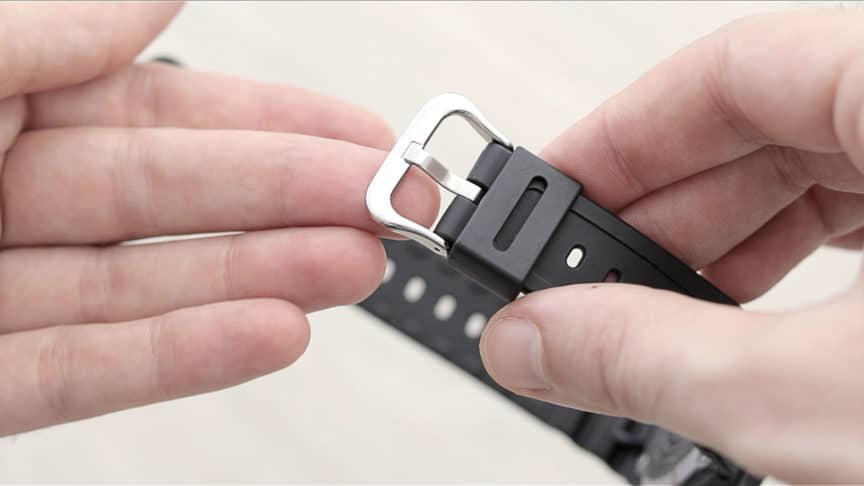 The shape of the buckle is a little weird for such a watch, and I would have preferred it to be of a bead blasted black finished to help with the stealth look of the watch. But it does the job just fine.
Sometimes, a little gap can show between the watch head and the strap, but you'll be hard pressed to see it in everyday use. You really have to bend the strap and stretch it apart from the case to see it. Which, of course, is not how you will handle your watch under normal circumstances.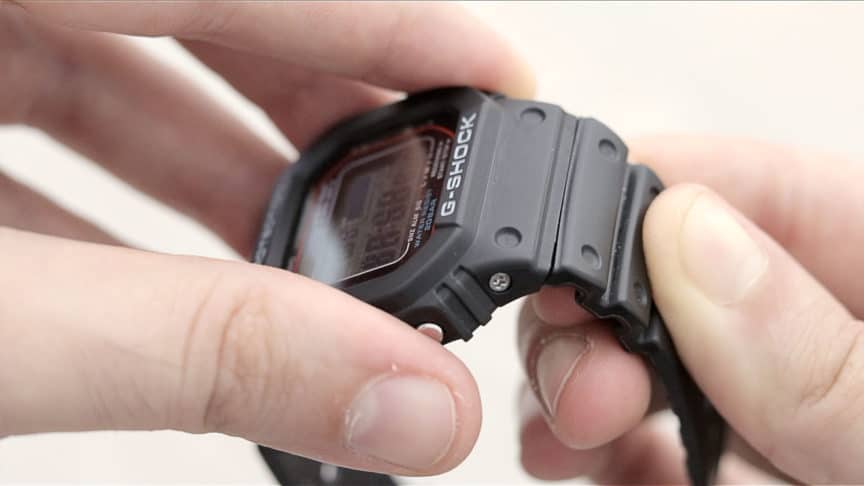 Comfort
Most electronic watches are comfortable, as they are thin and lightweight. Yet G-Shocks are built to take a beating, and as such, they are most of the time bigger, thicker and heavier.
So how does this Casio G-Shock GW-M5610 compares?
Let me tell you that it's a very, very lightweight piece, weighing in at less than 52 g. And because it's a smaller G-Shock, it's very comfortable to wear. It's not an exaggeration: this watch is the very definition of comfort.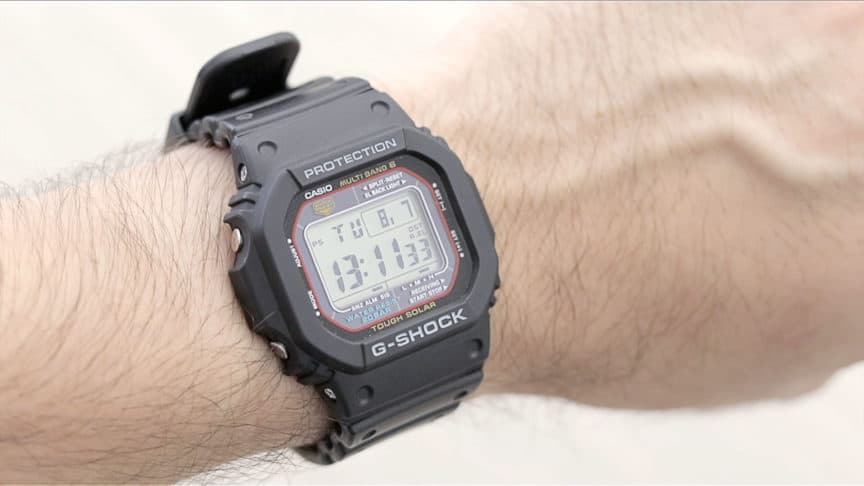 Pick your preferred position: at the very beginning of the forearm or exactly on your wrist (where your forearm and hand meet), it will be comfortable to wear all day long.
Remember those flaps under the strap that make the connection between the strap and the case? These make for a very comfortable wear and make sure that there is no gap whatsoever between the back of the watch and your wrist.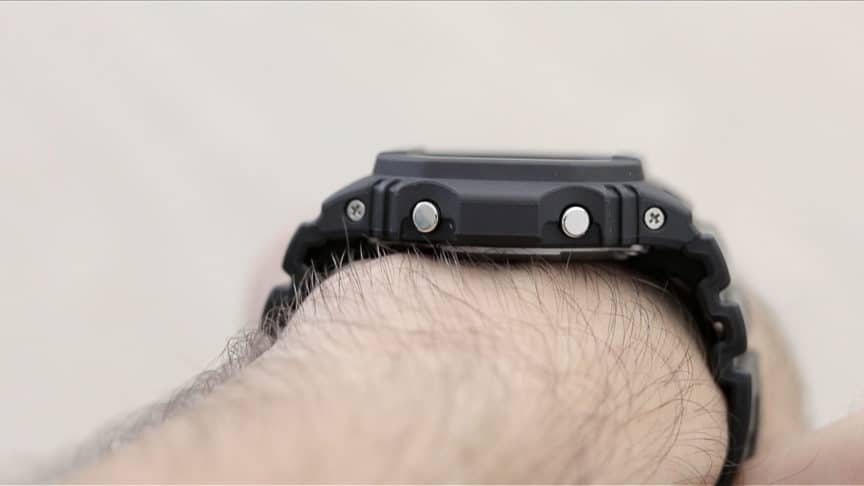 Add the weight (or lack thereof), and you'll have a piece that you can wear all day long (or all year long, really), and still feel great. You may forget that you actually have something on your wrist a few hours within your day. It's that lightweight and comfortable!
Practicality
This watch houses the Casio module No. 3159. Of course, being based on a quartz movement, its accuracy is second to none (pun intended). The accuracy is± 15 seconds per month.
And if that wasn't precise enough, this watch is – as you may know – radio controlled. Every night at 2 or 3 AM (depending on if it's standard time or daylight saving time), the watch will attempt to synchronize itself to the closest atomic clock. As I live in Brussels, Belgium, I happen to receive signals from both the United Kingdom and Germany.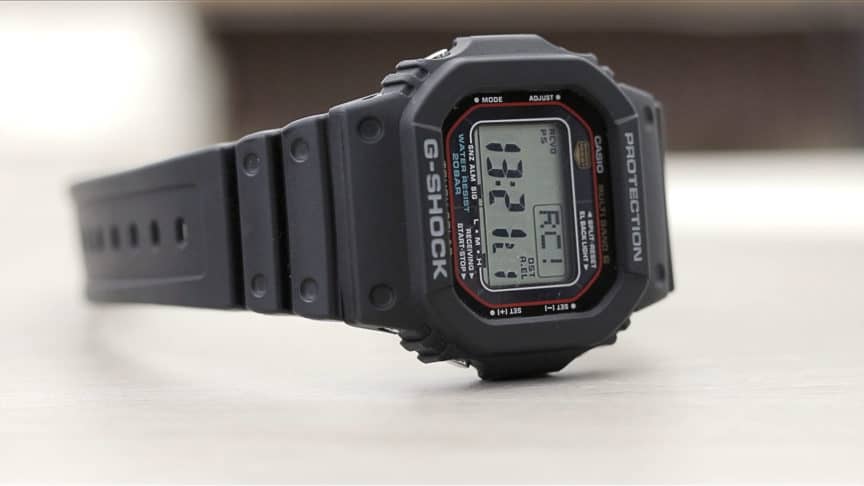 You'll wake up every morning to a watch that is perfectly accurate to the second. Throw in the fact that is watch is solar-powered, meaning that the solar panels located around the dial provide energy to the rechargeable battery housed in the watch, and you have a perfect grab and go piece that will just never let you down. Ever.
But that's not all!
You also get:
200 m of water resistance, which is not always the case on all electronic watches (just don't wear your watch in the shower, better safe than sorry). Meaning you can ash your hand, swim and dive with this one no problem.
An electroluminescent backlight that you can either trigger by hand by pushing the top right button, or by tilting the watch toward your face to check the time when the luminosity is low enough. You read that right: you get 1.5 s of light automatically at night, just like a smartwatch.
A world time function that allows you to know exactly which time it is in 48 cities and 29 time zones. Why 29 you ask? Because it also takes into consideration "half time zones", that you can find in Teheran, Dehli or Adelaide, to name a few.
If solar power was not enough, this watch puts itself in power save mode (sleep mode) and shuts down the screen to save even more power. And even without power save mode or sun, it will still operate for 10 months straight (using it 18 hours a day). So really… don't fear any power outage here!
Electronic watches (in general) and G-Shock (in particular) are packed with super useful features. And this one is certainly no exception! Because it's always on and accurate to the second, I actually use this Casio G-Shock GW-M5610 to set the time on all my other automatic watches!
Now for some minor annoyances:
The buttons: because Casio didn't want them to overpower the overall look of the watch (I guess), they made it round and small. Which in turn makes them pretty hard to press. Even with my small fingers, I have a hard time pushing the buttons all the way through for them to operate. And this is especially true when the watch sits on your wrist; it makes operating them a little bit more difficult.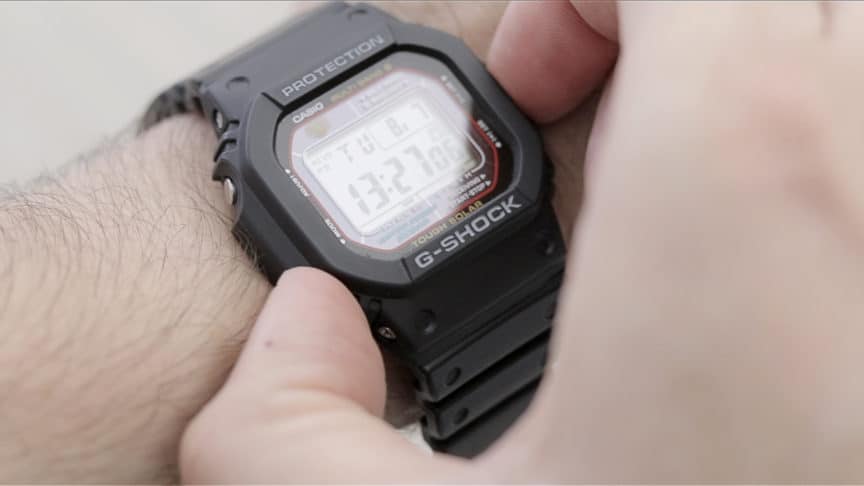 The world time mode: because this G-Shock only has 4 buttons (where other models have 5, one dedicated to the light), you can only change the time zone going forward, namely to the East. So because I'm located in the same time zone as Paris, if I want to have the time for New York City, I will have to "travel" to that time zone toward the east. That'a lot of button pressing! Not super handy.
The home screen: you can't have the local and home time zones displayed at the same time on the home screen. That would have been a nice feature to have!
Style
The style of this G-Shock might not please everyone.
First and foremost, let's be clear: not everybody likes electronic watches, and that's okay. But this G-Shock being a square model with a smaller case size can certainly be a little more polarizing than others.
Yet I found many people, on YouTube and watch enthusiasts forums, that really like the design and rectangular shape of this one. I'm one of them. You see, there is something about this shape that makes it unique, and as such, interesting.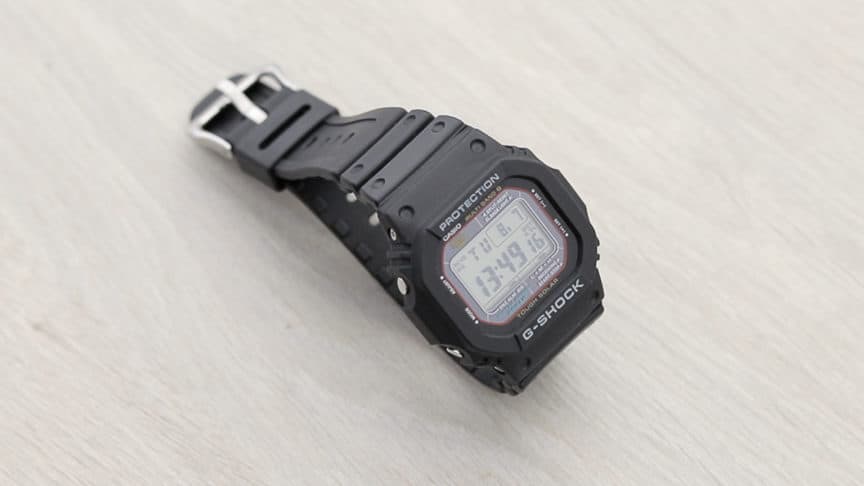 If you're not fond of smaller electronic watches like the Casio F91W (which is a very cool piece, don't get me wrong! – check it on Amazon), then this one is definitely for you.
It's thick enough that you'll sport a manly look, yet thin enough that it will look over the top. Size and style wise, this watch is almost perfect.
Also, the dial is pretty cluttered, but not as much as many other G-Shocks. I would say that, for me, the Casio G-Shock GW-M5610 hits the perfect spot between that cool 1980s style and usefulness. Yes, it's always a good idea to have, on the dial, a reminder of what the buttons actually do. You don't use the watch features everyday… you'll be happy they are there when you need them!
The final verdict
When I'm looking at a watch, I asked myself 3 questions:
Is it unique? – in the sense that it has its own vibe going on, or has a very distinctive feature or design element.
Is it clear? – it should be easy to "get" the design and to read the time. Here, some watches with a crowded dial can still qualify if the design is perfect.
Is it bold? – it should make a statement (but not be loud).
Is it unique?
I think it is. Not in the sense that it has a very distinctive, bold look. But rather, it takes a lot of cues of the original G-Shock from 1983, while adding a ton of useful features like the solar power or the radio control. It's very handy for everyday use.
Is it clear?
The Casio G-Shock GW-M5610 is probably one of the most uncluttered G-Shock there is available on the market. So yes, this watch is clear. I wish the indications on the dial were a little bit crisper (I clearly see a difference with my G-Shock GW-7900) but it's still super readable. And that's true even at night thanks to its automatic electroluminescent dial.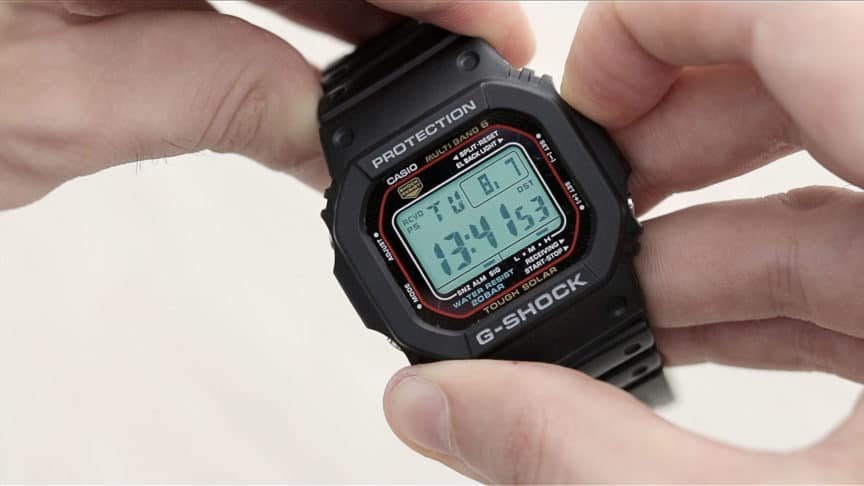 Is it bold?
Yes, in a quiet way.
What does that mean? Well, you don't have to wear a big, fat, loud G-Shock to enjoy an electronic watches. You can have all the features that you want in an elegant, smaller, more refined package. And I think that this makes as much as a statement than anything else, especially in the realm of electronic watches and G-Shocks.
I give this piece gets a very impressive 9 out of 10 – highly recommended.
Why not 10? I wish the bottom part of the strap was a little shorter so that it wouldn't stick out so much when the watch is worn on a smaller wrist. And the buttons could use some reworking to make them easier to push.
But besides these two minor annoyances, you really can't go wrong with this one. It's a cracking, stylish, lightweight G-Shock that will serve you well for decades to come if you take good care of it. So why don't you check the Casio G-Shock GW-M5610 on Amazon and grab one for yourself?